This girly pink Christmas bedroom is oozing with glitter, twinkle lights and a Christmas tree decked out in pink! Come see how I decorated my daughters' bedroom for the holidays.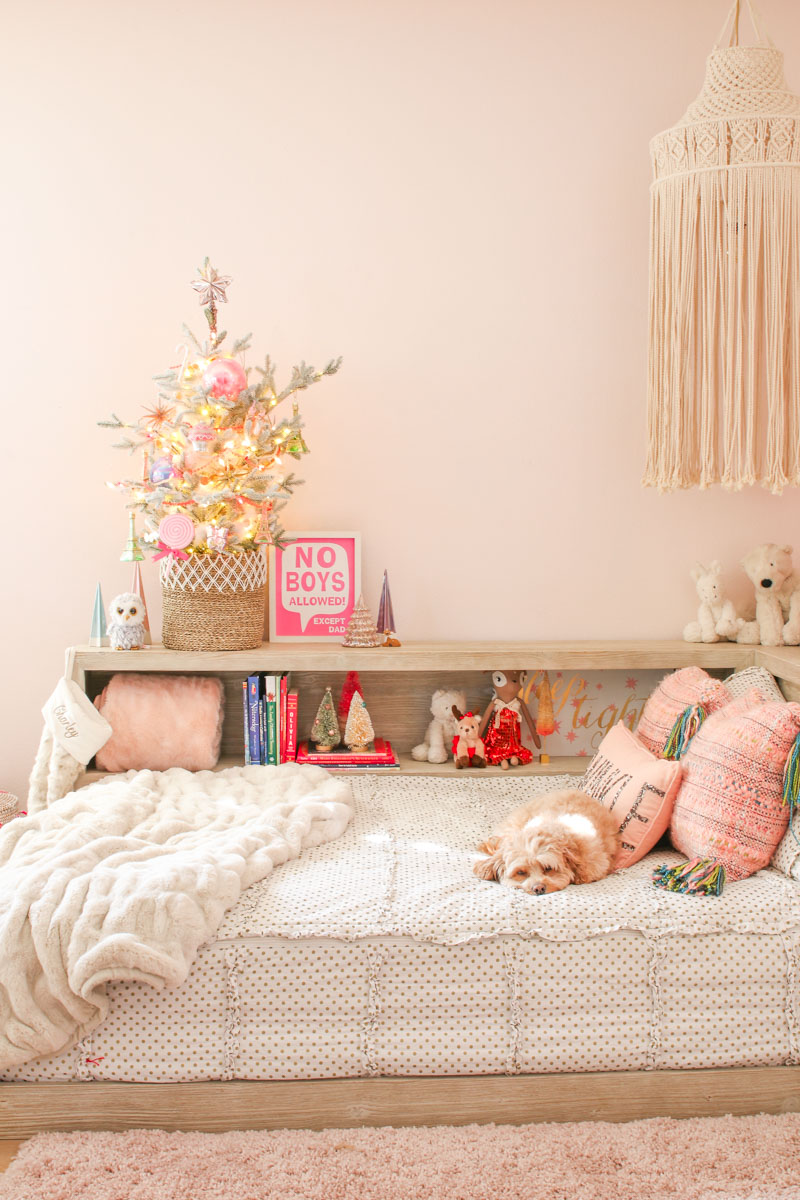 And if you are here from Chelsea at Two Twenty One, welcome! Her boys room is absolutely the cutest for the holidays!
And be sure you check out all the kids' Christmas trees and bedrooms that are linked up. So many incredibly creative ideas for the holidays!
Girly Pink Christmas Bedroom For Kids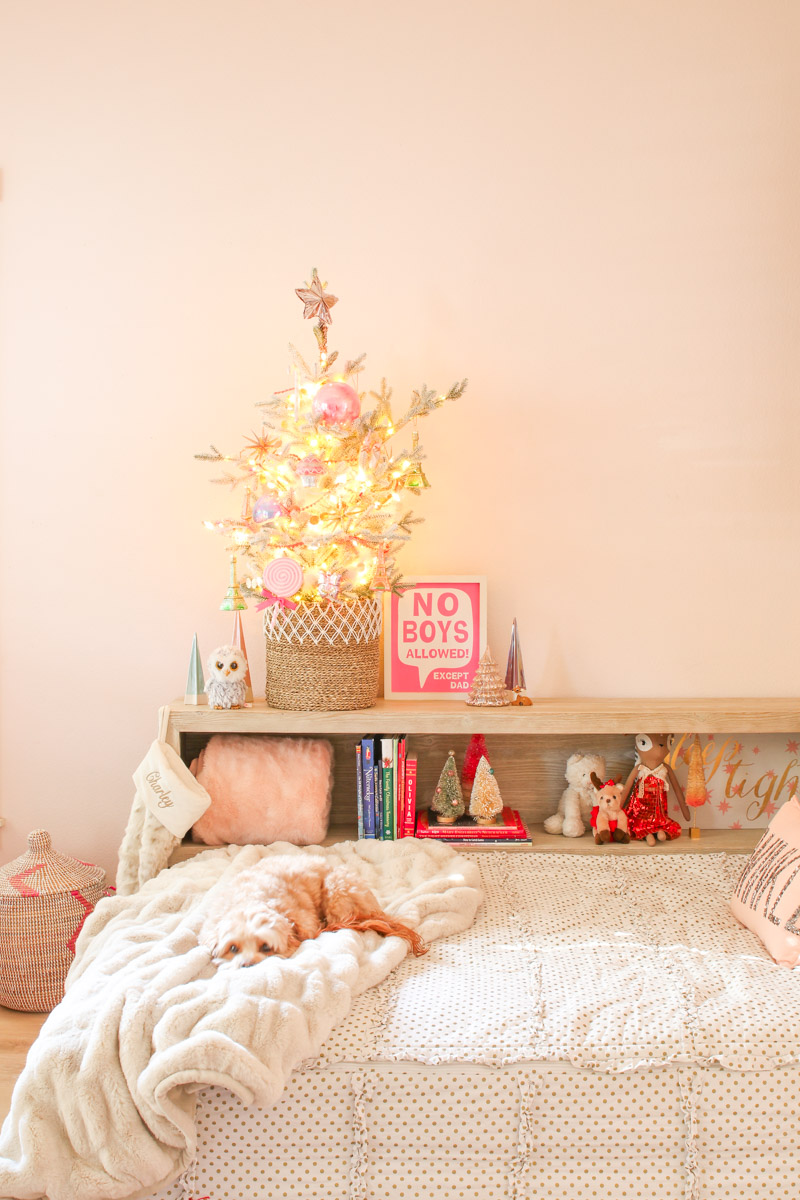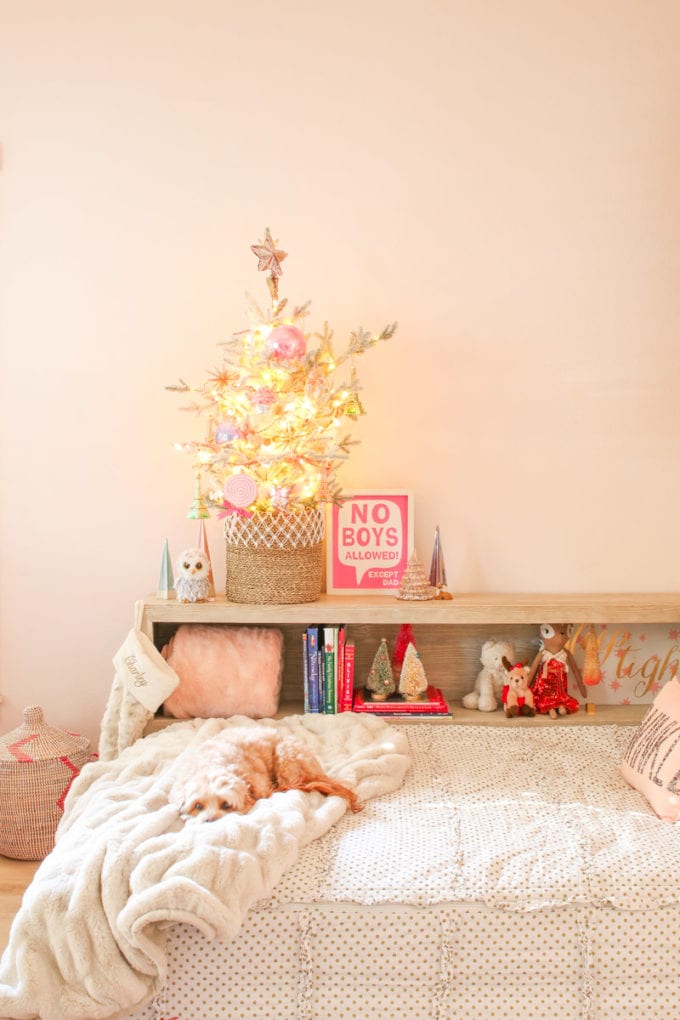 If you follow me on Instagram, you saw a little behind the scenes of my daughters' room when I was getting it ready to photograph for this blog post. See, I would definitely classify my 7 year old daughter, Charley as a hoarder. She likes to keep every toy, wrapper, tidbit that comes her way. She even has leftover mint tins filled with tiny treasures!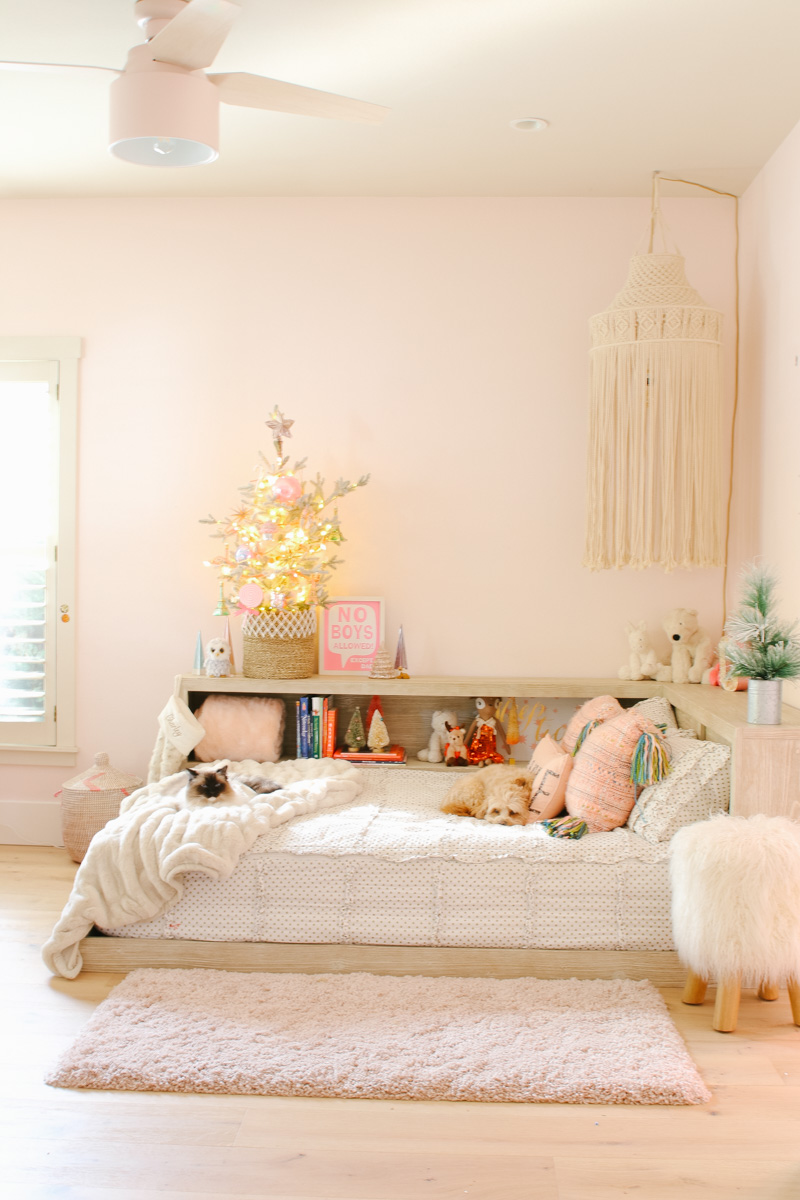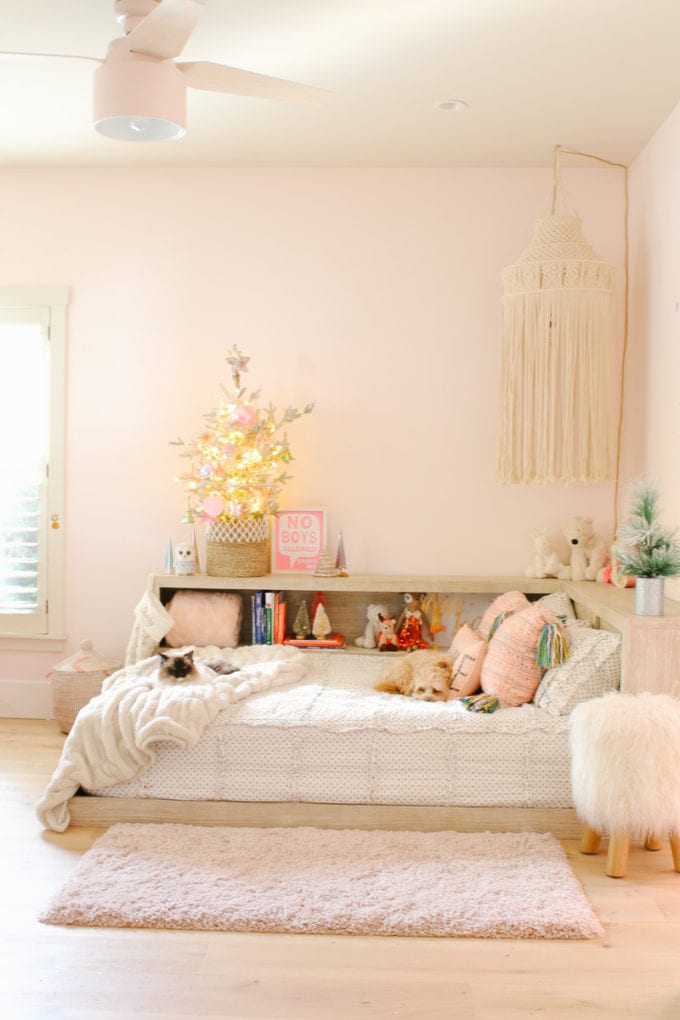 So, when Chelsea from Two Twenty One asked me if I wanted to join her kids Christmas tree blog hop, I got a little nervous. How was I going to transform Charley's bedroom in order to get some presentable pictures?
See, decorating a pink Christmas bedroom isn't the hard part. We already had her tree done a few weeks ago. It was the rest of the room that needed some major Marie Kondo-ing.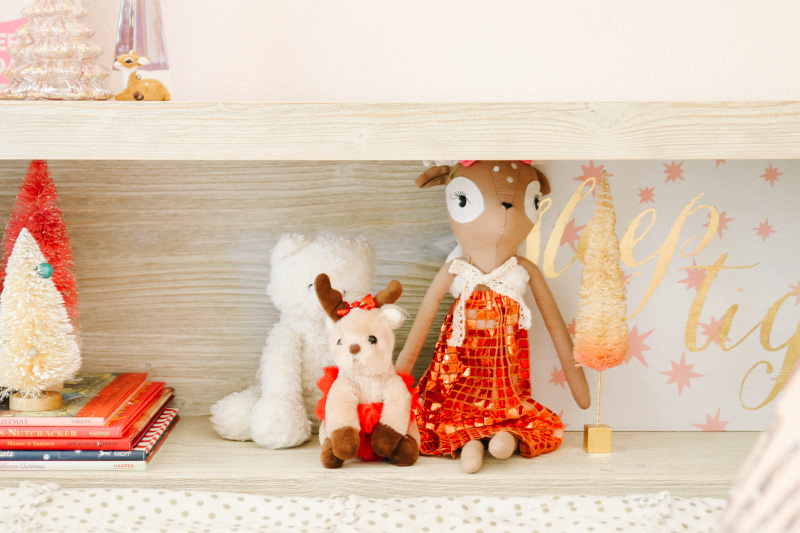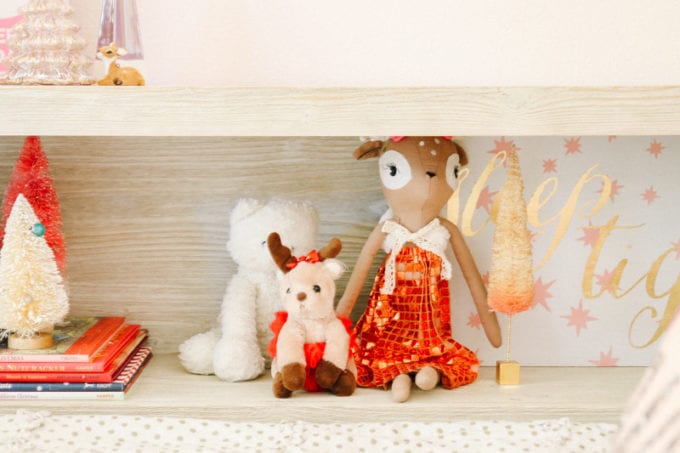 Once I got her pink Christmas bedroom organized and ready to photograph then I started to wonder how I was going to convince her to keep it this way permanently. But, there has to balance. After all, she is only 7 and this is her space.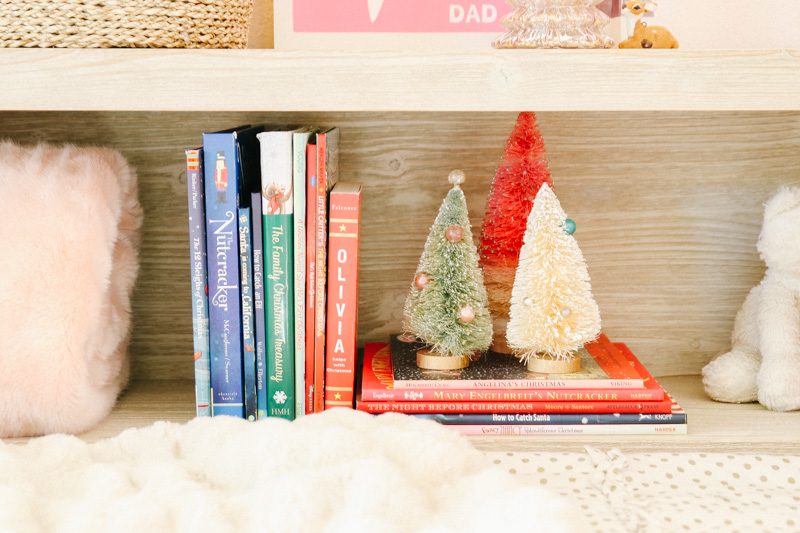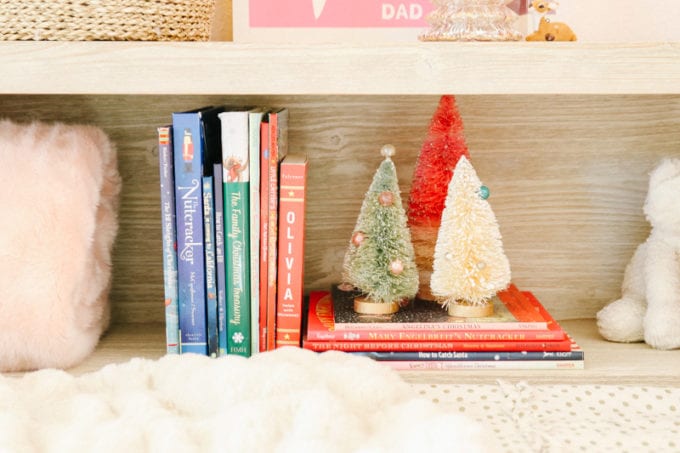 So, when Charley got home from school, I showed her what I did and how I organized her room and placed some of her favorite stuffed animals within reach. She loved the pile of Christmas books that she can read at night.
I then asked her if she liked it this way or how it was before. And I let her decide how she wanted her room to look.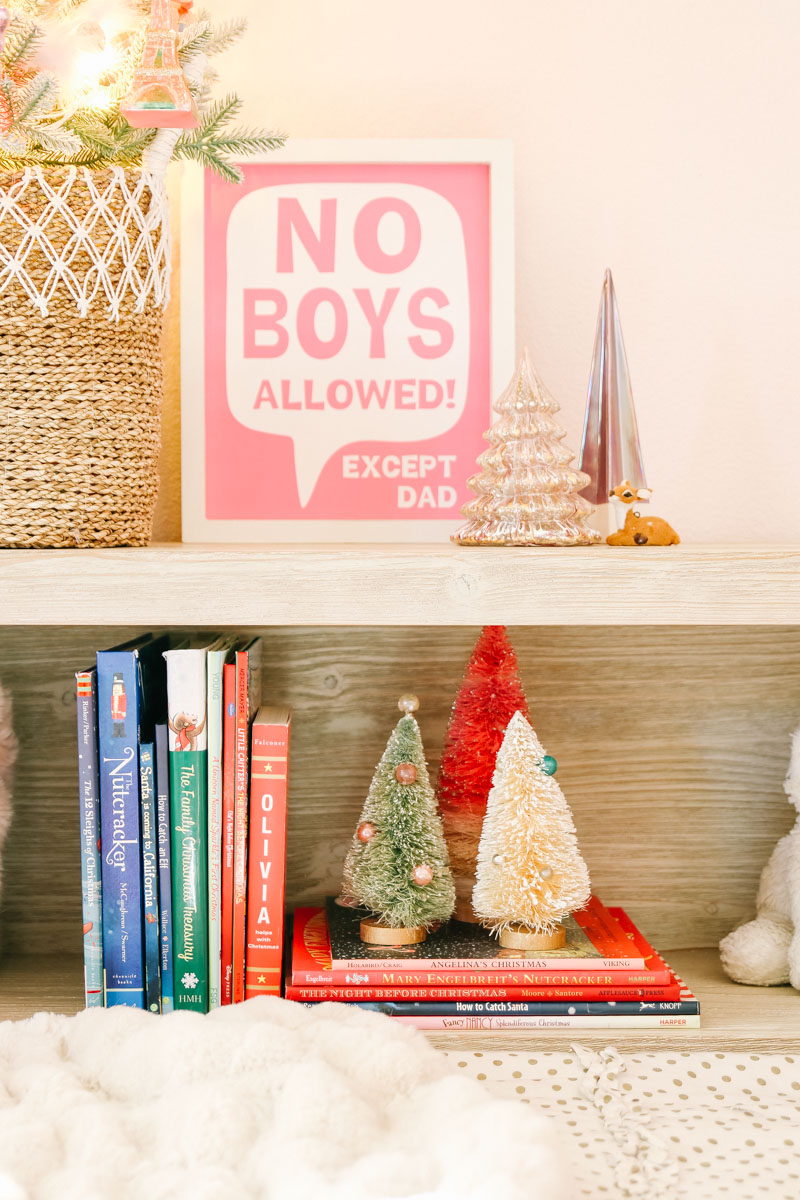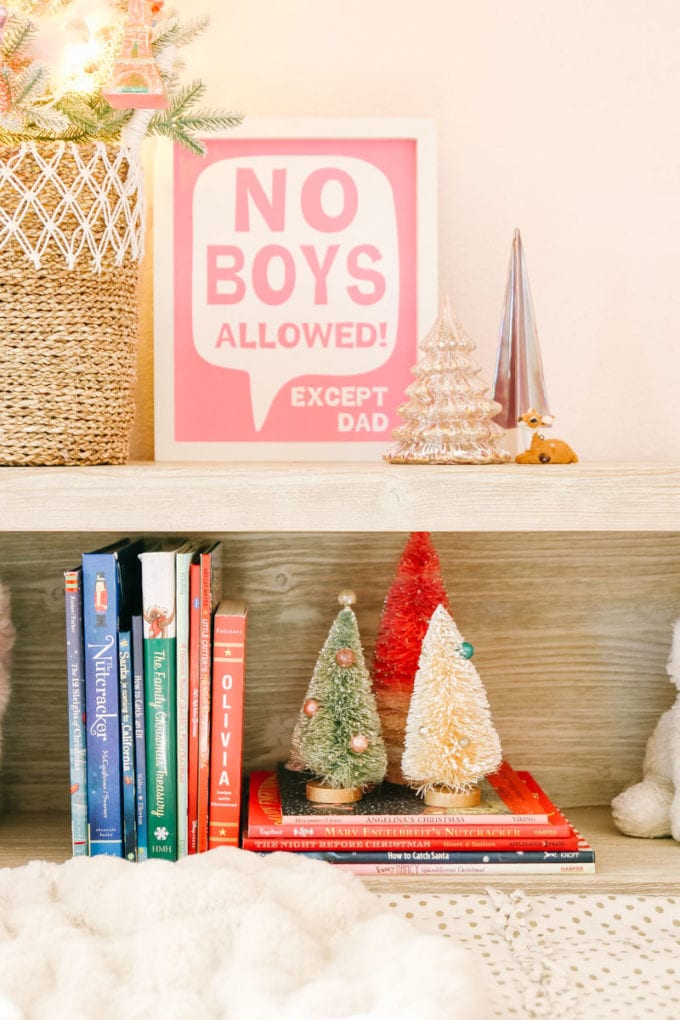 After a little pondering, she decided she liked it clean and organized but missed a few favorite toys and books. So, we pulled out a few more items and made it exactly how she wanted.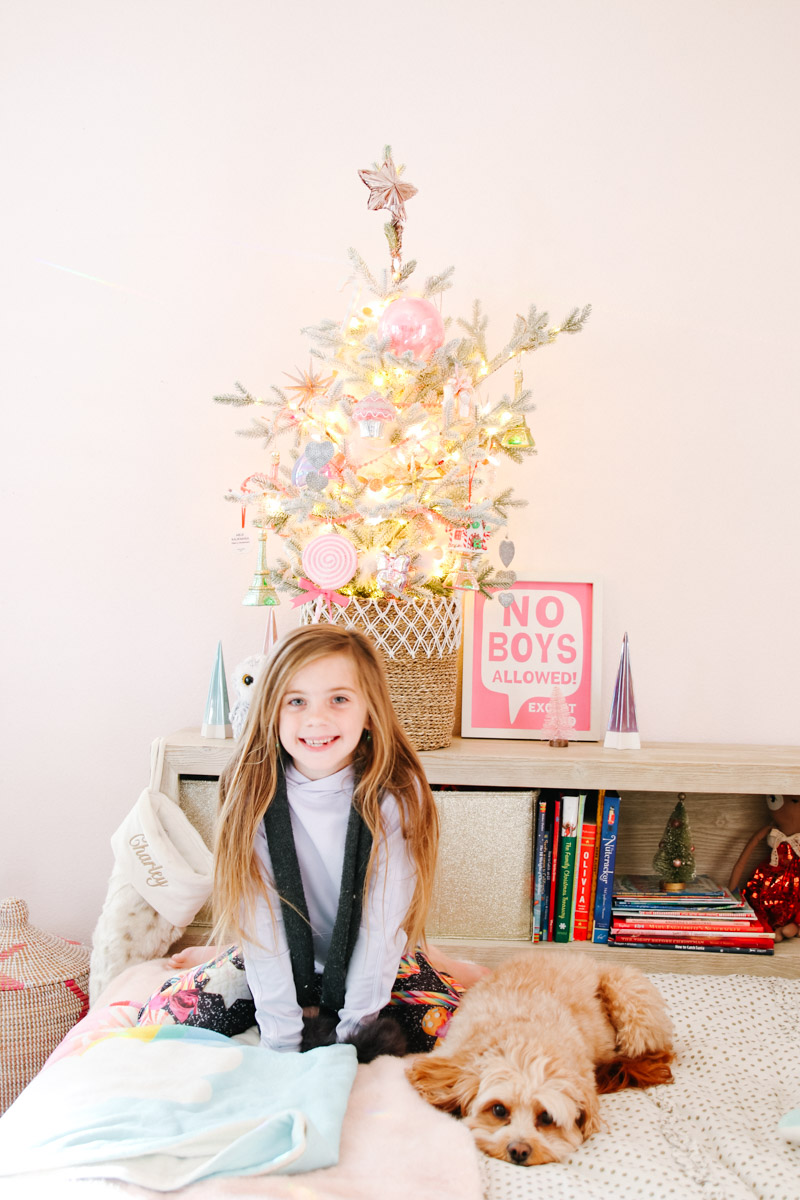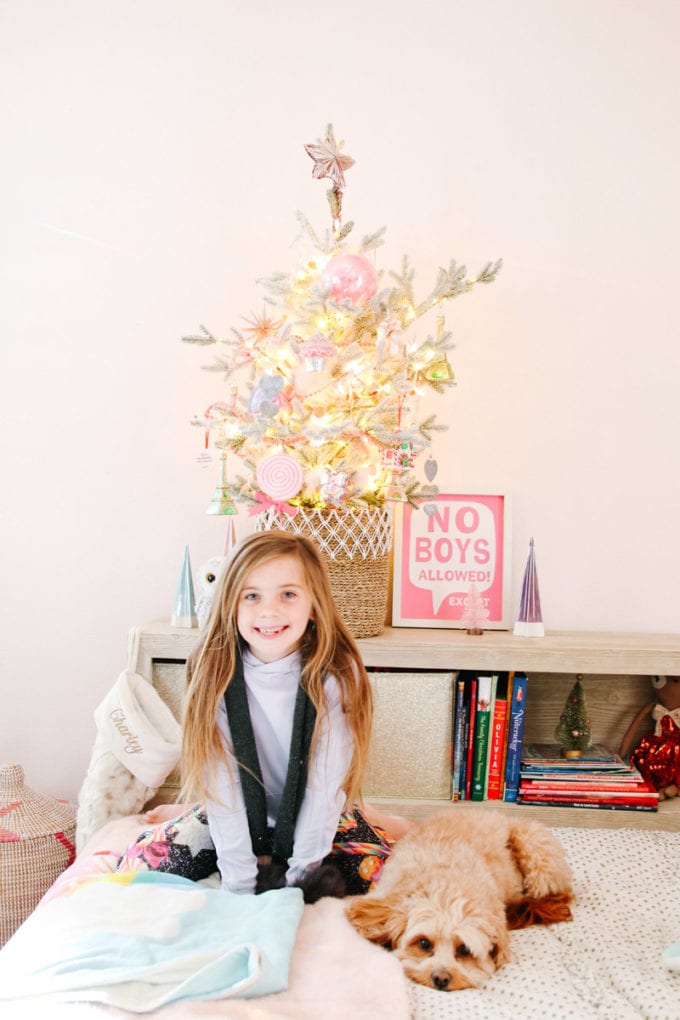 It's not perfect, but I love that she got to also take ownership in decorating her pink Christmas bedroom for the holidays. She agreed that having her room like this feels better more organized and is easier to clean!
Pink Christmas Tree Decor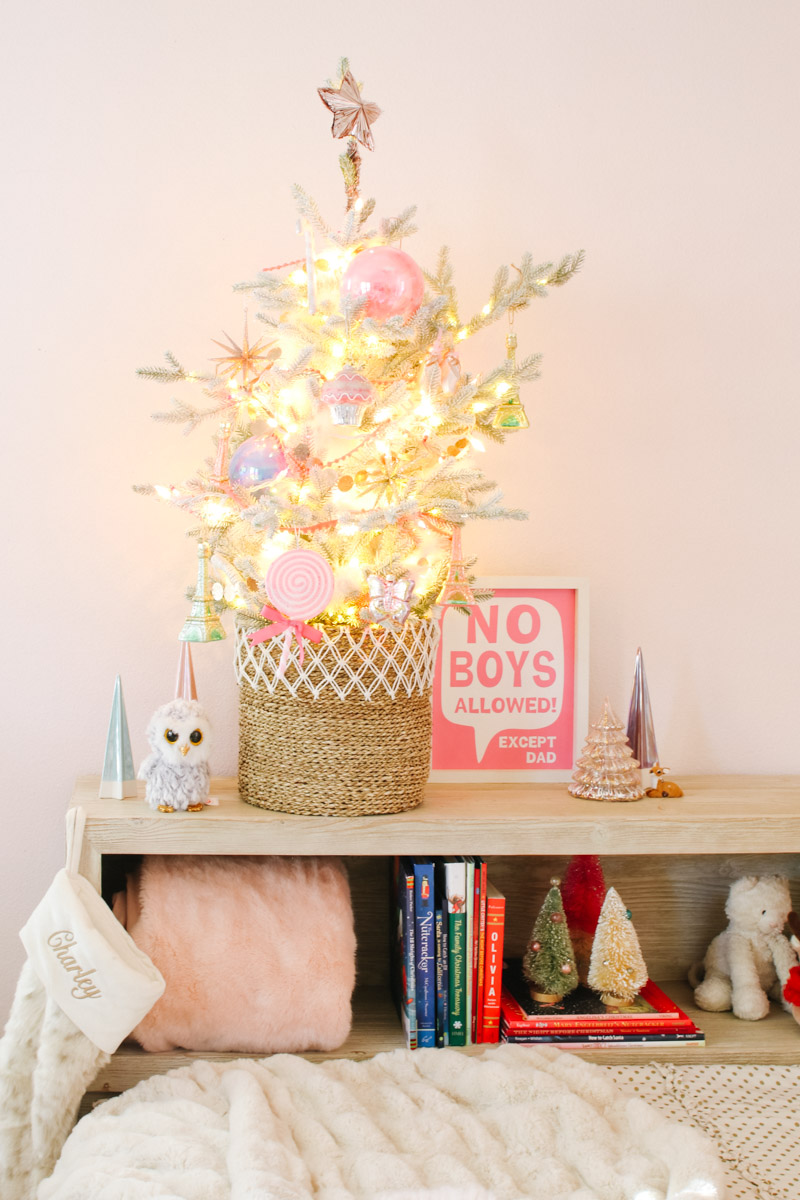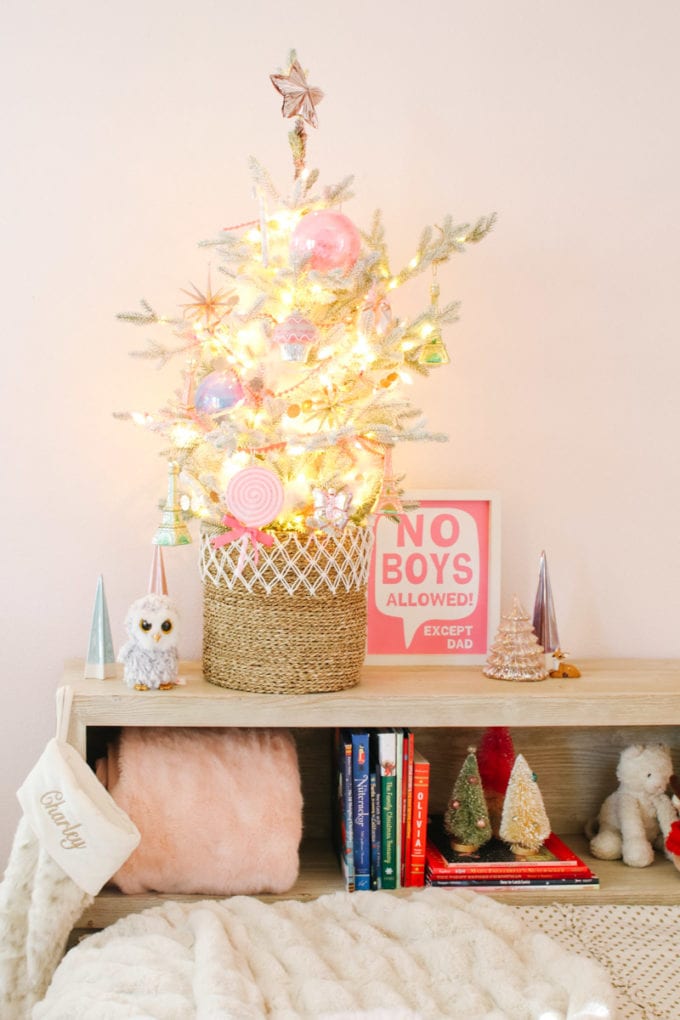 For Charley's pink Christmas bedroom we added this cute little flocked tree we found at Target this year. It came pre-lit with white LED lights and then I added some red and white twinkle lights. I love the extra dose of pink they add to this girly Christmas tree!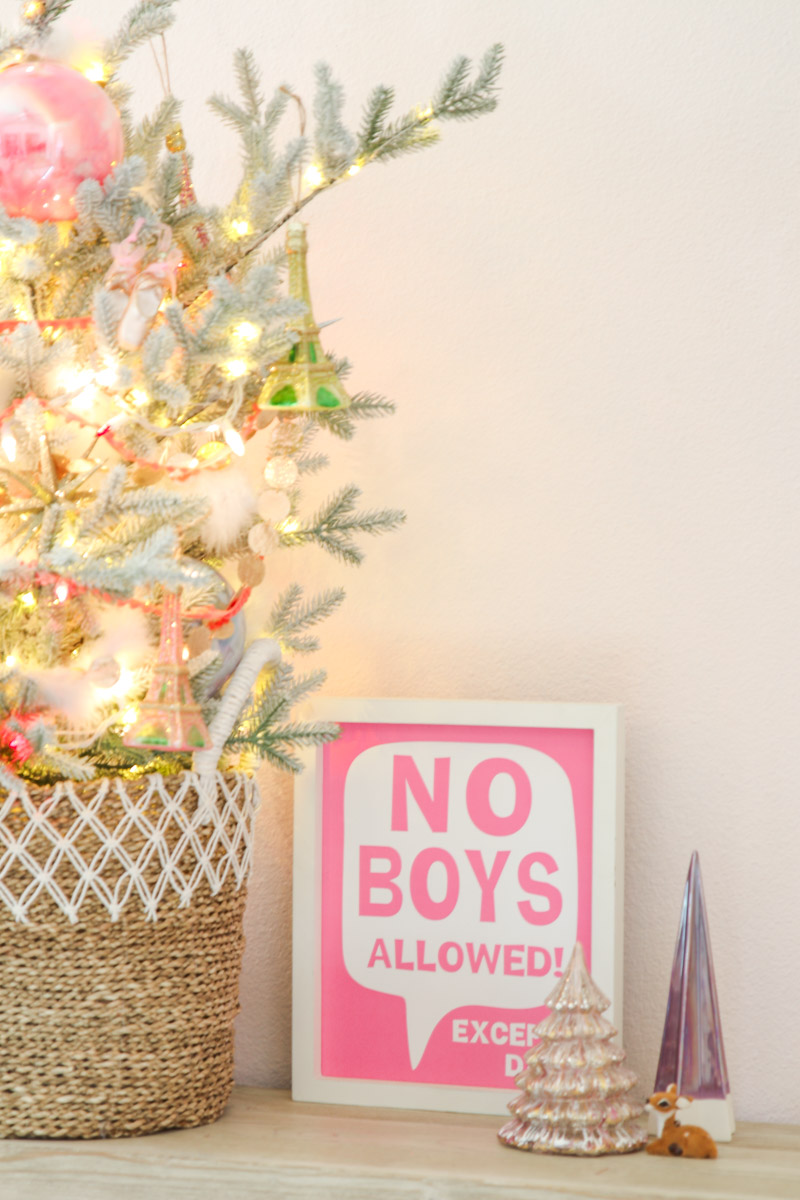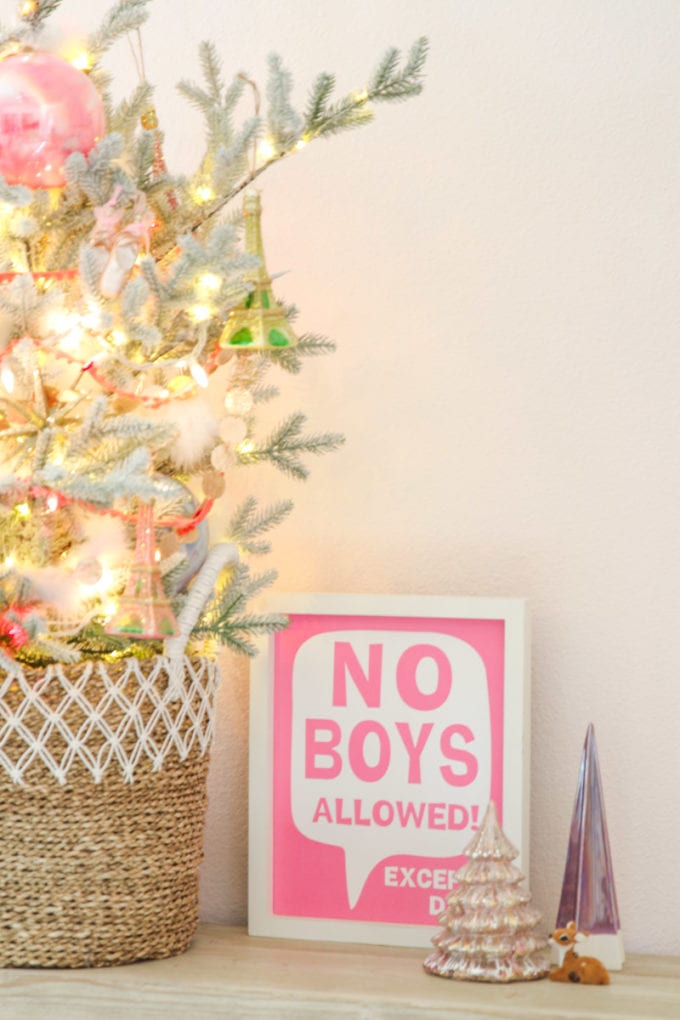 I placed the tree in a tall basket that I found at HomeGoods. It gives some height to the tree and I love the woven texture it adds.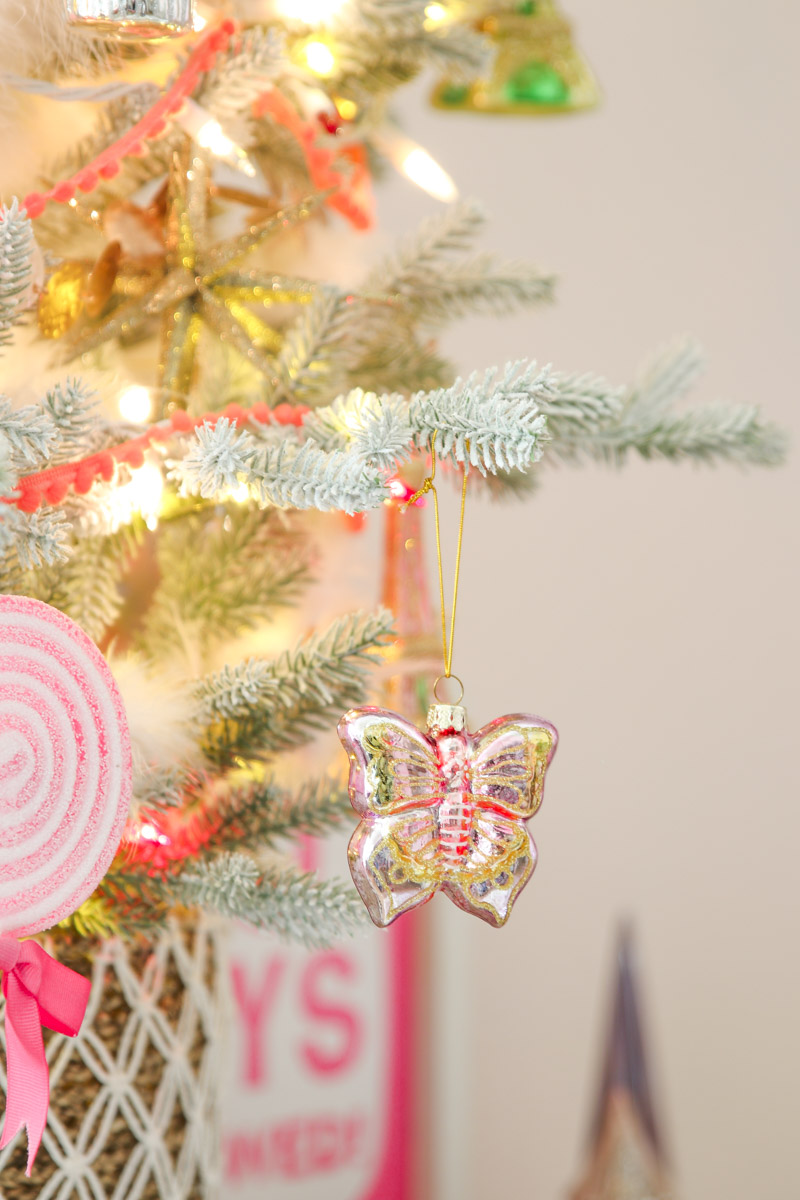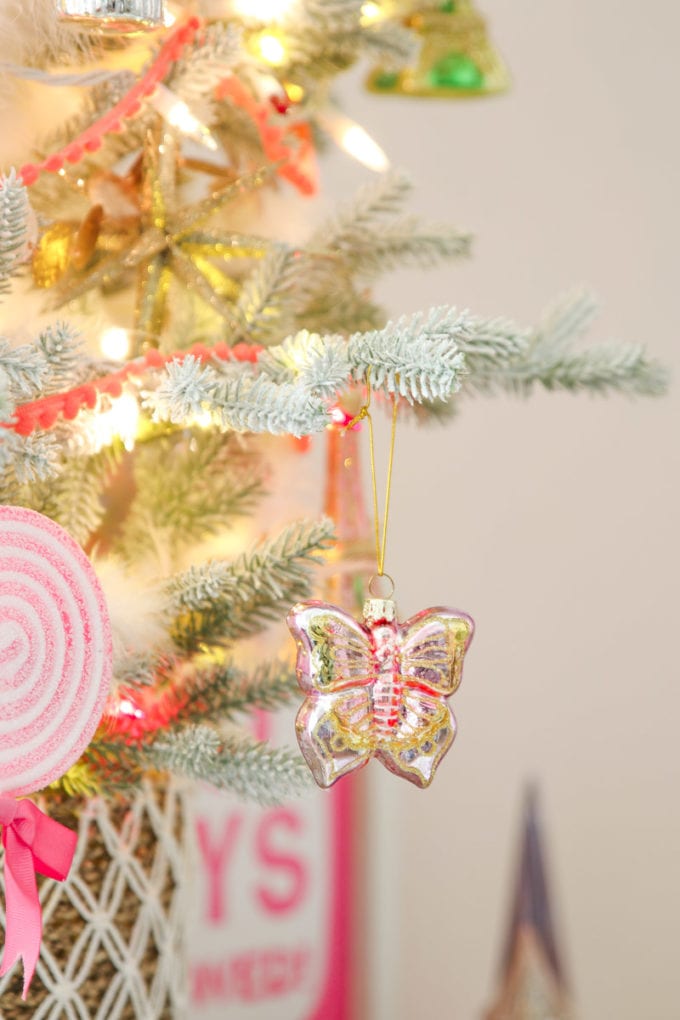 Then I added a white feather boa. Woven in-between the tree branches, it adds a little bit of girly fluff and helps fill in the spaces between the boughs.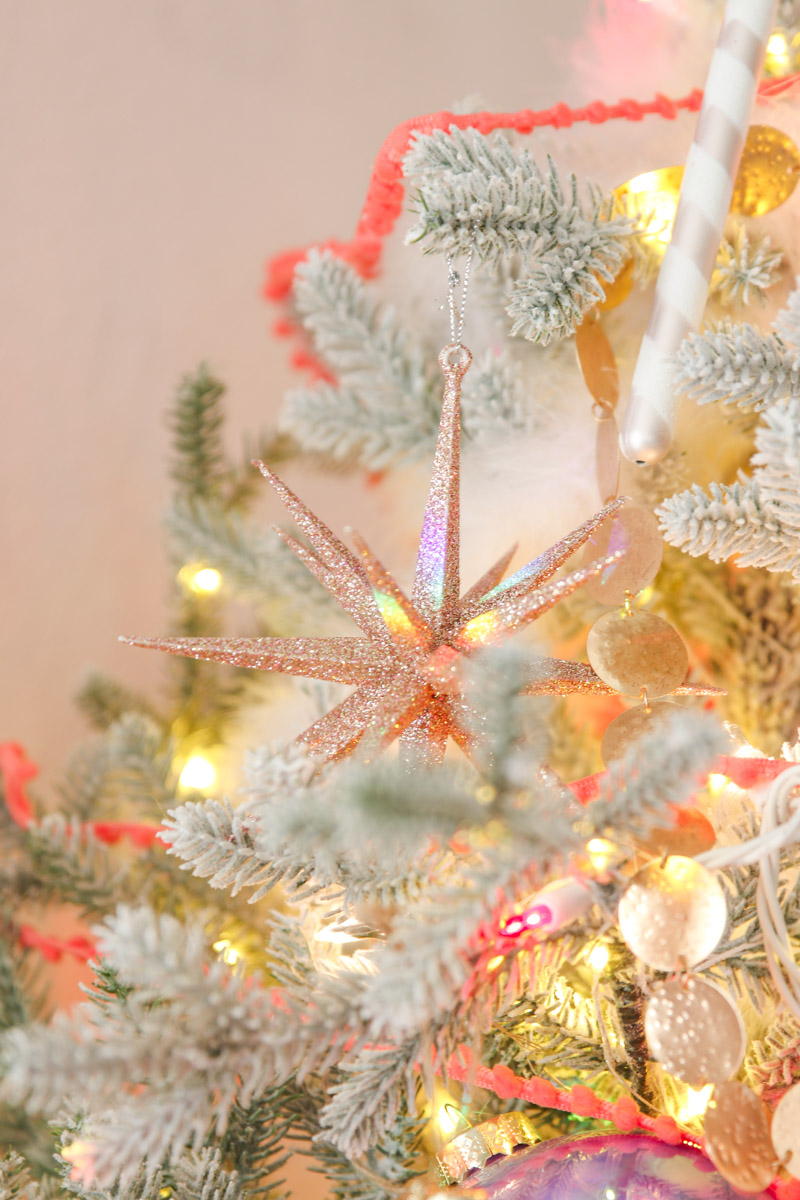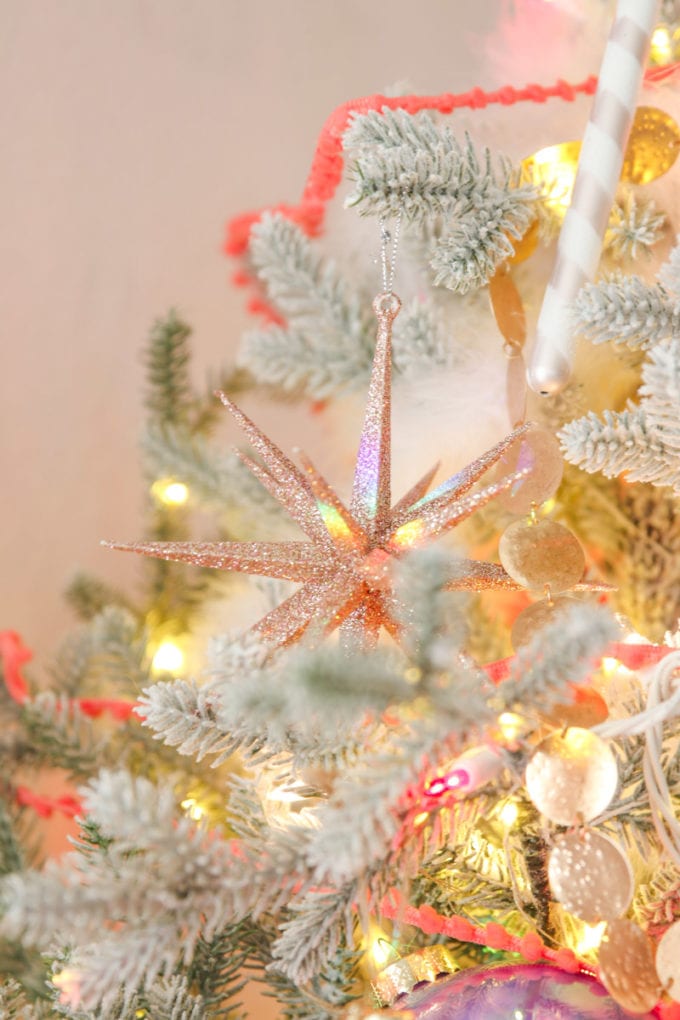 Each year, I let my kids decorate their own trees. We use the same ornaments year after year. Charley's tree is decorated with all things girly. Butterflies, ballet slippers, Eiffel Towers and candy. Everything that 7 year old dreams are made of!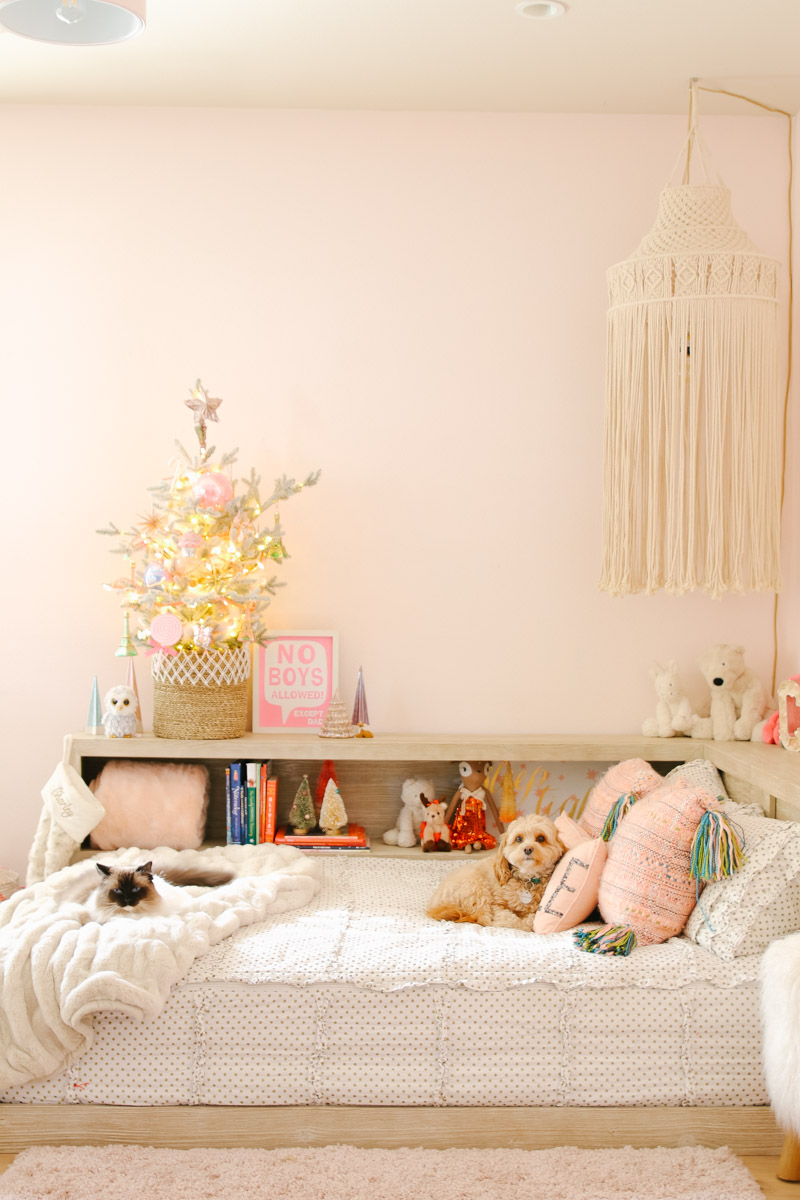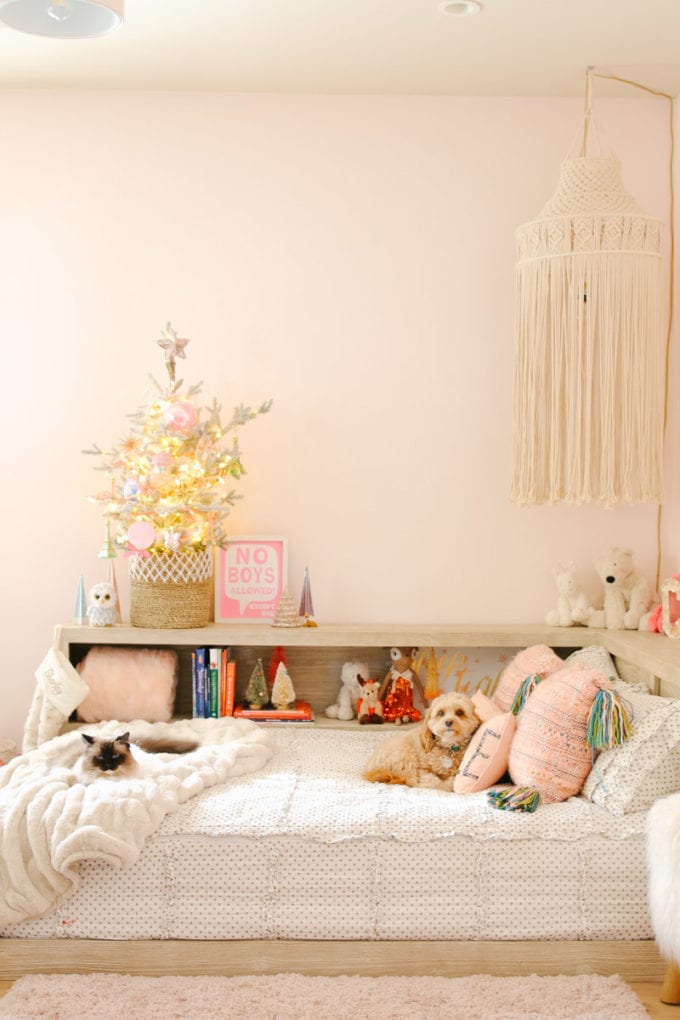 Overall, everyone is happy with the outcome, even Romeo and Juliet! P.S. they stayed sitting on the bed together for over 20 minutes – a new record!

Kids Bedroom Holiday Decorating Ideas
Now, be sure to visit all the other incredibly beautiful kids spaces decked out for the holidays! Head to DIY Decor Mom next and check her adorable ribbon tree! Too cute.
Two Twenty One / Modern Glam / DIY Decor Mom / At Charlotte's House

The Lily Pad Cottage / House by Hoff / Organized Mama / Kaleidoscope Living

C.R.A.F.T. / Lemon Thistle / Kate Decorates / Love and Renovations / Inspiration for Moms