Decorate your modern farmhouse Christmas kitchen for a festive holiday home!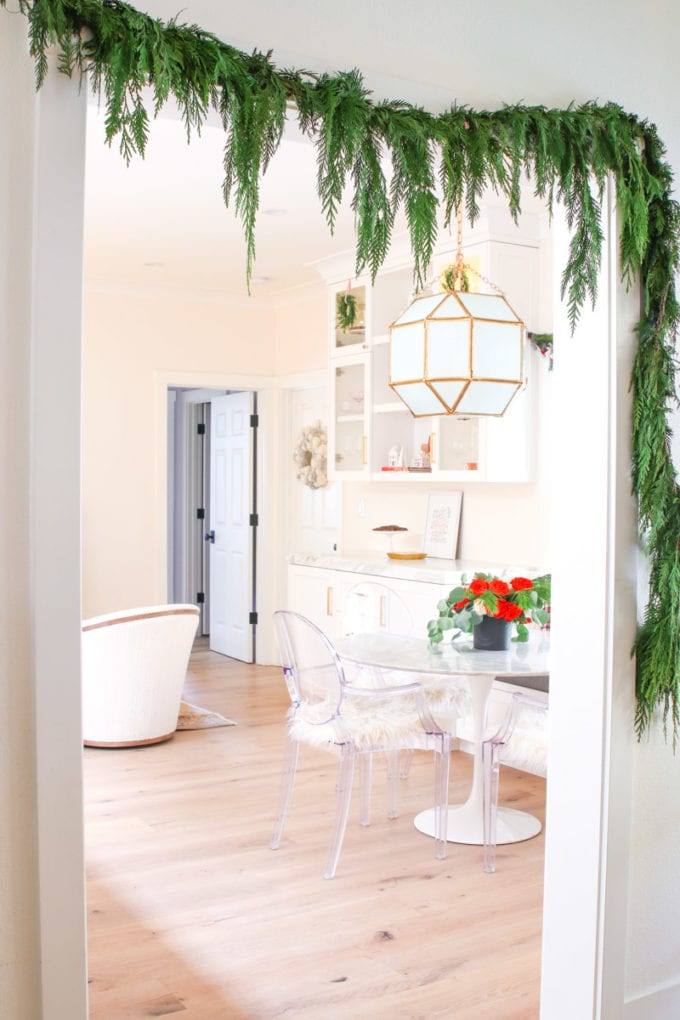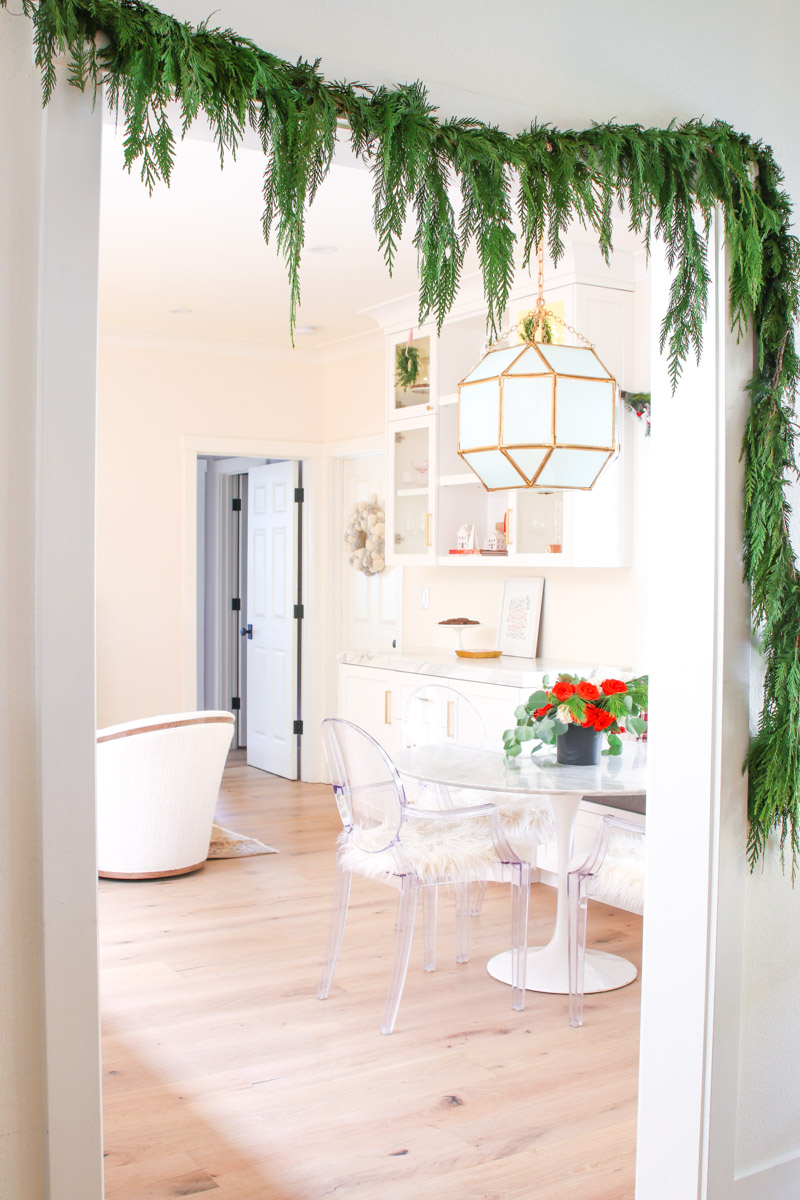 It doesn't take much to transform the heart of the home for the holidays. I will show you how to add a little dose of Christmas cheer to your kitchen.
And be sure to check out all the other beautiful homes being shared today, linked at the bottom of this post!
Modern Farmhouse Christmas Kitchen
If you're anything like me, you spend a lot of time in the kitchen during the holidays. Between baking, cooking and enjoying some extra family time, we seem to gather in our kitchen most during Christmastime.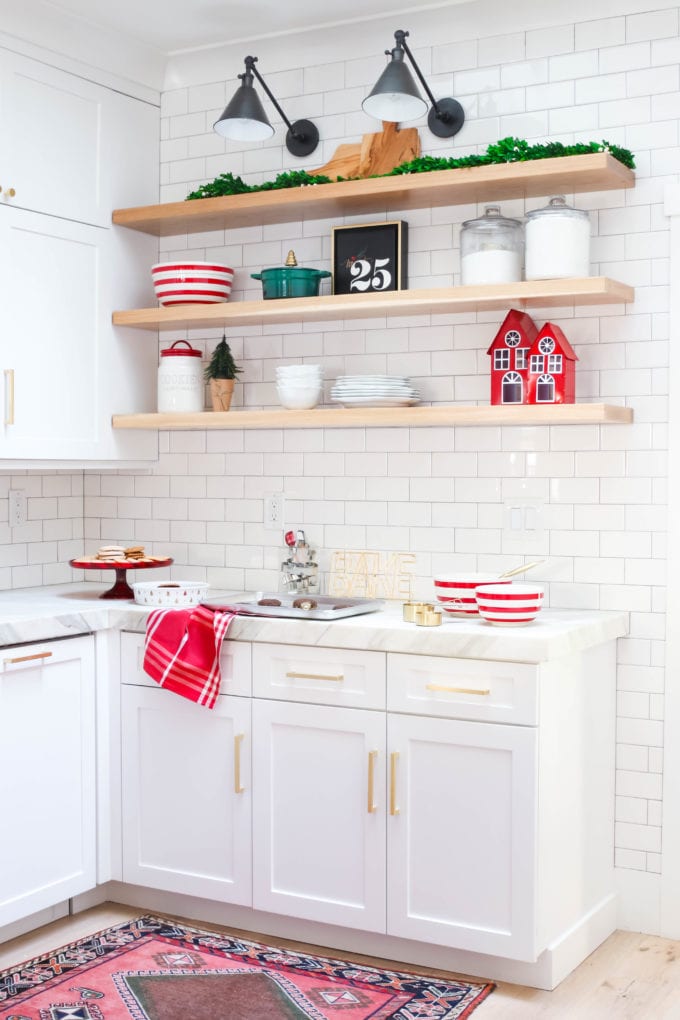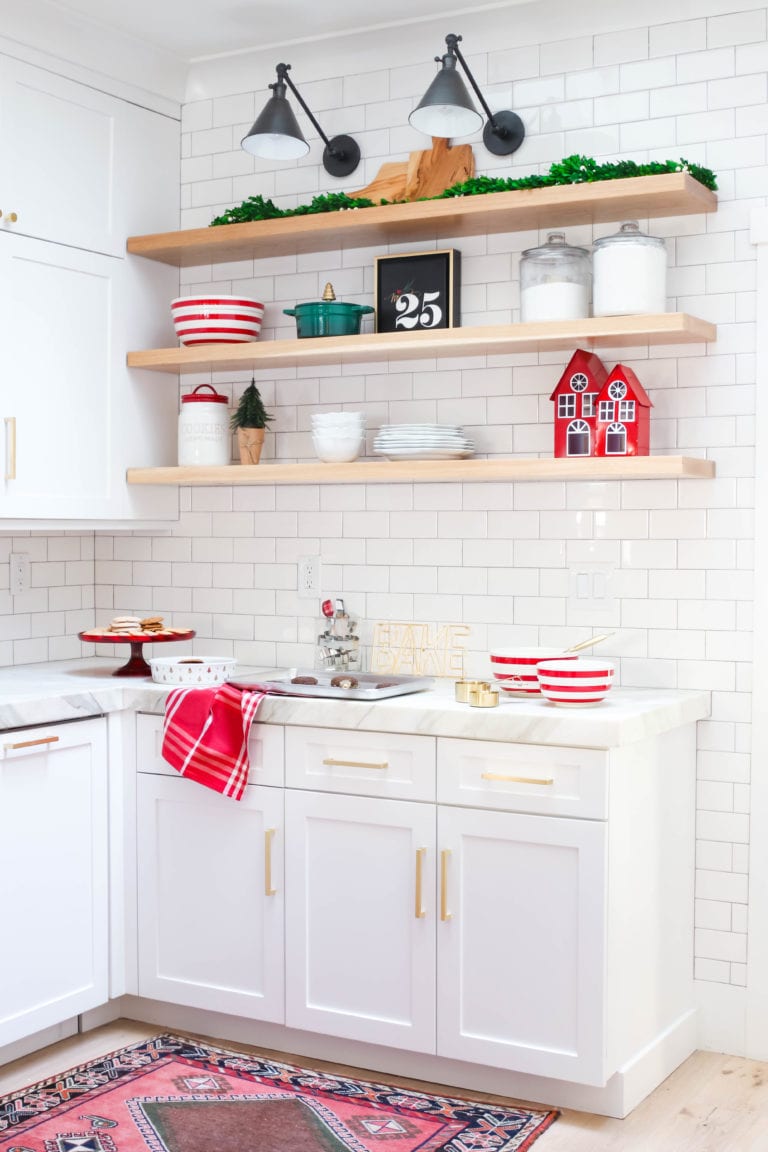 After completing our modern farmhouse kitchen remodel this past year, I have some extra fun spaces to decorate for Christmas!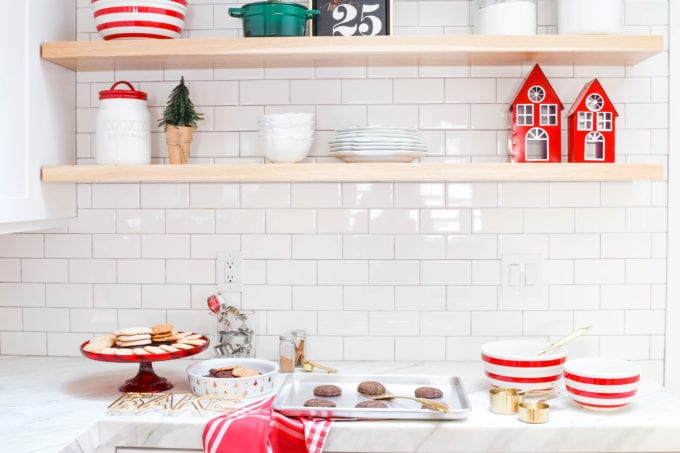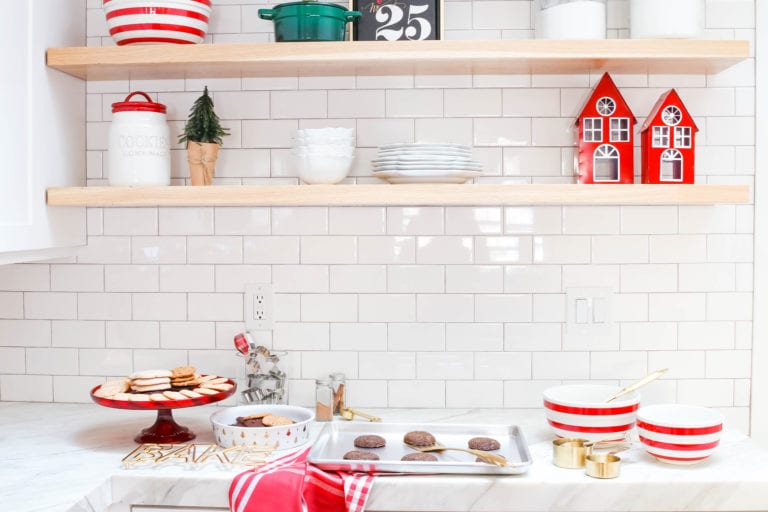 These oak floating shelves are the perfect spot to add a little pop of red. And I like to keep all my baking essentials close at hand to make it easier to bake holiday treats with the kids!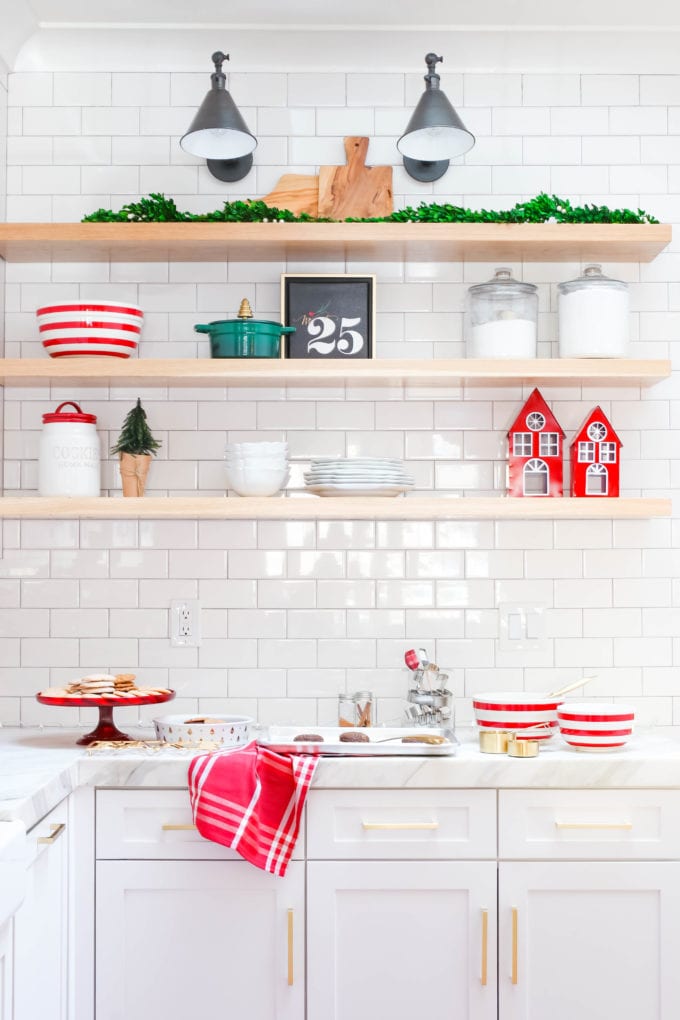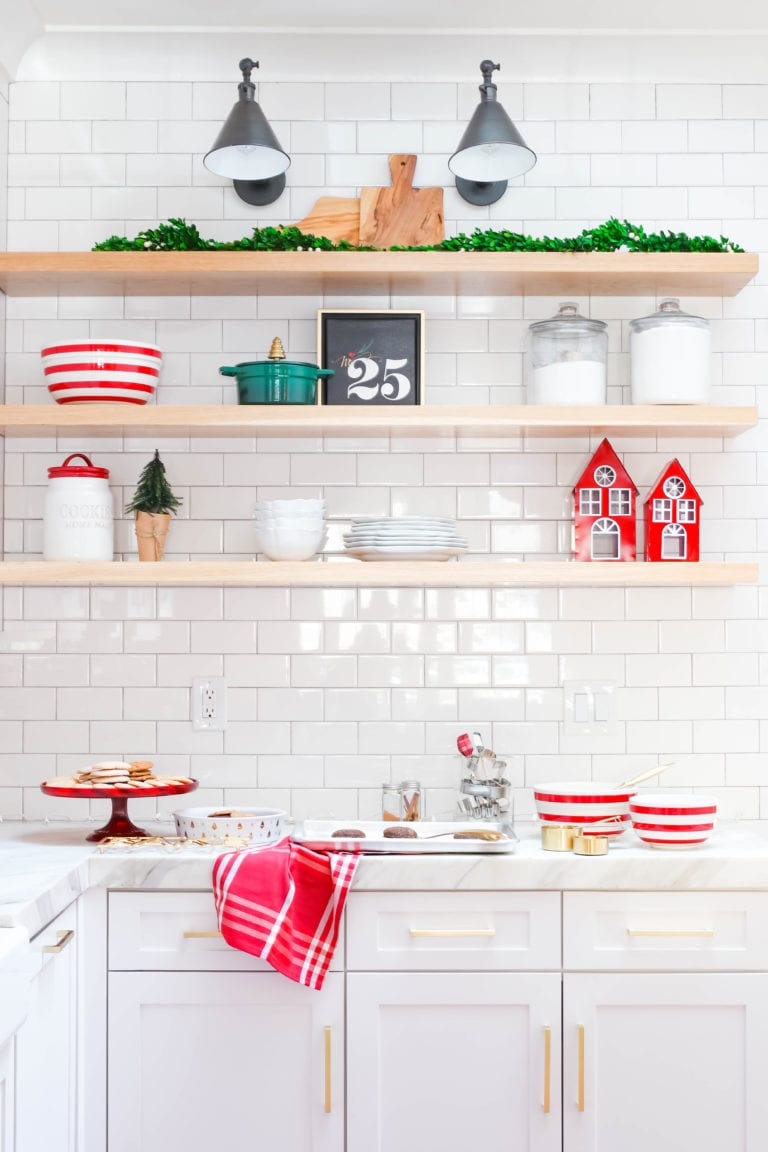 Check out my recipe for Chewy Spicy Ginger Molasses Cookies for the perfect holiday treat.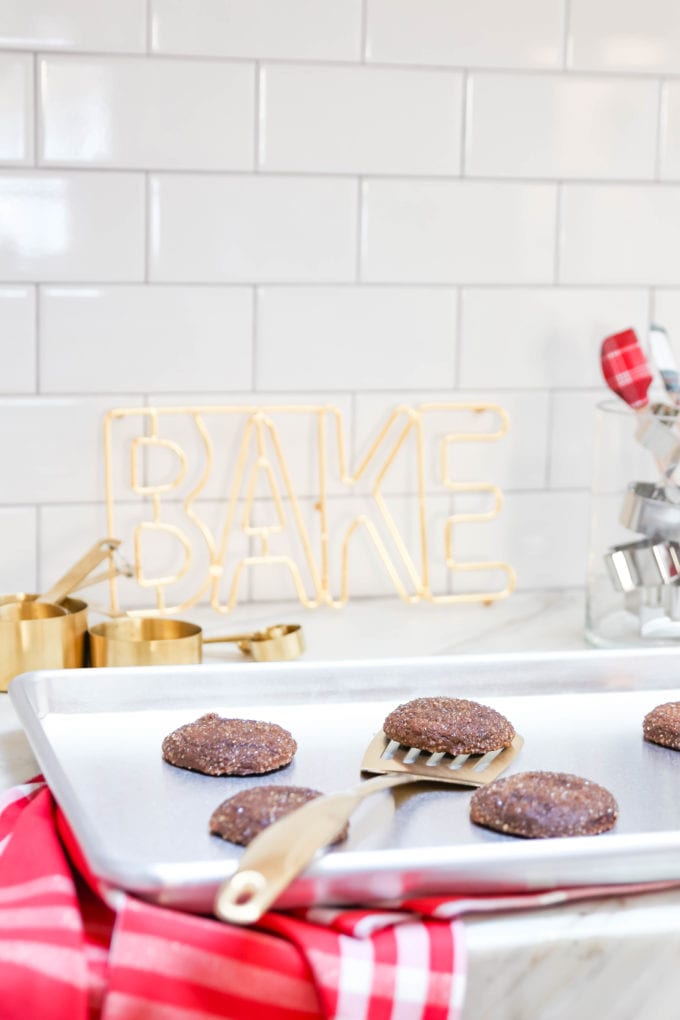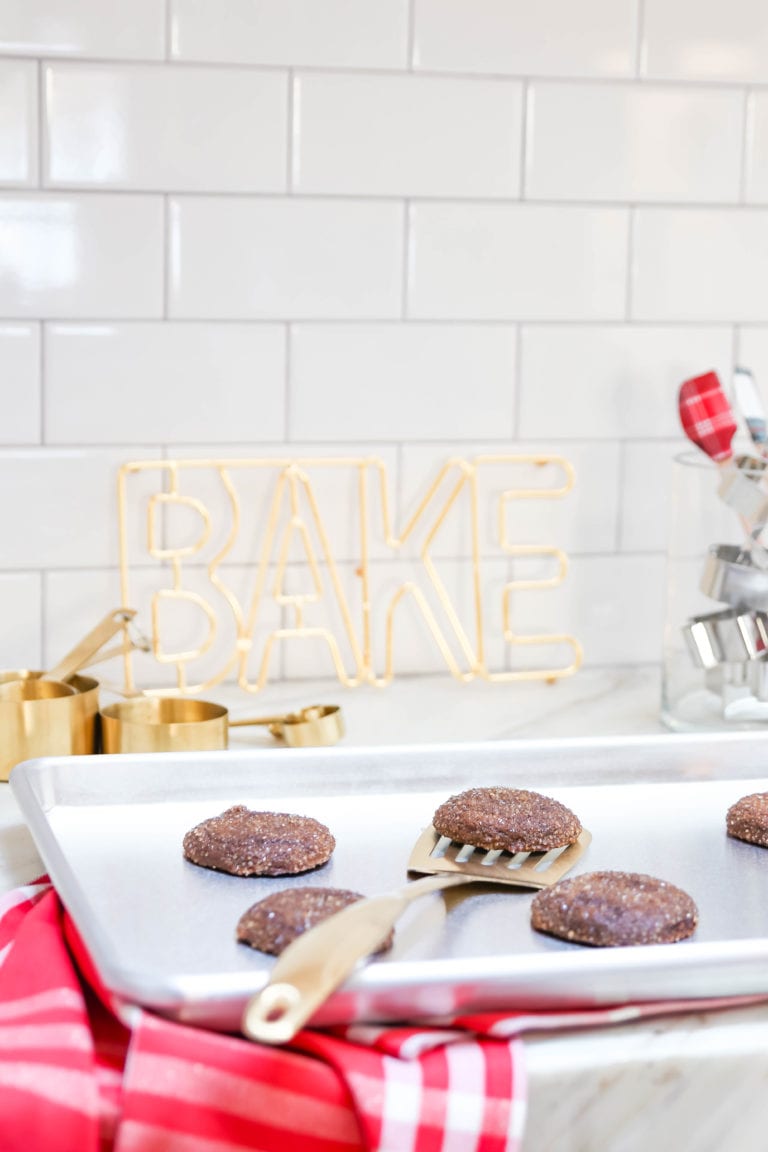 I lined the shelves with all the baking essentials. Mixing bowls, canisters of flour and sugar and a cookie jar. Then I added a few decorative touches. Like a preserved boxwood garland, cute tin houses and some Christmas artwork.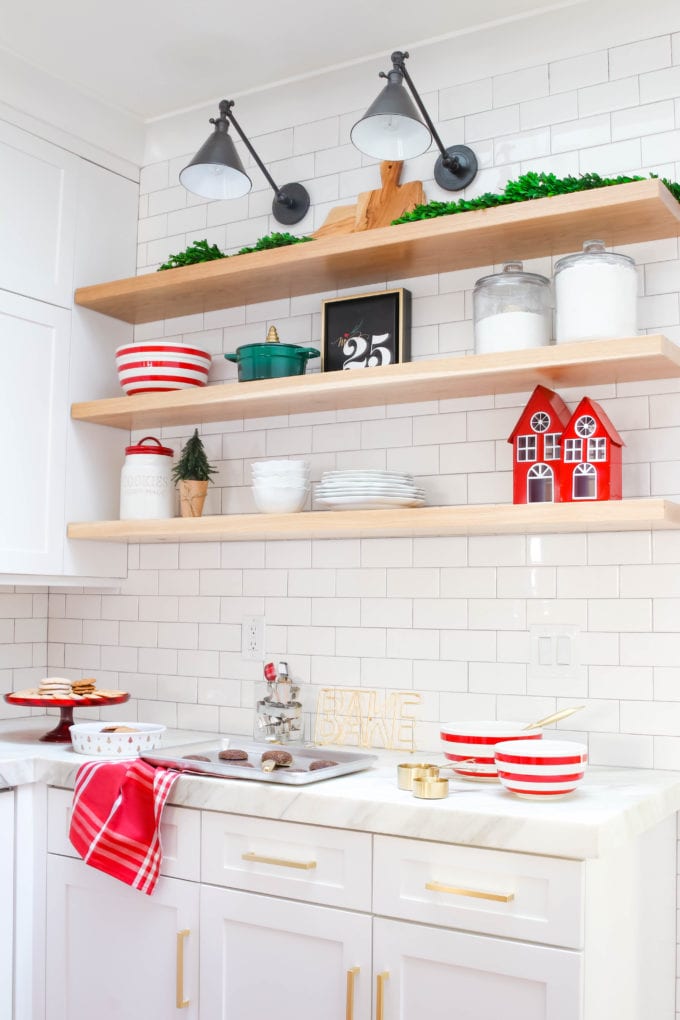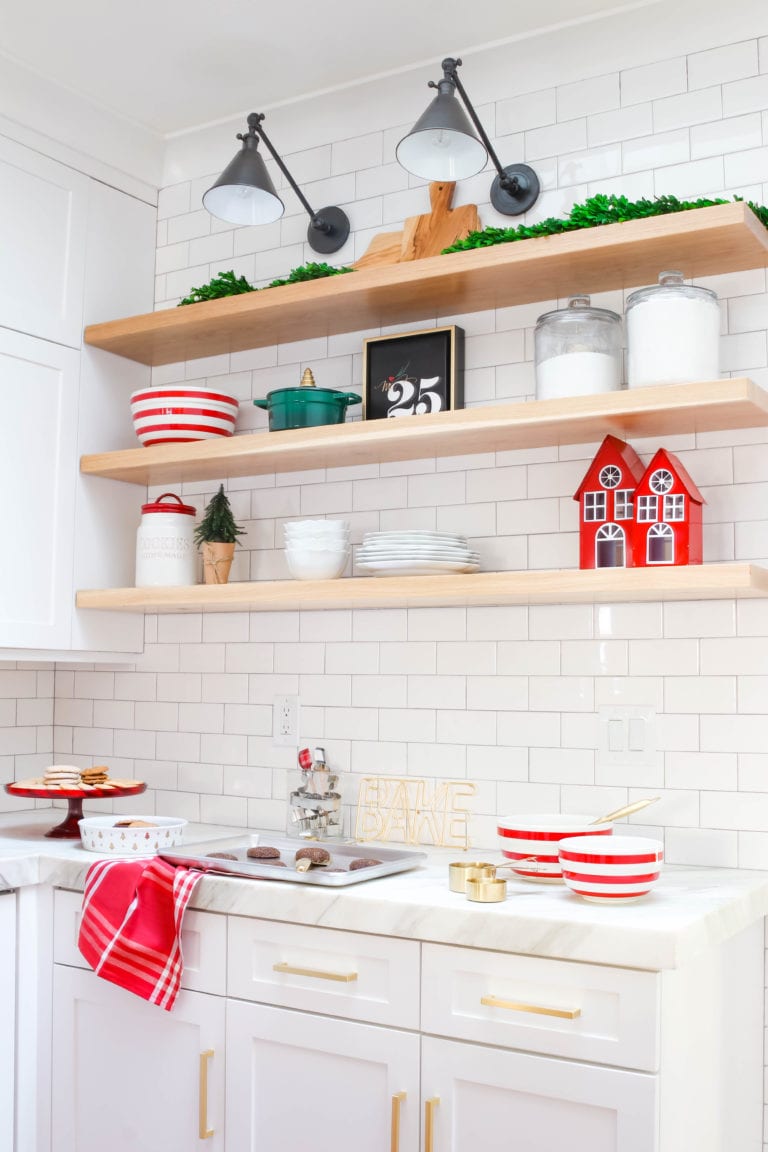 It doesn't take much to make it feel like Christmas in the kitchen. And if you have an all white kitchen like I do, the red really pops this time of year!
Farmhouse Christmas Kitchen Decor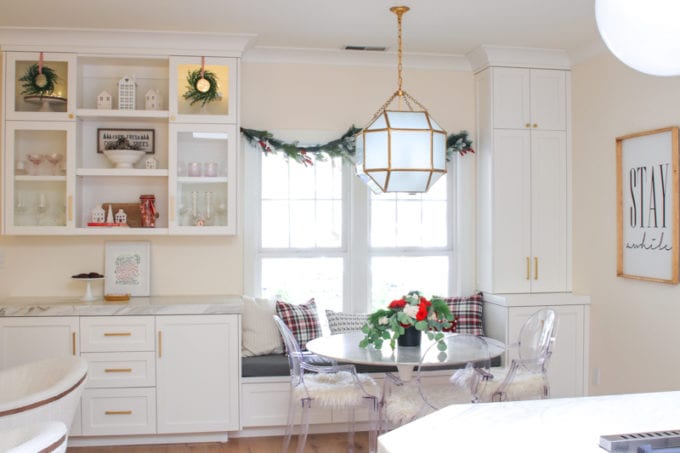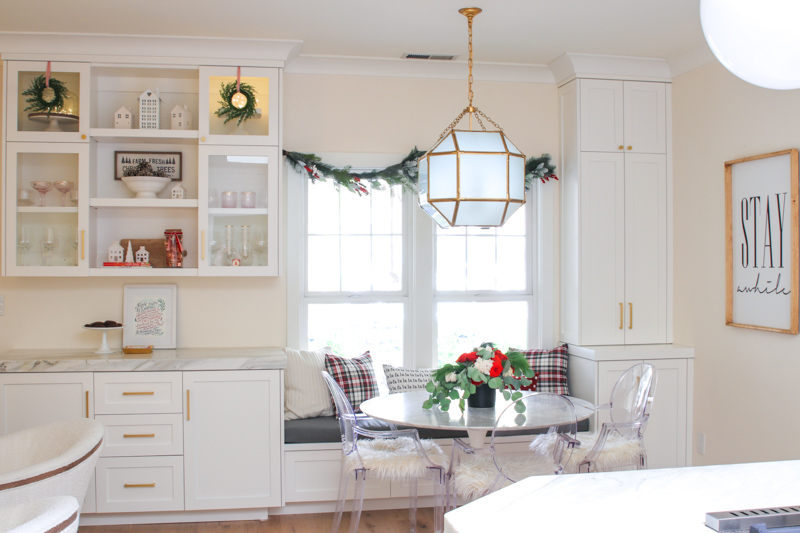 We recently finished building these cabinets on the other side of our kitchen. I framed the window with built-in cabinets and a window seat. It really is the coziest spot in the house.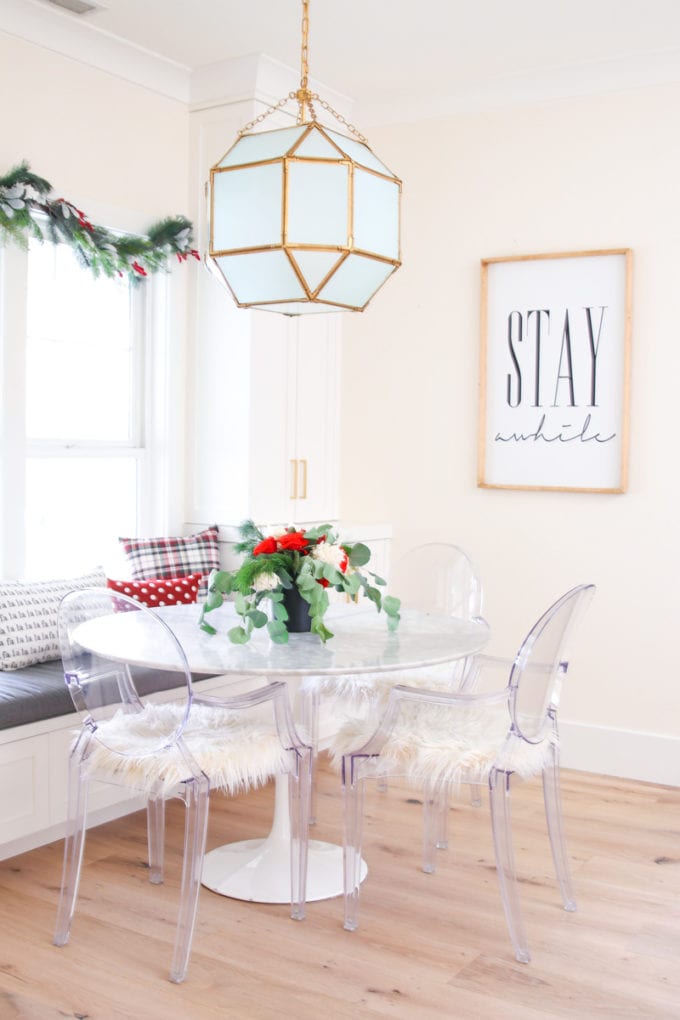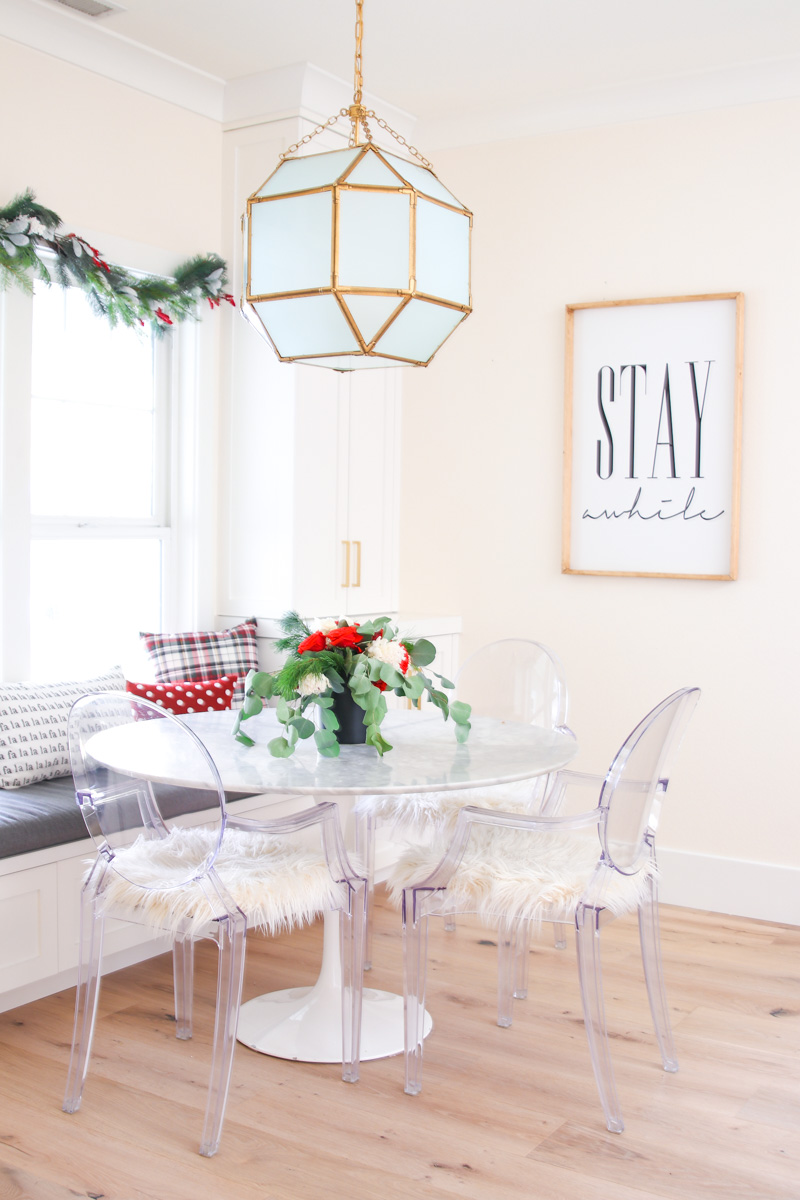 I added a few Christmas pillows to the window seat to make it feel extra festive. And a garland draped across the window feels absolutely perfect. I may add a wreath to each window, but for now I love the way this looks!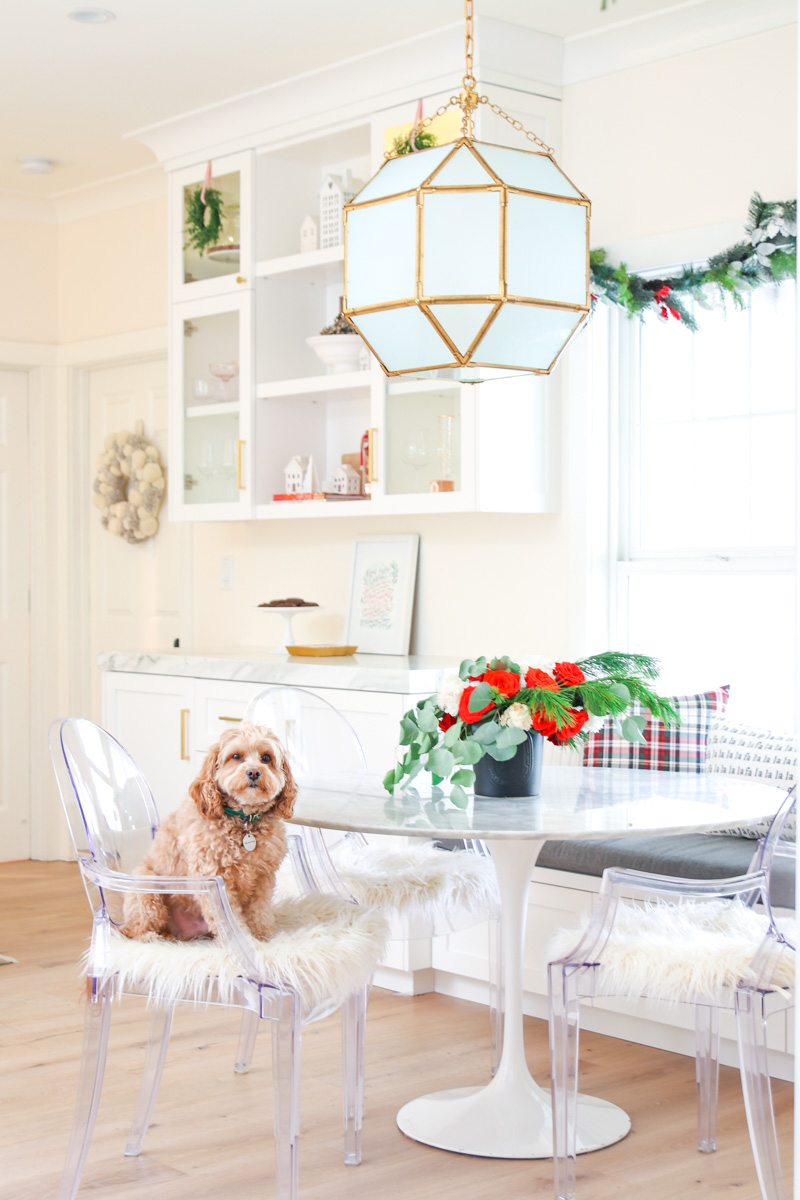 And per usual, Romeo snuck in and had to have his picture taken. He really is the cutest little model!
Minimalist Farmhouse Christmas Decorating Ideas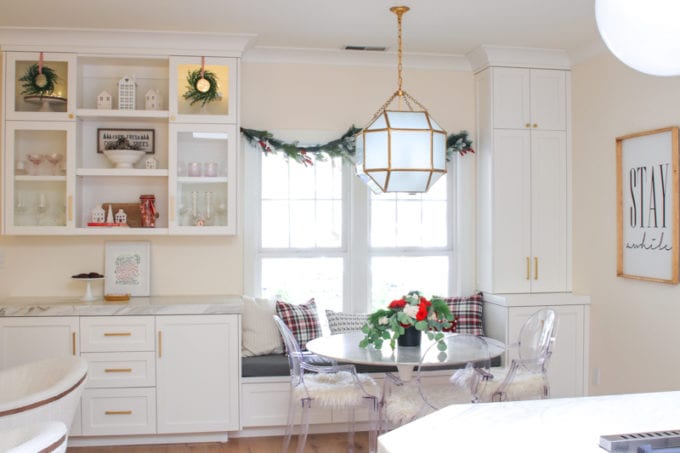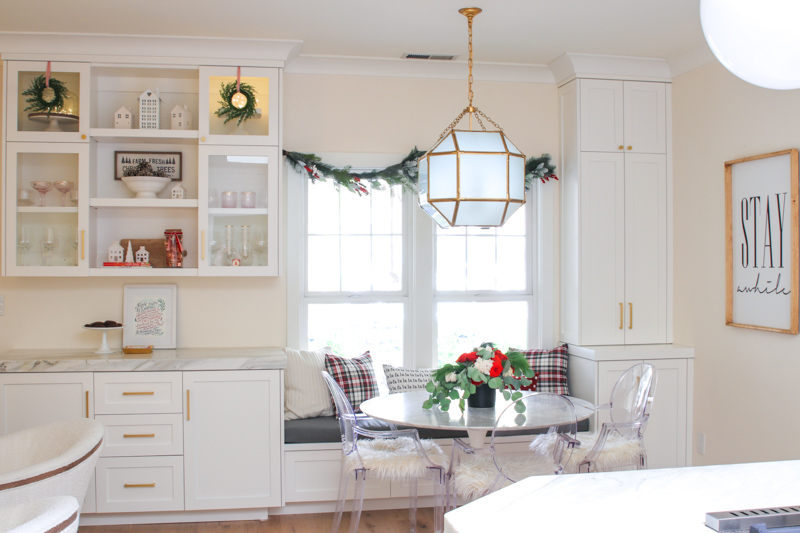 On this side of the kitchen, I love the open shelving that shows off pretty glassware and allows me a place to display a few Christmas decorations.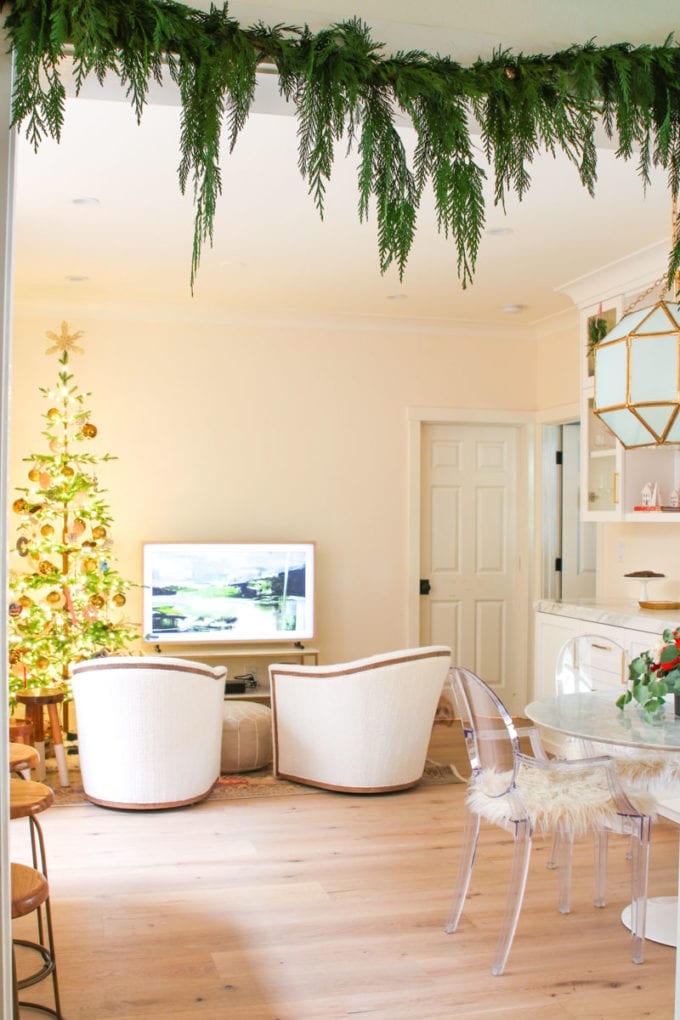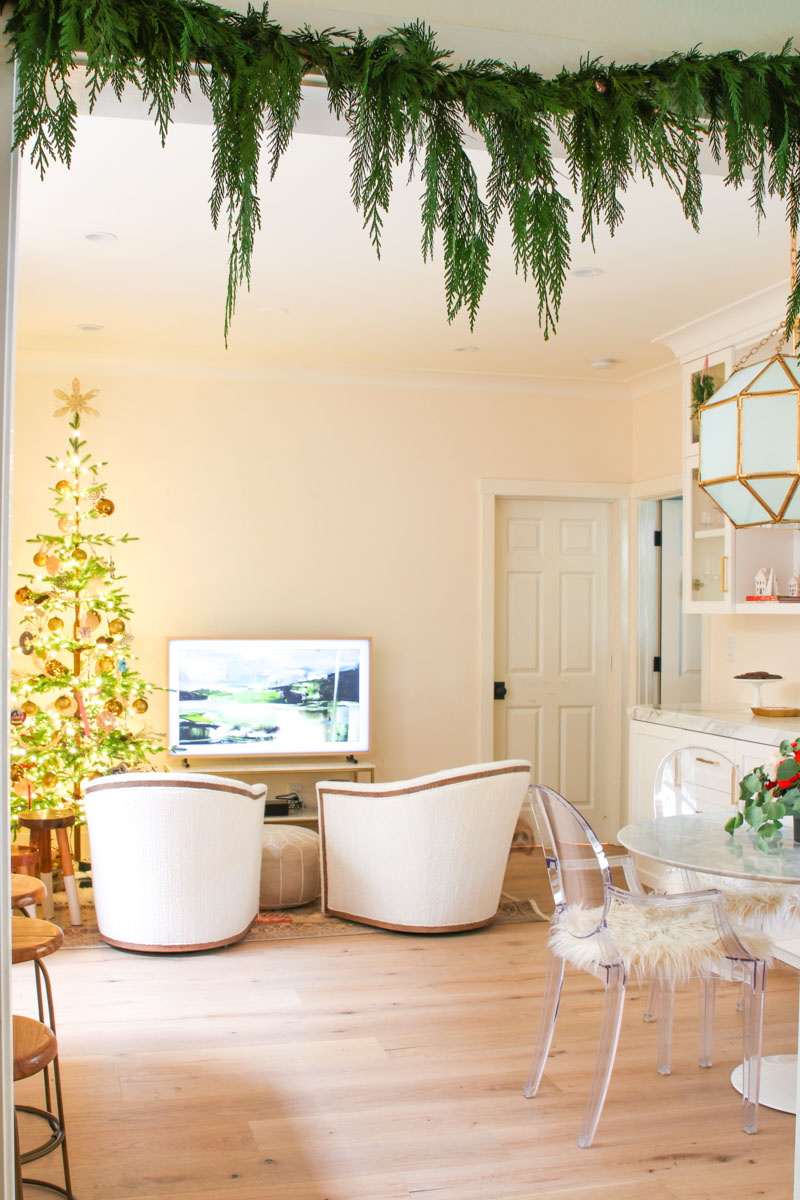 I kept things simple here. The key to this minimalistic decorating style is to keep things monochromatic and to add in some items that have patina and character.
Two simple wreaths hung by blush vintage ribbon add a classic feel to this space. To hang these, I taped the ribbon to the top of the door with a piece of painters tape. It fit perfectly and will be easy to remove.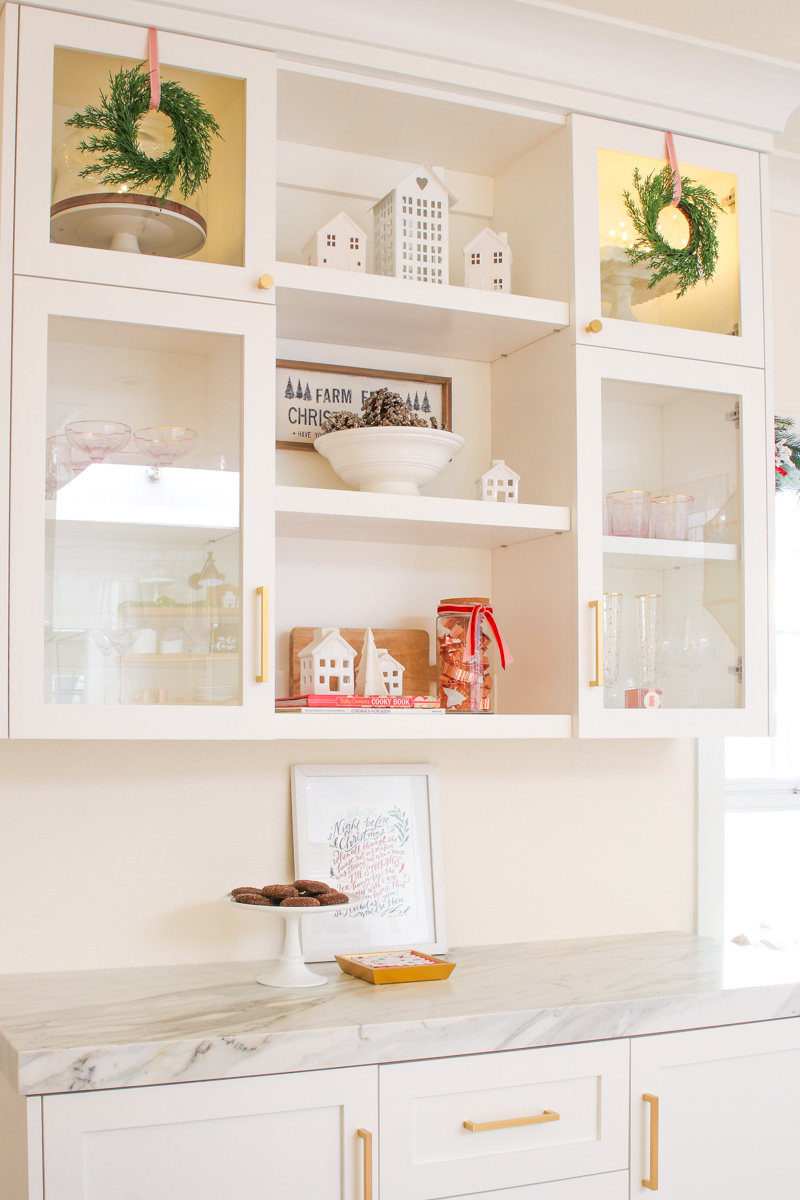 I placed my white houses here and some glass-glittered pinecones. A few antique breadboards add some character without getting too cluttered.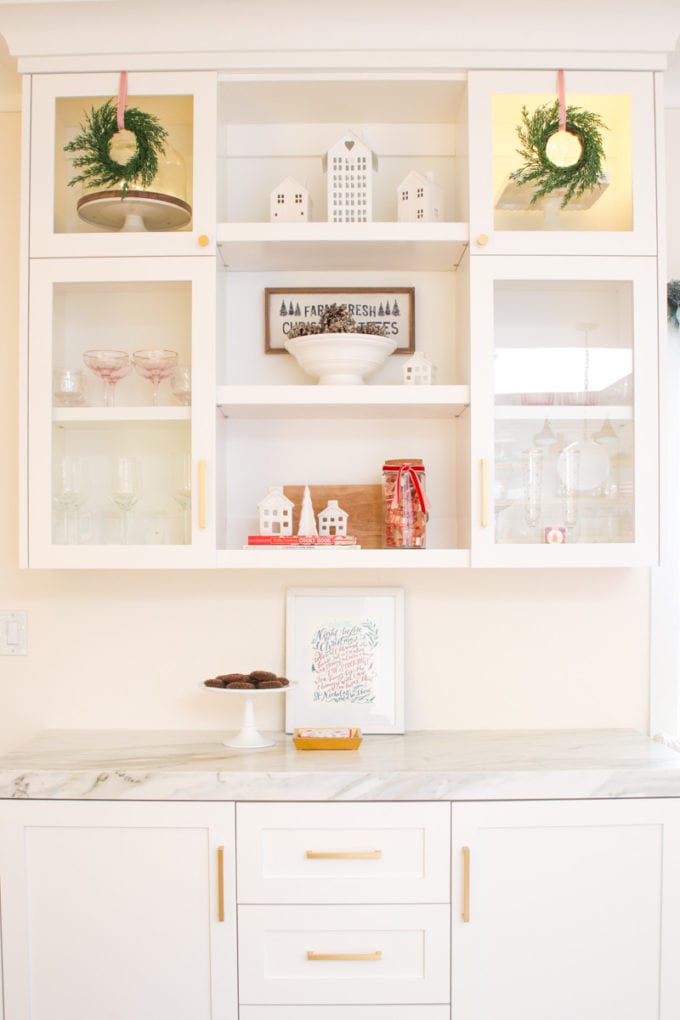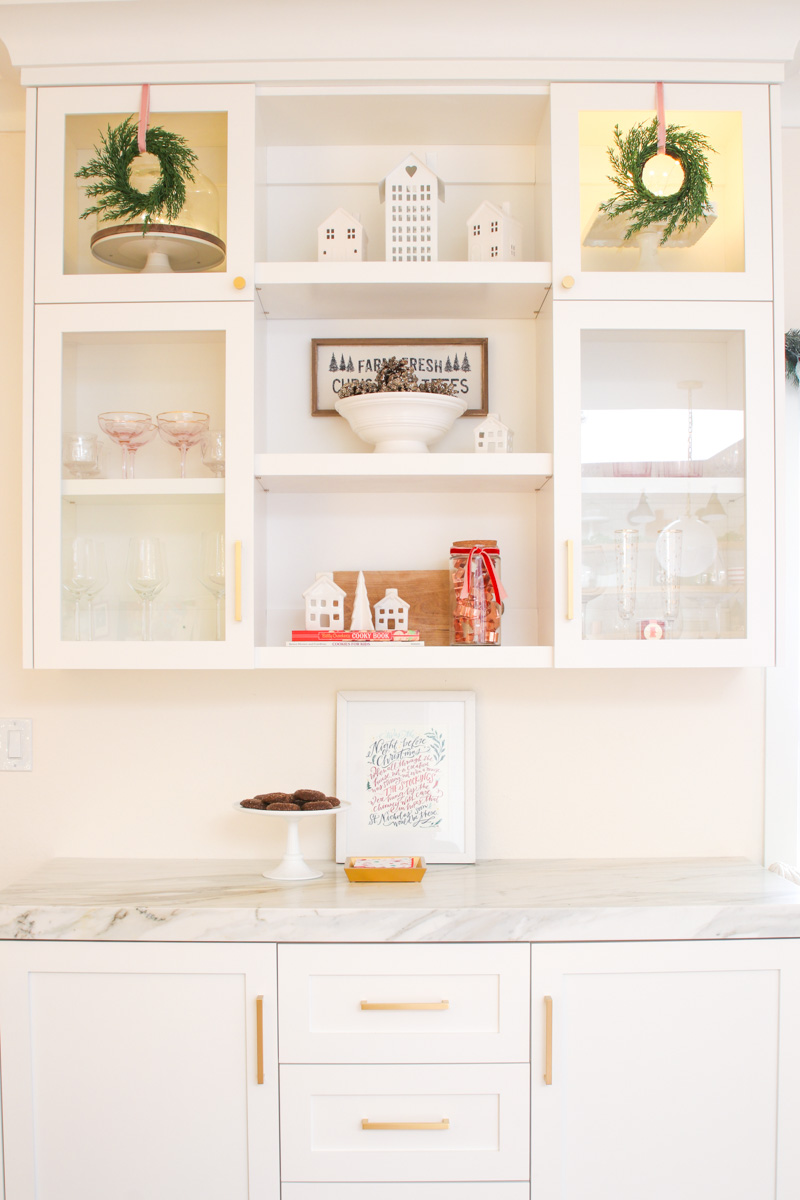 And for nostalgic reasons, I put out my Betty Crocker Cooky Book. I remember leafing through this when I was little. I have always loved baking during the holidays and this cookbook holds special memories. And I love adding items that hold memories, especially during the holidays.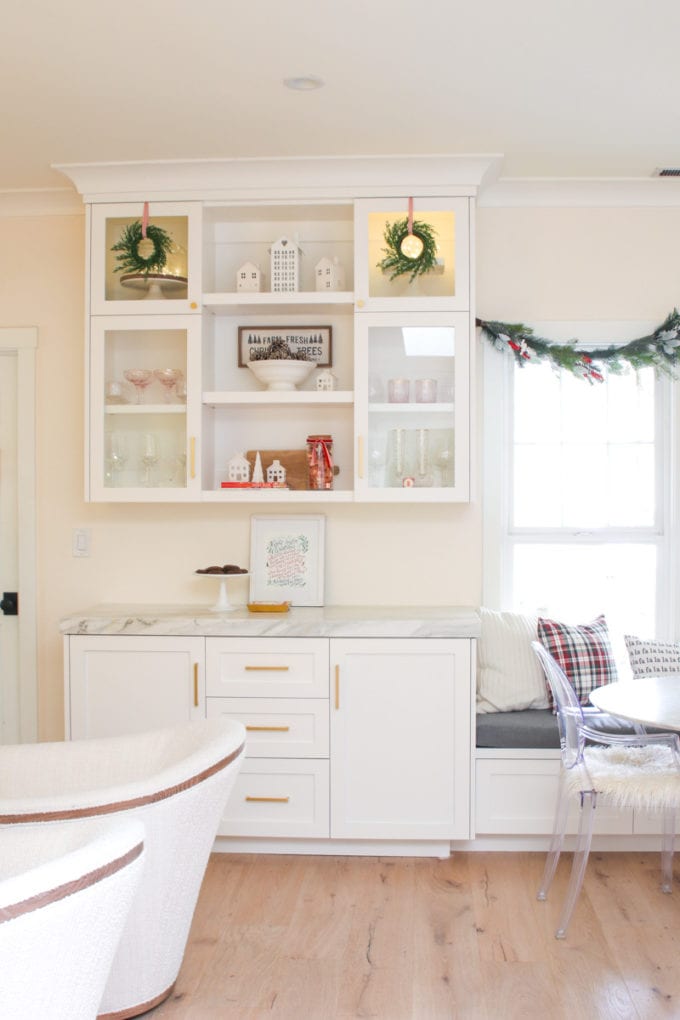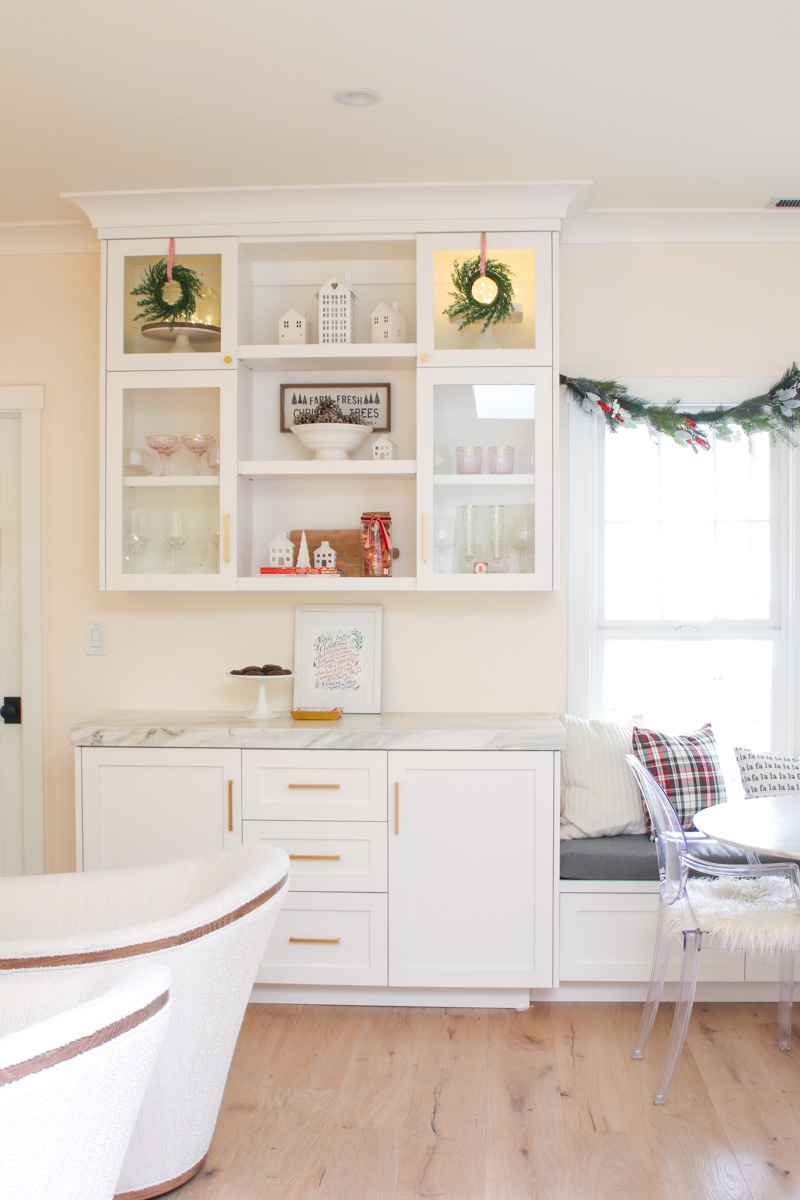 The upper cabinets display cake stands and I placed a strand of battery-operated LED lights up there to add some holiday twinkle.
I love using strands of these during the winter months. With their built-in timer, they go on everyday at the same time and illuminate the otherwise dark corners of the house.
Easy Ways to Decorate Your Kitchen For Christmas
You don't have to go overboard to make your home feel warm and inviting during the holidays.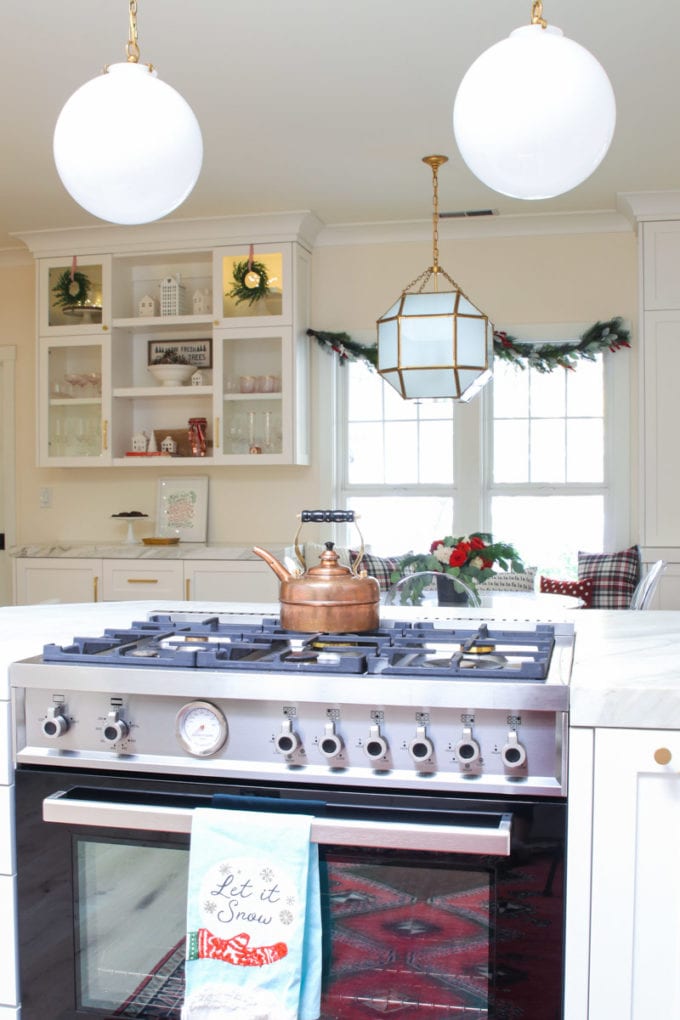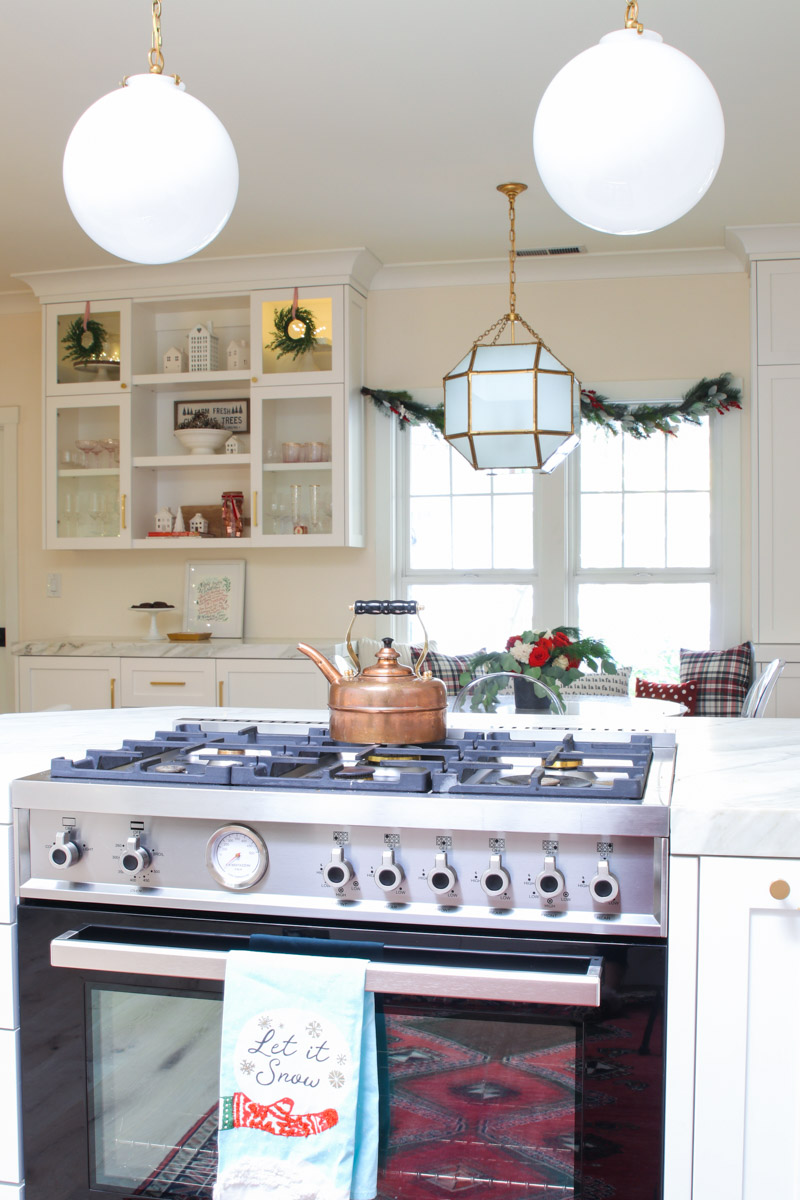 Here are a few easy ideas for adding some Christmas decor to your modern farmhouse kitchen:
Change out your dish towels with some seasonal ones.
Add some battery-operated twinkle lights (these are great with their built-in timer).
Place cookie cutters in a jar and put on display.
Put baking essentials on a shelf on on the counter to make holiday baking easier.
Add a wreath to upper cabinets.
Drape windows or doorways with faux or fresh garland.

I hope this gives you some inspiration and helps you decorate your kitchen for the holidays. A warm and welcoming festive kitchen is one of my favorite spots during Christmastime!
More Holiday Decorating Ideas
And be sure to check out all the other Christmas Home Tours below!