See how we updated our kitchen to have a more modern farmhouse look and feel. With the use of paint and open shelving we transformed our kitchen from builder-basic to a custom space filled with timeless details.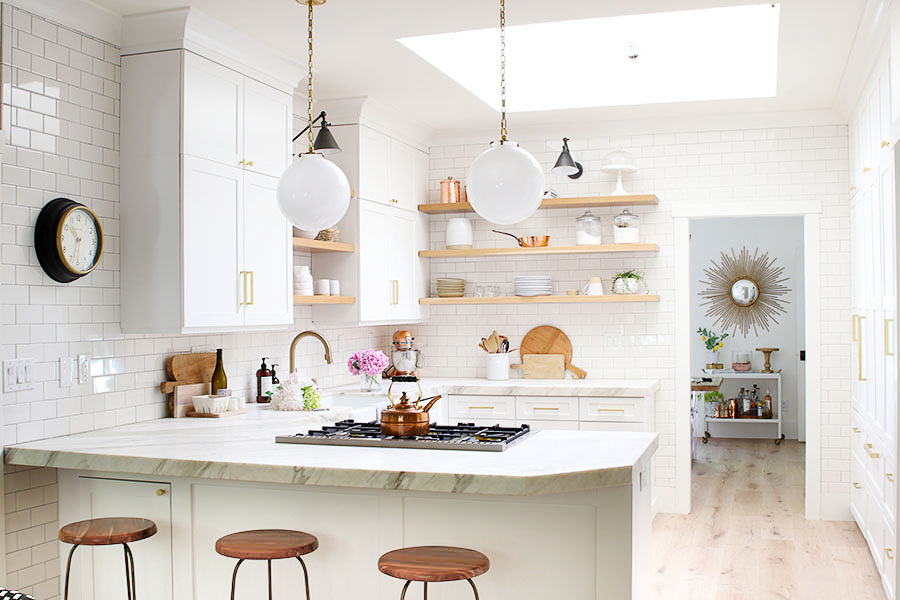 Updating, renovating and improving our home is in my blood. Growing up my parents dragged me to open houses every Sunday as they looked for ideas they could use in our home.
We lived in 5 different houses within the first 11 years of my life. And the houses that my parents didn't custom build, they renovated.
So, when my husband decided to start his construction business 5 years ago I didn't say no! Ha! Ideas and visions of projects for our home started filling my head. But with that perk definitely comes a side of some serious patience. You know what they say about the shoemaker's children, right?
Design projects at our home take ten times longer than the average customer. Our projects come last and get worked on in-between other jobs. So, when we first started this modern farmhouse kitchen remodel 6 months ago, I knew it would take a loooong time.
You can see more of our home and the work that you have done on it by reading my Modern Farmhouse Home Tour.
Modern Farmhouse Kitchen Reveal
This kitchen remodel has been a work in progress to say the least. When we first moved into our home 9 years ago, this kitchen had white Corian countertops, stained maple cabinetry and no personality at all.
Within the first year we painted the cabinets, added an apron-front farmhouse sink, replaced the countertops and added subway tile to the backsplash and walls. We loved the updates that fit within our budget at the time.
Here is a before and after. The first picture is when we purchased the home. And the second was taken last year.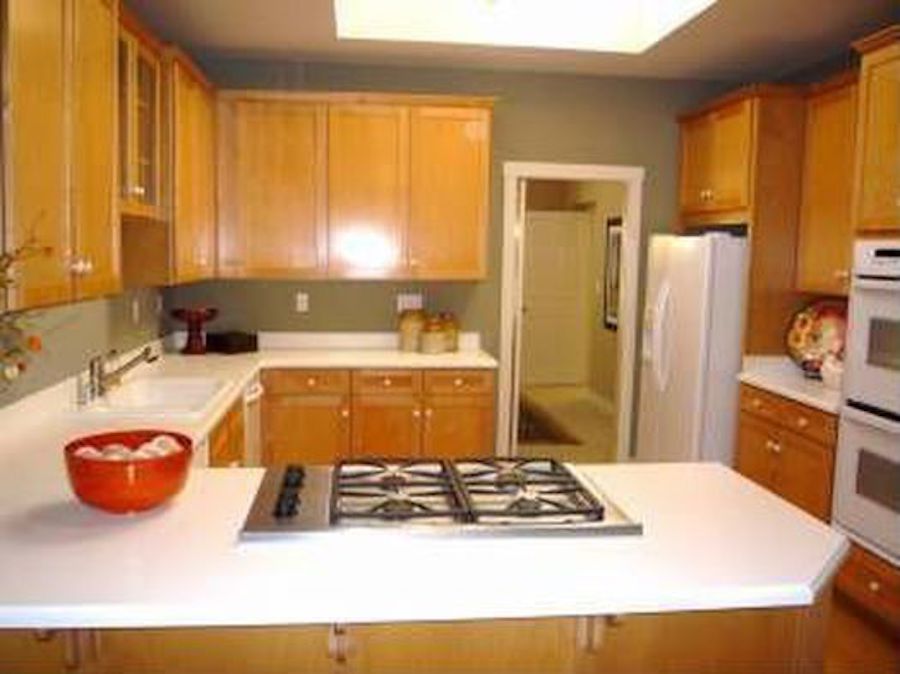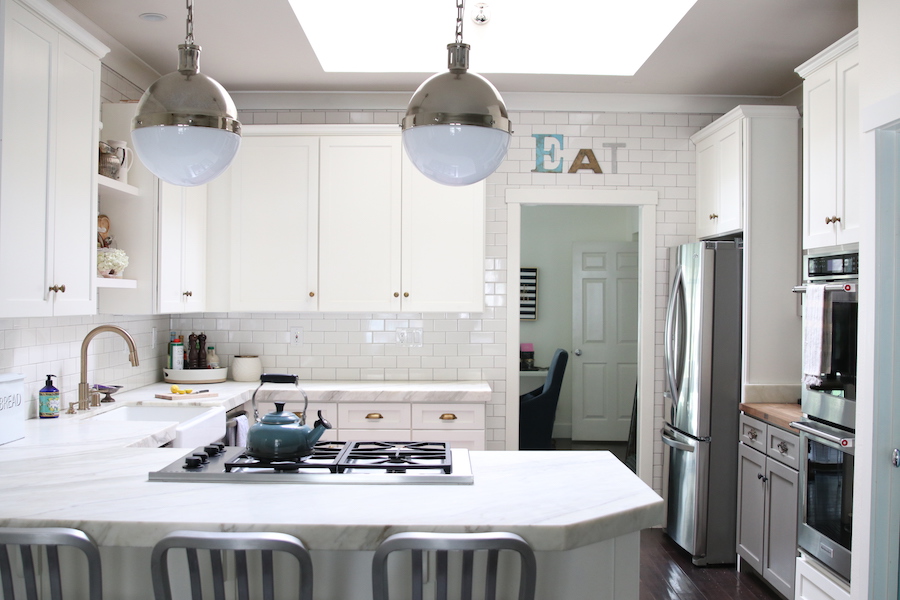 Modern Farmhouse Kitchen Design
So, over the past year I started brainstorming how we might switch up the design to better suit our families' needs and also reflect our style a little more. Here is the list of items I wanted to add to our kitchen design.
Open shelving
Brass hardware
Integrated appliances
Library pendant lights
A European range
Custom cabinetry
Open Shelving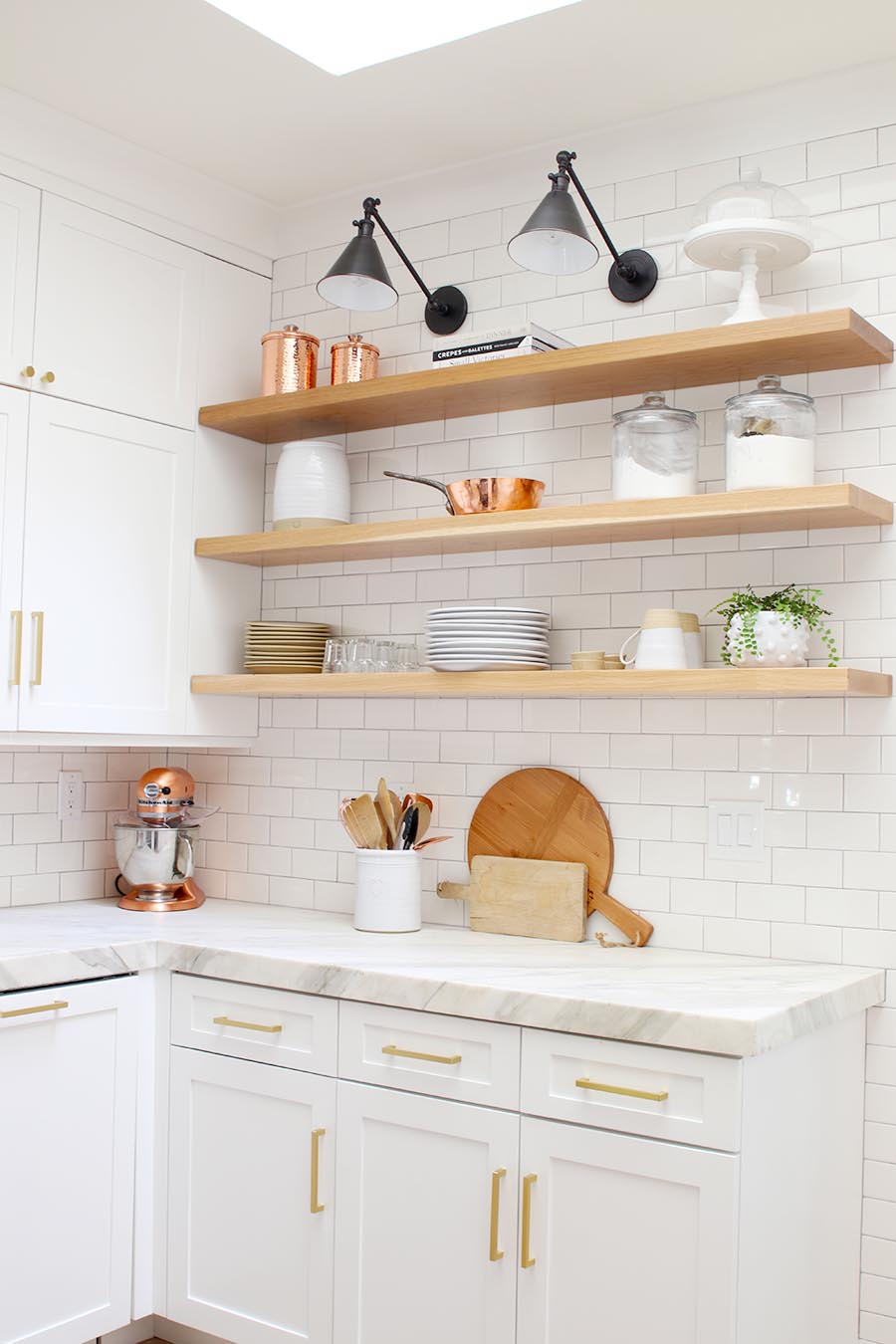 To incorporate open shelving I knew I would need to eliminate some of our upper cabinetry. We removed 3 cabinets from the wall and while we lost that space, we ended up gaining more space by removing our double wall ovens and by taking the other cabinets all the way to the ceiling. More on that later.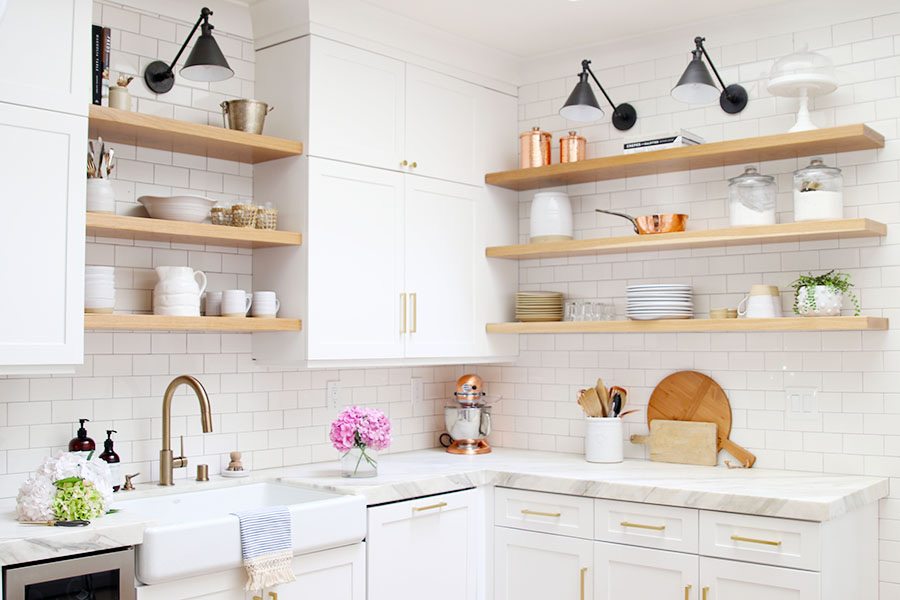 I found these shelves through Etsy. They come in several different finishes. I love the beautiful white oak floating shelves that you can customize within 1/2″ of what you need!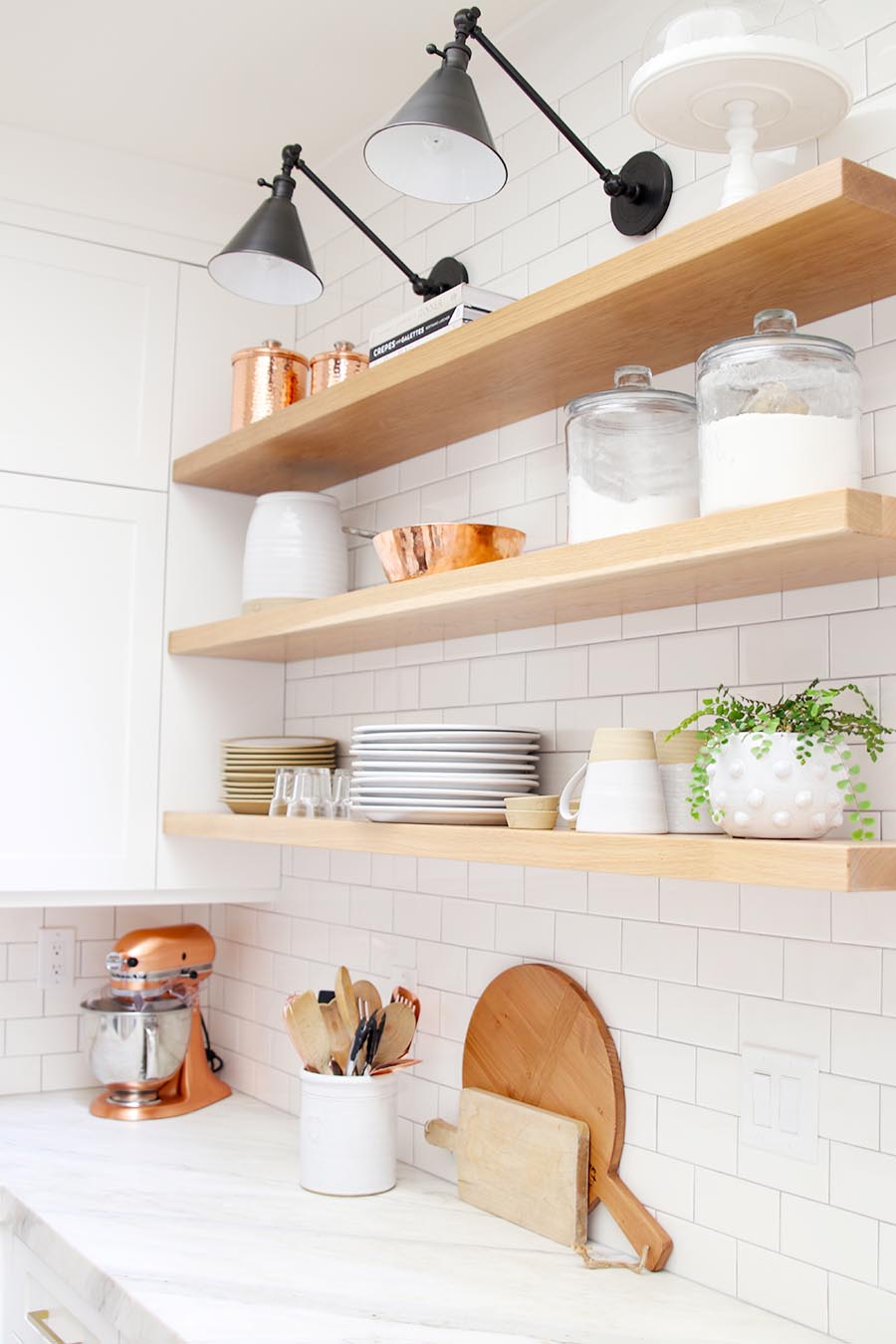 And they hold up to 200lbs with their special industrial bracket that is mounted to the wall. We couldn't be happier with the quality and look of these!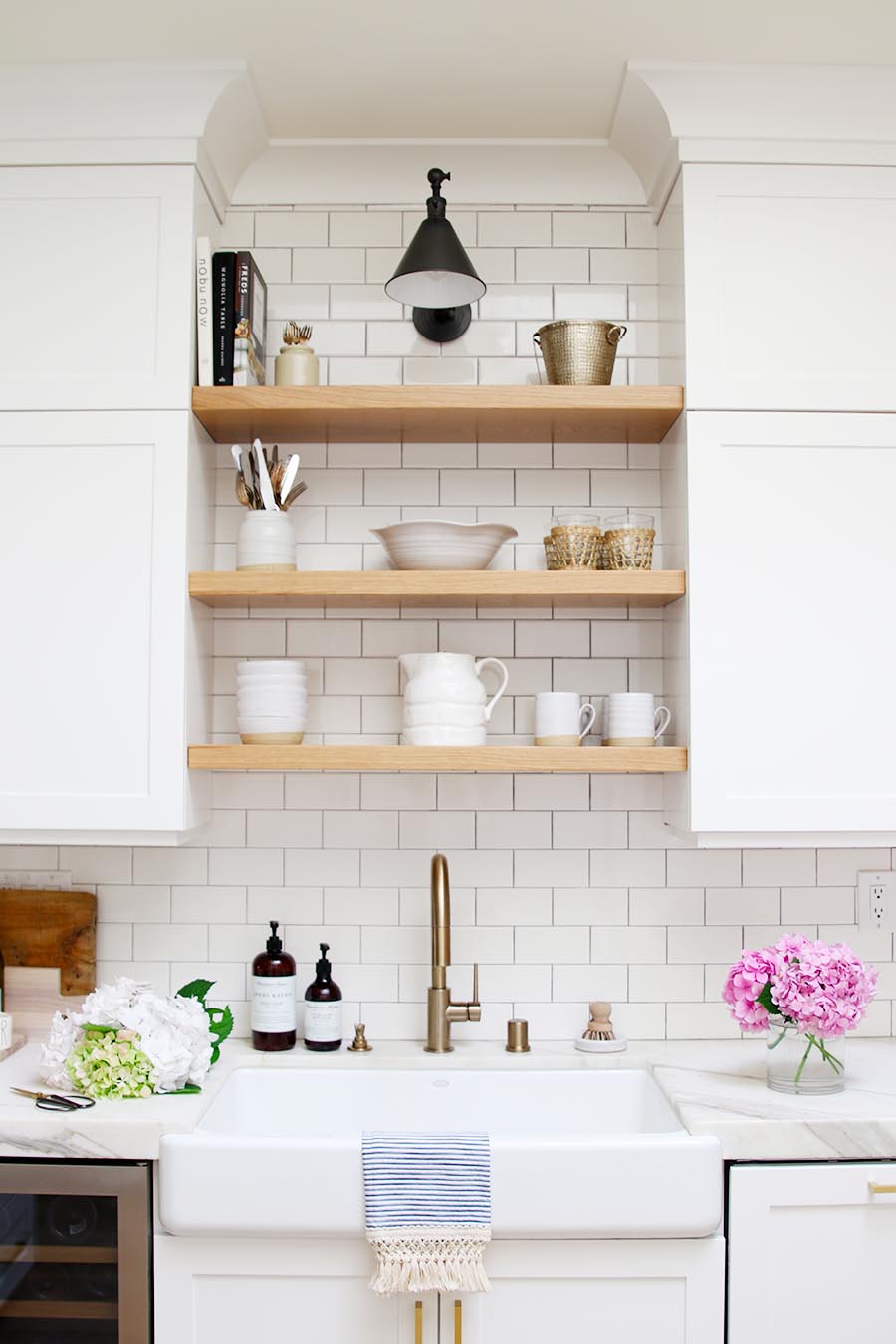 The best part of our open shelving is that we use everything on them! These are our everyday dishes, mugs and cups so they are constantly being used, which means less dusting.
Custom Cabinetry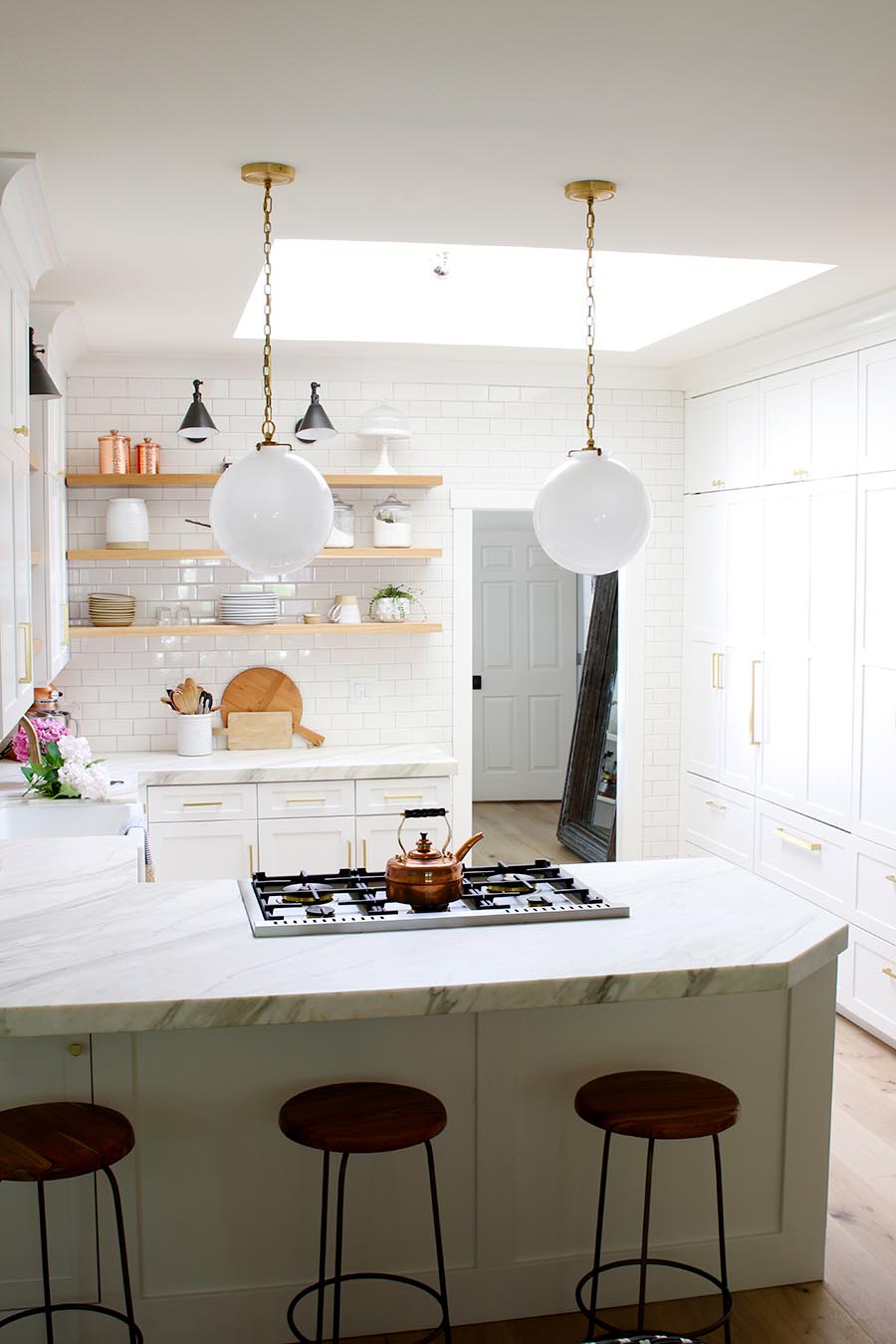 Next to update this modern farmhouse kitchen was to build new custom cabinetry. We removed all the upper cabinets and everything on the wall to the right where our fridge was. The lower cabinets had new doors put on.
Here is what it looked like before: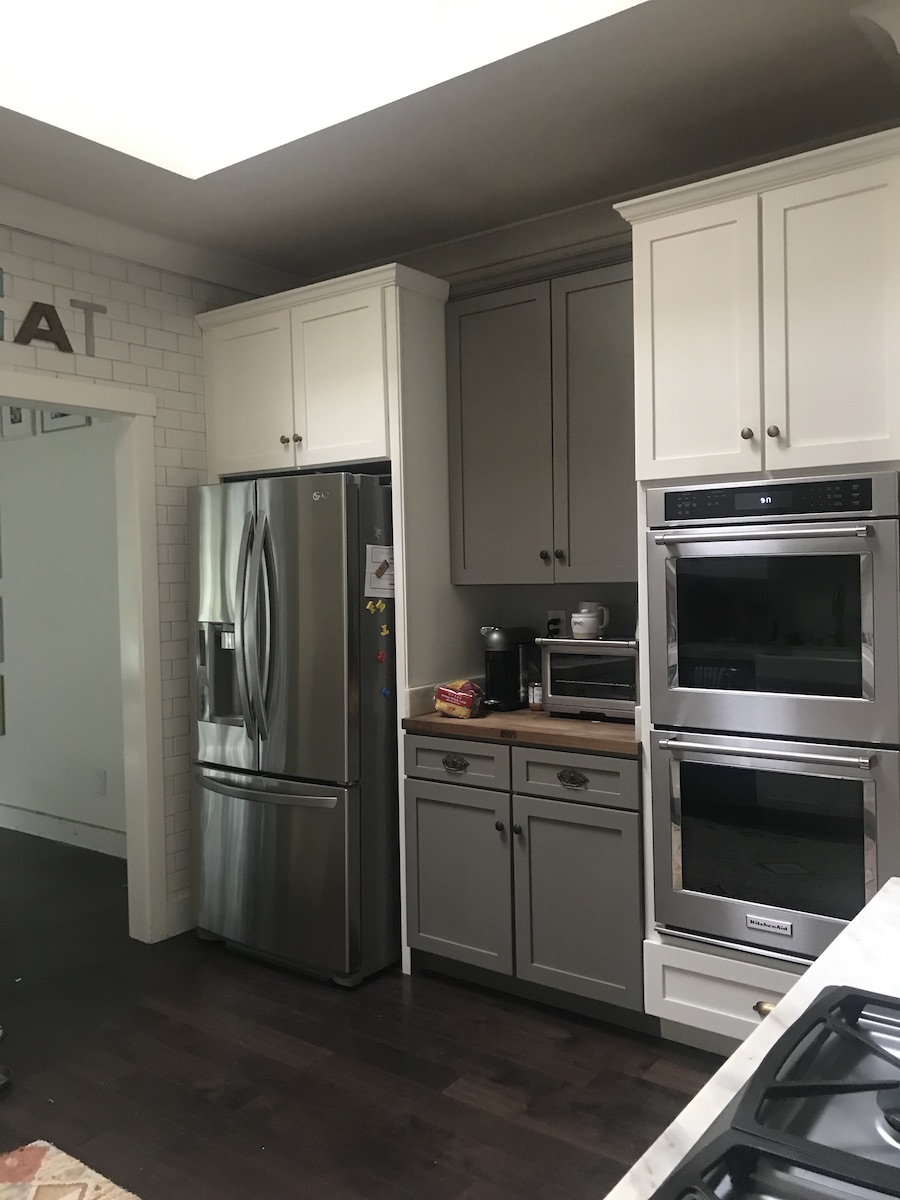 My biggest complaint about our old kitchen was how messy it looked when you walked in the door and saw the bank of cabinets, wall oven and fridge that stuck out a foot beyond the cabinets. It was a poor design that I knew I wanted to fix to better suit our families needs.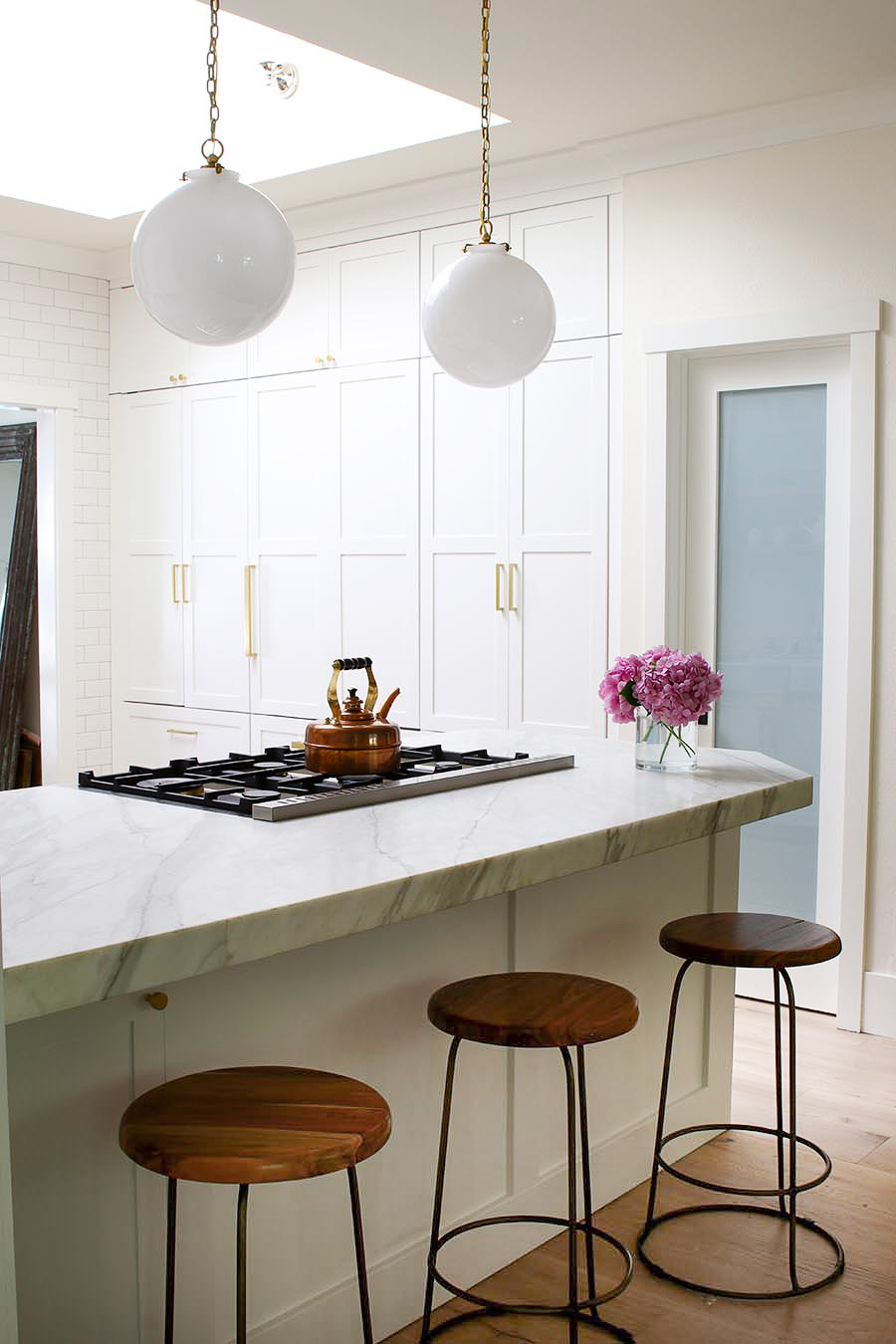 We removed all the cabinets and double ovens. In it's place we custom built cabinets that went from floor to ceiling and now incorporate an integrated fridge (in the middle) large drawers, pull-out shelving and a custom coffee bar with french doors. It truly is my favorite part of this new kitchen design!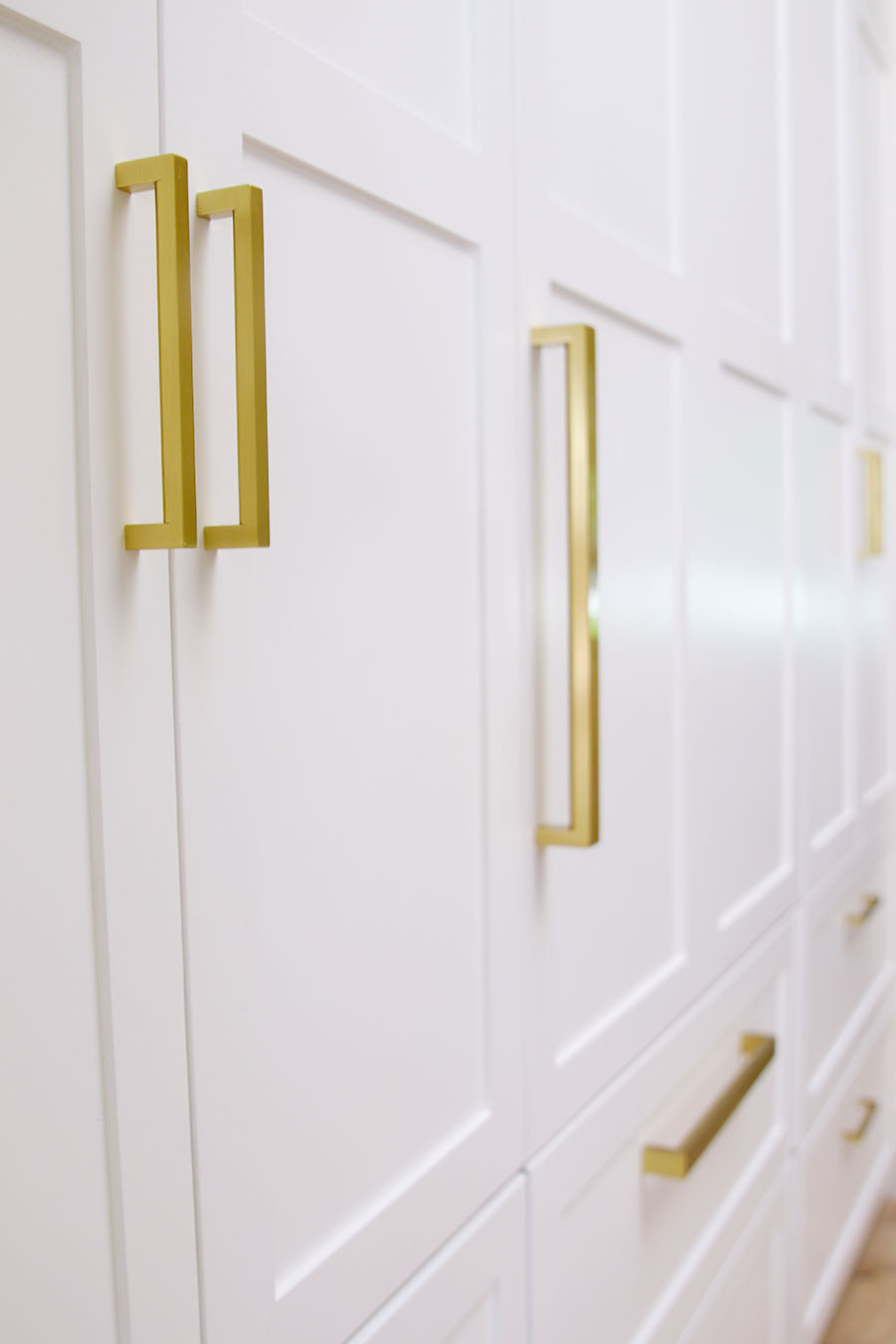 Creating this streamlined section of our kitchen makes it feel bigger and brighter too! We love walking in to this view. Our kitchen is right off our entryway so it's the first room you see when you come visit. And you know what they say about first impressions!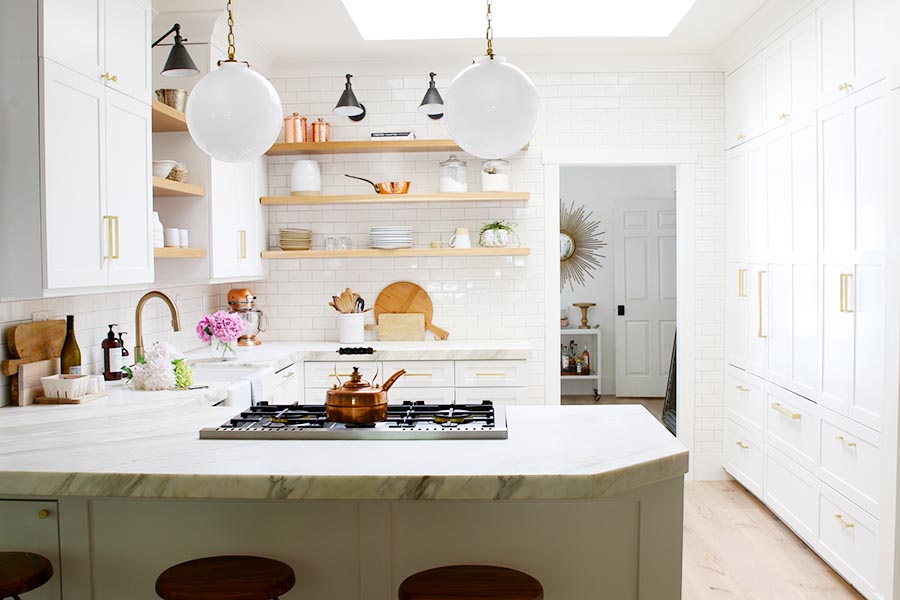 Our Bertazzoni Range
I'm sure you've seen the latest craze in kitchen design, the French oven. I absolutely love the look and design of these beautiful ranges. So, when we started designing our modern farmhouse kitchen, I looked into incorporating one. However, our budget had a limit and the range didn't fit into it. Plus, you only see the oven when you standing inside our kitchen.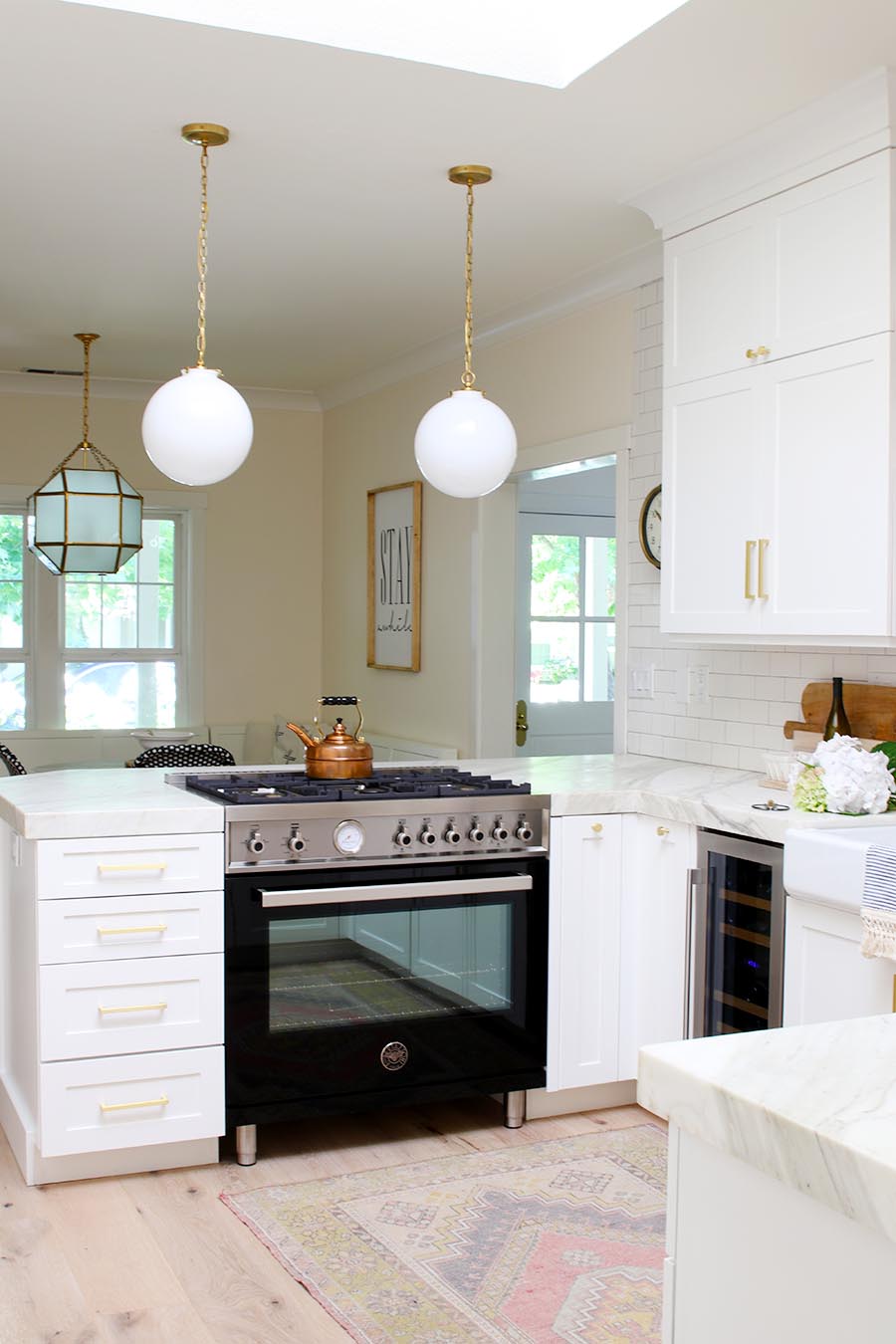 So, I started researching other options. I found the Italian brand, Bertazzoni and fell in love with their streamlined style and European design. Plus, the price was about half of it's French counterparts. I love the glossy black finish and brass accents on the burners. It's really a beautiful oven!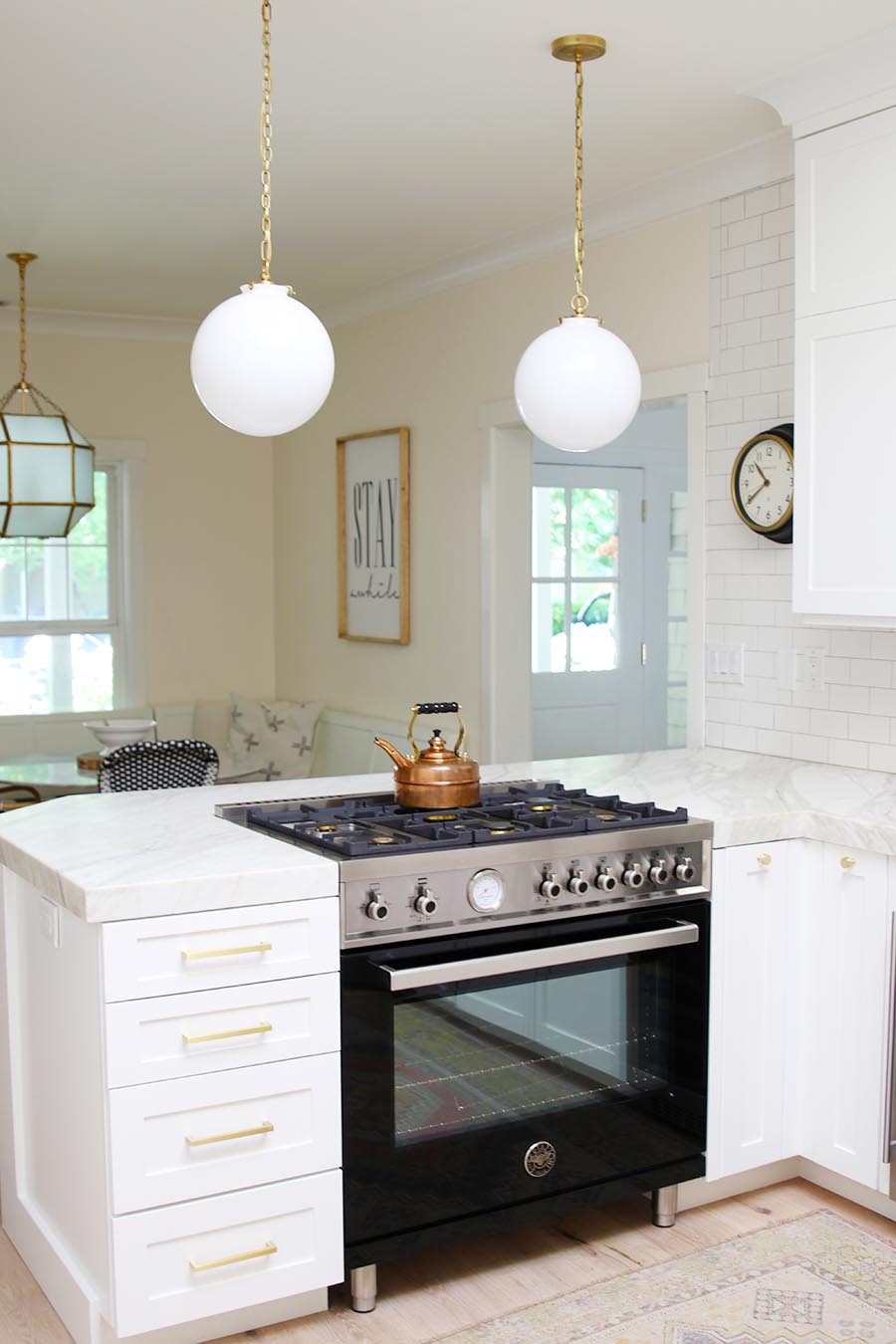 And I love that we were able to switch out our cooktop with this instead. And removing the double wall ovens was a total win for us! Honestly, the only time I have ever used the second oven was for Thanksgiving to cook the turkey.
Modern Farmhouse Kitchen Lighting Ideas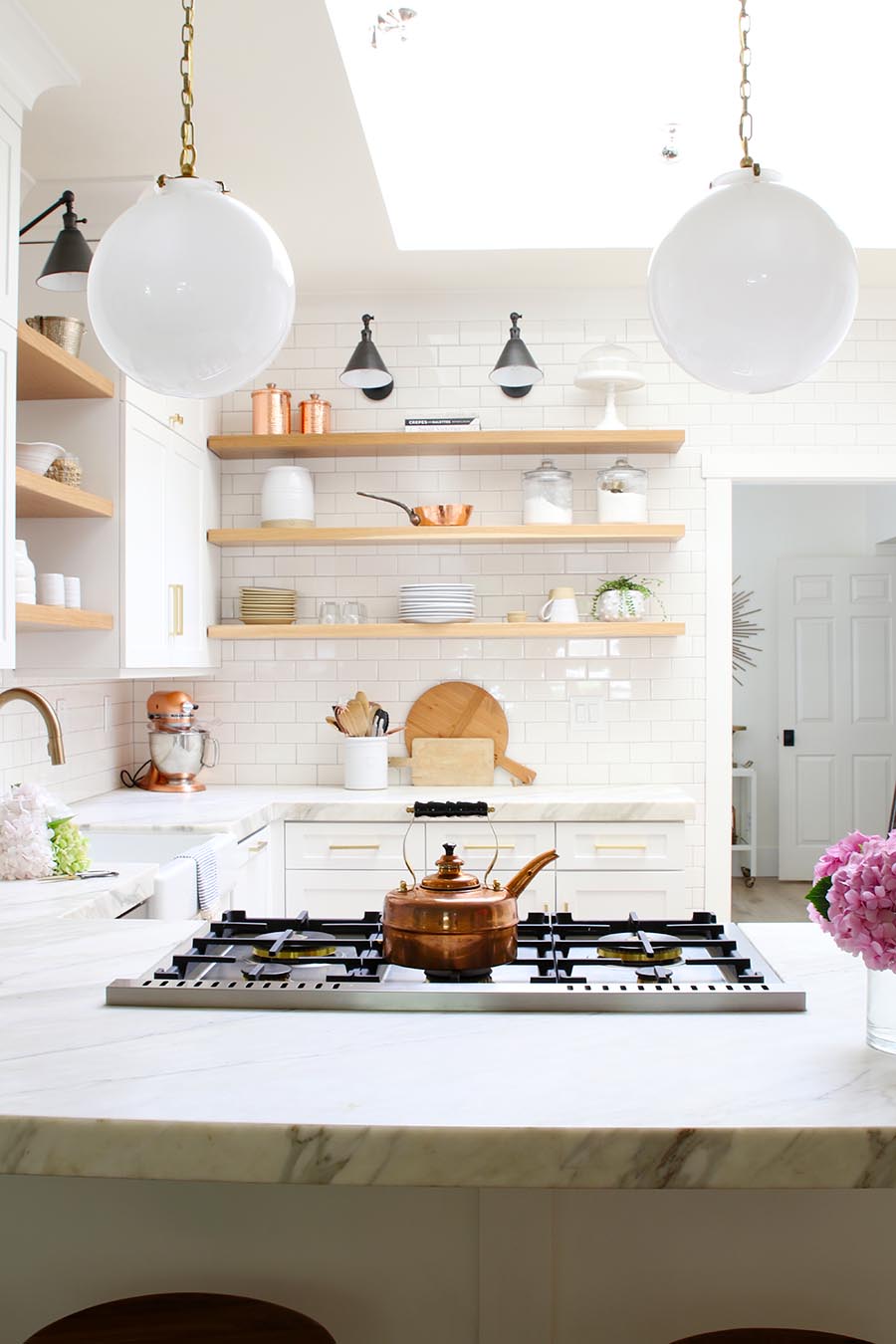 One of the things I love most about kitchen is all the beautiful lighting. I love the library sconces that sit above the floating shelves. And the simplicity of the opaque glass pendant lights is timeless and matches the subway tile.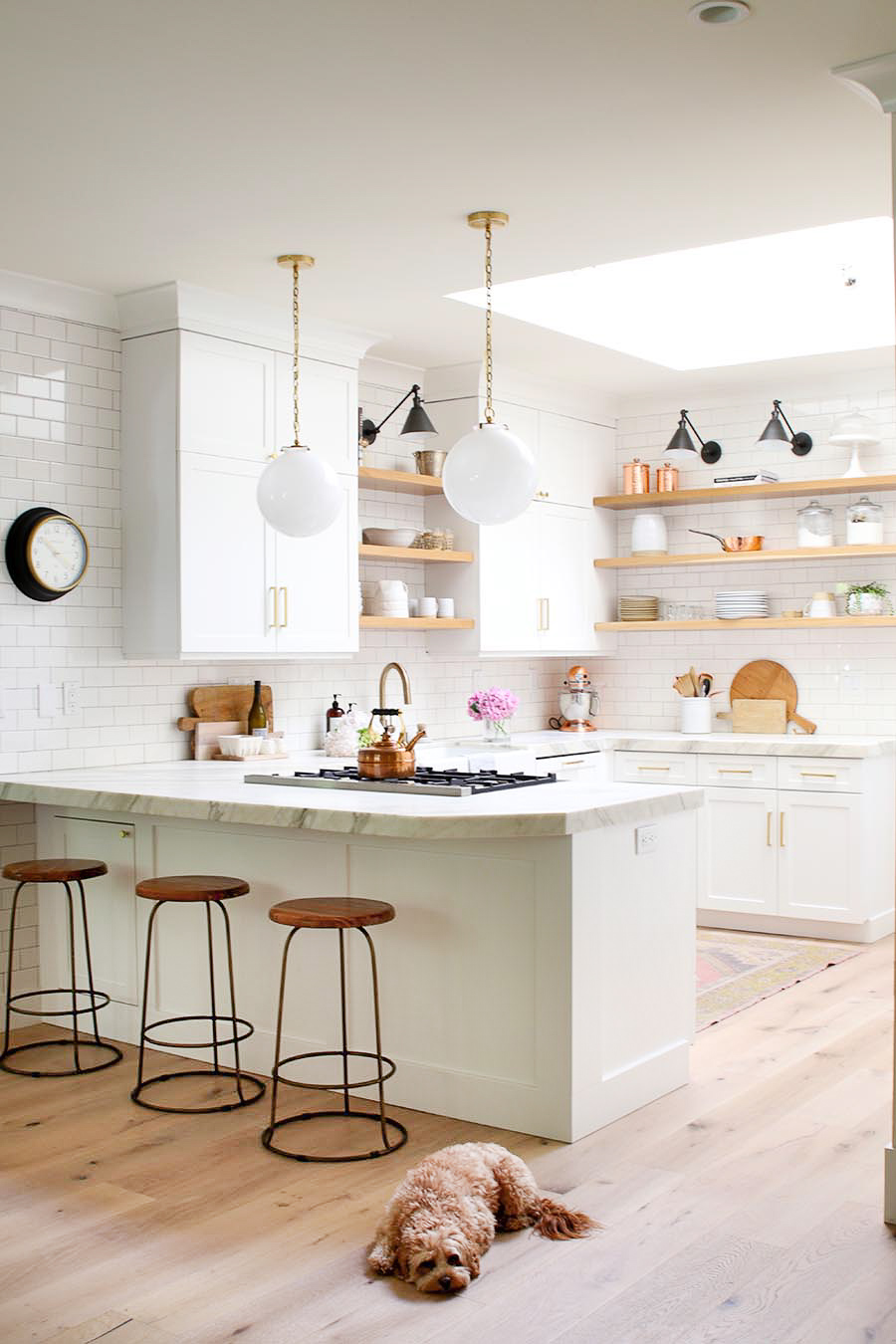 One of my tips is to wait until a big sale (friends & family, memorial day, labor day or black Friday) and purchase big ticket items like lighting or hardware. I found all the lighting from Mcgee & Co. and purchased it during their Memorial Day sale.
And that's our new kitchen remodel! Let me know what you think. We are so happy all the updates that we made! I've linked all products below for you. And be sure to pin and save for future inspiration!
Modern Farmhouse Kitchen Sources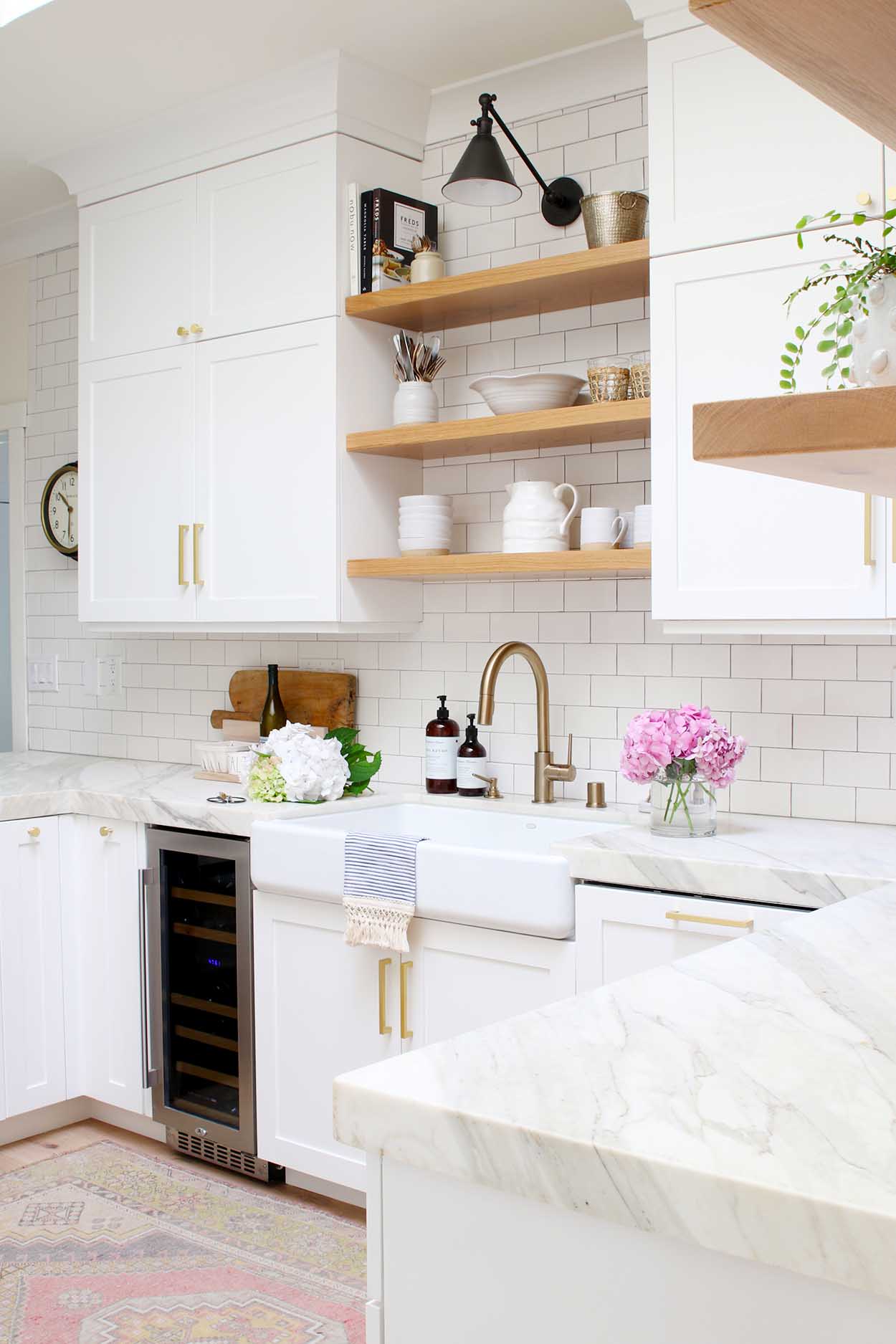 Here you will find everything you need to know about materials used, sources for products and finishes that we used in our modern farmhouse kitchen remodel.
Wall color & ceiling color: Simply White by Benjamin Moore
Cabinet color: Simply White by Benjamin Moore
Flooring: Vittoria by California Classics – Mediterranean French White Oak
Cabinetry: Custom made. Contact me for reference.
Open shelving: White Oak floating shelves – made to order
Pendant Lights: Katie Globe Pendant
Library Lights: Boston Sconce
Subway Tile: 3×6 white tile
Countertops: Calcutta gold marble
Cabinet hardware: Edgecliff Pull
Refrigerator: Miele
Dishwasher: Miele