This marble bathroom remodel showcases calacatta marble tile, brass fixtures and classic details. Come see the full reveal of this girls bathroom!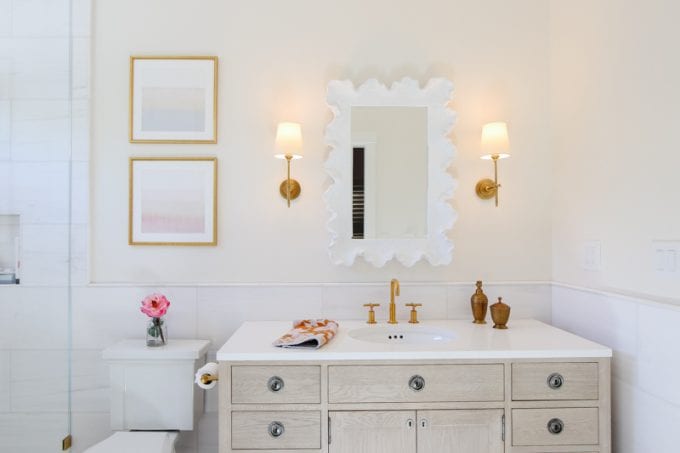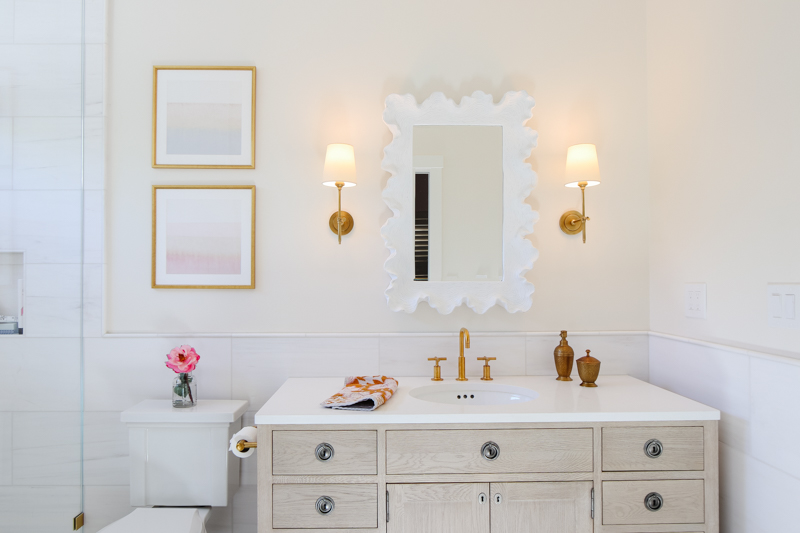 Girls Marble Bathroom Remodel
Renovating a bathroom can be a daunting task. Selecting marble tile that seems to flow together can be tricky. And creating a design that will last the test of time is important!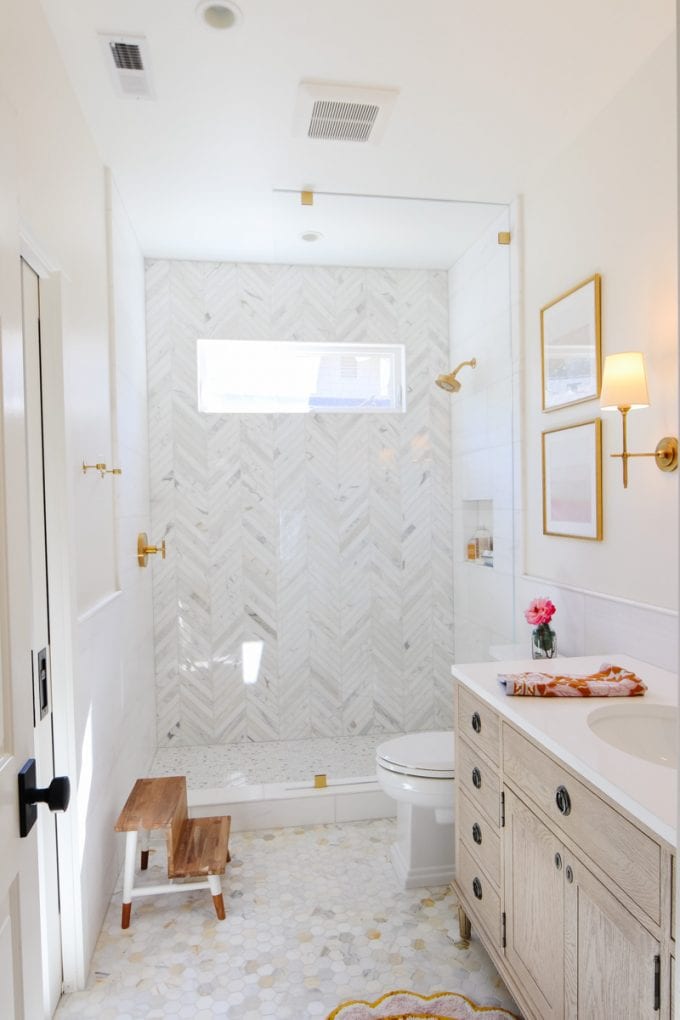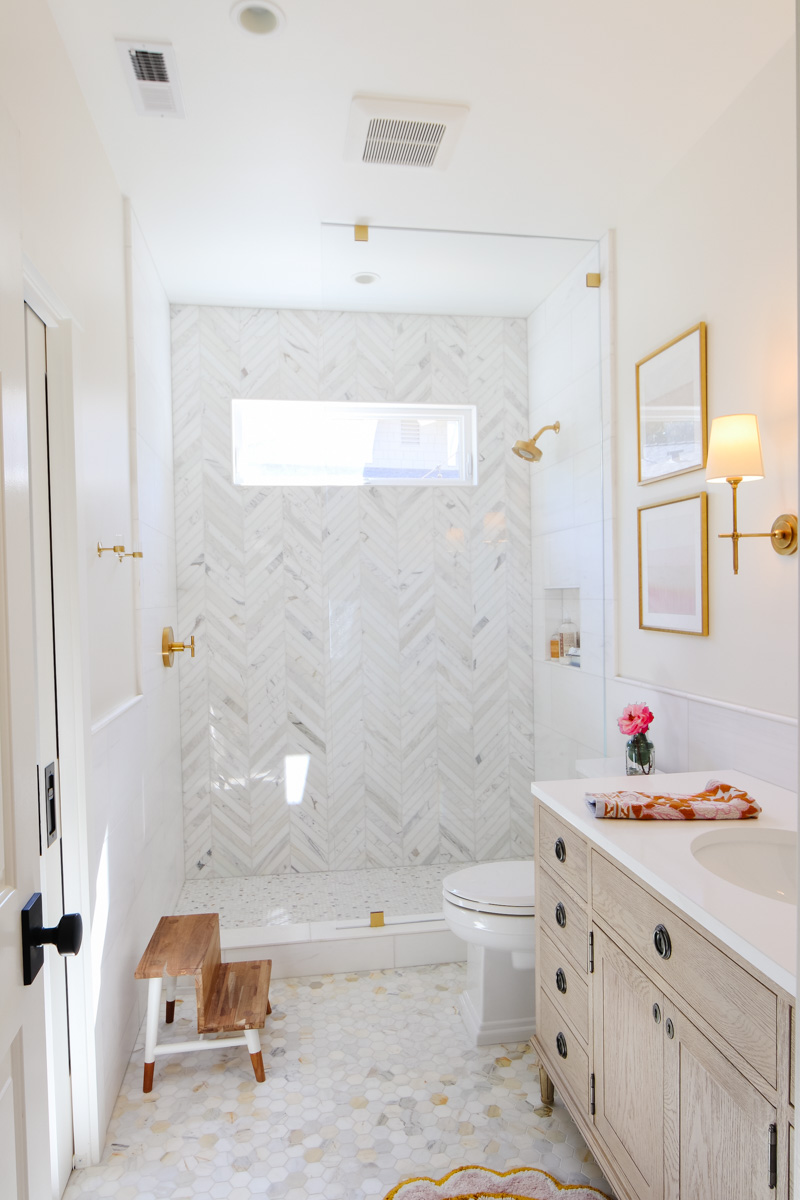 For our daughter's bathroom remodel I wanted the space to have a timeless New York hotel bathroom feel. I knew that marble tile would be showcased and that the overall configuration of the bathroom needed to be addressed.
Girls Bathroom Before
This bathroom before had a shower-over tub and pedestal sink. It wasn't the most user friendly design and I knew I wanted to address the layout and overall function of the space.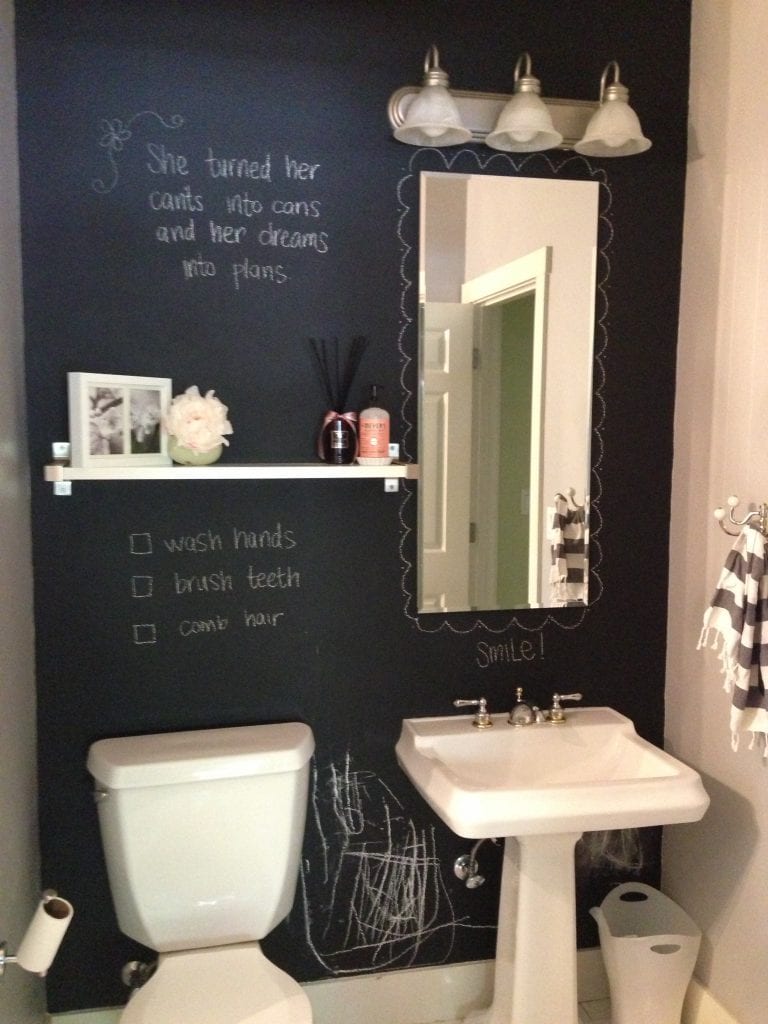 And unfortunately I don't have a complete before pic but you get the idea here.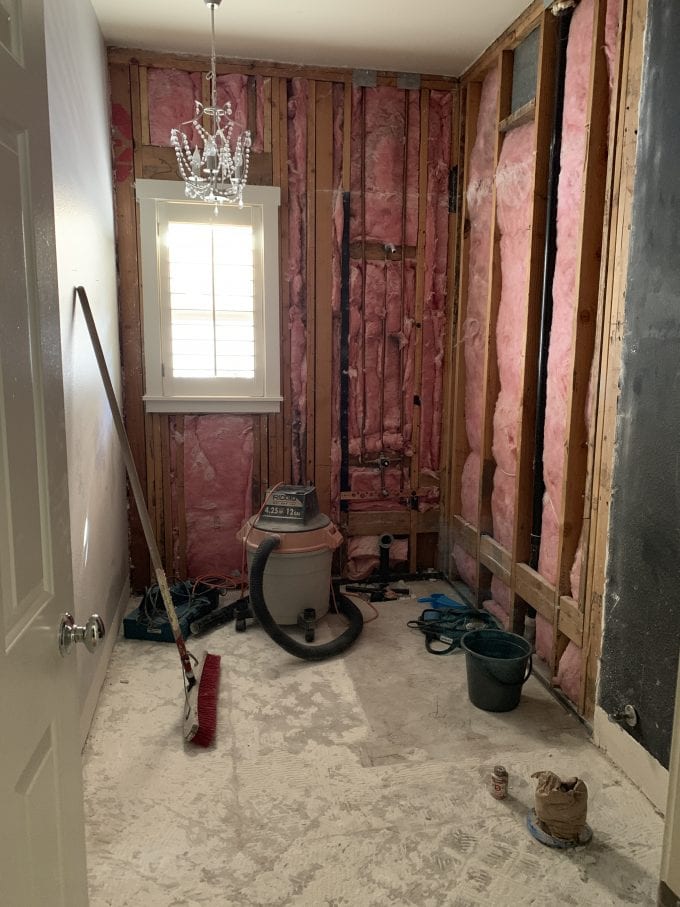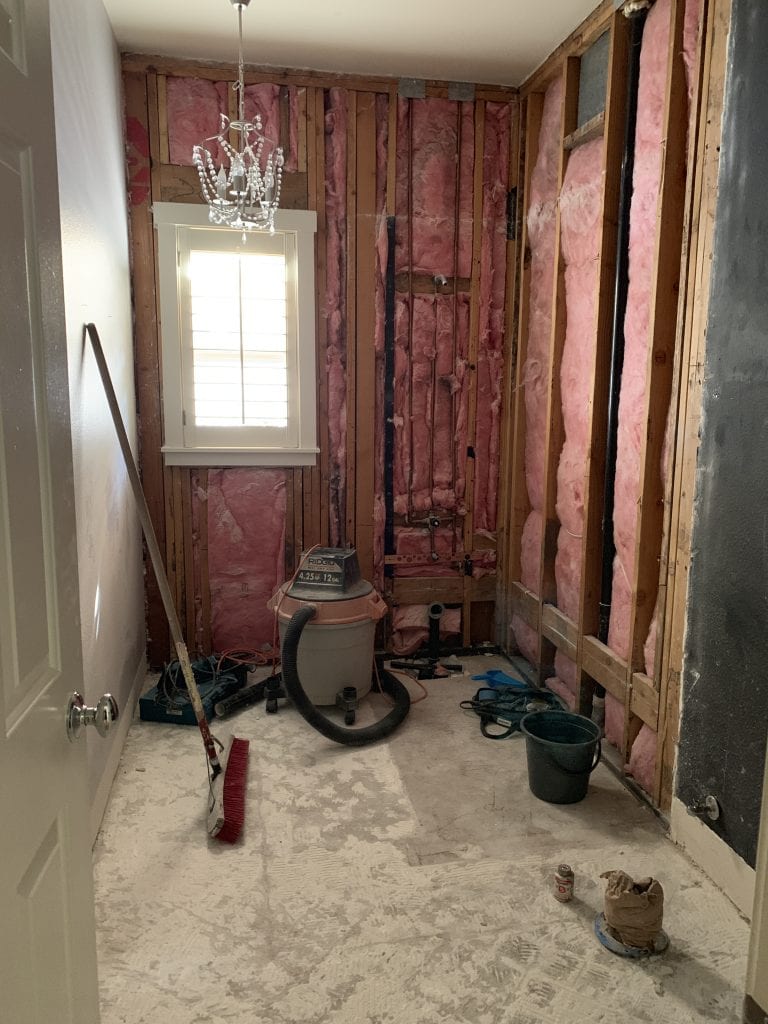 We started this project last June. And unfortunately, the bathroom sat completely demo'd down to the studs for over 5 months. When your husband is a general contractor, that comes with the territory. But, this delay also gave me time to fine tune my design.
I always start my remodel projects with some inspiration pictures and a design board.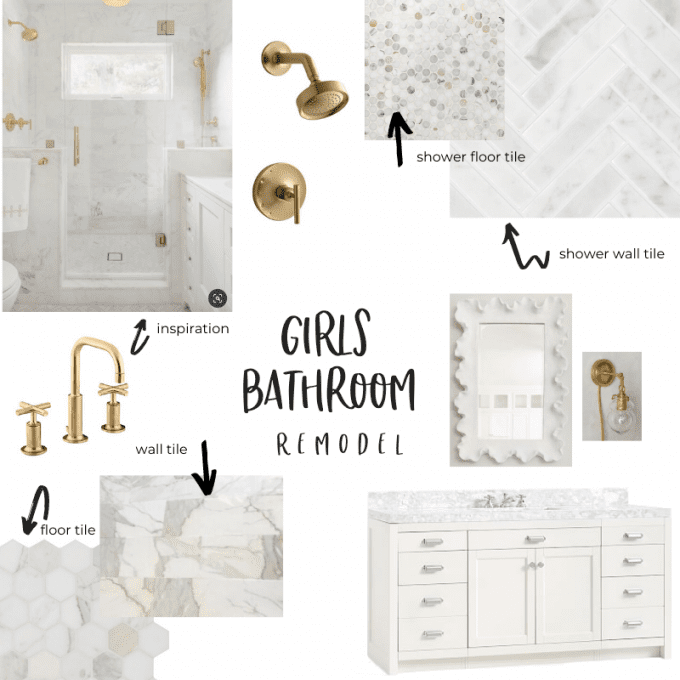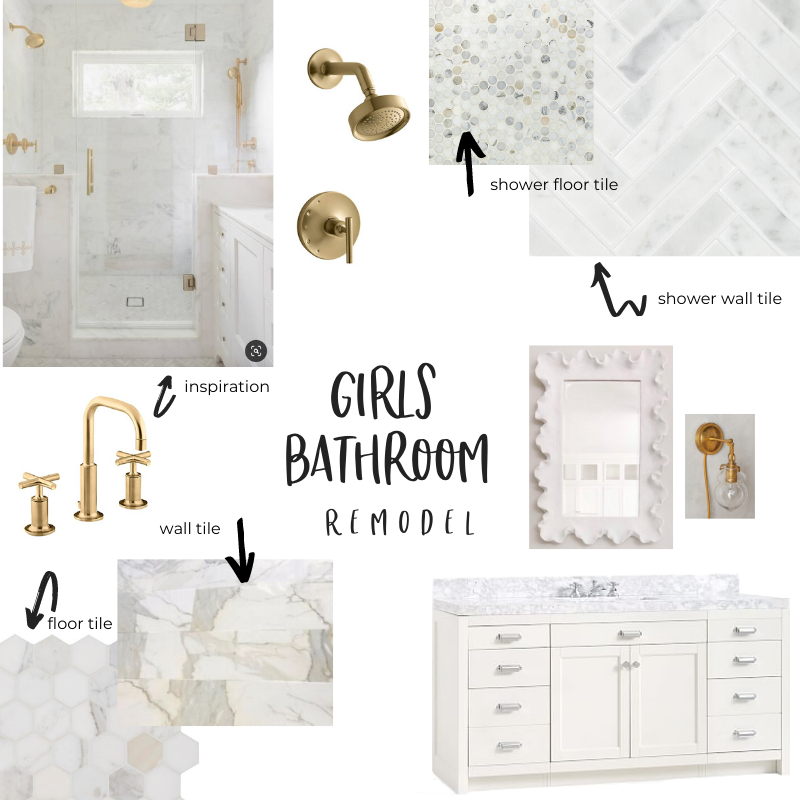 I created this design board in the beginning of the project. As you can see, some things changed. And I'll tell you all about how and why we changed some things
Calacatta Marble Bathroom Ideas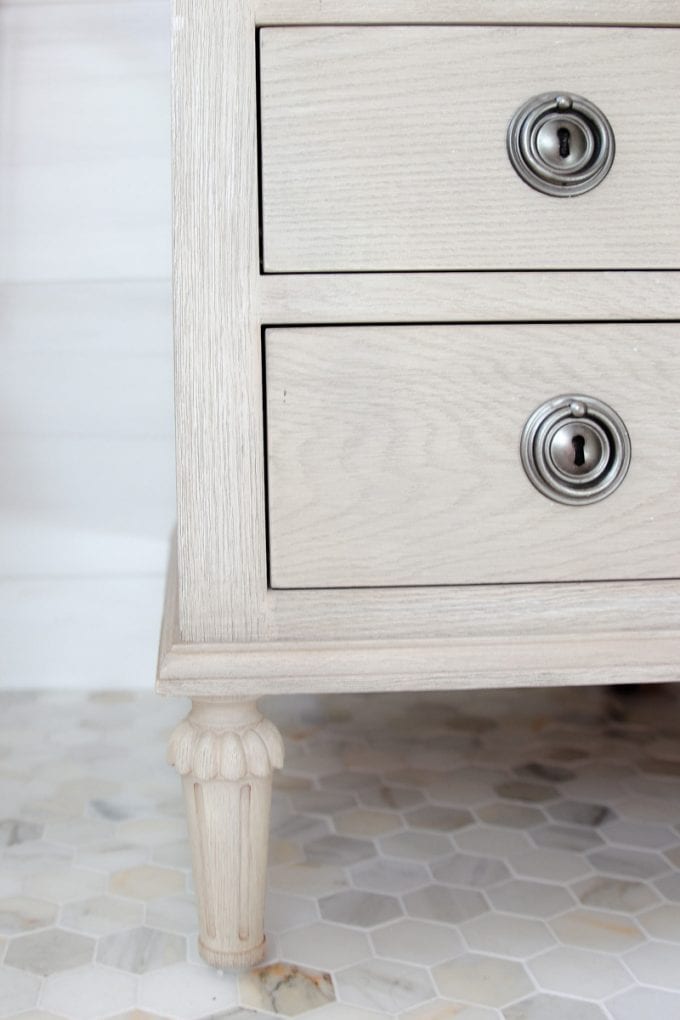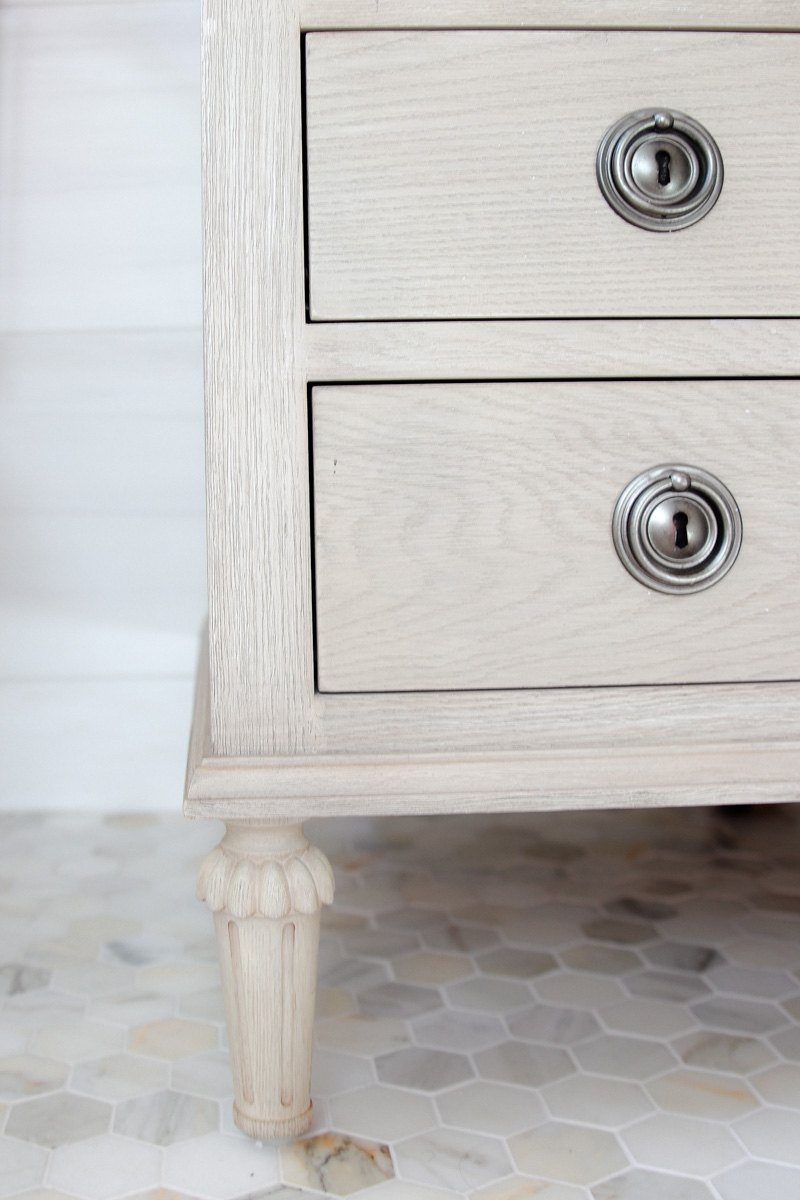 Calacatta gold marble is one of my favorite marbles. Because I wanted this marble bathroom to have a warmer feel, I chose this soft calacatta marble that has gold flecking and unique color for the design.
This was my original inspiration picture that I found on Pinterest and can't find the original source to.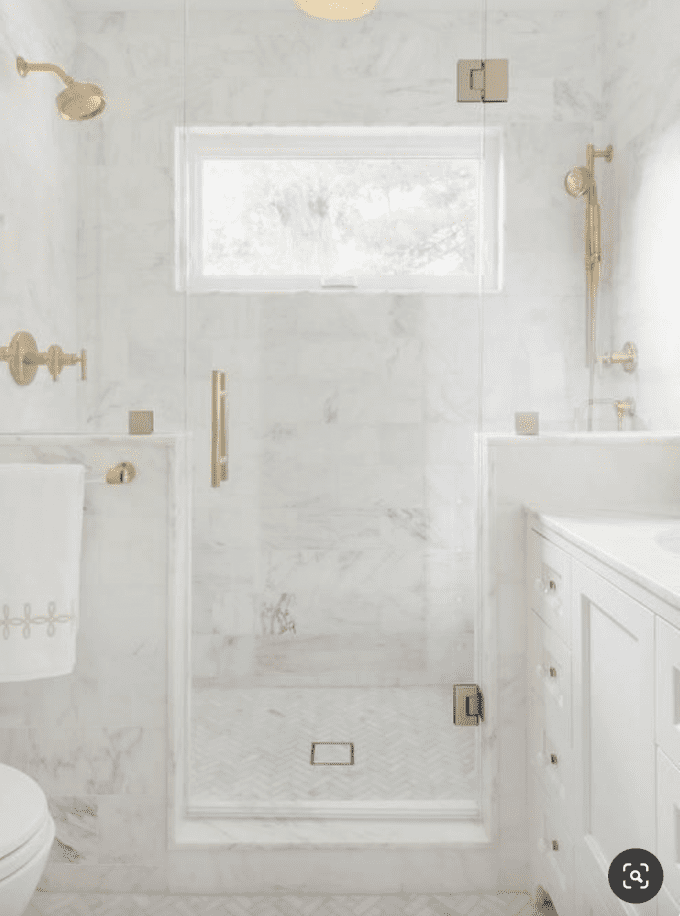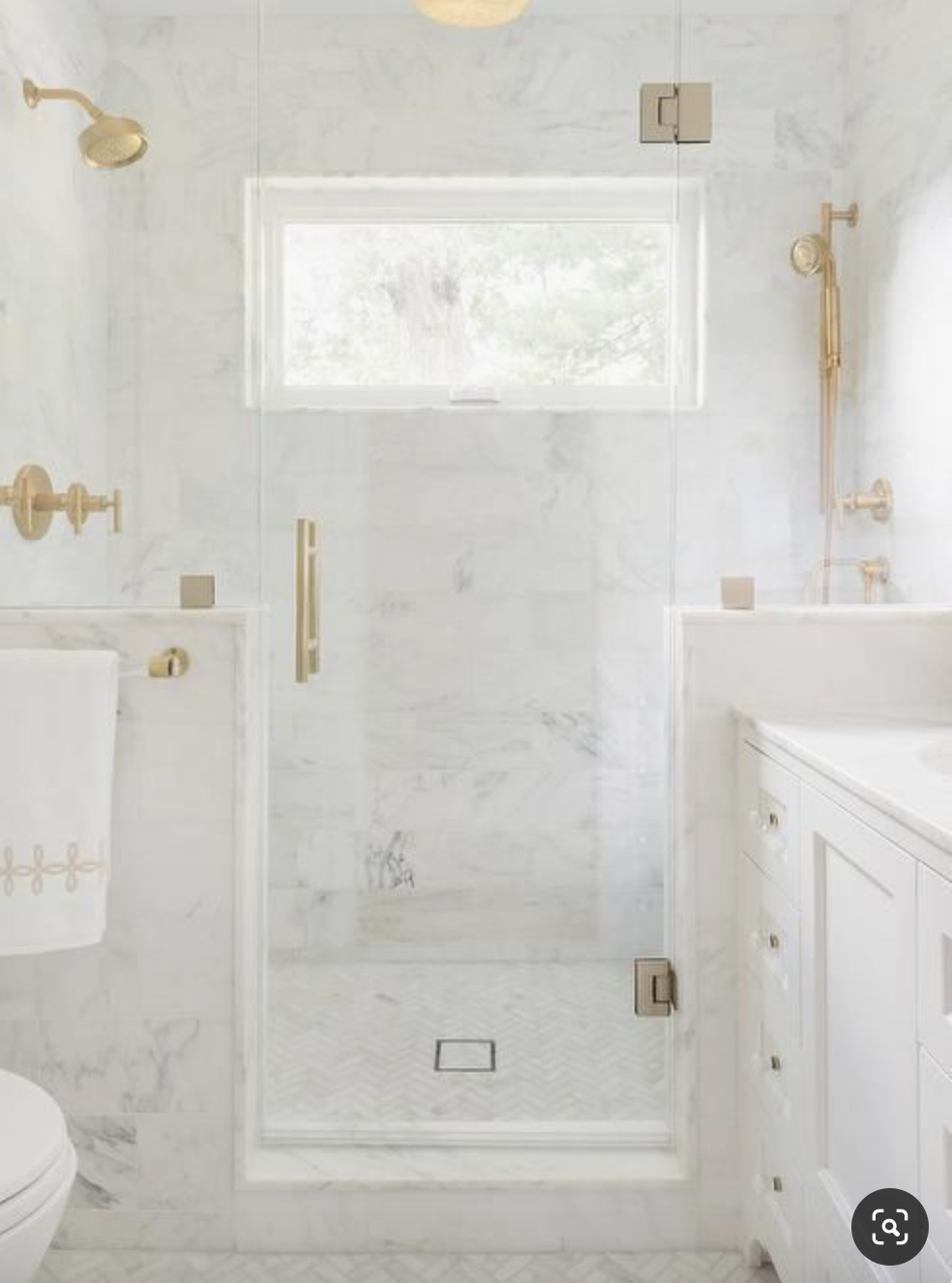 I love how the gold hardware picks up the gold flecking in the marble and knew I wanted to incorporate those details into my marble bathroom renovation.
I also knew I wanted to use tile on the walls that you often see in high-end bathroom designs. In my original plan, I had 12×24″ calacatta marble tiles for the walls. It all looks good on paper until the design comes to life.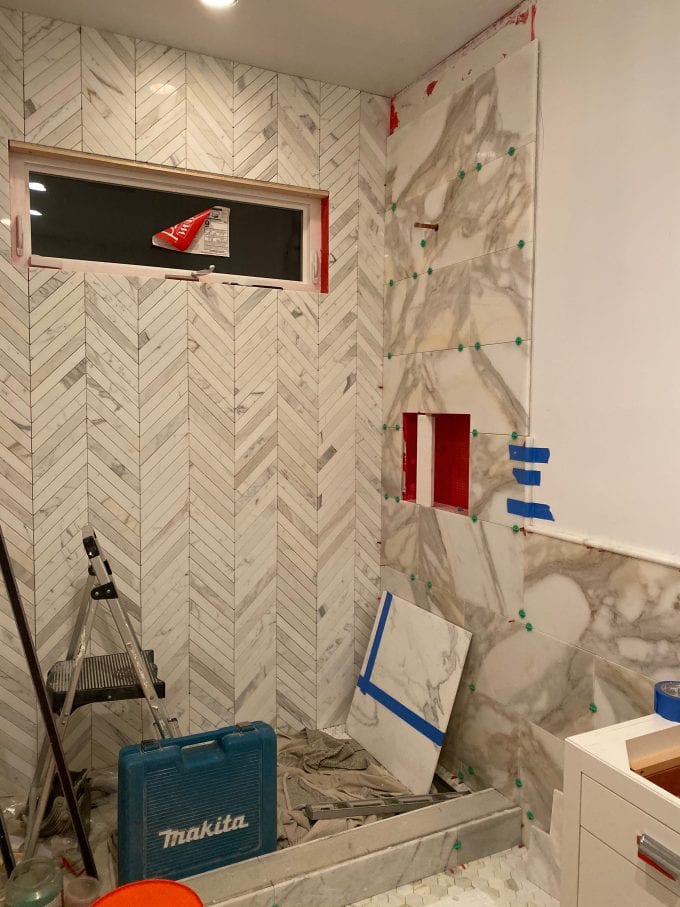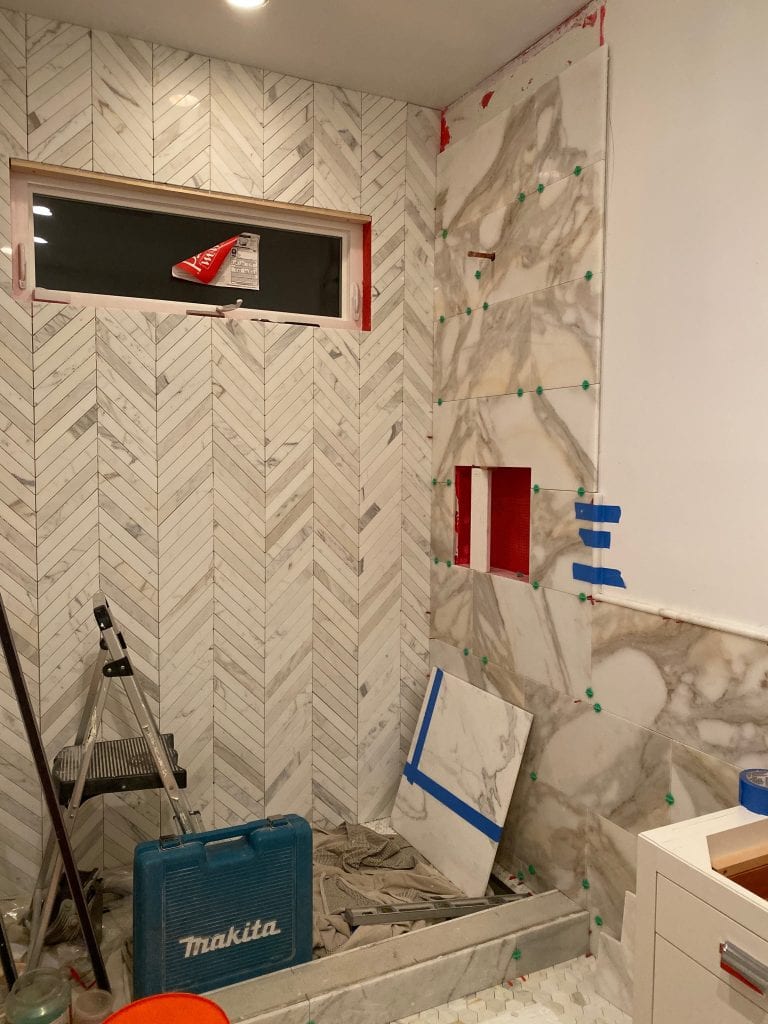 As is with natural marble tile, the pattern can vary from lot to lot. And this lot was obnoxiously loud. It screamed 1980 and we hated it. After two days of installing the wall tile, we decided we had to rip it out. It was a costly mistake for sure, but in the end it was so worth it.
We replaced that with a dolomite marble tile for this girls bathroom and the simple white 12×24″ tiles ended up being perfect. I didn't want the wall tile to take away from the beautiful chevron marble shower.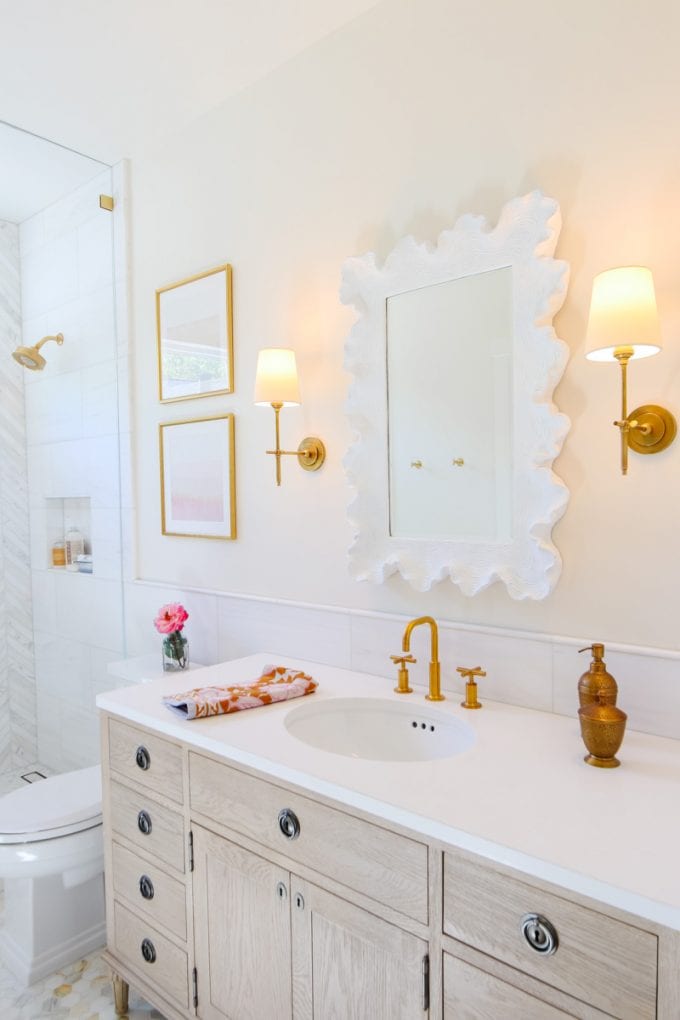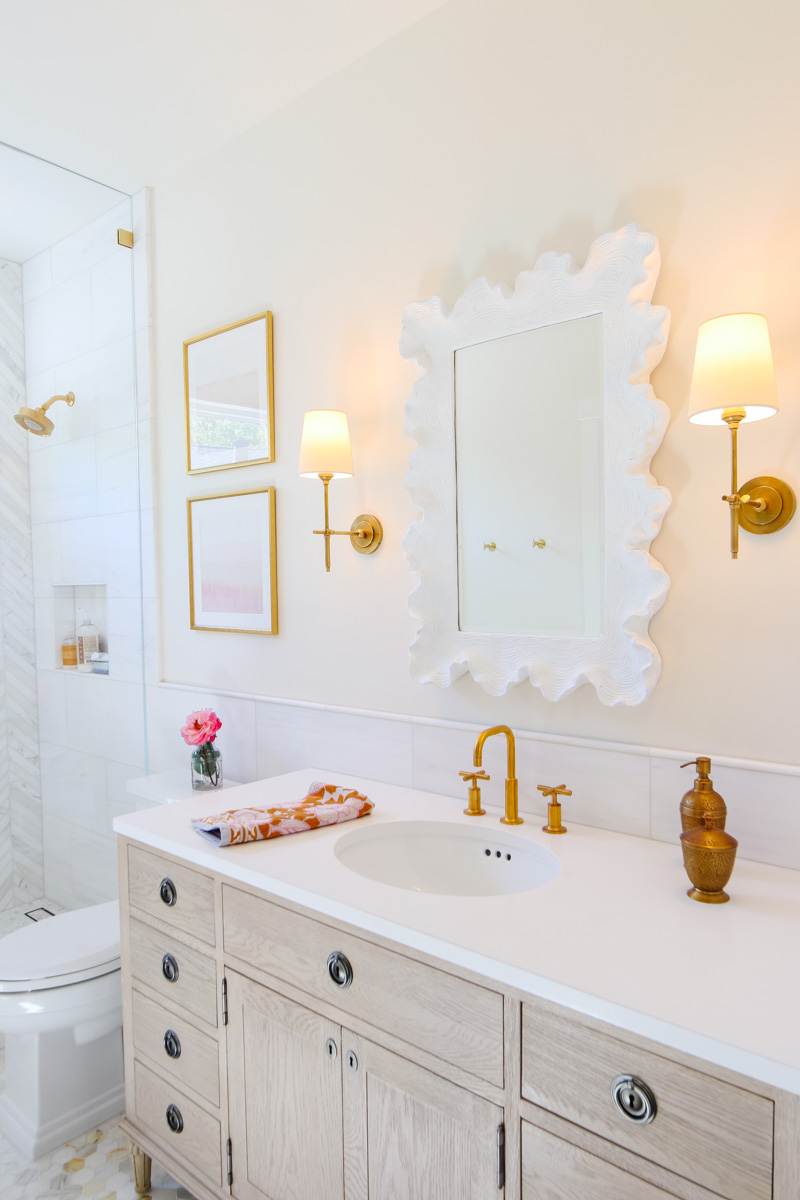 You have to be flexible when it comes to remodels and renovations. And this marble bathroom really put that to the test. We had another big snafu with the bathroom vanity. It was too large and wouldn't allow for enough room between the shower and toilet.
So, it was sold on Facebook Marketplace and a new option was ordered. In the end, both mistakes were for the better and I absolutely love the finished result.
Marble Hexagon Floor Tiles
Ok, lets talk about the details that we used for this modern marble bathroom.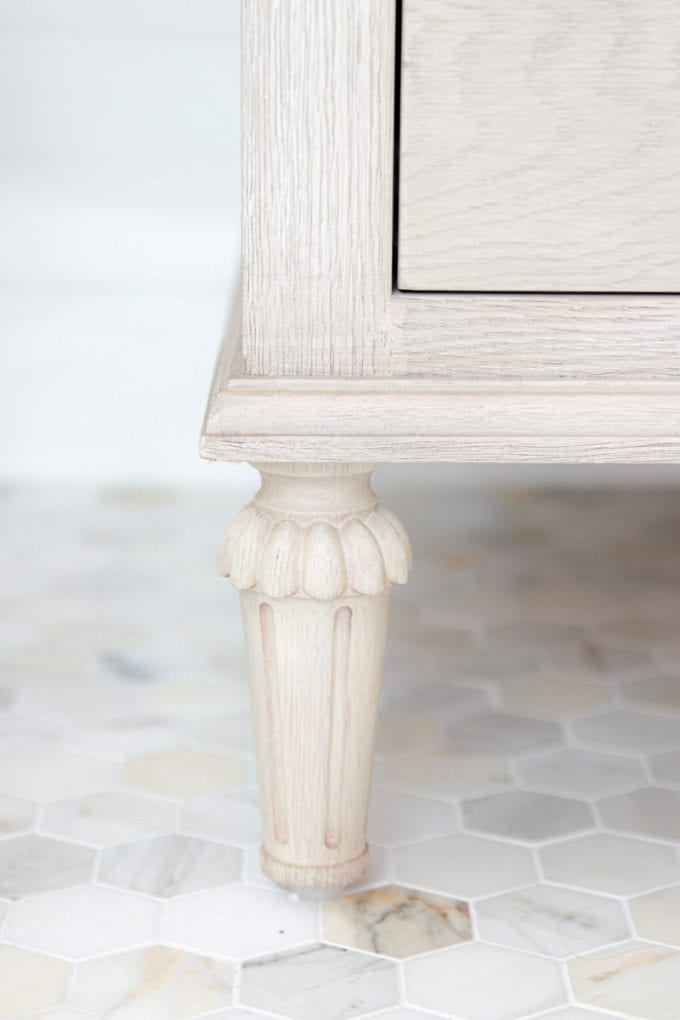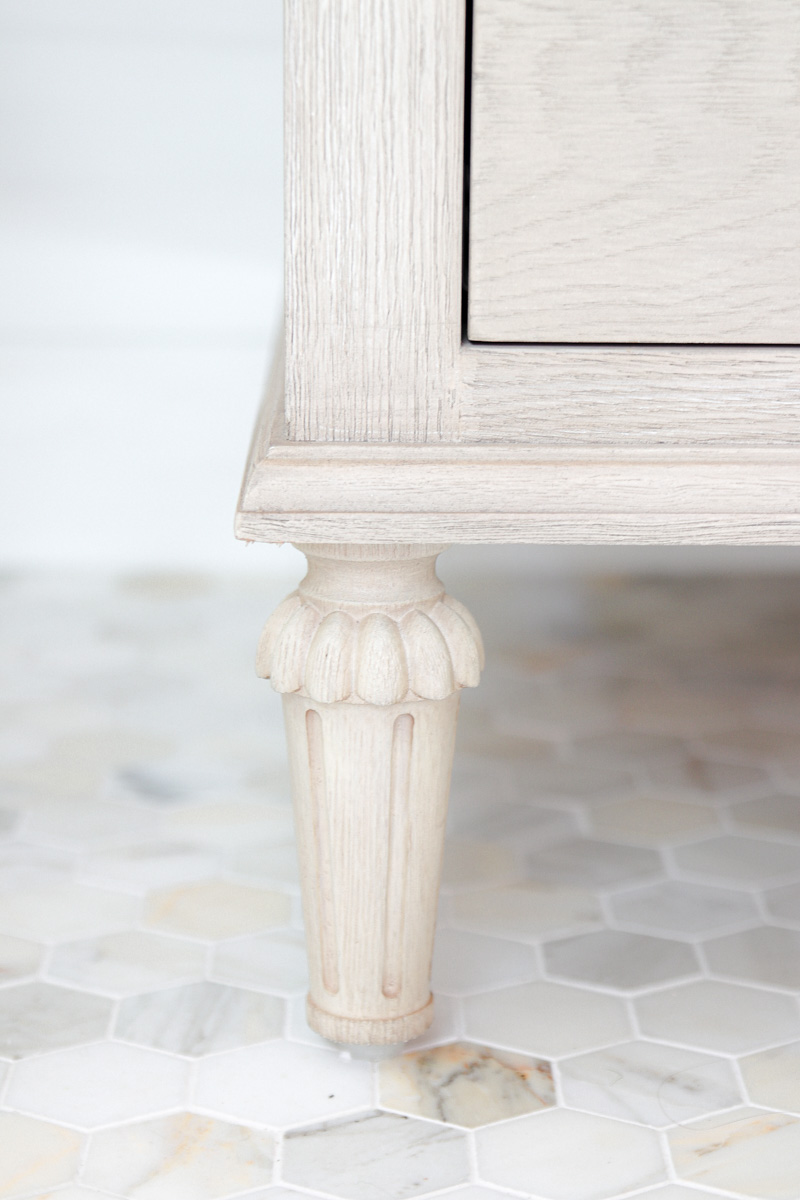 We used a 2″ hexagon Calacatta Gold marble tile for the main bathroom flooring. The uniform pattern pairs nicely with the marble tile that can have a lot of different color flowing through it.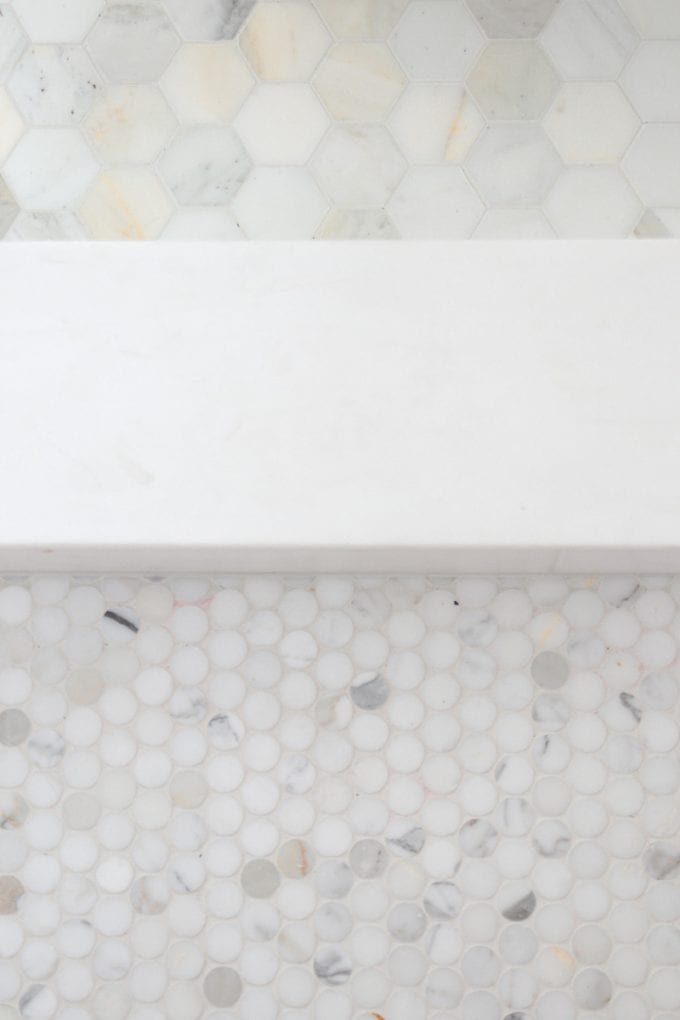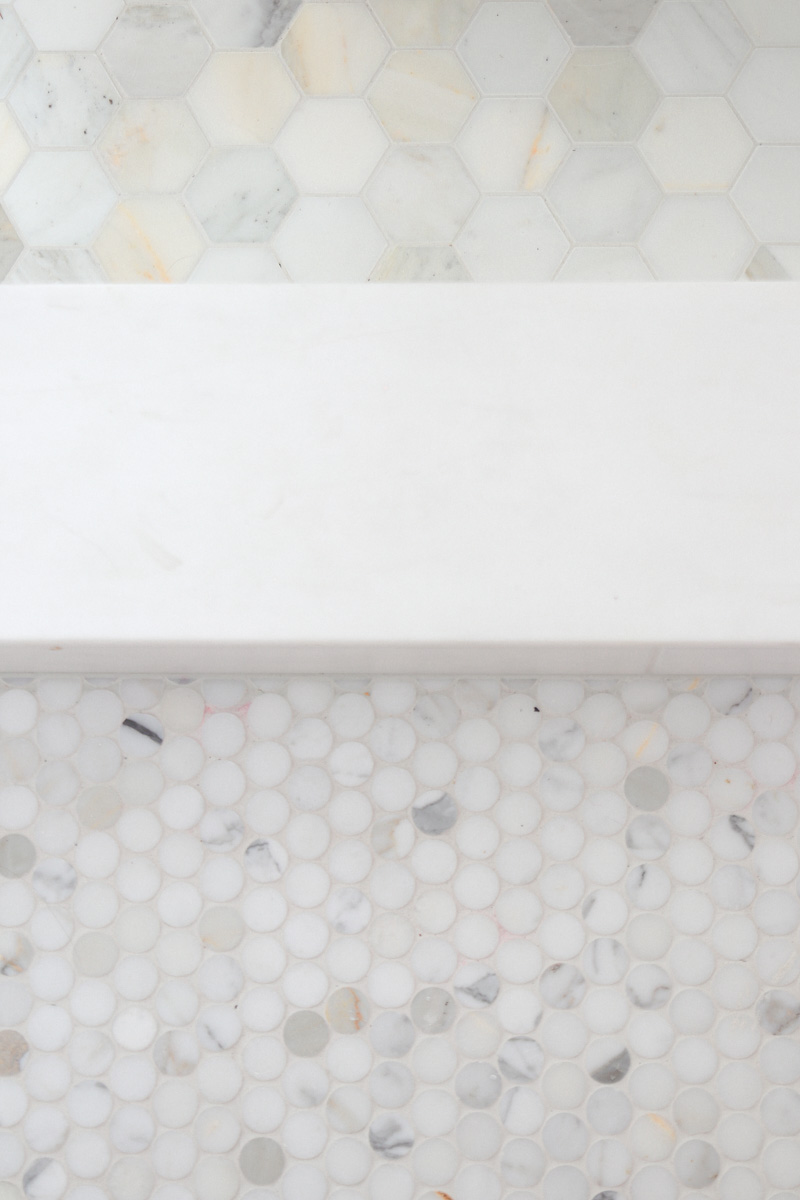 And for the shower we utilized a 1″ Calacatta Gold penny tile. Penny tile is one of my favorite to use in showers.
Because of the large amount of grout going in-between the tiles, it makes for a non-slippery surface. I think that's pretty important in a shower!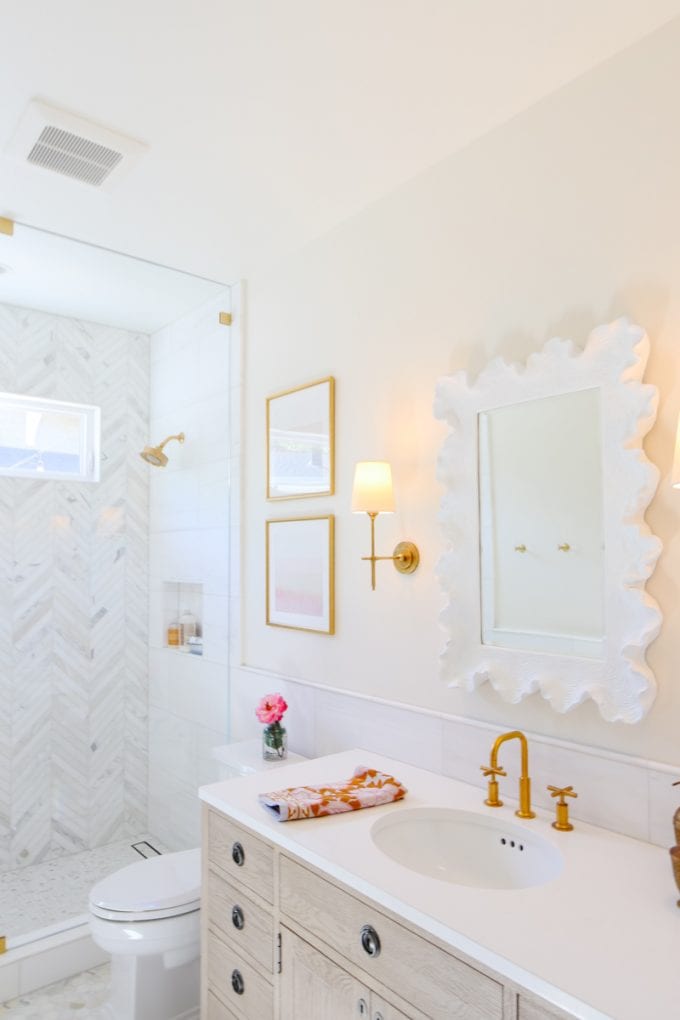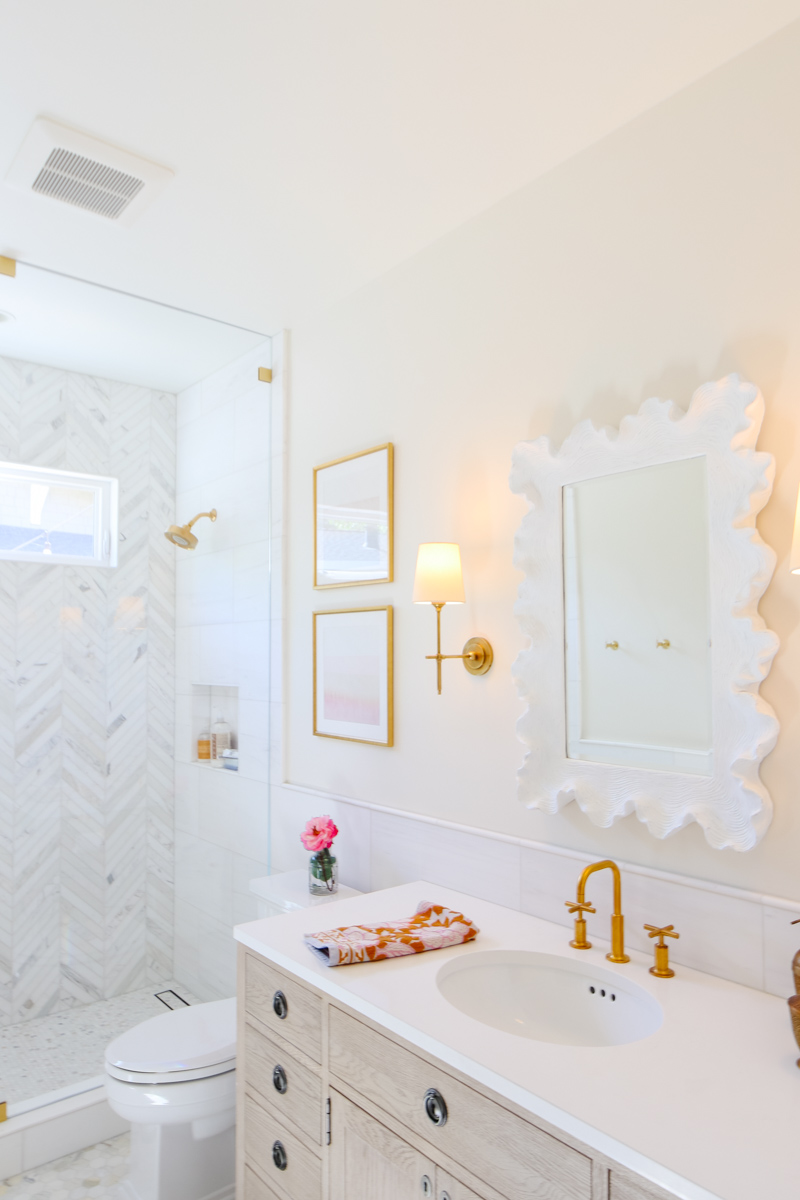 The curb of the shower is done with dolomite tile that we also used on the walls at chair-rail height.
Calacatta Gold Marble Shower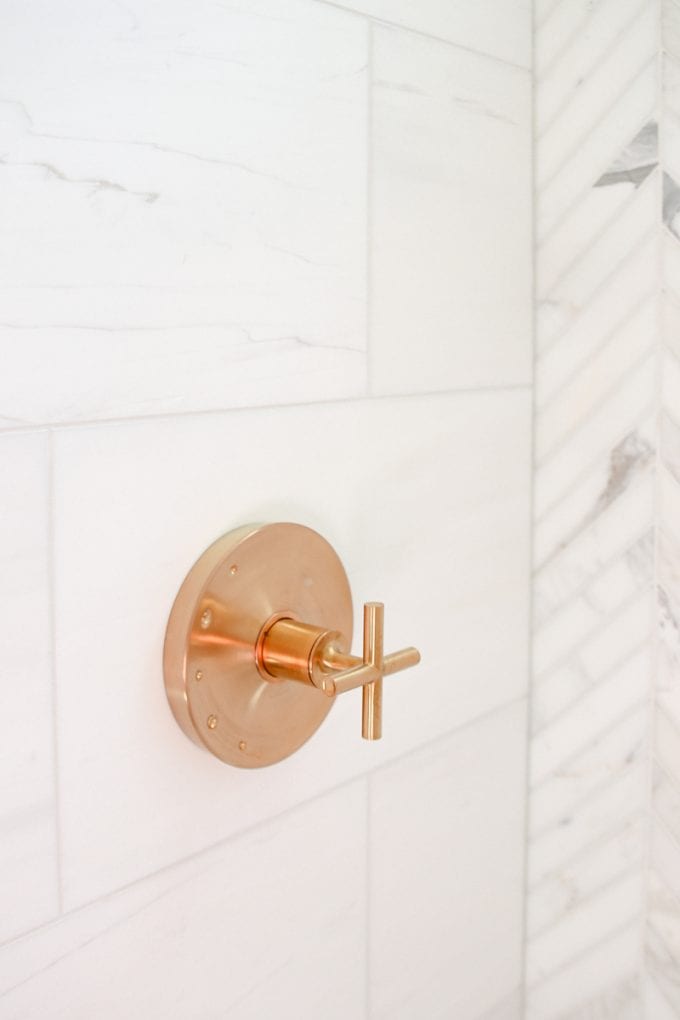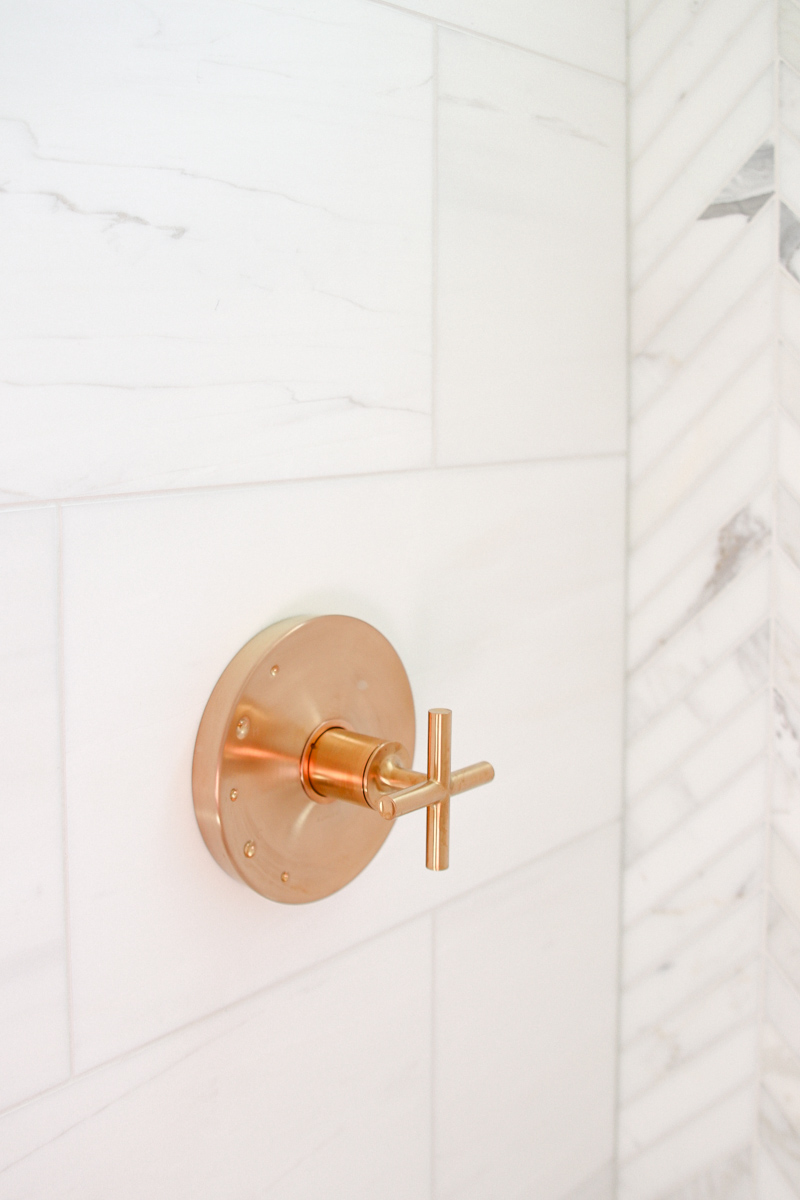 The marble shower tile is really the highlight of this entire girls bathroom remodel. This chevron pattern of varying sizes of calacatta marble is absolutely stunning. It is from Jeffrey Court. Lots of questions asking for a link and here it is! Jeffrey Court Chevron Mosaic Calcutta Gold Marble Tile.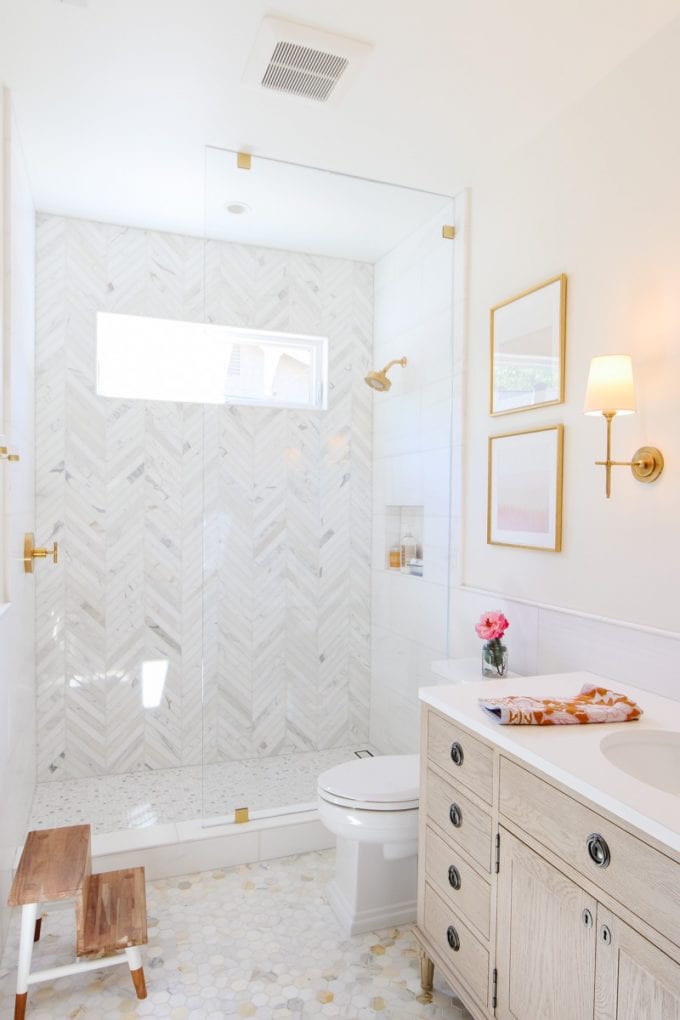 I knew I wanted this wall to be a focal point and this tile is just the right amount of wow and subtle elegance. And replacing the original small window with this transom window lets in the most beautiful light while still maintaining privacy.
The shower uses a stationary piece of glass that goes to the ceiling. The shower is wide enough that there isn't much water splashing when showering. And the tiled walls really help with that as well.
Marble and Gold Bathroom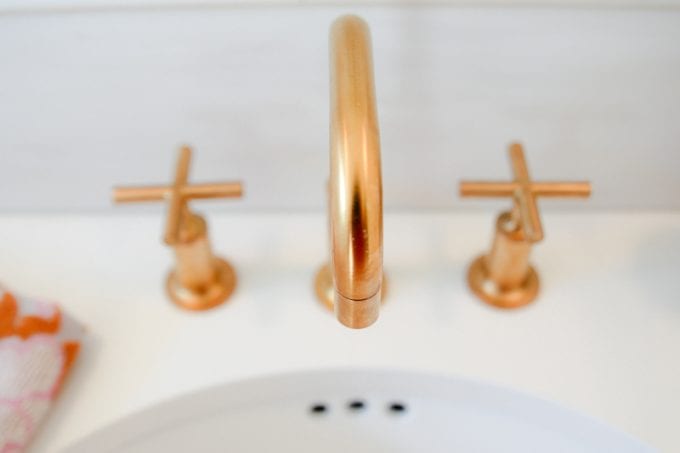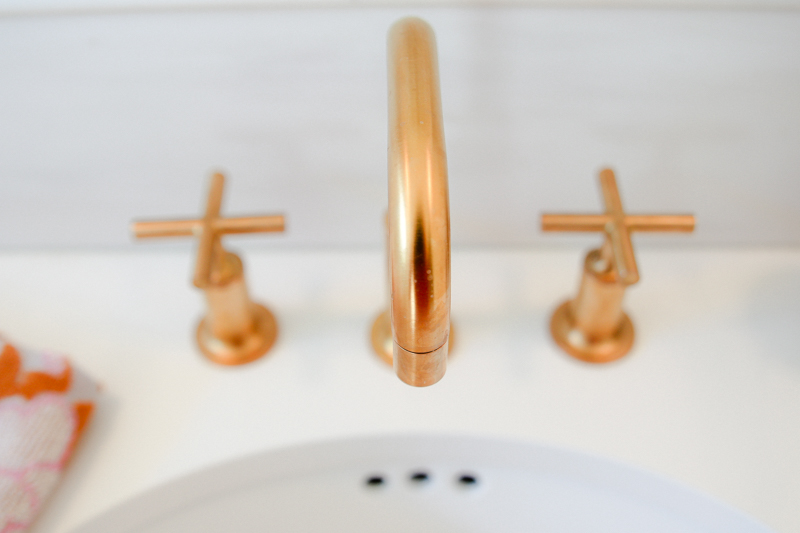 As far as finishing details, we used Kohler fixtures to add the gold and brass details. I love the brushed brass finish on these Kohler Purist fixtures. They go so well with the gold calacatta marble tile.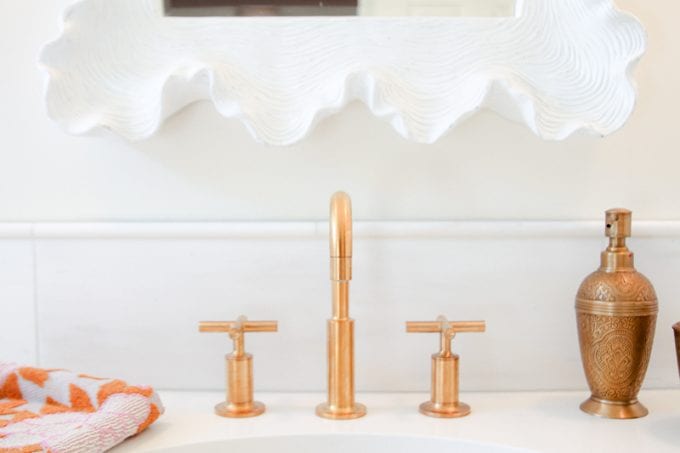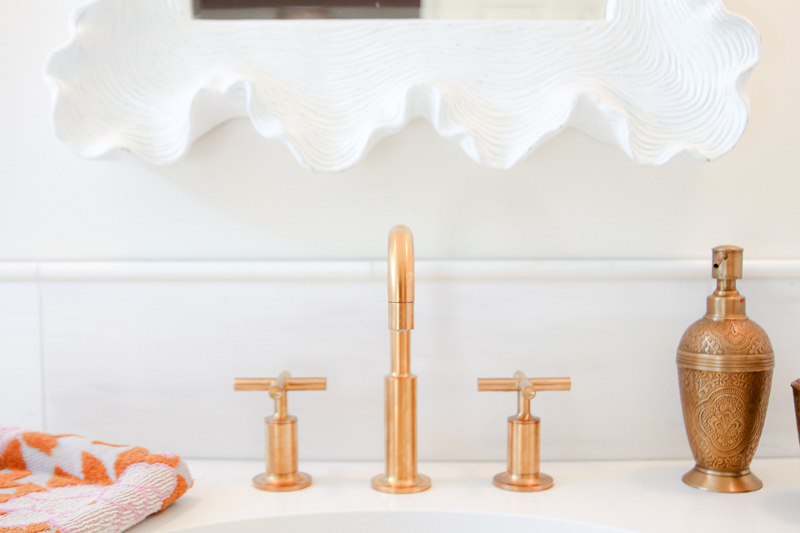 I also added these lucite and brass towel hooks that add a touch of modern but glam vibe.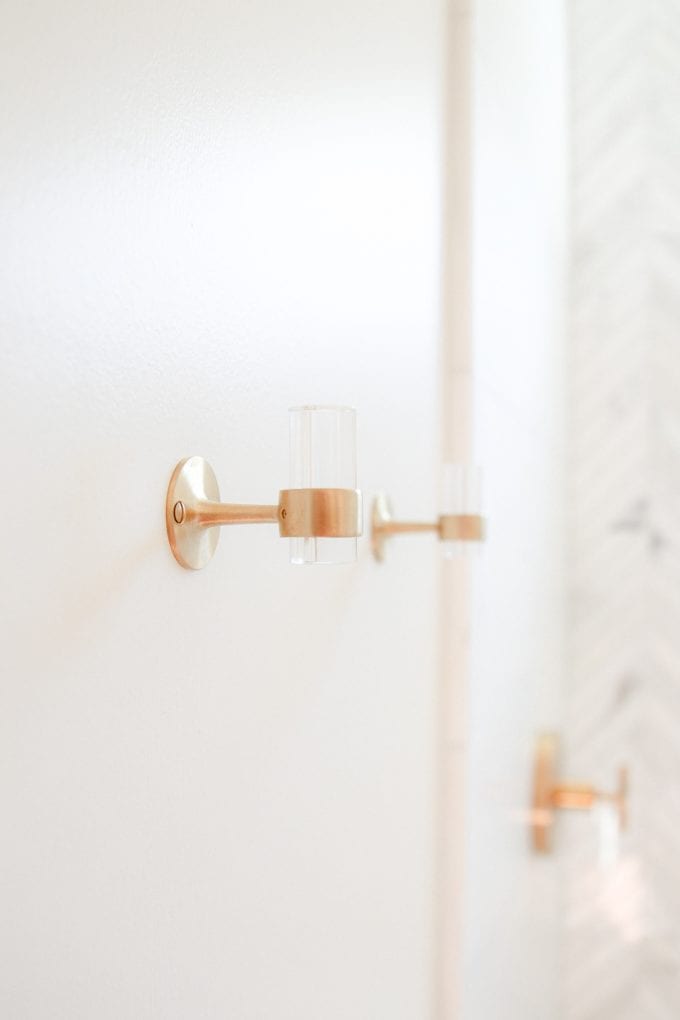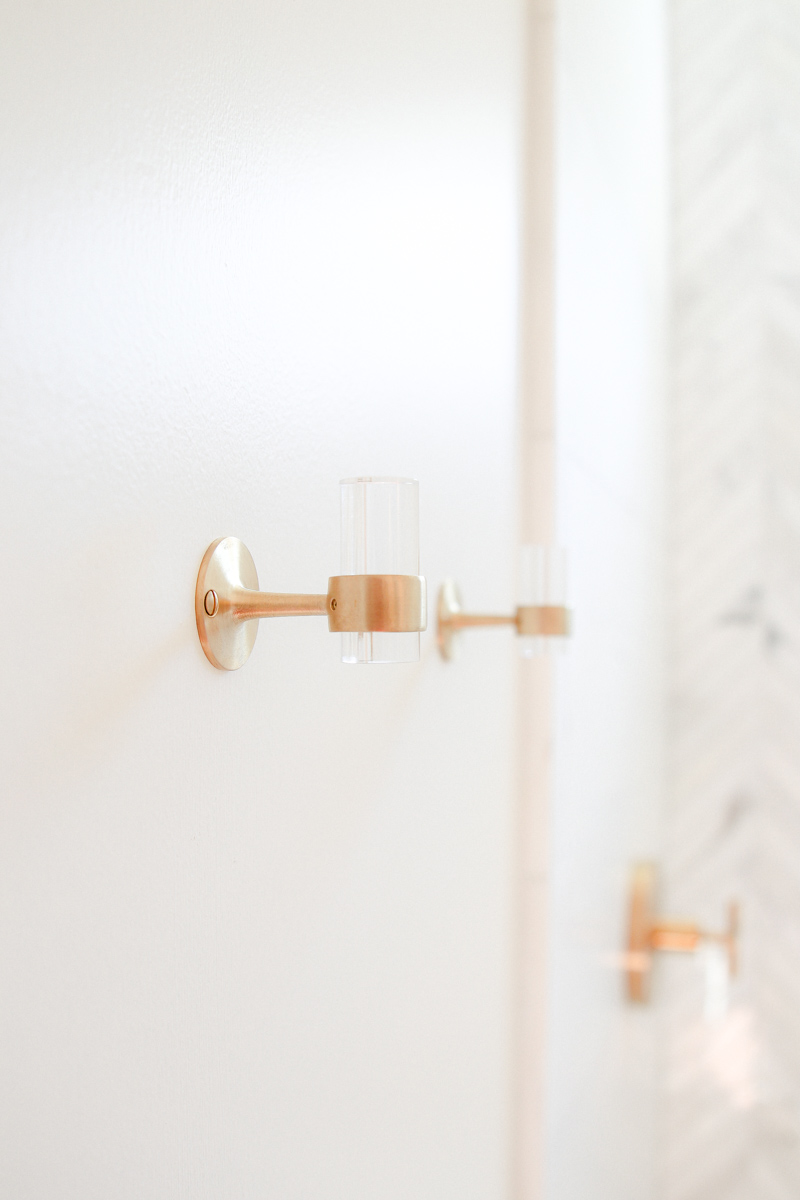 And to keep it girly and young in this girls bathroom, I found the cutest bath mat from Anthropologie. The towels are also from there.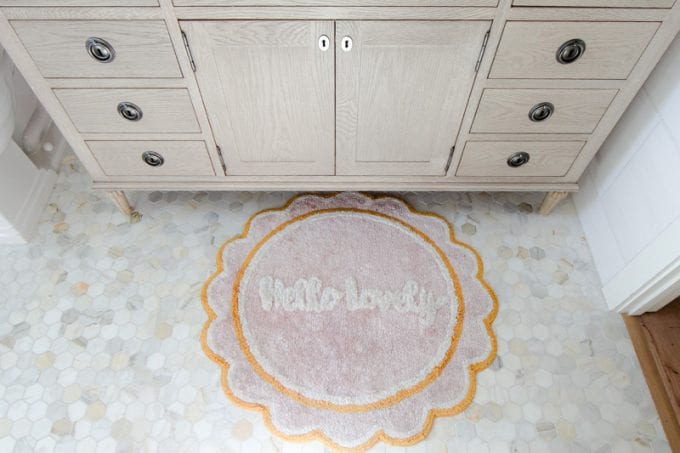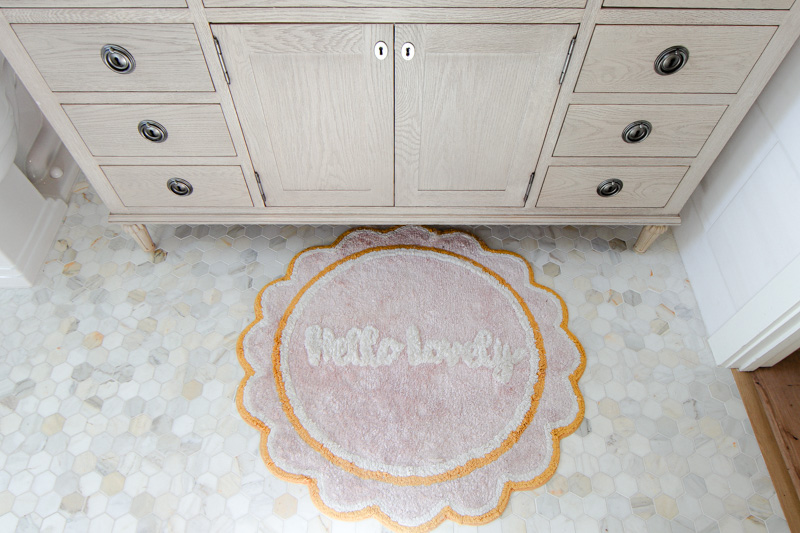 Girls Bathroom Vanity
This beautiful vanity is from Restoration Hardware and I love how it adds a timeless but feminine vibe to this marble bathroom.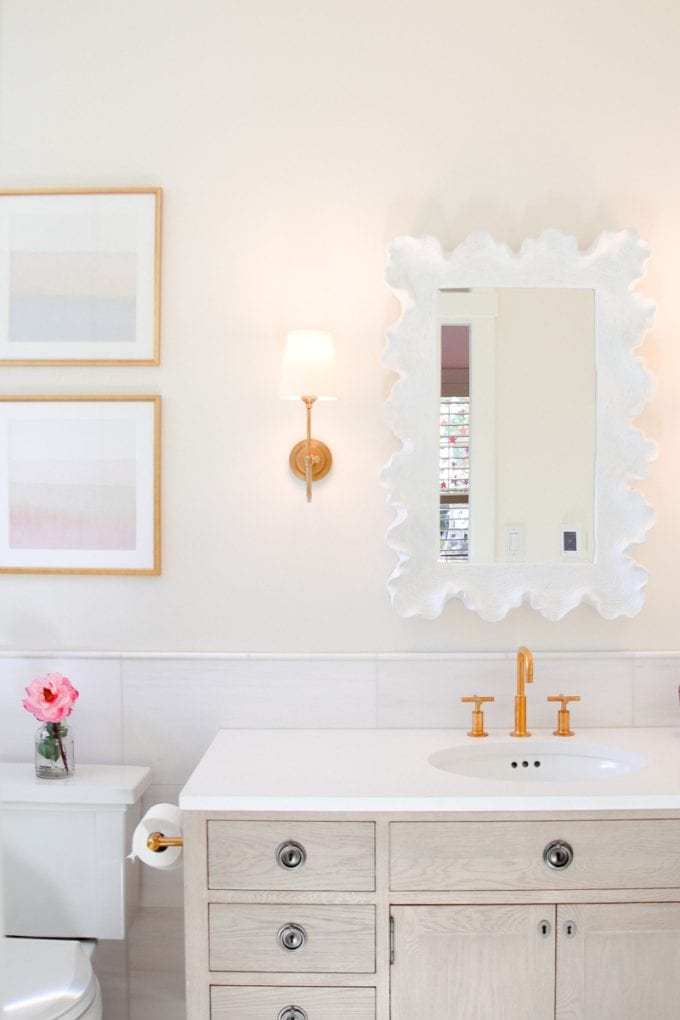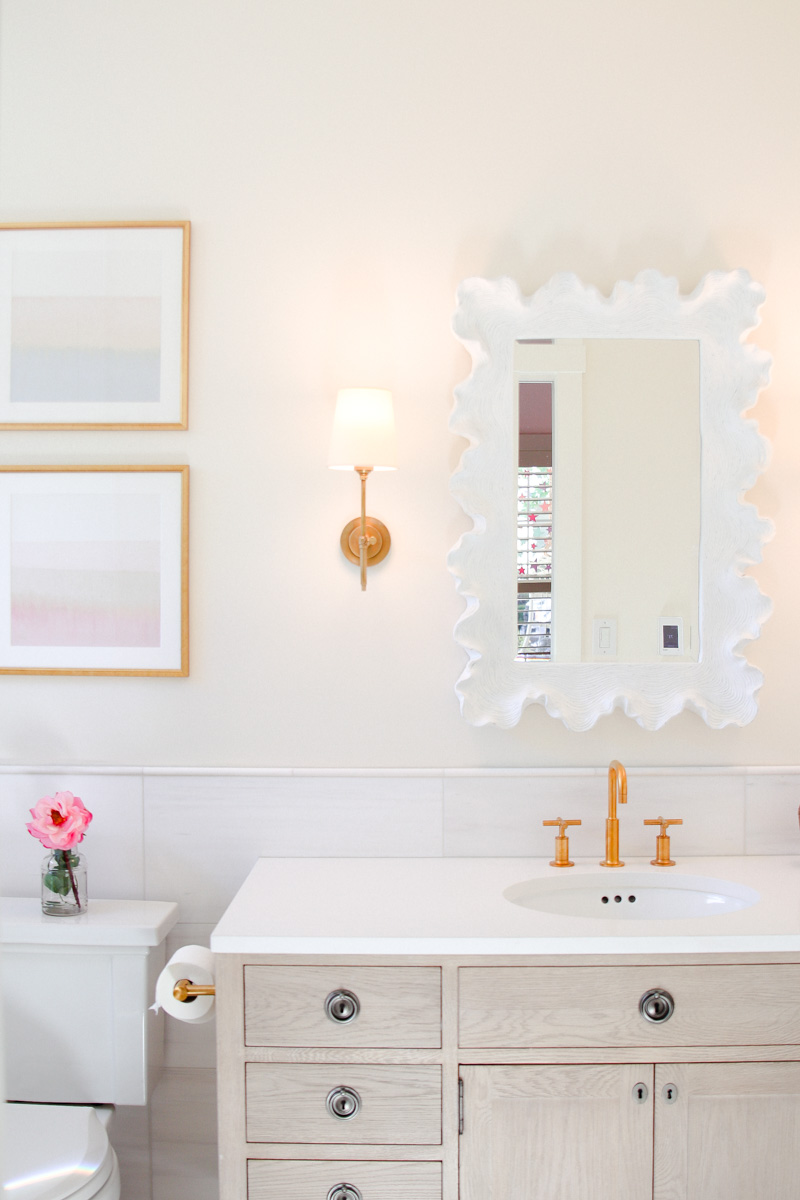 I topped it with a mirror from Ballard Designs. I have had my eye on this mirror for quite some time and was so happy I could incorporate it in this project. It definitely adds a whimsical and eclectic vibe to the space.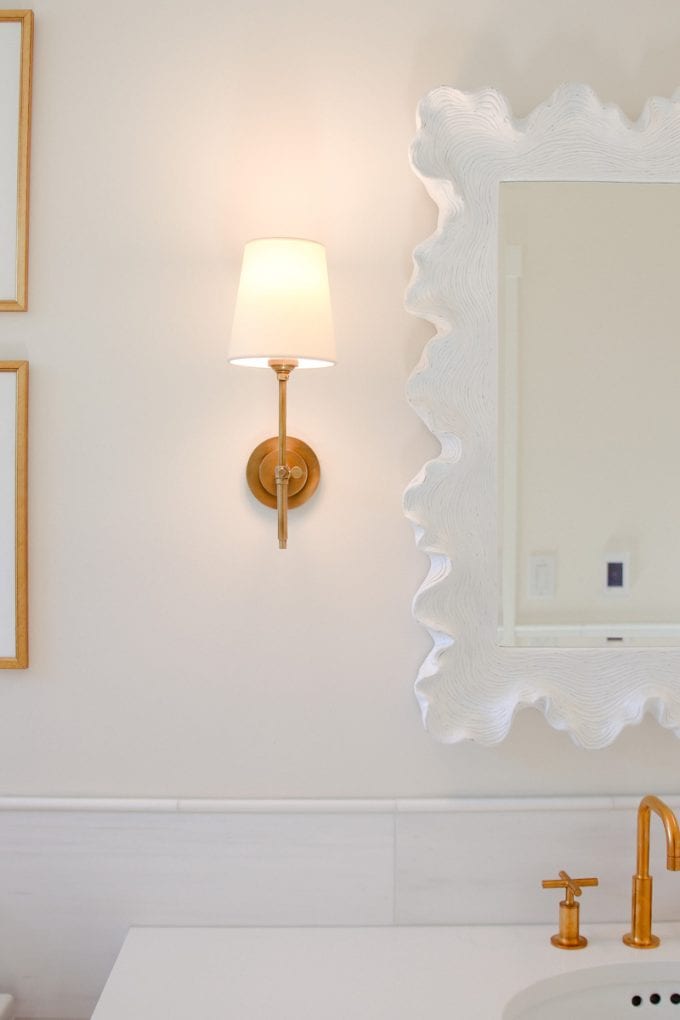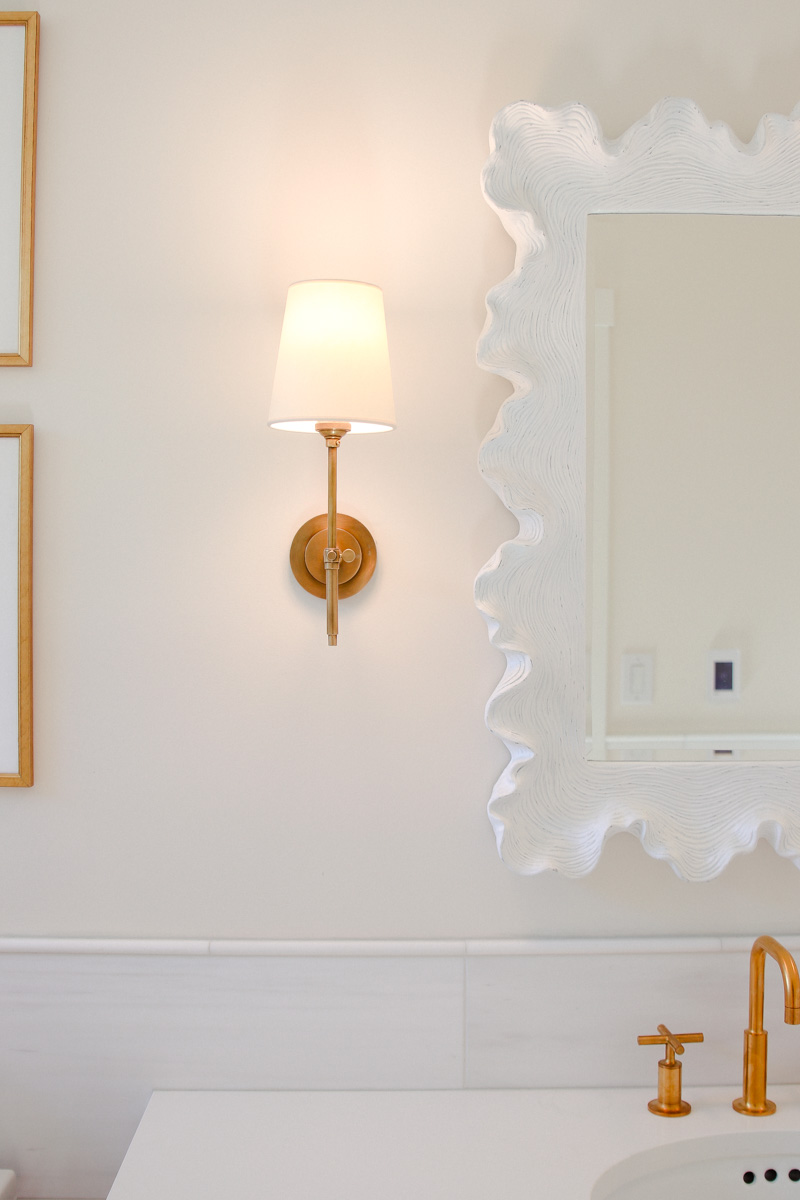 And these Circa Lighting pendants add a soft light.
Overall, I wanted this girls bathroom remodel to be a space that my eight year old daughter could grow into. The timeless design of a marble bathroom is one of my favorites.
Marble Bathroom Sources
Paint: Shiplap by Magnolia Home
Vanity: Restoration Hardware Maison Single Vanity
Fixtures: Kohler Purist in brushed gold
Lighting: Circa Lighting Bryant Sconce
Toilet: Kohler Memoirs
Mirror: Ballard Designs Atoll Mirror
Artwork: Minted
Towel Hooks: Etsy
Rug, Towels & Soap Dispenser: Anthropologie
Bathroom Floor Tile: 2″ Hexagon Calacatta Marble Tile
Bathroom Wall Tile: 12×24″ Dolomite Marble Tile
Shower Floor Tile: 1″ Penny Calacatta Marble Tile
Shower Wall Tile: Jeffrey Court
Construction: Nick Luengo Construction

Check out my Modern Farmhouse Kitchen Reveal to see more of our home projects!