This Waffle Brunch Board is so fun and perfect for serving a crowd. See how to make one for your next breakfast feast!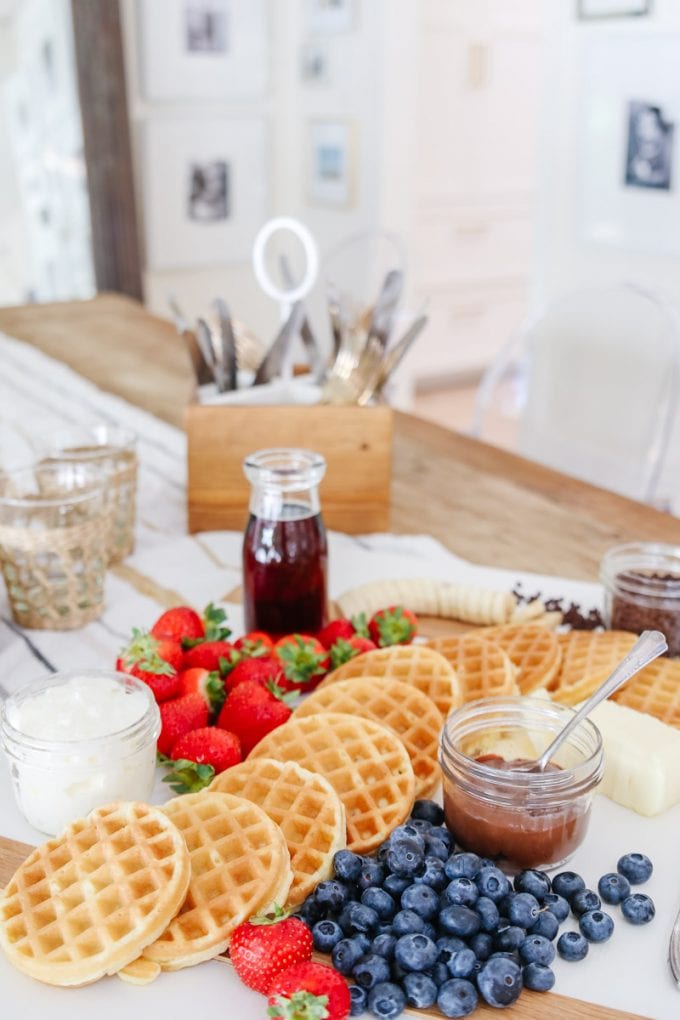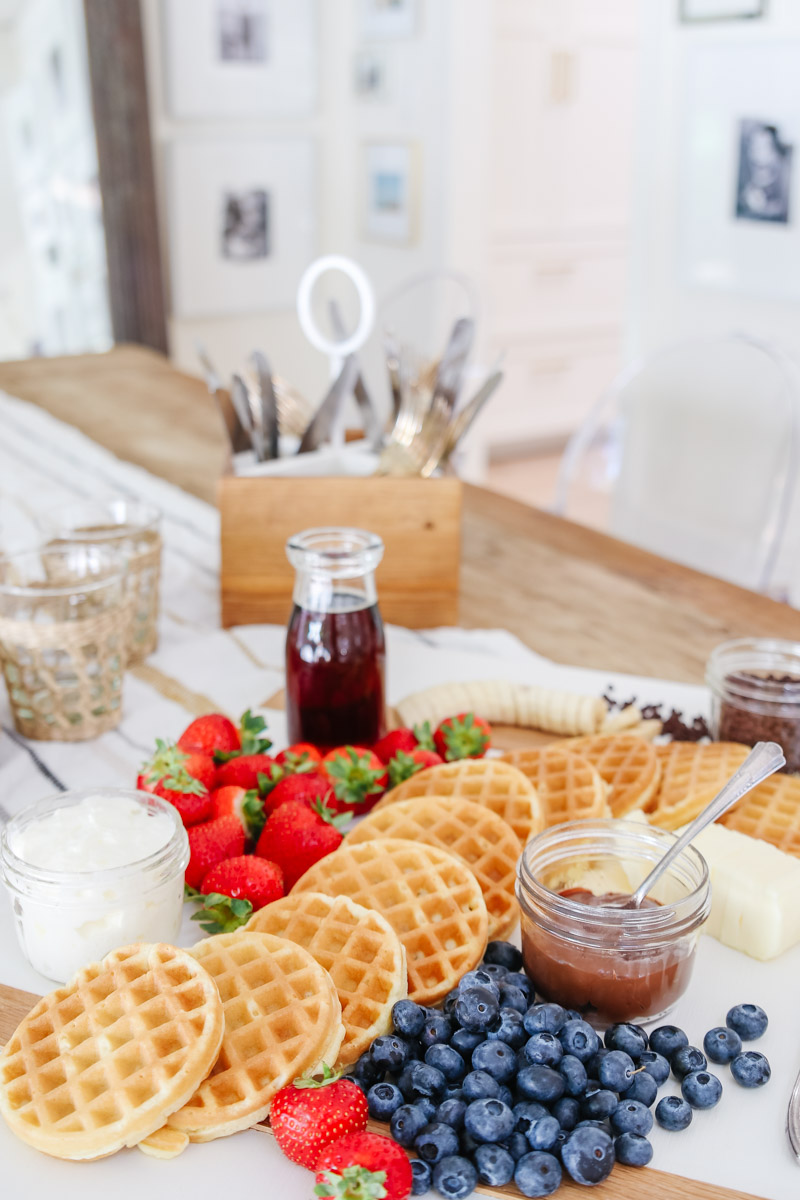 Breakfast and more specifically, waffles are one of my family's favorite meals. This Waffle Charcuterie Board is so fun and pretty easy to put together. I'll show you everything I used to create it and some of my favorite waffle toppings for the ultimate build your own waffle board!
And be sure to check out my favorite waffle maker that I used to make these cute round Belgian waffles.
Waffle Brunch Charcuterie Board
My kids love waffles, pancakes and anything you can cover in maple syrup. We have been spending more time at home so gone are the rushed mornings filled with timelines and places to be.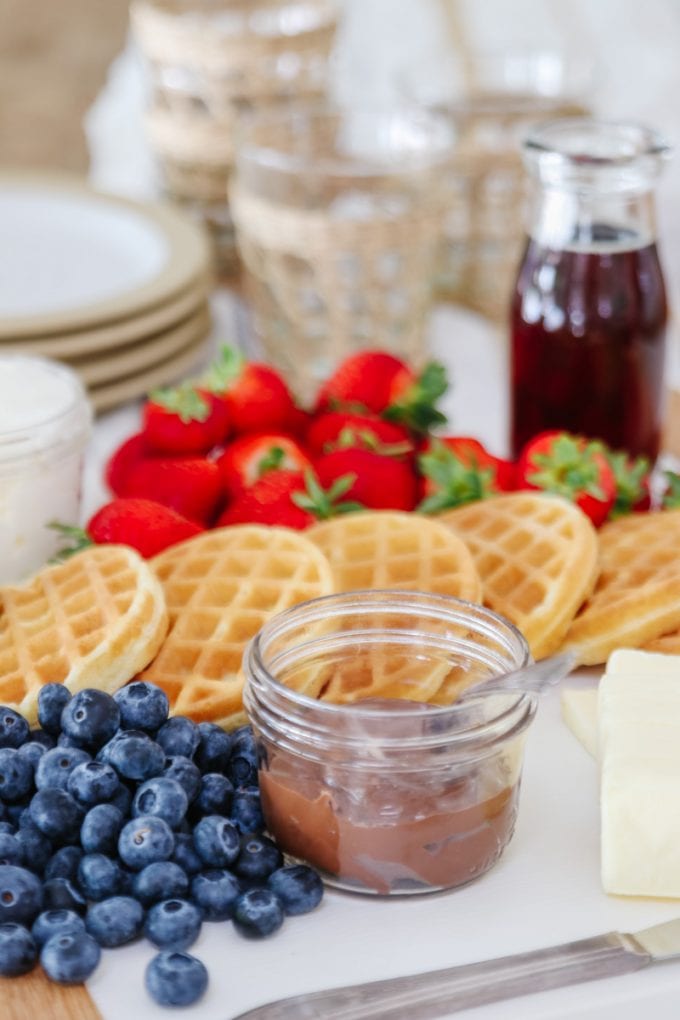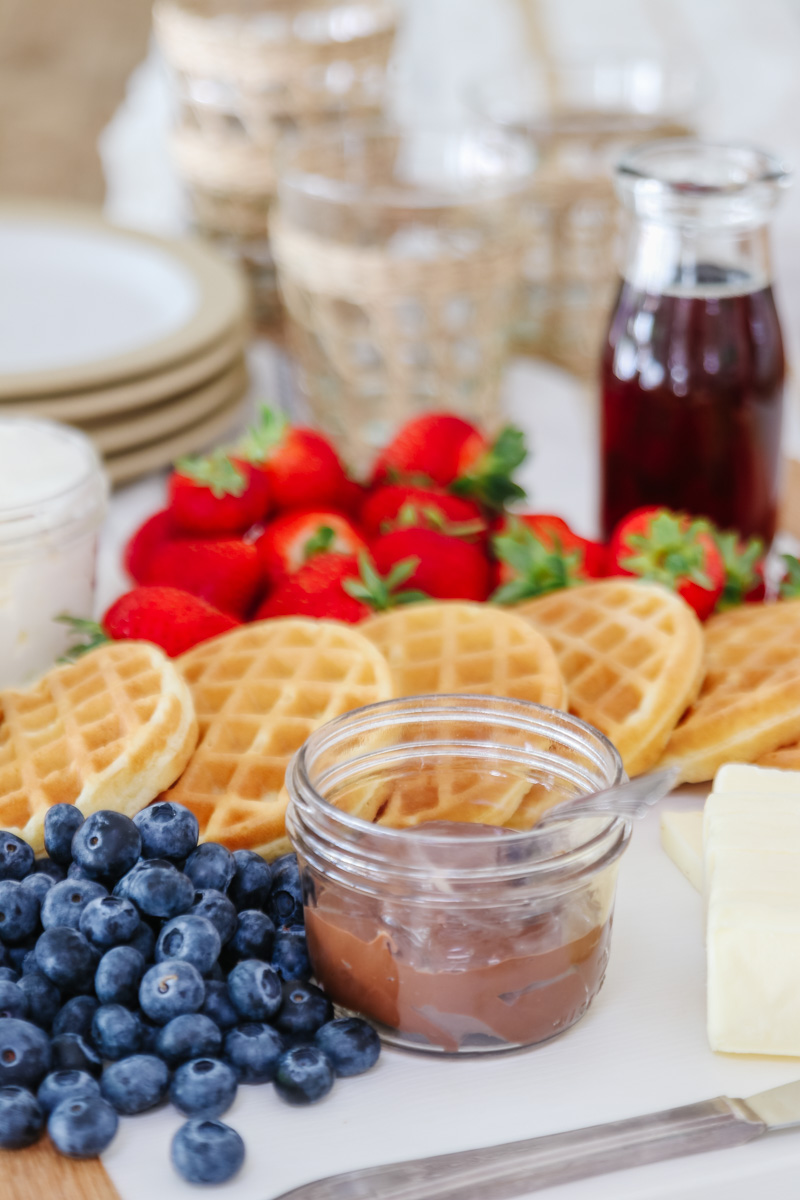 These days we have been enjoying slower mornings and this gives me time to create a fun breakfast!
My Favorite Waffle Maker
I recently picked up the best mini waffle maker at Target. It is so easy to use and is perfect for a small batch of waffles for the kids.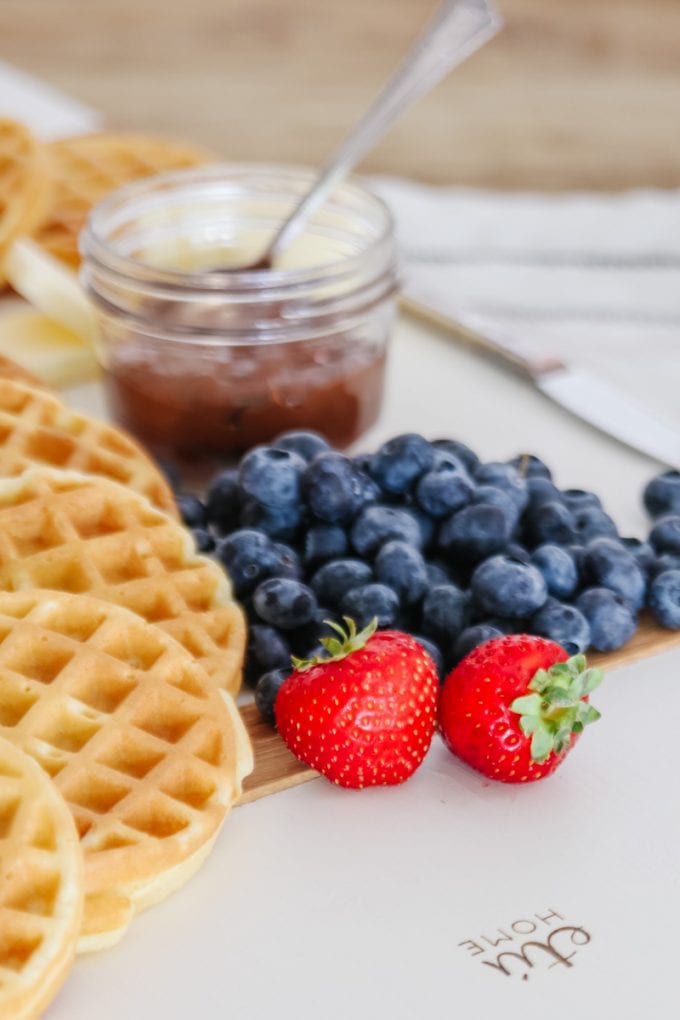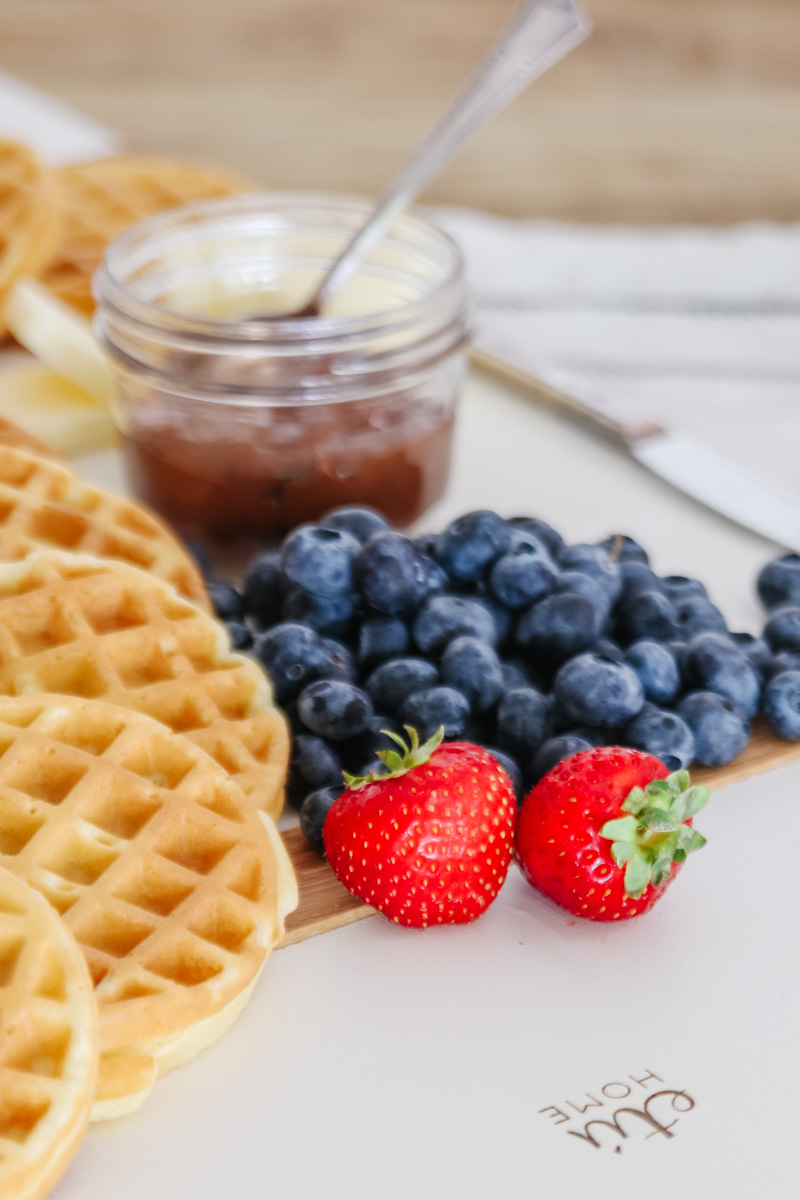 Because, let's be honest, sometimes the idea of pulling out that giant Belgian waffle maker can seem daunting.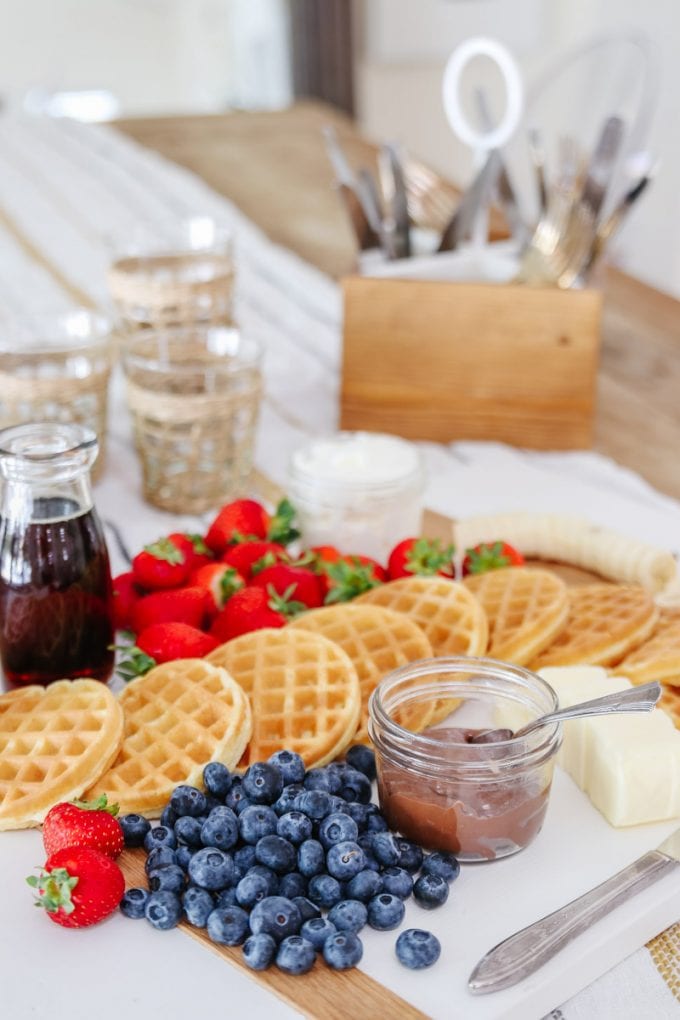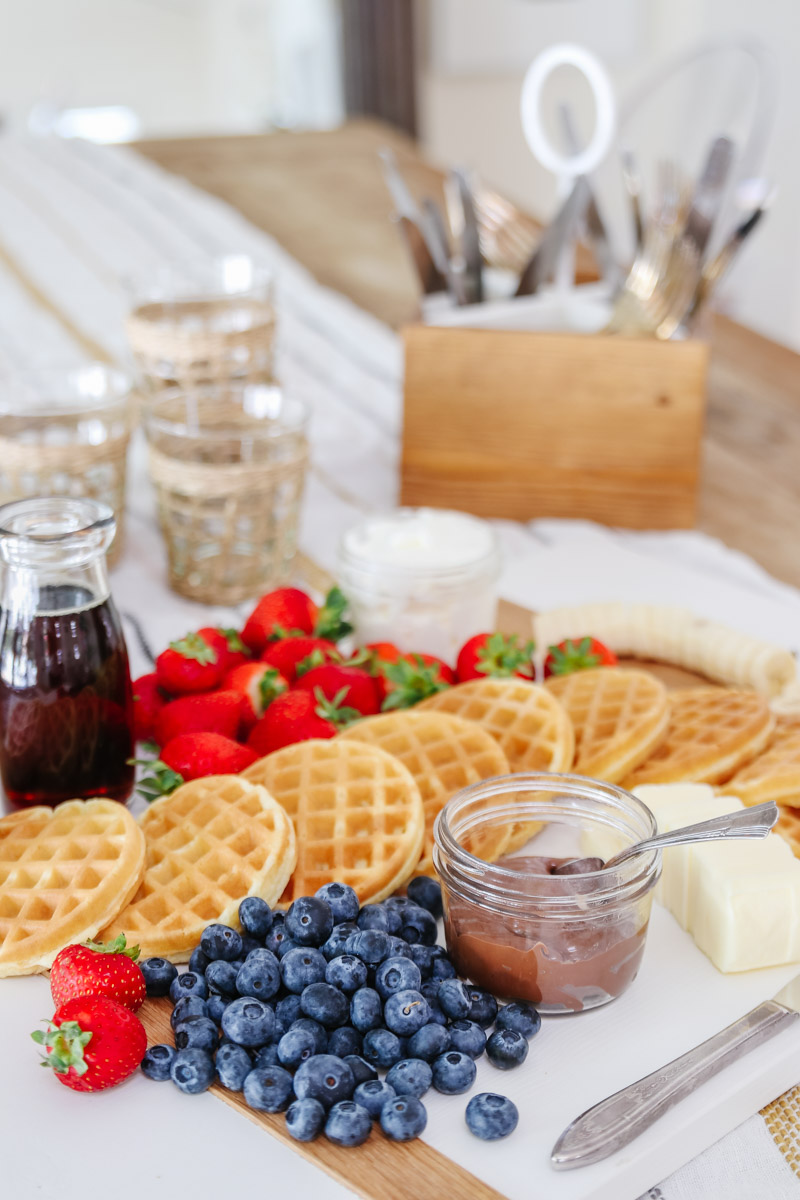 So, I thought it would be so much fun to create a waffle brunch board and use all of our favorite toppings. The ultimate build your own waffle charcuterie board.
Brunch Ideas For A Crowd
This waffle brunch board would be perfect for serving to a crowd. Place all the fixings on the board ahead of time and make the waffles when guests are ready to eat. Keep filling it up with fresh waffles for them to enjoy.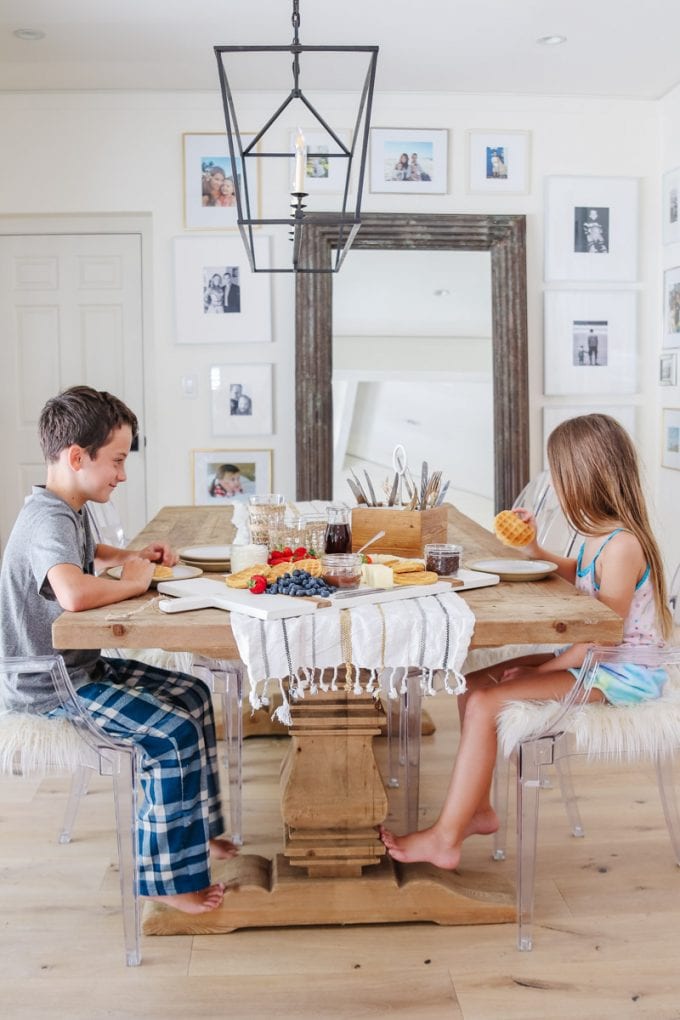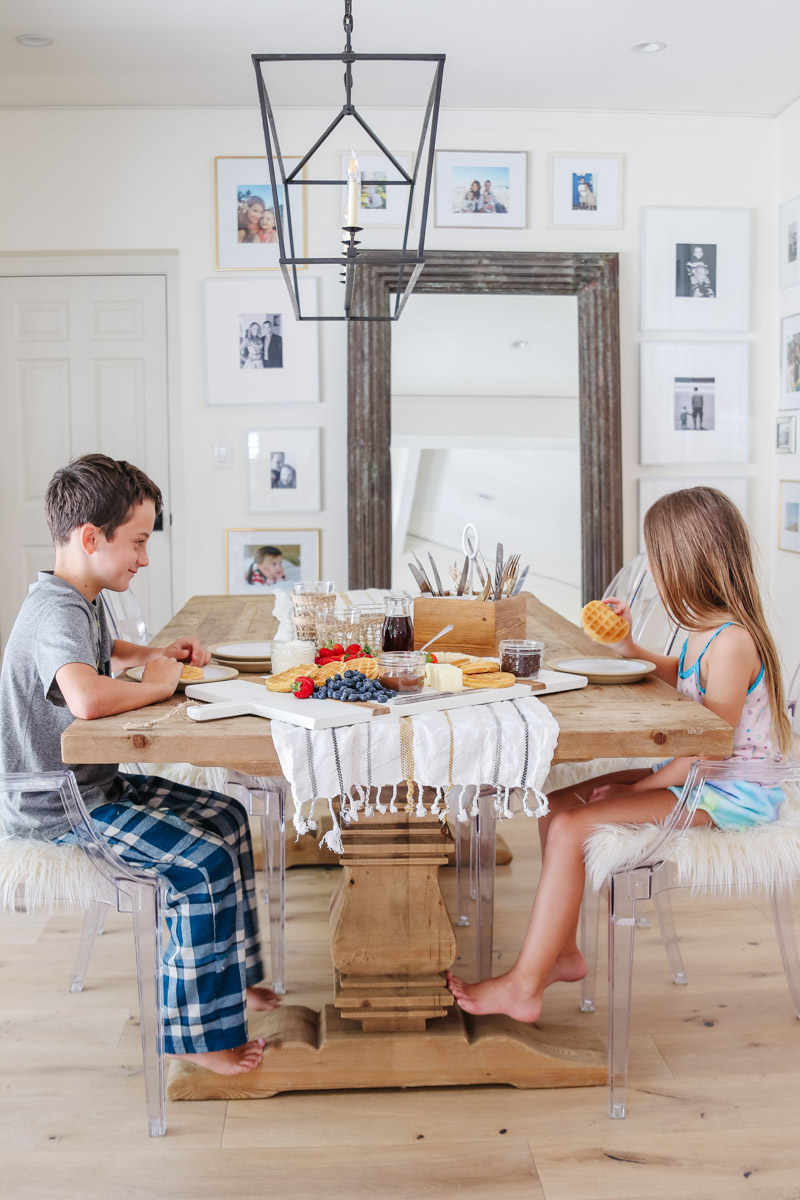 Place the waffle brunch board on a serving table with a stack of plates utensils and napkins nearby for guests to enjoy buffet style. Everyone will love being able to create their perfect waffle combination.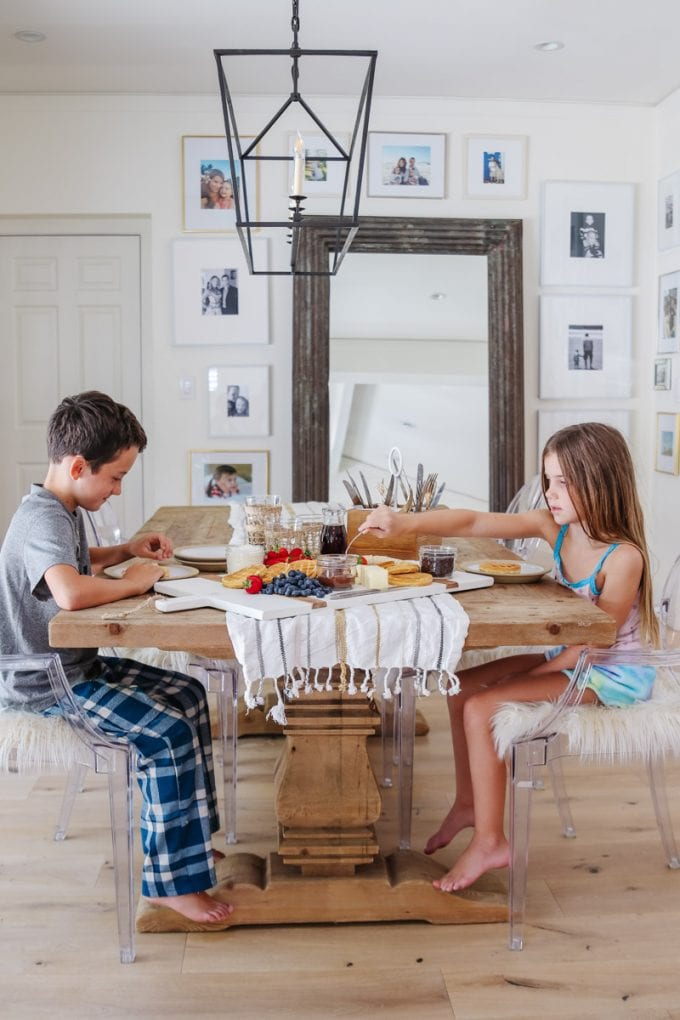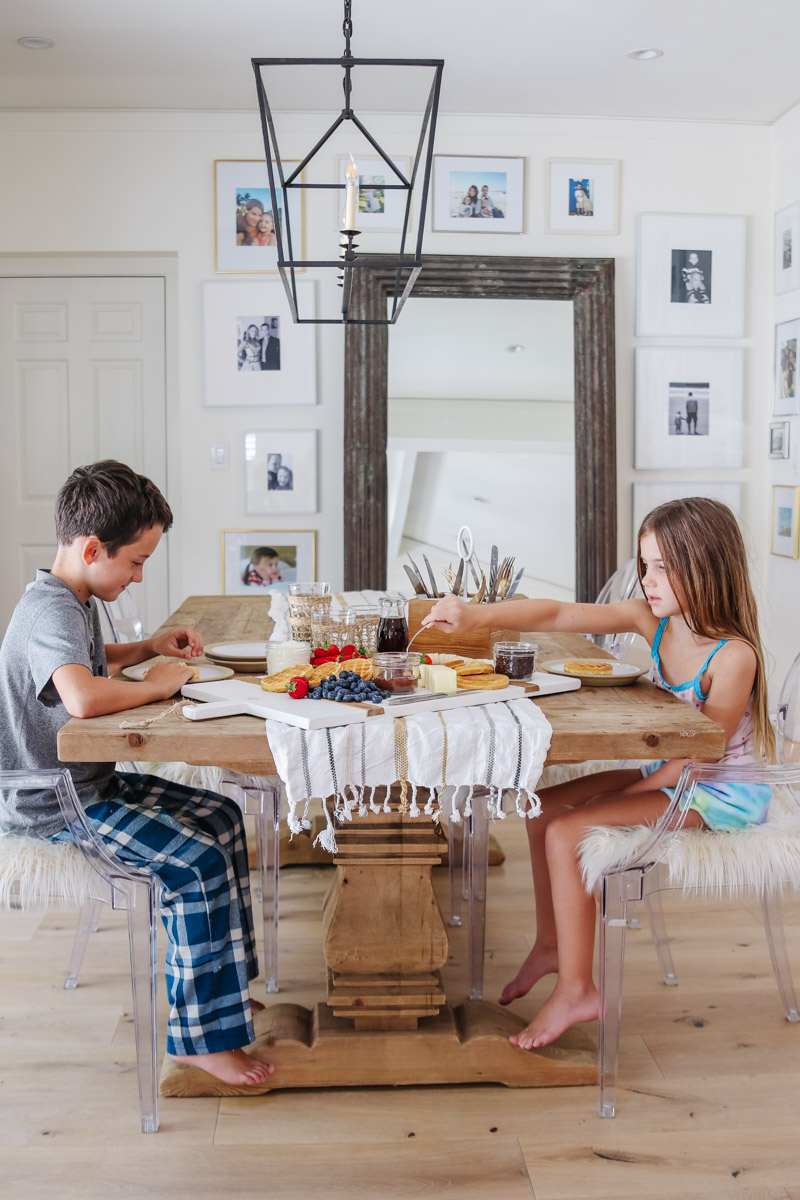 Serve with coffee, tea, mimosas or fresh squeezed juice. It's so fun and who can resist a warm fluffy waffle with all the toppings?
The Best Toppings For Waffles
Ok, now let's talk about what to put on your waffle brunch board. Besides the waffles, there are so many fun toppings.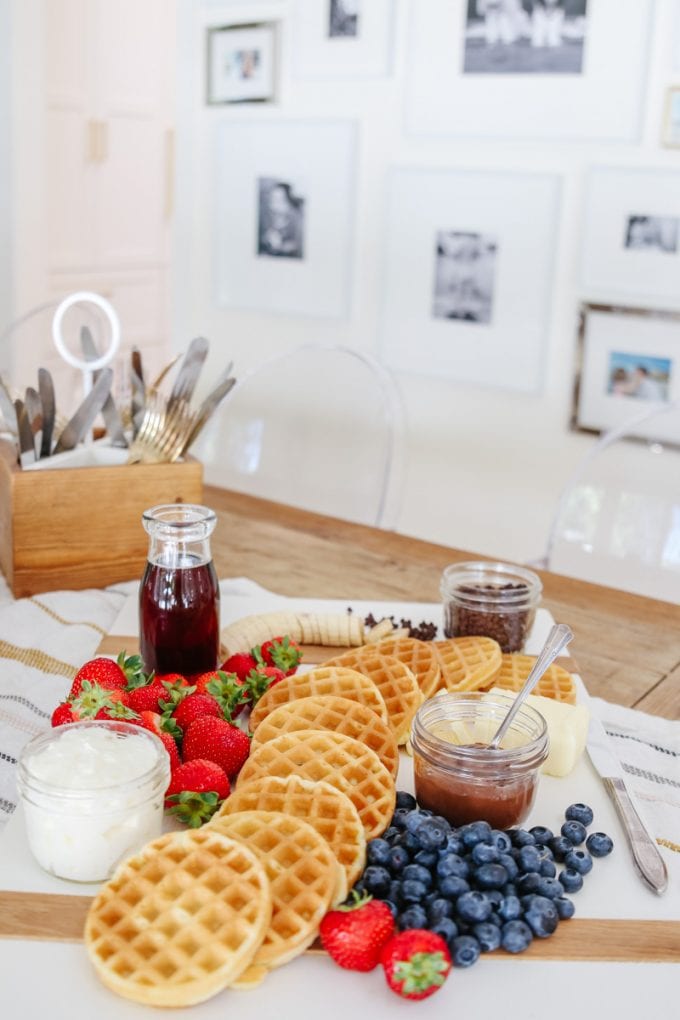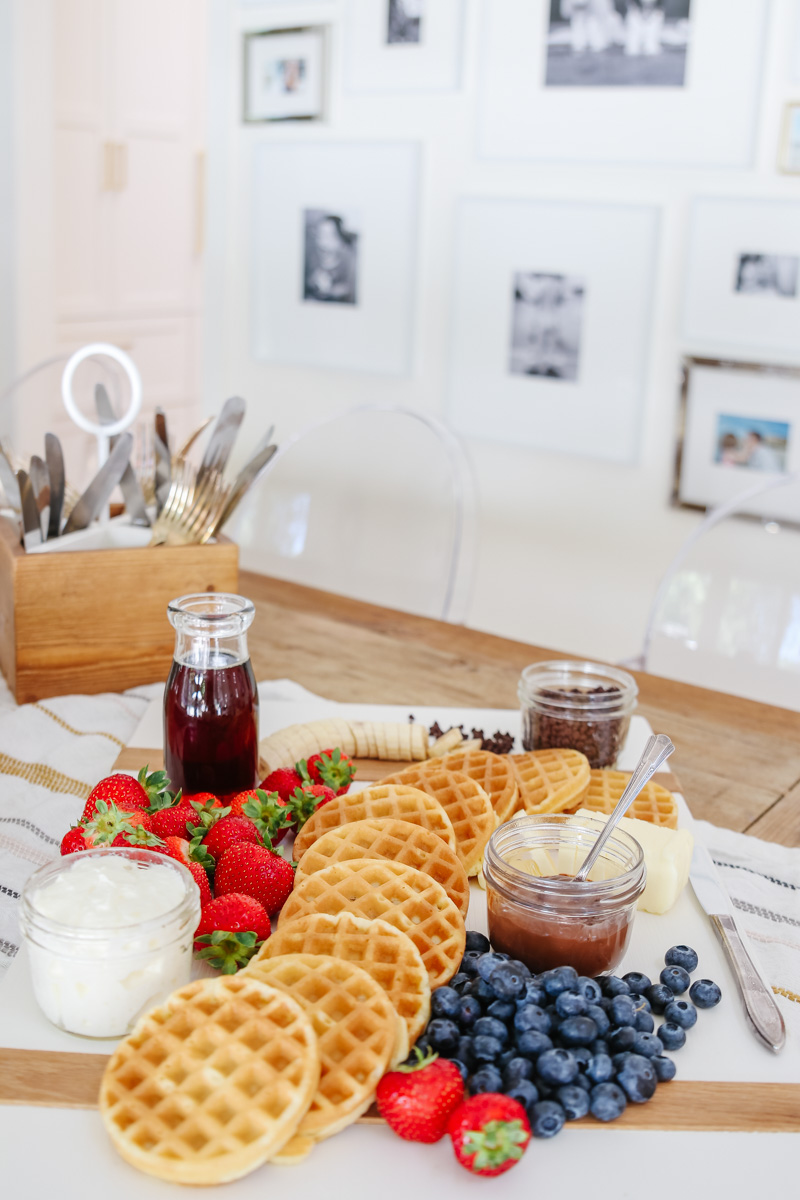 For this brunch board, I used a variety of toppings that would appeal to all different palettes. You want to make sure there is something for everyone. From simple butter and syrup to Nutella and banana, the options are endless.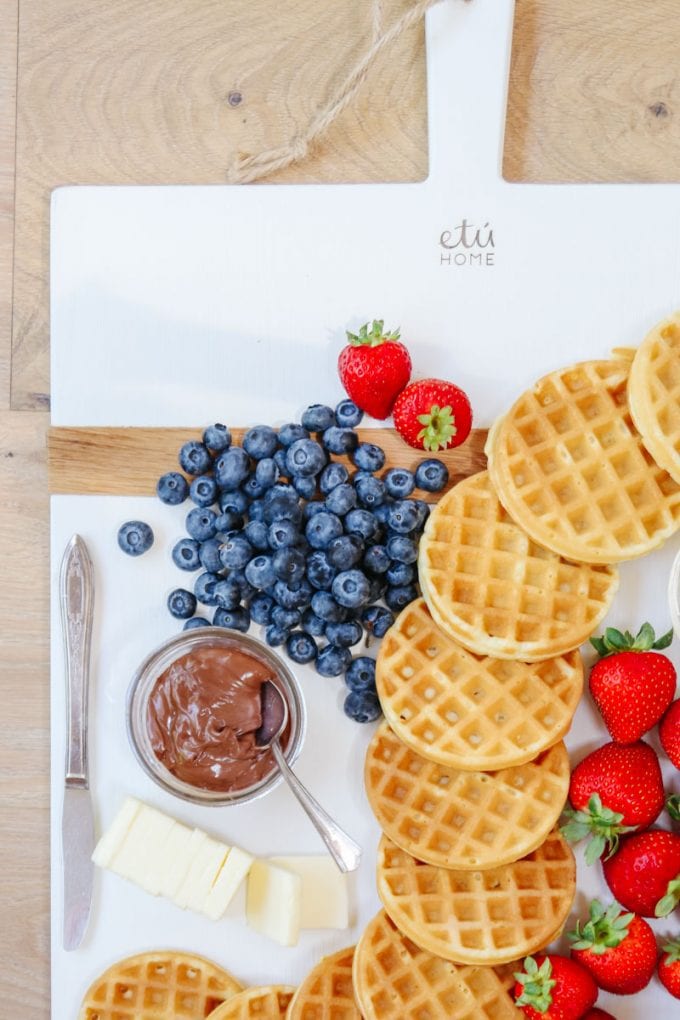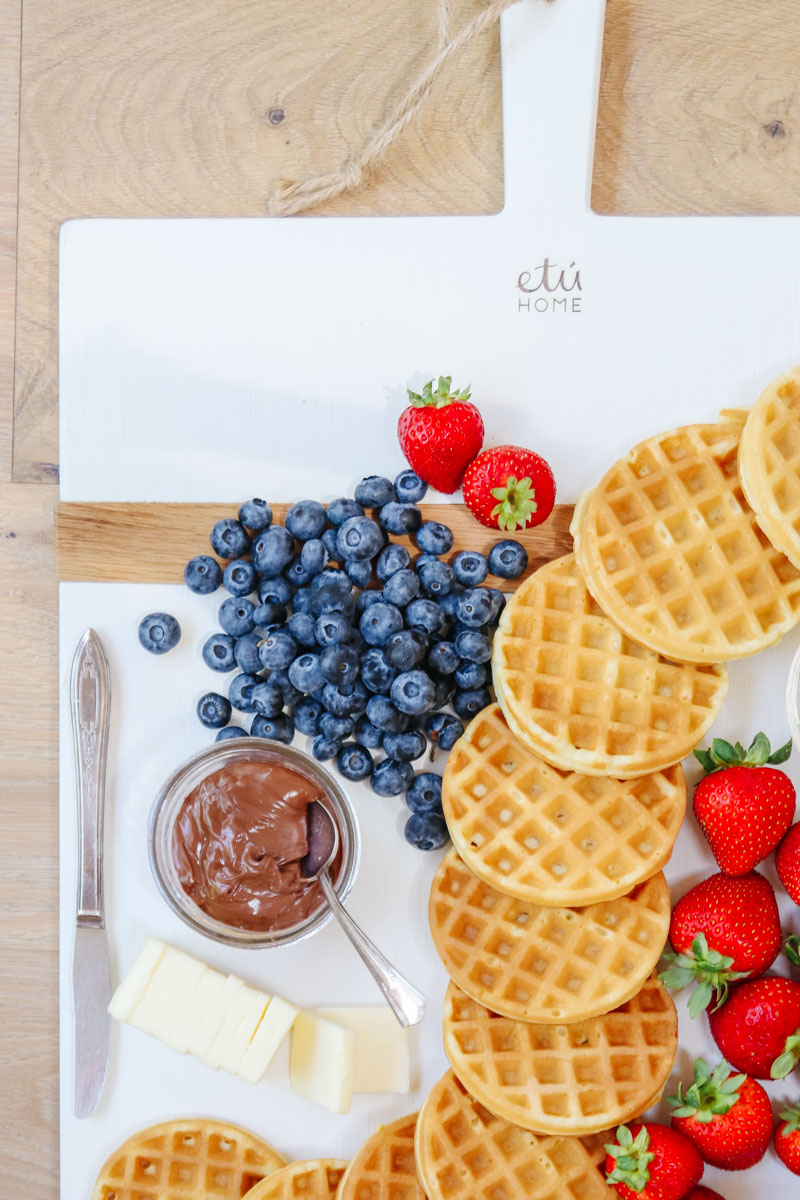 Here are the best toppings for waffles:
Nutella
Peanut Butter
Whipped Cream
Pure Maple Syrup
Butter
Fruit Jam
Mini Chocolate Chips
Bananas
Strawberries
Blueberries
How To Make A Breakfast Charcuterie Board
To assemble this breakfast charcuterie board, place the condiments in small dishes and place around the board. Make sure you have utensils as necessary for each item.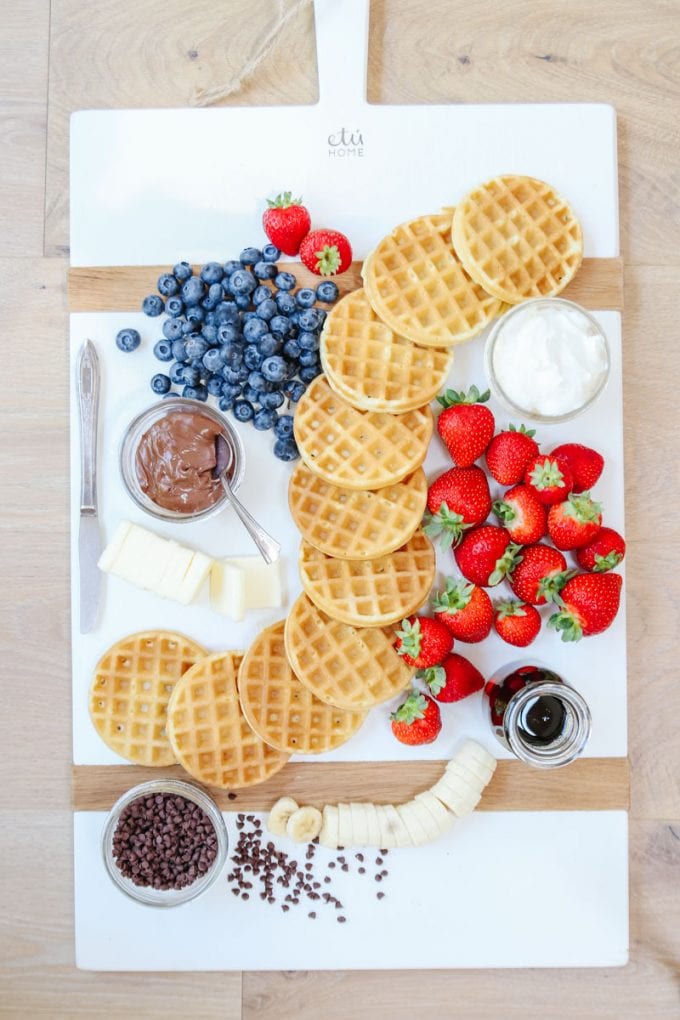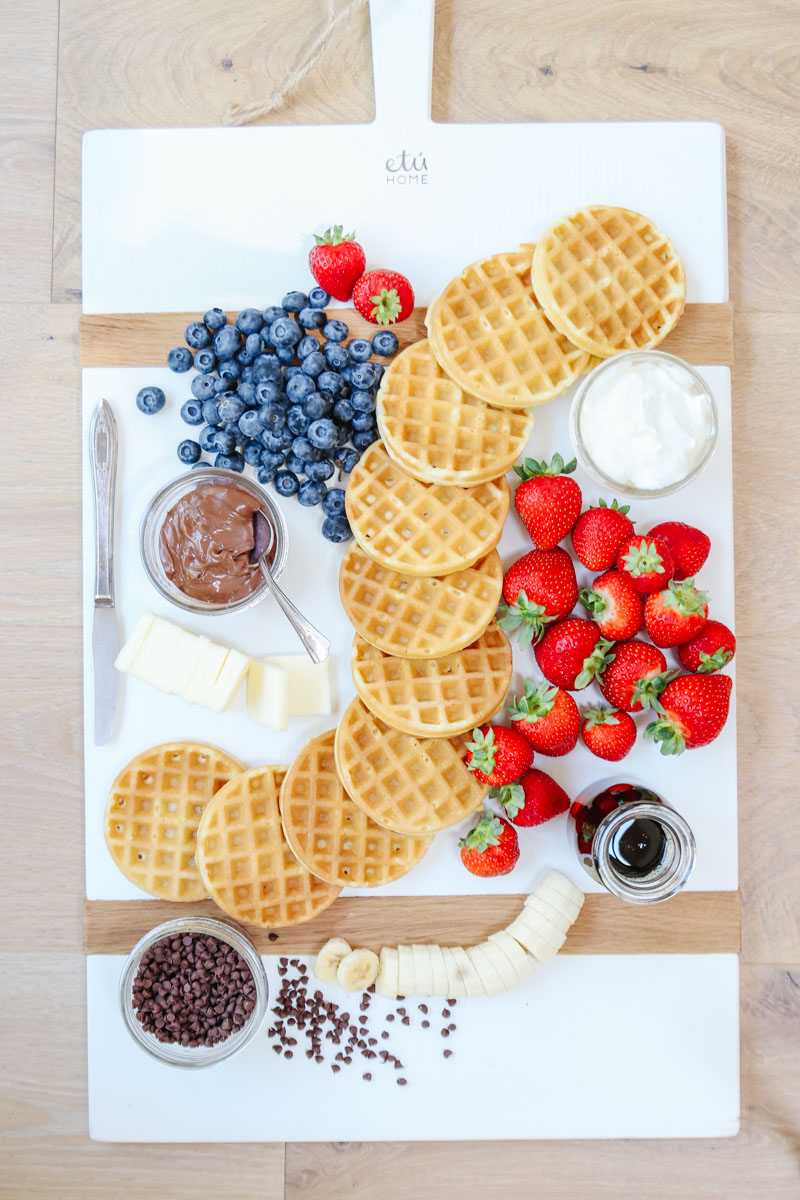 Leave room in the middle for the waffles to be placed once they are done. You can place all the fruit, syrups and condiments on the board ahead of time and when guests are ready to eat, start making the waffles and place them on the board as they are ready.
This is a relaxed and easy way to serve brunch that allows guests to eat when they please and enjoy conversation and mingling.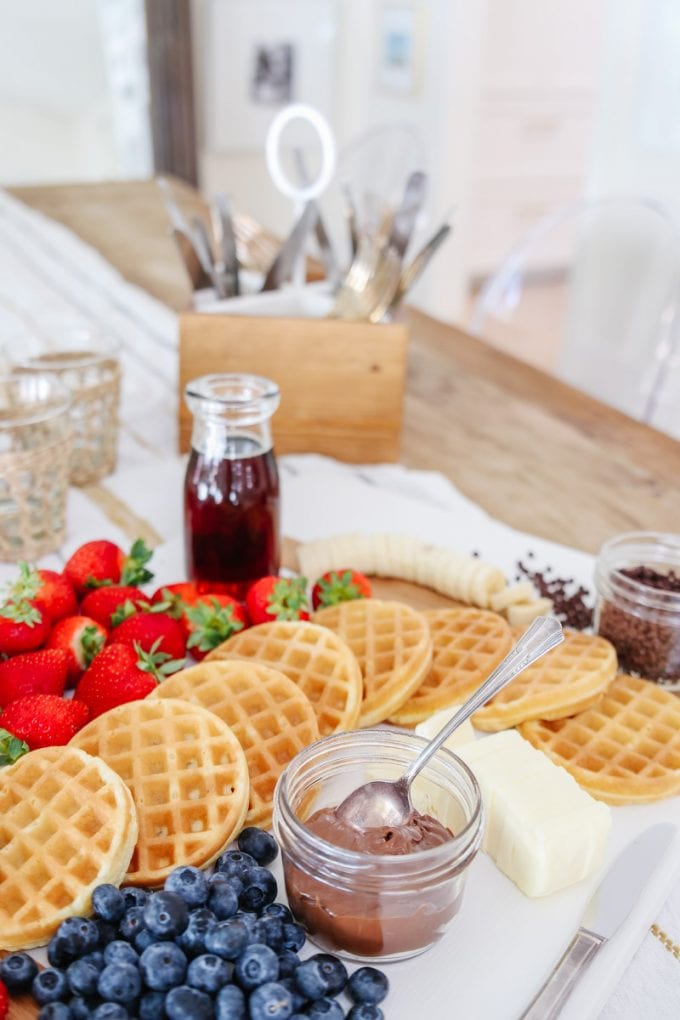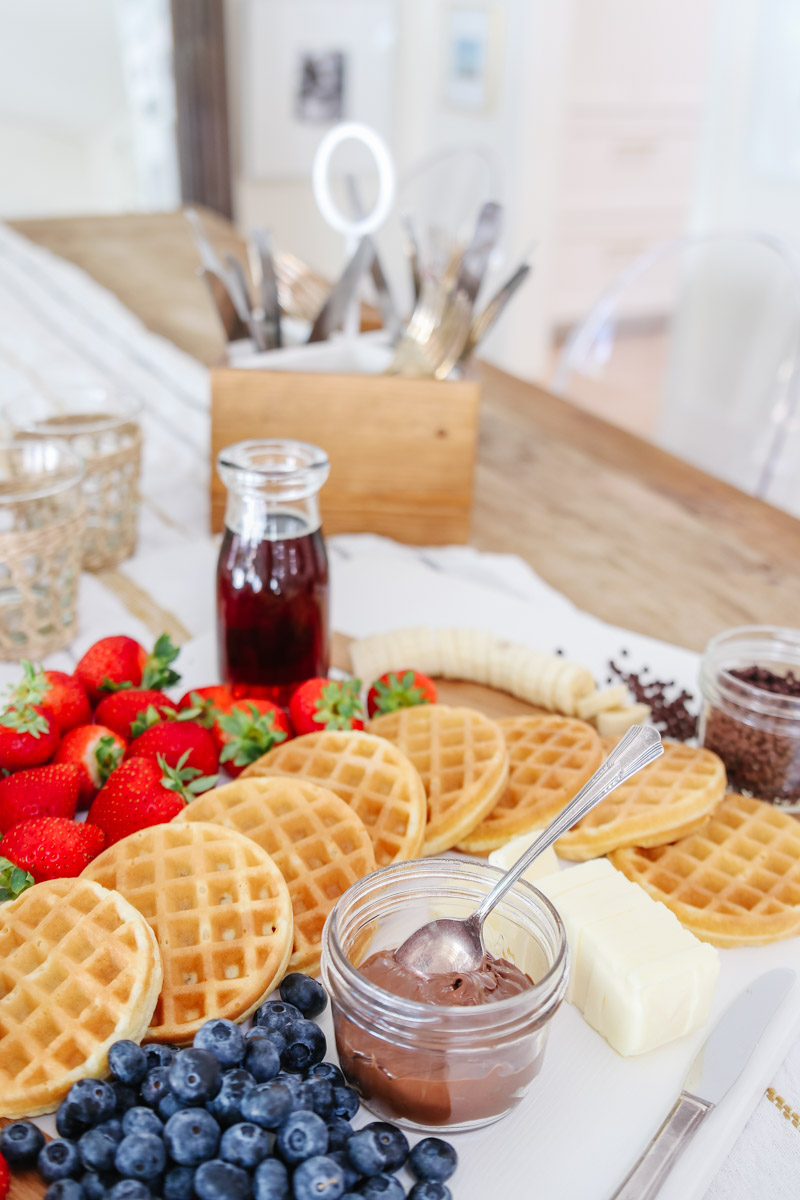 I hope you enjoyed this waffle brunch board idea. Be sure to check out these other beautiful breakfast charcuterie board ideas being shared from my friends today.
And I am linking my other popular charcuterie board ideas at the end for more inspiration and ideas! Enjoy!
MORE BRUNCH CHARCUTERIE BOARD IDEAS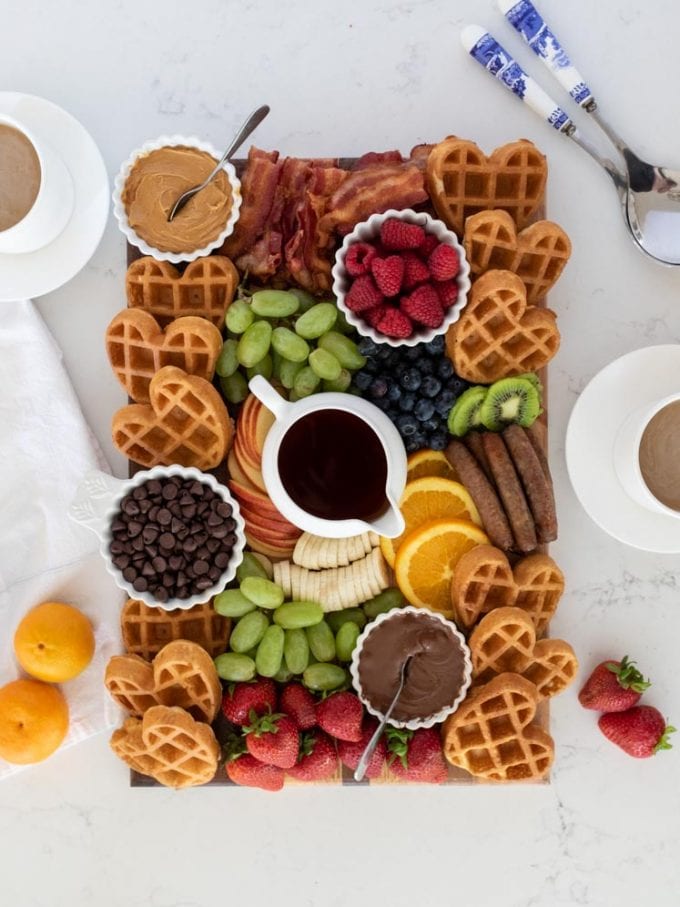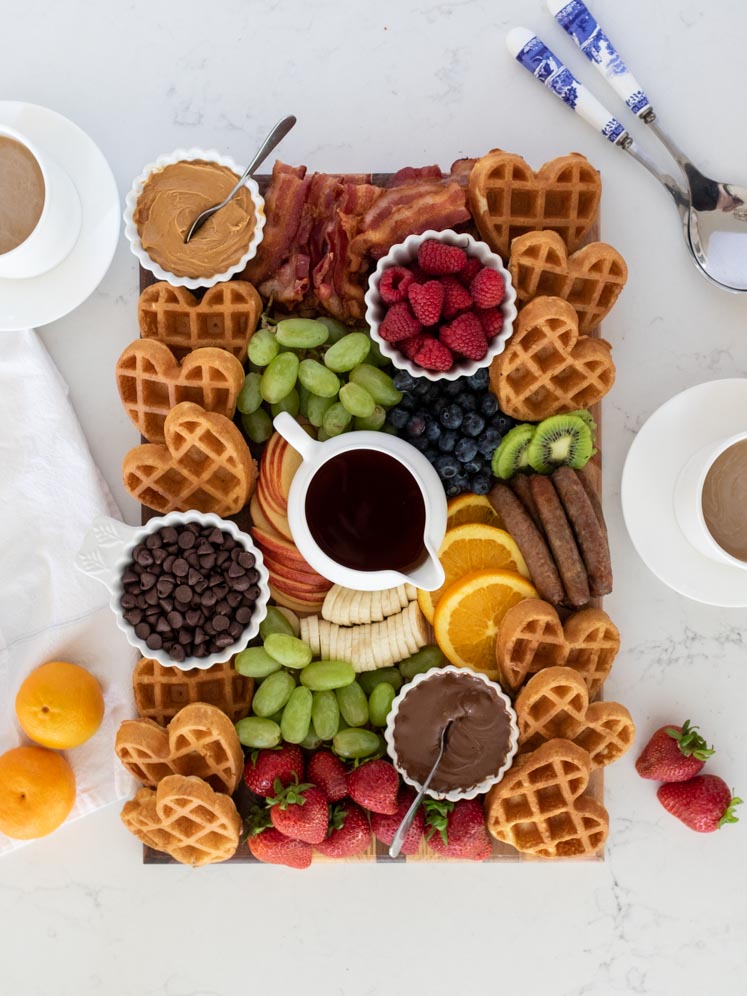 This delicious brunch board by Jennifer Maune Blog is filled with heart shaped waffles and sweet and savory toppings.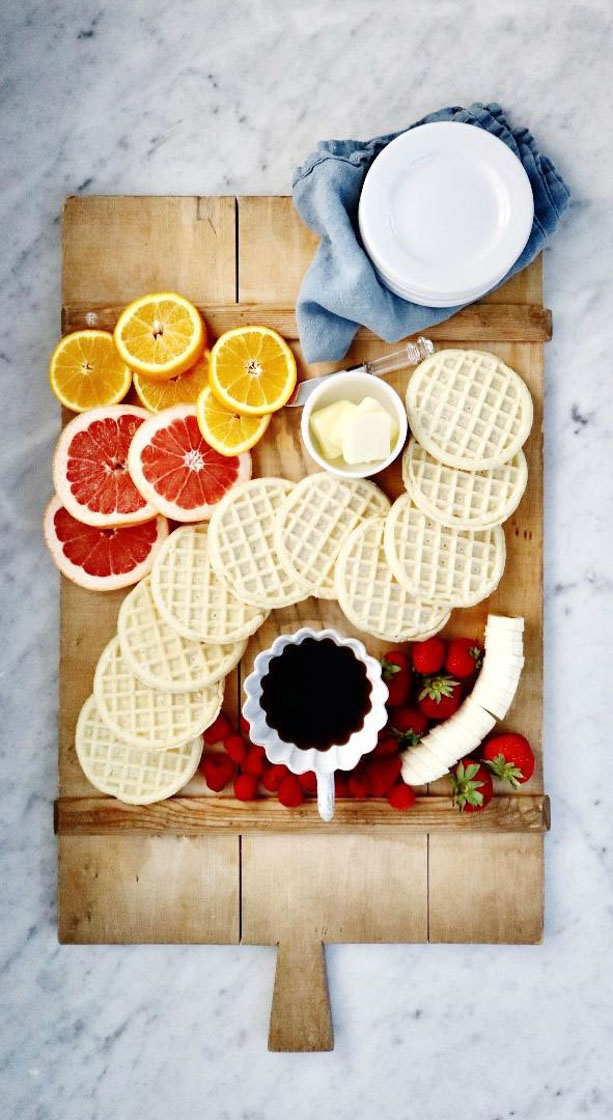 This waffle brunch board from Melaine of My Sweet Savannah is made up of delicious waffles and fresh fruit!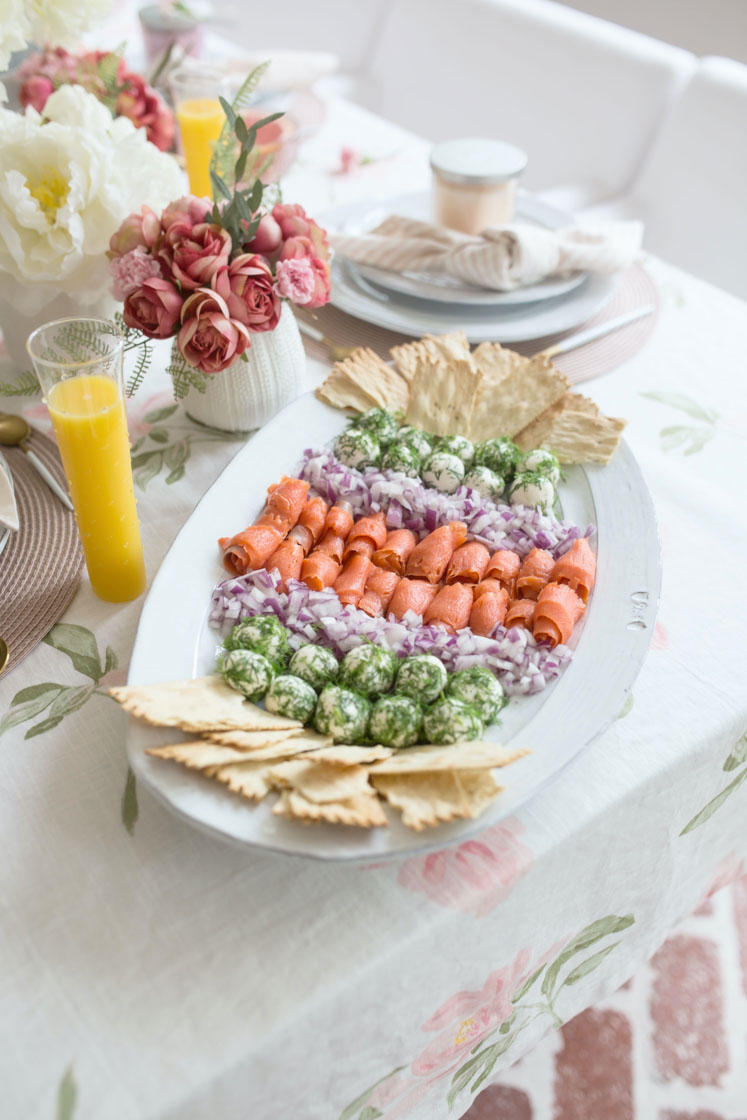 I love this breakfast board idea from Lory of To Have To Host, it's almost too pretty to eat!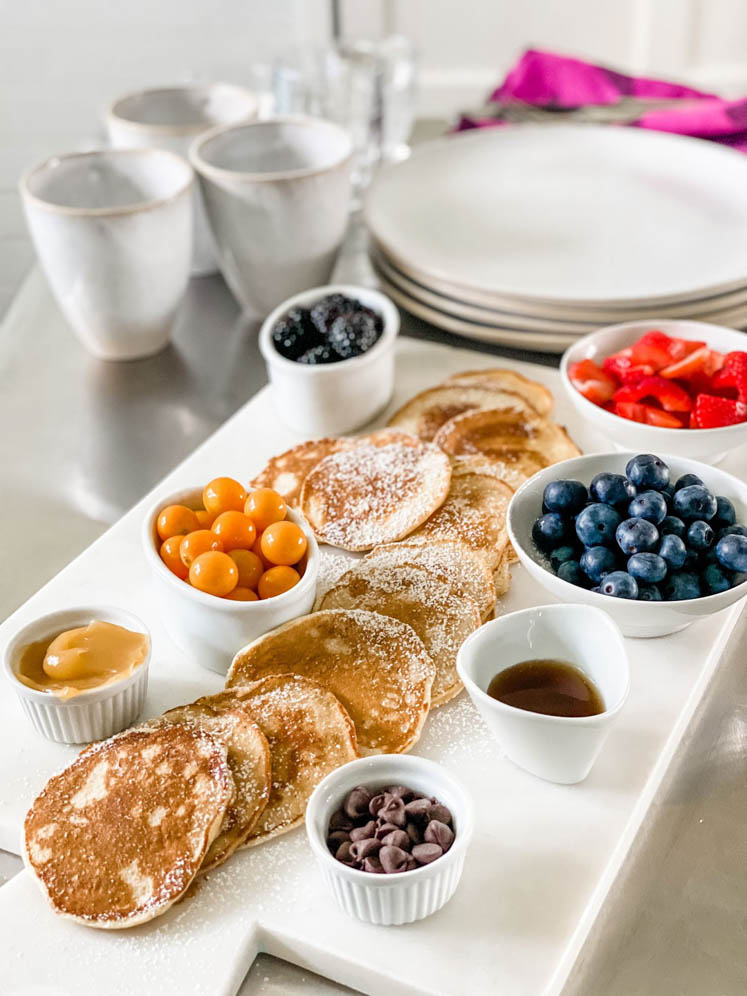 Annie, from Most Lovely Things, filled her delightful brunch board with lemon ricotta pancakes with lemon curd.
And Here are my Other Charcuterie Board Ideas:
It's no secret that I love to create a beautiful charcuterie board. It's pretty much my go-to when headed to someone's house for cocktails or when we have friends over.
I have six blog posts dedicated to the art of the charcuterie. From savory to sweet, here they are: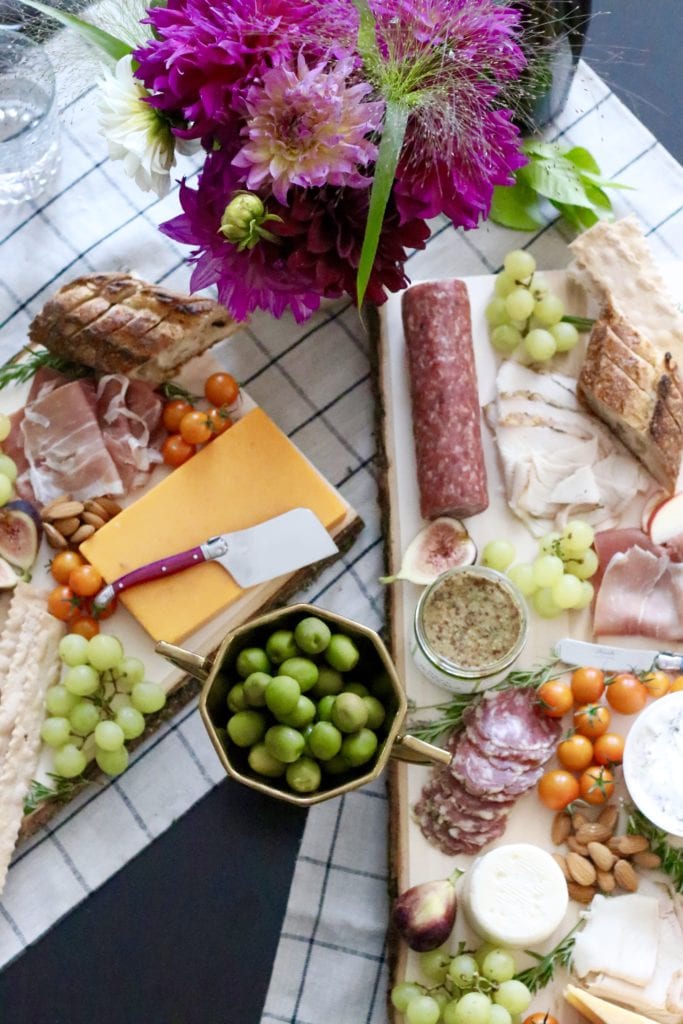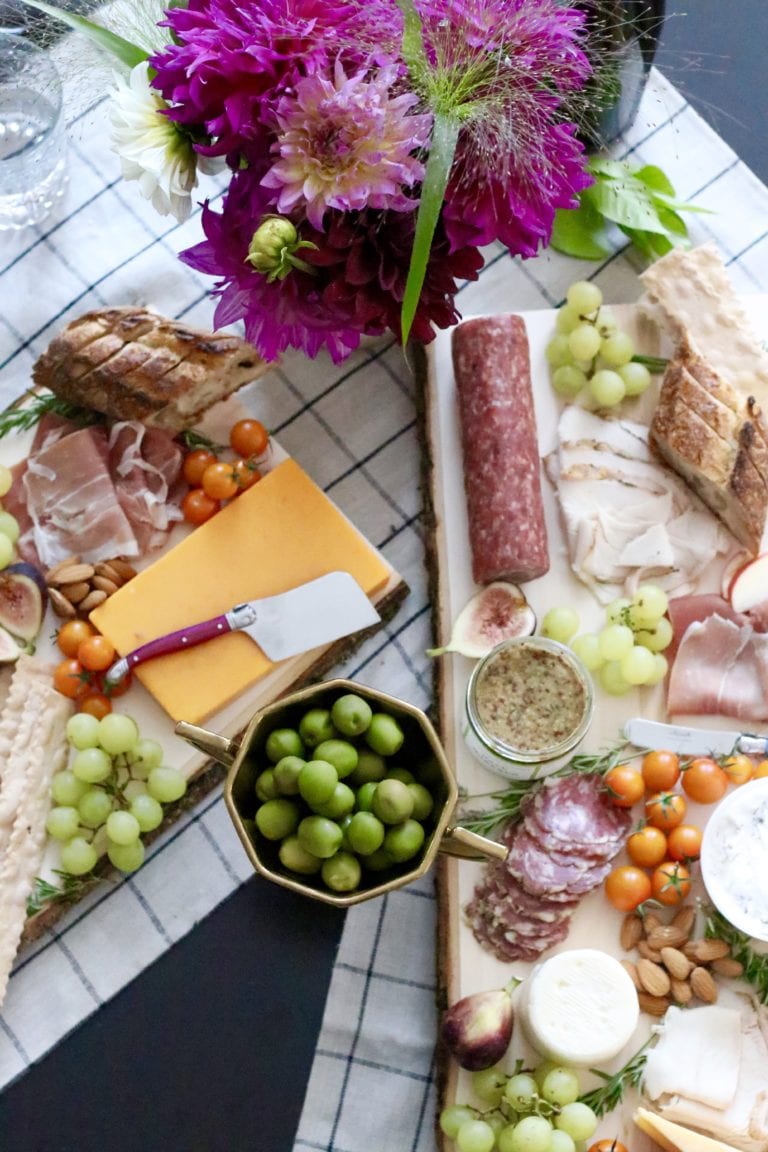 This Napa Inspired Charcuterie Board is the ultimate feast. Built with fresh artisanal ingredients, it is delicious and beautiful on the eyes as well!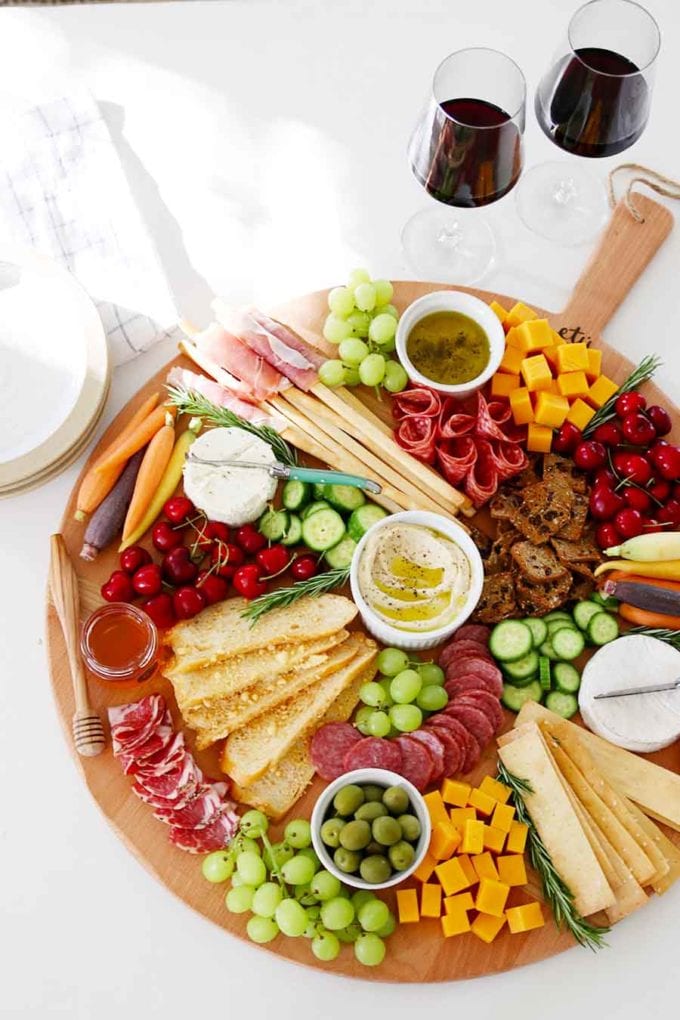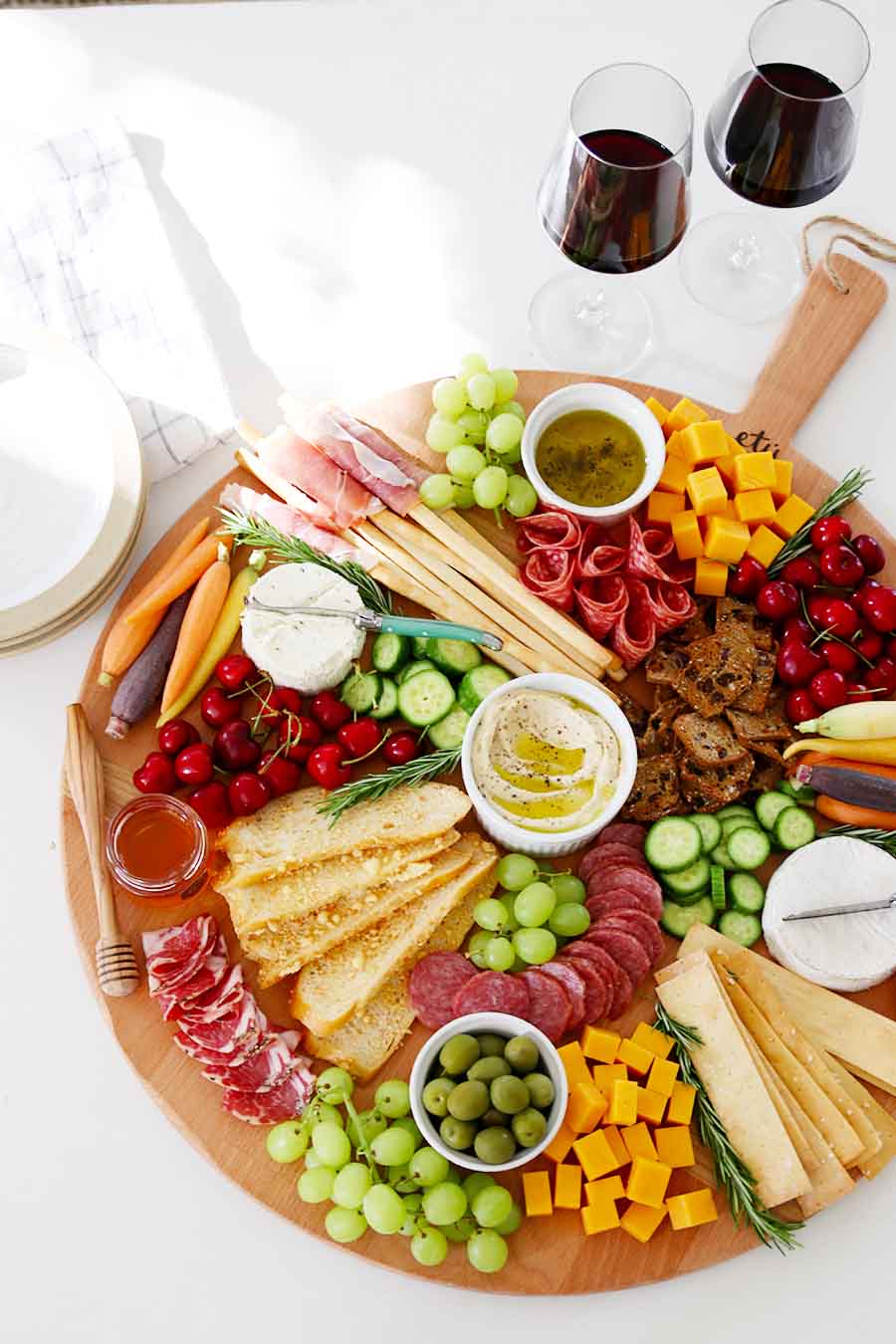 Step by step instruction on How To Make A Charcuterie Board including a handy infographic guide and shopping list!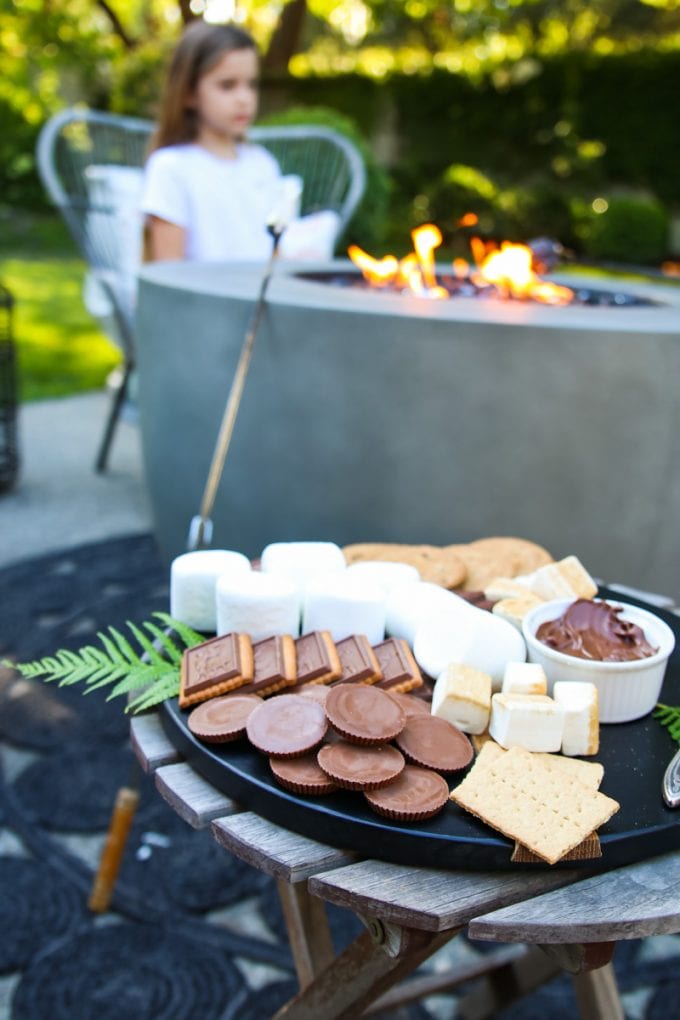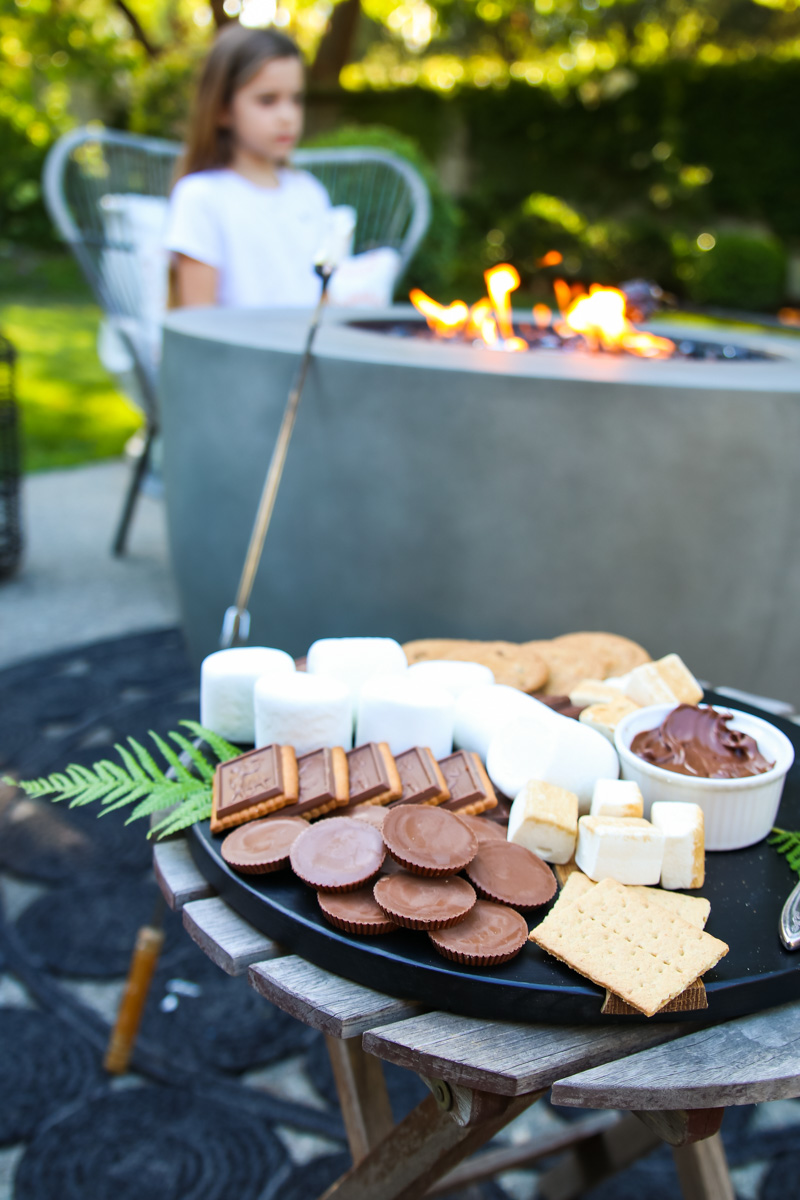 A S'mores Dessert Charcuterie Board with the best combinations for this summer classic.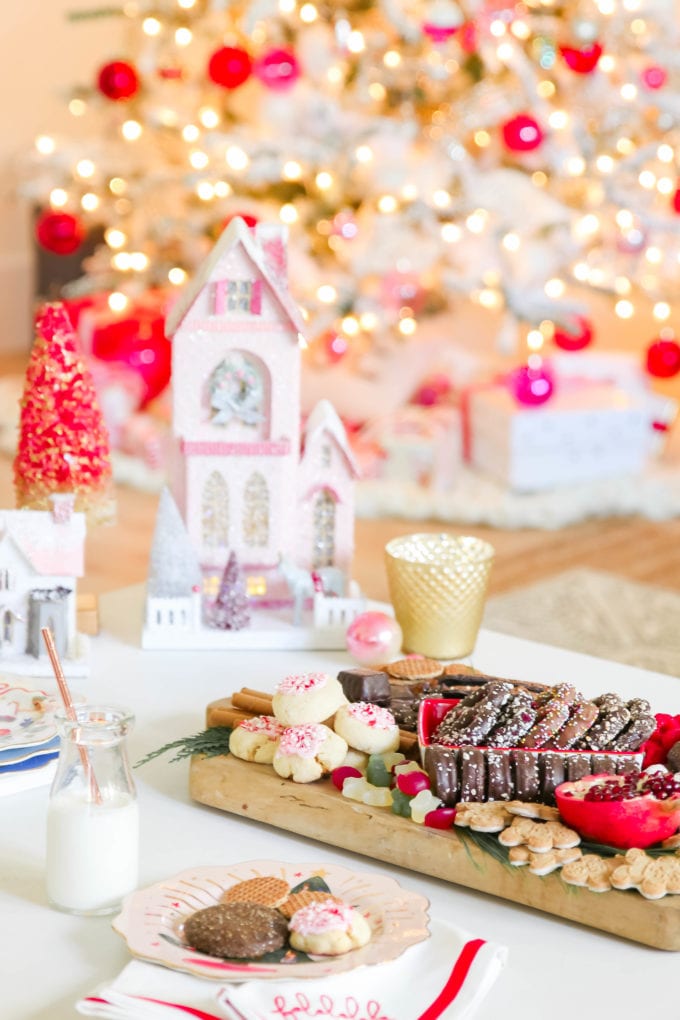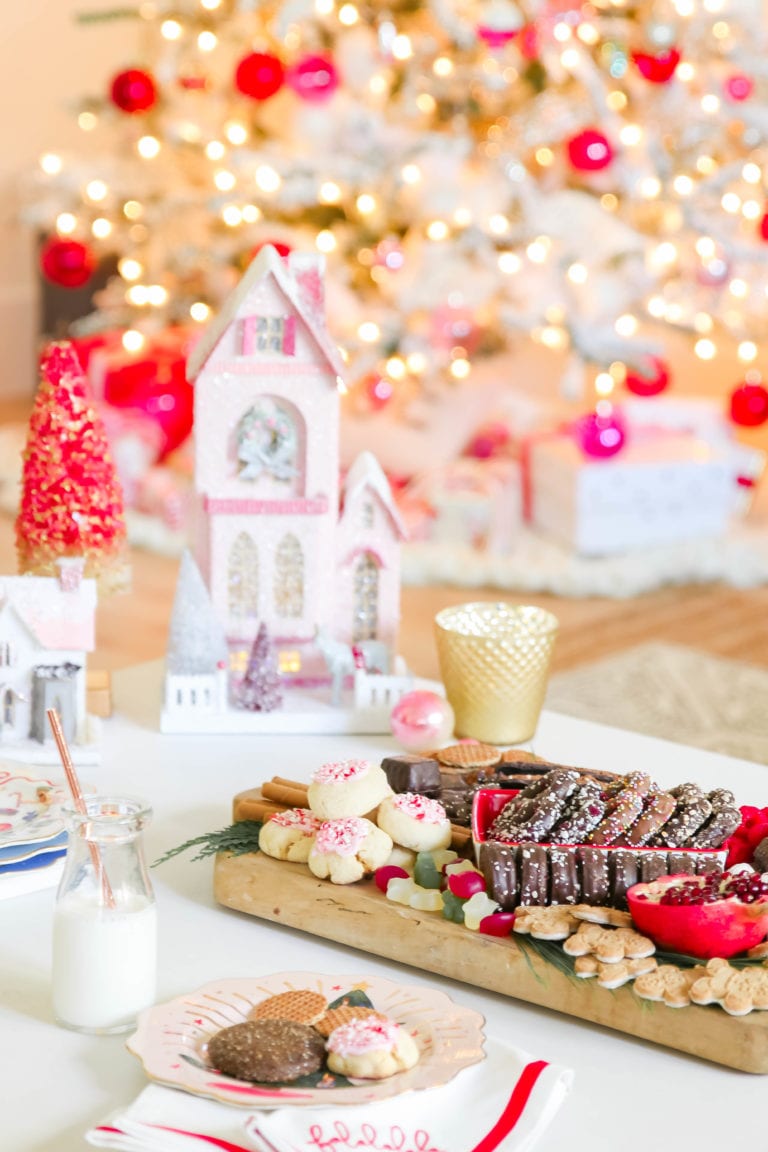 This Christmas Cookie Dessert Board was made almost entirely using cookies and treats from Trader Joe's.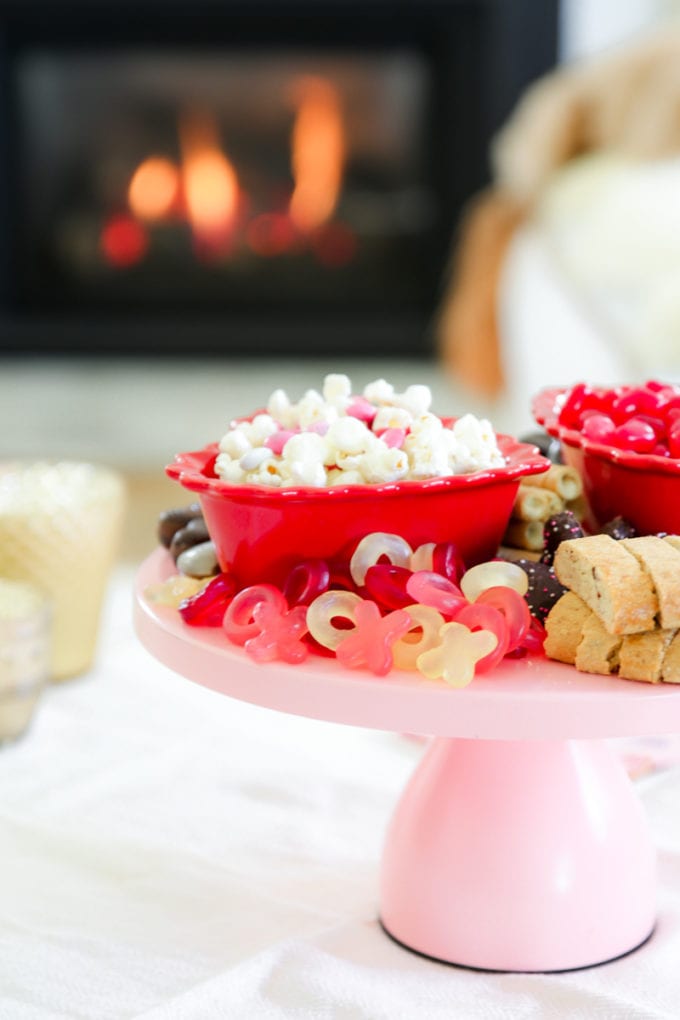 And my Valentine's Day sweet charcuterie board is filled with sweet treats to celebrate the holiday.