Make a Christmas dessert board filled with yummy cookies and treats. Perfect for holiday parties and gatherings!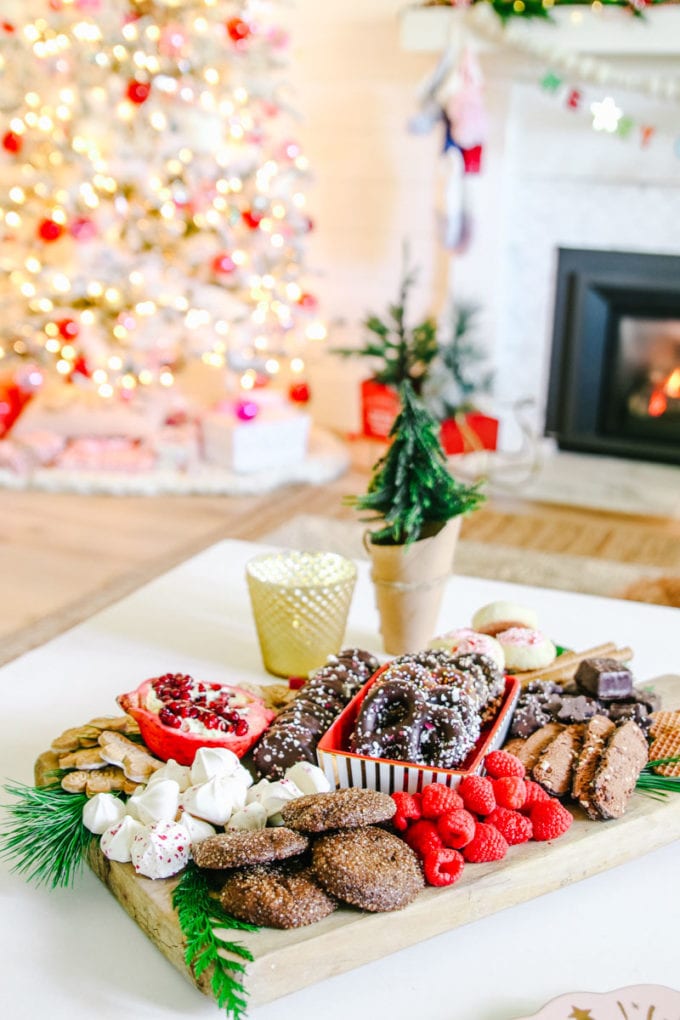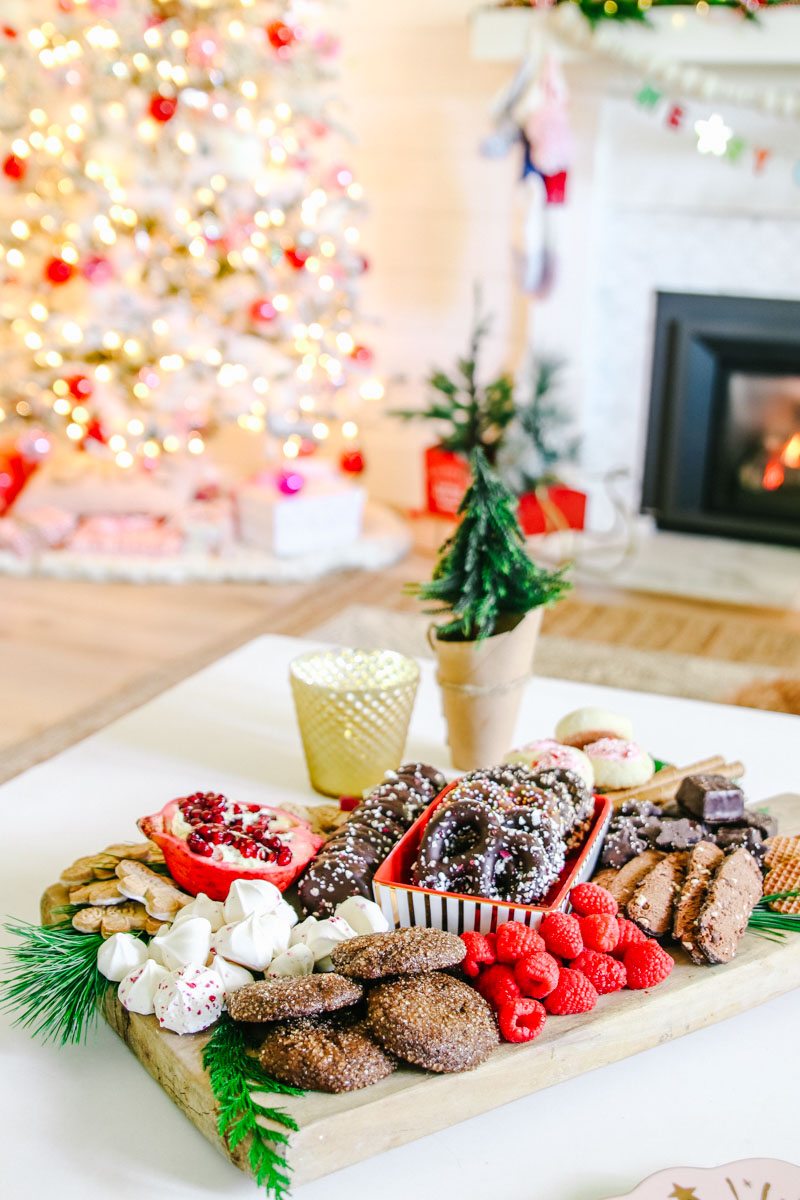 I will show you how to make this fun and gorgeous sweet charcuterie board filled with Christmas cookies and treats! I even include a shopping list.
And be sure to check out the other Charcuterie Boards linked to the bottom of my post. So many amazing holiday entertaining ideas!
Christmas Dessert Board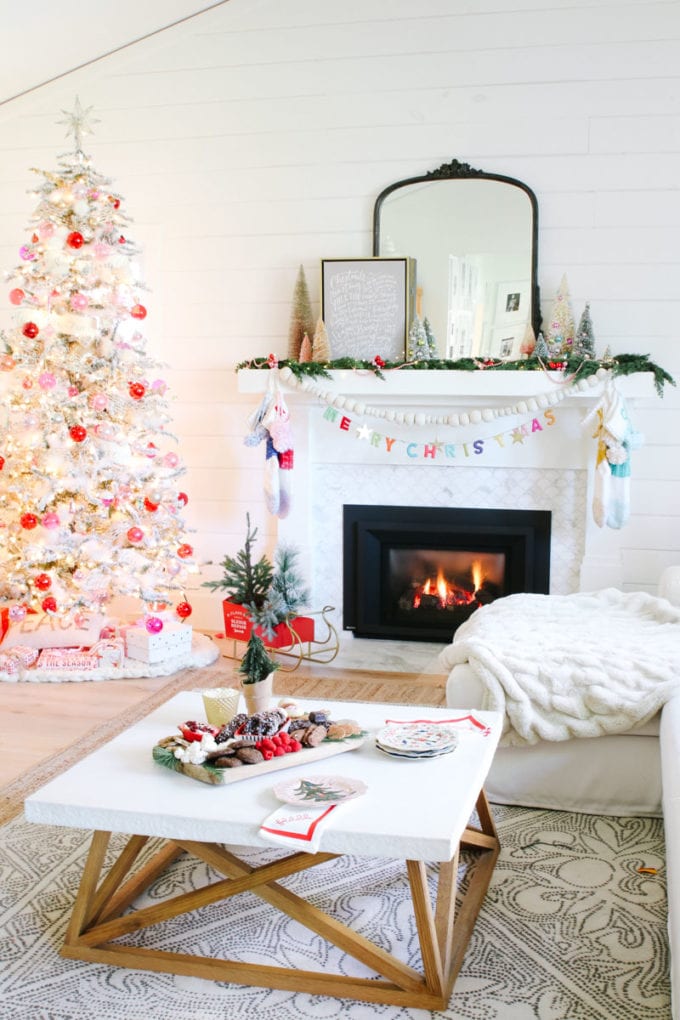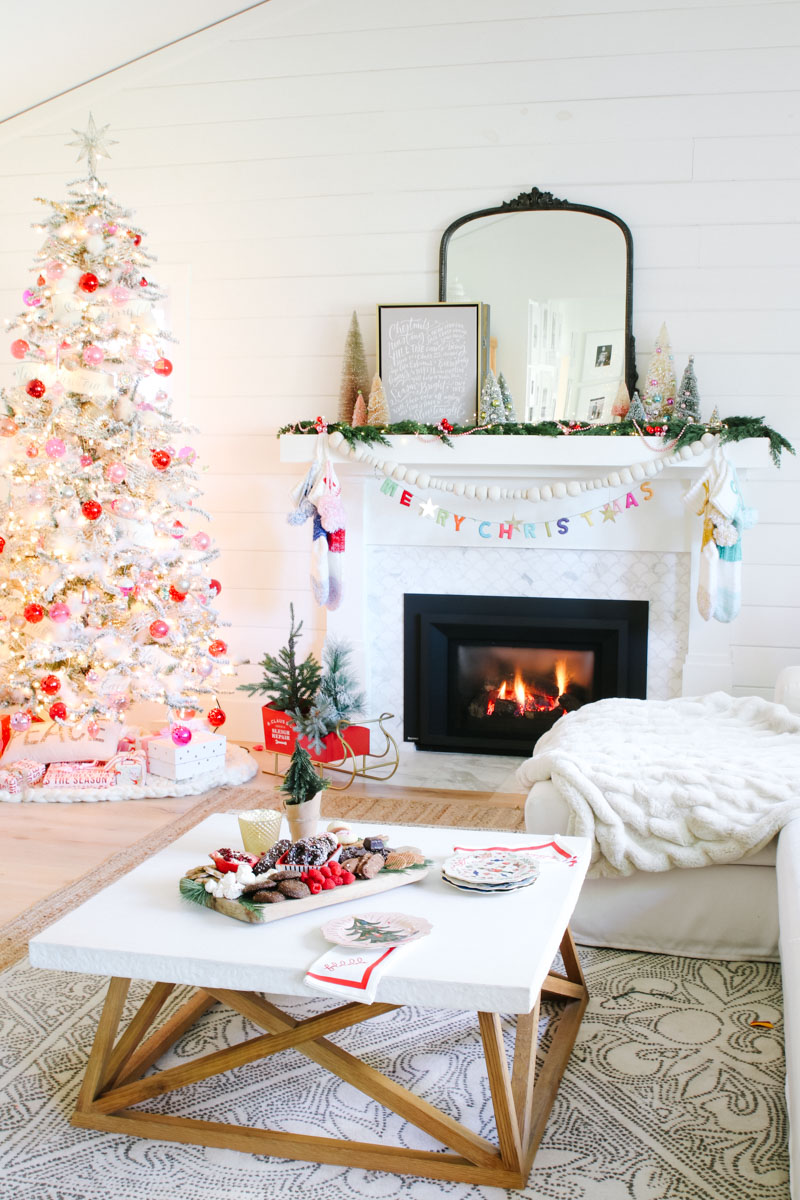 Have you made a charcuterie board before? I love making a beautiful spread when we have guests over. I have two really great tutorials on How To Make The Perfect Charcuterie Board.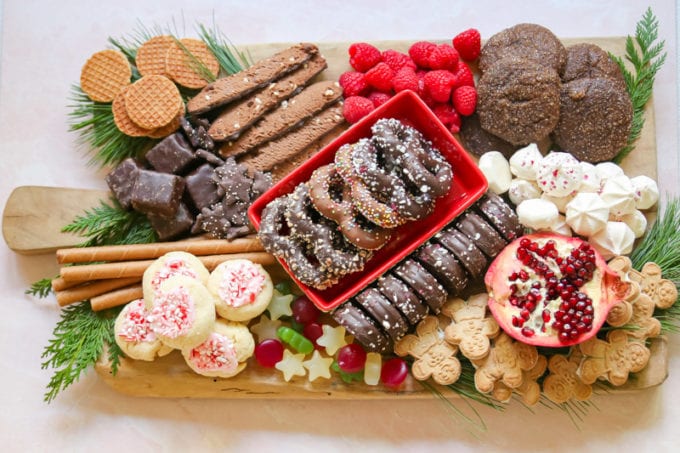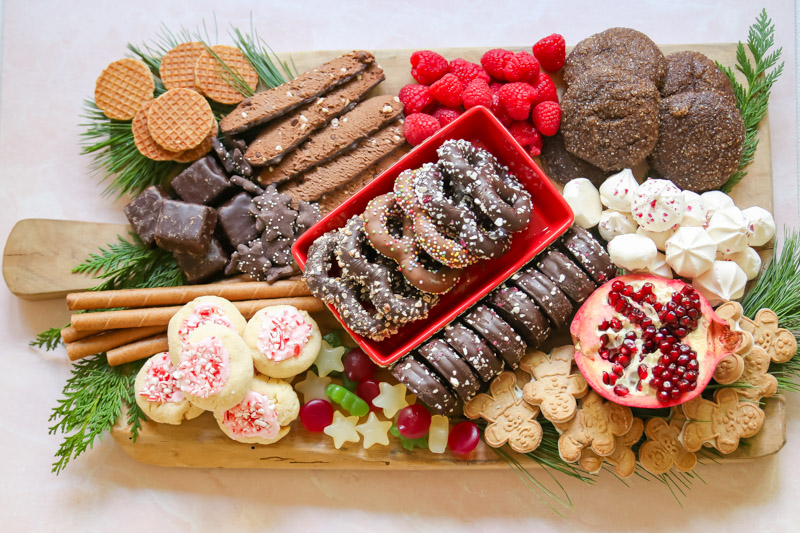 But today, I want to show you how to make a Christmas cookie dessert board! A sweet charcuterie board that is perfect for holiday entertaining! It really is easy to put together and is always a huge hit.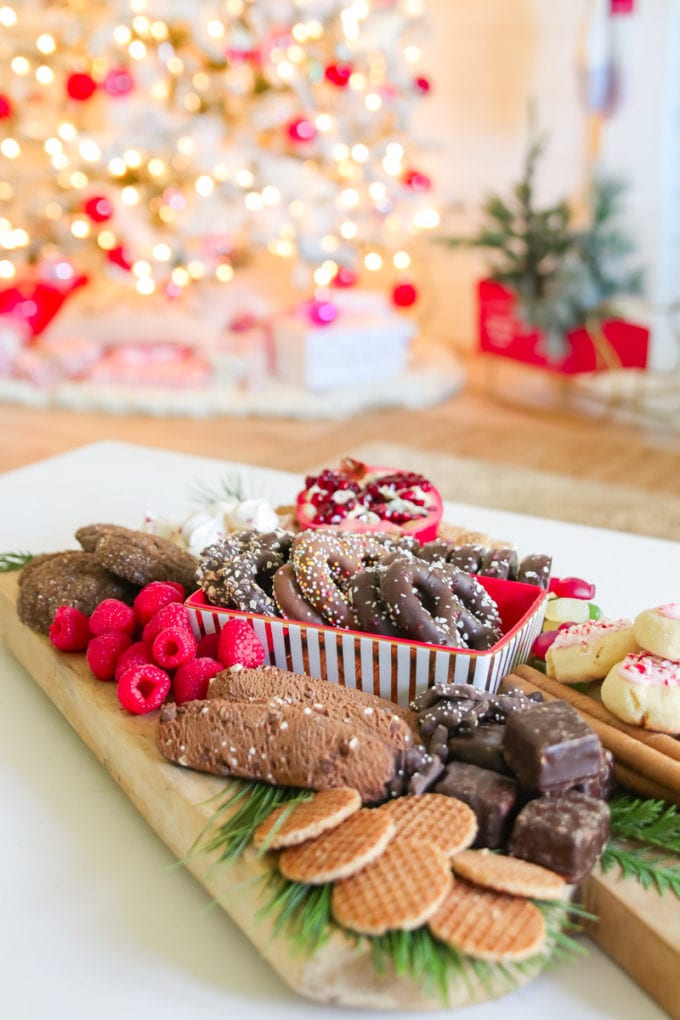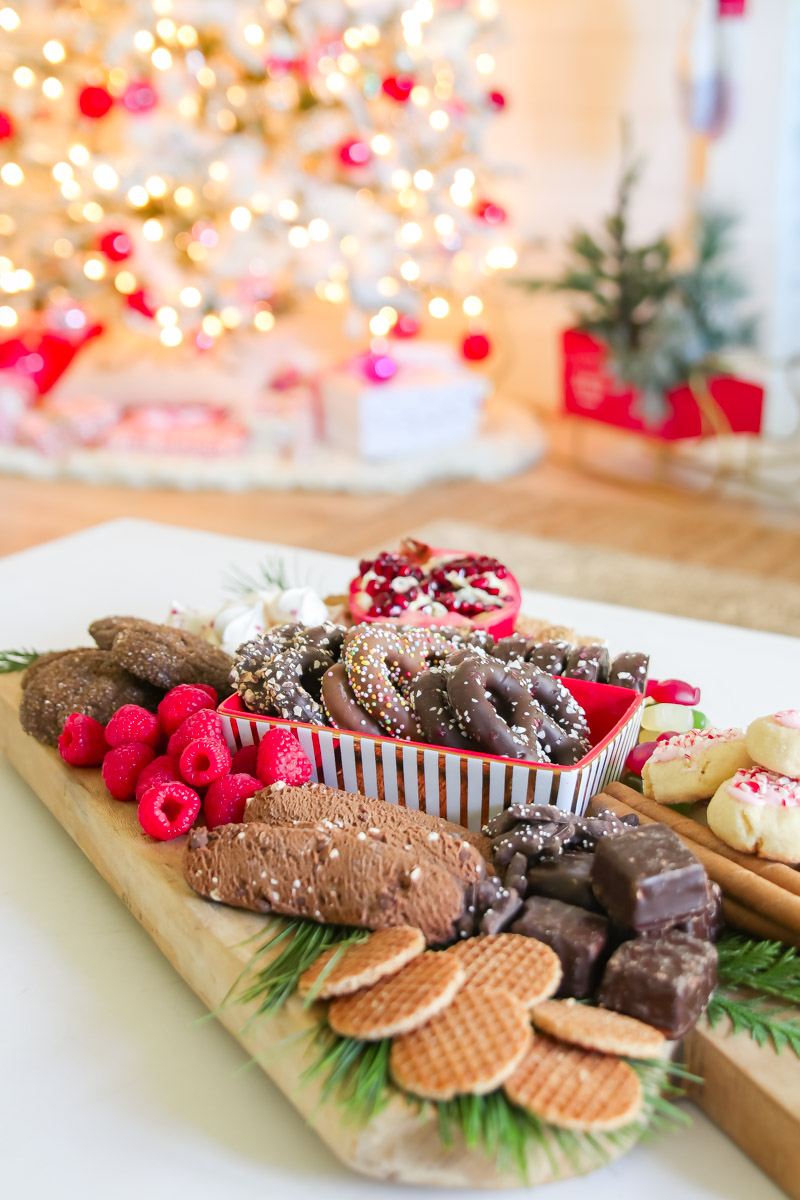 I will show you everything you need and I even included a handy infographic labelling all the elements. And don't forget the handy shopping list too!
How To Make A Sweet Charcuterie Board
The first step to making this Christmas dessert board is to find a bread board or tray to place all the items on. I used an antique European breadboard. but really, any wood or marble tray will work.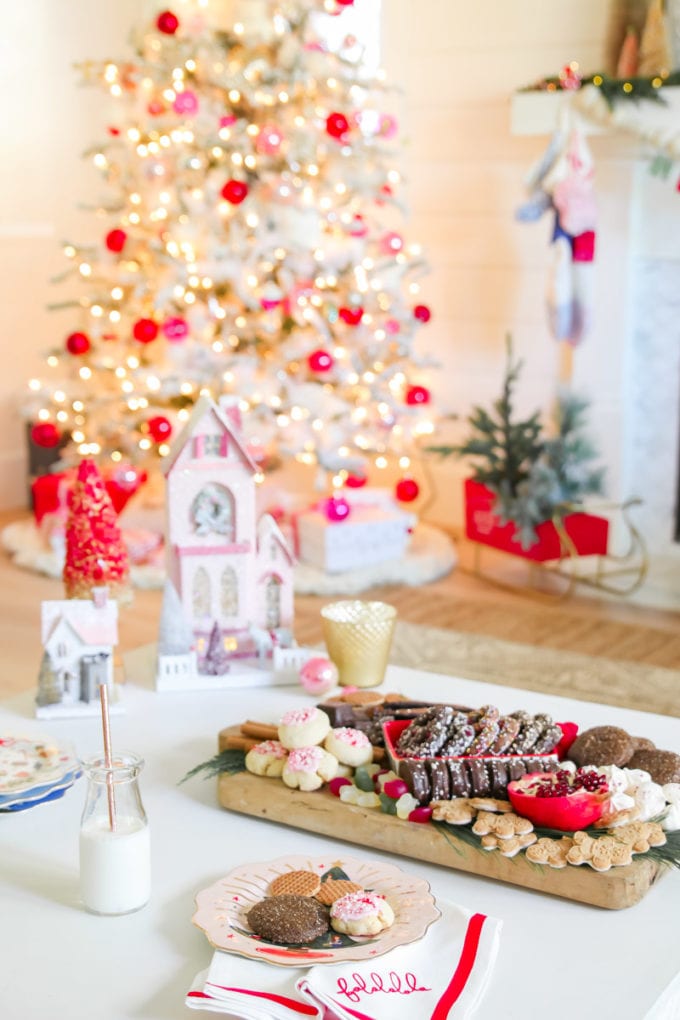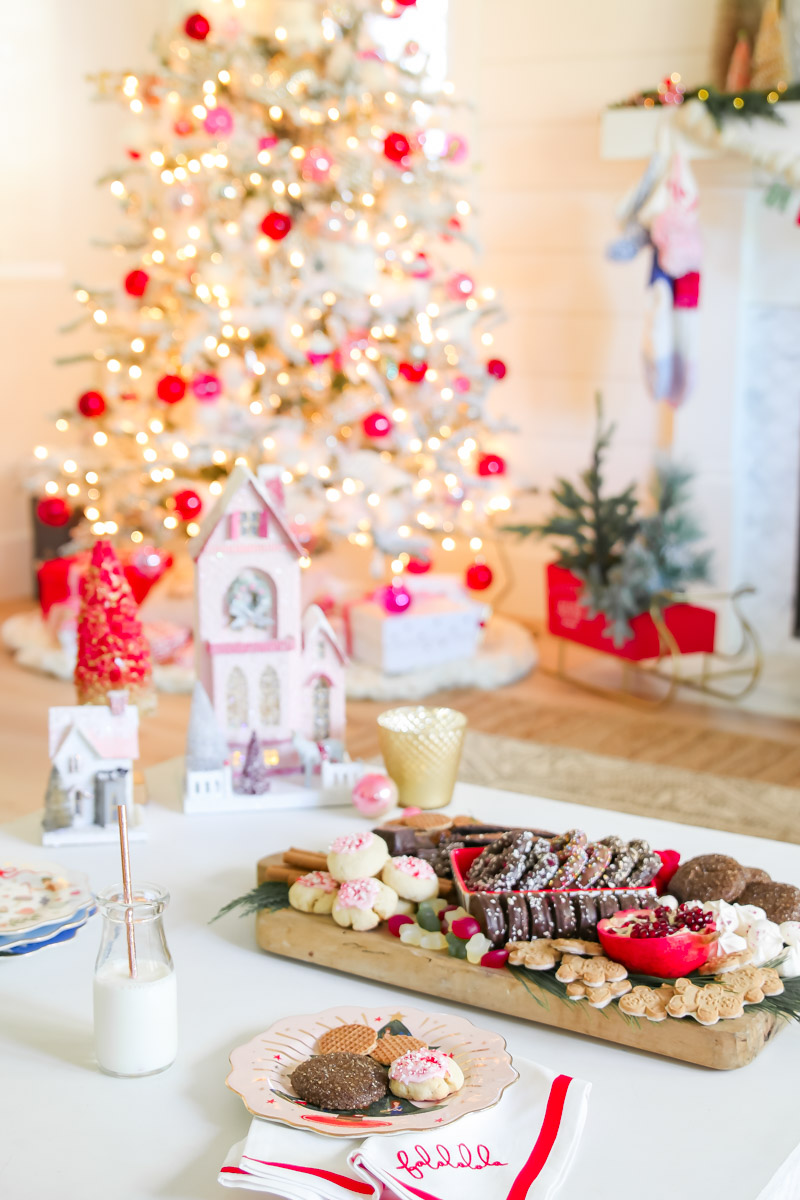 A tray without edges is the traditional way to present a charcuterie board and it makes it easier to place items on the surface. A tray that is flat is also easier to assemble the cookies on.
For your Christmas dessert board, you can use a tray that is round, square, rectangular or any shape that you want! Place some holiday greenery around the edges letting the ends peek out. You could also add flowers to add some color.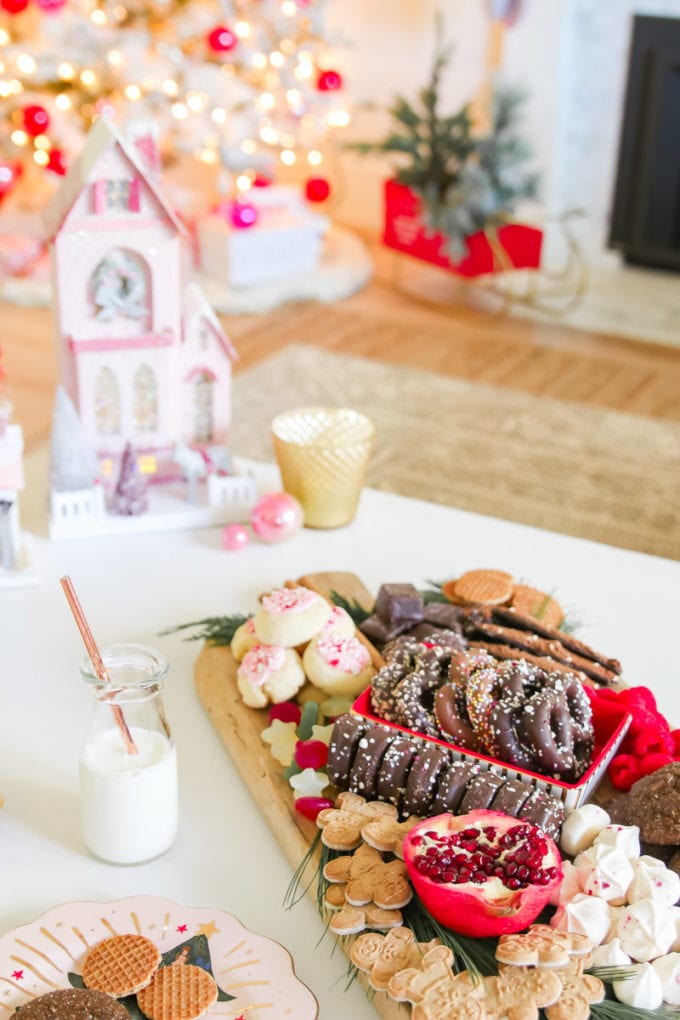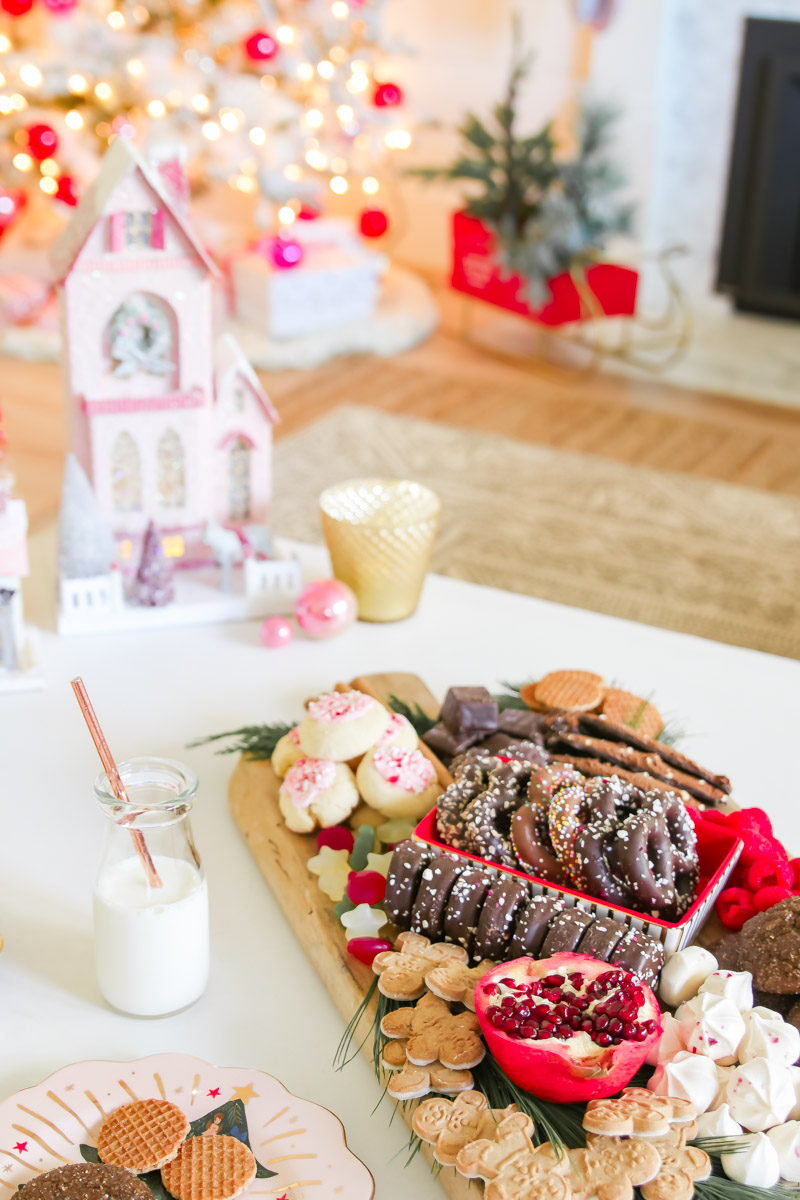 Now, it's time to add the fun stuff! For this Christmas dessert board, I used a combination of homemade cookies and some treats purchased at Trader Joe's. TJ's really does have a great selection of seasonal cookies and treats this time of year!
Dessert Charcuterie Board Ingredients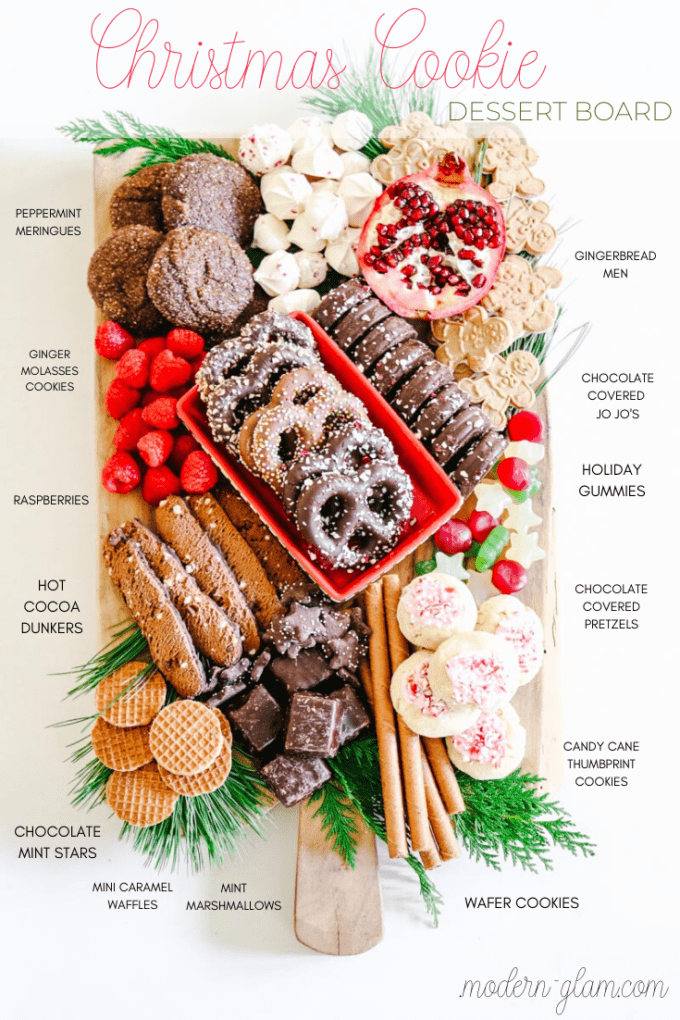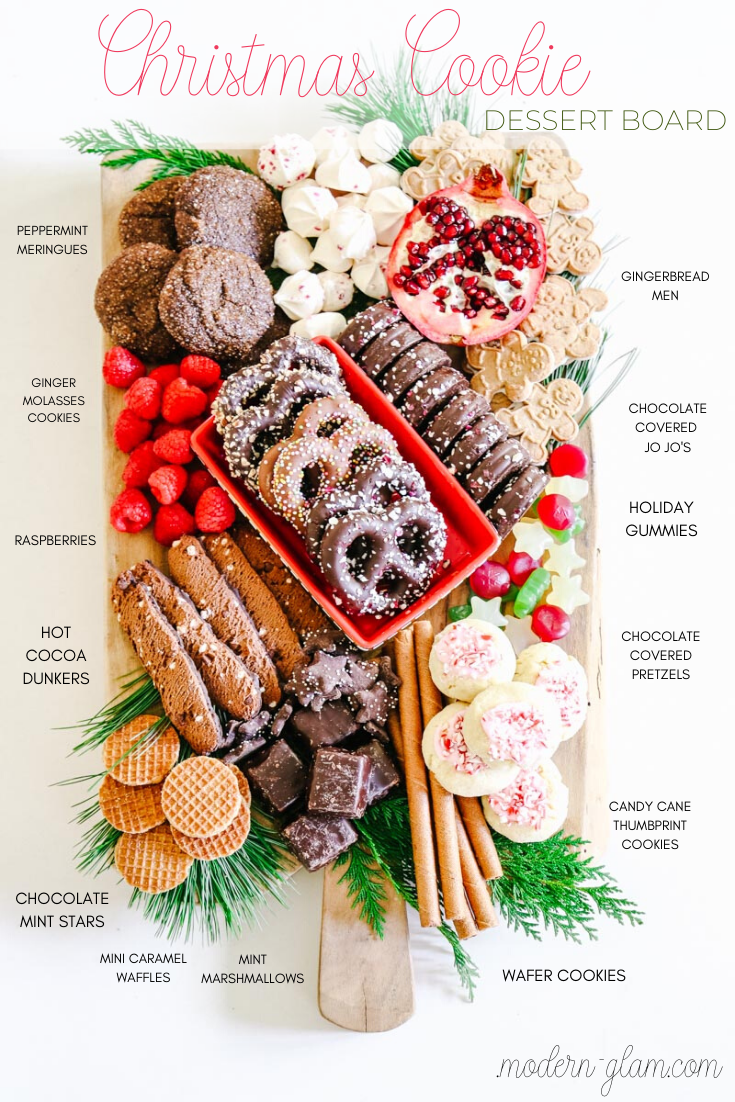 Here is a shopping list of items from Trader Joe's that I used for my Christmas Cookie Dessert Board:
Chocolate Covered Pretzel Twist
Cocoa Baton Wafer Cookies
Scandinavian Tidings gummies
Dark Chocolate Covered Peppermint Jo Joe's
Dark Chocolate Minty Mallows
Mini Peppermint Meringues
Hot Cocoa Dunkers
Mini Gingerbread Men
Dark Chocolate Mini Mint Stars
Caramel Bites
1 Pomegranate
Raspberries
Fresh Greens
And I used two of my homemade cookies. My Ginger Molasses Cookies and Candy Cane Thumbprint Cookies.
You want to use Christmas cookies and treats that vary in color and size. And utilize some cute holiday dishes to add dimension and height.
Christmas Dessert Platter Assembly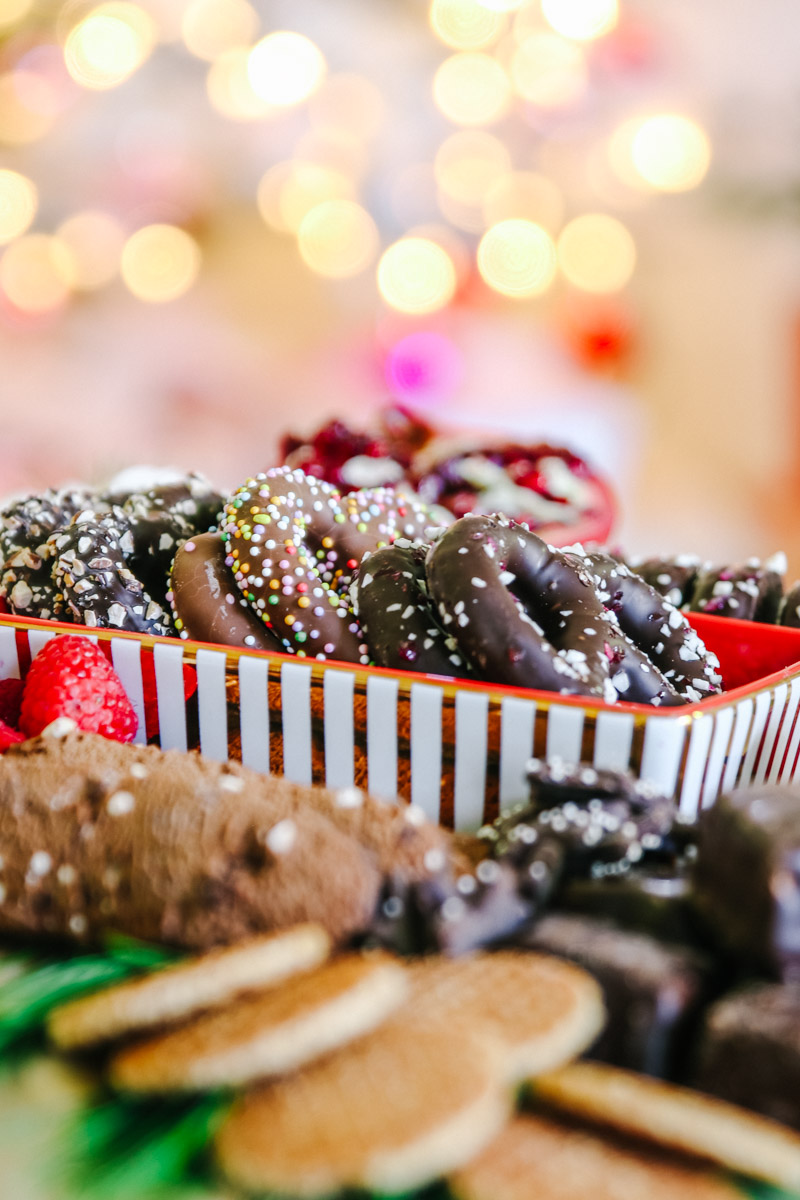 If you are using a dish in the middle like I did, start there and work your way out. Place cookies in small piles and vary the direction they go in. Fill in gaps with smaller candies, berries or chocolates.
Have fun and play around with how you lay our your holiday treats. Place some cookies sideways and stack others. There really is no right or wrong way to make your Christmas dessert board.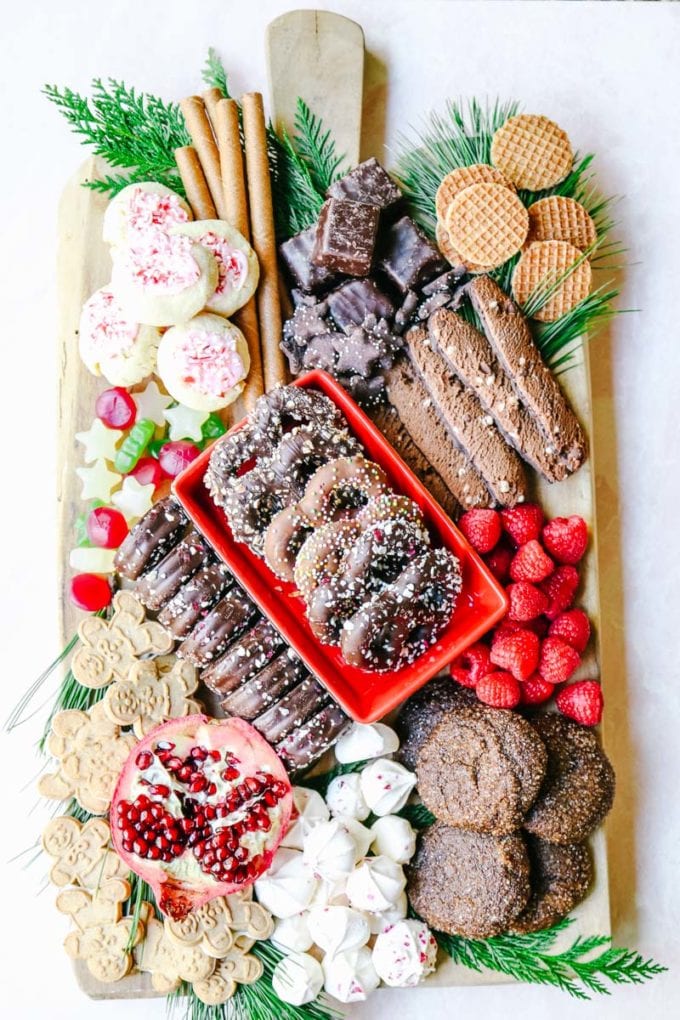 Make the Christmas cookies and treats easy to grab on the dessert board to make holiday entertaining easy!
If you are going to be transporting this to a party, simply wrap it with plastic wrap. If you take the plastic wrap and wrap the board like a mummy all the ingredients will pretty much stay put. This is a great way to take this to your next holiday get together!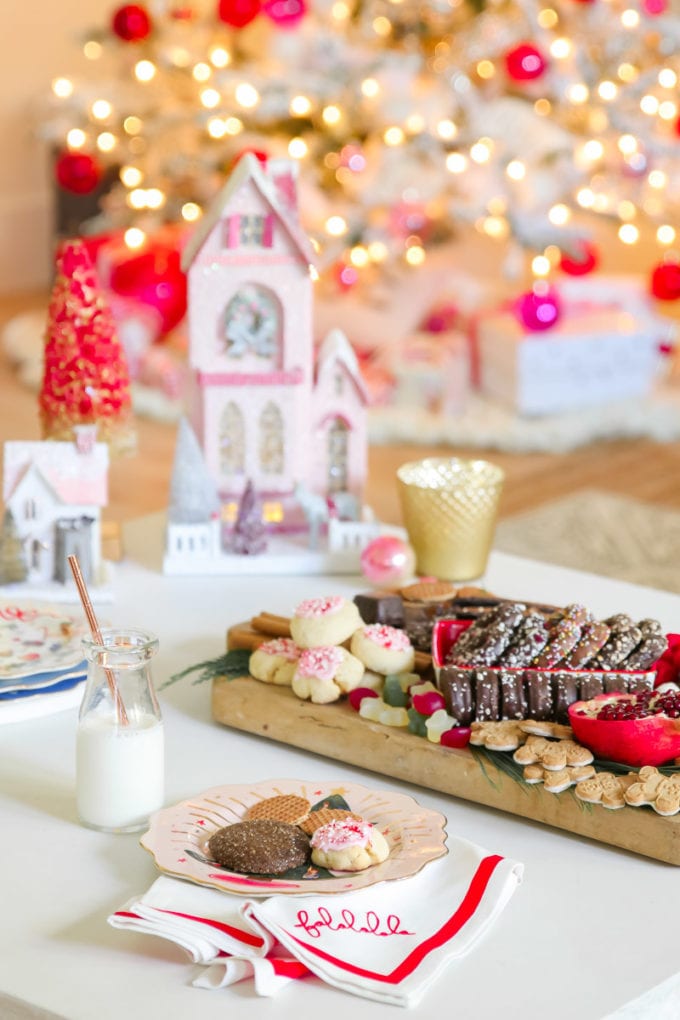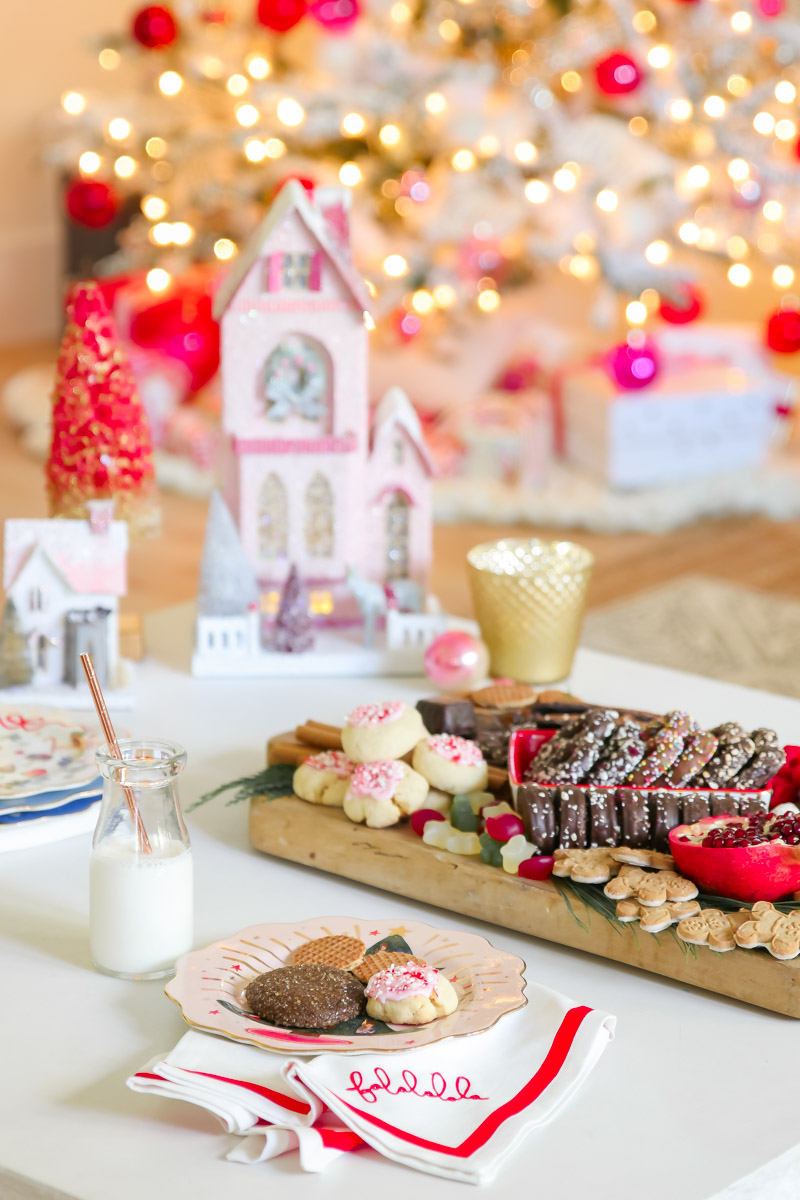 Have fun and if you make a Christmas dessert board, be sure to share it with me! Tag me on Instagram or send me an email. I love seeing your creations!

More Christmas Charcuterie Board Ideas
Visit all these other beautiful holiday charcuterie boards for more inspiration! Savory and sweet boards filled with delicious ideas.


Christmas Dessert from Happy Happy Nester // Red & Green Christmas Charcuterie Board from The DIY Mommy // Cookie Chocolate Dessert Charcuterie Board from Inspiration for Moms // Sweet and Savory Charcuterie Board from The Handmade Home


Christmas Cookie Dessert Board from Modern Glam // Gluten Free Dessert Charcuterie Board from Taryn Whiteaker // Charcuterie Board for the Holidays from Twelve on Main // Hot Chocolate Dessert Board from Jenna Kate at Home


Hot Cocoa Charcuterie Board from Hallstrom Home // Kid Friendly Charcuterie Board from She Gave It A Go // Classic Charcuterie Board from The Happy Housie // Holiday Charcuterie Board from Jennifer Maune