Here are my favorite mantel decorating ideas. These simple decorating ideas for each month will give you 12 months of inspiration for decorating your mantel, fireplace and even bookshelf for every season!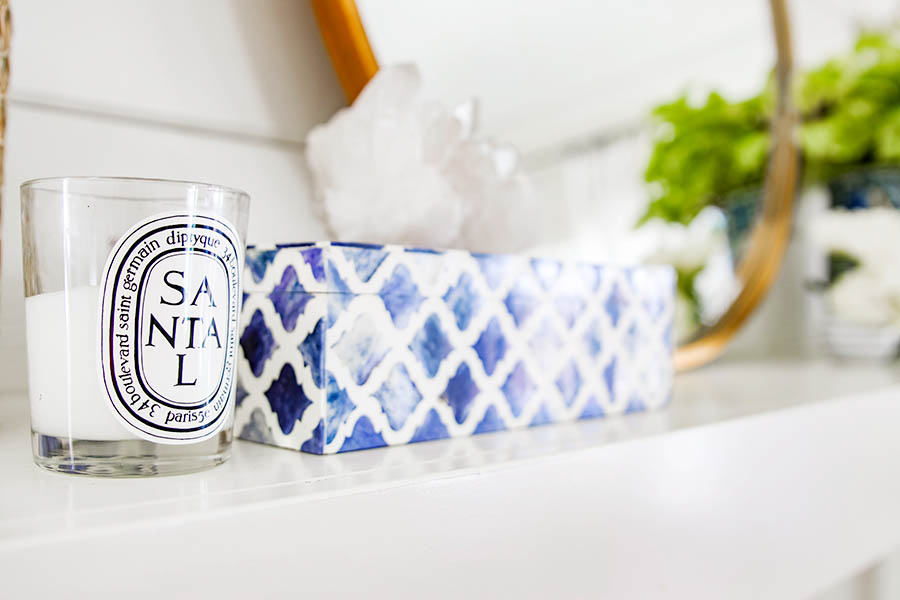 Mantel Decorating Ideas For Every Month
Decorating your fireplace mantel is a great way to add character and interest to your home. It can be relatively inexpensive and can be a simple update that you do monthly or just seasonally.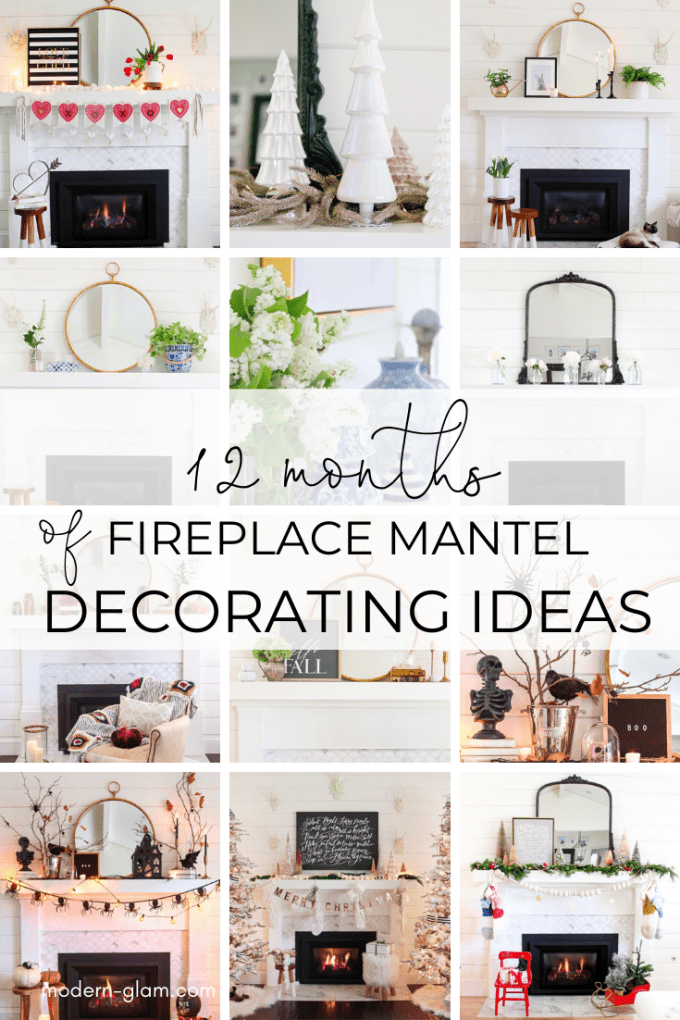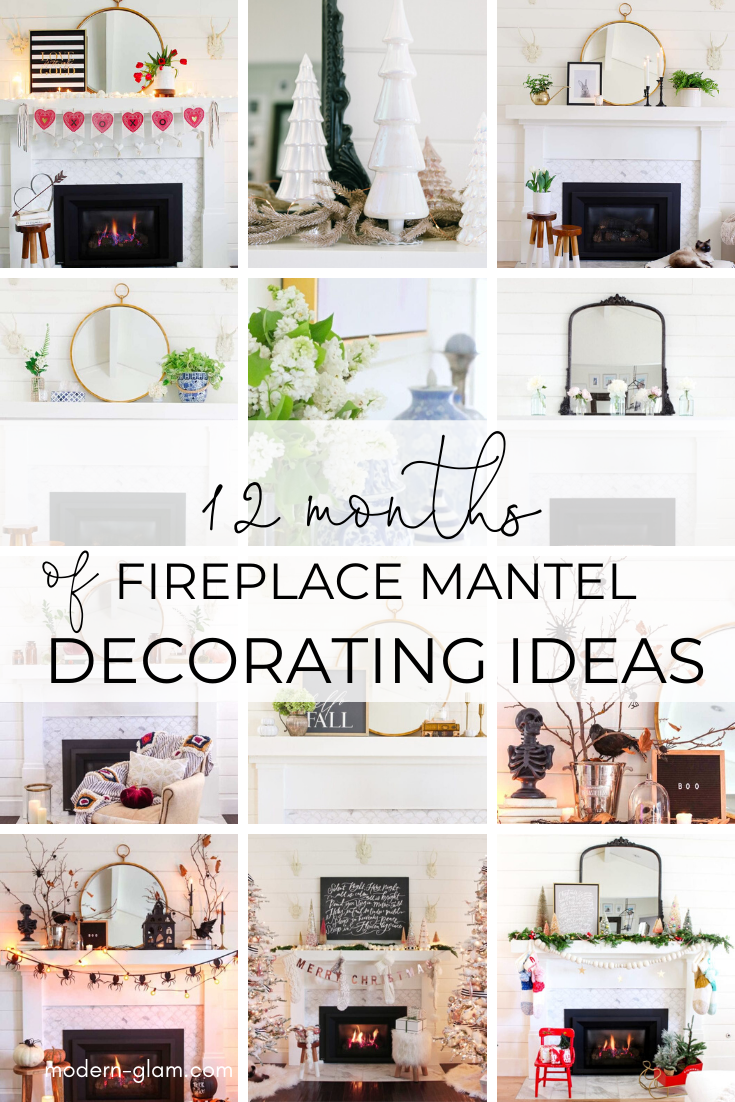 I love to decorate my fireplace. Since it is in our most used room of the house, I get to see it often. So switching up the mantel decor is something I do pretty often. And sometimes it can be as easy and moving a few things around or adding fresh flowers to the area.
I have rounded up 12 months of mantel decorating ideas for you in one simple spot! Let me know if you utilize any of my ideas by tagging me on Instagram.
Table of Contents
WINTER MANTEL DECORATING IDEAS
I love to update my mantel for each season and sometimes I change it up every month. Wherever you are on the scale of decorating, here are 12 months of ideas for decorating your fireplace mantel for every season!
This doesn't mean you need to update your fireplace every month or even every season! Do what you love. This is just a guide to finding some inspiration for decorating your fireplace mantel for any season.
JANUARY MANTEL DECOR IDEA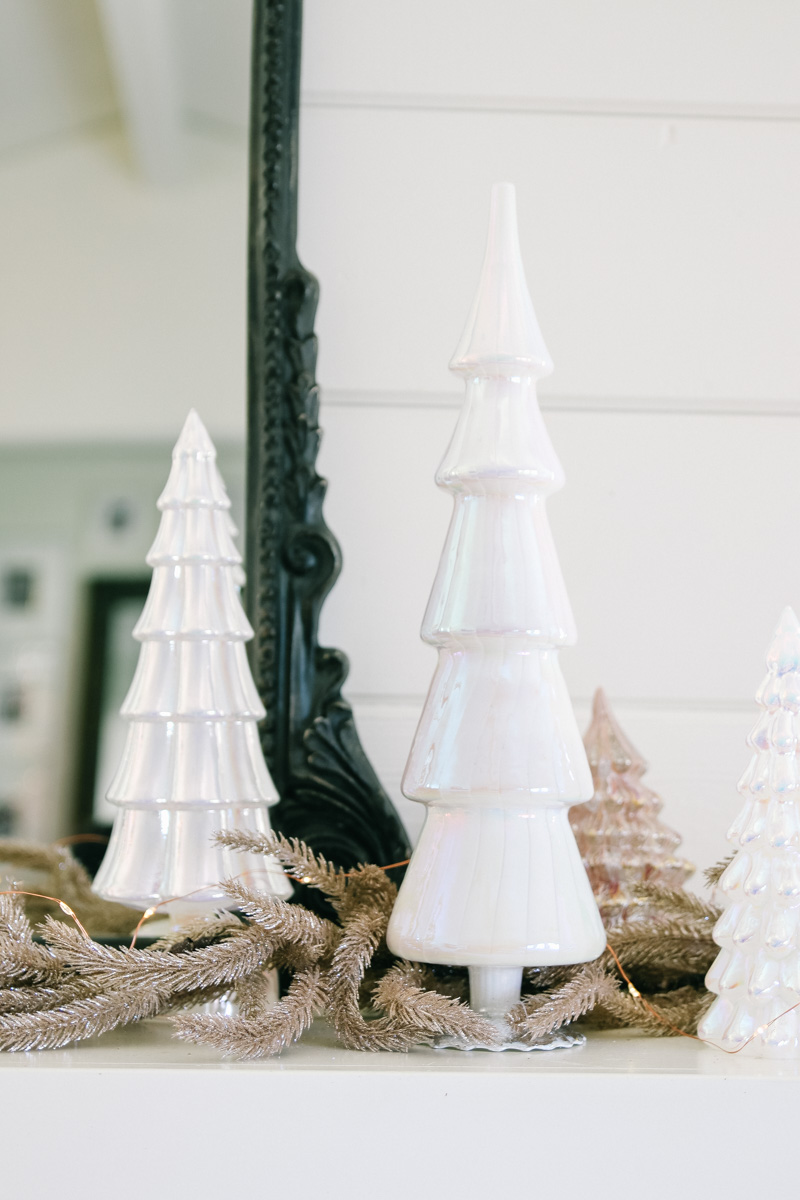 This past year I kept our holiday decor up a little bit longer. I took out all the color and left a simple palette of white and gold. Our mantel was lined with these beautiful glass trees that felt perfect for January.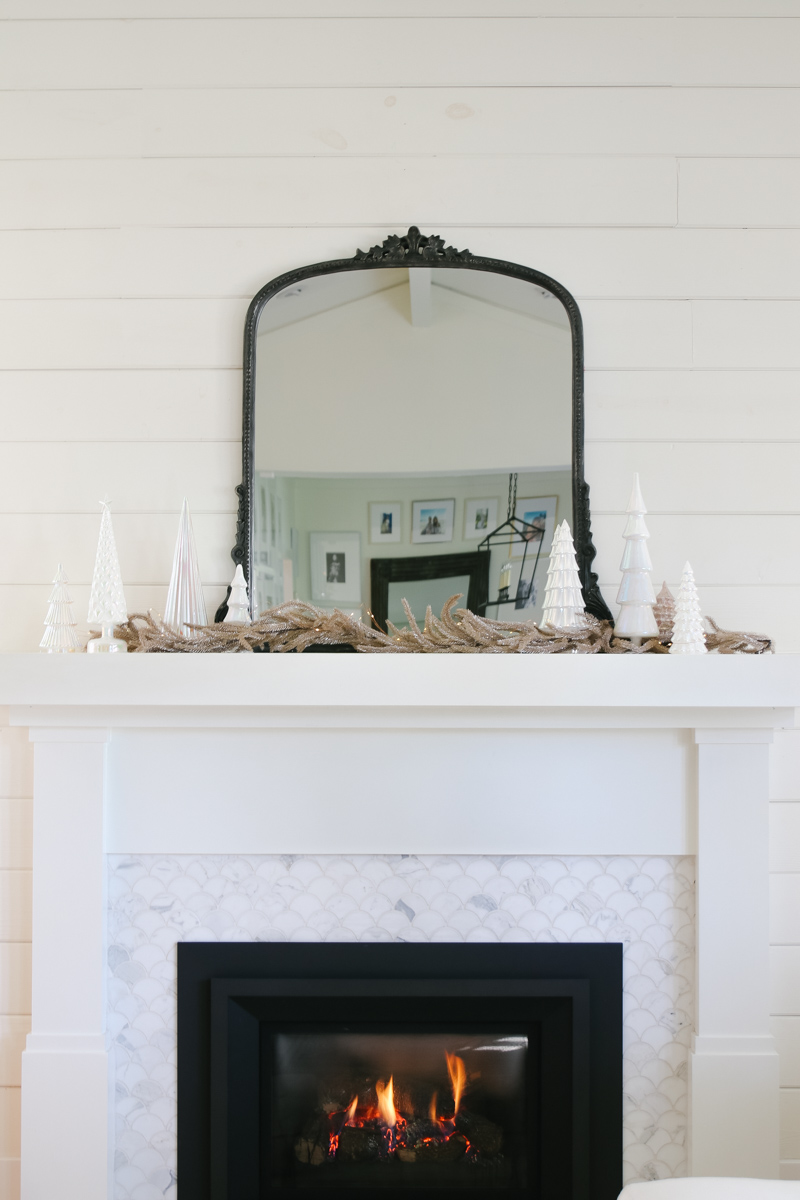 Check out more of this Simple Winter Mantel Decor and learn how to transition from Christmas to winter decor. I loved leaving a bit of the sparkle and magic of the holidays up through the month of January.
FEBRUARY VALENTINE'S DAY MANTEL DECOR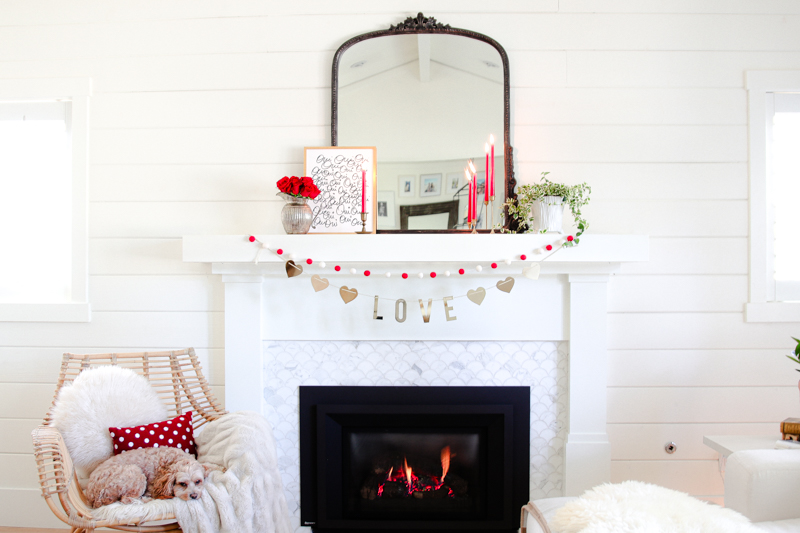 February brings with it a bit of romance and pops of red. This Valentine's Day Mantel reuses some of my holiday decorations for Valentine's Day. Red candlesticks, a felt garland and artwork make this mantel decorating idea perfect for Valentine's Day.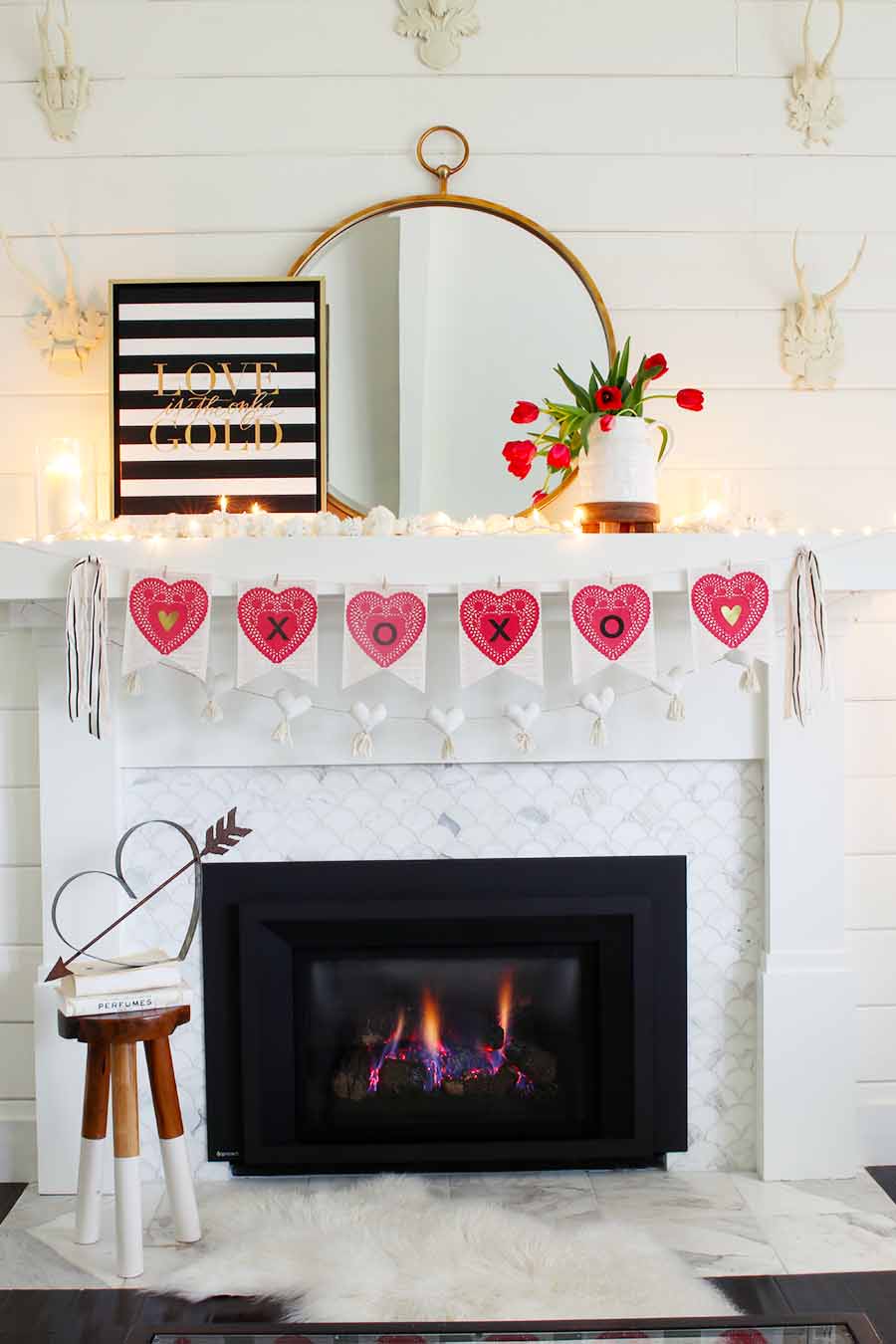 Another great idea is this DIY Book Page Garland for Valentine's Day mantel decor. I used vintage French book pages that you print copies off from the internet. Trés chic!
SPRING MANTEL DECOR IDEAS
As we move into spring, the fireplace mantel decorating ideas get infused with a dose of fun color.
MARCH FIREPLACE DECORATING IDEAS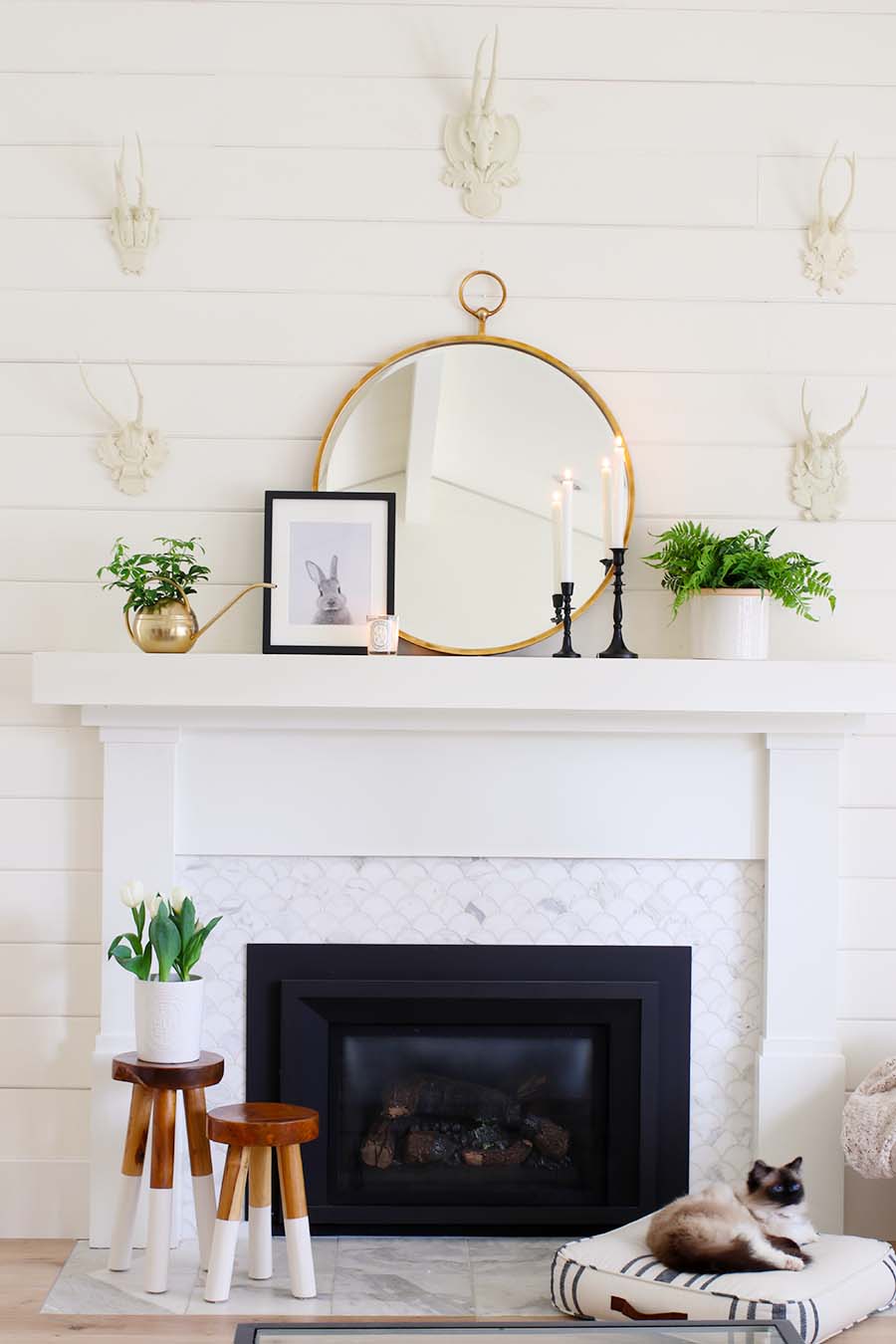 Now, this simple and clean Spring Mantel Decor is one of my most popular posts. It just shows, it doesn't take much to decorate your mantel for the season.
The only thing I purchased to create this look was a printable from Etsy for $5. I share the link in this post.
APRIL EASTER MANTEL DECOR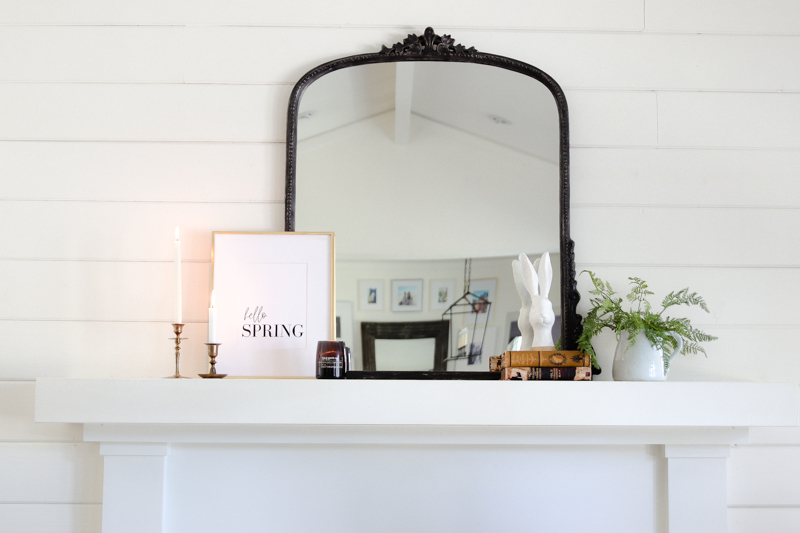 Another simple spring mantel decorating idea involves these free Spring Printables that I created. You can pop them into a frame and add some seasonal Easter decor to your fireplace for a foolproof look that can stay up long past the holiday itself.
MAY MANTEL IDEAS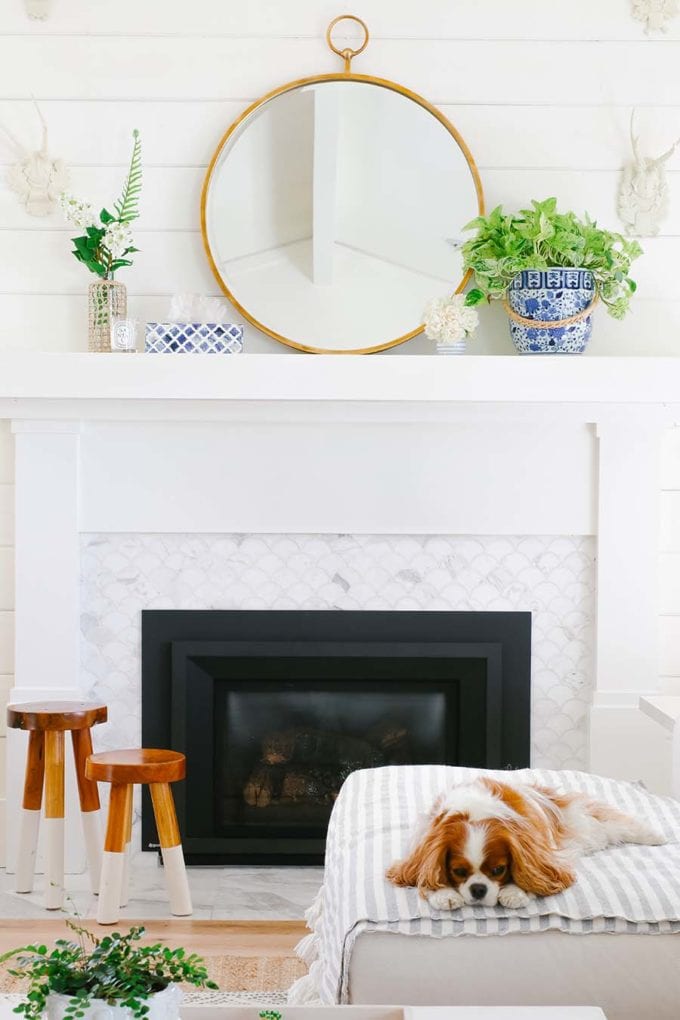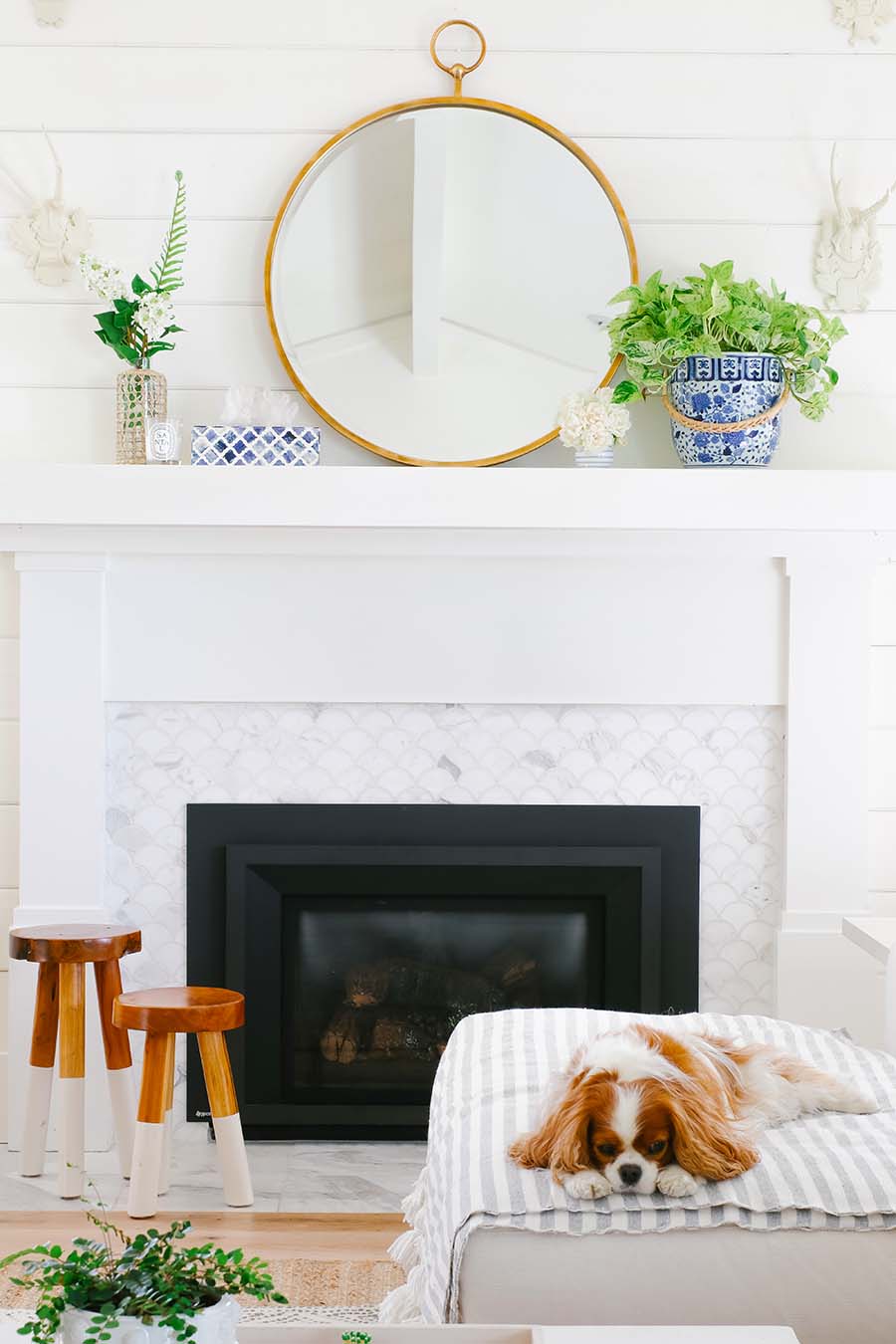 This simple Blue and White Mantel is the perfect transition from spring to summer.
SUMMER FIREPLACE DECORATING IDEAS
As the weather gets warmer, I tend to pare down my mantel decor. Less is more in the summer months and lot of white is always good! Check out these summer fireplace and mantel decorating ideas.
JUNE SUMMER MANTEL DECORATIONS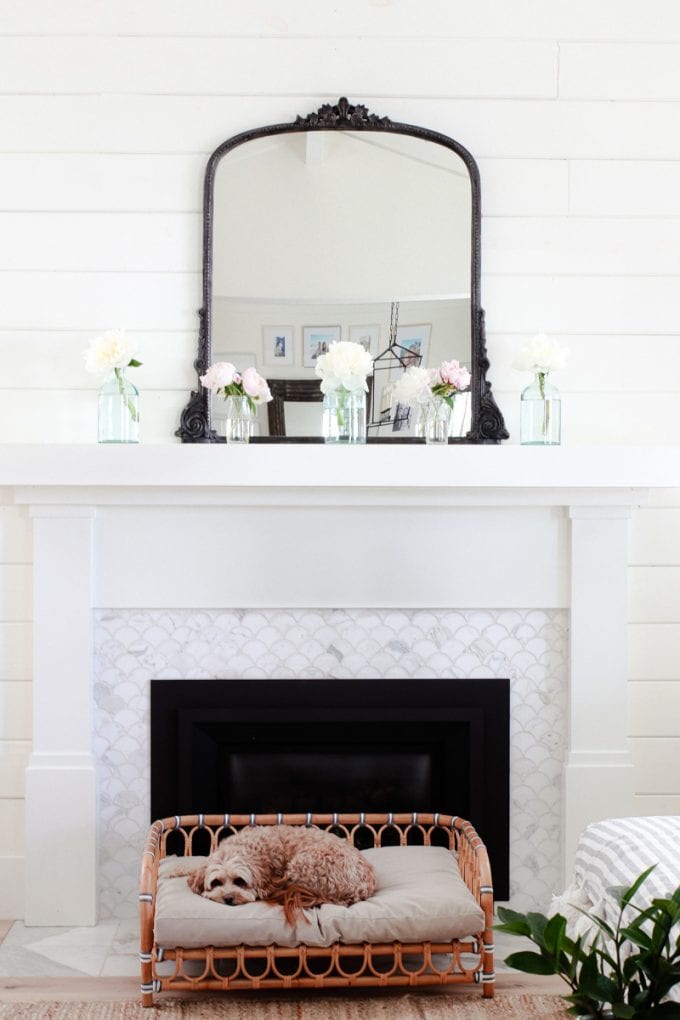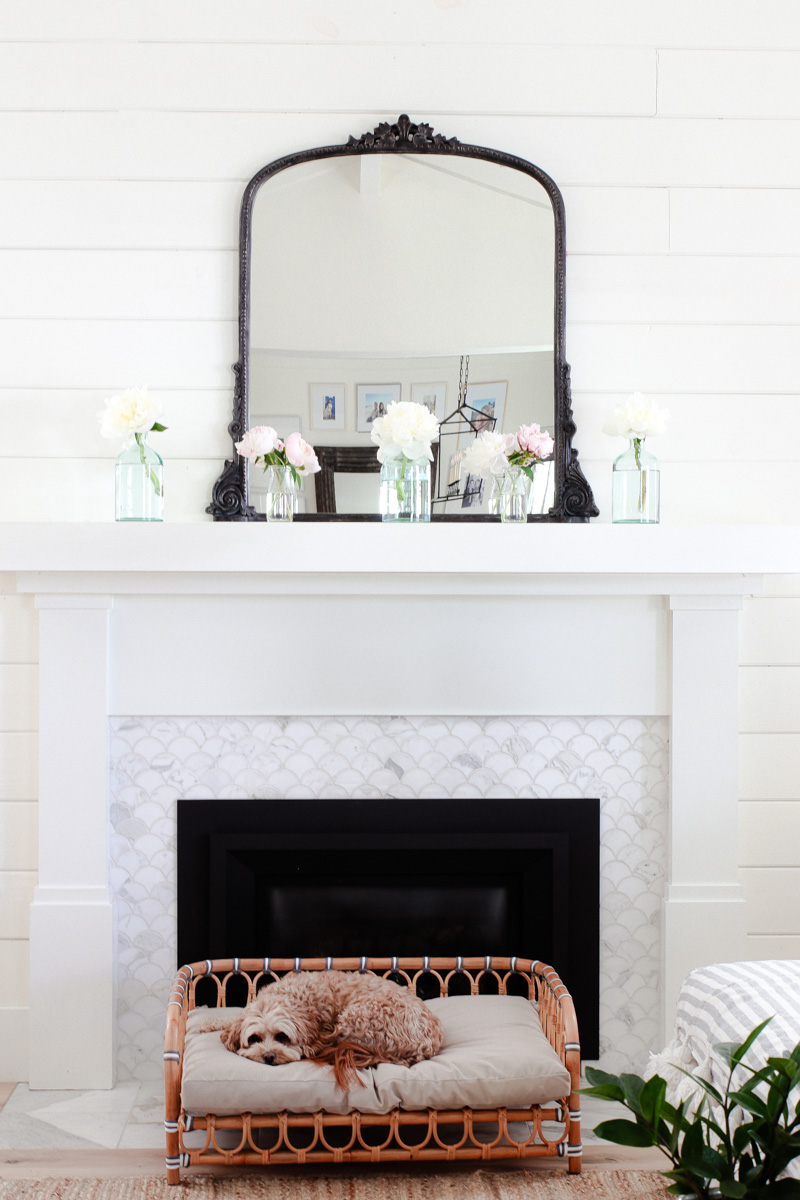 Decorating your mantel for summer can be as simple as placing some fresh blooms lined up on the fireplace. June is the peak of peony season and this Simple Summer Mantel decor is one of my all time favorites.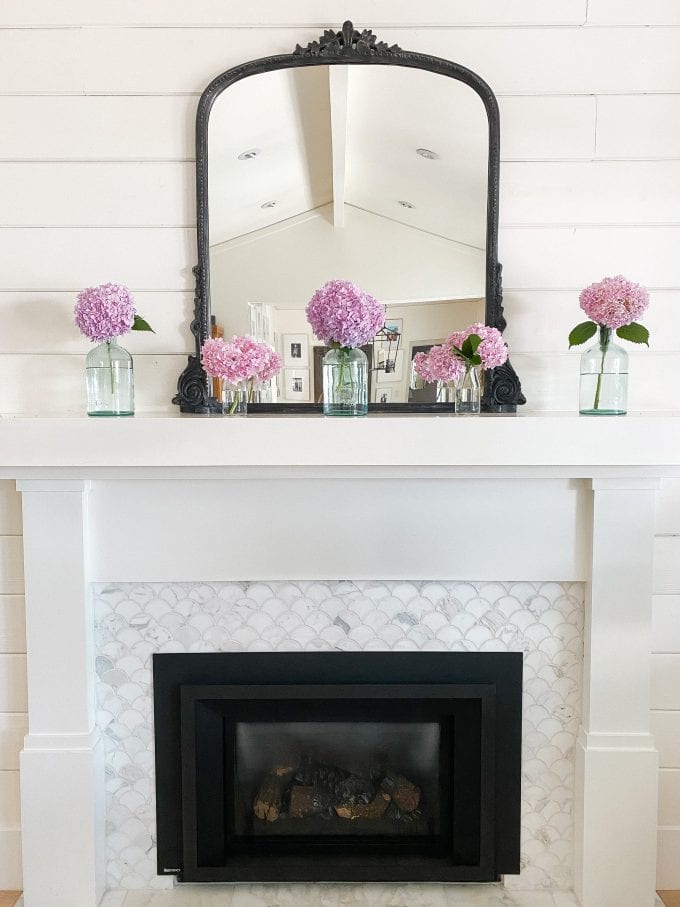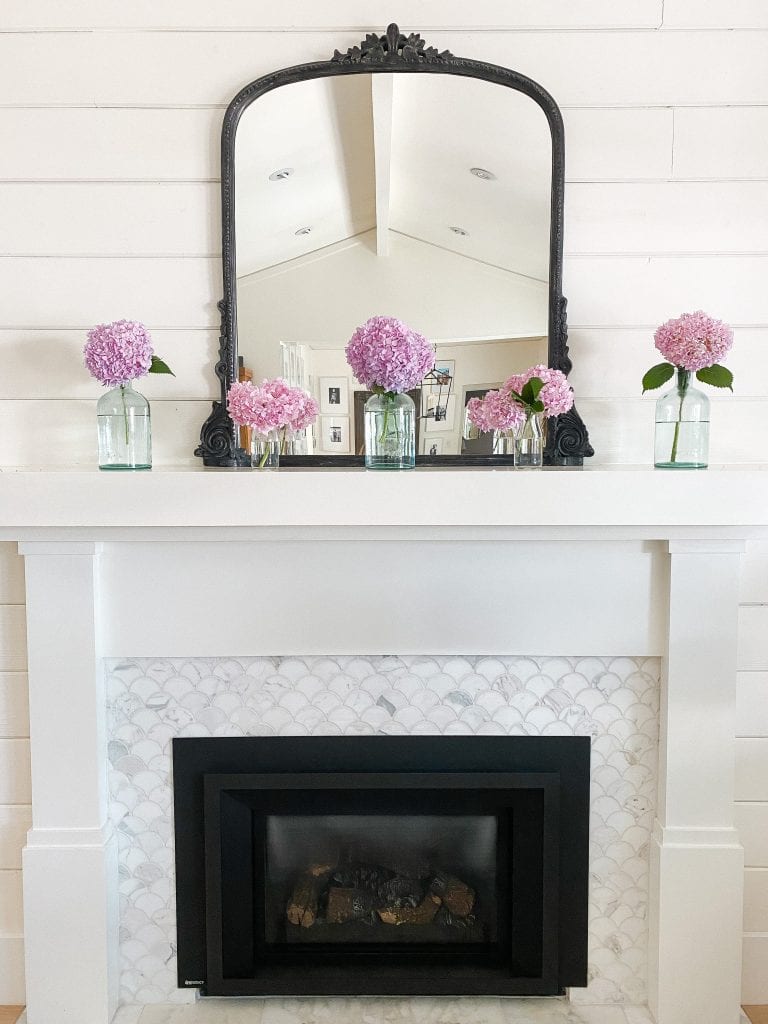 I even switched up the flowers as summer lingered on and cut some fresh hydrangeas from the garden. Easy!
JULY FIREPLACE AND MANTEL IDEAS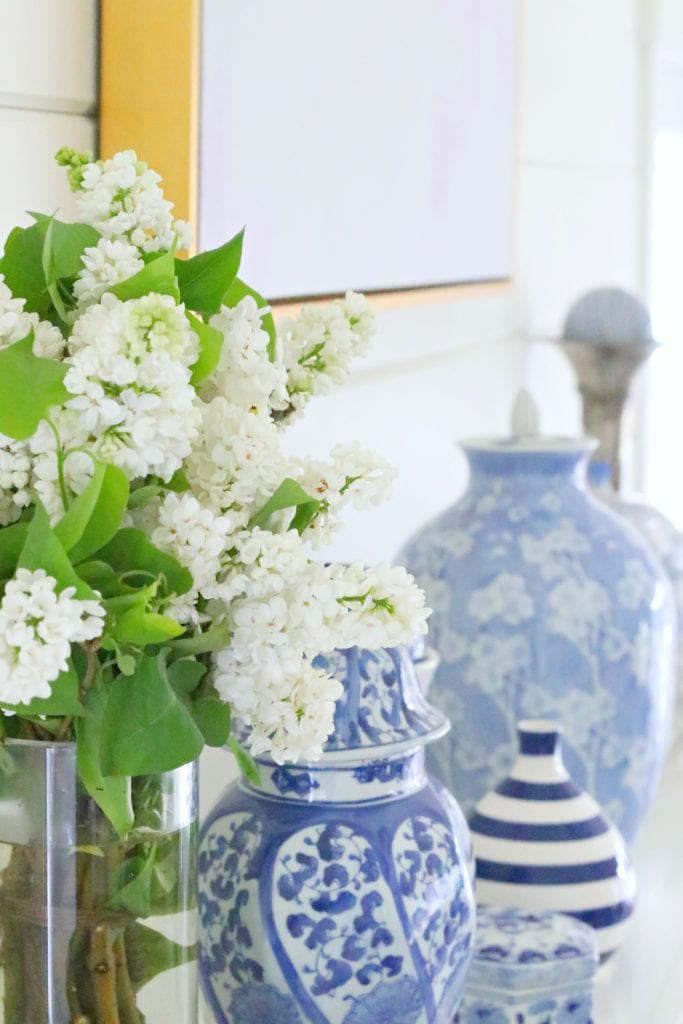 I love blue and white for summer. For this summer mantel decor, I rounded up my blue and white pottery and added in some white flowers.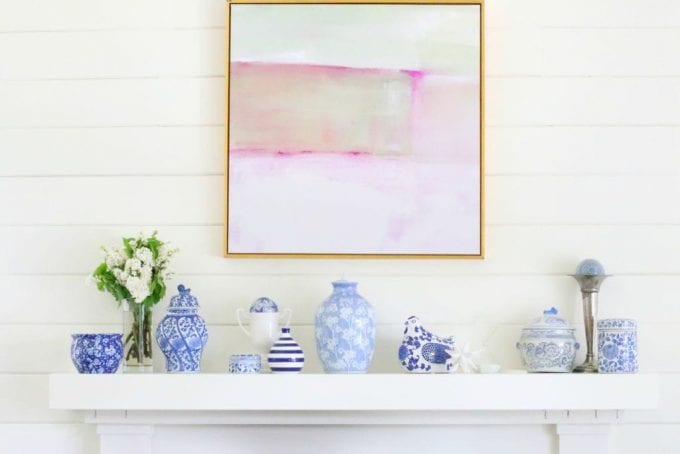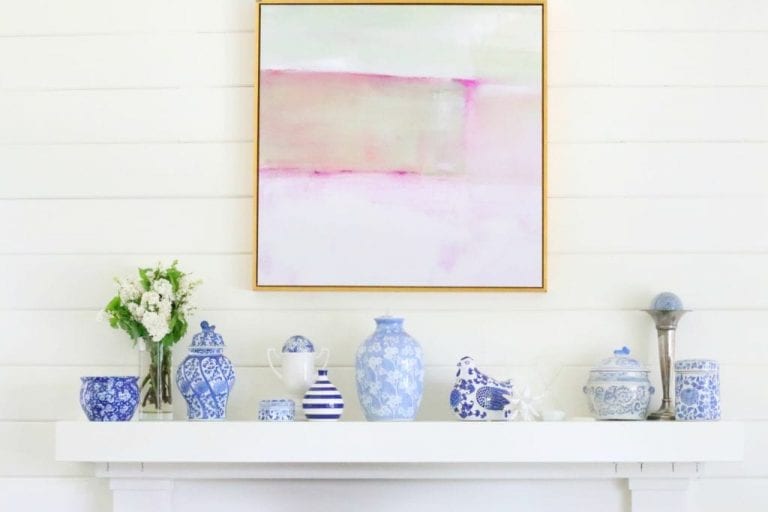 Nothing too fancy but it came together nicely and I loved being able to utilize all the Chinoiserie vases I had on hand.
FALL MANTEL DECORATING INSPIRATION
Fall is my favorite season. So, I apologize for oversharing these fall mantel decorating ideas. But I hope you will find some inspiration for your own home!
AUGUST MANTEL DECOR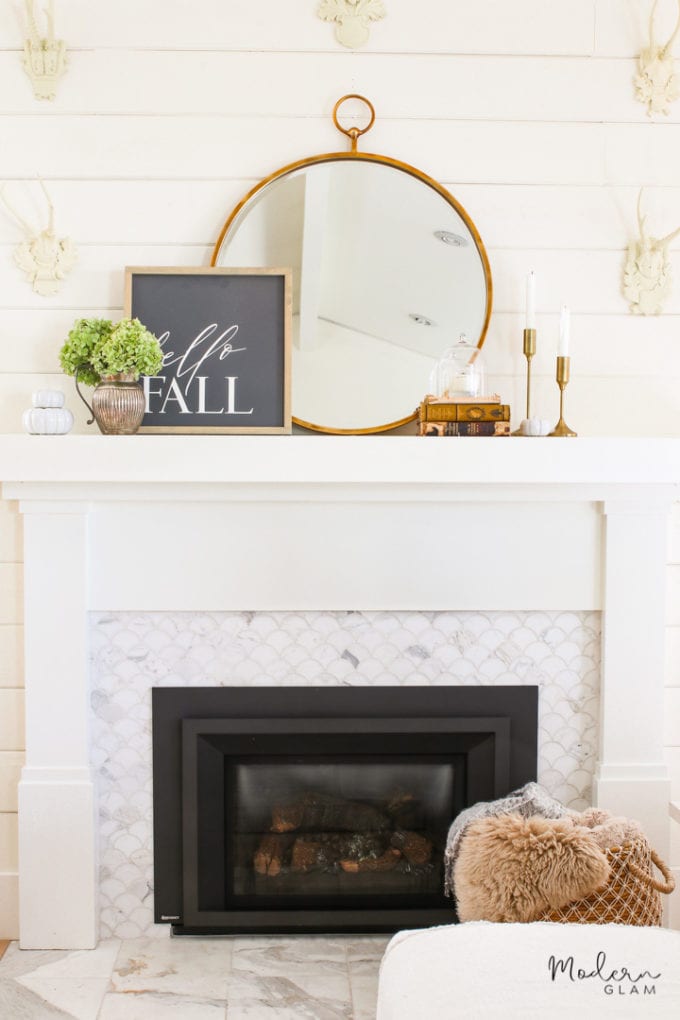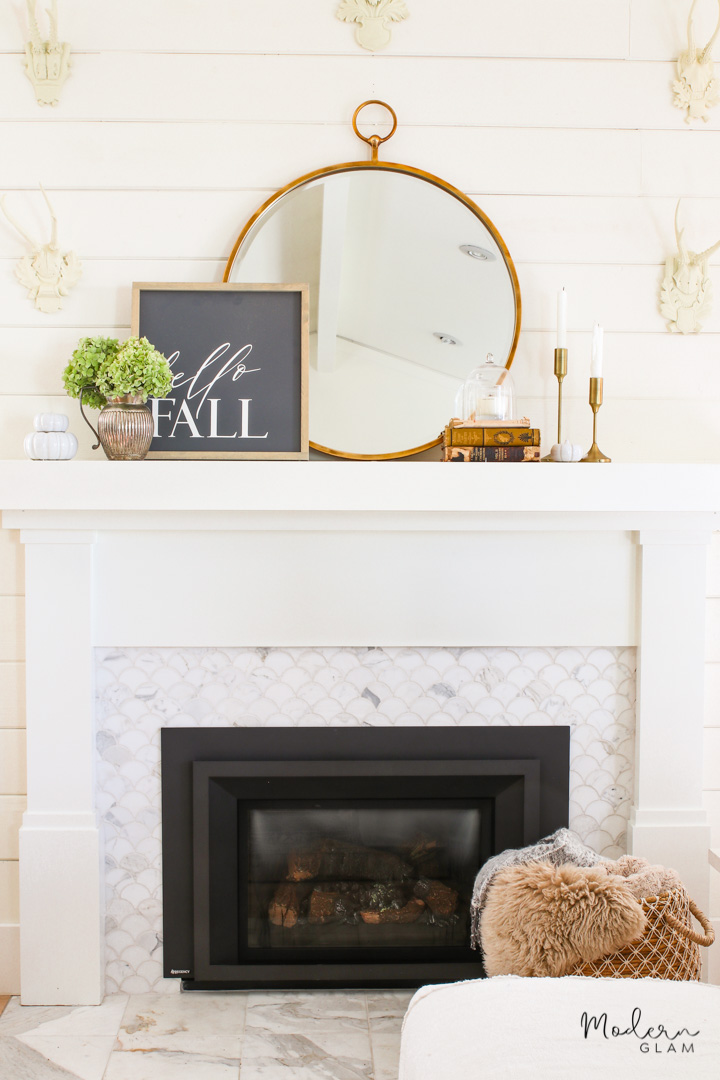 This Simple and Neutral Fall Mantel decor is the perfect transition to fall. The hydrangeas still hint at summer but the artwork signals to the change in seasons.
SEPTEMBER MANTEL DECORATING IDEAS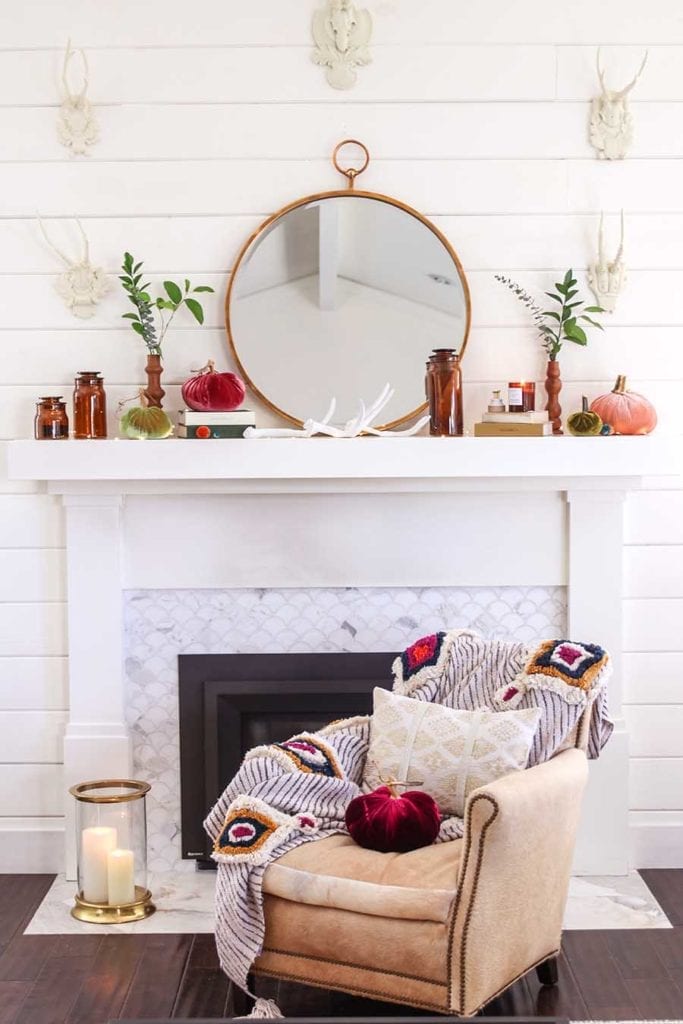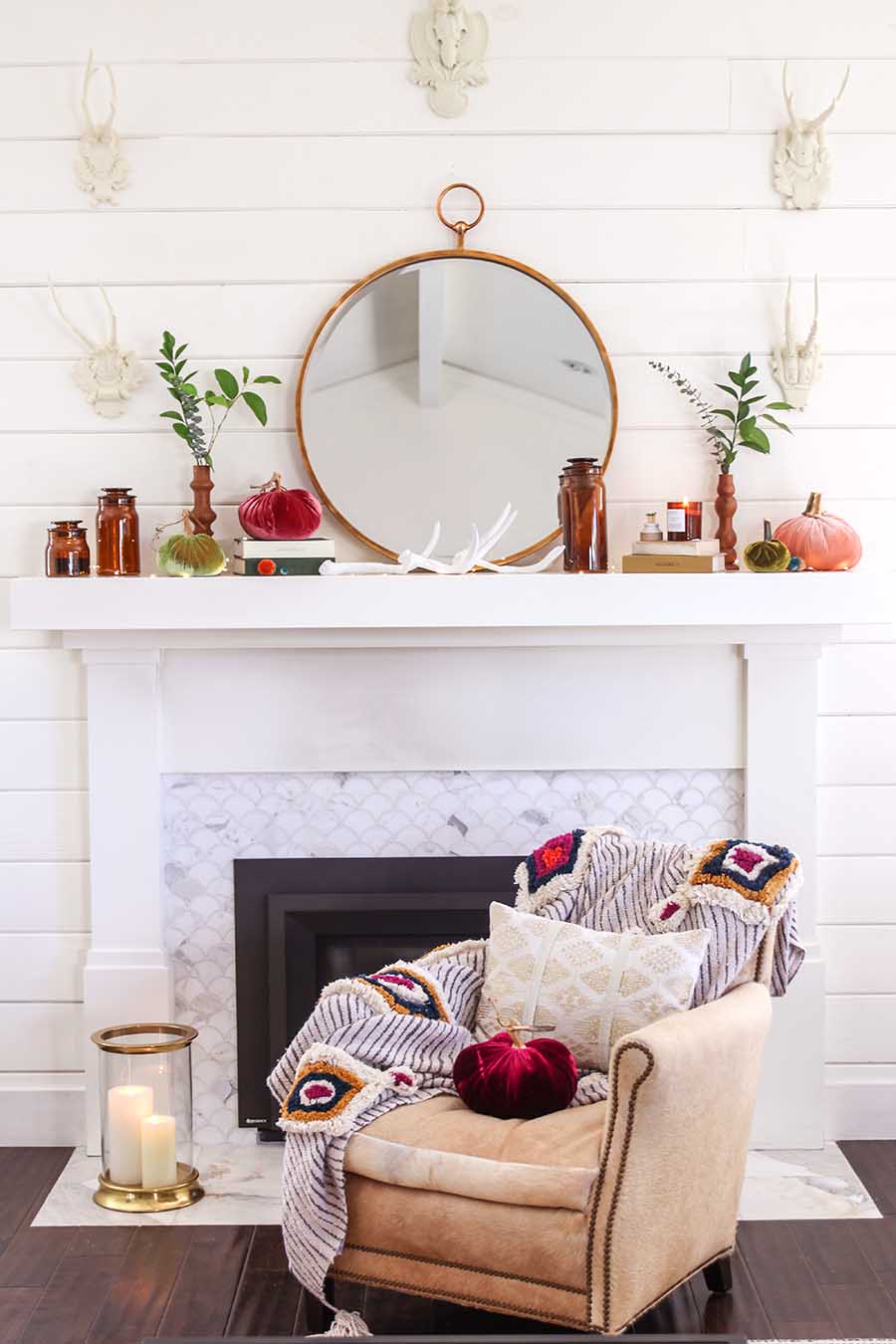 By September, fall is here to stay and this Rustic Fall Mantel infuses some great color and texture to your mantel decor.
OCTOBER HALLOWEEN MANTEL DECORATING IDEA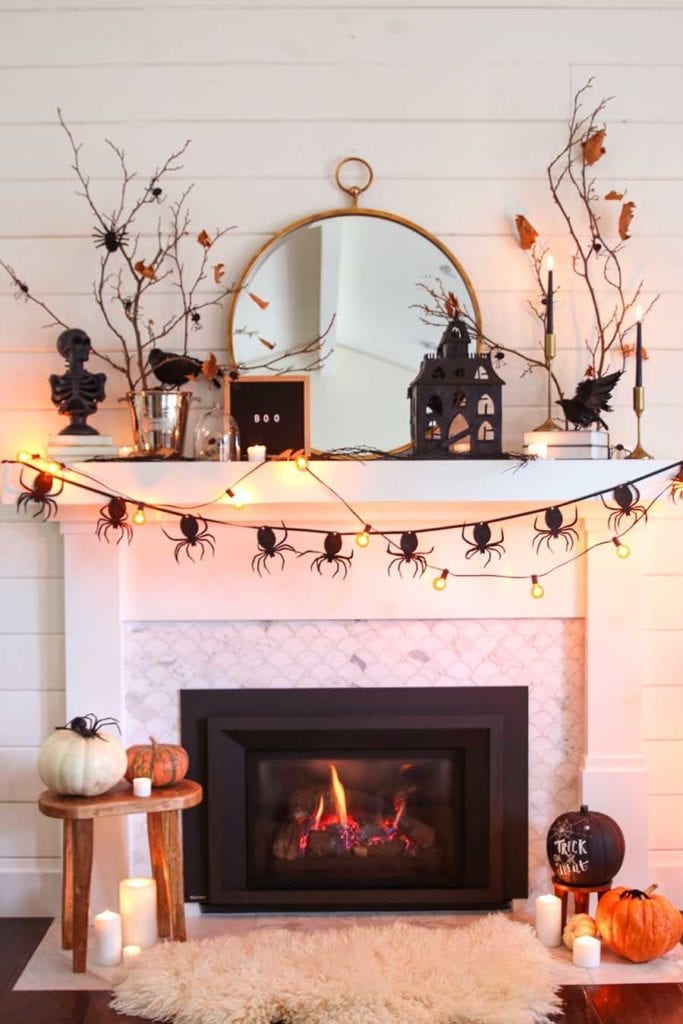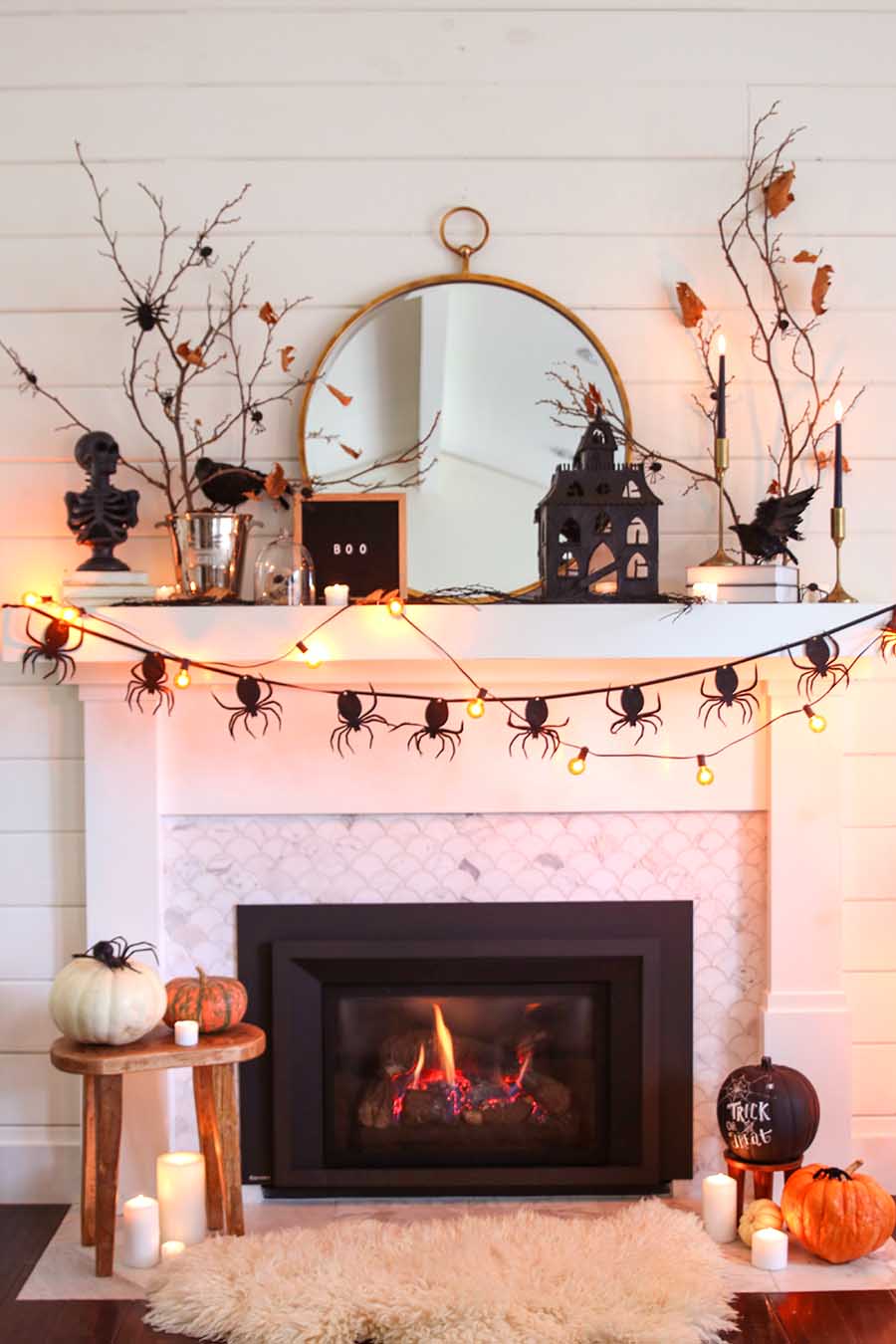 For this Black and White Halloween Mantel, I reused and repurposed every Halloween decoration I had in the garage, lol! Nothing new was purchased.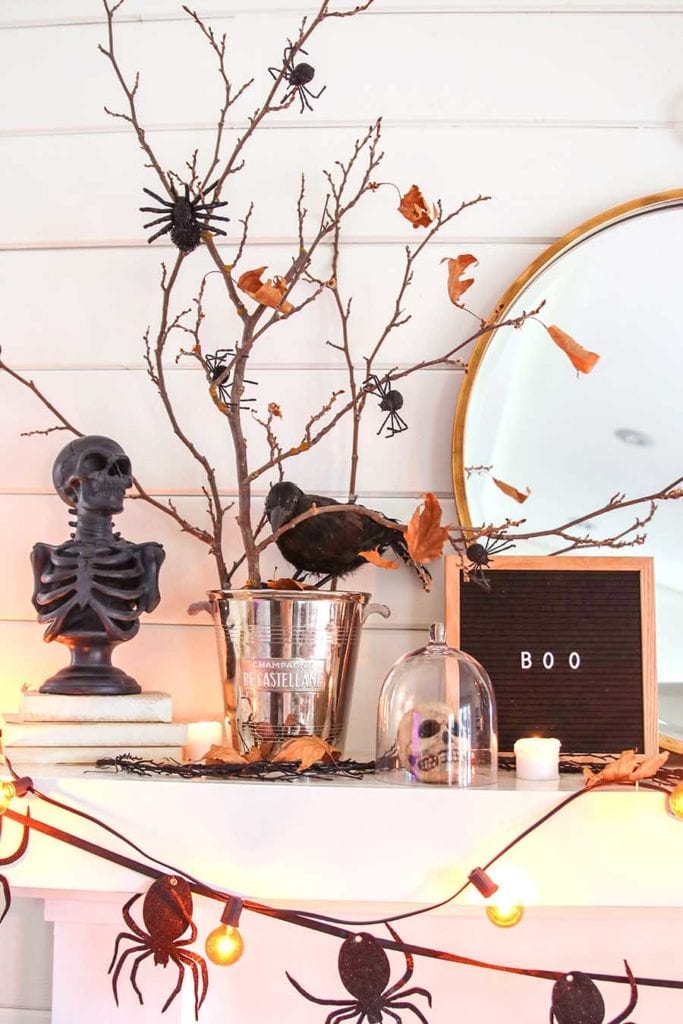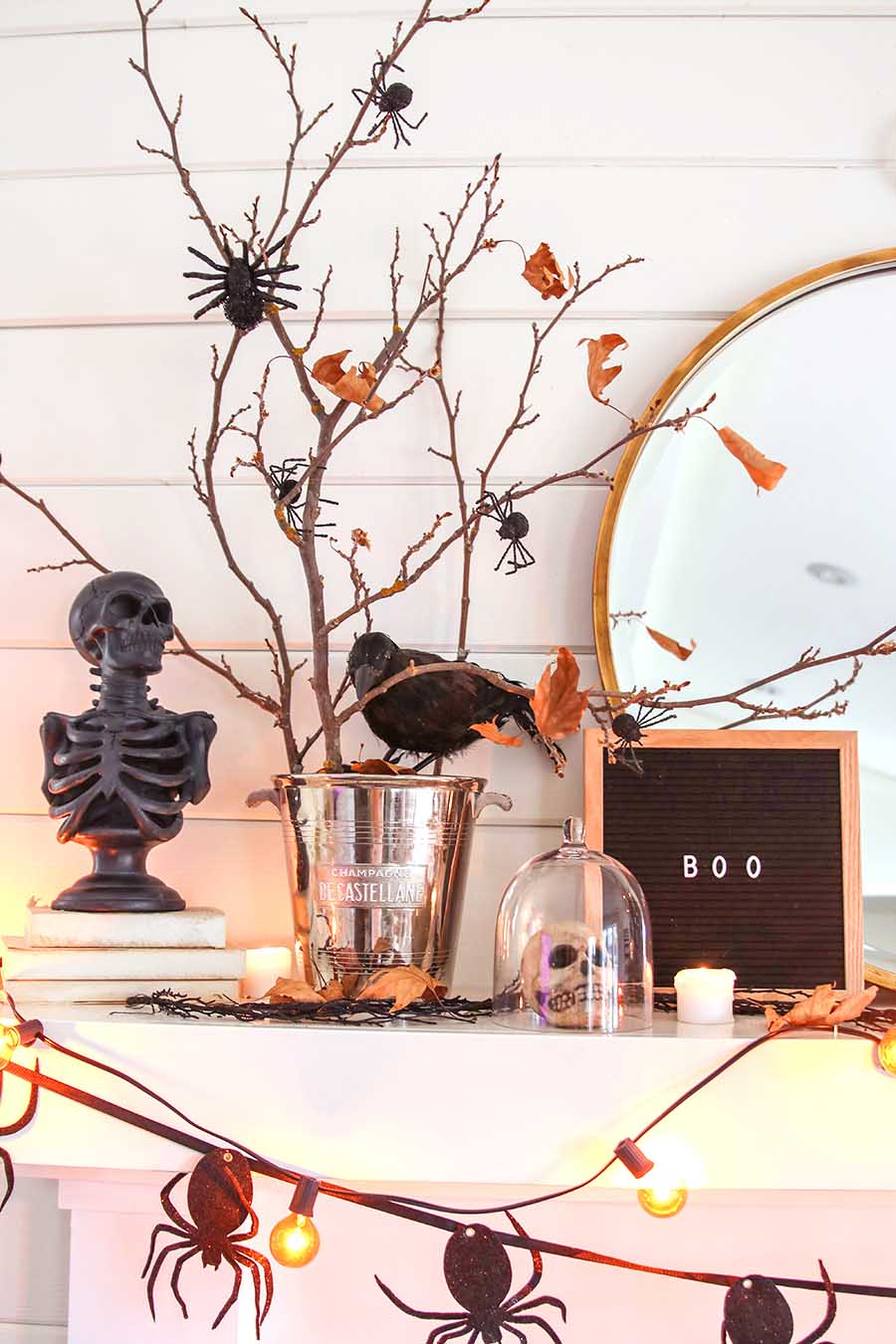 I even found some broken tree branches and used them to add height and dimension. I love the orange string lights to add that vintage vibe.
HOLIDAY MANTEL & FIREPLACE IDEAS
It seems like the best ideas for decorating your mantel come around the holidays. Enjoy browsing some of my favorite holiday and Christmas mantel decorating ideas.
NOVEMBER CHRISTMAS MANTEL DECORATIONS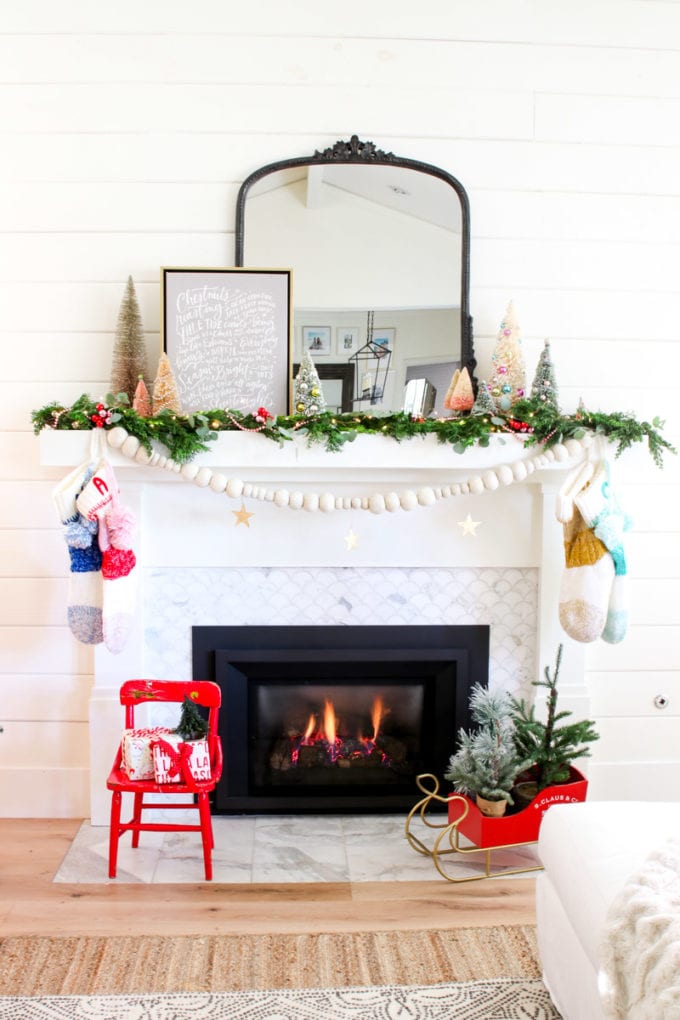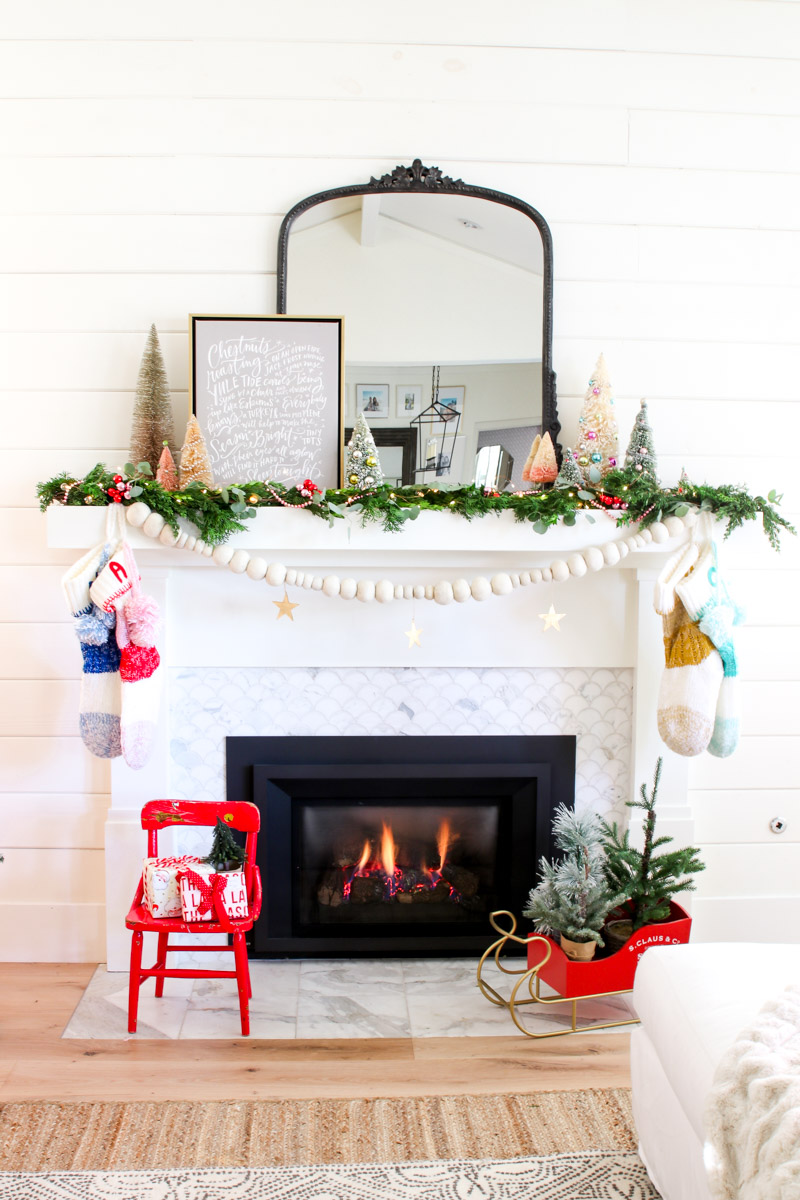 This vintage-inspired Red and Pink Christmas mantel is my favorite.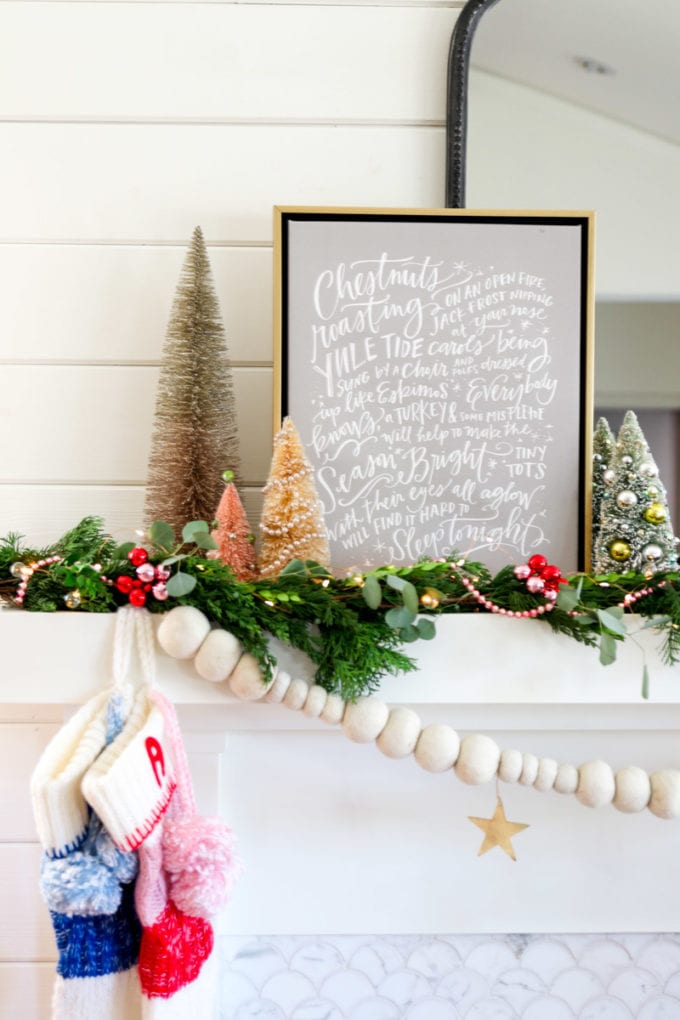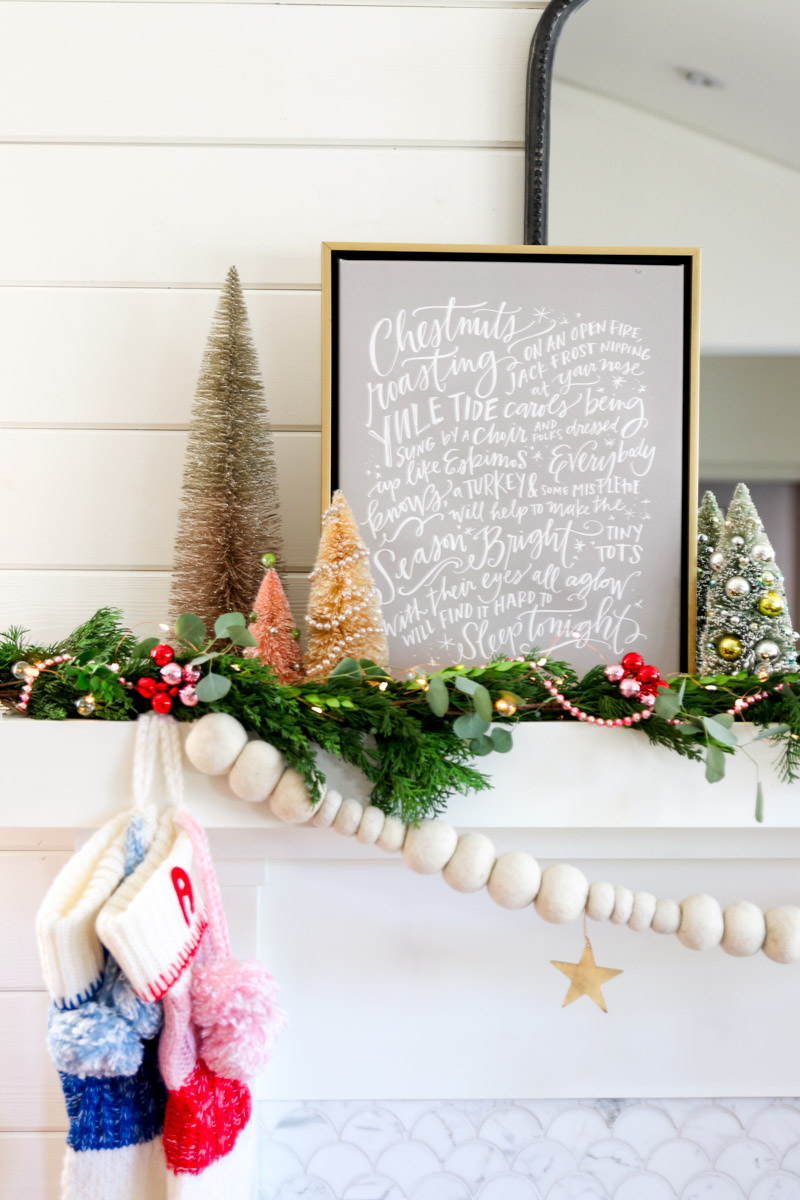 The colorful stockings, vintage vibes and bottlebrush trees are some of my favorite elements. You can see more by visiting this post.
DECEMBER HOLIDAY FIREPLACE DECOR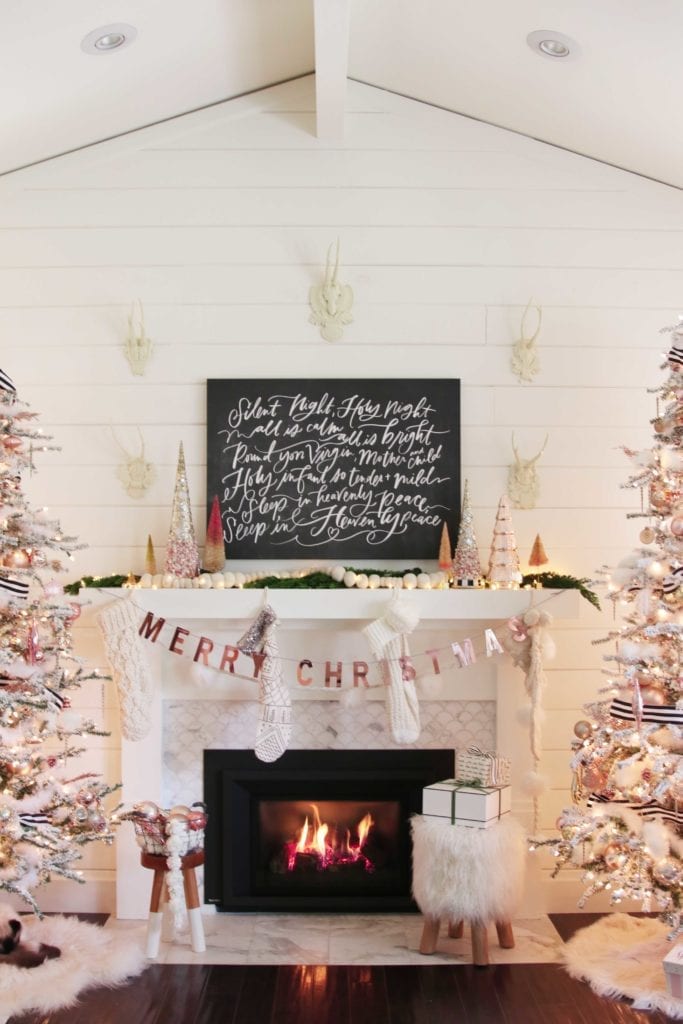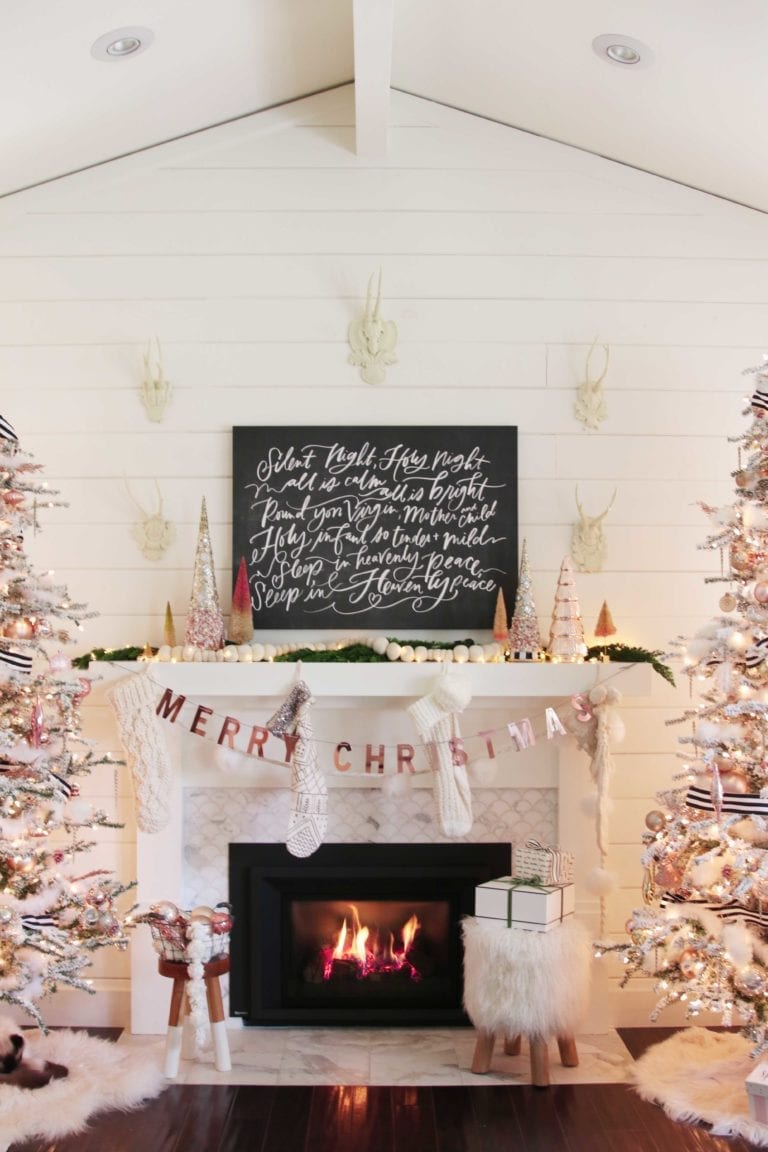 Throwback to the year that I decorated TWO Christmas trees. It was over the top and I loved every minute of it! Although I don't know if I would do it again – lol!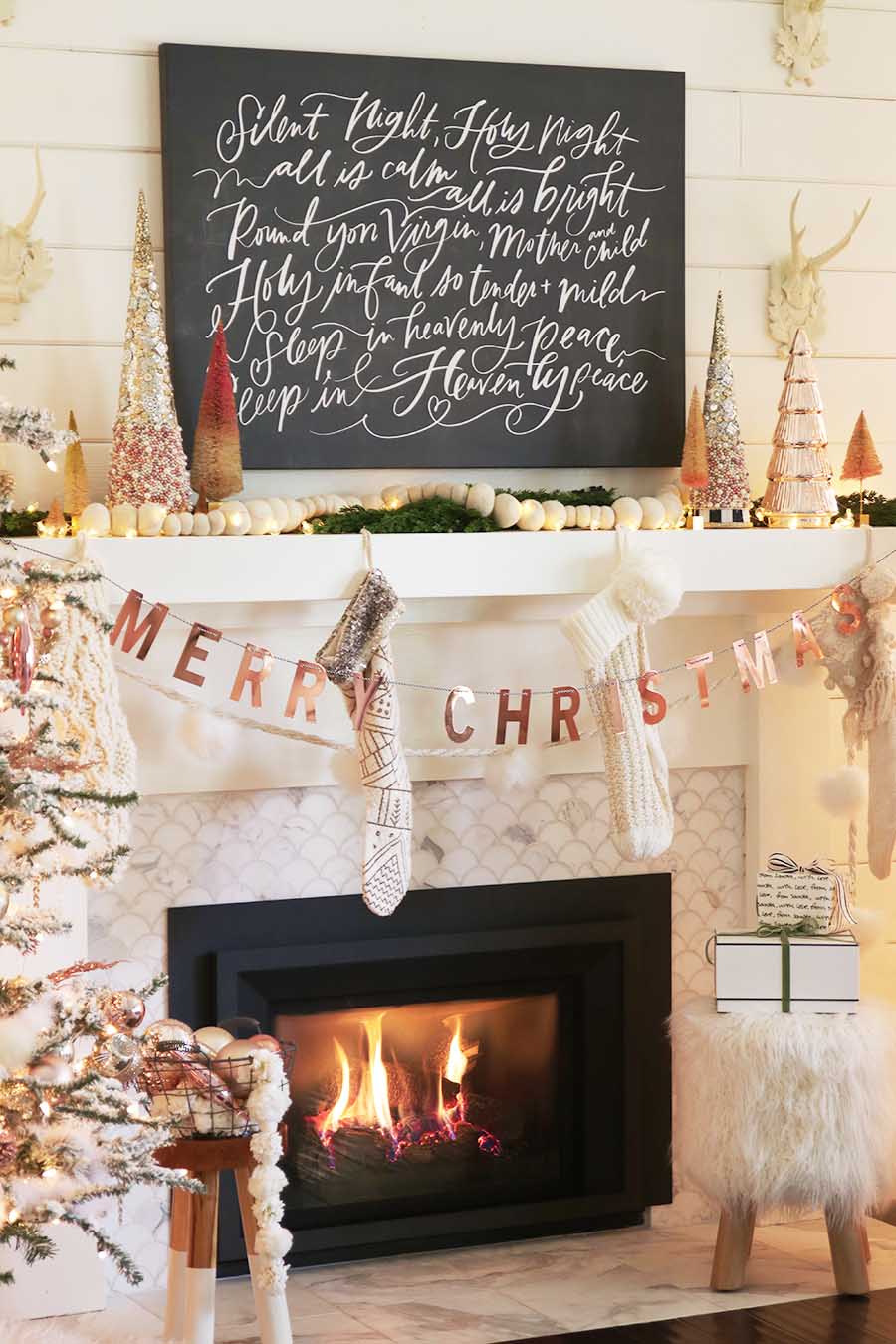 This Rose Gold Christmas Mantel though is one of my favorite color schemes of all time. The metallic details are perfectly glam for the holidays.
So, there you have it! 12 months of mantel, fireplace and even bookshelf decorating ideas.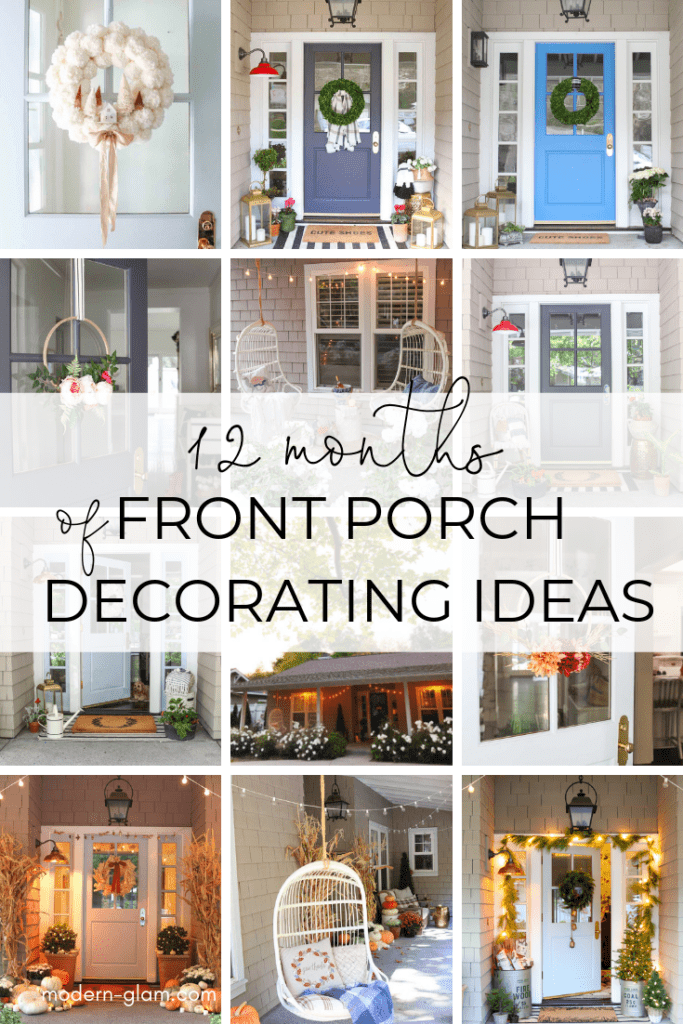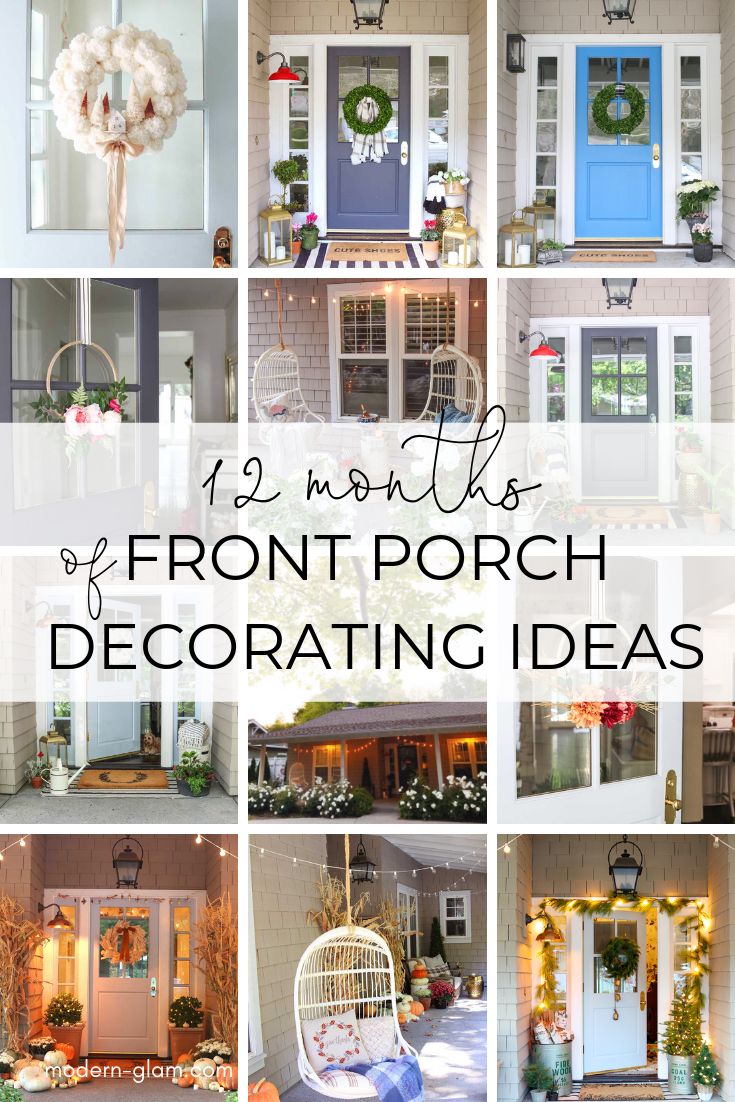 Be sure to also check out my 12 Months of Front Porch Decorating Ideas. Another great post filled to the brim with inspiration and ideas.