Add some chic Valentine's Day decor to your mantel. Simple decorations that you can use to style your fireplace, bookcase or shelf!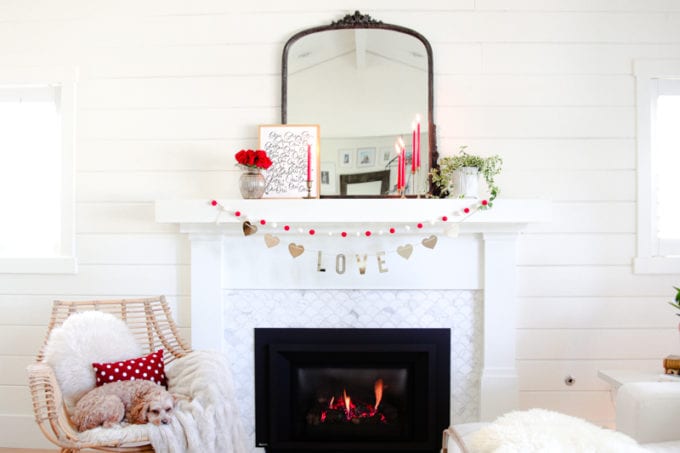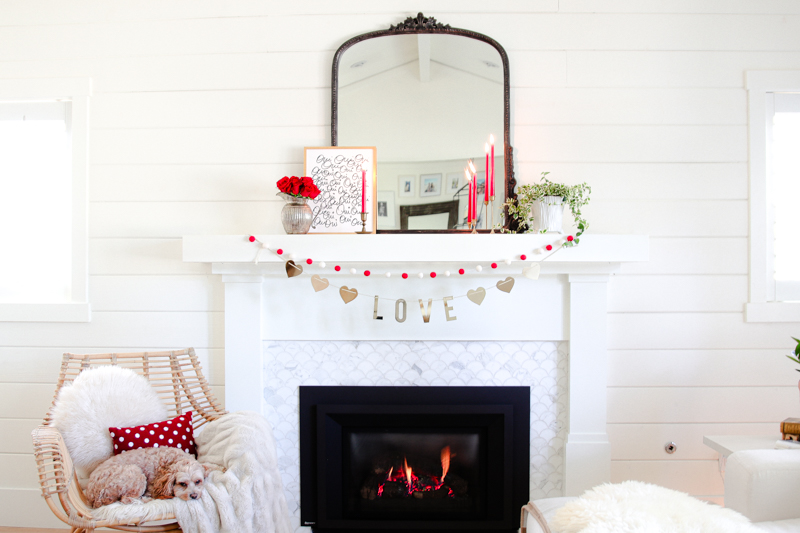 Adding a little festive decoration for Valentine's day doesn't have to be over the top or fussy. I will show you how to repurpose some decor from Christmas for the holiday of love!
Chic Valentine's Day Mantel Decor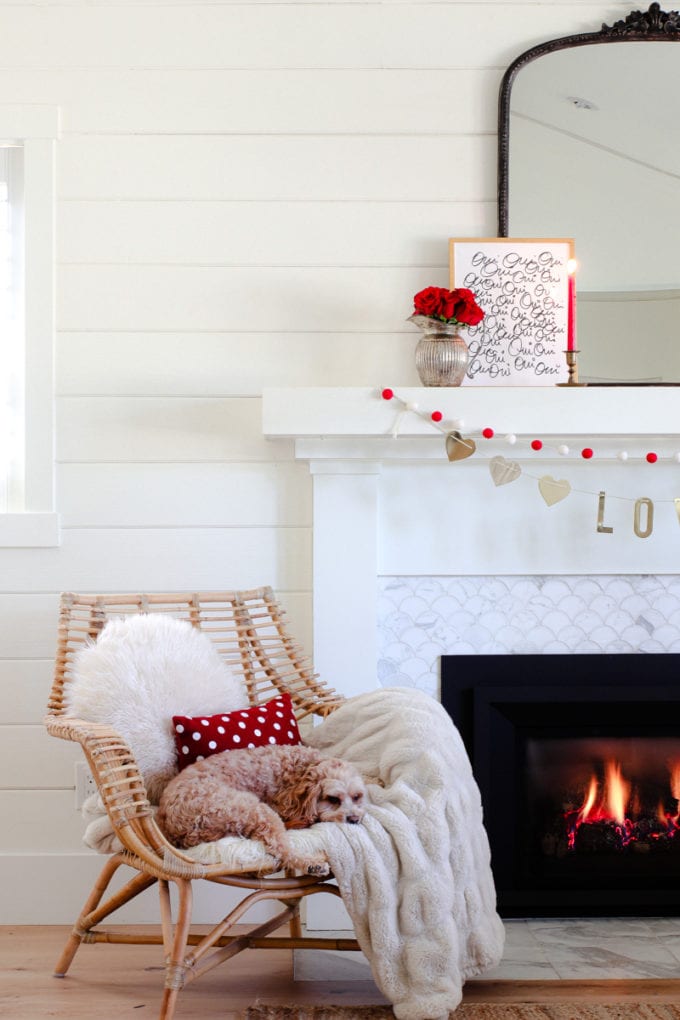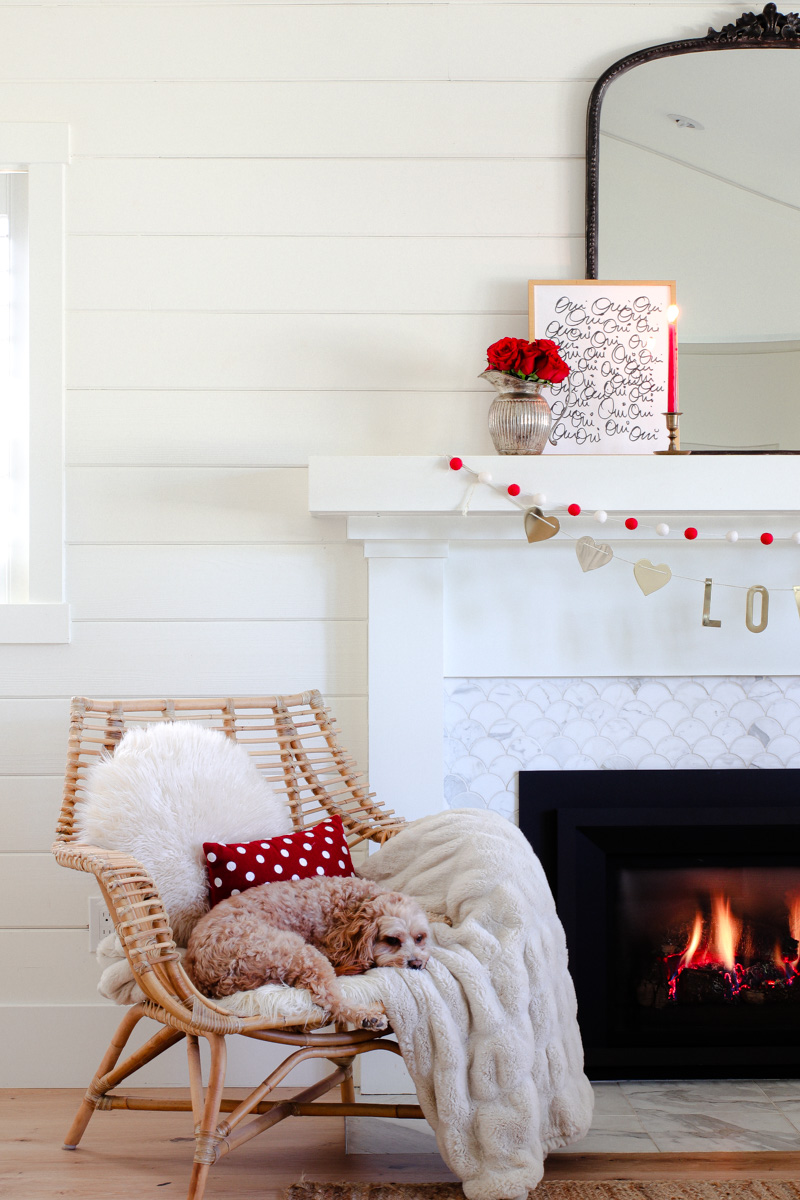 I don't know about you, but I love Valentine's day. It's a bright spot after the shining glory of the Christmas holiday. Winter can seem bleak and adding a little pop of color and happy hearts for Valentine's day is a wonderful pick-me-up.
Last year I decorated my Valentine's Day mantel with a DIY Valentine's Day banner. I used vintage French book pages to create a simple banner. To me, the language of love and Valentine's day go hand in hand.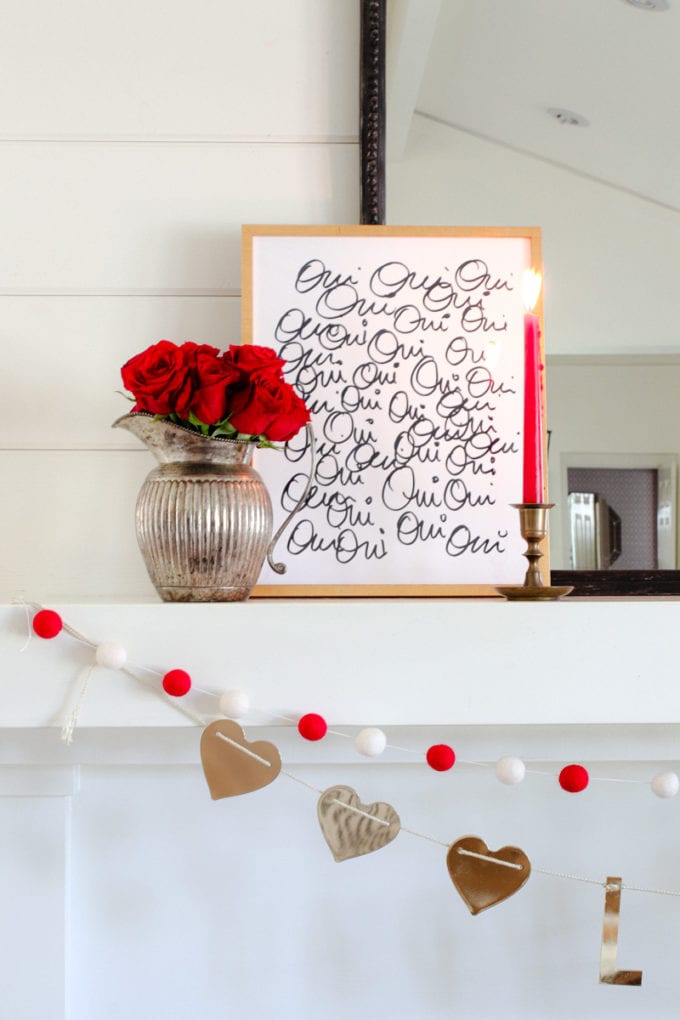 So, for this chic Valentine's day mantel decor, I used this Oui Oui print as a starting point. I purchased this art print for a gallery wall that I am working on. And luckily, I am still waiting on a few pieces of art. So, this cute French print is just sitting in the laundry room.
Valentine's Day Decor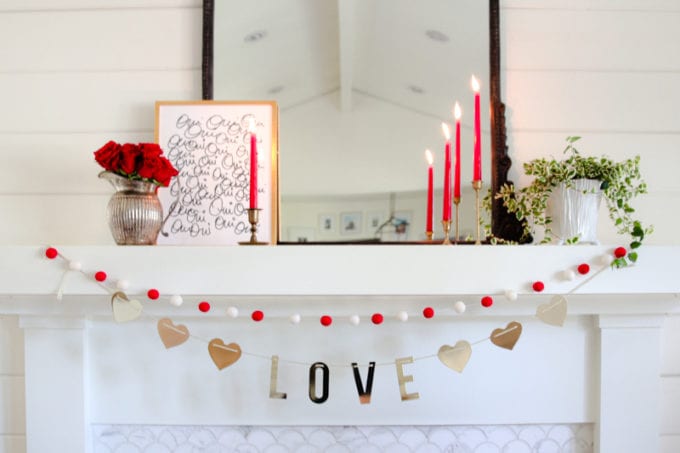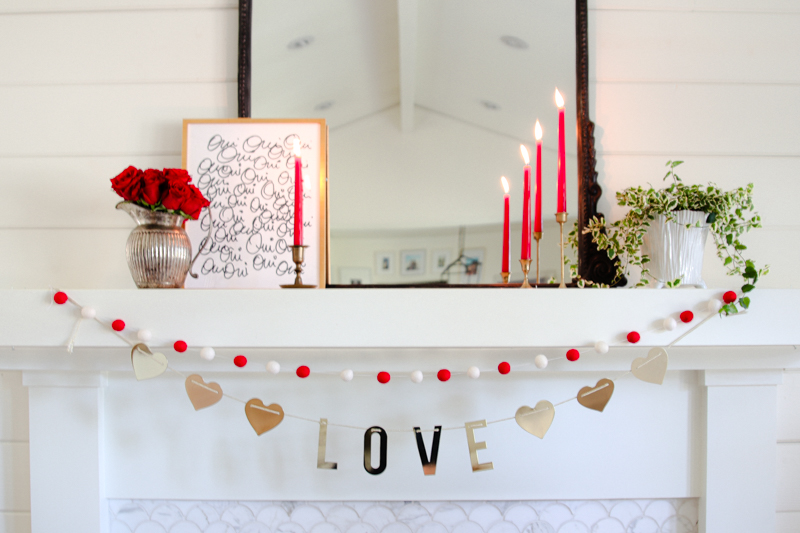 One of the great things about Valentine's day is that the traditional color to decorate with is red. You can repurpose decor that you may already have on hand stored in your Christmas bins!
Think outside the box and what you could repurpose in a new and fun way for Valentine's Day.
This red and white pom pom garland and the cute polka dot pillow are from my Christmas decorations. I think they add the perfect pop of color to my Valentine's day mantel decor.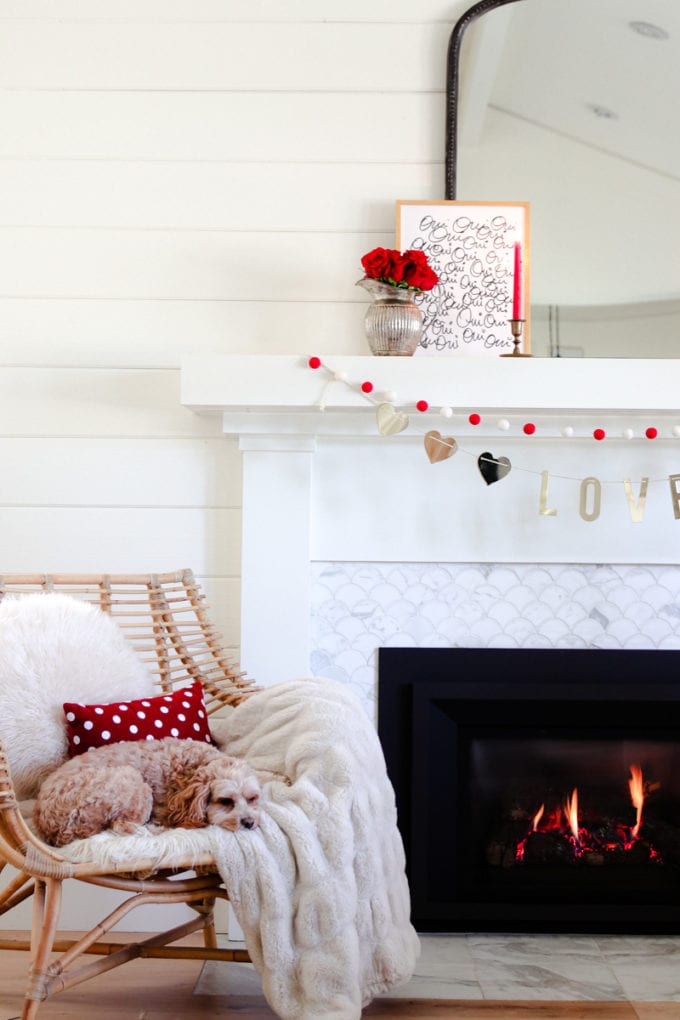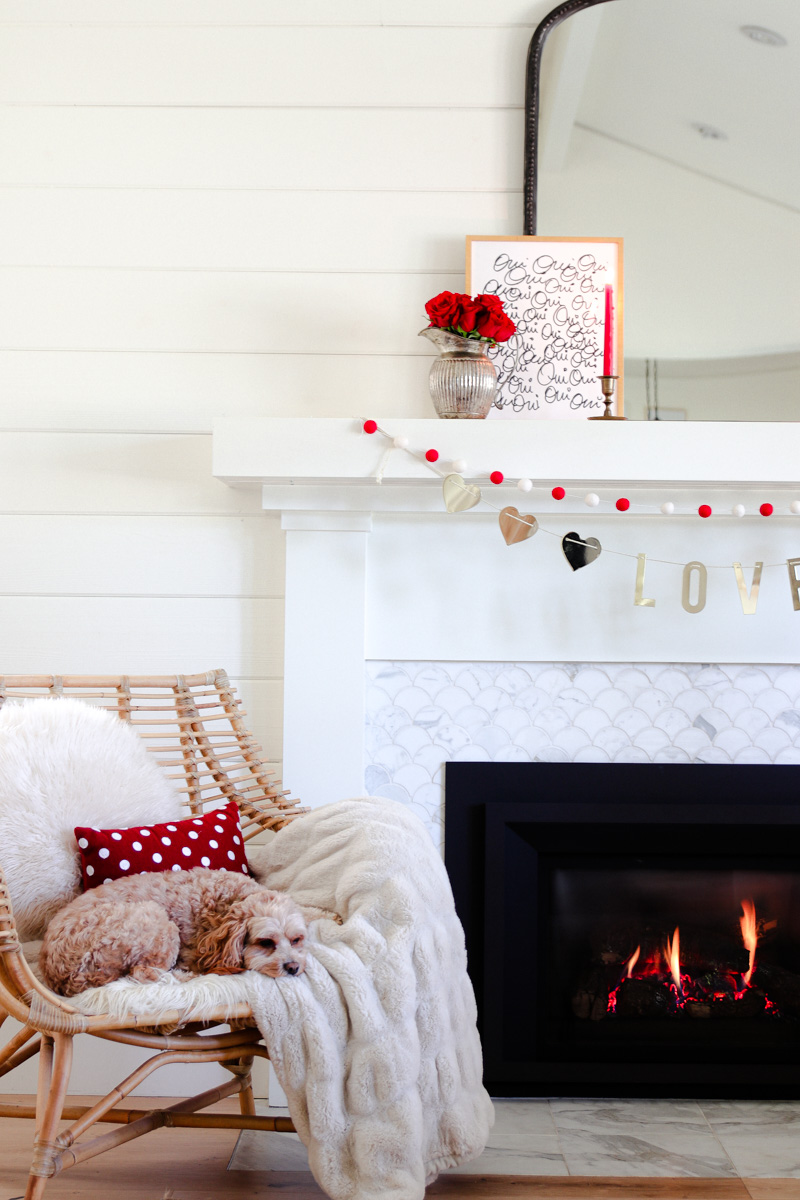 I also reused these red candlesticks that I originally used on my Vintage Modern Holiday Table.
Valentine decorations don't have to be specific to the holiday. Think outside the box and see what you have on hand that could add a little dose of lovely inspiration to your home.
Valentine's Day Mantel Garland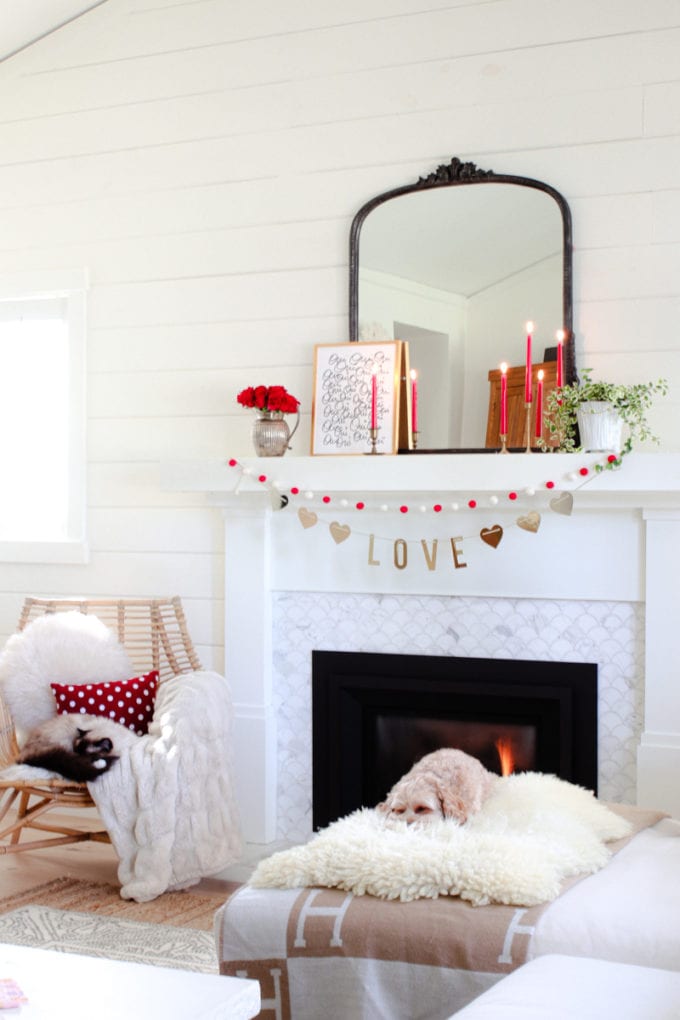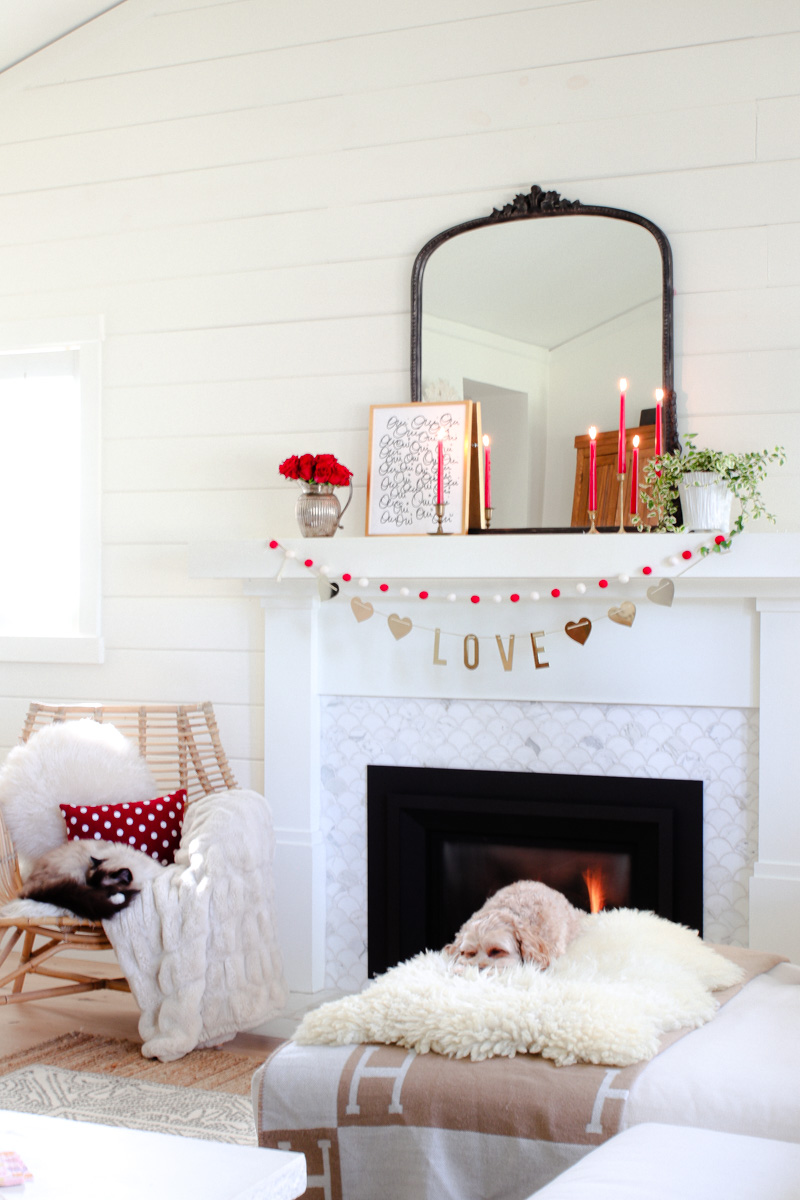 An easy way to decorate you mantel for Valentine's day is by adding a simple banner or garland. This year, I draped a wool pom pom garland and added a pretty gold LOVE banner.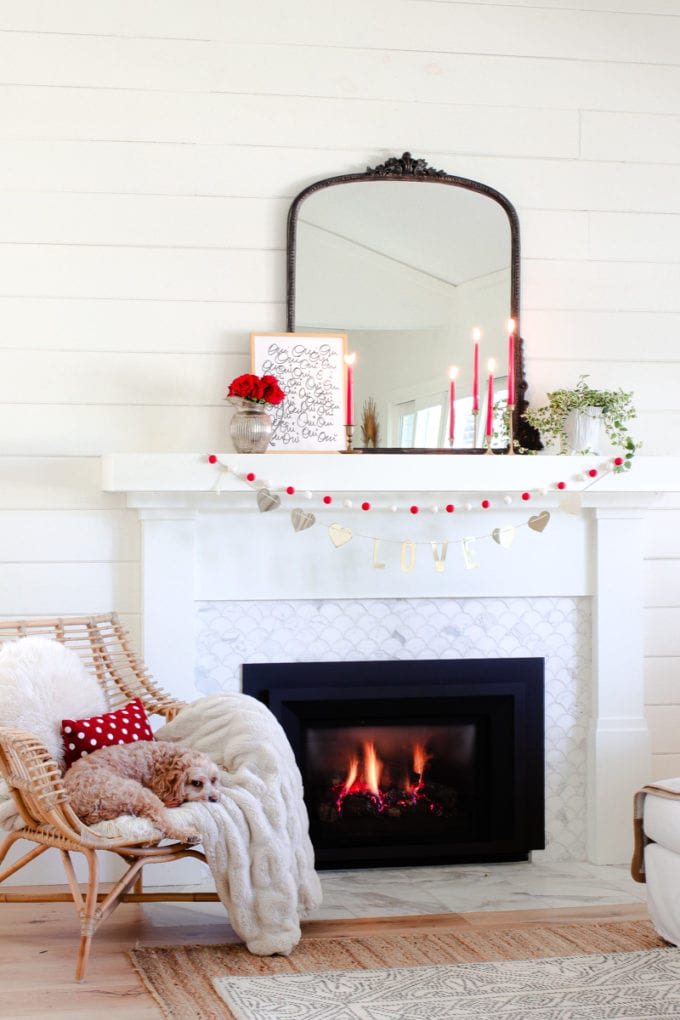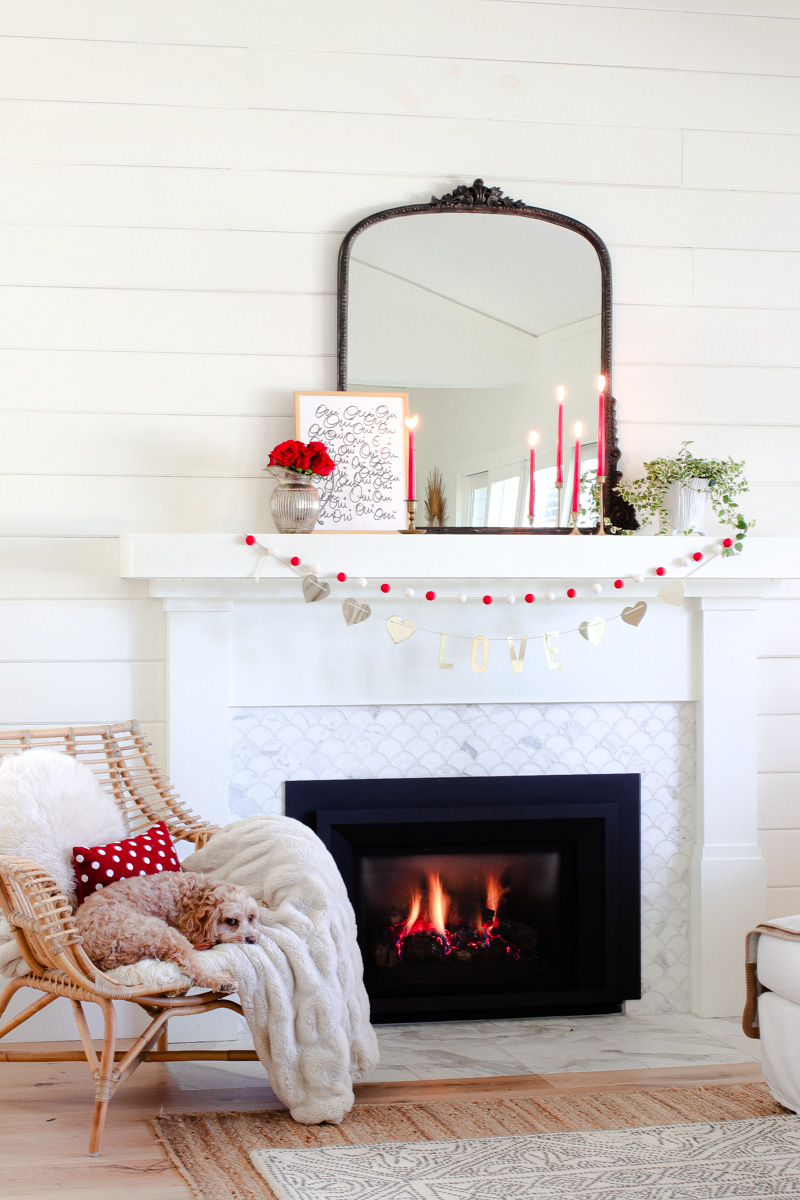 Check out how I used these same garlands for my Valentine's Day Front Porch Decor this year.
You may also want to check out my DIY Bookpage Banner for an easy project that you can do with only a few supplies – most you probably already have on hand!
And I've linked some fun options here for you if you aren't the DIY type, haha! You can reuse and repurpose these garlands in so many different ways, and for so many holidays.

Red and White Mantel Decorations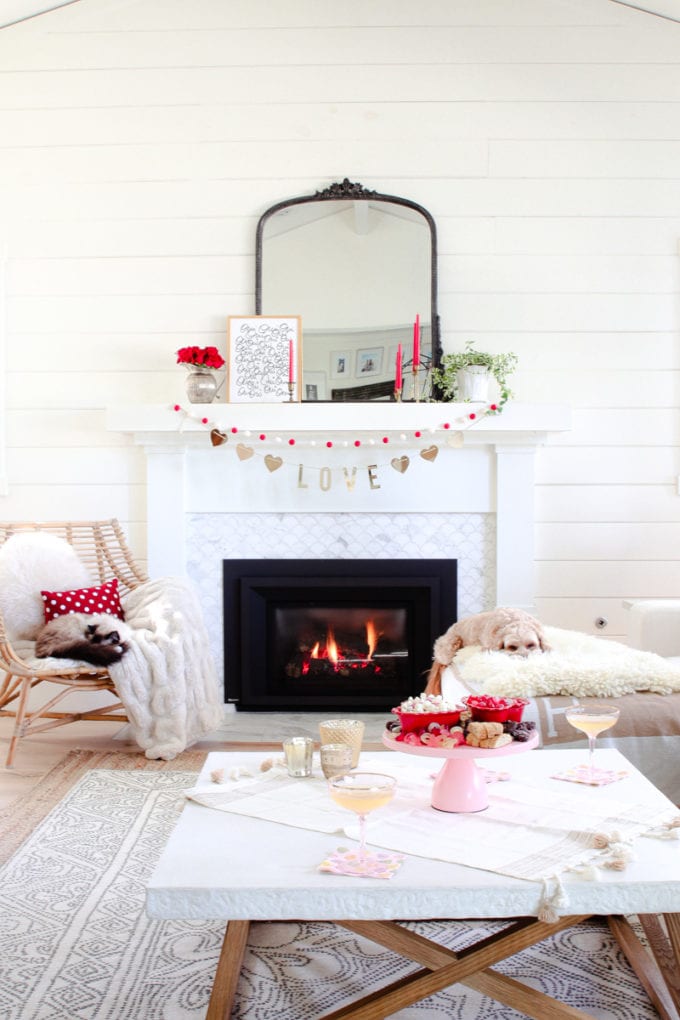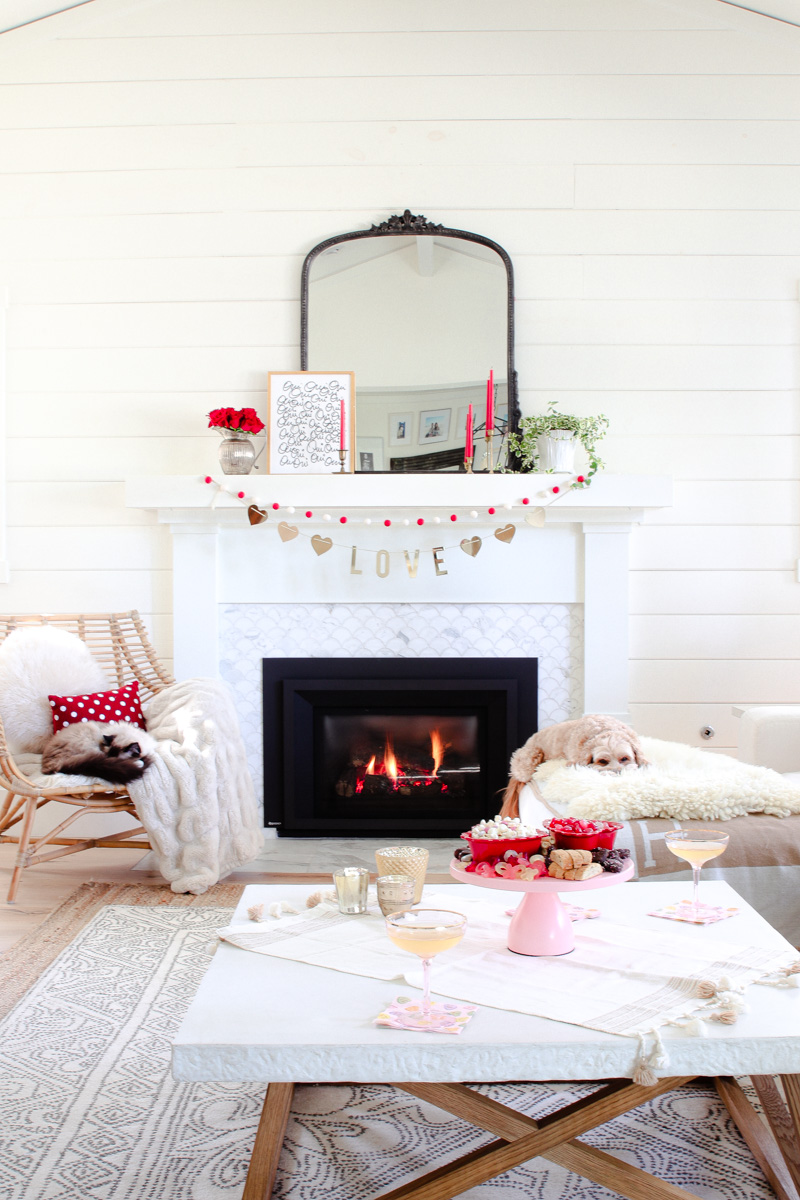 Decorating with red can seem bold and sometimes slightly garish. Done in small doses and against a backdrop of white, a little bit of red can be beautiful and chic too!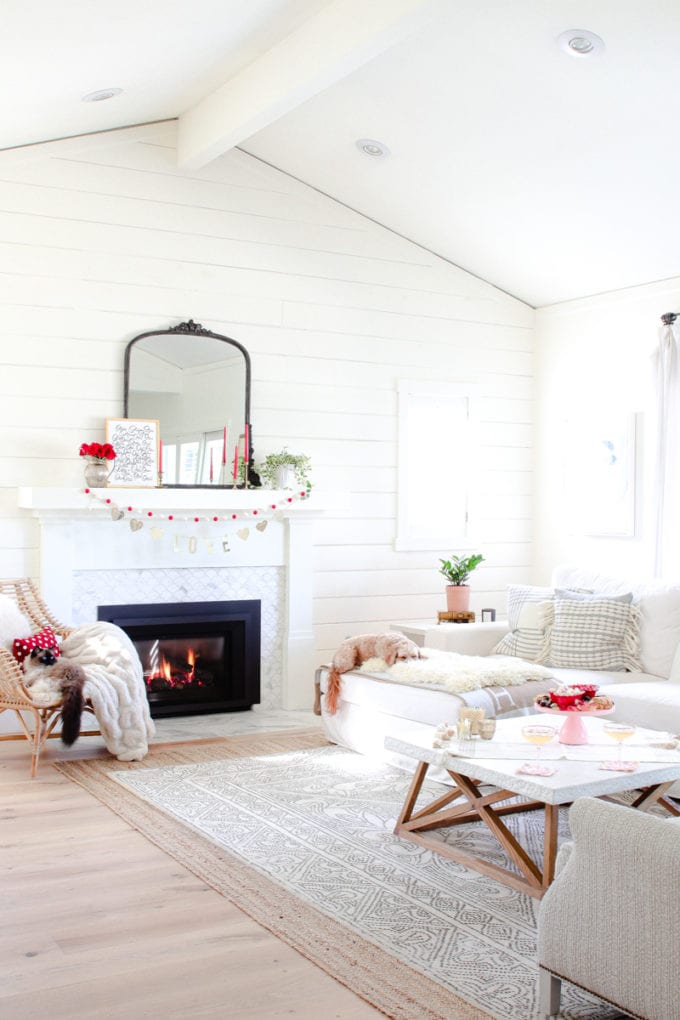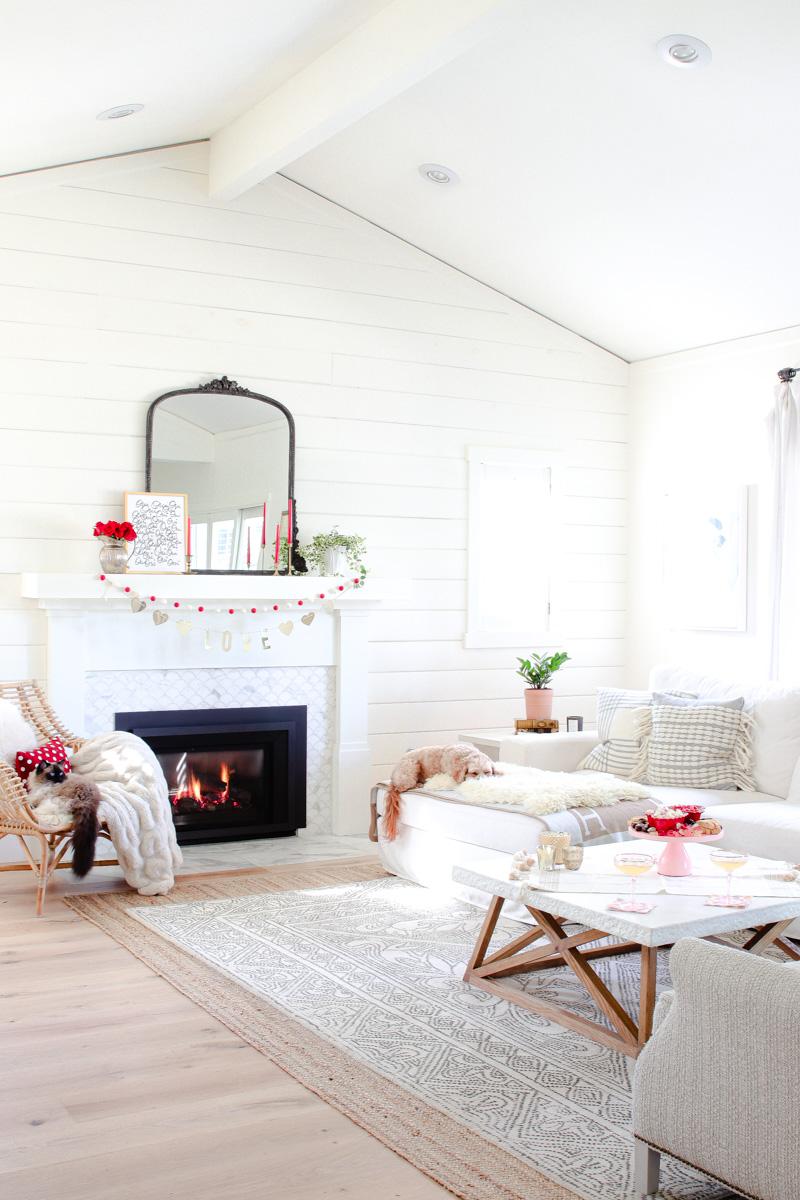 Here, I kept the color palette simple. Red, white and black. And I used greenery and fresh flowers to soften the look. The red is repeated a few times and isn't overused. I try and stick to a simple design principle when decorating with color: less is more!
I hope this gives you a little inspiration for decorating your mantel for Valentine's Day. You could definitely replicate this idea on a bookcase or shelves too!
And be sure to check out my fun Valentine's Day Dessert board. It is so easy to put together almost entirely from Trader Joe's finds!
Creative Valentine's Day Ideas
Check out more beautiful and inspiring Valentine's Day ideas. From tablescapes and decor to recipes and flower arranging, there is so many lovely ideas!
Maison de Cinq | Ella Claire Inspired | Zevy Joy | Happy Happy Nester
My 100 Year Old Home | Modern Glam | Summer Adams