Valentine's Day Fireplace Mantel Decorating Ideas that are simple and easy to do. Add a little festive cheer to your home in the winter for this lovely holiday.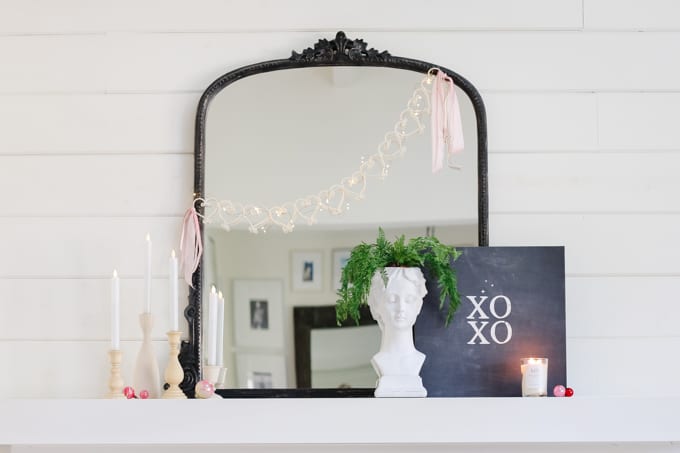 In the winter, I like to keep my home light and bright. After the holidays are over, I seem to gravitate towards less clutter and decor.
So, a simply decorated vignette on the mantel for Valentine's Day is always welcome. A small nod towards the holiday, but nothing over the top or overwhelming.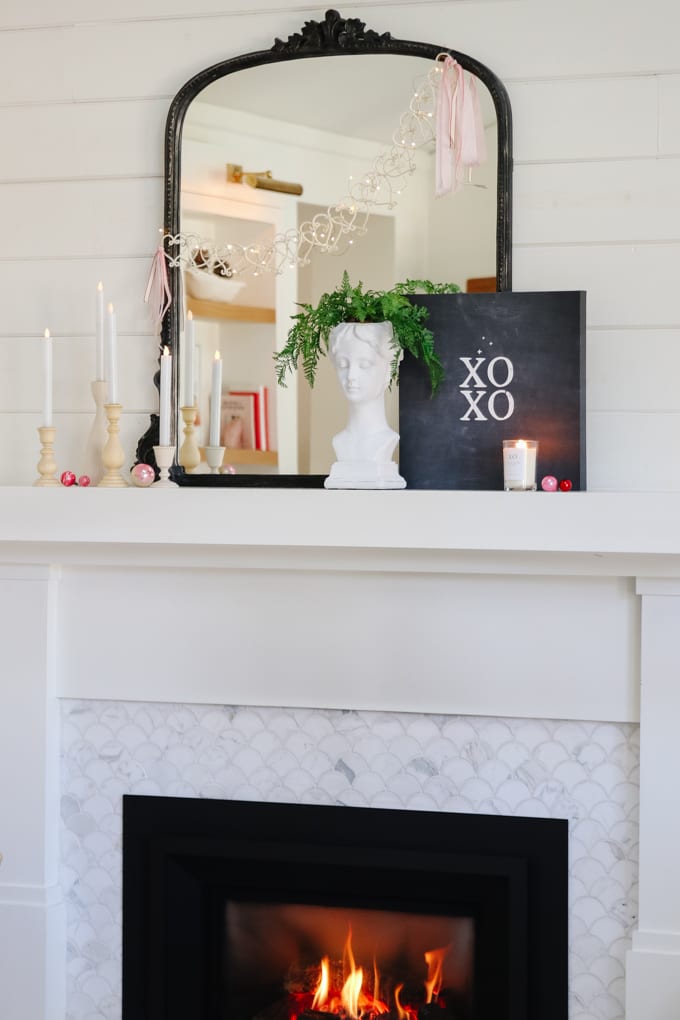 It's easy to add some romantic touches to your home. I'll show you some of my favorite Valentine's Day mantel ideas and how you can incorporate the same look in your own home!
Valentine's Day Mantel Ideas
When decorating for Valentine's Day, think outside the box. You don't need to have a ton of red and pink decor dedicated to the holiday in order to get a romantic and festive look for your mantel.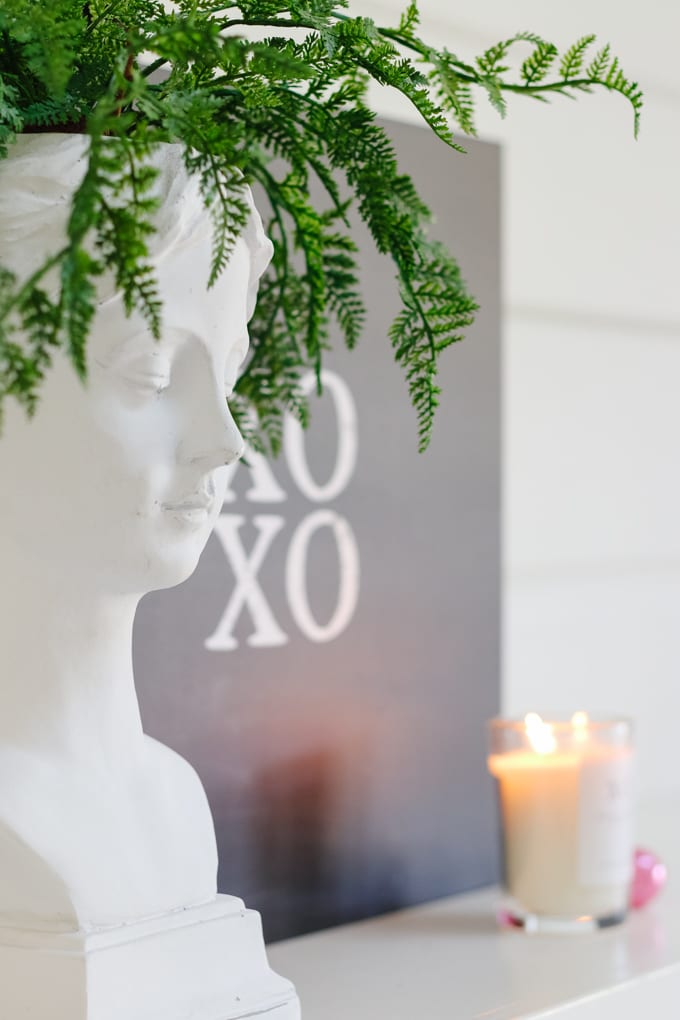 This year I found this planter that looks like a Roman bust. I love the vintage and romantic look it has and knew it would be perfect for my Valentine's Day mantel idea that I already had going in my head.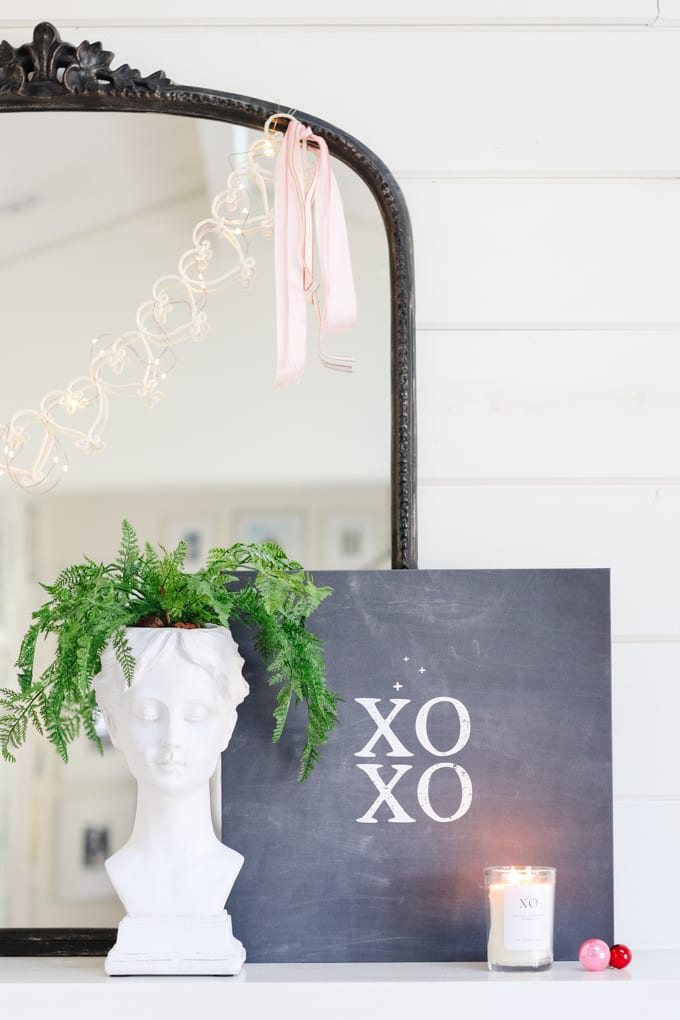 Set against my mirror and new artwork from Lindsay Letters, I think the look is subtle without being too cheesy.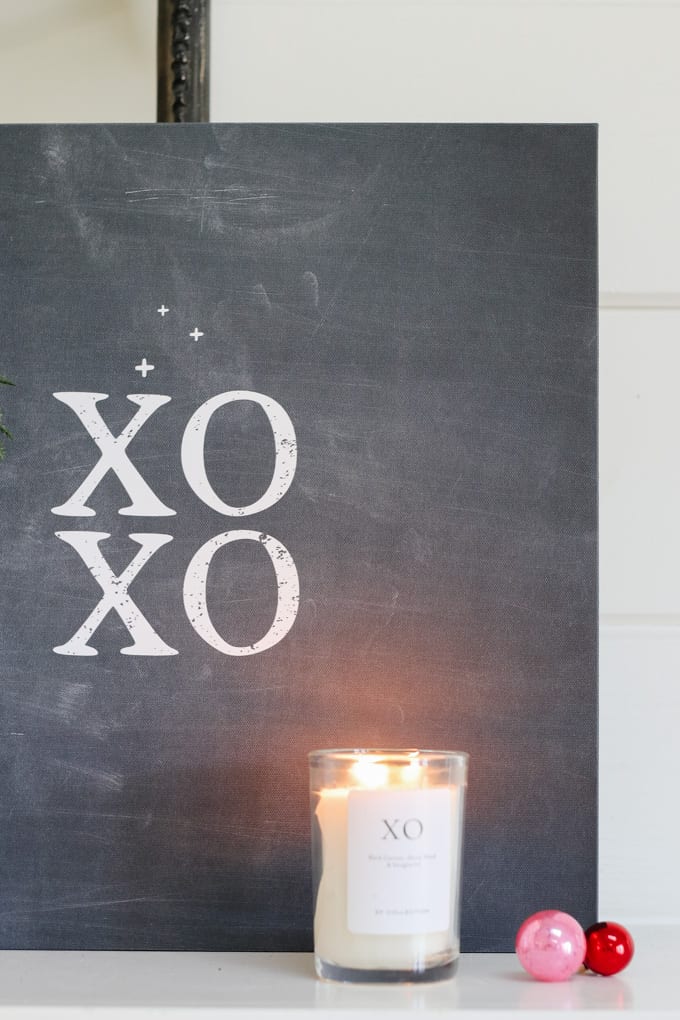 I love to use candlelight to make my home feel more romantic, especially during the winter months. And this Valentine's Day mantel decorating idea relies on candles to add character without adding too much decor.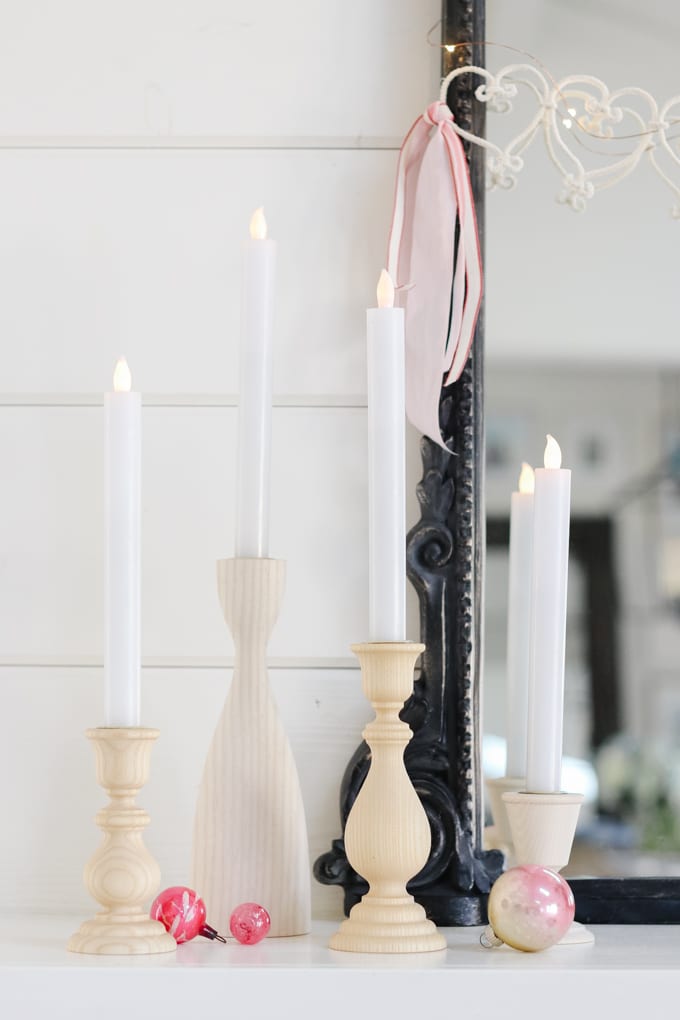 These flameless LED candles are one of my favorite finds from 2020. I use them constantly and I love that I don't have to worry about them dripping all over my mantelpiece since they are battery operated!
The candle is wax with a battery insert so they look realistic too. To say I am obsessed is an understatement.
Valentine's Day Mantel Garlands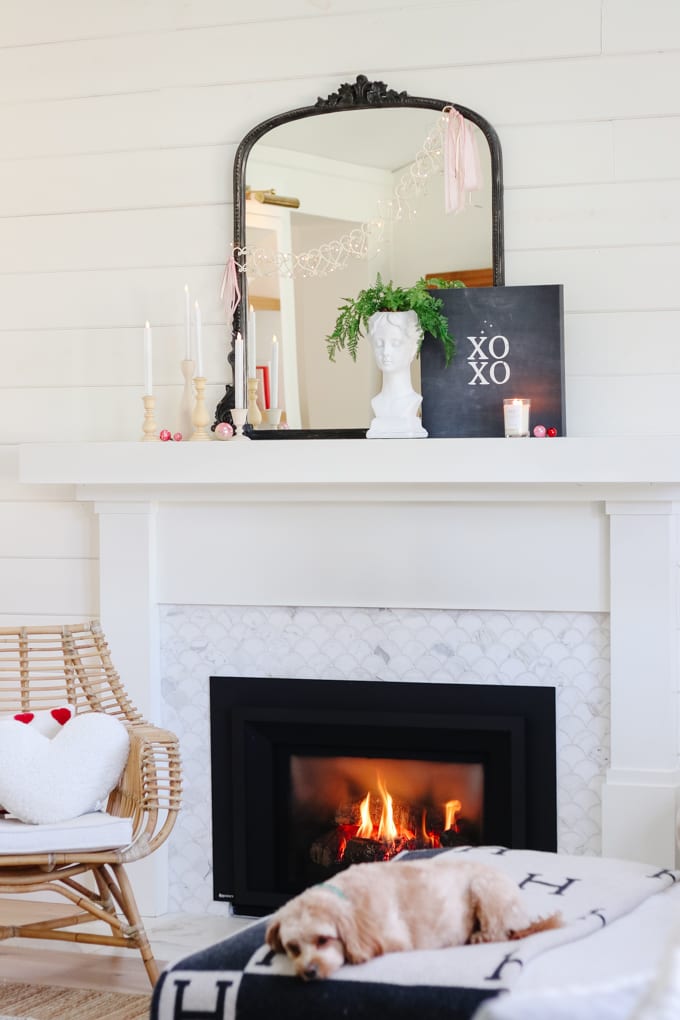 Another one of my favorite ways to decorate your mantel for Valentine's Day is by adding a homemade garland.
DIY Pipe Cleaner Heart Garland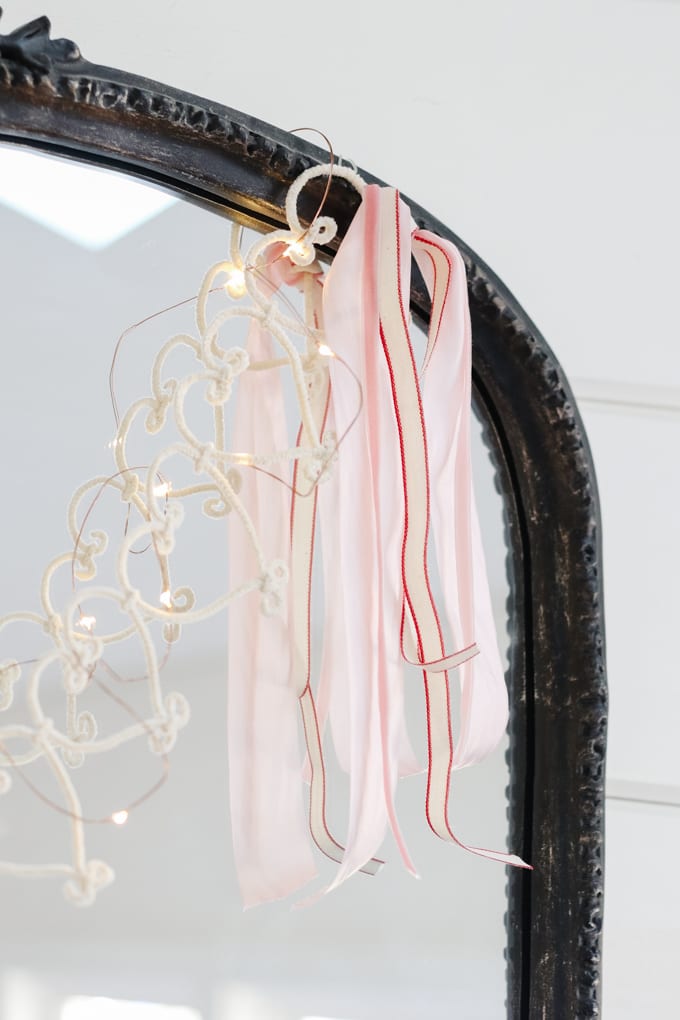 This year I made this DIY Pipe Cleaner Heart Garland that is simple to put together but feels vintage and nostalgic. I also love that it is neutral and not too overbearing.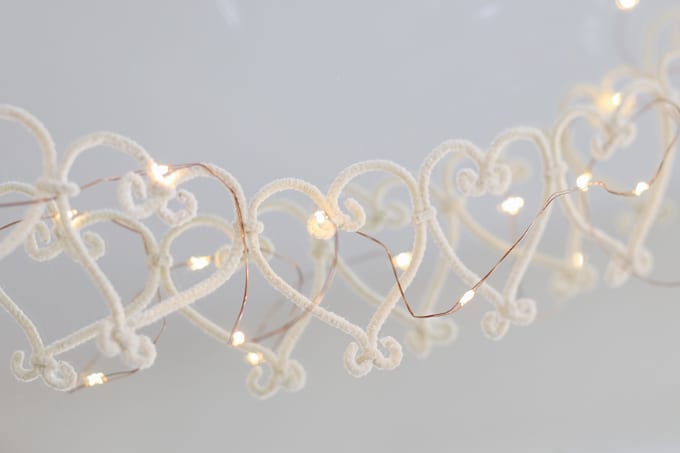 You can layer this garland in with your other subtle Valentine's Day decor for a look that is pulled together and chic.
DIY Bookpage Banner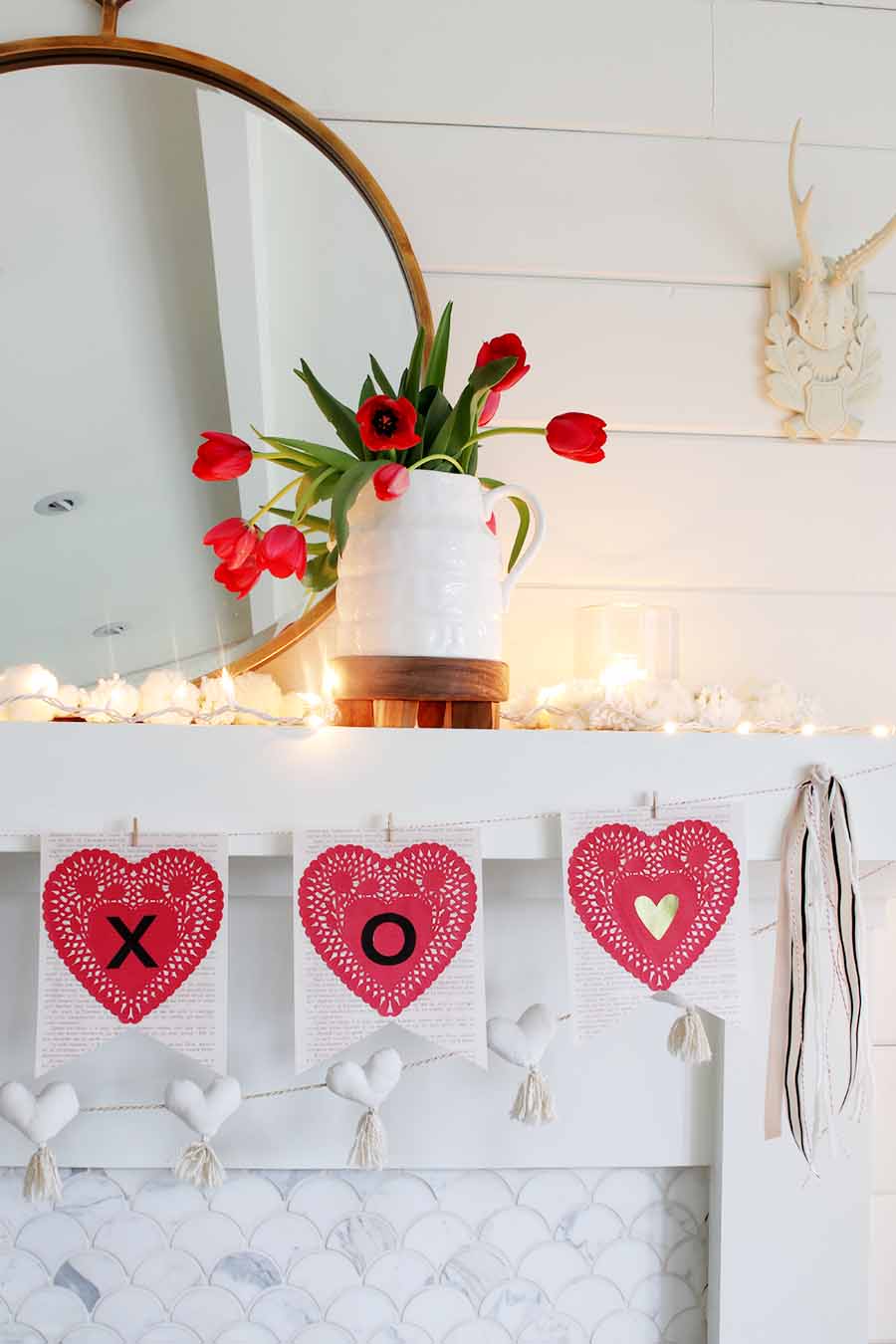 Another favorite Valentine's Day mantel garland is this DIY Bookpage Banner that is made from vintage French book page (that you can print out online) and heart doilies.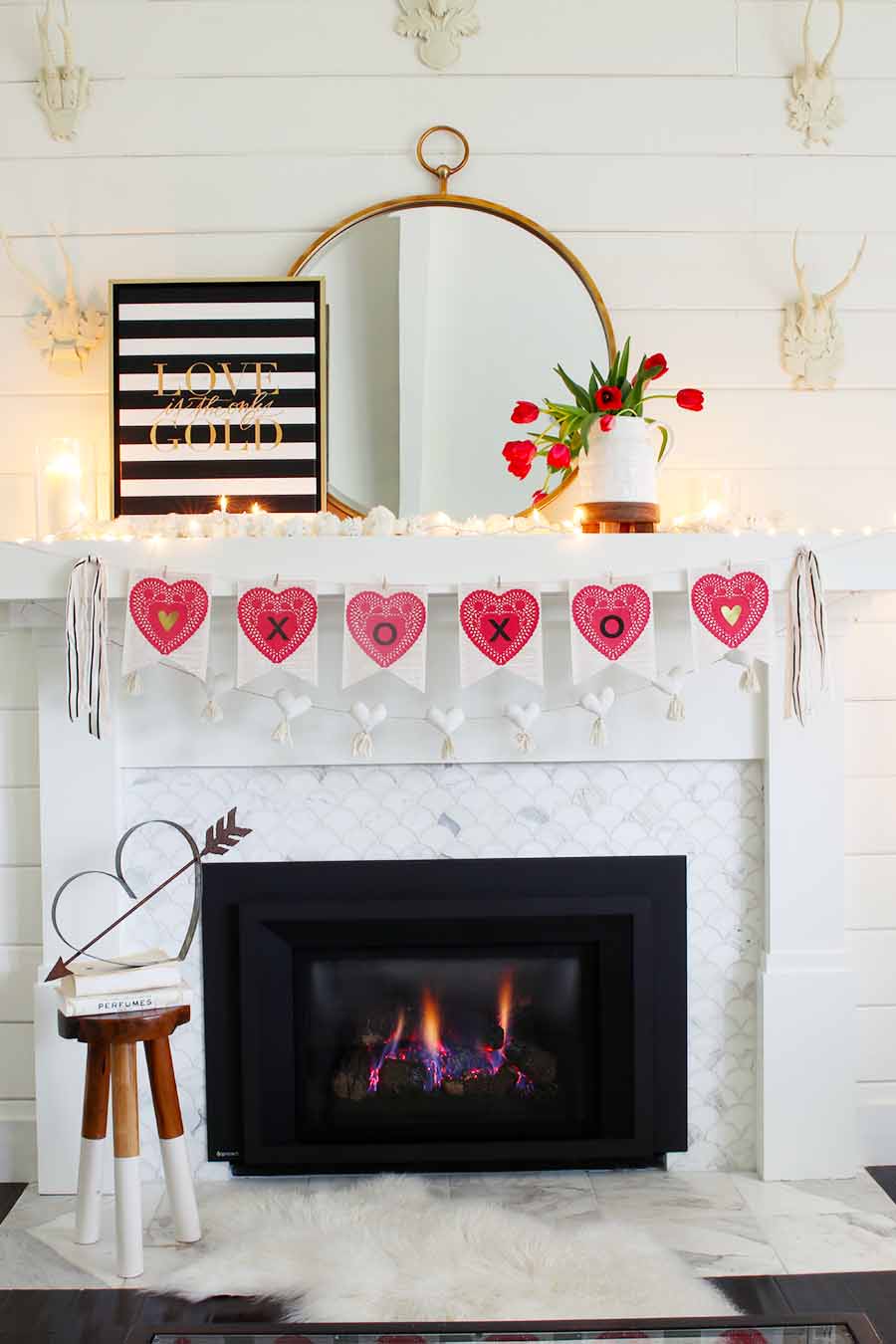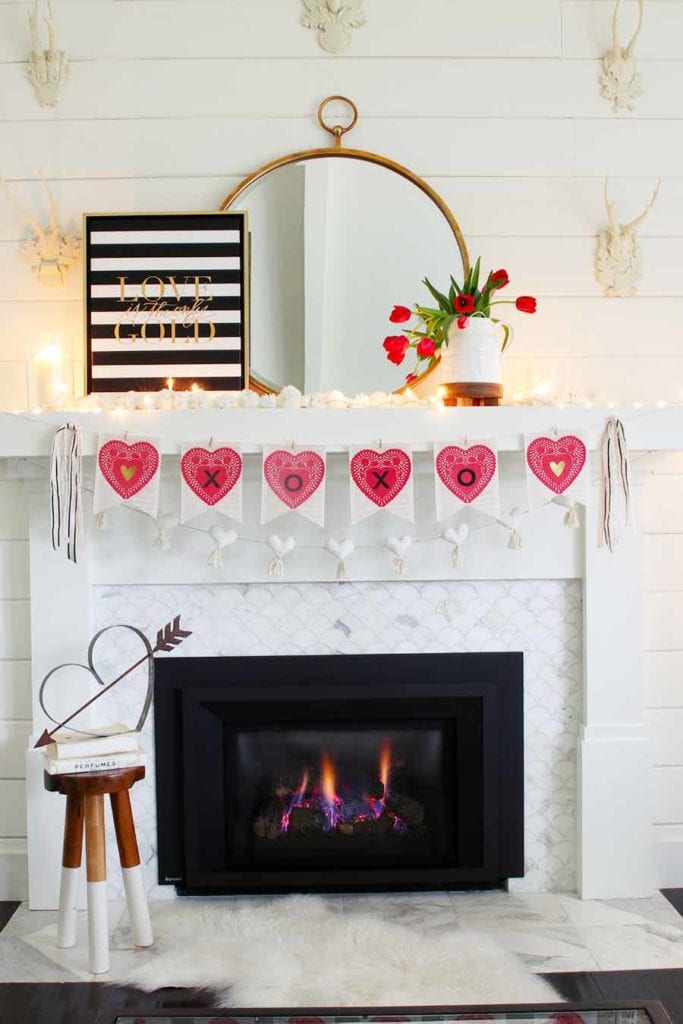 I love how rustic and romantic this garland is. And it's so easy to make with just a printer, a glue stick and some string.
DIY Pom Pom Garland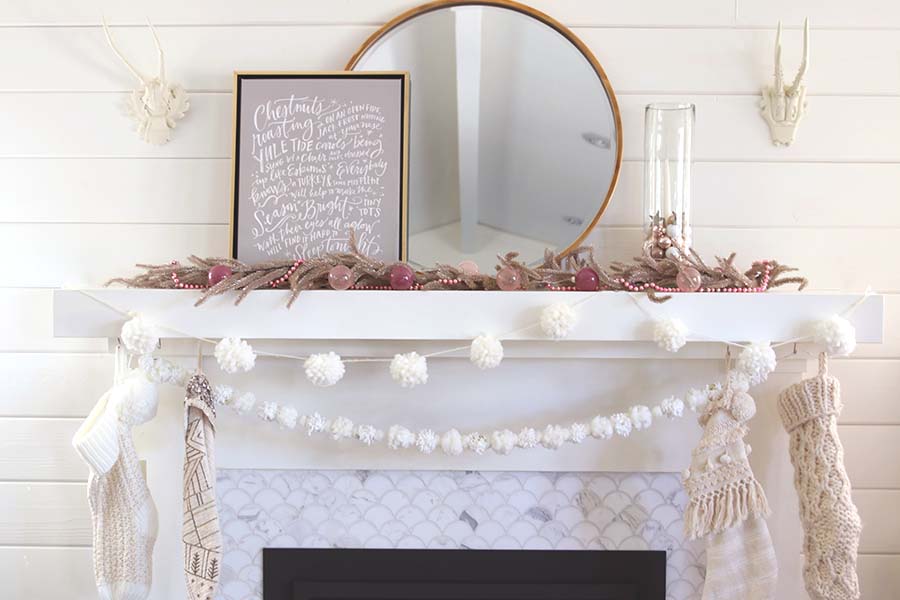 And this DIY Pom Pom Garland is always on trend. I like that you can use it for any holiday to add some cozy knit texture to your mantel, doorway or literally anywhere!
Subtle Valentine Decoration Ideas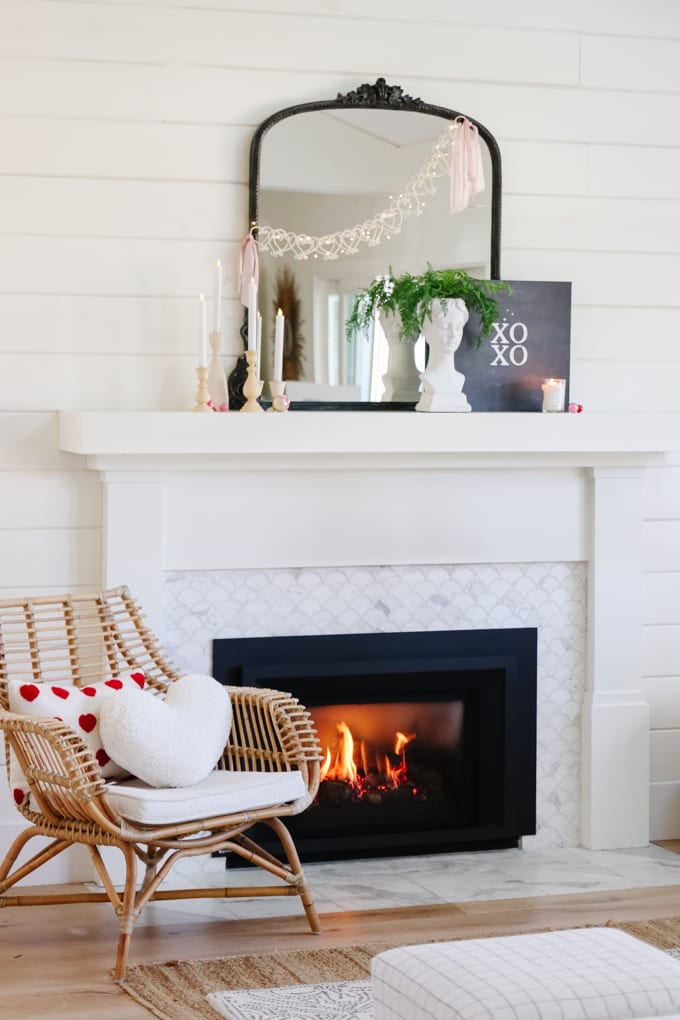 Here are some ideas for keeping your Valentines Day mantel subtle.
Stick to a simple color scheme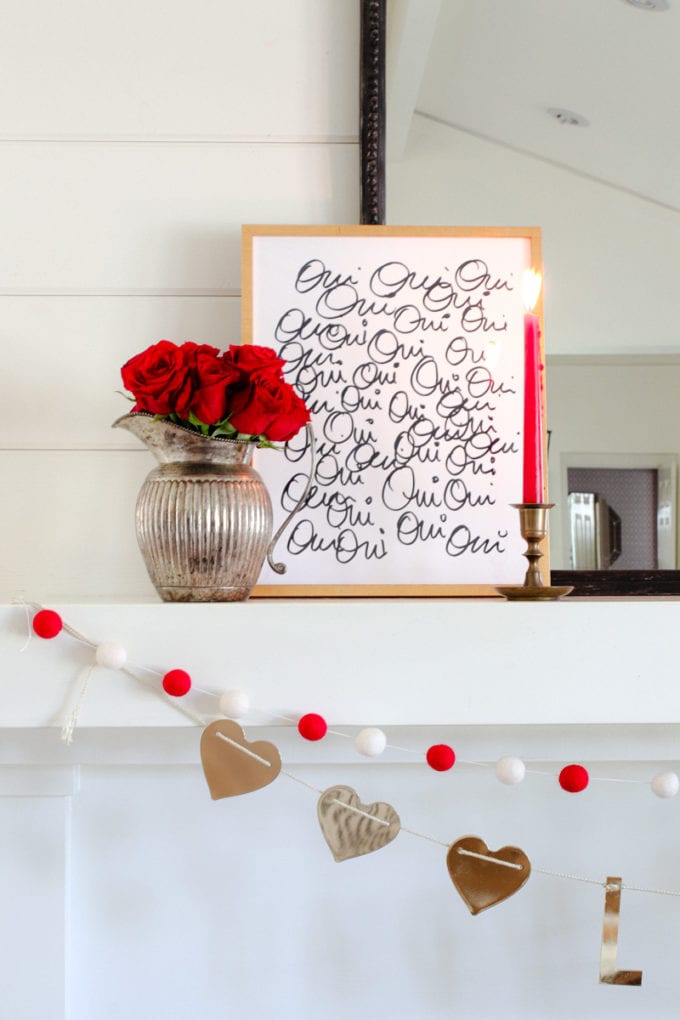 Last year I decorated my Chic Valentine's Day Mantel in shades of vibrant red, gold and black. By keeping the color scheme simple, the overall look is not overbearing and doesn't overwhelm your senses.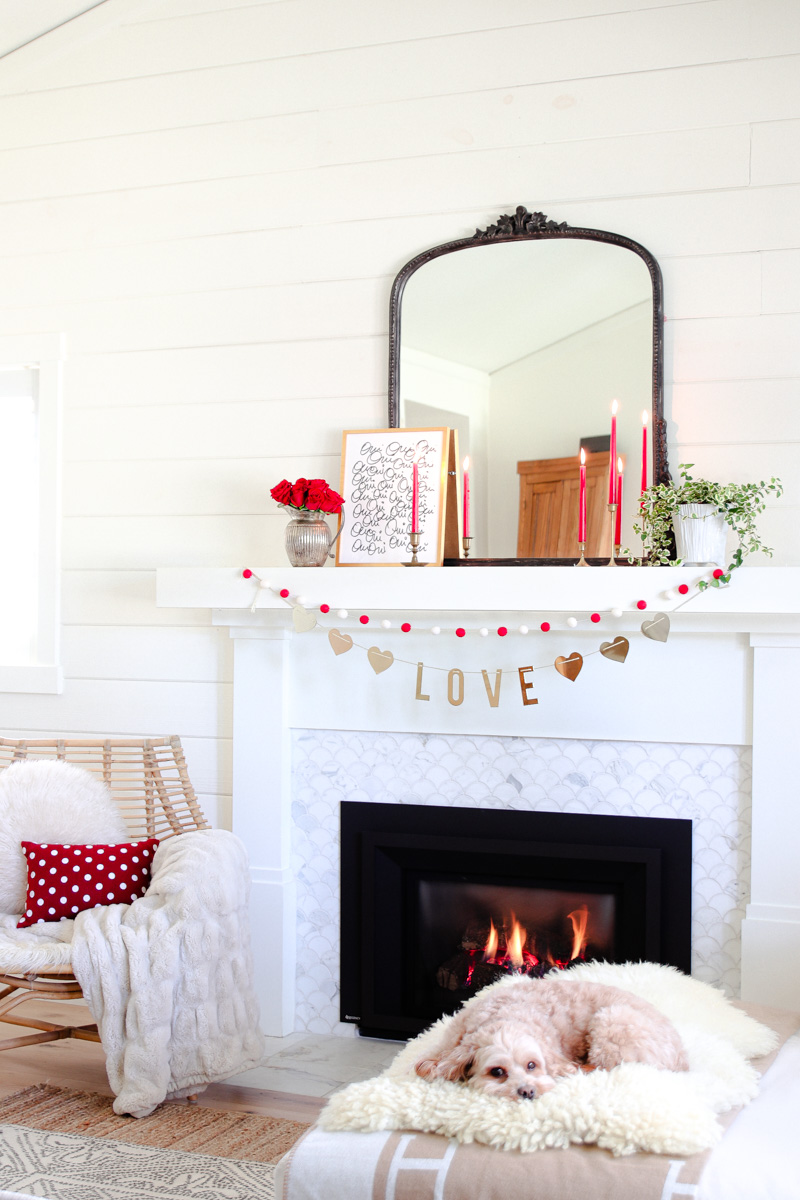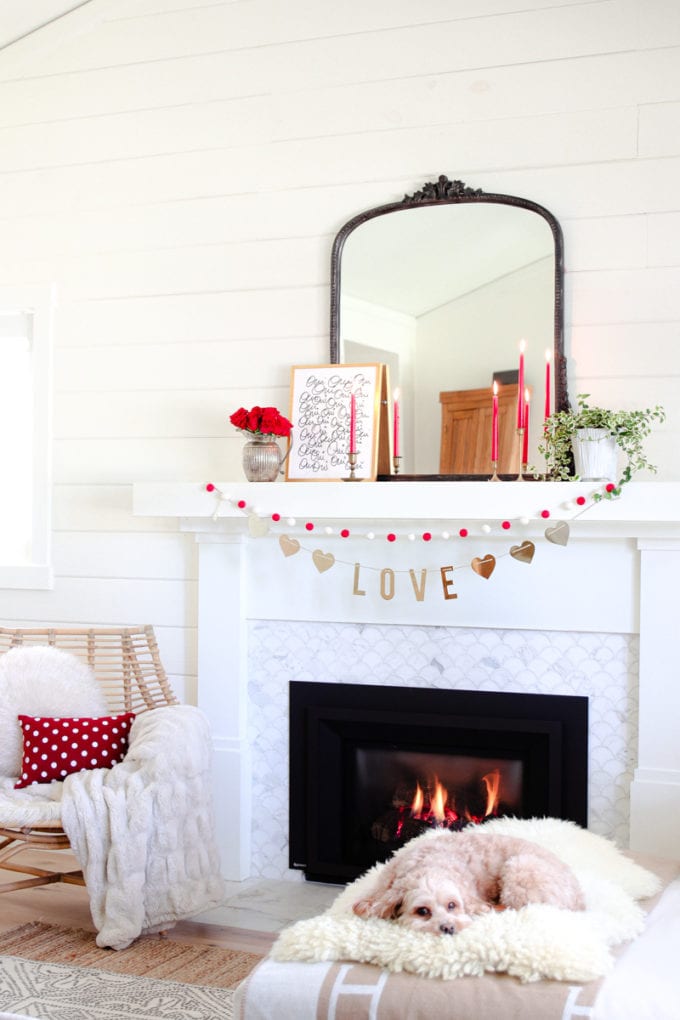 What I like most about this Valentine's Day mantel idea is that there is only one actual Valentines Day decoration used for this look. The gold LOVE banner. Everything else was gathered from around the house.
Add Greenery Or Plants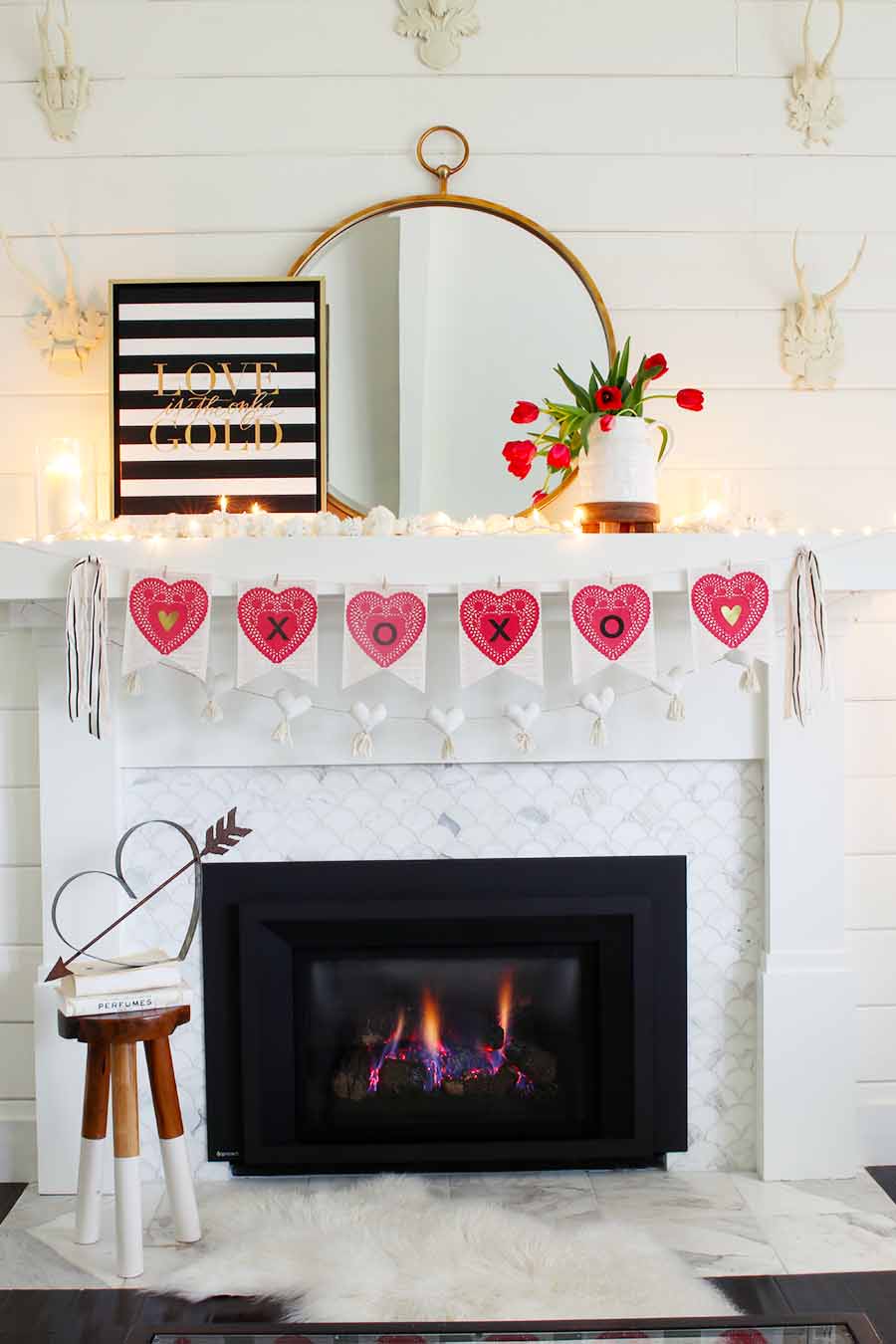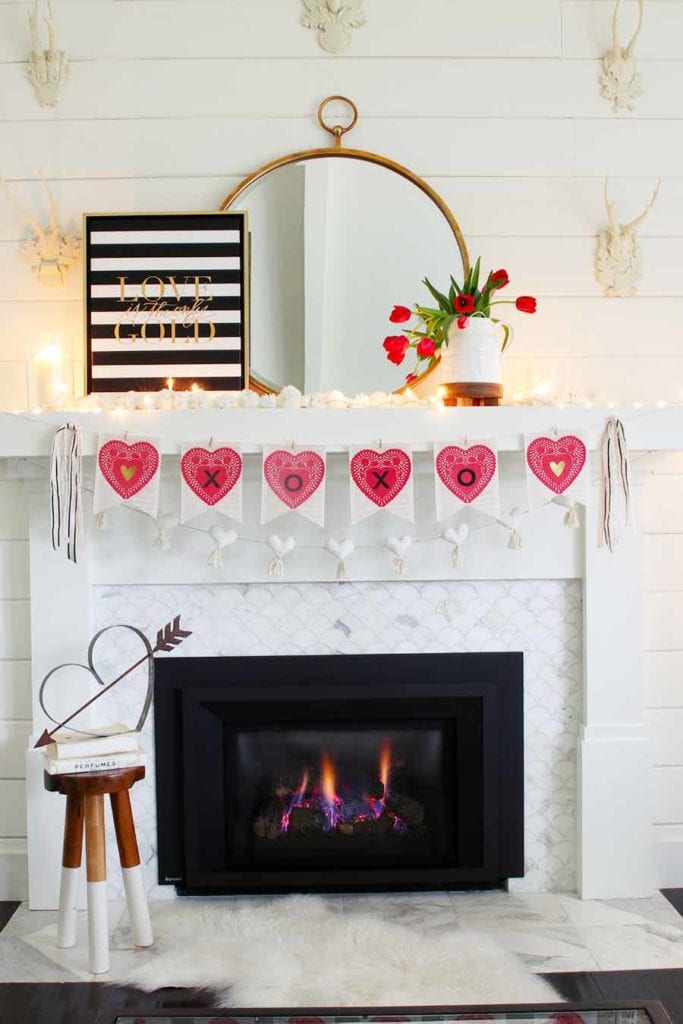 Greenery is always an easy way to decorate your fireplace mantel.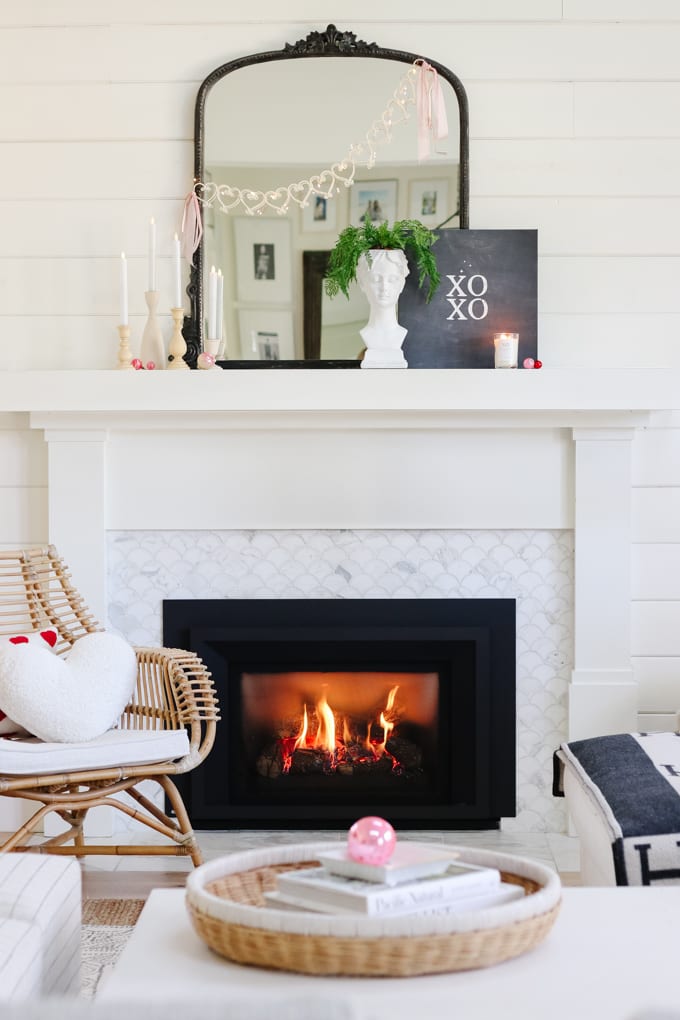 Whether you use fresh flowers to reinforce your color scheme, or a pretty indoor plant, this is a great way to add life to your Valentine's Day mantel.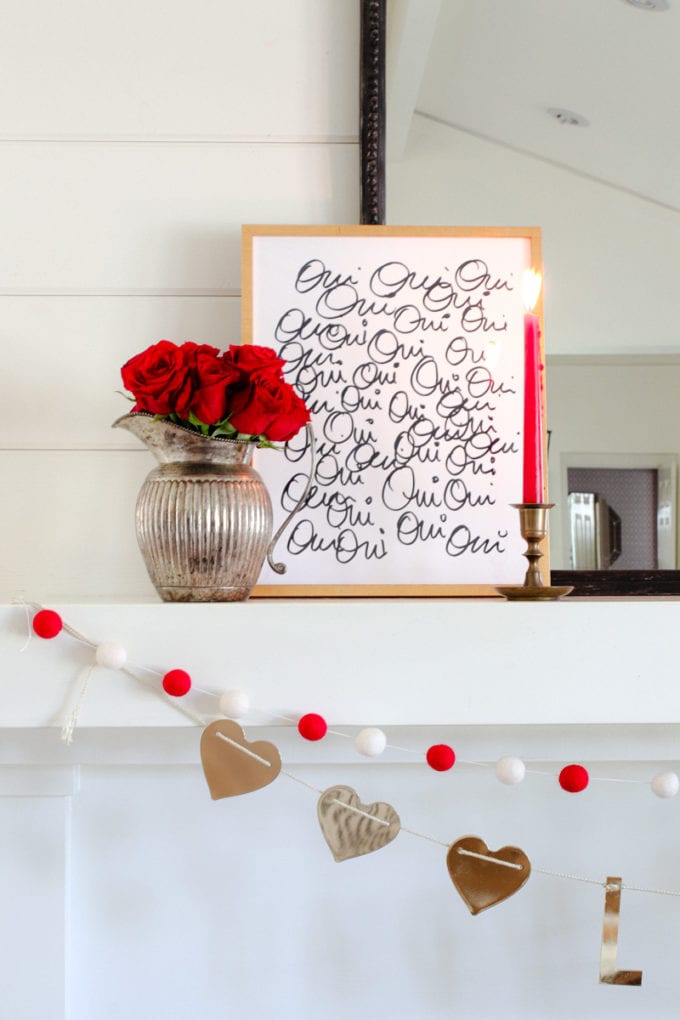 Reuse Christmas Decor For Valentine's Day
This is one of my favorite ways to decorate for Valentine's Day. Each year I seem to pull out a few items from the holiday bins for my Valentine's day mantel.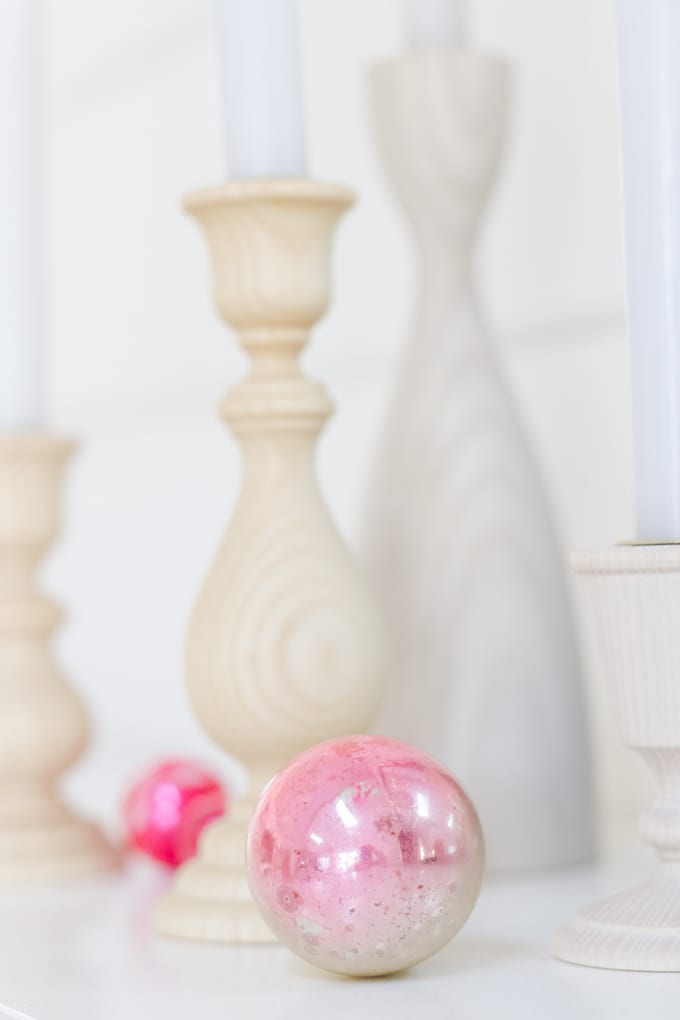 This year I added some vintage Christmas ornaments to the mantel to add some color and interest.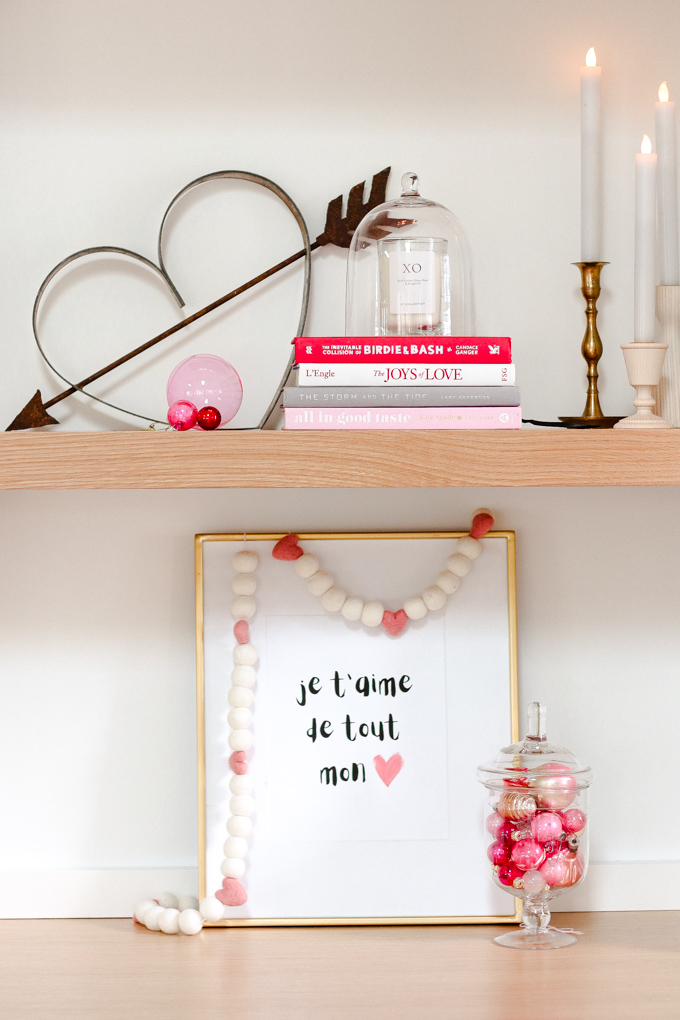 I even added a jar of them to my Valentine's Day Shelf Styling.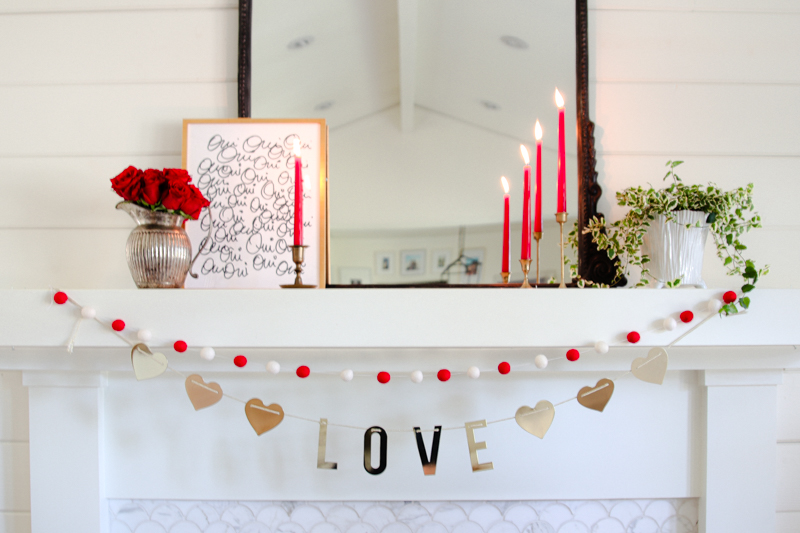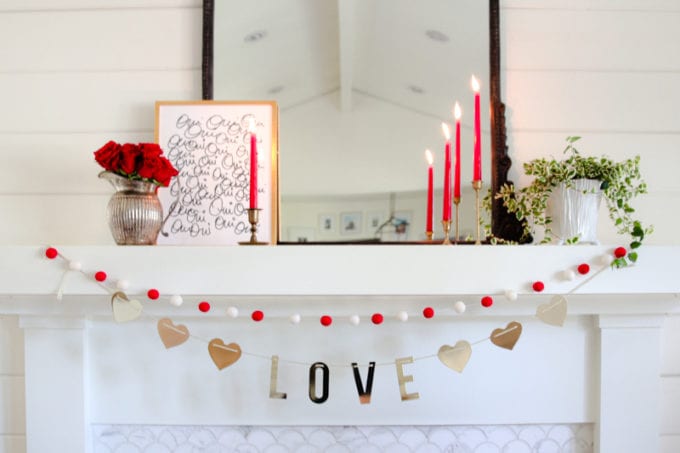 And for this Chic Valentine's Day mantel I reused some red candlesticks and felt pom pom garland from the Christmas bins. Think outside the box and bring new life to holiday decor that works within your decorating style!
Add Candlelight For Romance
I know I talked about it before, but a simple way to add a romantic ambiance to your winter home for Valentine's Day is with candles.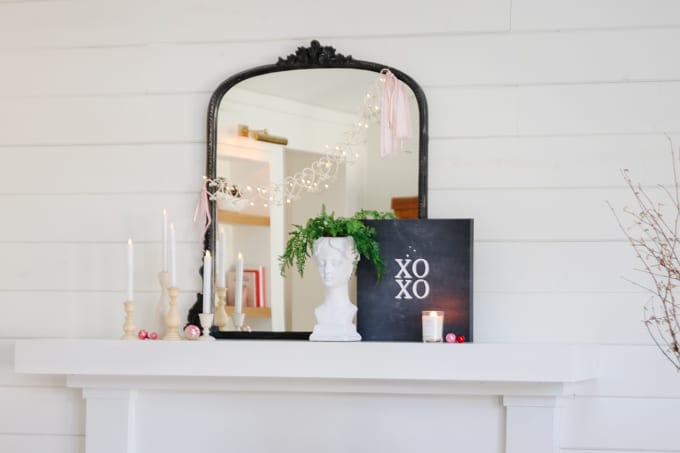 And they don't have to be fancy. They can even be flameless to get the same effect!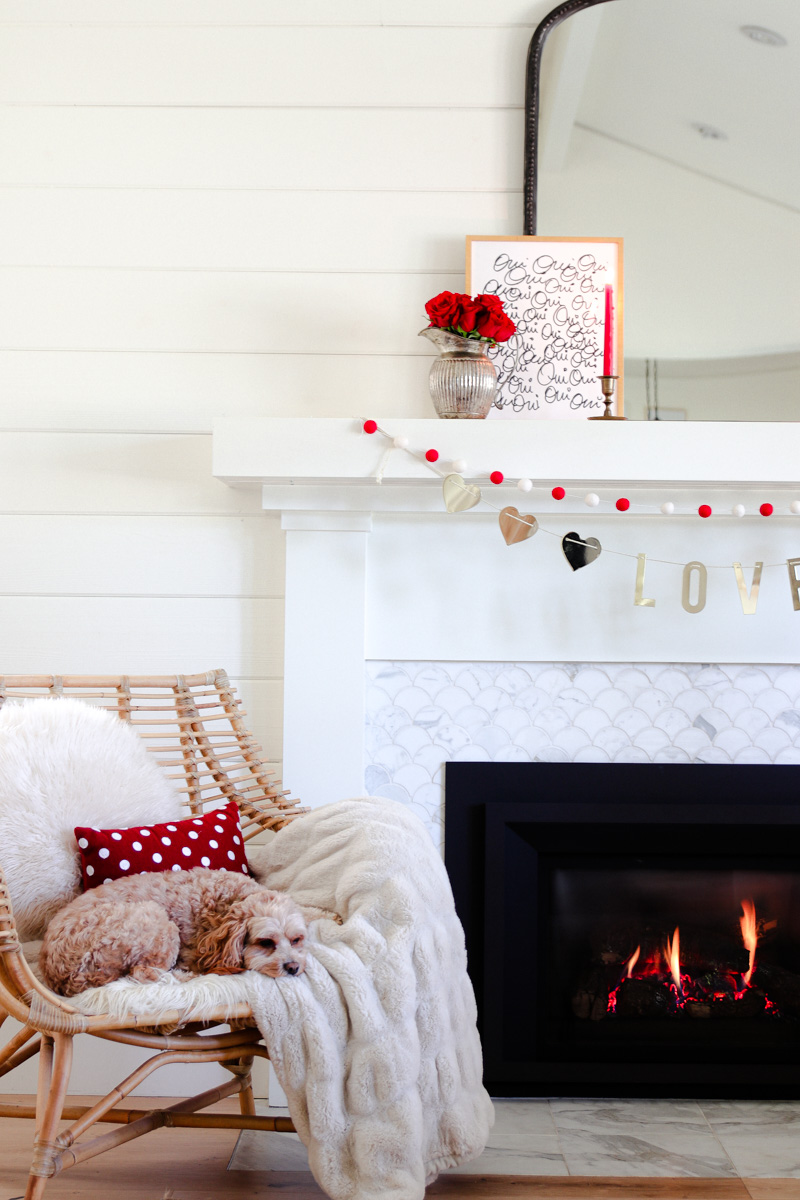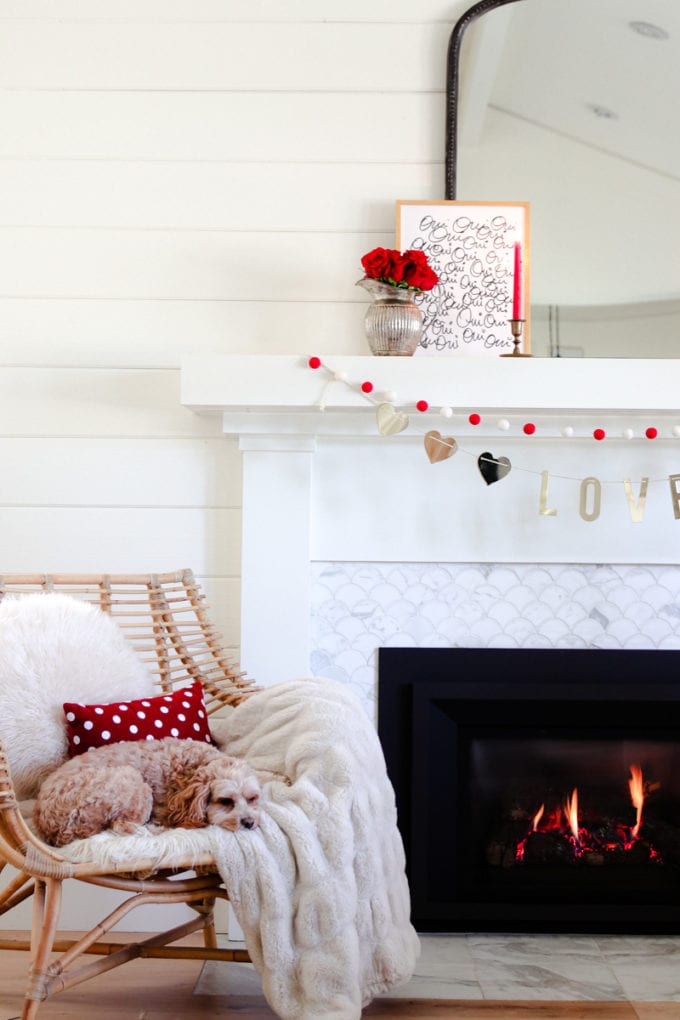 Candles add an instant hygge vibe to your home. I like to use them in every room to add ambiance and boost the mood.
Valentine's Day Mantel Sources
Looking for an item seen in this post? Check out the links below. And if you don't see it here, be sure to check my SHOP MY HOME page.

I hope these ideas inspire you to add a few Valentine's Day touches to your mantel!
Next, check out these nine gorgeous Valentine's day vignette decorating ideas being shared today from my sweet blogging friends. Just click the link below the corresponding image to visit their posts and see more inspiring ideas!
9 Beautiful Vignette and Mantel Decor Ideas

Tiered Tray Decor Ideas // Happy Happy Nester
Subtle Valentine's Day Shelf Decorating Ideas // Life Is Better At Home
DIY LOVE Tea Towel // The DIY Mommy
Valentine's Day DIY Vignette // My 100 Year Old Home
Be Mine Valentine Mantel Ideas // Tatertots & Jello

Vintage Valentine's Day Vignette // Seeking Lavender Lane
Valentine's Day Mantel // Modern Glam
Neutral Vignette // Craftberry Bush
Adding Subtle Valentine Touches to the Kitchen // Lemon Grove Lane