I can't wait to show you how to make a pom pom garland. This project is so easy and has endless possibilities!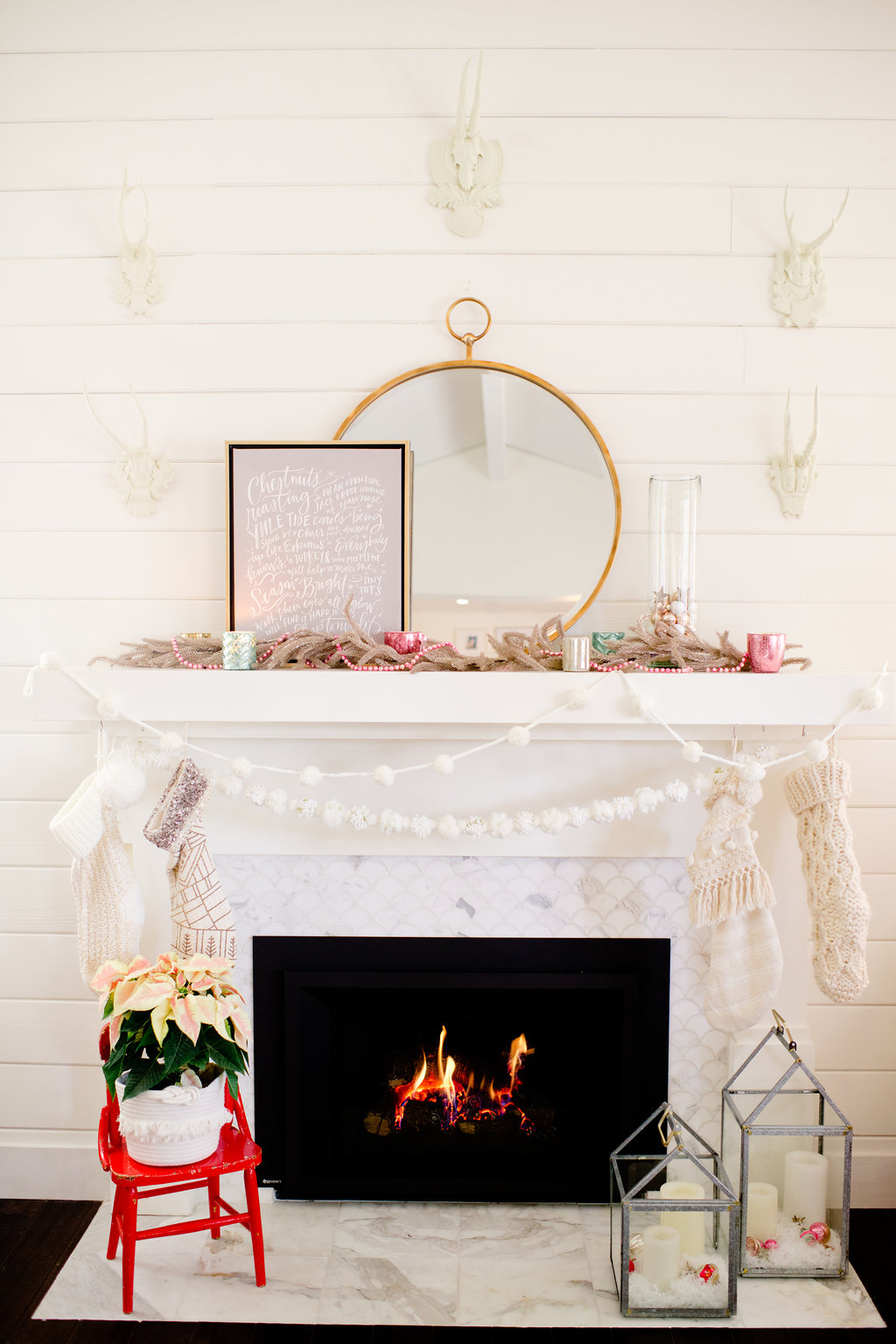 Pom Pom garlands were everywhere in my Christmas decorations this year. And each time I post pictures from my Holiday Home Tour I get asked where I got the pom pom garlands.
I finally figured out how to make one of my own and I can't wait to show you how!
DIY Pom Pom Materials
Pom Pom Maker or see the video below to make pom poms using a fork!
1 skein of yarn
Scissors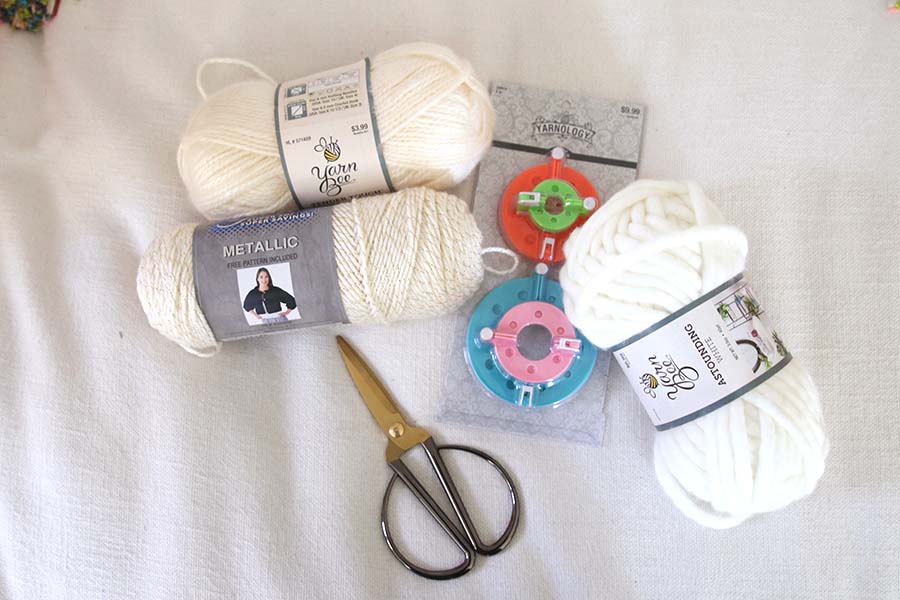 I found these pom pom makers at my local craft store. For under $6 ($9.99 plus 40% off coupon) I knew they would be the easiest route to making these poms. I also found the perfect fluffy cream yarn that I wanted to use for my project.
Now, you can use any kind of yarn you want. I chose this thick natural looking yarn that I thought would look like snowballs. But there were so many options to pick from. The options are endless!

How To Use a Pom Pom Maker
The pom pom makers come with four different sizes. Depending on your project and thickness of yarn, choose the right size. I chose the largest one because of how thick the yarn I used was.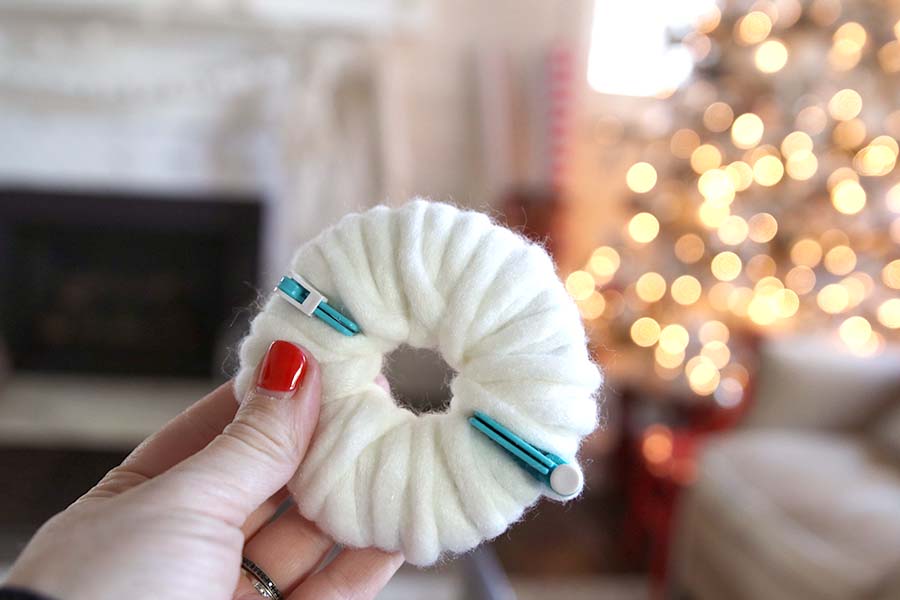 Following the directions on the package, start by wrapping the yarn around the circle. Once you have a few layers of yarn on there, you will close the frame and start cutting around the perimeter of the circle (in between the sandwiched frames). Then you will slide a piece of yarn in between the two frames and tie the yarn into a knot to secure.
You will want to keep the piece of yarn that you tied in the knot longer than the other pieces so that you can use this to tie onto your garland.
Now, you can remove the frame from the yarn and fluff up your pom pom!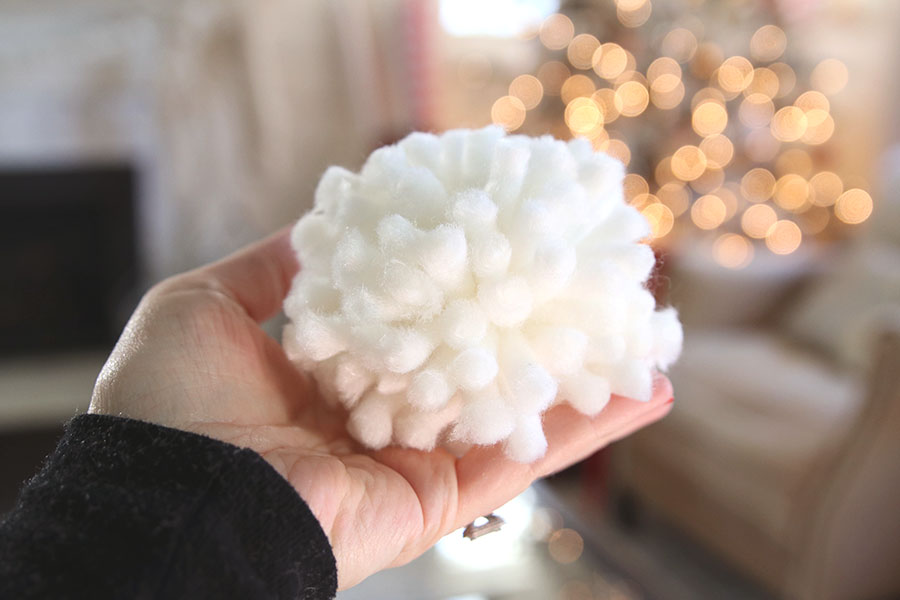 Keep going until you have your desired number of pom poms. I used 9 pom poms for my 6 foot long garland.
How To Make Pom Poms with a Fork
Check out this video that shows you how to make yarn pom poms using a fork! So clever!
Once you have all your pom poms made, you can start assembling your garland.
How To Make a Pom Pom Garland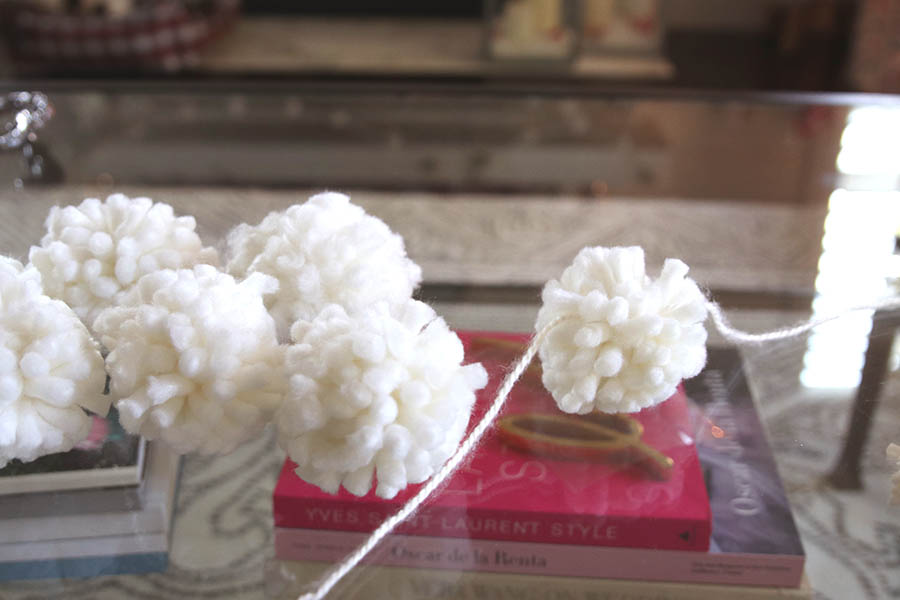 Now that you have all your pom poms made, cut a piece of yarn that you want to use for the length of your garland. You may want to braid the strands together to create a thicker garland.
You can see my Fall Pom Pom Garland tutorial here where I braided the strands of yarn.
Securing the poms poms is simple. Just place the yarn used for the garland in the middle of the pom pom. Take 2 pieces of yarn on either side of the string and tie in a knot.
Once you have all the pom poms on the string, you can slide them around until you find the right placement.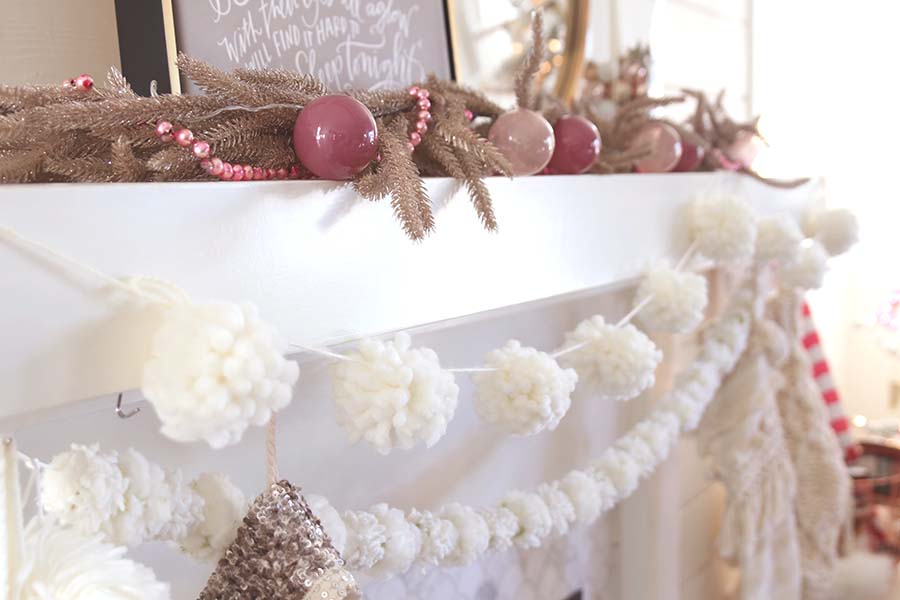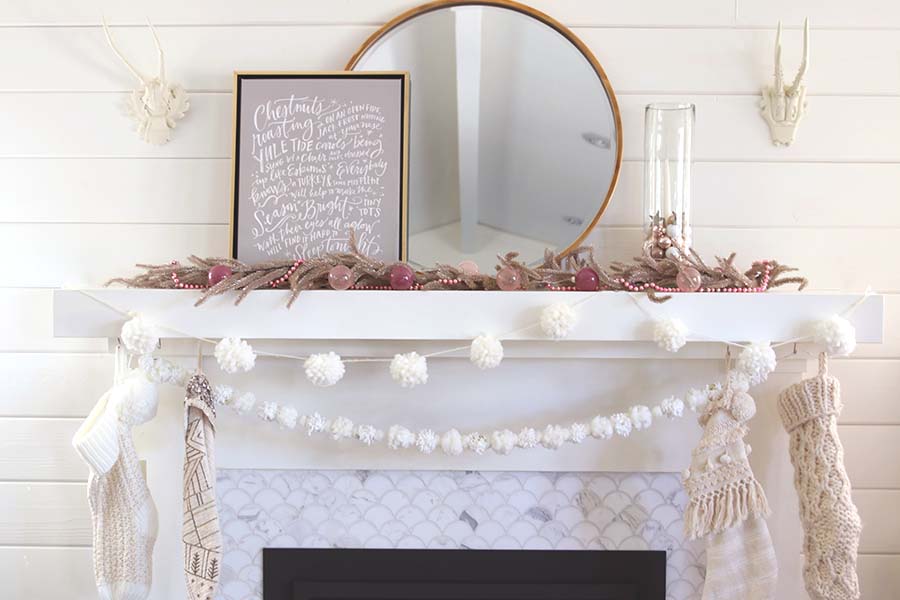 I love the look of this chunky yarn pom pom garland. I can think of so many uses for these. And they would make such a fun gift for your girlfriends! I made a few and added them around the house. I especially love it above the doorway to my kitchen.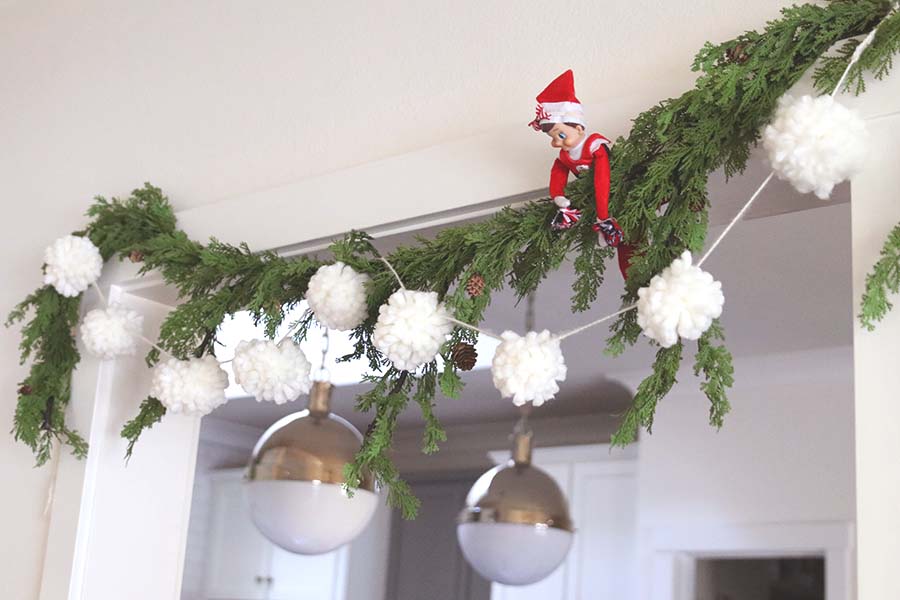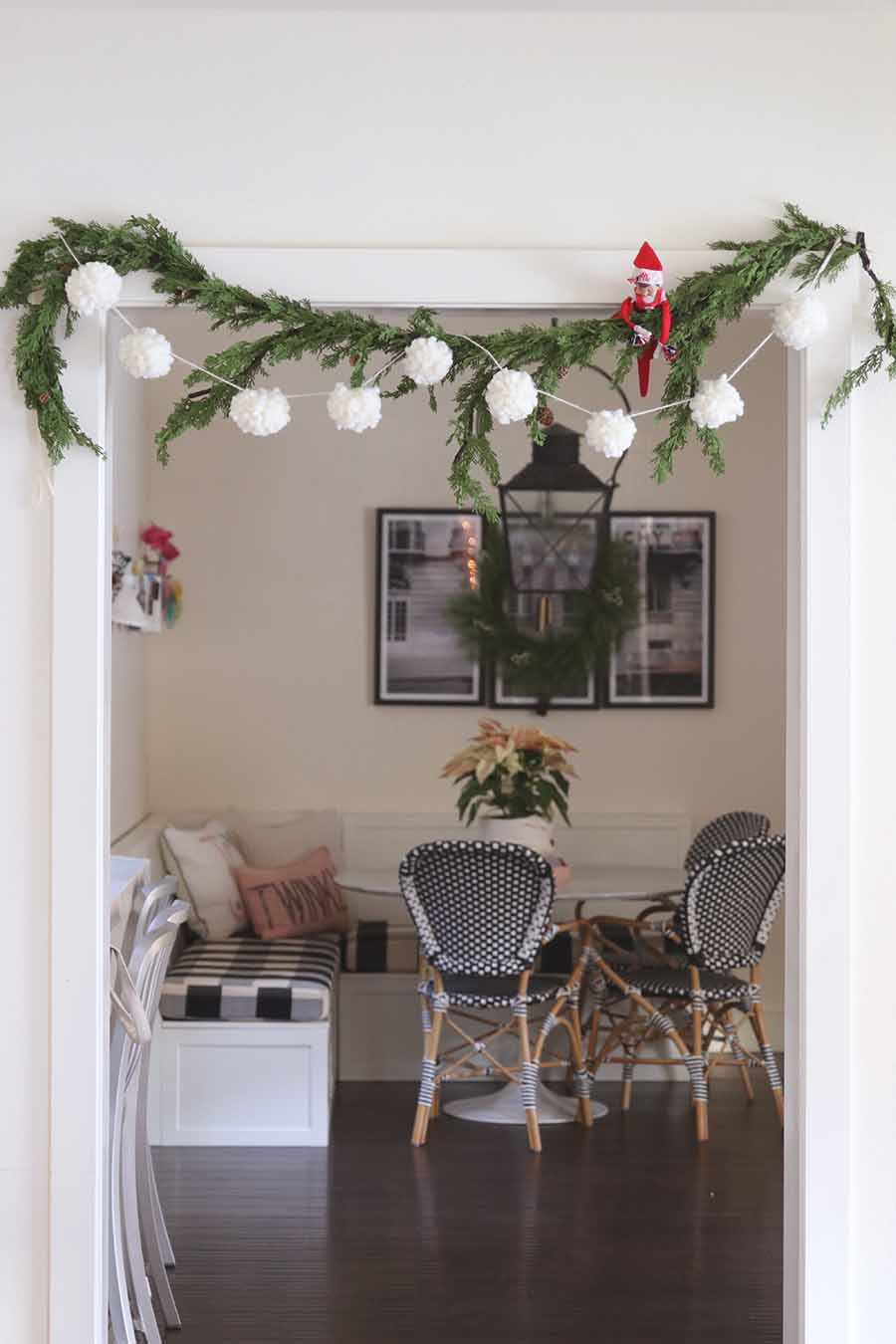 Have fun making this simple and easy pom pom garland!