How to create a gallery wall that looks curated and adds interest to your home. I will show you how I created this gallery wall around our new Samsung Frame TV.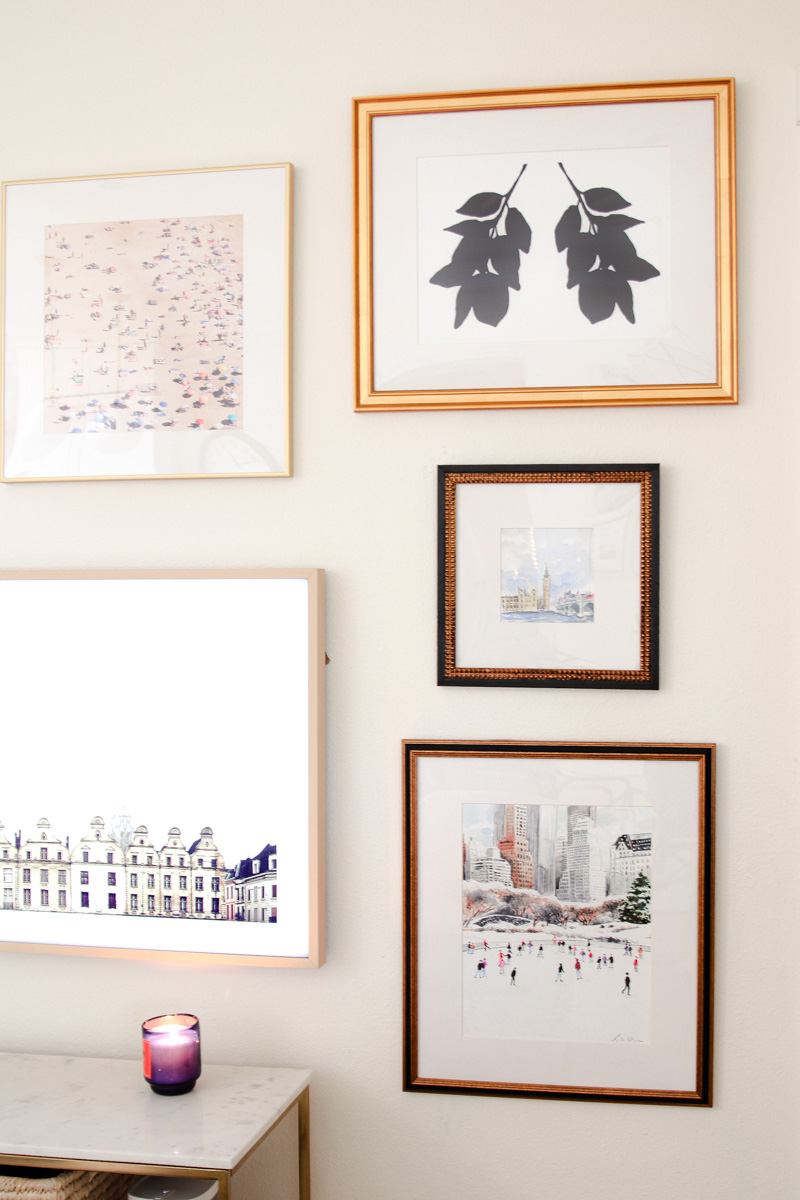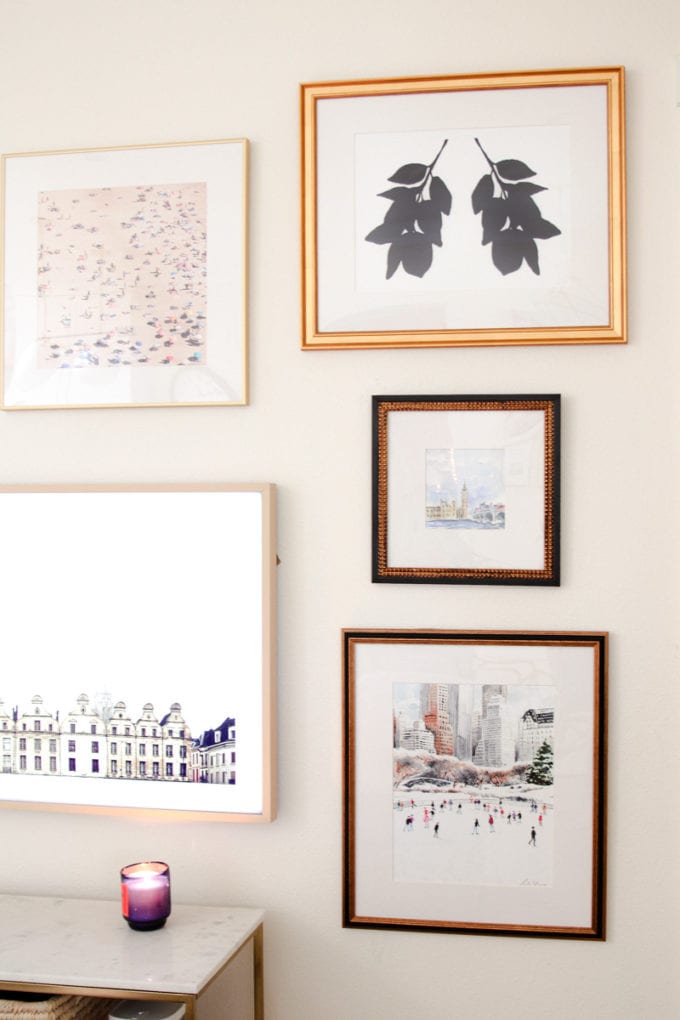 I apologize in advance for the picture quality in this post. This room is the darkest room in our entire home and has absolutely no natural light. So, the picture quality isn't the best. And I used my phone to shoot some of the images during the hanging process.
How Do You Curate A Gallery Wall?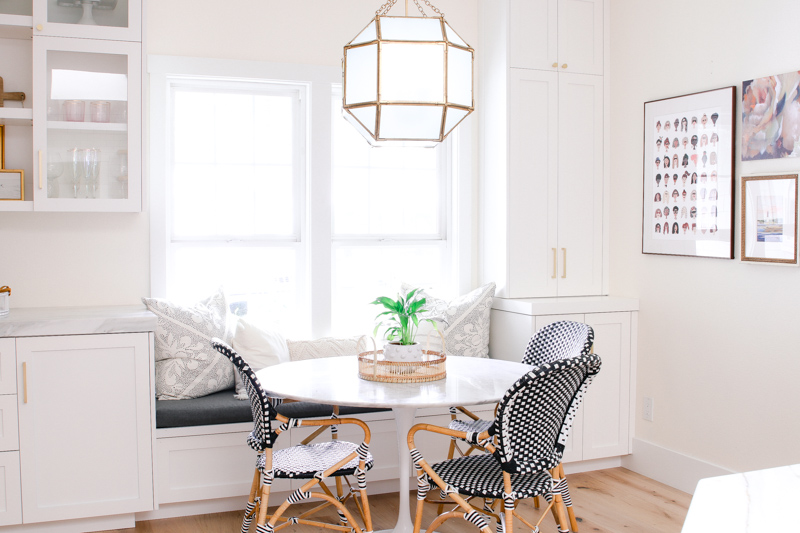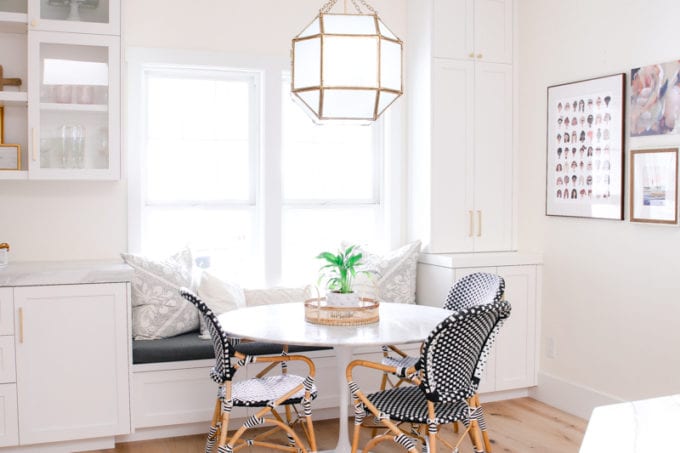 This post has been in the works for a year now. Last year when we remodeled our kitchen, I knew I wanted to create this sitting area off our kitchen. Two swivel chairs and a TV were on the wish list.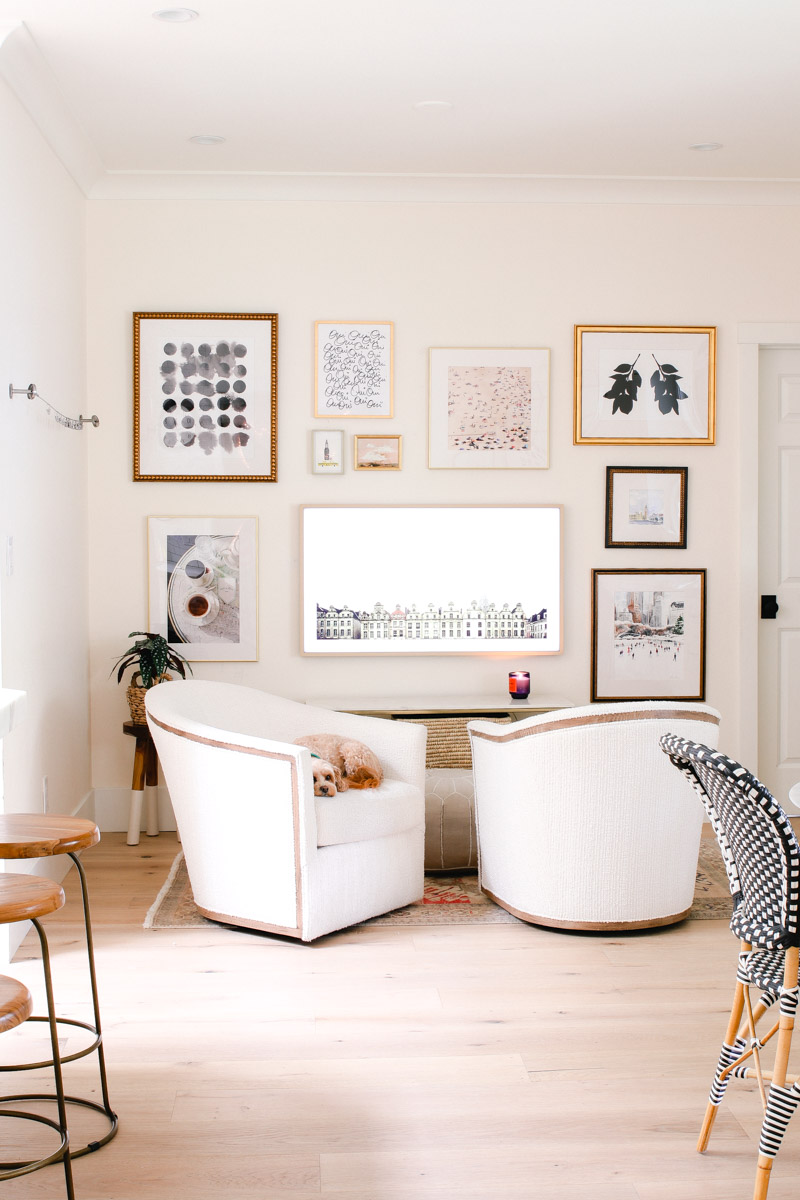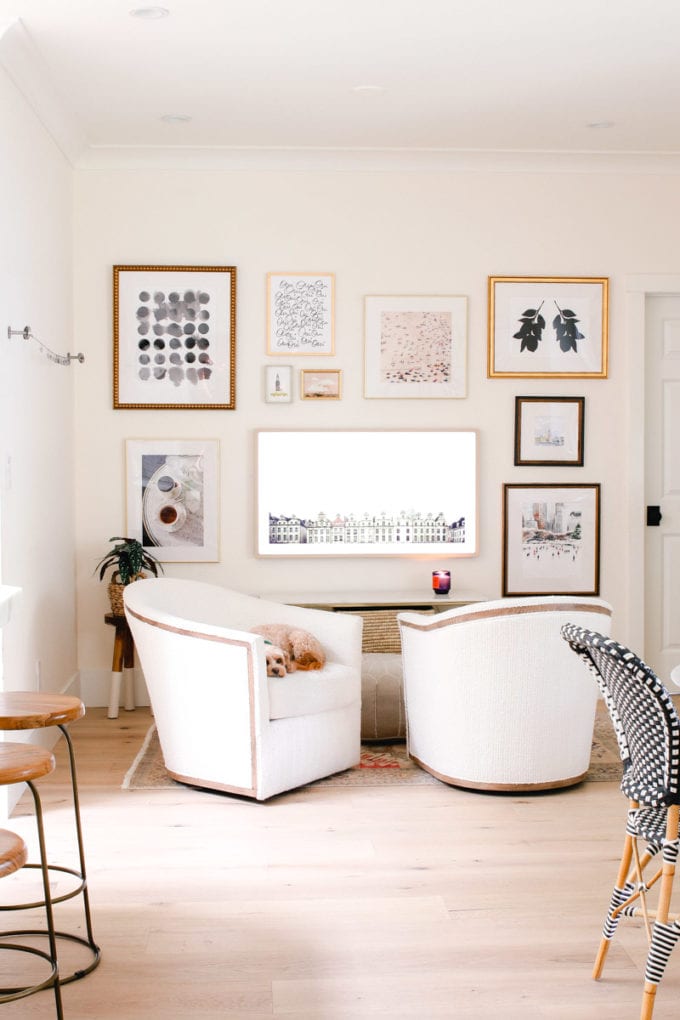 Since this is what you see when you first walk into our kitchen area, I definitely didn't want the television to be front and center. So, I purchase a Samsung Frame TV with the intent of creating a gallery wall around it.
I love how the Samsung Frame TV hangs flat against the wall, has a slim profile and you can add artwork that makes it look like a piece of art. Hello beautiful!
I have to add, this post isn't sponsored at all. These sources and products are ones that I paid for myself and chose after much research. If I sound enthusiastic, it's because I am! I love the outcome and the products we chose for this project.
Eclectic Gallery Wall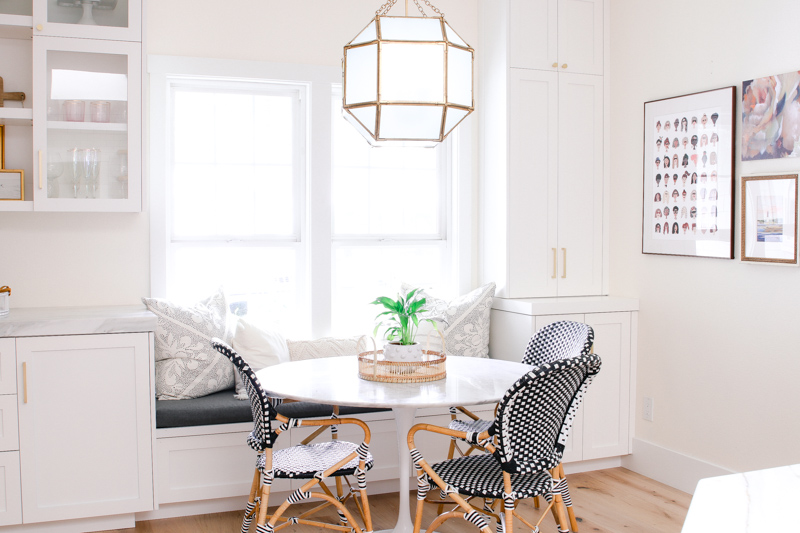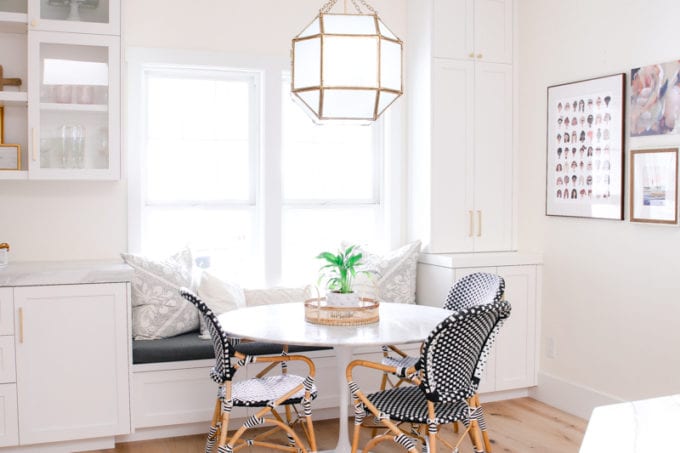 Ok, so when creating this focal wall, I didn't want to just do any ordinary gallery wall. I wanted to pick artwork that had meaning and looked like it was collected over time. Something that you would see in an old hotel in Manhattan.
After searching for some time, I came across Artfullywalls.com. What I loved about their site is the extensive art and prints that you can customize into different sizes. And you can choose the frame as well. Win!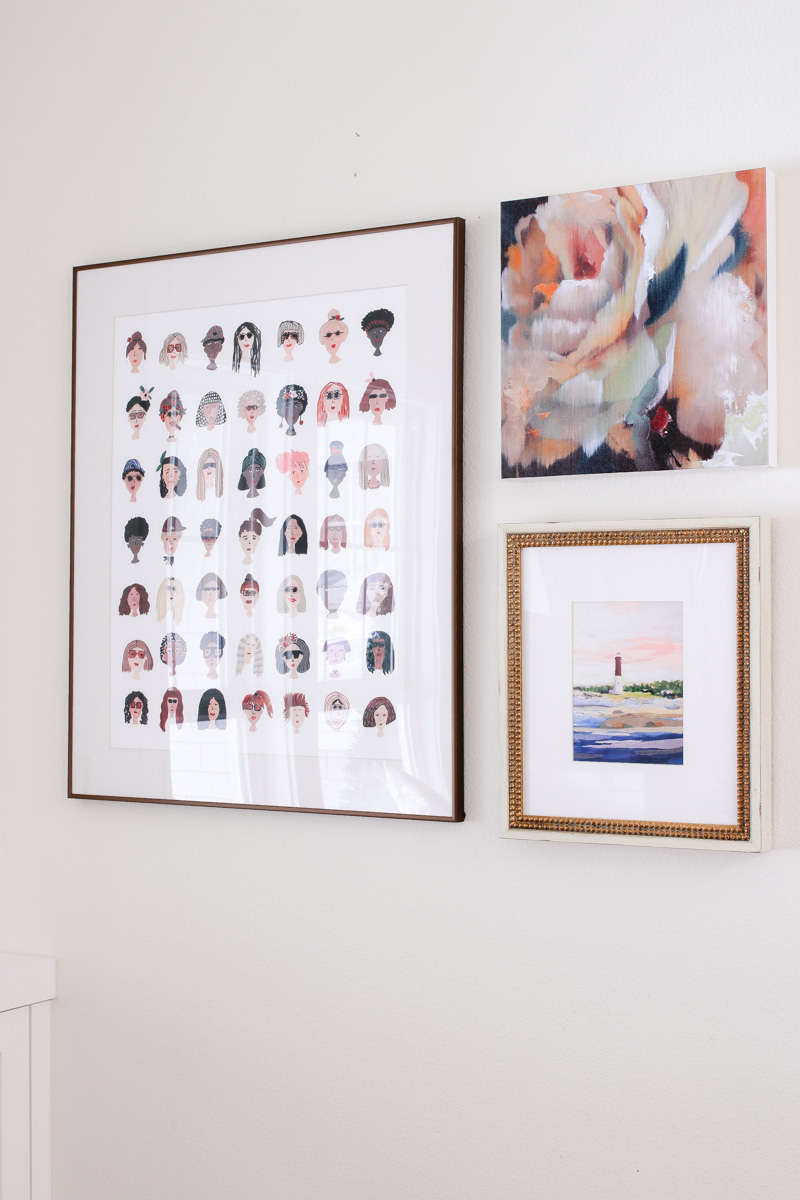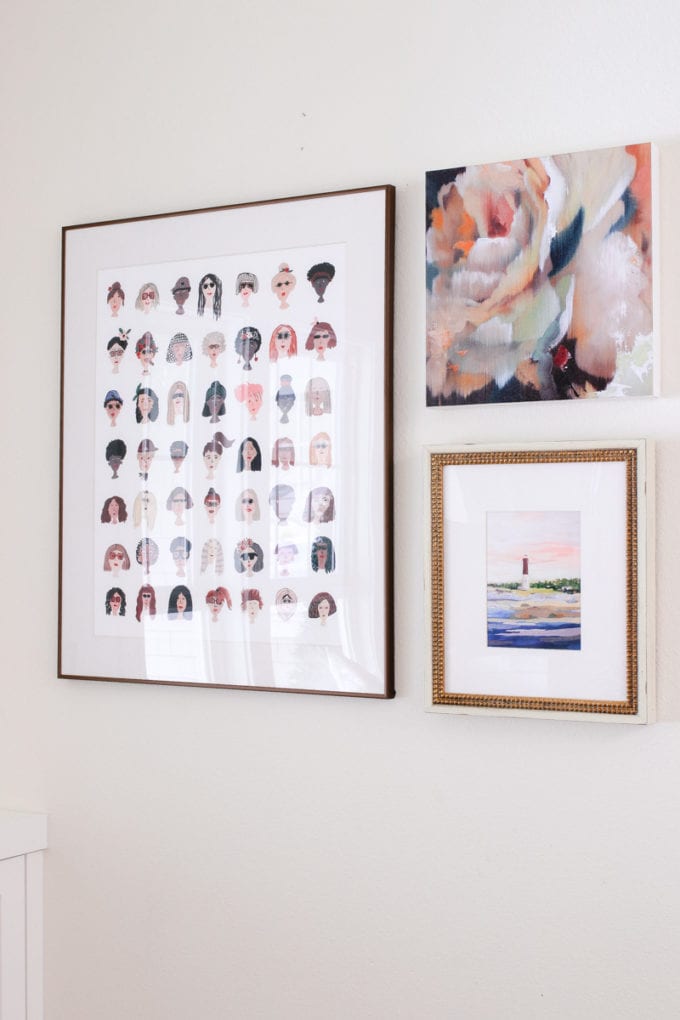 This allows you to create a totally custom and eclectic gallery wall. After spending literally weeks pouring over the options and creating a mood board with my vision, I hit purchase and waited for my art to come.
The artwork arrived a few weeks later and sat in my laundry rooms for months. I was literally too scared to attempt the process of installing and hanging the gallery wall! The idea terrified me.
I was worried that it wouldn't look right and that I had just wasted A TON of money. After 2 glasses of wine one night, I decided to go for it.
How To Plan A Gallery Wall
I laid the frames out on the floor and got a sense of where things should be placed. And I used a large framed calendar that was roughly the same size of the TV as a place holder for the television.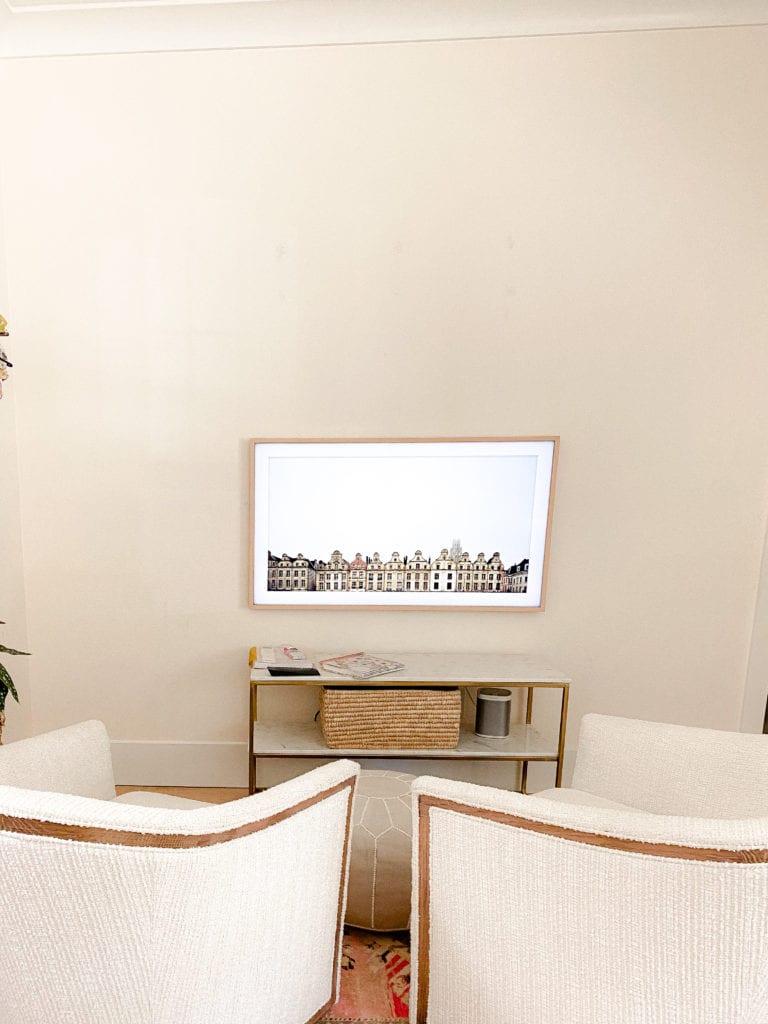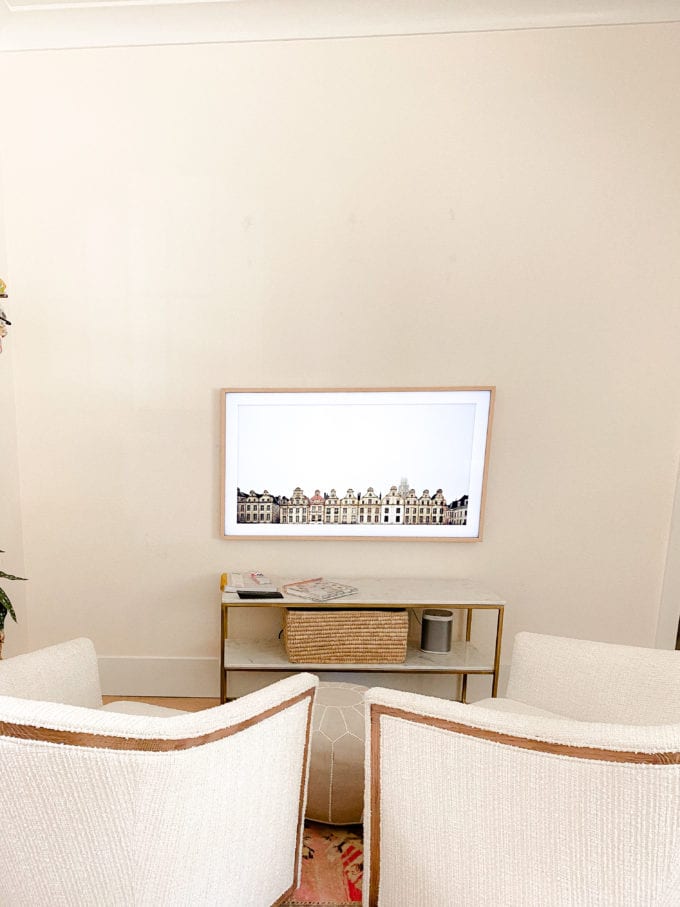 After playing around with the placement for awhile, I came up with an arrangement that I liked and snapped a pic with my phone.
The next day I went ahead and created the gallery wall. I hung the art and stood back proud and ready to take my pictures and write up a post all about my success. But, the end result just wasn't right! The art was simply just too low.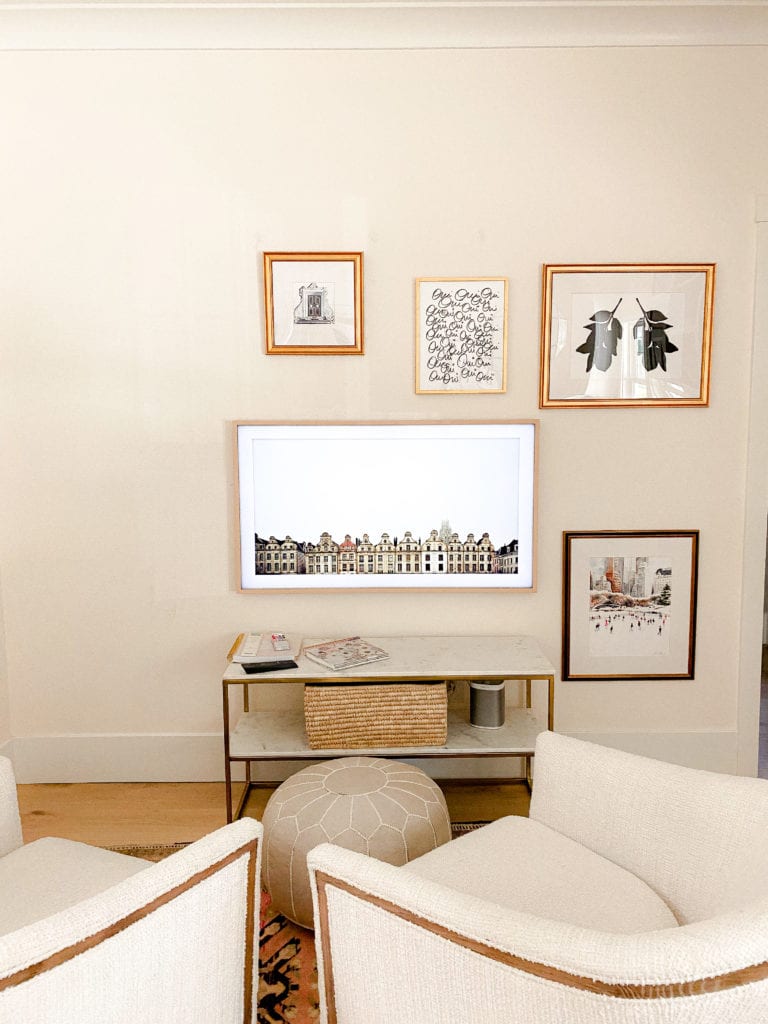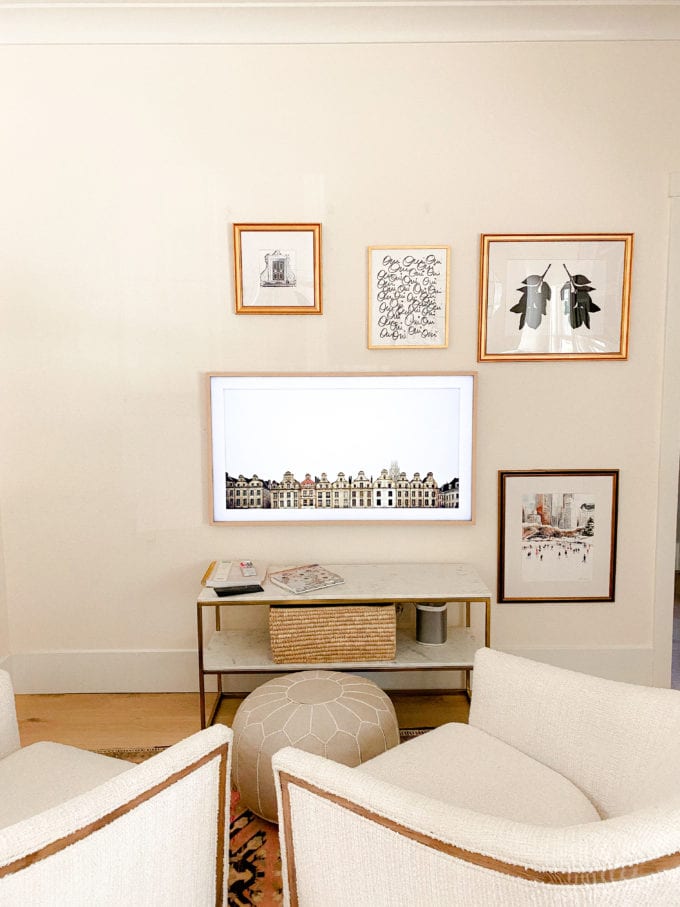 Because the TV has to be placed at eye level, I had planned all the art around that. And with our 9 foot ceilings, there ended up being too much space between the art and the ceiling.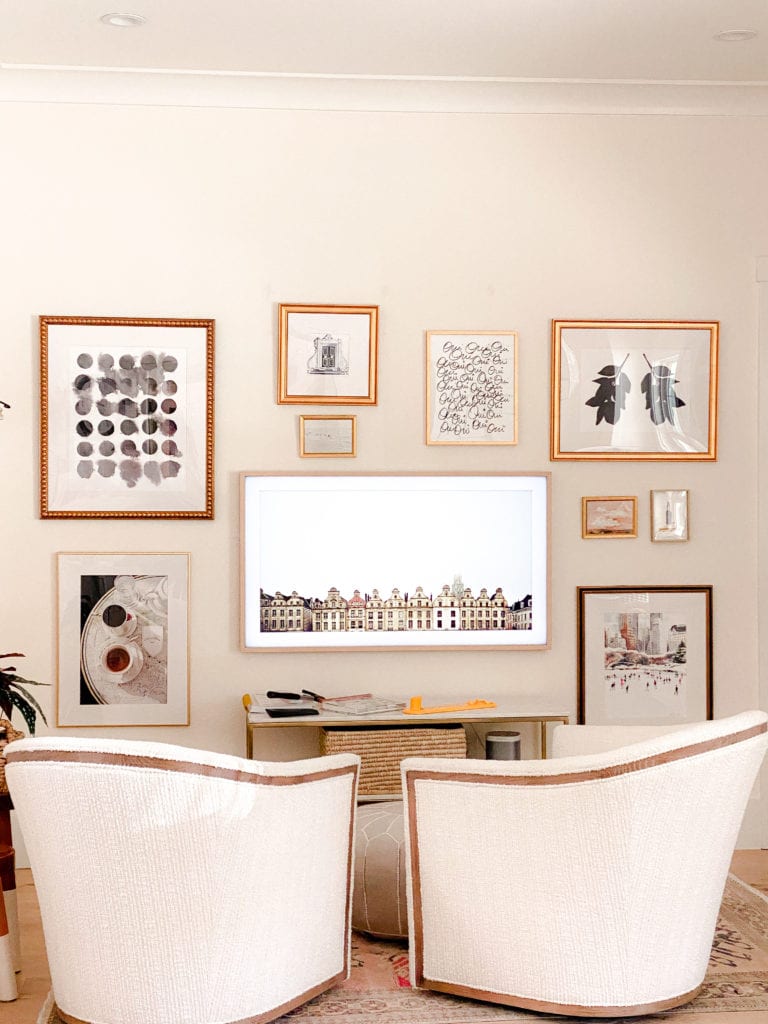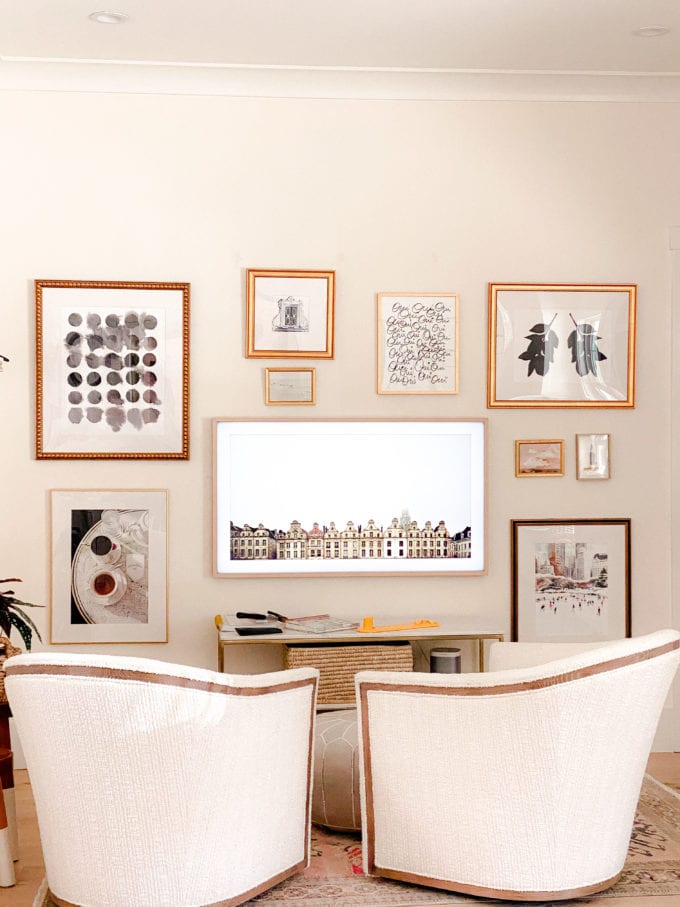 So, back to the drawing board. I went back to my design board, moved everything up and decided I also needed a few more pieces of art.
This time, when the new art came, I was excited to get the new pieces hung and the other art moved around. As soon as the artwork arrived I jumped on it and I love the end result!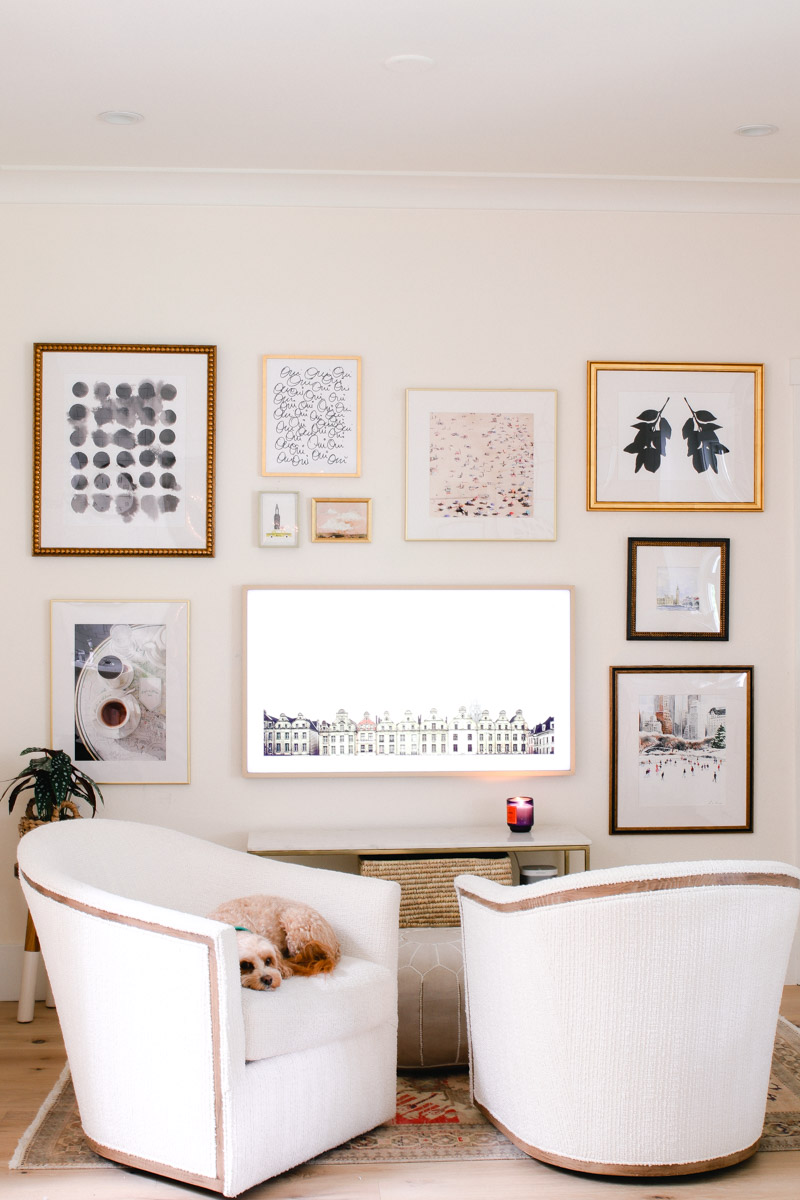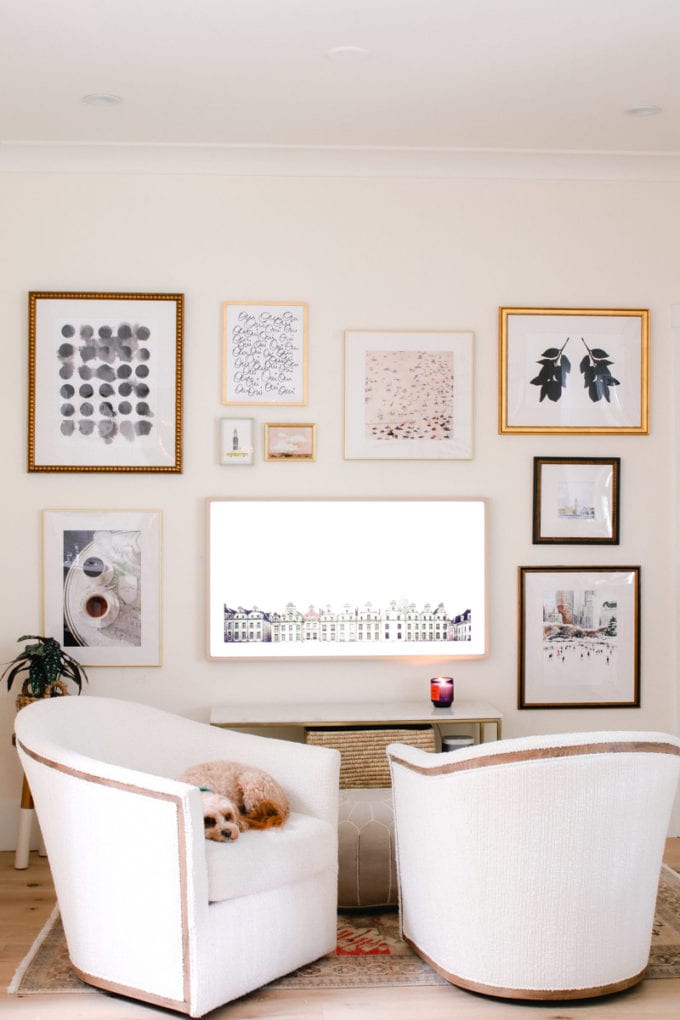 What do you think? It was definitely worth the months of planning and agonizing over every decision. I love the how the art creates an eclectic gallery wall feel without overwhelming the space.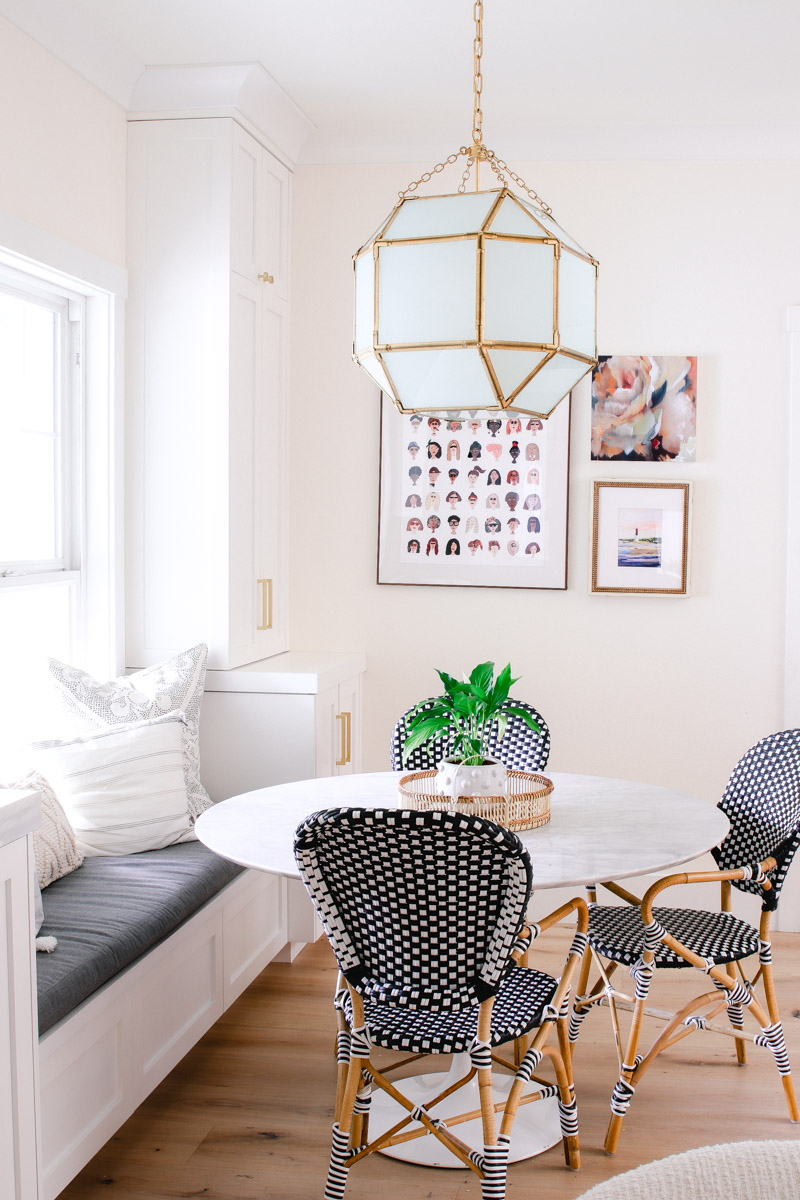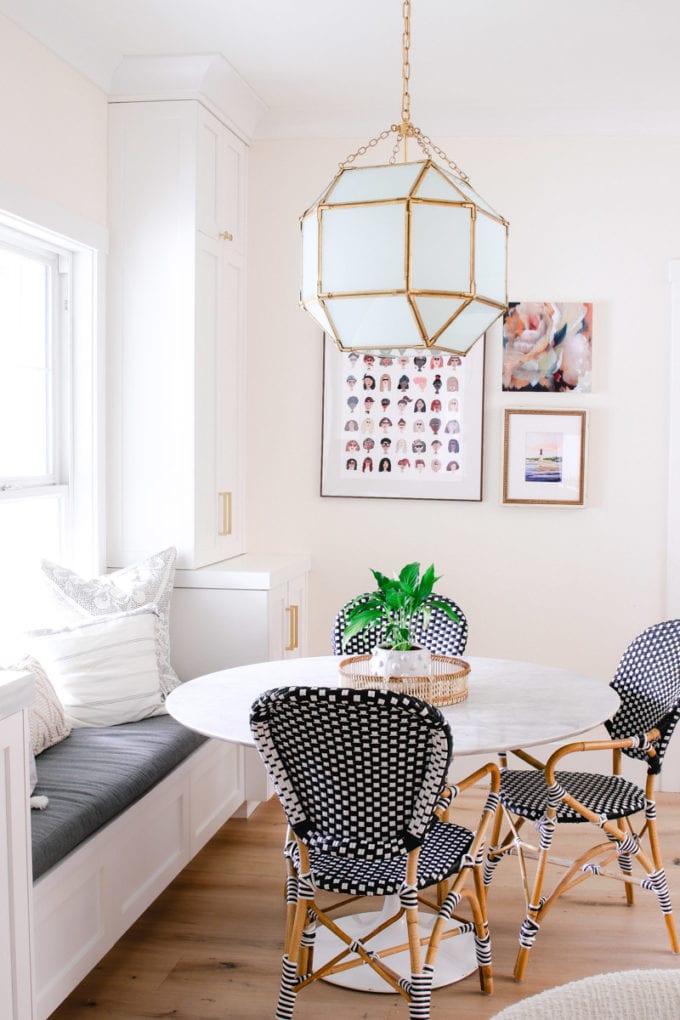 I also decided to add a trio of artwork on the opposite side of the room by our dining nook. Adding the art over by our table helps marry the two spaces together to create a cohesive feel in the room.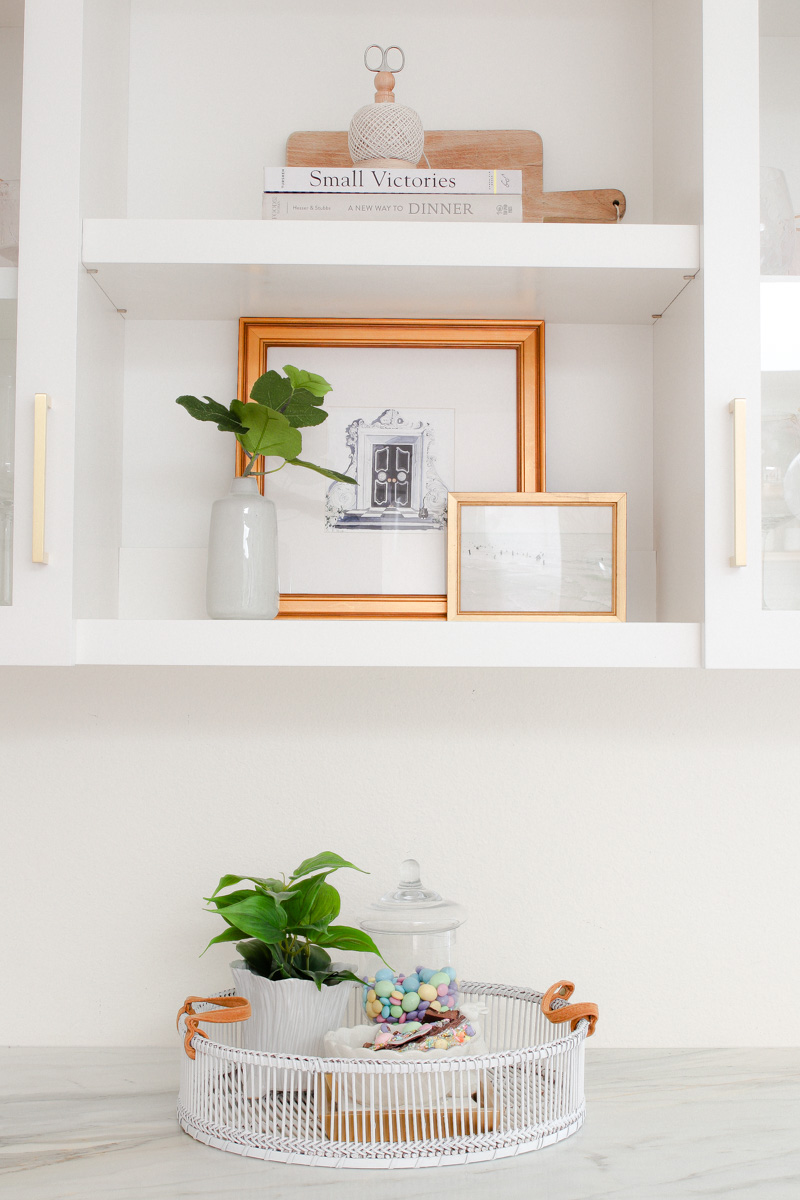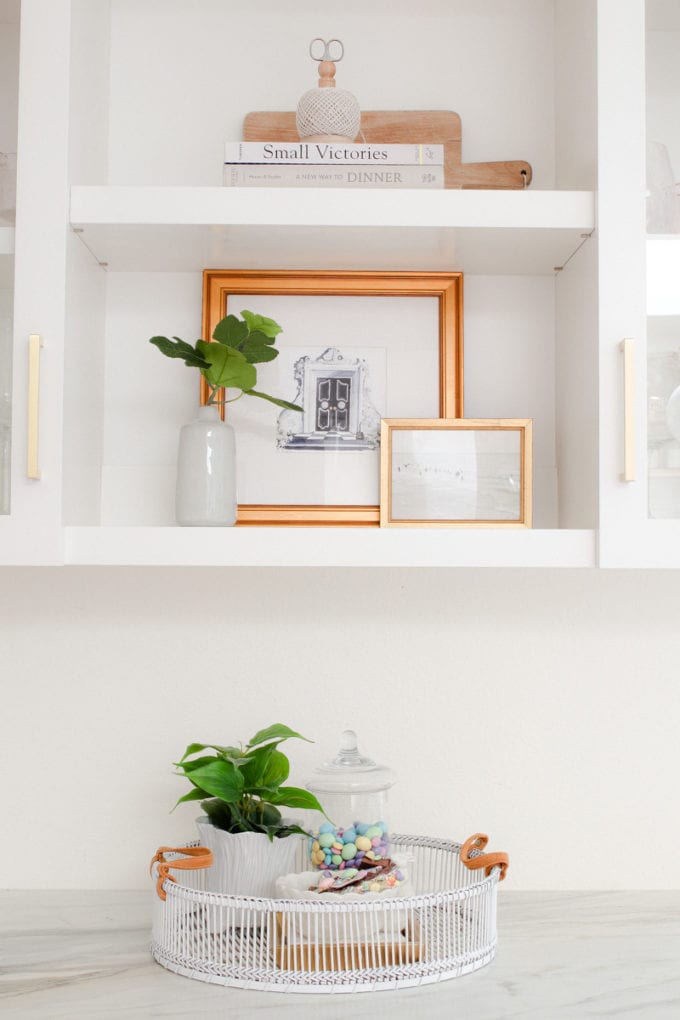 How To Create A Gallery Wall Around A TV
Thanks for sticking with me through that long story. Here are the highlights and the things I learned from my own experience creating and hanging my gallery wall around our Frame TV.
Step 1: Create A Design Board To Plan Your Gallery Wall
Whether it be on paper or through an online tool, plan out the wall before you purchase any artwork. I created a template on canva and plopped the artwork in to see how I like each piece and the size as well. This was key in finding the right design for my space.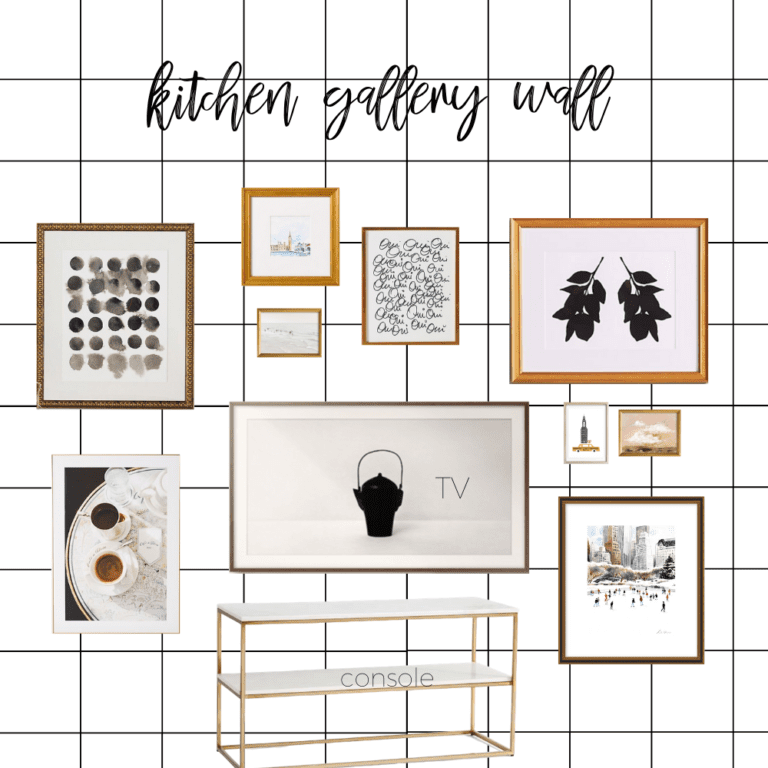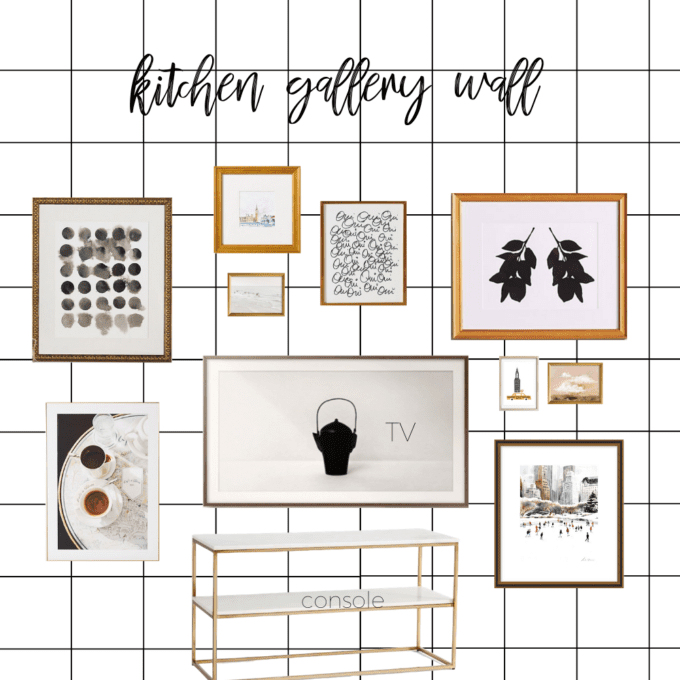 Because I wanted an eclectic gallery wall, I wanted all the artwork to be different sizes, different mediums and also have different frames. By creating a design board, you can visually see how all your pieces will come together before purchasing them.
Step 2: Lay Out Your Artwork Before Hanging
Take your art and lay it on the ground so you can play with spacing, arrangement and placement in real life. Once your artwork shows up it's a lot different than when you are planning on paper or online.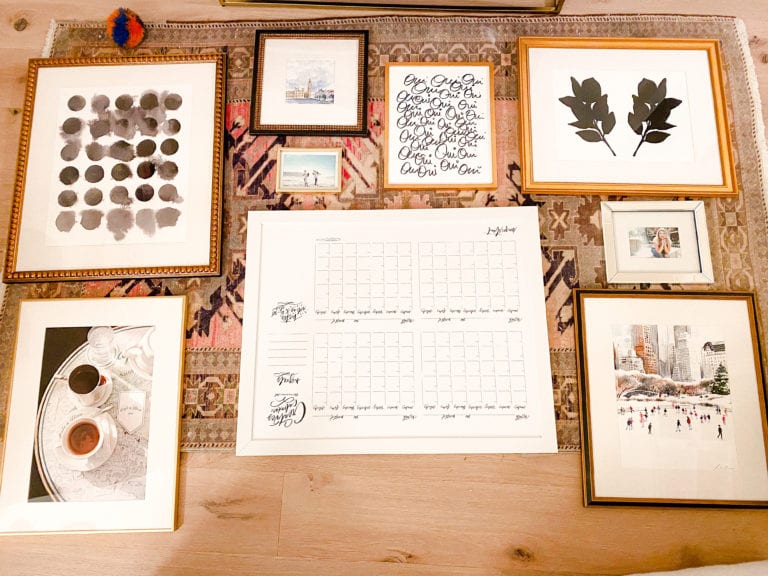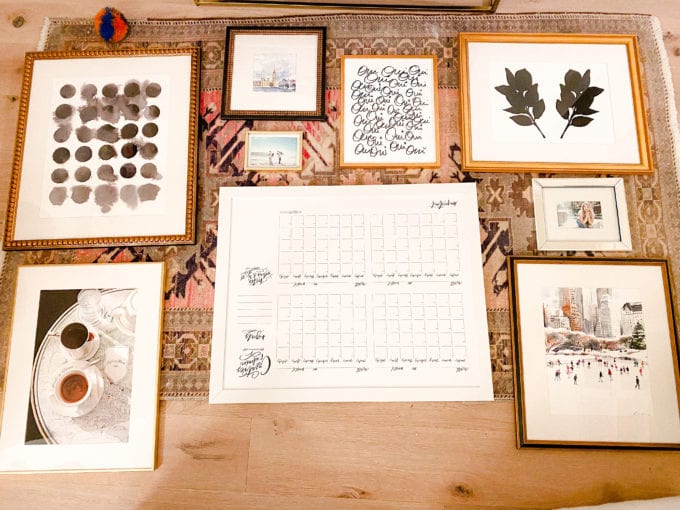 Once you have things the way you like them, take a picture with your phone so you can reference back to it when you go to hang your pictures.
Step 3: Hang Your Artwork
Now comes the (kinda) scary part! Hanging your artwork.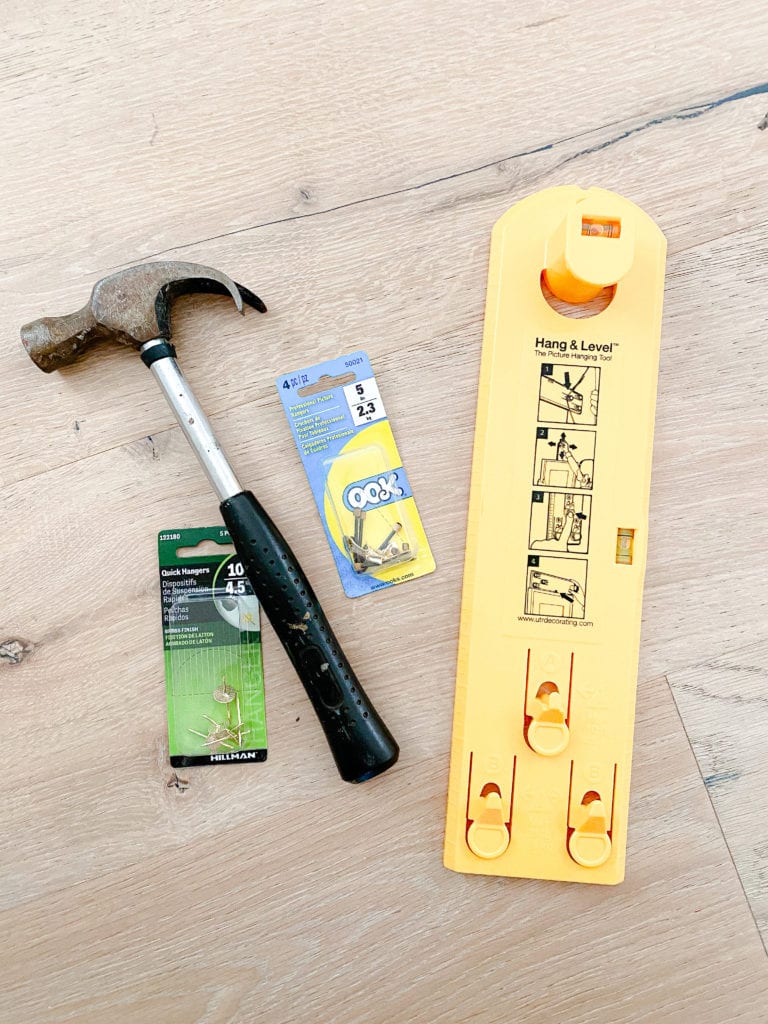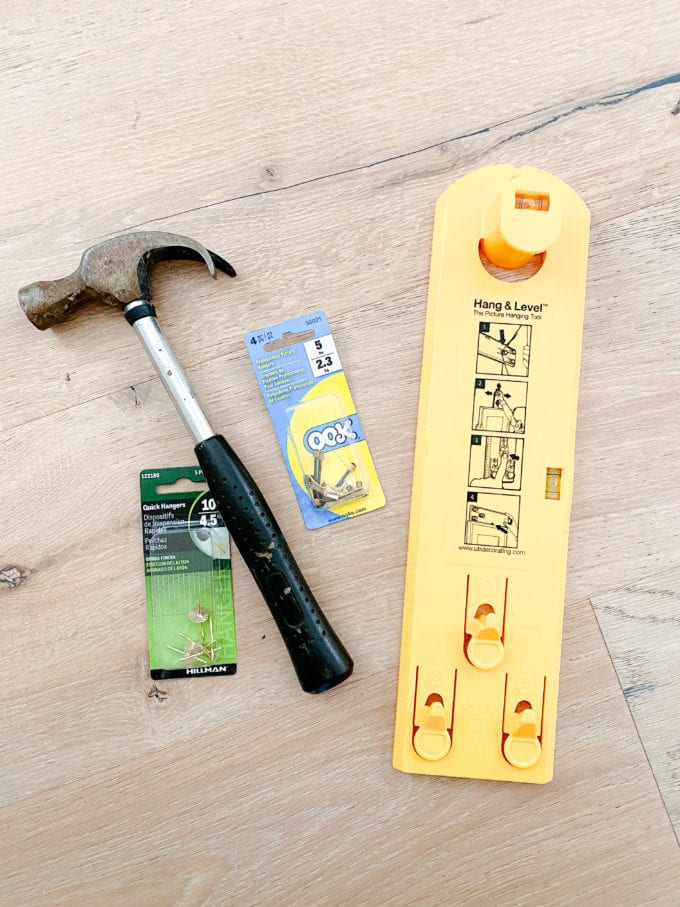 I found a cool hanging tool at Target that allows you to place your frame on the wall and visualize where you want it to be and it will mark the hole where the nail goes! So no measuring involved.
This is great for eclectic gallery walls, because frames are placed sporadically and not measured to a tee.
Using this tool allowed me to visualize where I wanted the artwork to be placed and it marked the hole for the nail for me. Once your art is hung I like to place a dot of earthquake putty under the bottom corners to prevent them from shifting.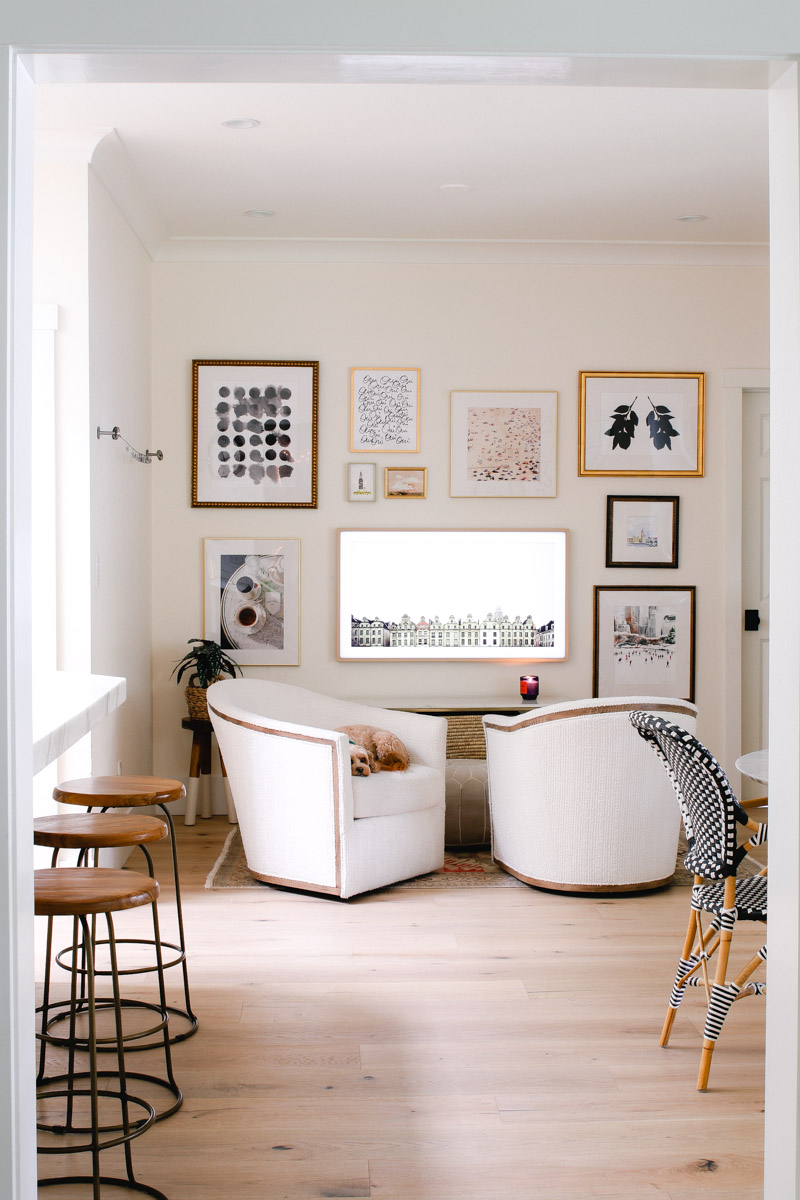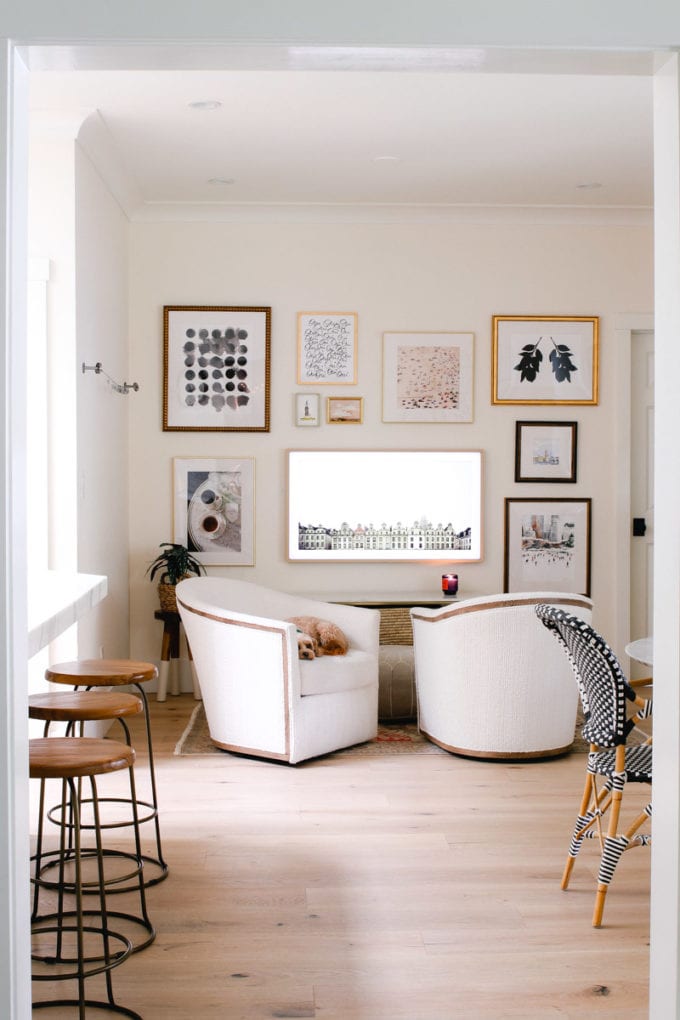 By using different mediums of artwork, various sizes and eclectic frames, this gallery wall has a curated and found feel that I absolutely love.
Let me know if you have any questions or if you try your hand at creating your own gallery wall!
Gallery Wall Sources