Hi! Welcome to my home! Let me show you around. We have made a few changes since moving in 8 years ago! Come take a peek inside my Modern Farmhouse Home Tour.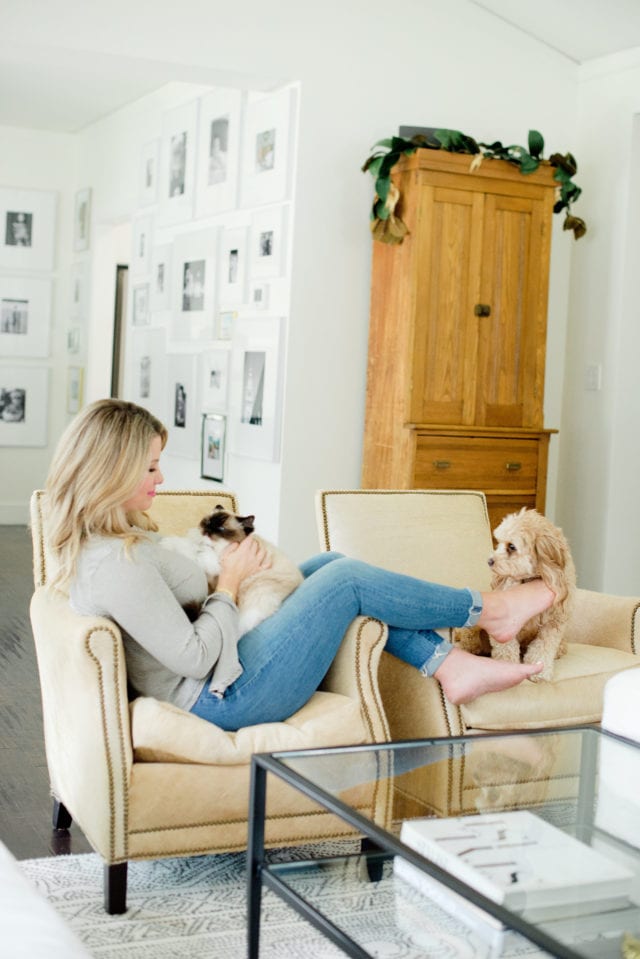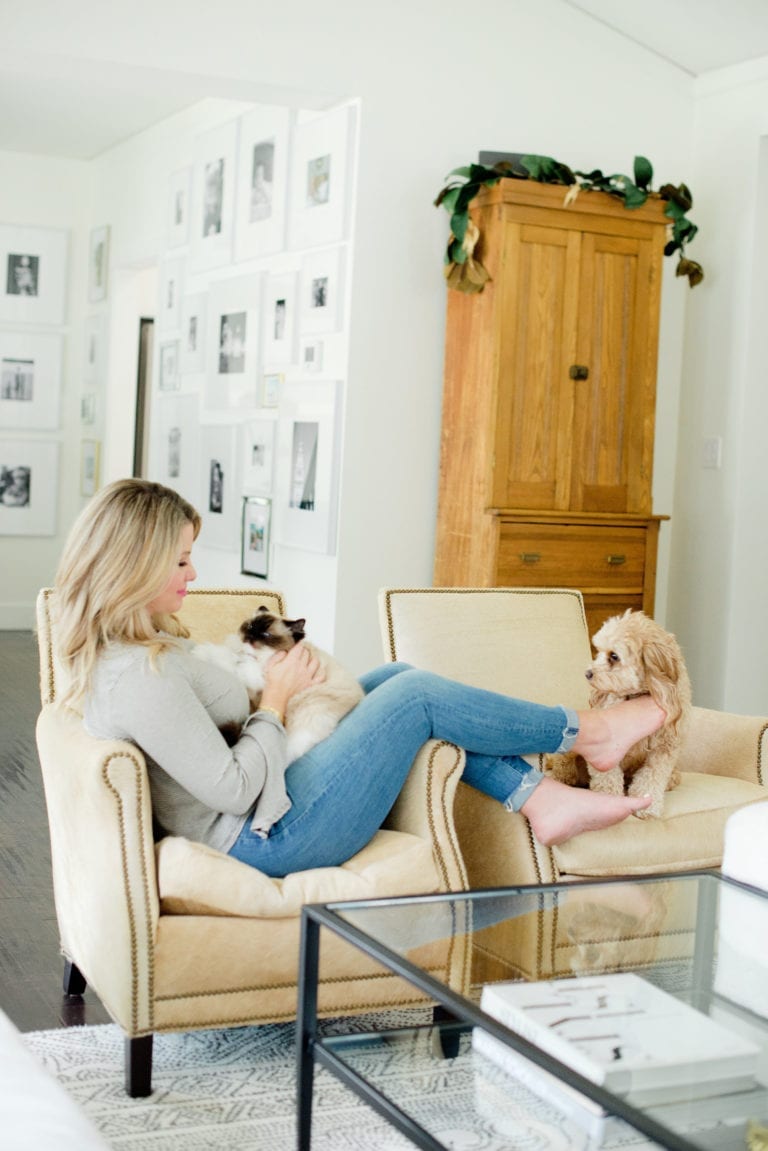 Modern Farmhouse Home Tour
If you're new here, I want to introduce myself. I am Ashley, wife, mom of 2 young kids and lover of all things pretty. I love fashion, home decor and everything PINK!
Let me show you around my cozy California bungalow home that we purchased 8 years ago. When we first bought our home, it was a blank slate. The previous owner didn't do any improvements so the house needed some serious TLC, which is perfect for me!
California Ranch Exterior

There are lots of things that we love about our home. But one of my favorites is the front porch. We spend time every day sitting out here on the swings and visiting with our neighbors.
We have these 2 Serena and Lily hanging chairs that we just adore! It is the perfect spot to watch the kids play and also a good place to enjoy a glass of wine after the kids are in bed.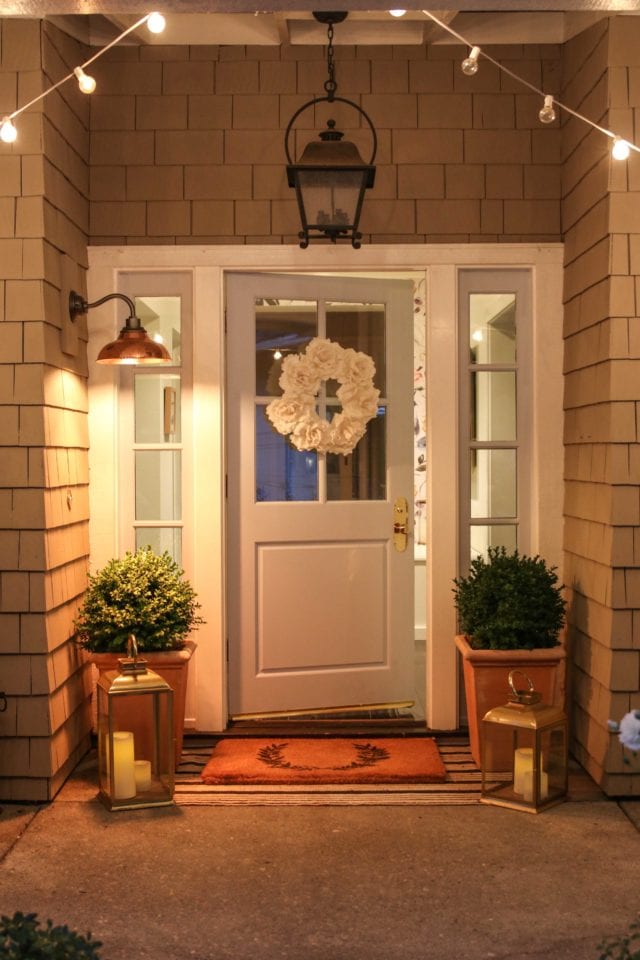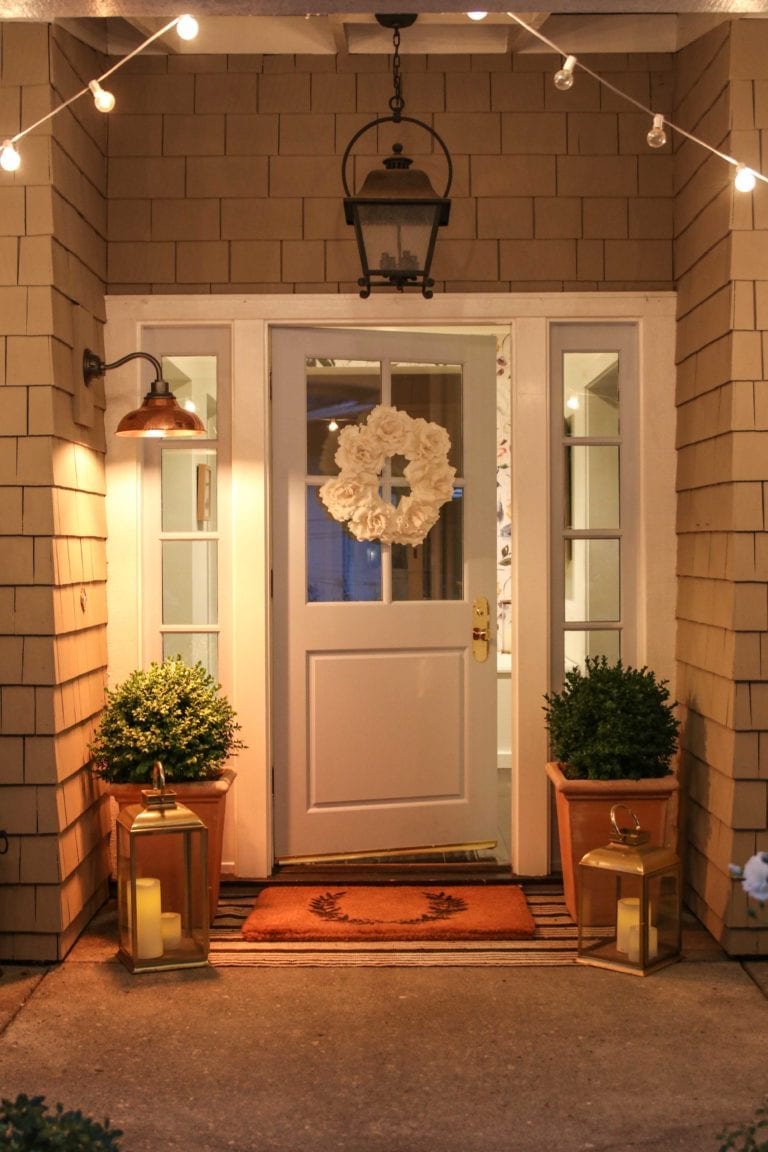 You can see more pictures of our front porch in my Summer Front Porch Tour.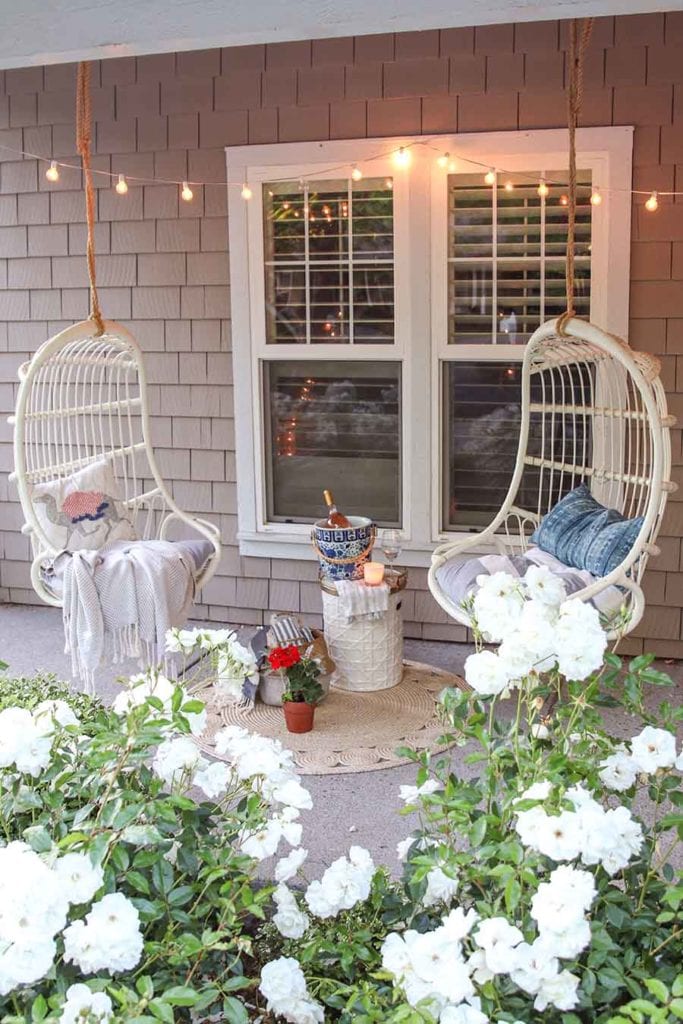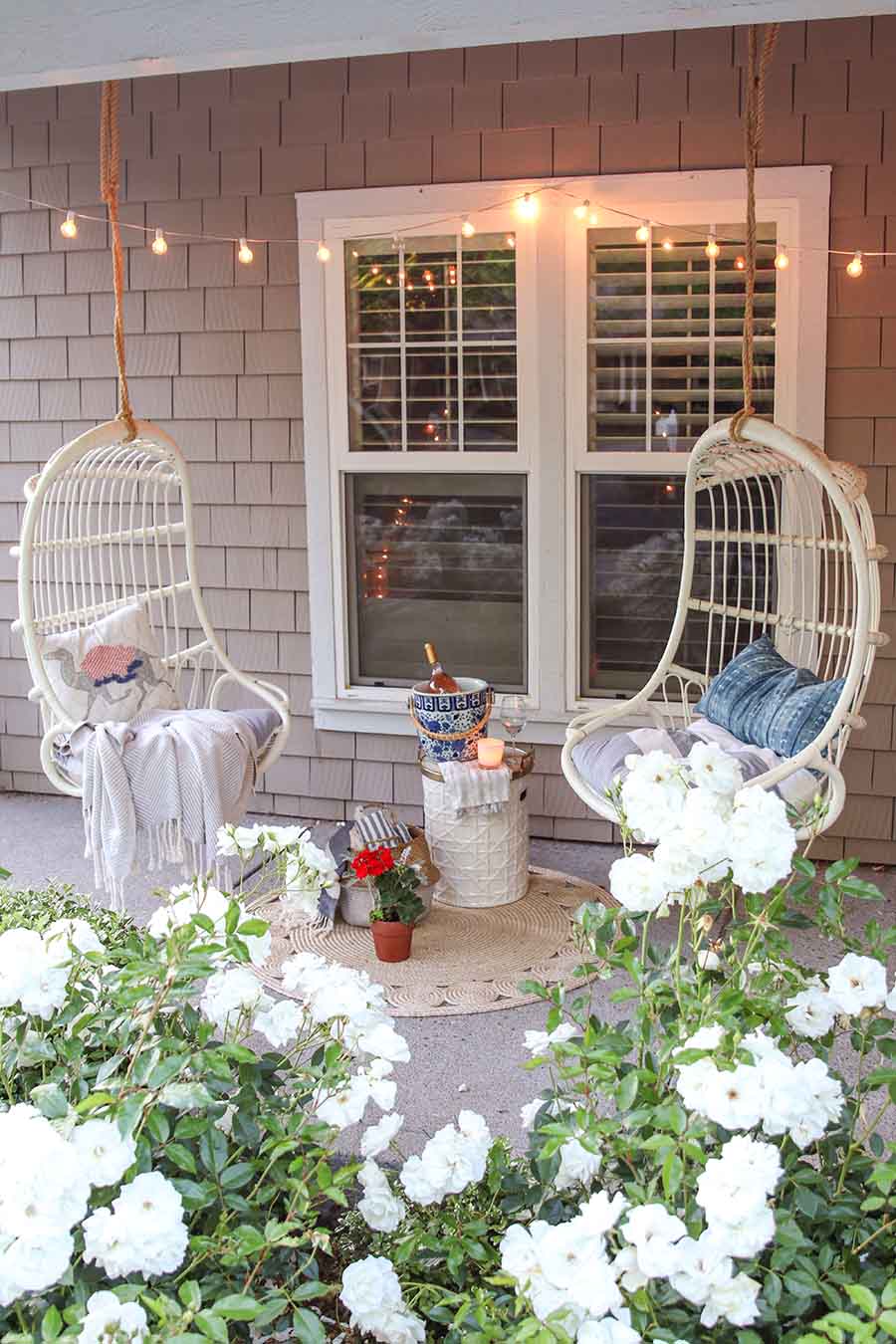 And I am always updating our front door decor. I love to create a welcoming entry for friends and guests. Layered doormats and gold lanterns are a must for me. You can find my Guide to Layering Doormats in this post.
And you can find my tutorial on How to Paint Your Front Door here.
Front door color is Clark & Kensington Mountainside Vista.

Modern Farmhouse Home Tour: Kitchen
UPDATE: be sure to check out our Modern Farmhouse Kitchen Reveal post to see our updated kitchen!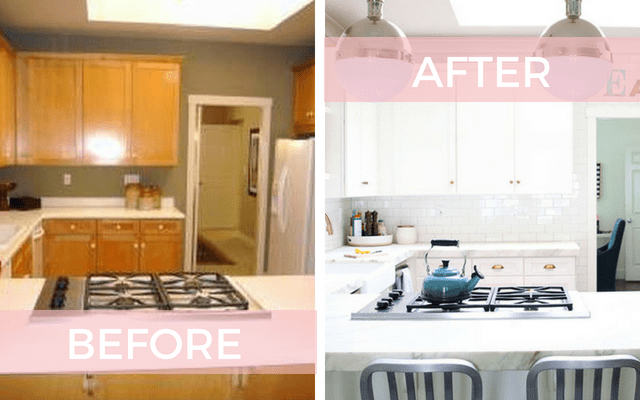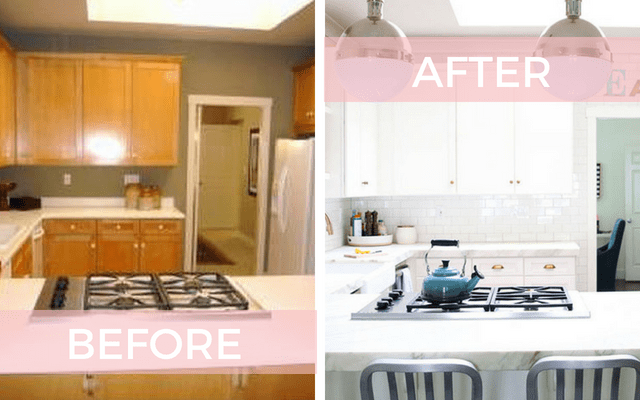 Now let me take you inside. The first room you enter when you come in our home is the kitchen. Our kitchen truly is the heart of our home. I love to bake with my two kids (ages 6 & 9).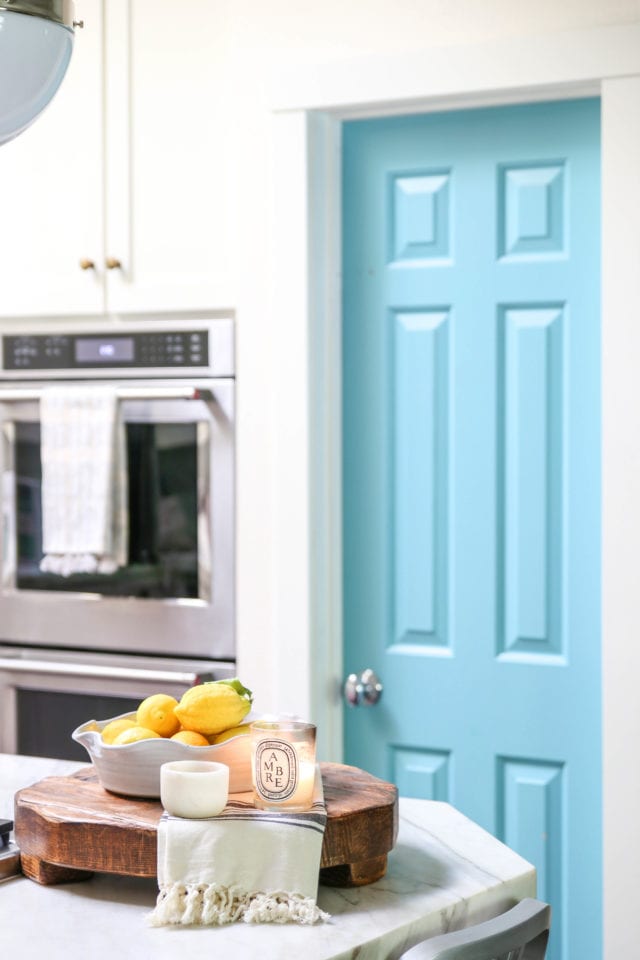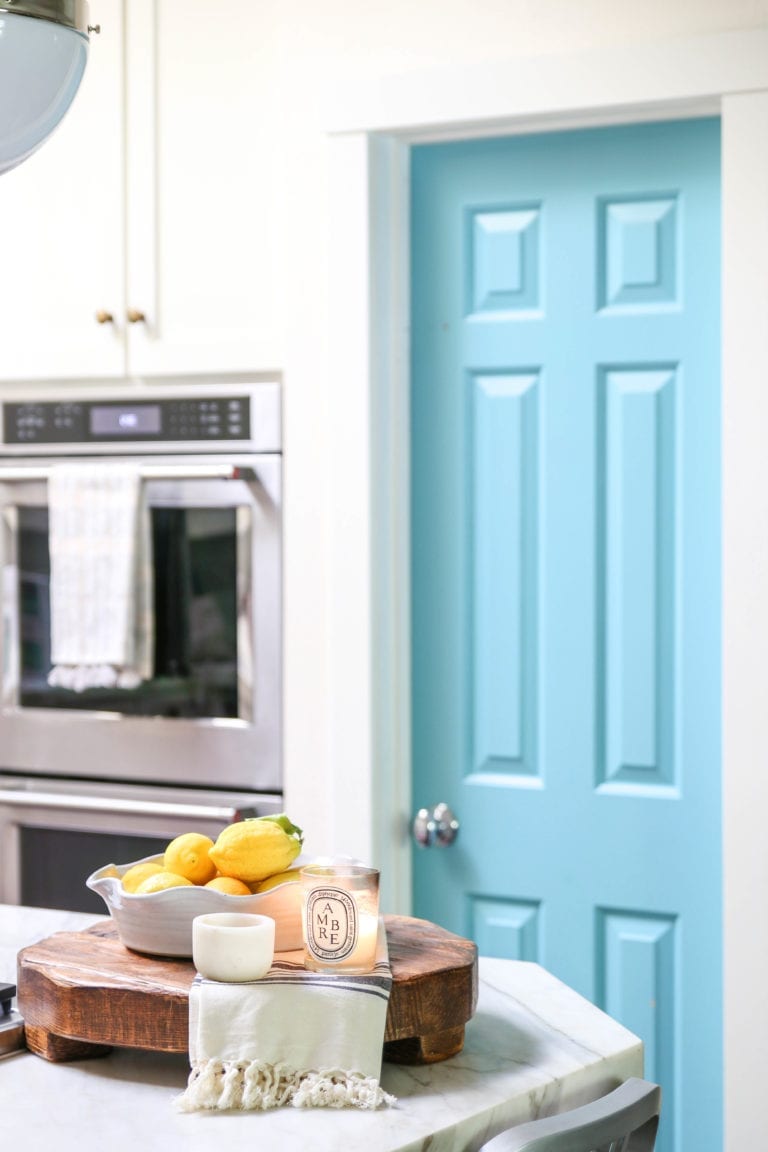 Our renovation of this kitchen was very budget friendly. We chose classic details like white cabinetry, marble countertops and subway tile backsplash. I love the timeless feel to the kitchen as well as the durability.
Most people shy away from marble countertops but I love the character that it adds to our live-able home!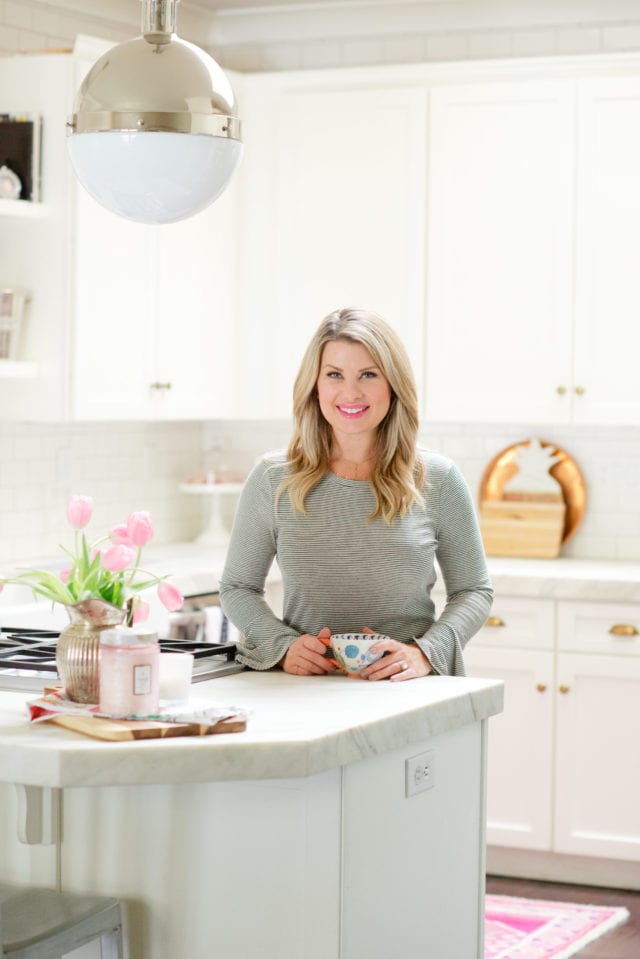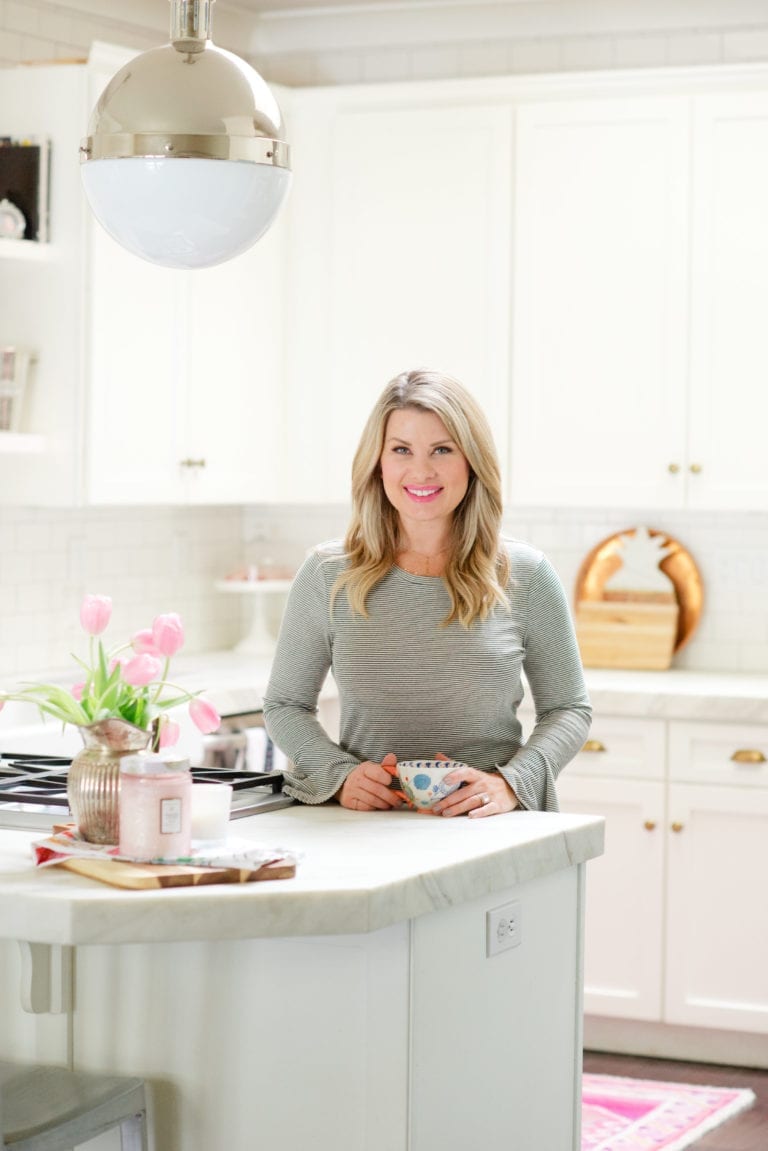 The cabinets were painted Benjamin Moore's Creme Fraiche and we chose Calcutta Gold marble for the countertops. The backsplash is a classic white subway tile from Home Depot.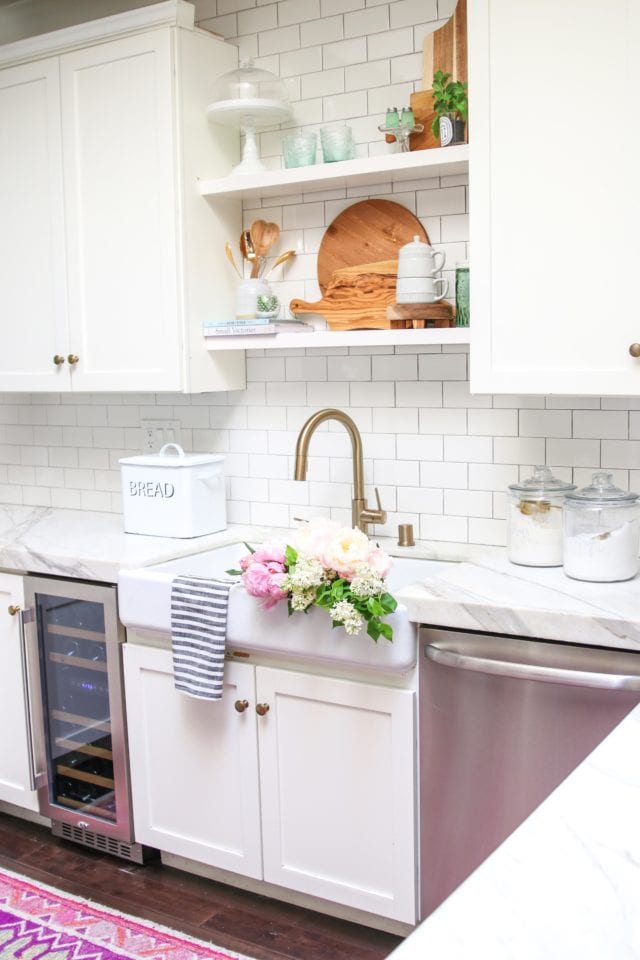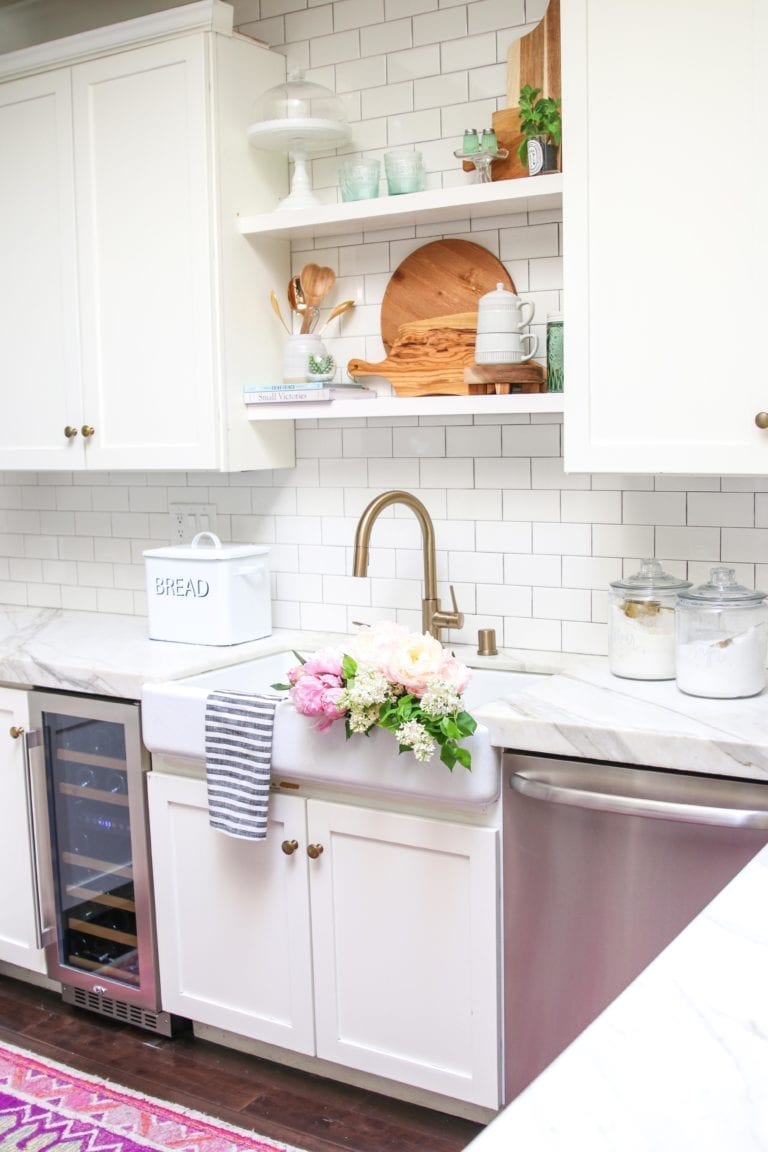 Some of my favorite recipes were created in this kitchen! Check out my Perfect Chocolate Chip Cookie recipe, this Mason Jar Apple Pie recipe or my Chai Pumpkin Spice Muffins to get started!

Modern Farmhouse Home Tour: Living & Dining Room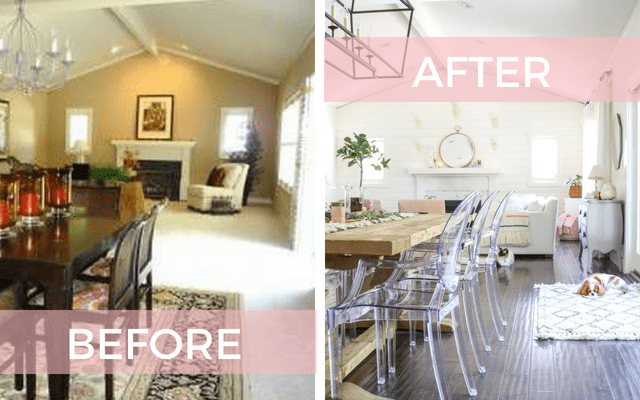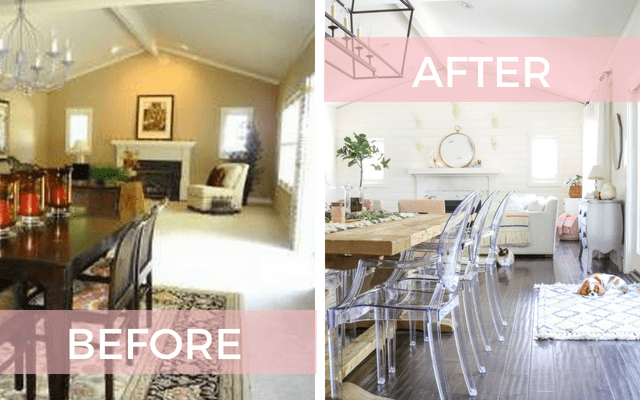 One of the first things we did when we moved in was to remove the wall to wall carpeting in the living and dining areas! What a dramatic difference it has made!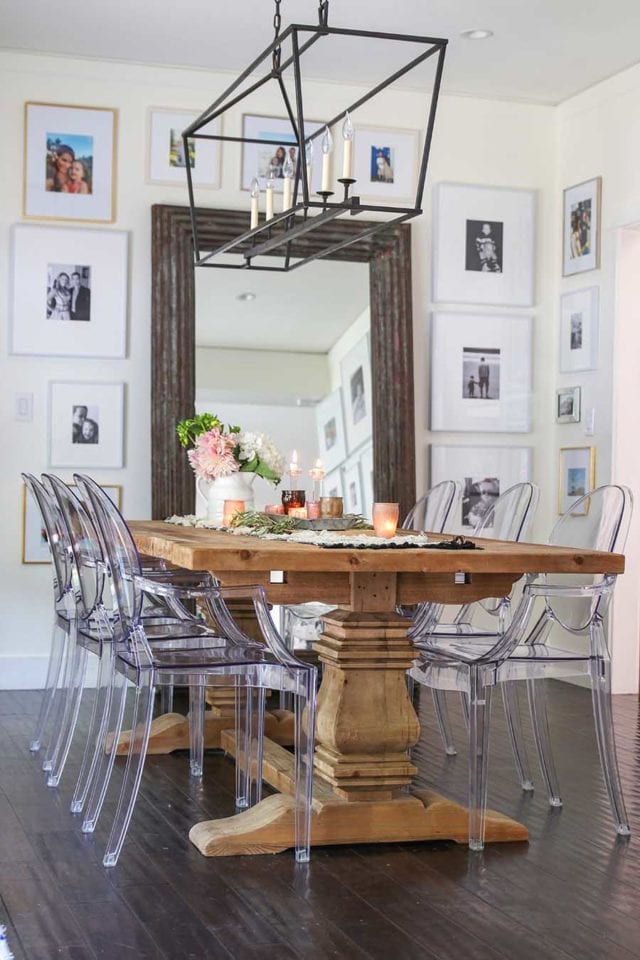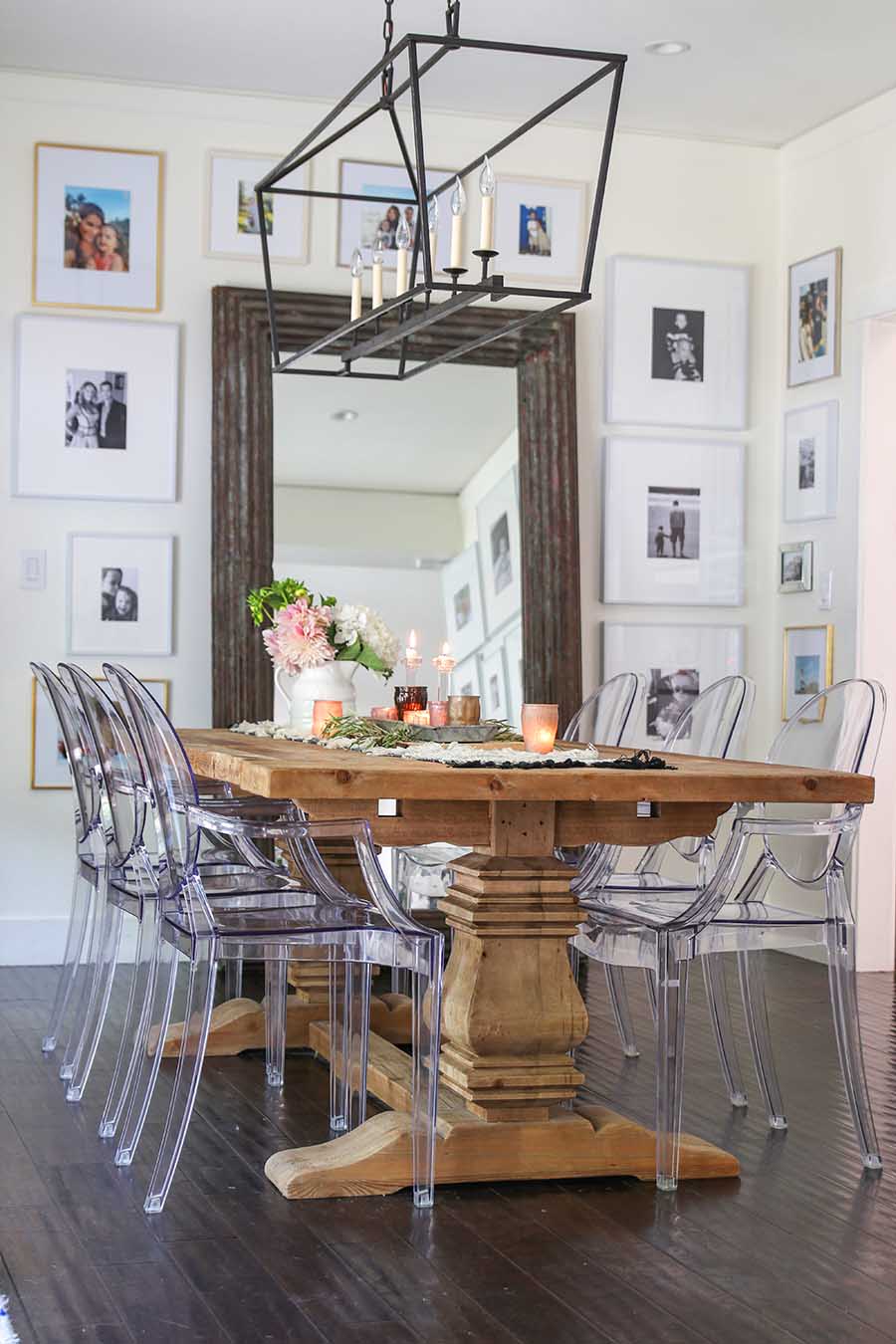 My style is very eclectic. I don't like to stick to one design style for too long. And I love to mix different styles. My dining room table is a perfect example of that. We have a rustic farmhouse table made of reclaimed oak with an ornate trestle base. I chose to flank the table with modern lucite chairs. I love the mix of old and new!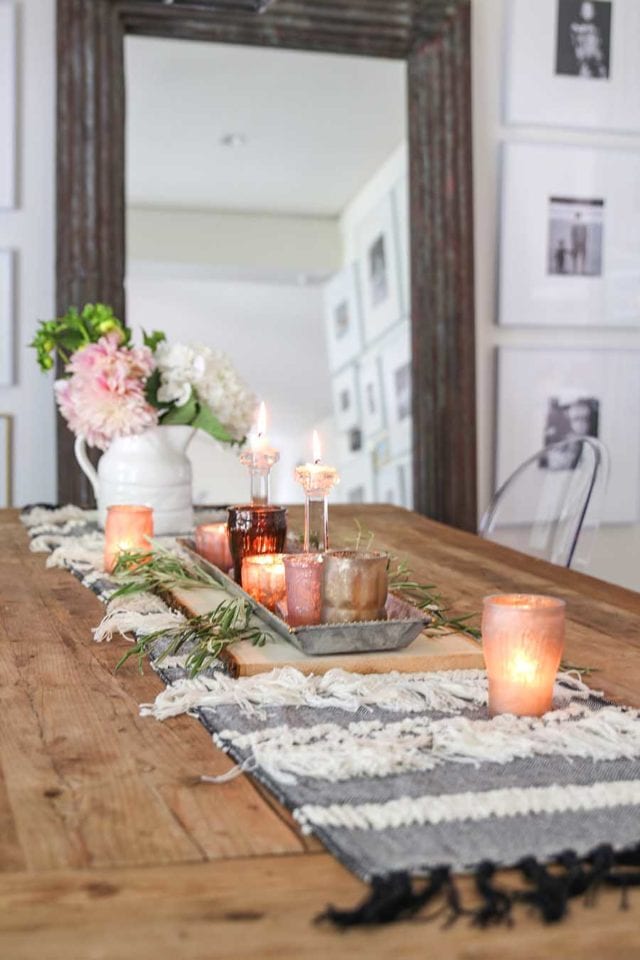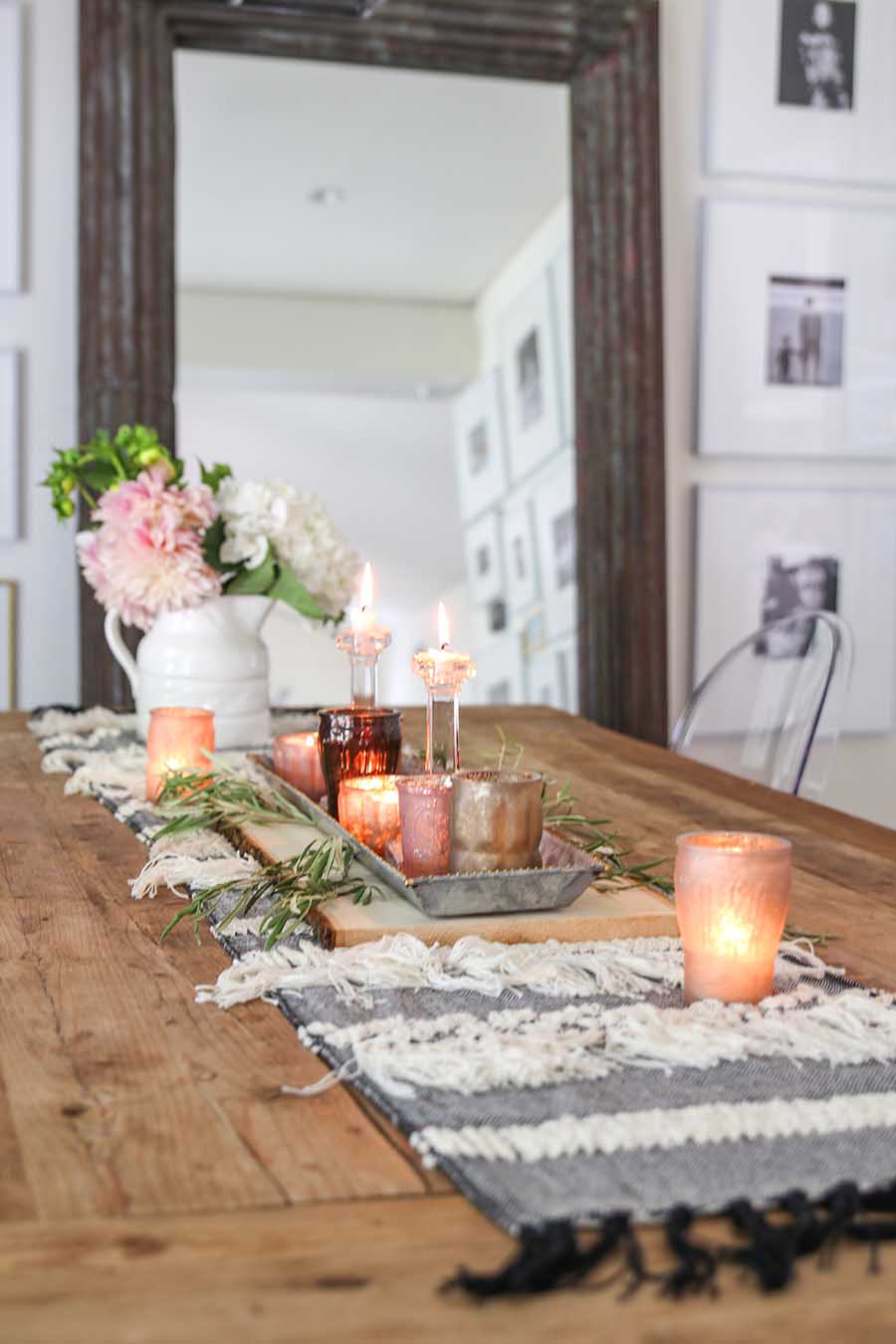 Our dining room flows into our family room so I try and keep things in both rooms pretty simple yet cozy and fun too!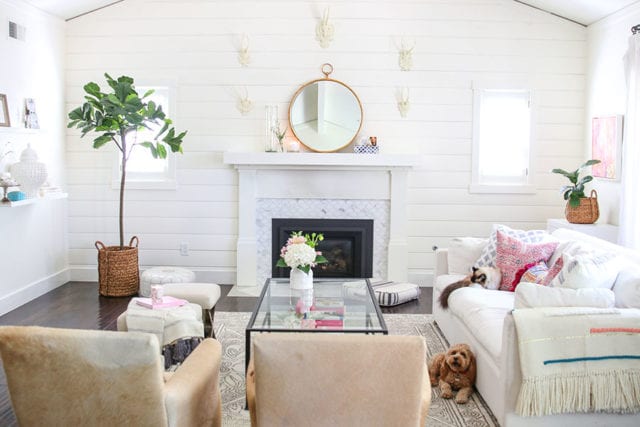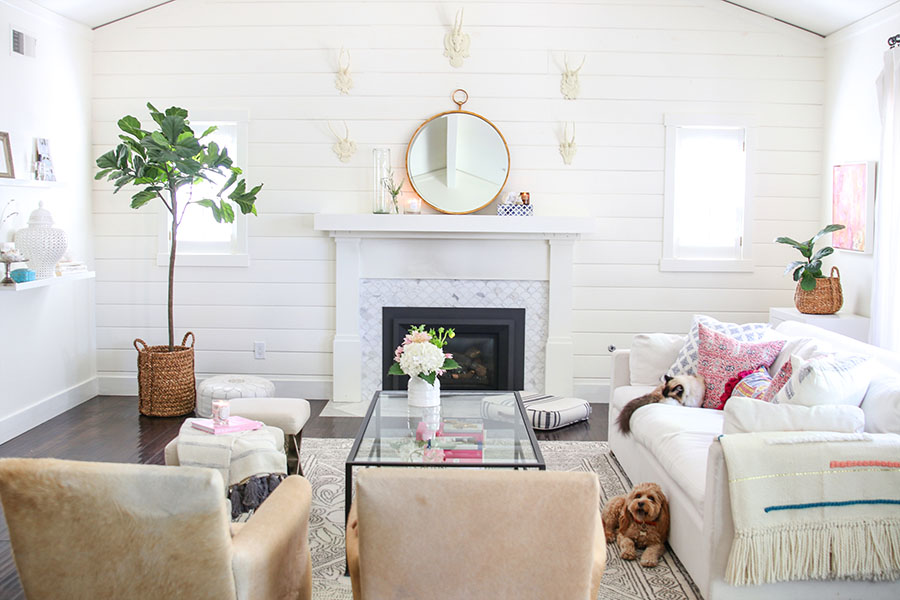 One of my personal design rules is that I always buy furniture in neutral shades. My couch, rug, benches and chairs are all either white or cream. This allows me to easily change my decor with the season or with my mood!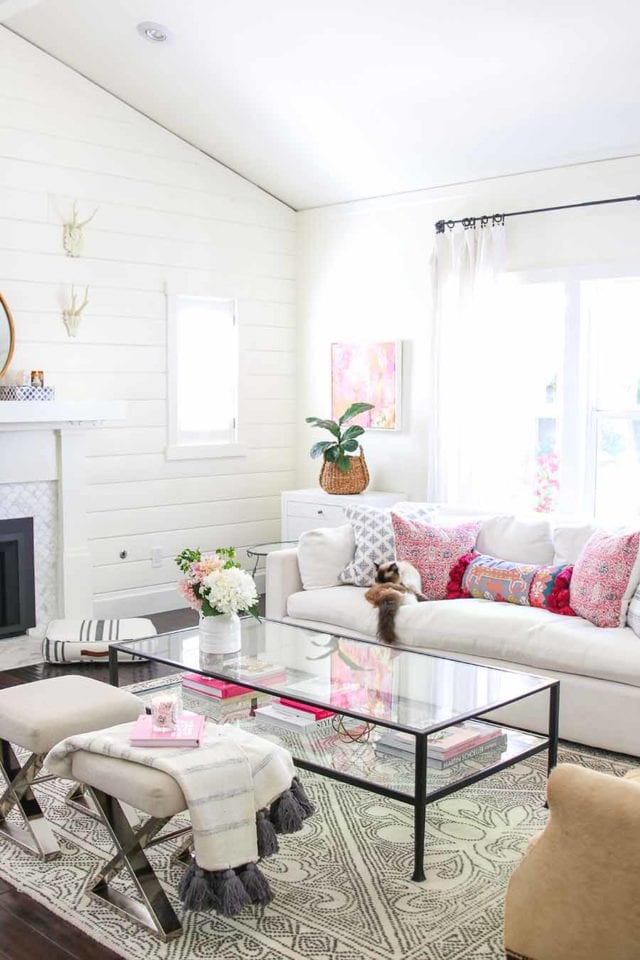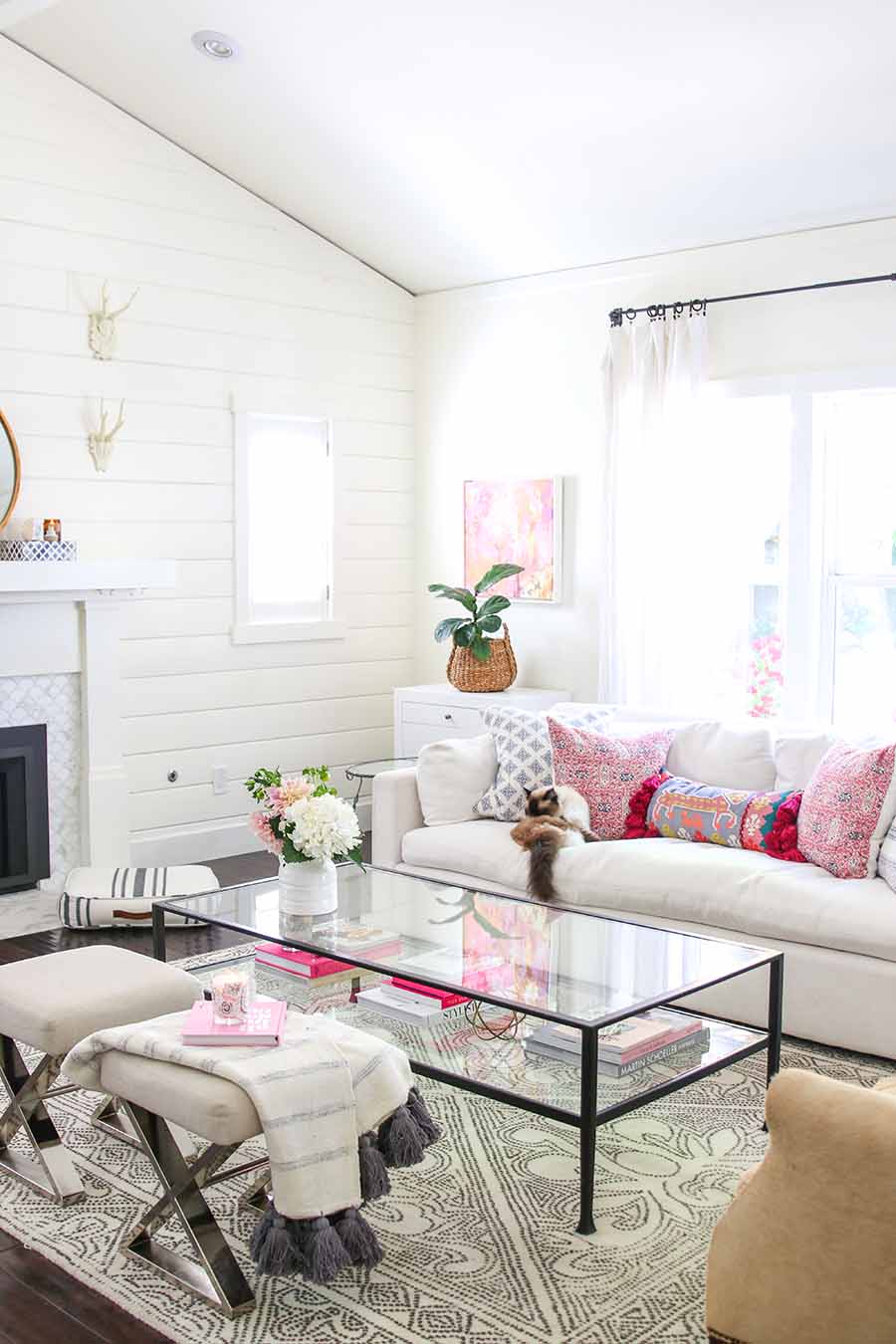 All of the walls in our main living areas are painted Benjamin Moore's Cotton Balls.
And when it comes to painting your walls white, I say you should paint the walls, moulding and ceiling the same color but in varying sheens.
My walls are a satin finish, where the trim is semi gloss and the ceiling is flat. This creates a cohesive look that expands the room and makes it seem bigger!

Modern Farmhouse Home Tour: Master Bedroom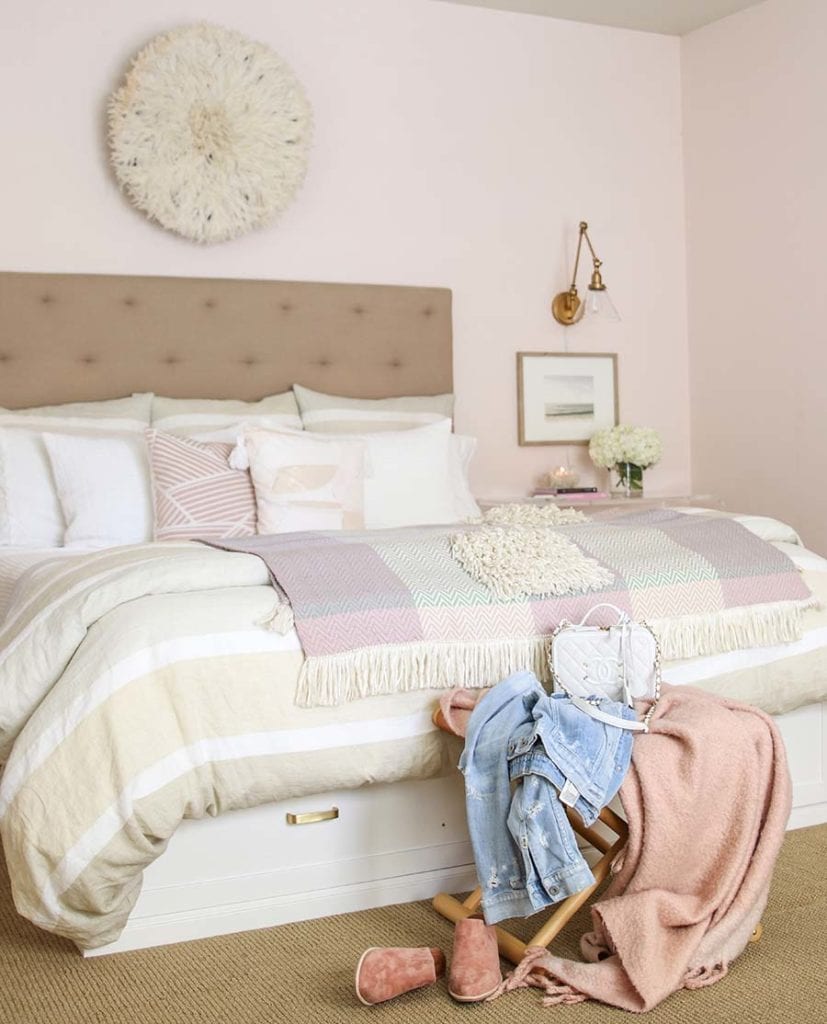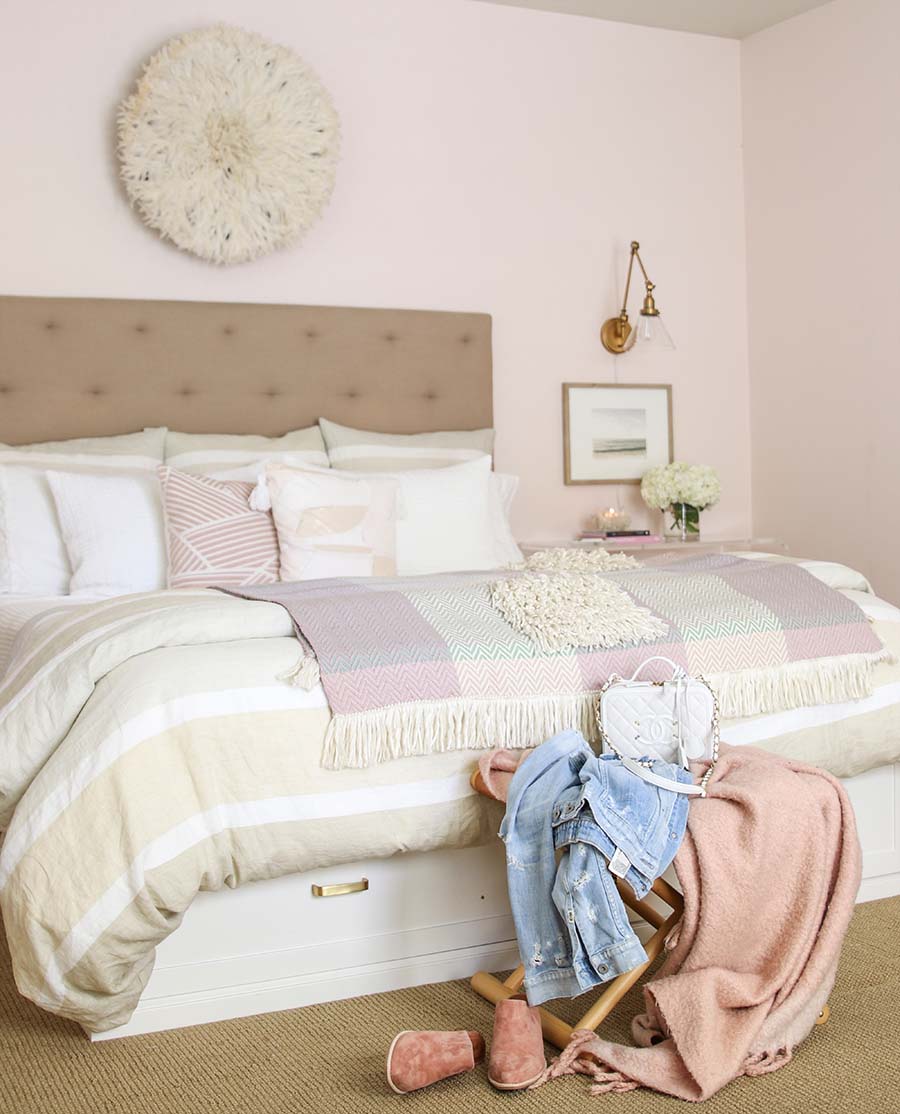 Pink is my favorite color. When I told my husband I wanted to paint our bedroom pink, he rolled his eyes but didn't put up a fight! And I have to say, pink in the bedroom is very romantic! It has a glow at night that is ethereal.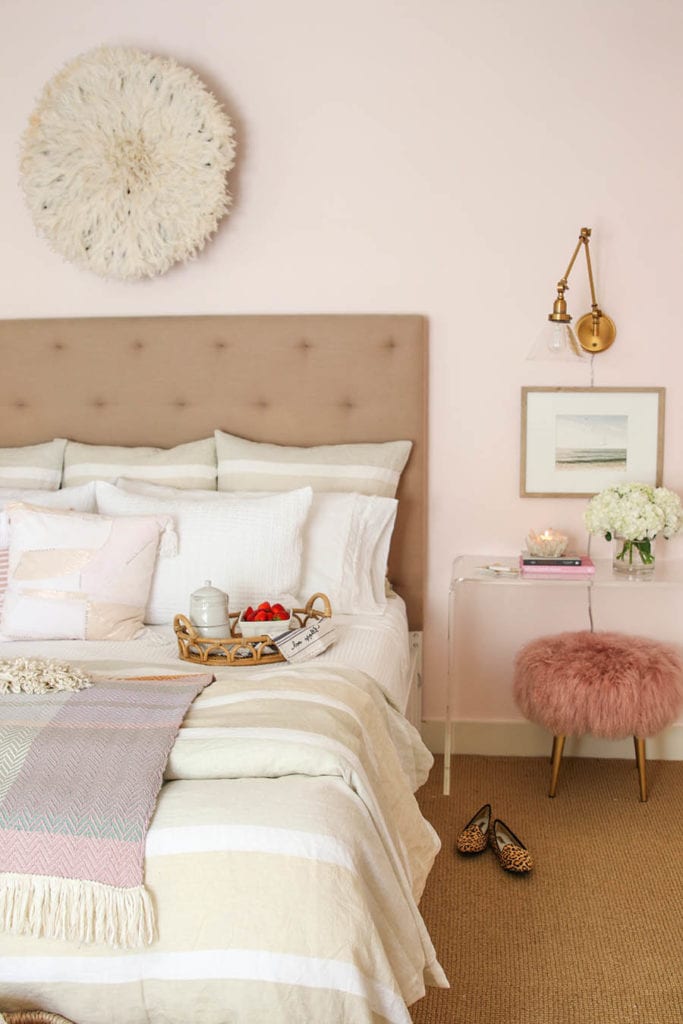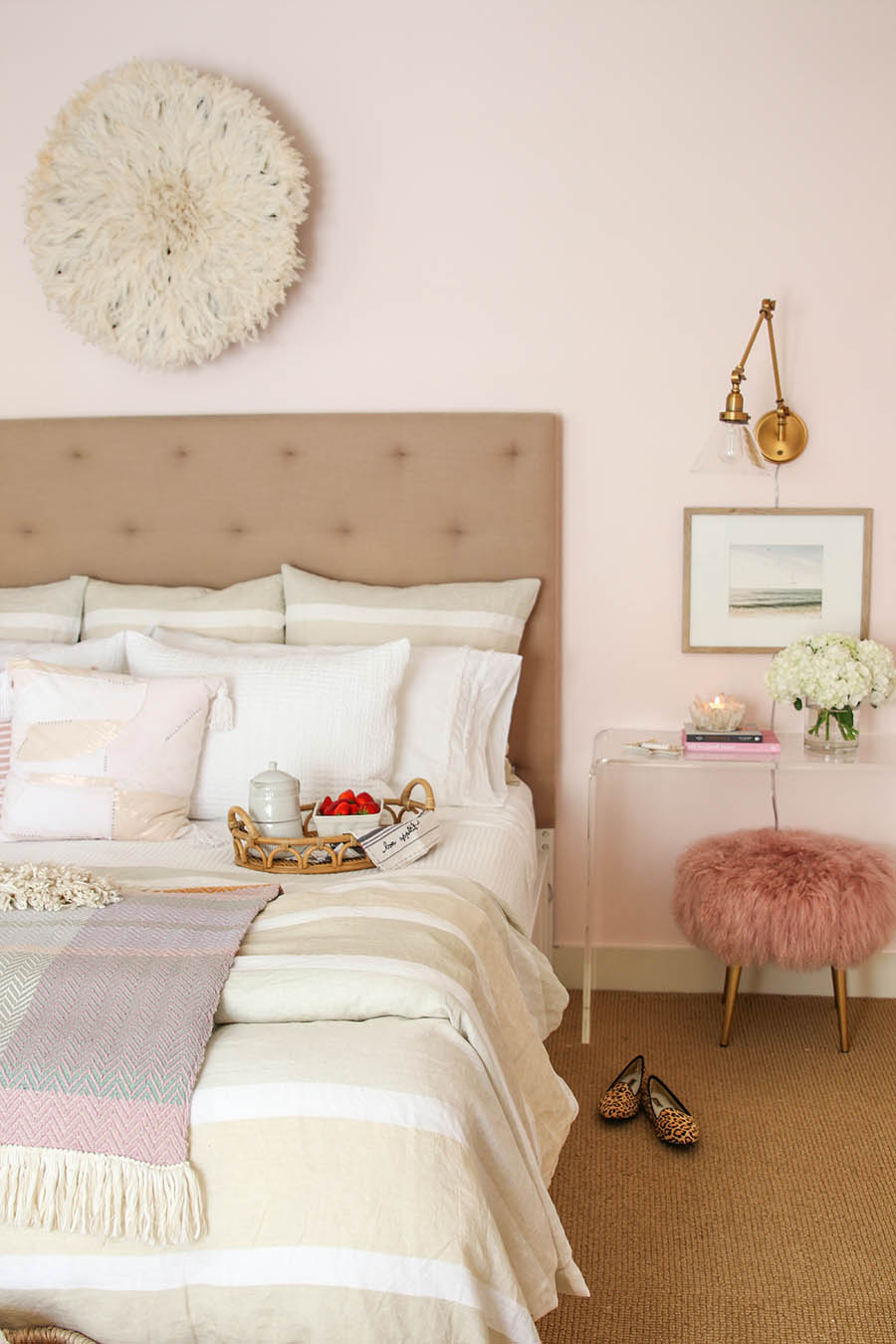 My favorite pink is Benjamin Moore's Gentle Butterfly. My daughter's bedroom is also painted this same shade. To offset the pink on the walls I chose natural linen bedding with pops of gold accents throughout.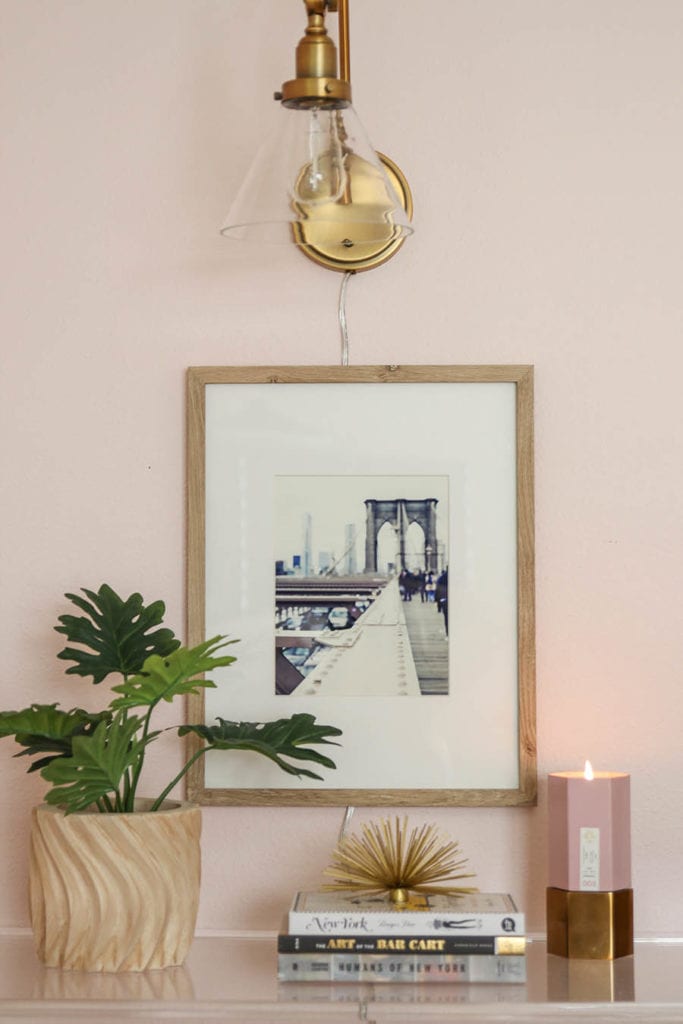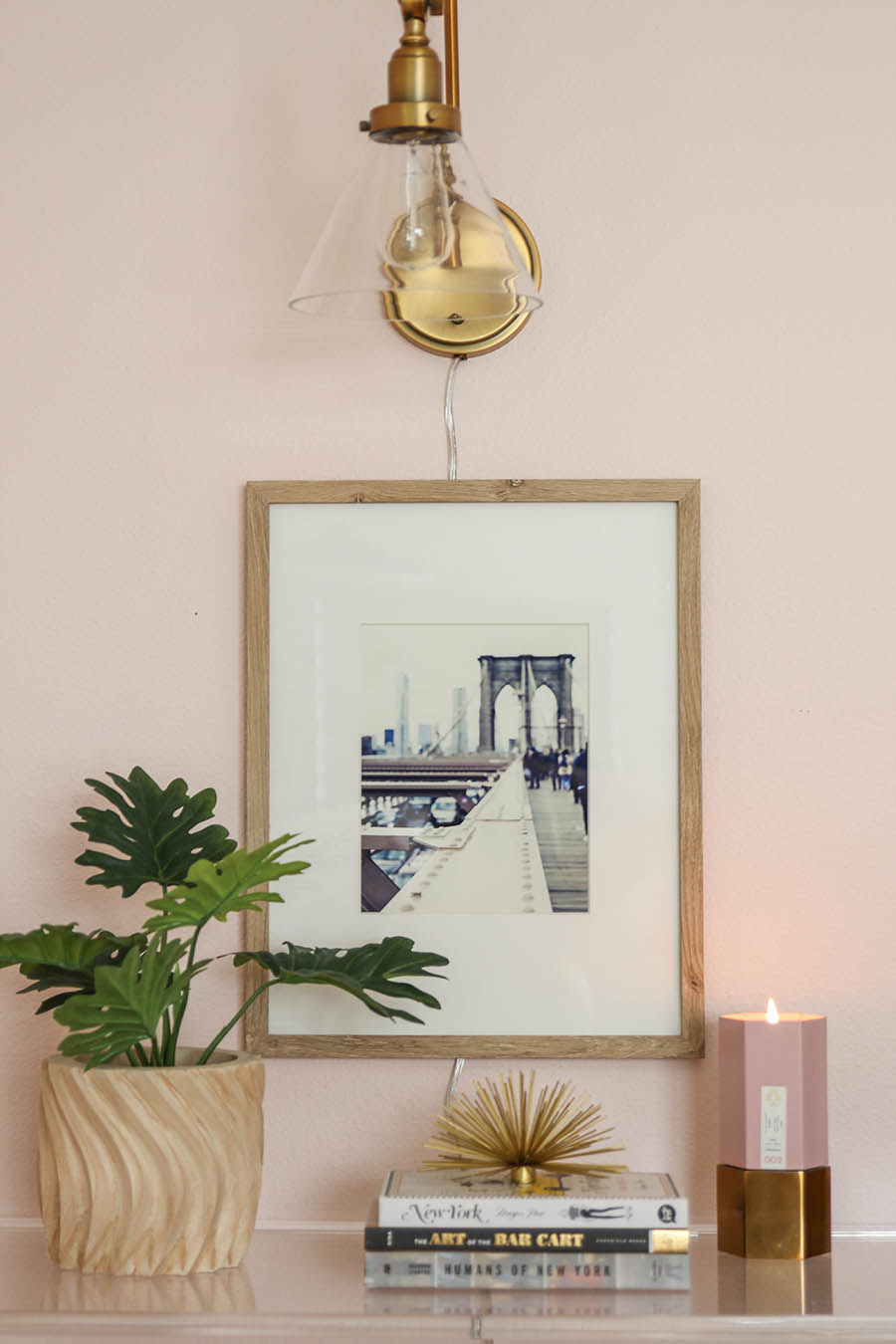 When I purchase furniture for my home, I make sure it is something I know I can live with for a long time. I moved these lucite console tables from our living into our bedroom when I did my Master Bedroom Refresh a few months ago. I love having furniture that works in multiple spaces within my home. And moving furniture around allows you to create new spaces without having to spend extra money!

Modern Farmhouse Home Tour: Master Bathroom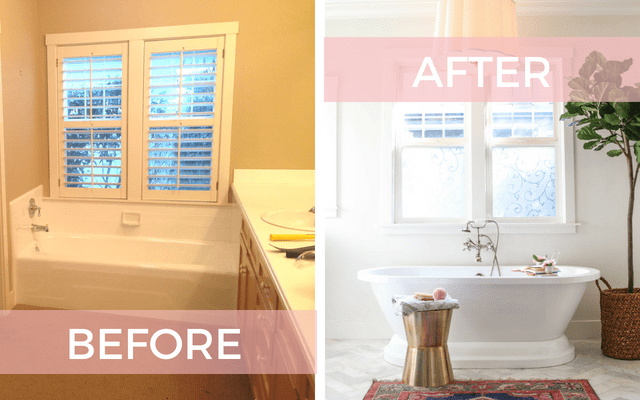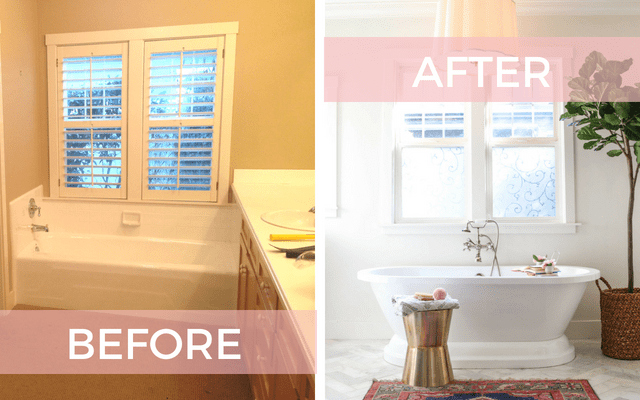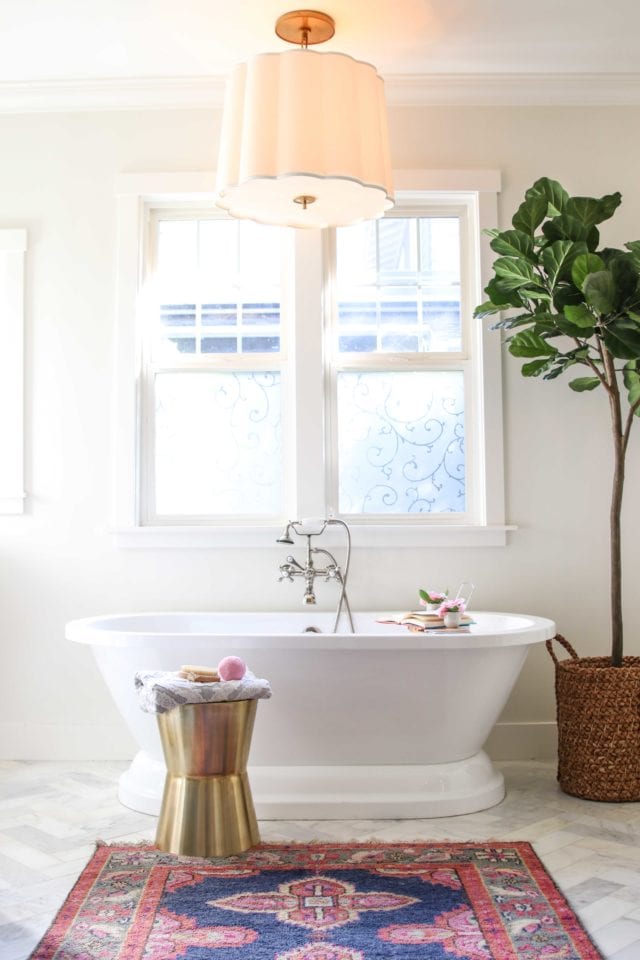 When designing our bathroom I new I wanted form to meet function. Because we travel a lot, I am inspired by hotel bathrooms.
I chose our apothecary style bathroom vanity because it reminds me of our many travels. And in keeping with that timeless look I wanted the rest of the bathroom to be done in marble. Our vanity has no storage but I have come up with some clever solutions.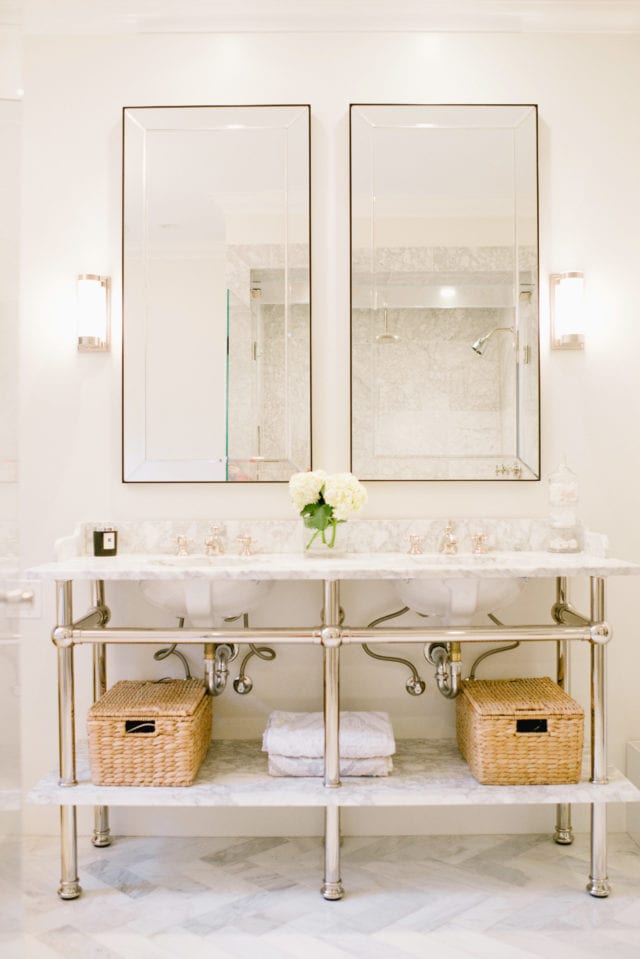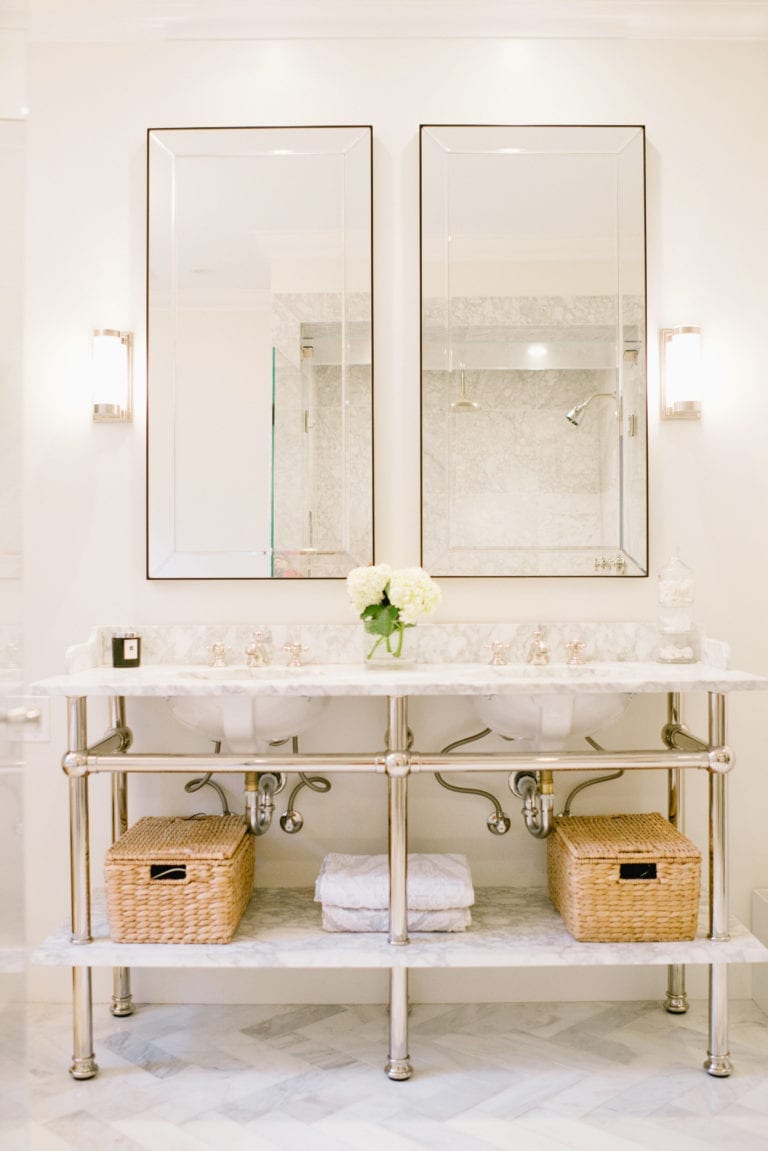 The baskets under the sink hide everyday items such a hairbrushes, my hairdryer and curling iron, and extra towels. All of my makeup and toiletries are stored in the nearby linen closet. Because we only have 2 sets of towels and sheets, there is ample room for all the normal bathroom toiletries and beauty products!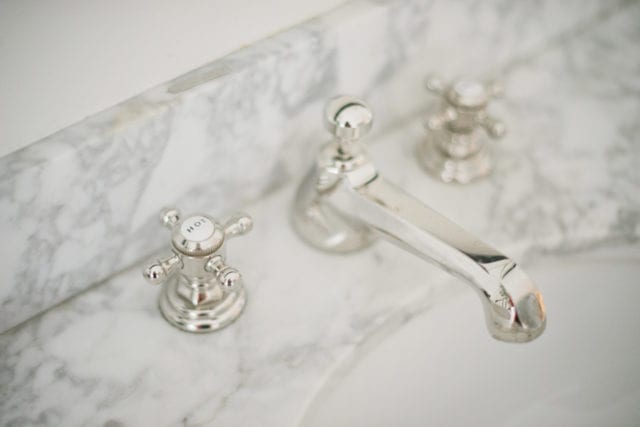 One of my favorite parts of our bathroom is our large soaking tub. I love to take baths when I can and it is the prettiest focal point in our bathroom.

Modern Farmhouse Home Tour: Master Closet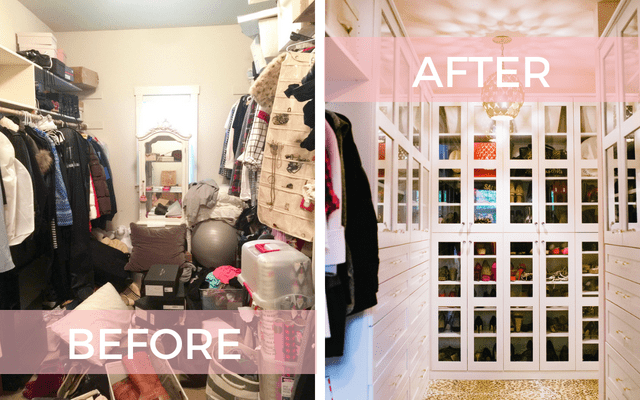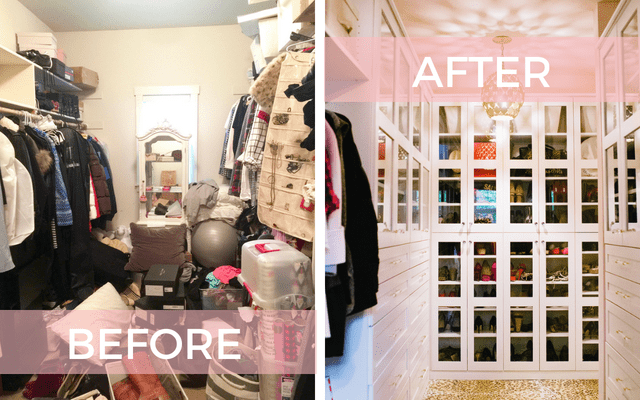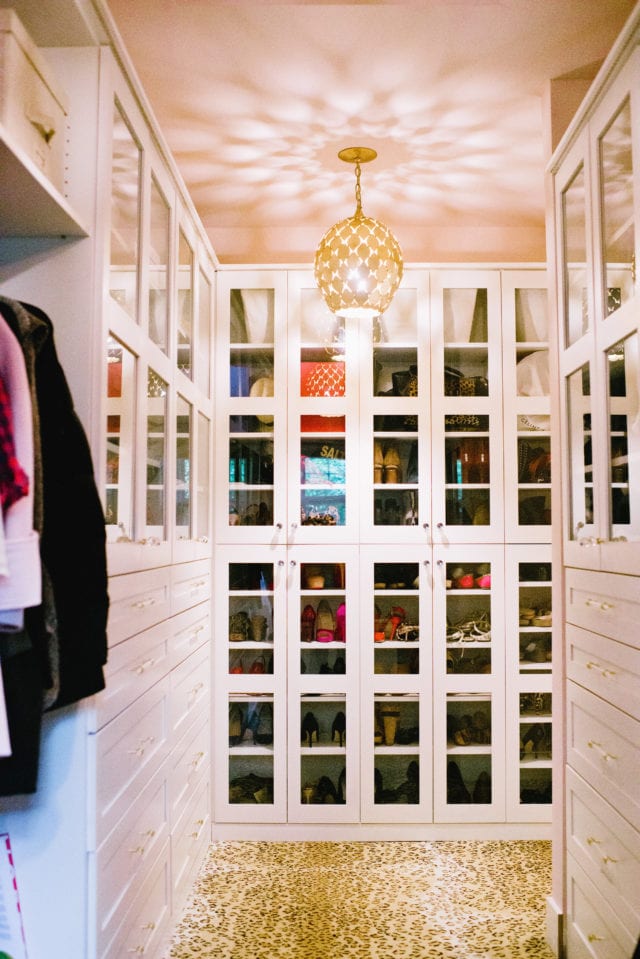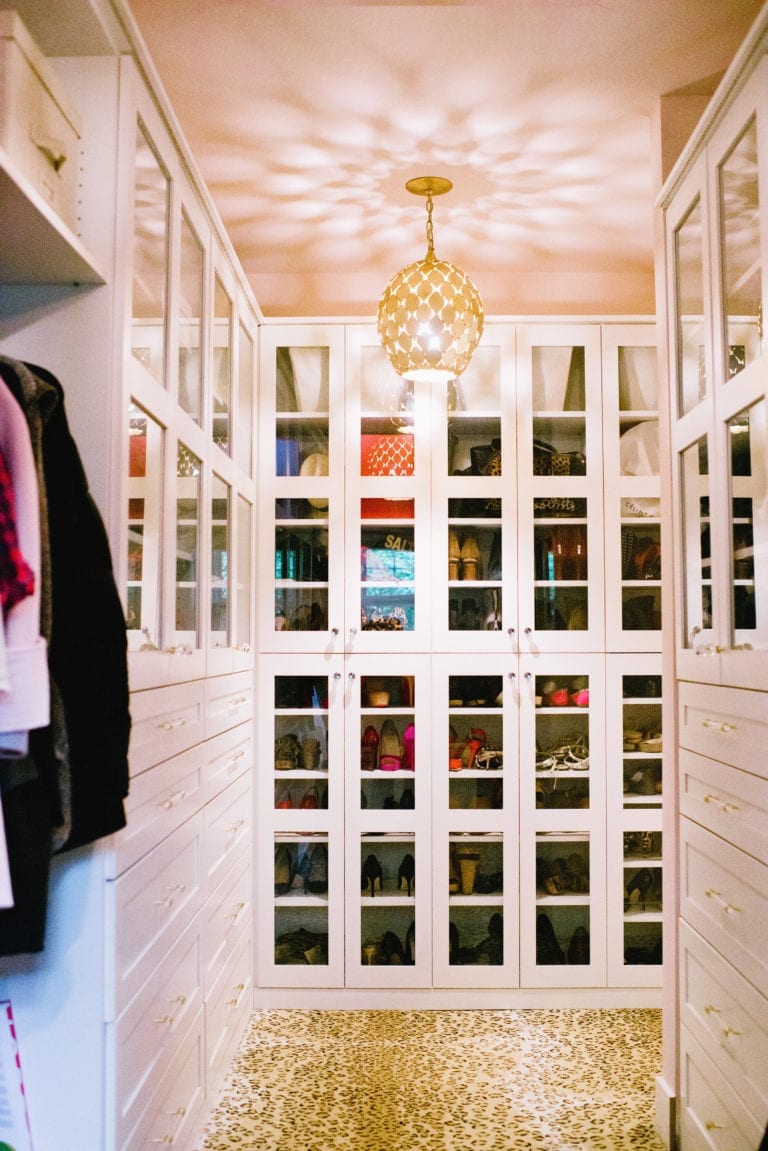 When we purchased our home, I knew I would be able to have the closet of my dreams. The original closet was huge but lacked any character or actual storage.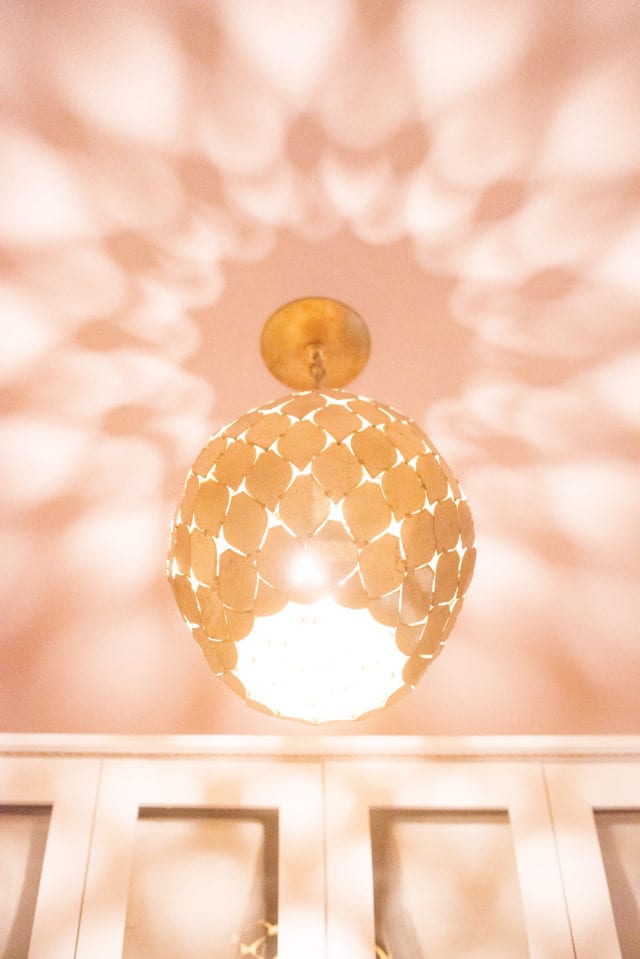 I painted the ceiling and walls Calamine by Farrow and Ball. It was the perfect jumping off point for the rest of the room.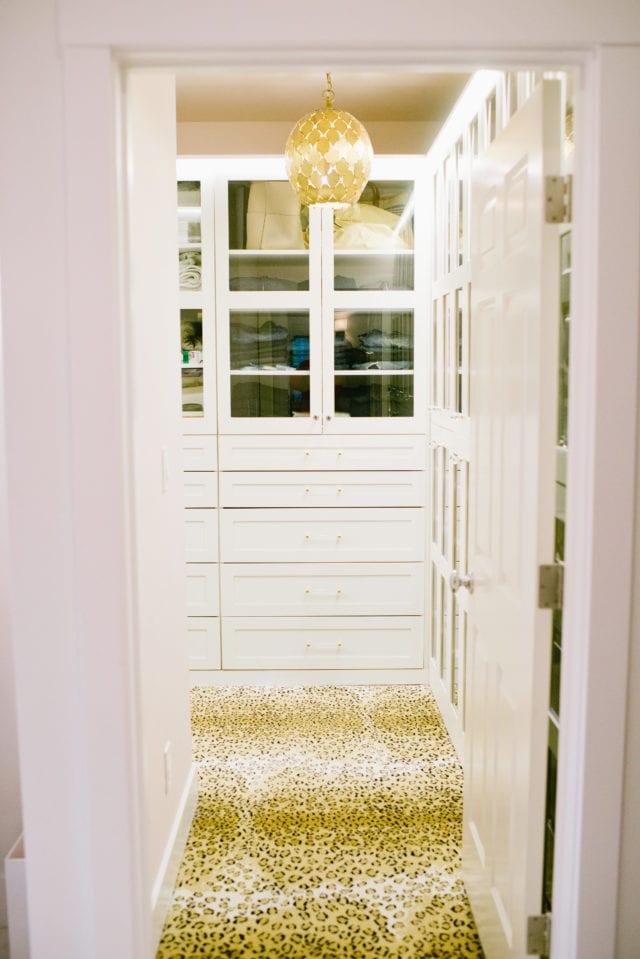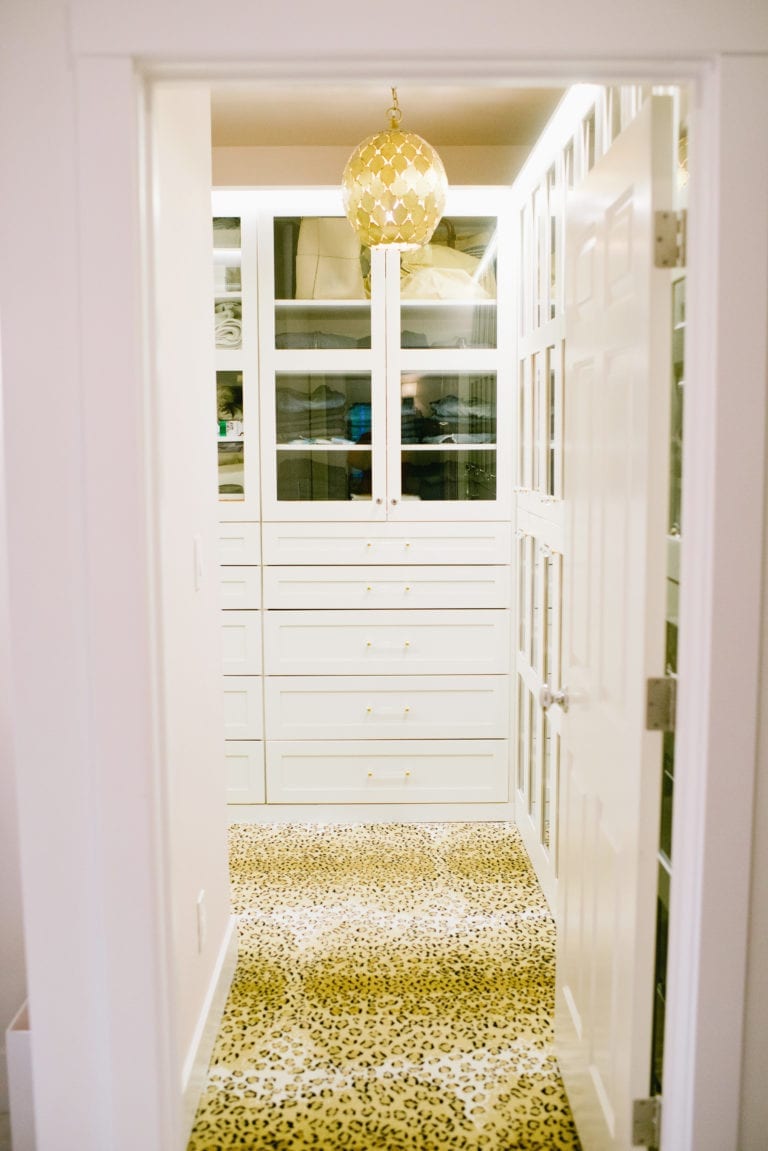 Custom cabinets and lucite hardware lend a classic but sophisticated touch to the room. I even created an entire bank of cabinets dedicated to handbags and shoes! And the finishing touch is the leopard carpet. I have to say, It is my favorite part of the whole house!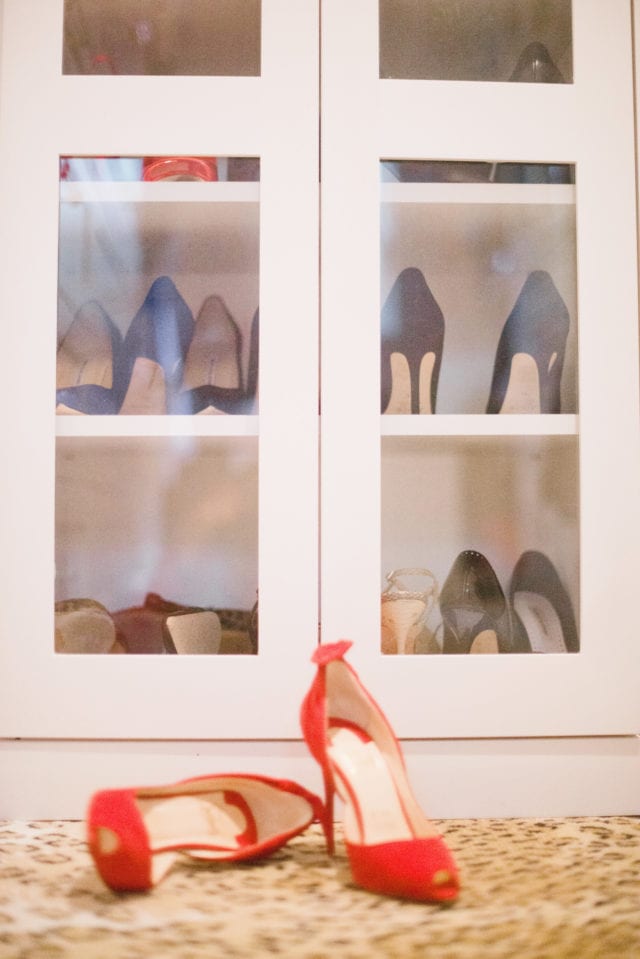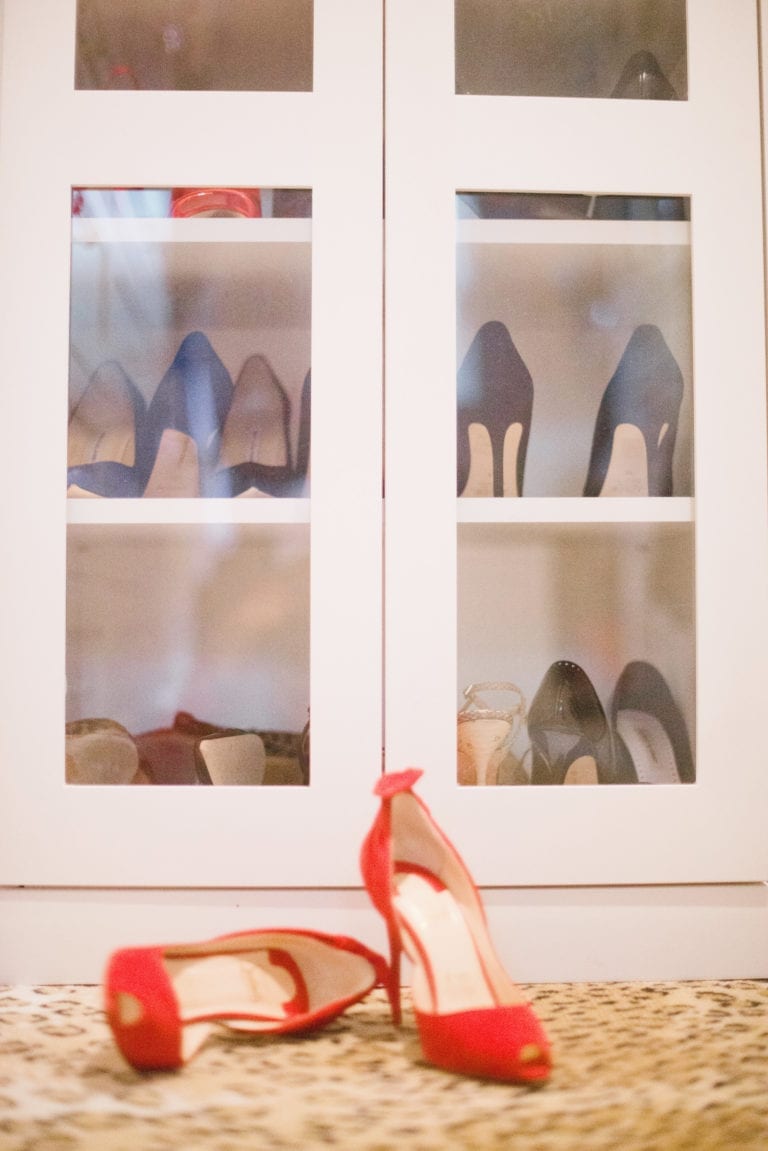 Modern Farmhouse Home Tour: Backyard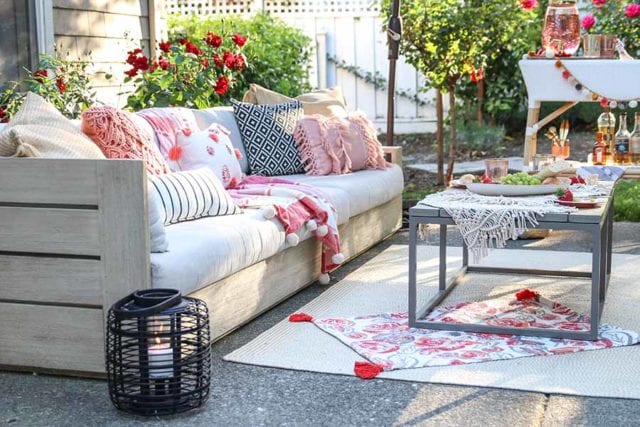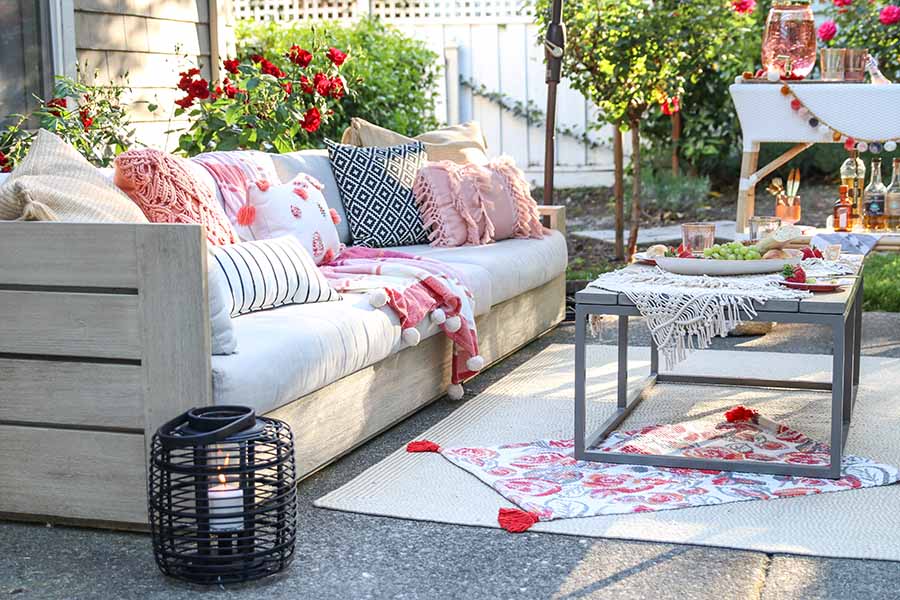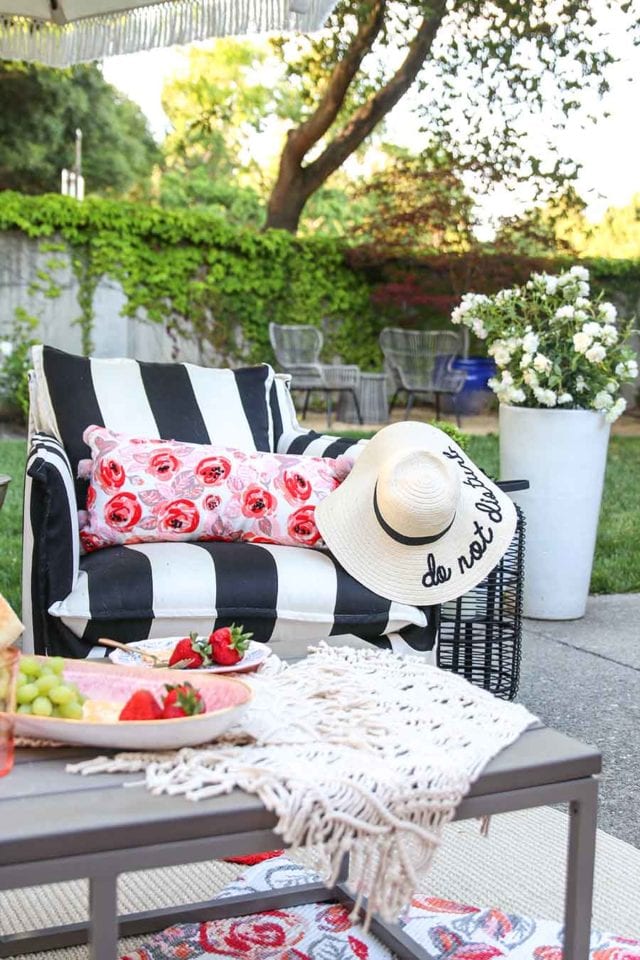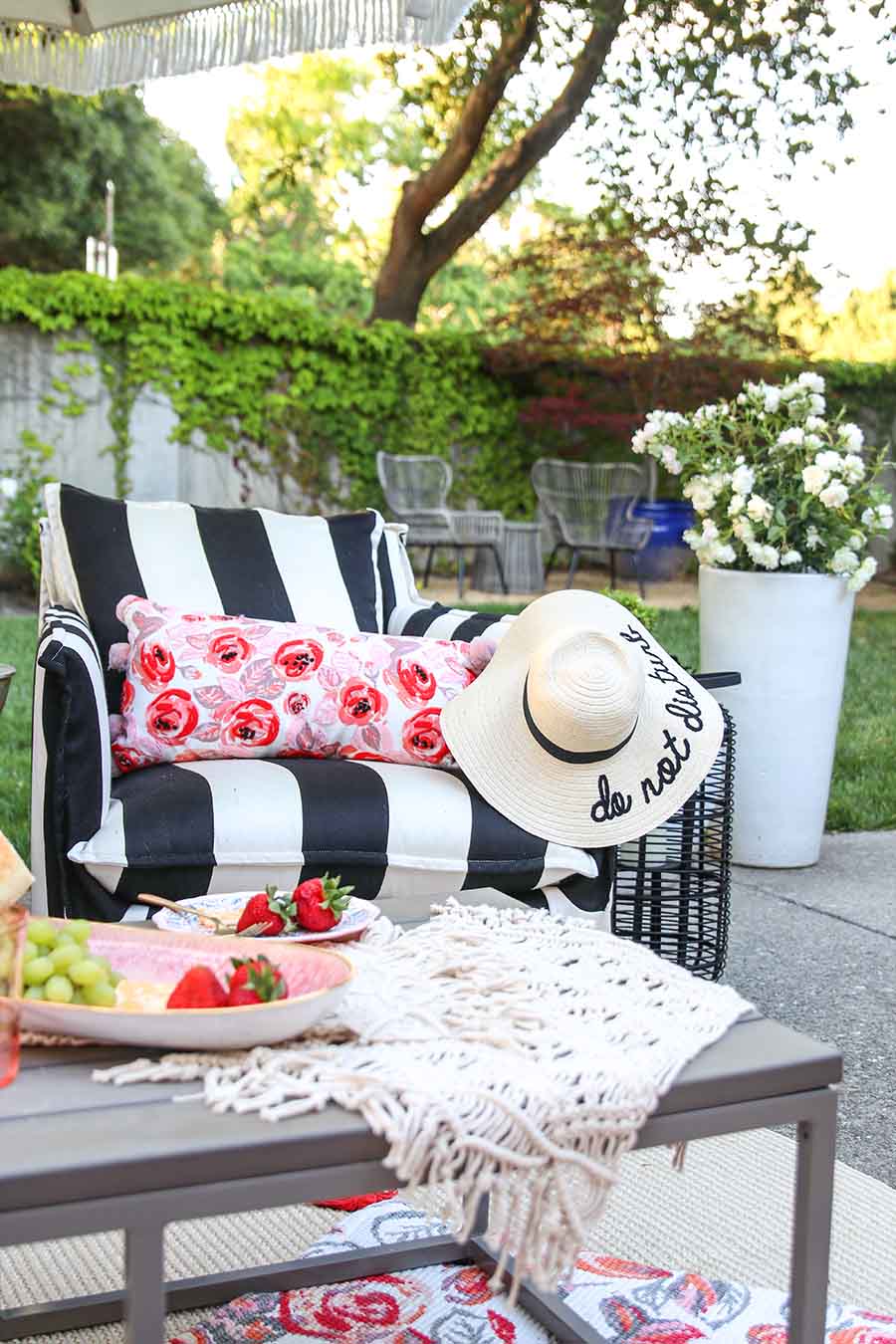 We live in the Bay Area, California where the housing prices are insane and lot sizes are miniscule. So creating an outdoor living area is an extension of our indoors and allows us more room to move about.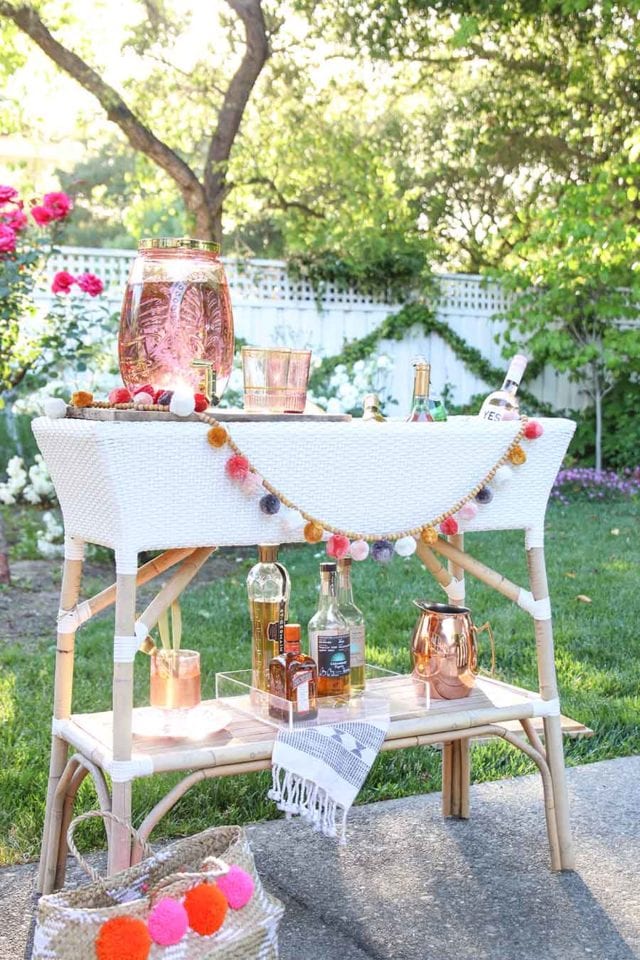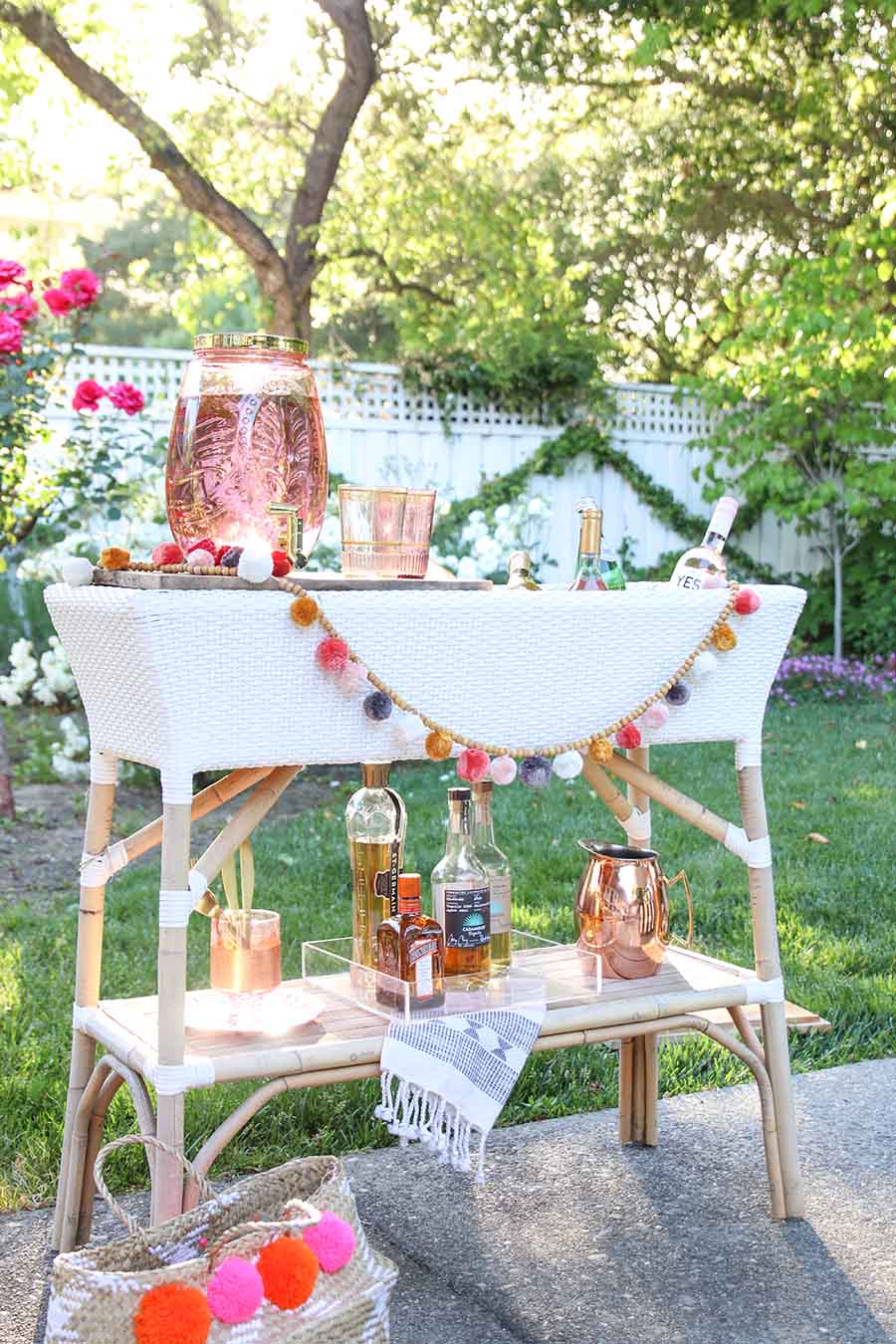 I love updating the pillows with the season. I like being able to change the color scheme so easily with a quick switch out of pillows. We have an outdoor bar that holds cold drinks and snacks that gets used more often than not!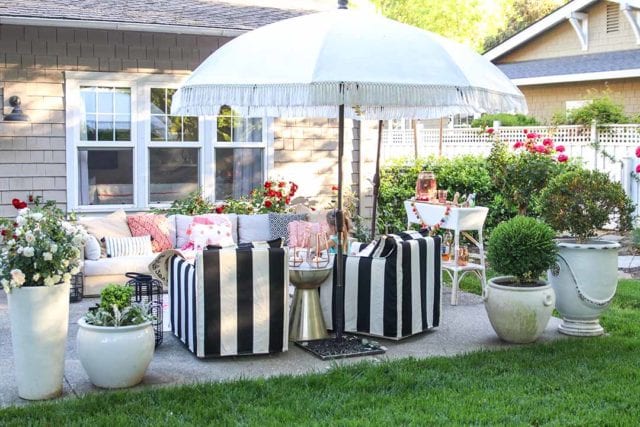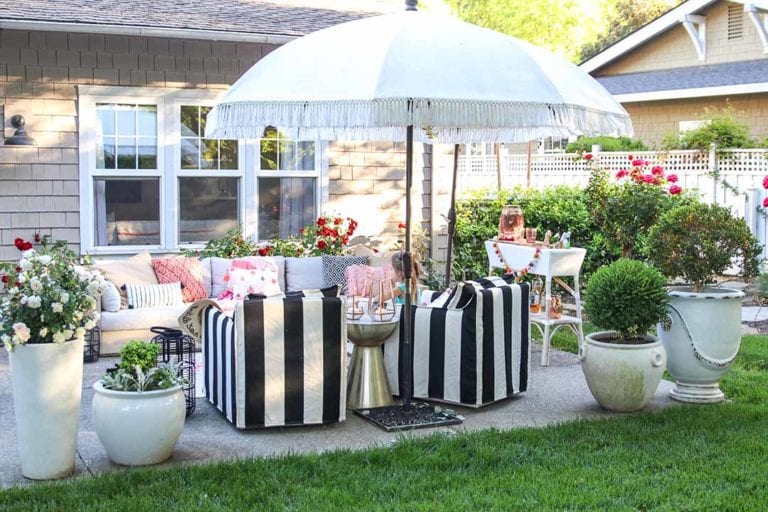 You can find the full tour of this outdoor patio update by clicking HERE.

So, as you can see, we have been working on our home over the 8 years we have lived here. Nothing has happened overnight. Each project has taken time and hard work! Sometimes I wish our home was done and just the way I want it. But we are grateful for how it is now and we are enjoying the learning process of tackling these projects ourselves!
Select photography by Wendy Vonsosen Photography