Learn How To Paint Your Front Door in one afternoon without taking it off the hinges. If you follow this simple guide, you can have a new front door color by tomorrow!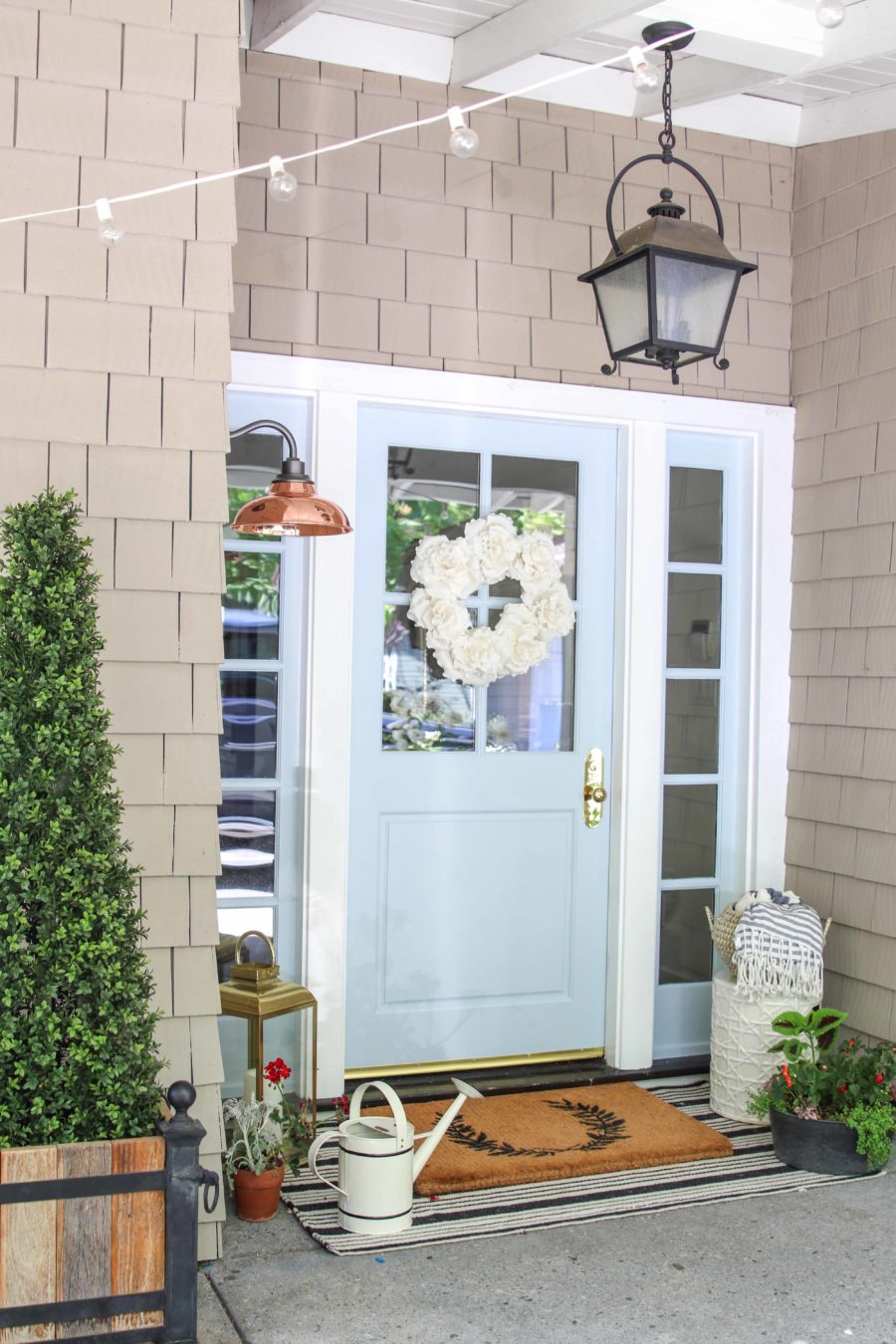 I love to change the look inside and out in my home. One of the easiest and most impactful projects is to paint your front door a new color!
Over the past 7 years I have painted my front door 6 different colors. I know that seems like a lot, but I think it's one of the most fun ways to play with design and decor for your home.
I will show you the process that I have perfected over the years and how simple it can be to give your front door a fresh coat of paint.
How To Paint Your Front Door in One Afternoon!
And if you are looking for paint color inspiration and ideas, check out this post: The Best Front Door Paint Colors.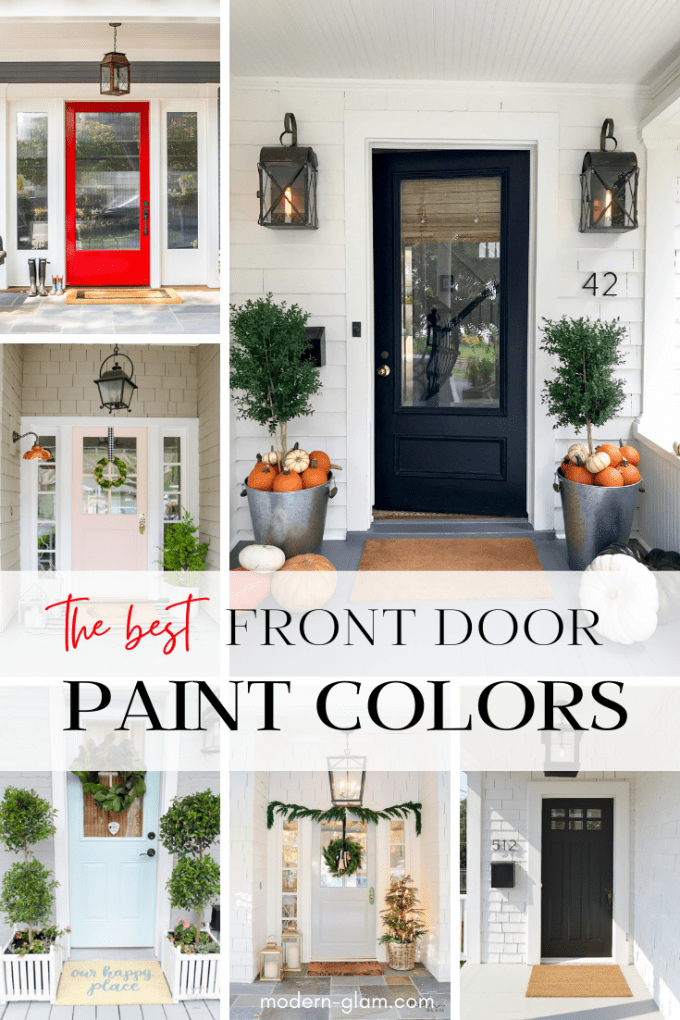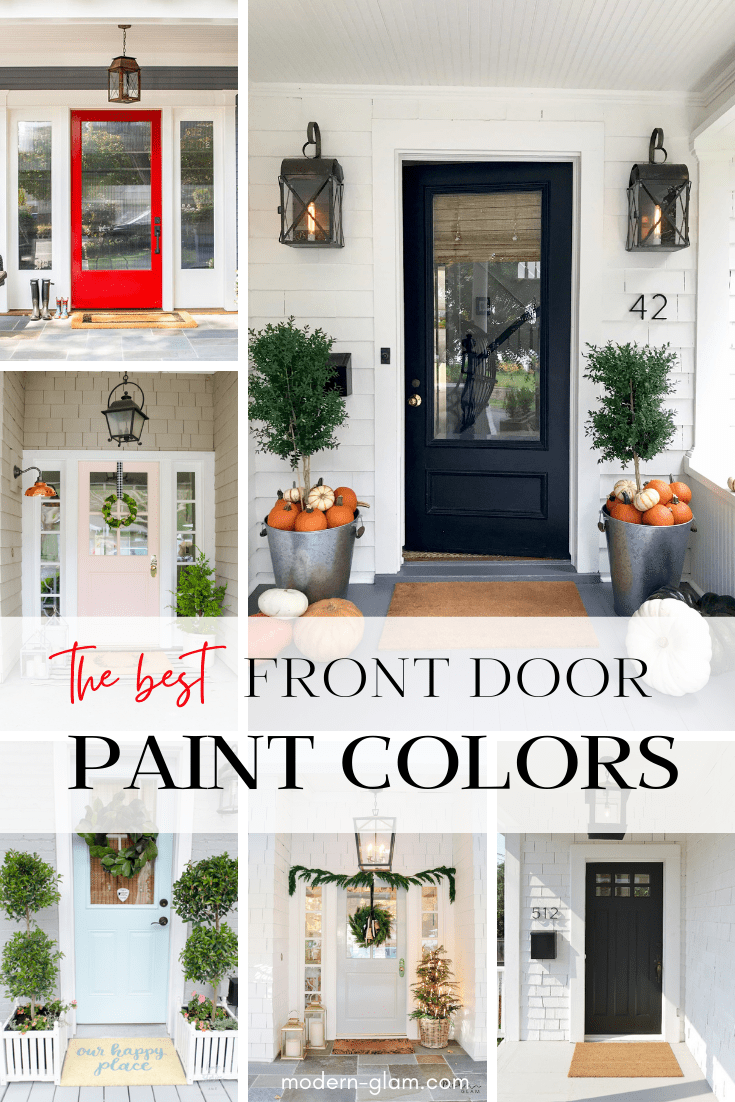 Be sure to watch the video at the bottom for a quick start to your painting project!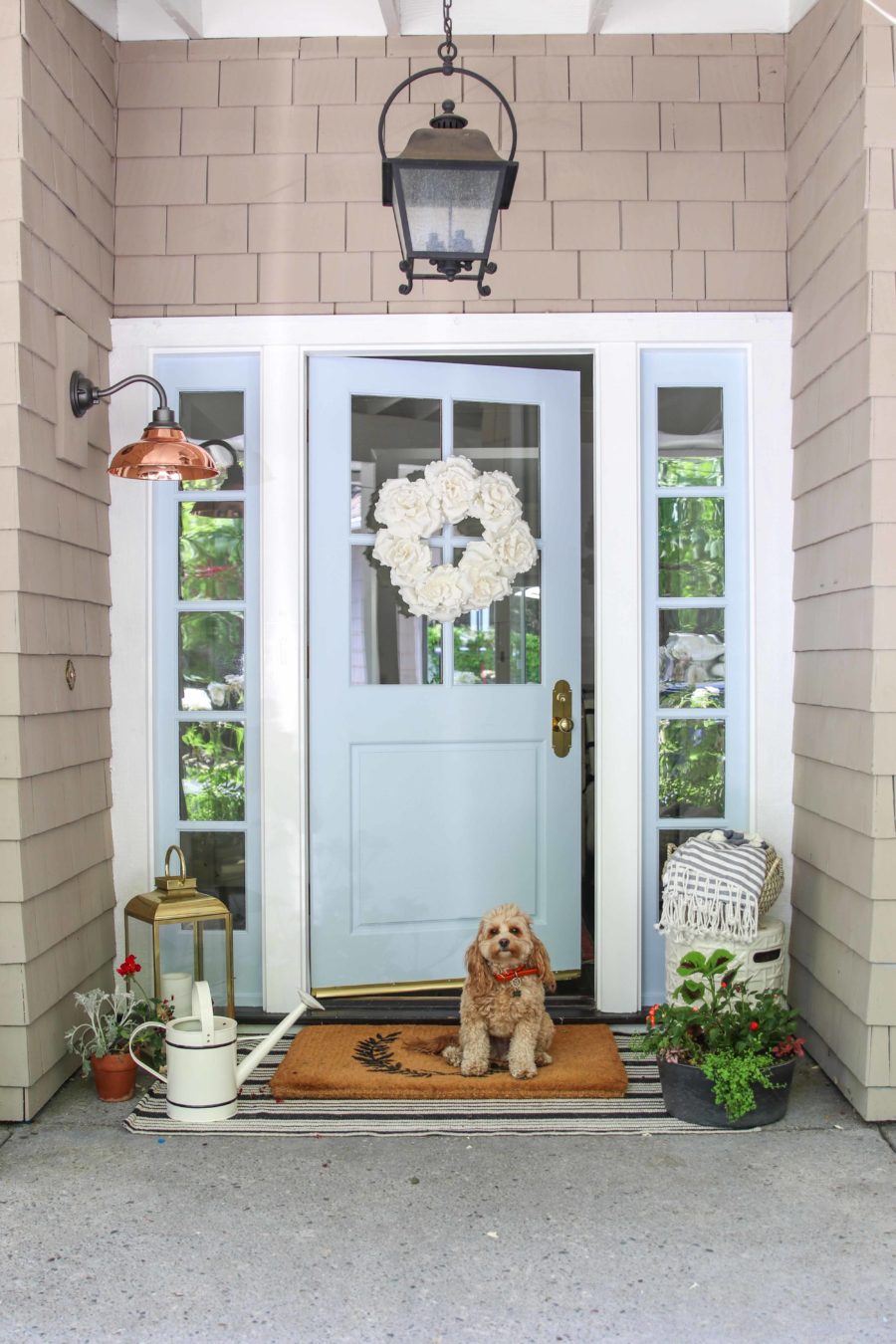 How To Paint Your Front Door: Step 1
The first step is going to be to pick your paint color. This is the most fun of all. I love browsing the paint chips at the hardware store and testing out samples.
Buy a few cans of sample colors and take a poll with your family and friends! Make this process fun and easy. After all, it's just paint!
How To Paint Your Front Door: Step 2
Once you have selected your paint, gather your supplies.
Front Door Painting Supplies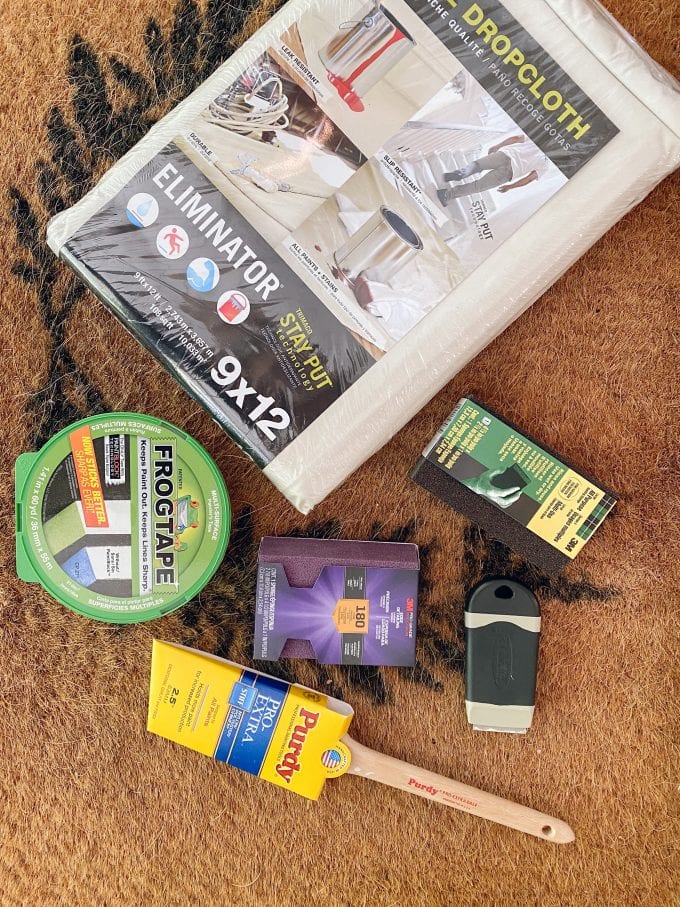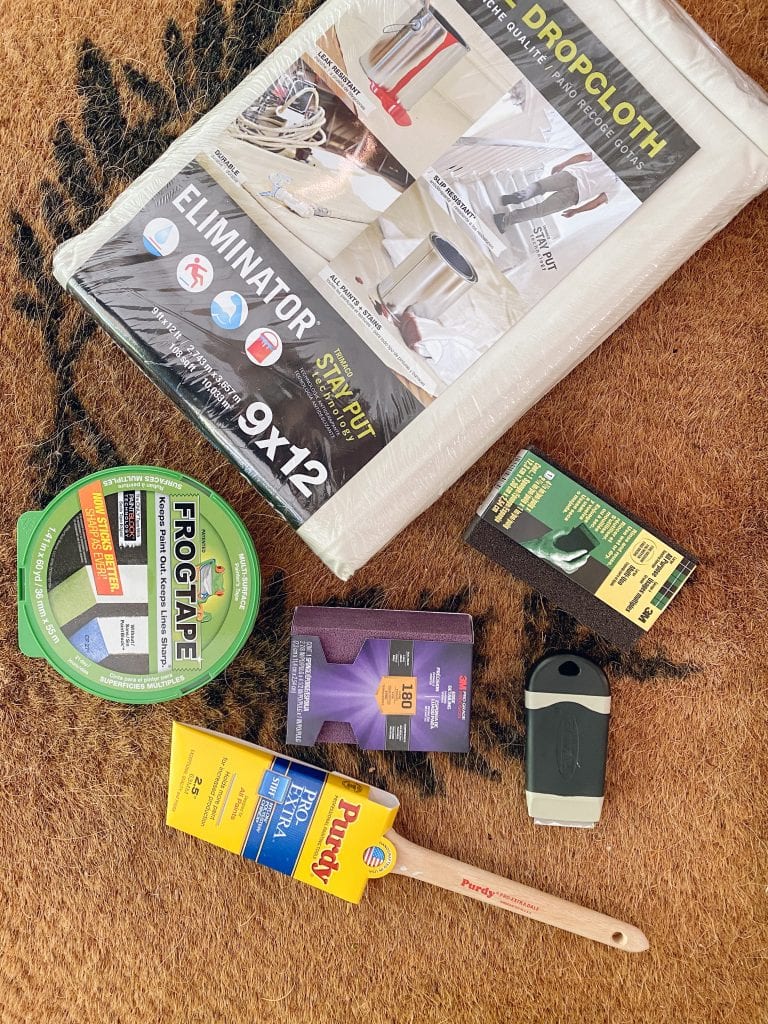 Here is a list of supplies you will need from the hardware store:
Paint (see notes about paint selection and quantity below)
2″ angled paint brush
Fine grit sandpaper
Damp cloth
Razor blade scraper
Masking tape
Drop cloth
A few notes on paint selection. Our front porch is covered by a large overhang and doesn't get any weather damage. So, I chose to use a Satin Latex paint. Our door used less than 1 pint of paint, but the amount of paint you may need depends on the size of your door.
How To Paint Your Front Door: Step 3
Now it's time to prep your door. Take your sandpaper and lightly sand your door. This will give the new paint something to bind to. It will also help remove built up debris. This step doesn't have to tedious. Just give the door an overall light sanding.
Next, use your damp cloth to wipe down the door. You want to remove all dust or debris. Especially in the corners and cracks. If you have one of those keyboard cleaners, you can use this to blow out any built up dust in the crevices.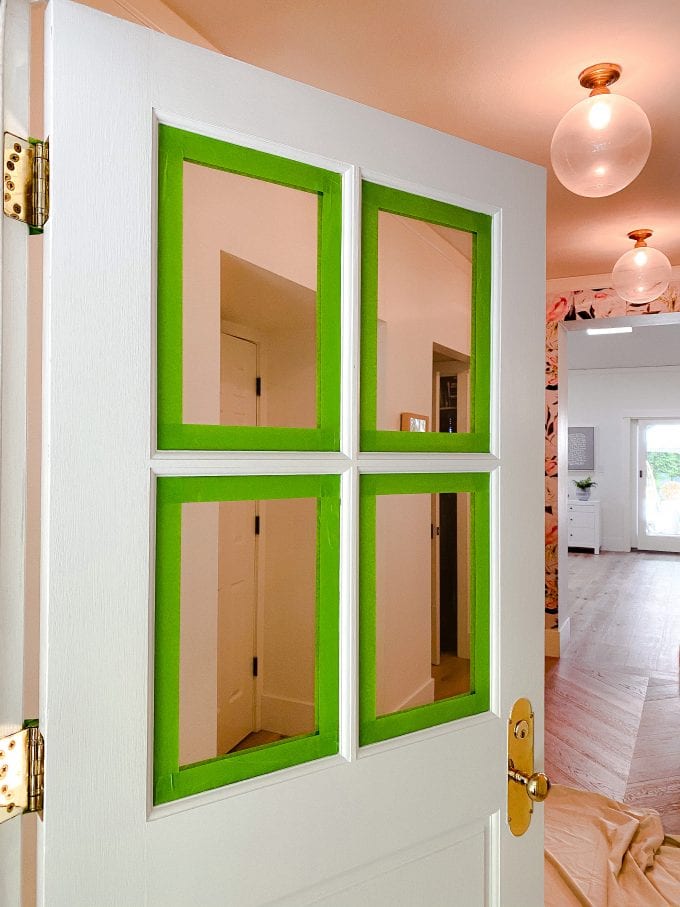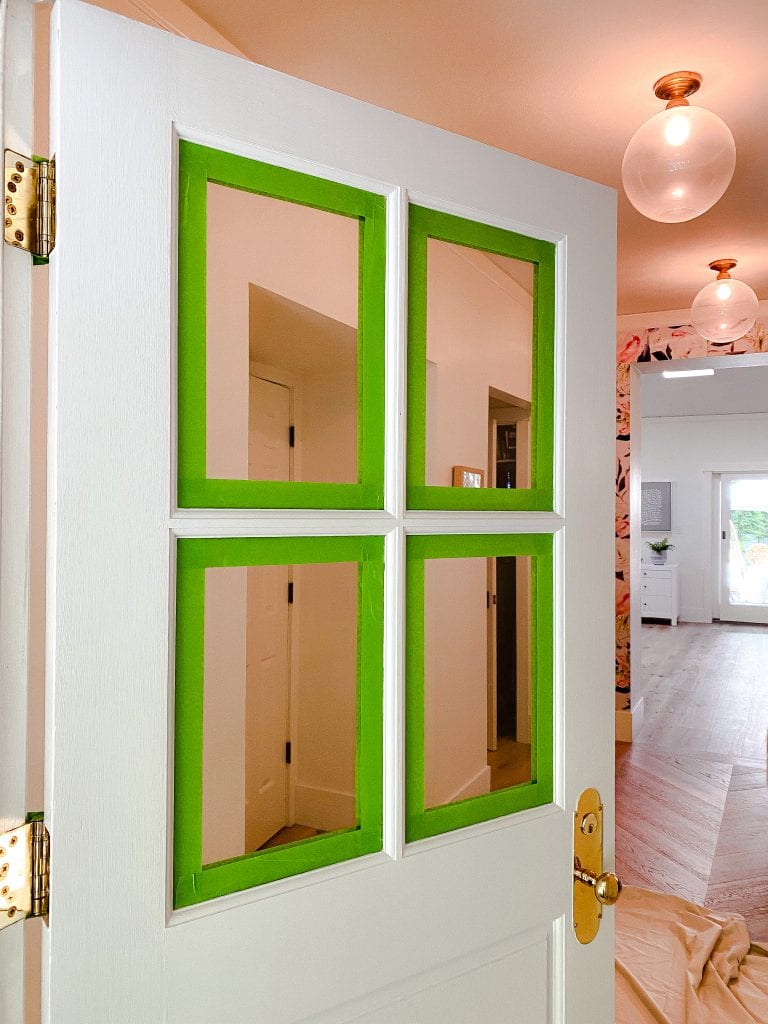 Use the masking tape to tape off any area you aren't painting on the door. I like to use the paint on the inside edge to create a clean line. You can also use the tape around your doorknob and kick plate . Tape off the window if you have one. Basically, you want to place the tape wherever you don't want the paint go.
How To Paint Your Front Door: Step 4
Lay down your drop cloth under the area you will be painting. Since you are painting vertically, paint will inevitably drop, so it's easiest if you catch drips with an old towel or sheet.
Using the 2″ angled brush, start painting your door!
Start by painting inside the moulding or trim. Then paint the larger sections using up and down or side by side strokes. Keep the paint strokes long and clean to minimize visible brush strokes.
You can also use a small foam roller to paint the larger panels of the door for a smoother finish. If you would like to do this, use the small paint brush to paint the moulding and trim. And then you would follow up by using the foam roller on the flat surfaces of the door.
Leave the door open to dry. If it's warm and dry outside it should dry relatively quickly, in less than 3o minutes.
You should need about 2 coats of paint.
How To Paint Your Front Door: Step 5
After the door is painted and has dried for at least 24 hours, remove any masking tape carefully and gently. Then go around and clean up any edges with the razor blade scraper.
This is especially efficient on the windows and any metal surfaces. I carefully used this blade around the edges of my doorknob to remove any uneven paint lines. And watch my video below for reference!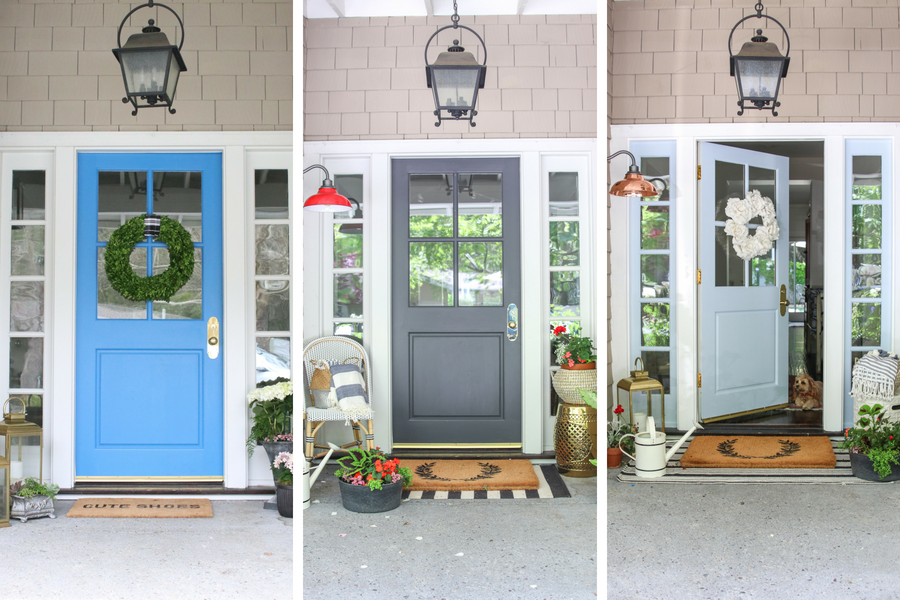 The 3 images above are my front door colors over the past year. See, all it takes is a can of paint to change the look of your home!
Paint colors used (from left to right):
Valspar Blue Lobster
Benjamin Moore Wrought Iron
Clark & Kensington Mountainside Vista
And for more front door paint ideas, check out this post: The Best Front Door Paint Colors.
Tips & Tricks
My #1 tip is to paint on a hot day! If you paint when it is dry and hot (not humid) the door will dry so fast that you can begin painting the second coat right after you finish the first! When I last painted our front door, it was 98 outside and it took me less than 2 hours from prep to finish!
And check out this video from my Instagram Stories that includes a quick start to your painting project!