Summer is officially here and I have been busy getting my back patio ready for the warm months ahead! I like to update my outdoor spaces for the season, but I don't got overboard. I'm going to share with you my favorite patio decorating ideas for outdoor living!
If you missed it, I shared my front porch tour last month. It can be seen HERE.
Patio Decorating Idea: Create an outdoor living room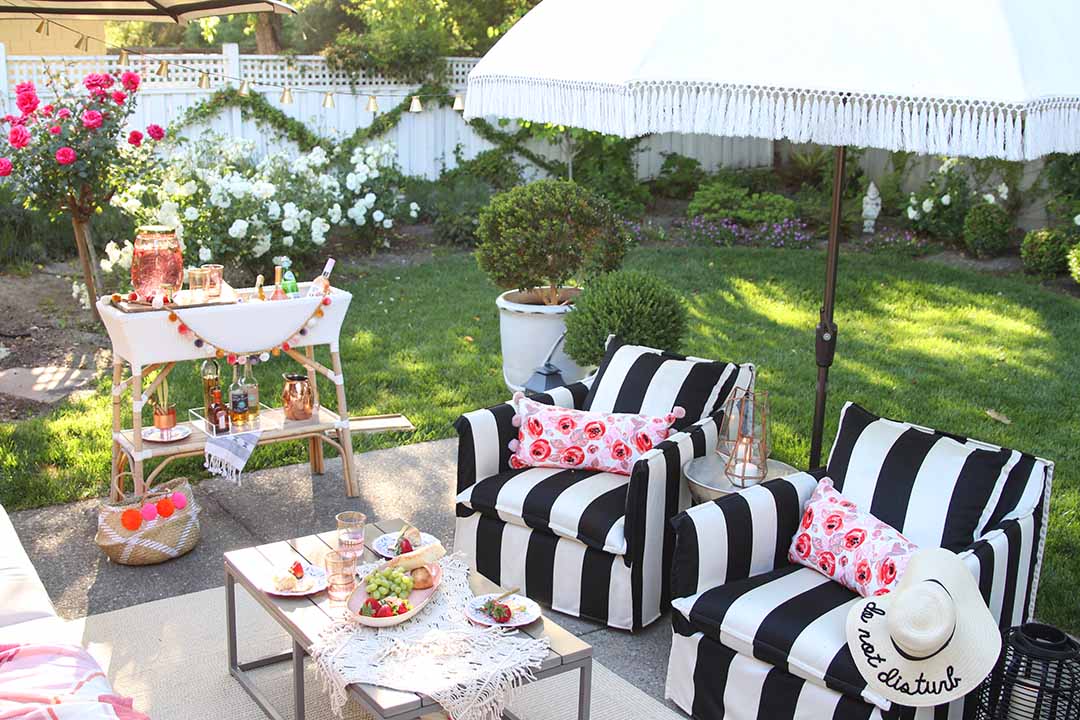 Because we are short on patio space in our yard, last summer we swapped our patio table and chairs for an outdoor sofa and chairs. You can see a glimpse of what it looked like before in this post HERE.
I love having an extension of our living space outside.I created a place where we can entertain and just relax.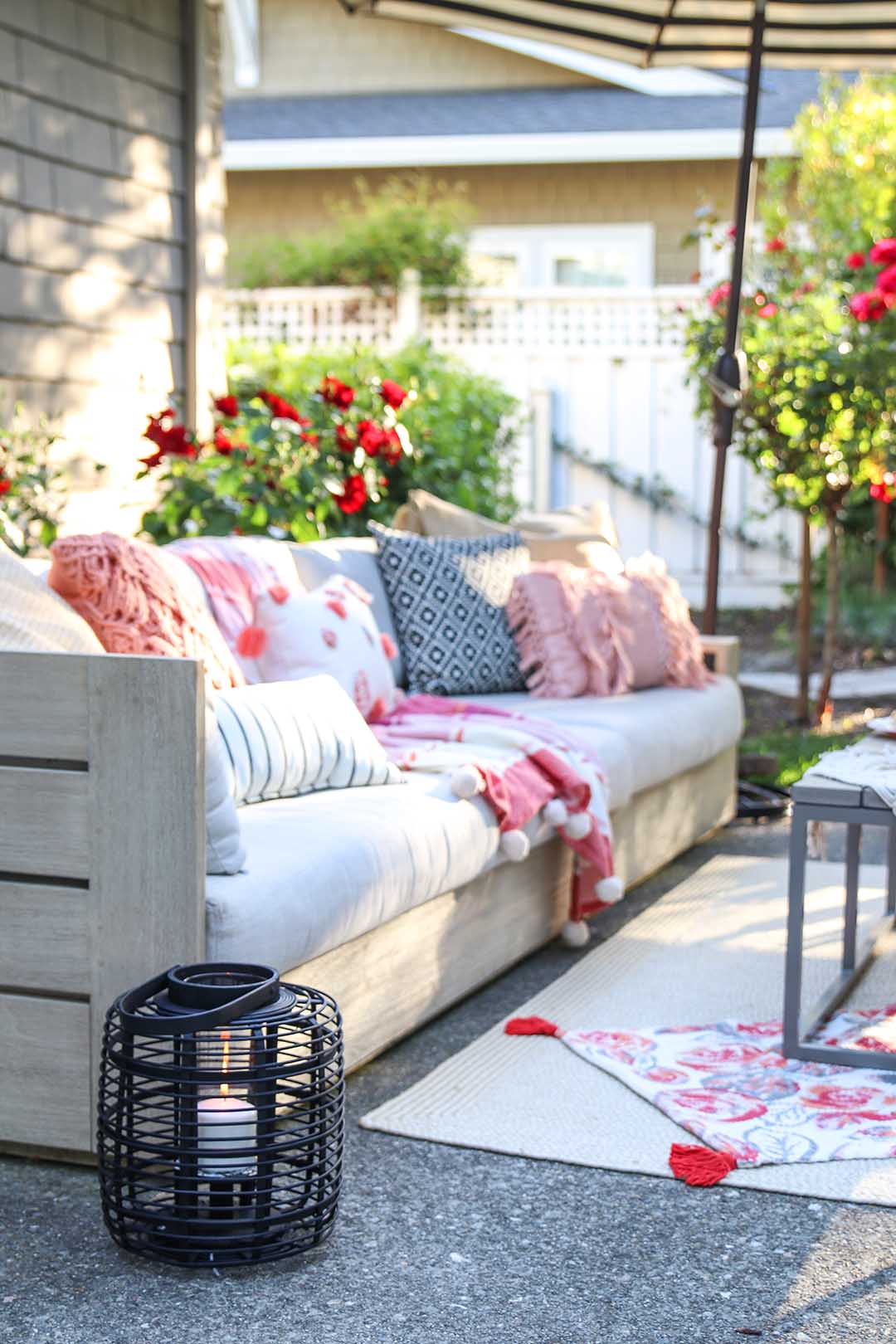 A long sofa meant for the outdoors is soft and neutral. This allows me to change the colors year to year. I offset the sofa with two oversized chairs and added a small outdoor coffee table in the middle. This allows us to set food or drinks on it.
Gathering together your outdoor furniture is all you need to create an outdoor living room. Pull together those outdoor chairs and create a conversation area. Make it feel cozy and like an extension of your indoor decor and I know you will end up loving the result!
Patio Decorating Idea: Add A Rug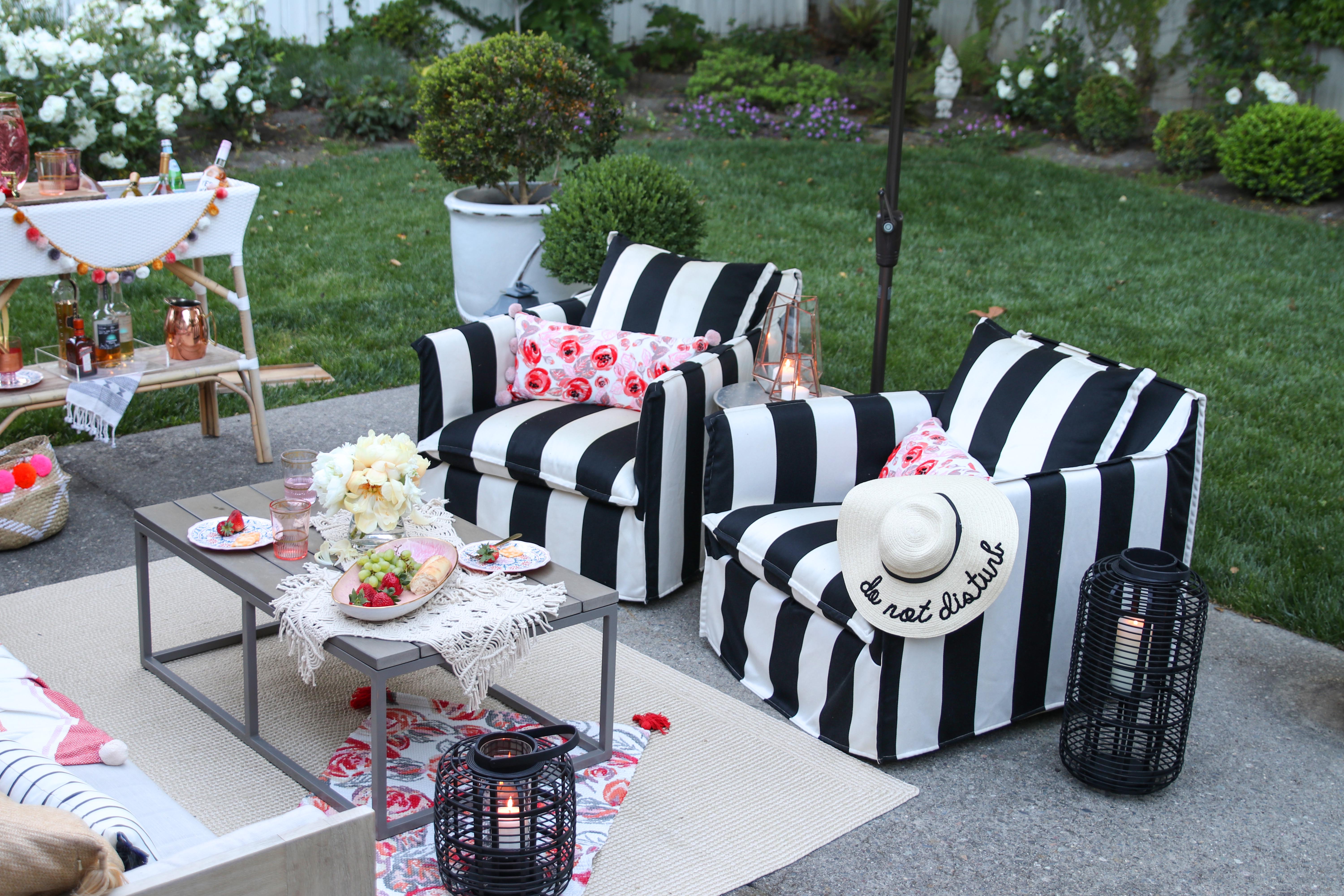 Another key item for our outdoor living space is a rug. I chose this inexpensive and neutral one from Target. I love the light sand color!
Laying down a rug instantly makes your outdoor area cozy and comfortable! There are so many options lately. And most look like something you would use indoors! I've linked a few of my favorites below.

Patio Decorating Idea: Create A Summer Bar Cart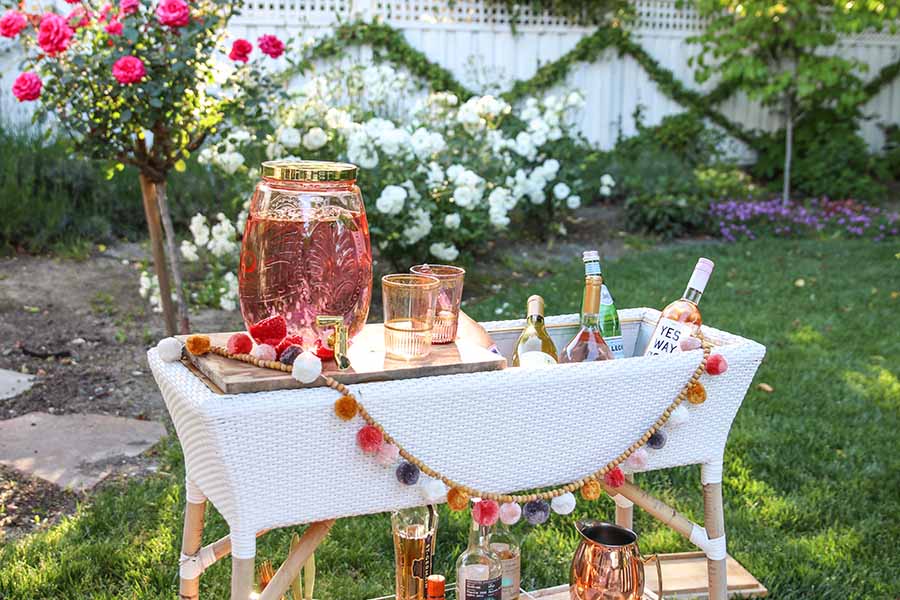 One of my favorite pieces outside is this bar cart that I got at the Serena & Lily Warehouse sale a few years ago. I love that it has 2 ice bucket compartments perfect for holding beverages.
When we have guests over, I bring out items from our indoor bar area to create a full bar so guests can mix their own drinks.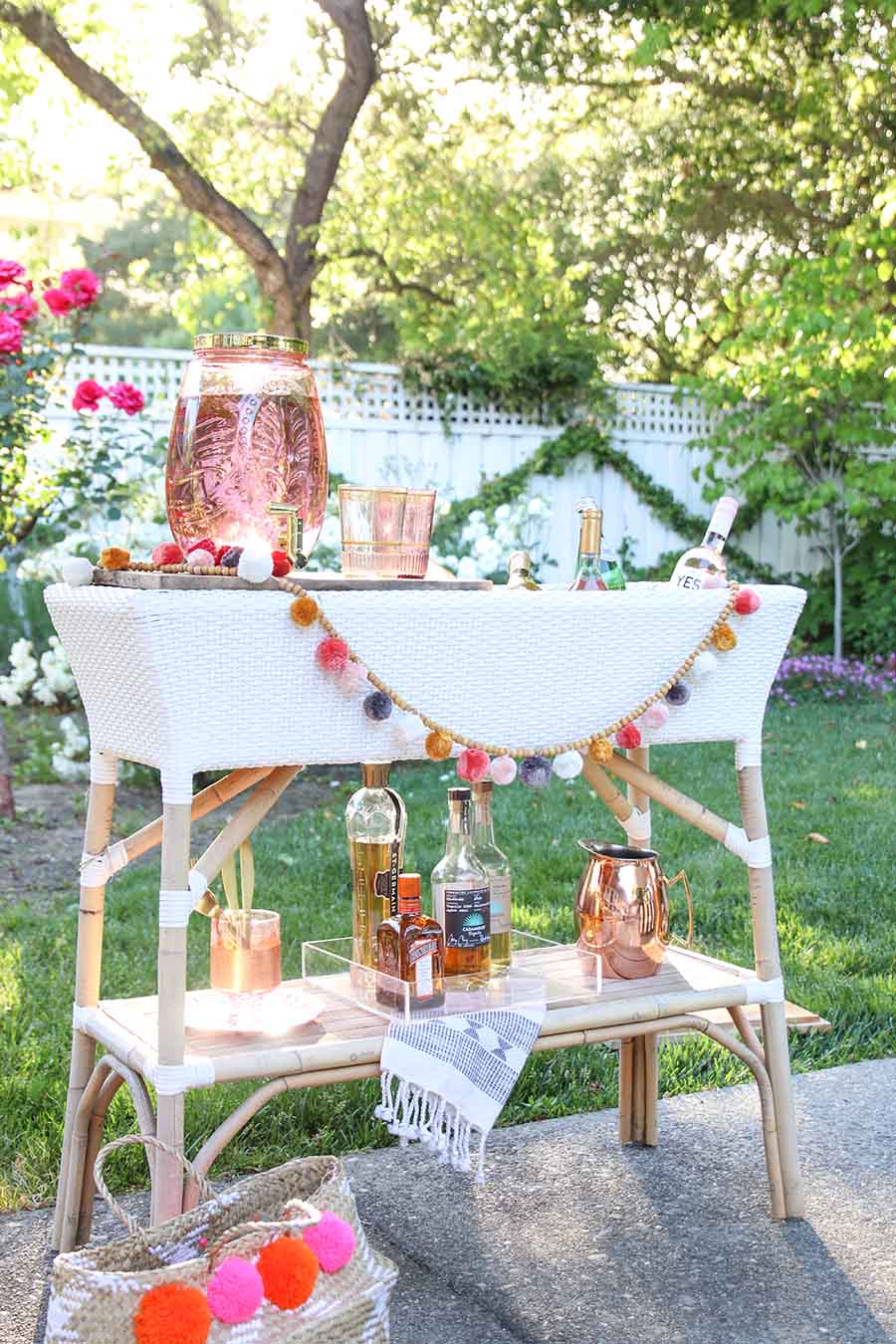 Tip: You don't need a dedicated bar to recreate this. By simply repurposing a table into a makeshift bar, you can make your outdoor space feel festive and inviting for a party!
Patio Decorating Idea: Add Some Color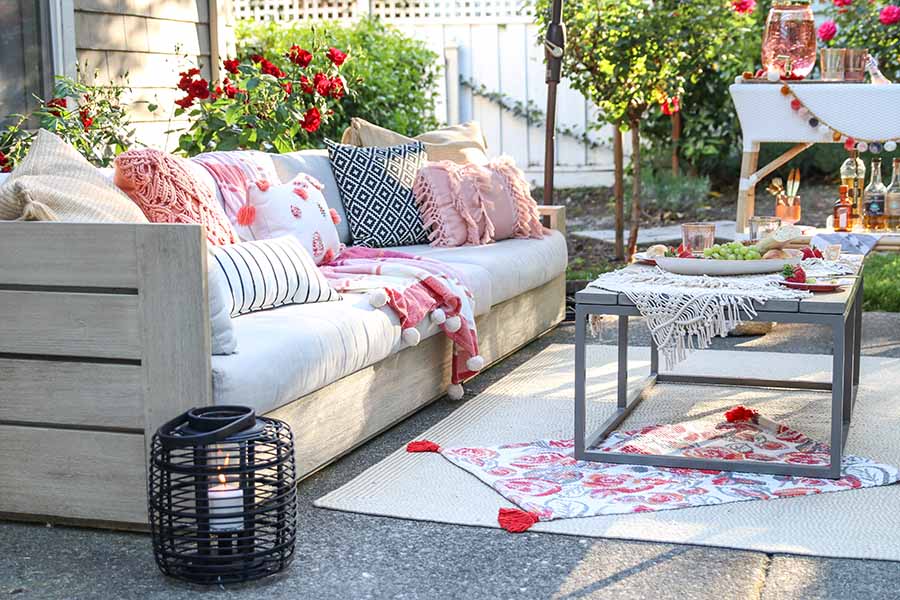 This year I set out to add some color and character to this spot in our garden. I picked up a few pillows from World Market and Target. I love how they look like indoor pillows, but are actually made for outside!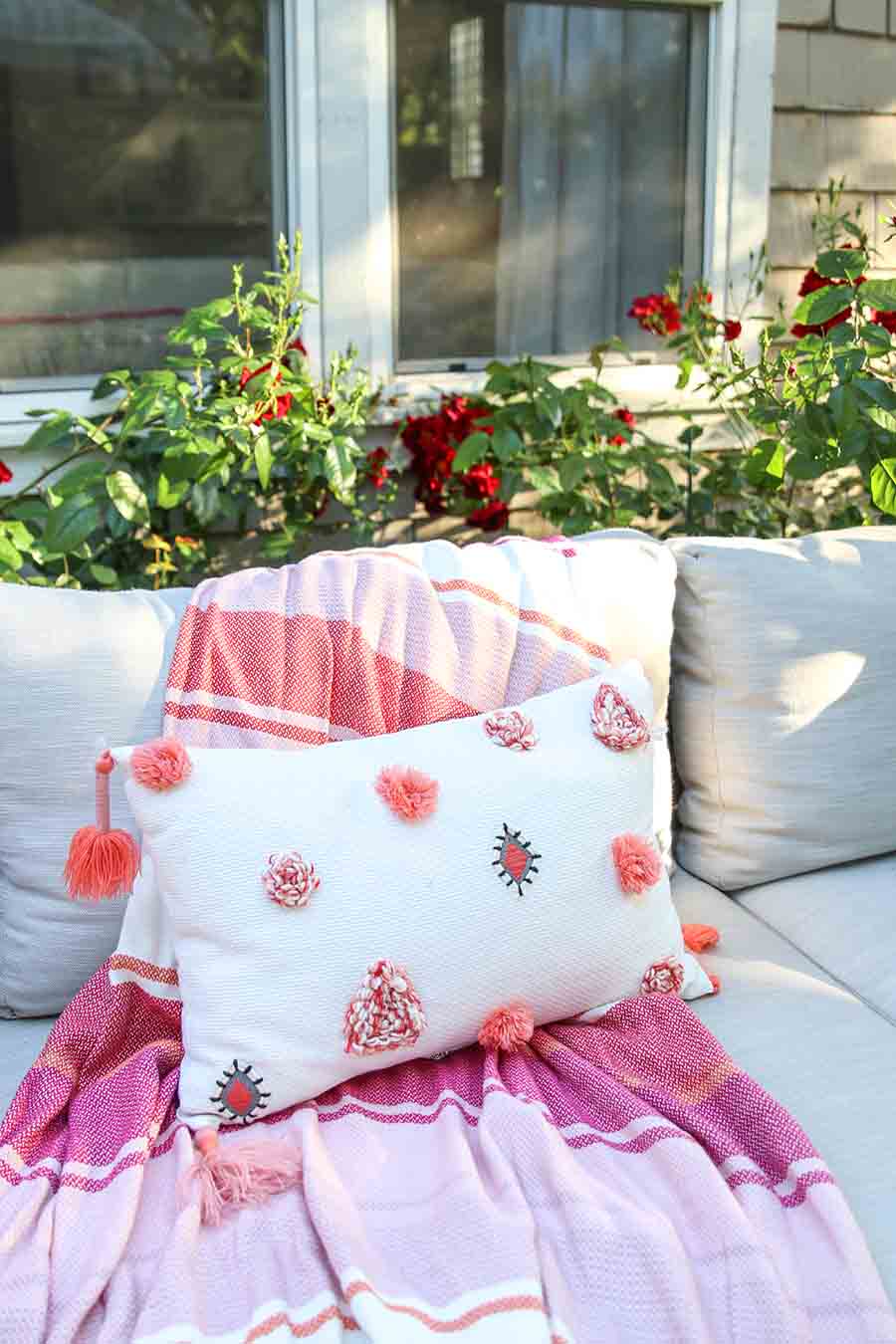 Adding color is easy through the use of pillows and accessories. And it's a relatively inexpensive update as well!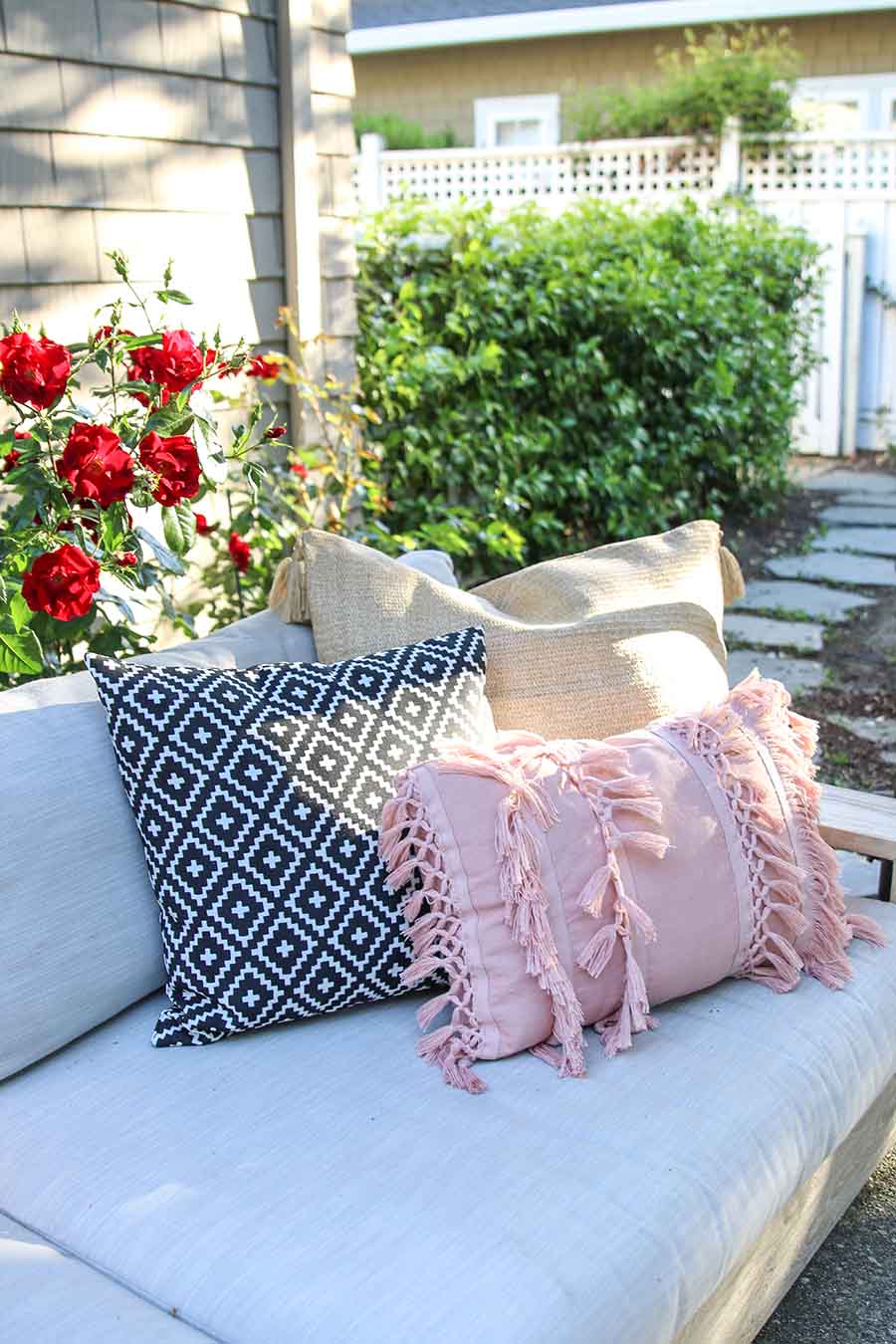 I've linked a few of my favorite picks for summer here for you:

Patio Decorating Idea: Mix and Match Patterns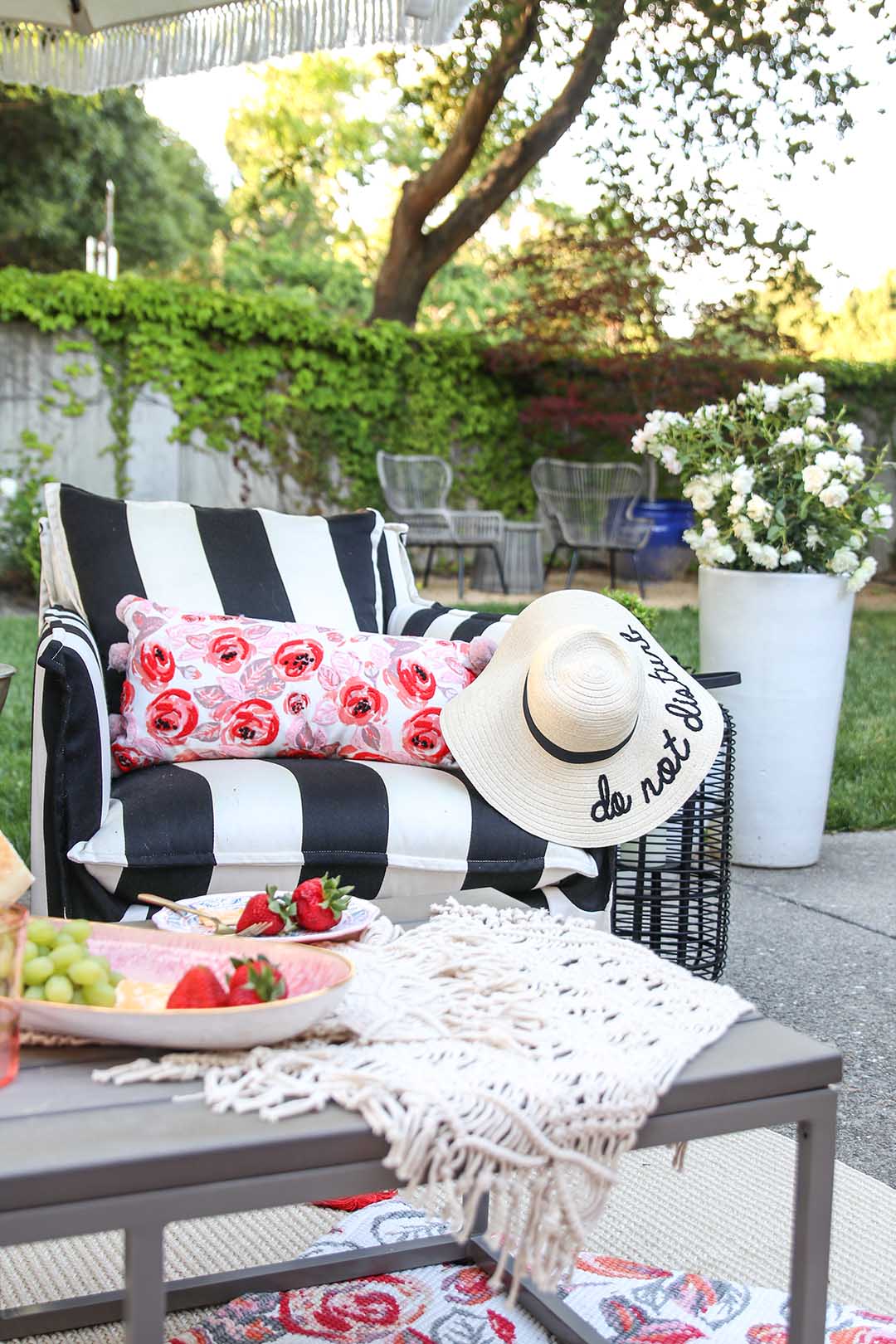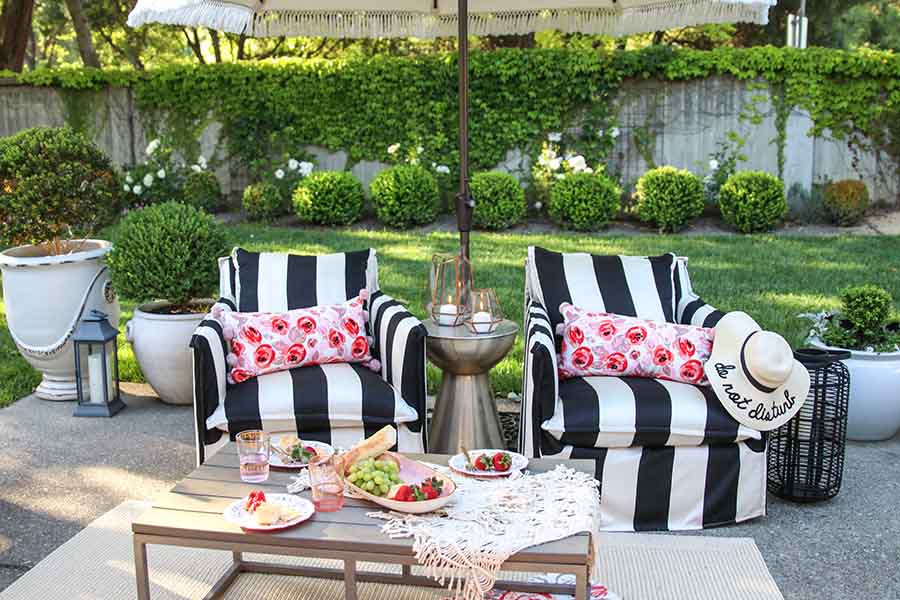 The beauty of creating an outdoor living space is that you have nature as the background! Adding in pattern flows naturally. Whether it be a floral print, a fun macrame texture or a stripe, it all works so beautifully together out in the garden!
Patio Decorating Idea: Create shade with a Fun Umbrella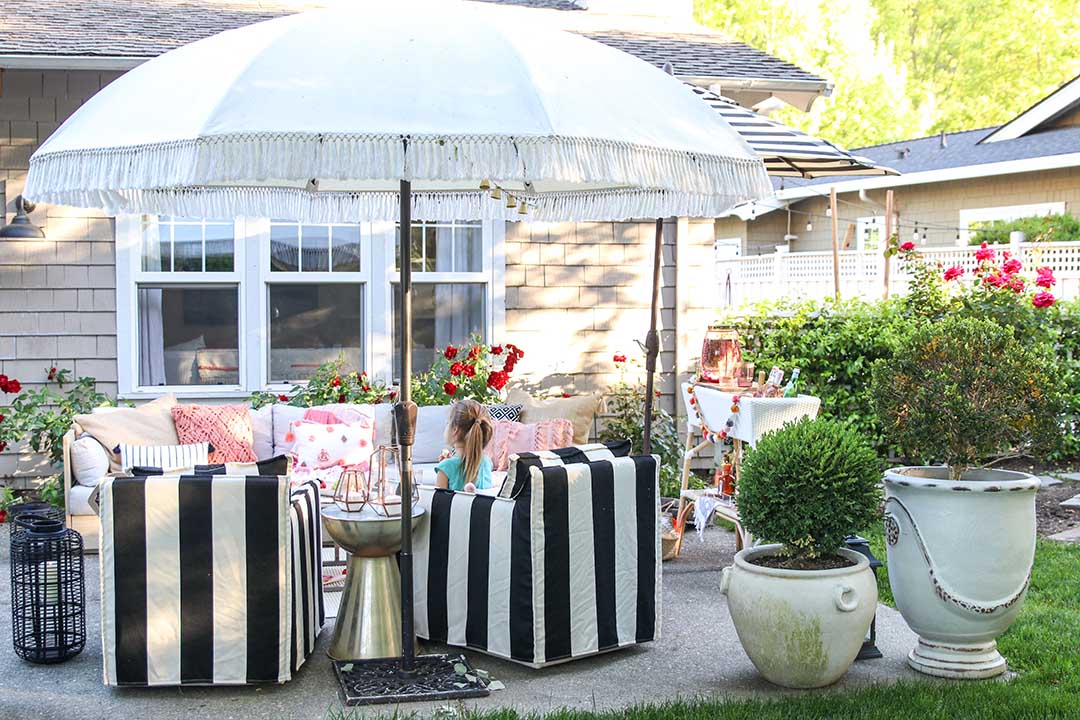 Outdoor umbrellas are essential to shade the area and keep it cool. I love this white one with tassel detail.
And black and white stripes are always on trend. I love how the stripe gives a classic hollywood vibe to the patio. And there's nothing prettier than black and white with a background of lush greenery!
Patio Decorating Idea: Add Lots of Lighting
Because you want your outdoor space to feel cozy and inviting, add lots of lighting! From twinkle lights, to candle light, I say the more the merrier!
I love these large hurricanes that hold candles. We have cafe lights strung on our side yard, but use mainly candle lights in the backyard. I love to place them all around the yard during a party!
Patio Decorating Ideas: 7 Simple Summer Updates
So, there you have it! 7 Patio Decorating Ideas that are easy and that get your backyard looking ready for summer!