This outdoor fall tablescape celebrates autumn and harvest season with its seasonal colors and beautiful blooms set on a rustic table.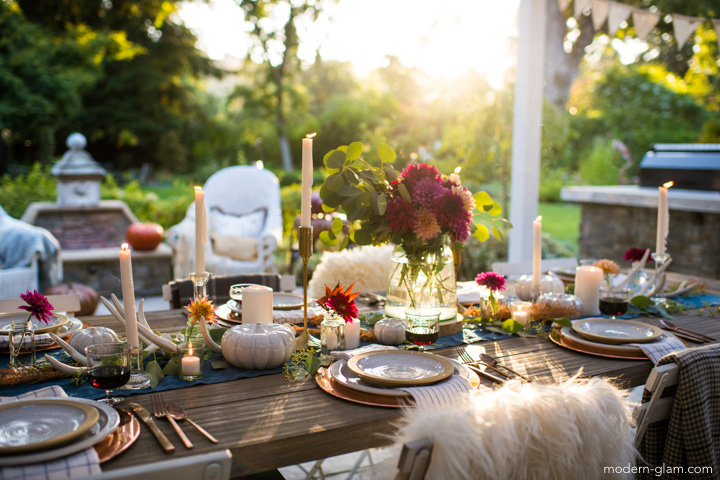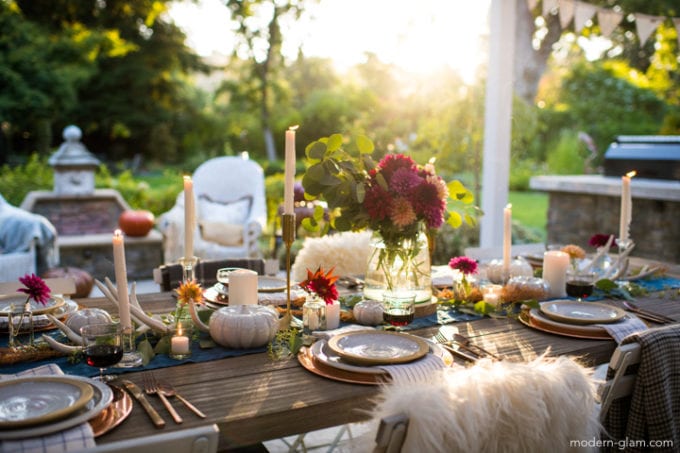 Fall is all about getting cozy and enjoying time with friends. What better way than gathered around a fall table enjoying great conversation and good company. This autumn tablescape is easy to put together and I'll show you how!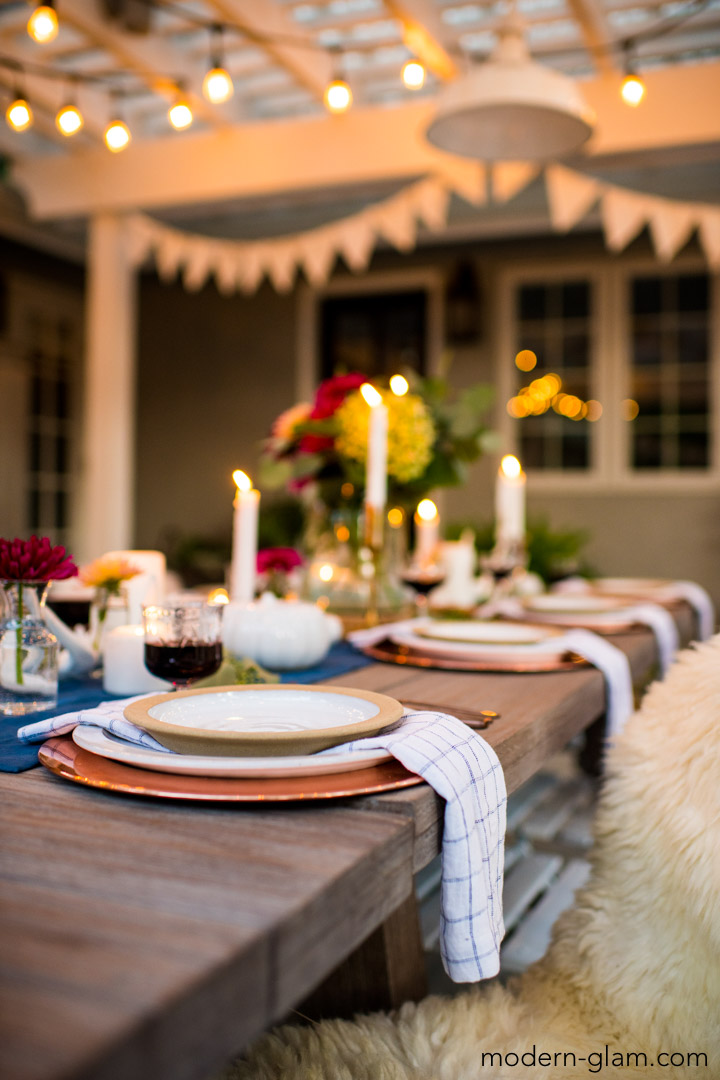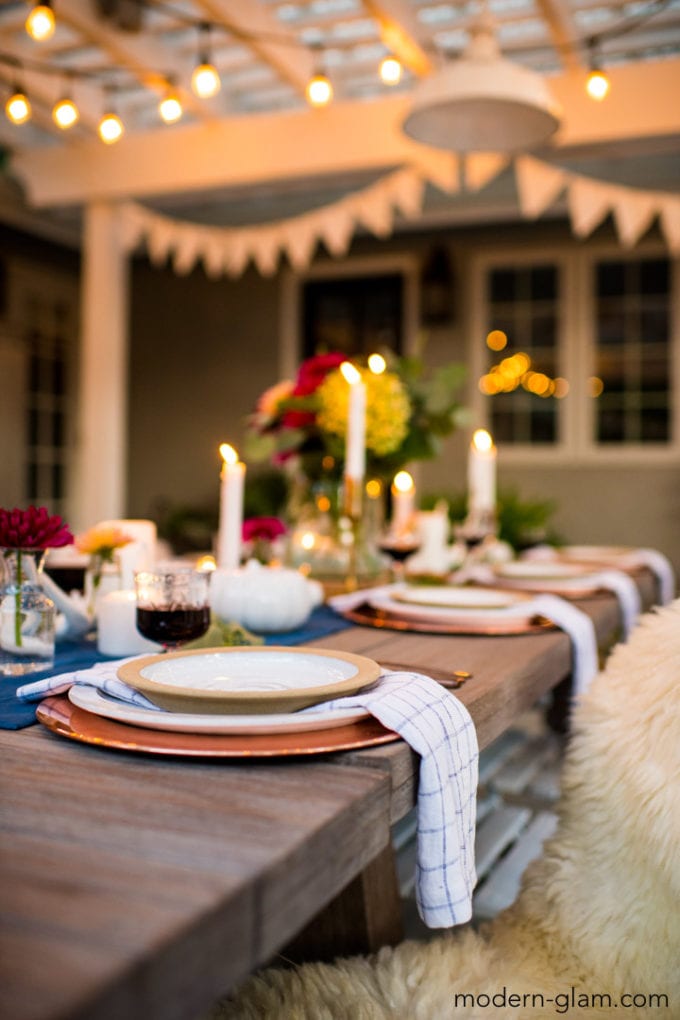 And if you love fall tablescapes as much as I do, you are going to love all the inspiration linked below! I'm giddy with excitement and can't wait to see all the inspiration!
All photography by my sister, Wendy VonSosen.
Outdoor Fall Tablescape
I love dining alfresco when the weather is mild. In California, our summers are almost too hot to eat outside. So, when fall arrives, enjoying an evening outside is perfect. This outdoor fall tablescape takes advantage of the changing seasons and the natural landscape.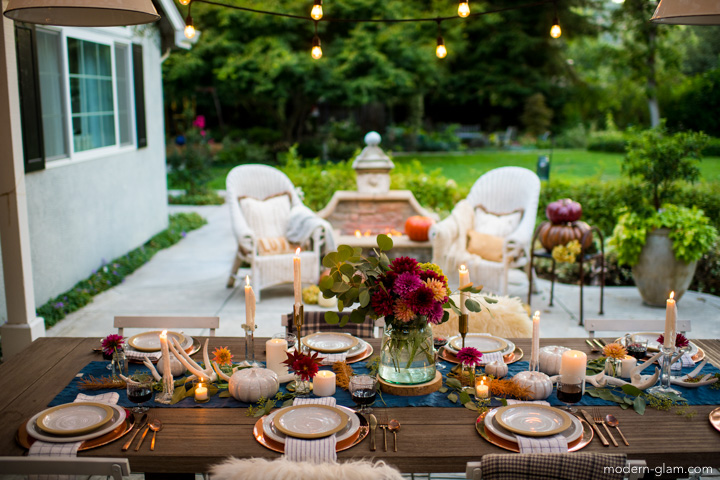 If you've been here before you may have noticed all the different spots we have for enjoying the outdoors at my home. But you may have also noticed that we have no outdoor table. When we do eat outside, it is on our patio with our plates perched on our knees.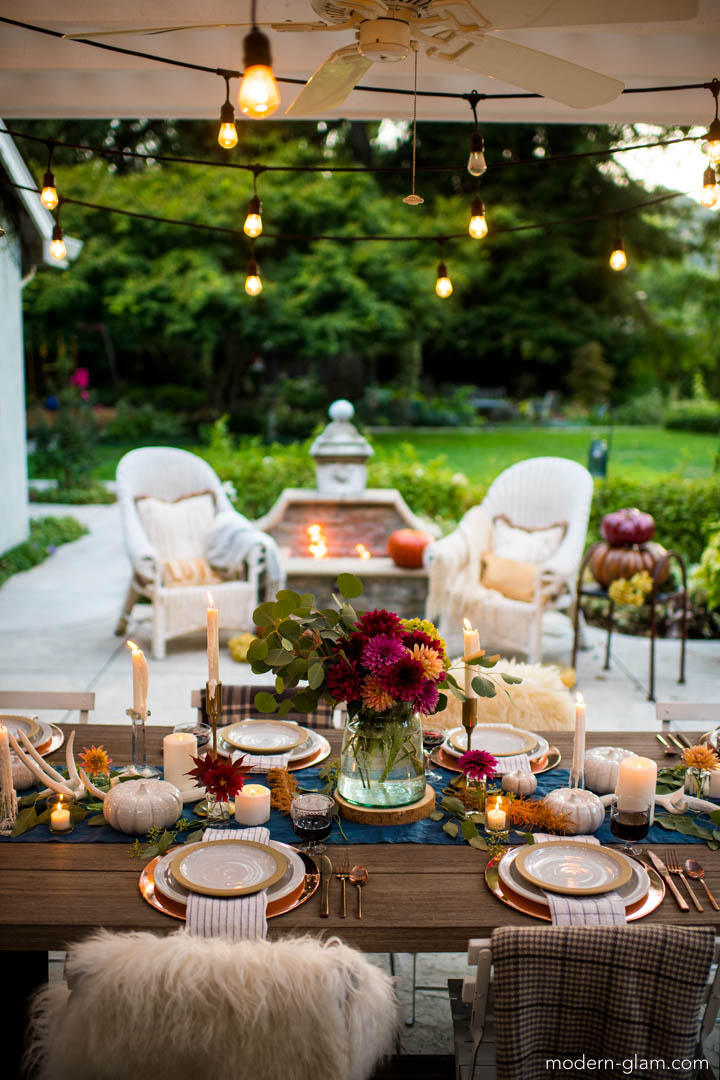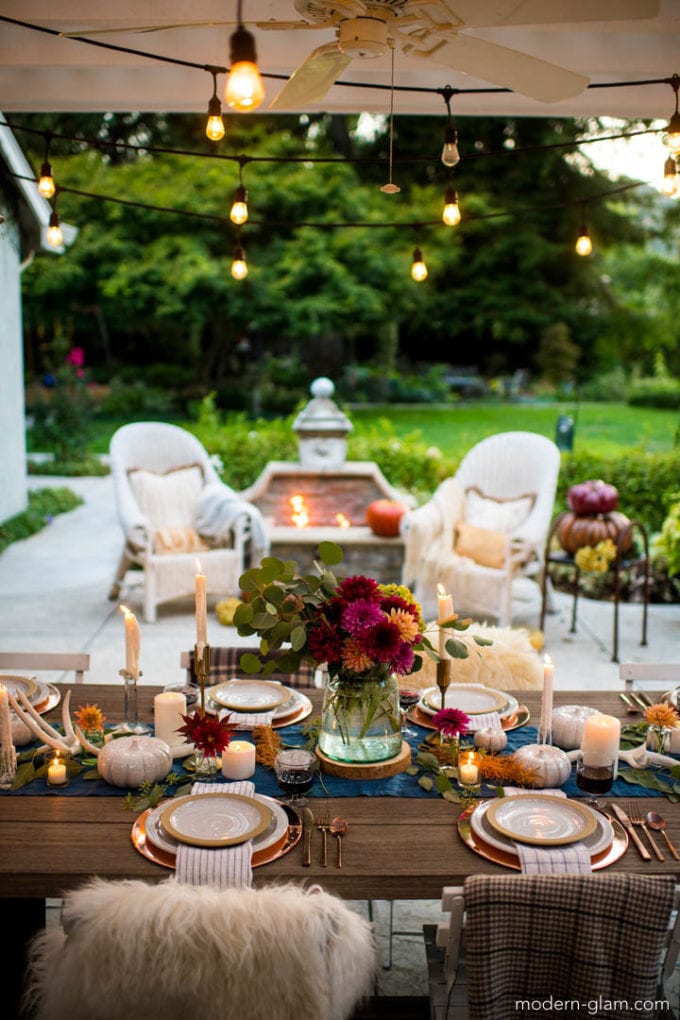 So, when I decided I wanted to create an autumn harvest table outdoors, I headed over to my moms house!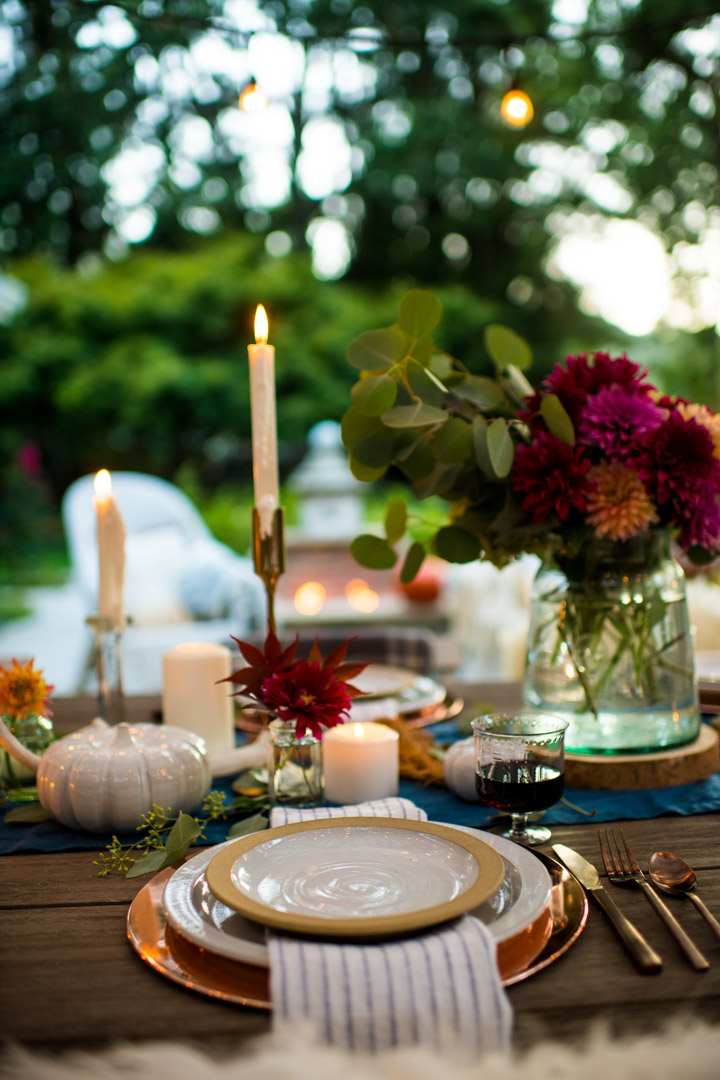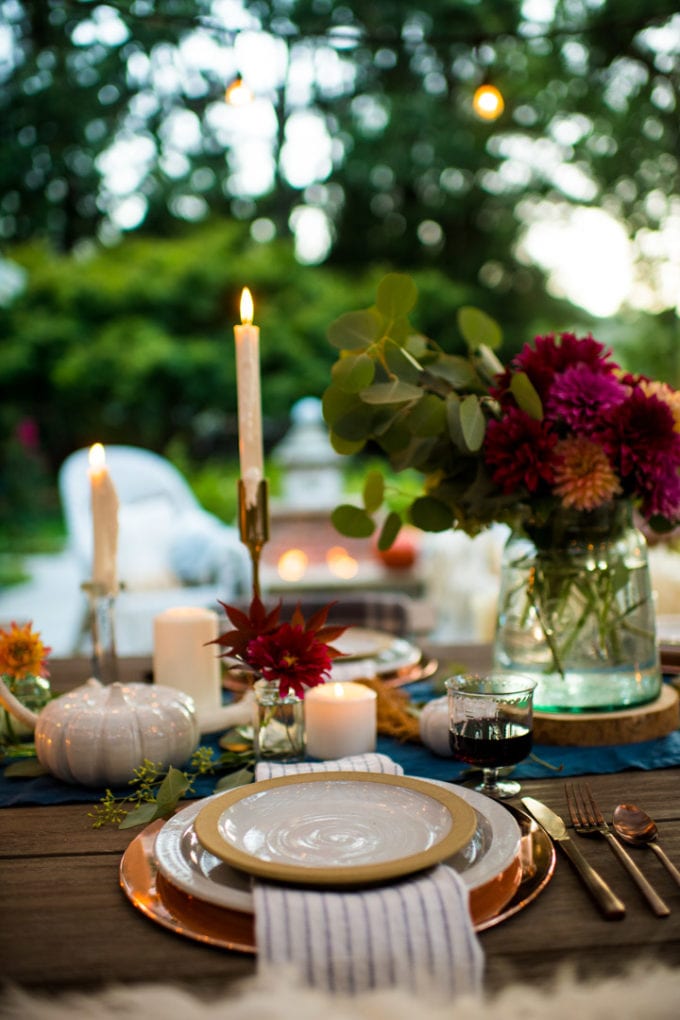 Her yard is beautiful filled with gorgeous flowers, landscaping and a great big farmhouse table on her patio. The perfect location for this outdoor fall tablescape!
Autumn Harvest Table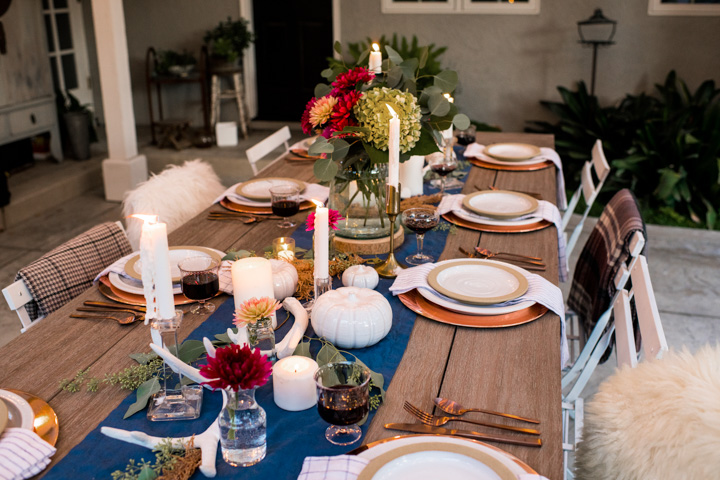 My mom has such a beautiful yard and I was even able to create this entire fall floral centerpiece using clippings from her yard. There's nothing better than that!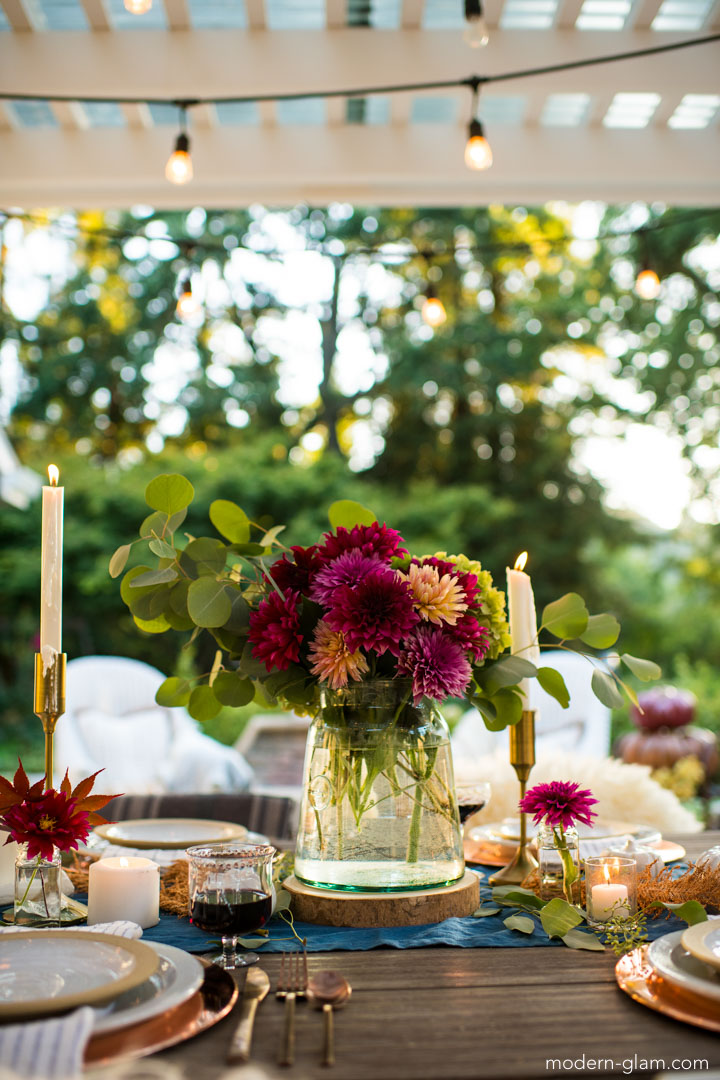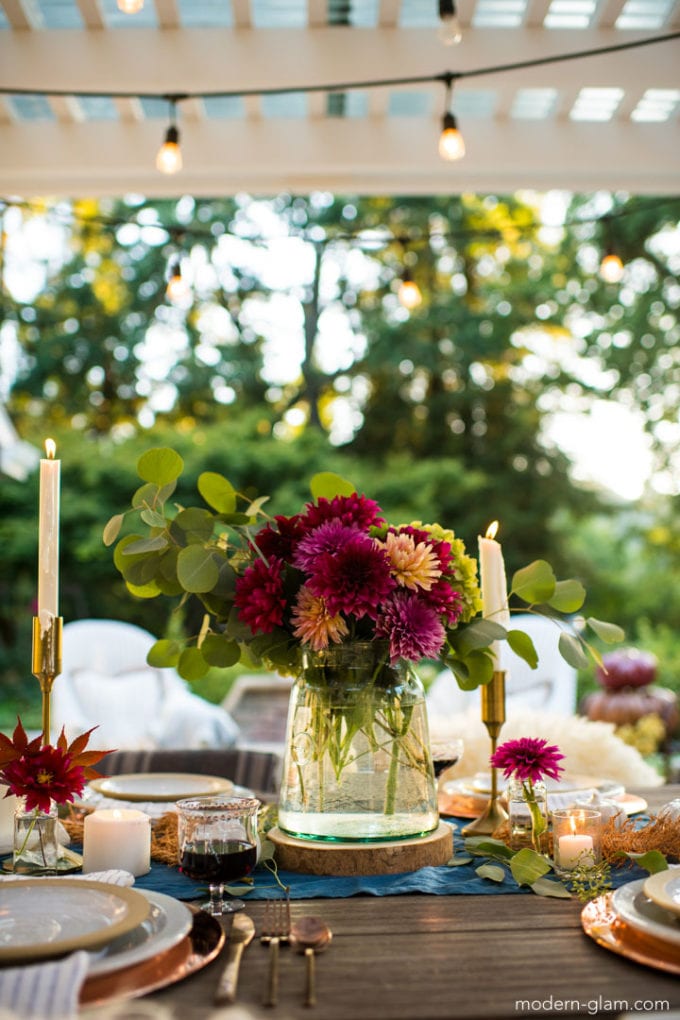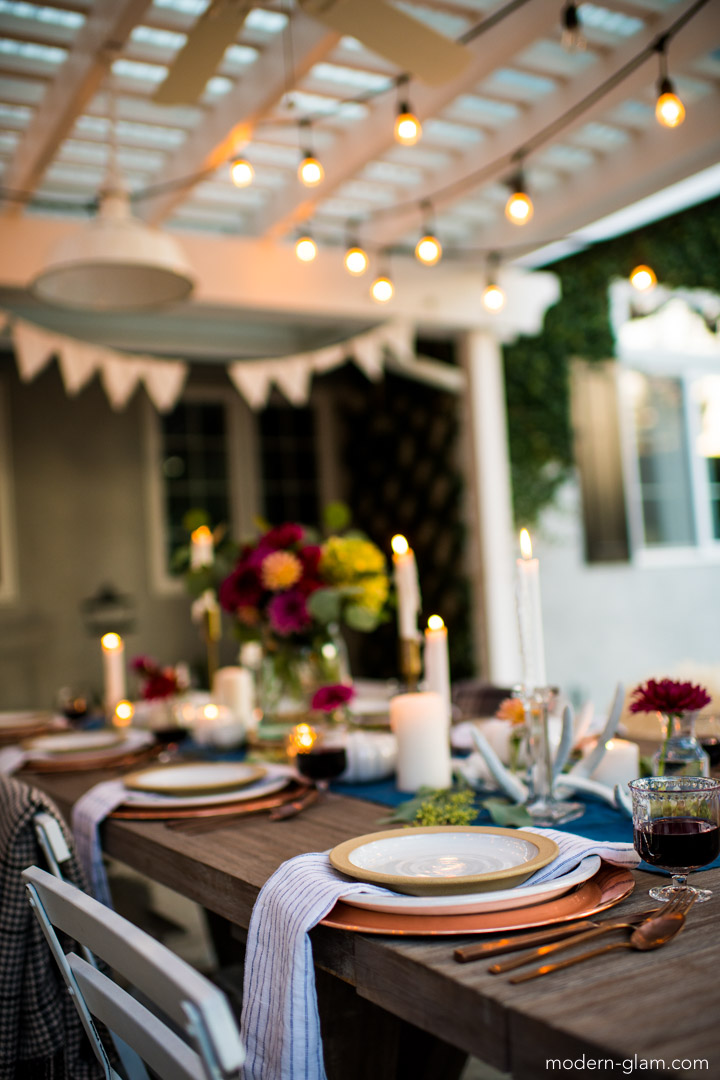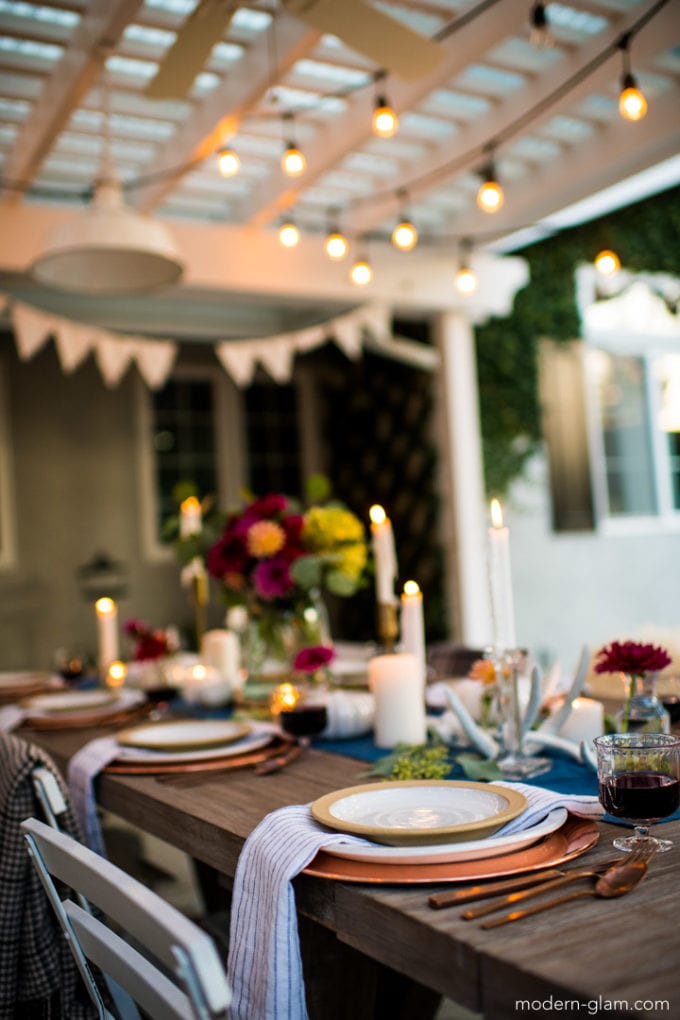 You can see more of my mom's garden and get some gardening tips HERE.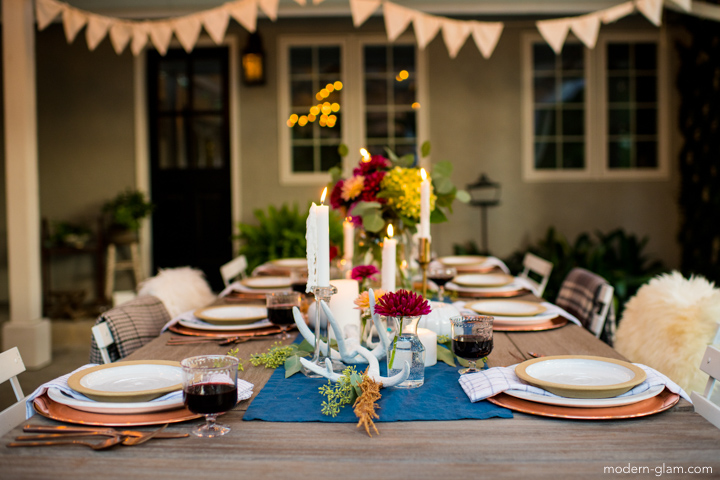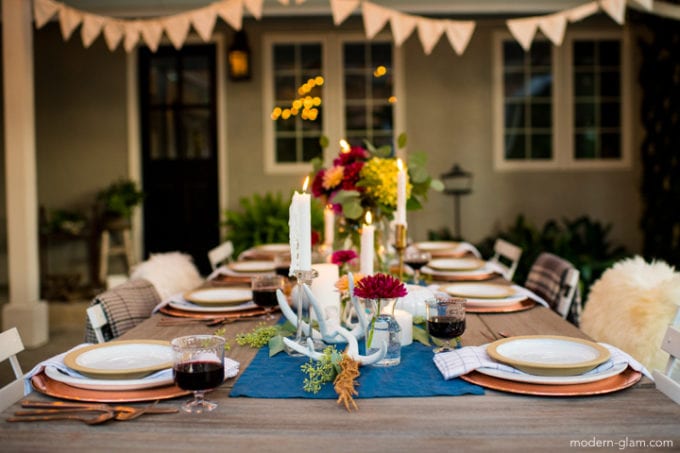 I really let the crisp fall air and setting sun take center stage here. All that was added to these garden dahlias was some candlelight and my favorite ceramic pumpkins.
Fall Table Setting Ideas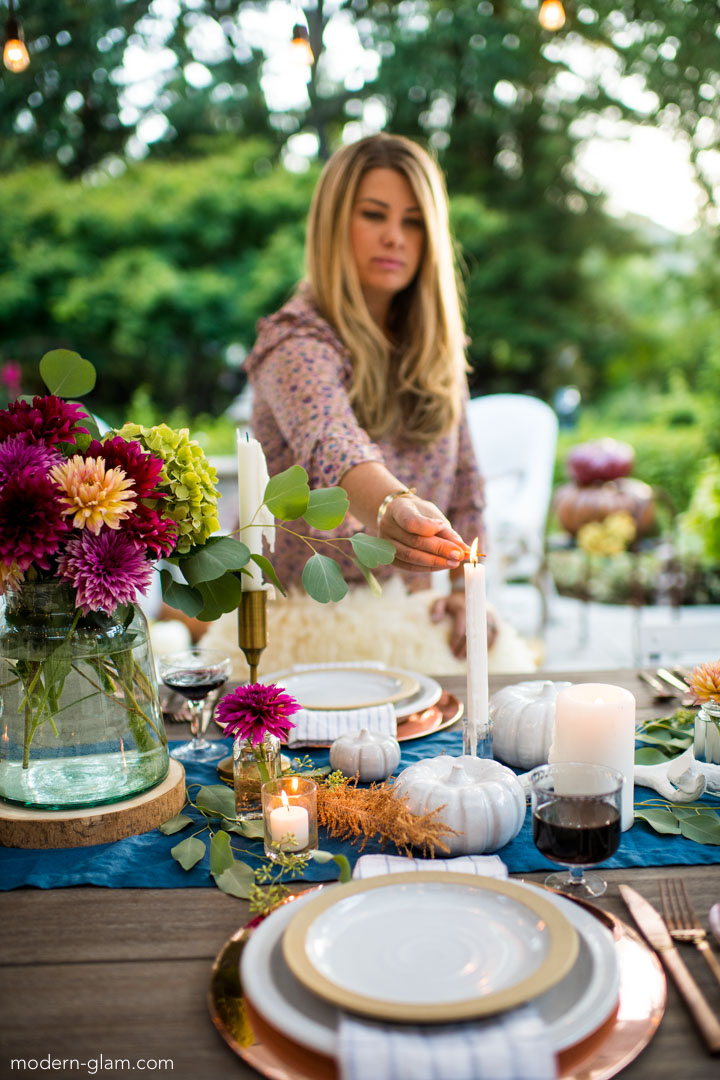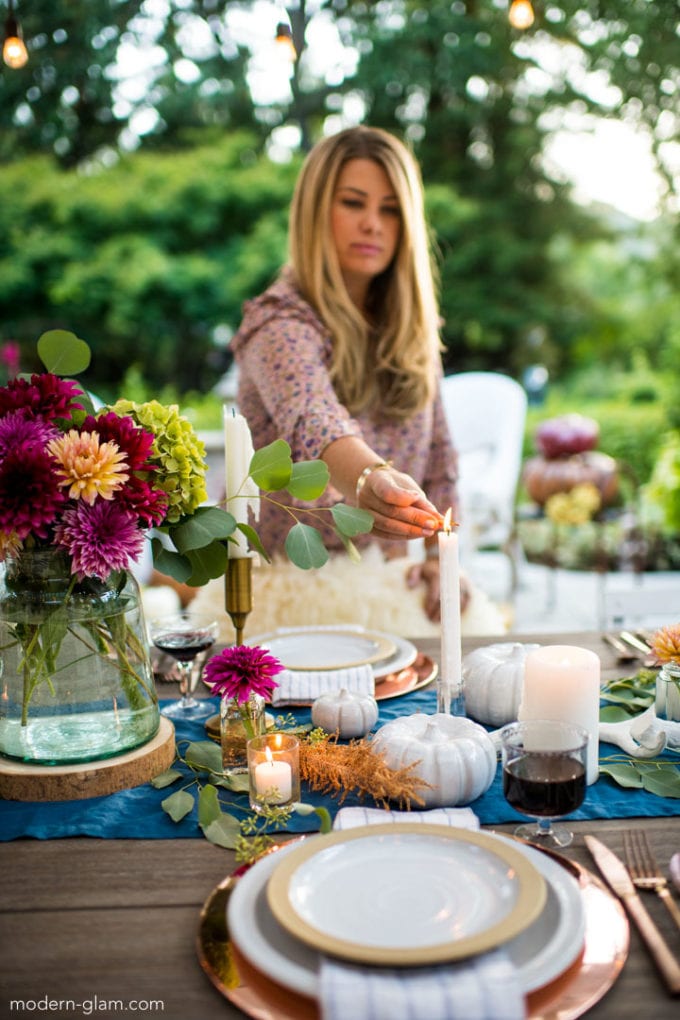 This outdoor fall tablescape plays off of the natural fall colors. Blues, oranges and creamy whites reflect what nature has in store for the autumn months. Harvest season is my favorite time of year!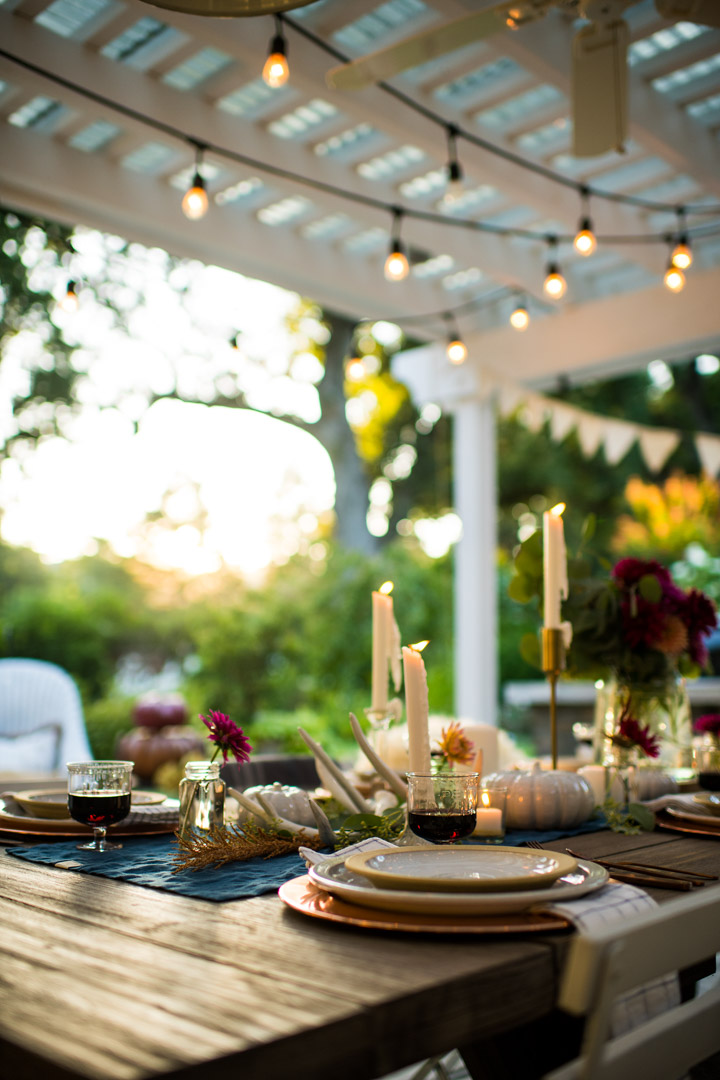 You may notice that I am a repeat offender. When it comes to table settings, I pretty much stick to our basic every day plates and silverware. This is what we use on the daily and I love how they work with every season and holiday!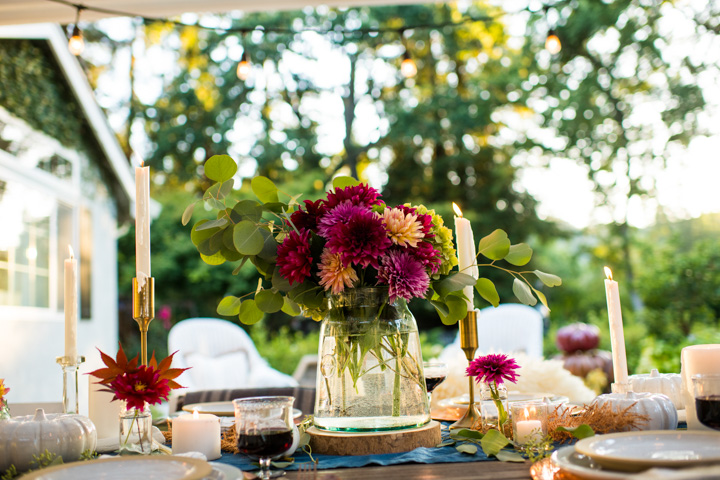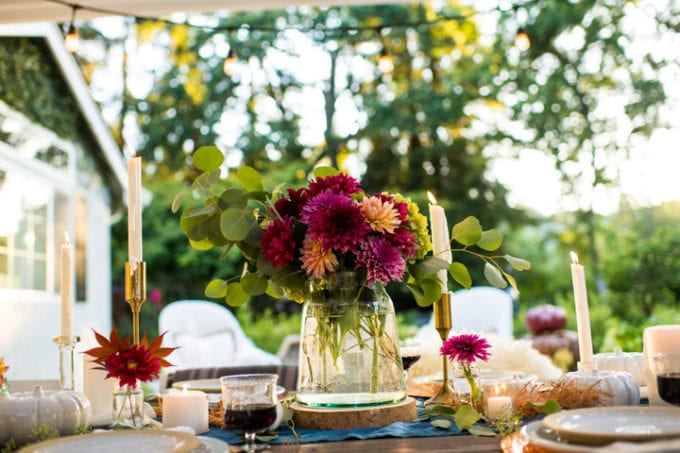 Invest in quality pieces and then take advantage of colored linens, beautiful florals and candles to add character for each season or occasion. It's amazing what you can accomplish by simply changing out the accessories.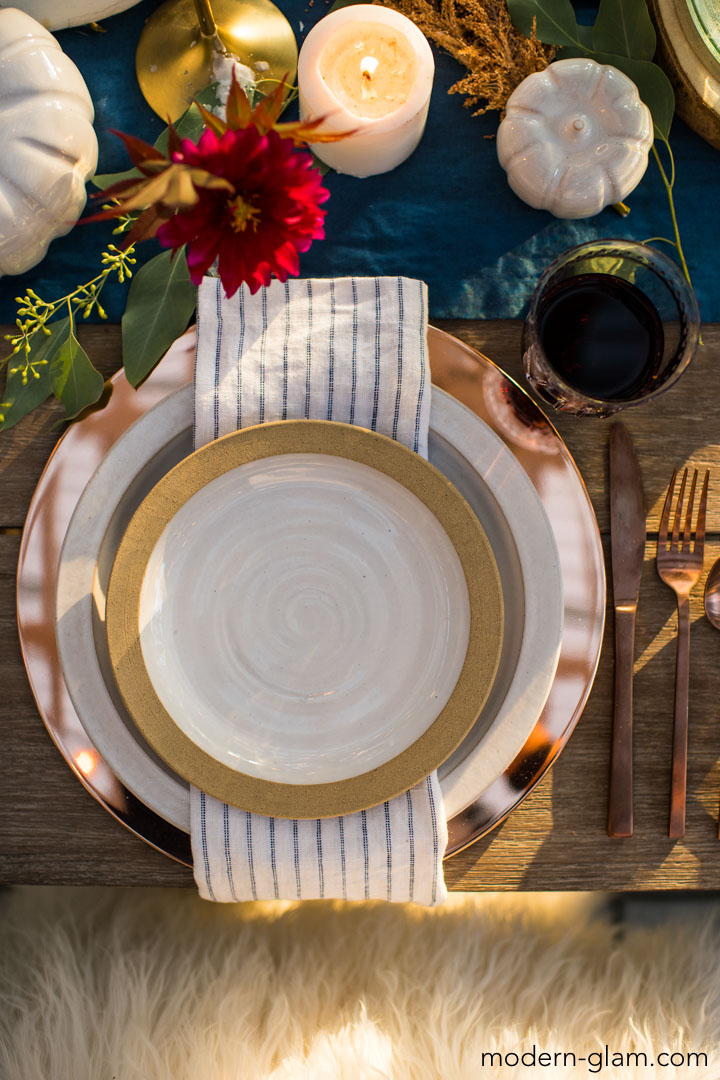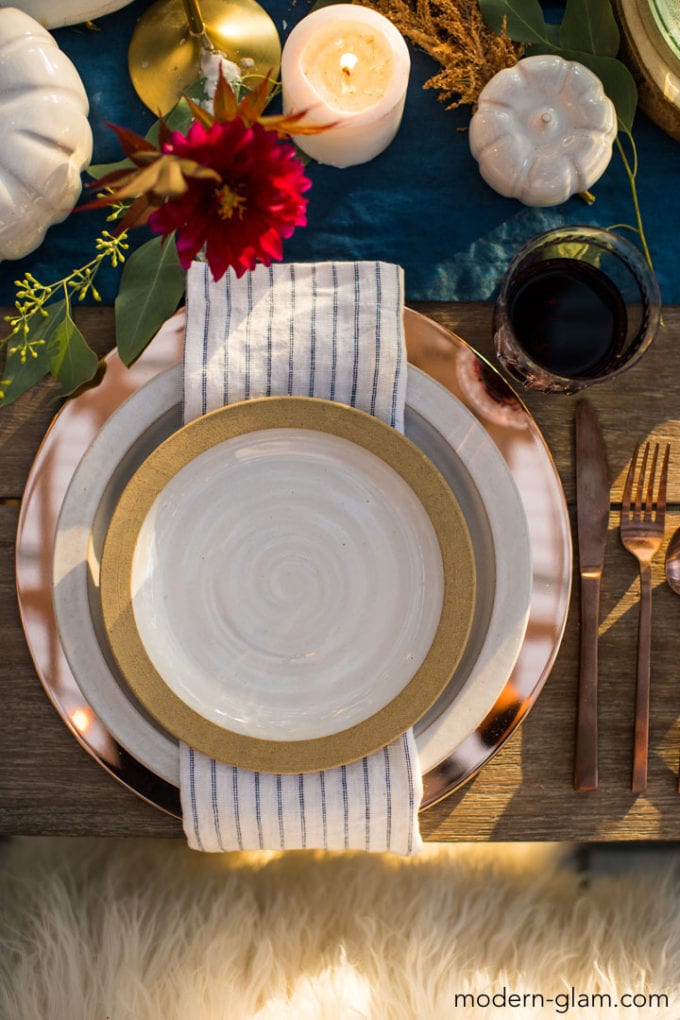 And I love these shiny copper chargers. I bought them four years ago and I never tire of seeing them. Check out how I used them for my Rose Gold Thanksgiving Table post!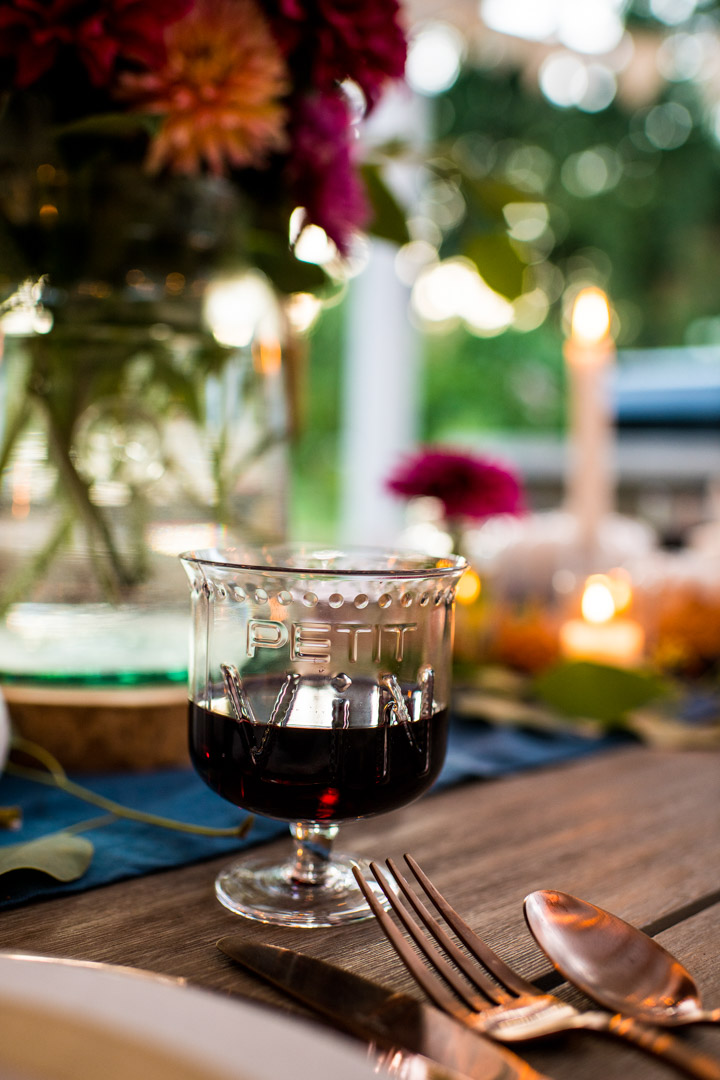 I recently picked up these cute wine glasses. I love the vintage vibe they bring to this outdoor fall tablescape. Expect to see these Petit Vin glasses a lot more!
Fall Floral Centerpiece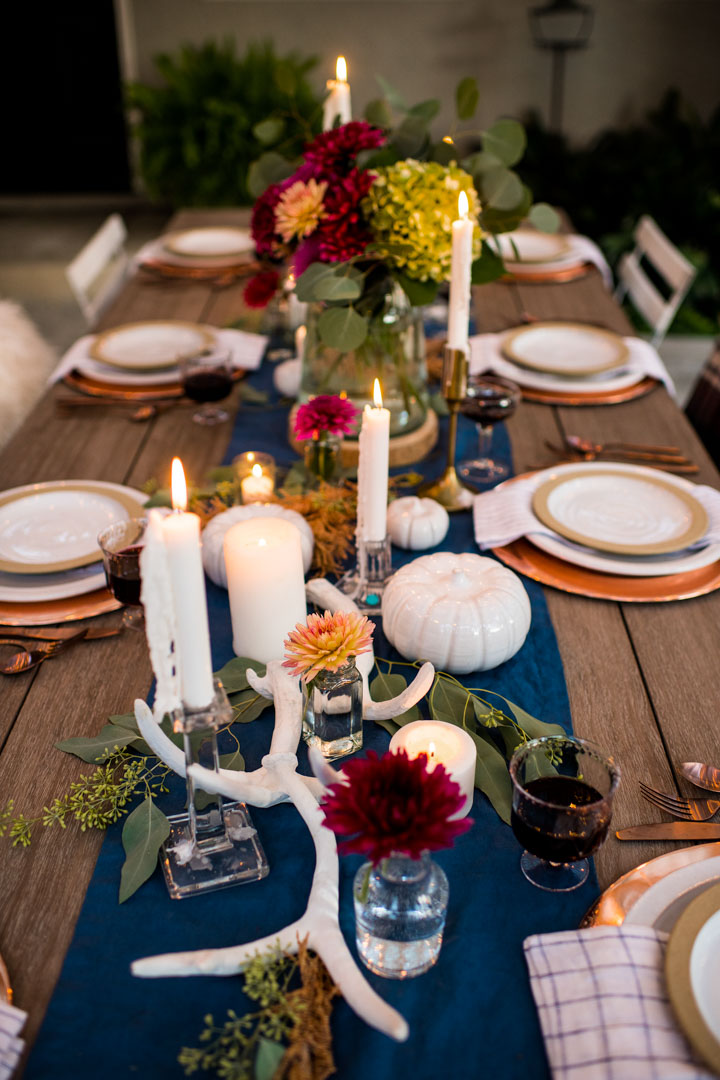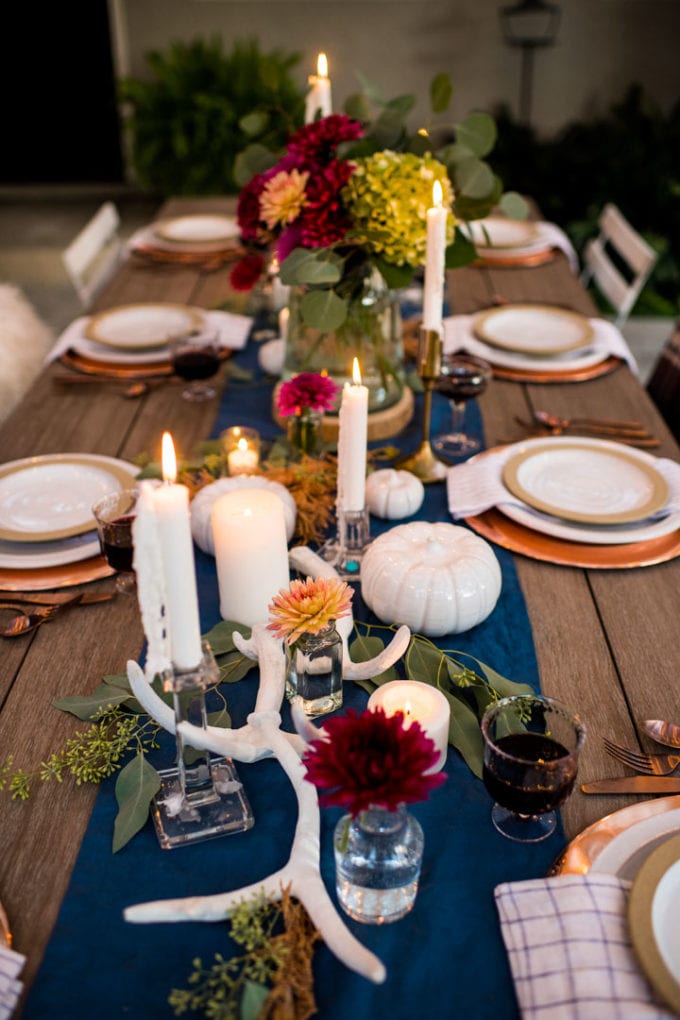 This fall floral centerpiece is rustic and was put together in under 10 minutes. I love the gorgeous deep hues that the dahlias bring to this outdoor fall tablescape.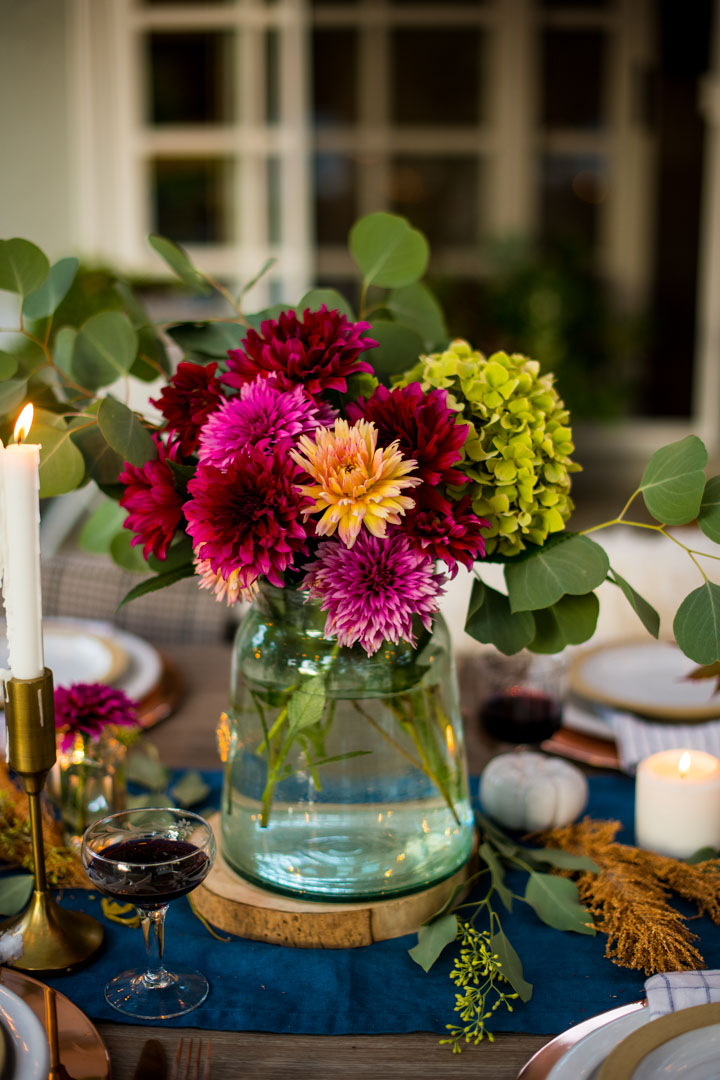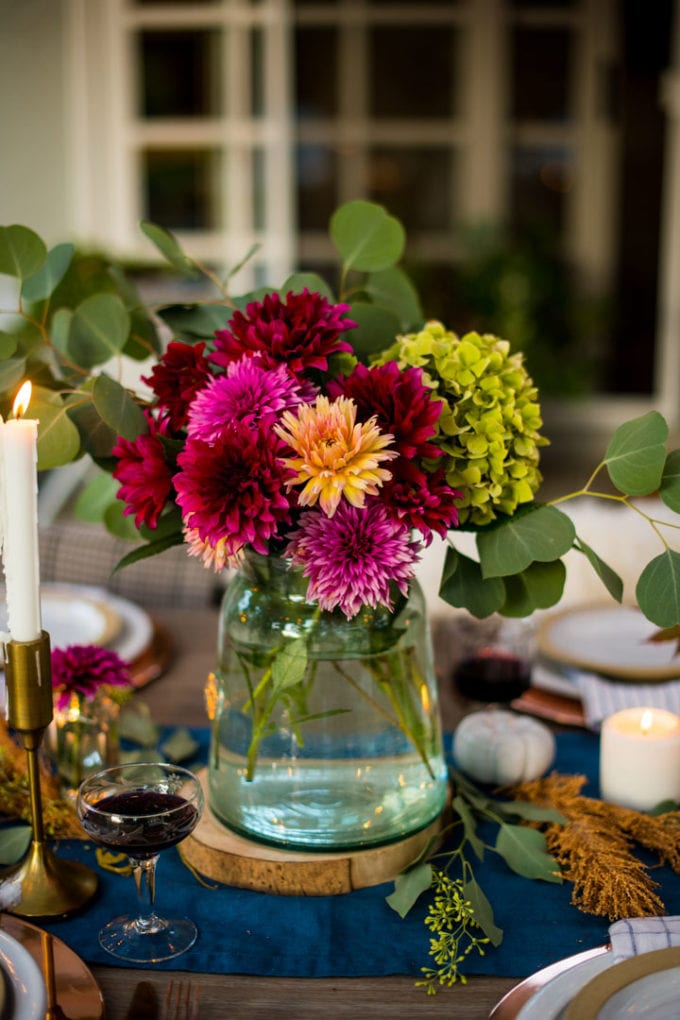 To create this fall floral centerpiece, I placed a bunch of eucalyptus in the vase, then added the dahlias at the front in a little bundle.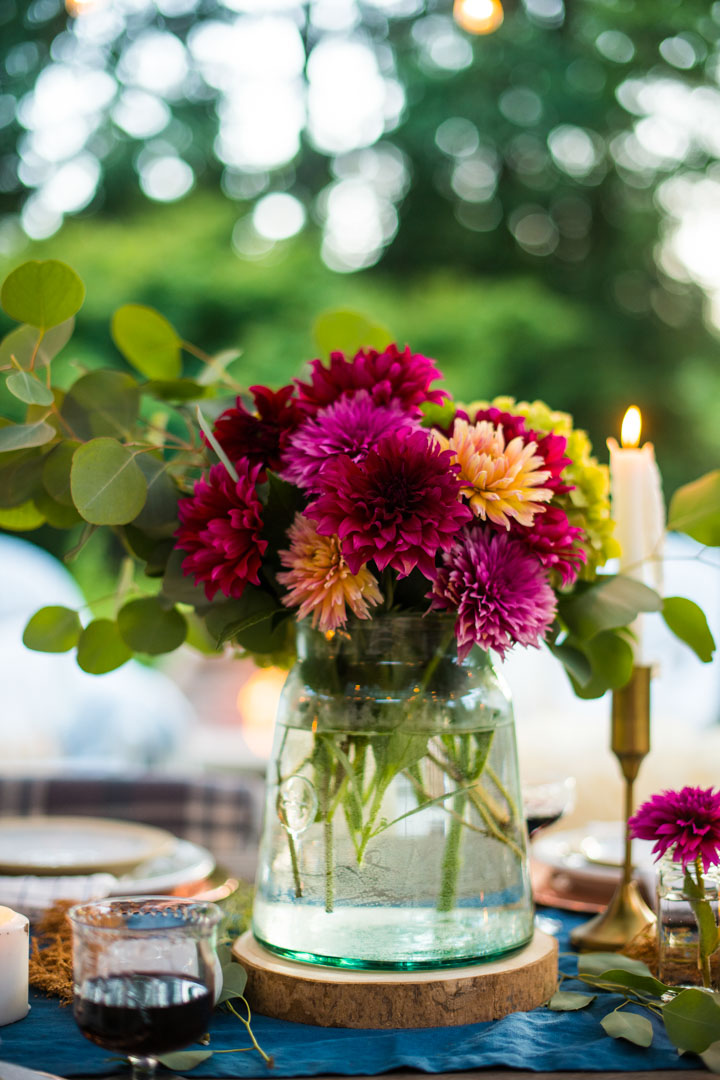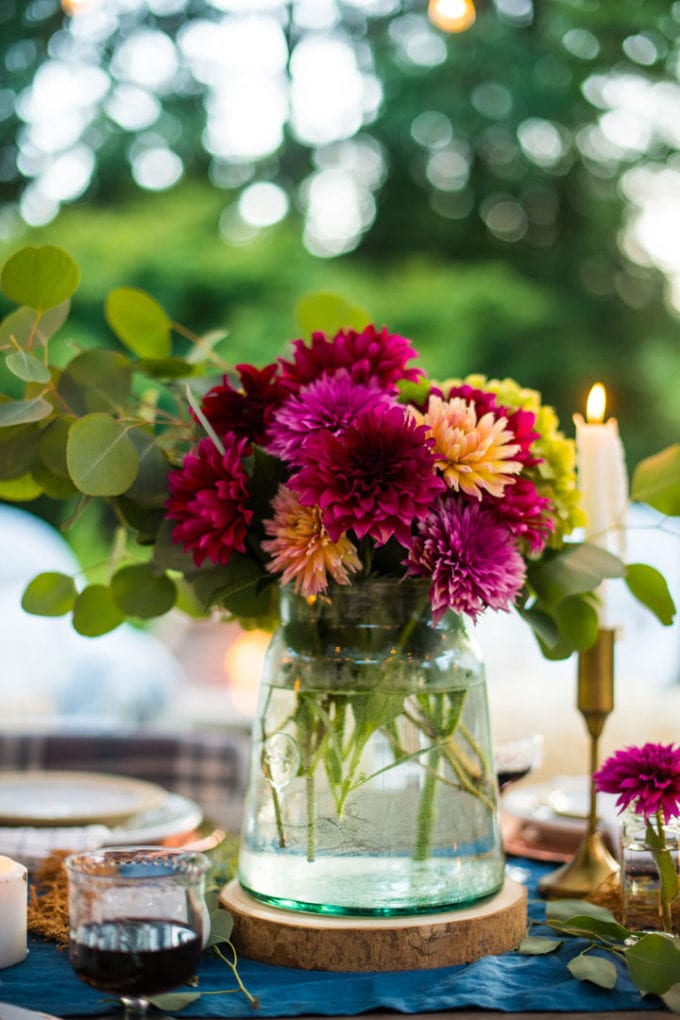 Then I filled in the back with late summer hydrangeas. Hydrangeas are perfect fillers for holding the rest of the arrangement in place!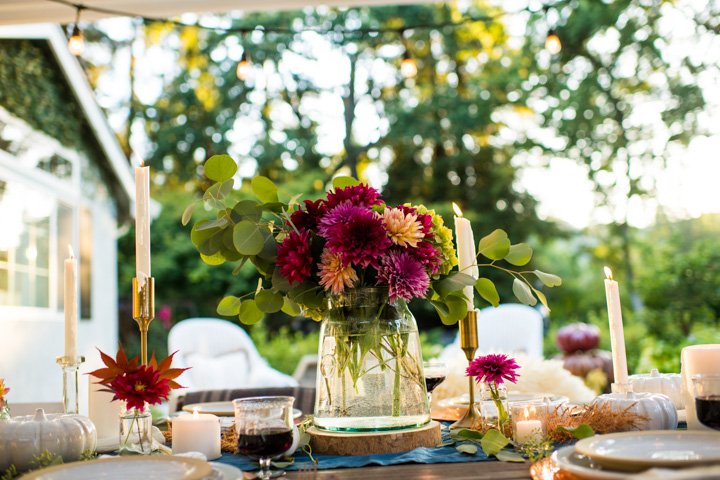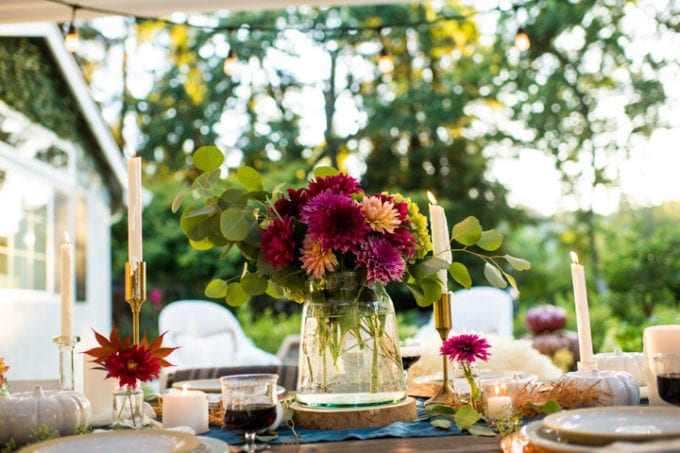 My favorite tip for arranging flowers is to tape the top of the vase off in a grid with clear tape. This holds the flowers in place and makes it so much easier to design. Check out this flower arranging video that shows you how!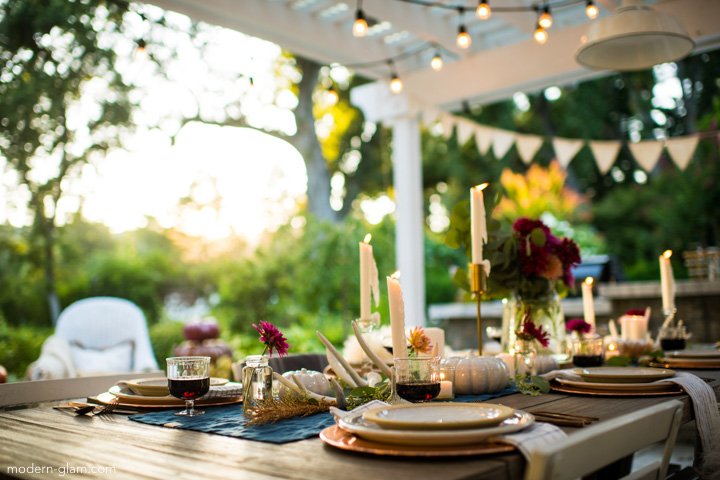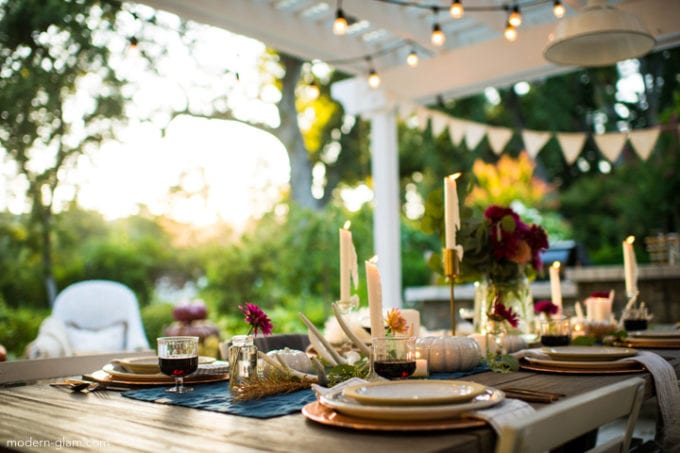 Simple Fall Table Decorations
For the rest of this fall table centerpiece, I lined the center of the table with my new favorite linen runner. I love the pretty blue color!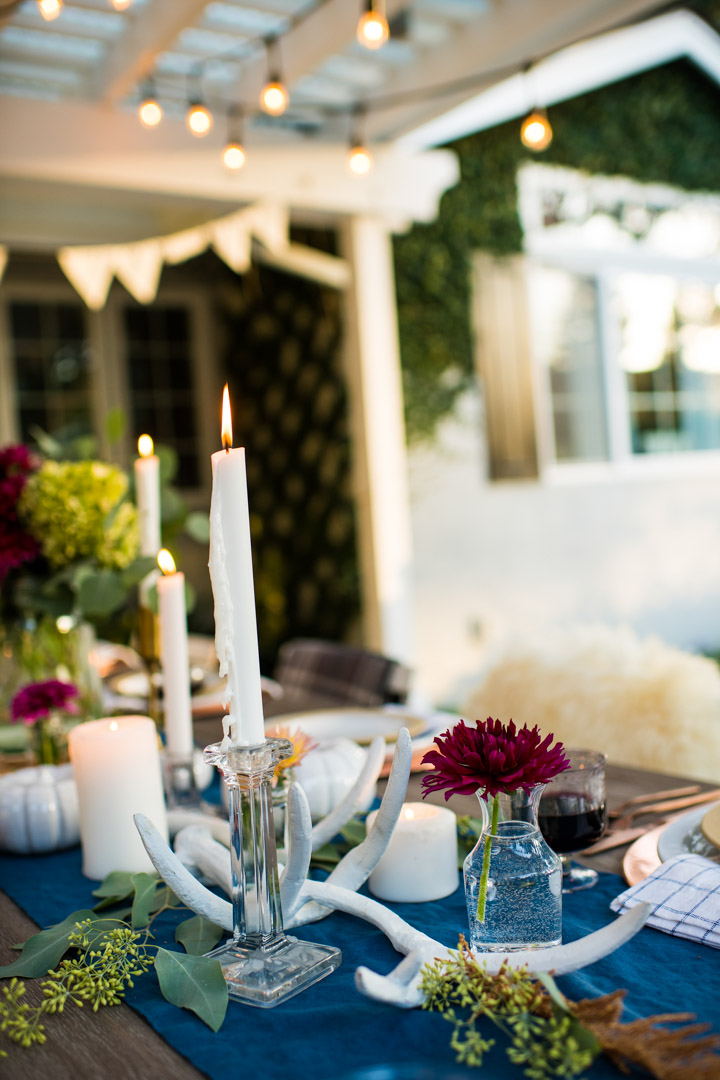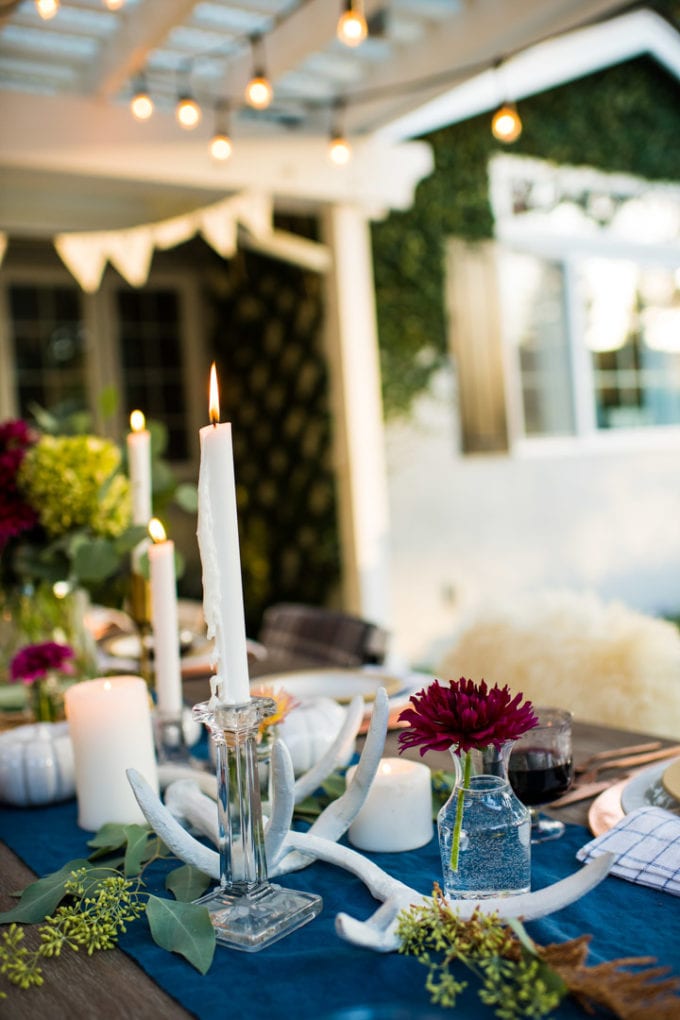 Then I scattered different sized candles and tea lights down the length of the table. I also interspersed ceramic pumpkins, eucalyptus and bud vases with single dahlia stems.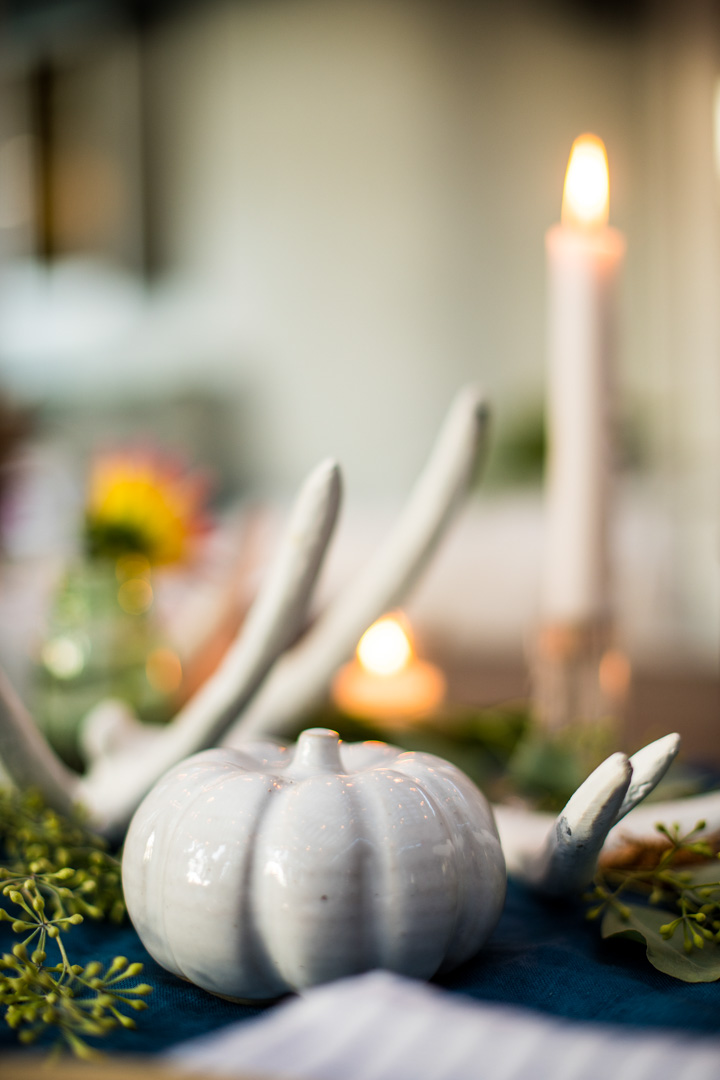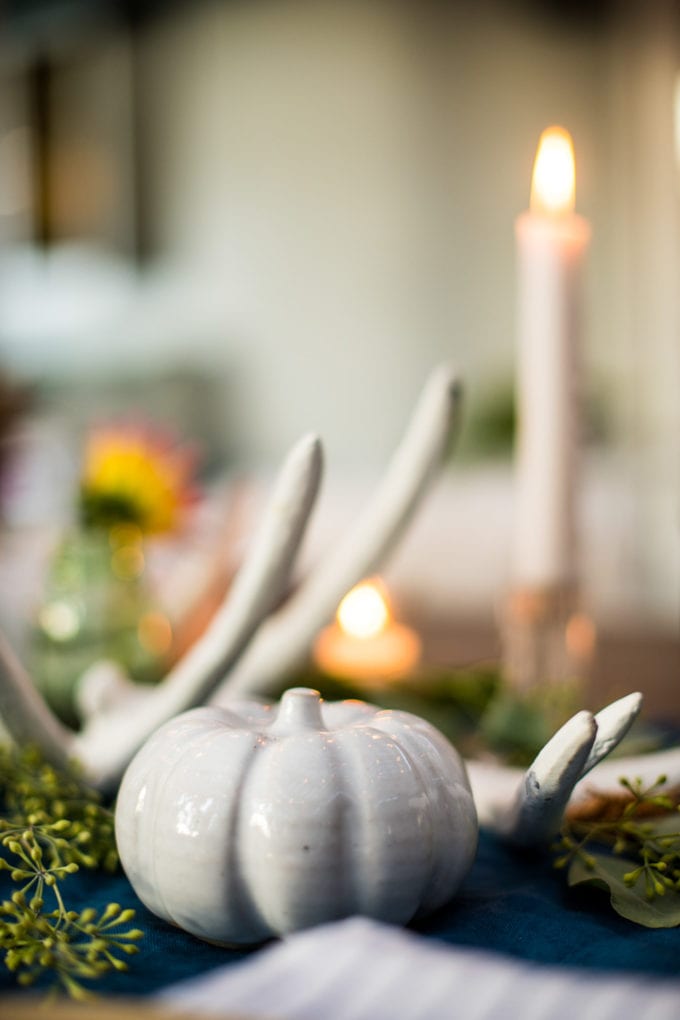 These handmade pumpkins are some of my favorite pieces that I reuse every fall. You can see how they look on my fall table from last year where I show you how to create a 5 minute fall table garland!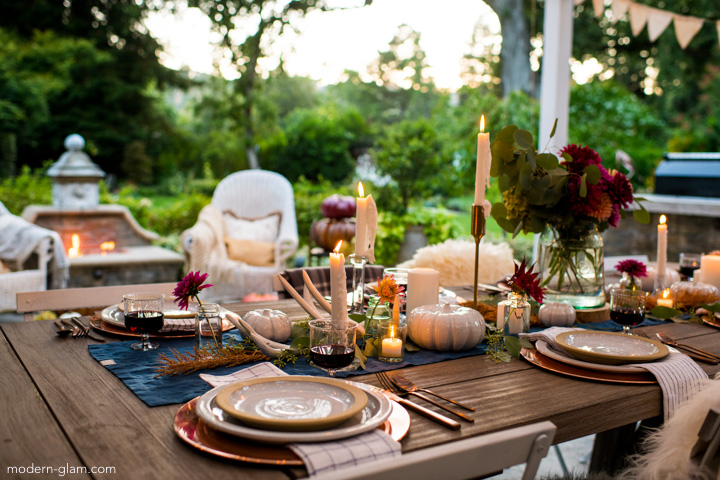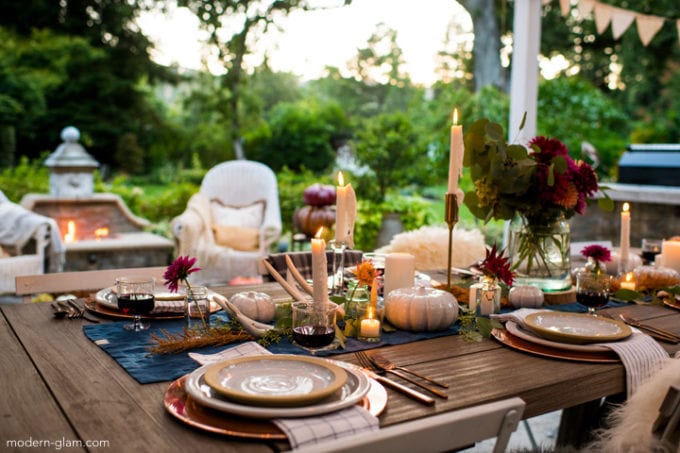 I hope you leave here feeling inspired. There's nothing better than a cozy outdoor fall tablescape to enjoy the fall months with friends and family!
More Fall Table Inspiration

Rooms FOR Rent | Almafied | Craftberry Bush | Maison de Cinq

Home Made Lovely | Just Destiny | Willow Street Interiors | Zevy Joy

Shabbyfufu | Janna Kate at Home | Amber Tysl | House by Hoff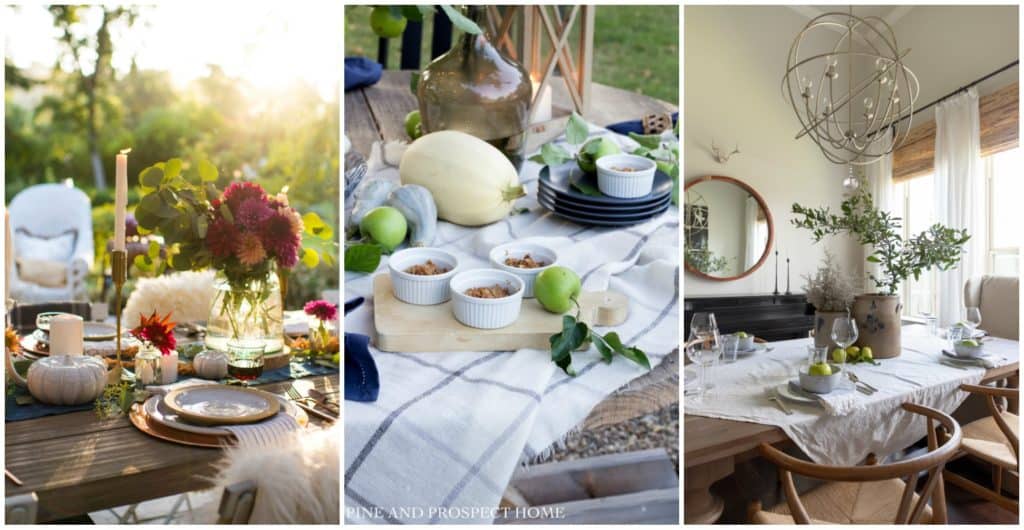 Modern Glam | Pine and Prospect Home | Crazy Wonderful