Come tour my outdoor living room that I created in our backyard. The perfect spot for drinking my morning coffee or sipping a glass of wine in the evening.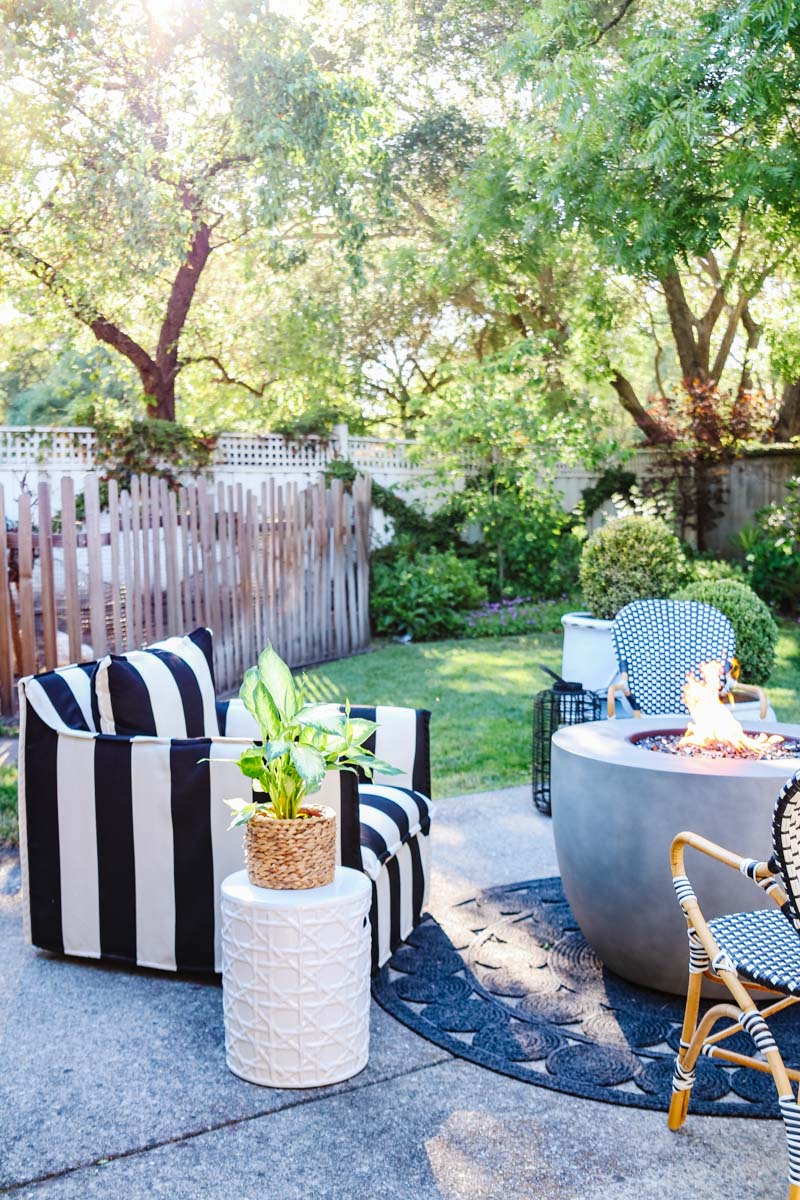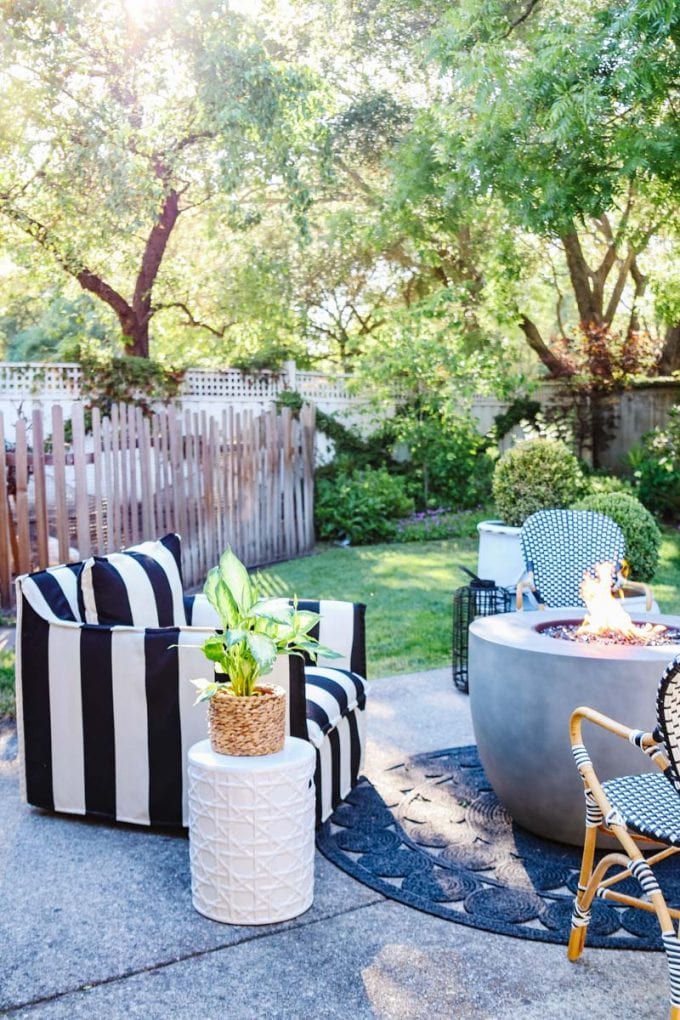 I am so excited to be joining these beautiful ladies for today's Outdoor Living Spaces Tour. Just wait until you see the incredible spaces that are linked up. If you came over from Kelley & Co., welcome!
I can't wait to show you my backyard patio and garden and share some insider tips with you on how I created this designer look for much, much less!
Backyard Outdoor Living Room Ideas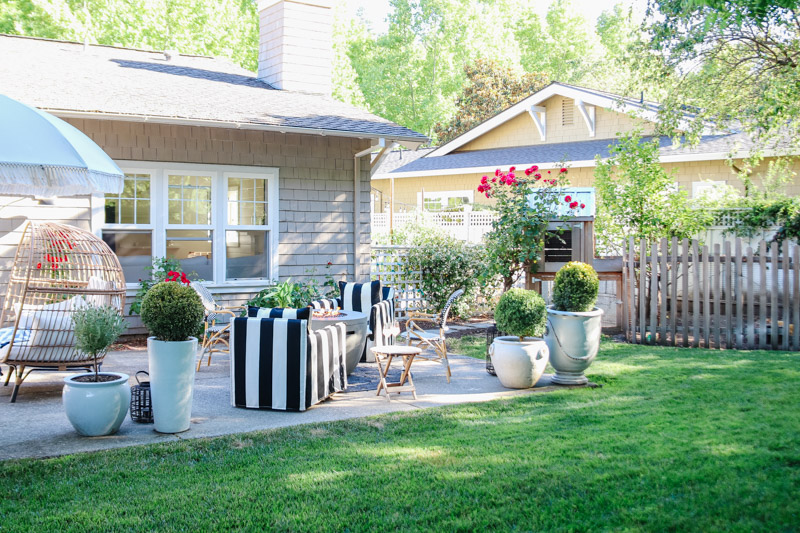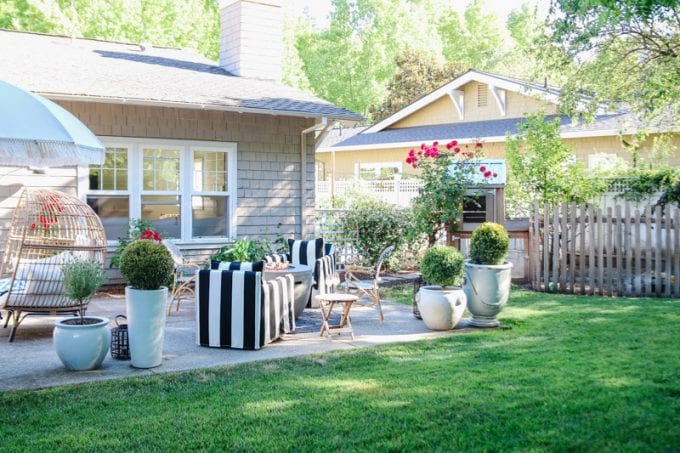 Living in California, we use our outdoor spaces just as much as we use the inside of our home. And since housing prices here in the Bay Area are sky high, making the most of our yard and creating an extension of our home is a must.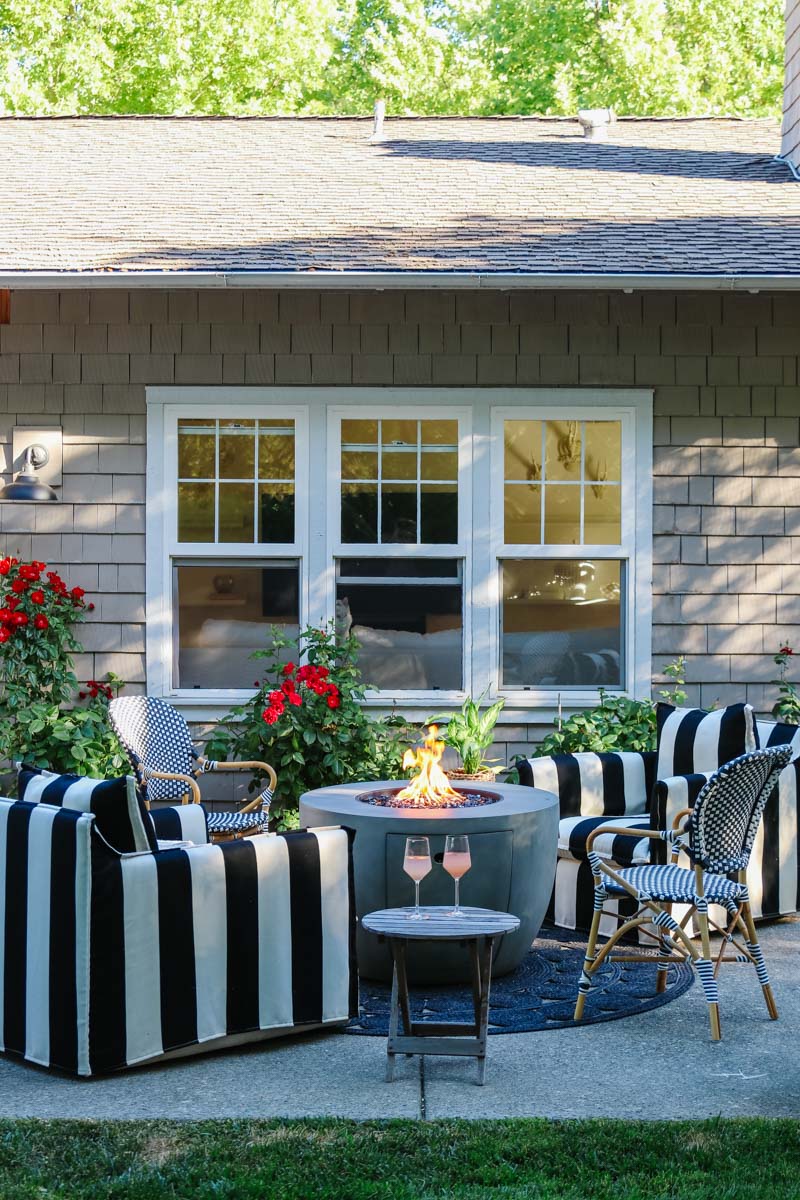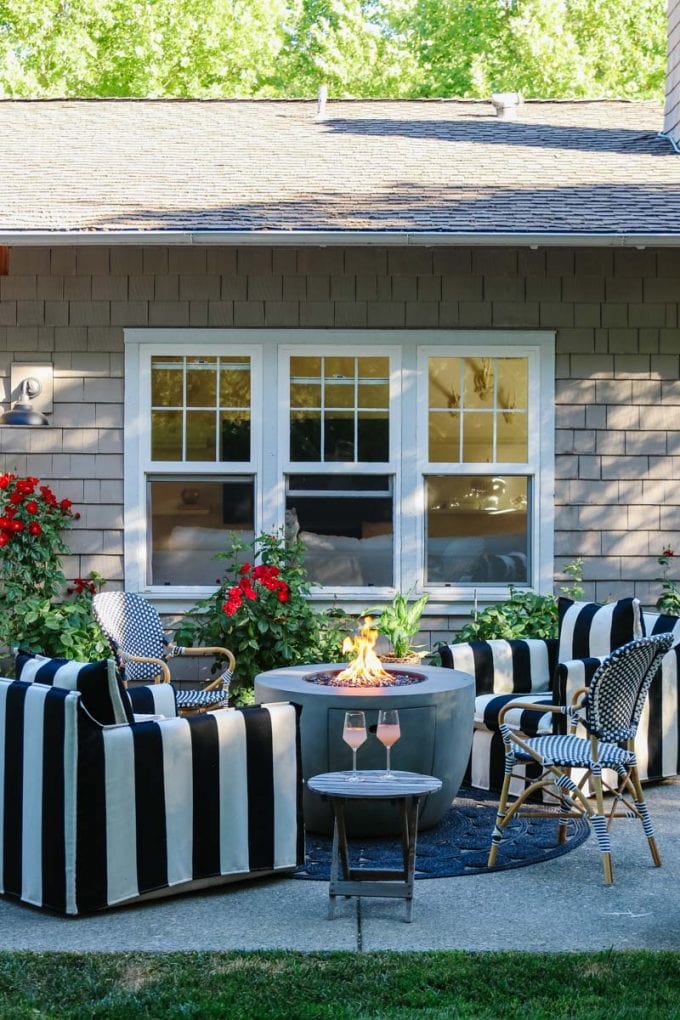 While most people use their back patio for outdoor dining, we prefer to create different seating areas for entertaining. We actually never eat outdoors unless it's sitting out here by the fire pit grazing on small bites.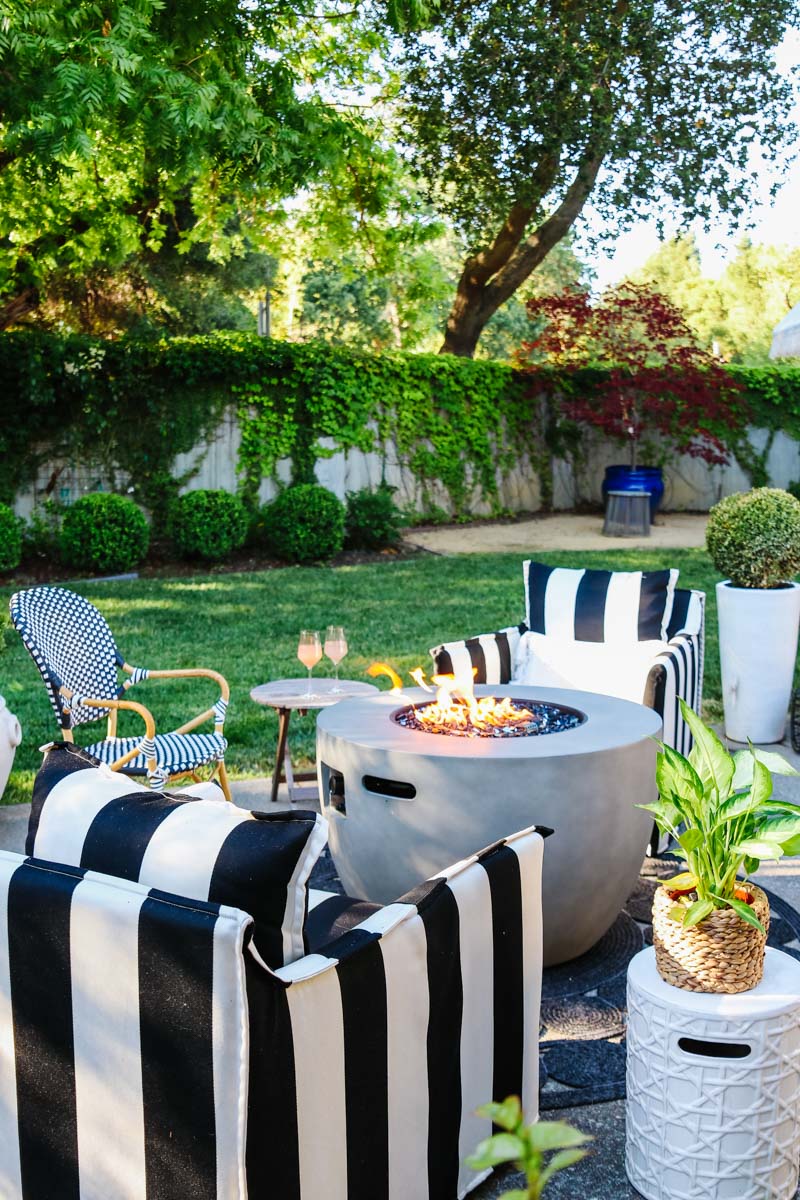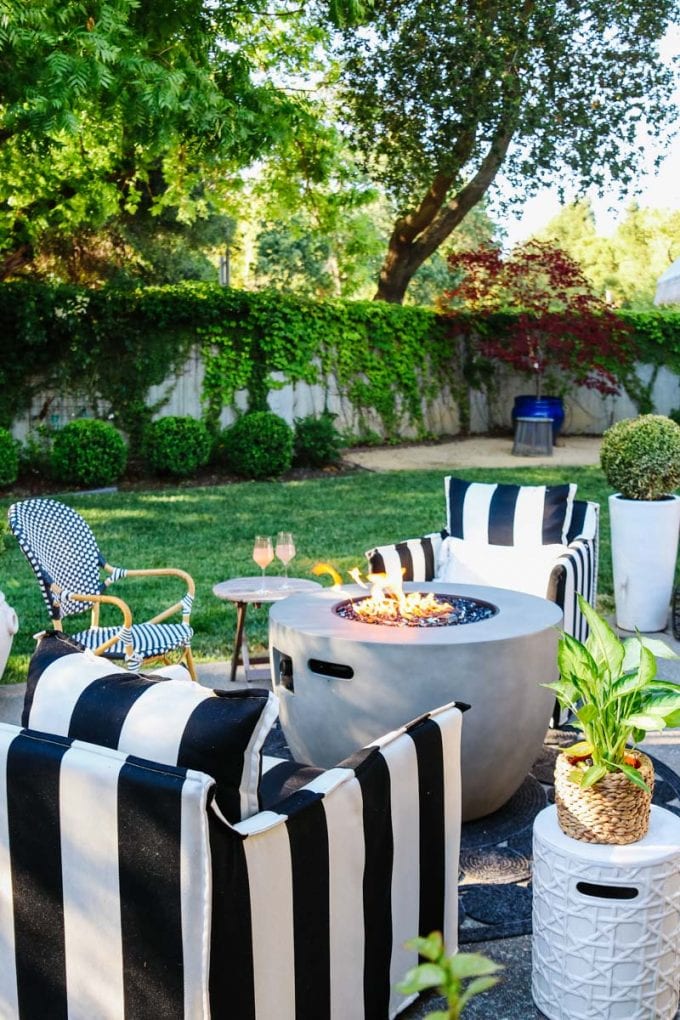 Having friends and neighbors over happens at least once a week. So, creating an outdoor living room that functions as an extension of our indoor living space makes it more enjoyable when the weather is nice.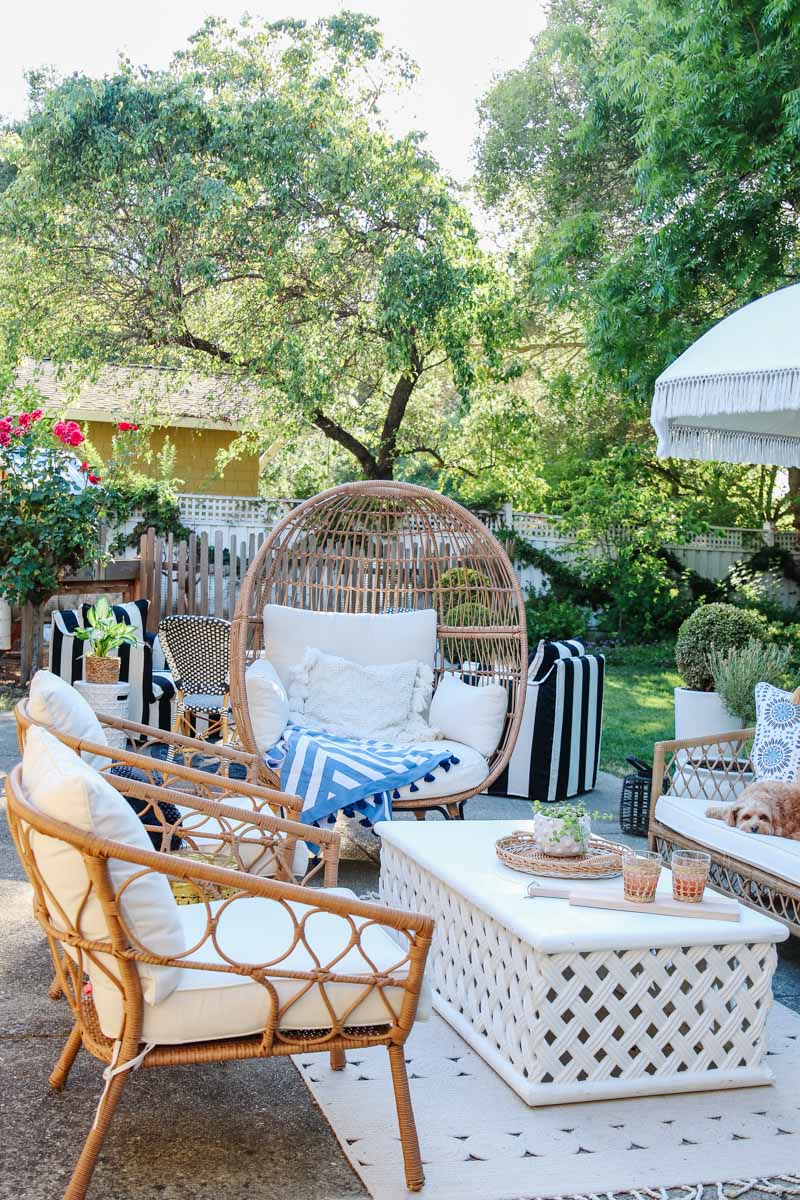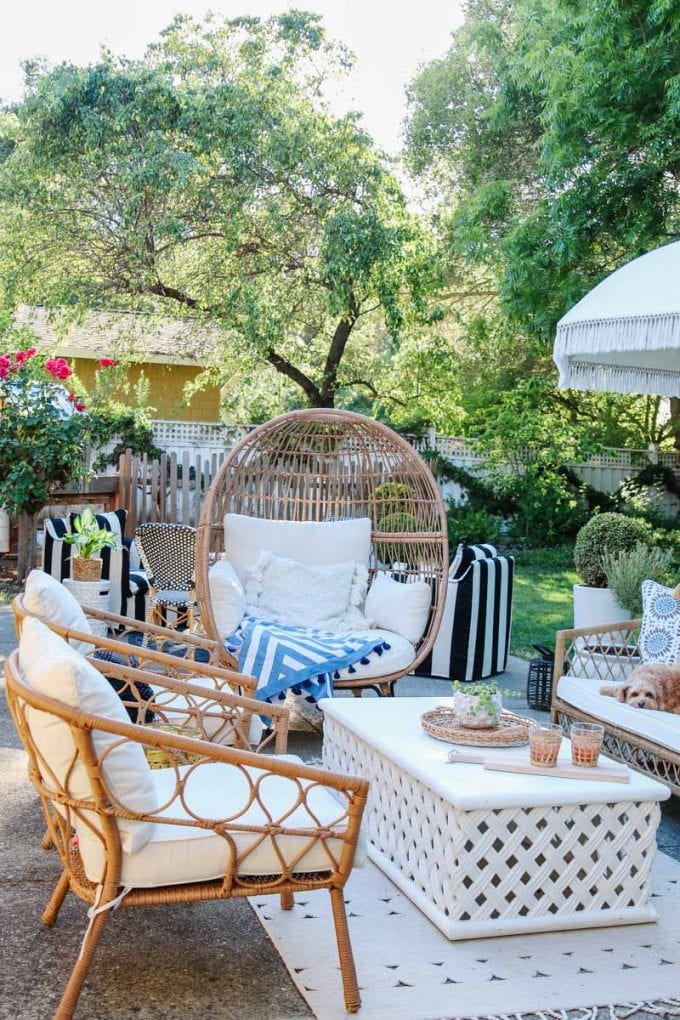 And since our backyard patio is pretty large, I chose to create two separate seating areas. This allows for more intimate conversation groupings as well as an area for the kids to hang out on their own.
We tend to start the evening on the sofa and work our way over the fire pit and pull up extra seating as the night goes on.
Outdoor Living Space On A Budget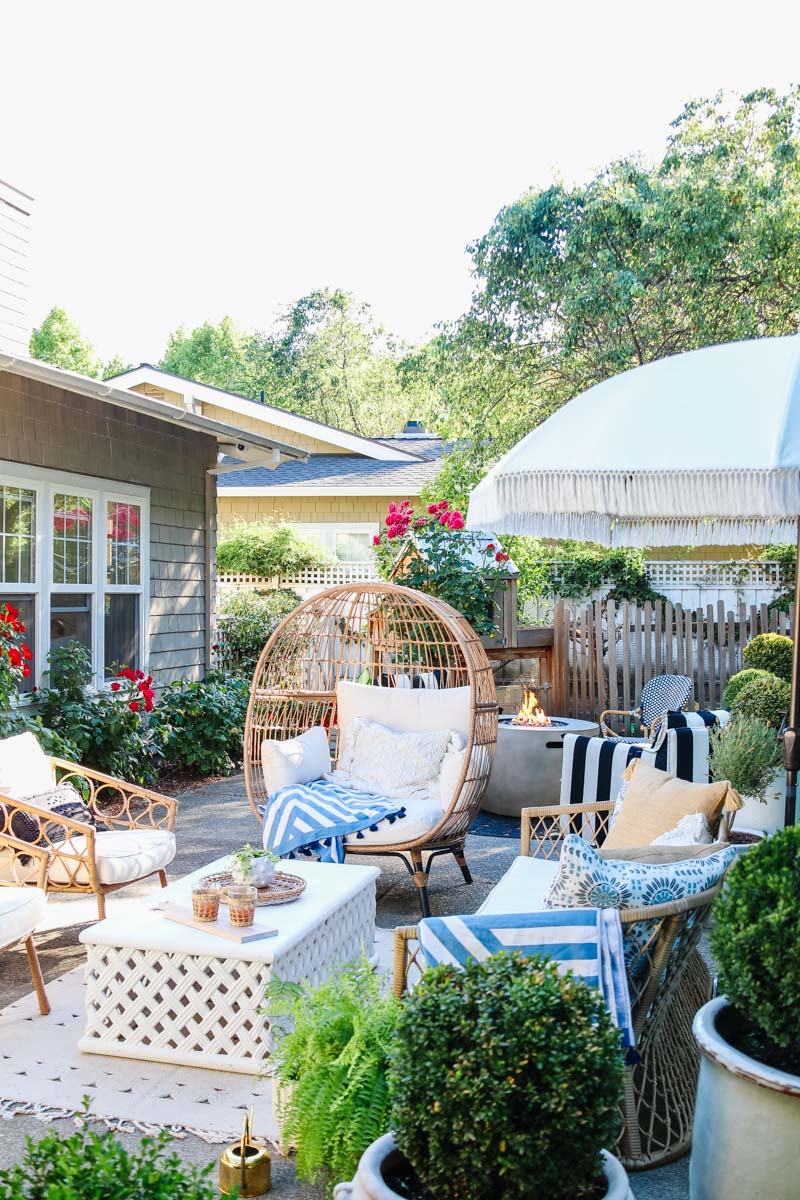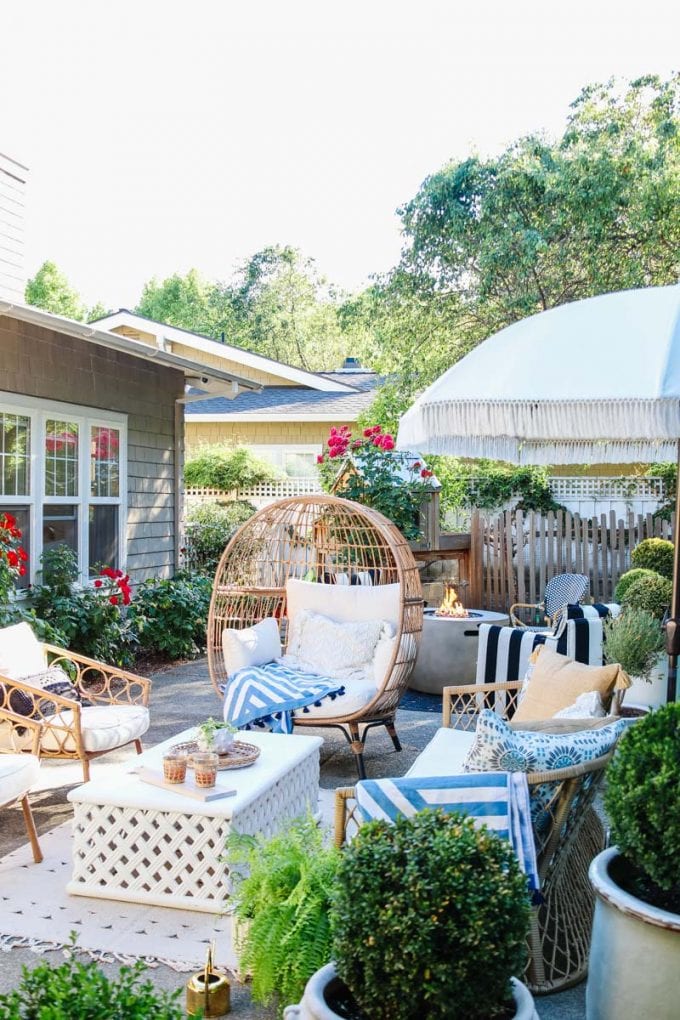 Decorating and furnishing your outdoor living space can be expensive! I'm sure you've gotten those glossy catalogues in the mail with beautifully styled outdoor living rooms and had a bit of sticker shock.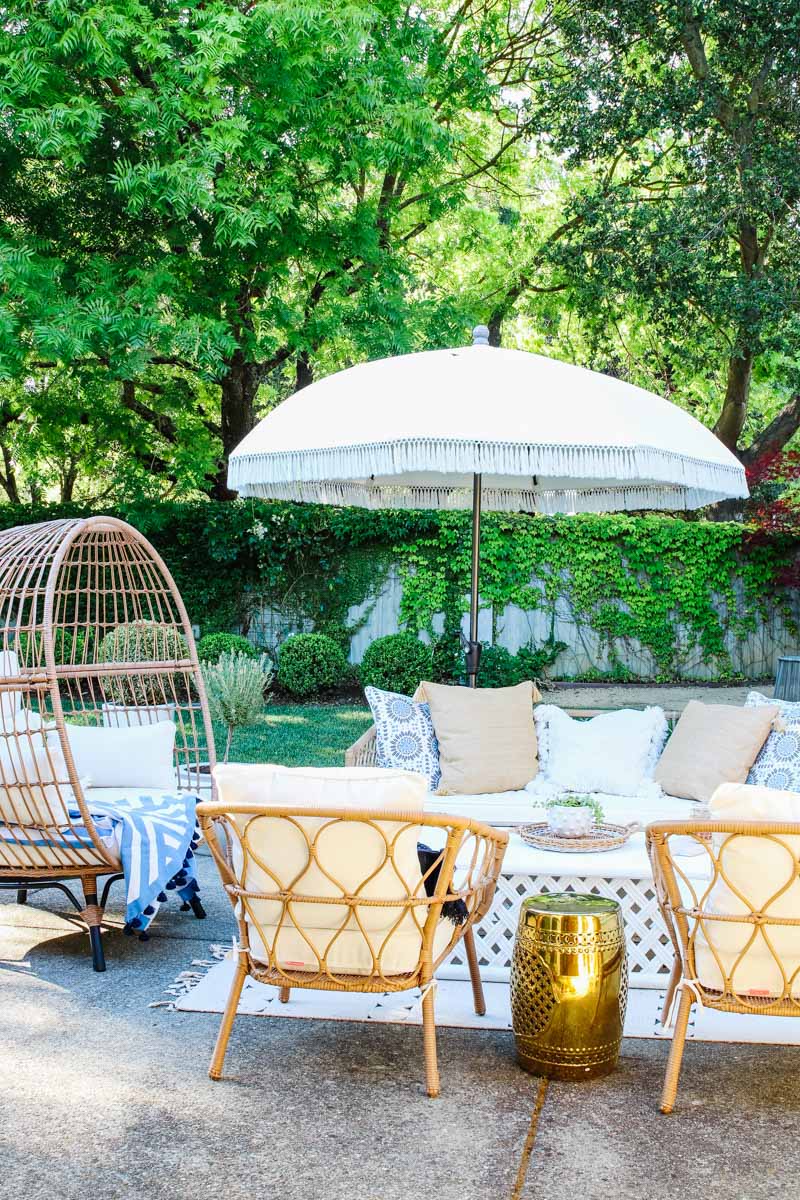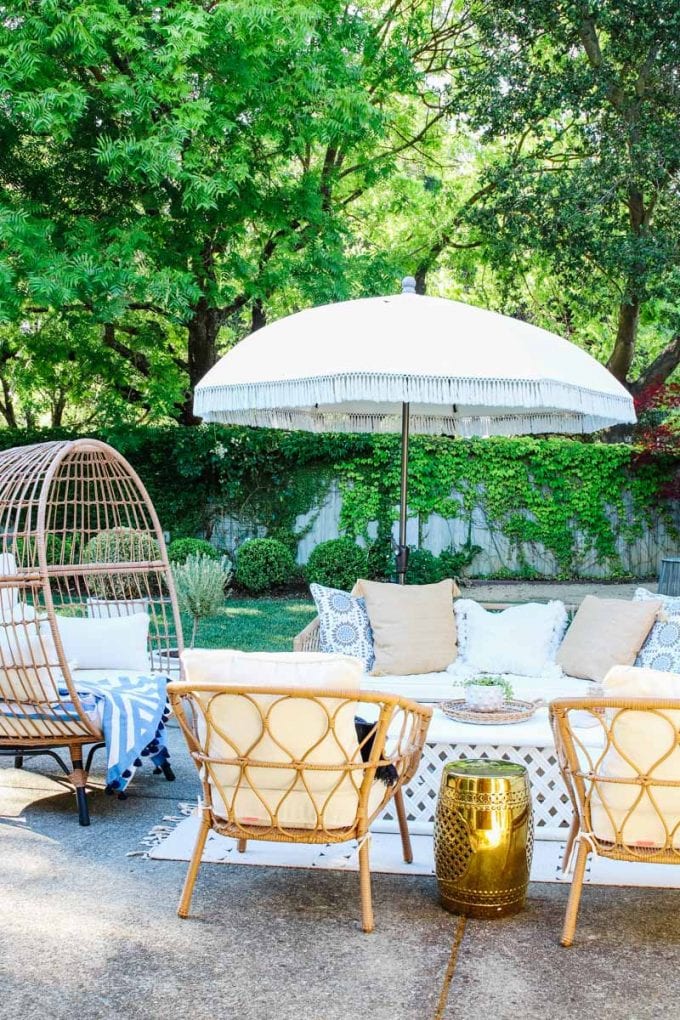 I definitely have champagne taste on a beer budget, lol! But, I want to share with you my favorite tips for getting the look you want without sacrificing style.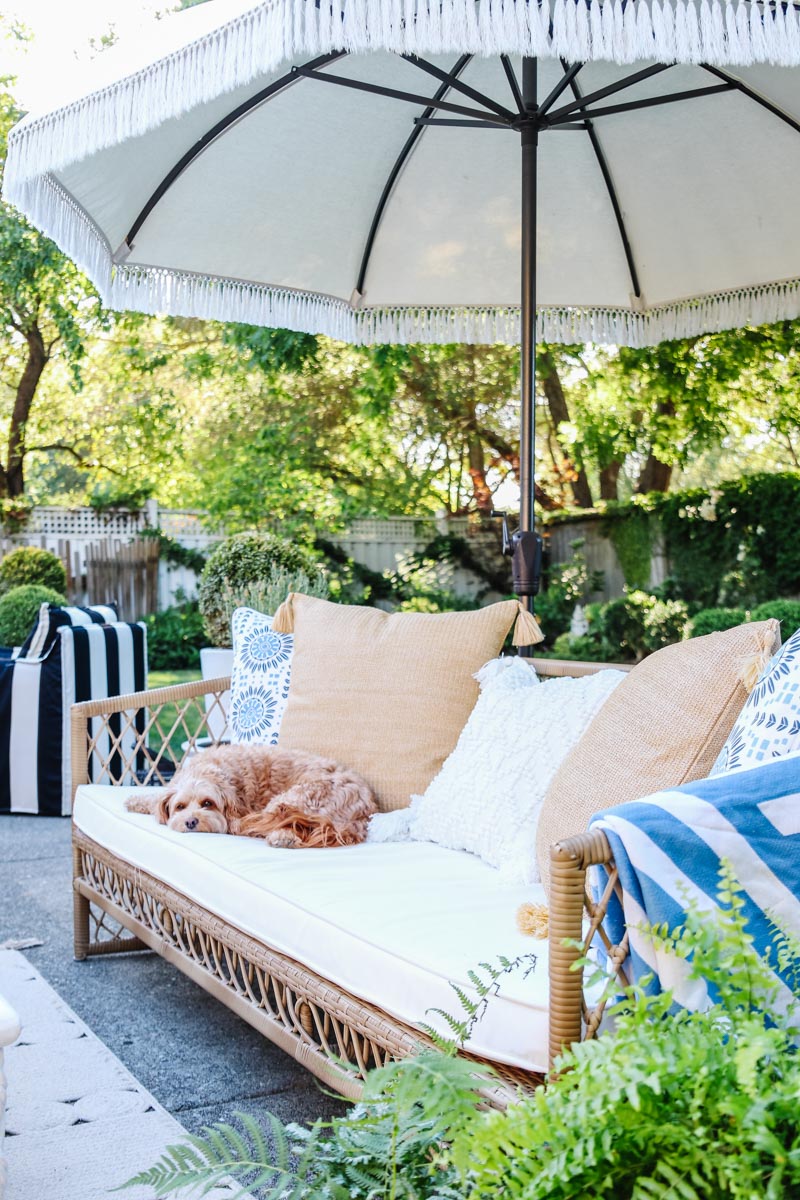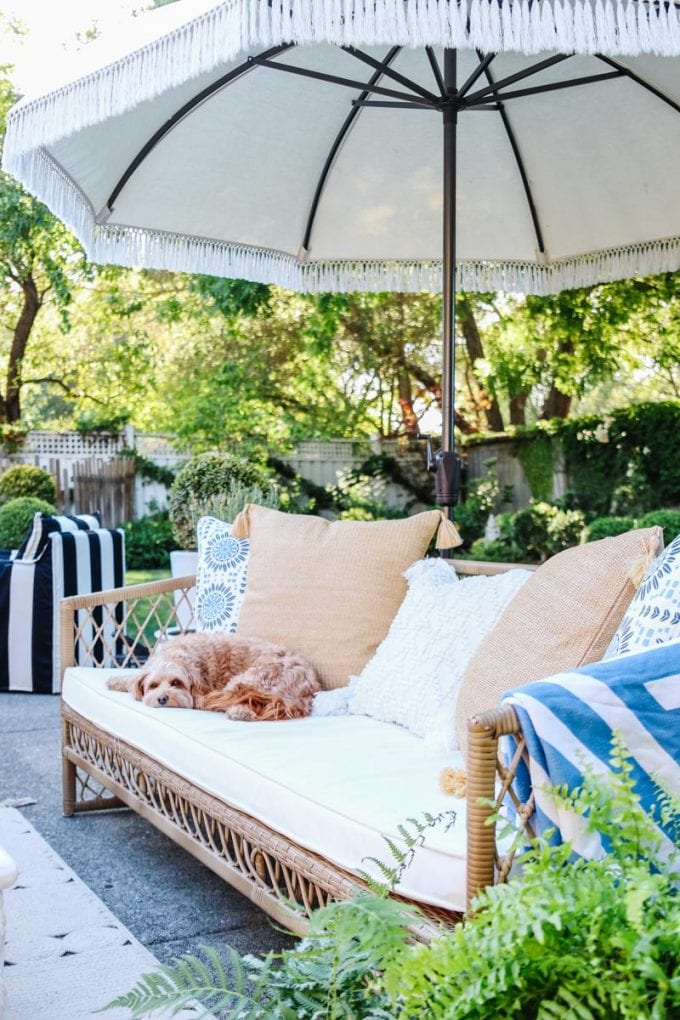 Money Saving Outdoor Living Space Tips
There are few different ways you can save money when purchasing furniture and accessories for your outdoor living room.
Shop The Sales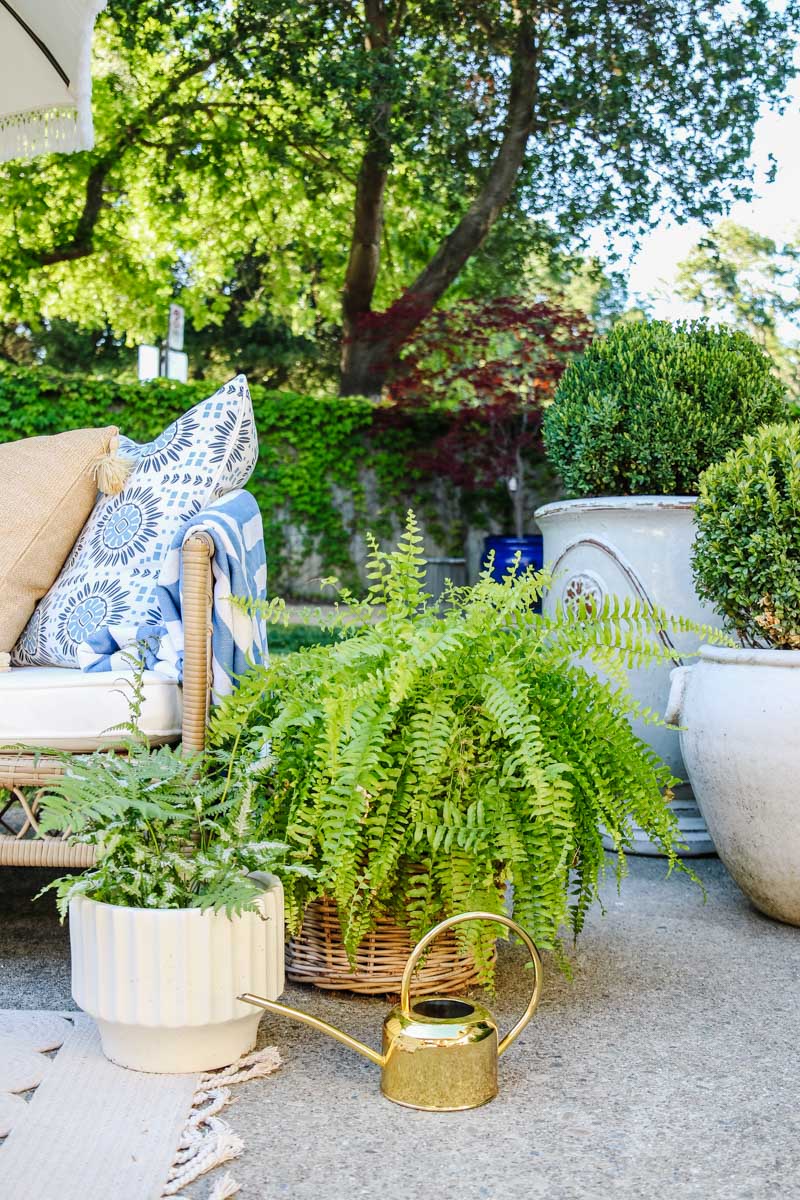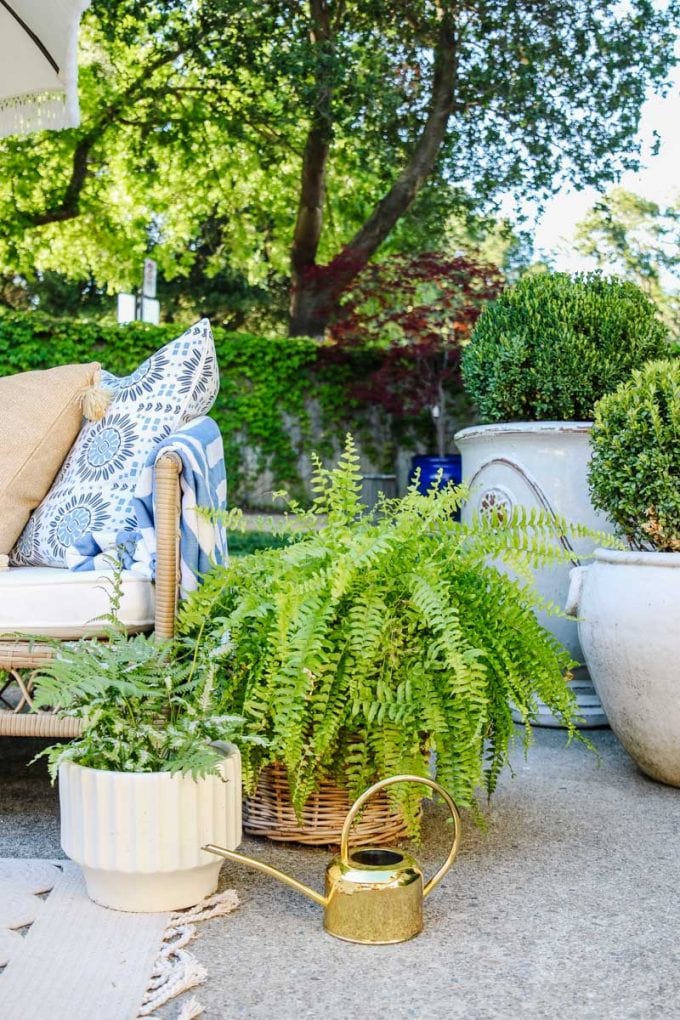 Memorial Day is a big time to save on quality outdoor furniture. End of season sales are also a great time to buy pieces for the next summer.
I tend to buy the accessories like pillows, throws and lanterns during these sales.
Mix and Match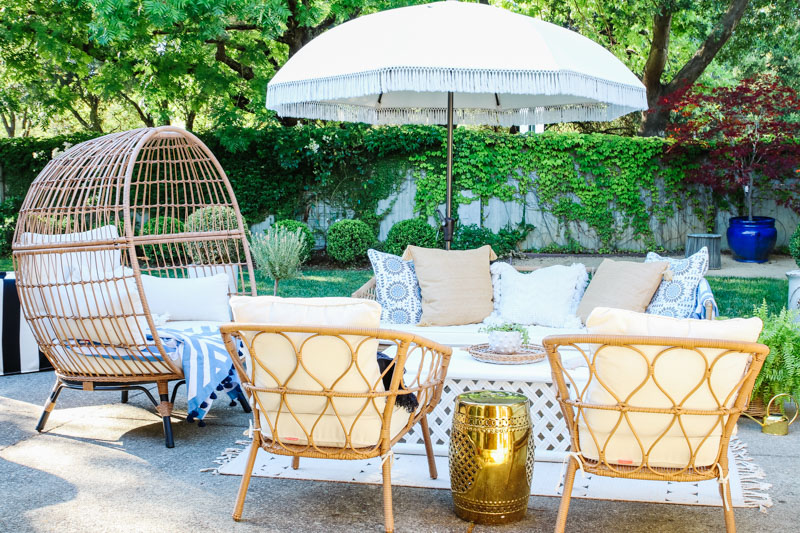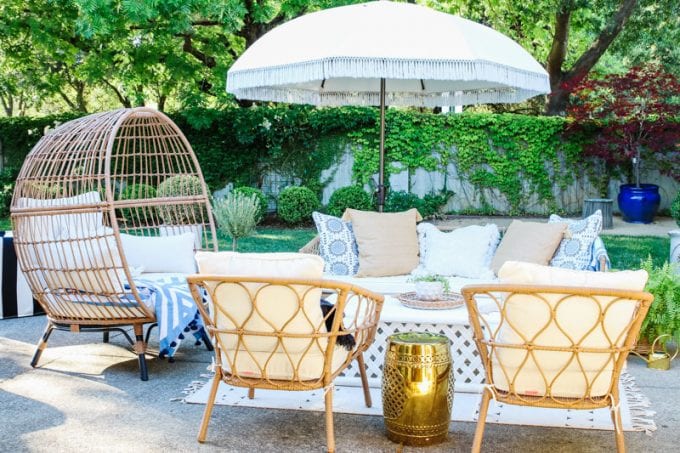 Mix high-end finds with budget friendly versions. Our outdoor living room is a mix of Serena and Lily, Restoration Hardware and Target finds. I love the mix the high and low for a collected feel. Not only does it make it feel more interesting, but it definitely helps to save money.
Shop The Outlets!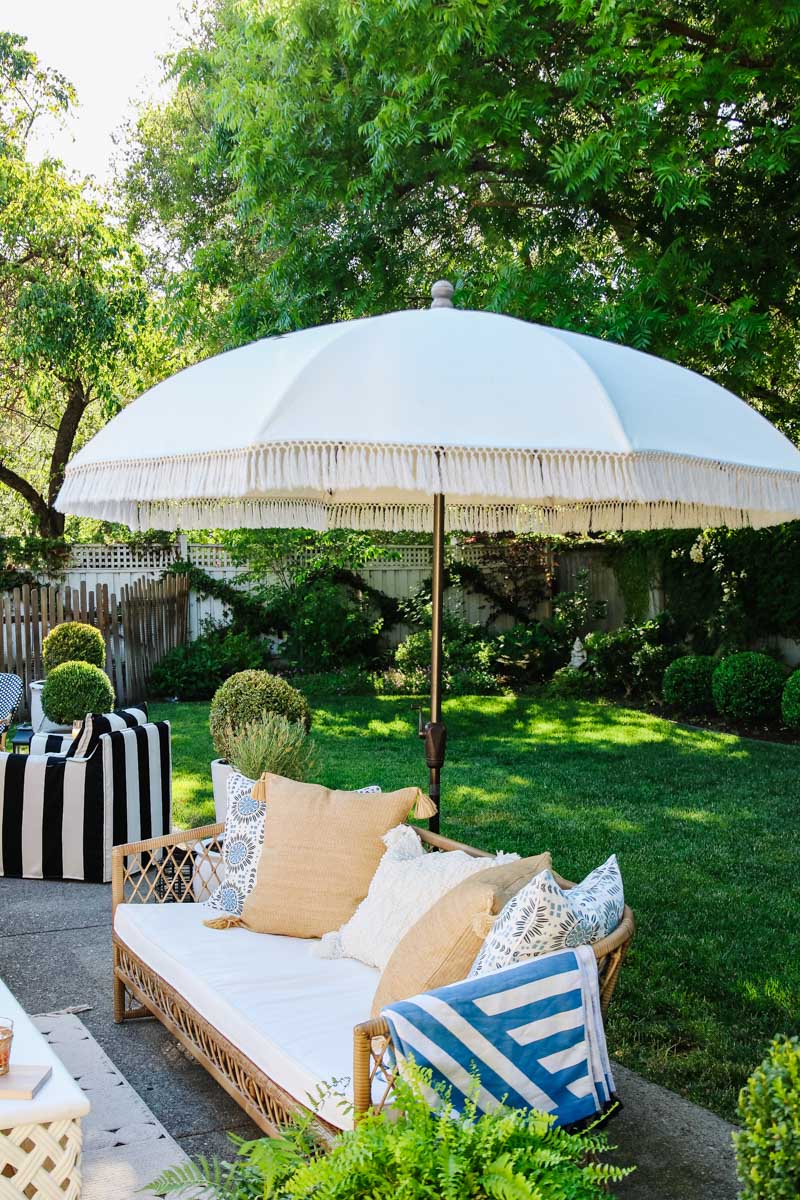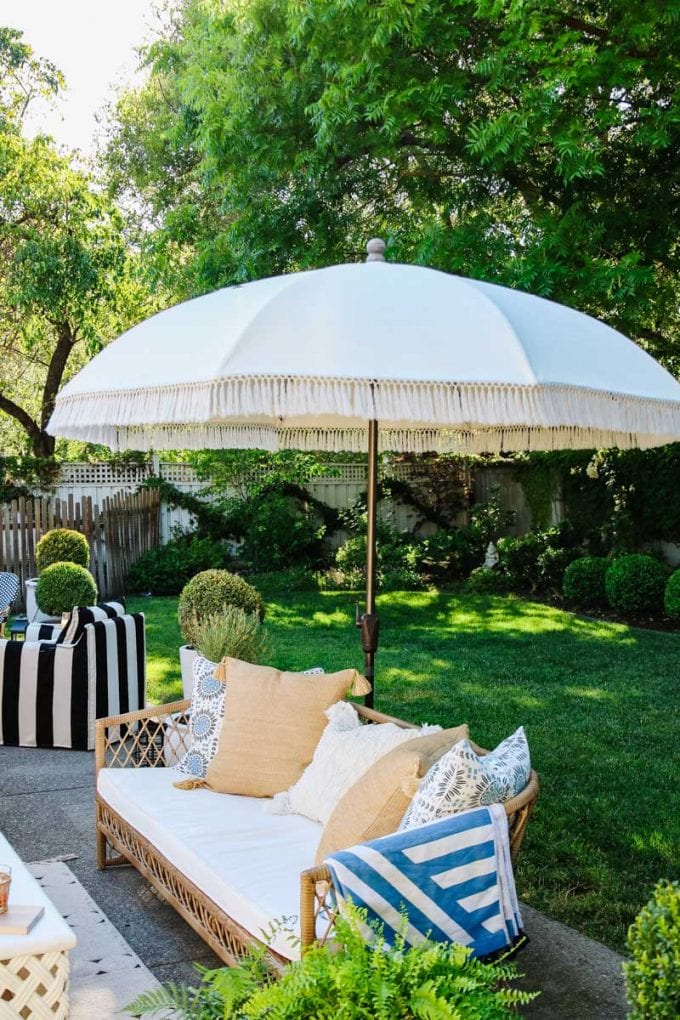 My favorite resource for purchasing outdoor furniture is by scouring the outlets. We live by the Restoration Hardware and Serena and Lily Outlets. In the spring I start going once a week to see what items they have for our backyard.
This year, the outlets have been shut down for months! The Serena and Lily outlet just recently opened back up and I hurried in. I was able to find this outdoor sofa at over 75% off the retail price! And the only thing wrong with it was it is missing the back cushions. I simply placed some extra throw pillows on it and it is absolutely PERFECT for our summer outdoor living room.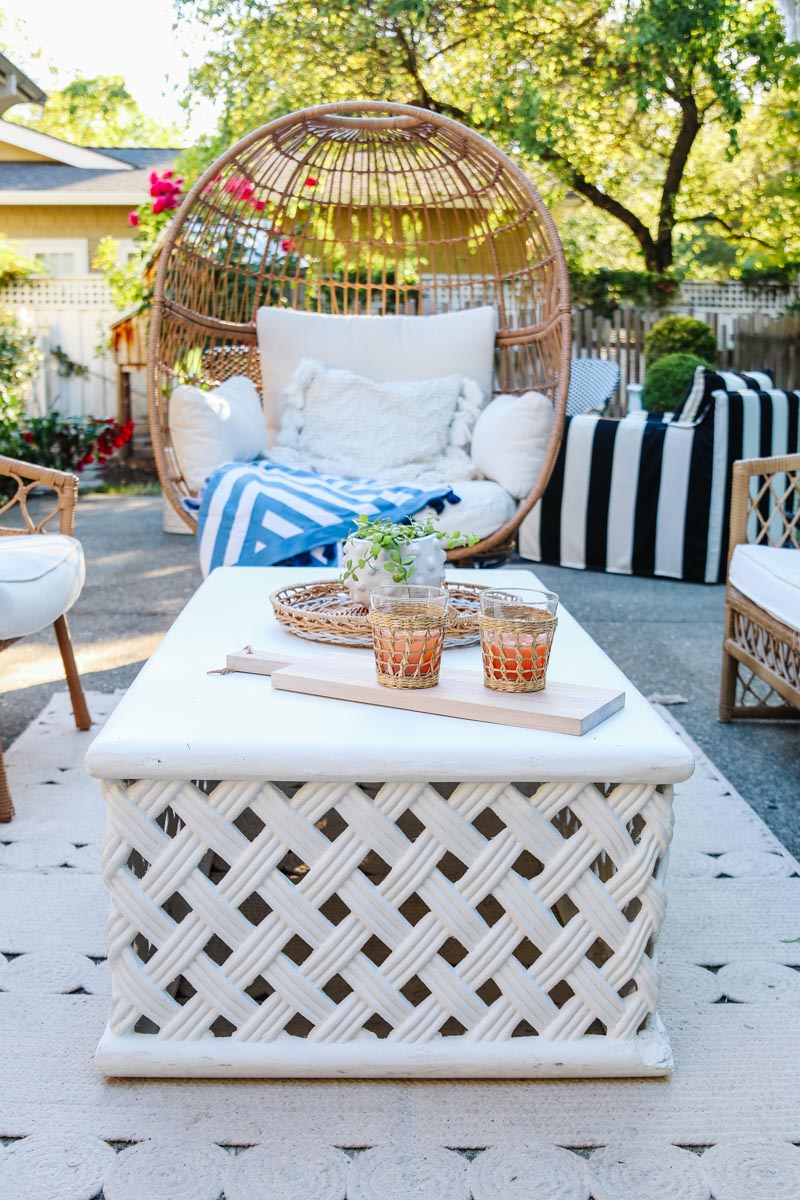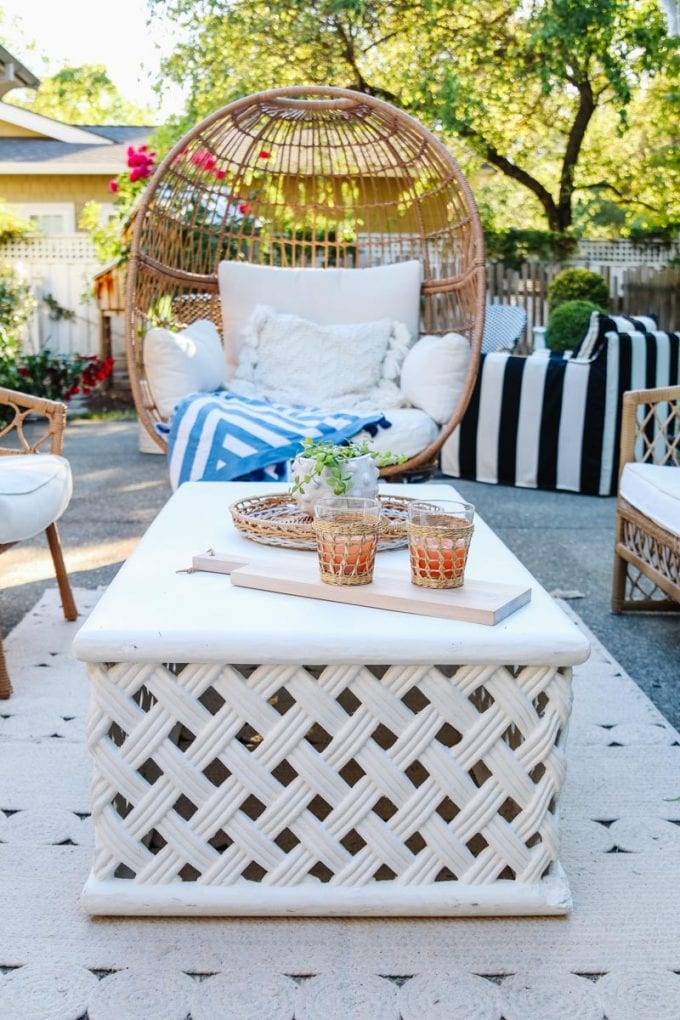 I also bought a new coffee table on the same trip. Now, you won't believe the deal I scored on this. The original price was $1198. I got it for $80. Yes, that's right – $80! See that chip in the bottom right corner? That's how I got it for such a deal. And given that it will be living outside, I am ok with a discounted piece like this.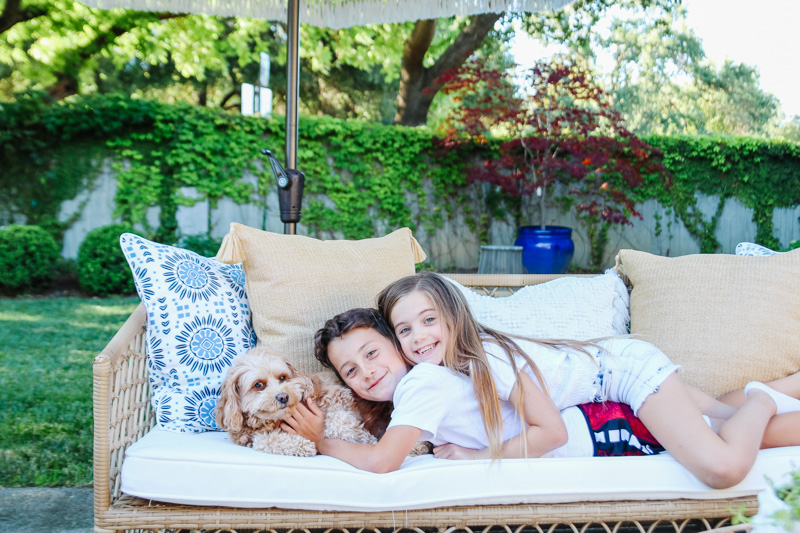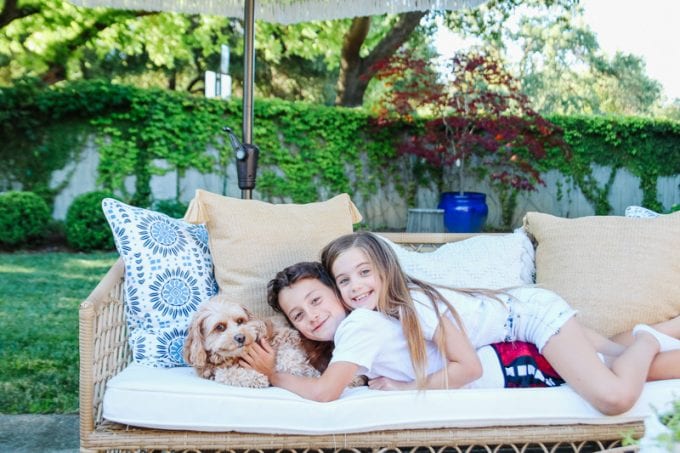 Shopping the outlets has saved us so much money and I am able to get the look I want and love without having to fork over these cuties college savings.
Backyard Chickens and Garden Area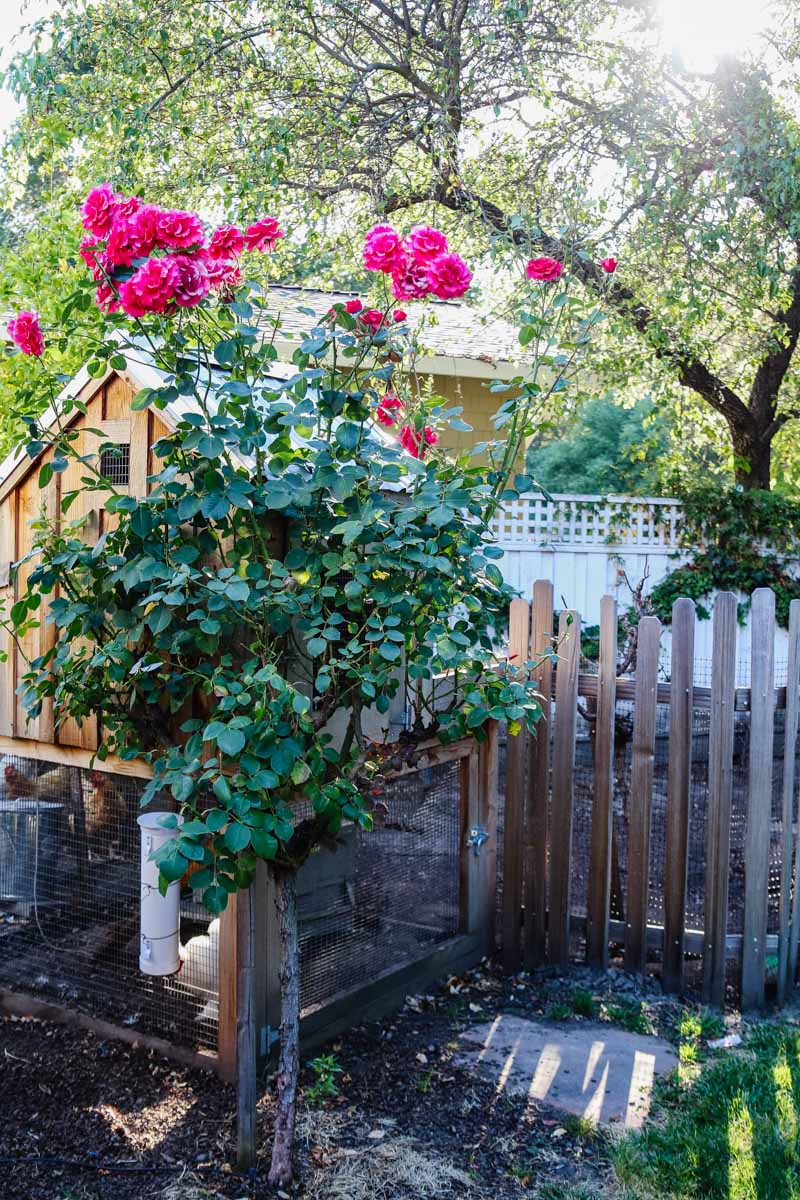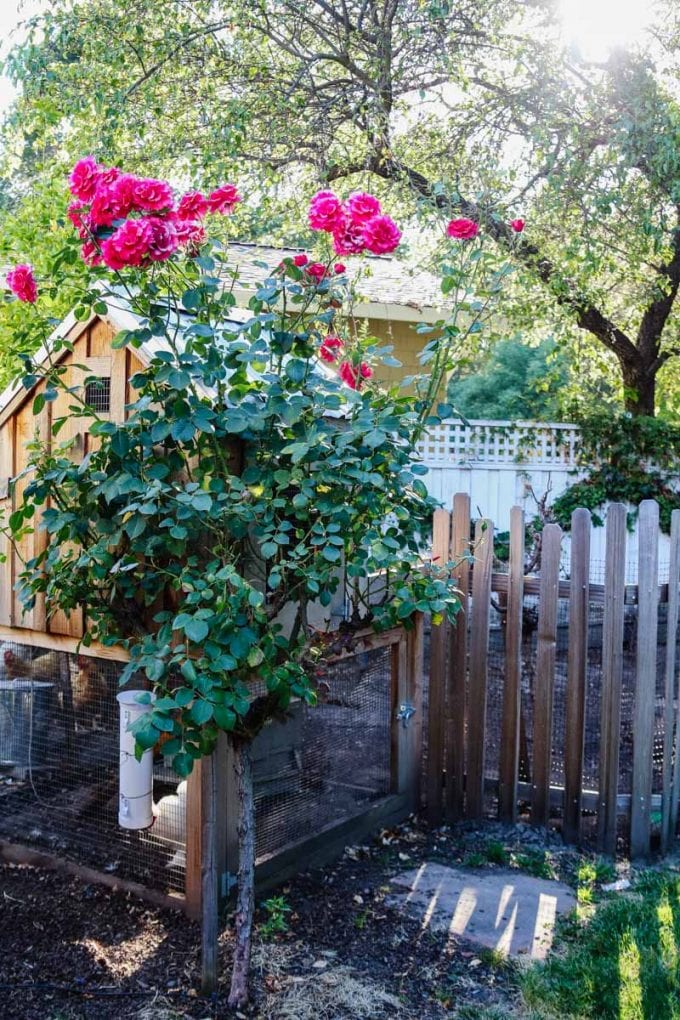 Two years ago we decided to get a few backyard chickens. It has been fun and the kids love taking care of them and they have become a part of our family. We currently have 4 chickens. Two Buff Orpingtons, one Silkie and one Light Brahma. We get about 3-4 fresh brown eggs a day.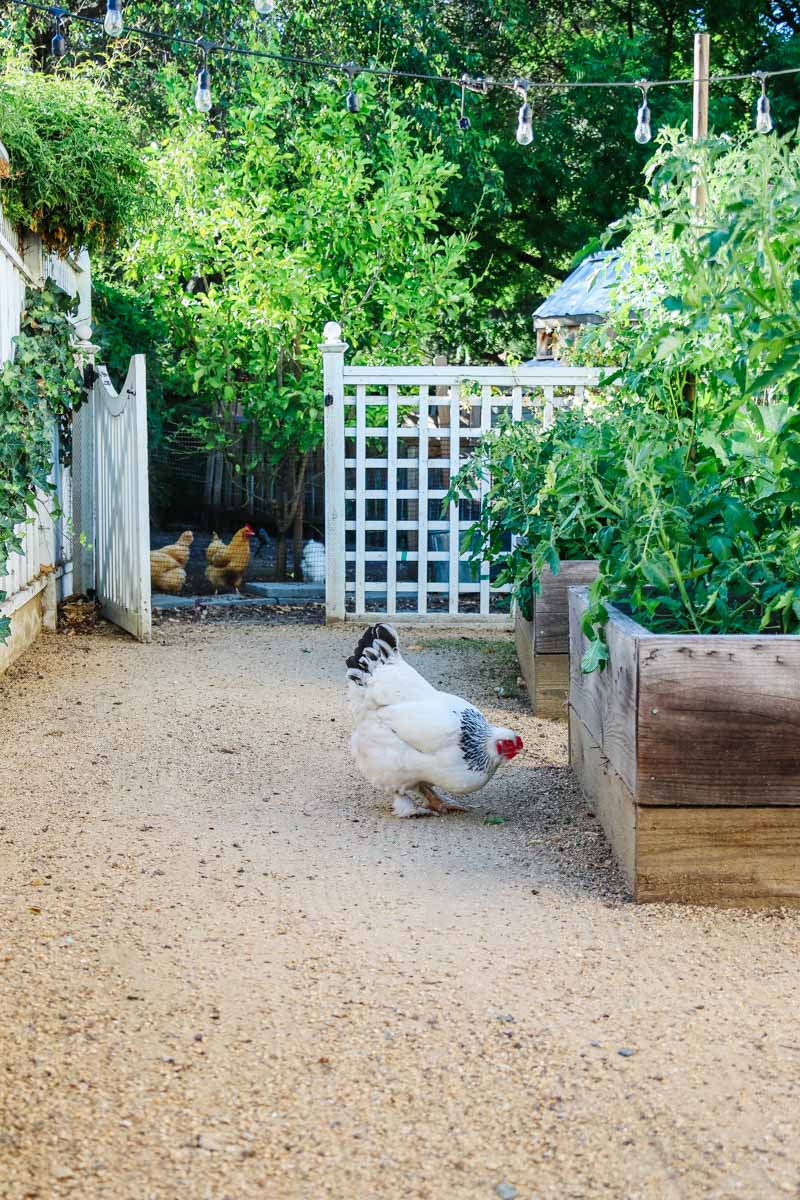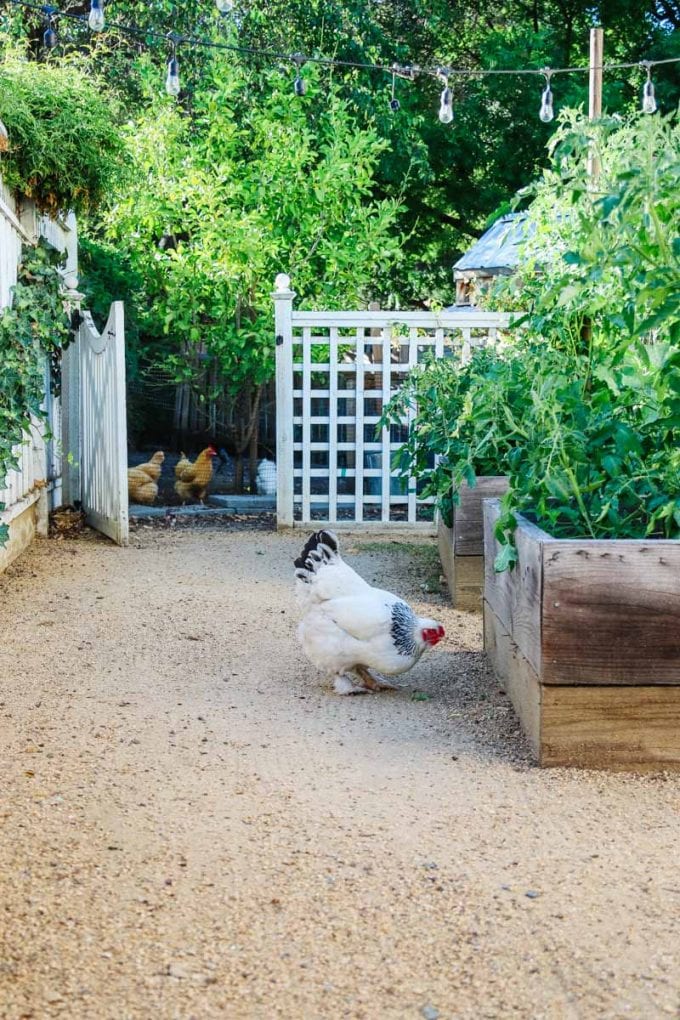 Backyard chickens are surprisingly easy to care for and they have more personality than they get credit for. One of our chickens, Goldie, comes running whenever we come outside. And the silkie is the sweetest thing ever and loves being held.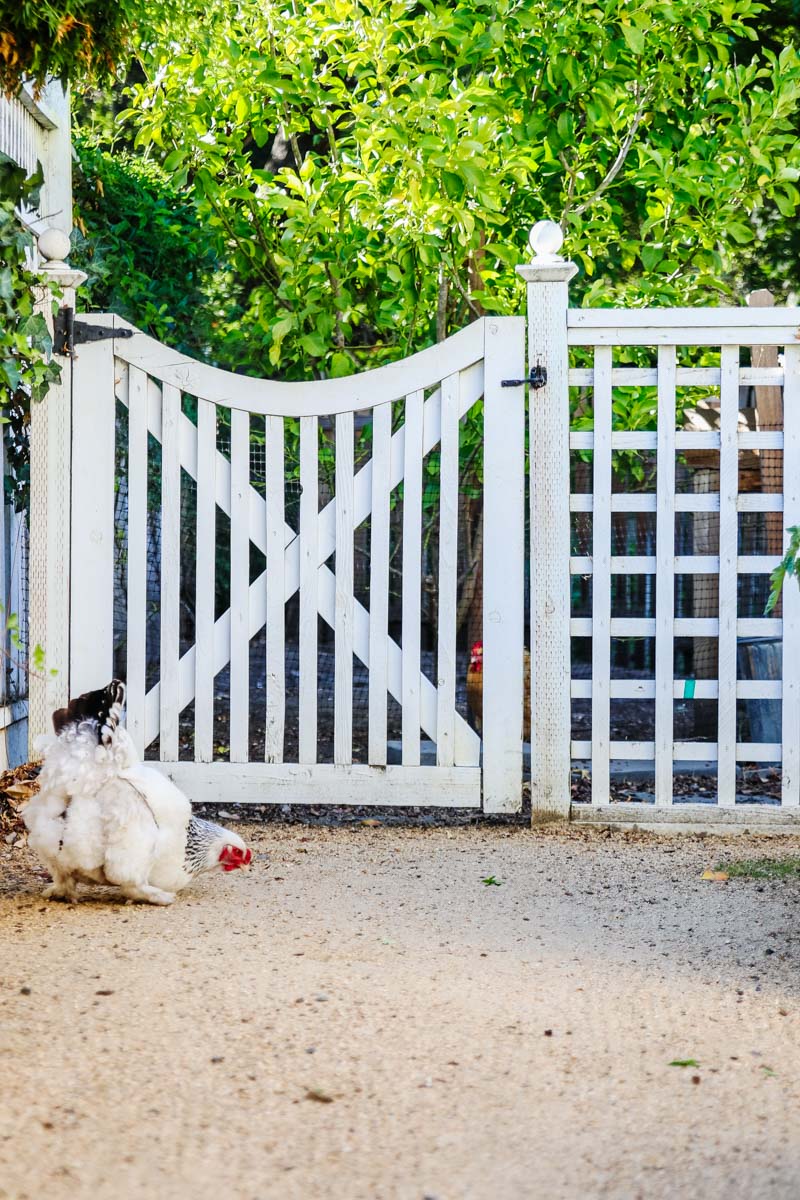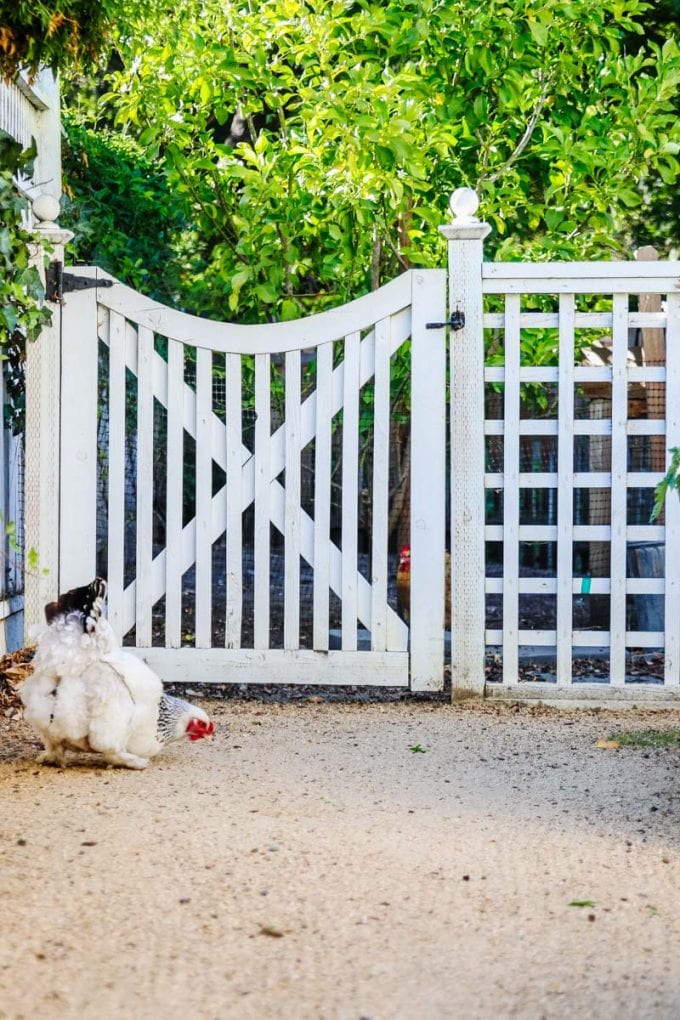 The chickens have a large run area. When we first got them we let them roam free but soon learned that they loved to eat all the plants. So, now they have a nice area where they can free-range and every now and then we let them out to eat some fresh grass and catch some bugs.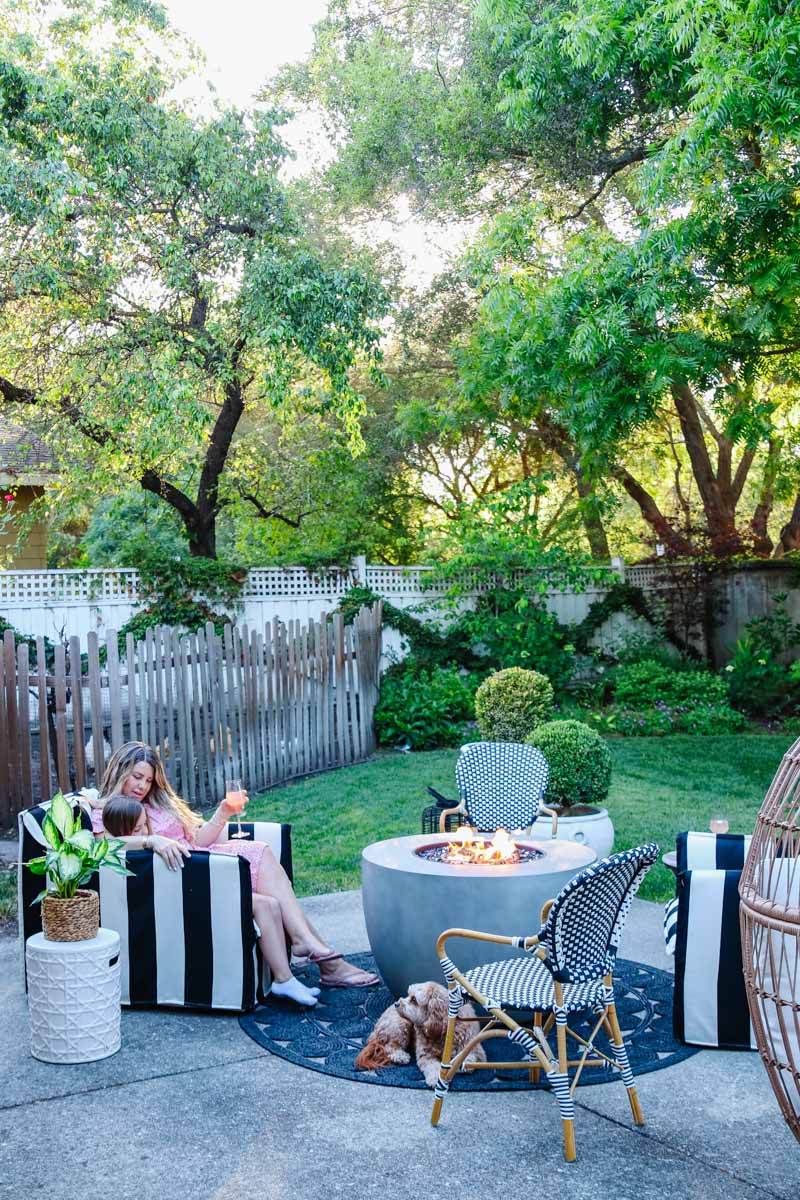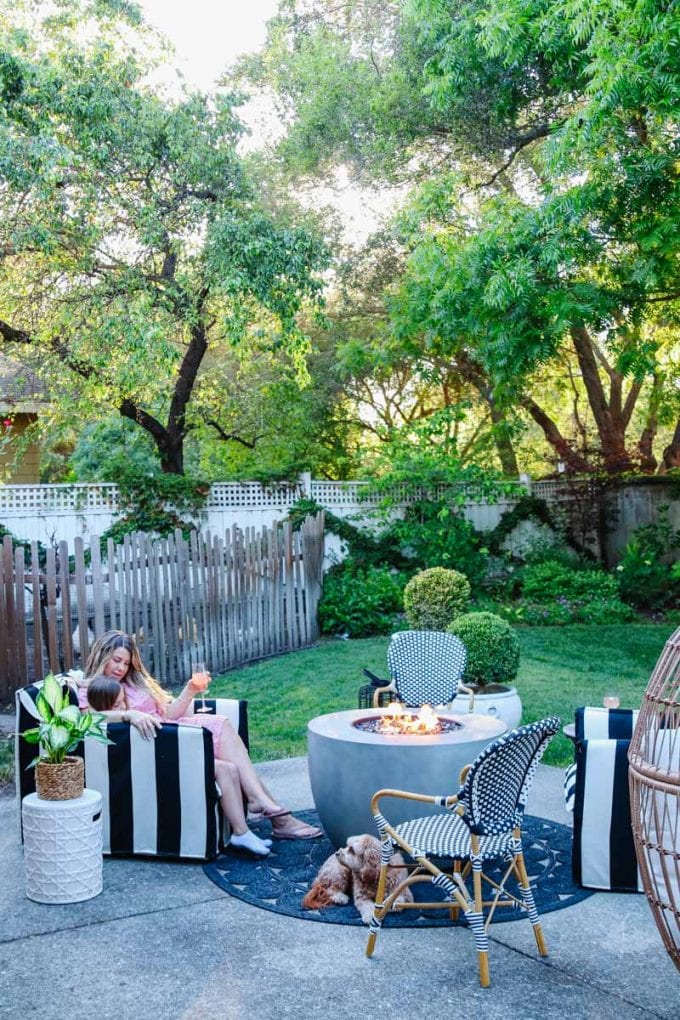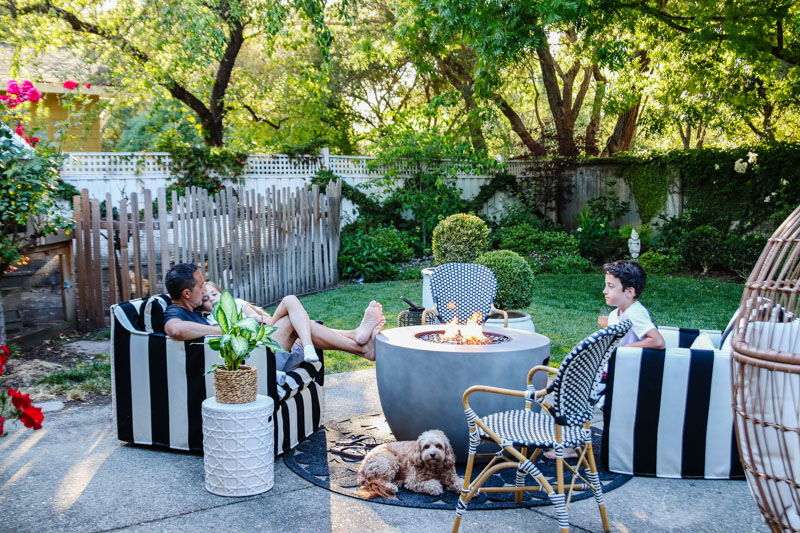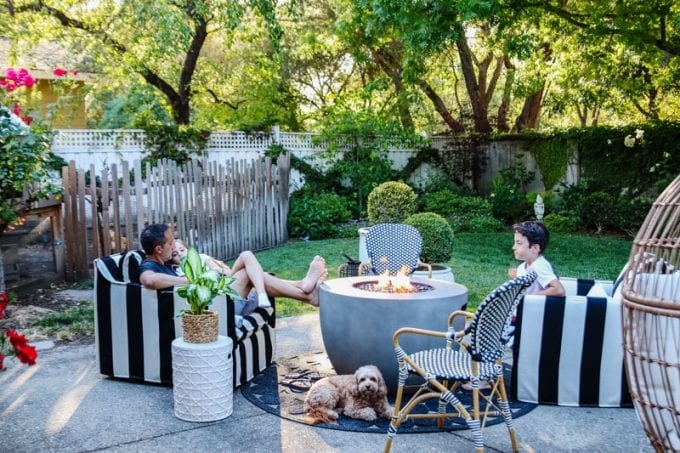 Thank you for stopping by and touring my outdoor living room and summer backyard. I hope you gathered some good ideas and leave feeling inspired!
Shop Sources from My Backyard

Be sure to visit all the beautiful outdoor living spaces being shared today – all the links are below. Next up on the tour is Kim over at Northern California Style.
More Outdoor Living Spaces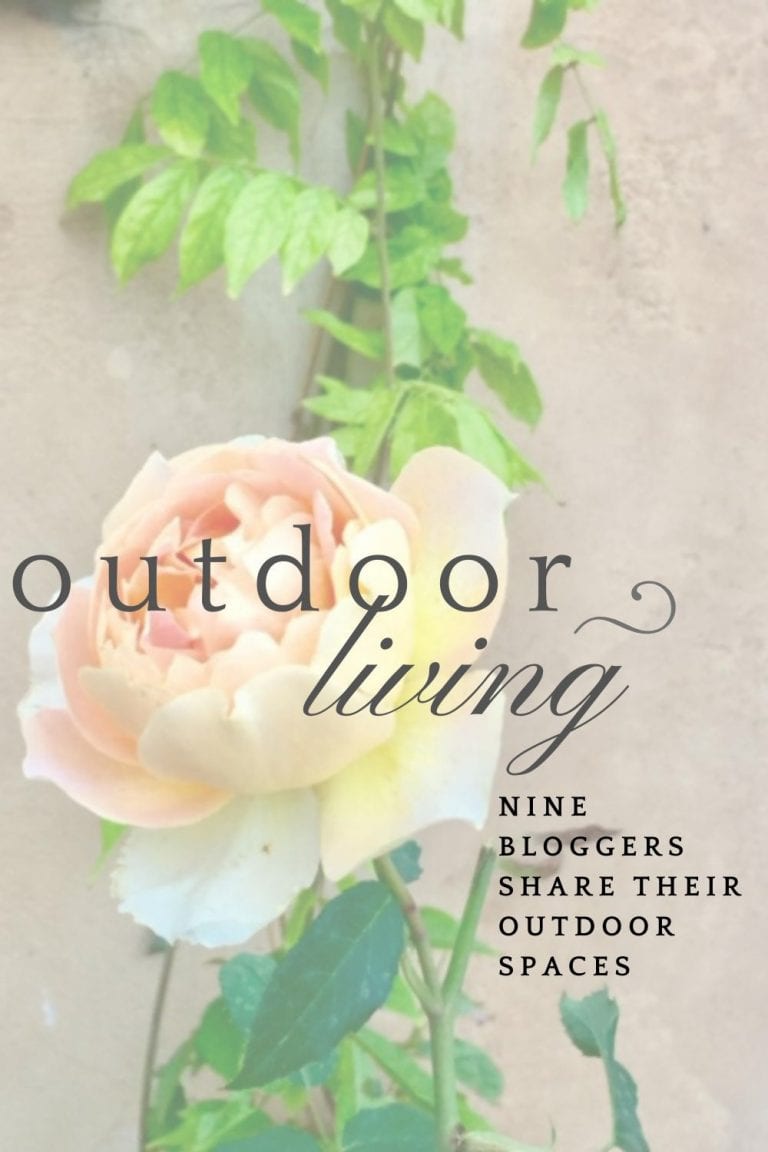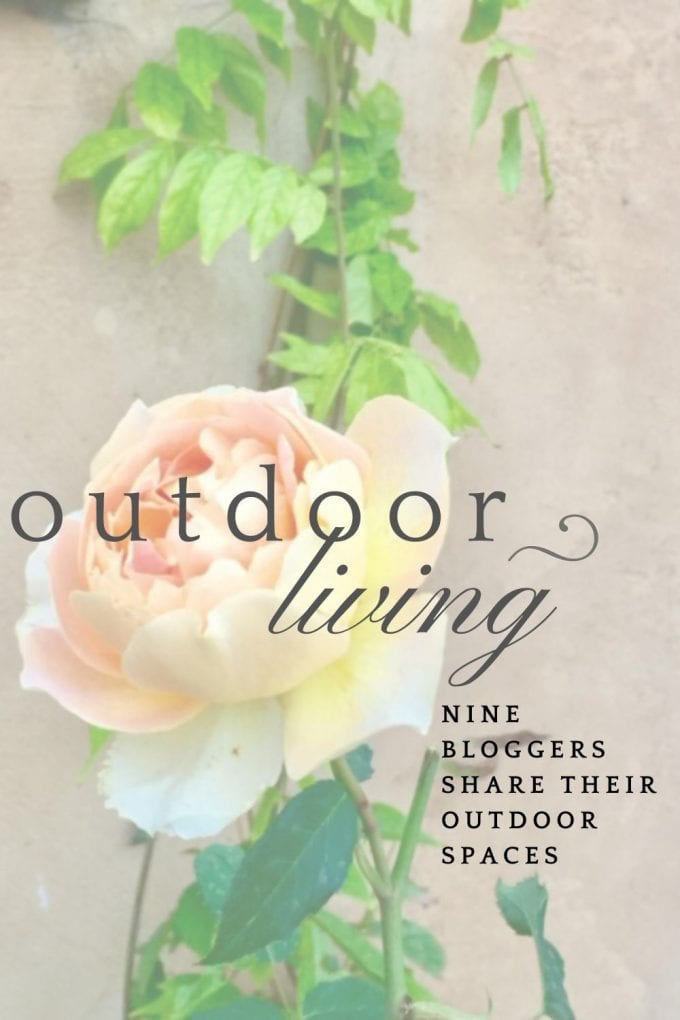 I am so excited to be included in this talented group of designers and bloggers sharing their outdoor spaces today. Click the links below to take the tours and prepare to be inspired!