Succulents are easy to grow, low-maintenance and add a fresh pop of greenery to your space. This DIY Succulent Planter is inspired by the beautiful versions that I have seen at Anthropologie and Terrain. And it's easy to make. Check out the tutorial below!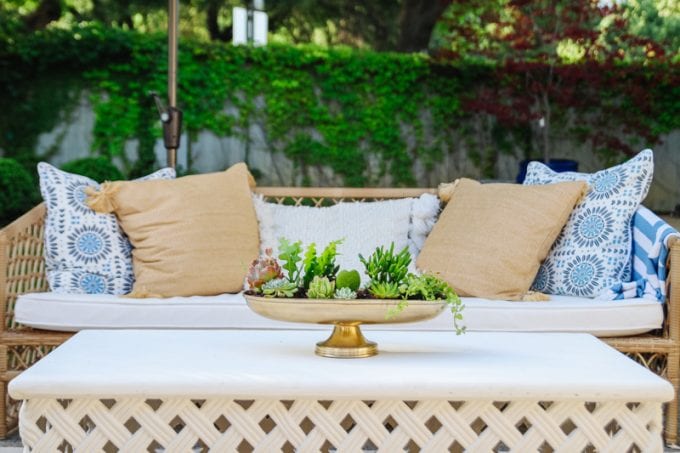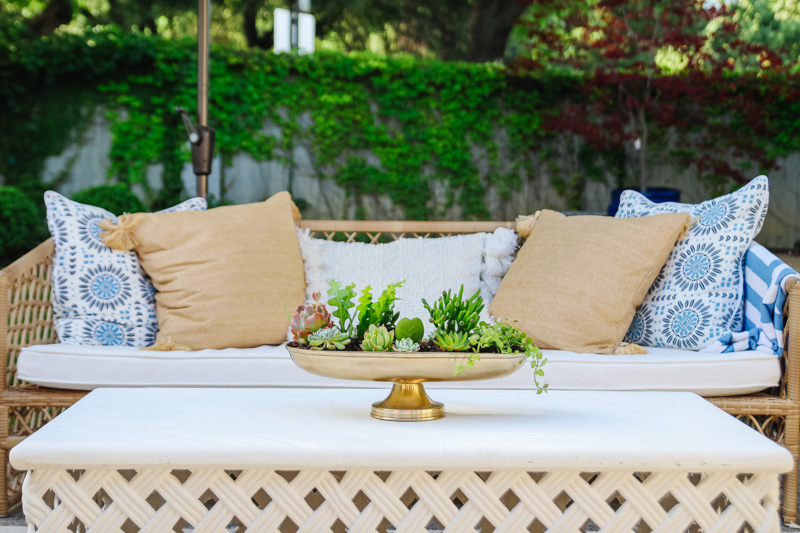 Living in California, our summers can get hot and very dry. I love to add greenery to our home and outdoor spaces, but finding plants that will tolerate the weather can be difficult. Succulents are always happy on our outdoor patio as well as inside the home too.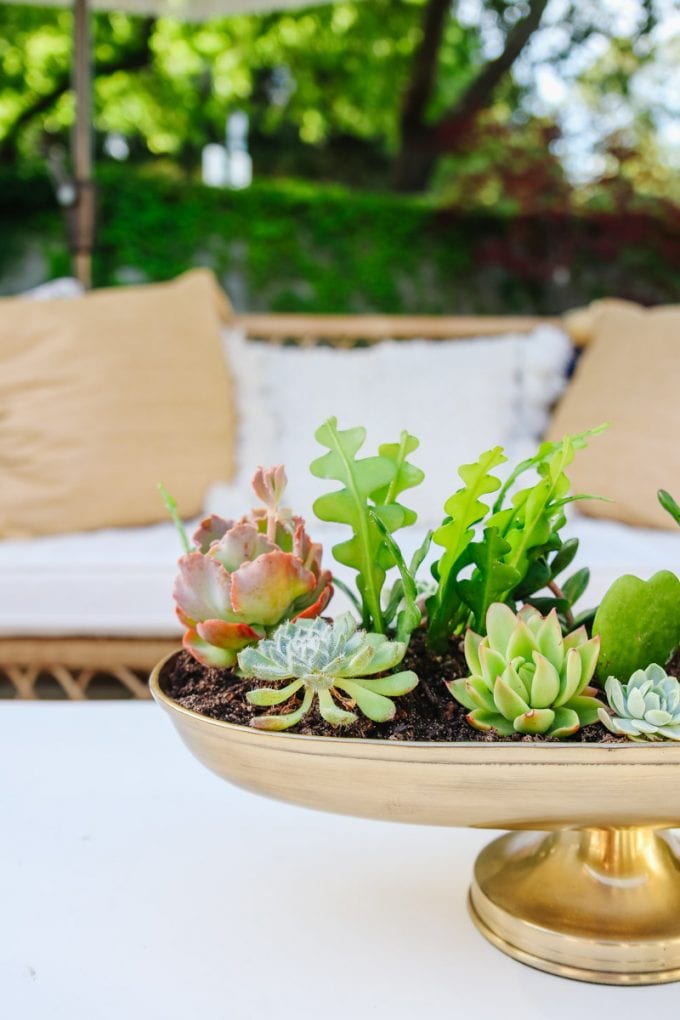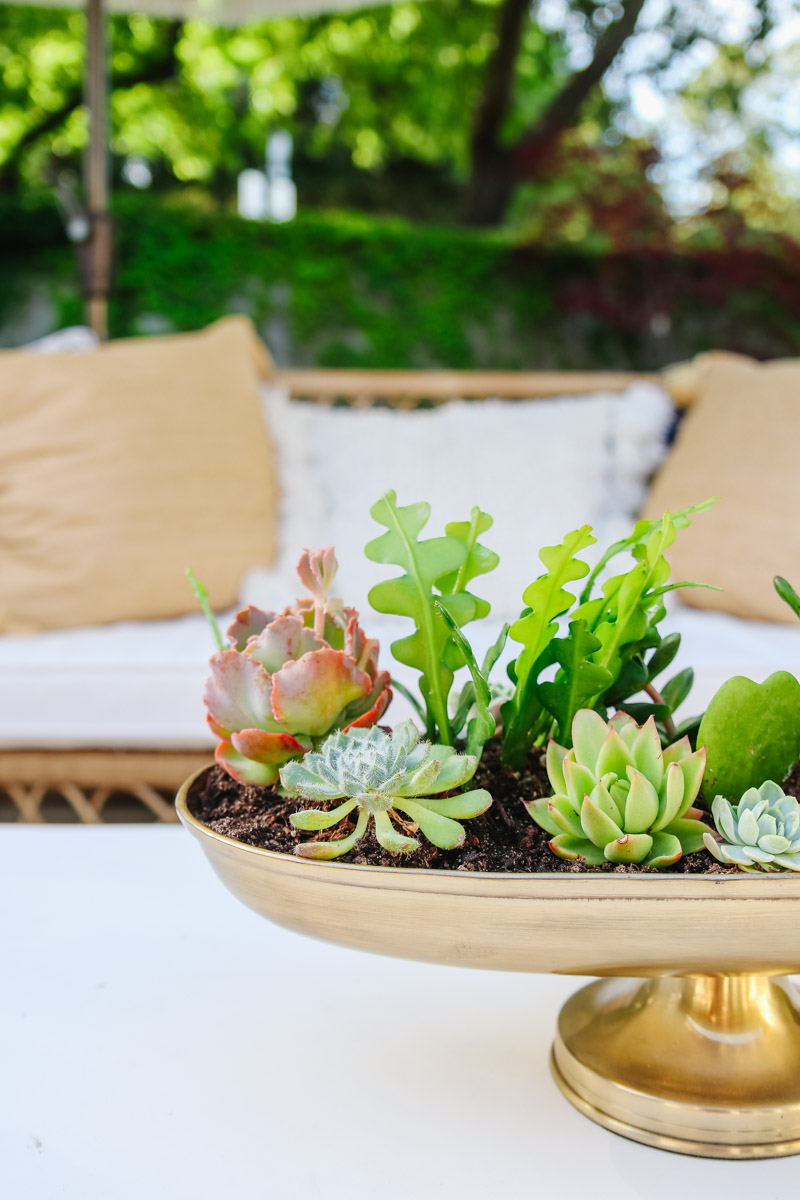 This DIY succulent planter is an easy way to add some greenery to your space. And the brass container adds the perfect pop of glam to this otherwise ordinary project!
DIY Succulent Planter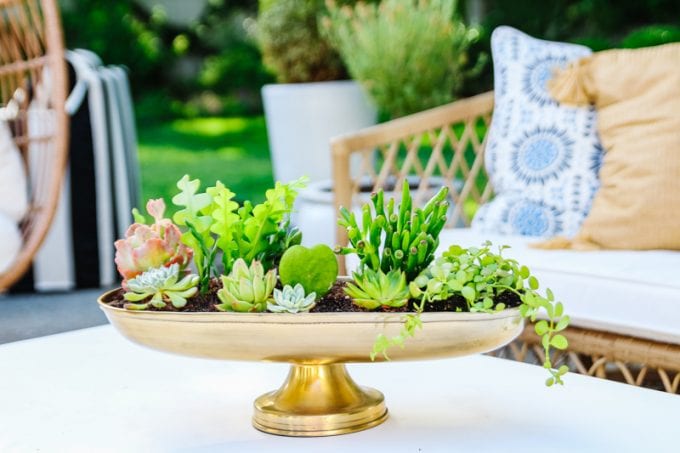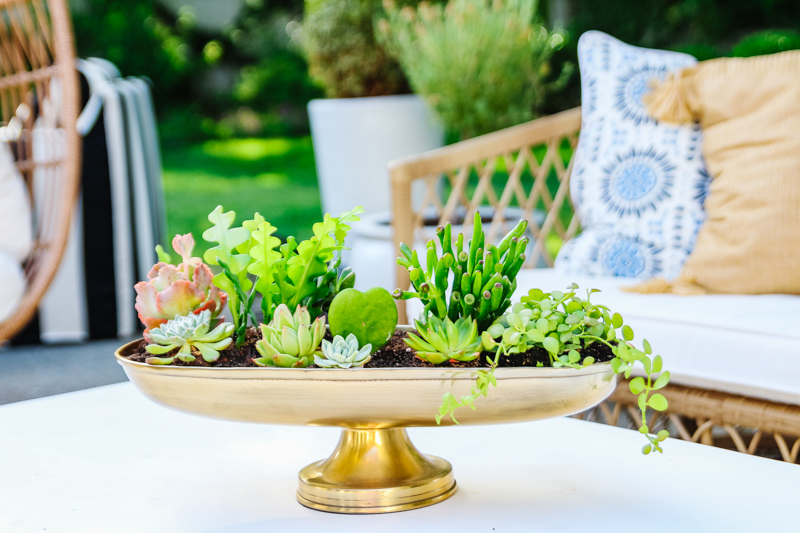 Making a DIY succulent planter is a fun project and my favorite part is that it can be made in any vessel you have on hand. At our local antique faire there is a vendor that sells succulents planters that are nestled in vintage silver pots and other unusual items. One of my favorites was planted in an antique silver teacup!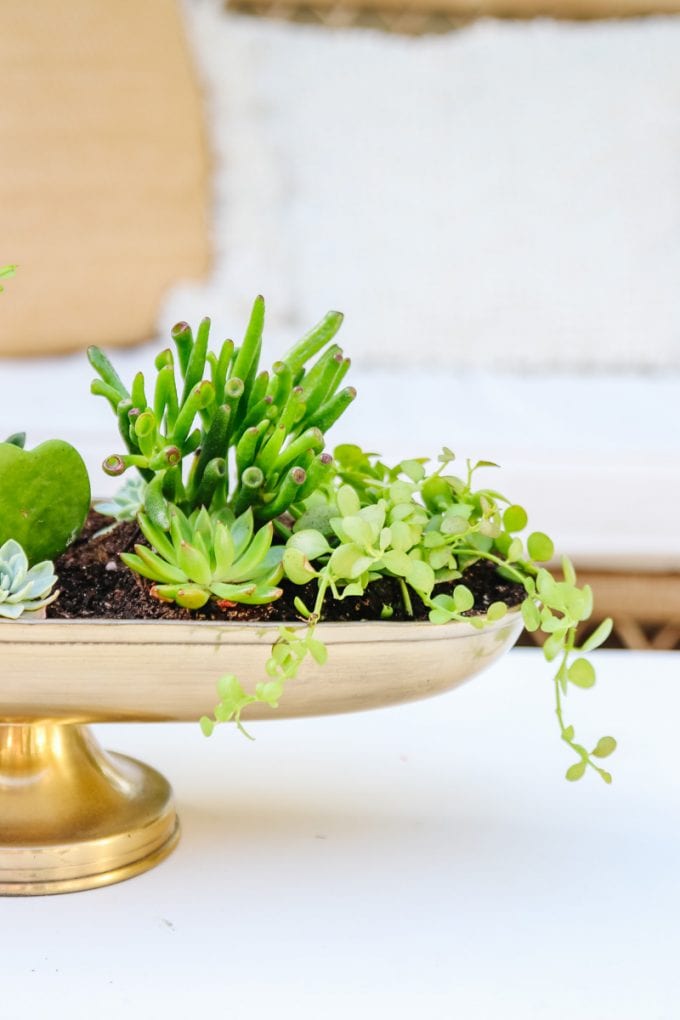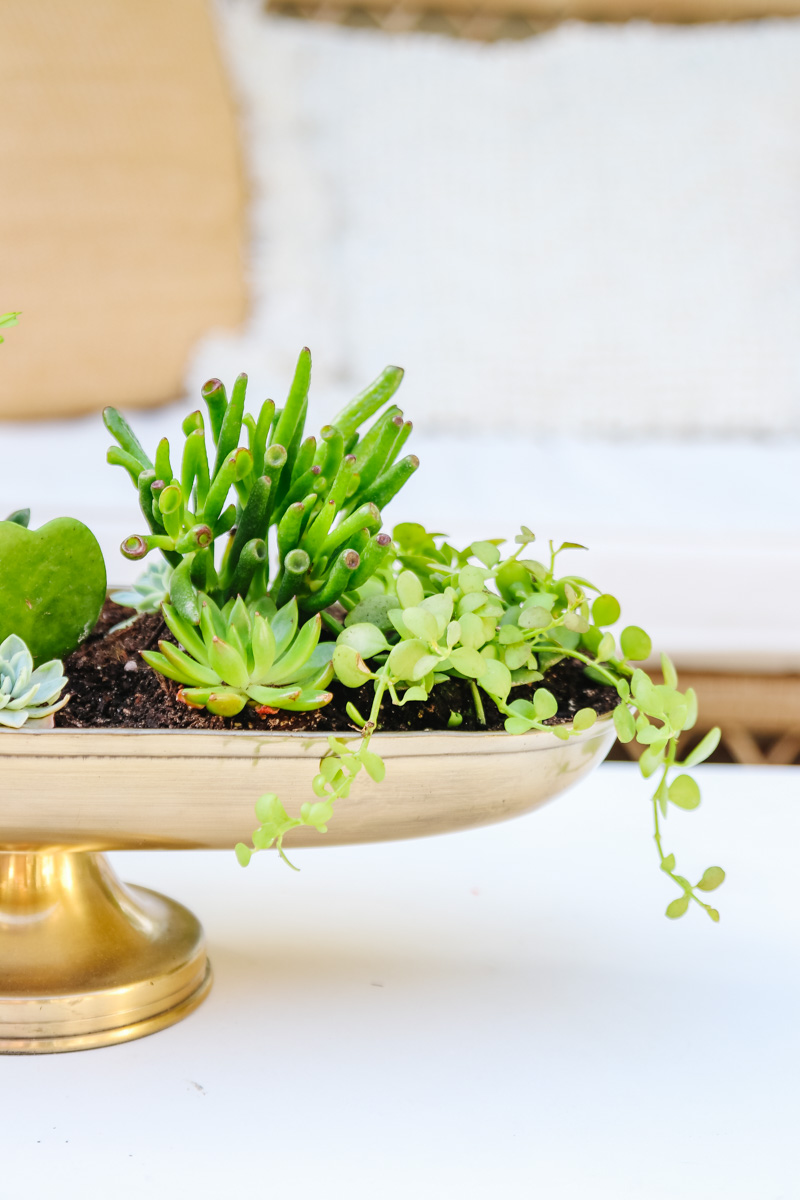 So, for this Anthropologie-inspired succulent planter I decided to use this brass trough that I picked up at Target a little while ago. It is the perfect shape and size for a few pretty succulents.
I bought the container not knowing how exactly I would use it and it sat empty for months! Now it has a happy purpose.
Let's Make A Pretty Anthropologie-Inspired Succulent Planter!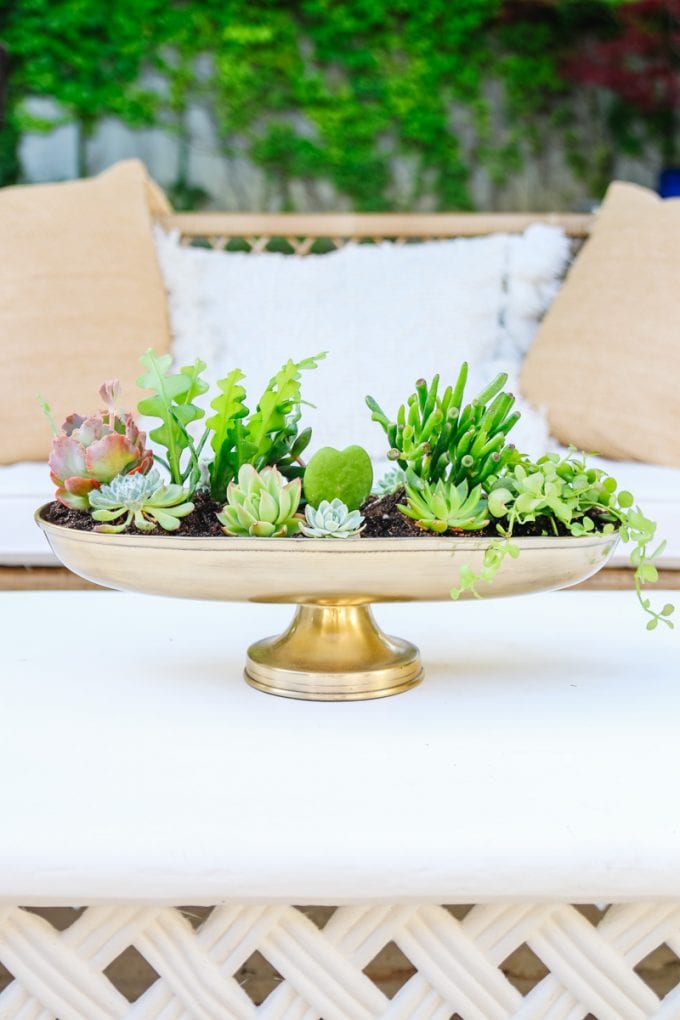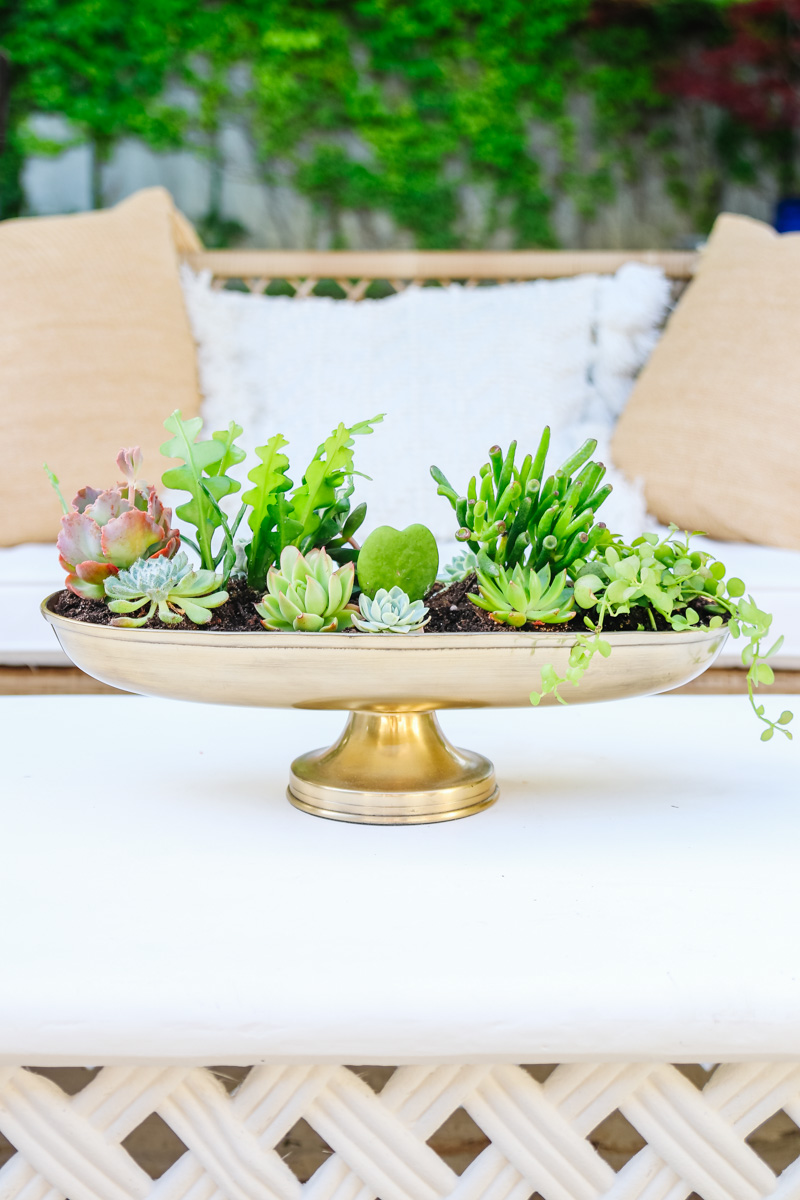 For this DIY succulent planter project, head to your local nursery and pick up some succulents. I find that by going to the nursery or garden center you can find some really interesting varieties of succulents.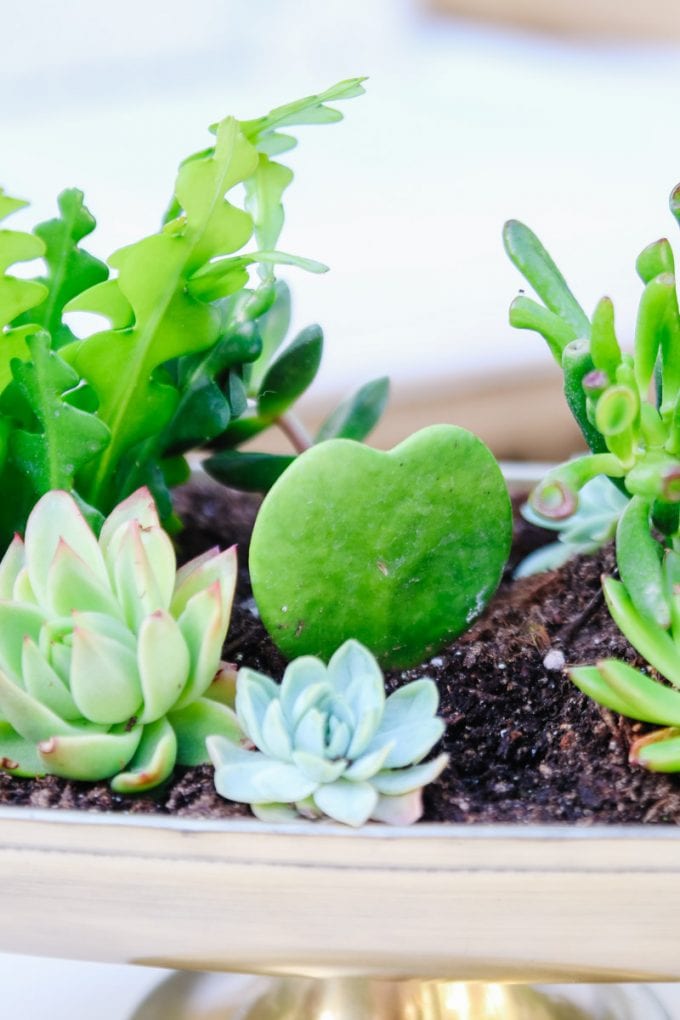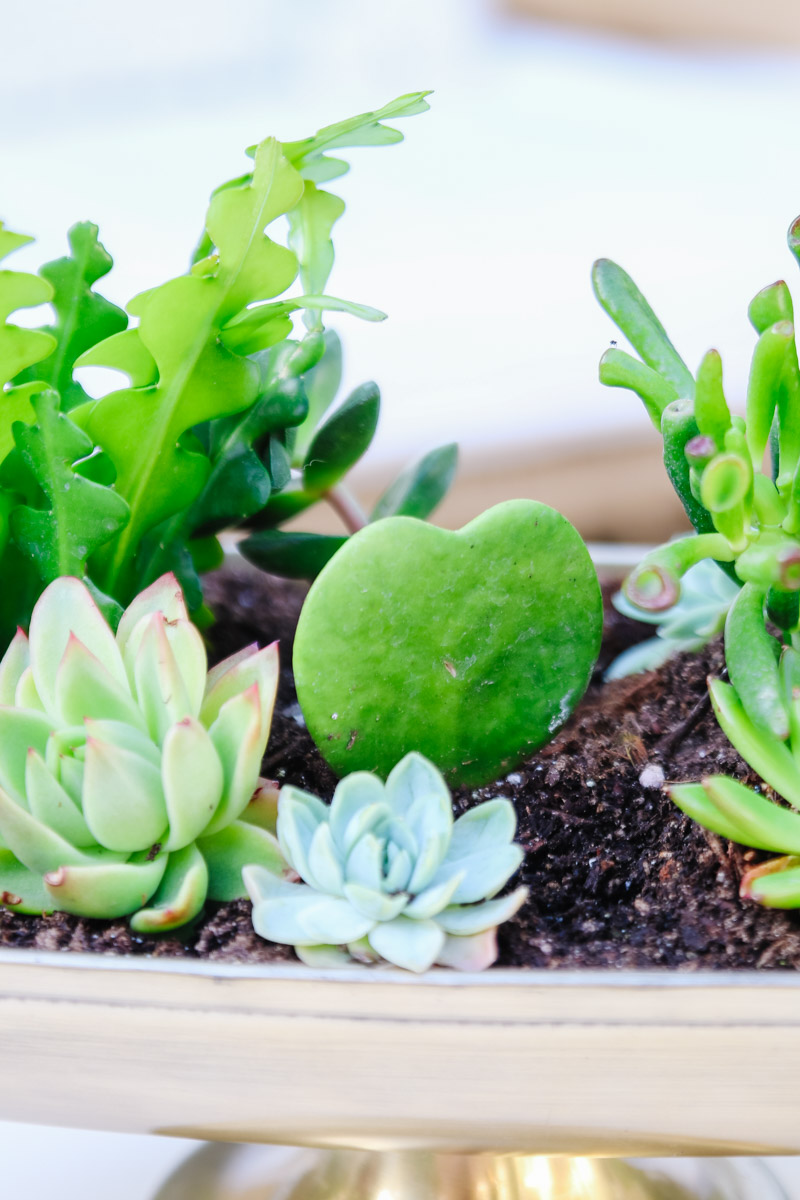 I found this hoya heart succulent at our local nursery. Isn't it so cute?! And the plant next to it is called a rik rak cactus. I love using unique plants to add interest to this DIY project.
DIY Succulent Planter Supplies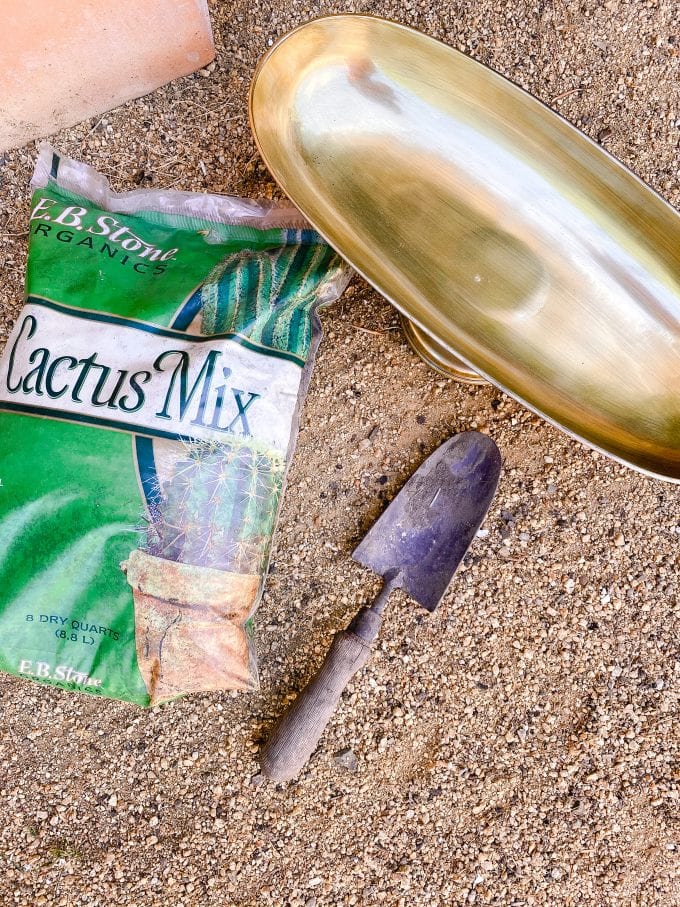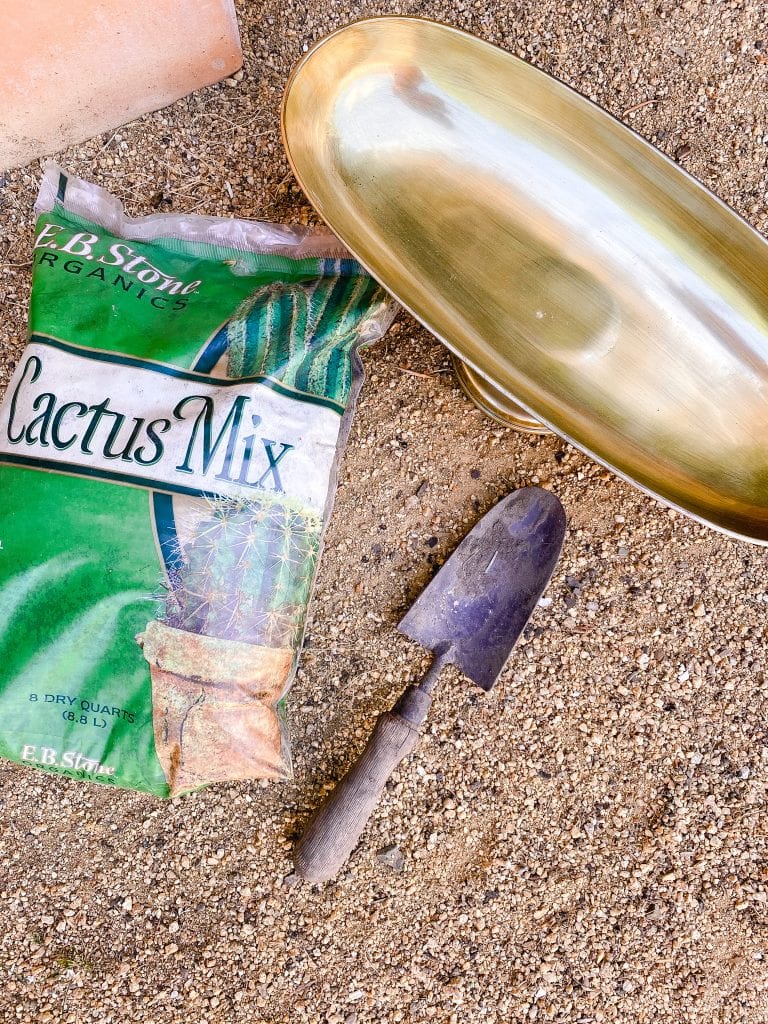 Here is what you will need to make this fun Anthro-inspired planter.
Pot or vessel (I used this one)
Cactus mix planting soil
10-15 succulents (depending on the size of your pot)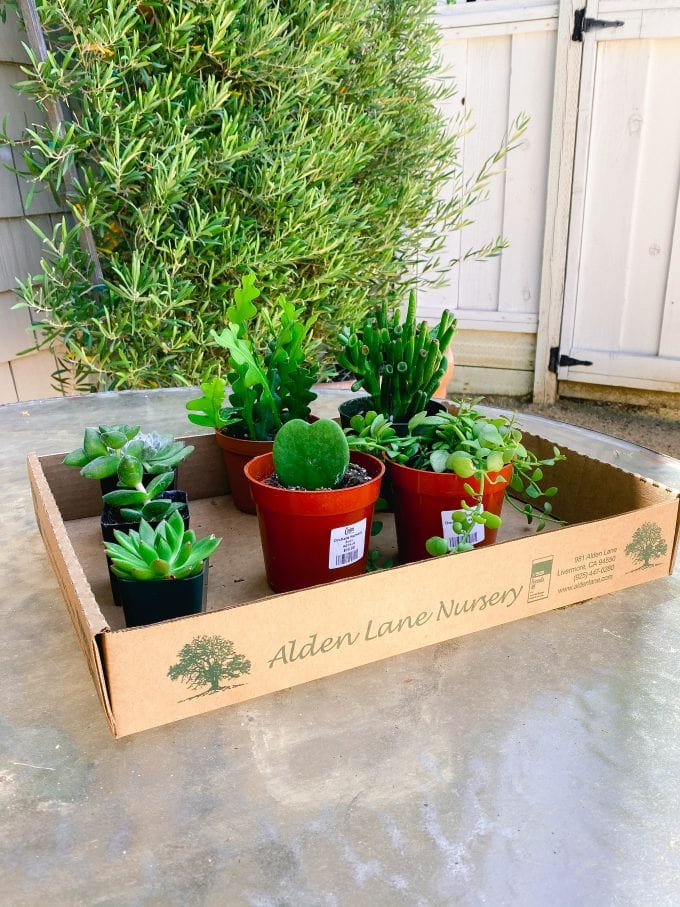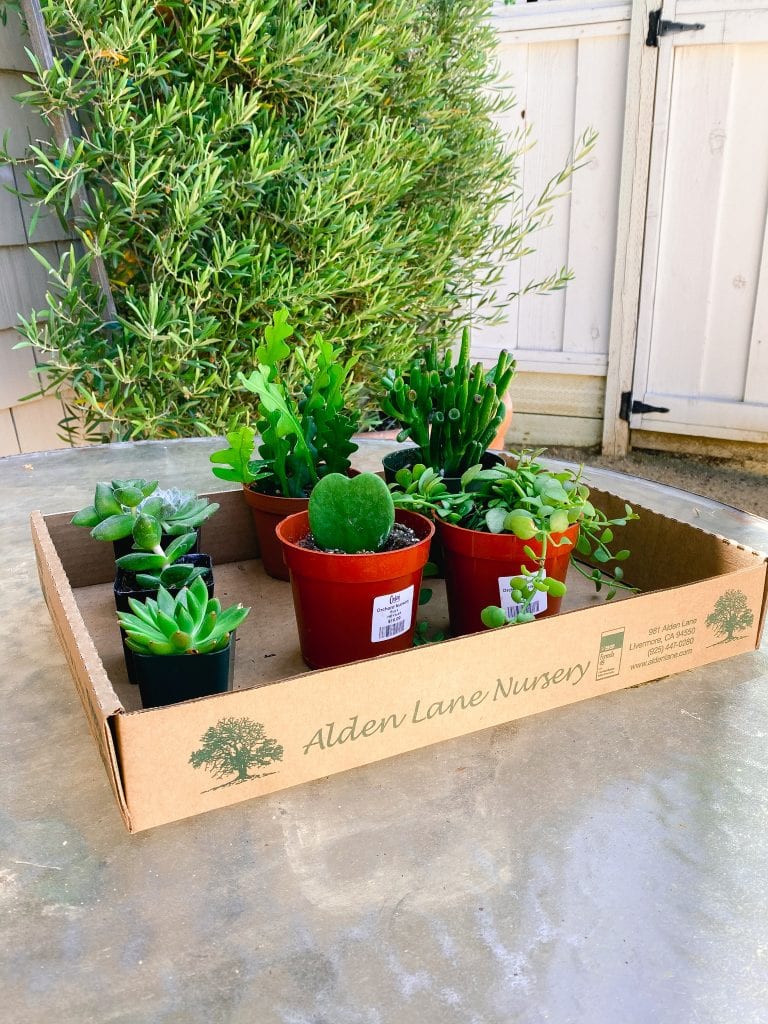 Start by filling the pot half full with planting soil. Next, place the larger succulents in the planter first.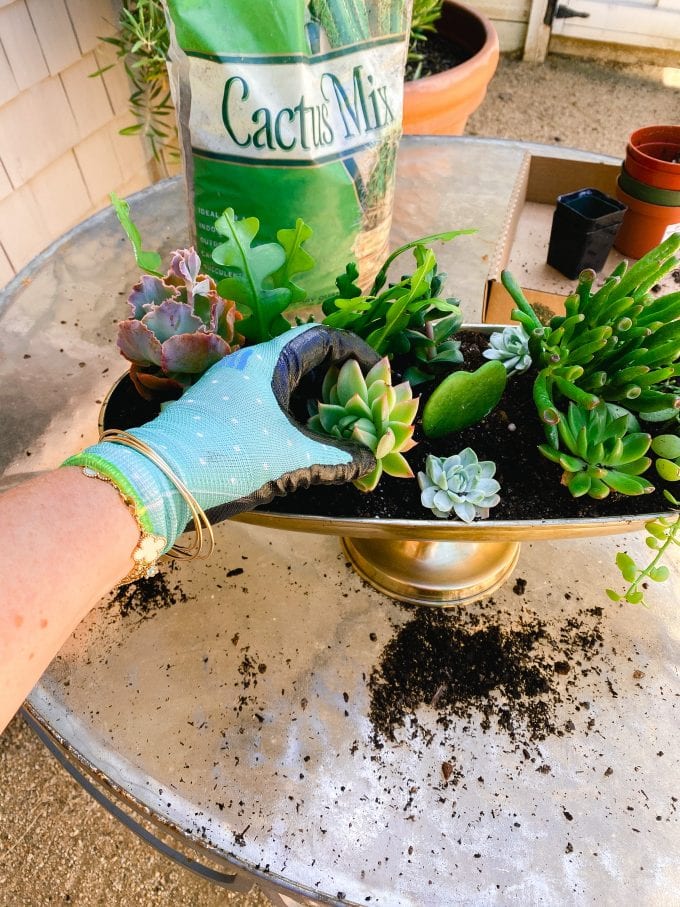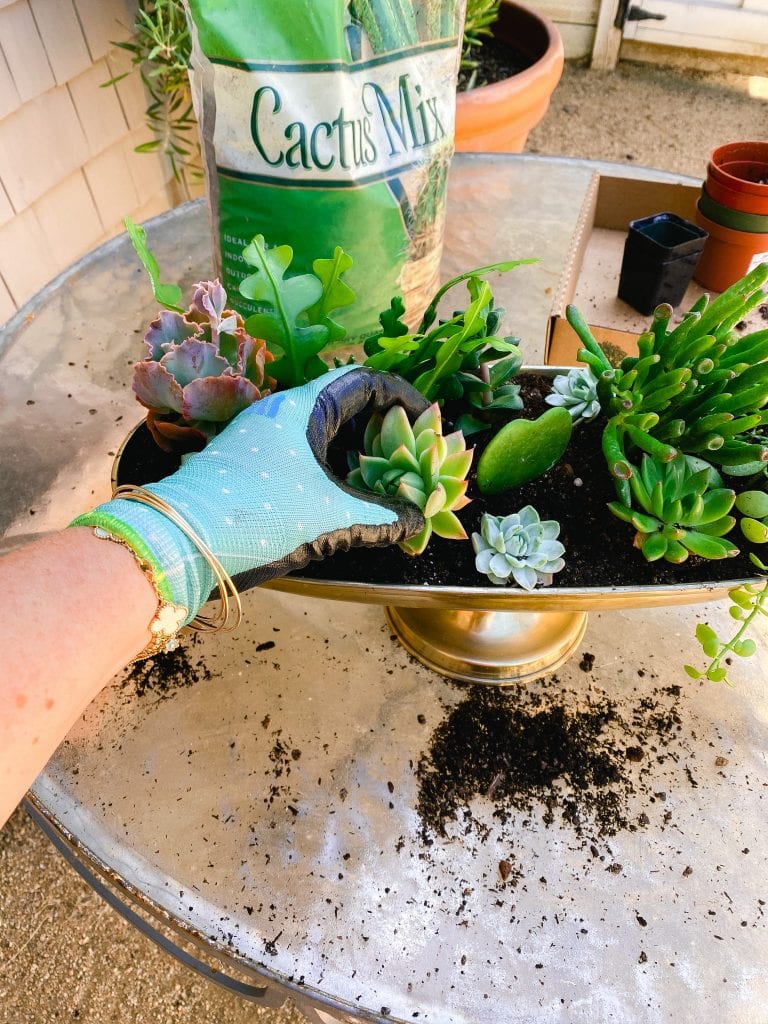 Fill in with the smaller succulents until you get the look you are going for. Be sure you don't crowd the plants, because succulents love to grow!

Check out this post for How to Grow Happy Succulents!
Fill in with more soil until the plant roots are well supported. If you are using a vessel like mine that has no drainage, read my tips for how best to water your succulents.
How To Water Succulents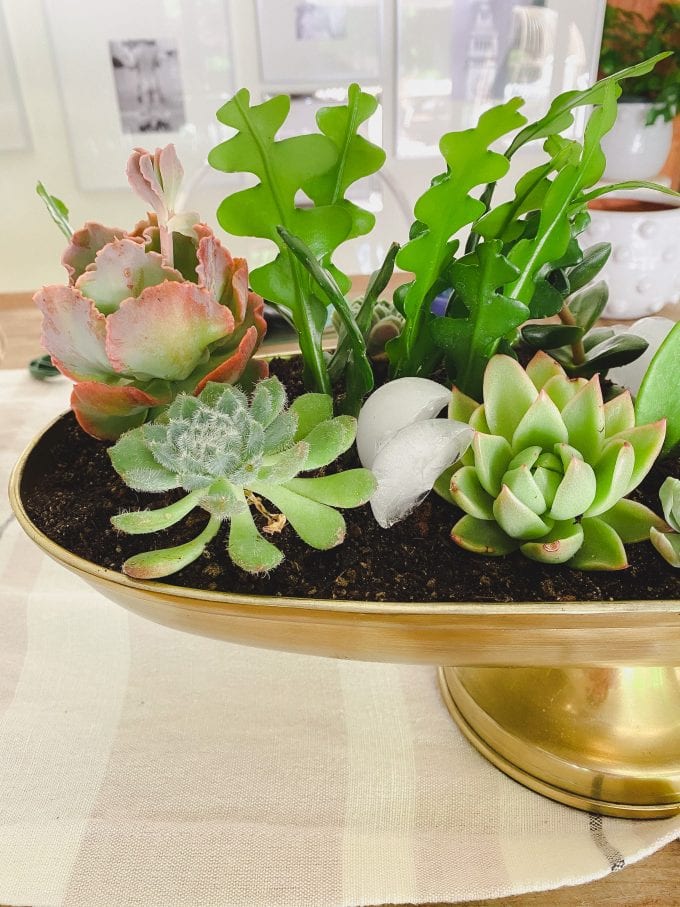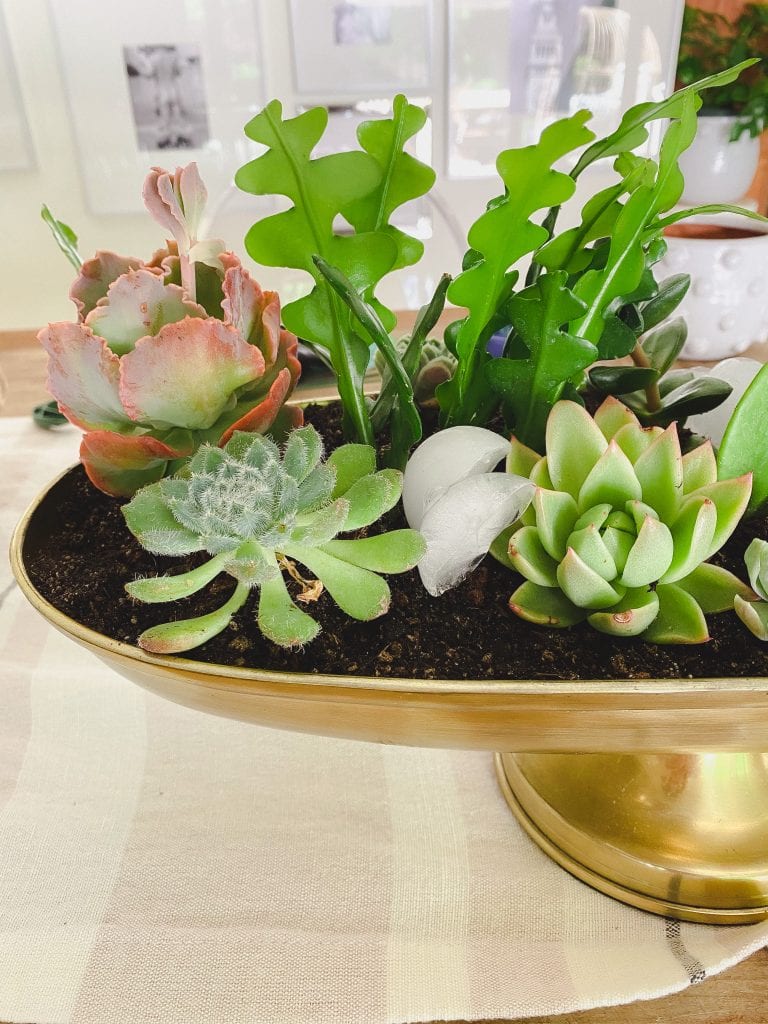 Most succulents do best in dry, warm weather. So, if your pot or trough has no drainage, you don't want to water your plants too much. The best way to water them is by placing a few ice cubes in the planter when it feels dry to the touch.
This allows the soil to absorb the water little by little and not get oversaturated. And it's so easy too! I do this a couple times a week to keep the soil somewhat moist, but not too wet.
My Favorite Succulents to Use in Your DIY Planter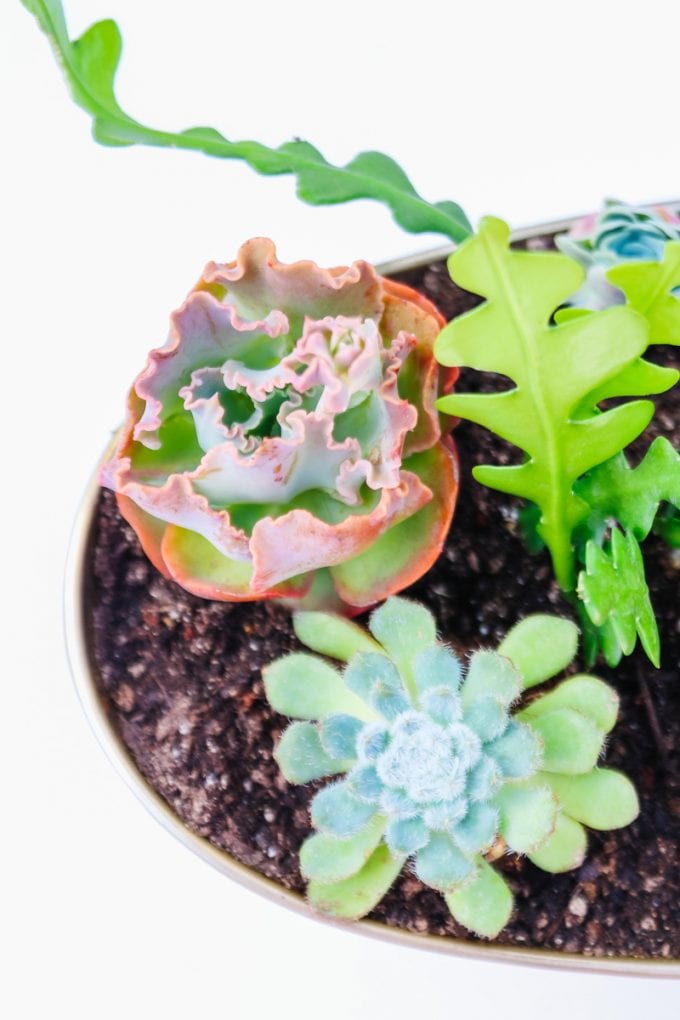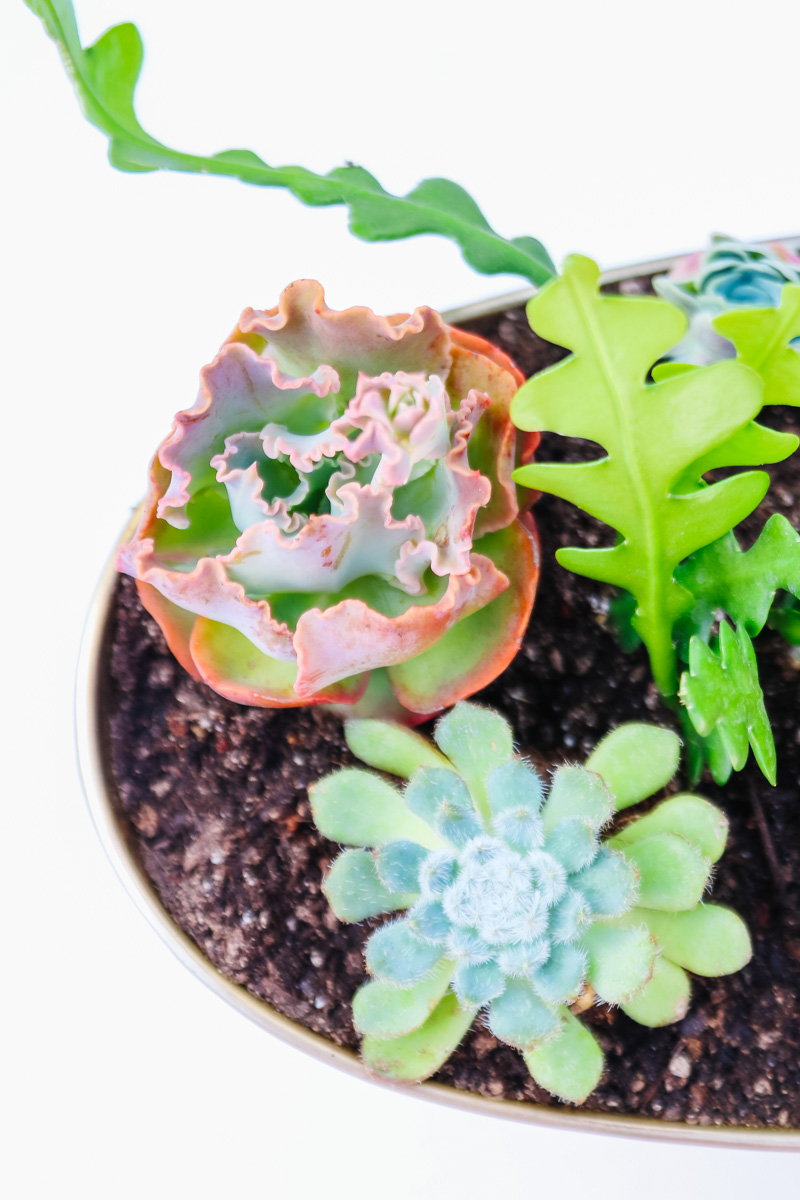 Choosing the plants for this Anthropologie-inspired succulent planter is half the fun! I loved picking out unusual varieties of succulents and cacti.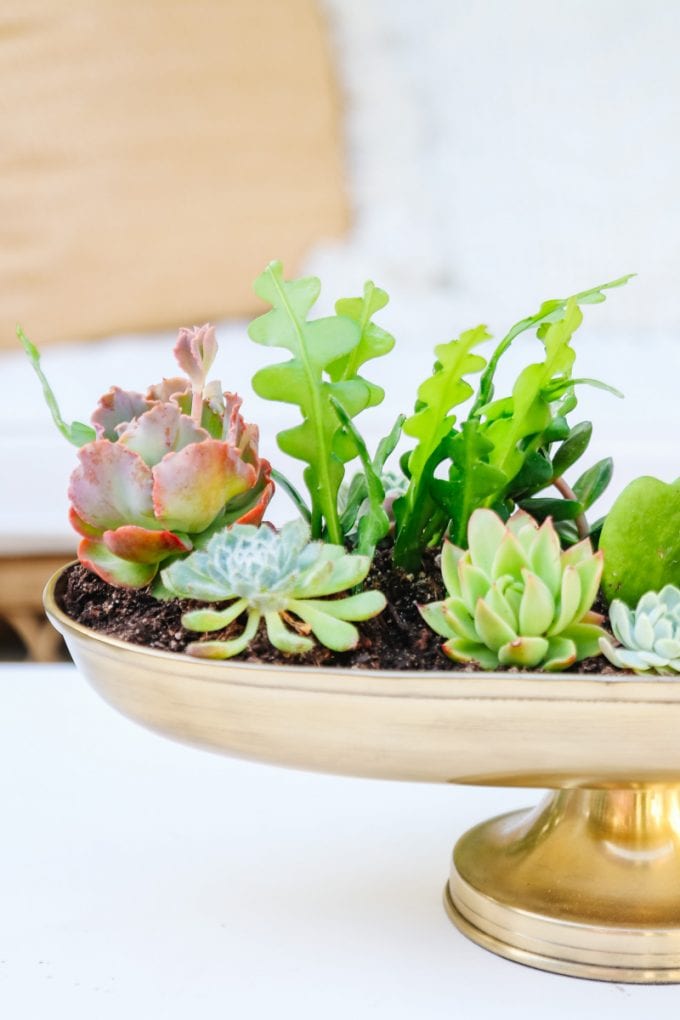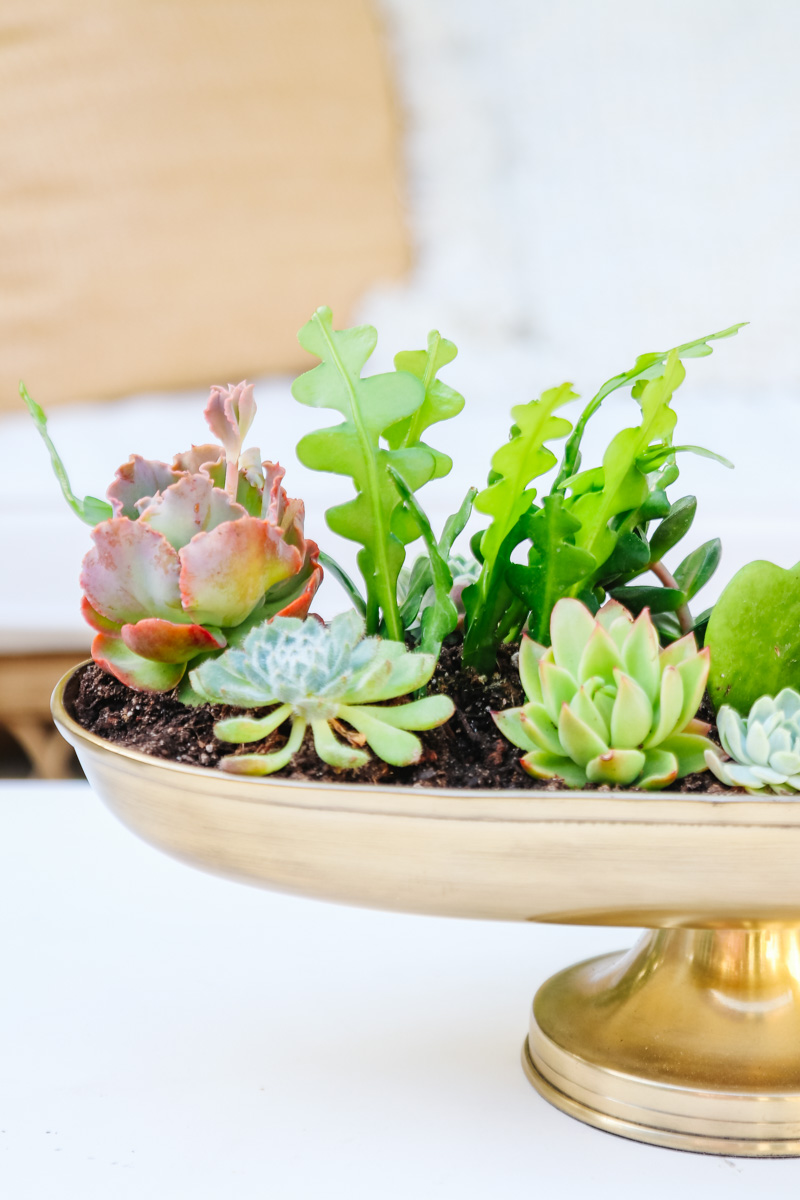 Here are a few of my favorite and usual varieties of succulents and cacti:
Baby Toes
Rik Rak
Living Stones
Lilac Spoons
Hen and Chicks
String of Pearls
Burro's Tail
And check out Succulent's Box for more fun varieties.

Now, be sure to visit all the other gorgeous gardening tips and ideas being shared today!
More Gardening Ideas

How to Start a Hydrangea Plant – Happy Happy Nester
Cut Flower Gardening – The Ginger Home
Most Common Garden Tools And Their Uses – Shabbyfufu
Unique Container Ideas For Garden Planting – Sanctuary Home Decor

How to Grow Fresh Tomatoes – My 100 Year Old Home
Simple Tips from a Green Thumber – Craftberry Bush
Make the Most of Your Small Garden – Most Lovely Things
How to Use Ornamental Grasses in Your Landscaping – The Happy Housie

Anthropologie-Inspired Succulent Planter – Modern Glam
3 Tips For Creating Window Boxes and Planters – Lemon Grove Lane
DIY Succulent Garden Cake – My Sweet Savannah
Small Space Gardening – Dreaming of Homemaking

Garden Design and Trellis DIY – Finding Lovely
Lake House Garden with Peonies – Styled With Lace
How to Fill A Raised Garden Bed and Save Soil – Twelve on Main