This Easy Disco Ball Wreath is perfect for Christmas and can last through the New Year as well! All you need is an evergreen wreath, disco balls and some pretty ribbon to make this simple DIY decor for the holidays.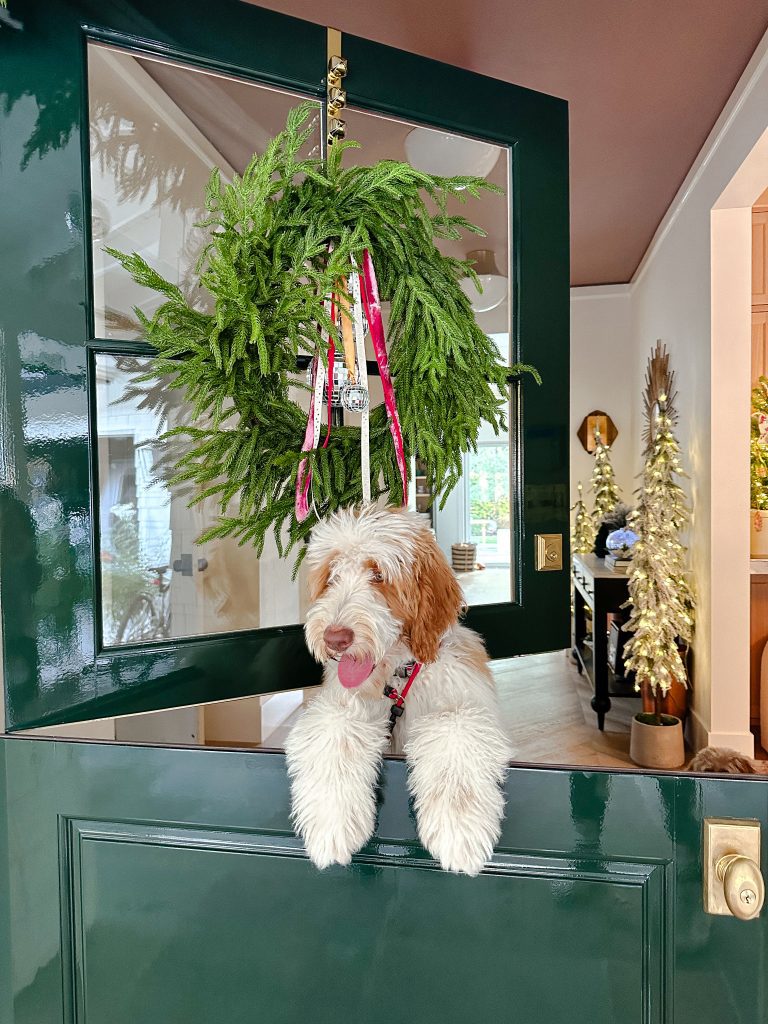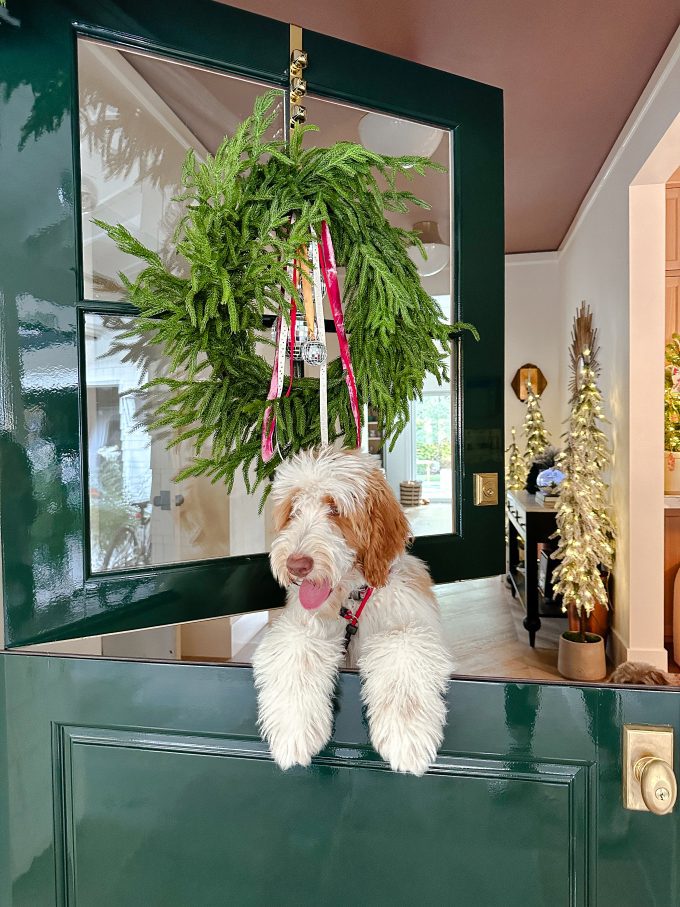 This year we are all about disco balls at our house. They are in every room and they bring so much cheer and beauty to our home. I can't wait to show you my front porch that is literally dripping with mirror balls and I even made a BIG disco snowman too!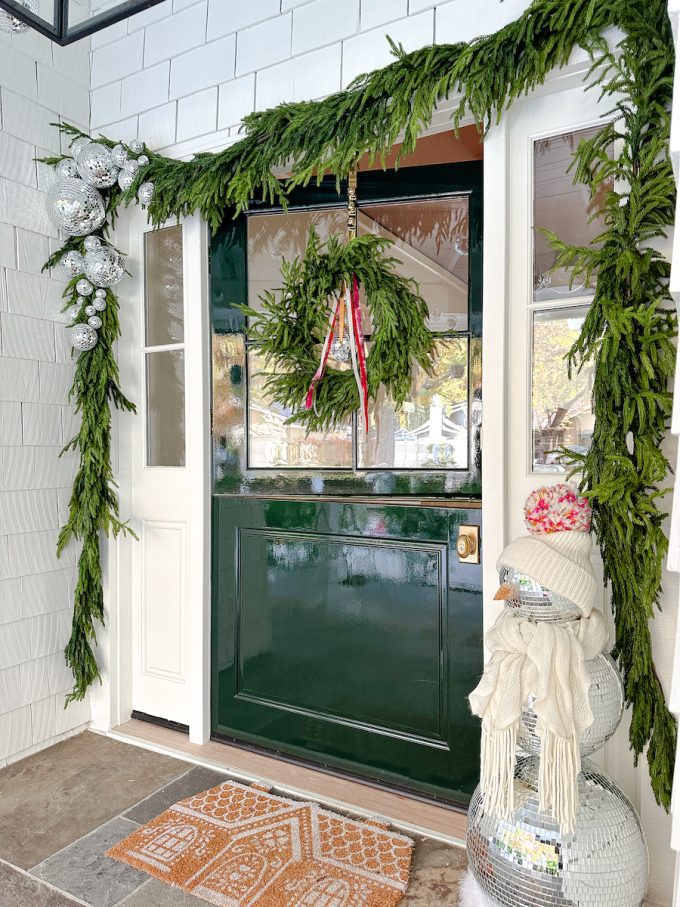 But in the meantime, I want to share how I created a super simple and easy wreath for our front door using just a few supplies. You don't even need a glue gun for this DIY wreath!
Easy Disco Ball Wreath DIY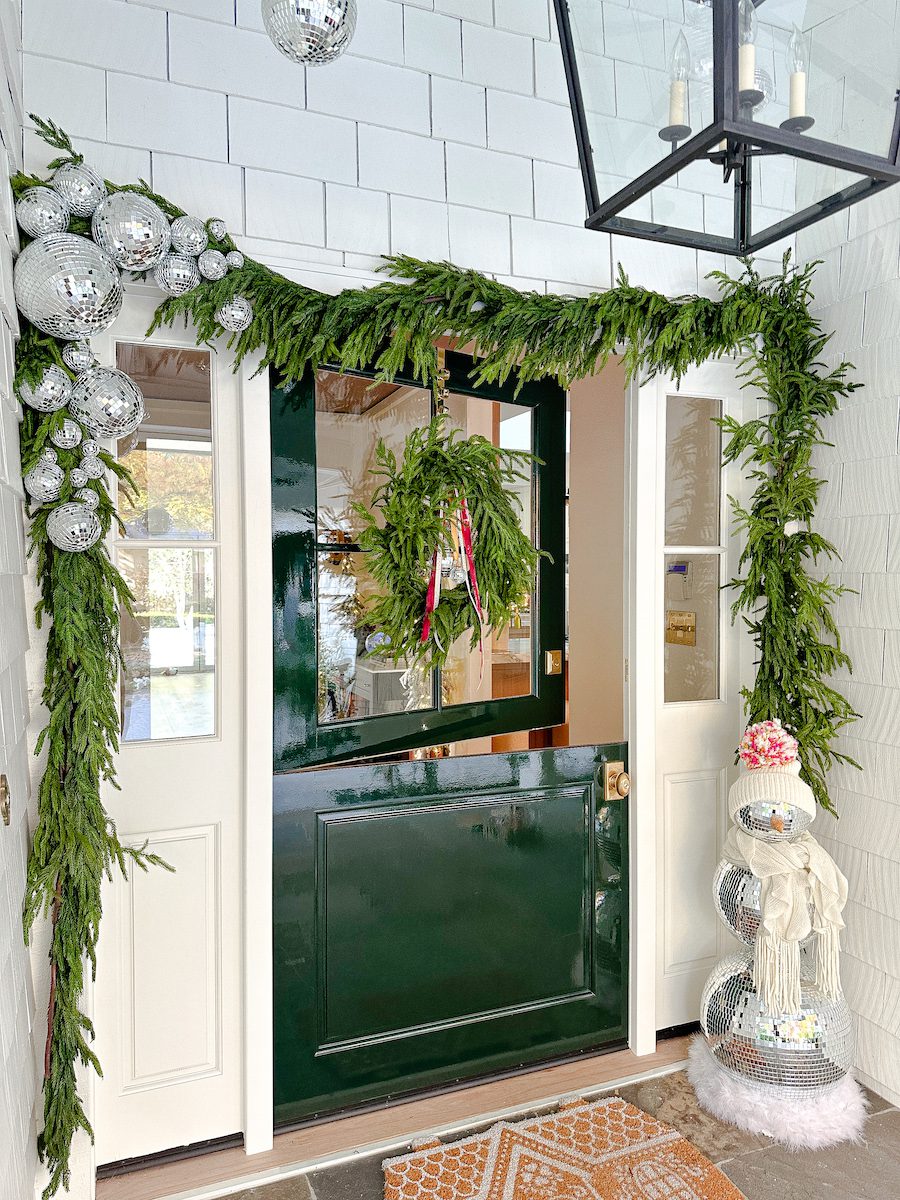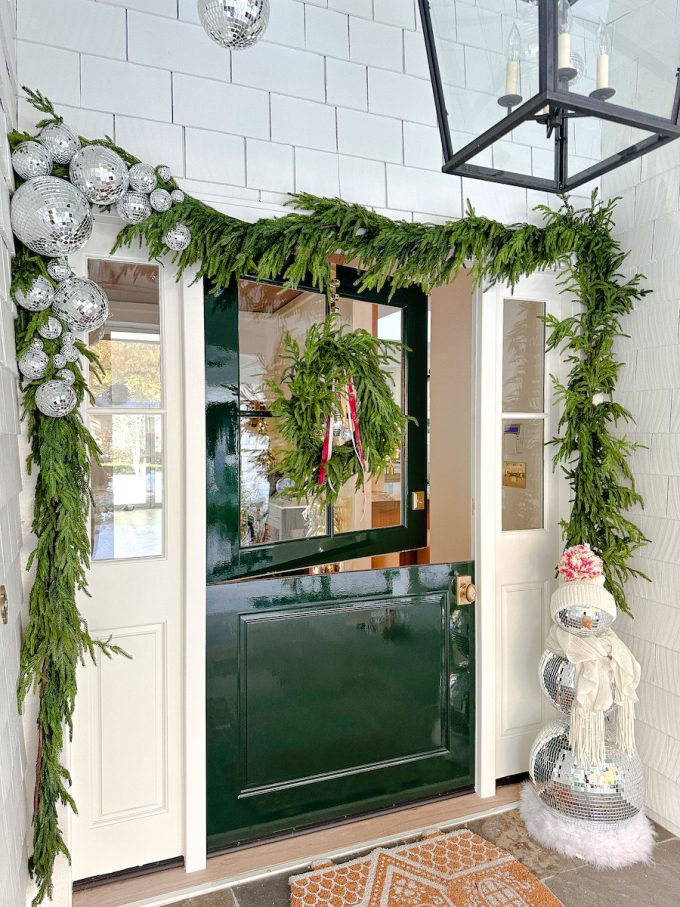 Our front door is decorated with a ton of beautiful faux greenery. I used 5 Norfolk Pine garlands to create a realistic and full entryway. So naturally, I wanted to use the Norfolk Pine wreath for the front door.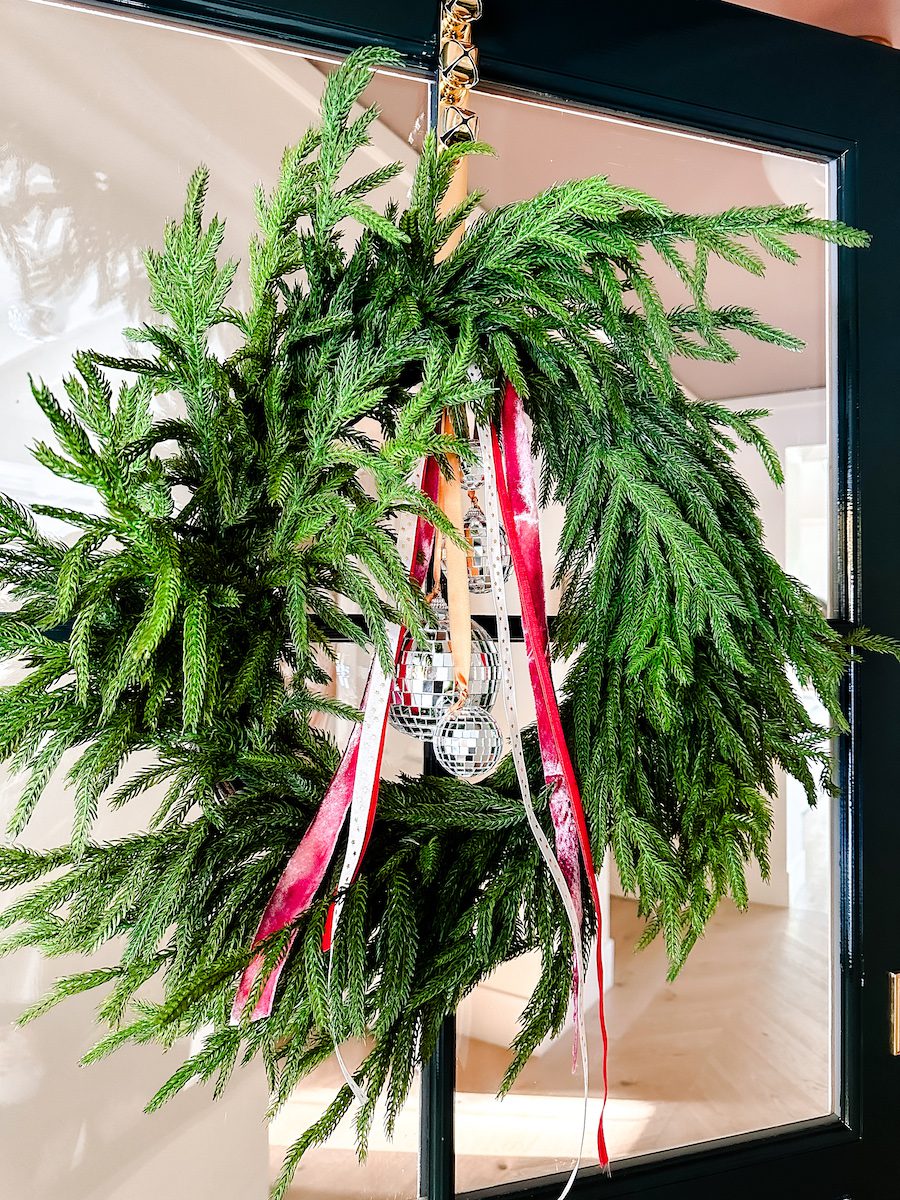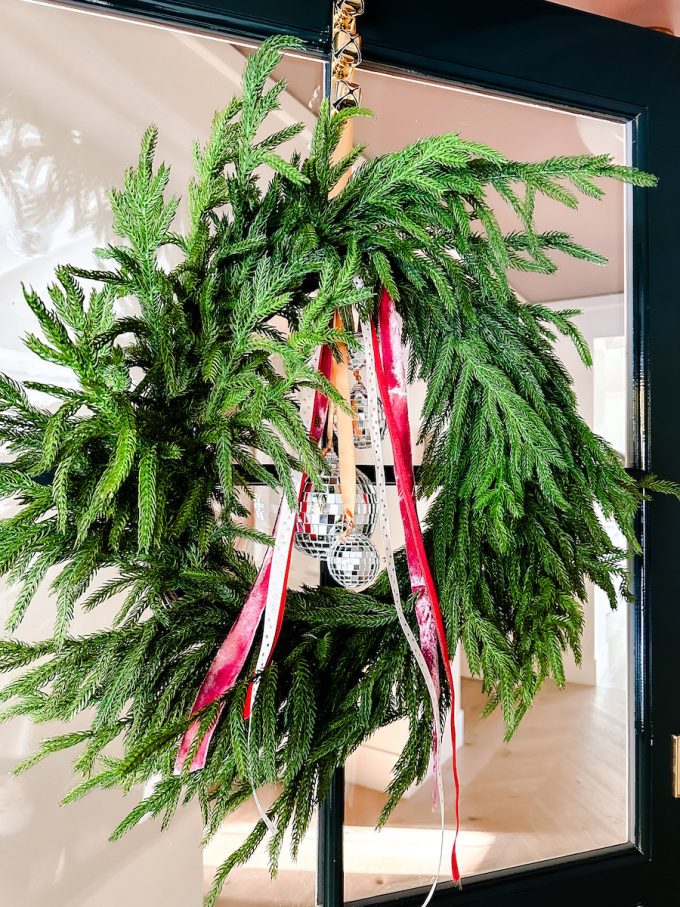 To incorporate our disco ball theme, I made an easy disco ball wreath. I'll share all the details with you so you can replicate this look for your own home.
Before we get to the details, here are a few of my favorite holiday wreaths from previous years:
Disco Ball Wreath Supplies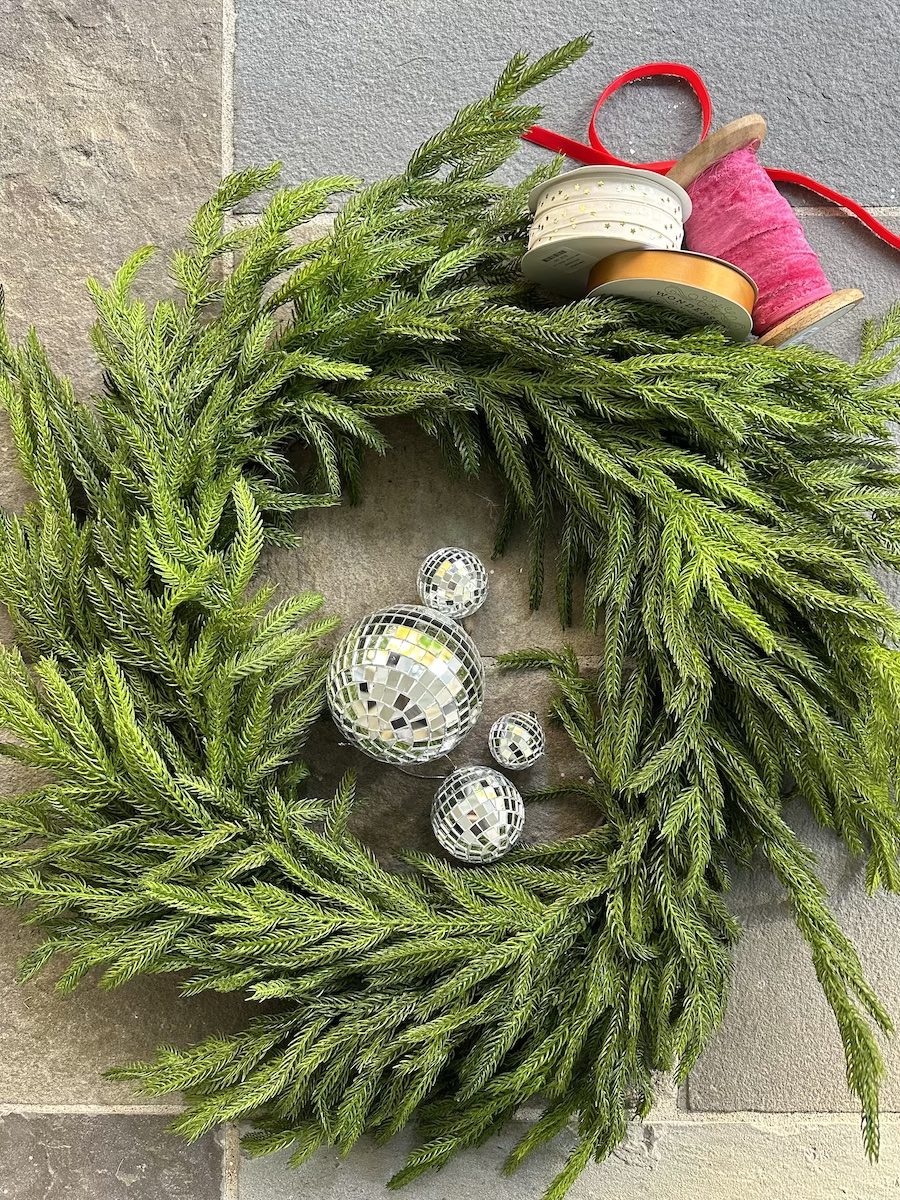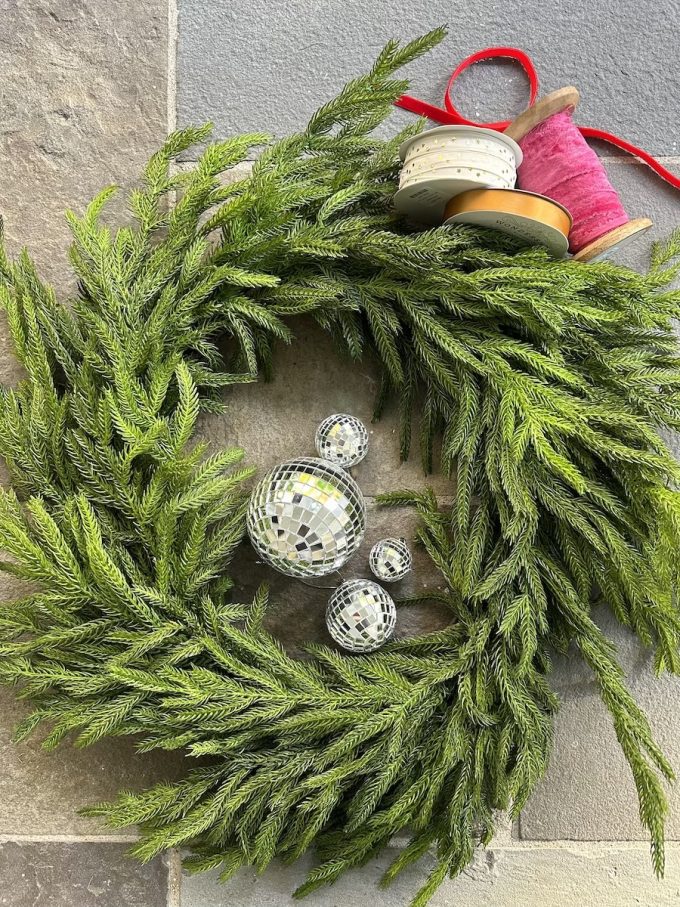 My favorite DIY projects are the ones that are so simple and require the least amount of extra supplies. Everything I used here came from my craft bin (except the wreath of course).
An evergreen wreath. You can use real or faux. I used this Norfolk Pine faux wreath.
Ribbons. I used a combination of pink, red, white with stars and a gold satin. Anything goes here, use what you have on hand. You could even use burlap twine for a more rustic look.
Disco Balls. I used a combination of 4″, 3″ and 1.5″ disco balls.
How To Make A Mirrorball Wreath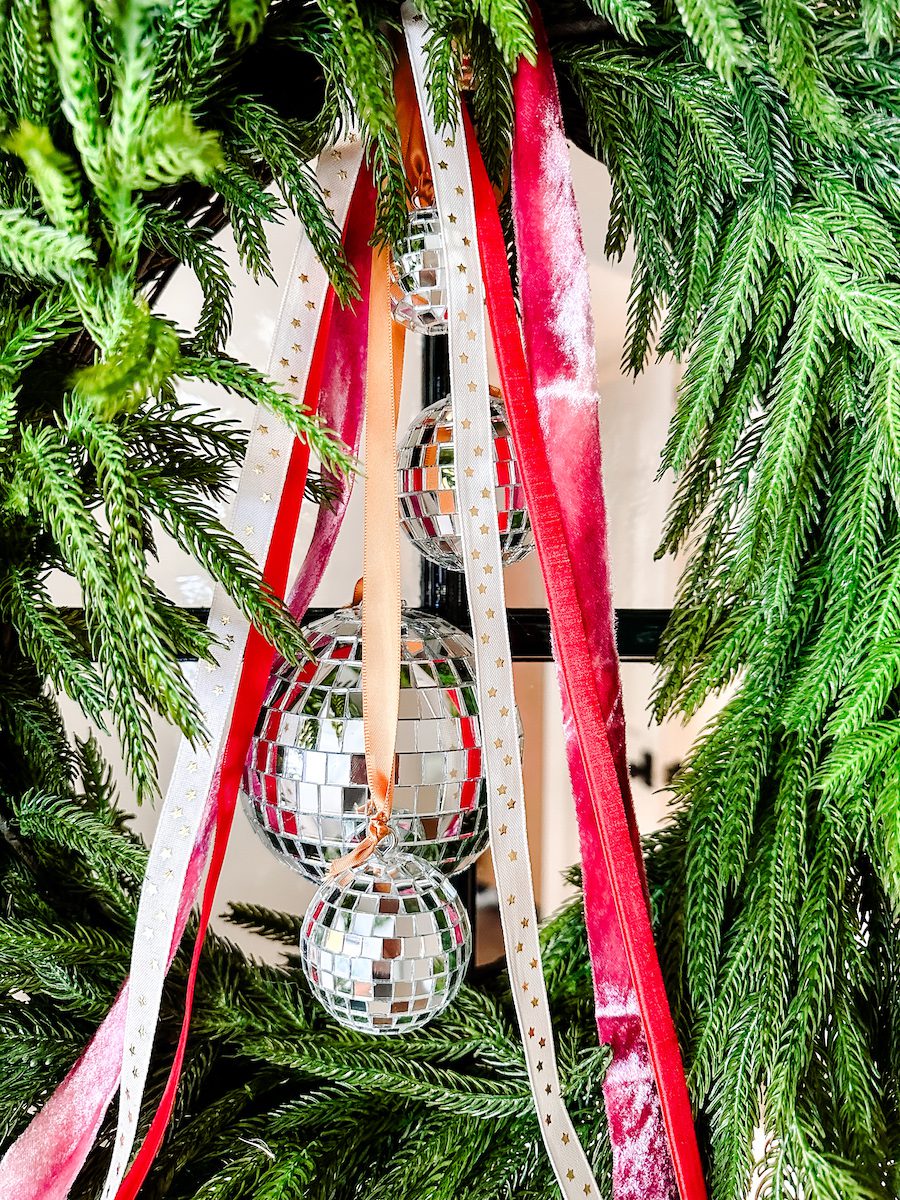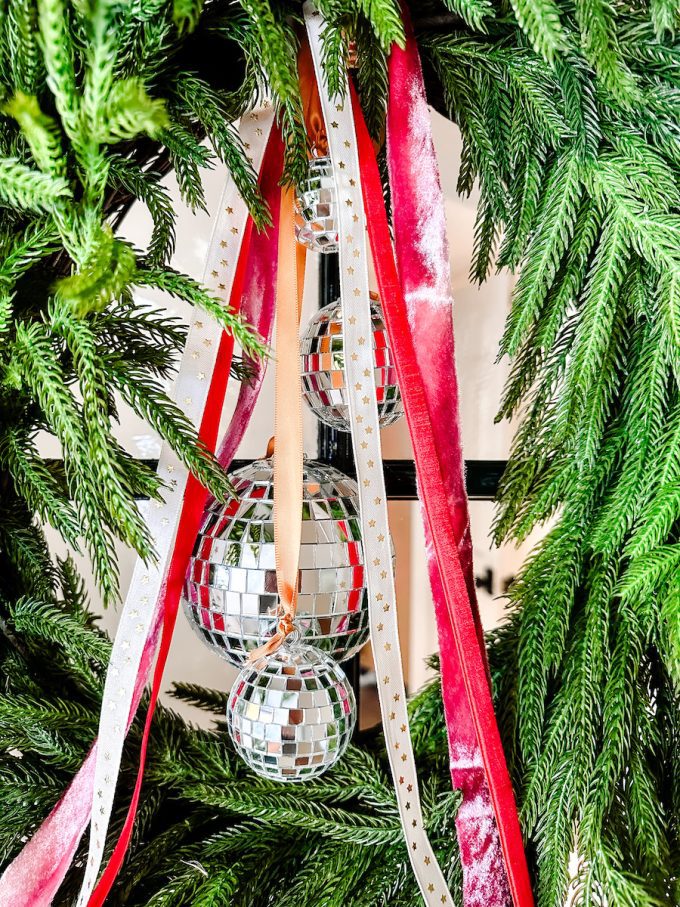 Lay out your ribbon and decide which you will use to hang your disco balls from the wreath. Tie the ribbon to the balls with enough length to fall in the middle of the wreath.
Next, determine the placement of your disco balls for your wreath. I wanted them to hang in a cluster of varying length.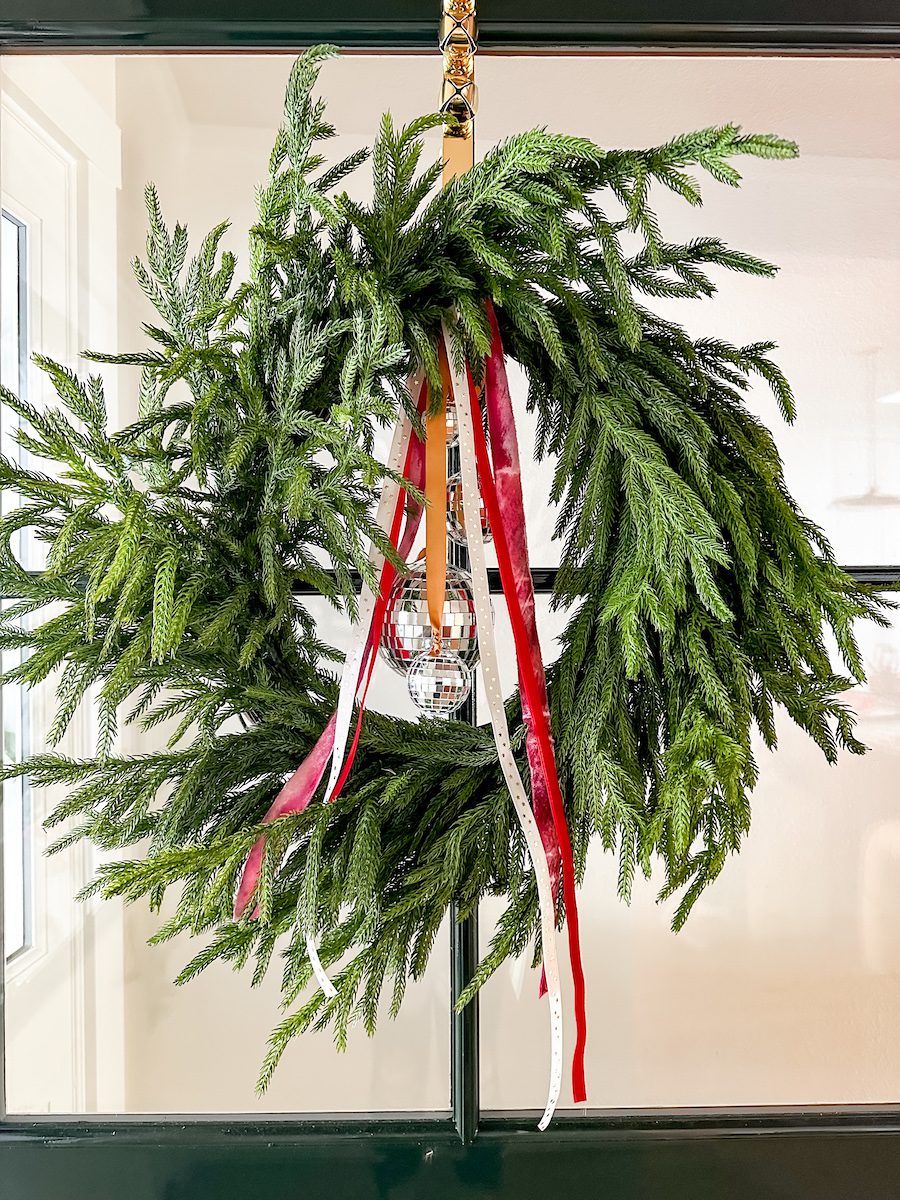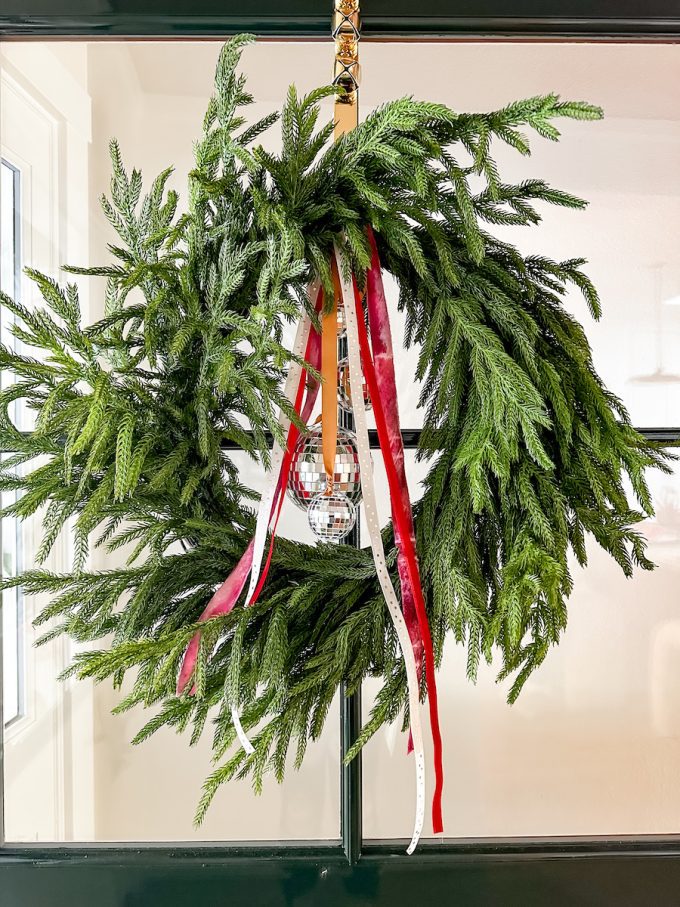 Once you have them arranged, tie them all together at the top in a knot.
Now, tie the cluster to the top of your wreath beneath the branches.
Finally, I tied a set of 3 ribbons to the same area where the balls are attached to the wreath and let the length hang down past the bottom of the wreath. This step is completely optional, but adds a bit more texture and color to your easy holiday wreath.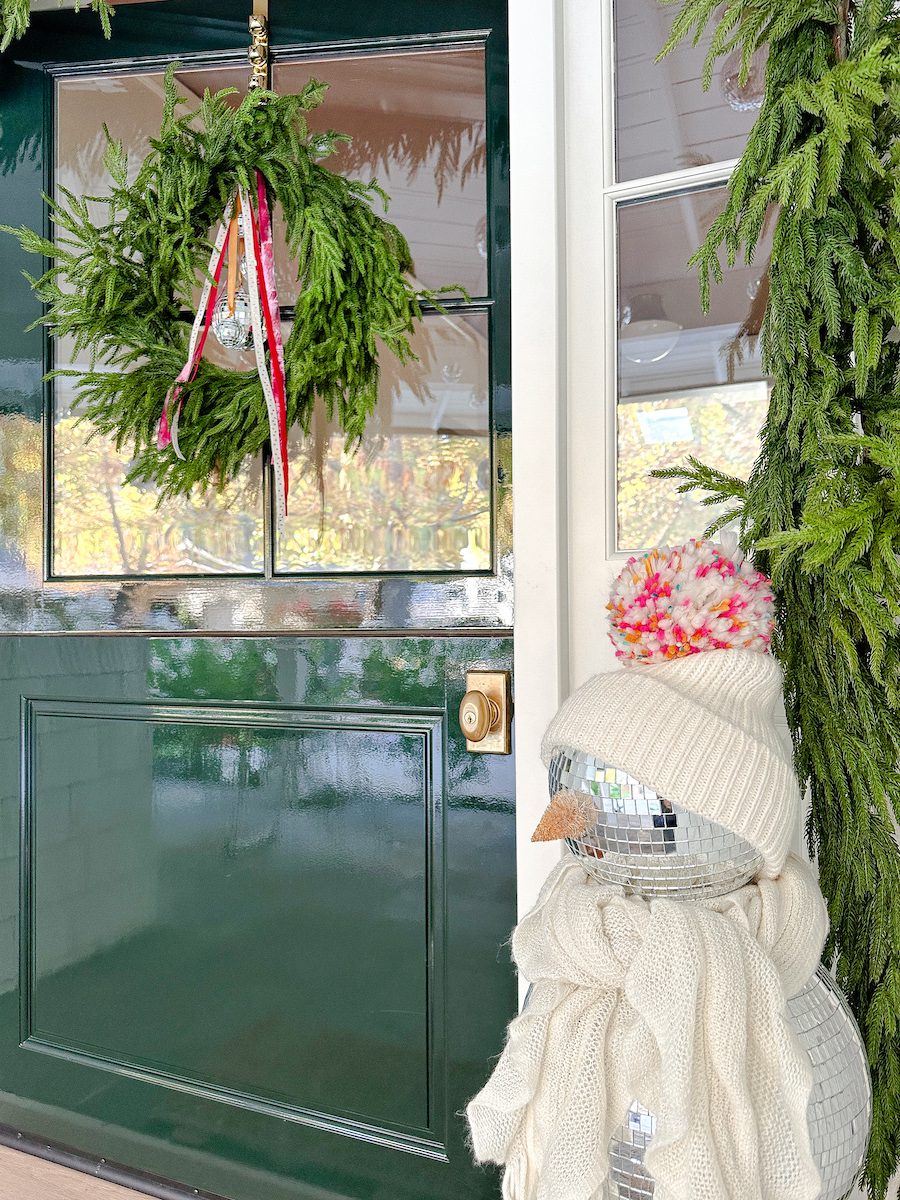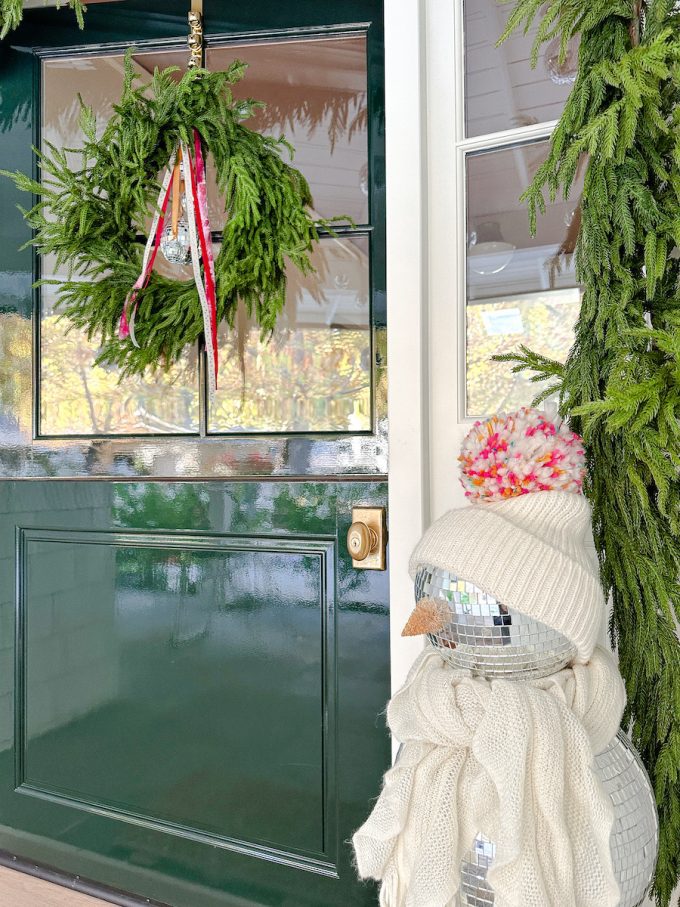 Now, let me know if you make yourself and cute and easy disco ball wreath! And stay tuned for my Disco Holiday Porch reveal!!!
Holiday Wreath Ideas You Want To Try!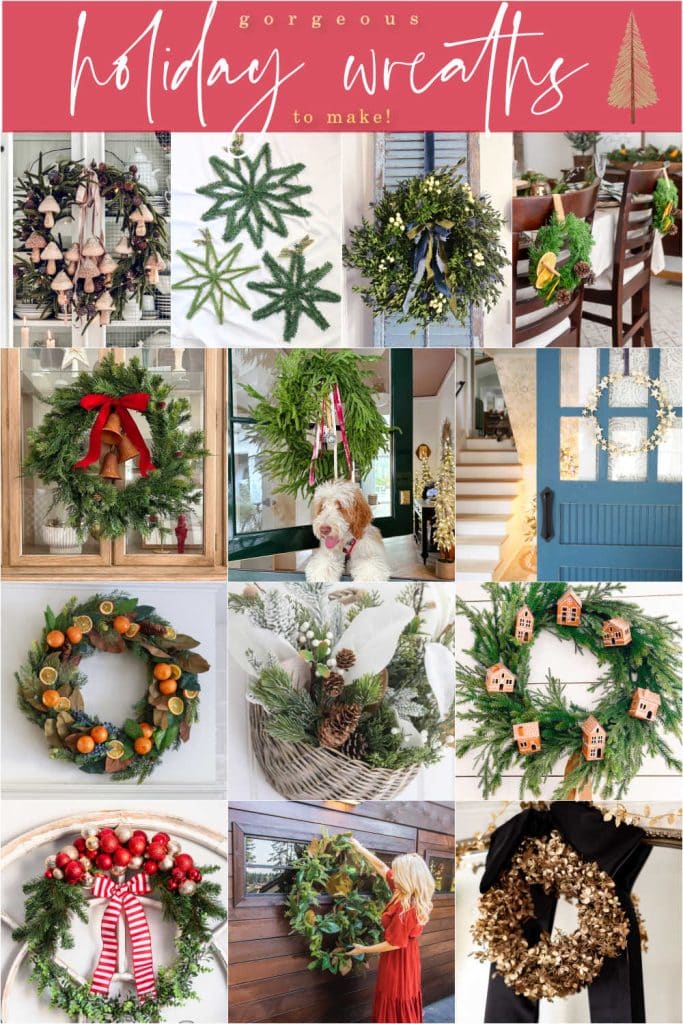 10 Festive Holiday Wreath Ideas | LeCultivateur
DIY Scandinavian Evergreen Star Wreath | Today's Creative Life
A Beautiful Christmas Boxwood Wreath & Tips for Extending It's Life | The Tattered Pew
How to Make Festive Chair Wreath for Christmas | Midwest Life and Style
Christmas Wreath with Bell Ornaments | Lolly Jane
Easy Disco Ball Christmas Wreath | Modern Glam
DIY Constellation Wreath | The Handmade Home
DIY Magnolia and Orange Leaf Wreath | Zevy Joy
Winter Hanging Basket Wreath | Rooms For Rent
Painted Gingerbread Houses Holiday Wreath | Tatertots and Jello
DIY Ornament Cluster Wreath | DIY Beautiful
DIY Christmas Wreath Using Garland | My Sweet Savannah
Winter Hanging Basket Wreath | Rooms For Rent
Mini Gilded Hydrangea Christmas Wreath | Craftberry Bush