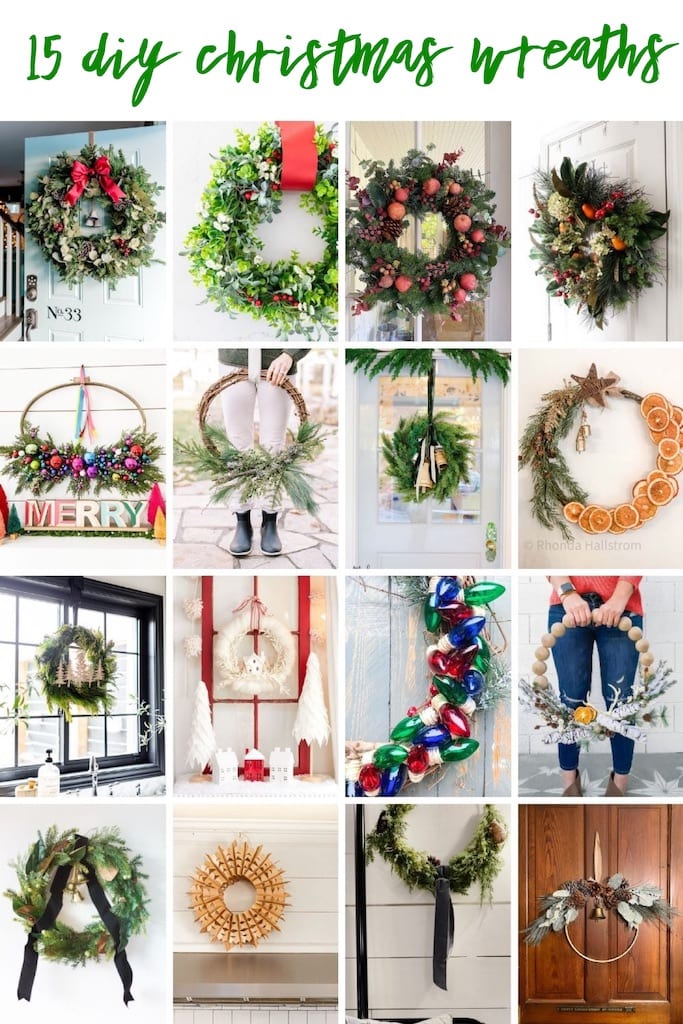 I love this minimalist Christmas wreath. Fresh or faux evergreen wreath with gold bells and a velvet ribbon make this a timeless look perfect for your holiday front porch.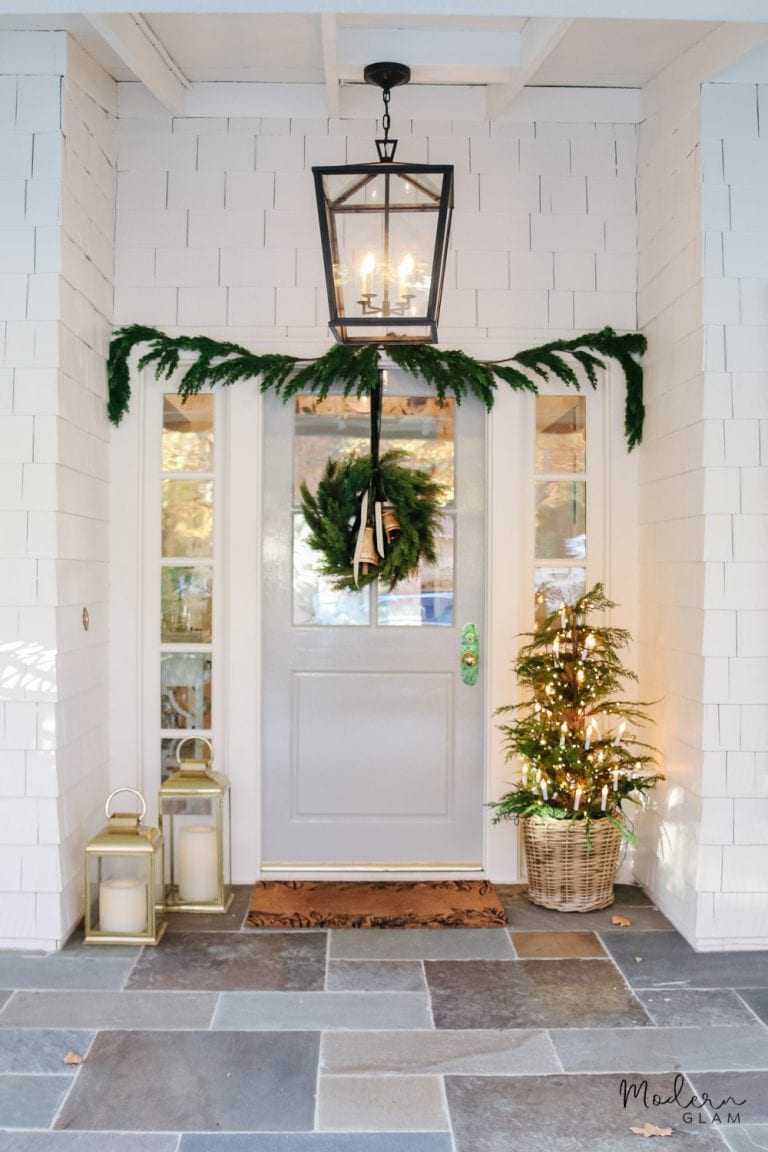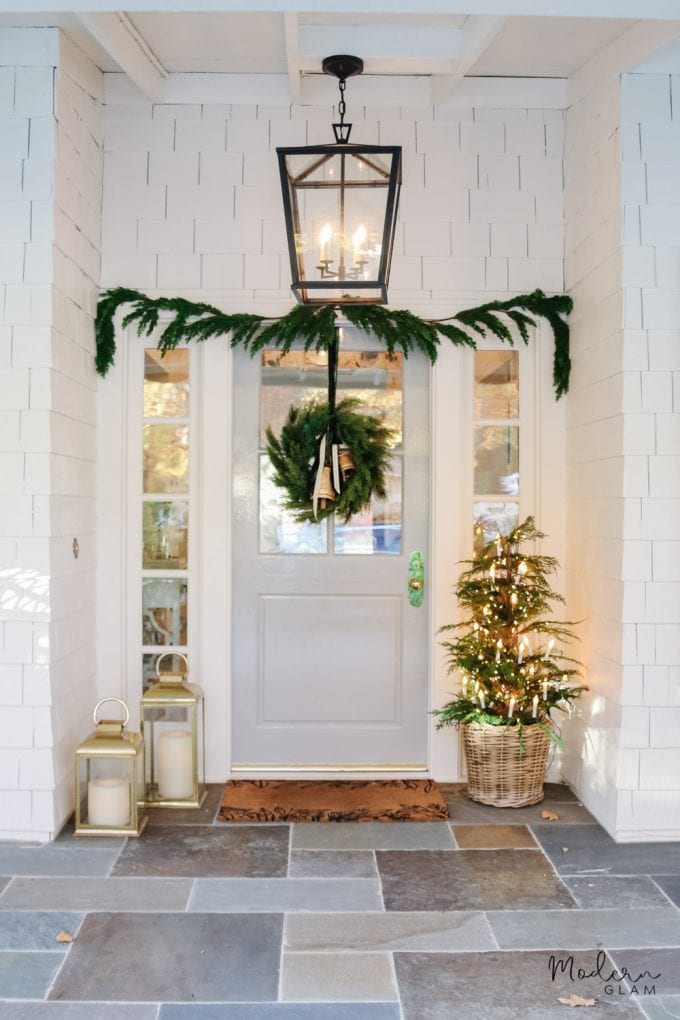 Do you have a faux evergreen laying around? Maybe it's one that you used for a few years but have grown tired of. I seem to collect them like they are going out of fashion, lol. So, I turned a simple cedar and pine wreath into something a little more special.
This minimalist Christmas wreath is my favorite part of my holiday front porch this year! I'll show you how easy it is to transform an ordinary faux wreath into an elegant Christmas wreath with gold bells and pretty velvet ribbon. And I'm sharing all the sources for the bells, ribbon and some great wreaths too!
Minimalist Christmas Wreath With Bells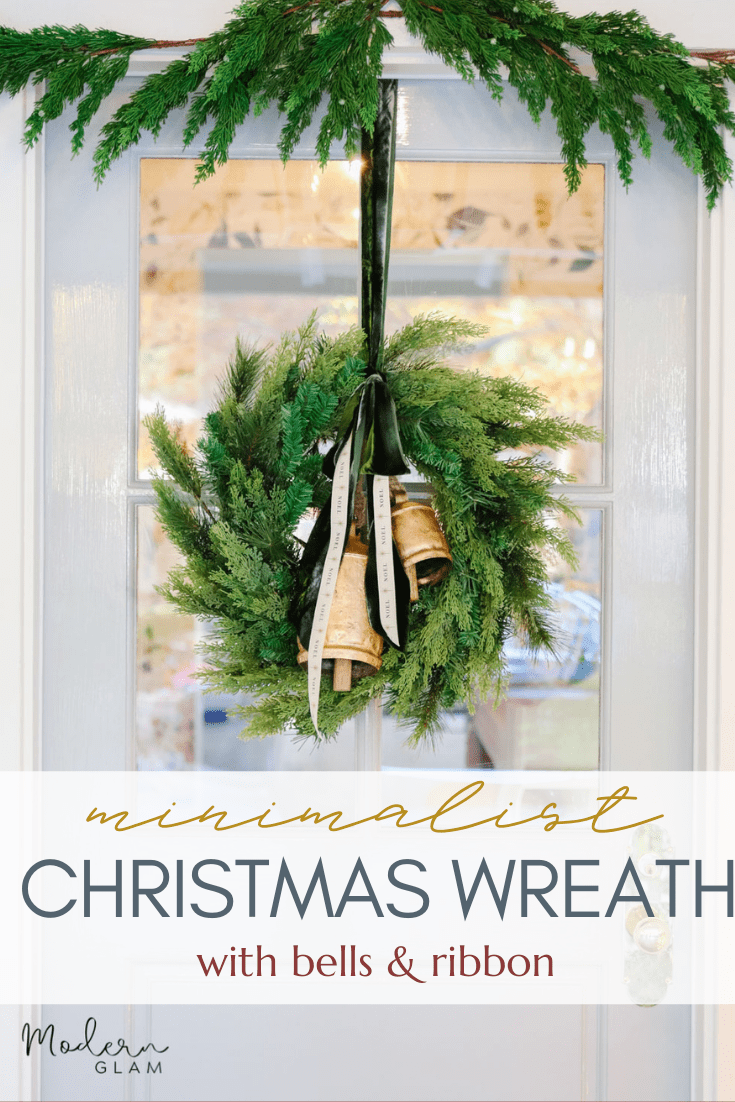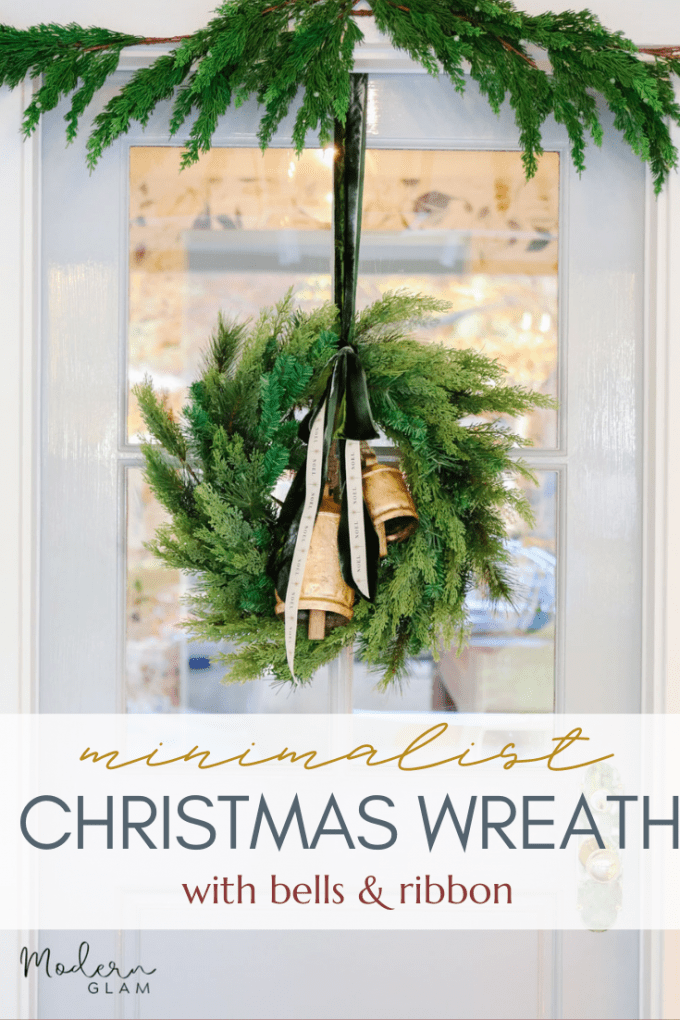 If you've been here before then you know I have taken this year to simplify and declutter. I will spare you the details, but this minimalist Christmas wreath is one of the results from that effort.
I had a beautiful faux cedar and pine Christmas wreath that I used on this Farmhouse Christmas Front Porch two years ago. It is a great wreath, but pretty basic. I decided to add some oversized brass cow bells to it.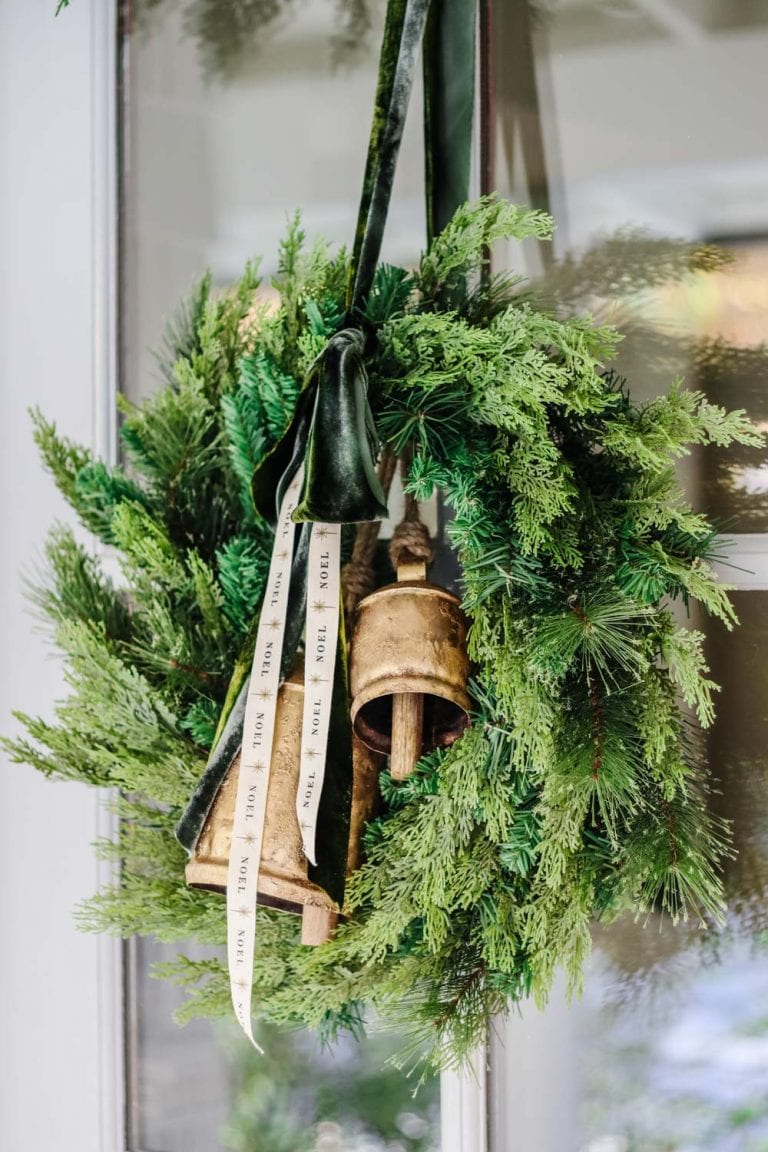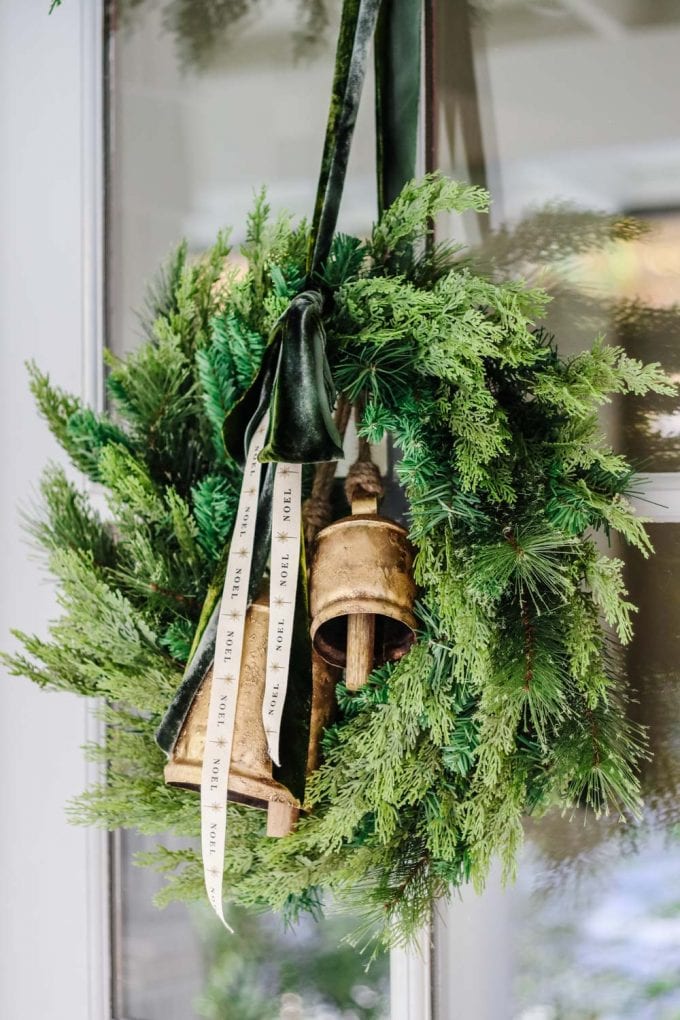 The result is simple, but also stylish and a bit unexpected. The bells are big and I love how they nestle in the greenery of the wreath.
Repurposed Faux Christmas Wreath
I have been on a roll this year turning old wreaths into new creations. Foraging through my craft supplies and deconstructing wreaths has been pretty fun! And it has saved me all those trips to the craft store!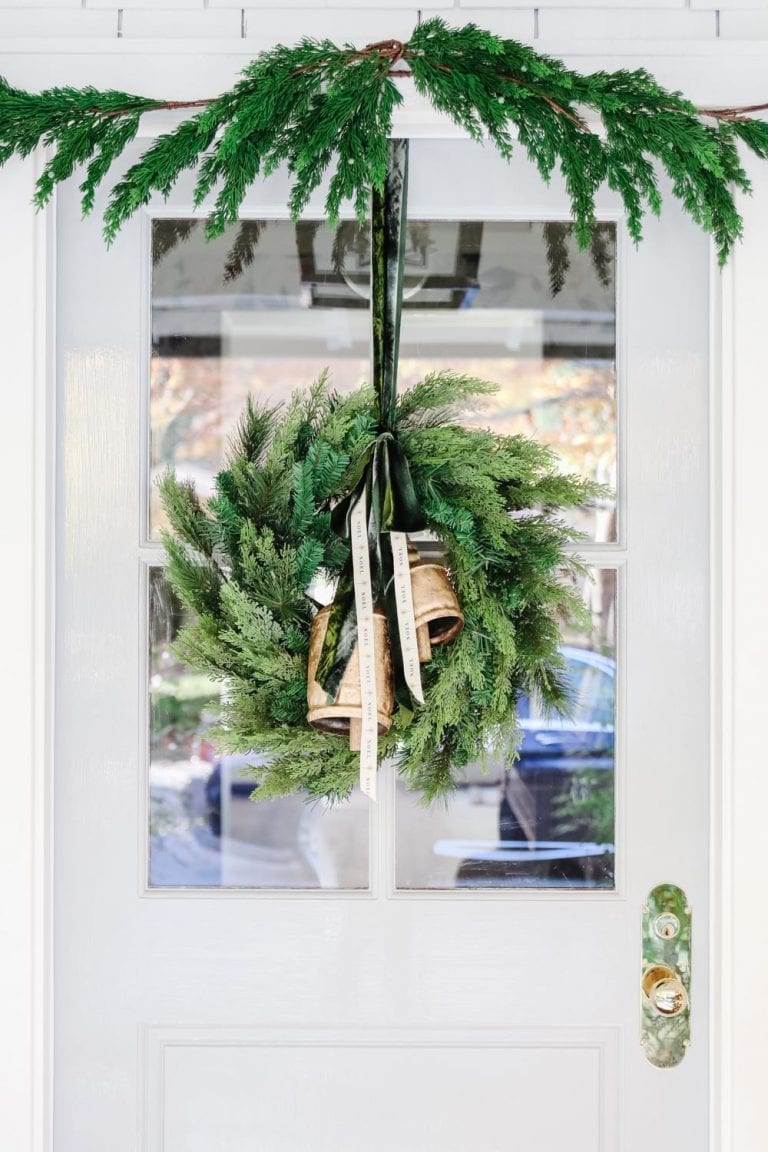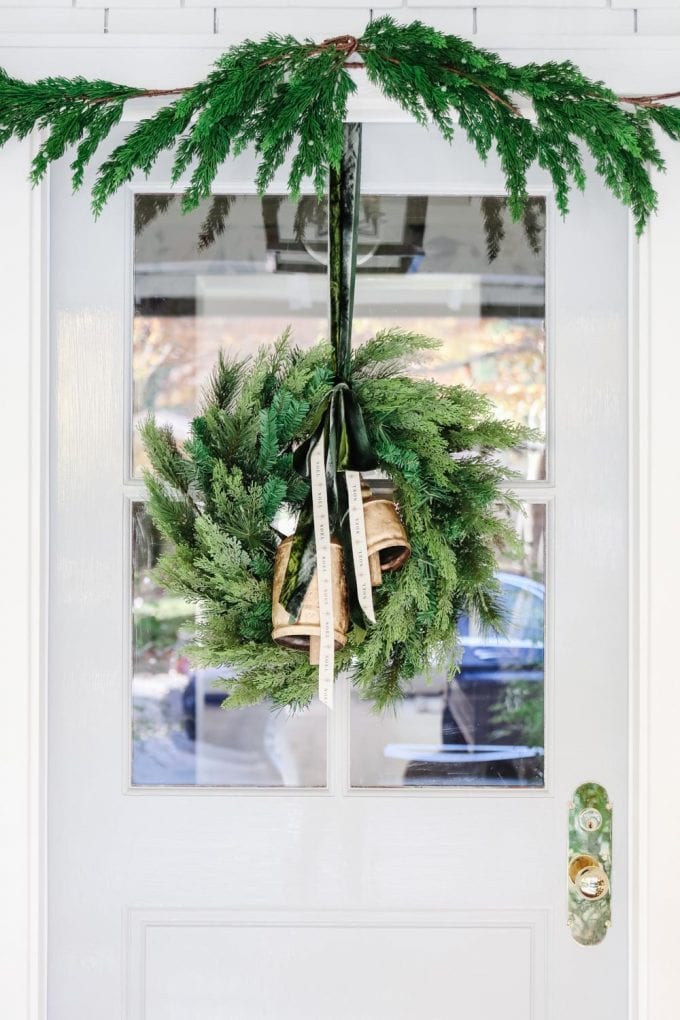 A few weeks ago I created this DIY Christmas Village Wreath using an old grapevine wreath and putz house. And I reimagined my Eucalyptus and Rose Wreath into this version for fall.
So, this minimalist Christmas wreath fits the bill. But, what sets it apart is how easy it is to put together. I can't even really call this a true DIY. You see, there are tools required. NO glue guns, no floral wire and no DIY skills! So easy.
But I'll share exactly how I put it all together and where I found the beautiful bells and ribbon.
How To Make A Minimalist Wreath
The first step to make this minimalist christmas wreath is to gather the supplies.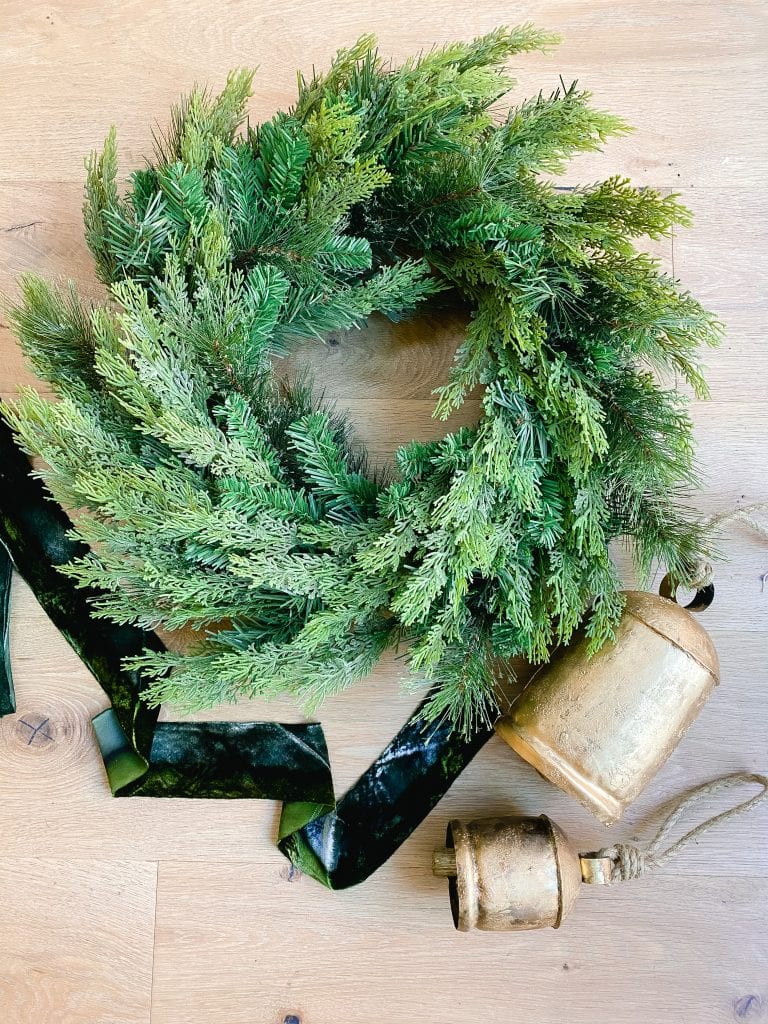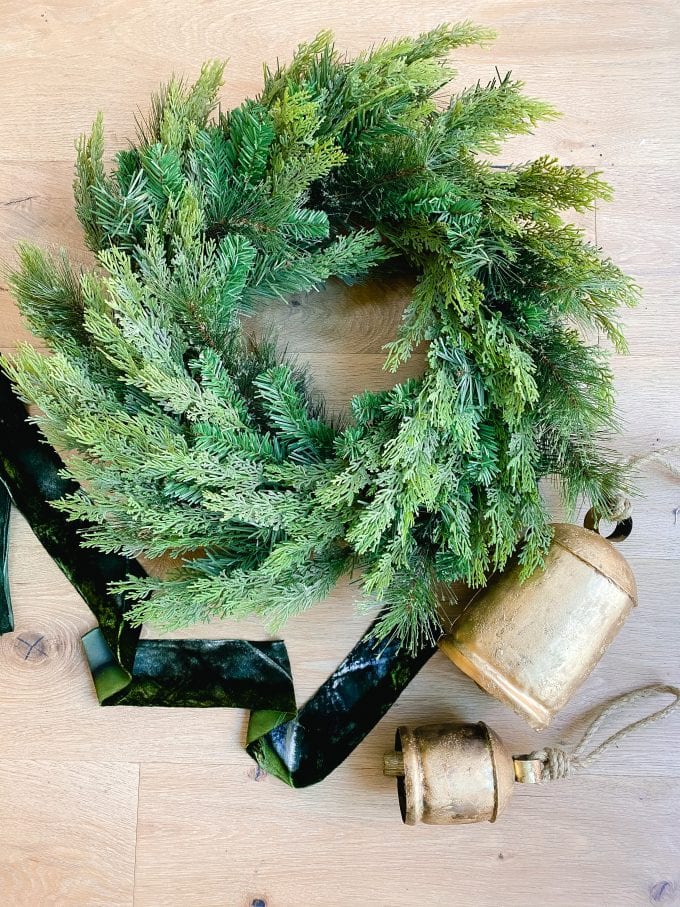 You will need:
And like I said, there are no tools required.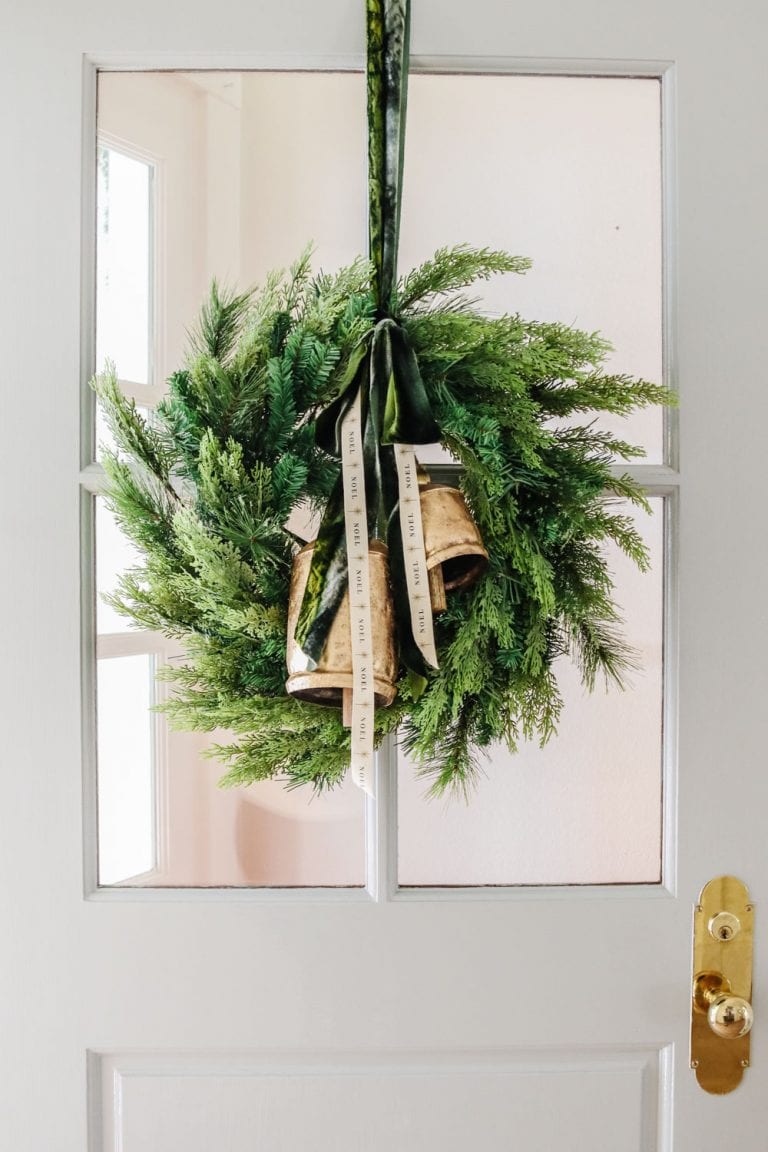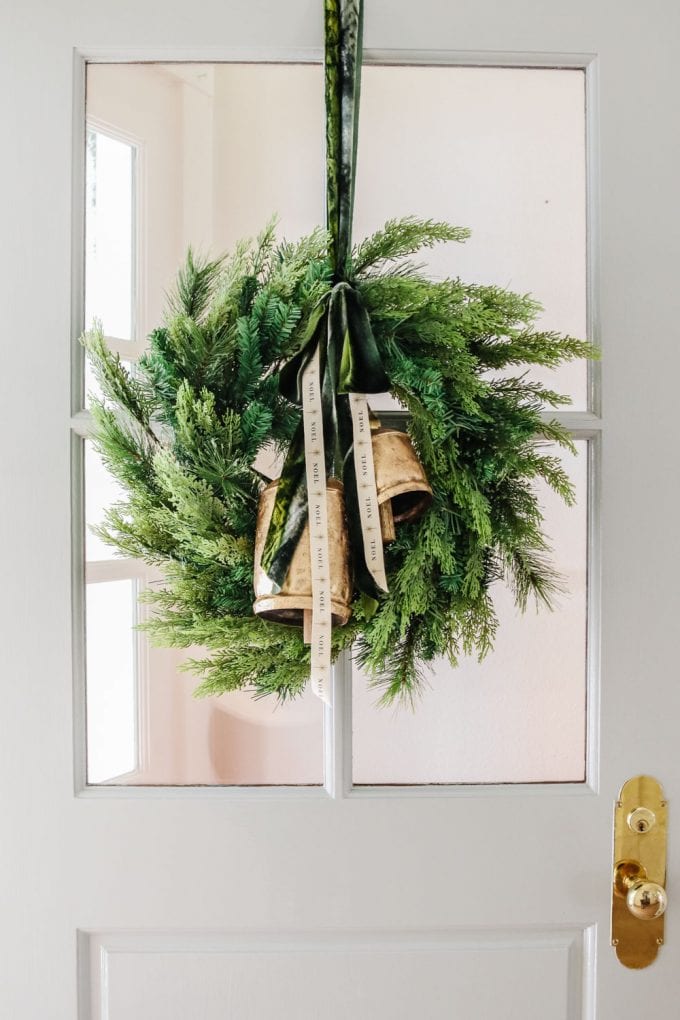 You can use any evergreen wreath that you have on hand. Fresh or faux work just as well for this. The fresh ones dry out so quickly here in California, so that's why I use faux. But, this minimalist Christmas wreath looks great both ways!
And if you are looking for some beautiful ones, check out these links: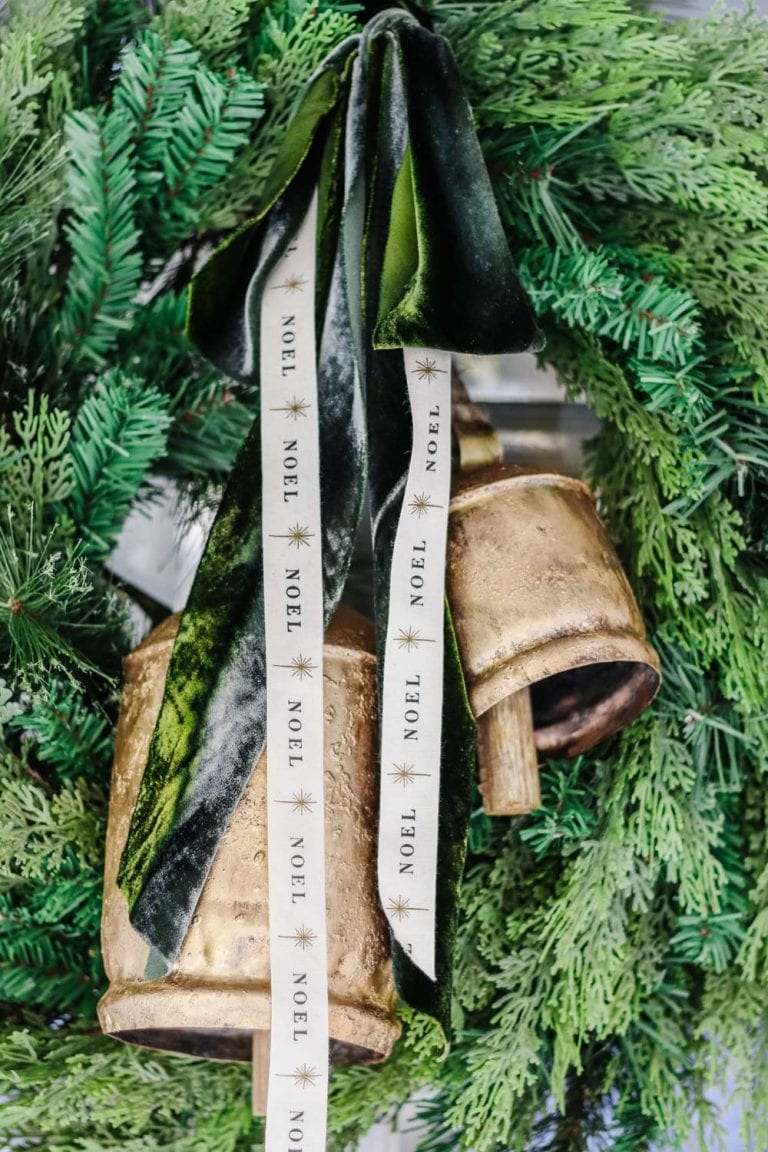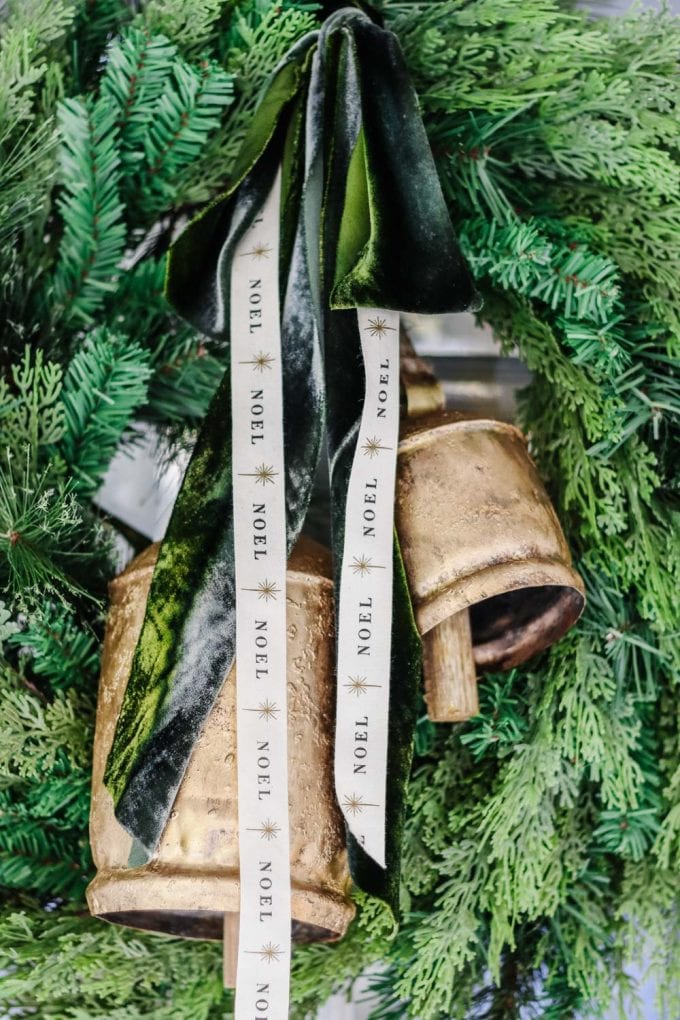 Now, of course you can use any ribbon you have as well. But my favorite ribbon is from this Etsy shop. I absolutely LOVE all her items and place an order for each season to use in my decor and crafts.
Minimalist Wreath Supplies
Here are the links to the supplies I used as well as some comparable items that I found.

Ok, once you have your supplies, let's assemble this minimalist Christmas wreath.
How To Attach The Bells To Your Wreath
The first step is to place the bells on your wreath. The brass bells that I used came with burlap rope loops.
I looped the ends of both bells onto one piece of faux pine. The great thing about working with a faux wreath is the branches are made of wire. Once the bell loops are hooked onto a branch, wrap that branch around the wreath form to secure. It's like an instant wire tie built into the wreath!
If you are using a fresh wreath, you will need some floral wire or zip ties to secure the bells to the wreath form. I love the fresh cedar wreaths at Trader Joe's this time of year and they would be perfect for this DIY project as well!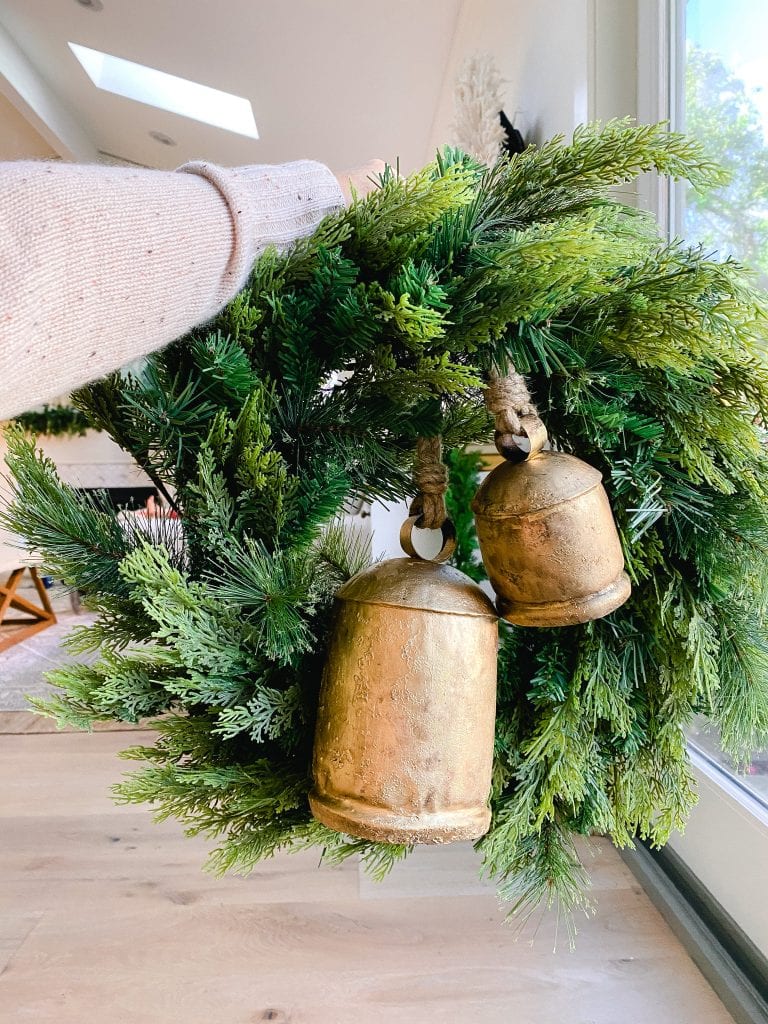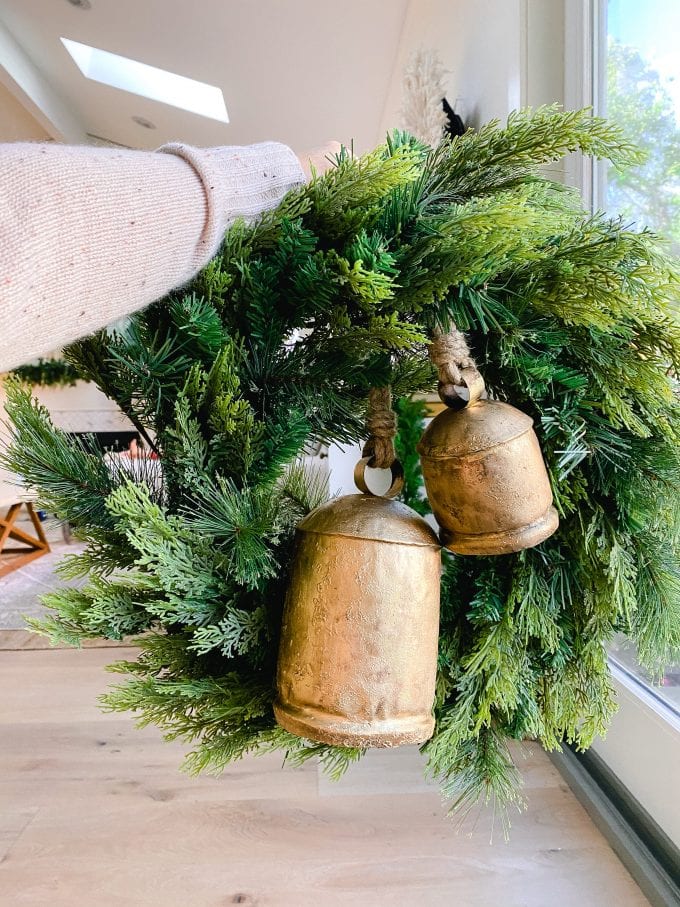 Fluff the branches to hide the rope and nestle the bells into the center of the wreath. I had to rearrange the placement a few times to get it just right, but it came together pretty easily.
Now, let's add the ribbon.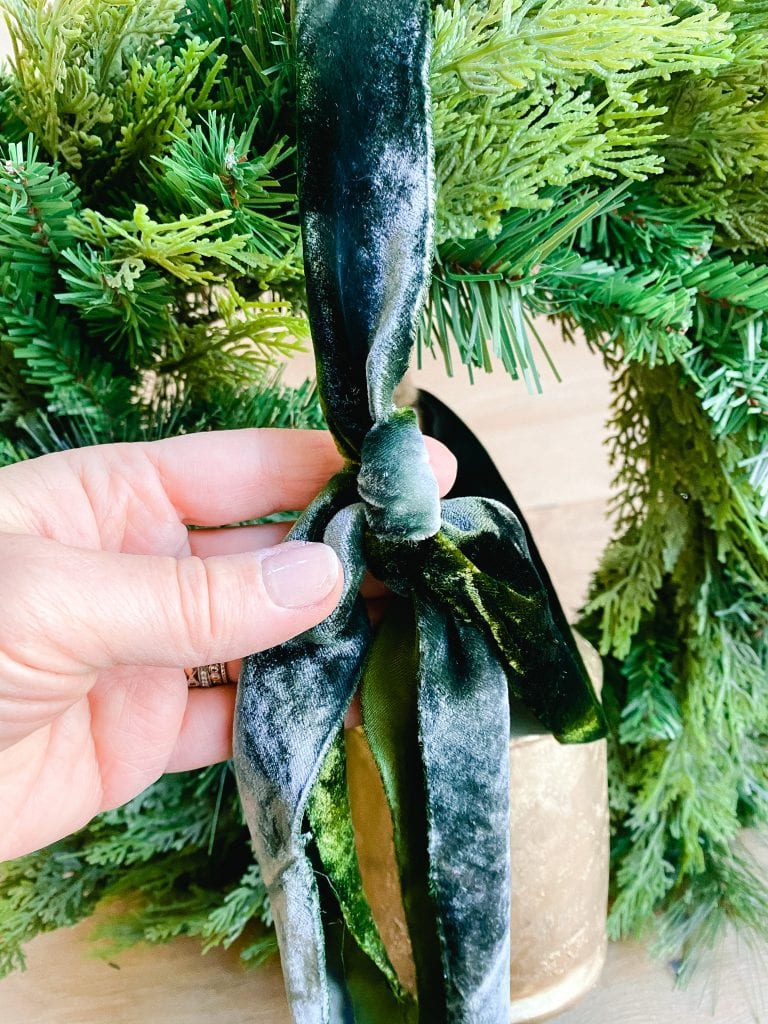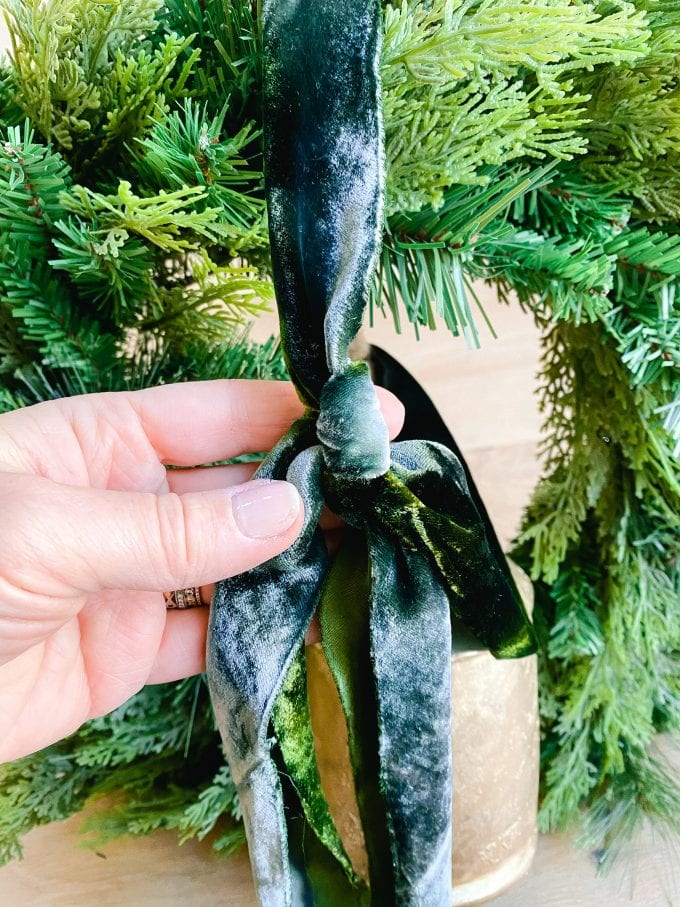 Determine the length of the ribbon you want to use. If you are going to hang it from the top edge of your door, you will need double that length plus enough to add a bow.
Loop the ribbon around the top of the wreath and tie in a knot at the desired length. Now, you will want to hang it on your door and finish the rest of the wreath in place.
How To Hang Your Wreath on The Door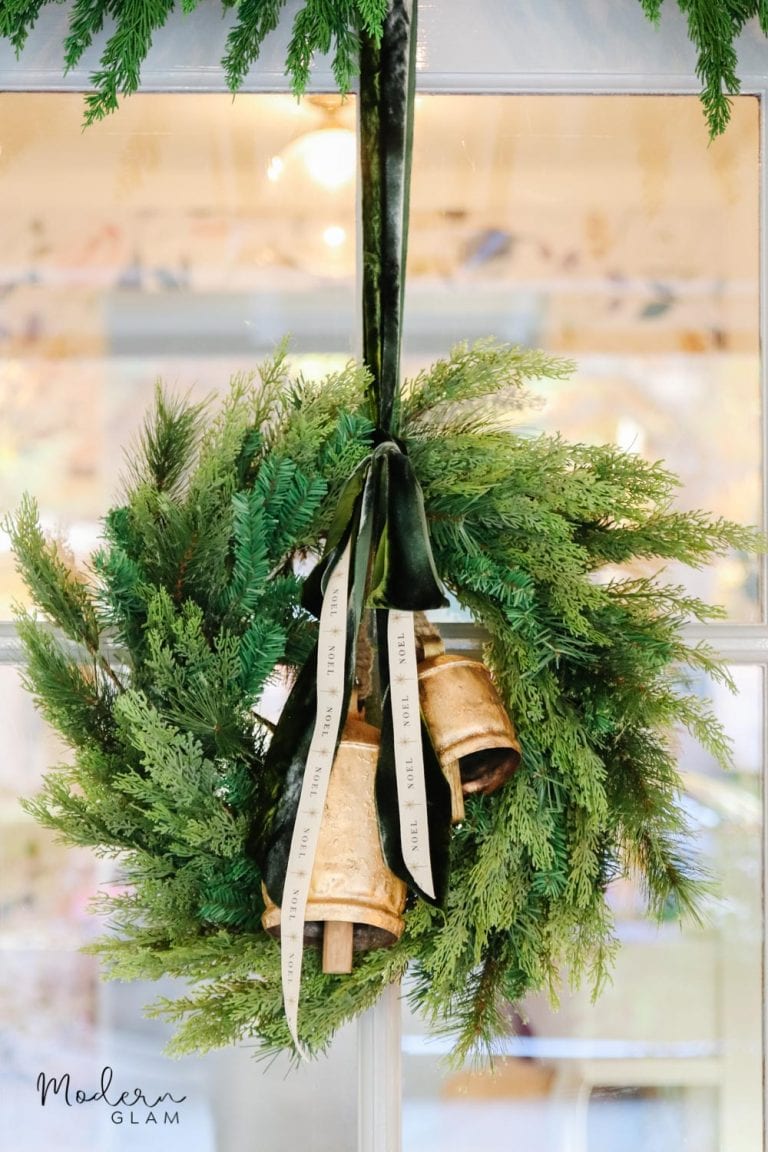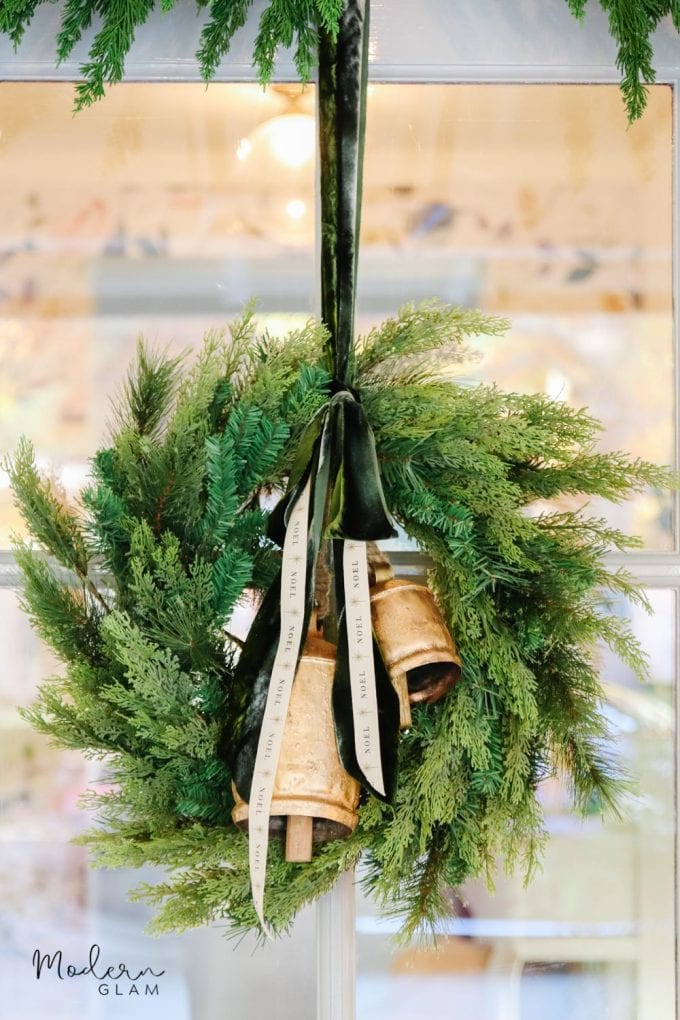 I chose to hang the wreath on a nail and tack the ribbon into the top of my door. See, I didn't want the wreath to hang solely from the ribbon since it is soft and somewhat delicate. And I think the ribbon would stretch out. But, I wanted it to have that look, as if it were hanging just from the ribbon.
So, I secured the wreath to the door with a nail and tacked the top of the velvet ribbon into the top horizontal edge of the door.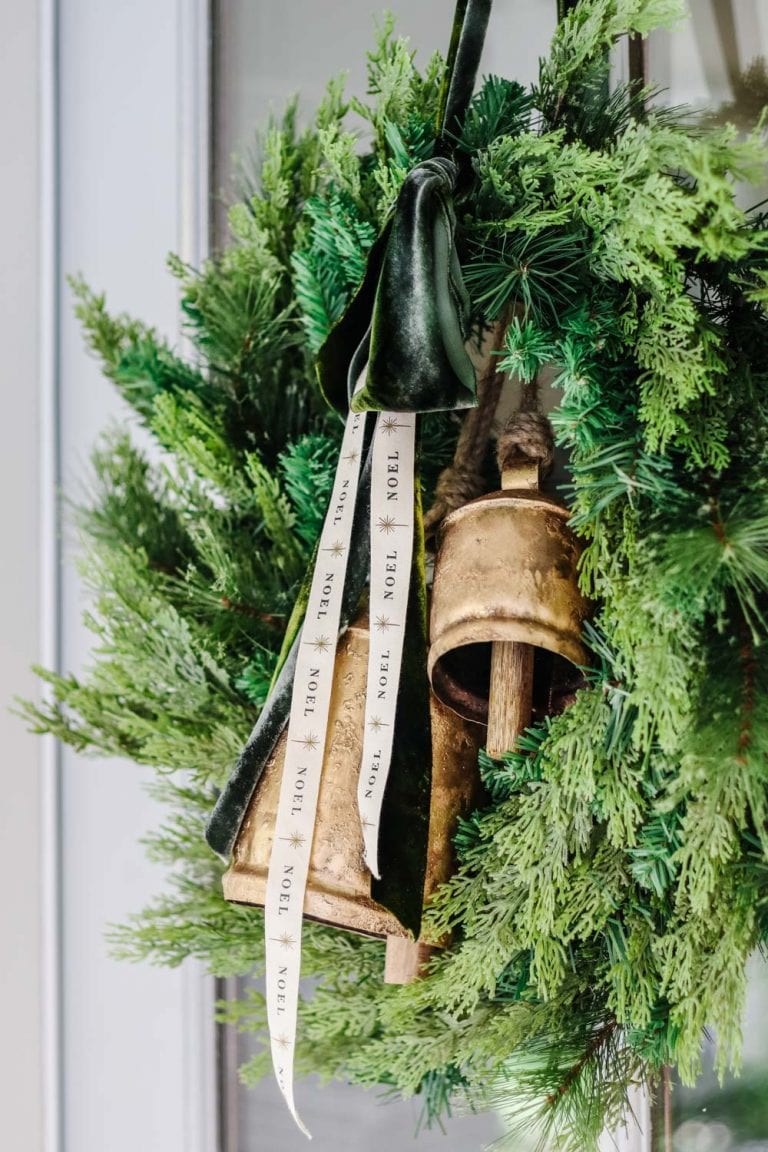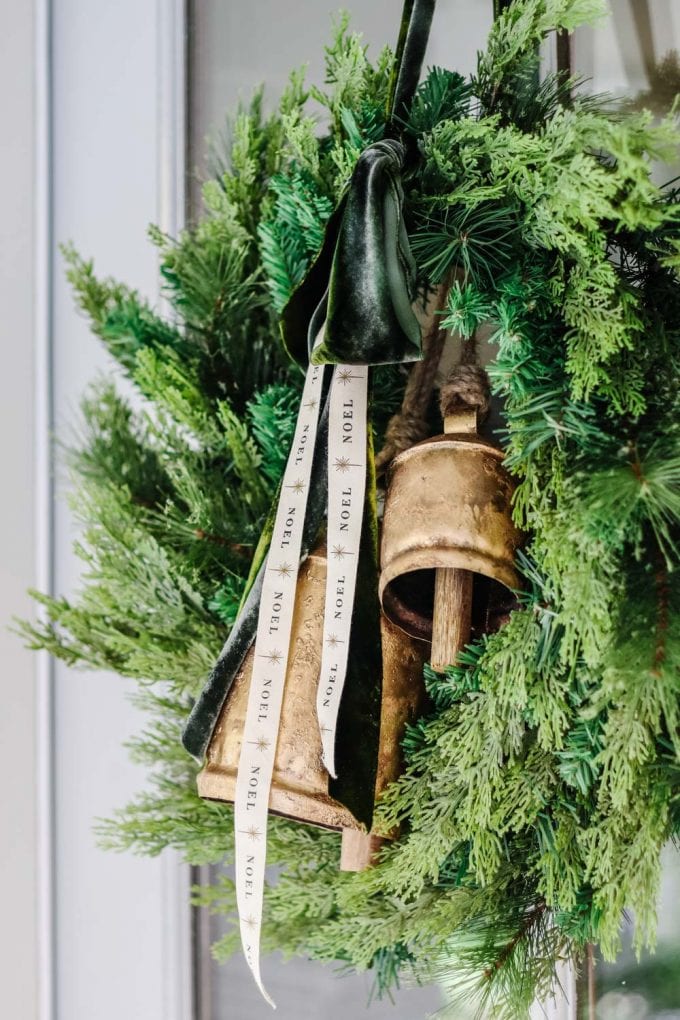 Next, tie the ribbon in a bow and add an accent ribbon if desired. I simply looped the NOEL ribbon through the knot of the bow.
Now, wasn't that super easy? I love that you can breathe new life into an old Christmas wreath with just a few simple steps.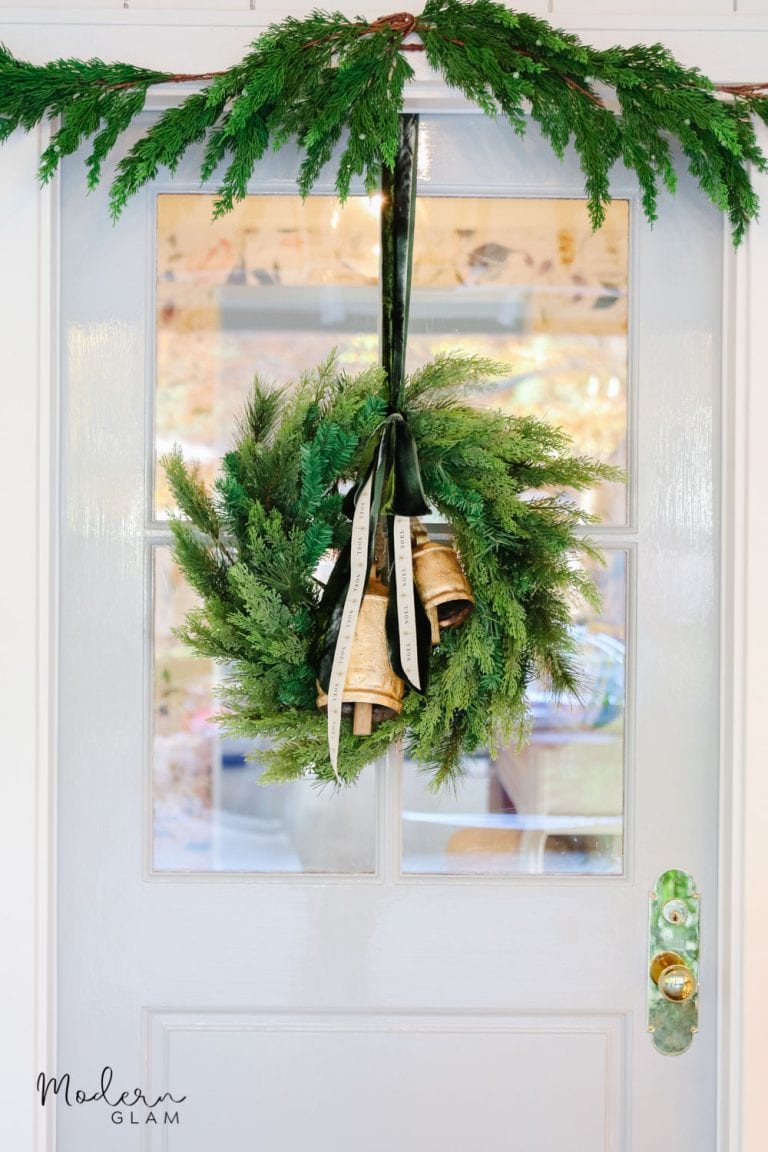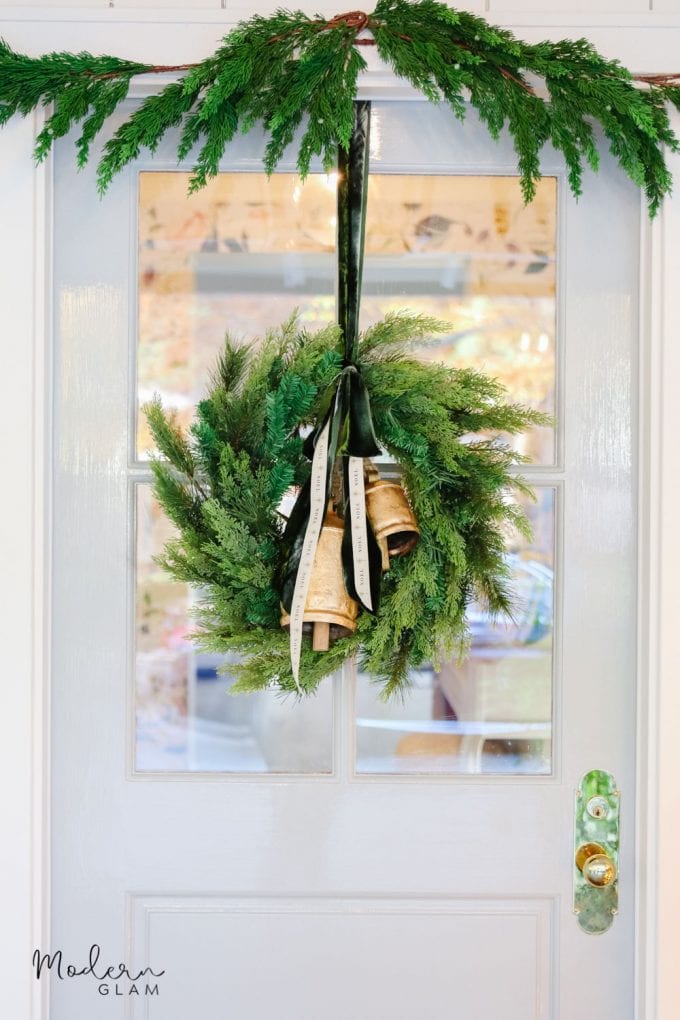 Let me know if you give this minimalist Christmas wreath a go!
And be sure to check out these 16 unique and beautiful Christmas wreaths being shared today! It makes me wish I had more than one door to decorate, that's for sure!
16 Unique DIY Christmas Wreaths

Colorful Embroidery Hoop Ornament Wreath // Tatertots & Jello
Vintage Christmas Lights DIY Holiday Wreath // The Happy Housie
DIY Winter Wreath Ideas Roundup // Happy Happy Nester
Boxwood Christmas Wreath // Jennifer Maune

Full & Gorgeous Christmas Wreath Hack // The DIY Mommy
DIY Christmas Wreath // My 100 Year Old Home
Natural Holiday Wreaths // Finding Lovely
Colonial Christmas Wreath // A Blue Nest

Minimalist Christmas Wreath // Modern Glam
DIY Holiday Wreath Multi-Greenery with Bells // Zevy Joy
Dollar Store Wreath Makeover // Craftberry Bush
DIY Easy Garland Wreath // My Sweet Savannah

Make an Easy Embroidery Hoop Wreath // Jennifer Rizzo
Winter Split Wood Bead Wreath // Lolly Jane
DIY Paper Bag Wreath for the Holidays // Twelve On Main
Dried Orange Wreath // Hallstrom Home
More DIY Wreath Ideas From the Archives