Make this Bottle Brush Tree Christmas Wreath with Pom Poms for your holiday front porch!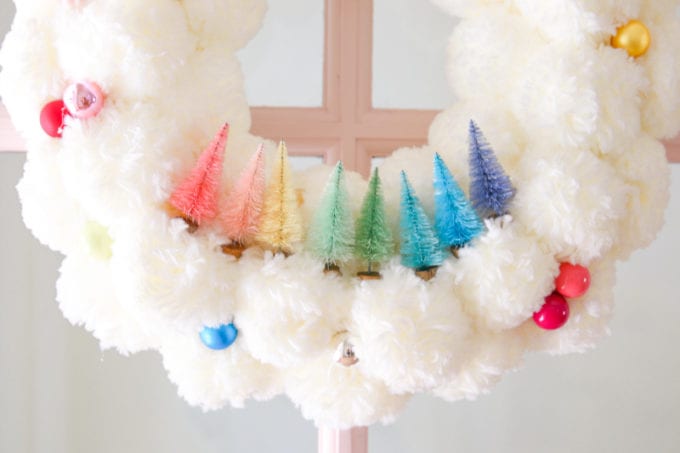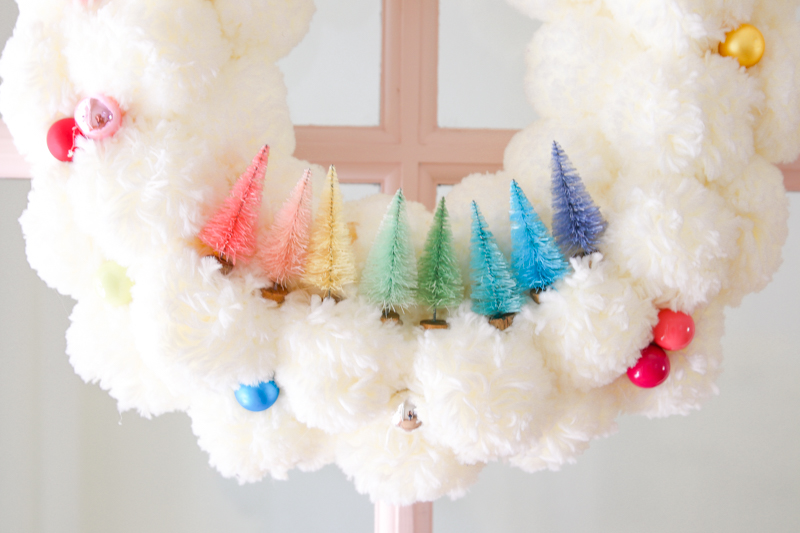 I will show you how easy it is to create a cute and fun holiday wreath to place on your front door.
Christmas Wreath with Pom Poms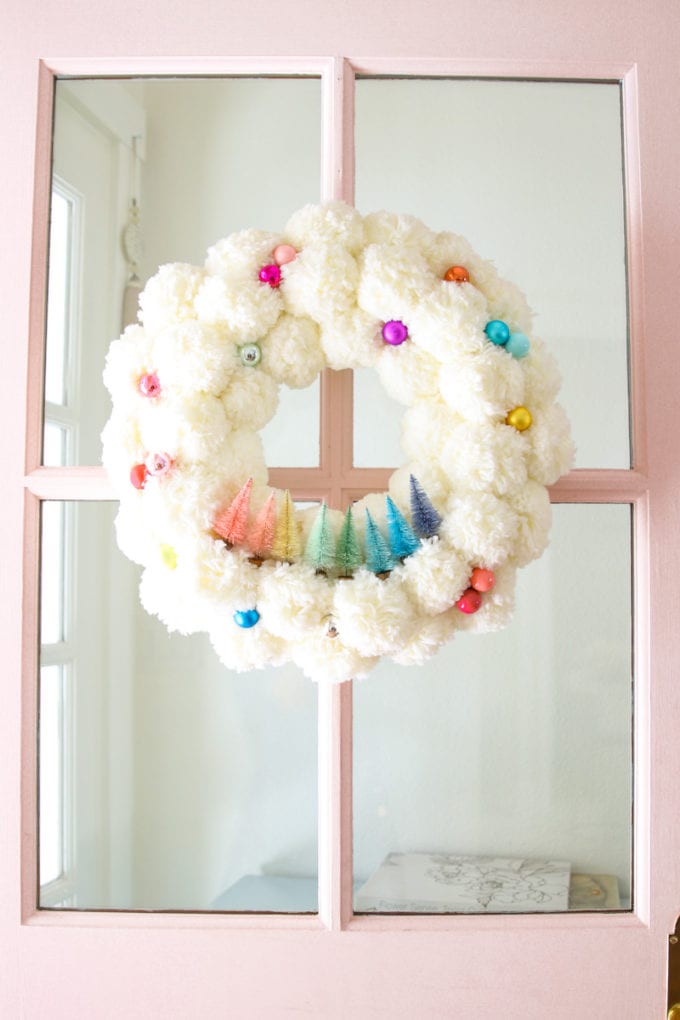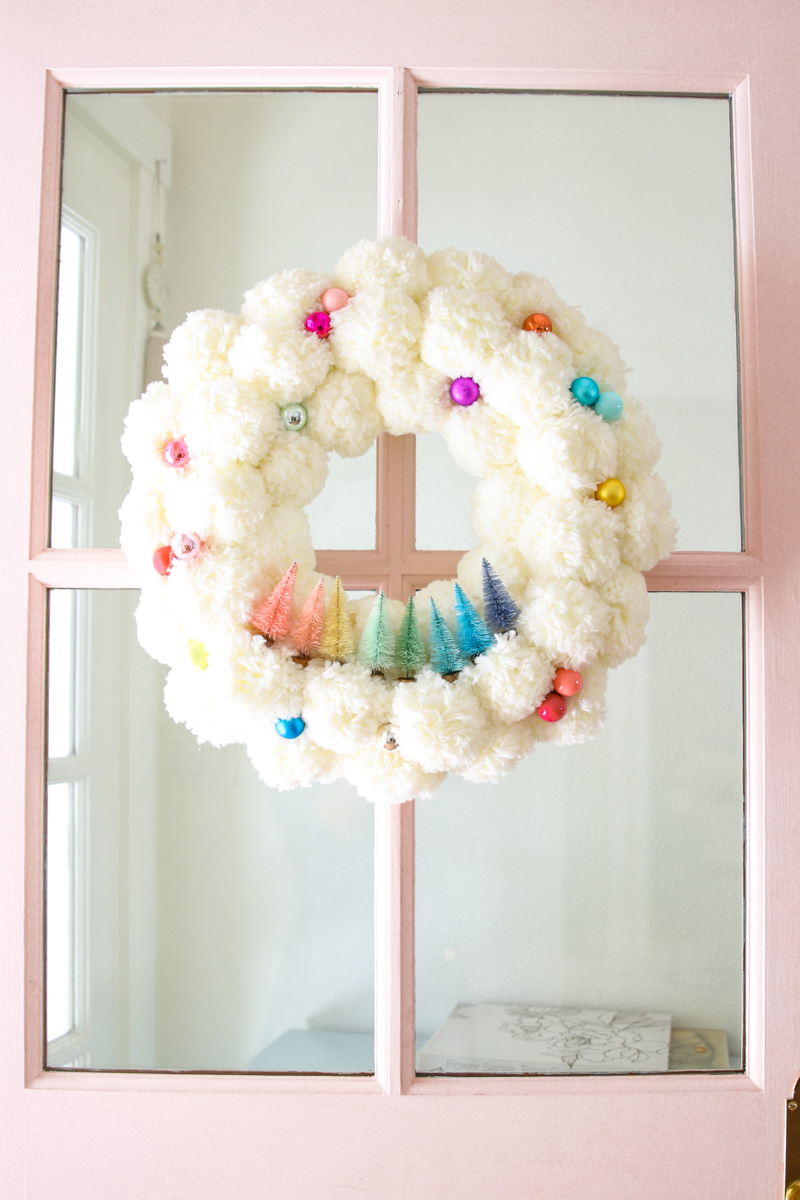 Last year I made a beautiful Winter Pom Pom wreath using mini Putz houses and bottle brush trees. It was one of my favorite projects! I made it in January and I wished that I had made it earlier to enjoy through the holidays.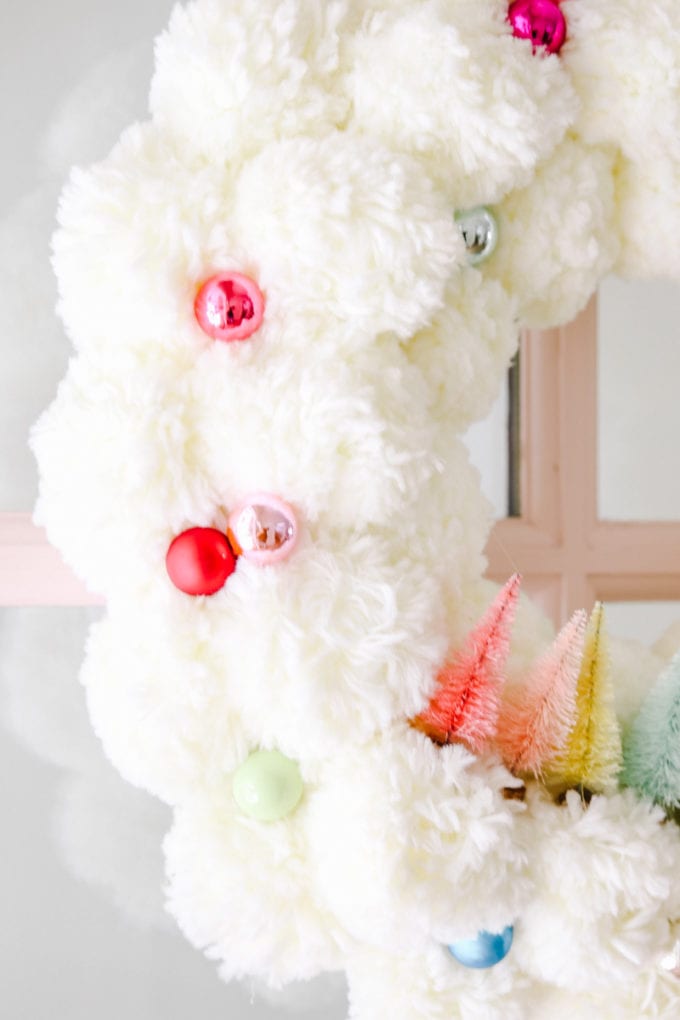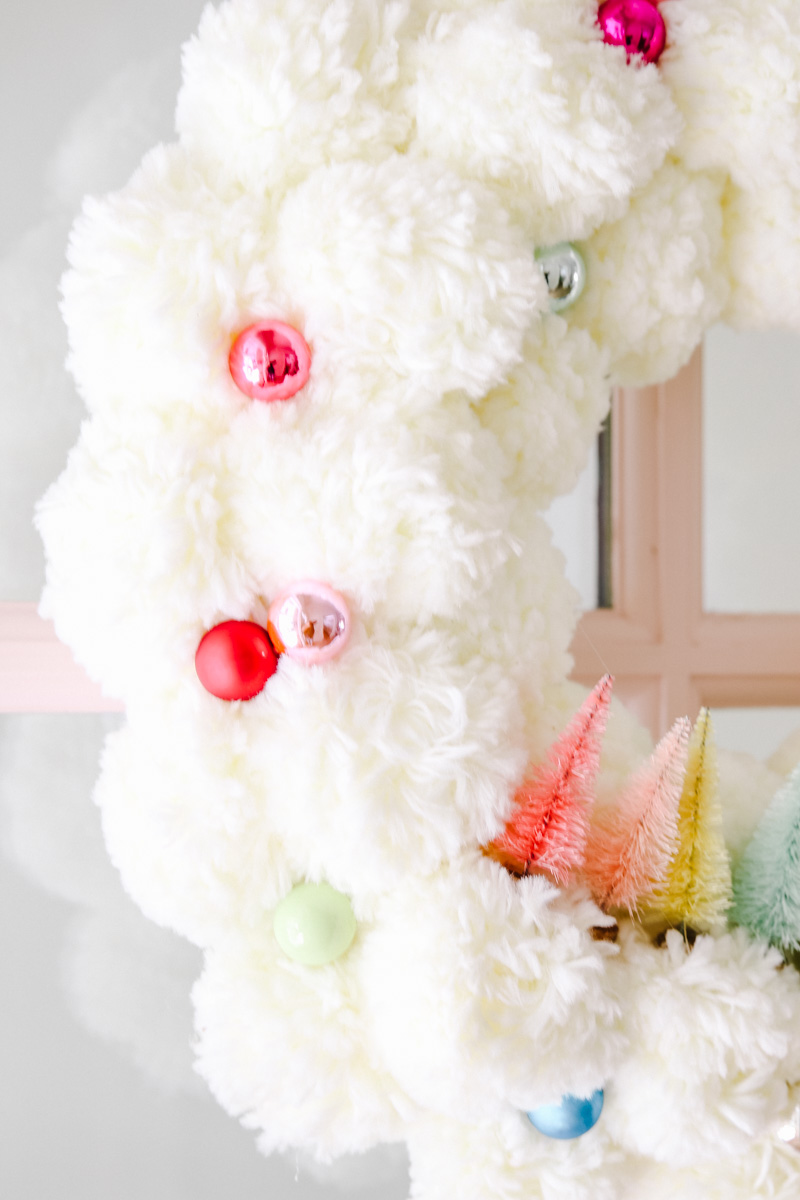 So, this year I decided to repurpose the base of the wreath and create a festive and fun Christmas wreath with pom poms and bottle brush trees. This version is much more colorful and holiday ready. I hope you like it!
How To Make A Pom Pom Christmas Wreath
To make this pom pom Christmas wreath you will need to refer to my original post Winter Pom Pom Wreath that has detailed instructions on how to make the pom pom wreath base. Once you have the wreath made then we can move on to adding all the fun and colorful elements.
Bottle Brush Christmas Tree Wreath Supplies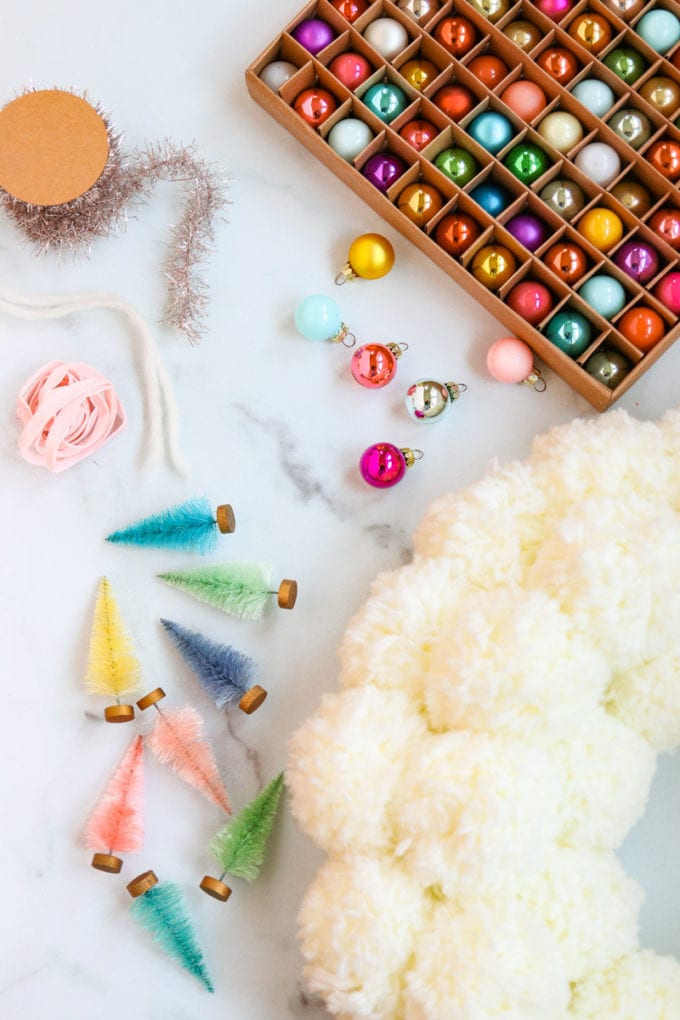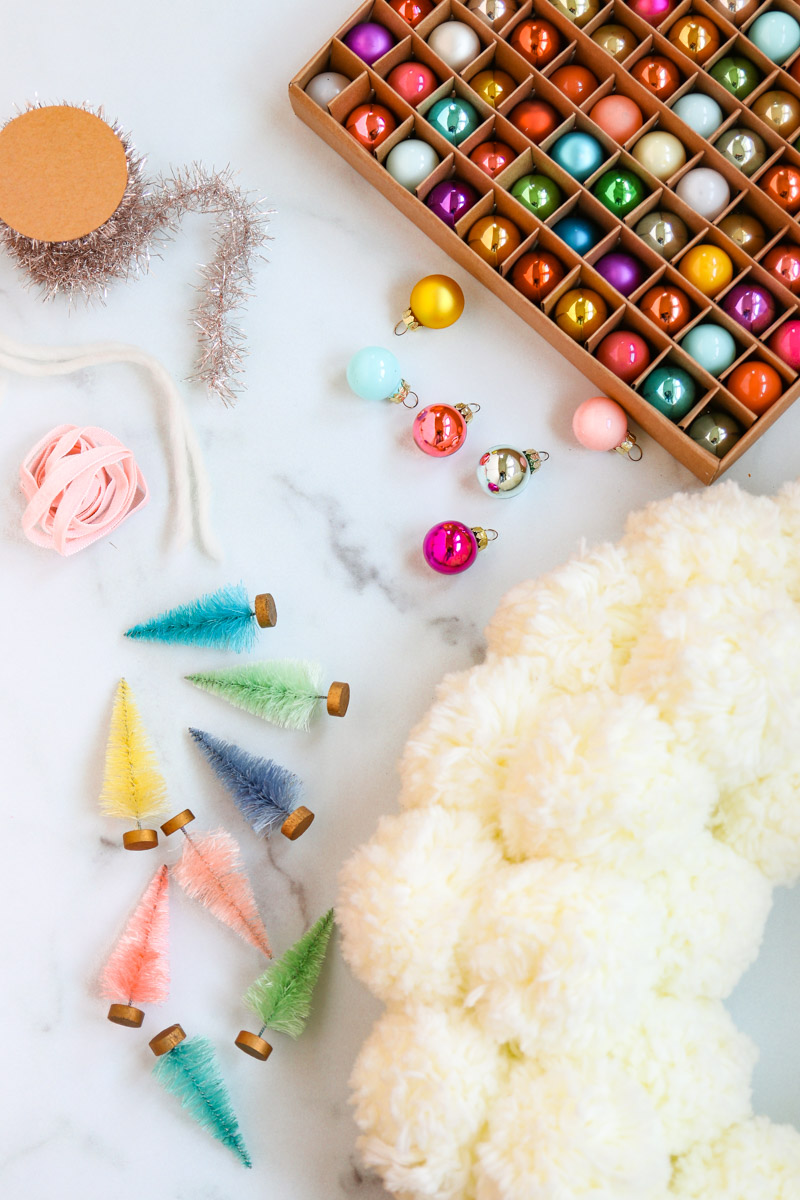 Here is what you need to make this fun and colorful pom pom Christmas wreath.
I've linked all the supplies below for you. I even found this pom pom wreath that would be a great shortcut if you don't want to make the pom pom wreath by hand!

Colorful Pom Pom Wreath Instructions
The first step is to lay out your ornaments how you want them on the wreath. I grouped some ornaments in sets of 2 and left others by themselves. I wanted a somewhat random look.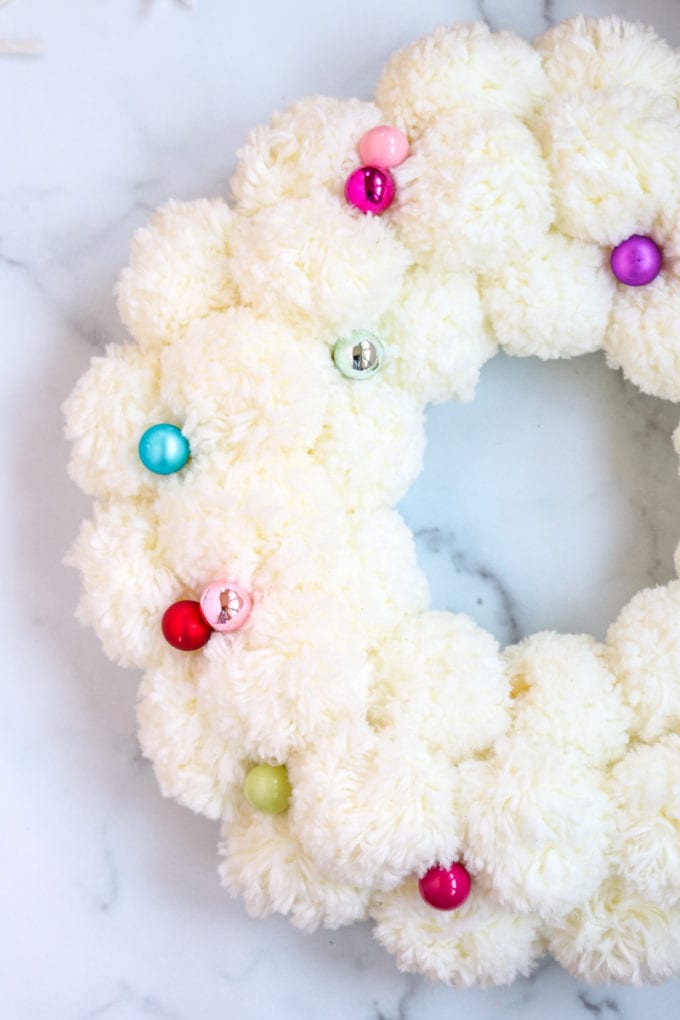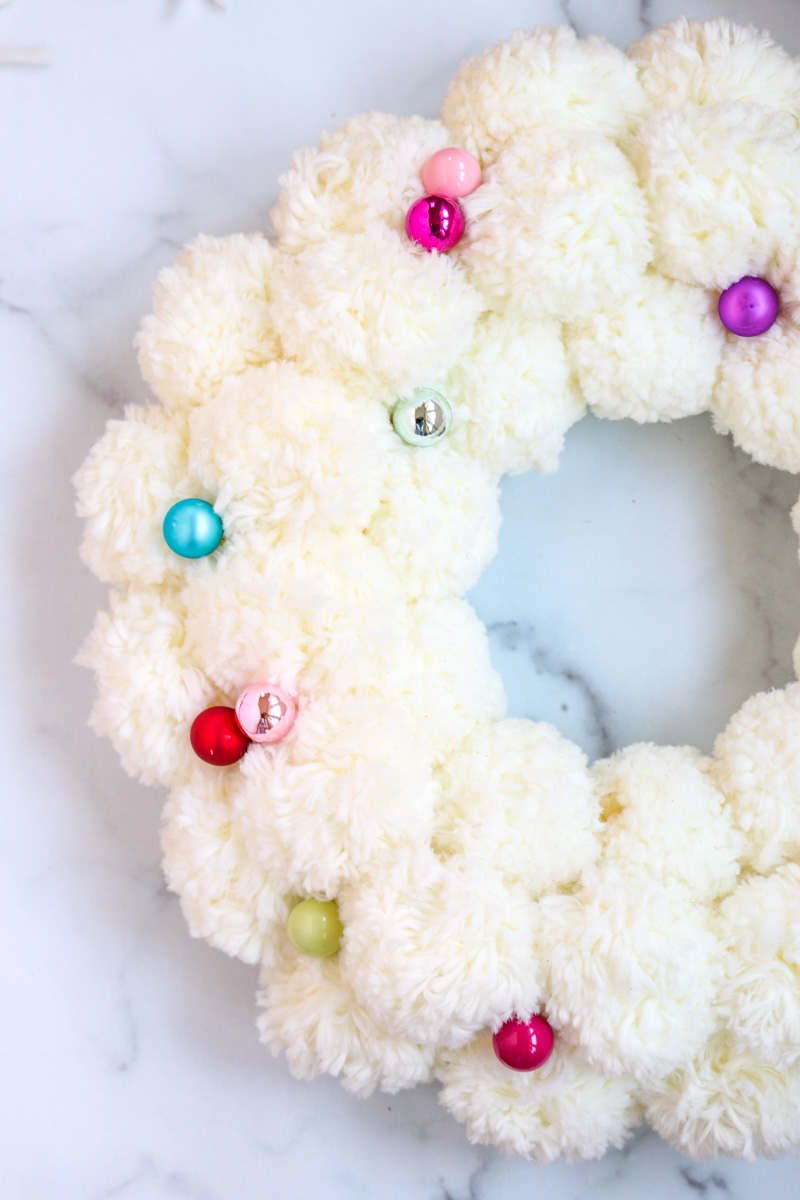 Glue each ornament on using your hot glue gun. Place a large dot of glue at the top of the ornament where the hanger goes. Then stick it in-between the pom poms to secure. You can also press the yarn onto the ornament to make it stick better.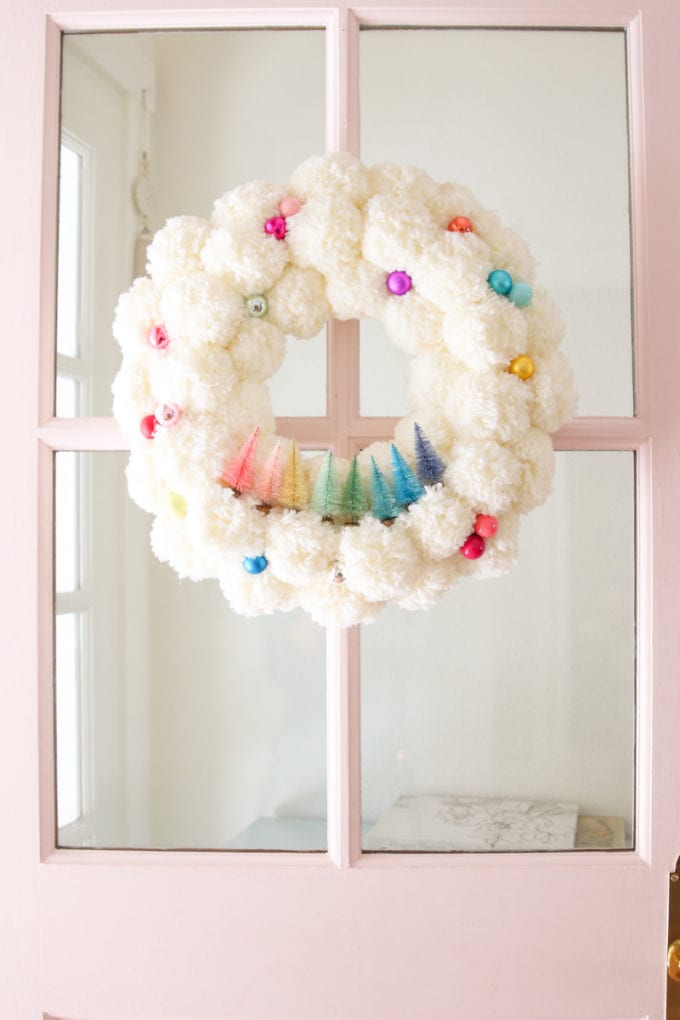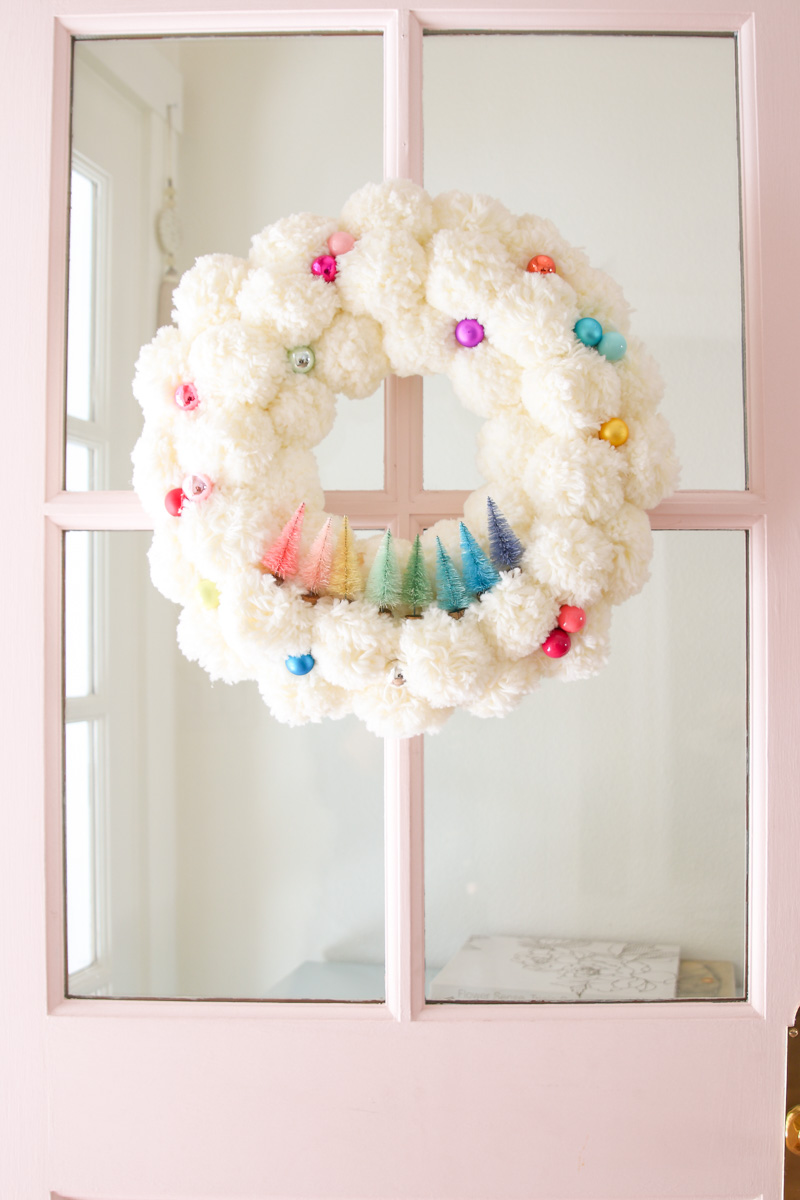 Our door gets opened and shut A LOT by little people, so I made sure everything is pretty secure on my pom pom Christmas wreath.
The next step is to place the bottle brush trees on the wreath. I lined up my rainbow trees in order and glued each one onto the wreath. Place a large dot of glue on the base of the tree and press onto the wreath.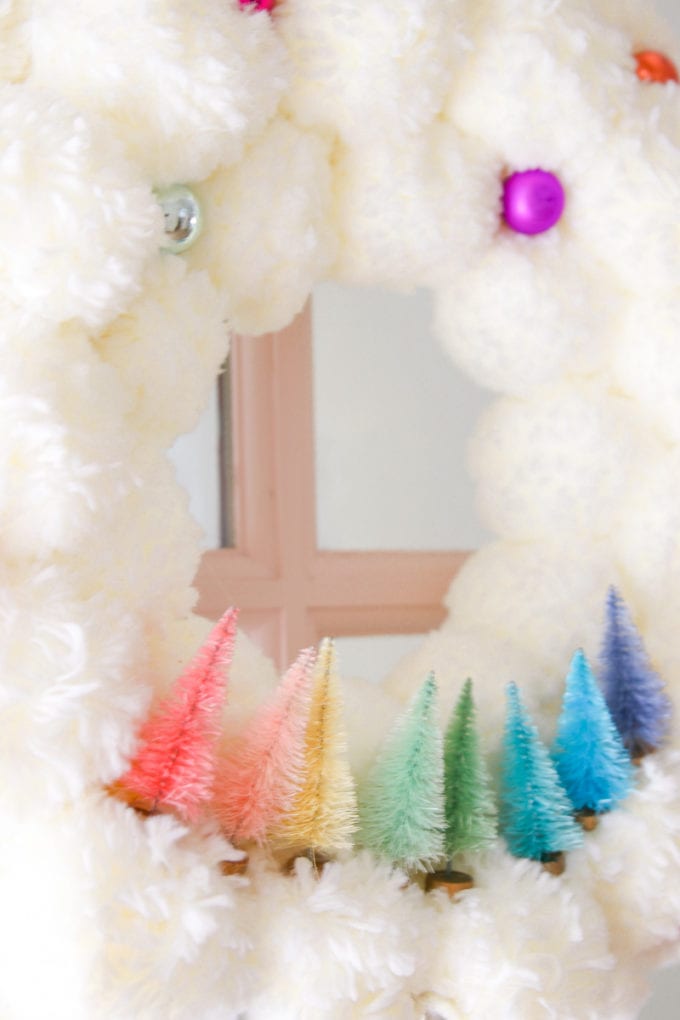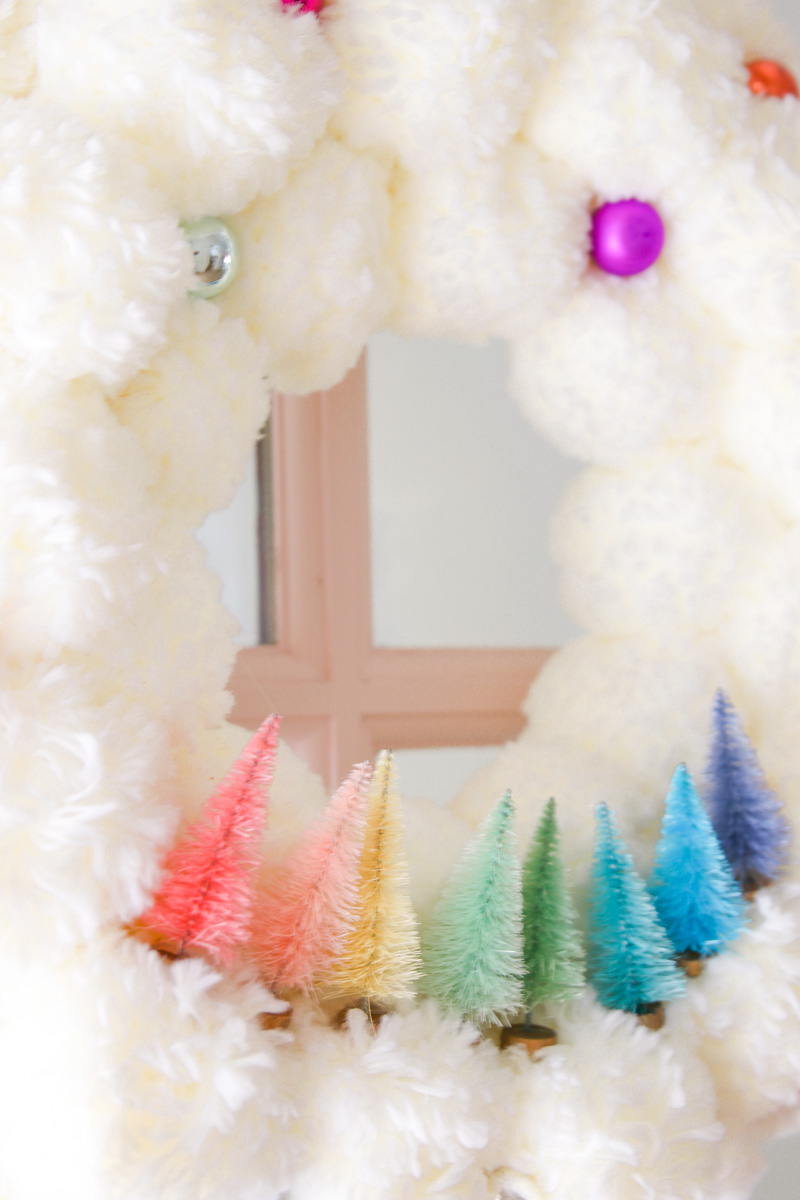 To get these trees to stay upright make sure to glue them on slightly leaning backward towards the center of the wreath. This will ensure they stay in place.
I originally was going to place a ribbon at the base of this bottle brush tree wreath, but decided that it didn't need it. You can play around and see if you'd like to add a ribbon or not.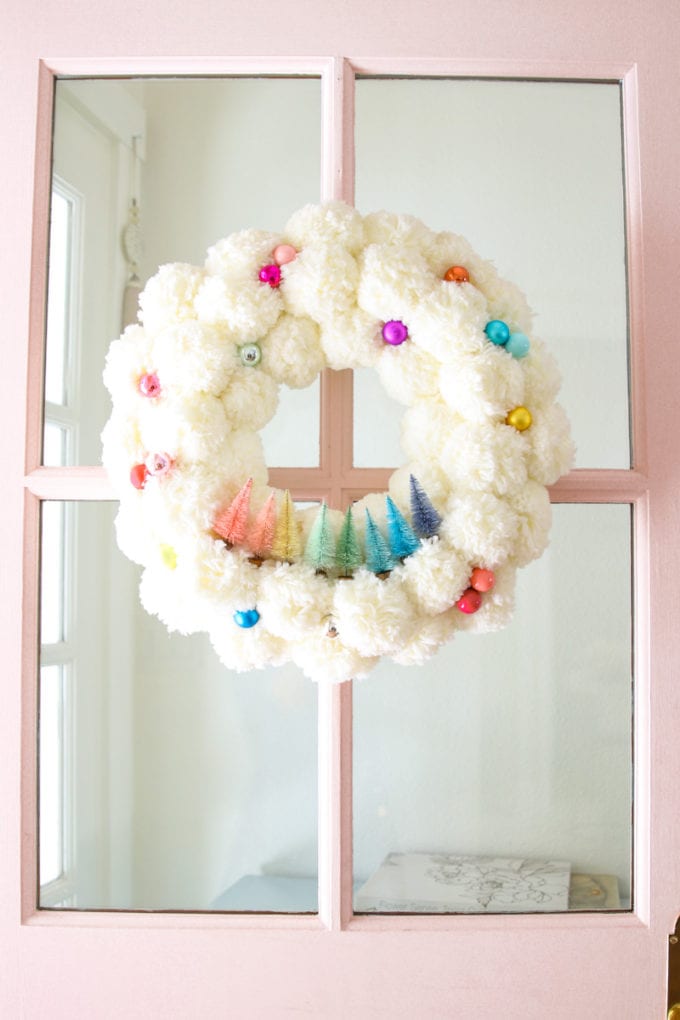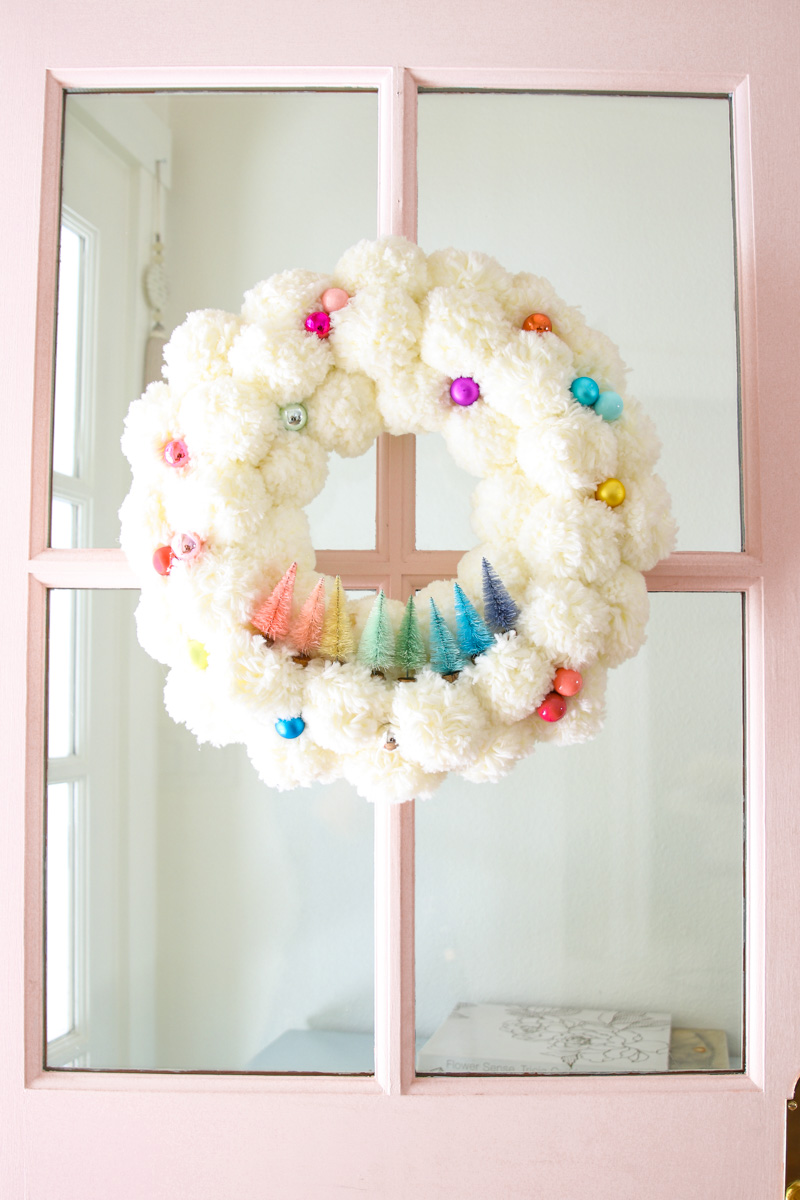 Now, just stand back and see how fun, colorful and nostalgic this wreath is! Whenever I look at this it makes me smile! I hope it does for you too!
More Pom Pom Craft Ideas
If you are as obsessed with pom poms as I am, then be sure to check out all the other pom pom DIY ideas that my friends are sharing. Happy crafting!

DIY Christmas Pillow // Pom Pom String Light Tea Towel // Christmas Wreath with Pom Poms // Farmhouse Wood Bead and Pom Pom Garland // Christmas Pillow


Pom Pom Christmas Mantel // Christmas Pom Pom Hoop Wreath // Pom Pom Snowflake Pillow // Easy No Sew Pom Pom Tea Towels

Rustic Pom Pom Wreath // Pom Pom Napkin Rings // Pom Pom Christmas Hand Towels // Pom Pom Basket