Modern Farmhouse Christmas tree decorating ideas with Balsam Hill. Simple and neutral decor that is festive and beautiful too!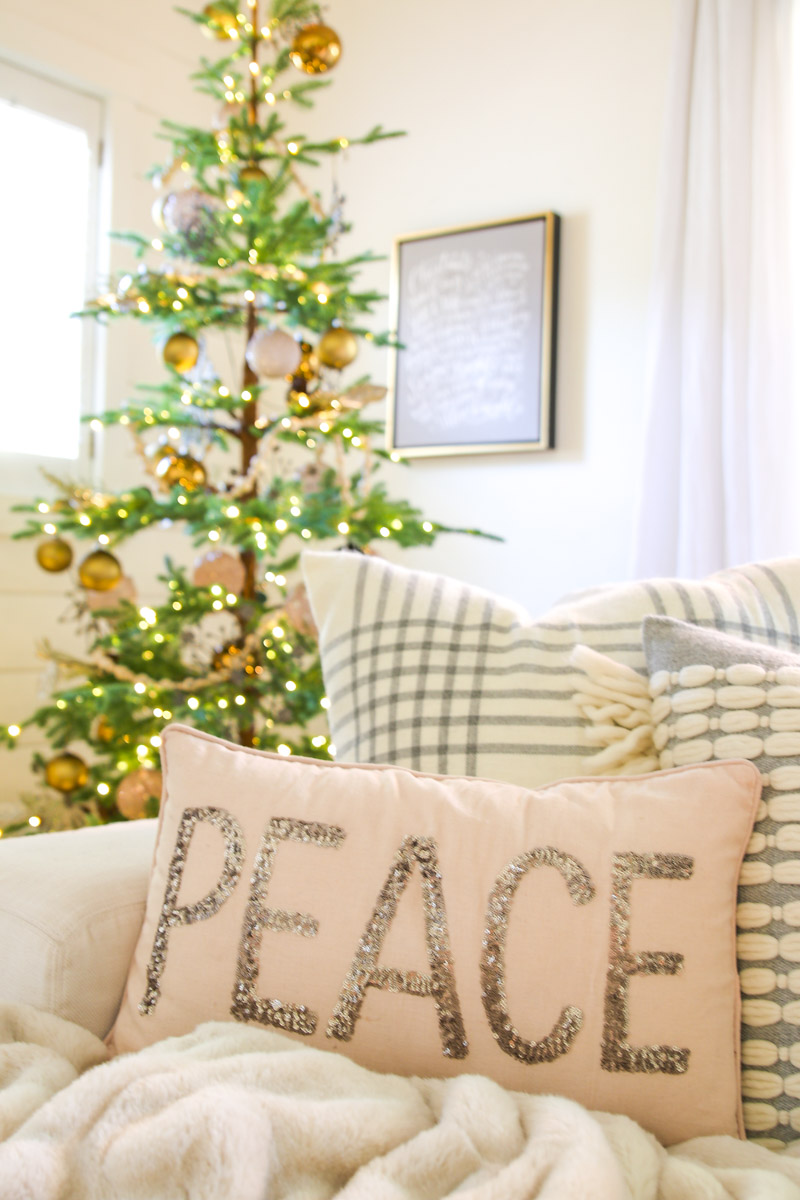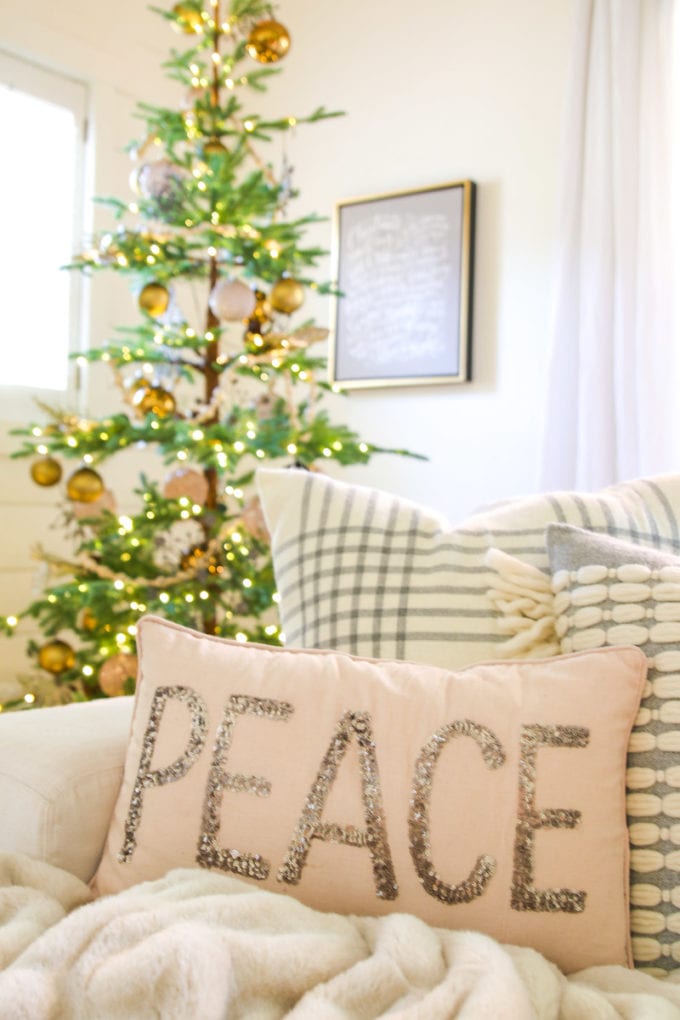 I am so excited to show you my first Christmas post of the season! I decorated my Alpine Balsam Fir tree from Balsam Hill using modern farmhouse christmas decorations to keep things simple and to go with the beautiful style of the tree.
And I am joining 4 other bloggers in sharing our Balsam Hill Christmas decor. So be sure to visit the other fabulous ideas for tons of Christmas decorating inspiration!
Modern Farmhouse Christmas Tree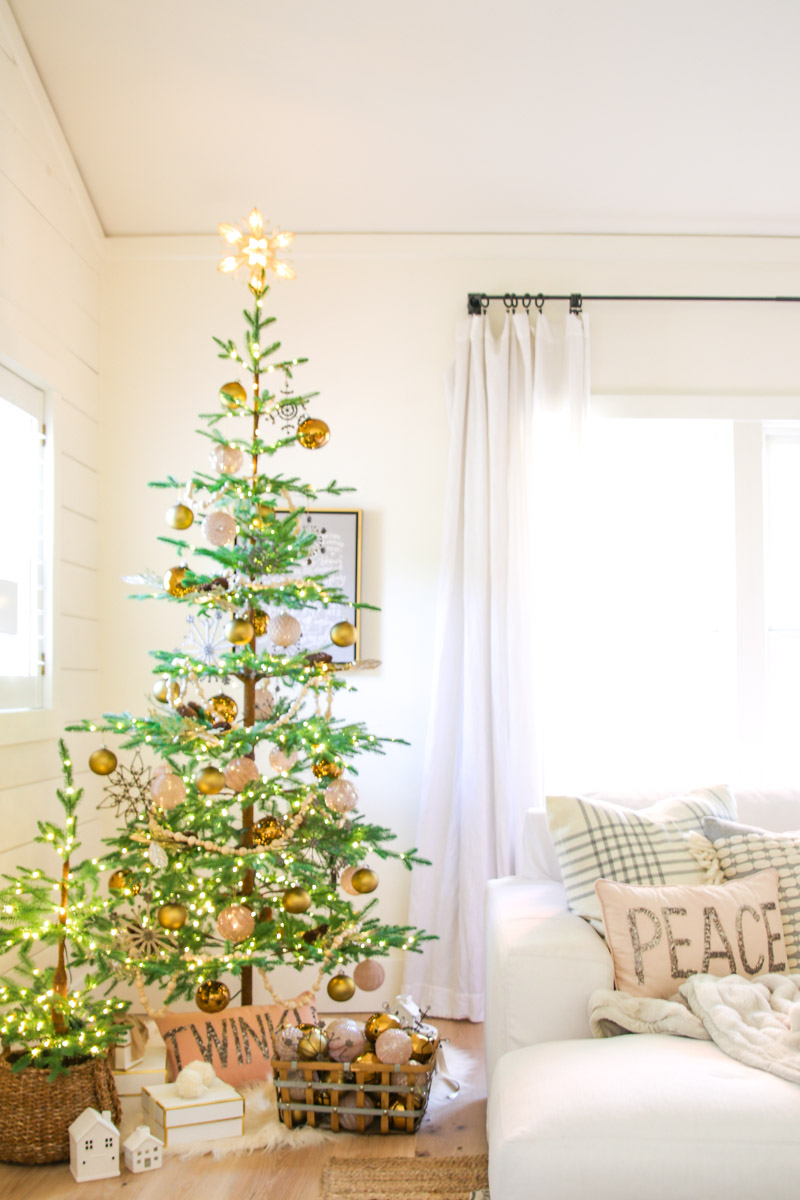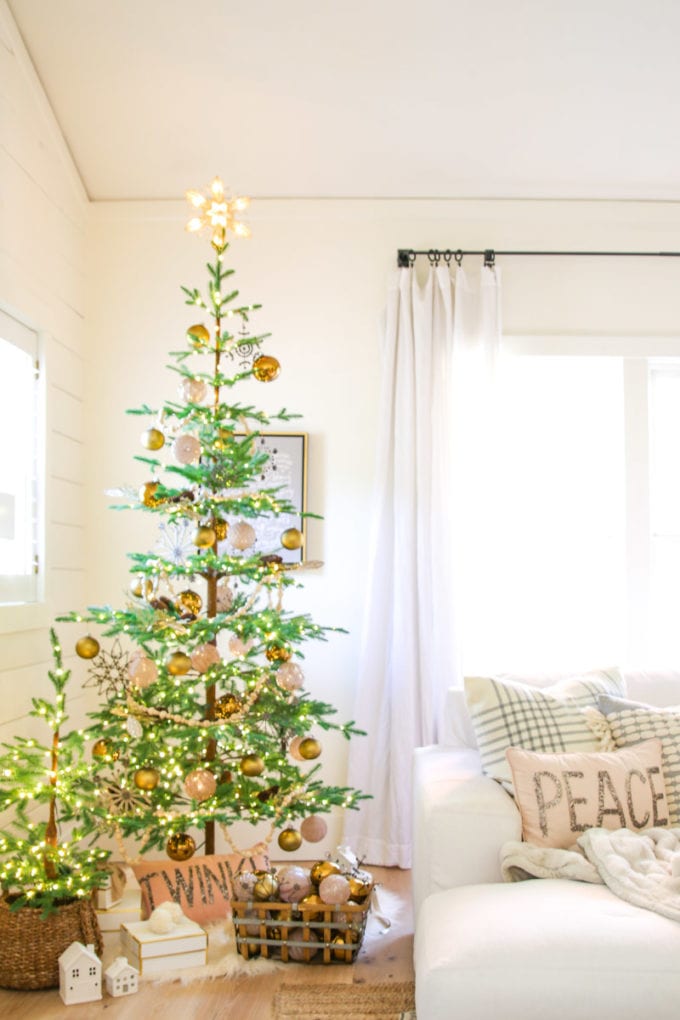 I originally ordered this 7.5 foot pre-lit Alpine Balsam Fir tree to go in our newly renovated kitchen and den area, however that area isn't quite finished. So, for a few weeks it will live here in our living room. And I couldn't love it more!
One of the things that I like most about this modern farmhouse Christmas tree is how soft and neutral the look is. Decorated with the simple and beautiful glass ornaments, it is a great transition from fall into the holiday season!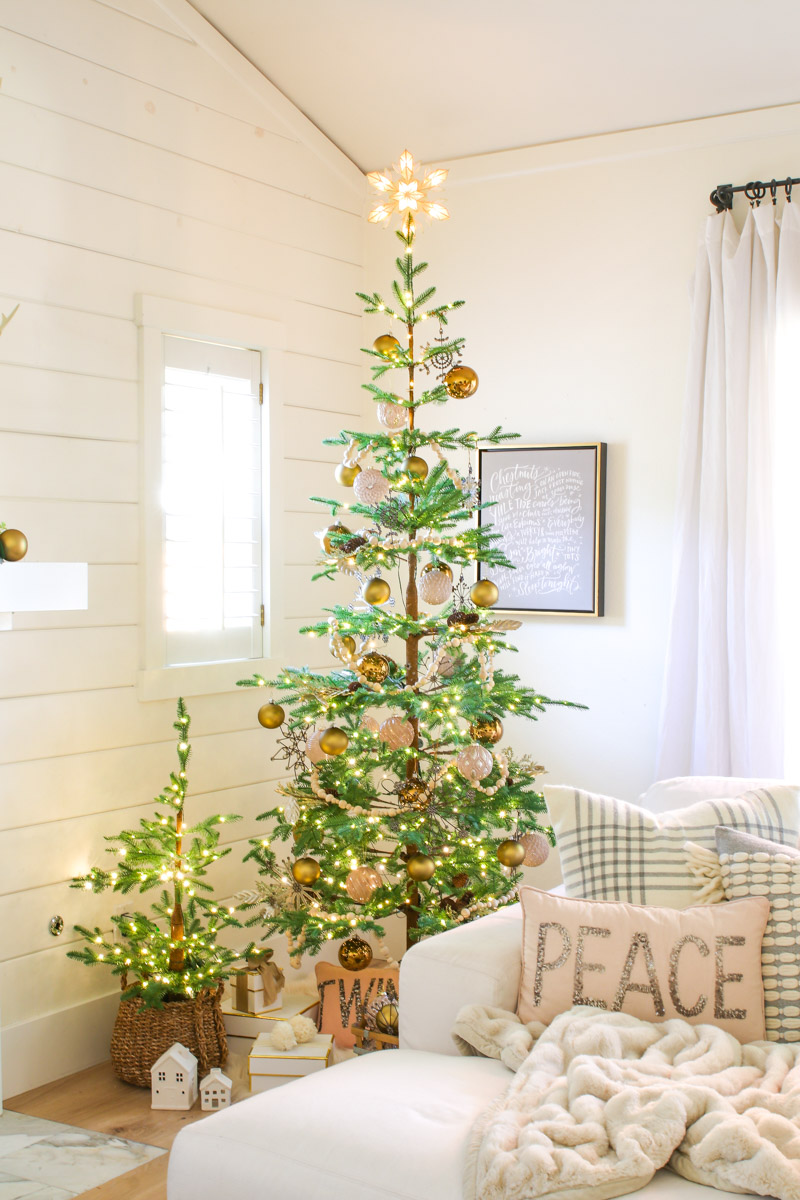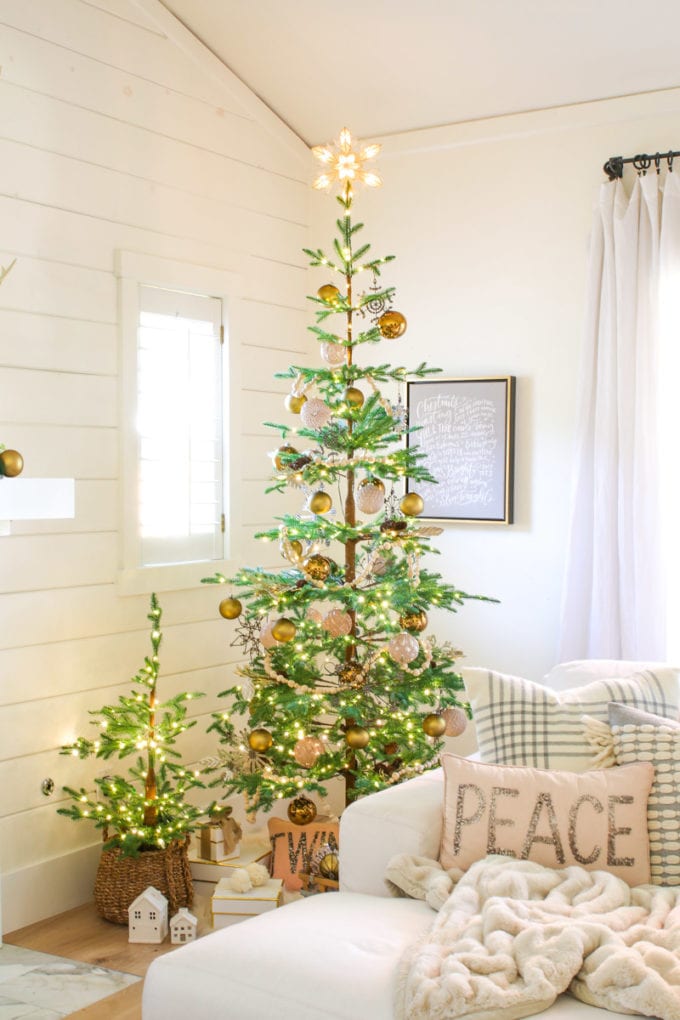 Now, I have had a white flocked Christmas tree for the past five years, so I chose this unflocked version this year.
You can see my holiday decor from last year, where I showcased a set of twin trees decked out in rose gold in my Christmas home tour.
I love the modern farmhouse style of this Christmas tree this year and how the natural green color adds some warmth to my living room!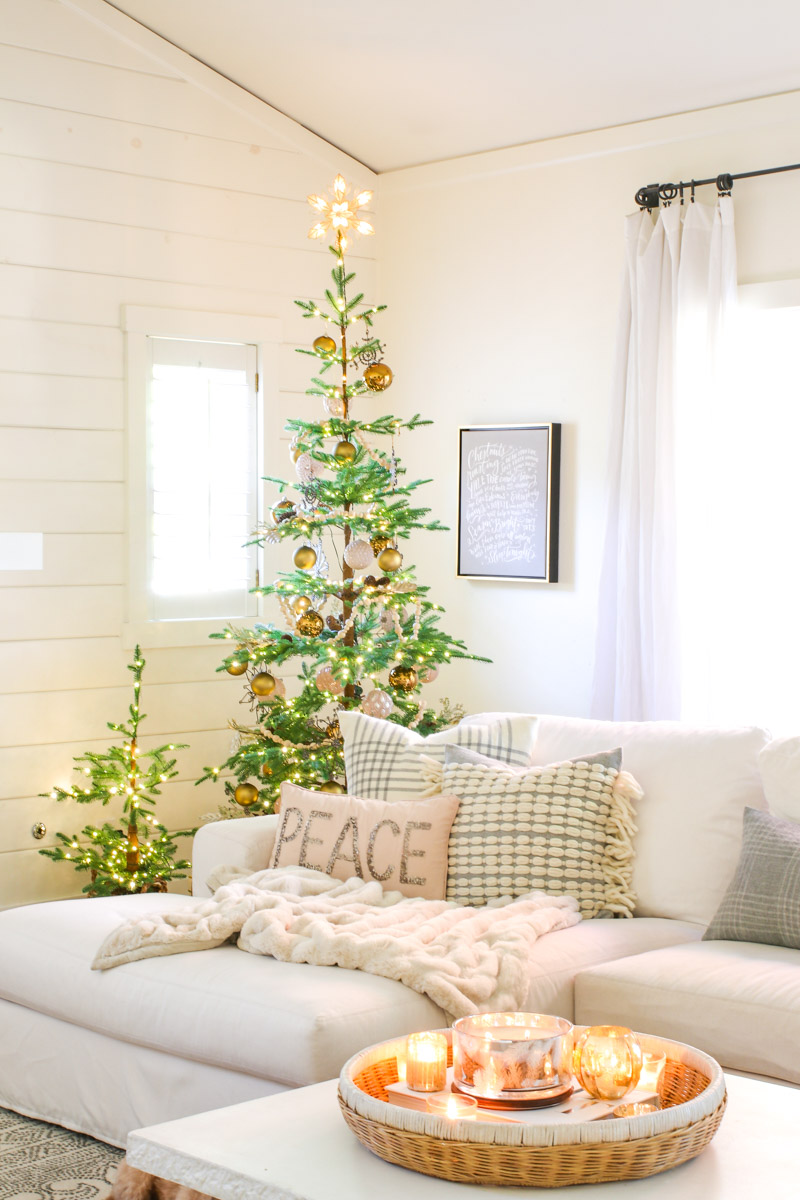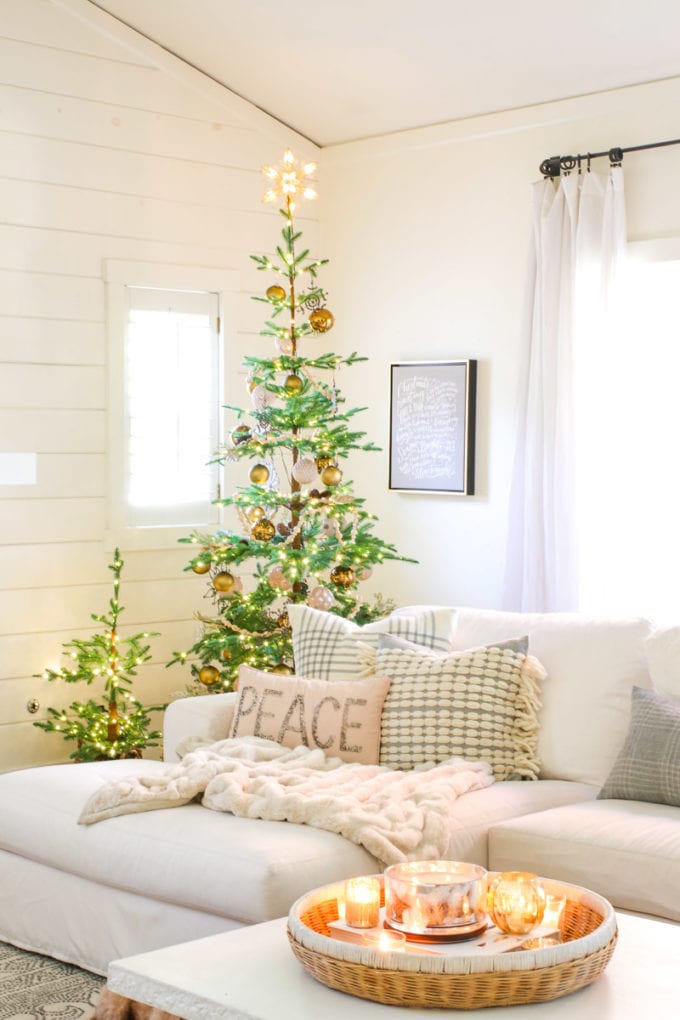 And I really like the lights on this Alpine Balsam Fir. They are energy-efficient LED Celestial™ Fairy lights that create the most beautiful twinkle! After all, twinkle lights are one of my favorite parts of the holiday season.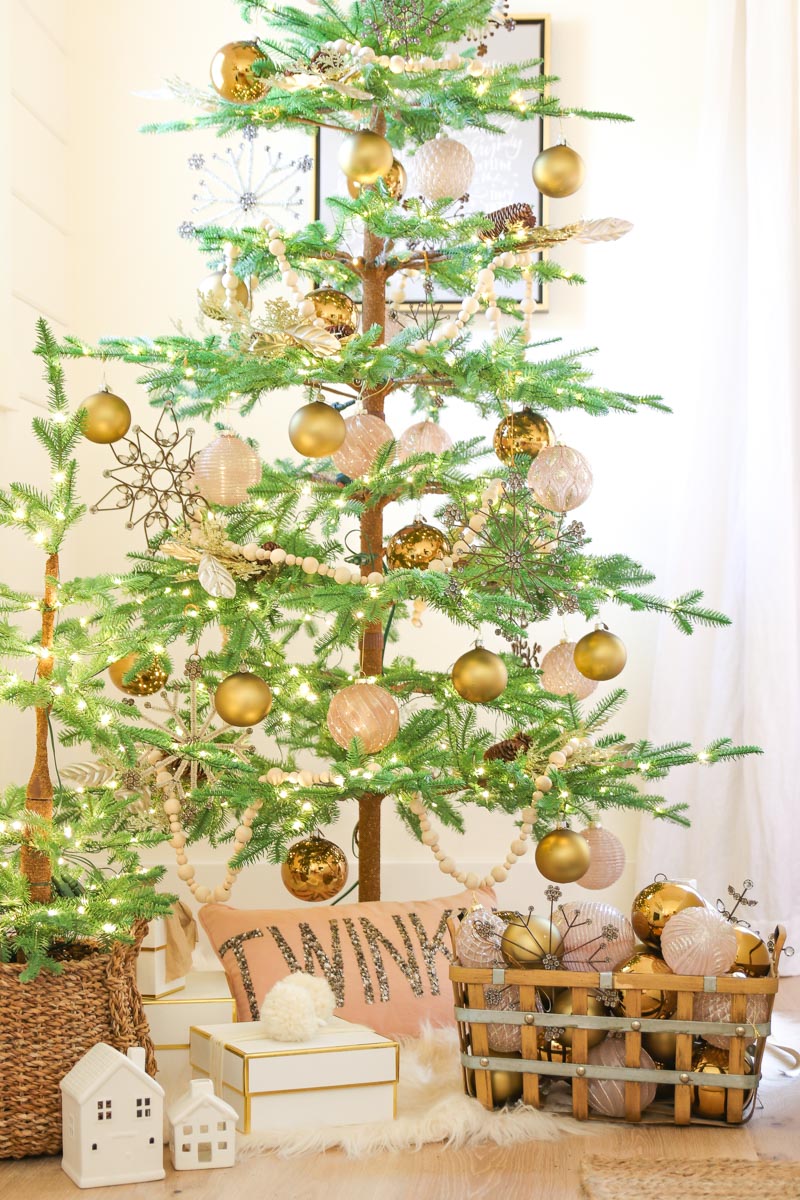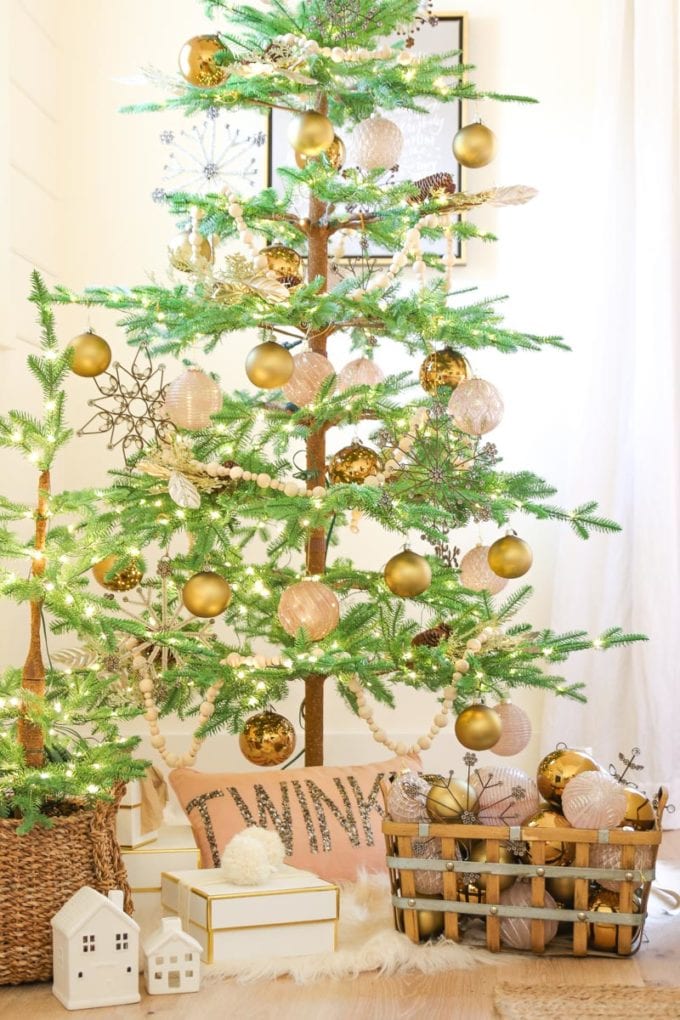 And I picked out this tabletop Alpine Balsam Fir tree and placed it next to the larger 7.5 foot Alpine Fir. I left that little cutie undecorated and let it bask in it's simplistic glory! It definitely has a Charlie Brown Christmas tree vibe going on and it looks so cute tucked into a woven basket.
Farmhouse Christmas Ornaments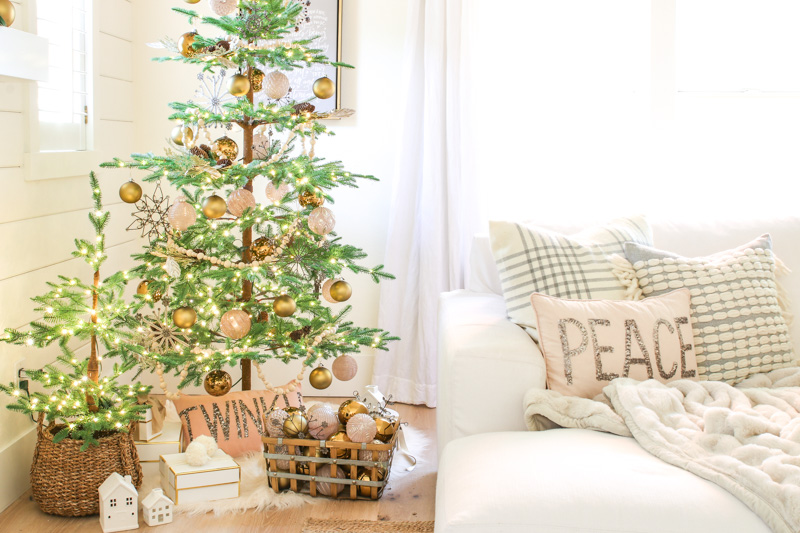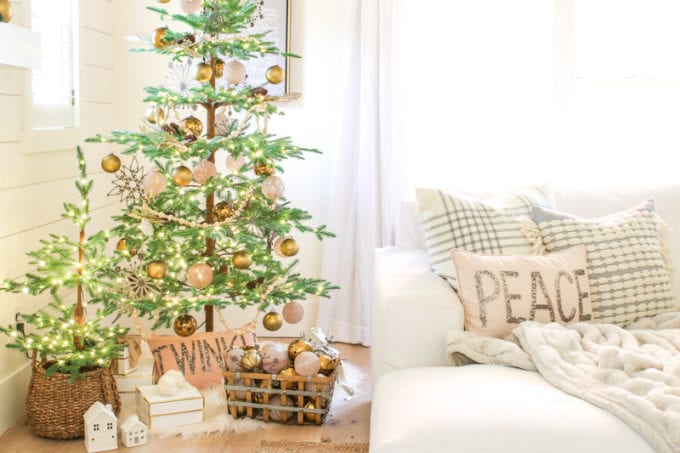 To create this modern farmhouse Christmas tree, I used a mixture of gold, blush and rustic metal snowflake ornaments.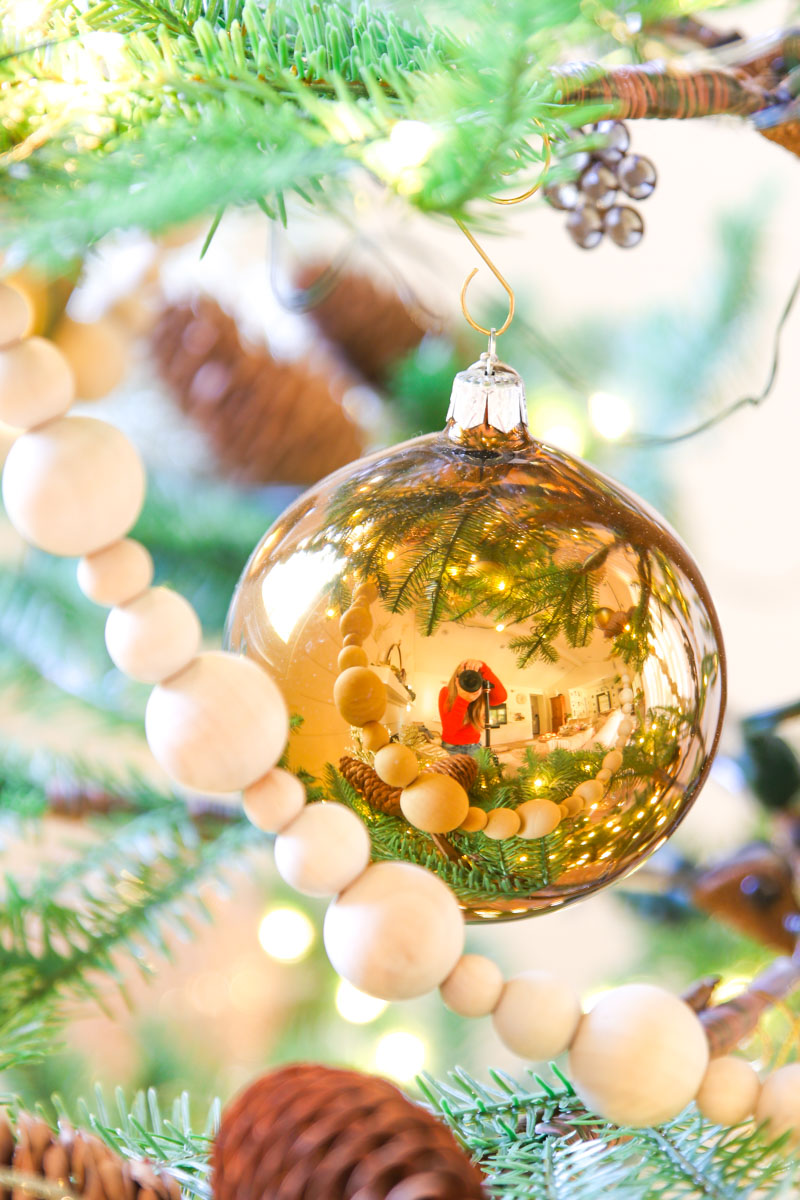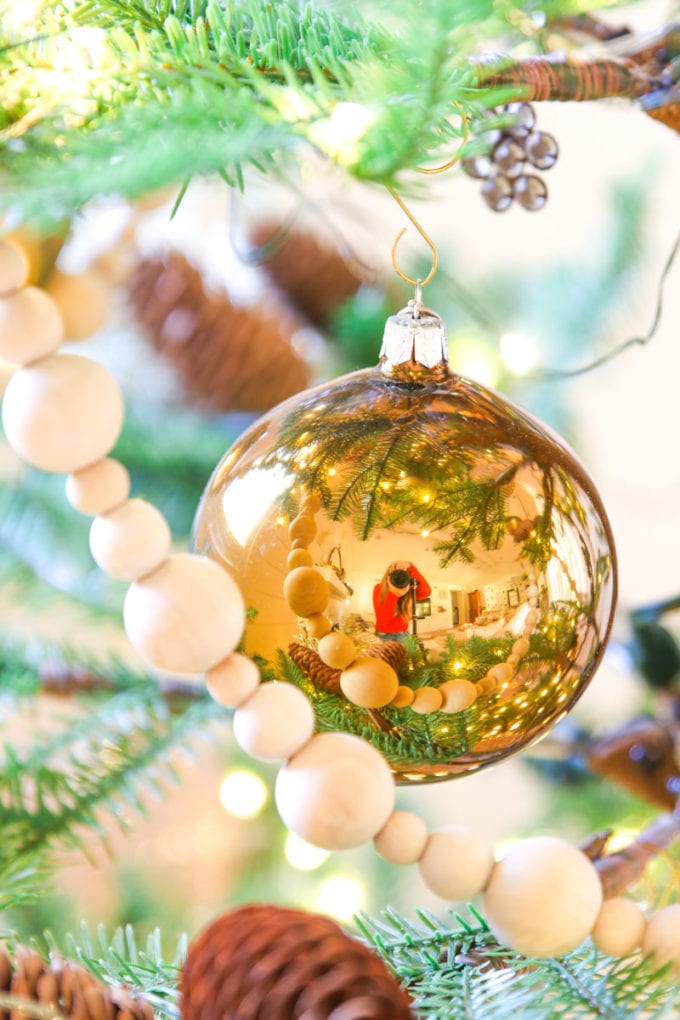 The gold glass balls are part of the BH Essentials Ornament set and they come in a matte and glossy finish. With their varying sizes, it creates the perfect depth and dimension.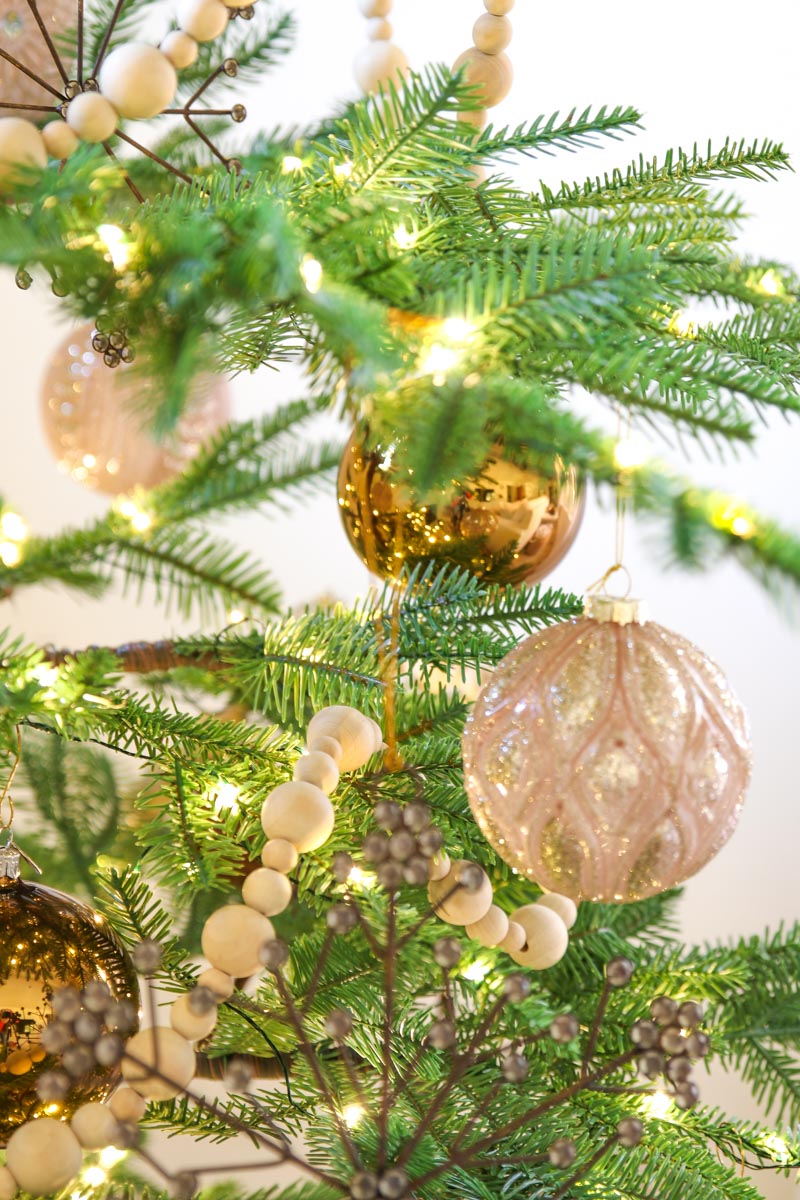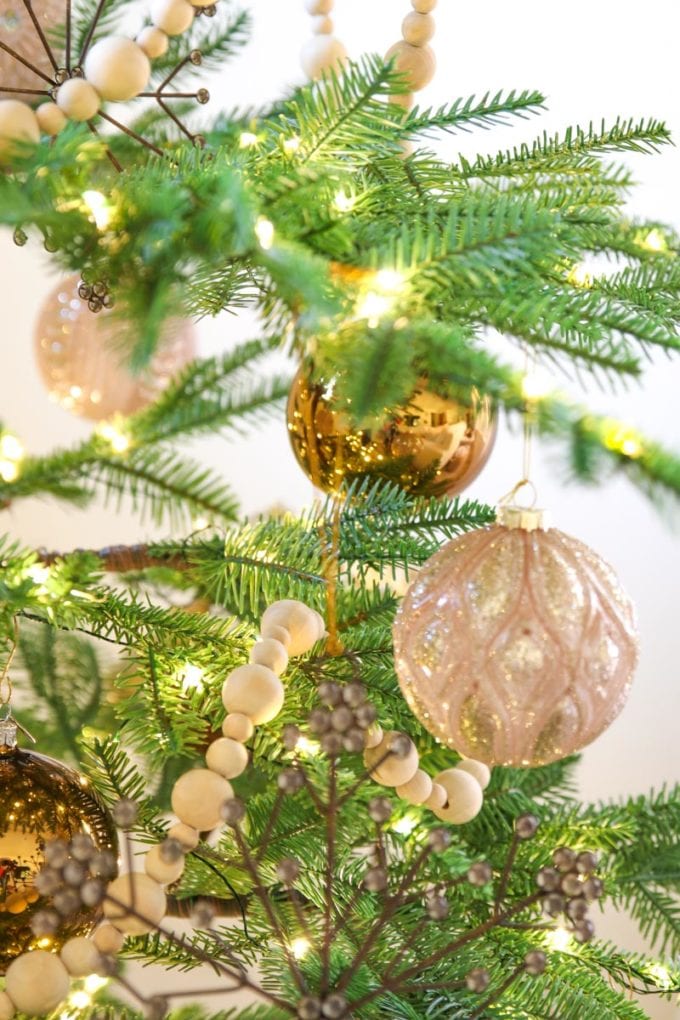 The Winter Wishes blush ornaments are handmade and add a light and airy feel. And they are absolutely beautiful with their unique styles!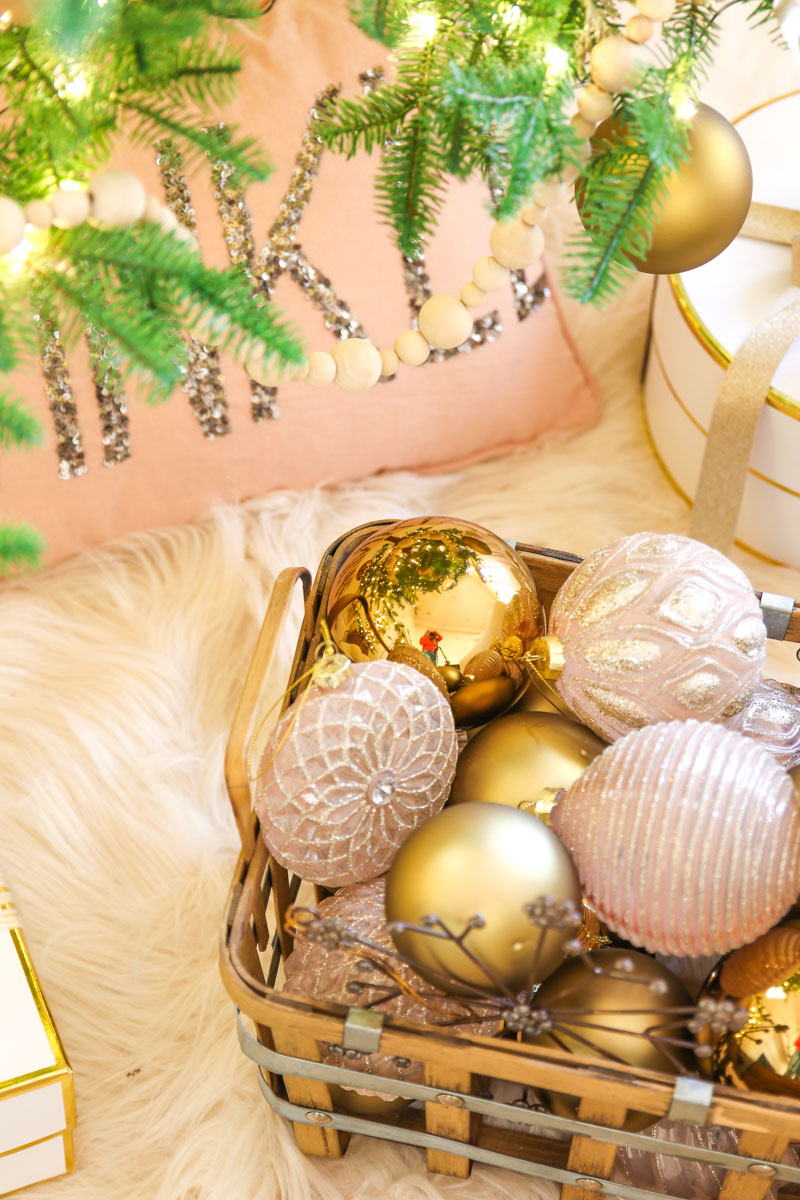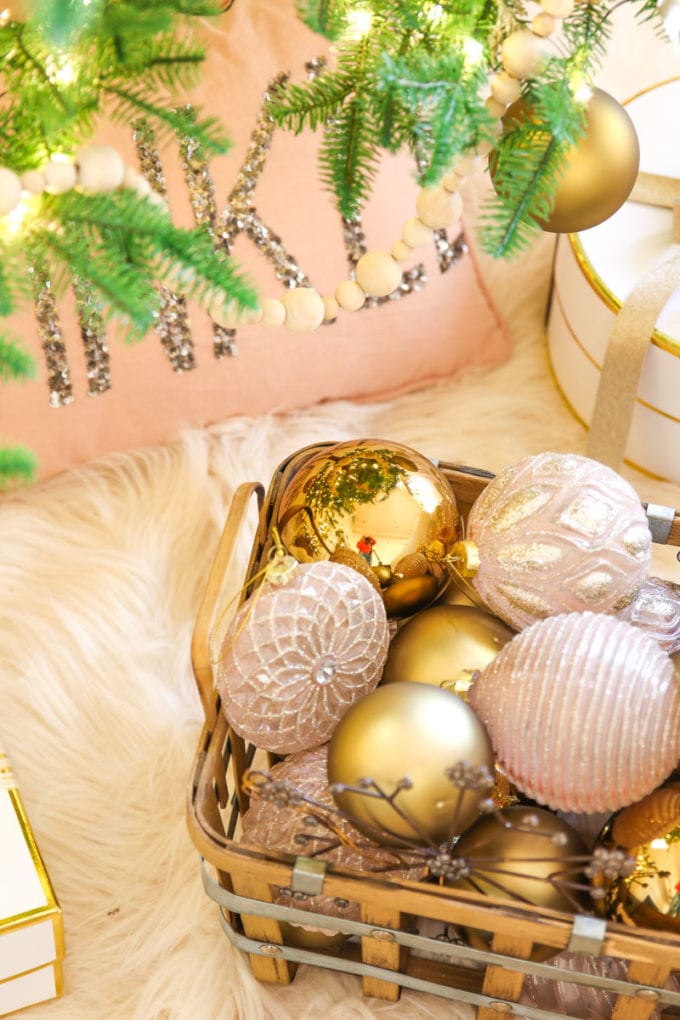 And I love these Antiqued Snowflake Ornaments. Since we don't get snow here in California I need to deck my tree out with these bejeweled versions! The set comes in four different designs, and each one adds the perfect modern farmhouse vibe to my holiday decor this year.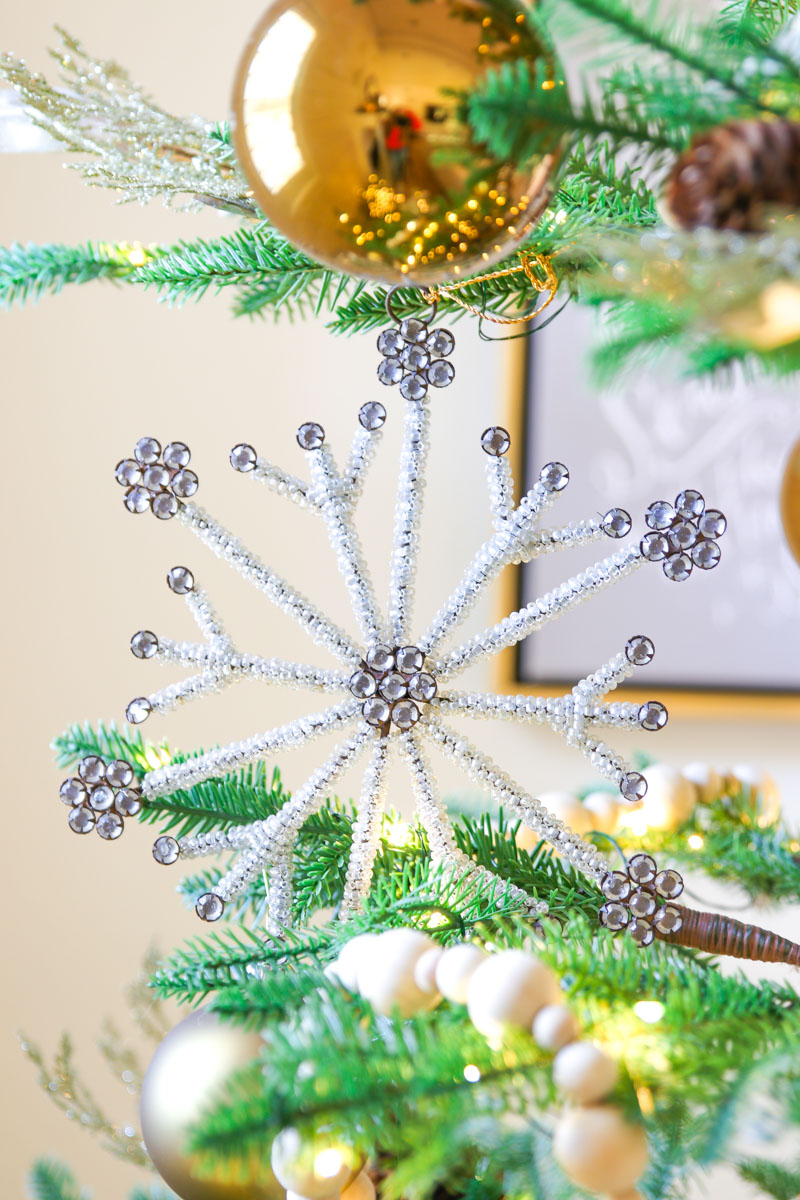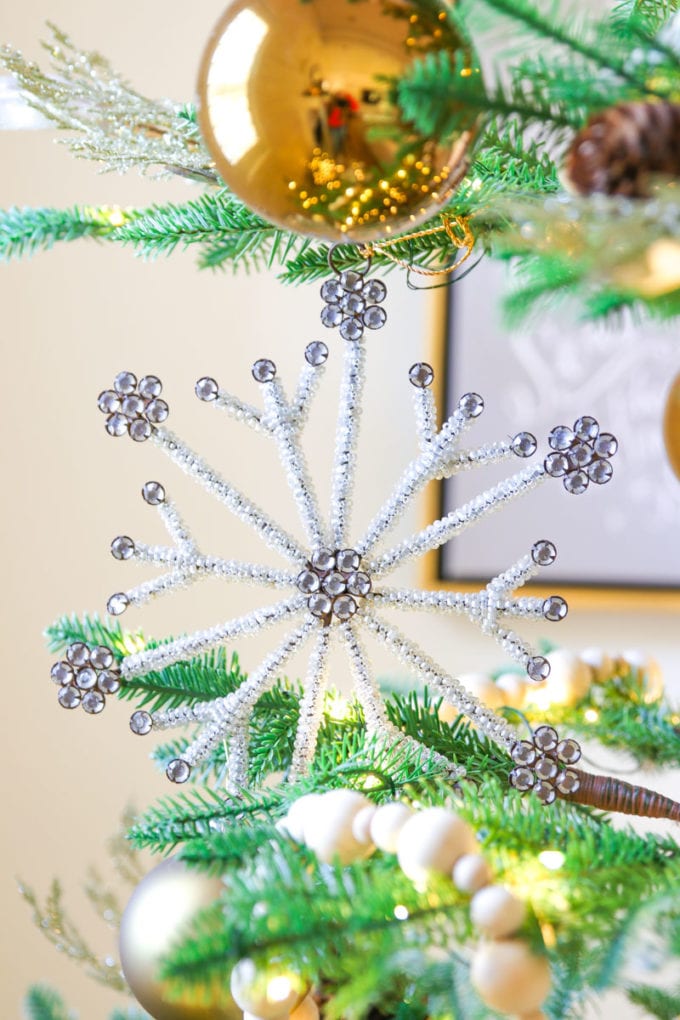 Because of the minimal look of this Alpine Balsam Fir tree, you don't need a ton of ornaments. It makes decorating that much easier. Just a couple of baubles and this tree came together pretty quickly!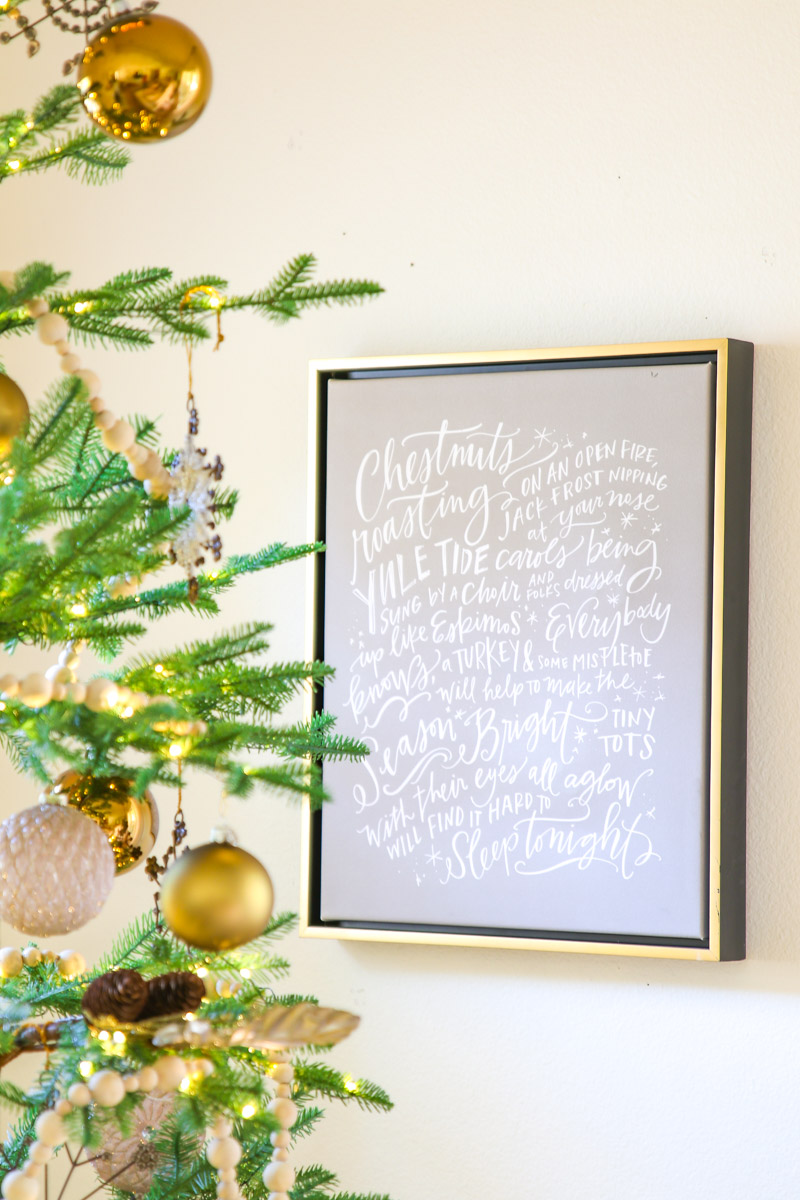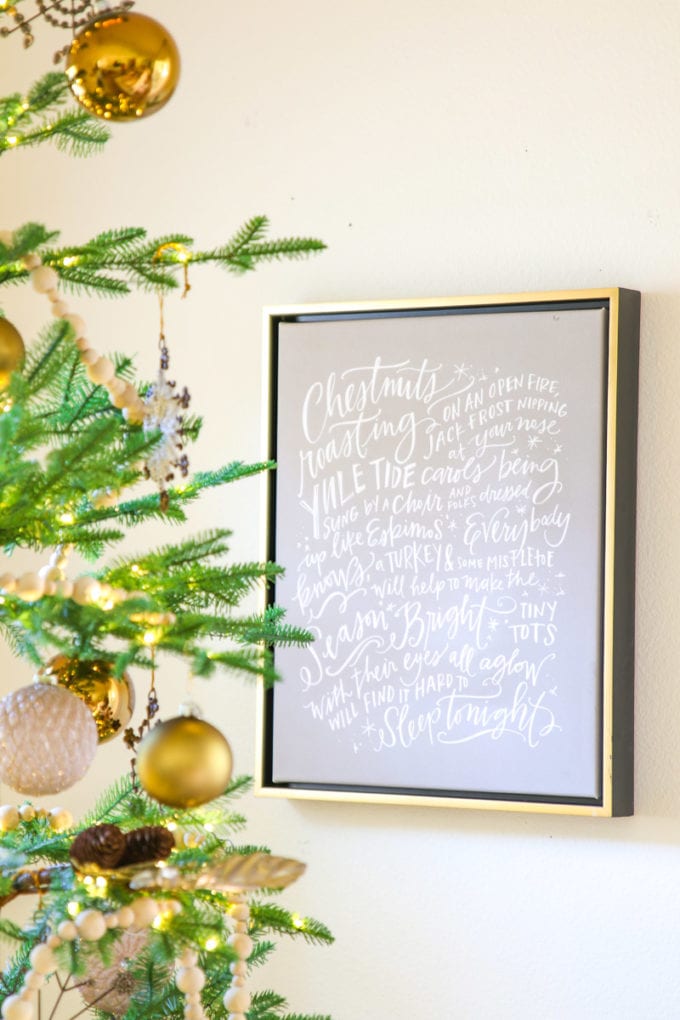 Add the fact that the tree comes pre-lit, I had the tree up and decorated in less than an hour.
Neutral Farmhouse Christmas Tree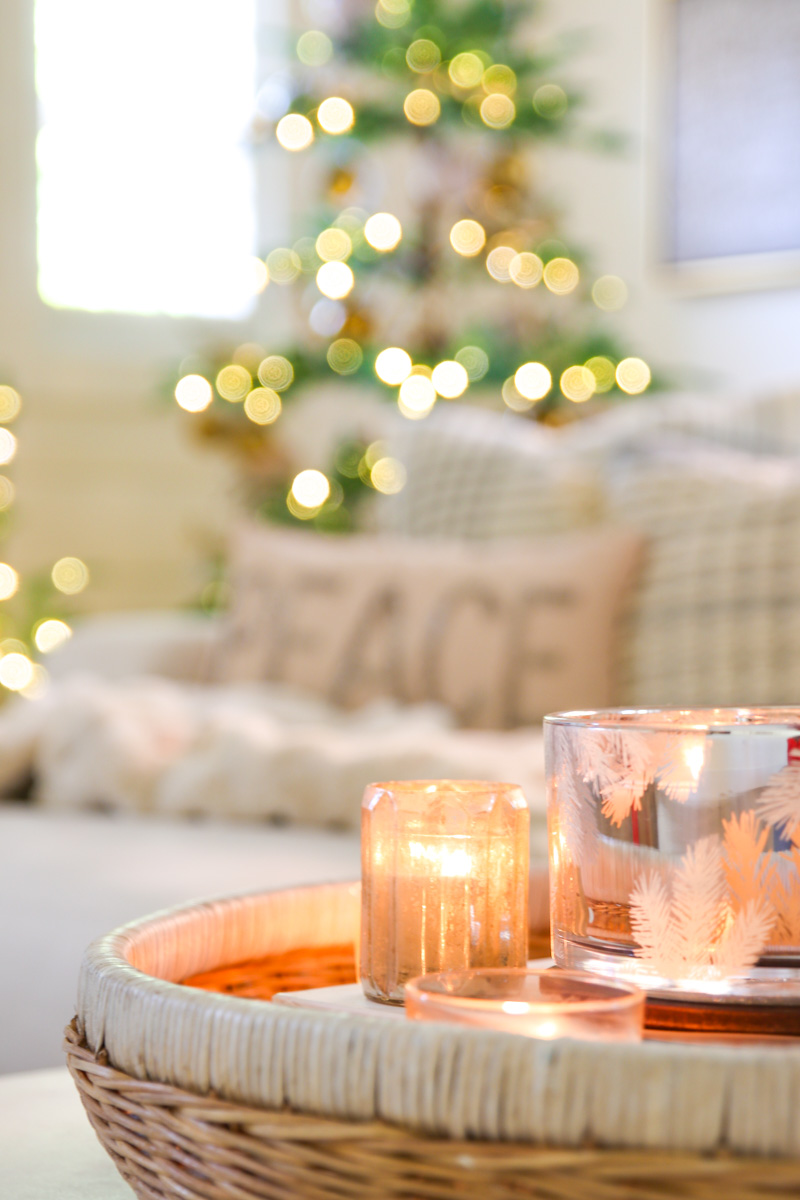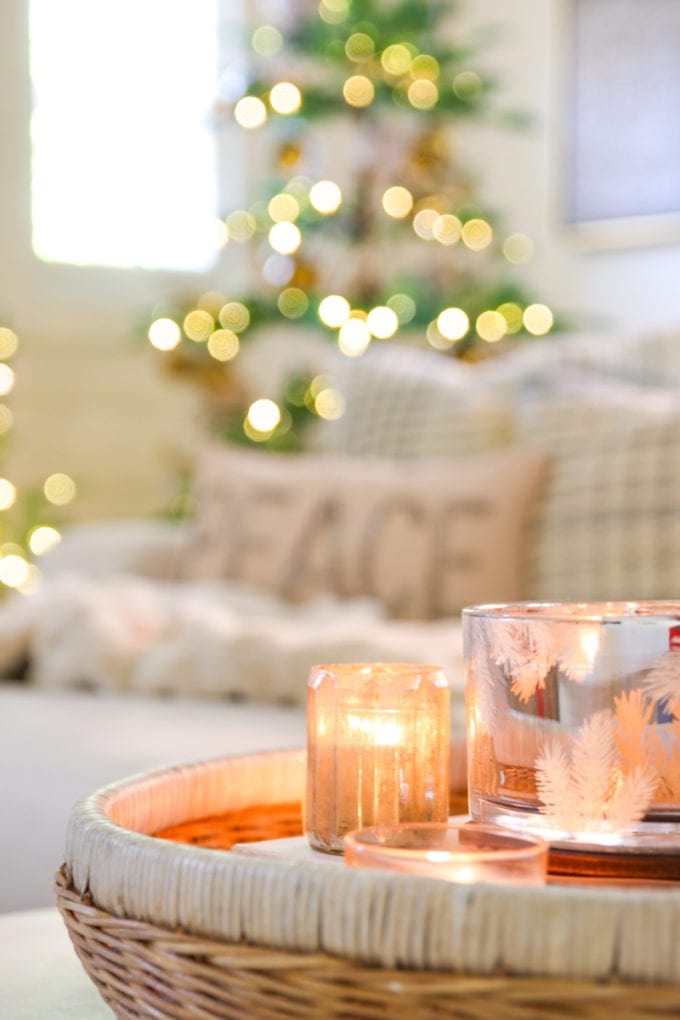 Simple and easy holiday decorating is something I try and make happen each year. Now, I'm not saying I don't go overboard every once in awhile. But, keeping things simple frees up more time so I can be making those holiday memories with my family!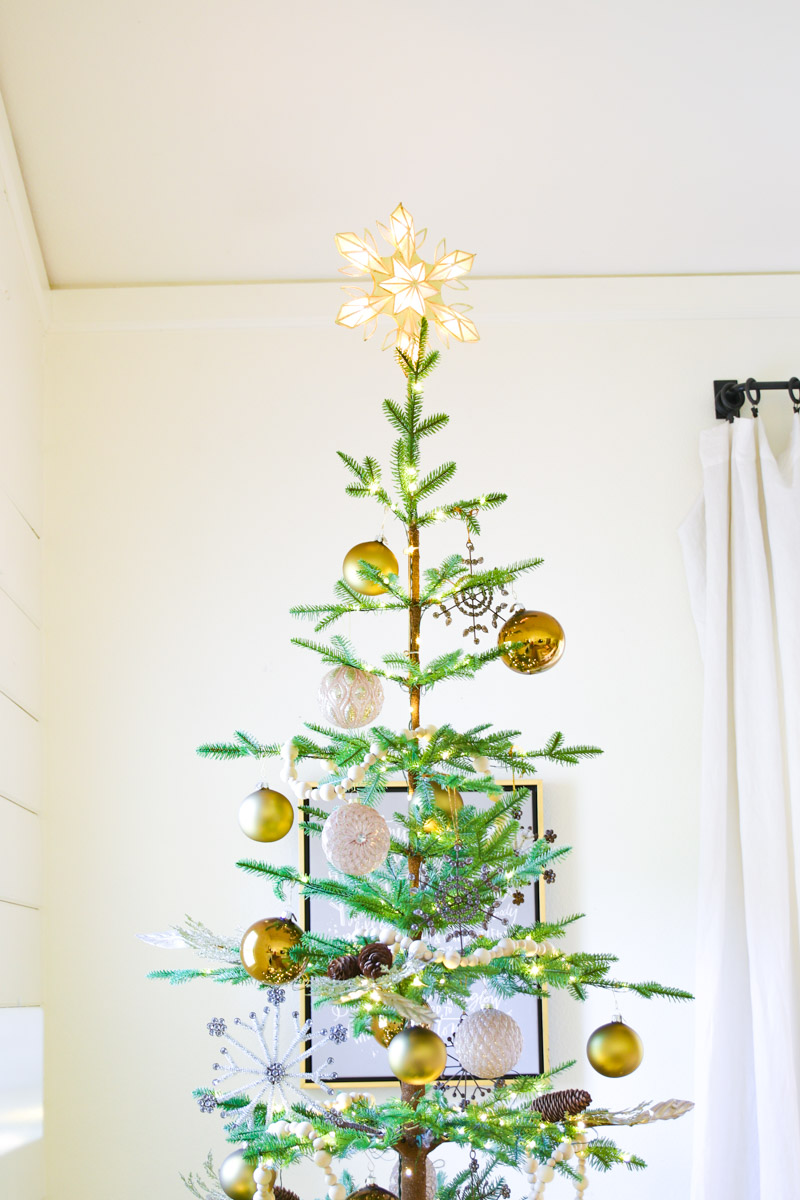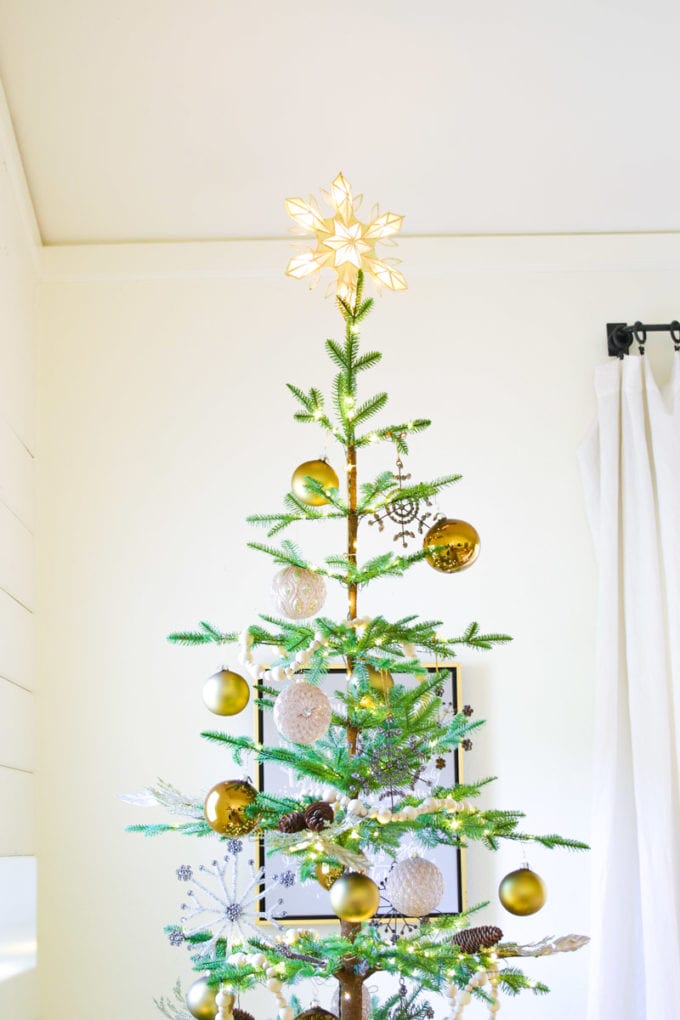 These trees from Balsam Hill make decorating easy and no-fuss. The trees are pre-fluffed so they come out of the box and are ready to be put up!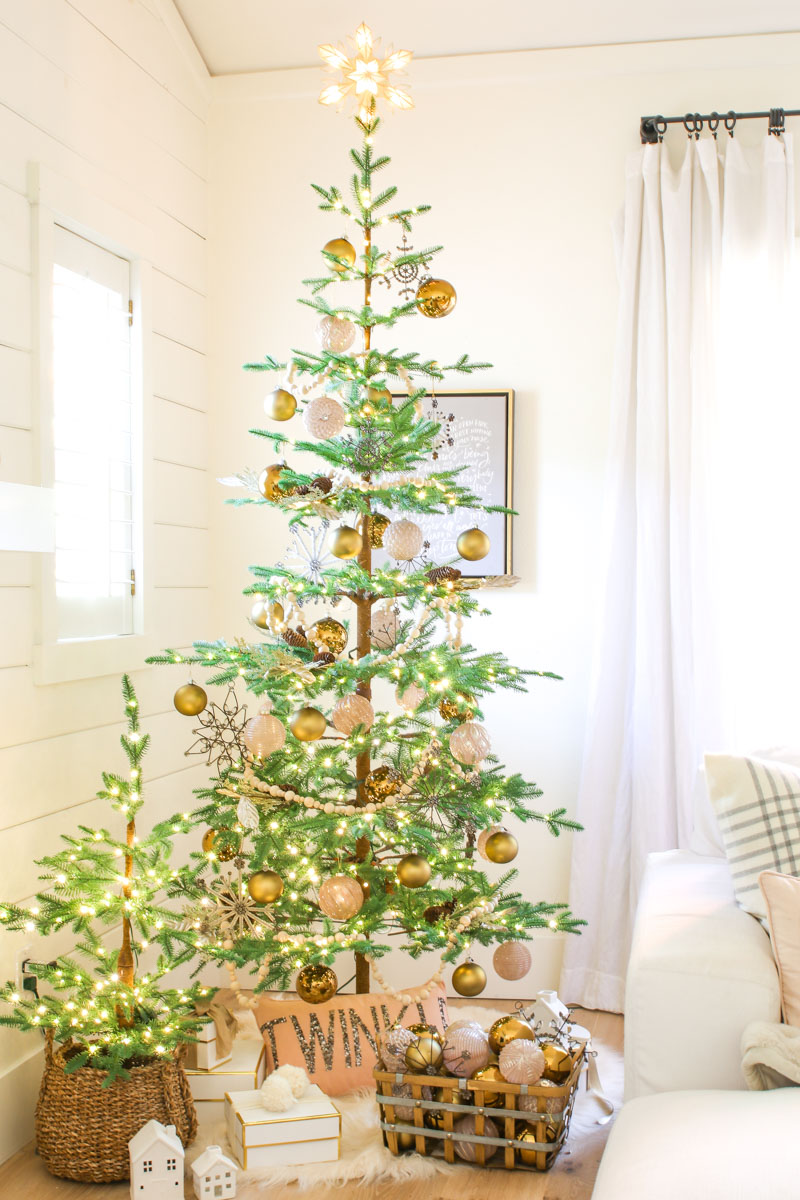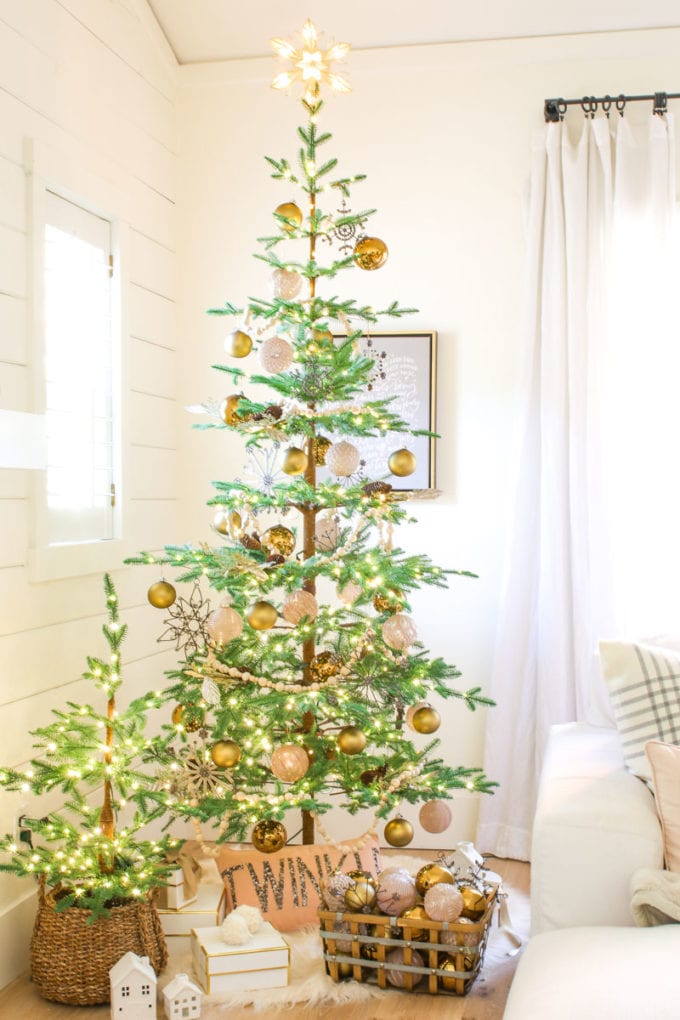 And there's no searching for the cord to attach each section. Light connections between sections are made inside the tree's trunk, so you only need to plug the tree into the wall!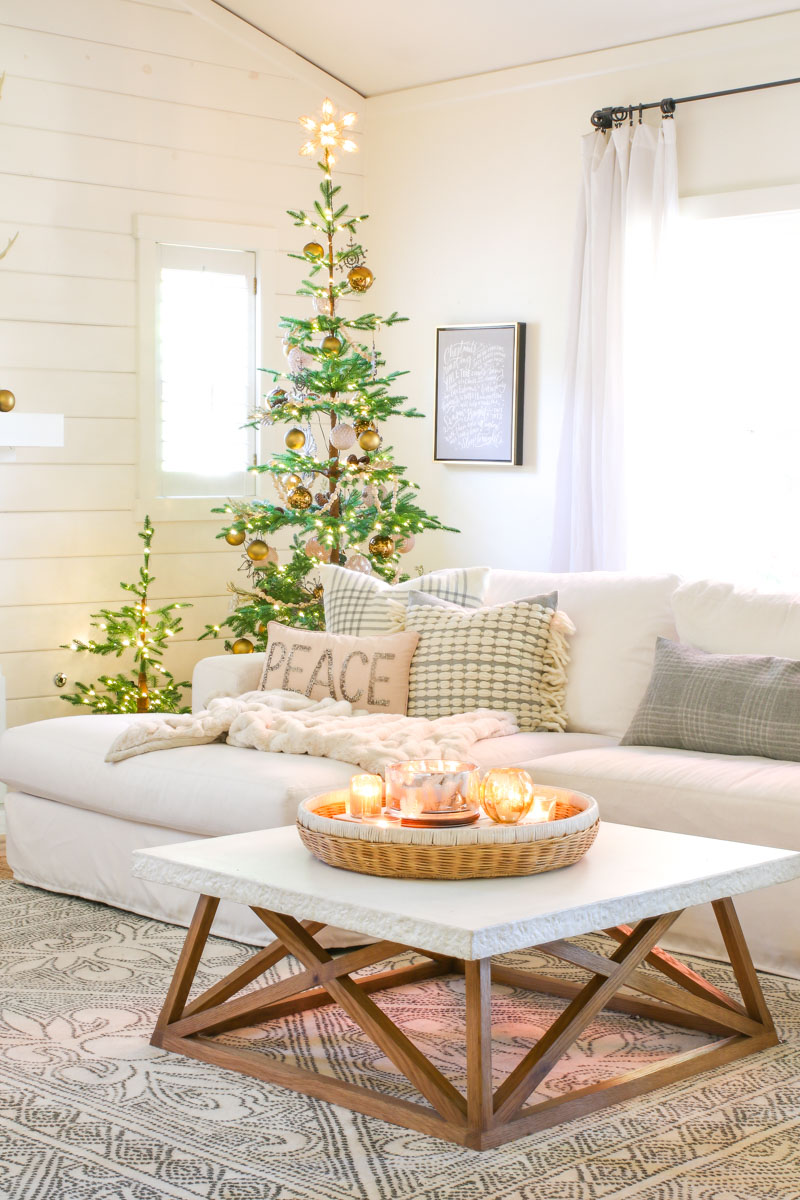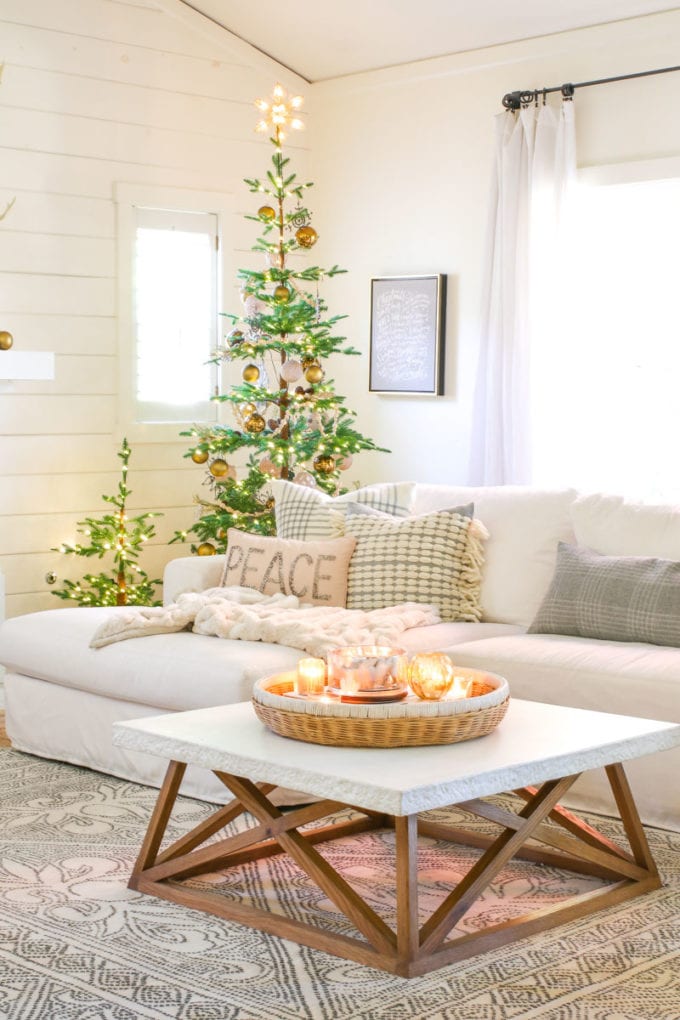 I loved creating this modern farmhouse look for my Christmas tree. I have more fun holiday decorating ideas planned, so be sure to stay tuned!
Thanks to Janine at Happy Happy Nester for putting together this tour and to Balsam Hill for providing the trees and beautiful decorations! Now, head over and see the other inspiring holiday decorating ideas from my friends!

Happy Happy Nester // 2 Ladies & A Chair // Finding Lovely // Modern Glam // Tatertots & Jello
I hope this gives you some ideas for your own holiday decorating. Enjoy this season and cherish each moment and memory making with your loved ones! xoxo