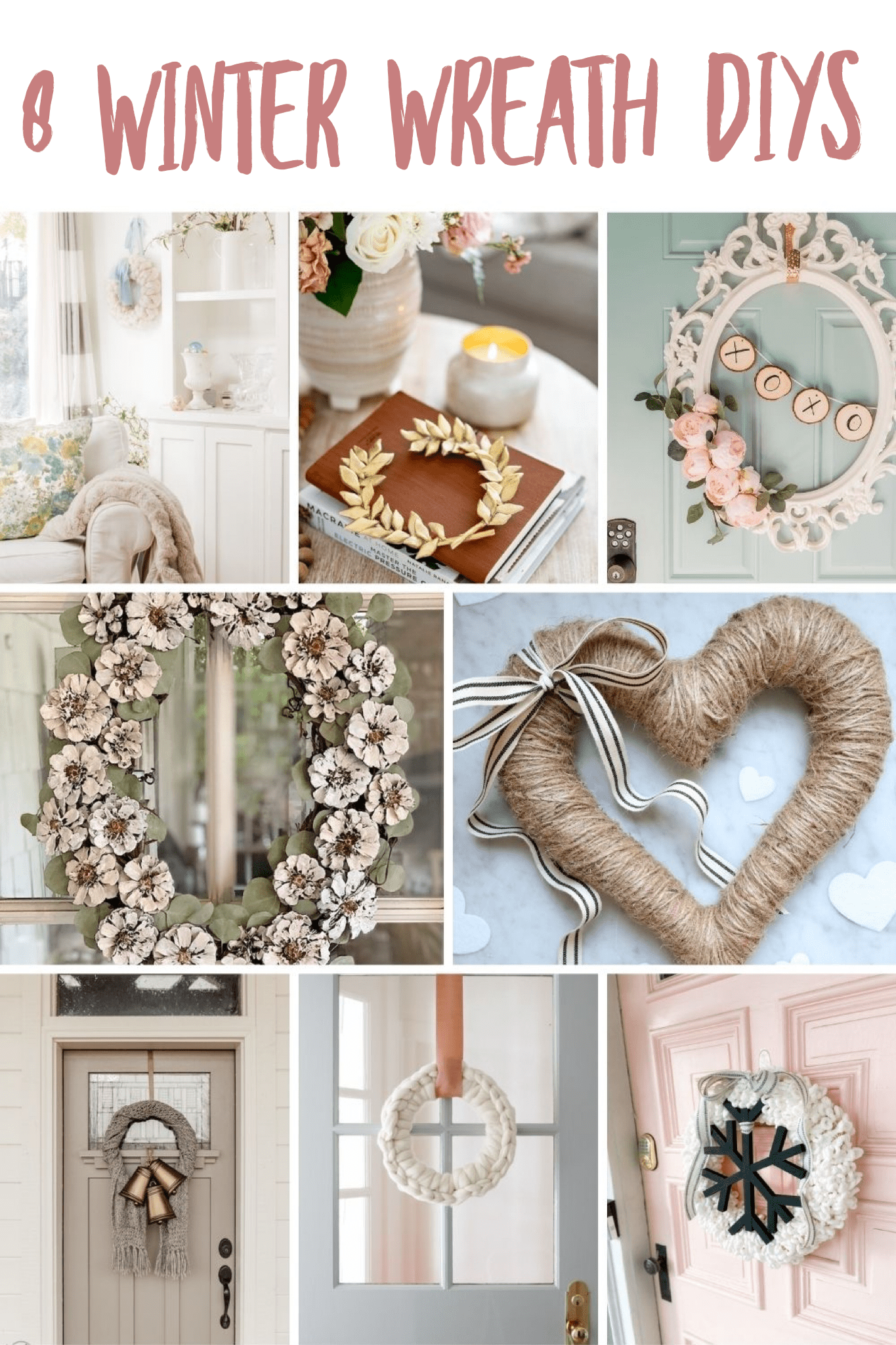 Let me show you How to Crochet a Chunky Yarn Wreath. This cozy DIY wreath will warm up your front door in the winter months!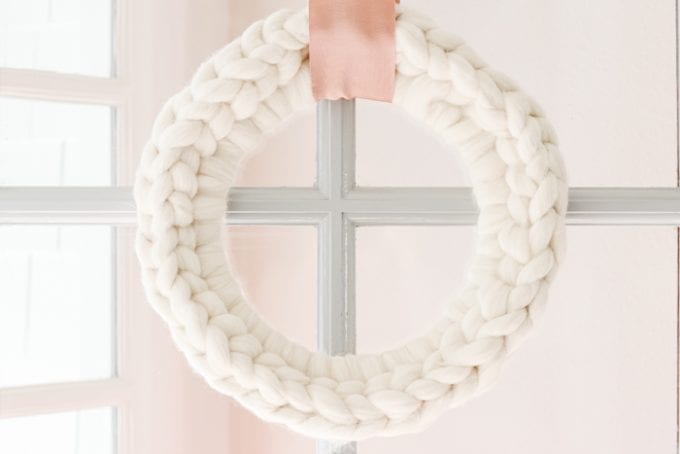 After the holiday decorations have come down, my front door can feel a bit lonely and cold. I love to add a cozy winter wreath to add some warmth.
I can't wait to show you how easy it is to make this chunky yarn wreath in under 30 minutes! And here are a few of my favorite winter wreaths that I have made in the past:
How To Crochet A Chunky Yarn Wreath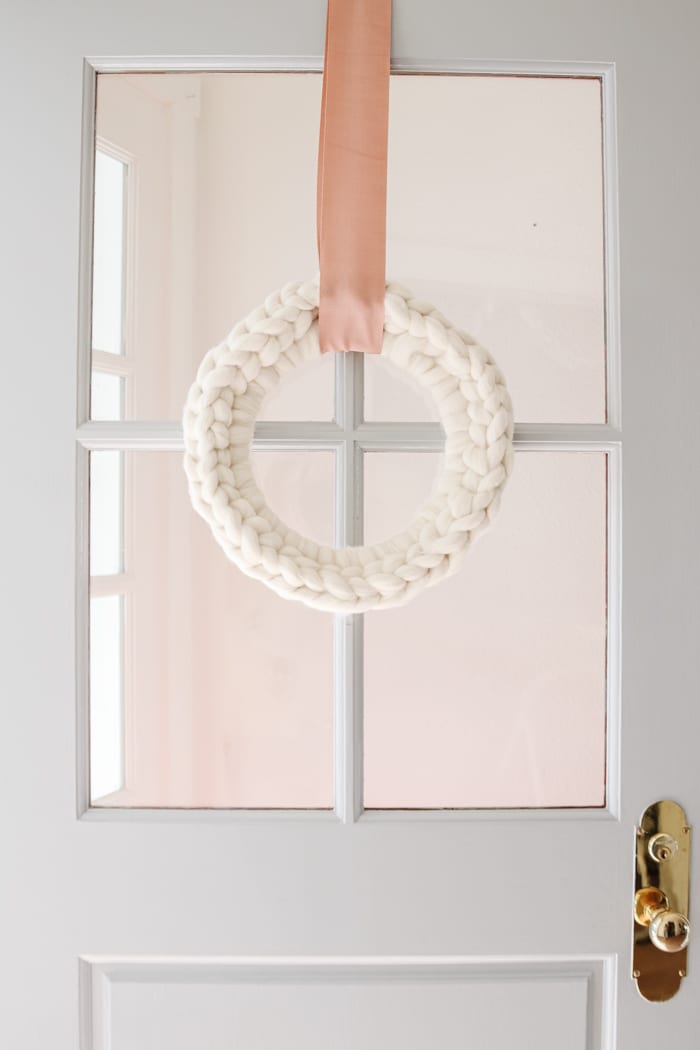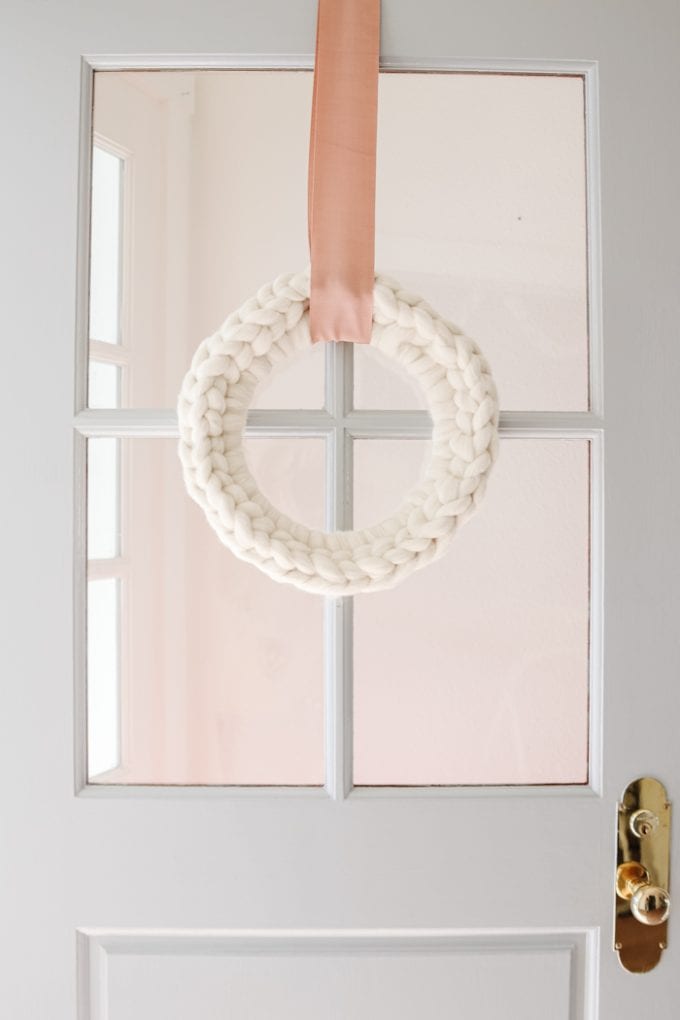 I have always loved the look of those chunky yarn wreaths and knew it would be perfect for cozying up my front porch for the winter months.
What I love most about this DIY winter wreath is that it requires just 3 supplies and can be made in under 30 minutes!
I put on my favorite show and whipped up this wreath before the credits were rolling!
Ok let's get to making this fun crochet chunky yarn wreath.
Chunky Yarn Wreath Supplies
To make your wreath you will need:

How To Crochet A Wreath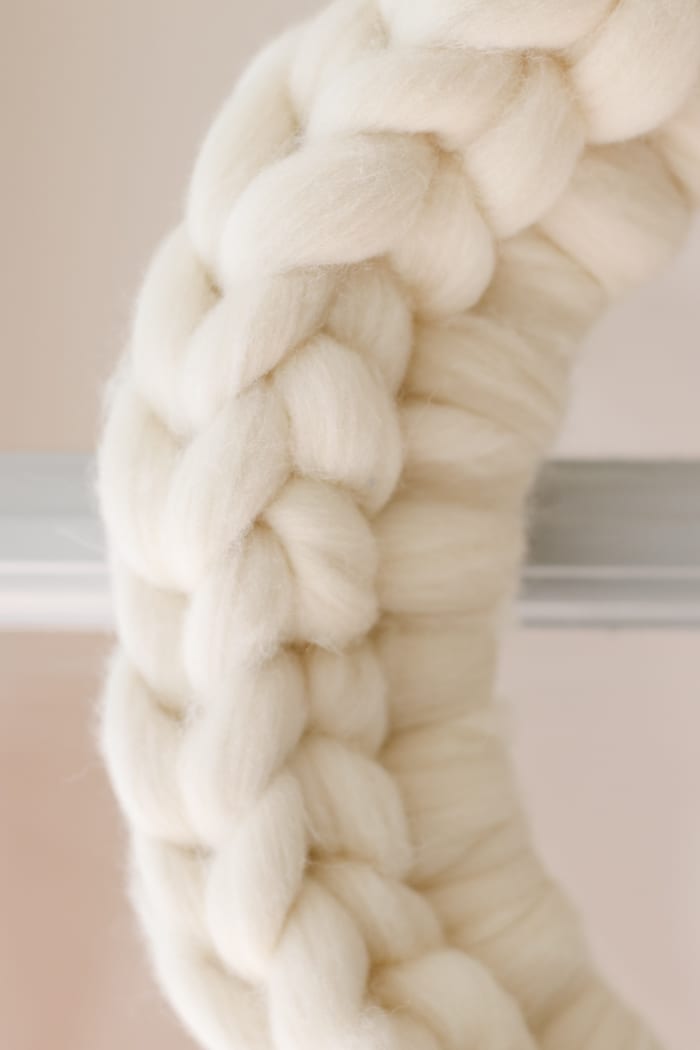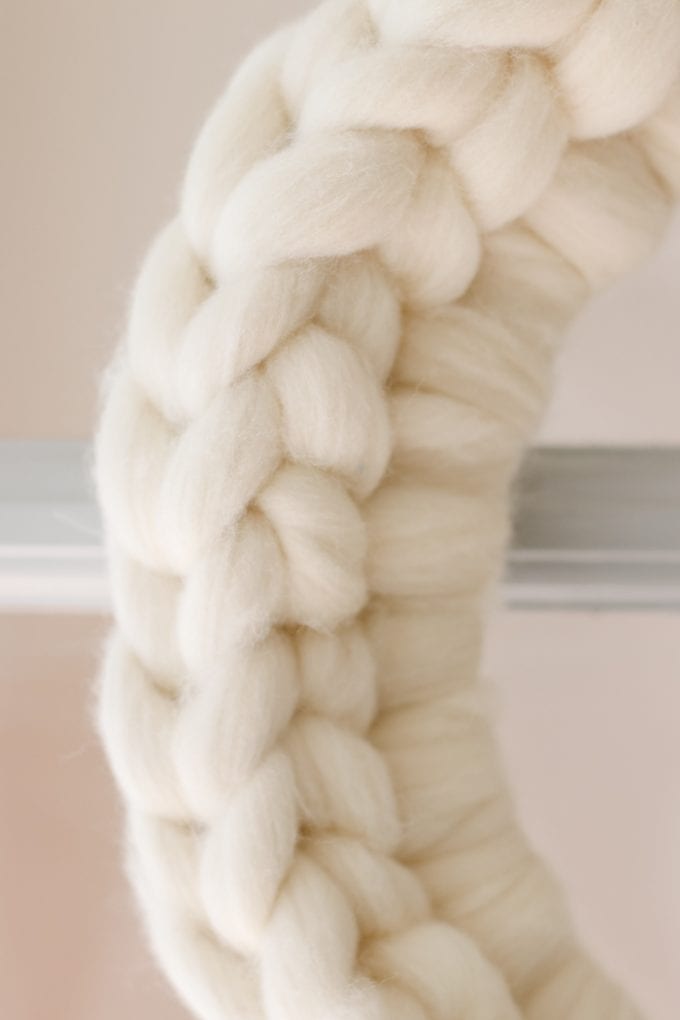 Don't let the idea of learning how to crochet deter you from attempting this easy project. Because the yarn is thick, this chunky yarn wreath is simple and the stitch itself is relatively easy given the material we are using.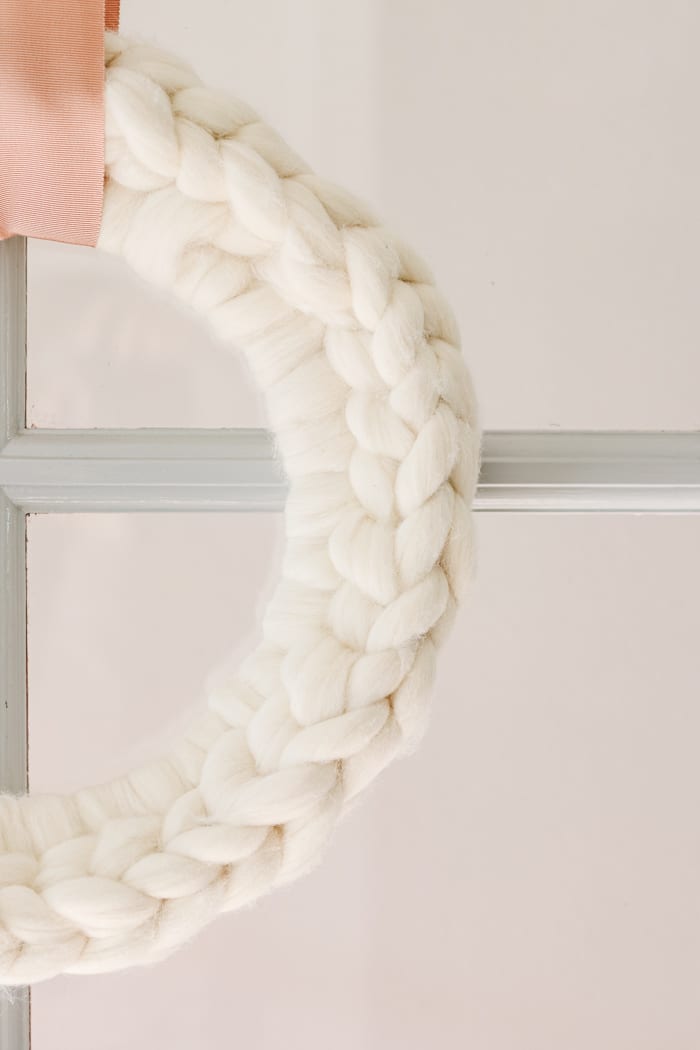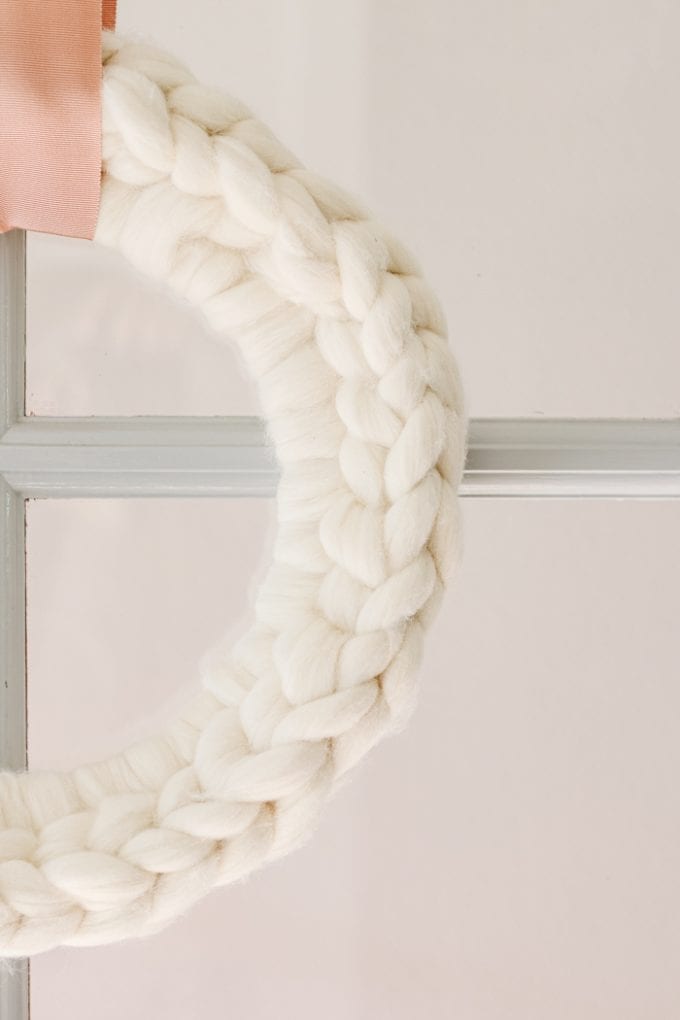 I did a quick search on youtube and found a number of great tutorials teaching you the basic double crochet stitch. I find that when learning something new like this, video is always easier to follow. You can check out my Instagram Reel to see me making my wreath too.
If you are more of a step-by-step learner, here are some written instructions to guide you in making your chunky yarn wreath.
1. Make a slip knot at the end of your yarn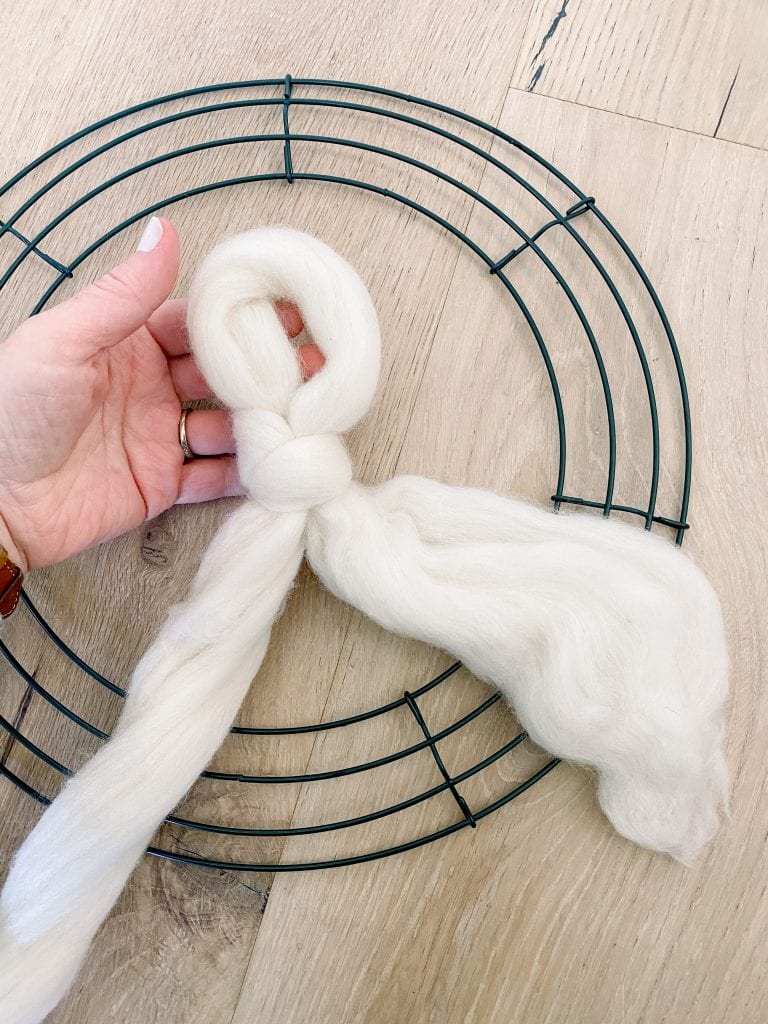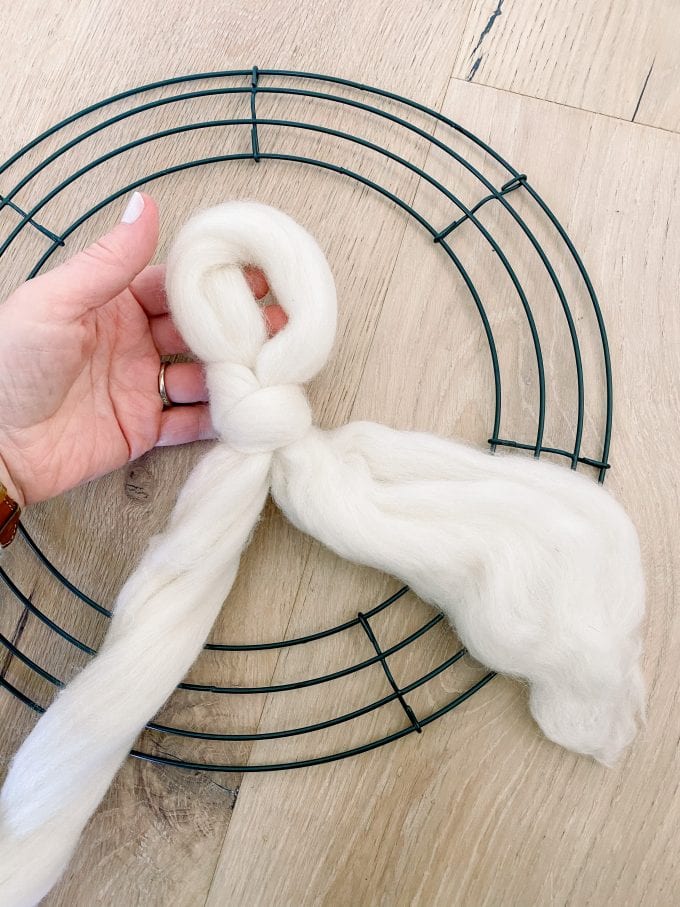 This will serve at the first stitch for your wreath. Bring the slip knot to the front of the wreath form and insert your hook into the loop.
2. Make A Double Crochet Stitch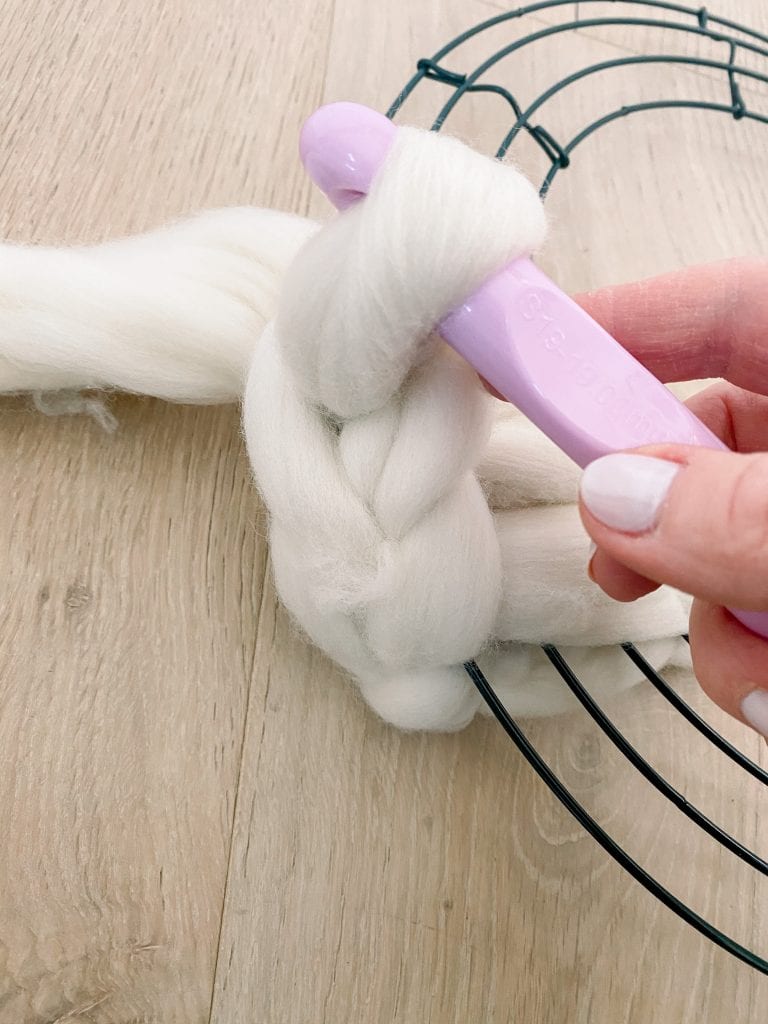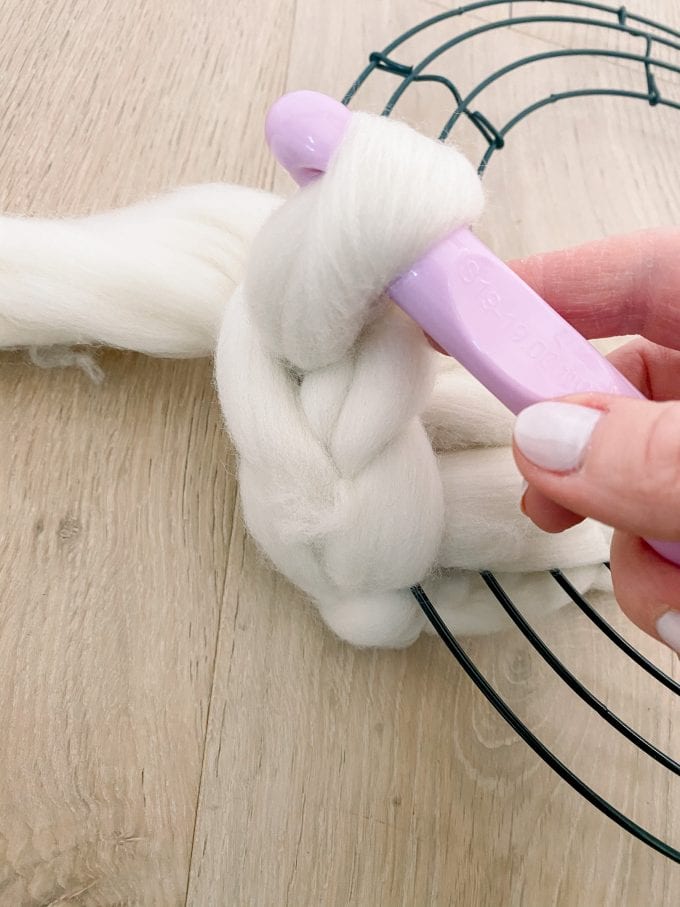 Holding the slip knot against the wreath form, make a double crochet stitch. With the yarn inserted into the slip knot, yarn over, then wrap the yarn under the wreath form and yarn over again. Then pull through the 2 loops, leaving just the last loop on the crochet hook.
3. Keep Adding Double Crochet Stitches Around The Wreath Form
Continue making double crochet stitches all the way around the wreath form until you come back to the beginning.
4. Tie off the Yarn With a Knot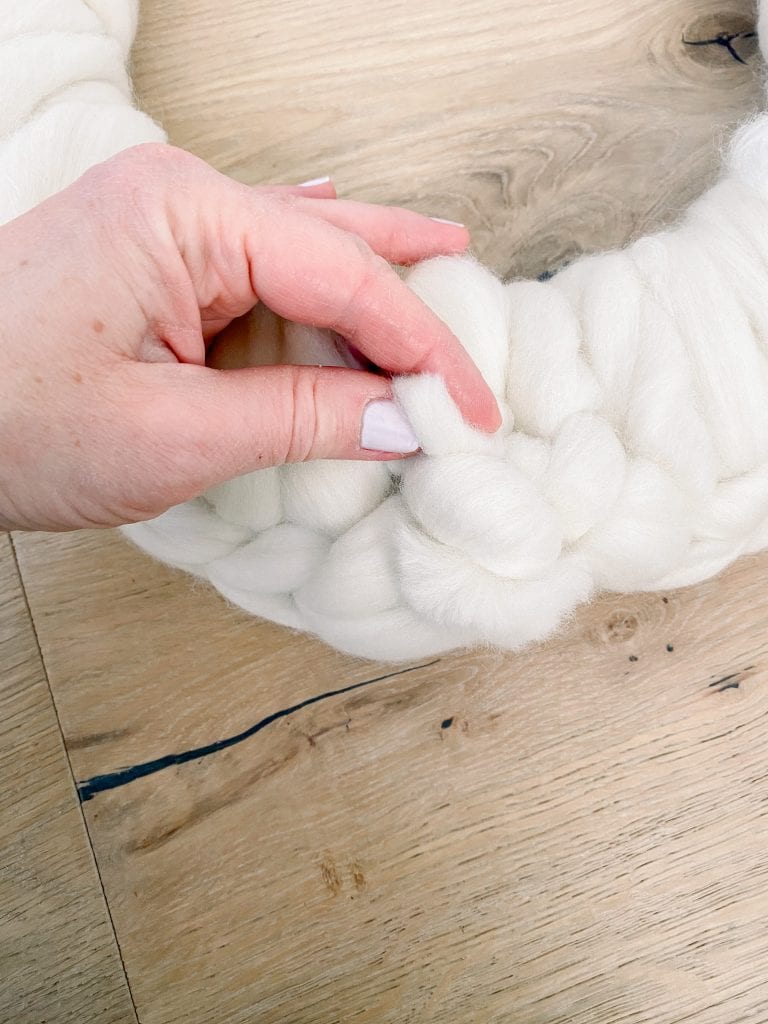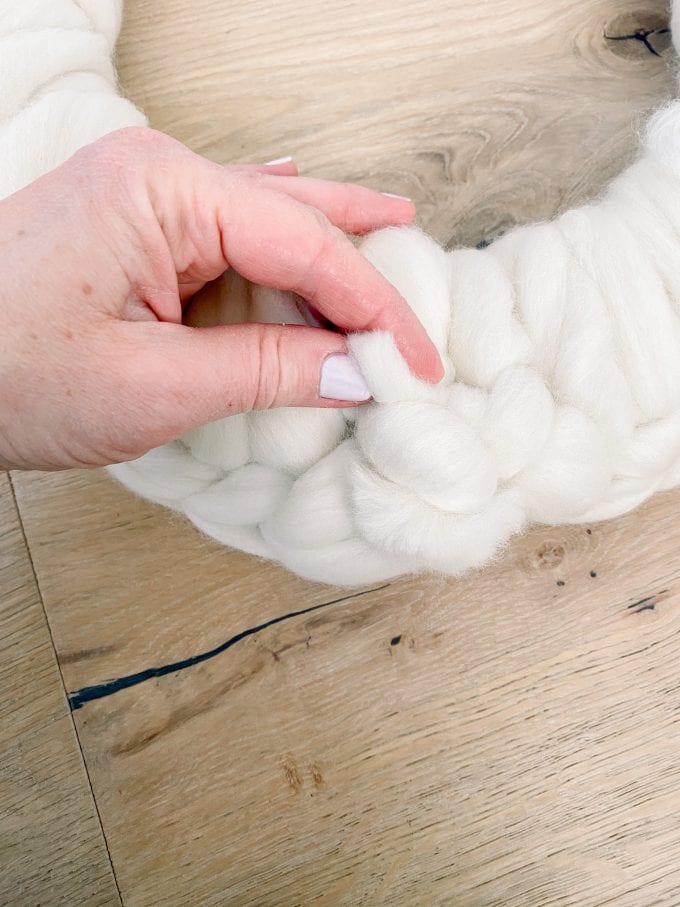 Once you have finished the double crochet stitch around the entire wreath form, pull the yarn through the last stitch. Then tie it with the end of the first piece of yarn (your slip knot). Now you can weave in the ends or use them to hang your chunky yarn wreath.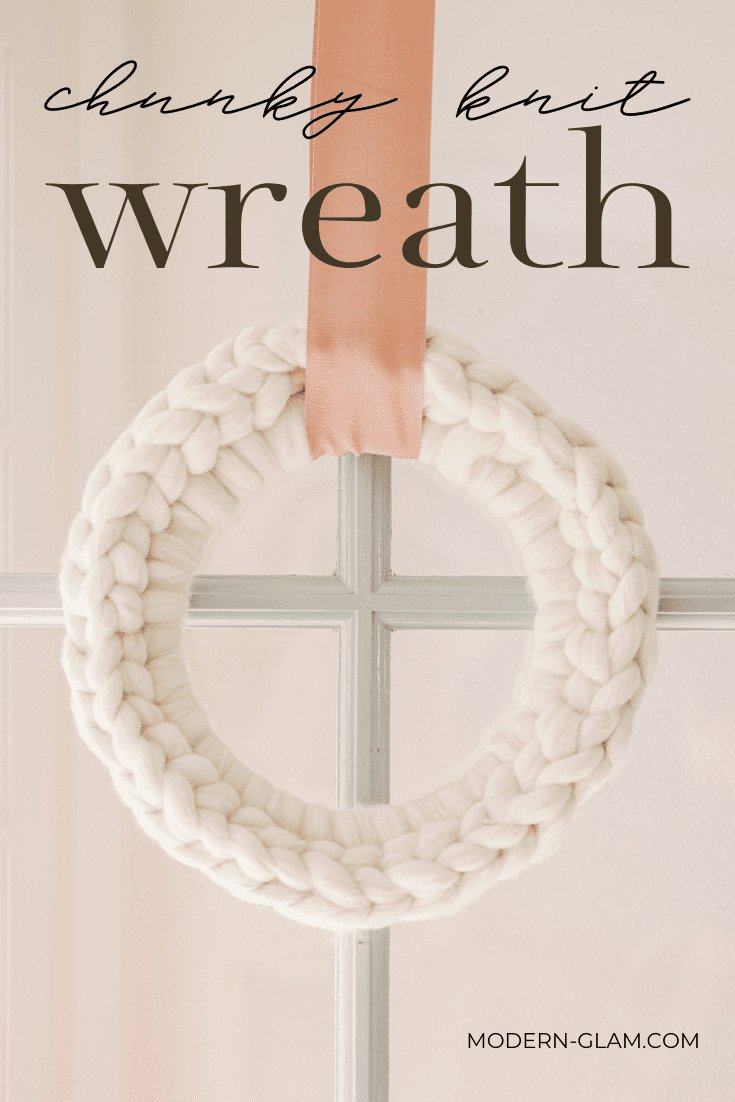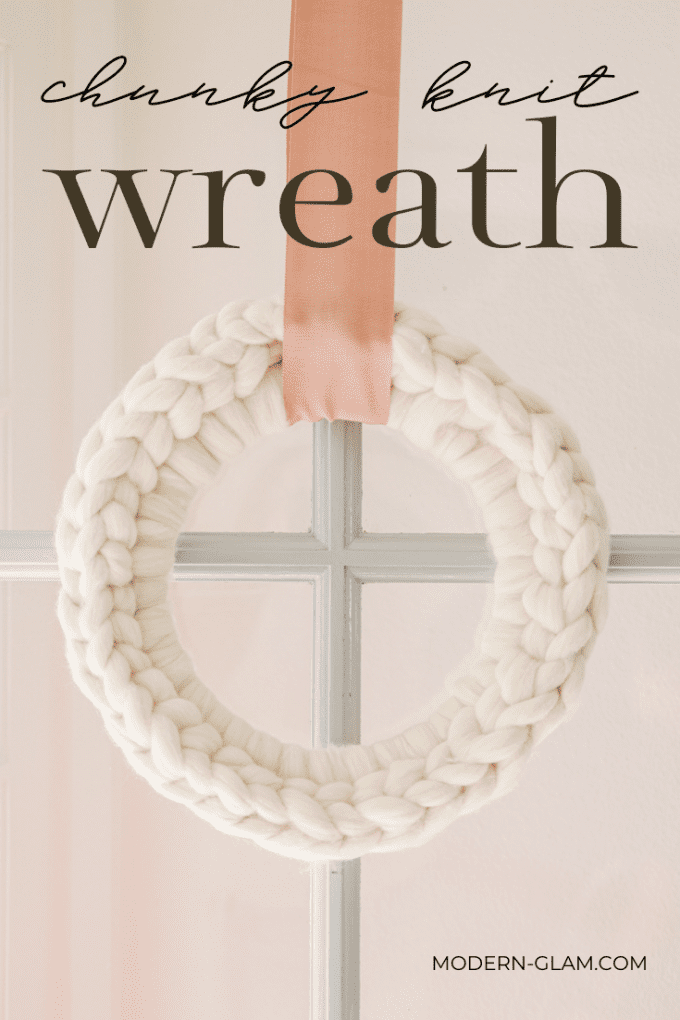 Now, how easy is that?! I hung my wreath on our front door using some wide (4″) grosgrain ribbon from my favorite ribbon shop on Etsy. I love how simple this chunky knit wreath is, don't you?
You could use this wreath inside or out to add some cozy charm to your space for the winter months. The beautiful knitted texture is reminiscent of a chunky sweater and looks warm and cozy.
A Few Tips For Making This Chunky Yarn Wreath
Here are a few tips for making your own chunky knit wreath.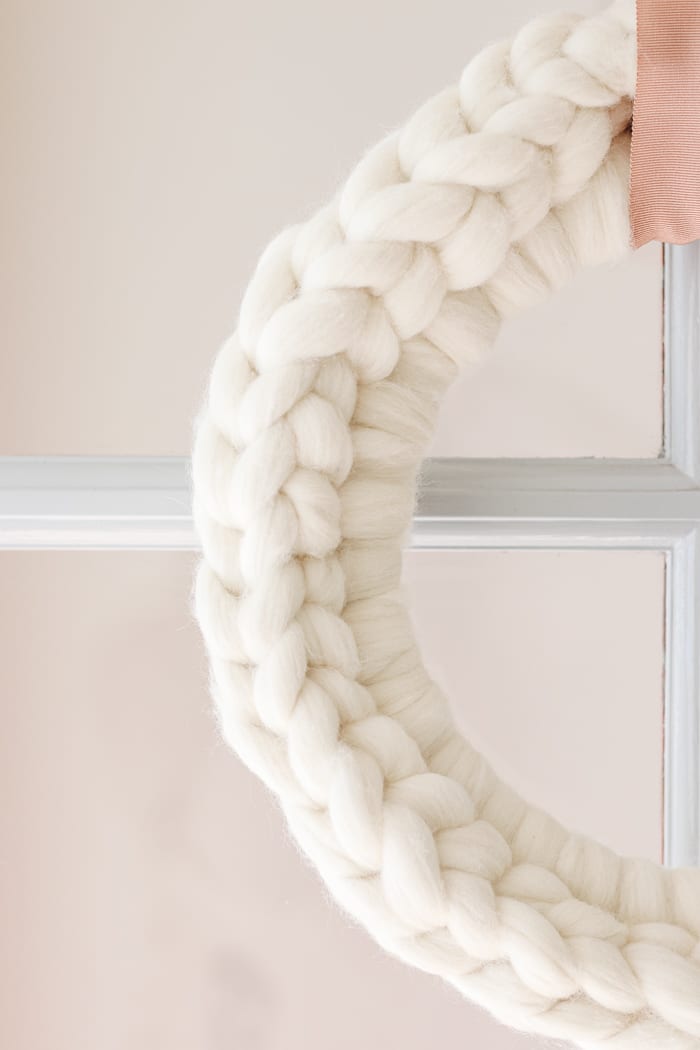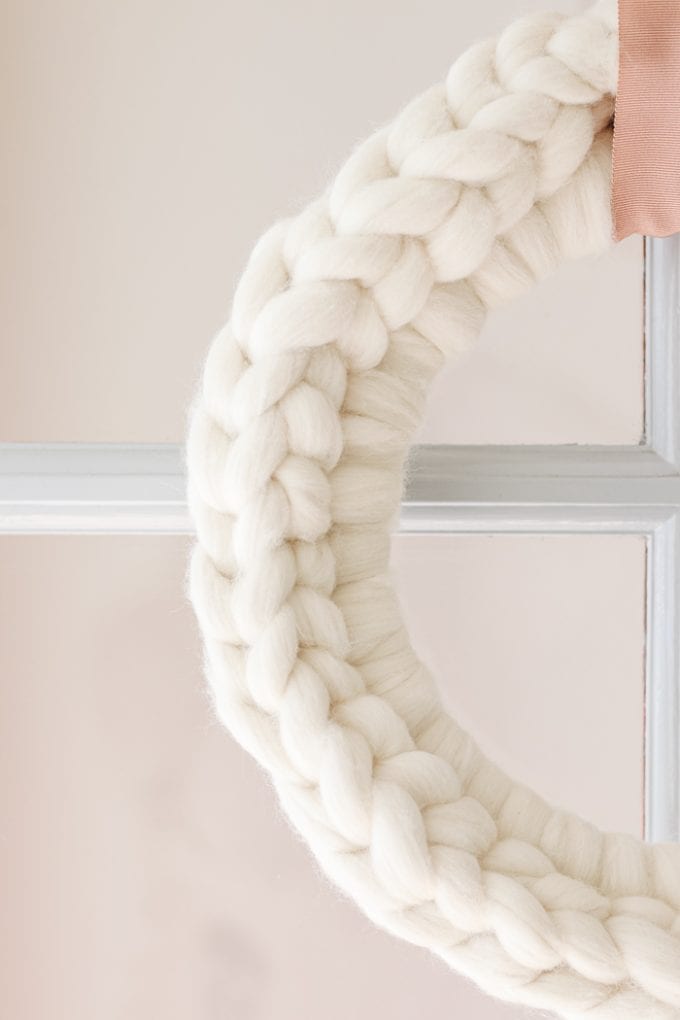 Use consistent pressure for the stitches. For an even and symmetrical wreath, you will want to make sure your stitches are the same tightness. For a fluffy looking wreath, use loose stitches. And for a more put together looking wreath, use tighter stitches.
If you drop a stitch, go back and fix it. I had to rework my wreath 3 times because I missed a stitch and didn't think it would matter. But it did! Because the yarn is so thick, you see each and every stitch. So, if you get it wrong, go back and fix it before moving on.
When you are done with all your crochet stitches all the way around the wreath, fluff it up. Don't be afraid to fluff and move the yarn around a bit to get the wreath to look symmetrical and the way you want it to. Just like a sweater, some twisting and pulling may be necessary.
Have fun and let me know if you make a chunky yarn wreath too! Tag me on Instagram or leave a comment! I love seeing your projects!
8 Winter DIY Wreaths
Now, be sure to check out all these incredibly unique and beautiful winter wreath ideas! My friends are so talented. Click the links below the images to visit their posts to see the tutorial and more images!

Neutral Valentines Day Decor // My Sweet Savannah
Super Simple Winter Wreath Ideas // Twelve On Main
How to Make a Pine Cone Wreath // My 100 Year Old Home
Brass Kotinos Resting Wreath // Craftberry Bush

Chunky Yarn Wreath // Modern Glam
Romantic Valentine's Day Wreath // The DIY Mommy
Make A Chunky Knit Wreath // The Happy Happy Nester
Winter Wood and Yarn Snowflake Wreath // Tatertots & Jello