This recipe for French Baguettes is quick and simple. Have beautiful, crusty fresh bread in less than an hour!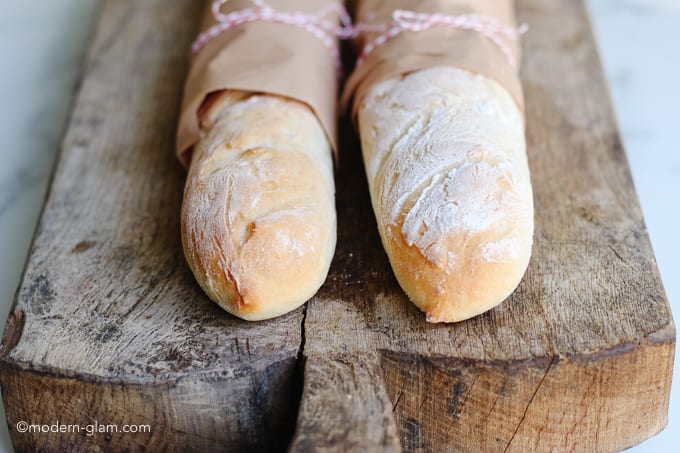 French Baguette Recipe
Have you ever tried making French Baguettes? To be honest, I am not a bread maker. But, there has always been something intriguing about the french baguette and I decided to try my hand at making them.
This recipe is easy and I promise you can make it! It requires no special skills, and little time.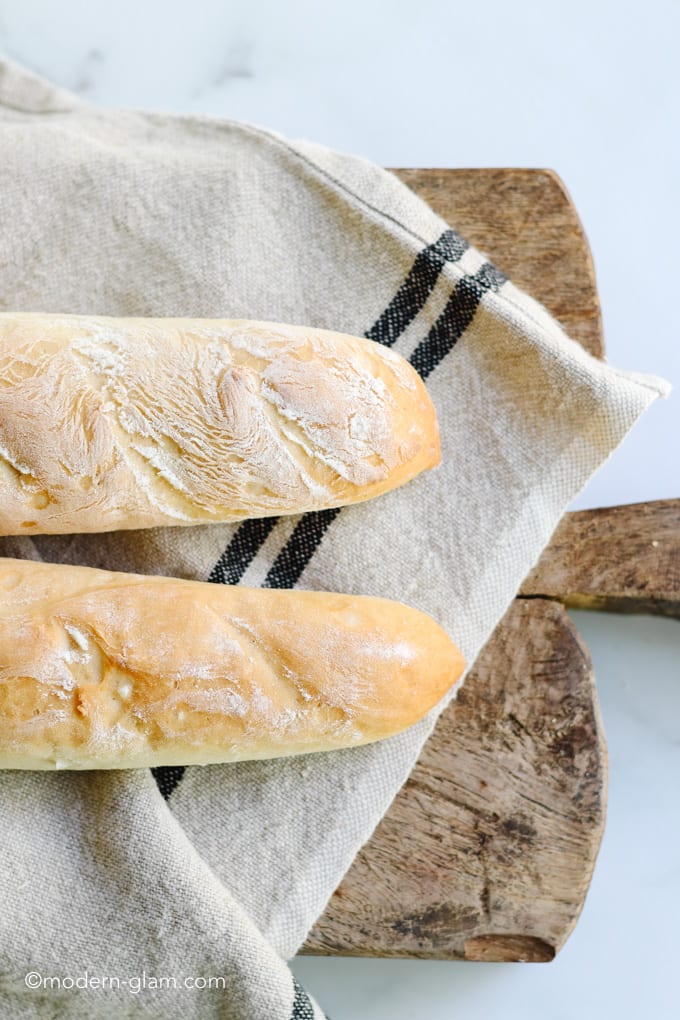 When I was researching french baguette recipes, there were so many options out there that ranged from 3 days to a few hours. This version came from The Food Nanny, but I found her version produced very large, dense baguettes, so I adjusted it a bit.
This recipe makes four of the perfect sized mini baguettes. They aren't tiny, but perfect for sharing a meal. And, in creating smaller baguettes, the bread isn't as dense.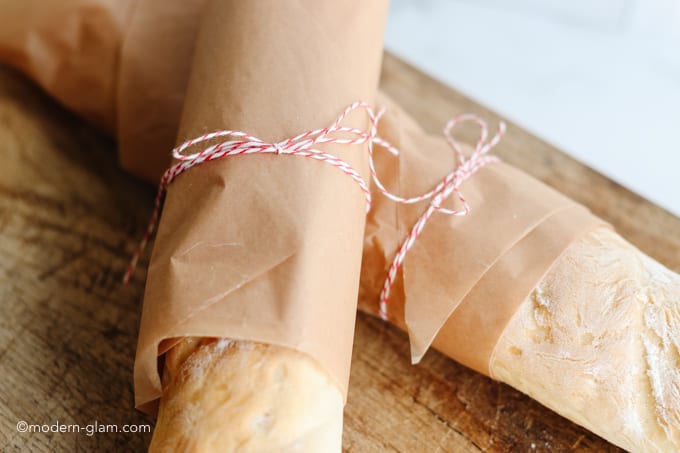 I love wrapping these up in parchment paper and tying with bakers twine to give to friends or neighbors.
Make these French Baguettes with some yummy soup. I love my Vegan Coconut Curry Lentil Soup and I am currently obsessed with this Chicken and Wild Rice Soup from Gimme Some Oven. Is there anything better than crunchy bread and soup?! I think not.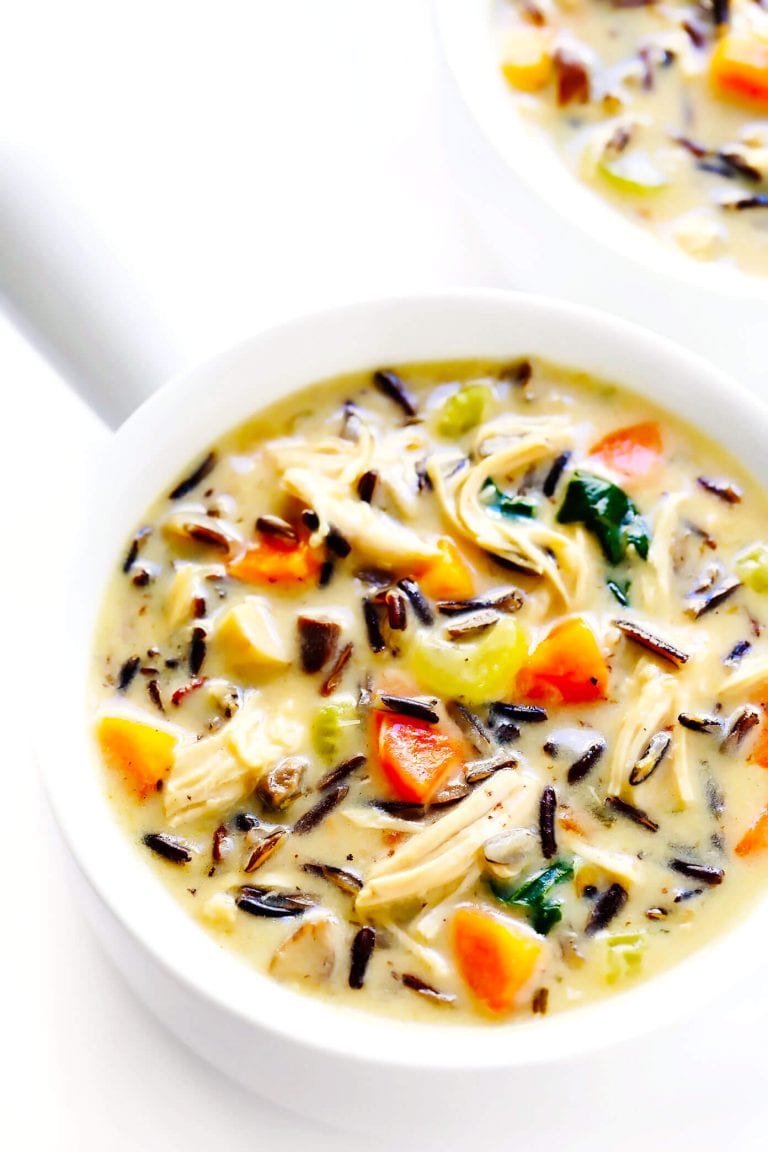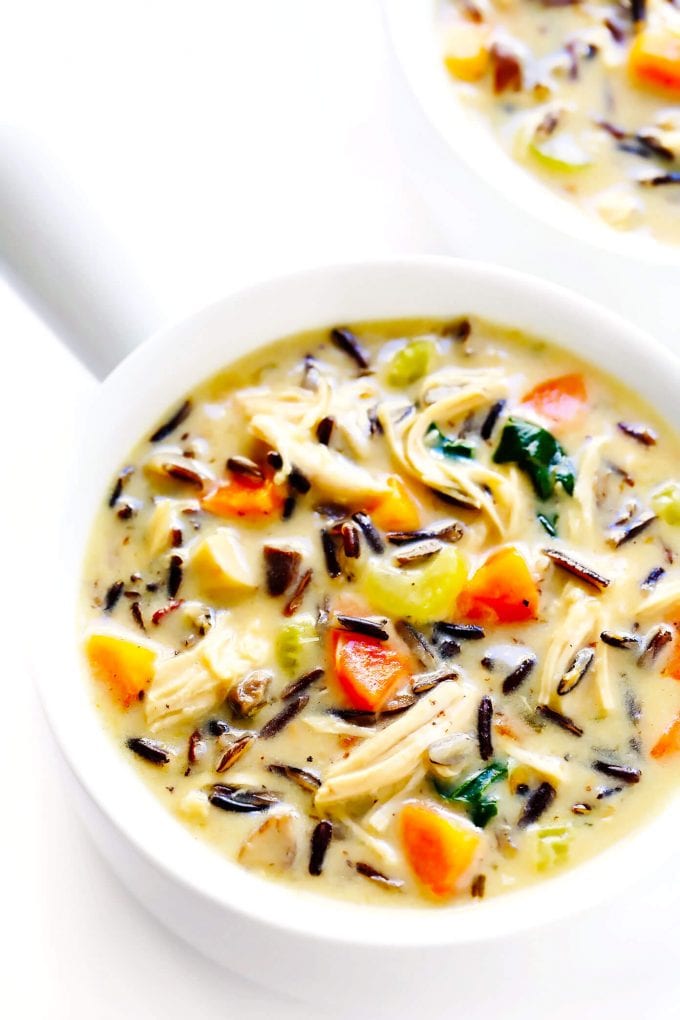 Ok, let's get started making this French Baguette Recipe.
Activating The Yeast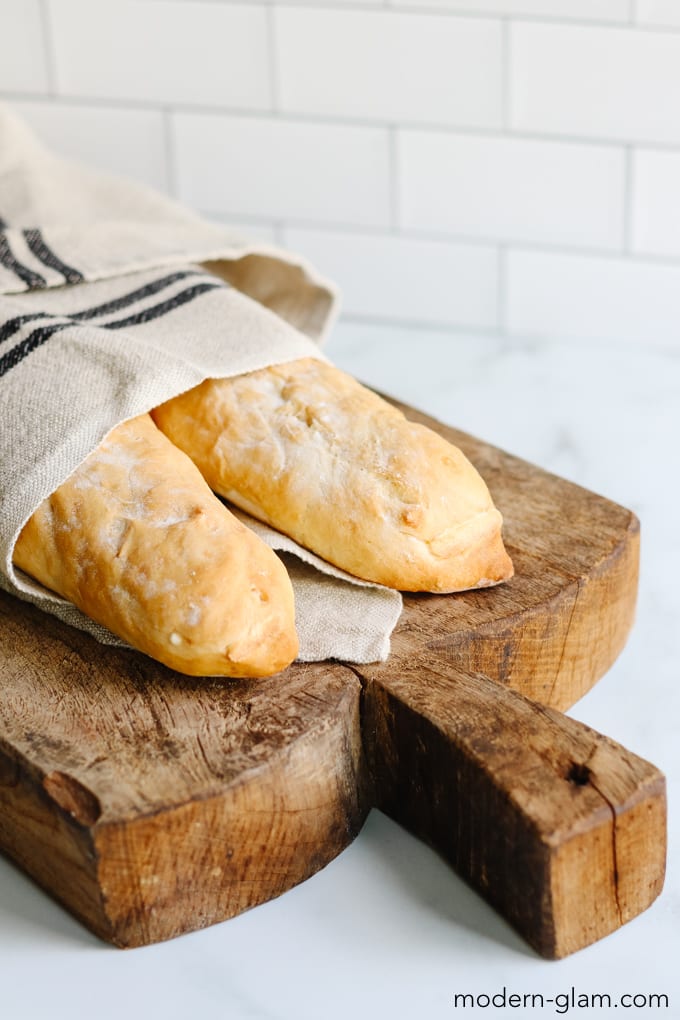 The first step in making this French Baguette recipe is one of the most important ones. We have to activate the yeast in order to create the dough.
Place 2 packets of yeast in a bowl. Add 1 tsp of sugar and 1/2 cup of warm (100-115 degrees F) water. Stir just to combine and then cover with plastic wrap or a damp kitchen towel.
After 5 minutes you should have a bowl of fluffy, foamy yeast. If you don't, start over, because the yeast has not activated and your bread will come out too dense.
Mixing The Dough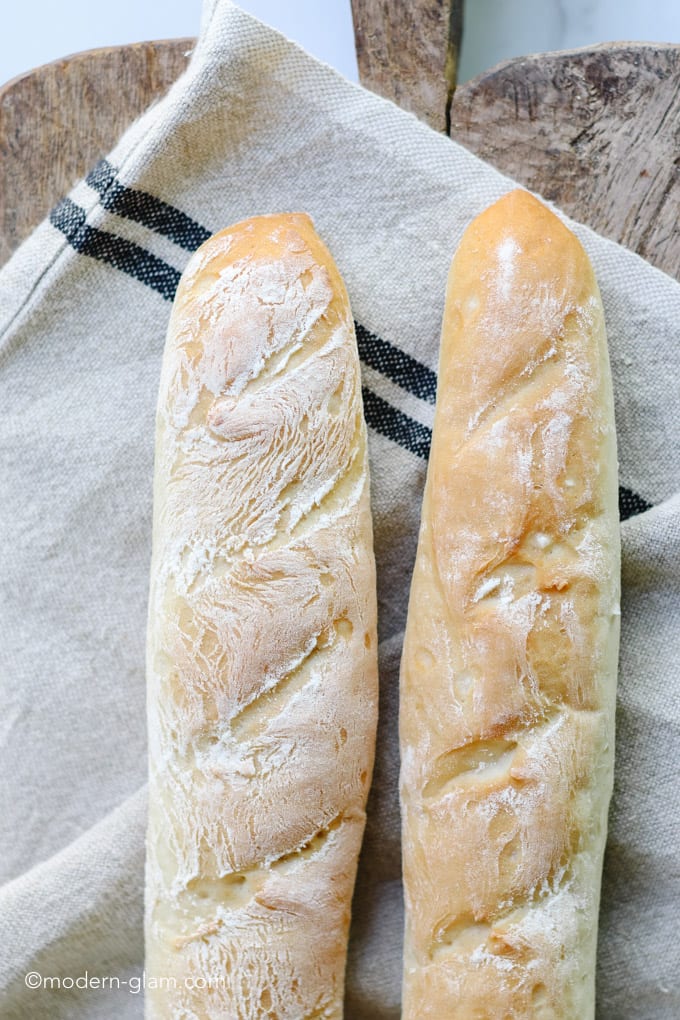 Add your flour, salt and remaining sugar to the bowl of a mixed fitted with a dough hook. Add in the activated yeast mixture and gradually add the remaining cup of water. You may need more or less water than in the recipe. You want the dough to be somewhat wet so that you can add more flour when kneading. Mix until dough becomes shaggy.
Then turn the dough out onto a floured surface and knead until it is elastic and smooth. For me, this took maybe 5-7 minutes.
Divide the dough into four equal sections. This will make 4 mini french baguettes. Or if you would like more substantial baguettes, cut into two sections.
Roll the dough out with your hands into the shape of a baguette. Place on a baguette pan.
Creating Designs on Your Bread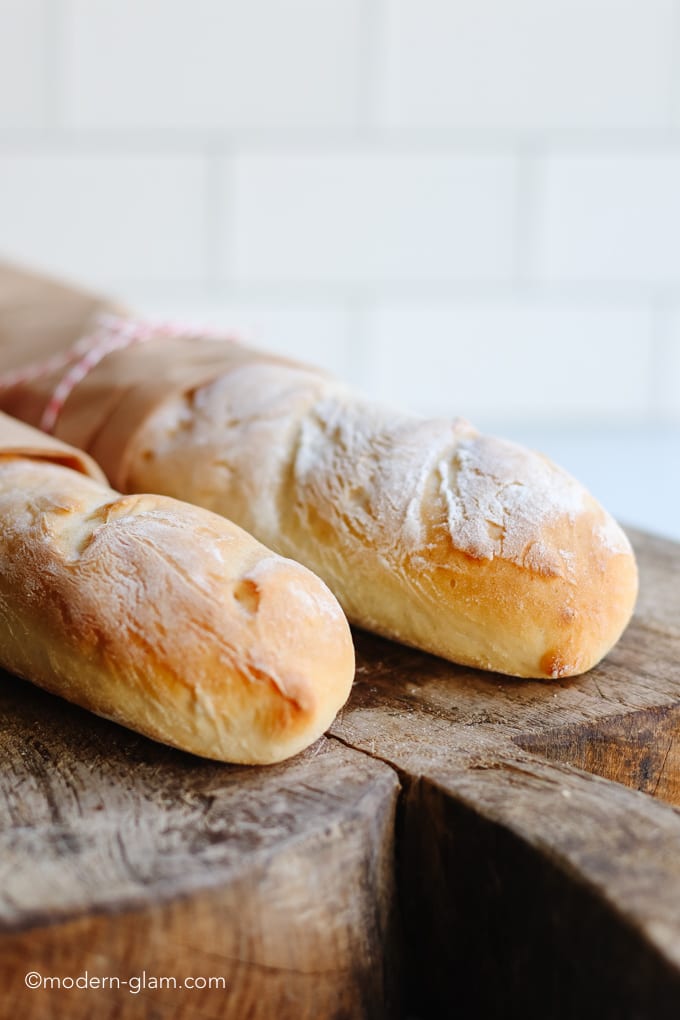 One of the arts of bread making is creating a pretty design for the top crust. I'm sure you've seen all of the beautiful breads baked during the past year on Instagram.
By scoring the top of the bread, you allow the dough to expand without cracking and also create a pretty crust at the same time!
Rather than leave the top plain with just a score down the center, try something different. Create diagonal ridges by slashing the bread at a deep angles. Or try this search: French Baguette Crust Designs and click on images. There are so many great ideas out for these creating beautiful baguettes!
I am still perfecting my technique 😉
Let The Dough Rise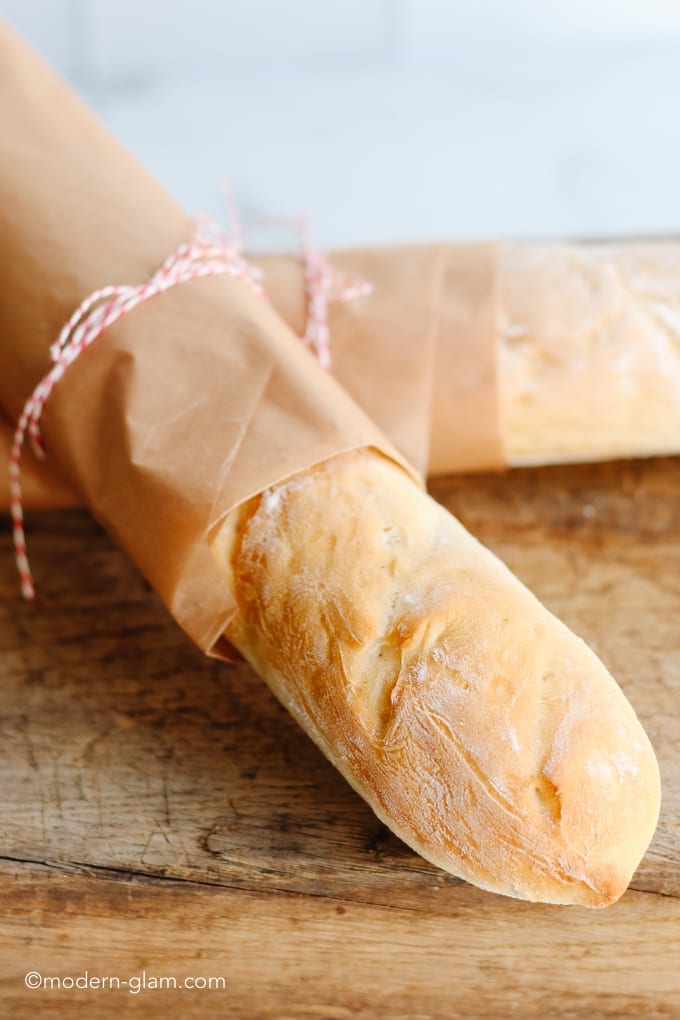 Once you have shaped your dough into baguettes and scored the top, it time to let the dough rise. Top the baguette pan with a dish towel. Place in a warm spot and let it rise undisturbed for 30 minutes or until it has doubled in volume.
Now it is time to bake up your French Baguettes!
How To Get A Golden Crust On French Baguettes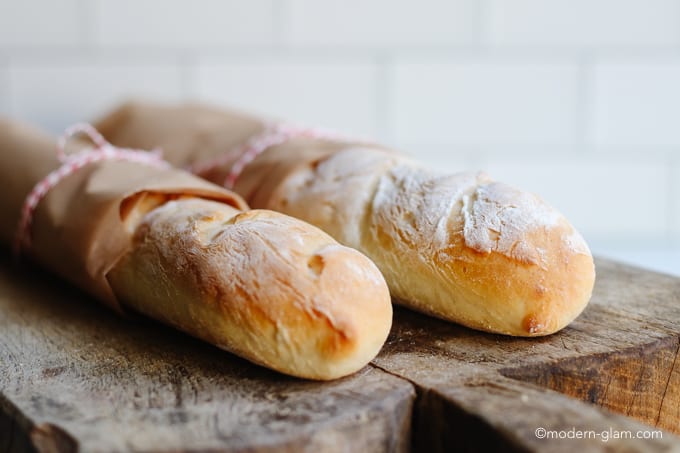 The key to getting a golden crust on your French Baguettes is all in the baking. Place a shallow pan filled with water in the bottom of your oven and preheat to 450 degree F. This will create the steam necessary for creating the perfectly golden, crunchy crust on your bread.
Dust the tops of your baguettes with flour and place in the oven.
Bake for 15 minutes or until they are hollow sounding when tapped with a knife. I had to adjust the timing because of my oven. But bake until the tops are golden and have that hollow sound when you tap them.
How To Heat Up Day Old French Bread
Now, since this recipe makes four perfectly sized mini baguettes, you may have some leftover. If you do, don't fret. This method for heating up day (or two) old french bread crips up the bread and makes it crunchy on the outside and warm and soft on the inside!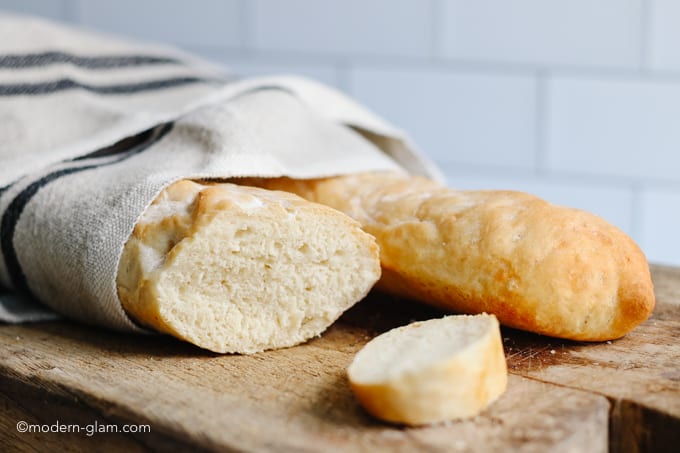 Heat your oven to 300-350 degrees F. Place the baguette in the oven right on the rack. Heat for 5-8 minutes. Then serve warm. I swear this method makes these french baguettes taste like they were just baked!
Crusty French Baguette Recipe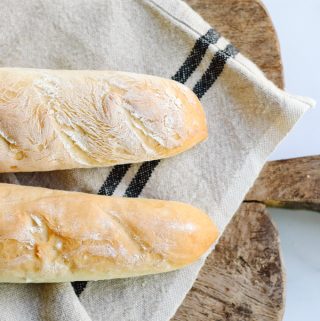 French Baguettes
An easy recipe that makes 2 large baguettes or 4 mini baguettes.
Ingredients
1.5

cups

water

warm (100-115 degrees)

2

tsp

sugar

2

packets

active dry yeast

2

tsp

salt

3 1/4

cup

bread flour

plus more for rolling
Instructions
Add the yeast and 1 tsp of sugar to a small bowl. Add 1/2 cup of warm water. Cover with a damp towel. Let the yeast activate for 5 minutes or until the mixture is frothy and foamy.

In a mixer fitter with a dough hook, add the flour, 1 tsp sugar and the salt. Stir to combine.

Add the yeast mixture into the dry ingredients. Turn on the mixer and slowly add the rest of the water (1 cup). Mix until a shaggy dough is formed. You may need more or less water depending on the flour and weather.

Turn the dough out onto a floured surface and knead until the dough is smooth and elastic.

Divide dough into four equal sections. Roll out each piece into a baguette shape using your hands. Place on a greased baguette pan.

Score the tops of the baguettes with a sharp knife. Dust with flour.

Place in a warm spot, cover with a kitchen towel and let rise for 30 minutes or until the dough has doubled in volume.

While the dough is rising, prepare the oven. Place a shallow pan filled with 1" of water in the bottom of the oven. Heat the oven to 450 degrees F.

Once the baguettes have risen and the oven is hot, place the pan on the top rack of the oven and bake for 15 minutes or intil a golden crust has formed and the baguettes sound hollow when tapped with a knife.

Remove from oven and let cool on a wire rack.
Nutrition
Serving:
0.25
baguette
Calories:
376
kcal
Carbohydrates:
76
g
Protein:
12
g
Fat:
2
g
Saturated Fat:
1
g
Sodium:
1169
mg
Potassium:
107
mg
Fiber:
3
g
Sugar:
2
g
Vitamin A:
2
IU
Vitamin C:
1
mg
Calcium:
19
mg
Iron:
1
mg
The Best Homemade Bread Recipes

Happy Happy Nester // Stuffed Italian Pizza Bread Recipe
Inspiration For Moms // Popovers with Honey Butter
Finding Lovely // Rosemary Focaccia Bread
Most Lovely Things // Brown Butter Banana Bread
My Sweet Savannah // Easy Homemade Breadsticks

Modern Glam // Crusty French Baguette Recipe
The DIY Mommy // Everything Bagel Focaccia Bread with Truffle & Honey
My 100 Year Old Home // Gluten Free Sourdough Banana Bread
Tatertots & Jello // The Easiest Cheesiest Keto Breadsticks
Twelve on Main // Easy No Knead Bread Recipe