Are you looking for an easy Thanksgiving centerpiece idea? This simple centerpiece is made without flowers by using mini pumpkins and candles. The ultimate easy and no-hassle Thanksgiving centerpiece idea!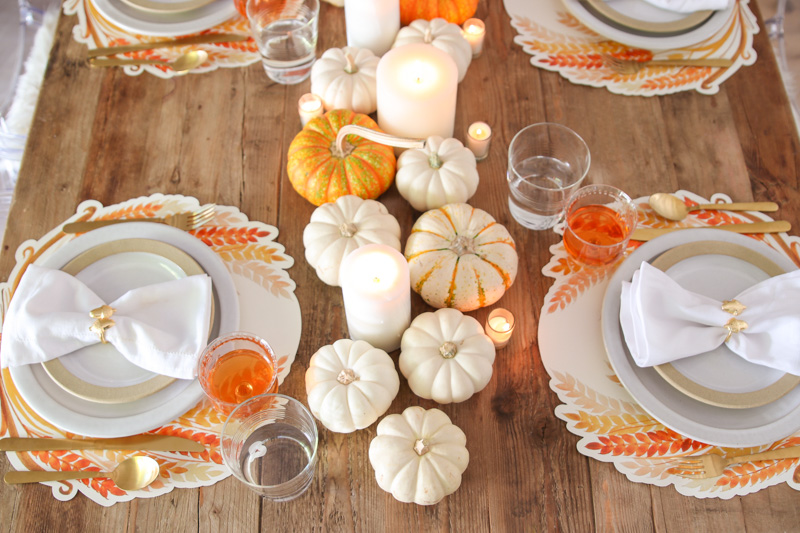 Today I am joined by a talented group of bloggers. You will find 20 incredible Thanksgiving centerpiece ideas. So stay tuned to the end of the post to see all the inspiration!
Easy Thanksgiving Centerpiece with Pumpkins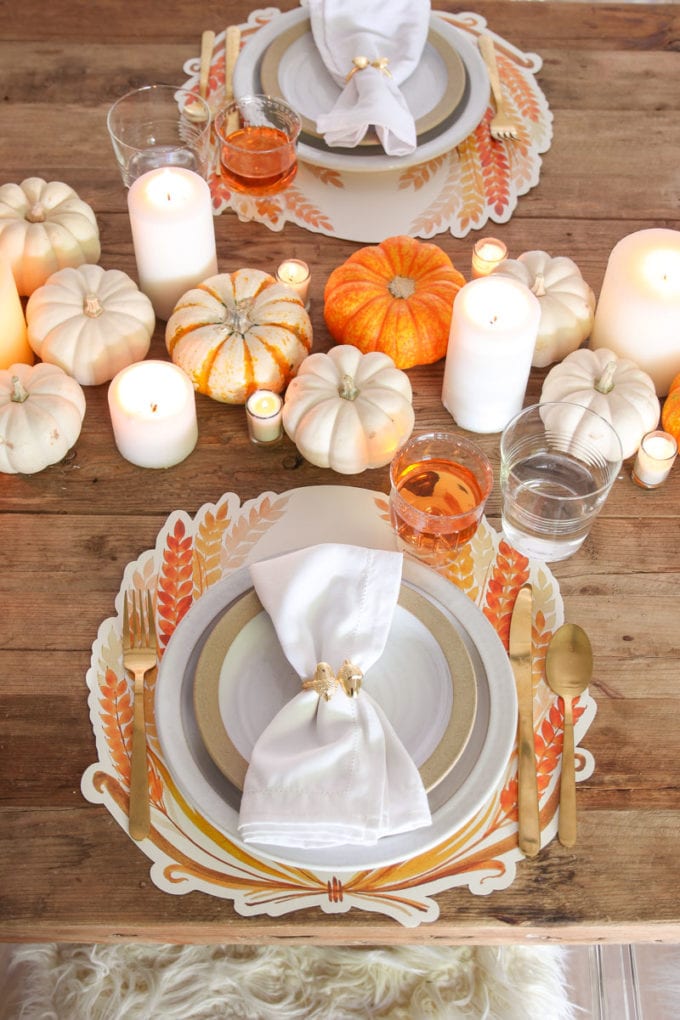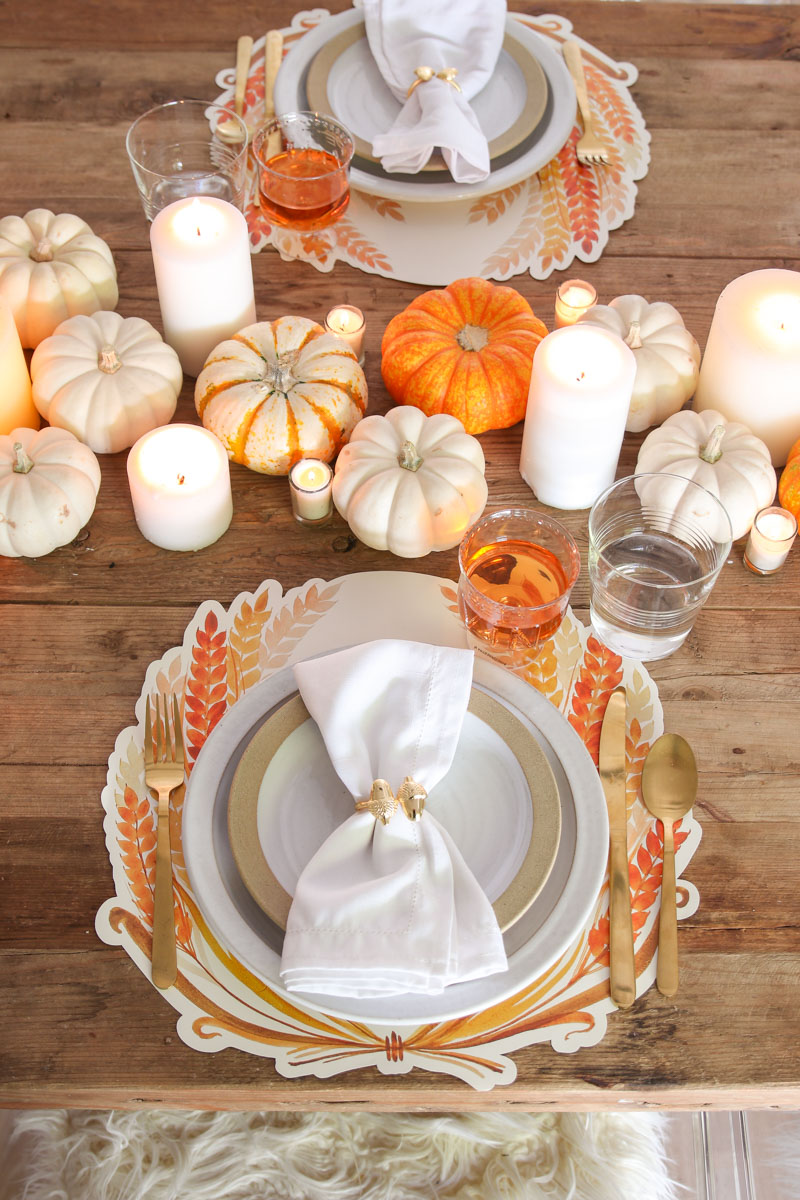 If you saw my Simple Thanksgiving Table post, then you know I started that table with a vision in mind. One morning, I woke up with what I thought was a fabulous idea! I was going to line my table with 40 mini white pumpkins and little tea light candles.
See, I wanted to really keep it simple. Well, that idea was a total flop. It was flat and boring! But I was still determined to make my original vision come to life.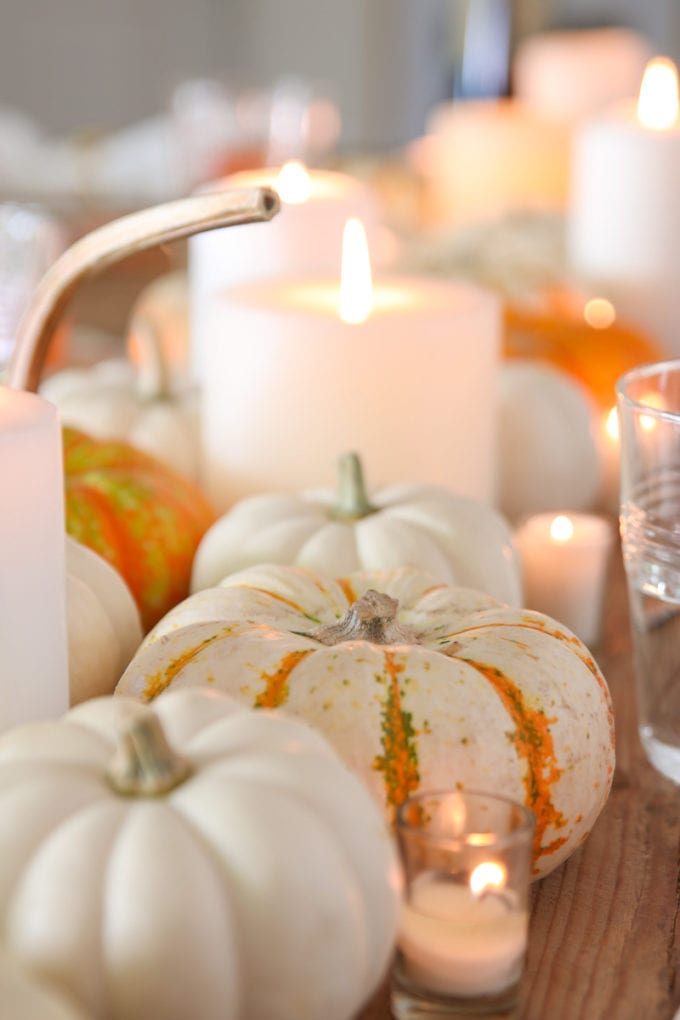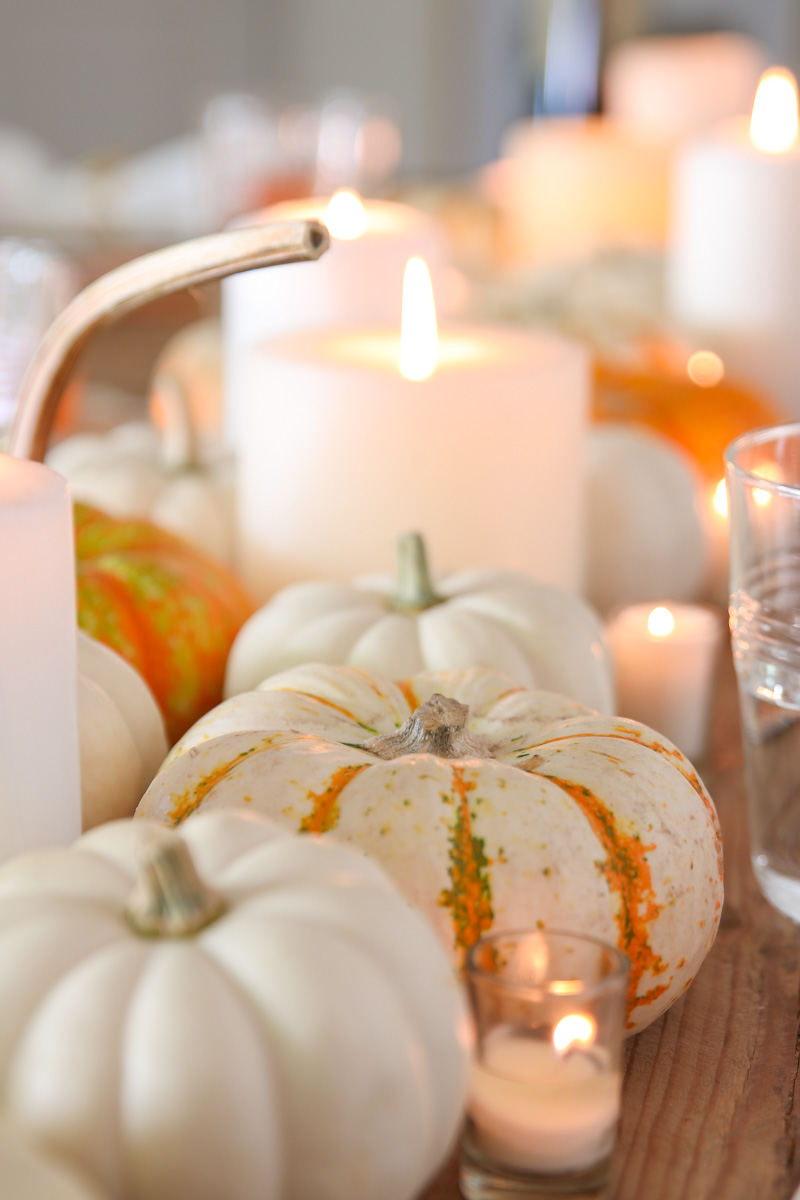 So, take two on my original idea. I brought in some orange pumpkins and the coolest paper placemats. This really set the stage to make my original vision come to life!
You can see details on the place settings in my Farmhouse Thanksgiving Table Idea post.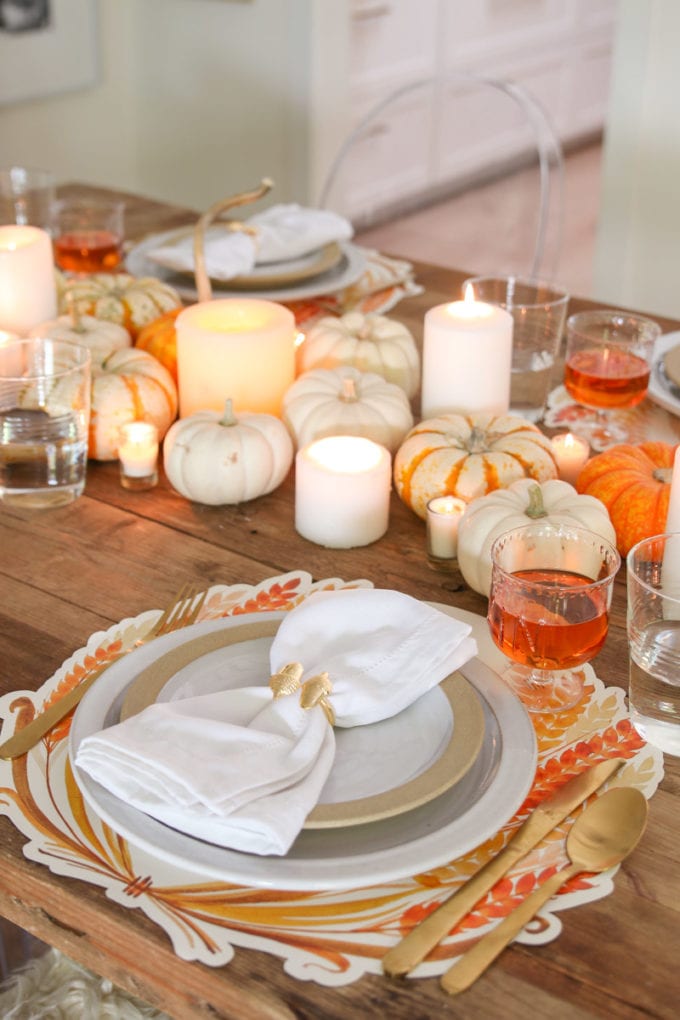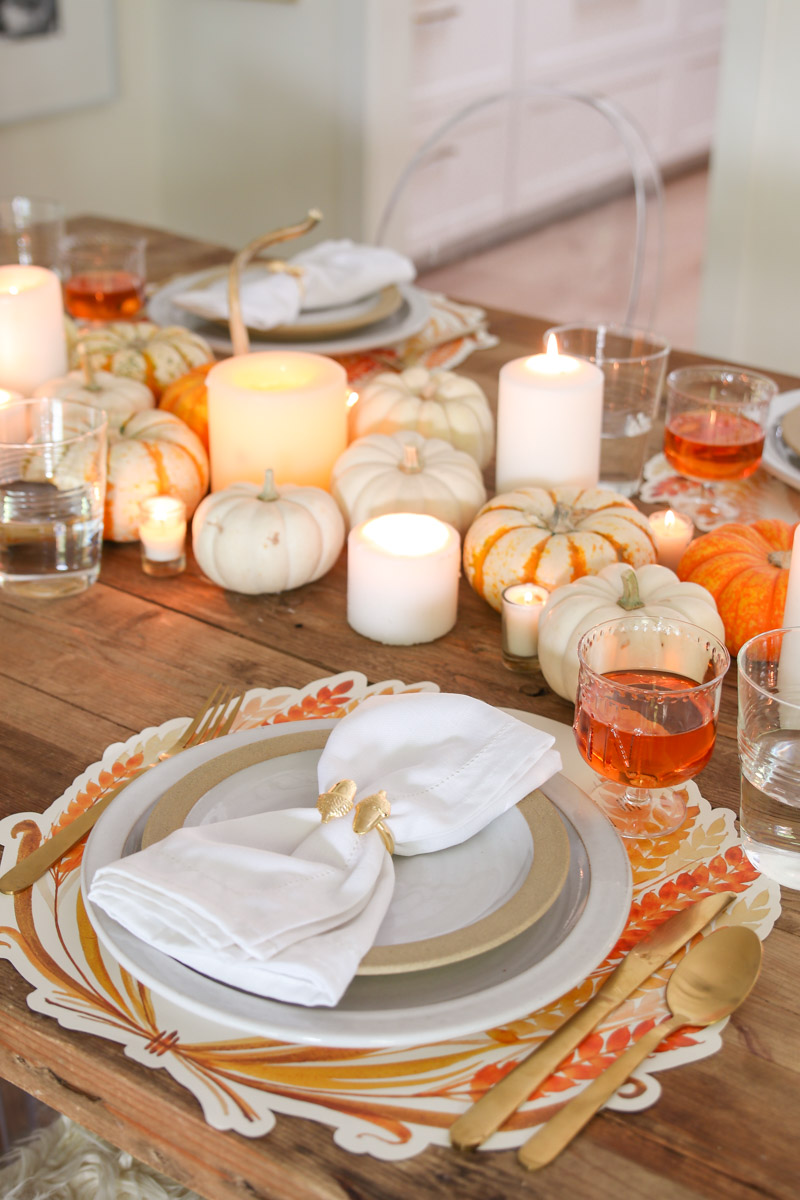 So, today I want to share with you how I created this quick and easy Thanksgiving centerpiece! It really is so fun and simple. And the best news is that you can set it up ahead of time. This really makes day-of Thanksgiving prep efficient and less stressful!
How To Make A Thanksgiving Centerpiece With Pumpkins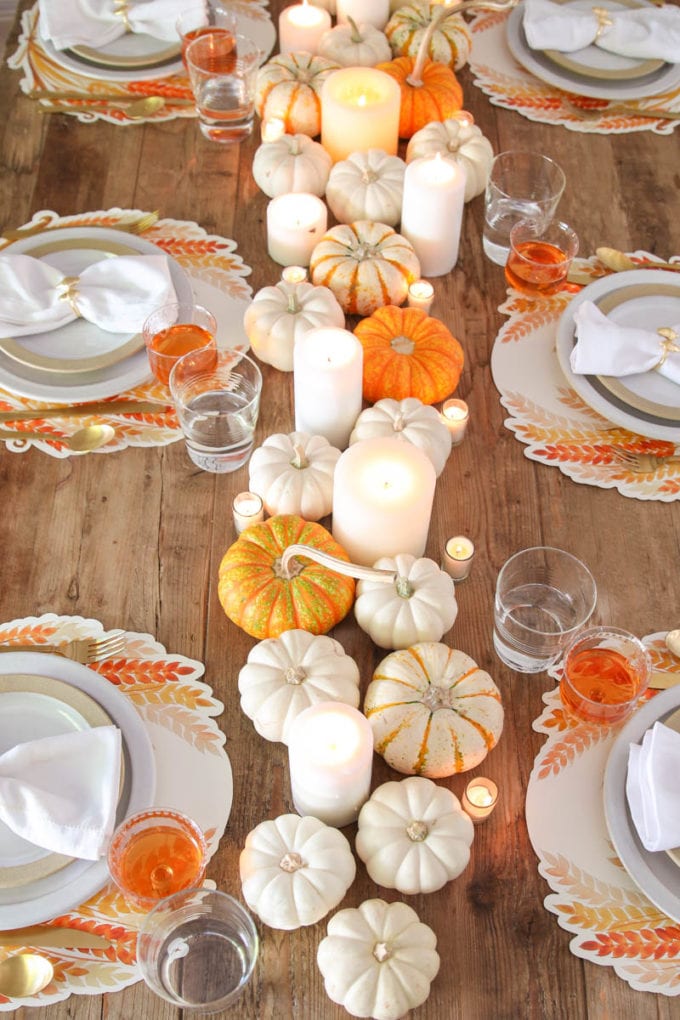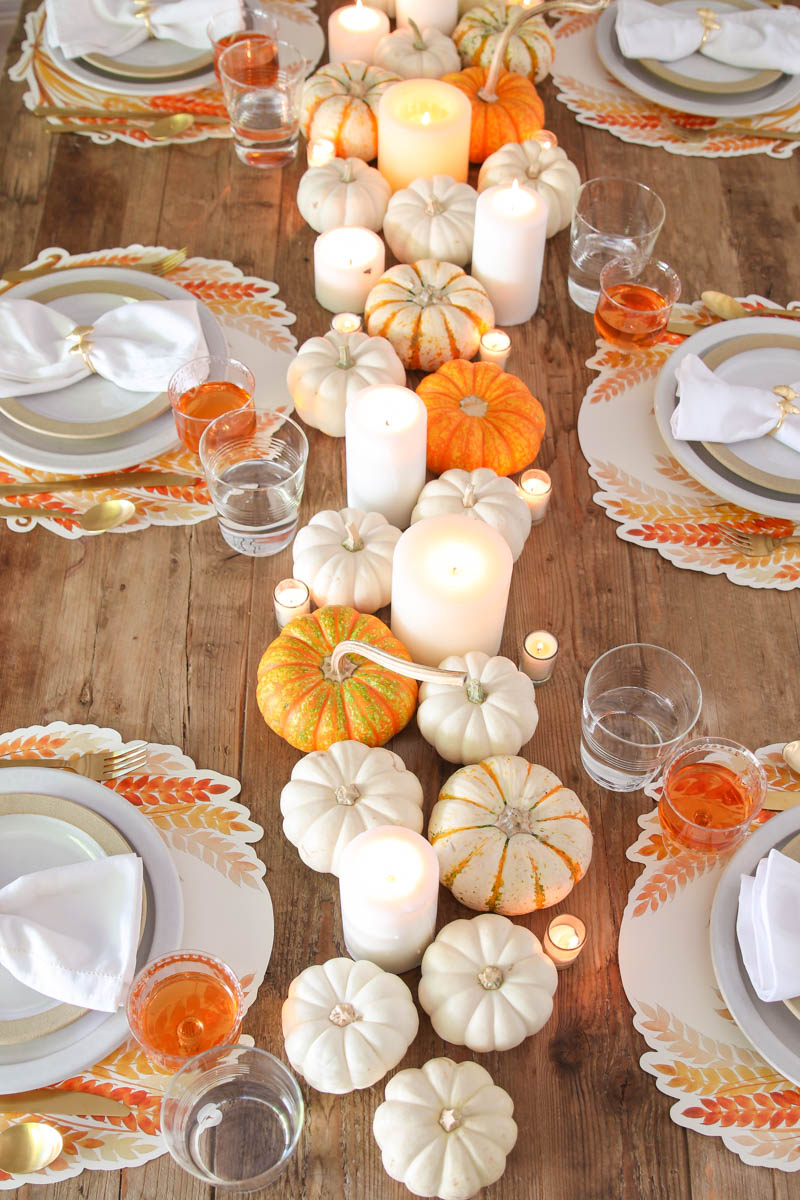 This easy centerpiece is a take on one of my favorite posts of all time, my 5 Minute Fall Table Runner. This was made with herbs that I picked on my evening walk. You can also buy the herb branches, lol! But with a mix of bay, rosemary and olive, this fall table garland was just so beautiful and simple!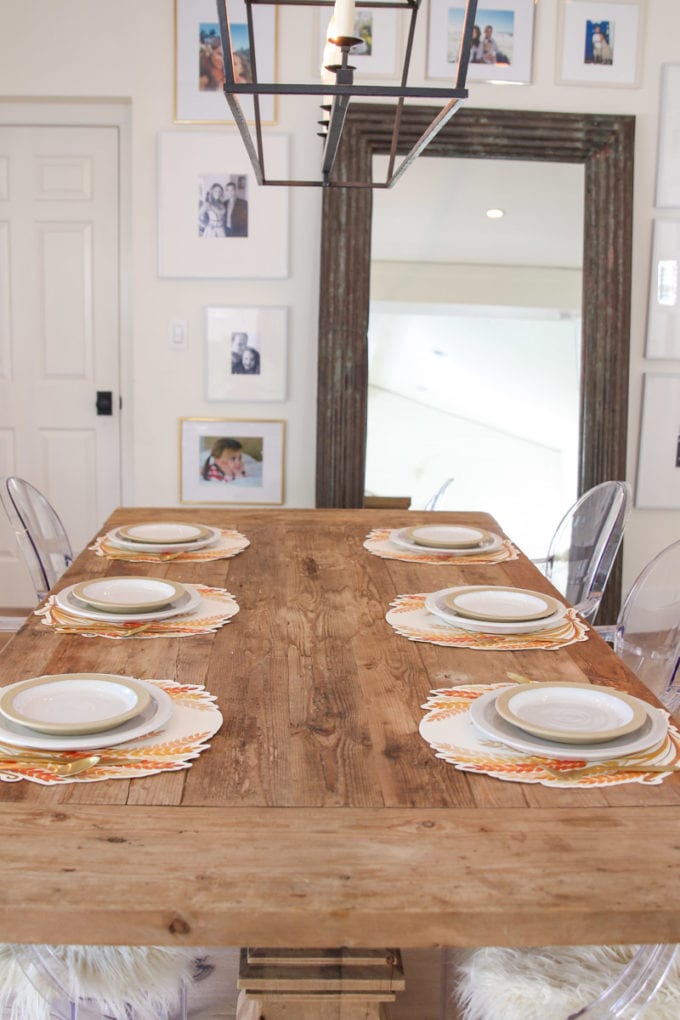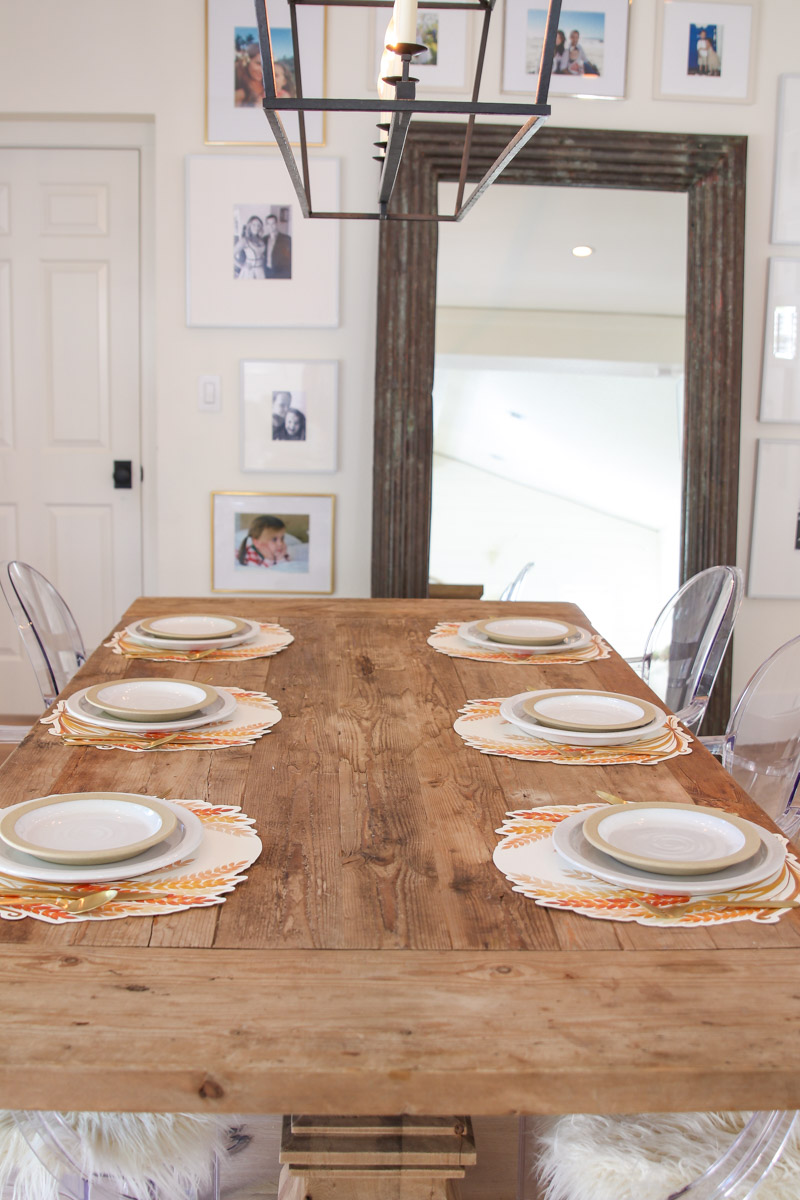 Ok, back to the last at hand. To make this pumpkin centerpiece, you want to start with by clearing off the middle of your table. I chose to lay the pumpkins directly on the wood with no runner or tablecloth.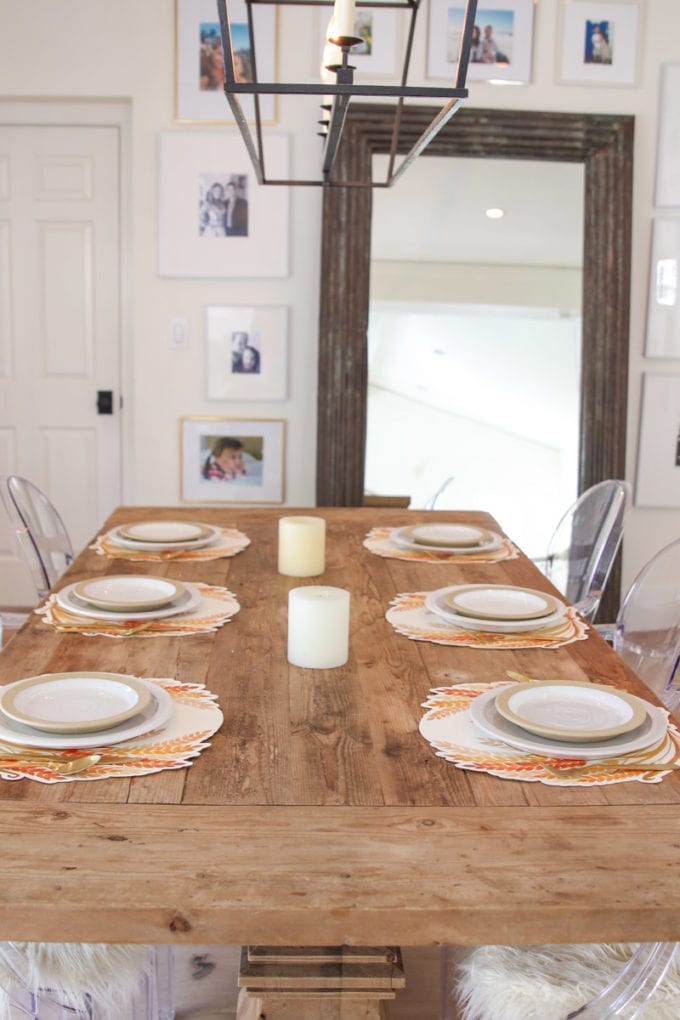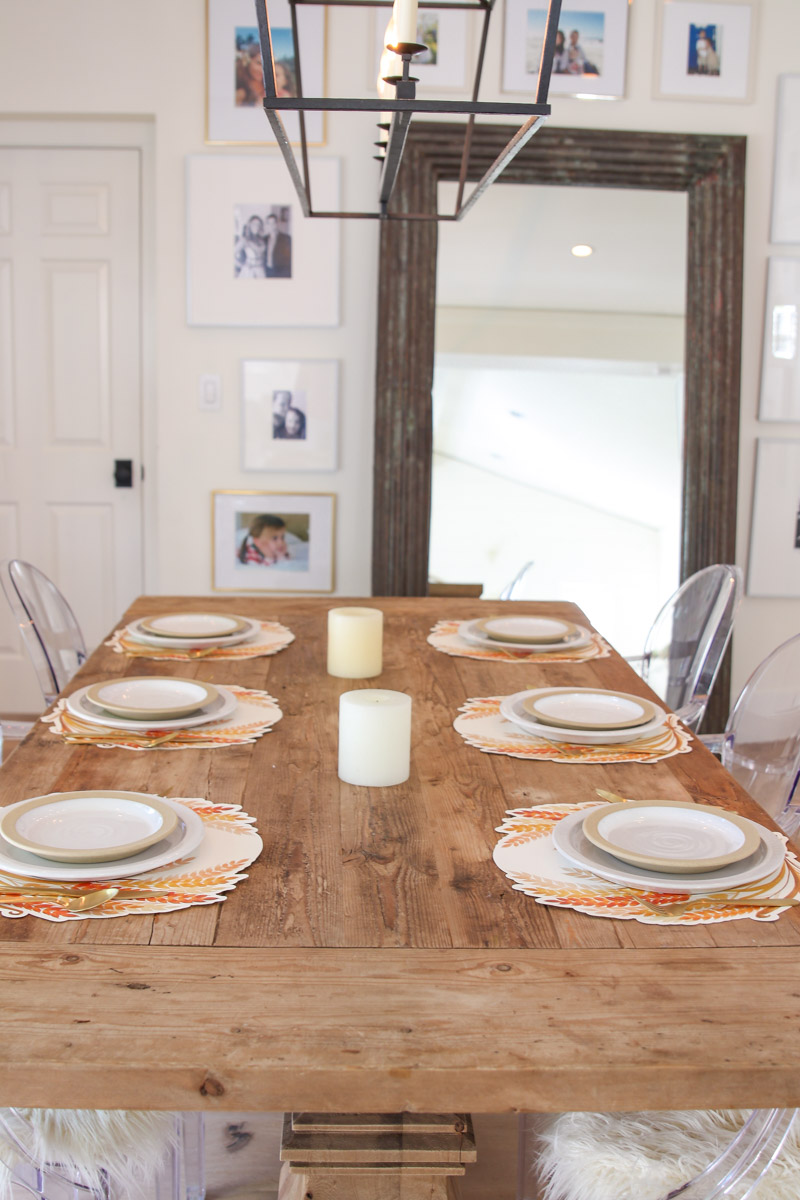 Next, start by adding the largest pillar candles evenly spaced in the center of the table.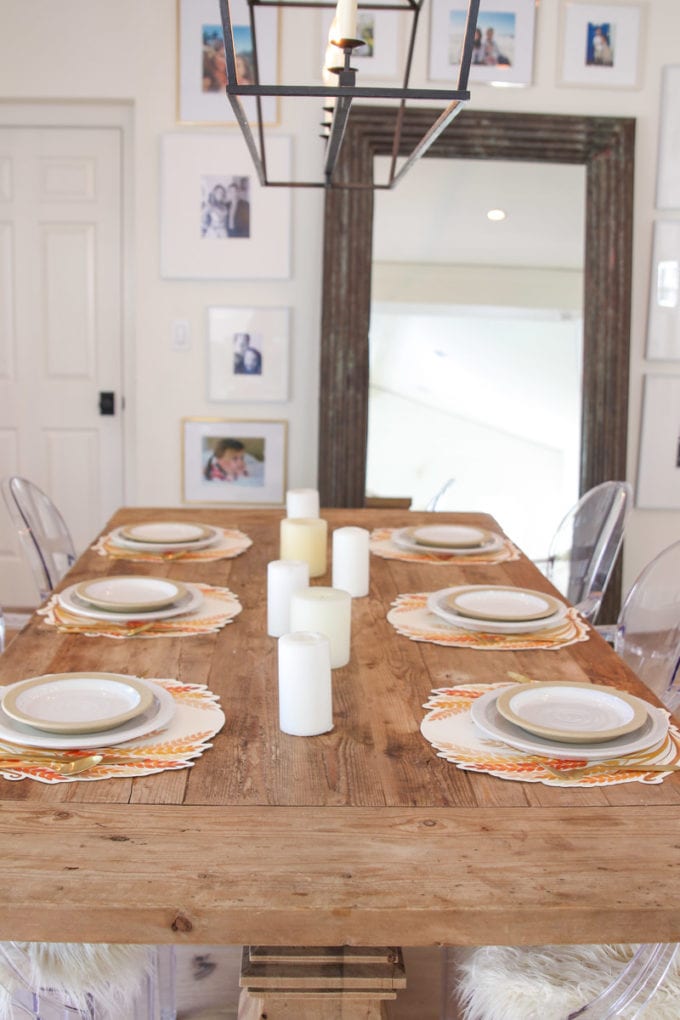 The next step is to add in the slimmer 6″ candles. I used four and staggered them in between the 4″ pillar candles.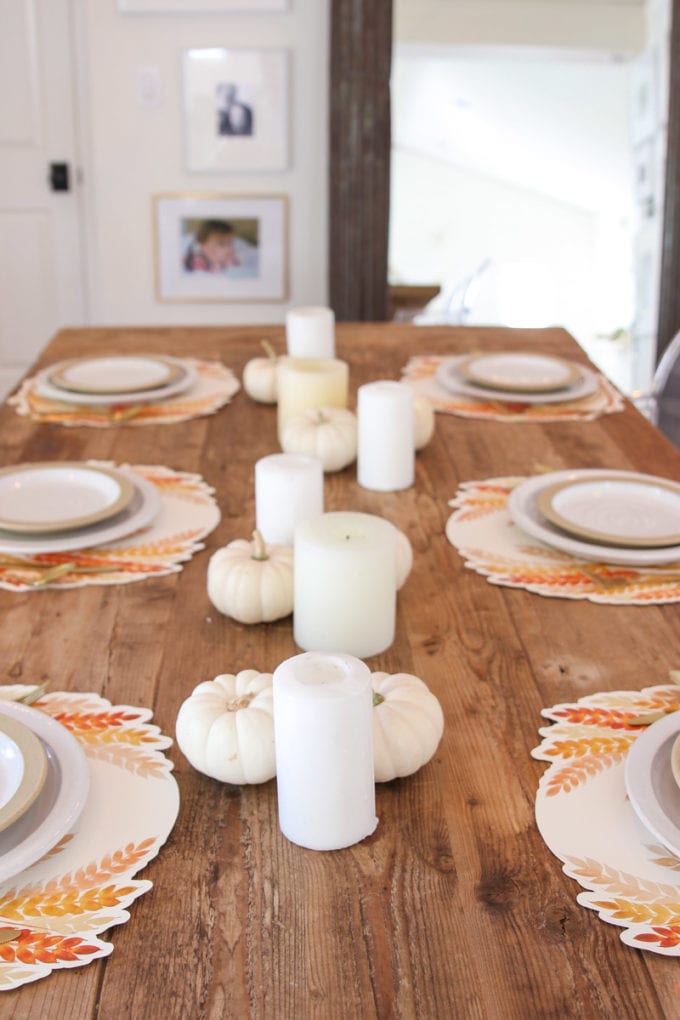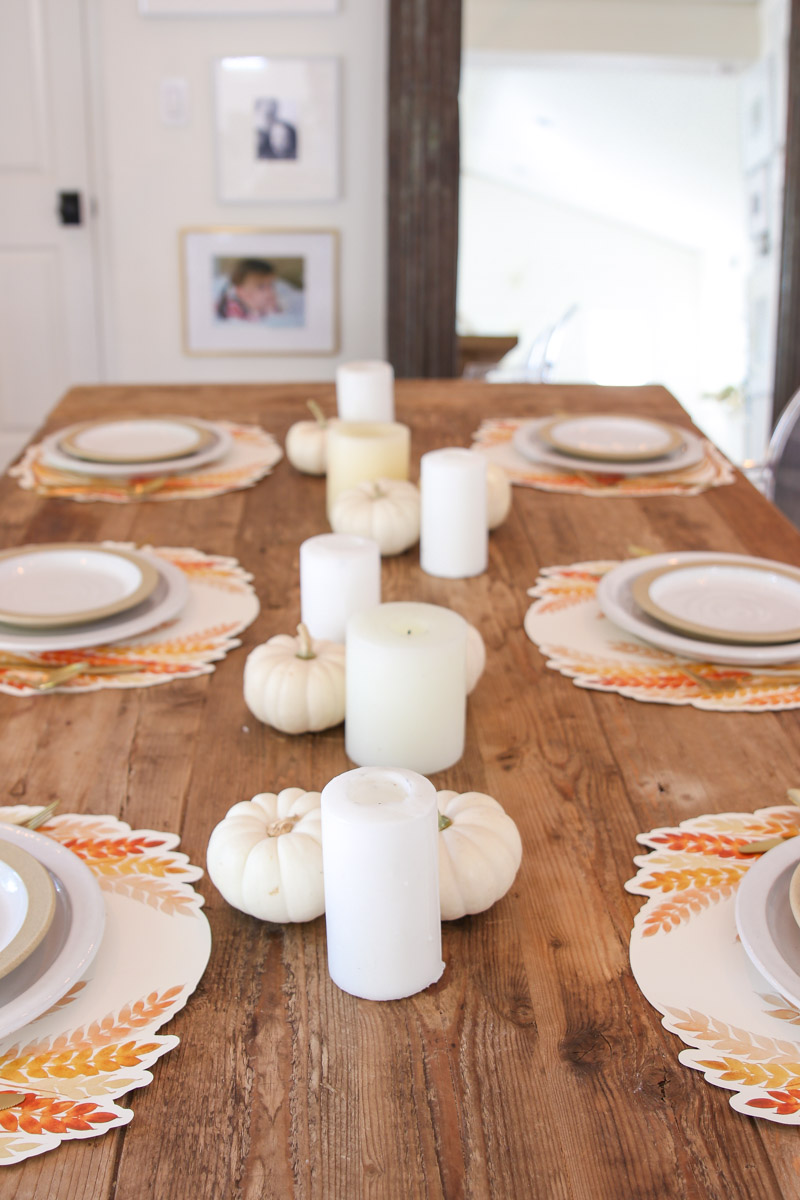 Now it's time to add in some pumpkins! Take some white baby boo pumpkins and tuck them in between the candles.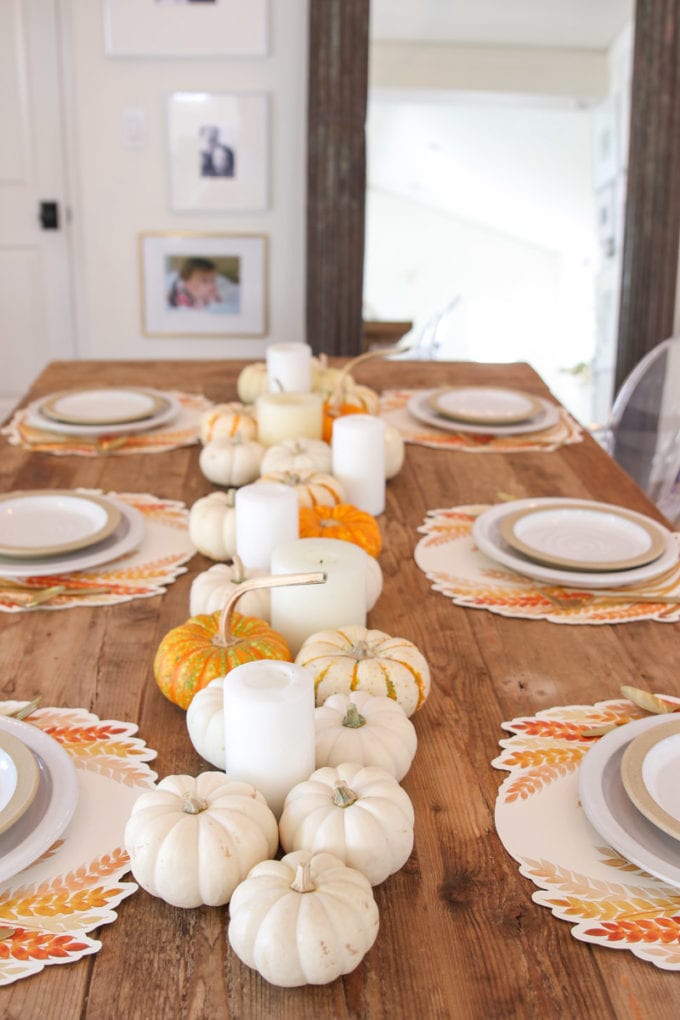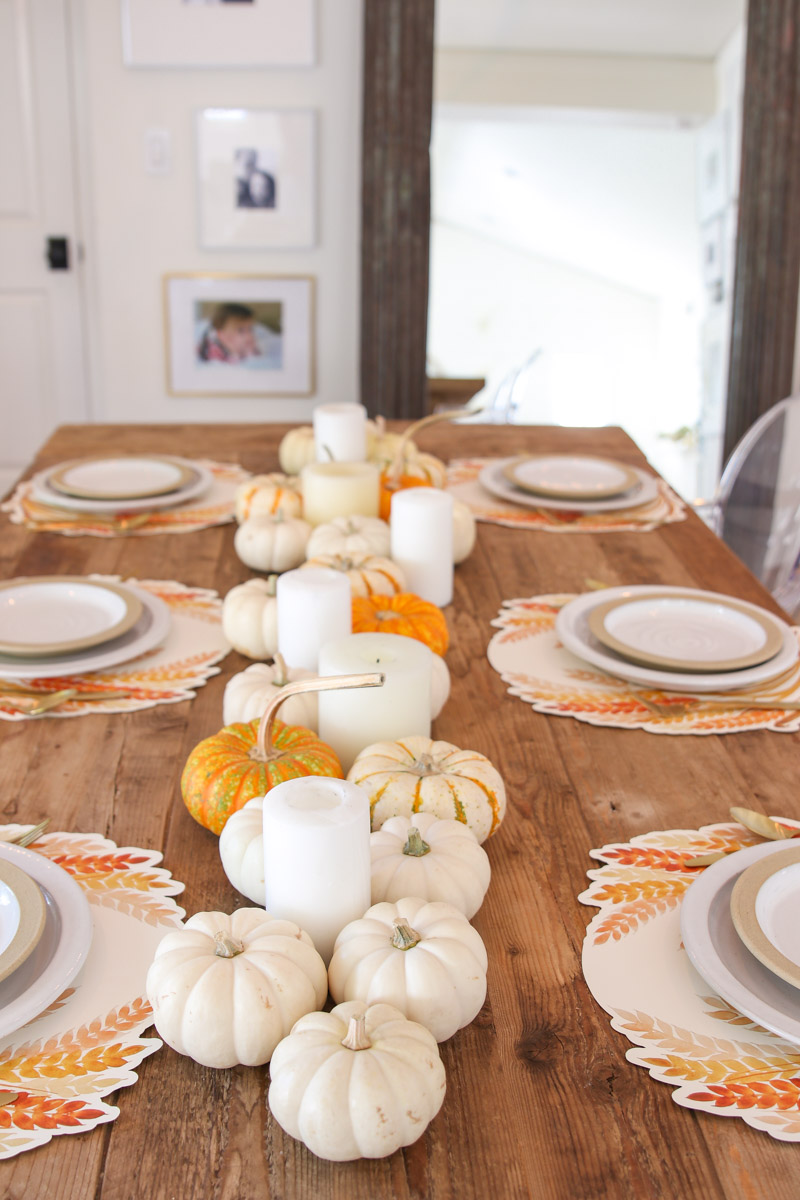 Keep adding pumpkins until the table feels full. It's ok if there are some spots without anything around them. We will add in some votives to fill in those spaces.
I added a few orange and yellow pumpkins to keep things interested and to go with the rest of my easy Thanksgiving centerpiece.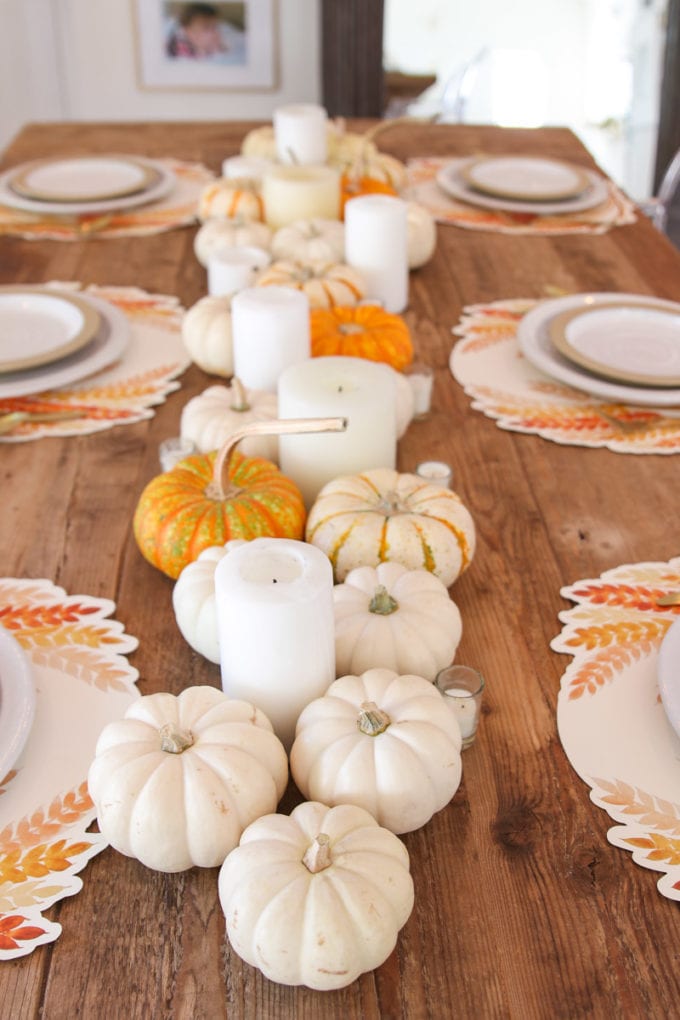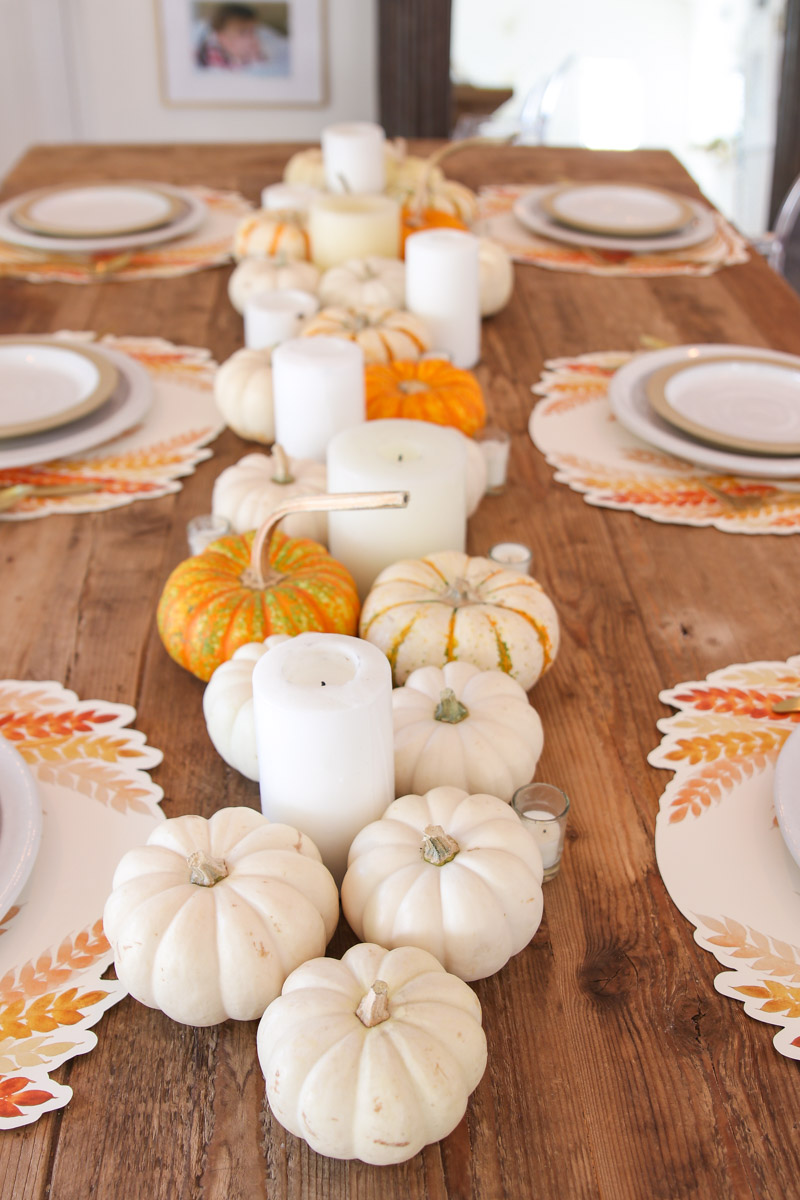 Finish off the pumpkin centerpiece by adding in small votive candles. The little candles add just the right amount of special ambient light to this pretty table!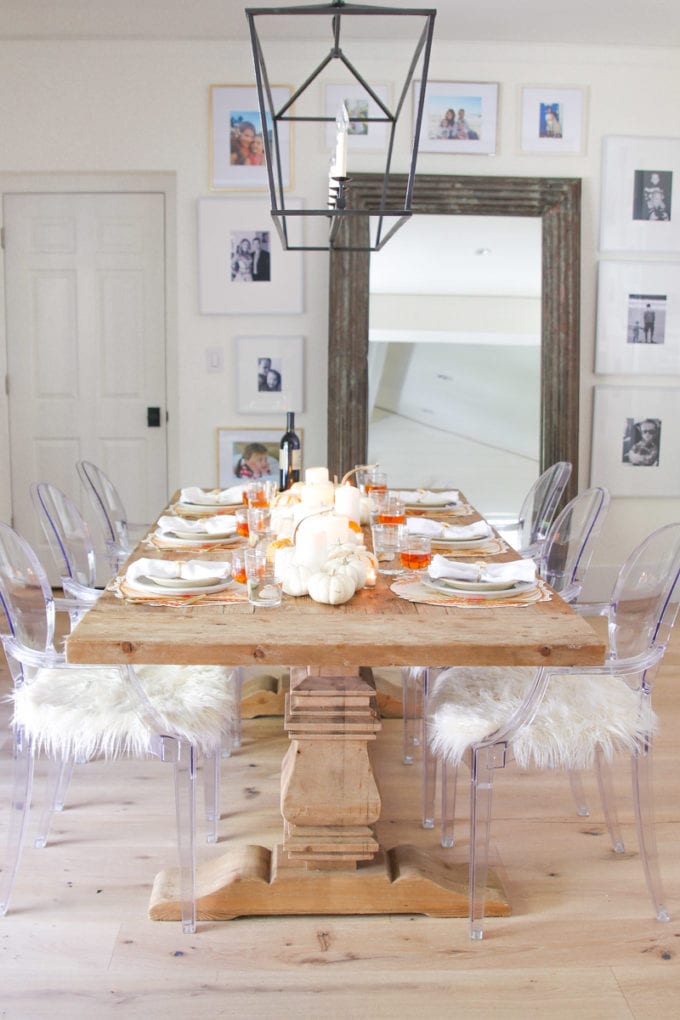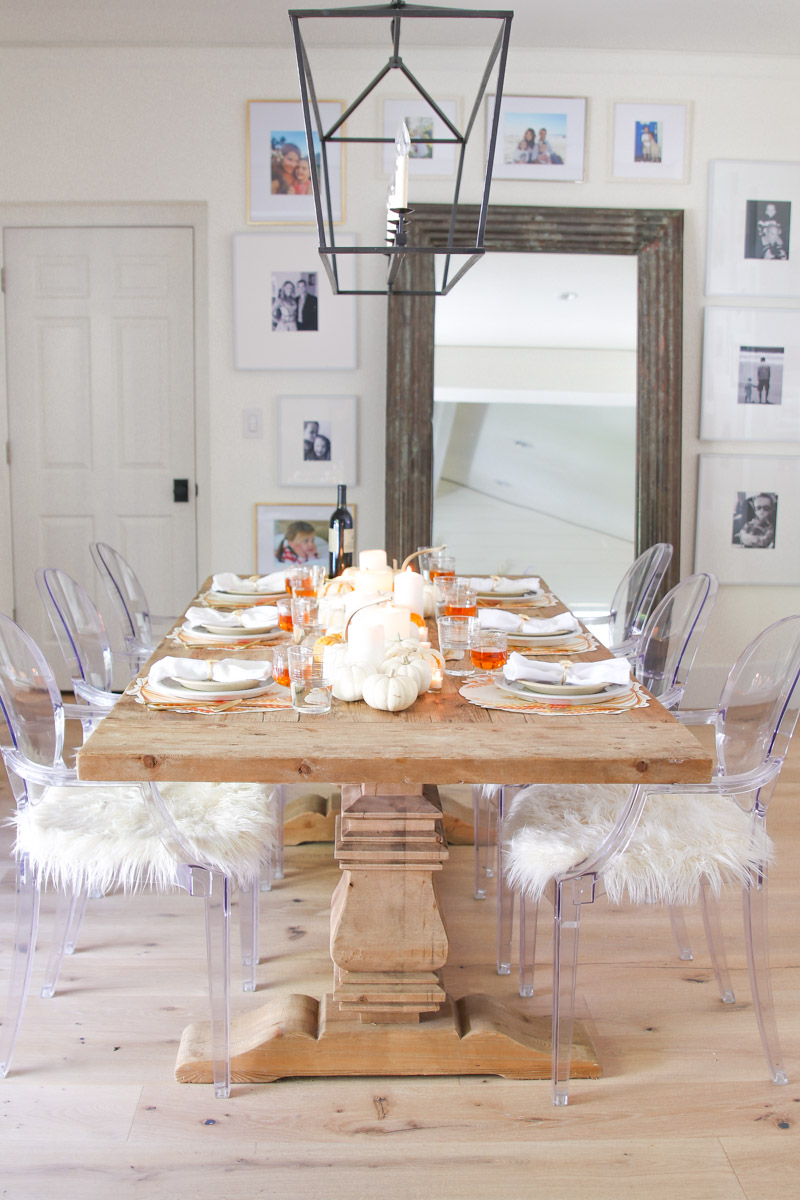 Easy Centerpiece Supplies
I want to share with you what I used to create this centerpiece. My hope is that this will make it easy if you want to try and replicate this look for yourself!
So, for my 7 foot table I used:
two 4×4″ pillar candles
four 3×6″ pillar candles
12 white baby boo pumpkins
3 orange pumpkins
4 orange and white striped pumpkins
10 votive candles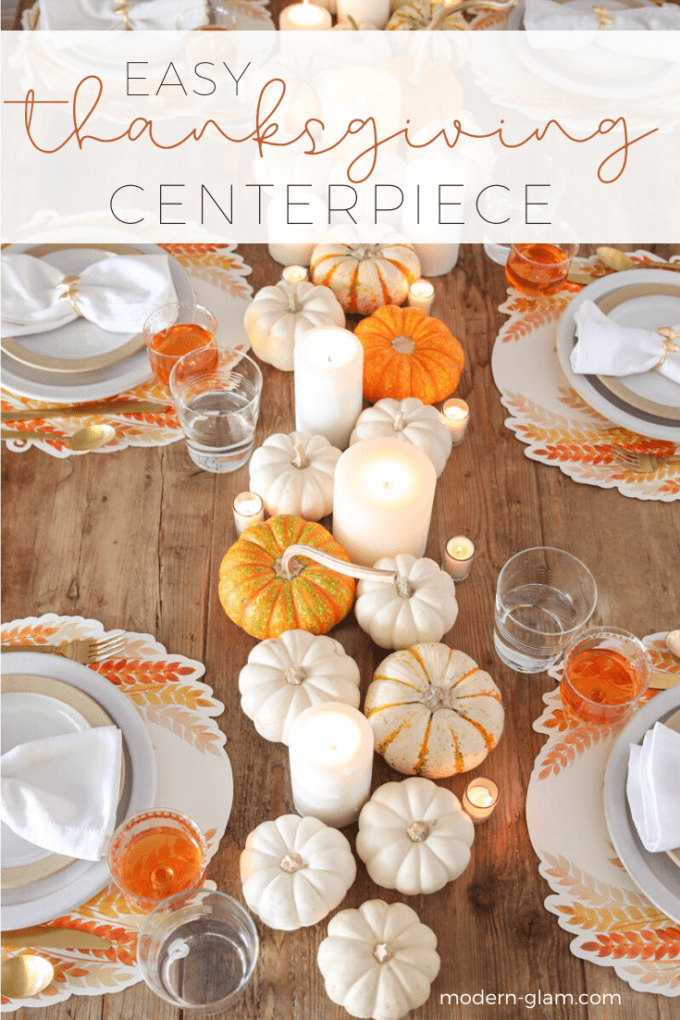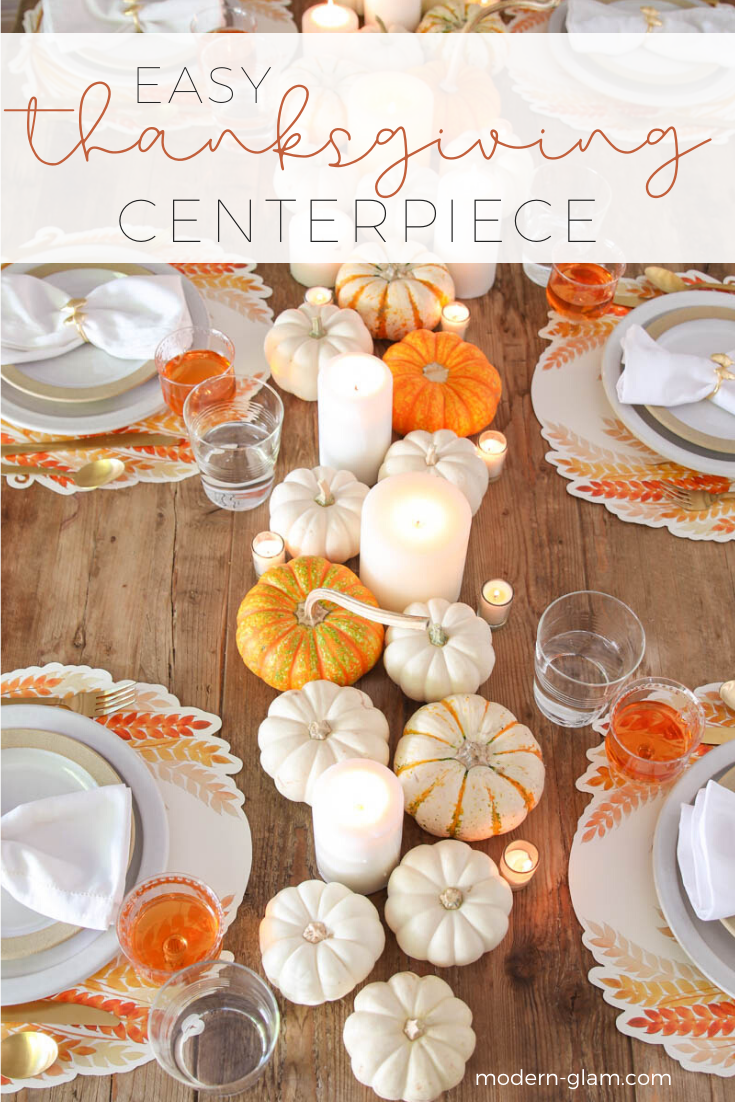 I just love how simple, easy and fun this Thanksgiving table idea is! Let me know if you try it. I love seeing your creations as well!
More Thanksgiving Centerpiece Ideas

Thanksgiving Table Setting // Easy Thanksgiving Centerpiece // How To Decorate a Thanksgiving Table // A Foraged Centerpiece // Thanksgiving Table, Warm Fall Colors

Natural Thanksgiving Centerpiece // Dried Hydrangeas Fall Centerpiece // Fall Centerpiece // Live Pumpkin Floral Centerpiece // Fall Centerpiece

Thanksgiving Centerpiece // Friendsgiving Ideas // Thanksgiving Dinner Outdoors // Cozy and Intimate Thanksgiving Table // Thanksgiving Centerpiece Ideas

Thanksgiving Centerpiece with Fresh Fruit // 5 Step Easy Thanksgiving Centerpiece // Thanksgiving Centerpiece Ideas // Thanksgiving Table Settings // DIY Floral Centerpiece