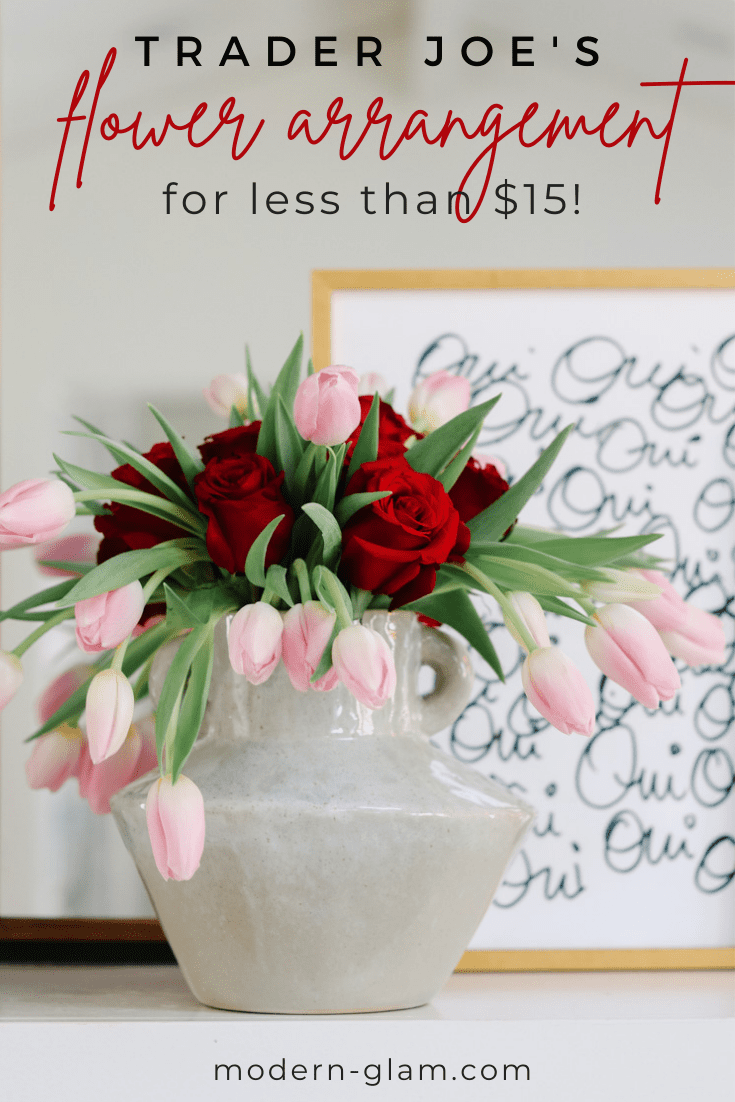 This Trader Joe's flower arrangement is so simple to put together. With just two types of flowers, this bouquet costs less than $15 to make.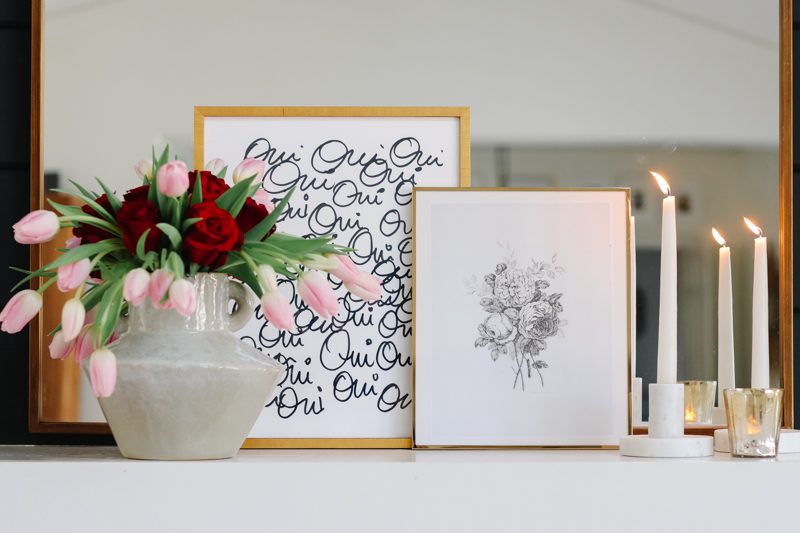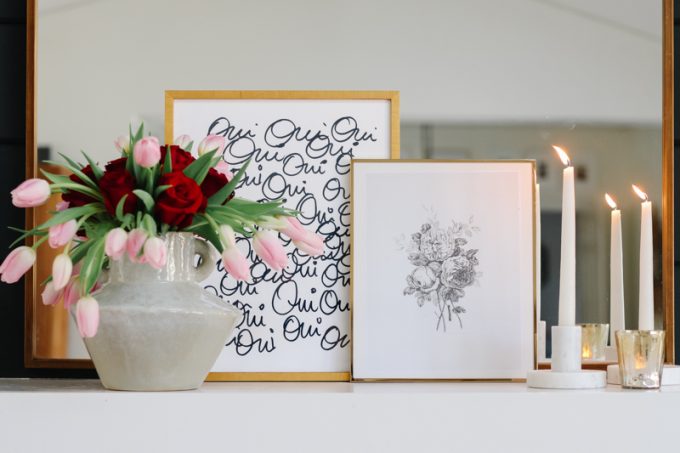 Grabbing flowers at the grocery store is always on my list when running errands. Arranging supermarket flowers can seem overwhelming at first, but this Trader Joe's flower arrangement is made up of just 2 types of flowers. With a few tips, I'll show you how simple it is to make a beautiful floral bouquet.
DIY Trader Joe's Flower Arrangement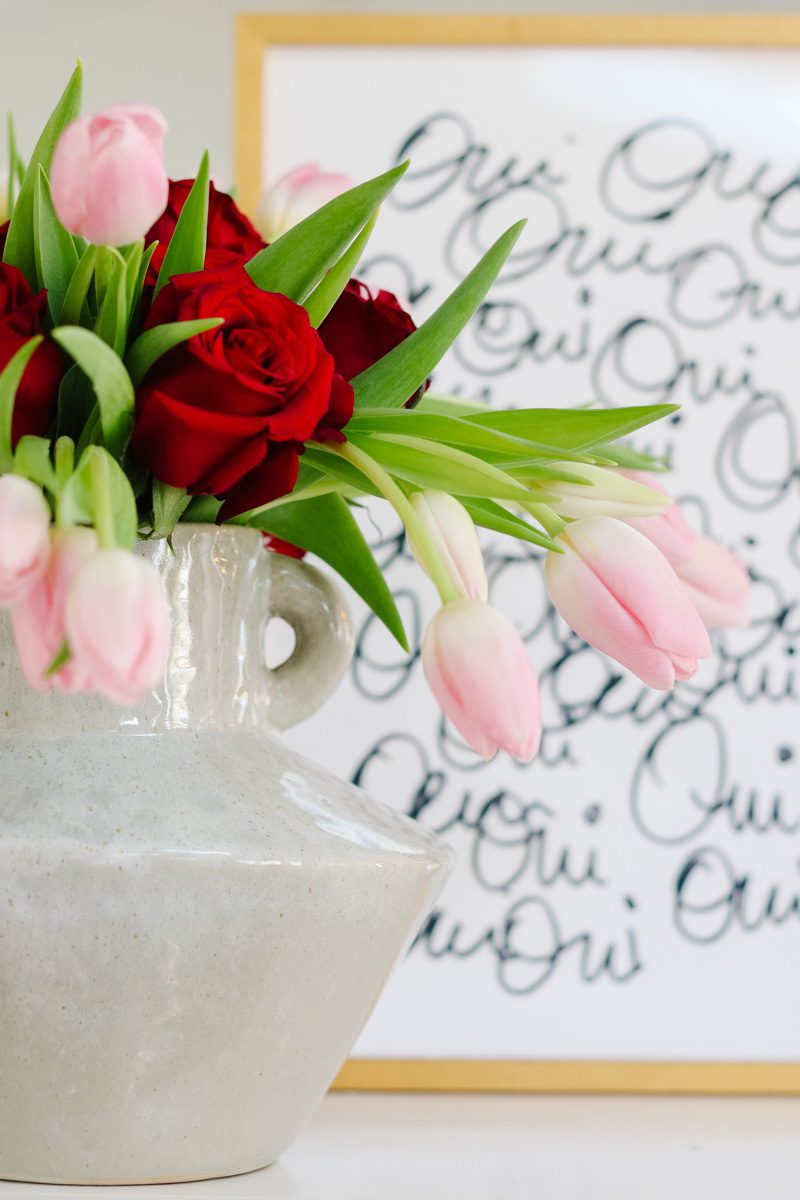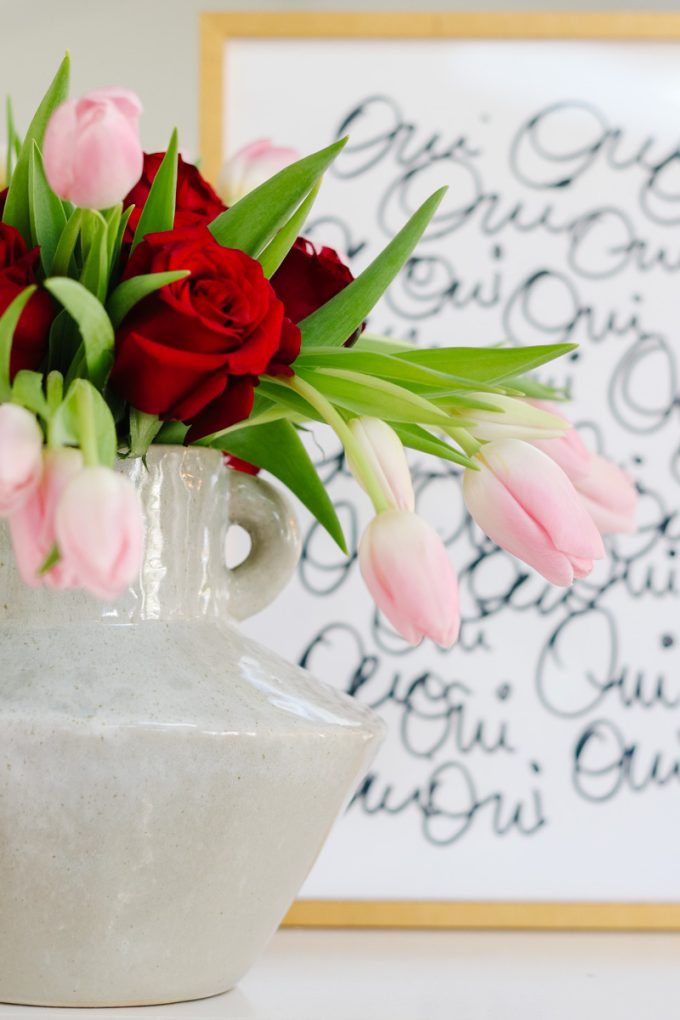 Last week I shared my Sophisticated Valentine's Day Mantel. It featured this pretty pink and red floral bouquet and I promised I'd share how easy it was to make. For less than $15 you can have a gorgeous flower arrangement from Trader Joe's that will last a week or longer!
Flowers You Will Need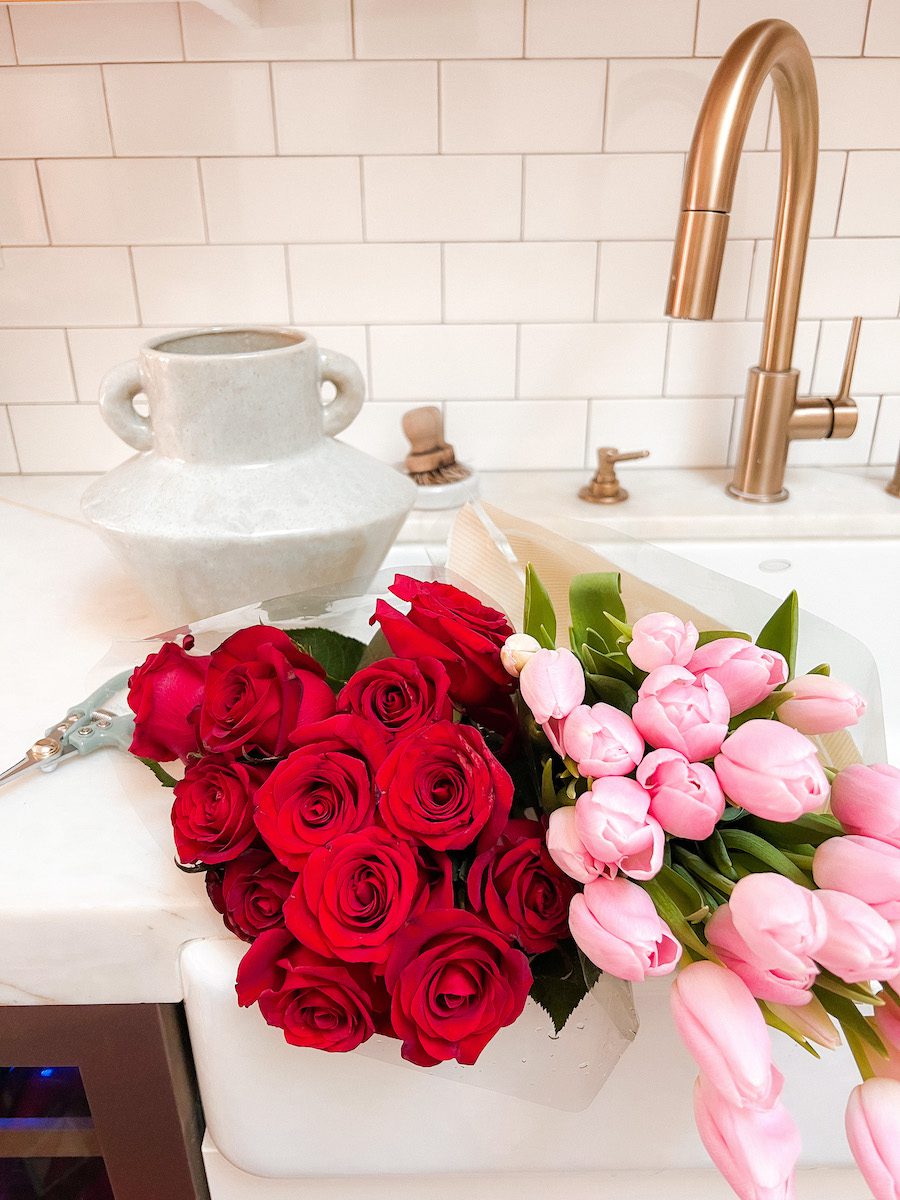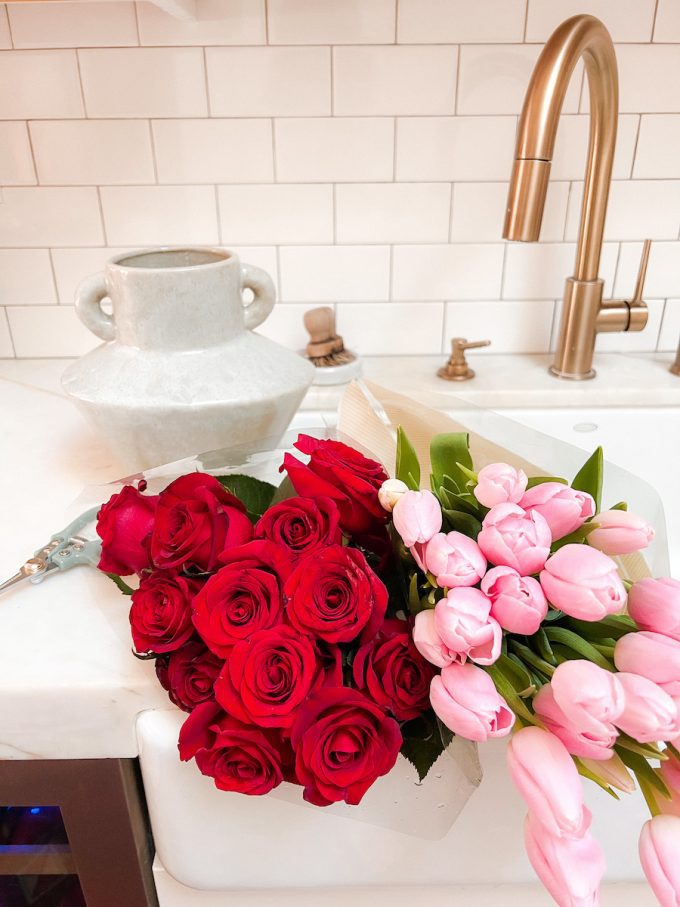 Tulips $4.99
I love arranging with tulips in the early spring. They are an easy flower to work with and look great on their own in any vessel, or combined with other flowers and greenery. I chose this soft, pink color.
Long Stemmed Roses $8.99
Nothing is more classic than long stemmed roses. I chose this deep, dark red color. Paired with the blush pink tulips, I think it's a classic match.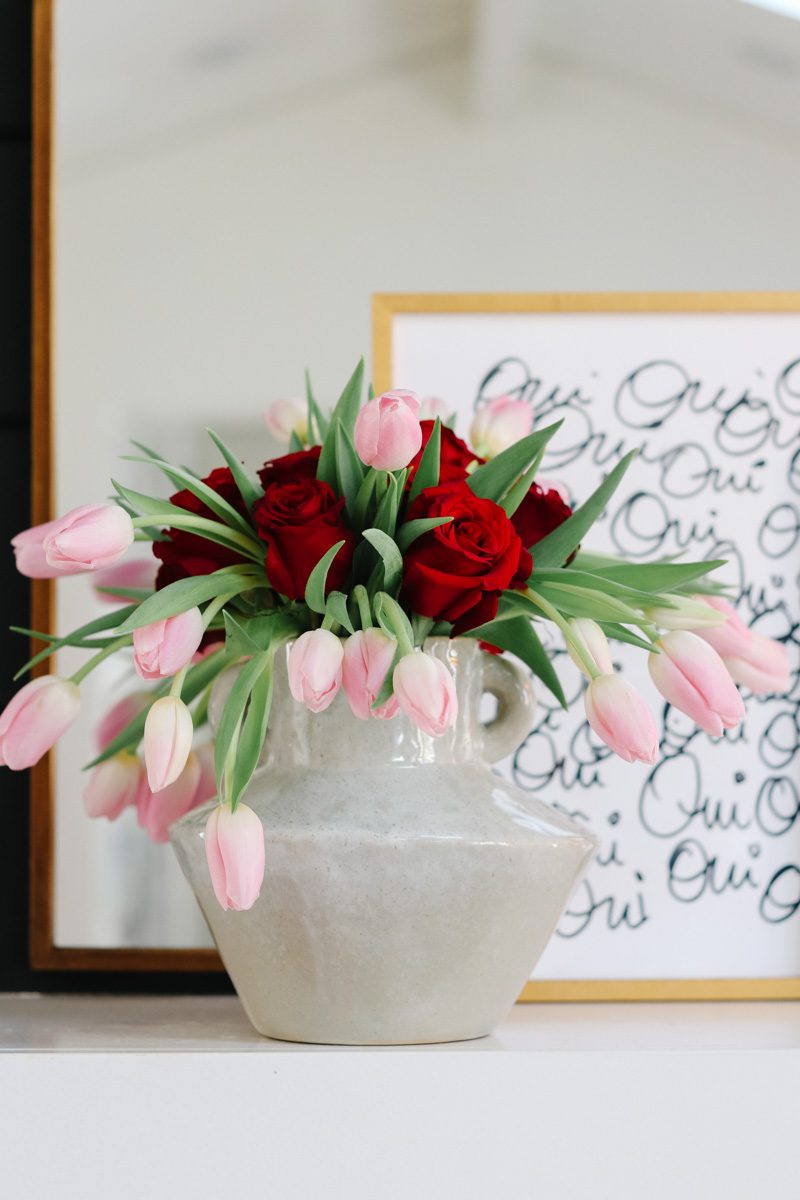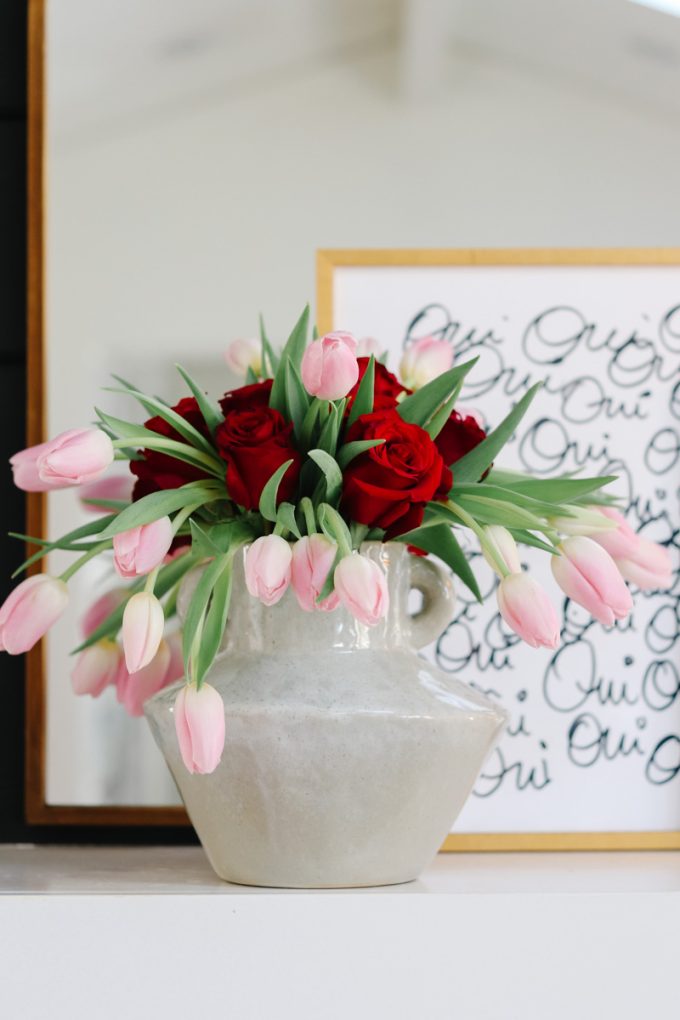 Other Items Needed
Gardening shears
Vase or Vessel
Water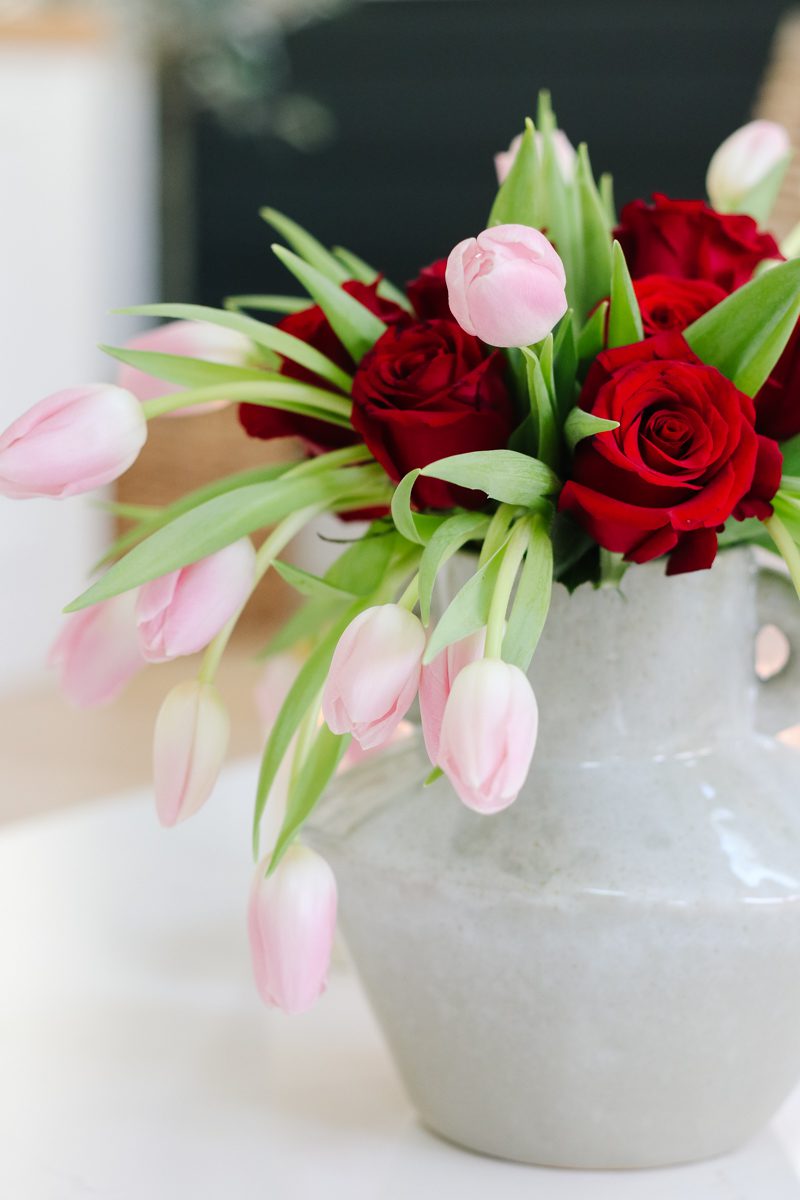 How to Make A Trader Joe's Floral Arrangement
Step 1
Start by trimming the stems on your roses. You want them to be low enough in your vessel to create a crown to tuck your tulips into. Trim all the leaves and greenery off the stems where they will be immersed in water. And cut the stems at an angle for better water absorption.
Step 2
Next, clean and trim your tulips. Using your garden shears, trim the tulips, leaving enough length for them to droop over the top of your vase. Make sure you remove any greenery that will be sitting in water. You want to leave some leaves on the tulips, but remove any that aren't still attached once you trim the stems.
Step 3
Because tulips tend to have a lot of dirt and sand trapped in the leaves, give the stems a quick rinse before placing in your vase.
Tuck the tulip stems in between the roses, placing the majority of the flowers near the edge of the vase. This will give your flower arrangement a beautiful, natural shape with the tulips slightly drooping and angling towards your tabletop. Fill in the top with a few shorter tulip stems until you achieve a natural looking floral arrangement.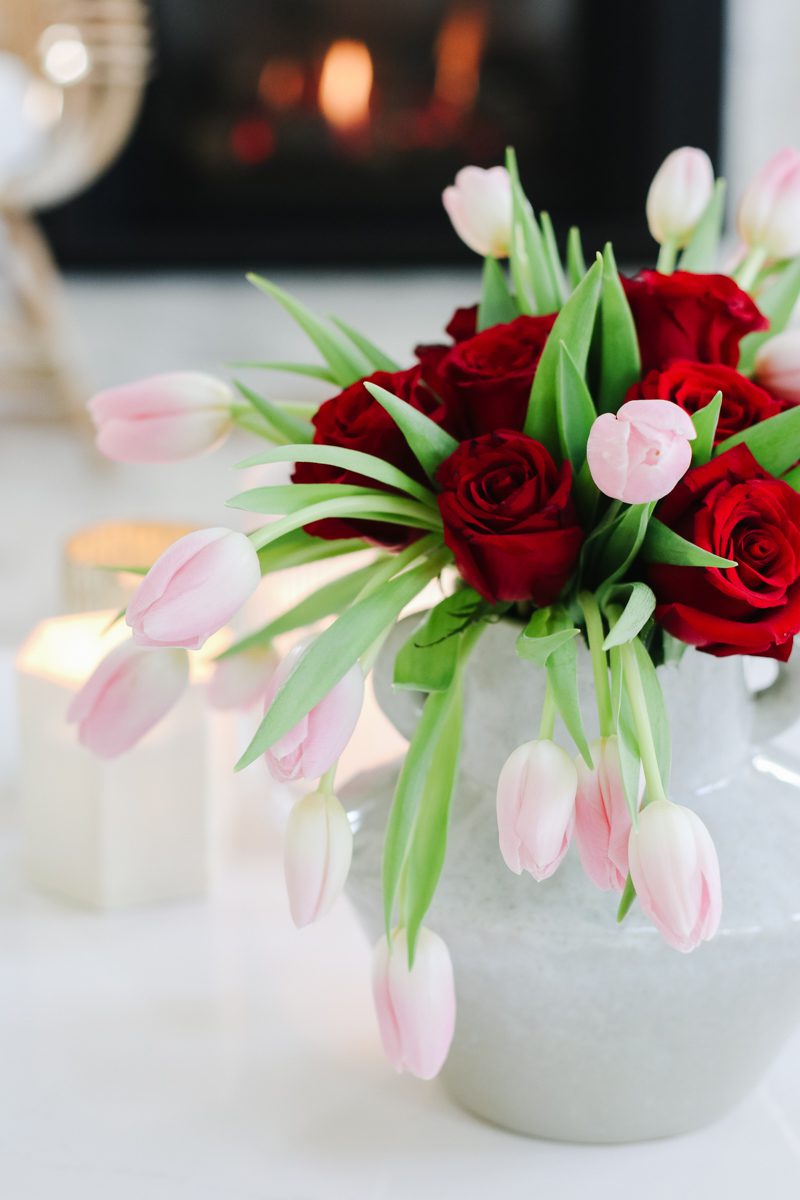 Tips For Arranging Tulips
Tulips straight from the store can be hard to work with and a bit stiff. I like to place tulips in a jar of water and let them sit in a cool area for a day or two. This lets the buds open up and bit and the stems to become more flexible.
Personally I like the floppy look that tulips get as the grow and open up their petals. If you prefer the more rigid look of the flowers, then ignore these tips.
I purchased my tulips on a Sunday and left them in water until Tuesday when I went to create this Trader Joe's flower arrangement. By that time, they had grown considerably and the petals had opened up and you could see the pretty pink color. Working with them in this state seems easier for me. I like how the stems are more flexible and have some bend to them.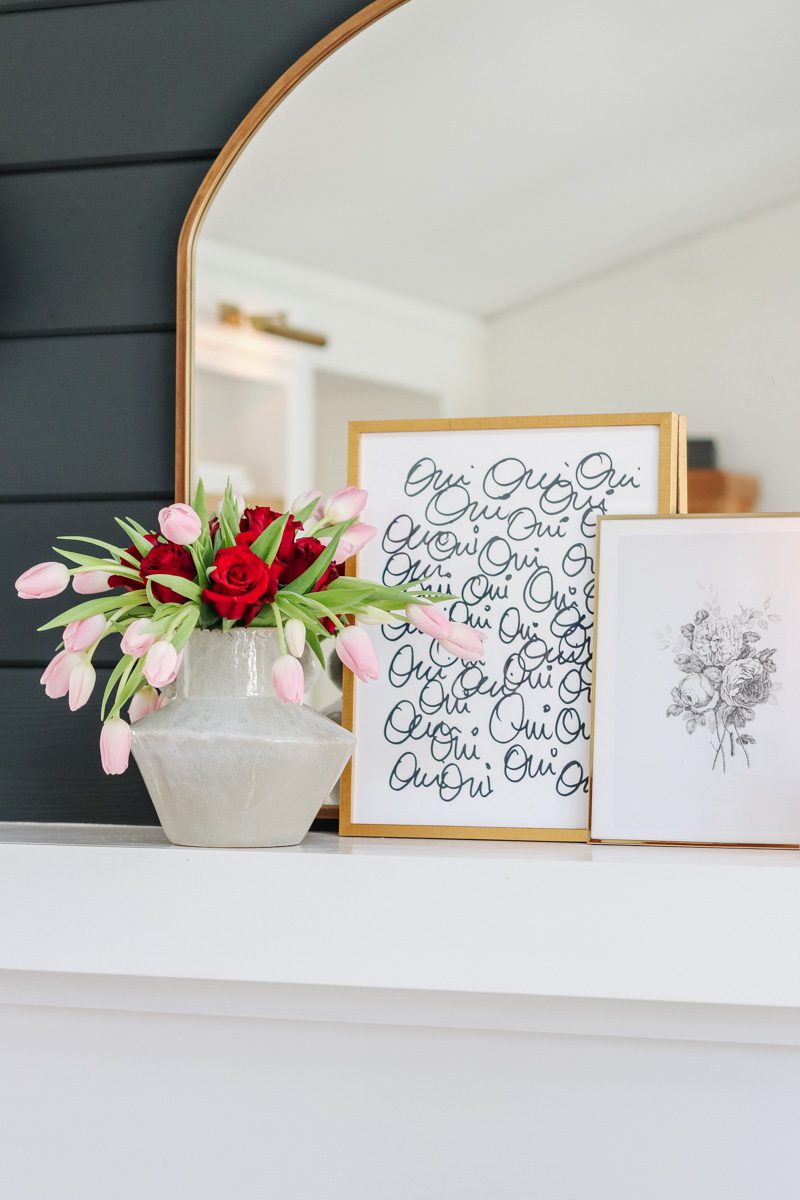 Place the stems in a vessel that allows them some room in the water. As the tulips continue to grow longer, they will get floppier and droop over your vessel rather than stick straight up.
You could also trim the tulips around day 2 or 3. This will help them from getting that overgrown look. Replace the water while you're at it and you can have a beautiful flower arrangement for over a week before the petals start dropping!
Save This Pin For Later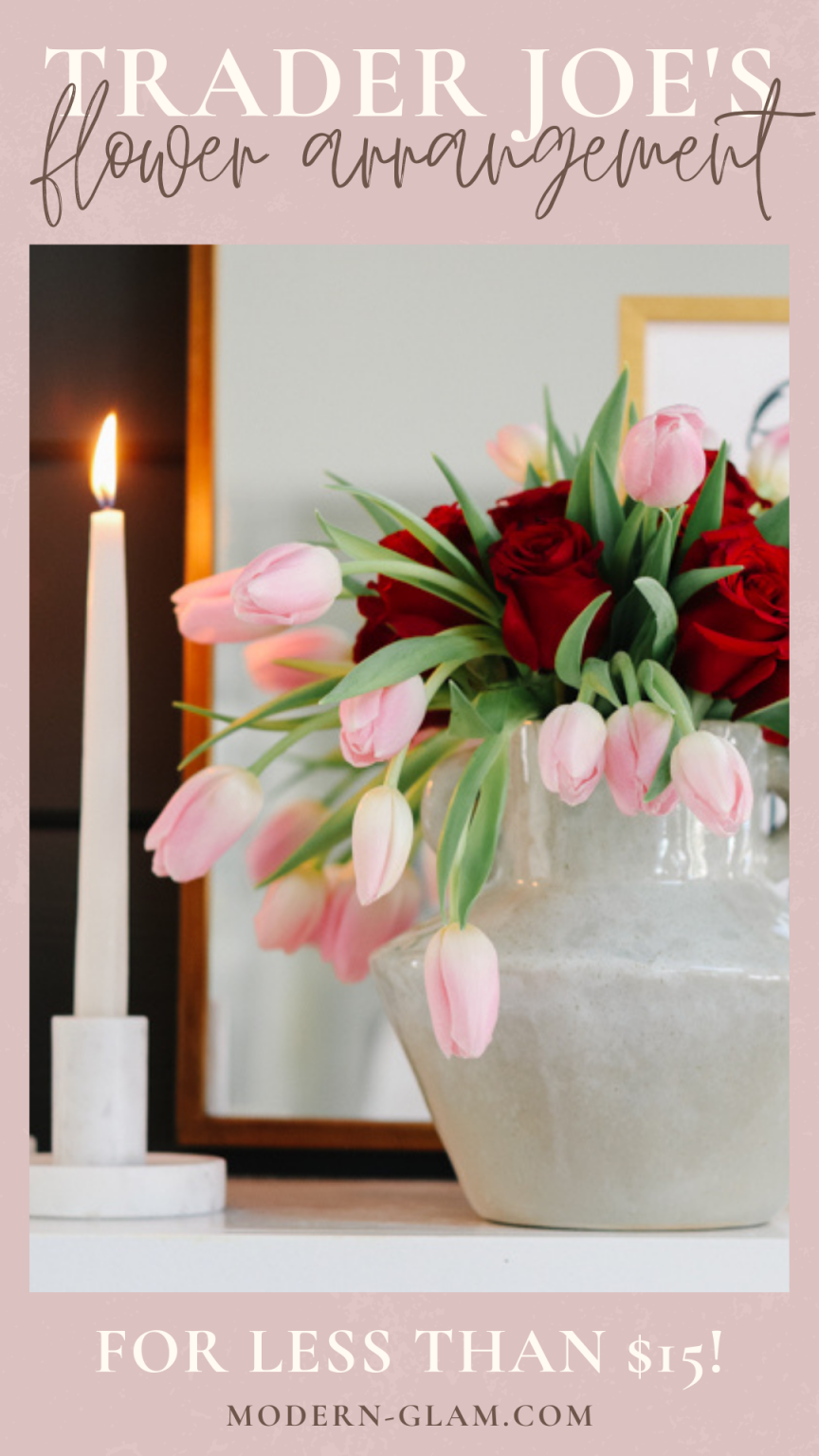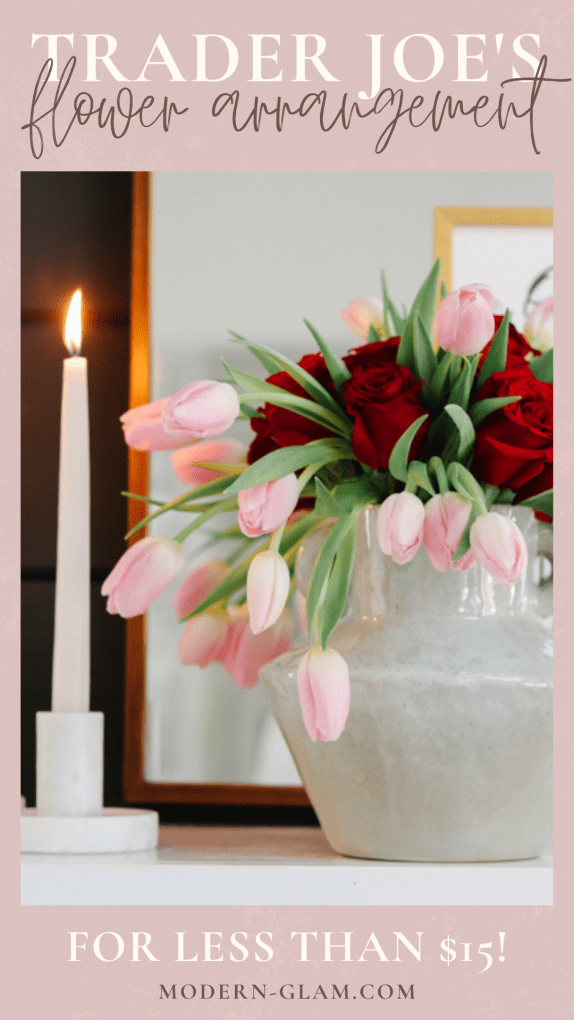 14 Valentine's Day Flower Arrangements You Will Love

Dried Flower Arrangements // Happy Happy Nester
How To Make A Paper Bag Planter // Most Lovely Things
The Best Pink Carnations Valentine Gift // My 100 Year Old Home
Flower Box Arrangement Using Grocery Store Flowers // Craftberry Bush

Trader Joe's Flower Arrangement // Modern Glam
Sweet Valentine's Day Arrangement Using Grocery Store Flowers // Sincerely, Marie
Valentines Day Red Roses// The Design Twins
Galantine Ice Cream Cone Flower Centerpiece // Tatertots & Jello

Easy Valentine's Day Tulip Floral Arrangement // Zevy Joy
Flowers in a Vase Vintage Painting Prints // The Happy Housie
How To Make Modern Flower Arrangements // Inspiration For Moms

How to Make Unique Flower Arrangements with Vintage Vessels // Robyn's French Nest
Mossy Heart Wall Hanging // My Sweet Savannah
Three Ways to Have Pretty Valentine's Day Flowers in your Home // Pasha Is Home