Etsy is one of my favorite places to find unique items for my house and for a special gifts. I am also a huge small business supporter (since I own my own small business). It is so nice to know that you are supporting the heart of the American dream by buying from a small business! Not only that, but I find the most unique and perfect things on Etsy. I get so tired of seeing the same items at the big box stores and even Target. I have been searching through Etsy lately getting ready to decorate for fall. And I thought I'd share with you what I've found. Etsy Fall Decor: My Favorites. So many good finds. And did I mention Etsy is the perfect place to shop for gifts? It's never too soon to get a start on the holiday shopping!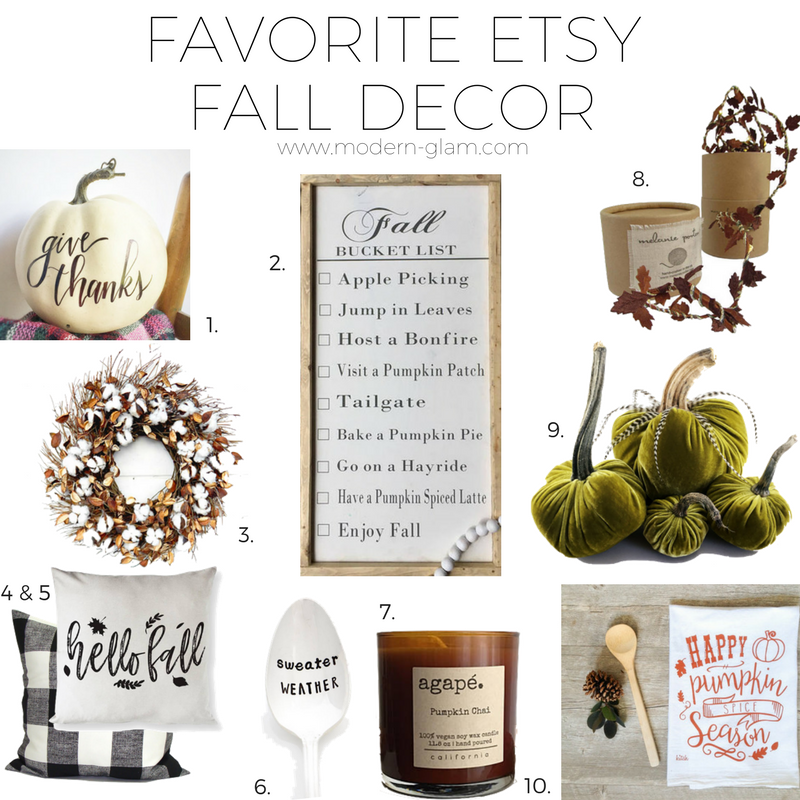 These pumpkins are so cute! And I know I could never get my handwriting to be that beautiful. I love the idea that you can use these year after year! Customize one with your family name or your own personal motto!
This sign is so pretty! And I think having a bucket list like this is a reminder to live in the moment and enjoy the season. What a fun find, right?
Nothing says fall like a seasonal wreath to add to your front door. I also like to hang one in front of the mirror over my fireplace using a beautiful silk ribbon. This cotton and twig wreath is rustic yet so simple! And you can customize the scent. Greet your guests with the welcoming smell of freshly baked apple pie!
4 & 5 Fall Pillows
This buffalo check pillow is the perfect pillow for fall! And I love the Hello Fall pillow with it's beautiful script font. I am thinking these will be perfect on my swings out front paired with a chunky knit blanket!
This hand stamped spoon has the perfect sentiment on it. What a fun gift or addition to your coffee station. And be sure to check out all the other options this seller has!
This candle smells like fall in a jar! I love the rich chai spice paired with the pumpkin. And these candles are clean burning made from 100% soy. Check out her other scents for fall. Pomme Spice and Hygge!!! Obsessed!
How pretty are these copper and gold leaves wrapped in tiny twinkling fairy lights? I am adding these to my fall mantel display. Ambiance to the max!
These rich green velvet pumpkins are too cute for words! I love the real stem details on these. I have my own collection of velvet pumpkins that I love getting out year after year!
I adore this seller's work. Unique lettering and she has the cutest napkins perfect for your next feast. But let's talk about this towel for a minute. What a fun neighbor gift this would make with a freshly baked loaf of pumpkin bread!
shop the post