Decorate your mantel for Halloween using foraged branches, white pumpkins and insects. This simple holiday decor is easy to replicate and fun for Halloween.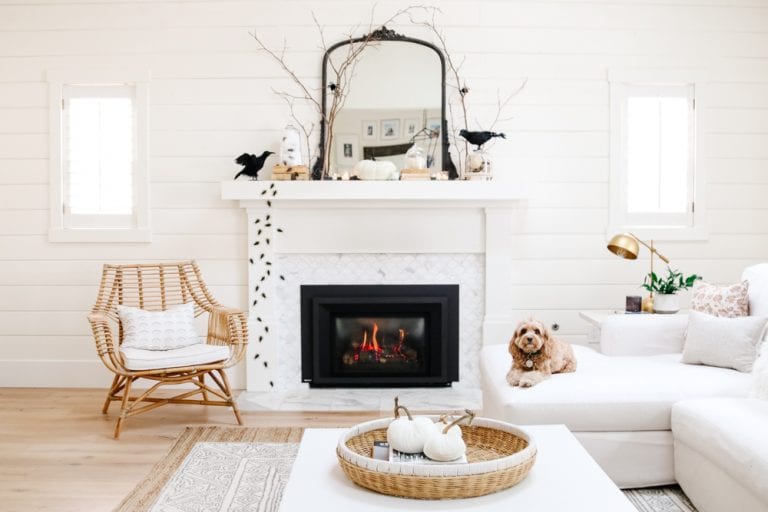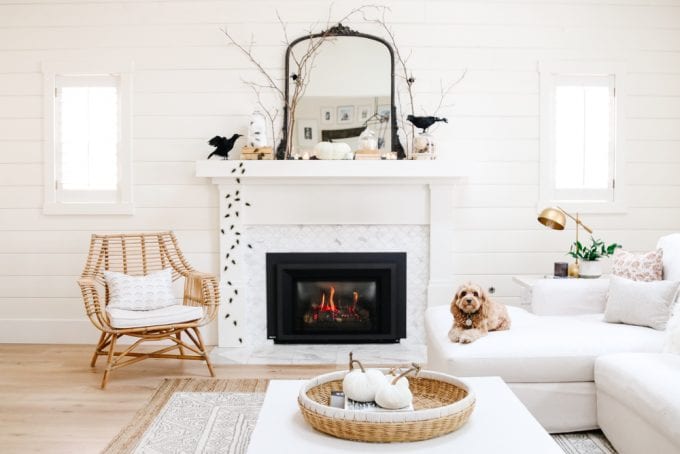 As my kids get older, they want creepier and scarier Halloween decorations. While I'm not ready to get on board with the zombies and decapitated heads that grace the aisles of Target, I do love some classic creepy (but chic) Halloween decor.
This foraged Halloween mantel required minimal effort and is a fun way to decorate for the holiday without going crazy. I'll show you how I created this simple Halloween mantel idea!
Halloween Mantel Idea
Two years ago I created this Neutral Halloween Mantel and it has gone viral on Pinterest. And since then, my style has been simplified.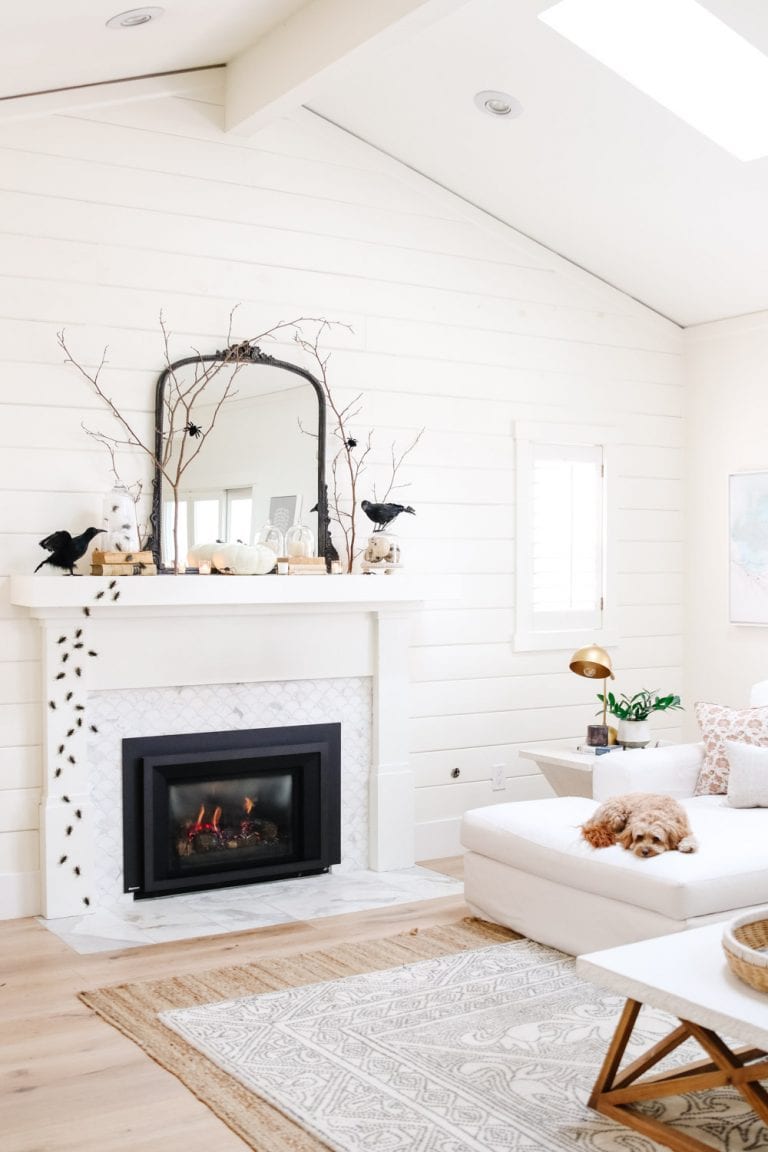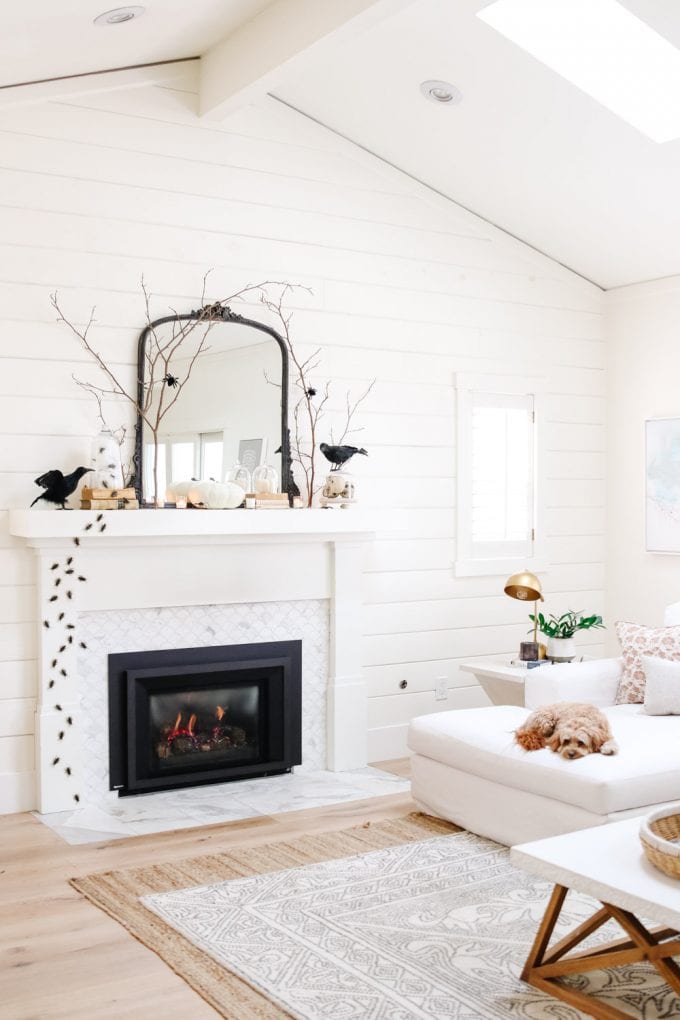 So, I have recreated that Halloween mantel idea and naturally allowed it to express my current decorating style.
I still love the black and white neutral theme, but I've updated that look with a little less fuss. And a few more creepy crawlers too!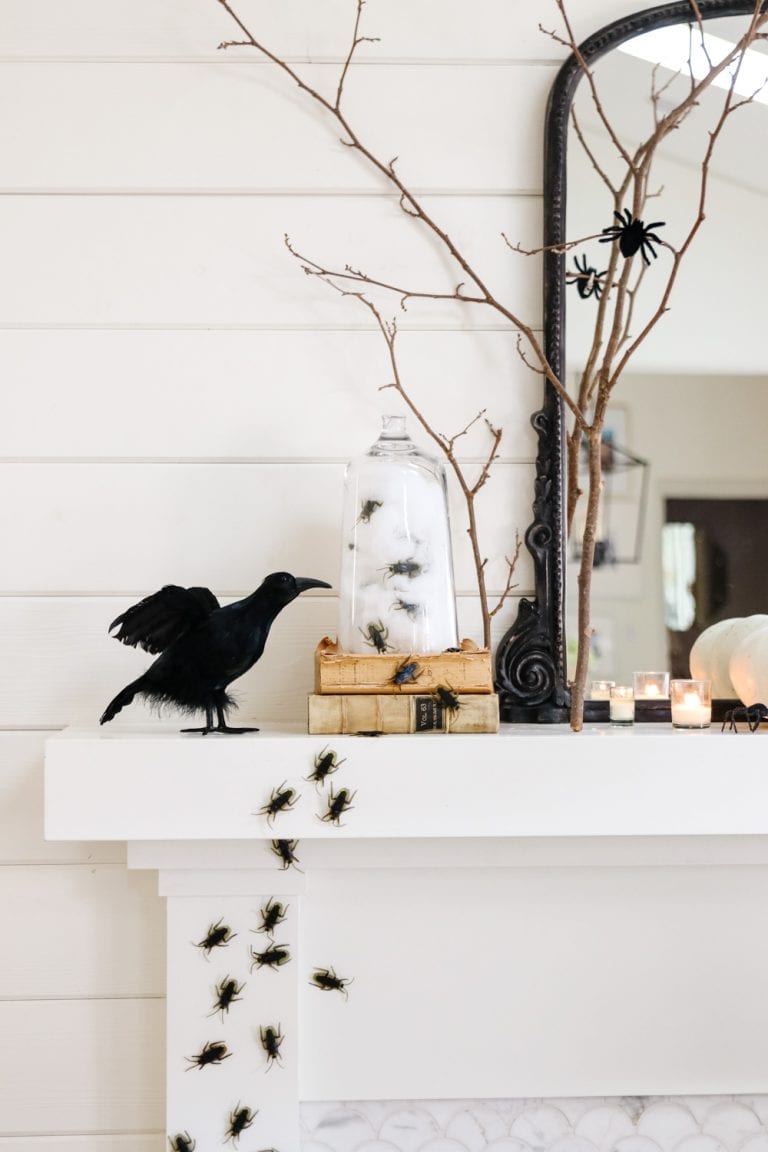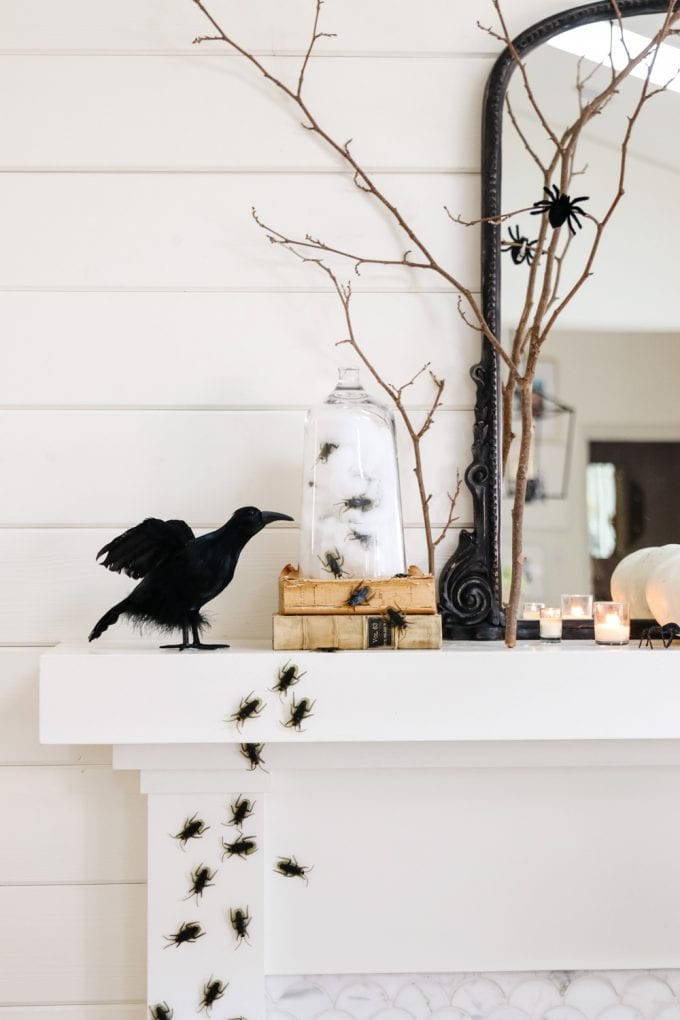 The foraged branches came back into play. I think they are one of my favorite ways to add some spooky Halloween vibes to this mantel. They remind me a little of Ichabod Crane and The Headless Horseman. What do you think?
How To Decorate A Halloween Mantel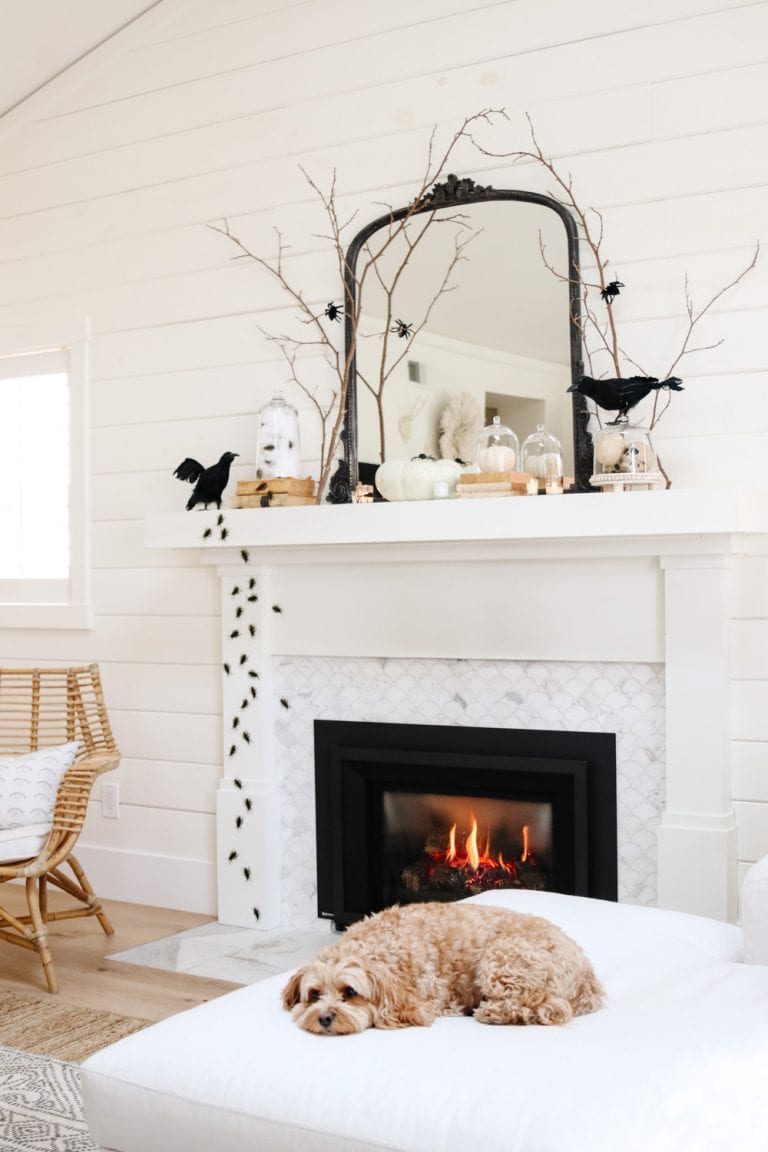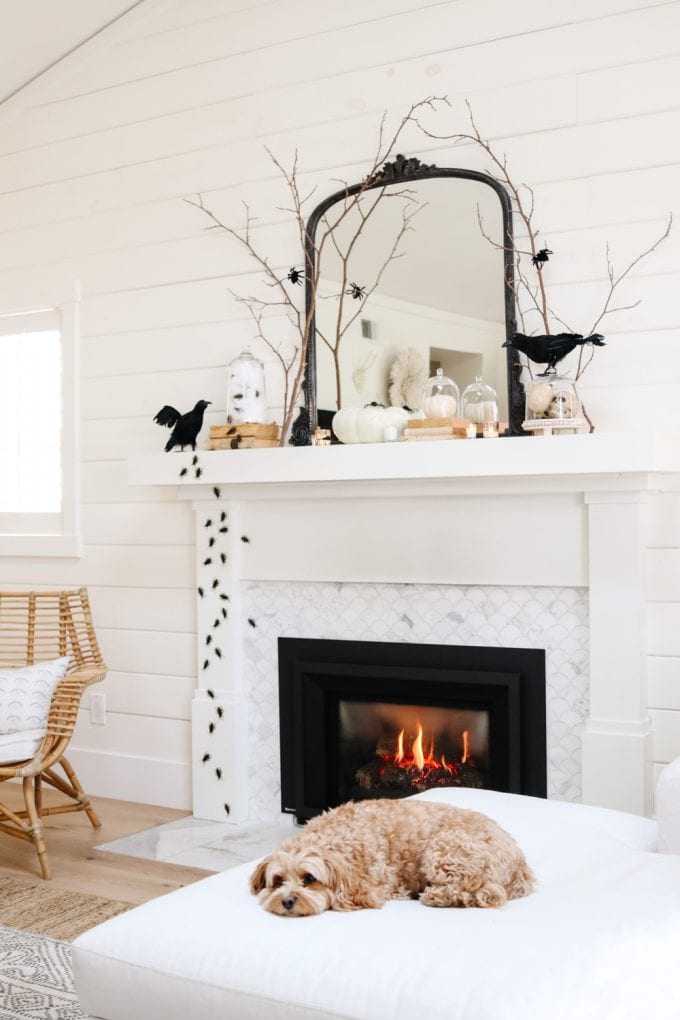 Decorating you fireplace for Halloween can be pretty simple. For this foraged mantel idea, I found a few dead branches from a tree in our front yard.
This time of year it seems like there are a lot of them scattered around the yard I love using them in unexpected ways indoors.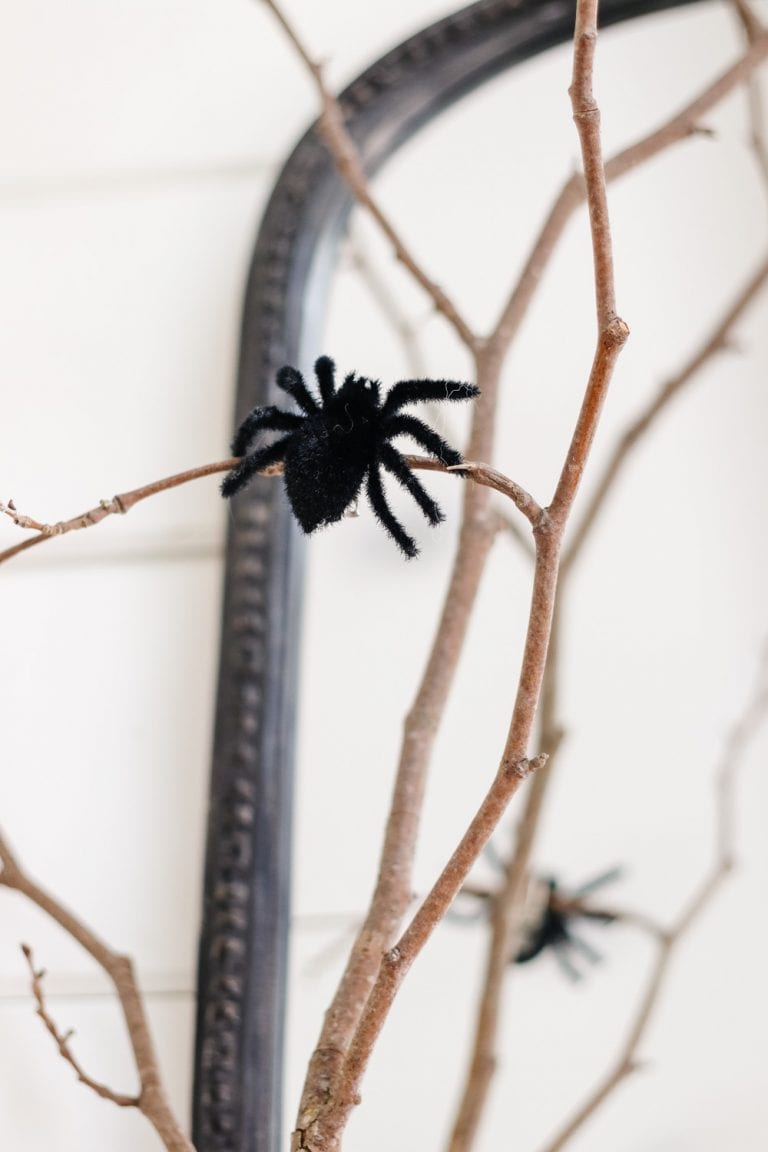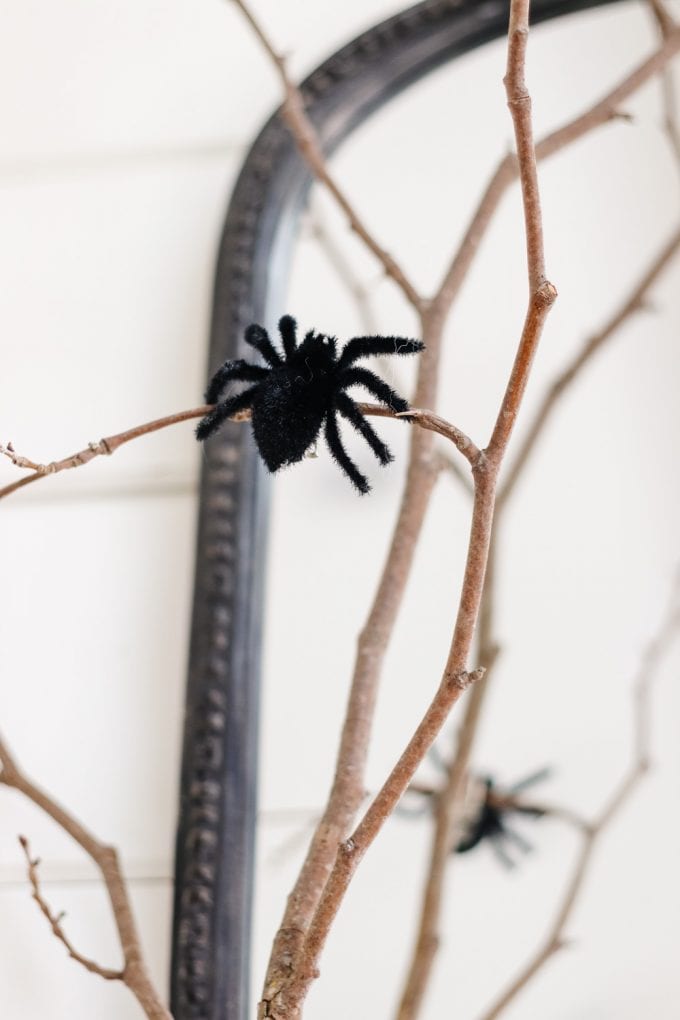 I placed the branches on either side of my Gleaming Primrose mirror. I did not secure them in any way. But, it would be easy to use some clear fishing line and transparent tape attached to the wall to hold them in place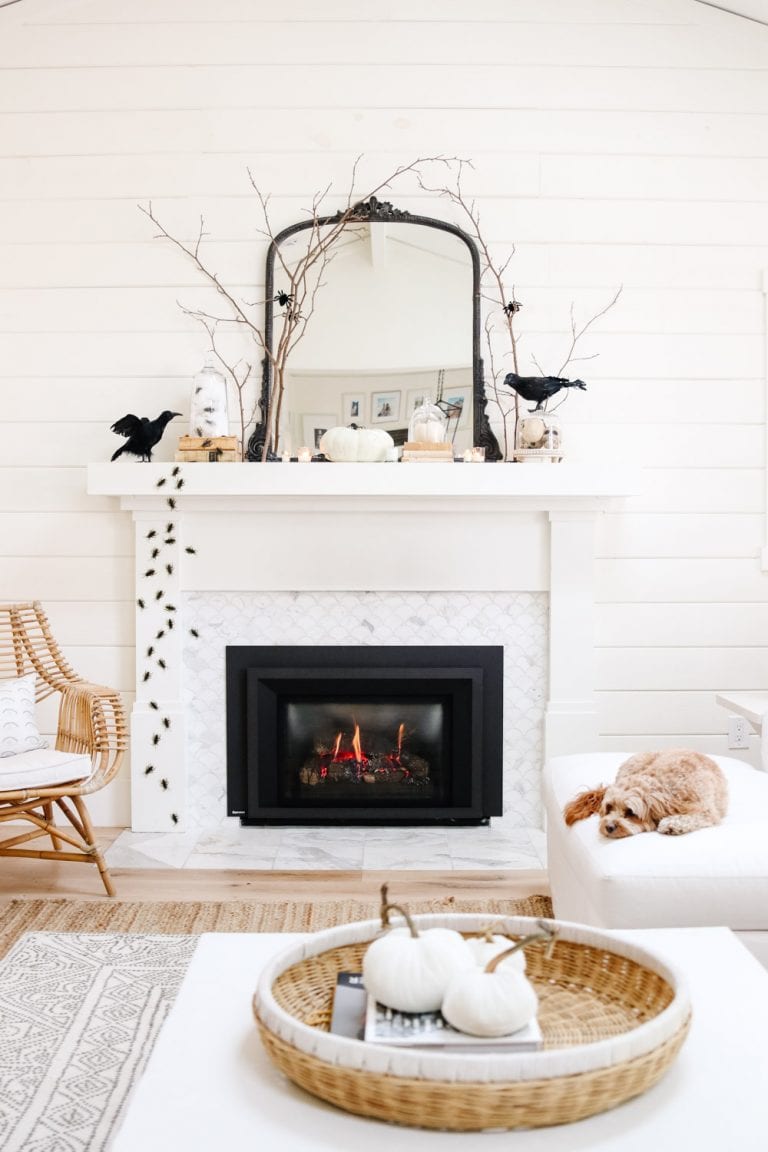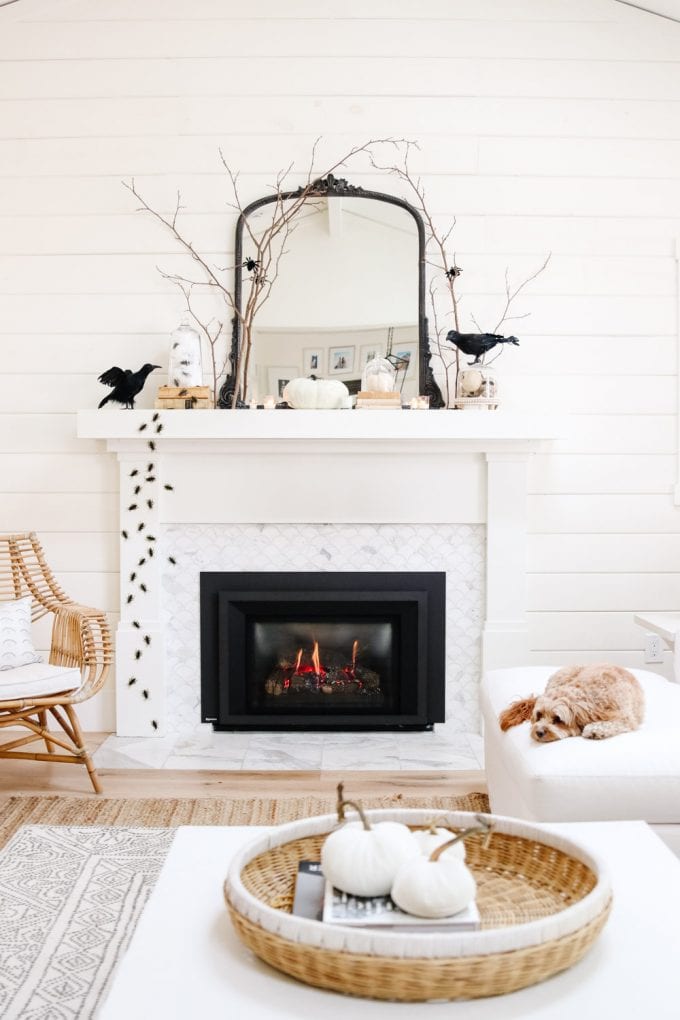 I like the rustic and wintery feel they add to my halloween mantel decor idea.
Creepy Halloween Mantel Ideas
I wanted to create an apothecary looking halloween mantel. Something reminiscent of an abandoned science lab. So, I gathered a few glass cloches, some antique books and a couple of Halloween decor accessories.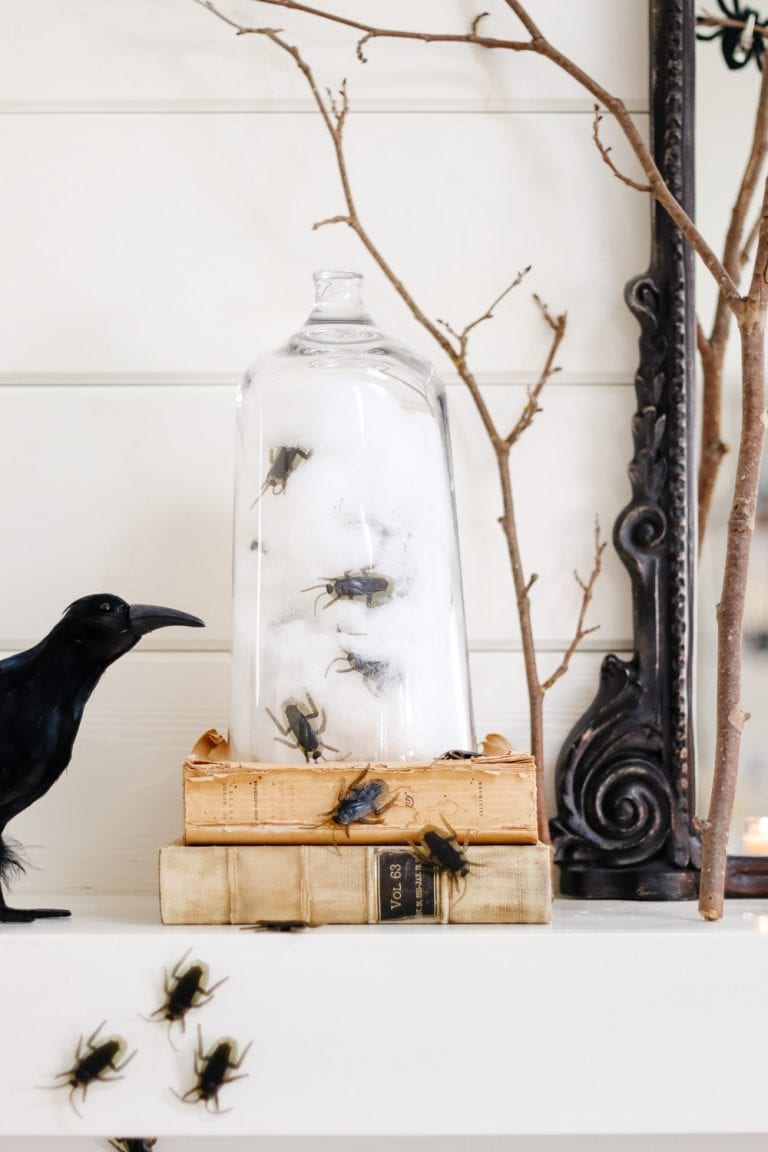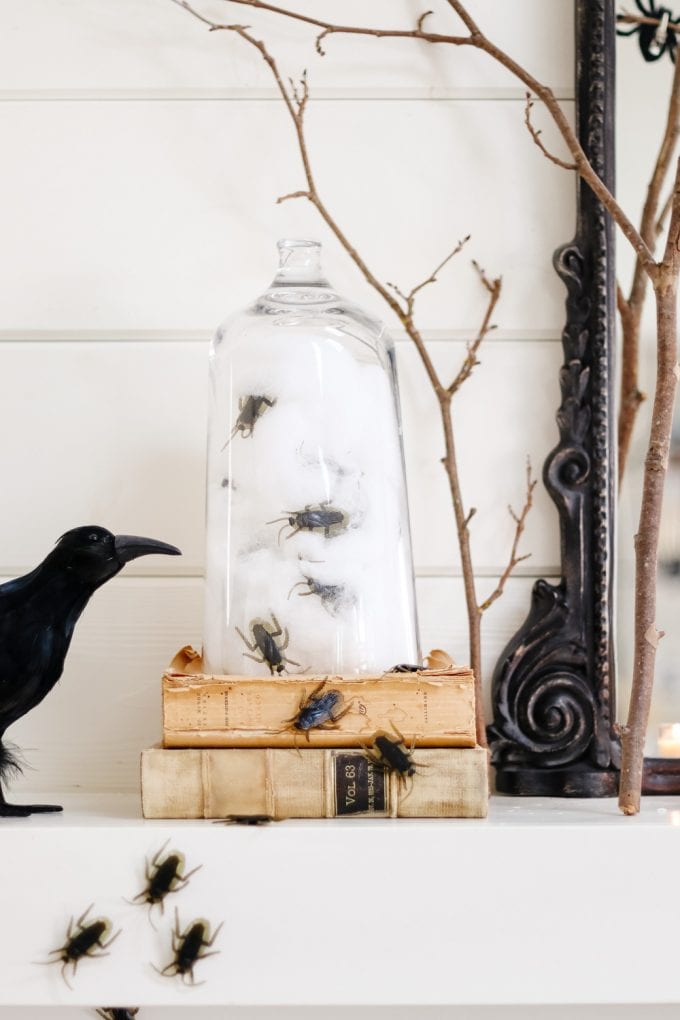 This glass cloche is filled with spider web fiber and some plastic cockroaches that I found at the craft store. I taped the cockroaches onto the mantel as if they have escaped the nest and are infesting the house. My kids loved this!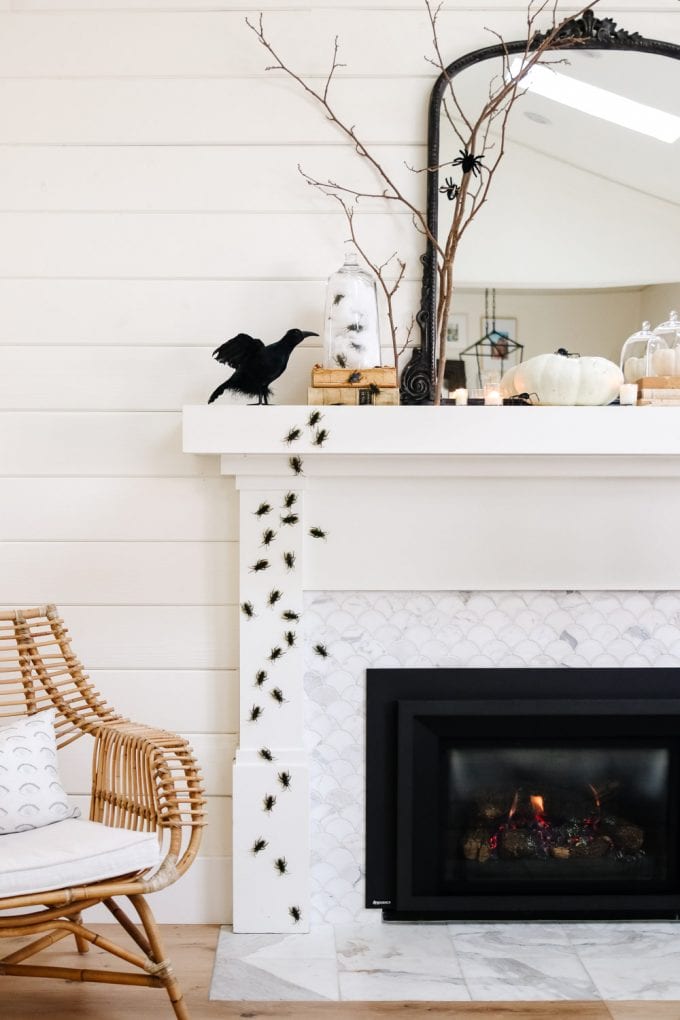 In the other cloches, I placed a pumpkin in one and some skeleton heads in the other. I used my antique books to add height and interest.
Then I finished off the look by adding a few candles and two feathered crows. That was all that was needed for this Halloween mantel idea. Simple, easy and it only cost $3 (for the pack of cockroaches).
How to create this Halloween decor using what you have on hand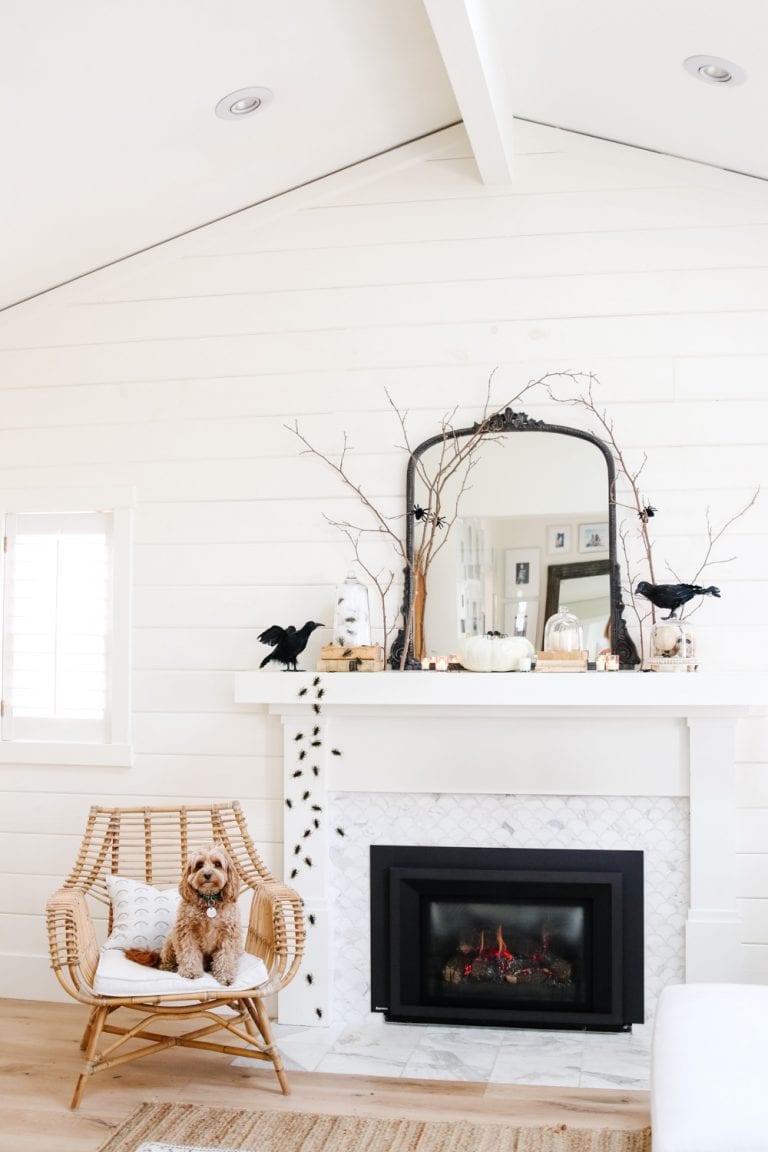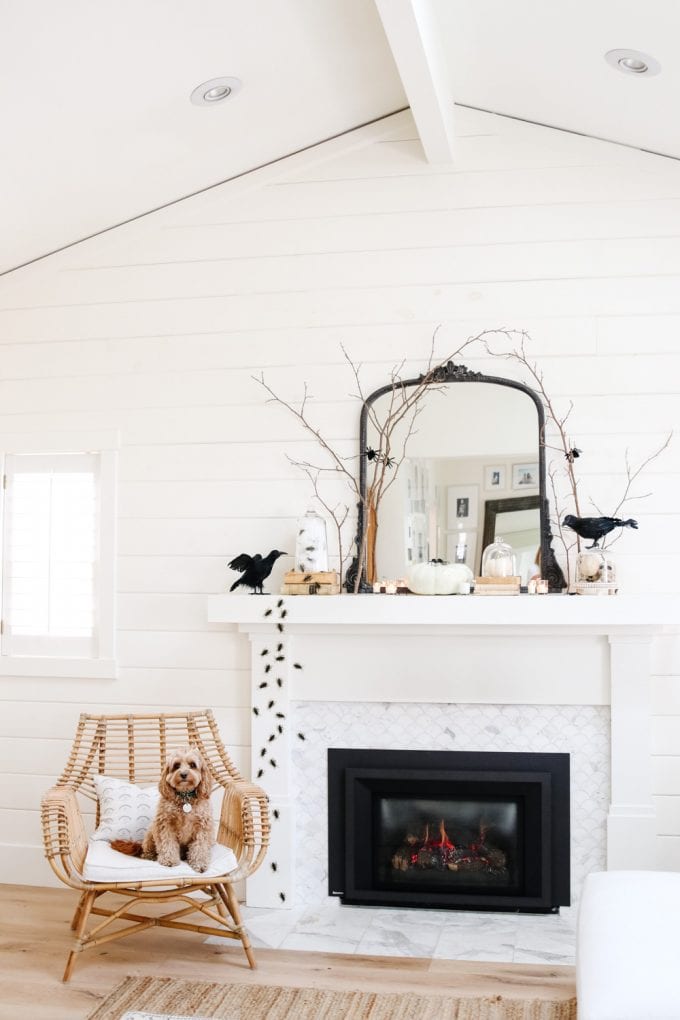 Decorating for the holidays doesn't have to be complicated and it doesn't have to cost anything either! Using what you have on hand, you can replicate this foraged Halloween fireplace idea.
Swap out the skulls for another creepy Halloween accessory. Rats, spiders, bones could be used.
Use a jar turned upside down in place of the glass cloches.
Use quilting filler for the spider web fiber.
Swap out the cockroaches for spiders or any other insect.
Take old paperback books and remove the covers to create neutral books that are great for stacking.

There are so many ways you can make this Halloween mantel idea work for your home using items you already have.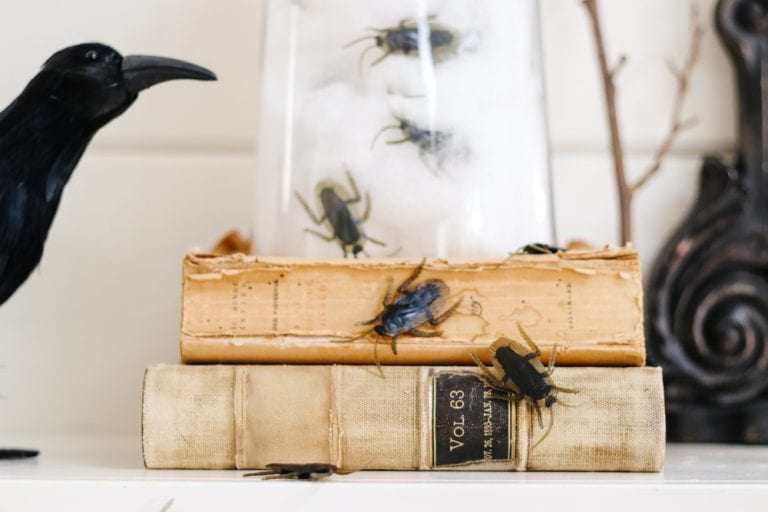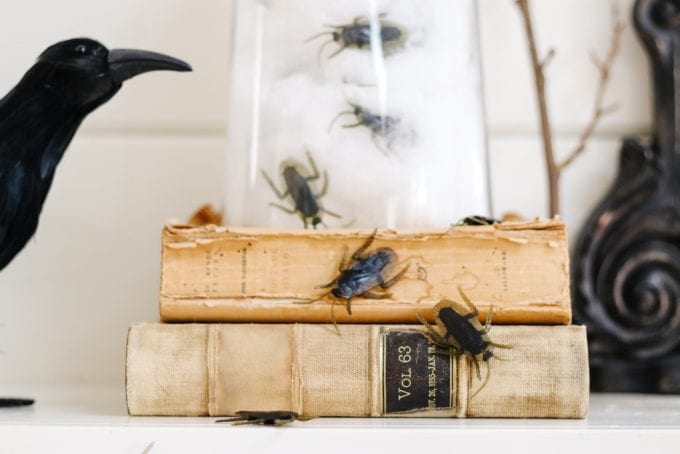 I hope this inspires you to create something fun for the Halloween holiday! Let me know if you do, tag me on Instagram.