These Black Cat Skeleton Halloween Cookies are such a fun halloween treat! Chocolate cutout cookies are decorated with royal icing to create skeletons for a fun and unique Halloween recipe idea.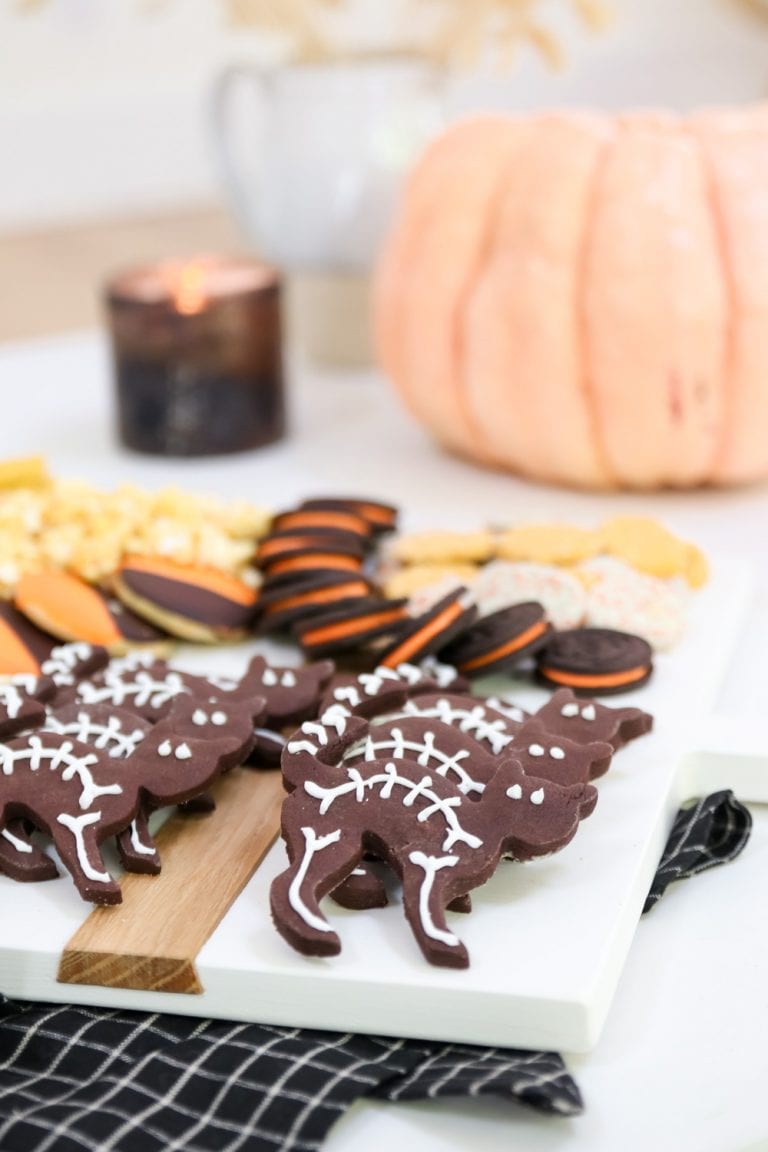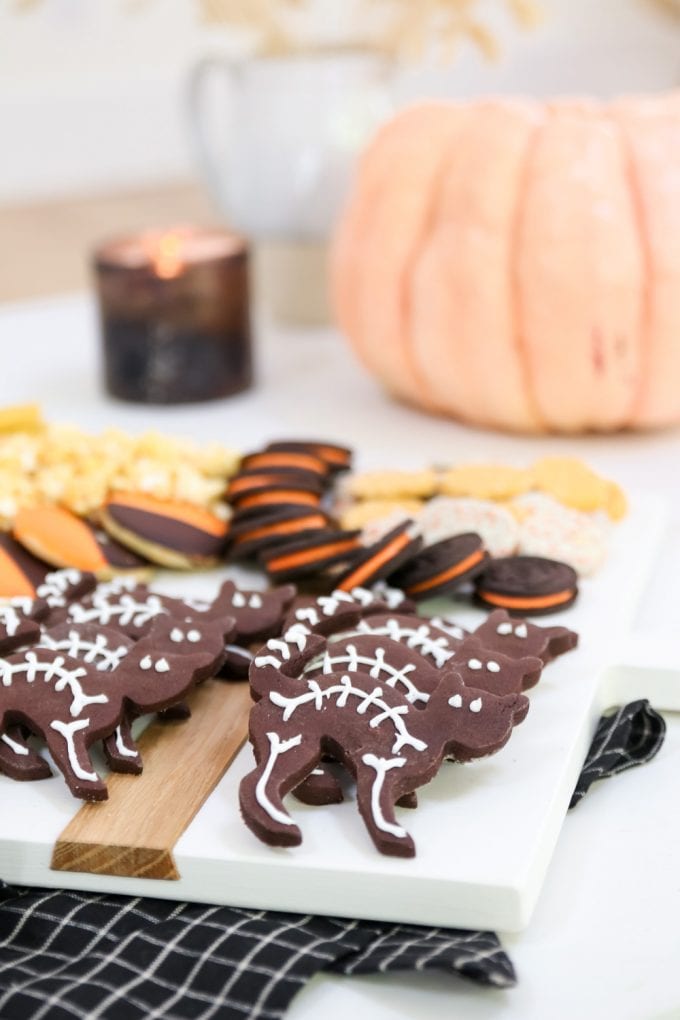 Black Cat Skeleton Halloween Cookies
Whether you go all out or keep it pretty simple for Halloween, you can't resist the cuteness of these Black Cat Skeleton Cookies!
I took Martha Stewart's Dark Chocolate Cutout Cookie recipe and made these fun cookies for holiday. Because, what's more Halloween than black cats and skeletons?!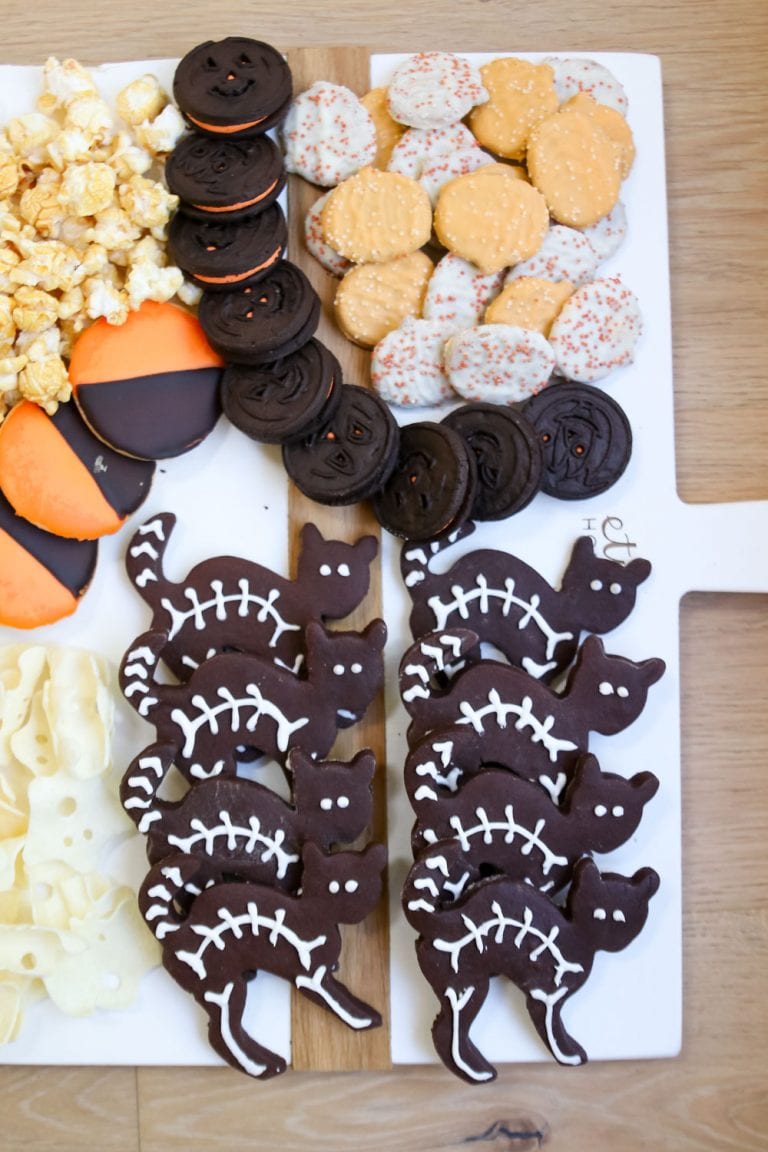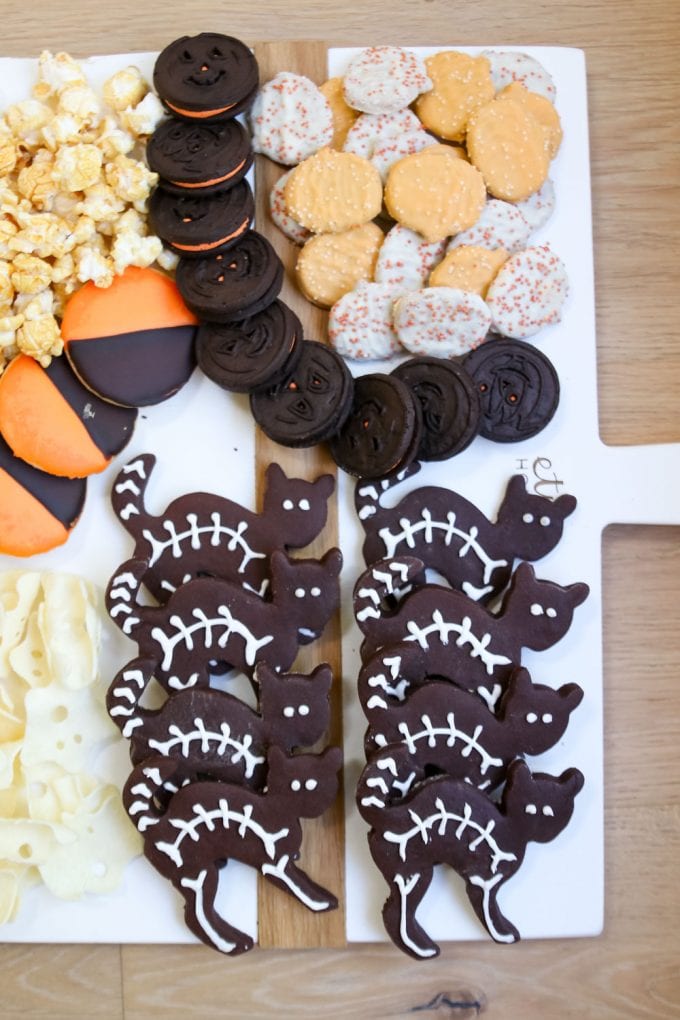 These cute Halloween treats are so fun and they taste pretty darn good too! My son gave them a 10/10! That's pretty impressive coming from a picky eater.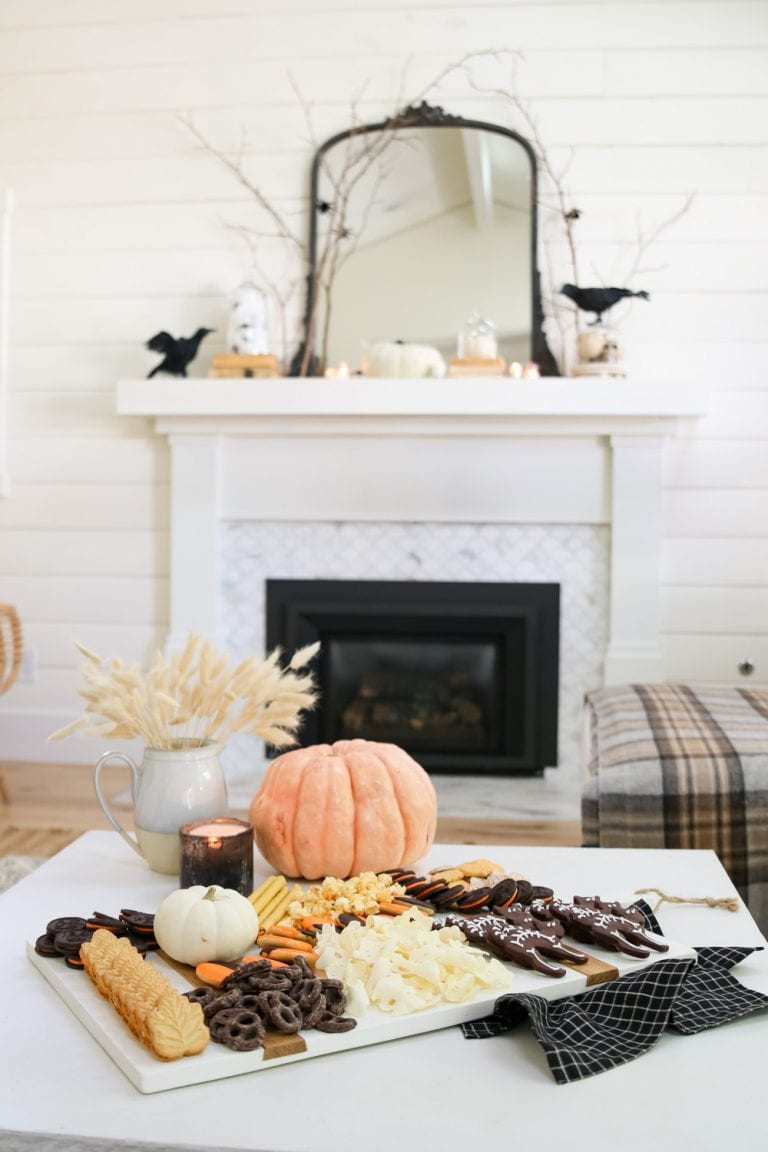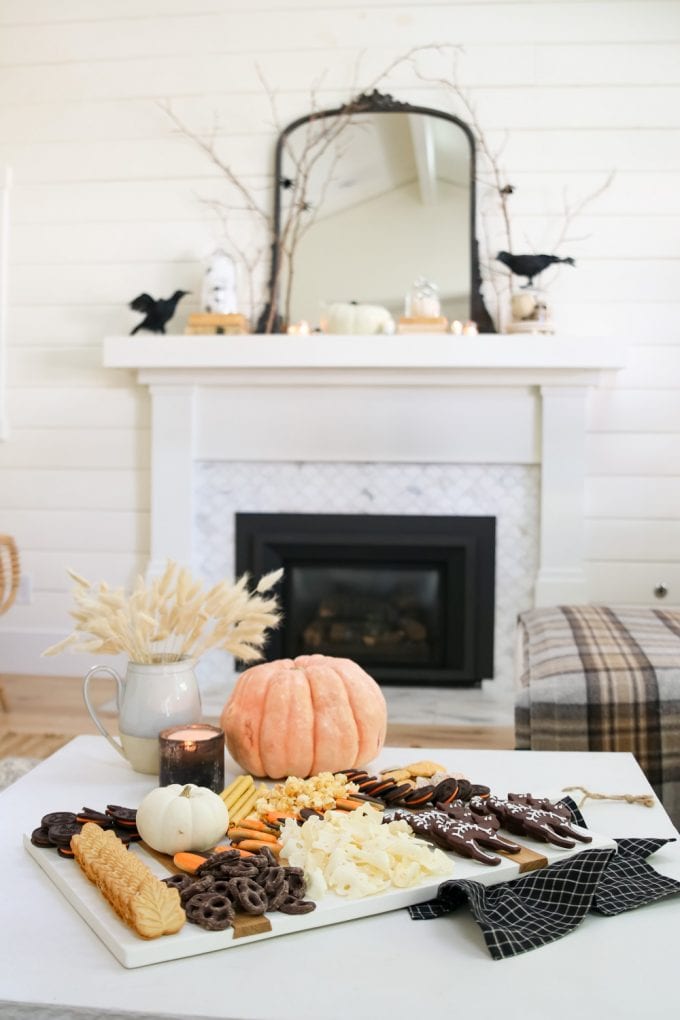 And I used these Halloween Cookies on my Halloween Snack Board. I love how cute they look!
Now, I can't wait to share with you the Halloween cookie recipe, as well as some mistakes I made along the way. It was definitely trial and error with this recipe. I'll share my tips for making the perfect Halloween cookie.
Martha Stewart Dark Chocolate Cut Out Cookies Recipe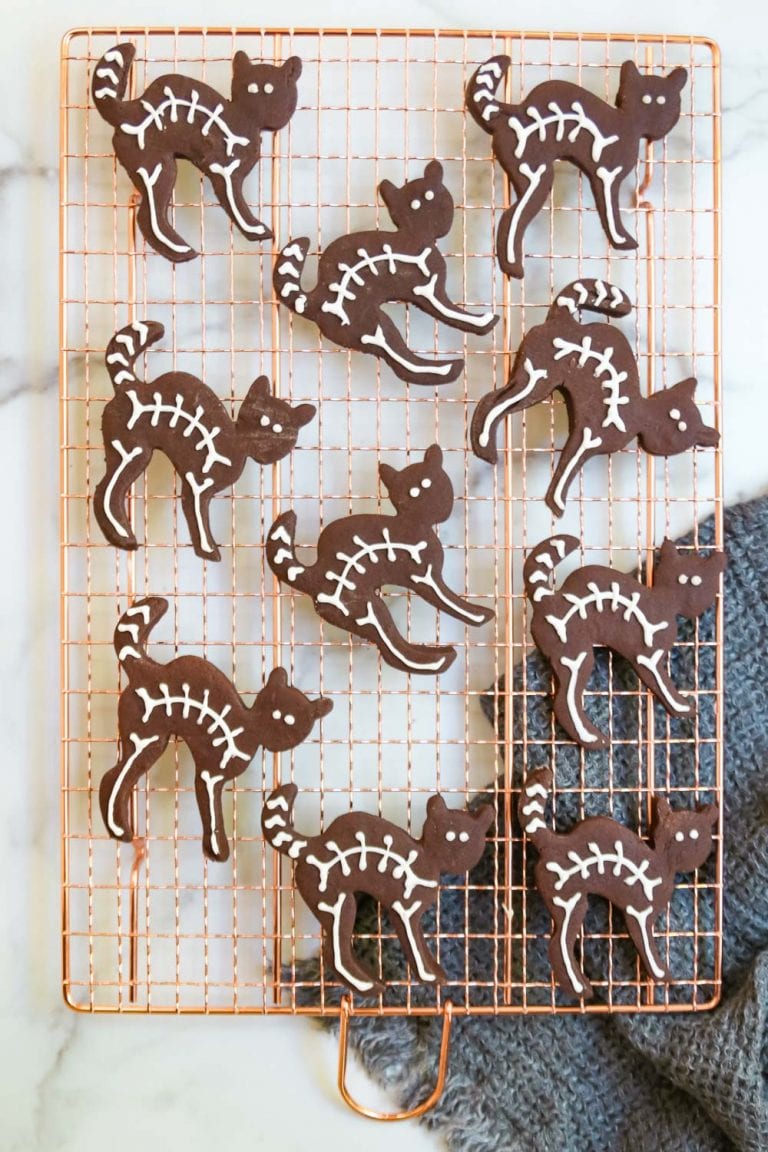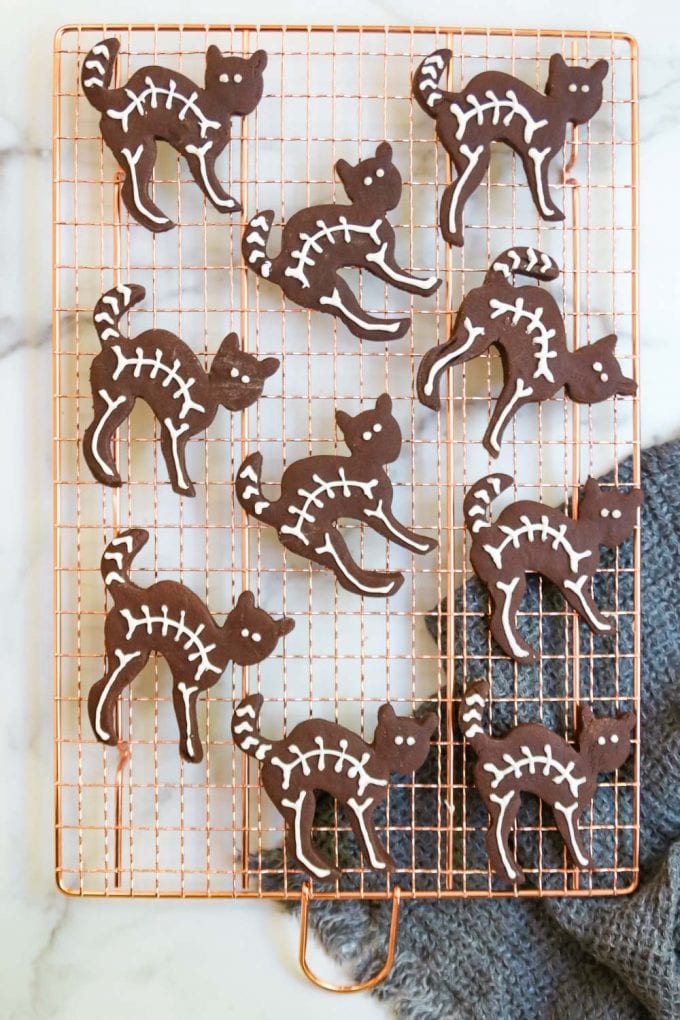 For these cute Halloween cookies, I used Martha Stewart's Chocolate Cutout Cookie recipe. It is a spin on a classic gingerbread cutout cookie, but uses unsweetened cocoa rather than spices.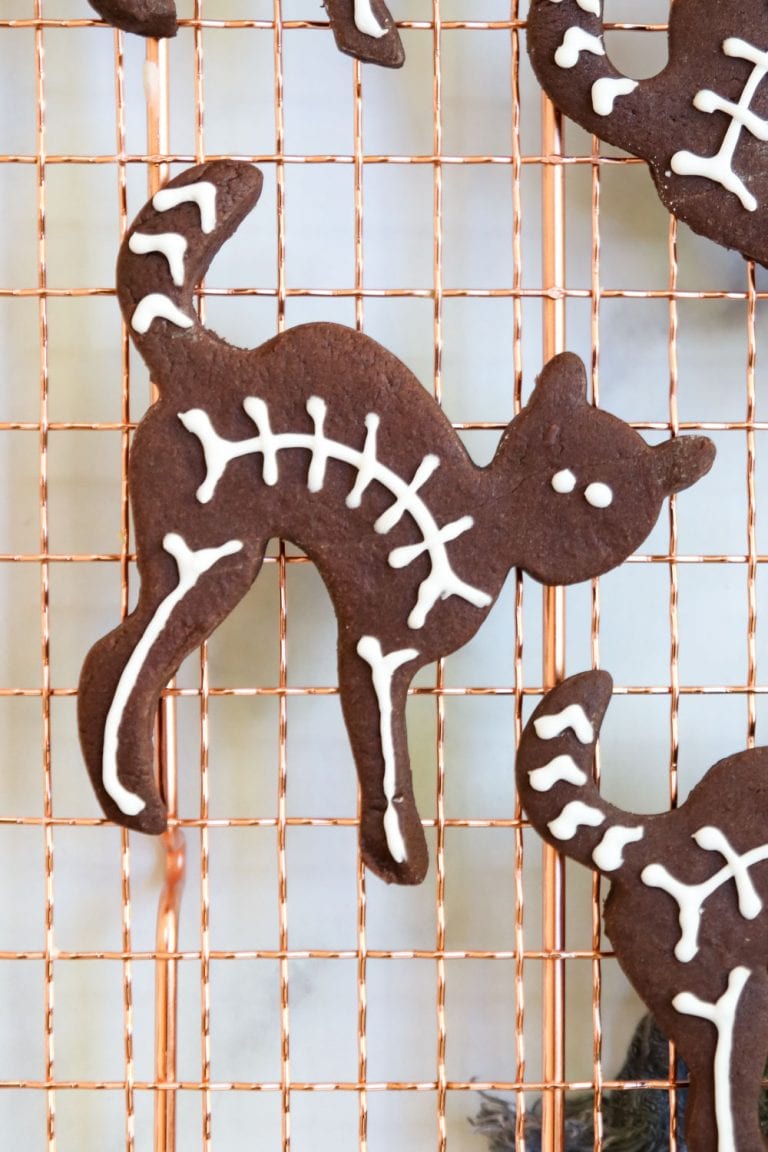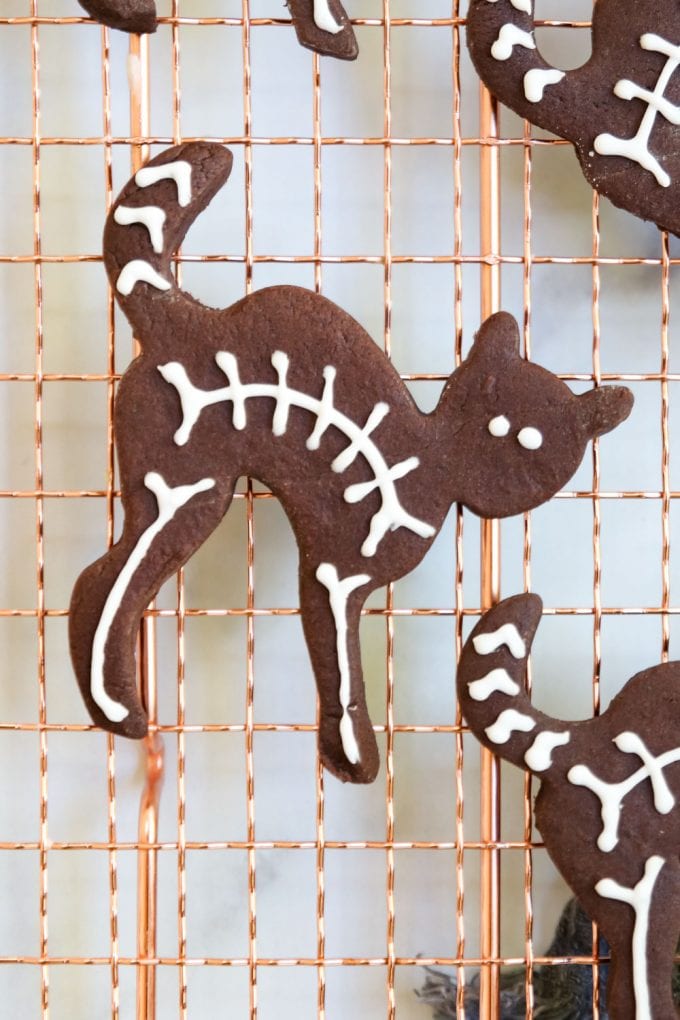 Now, I'm not going to lie, this cookie dough is pretty difficult to work with. There were some moments when I was going to throw in the towel. But, I persevered and figured out the secret to making the best chocolate cutout cookies! I will share all my tips with you.
Halloween Cookie Recipe Tips
Ok, so to make these Black Cat Skeleton Halloween Cookies, you will follow the Martha Stewart recipe for her Dark Chocolate Cutout Cookies. But, read on for my tips and takeaways for making these the best Halloween cookies.
Cookie Dough Chilling Time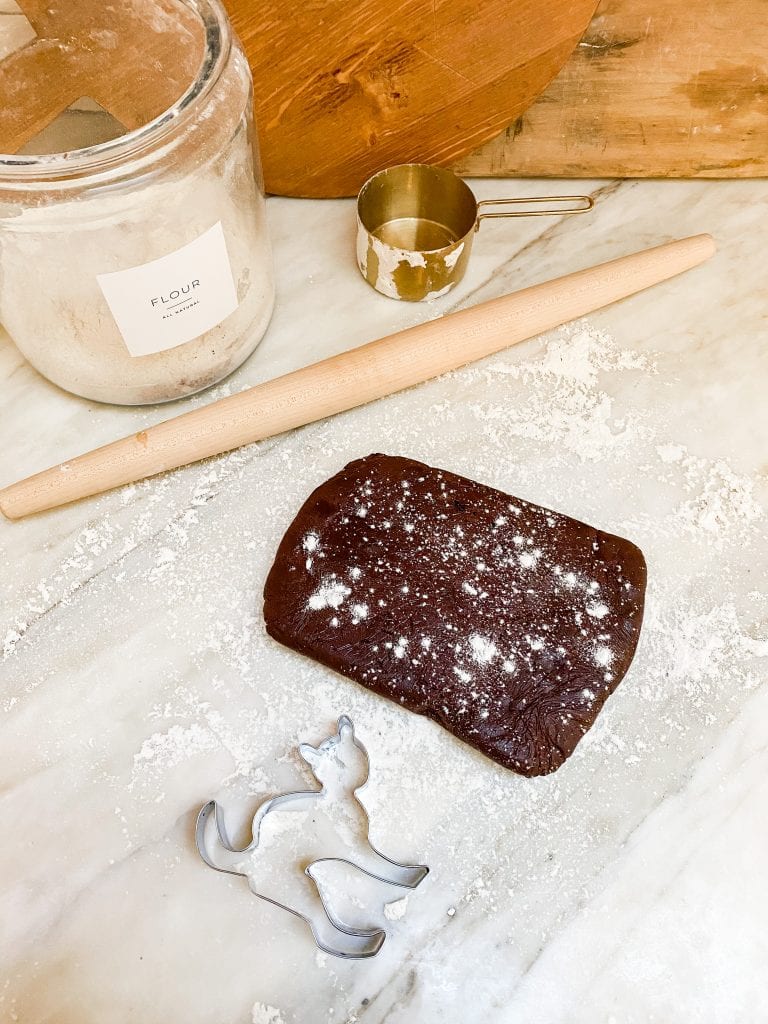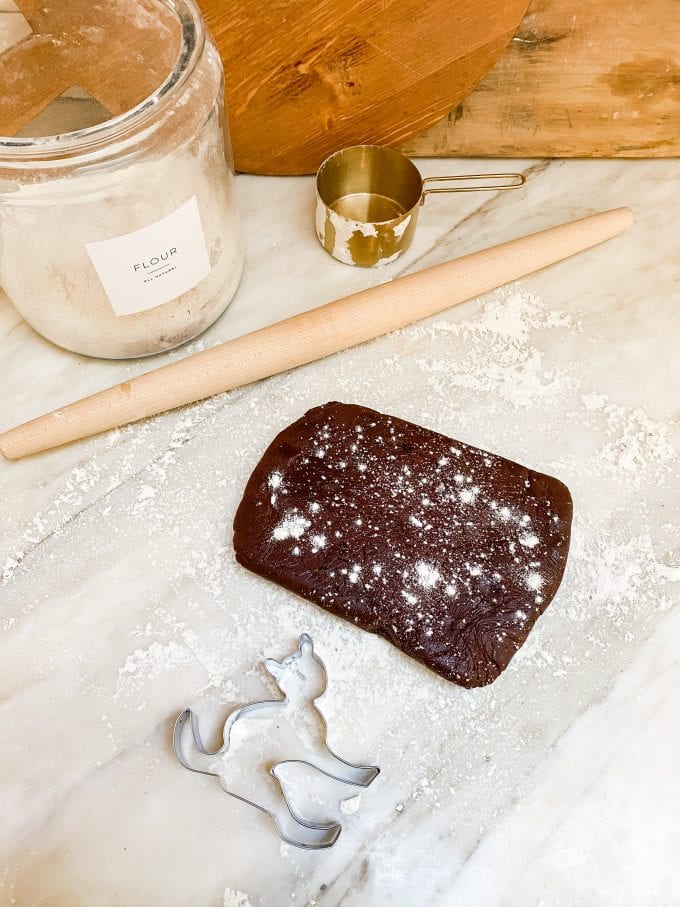 Once you have made the cookie dough, the recipe tells you chill it for up to an hour until it is firm but "still pliable". Because of the amount of butter in this recipe, the dough can get pretty hard.
Due to time restraints, I left the dough in the fridge overnight. It was hard as a rock in the morning. So, if you chill it for more than an hour, you will need to let it sit out for about 15 minutes before you can start rolling it out.
Flour Your Work Surface and The Cookie Cutter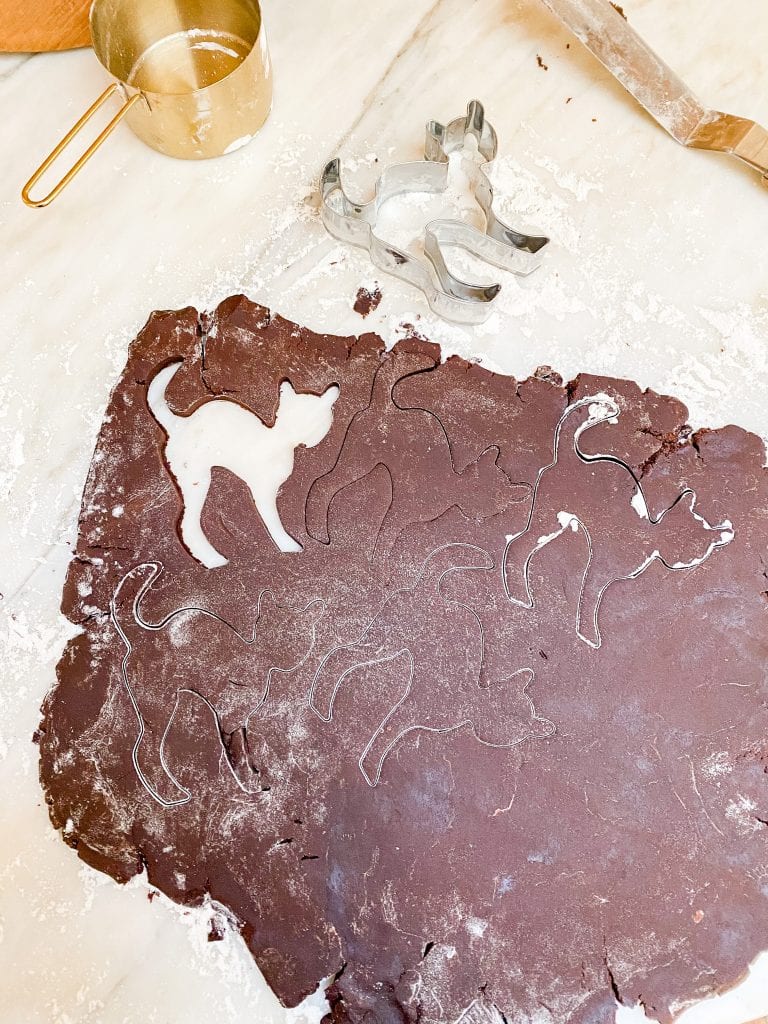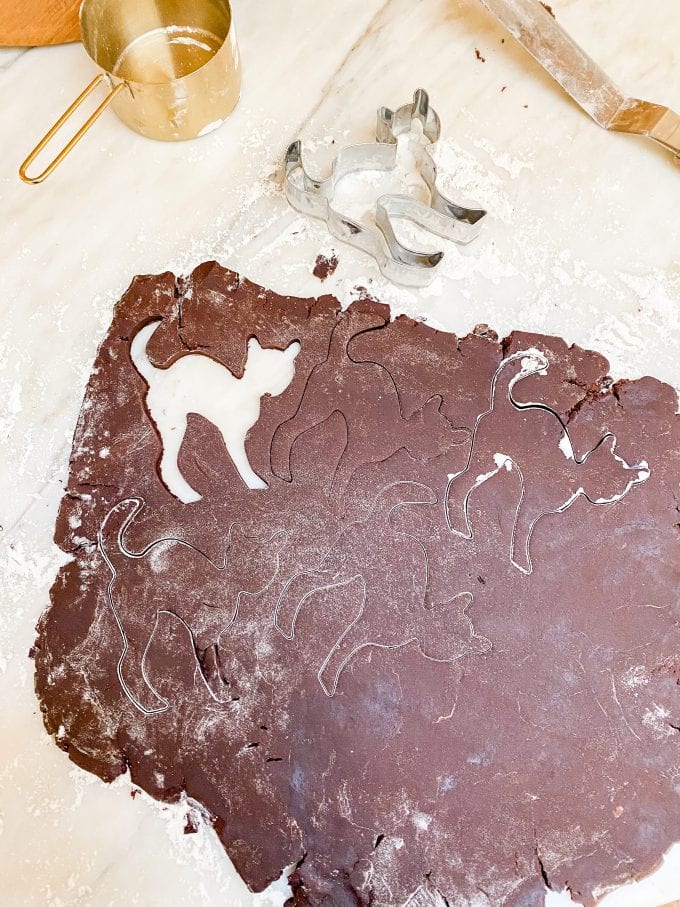 Not only do you need to flour your work surface before rolling out your dough, but it will make it easier if you also flour the cookie cutter.
Dip the cookie cutter in flour before using each time. This will ensure that the dough does not stick to the cookie cutter, causing the cutout to break in thinner spots.
Use A Dough Scraper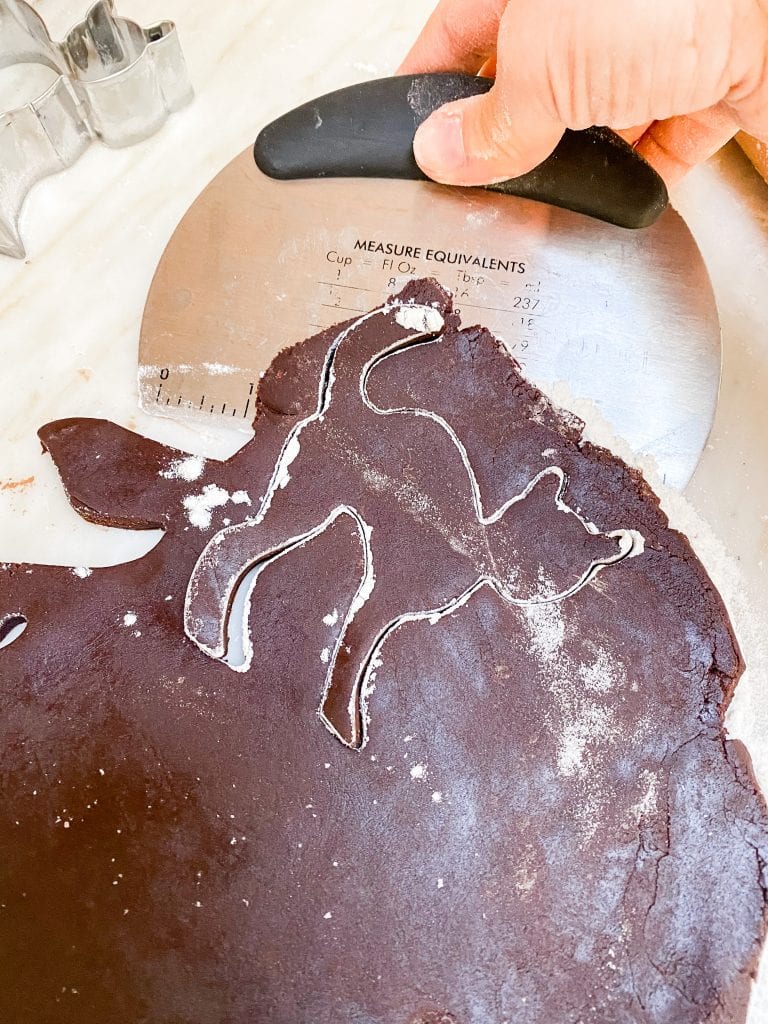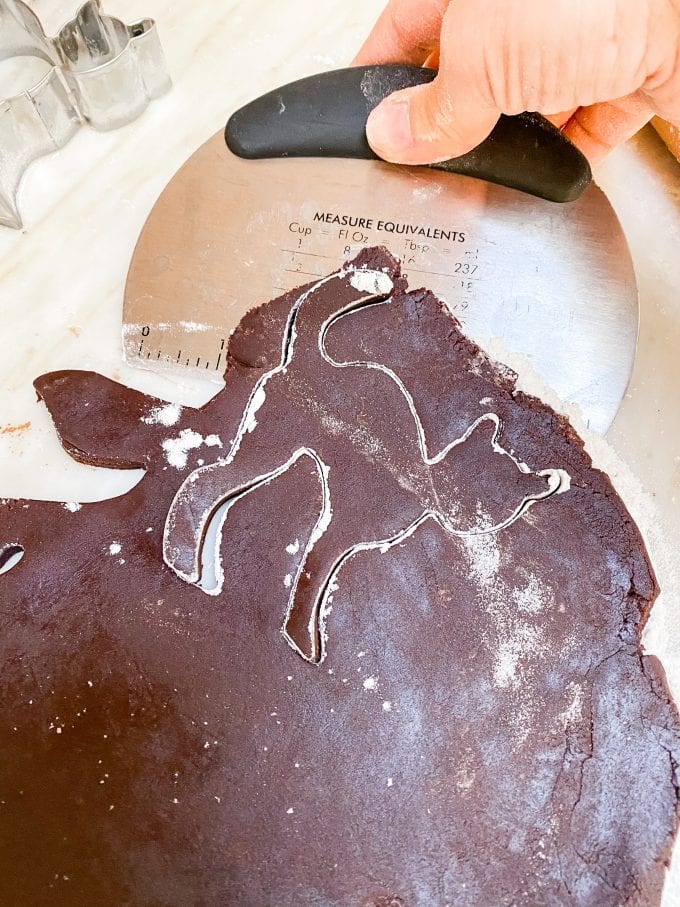 Another key idea for this Halloween Cookie recipe is to use a dough scraper to transfer your cookie cutout to the baking sheet.
This is the easiest way to make sure your shape stays in tact. And if you don't have a dough scraper, you can use a floured baking spatula.
Cutout Cookie Dough Thickness
Make sure your dough is at least 1/4″ thick. Personally, this is my most common mistake. If the dough is too thin, your cutout will break. It is surprising how thick 1/4″ actually is! A thicker dough will yield better, crisper Halloween cookies!
Use A Pastry Brush To Clean Up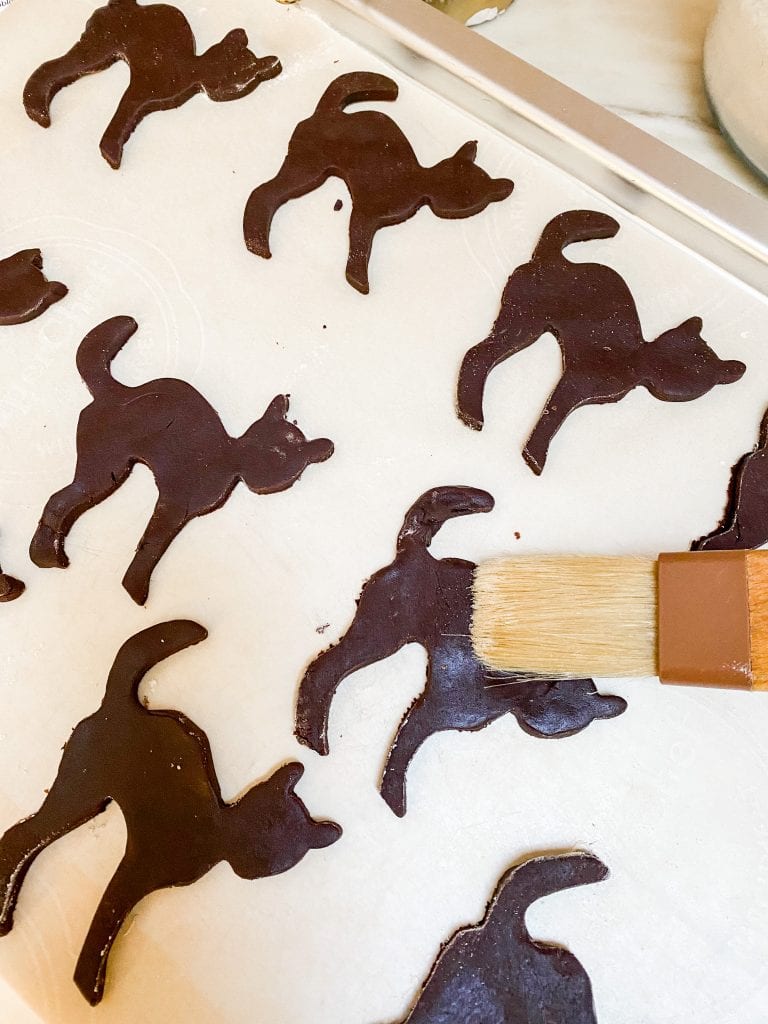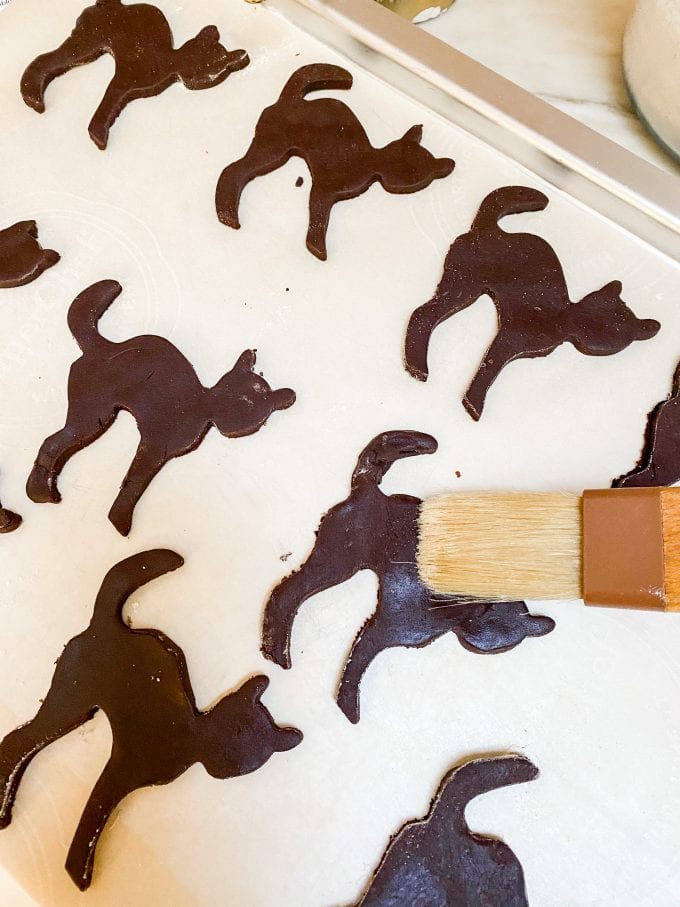 Before you bake the cookies, dust off all the excess flour using a pastry brush. Since we will be icing the cookies with white icing to look like bones, you want the dough to be as dark as possible. And the flour will not bake off. So clean them up so they are ready for the decorating!
Halloween Cookies Icing Tips
I used Martha Stewart's classic royal icing recipe to decorate these black cat skeleton cookies. And I spooned the icing into these bottles.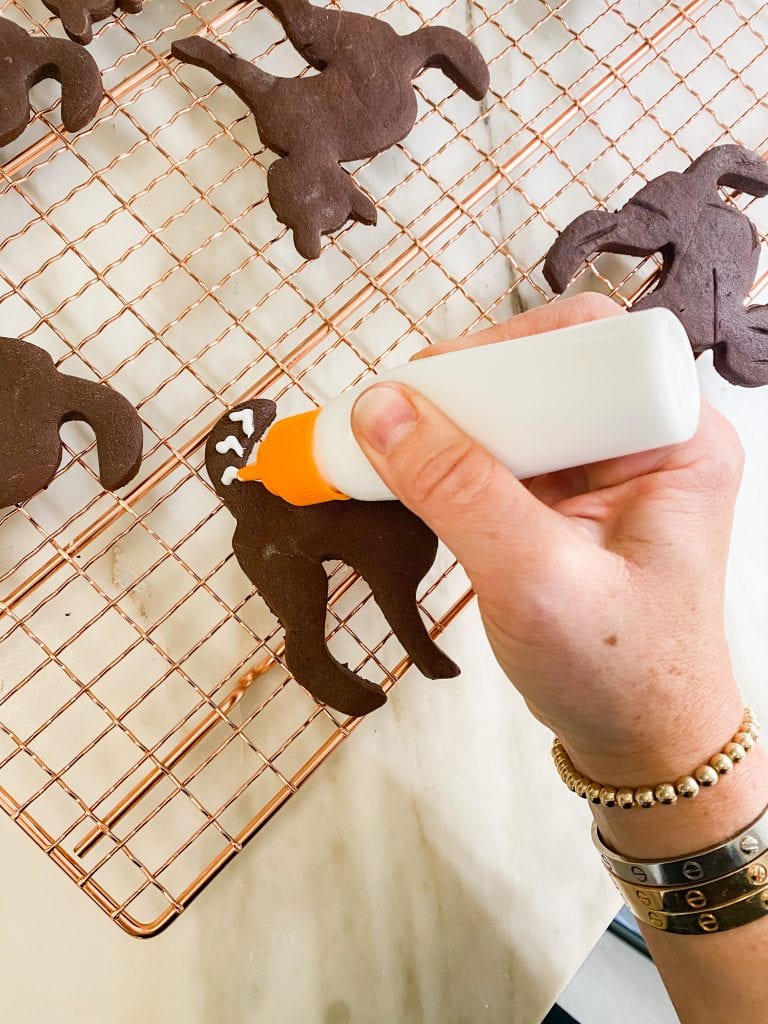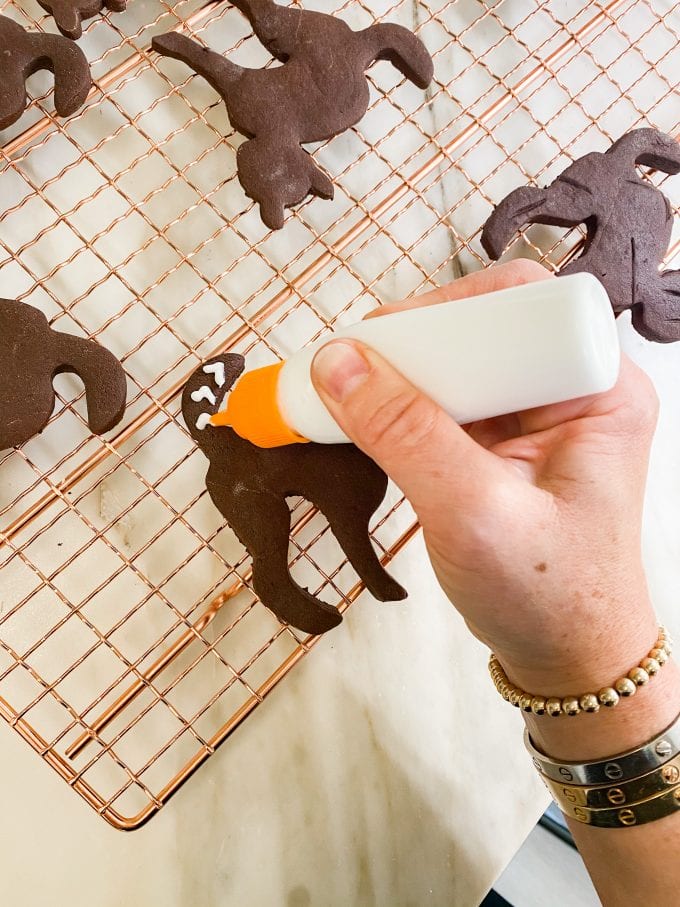 I discovered these bottles last year when I hosted my daughter's Gingerbread House Making Party. They are simply the easiest way to decorate cookies or any treat without having to use an icing bag.
Create your design that you want to draw on the Halloween cookies. They don't all have to be the same, but I found it was easier to make one that I liked and replicate it with all the cookies.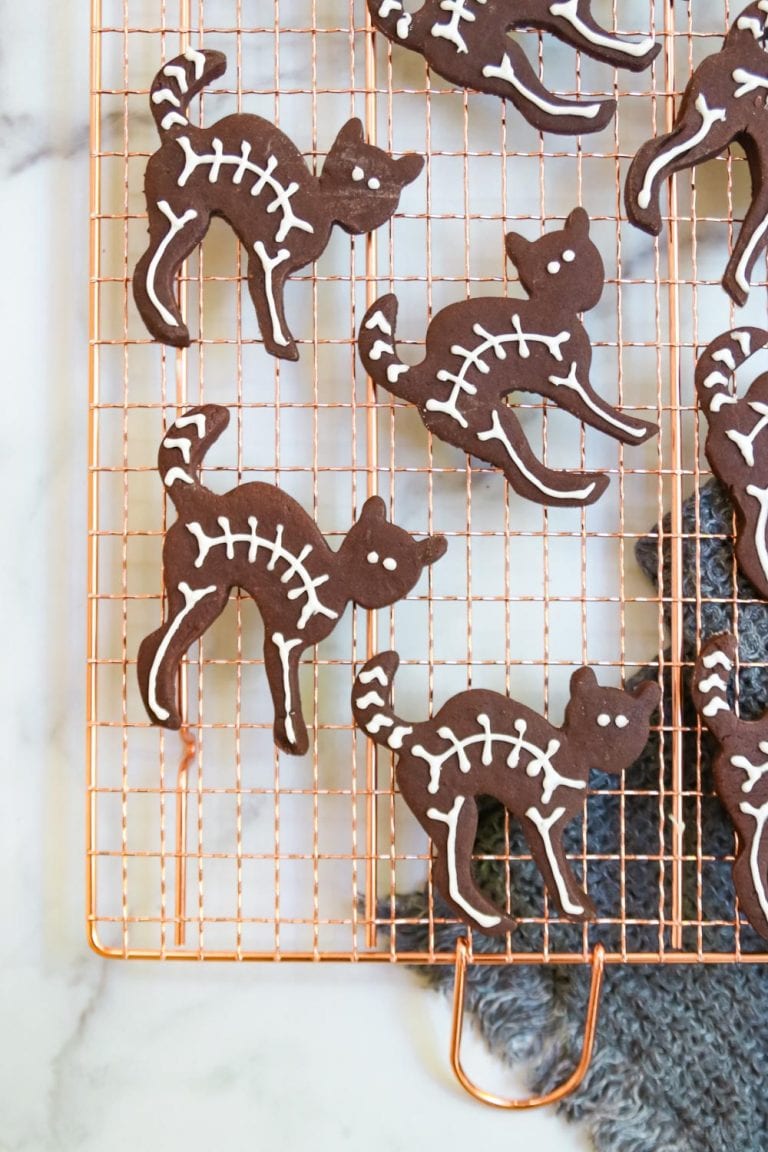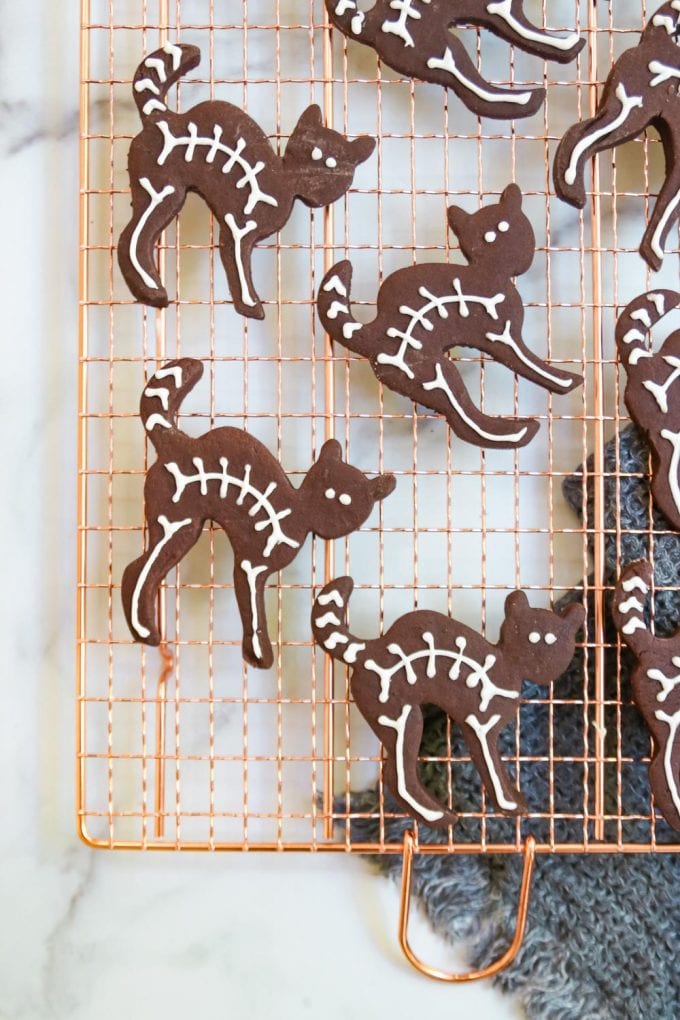 And you can do a few practice runs on the cookies that didn't bake up as well as the others.
Kids would have a great time decorating these Halloween cookies as well. The icing bottles are perfect for little hands and don't make a big mess!
16 Halloween Recipe Ideas
Today I've joined some of my talented blogging friends who are also sharing their fun Halloween Recipe ideas with you! Just click on the links below the images to be taken directly to their posts.
Worms & Dirt Halloween Cupcakes at The Happy Housie
Cinderella Pumpkin Peanut Butter Balls at Cassie Bustamante
Black Cat Skeleton Cookies at Modern Glam
Ghost Sugar Cookies with 3 Minute Icing at Tatertots and Jello
Reese's Pieces Cookies at Finding Silver Pennies
Spooky Eye Pies at Paint Me Pink
Chocolate Fudge Halloween Treats at Zevy Joy
Spooky Halloween Scream Raspberry Pie at A Pretty Life
Candy Corn Veggie Pizza at Clean & Scentsible
Halloween Monster Marshmallow Pops at Nick + Alicia
Kid Friendly Halloween Cheesecake Treats at She Gave it a Go
Oreo Cookie Spiders at This is Our Bliss
Spooky Halloween Snack Mix at The Handmade Home
Pink Candy Apples at Life is a Party
Decorate a Store Bought Cake for Halloween at My Sweet Savannah
Halloween Mini Pumpkin Tarts at Jennifer Maune