Looking for ideas to decorate your home for spring? Check out how I kept things simple and bright for spring in my home. Come on inside!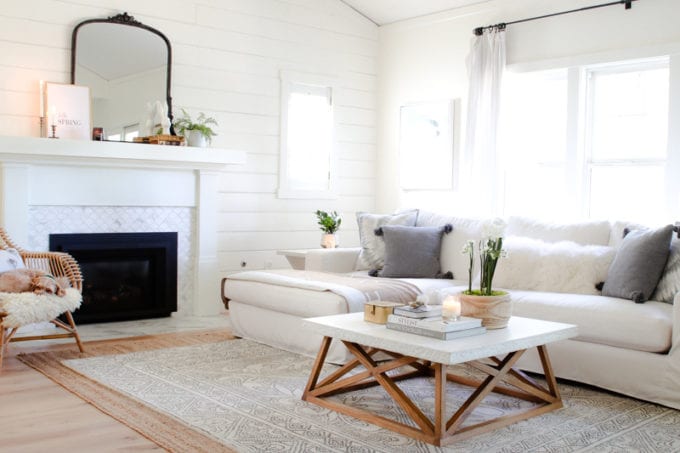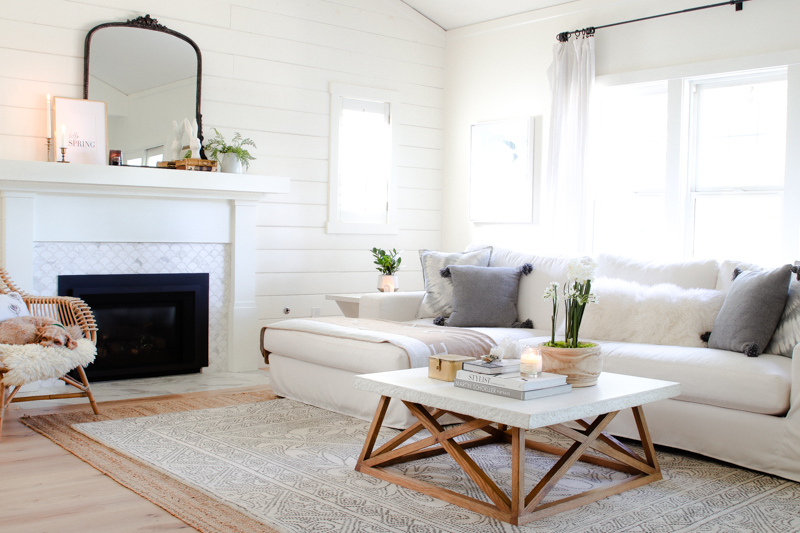 You may be spending a lot more time at home right now. What better time to take a little time and spruce up your surroundings. Check out these simple ideas for decorating your home for spring.
How To Decorate Your Home For Spring
If you are coming over from Hymns & Verses, welcome! I hope you gathered some fun and inspiring decorating ideas for the new season ahead of us.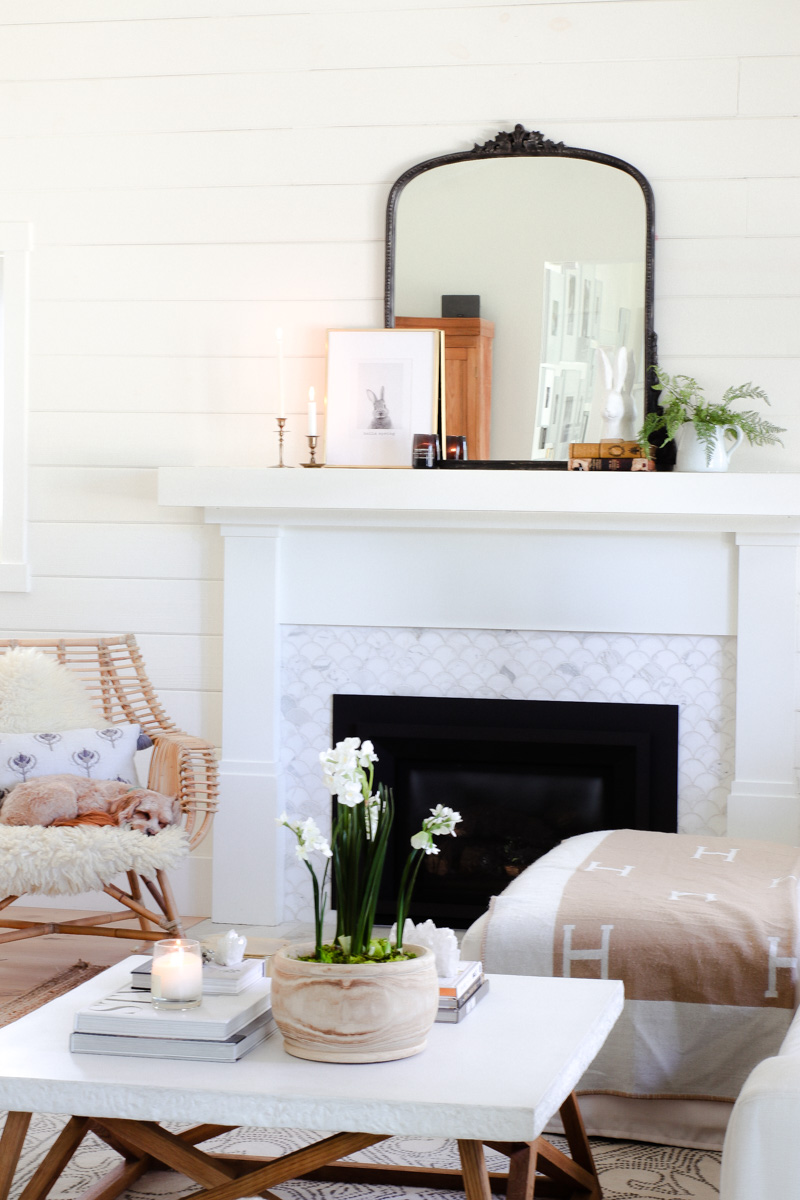 Spring is a time of renewal and rebirth. And boy, does our world sure need that right now! In the wake of the coronavirus, we are sheltering in place for 3 weeks at home.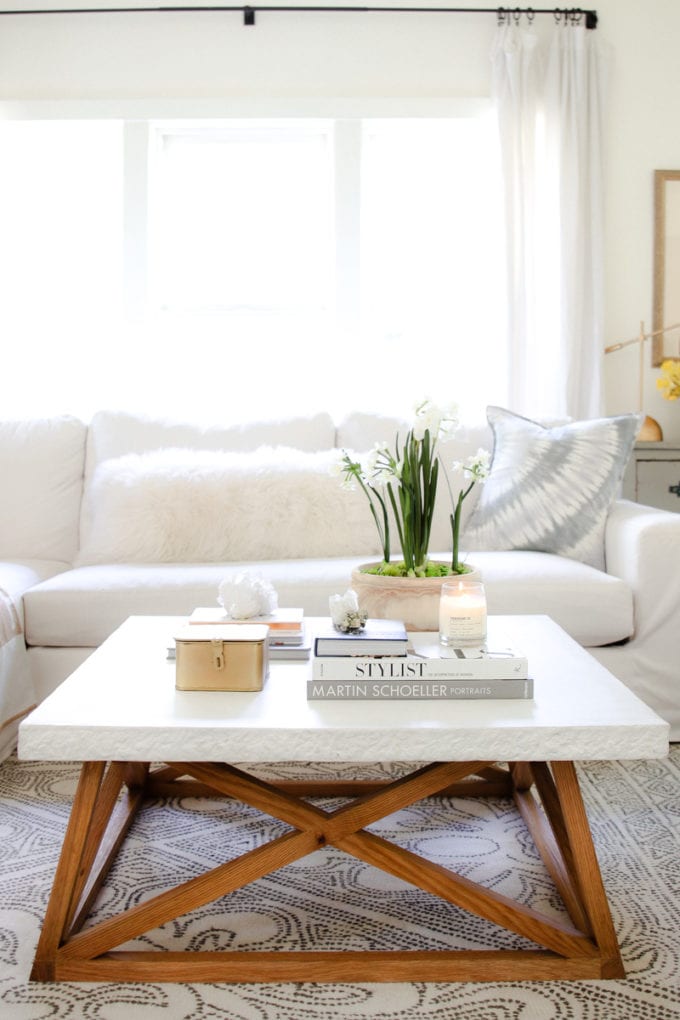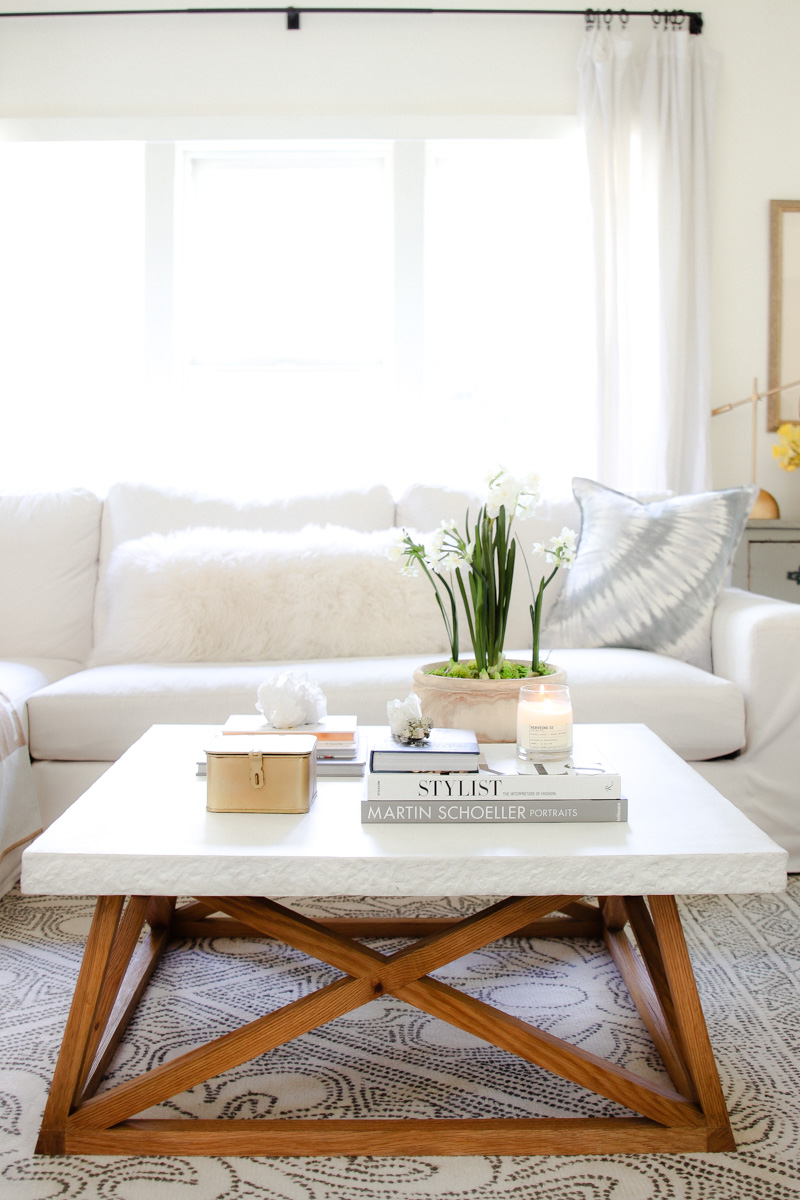 That's a lot of together time spent in this house that we feel is our haven and sanctuary from the outside world. Never has a truer statement been made than now. One thing is for certain, it sure does give me a lot of time to update and decorate my home for spring!
This year I have kept things simple and fresh for spring. I followed my 5 Simple Spring Decorating Ideas and cleaned and decluttered each room in our home. That always feels just so good, doesn't it?!
How To Decorate Your Living Room For Spring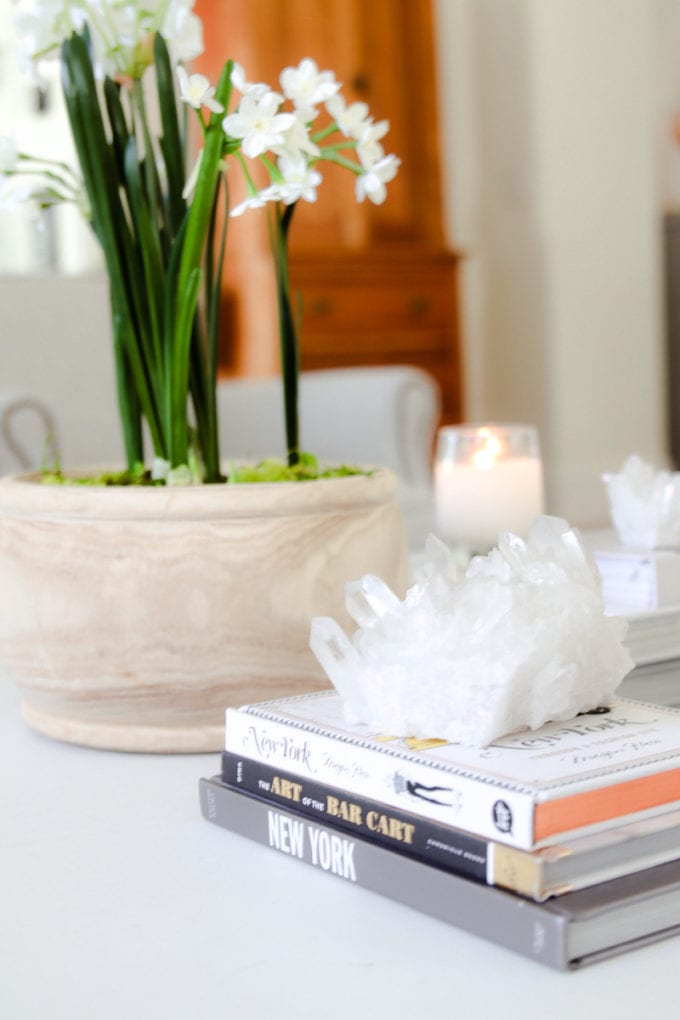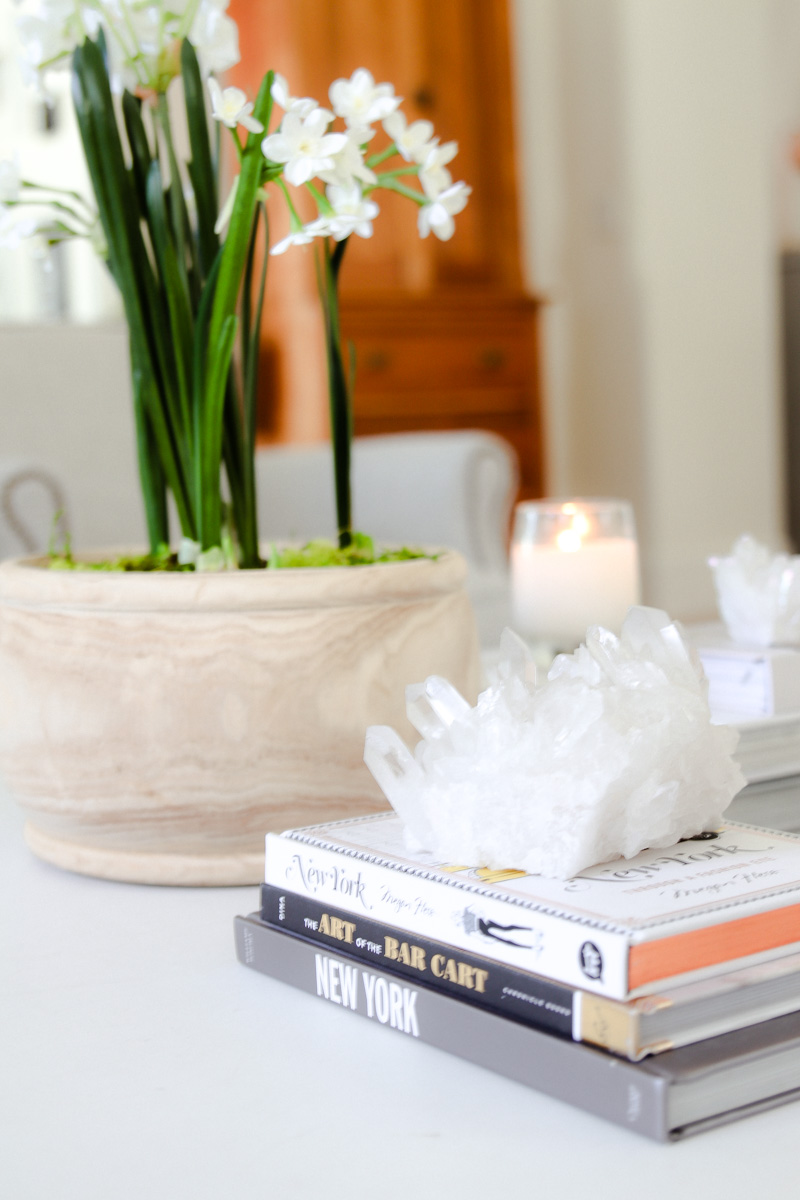 Swapping out the pillows for a lighter weight fabric and updating our coffee table decor are simple ways you can decorate your home for spring.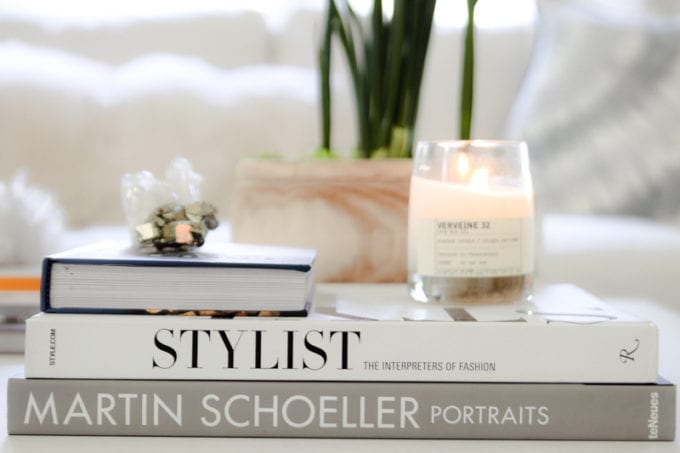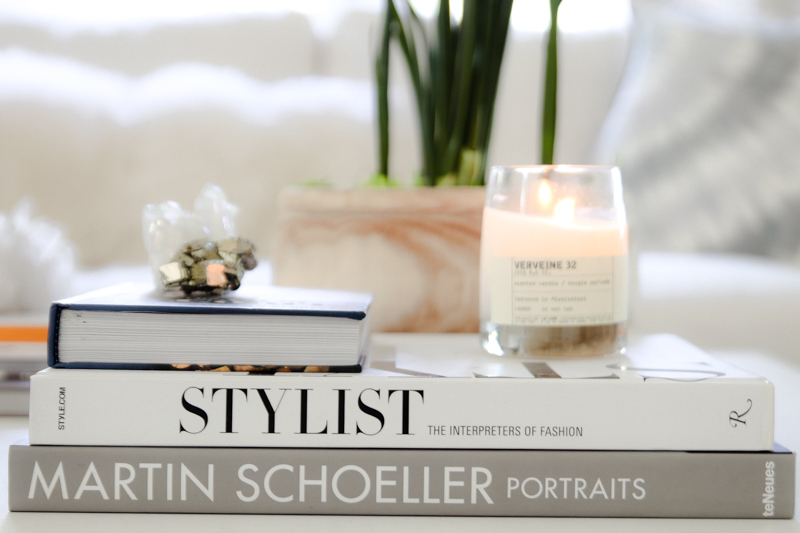 It's amazing how you can change the look of your room without having to go out and buy anything! Move things around and use what you have. Get creative and have fun with it!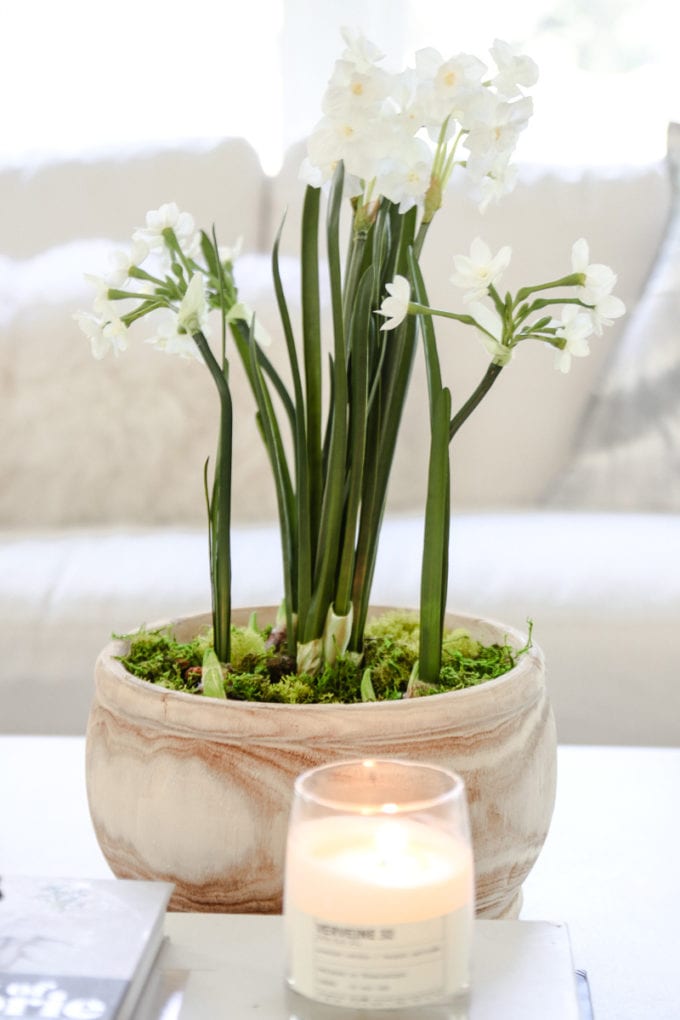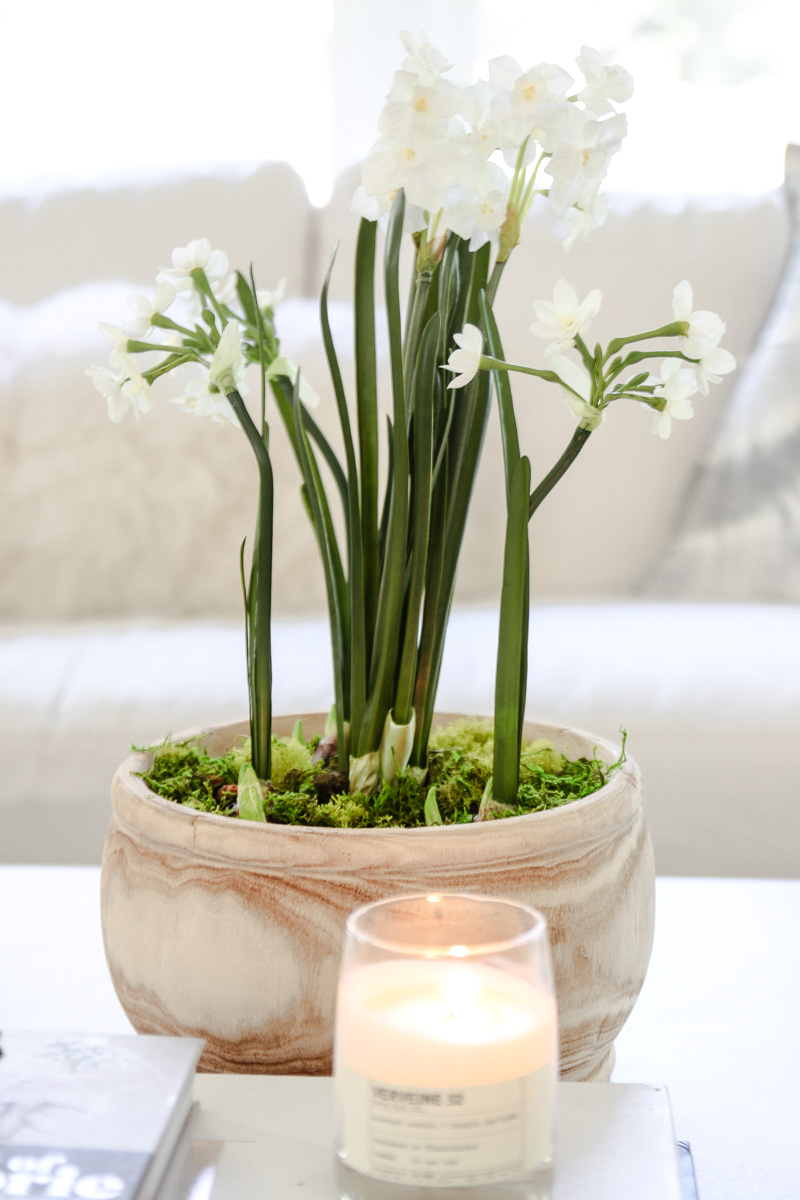 This DIY faux bulb arrangement sure was fun to make and I am definitely loving how no-fuss it is during this more stressful time. Homeschooling two kids doesn't leave much time for keeping up with real flowers that need regular watering!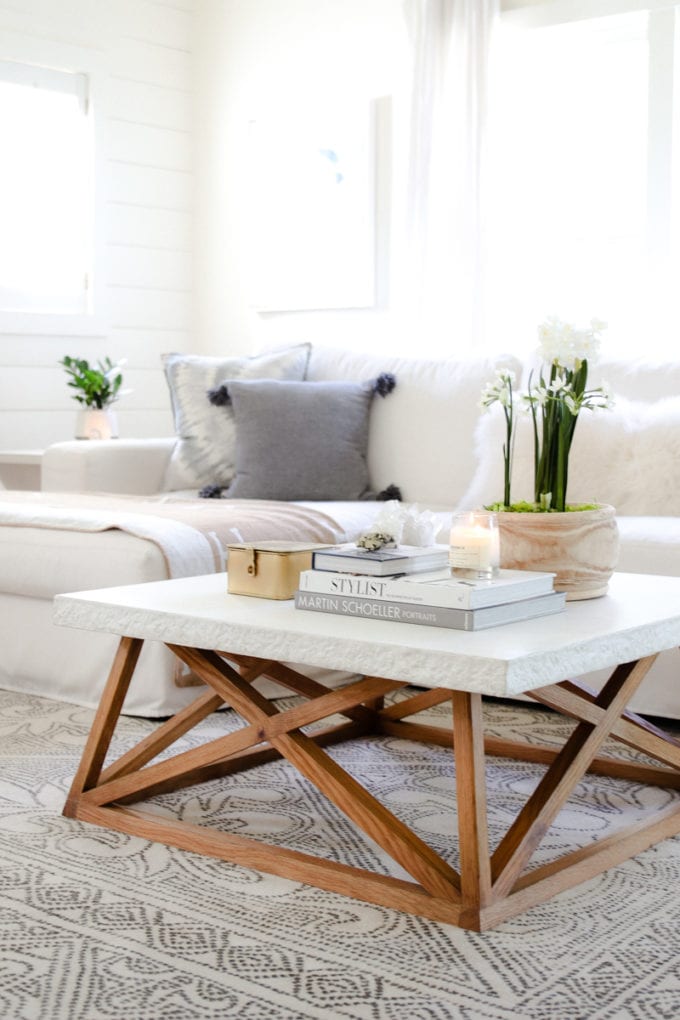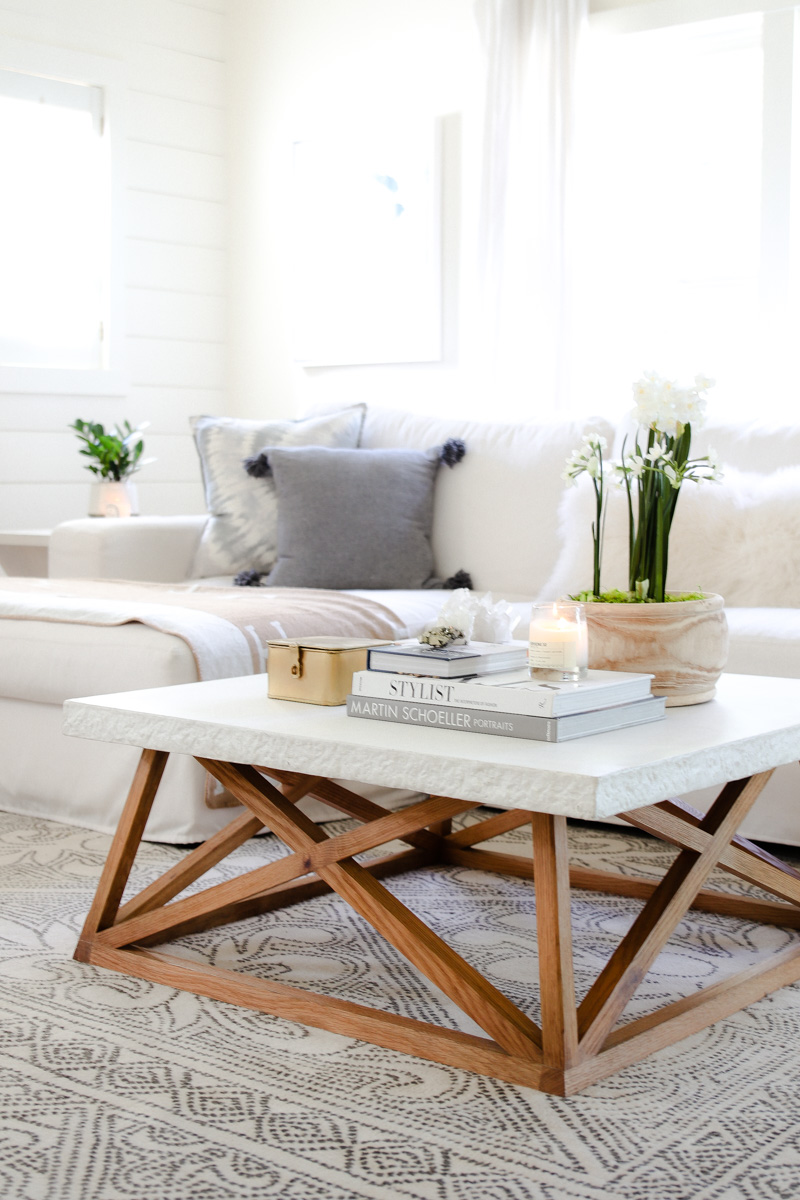 However, I do love low maintenance indoor plants. This ZZ plant is the easiest plant I have ever owned. It can go days on end without any attention and it still is green, vibrant and lush! I wish my kids were that easy to care for. Ha!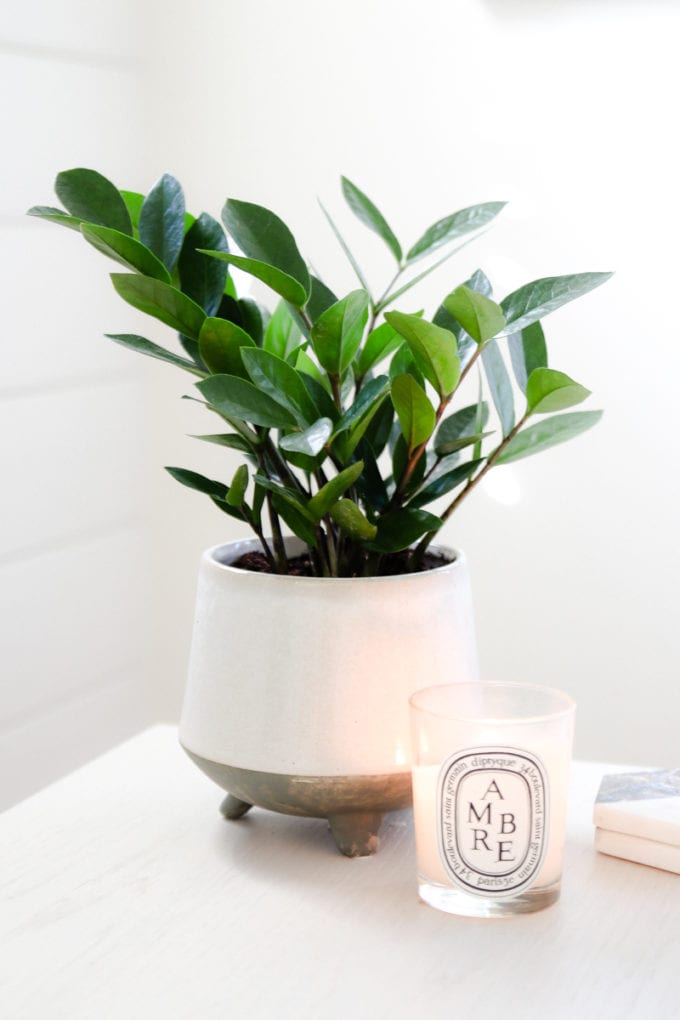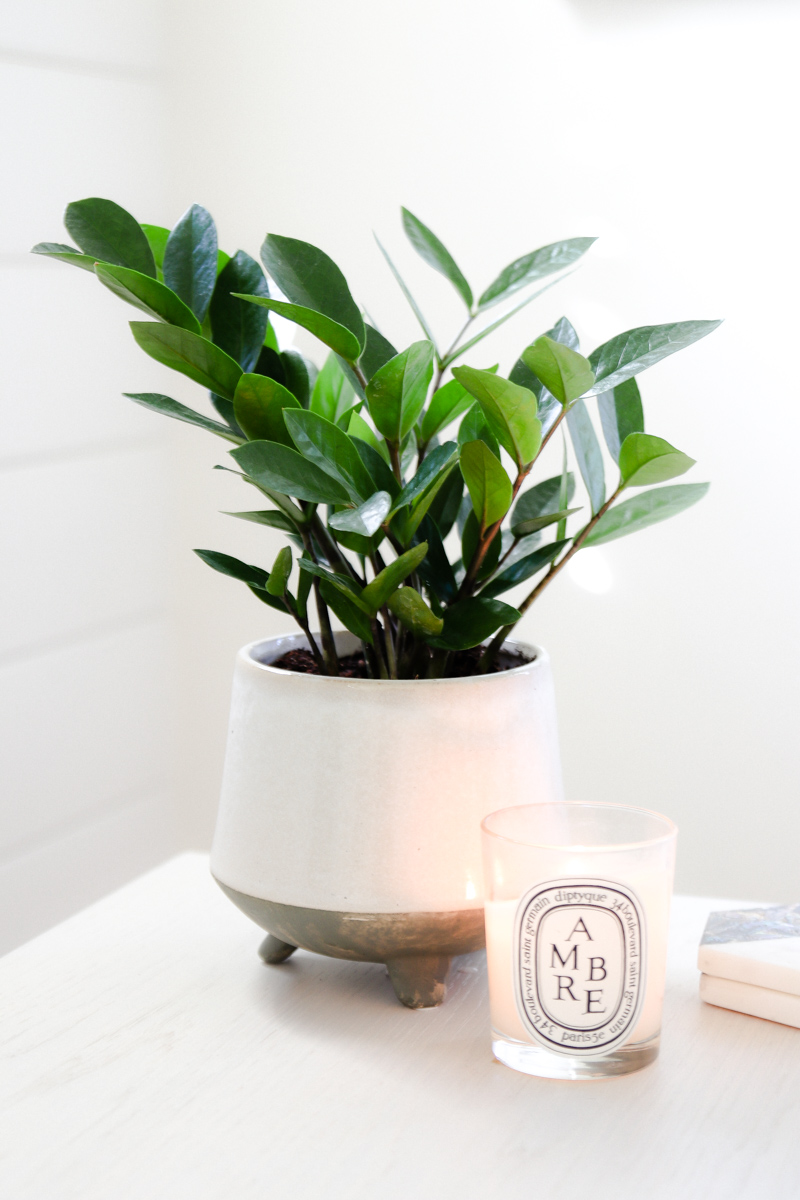 Easter Decorating Ideas
My mantel this year is a bunny explosion. I really want to adopt a house bunny but the husband has dug in his heels and says no.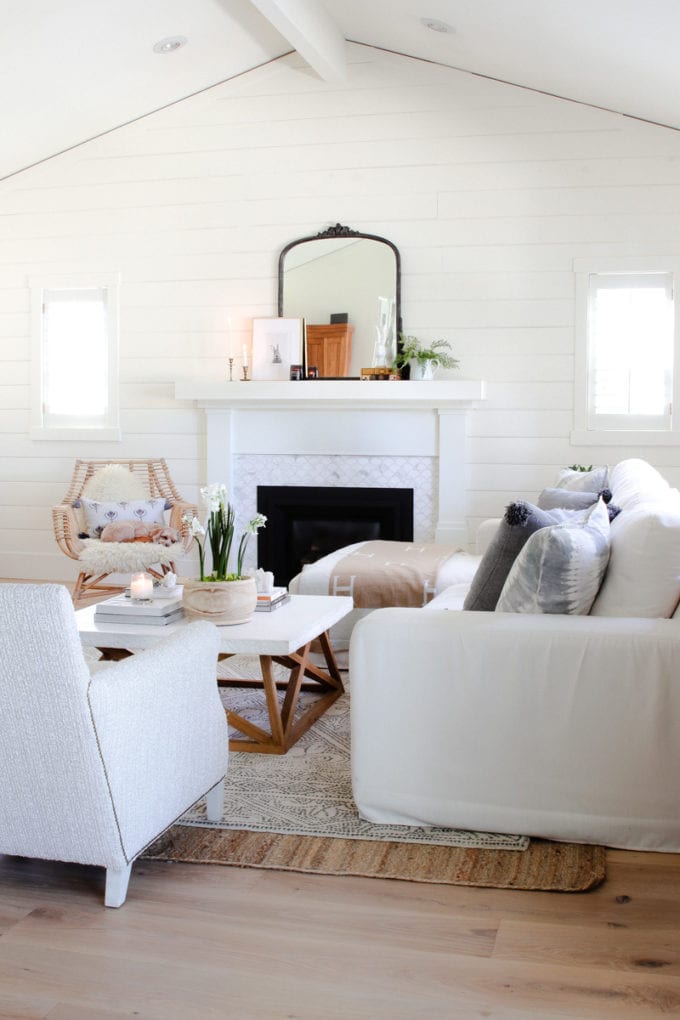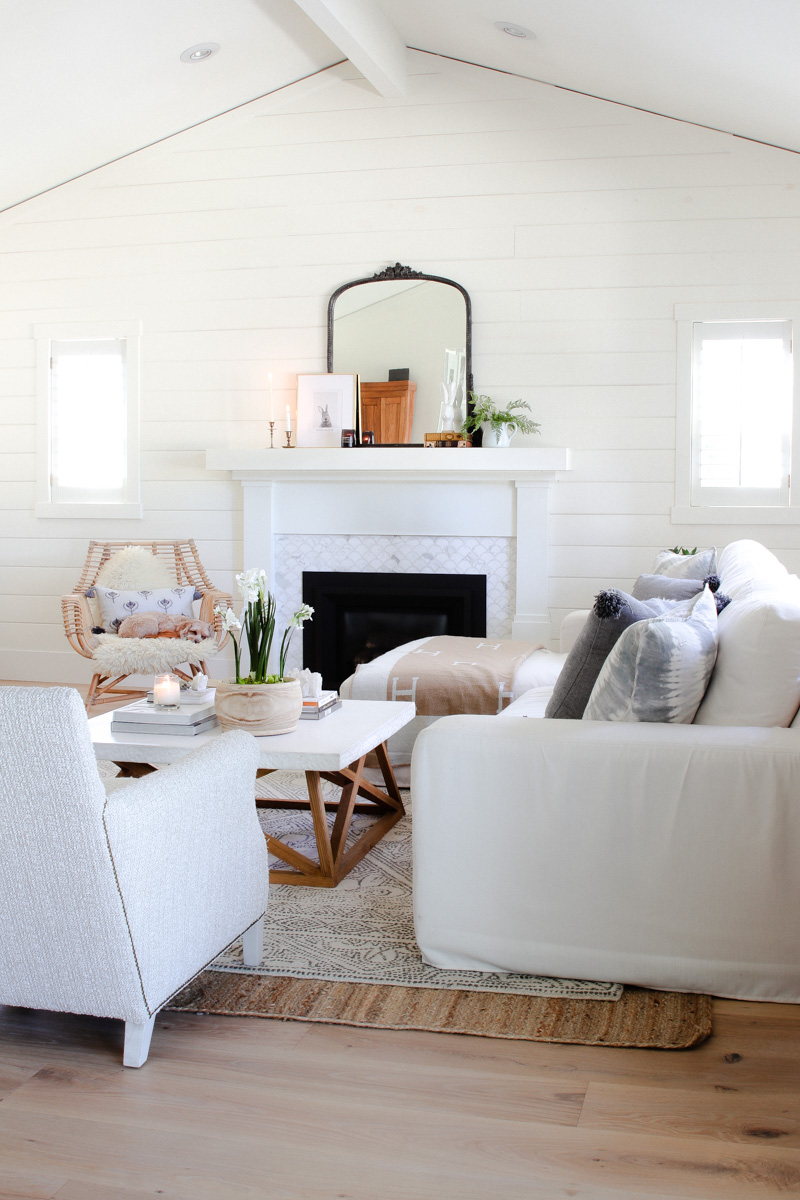 So, for now, this mantel will serve as my bunny fix. I think it's perfect for spring and love that it is a little bit Easter without going overboard. Just the way I like it!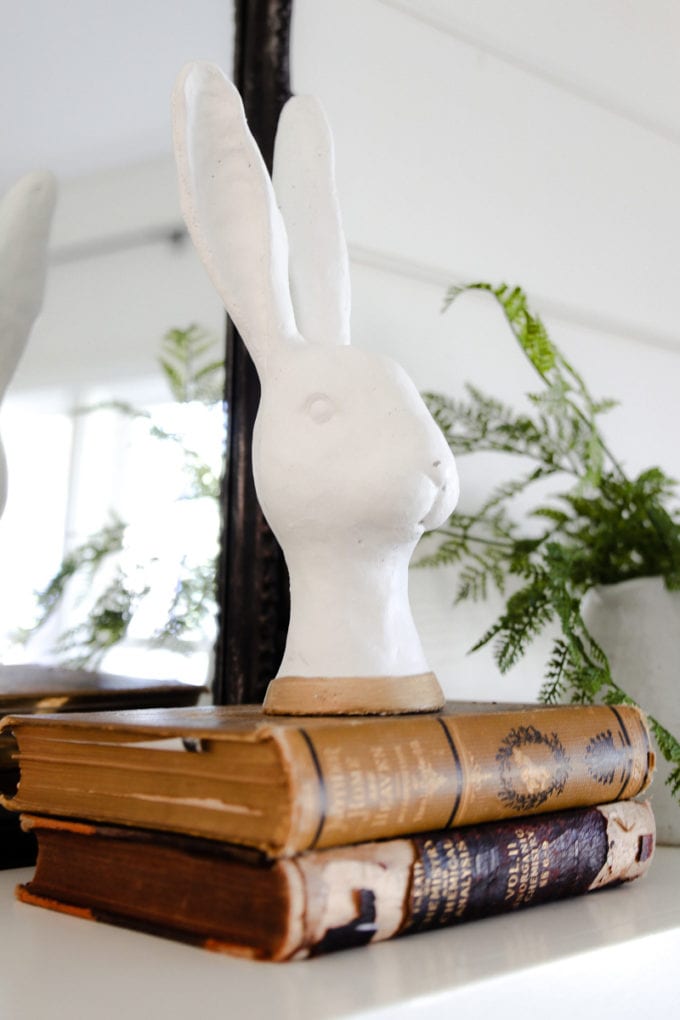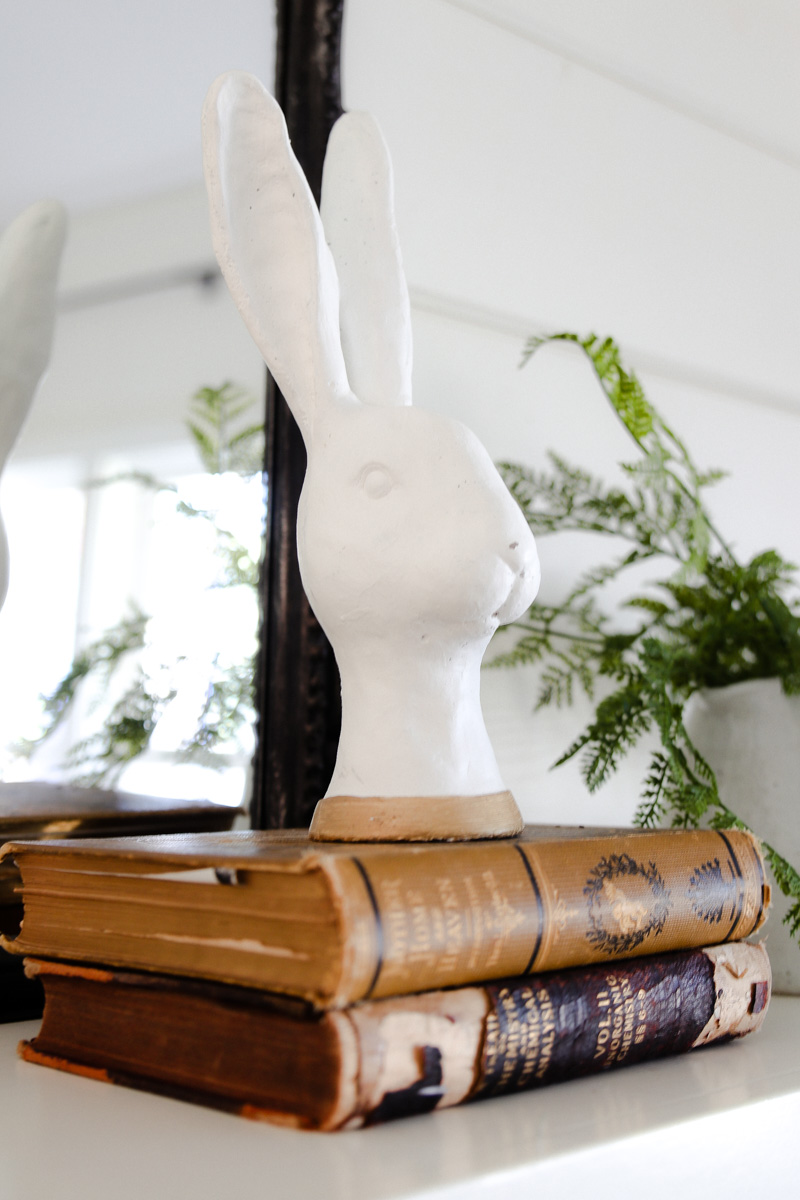 You can grab the free printable by checking out my Free Spring Printables. I have two versions of the spring printable. Perfect for any style and I love that they are neutral in color so they are sure to fit in with your decor.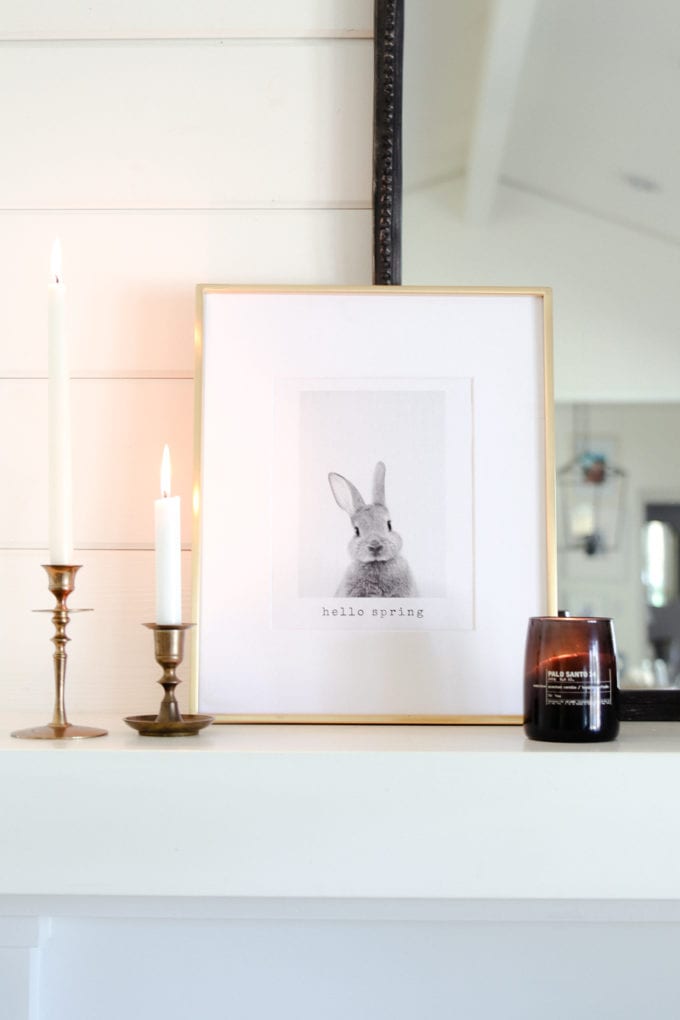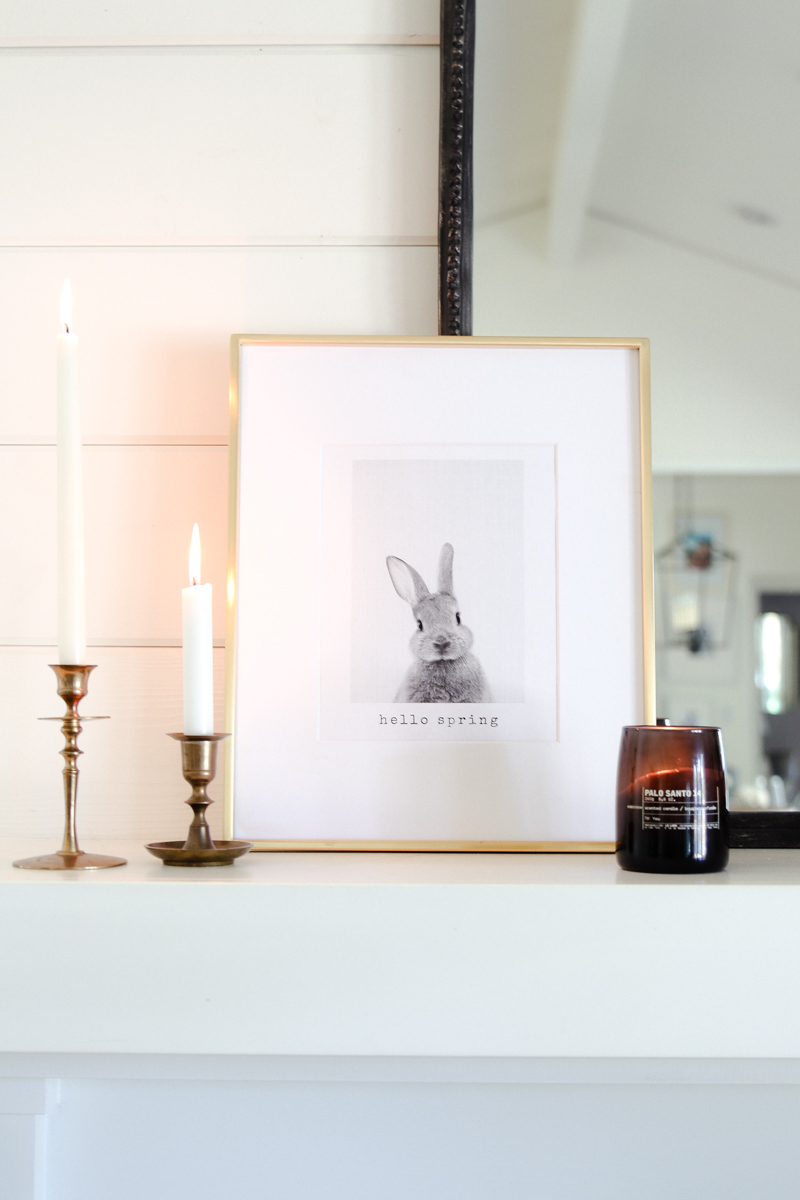 Free printables are a great way to decorate your home for spring. And you can print them out on your home printer, so no need to leave the house.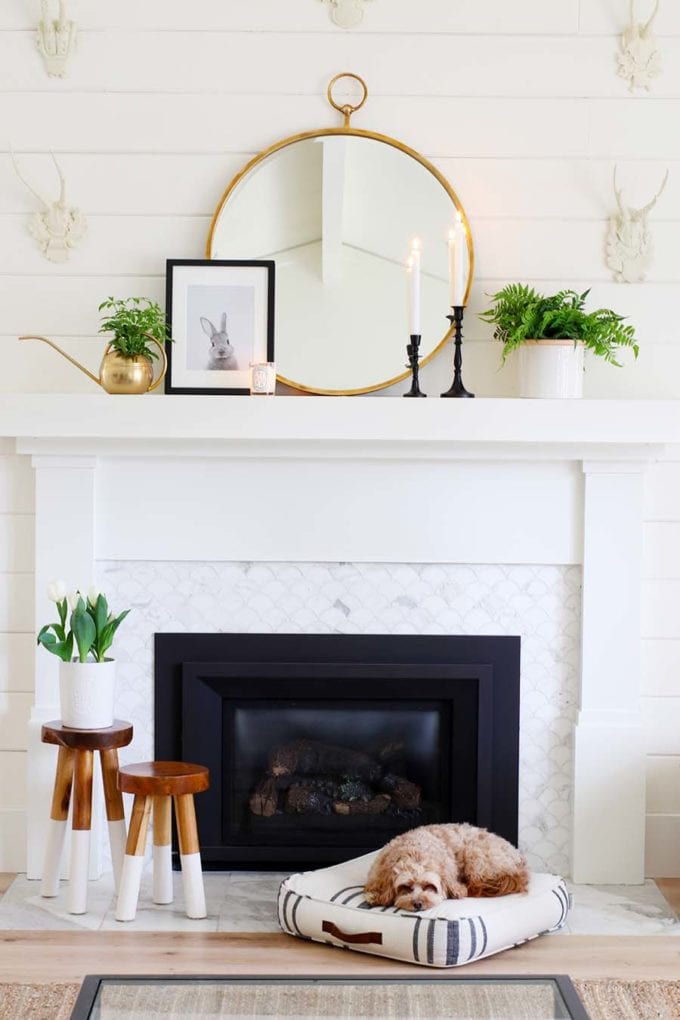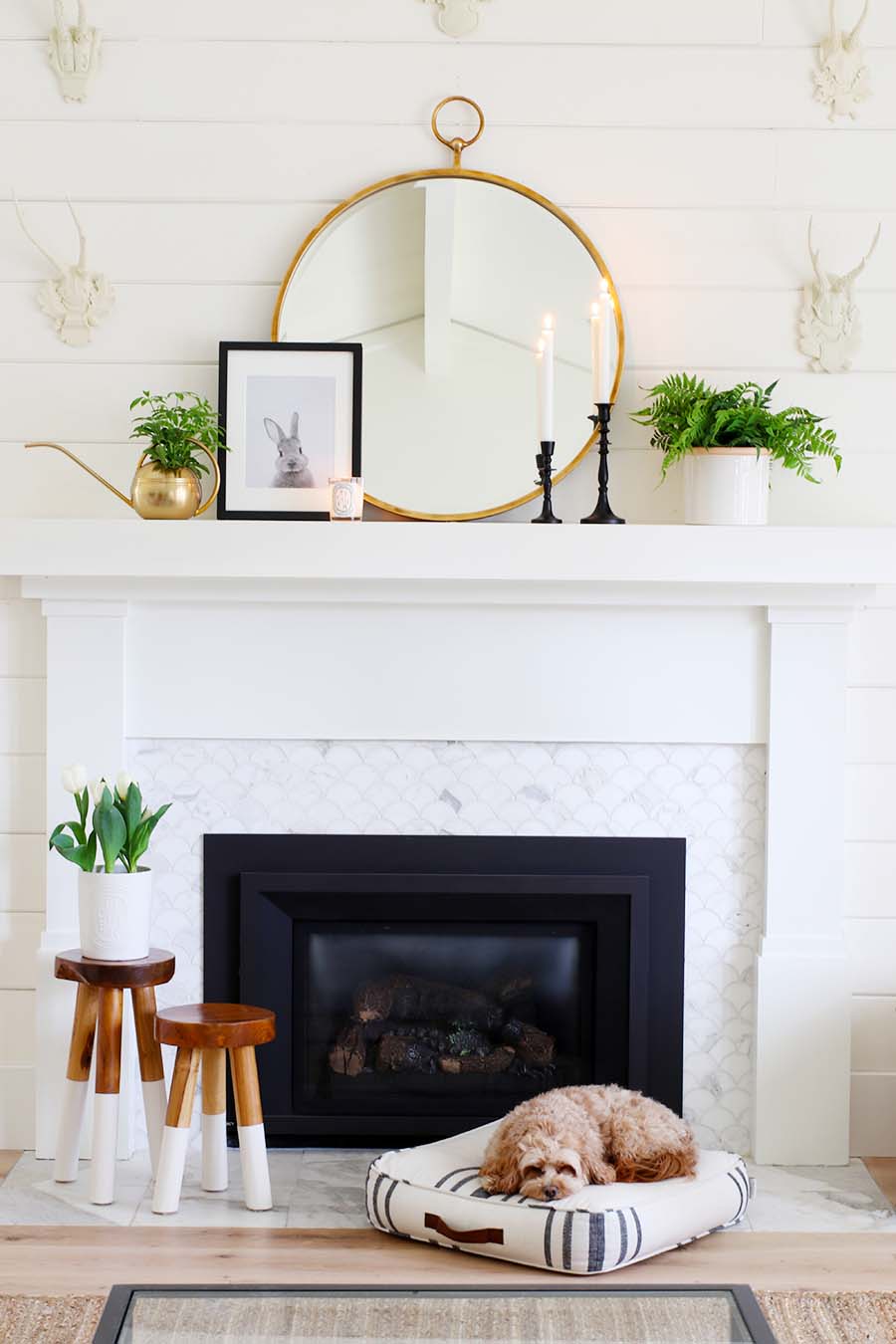 I did a similar theme last year. You can see more images in my post, Simple Spring Mantel. I just can't quit the bunnies! Which one do you like better? I can't quite decide!
Spring Dining Room Decor
When I look at the pictures, my spring decor theme this year is all about the neutrals. I guess I must be craving simplicity since there seems to be so much chaos going on around us lately. Sometimes my decor seems to be a true reflection of what I am feeling or craving in my mind and life. Do you do that too?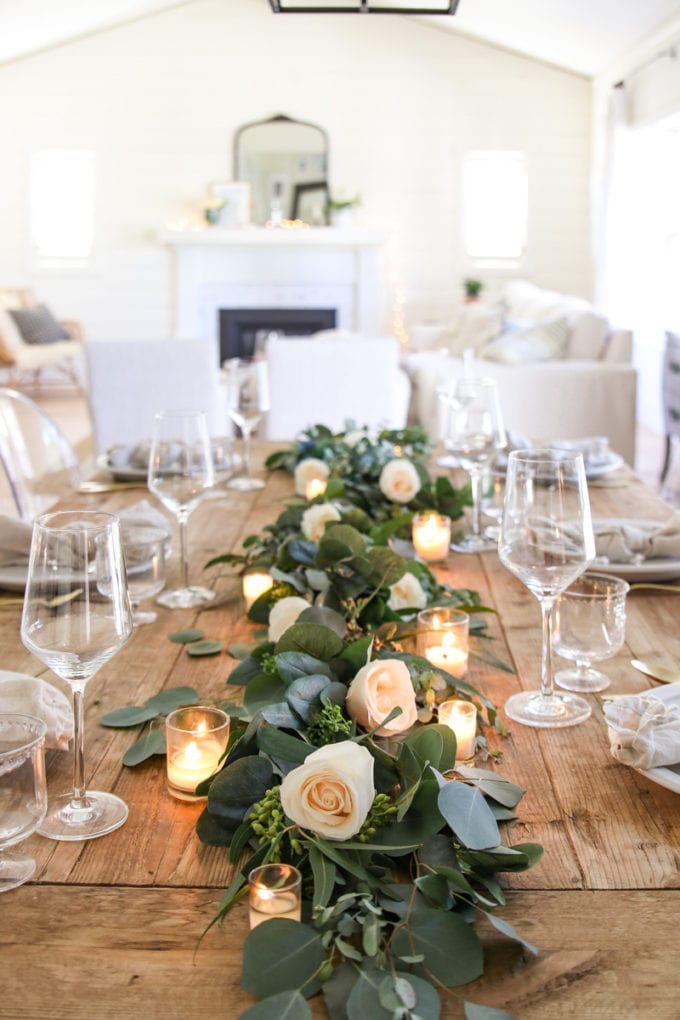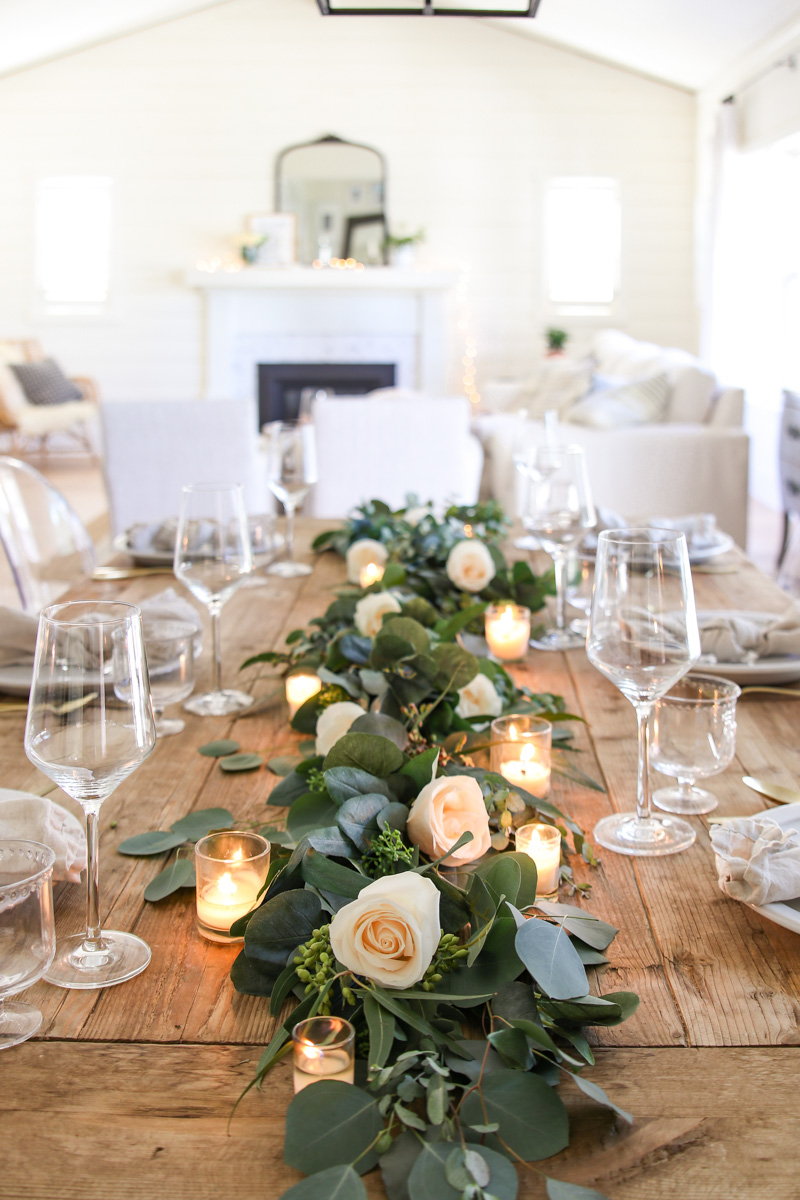 Well, in any way, this neutral table is one of my favorites. I love that you could easily do this for Easter brunch, a simple dinner at home or even a bridal shower!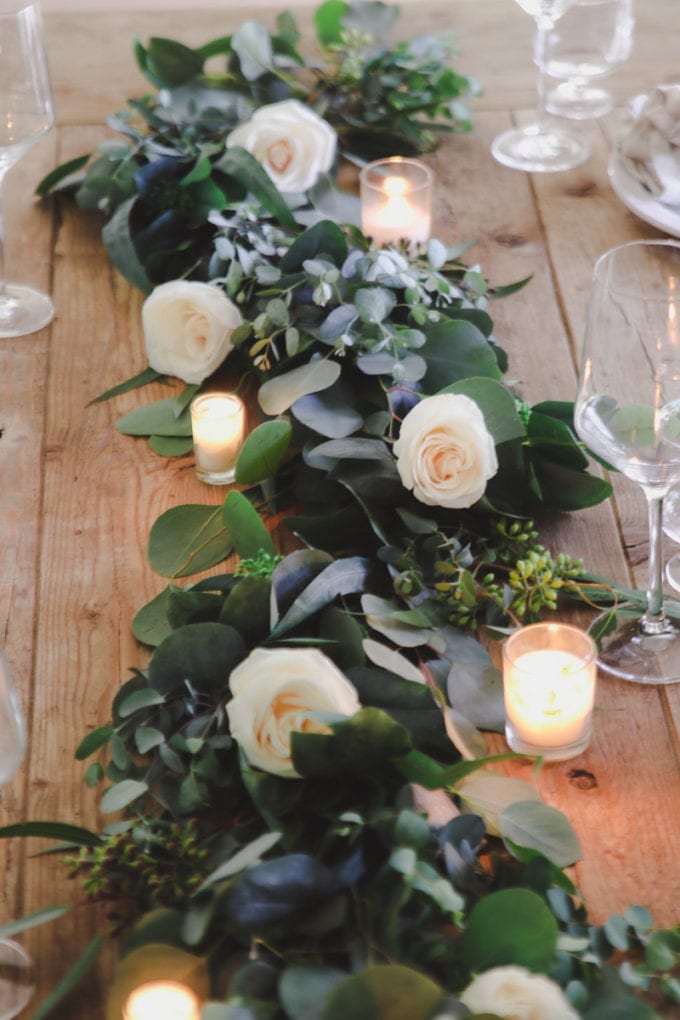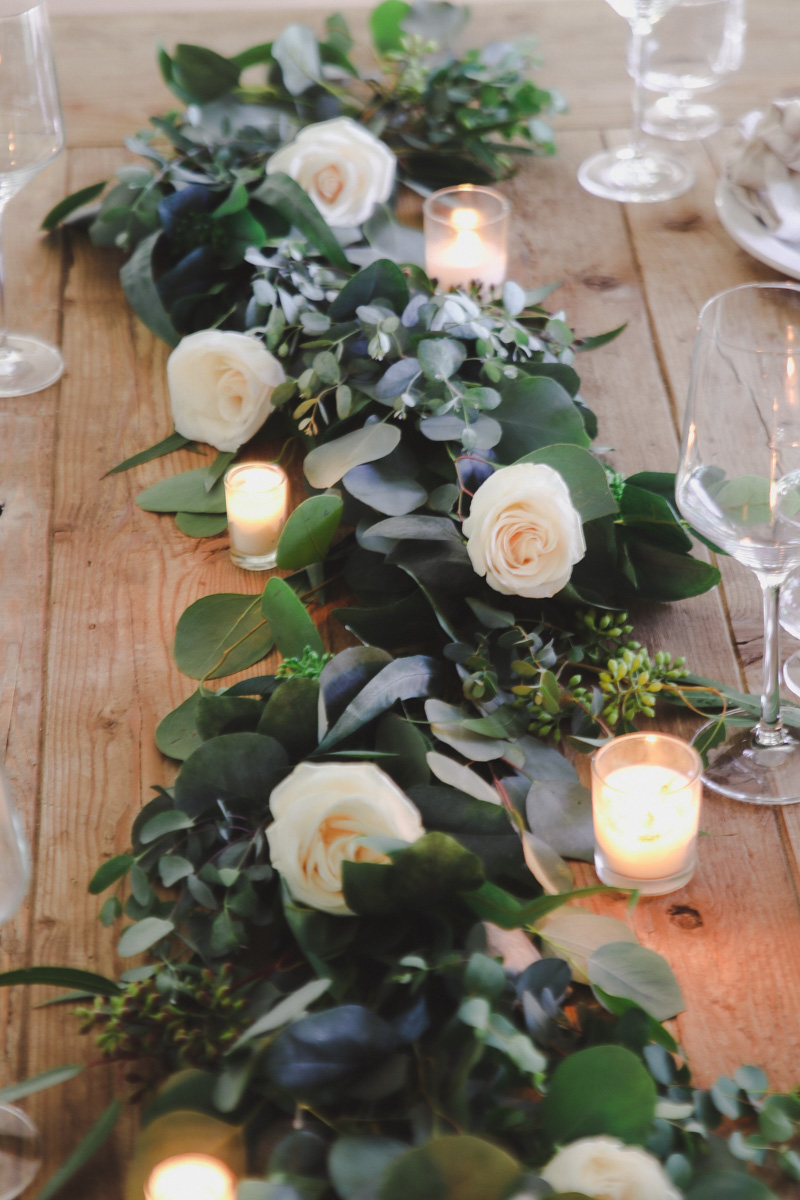 Be sure you check out how to make this DIY faux eucalyptus garland. I have the best hack and can you believe this centerpiece came together in less than 10 minutes? Read the post to get all the details.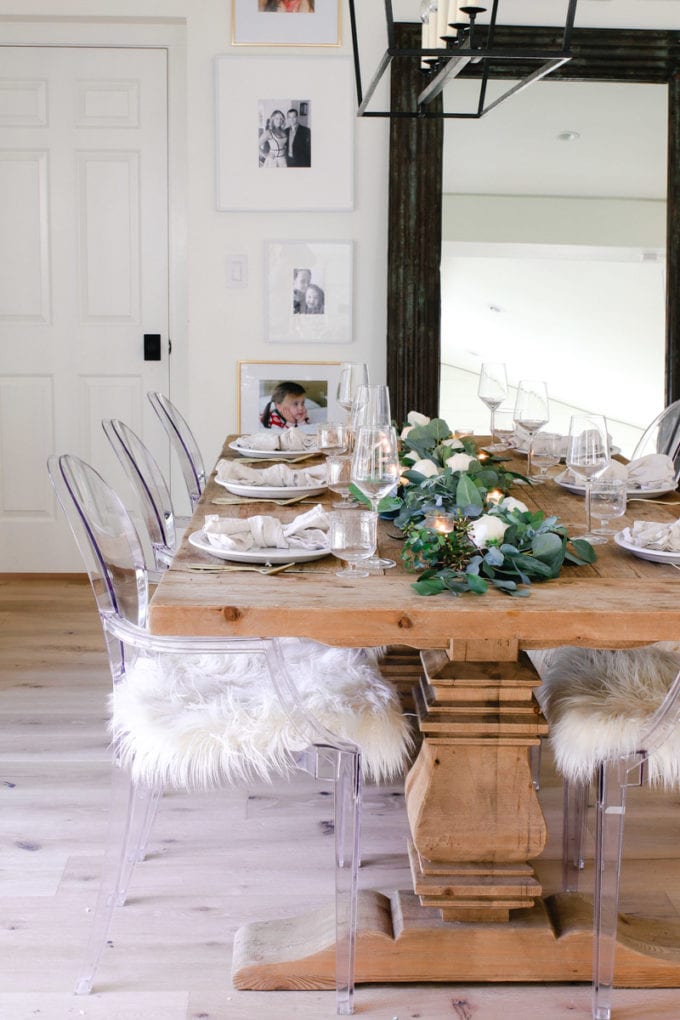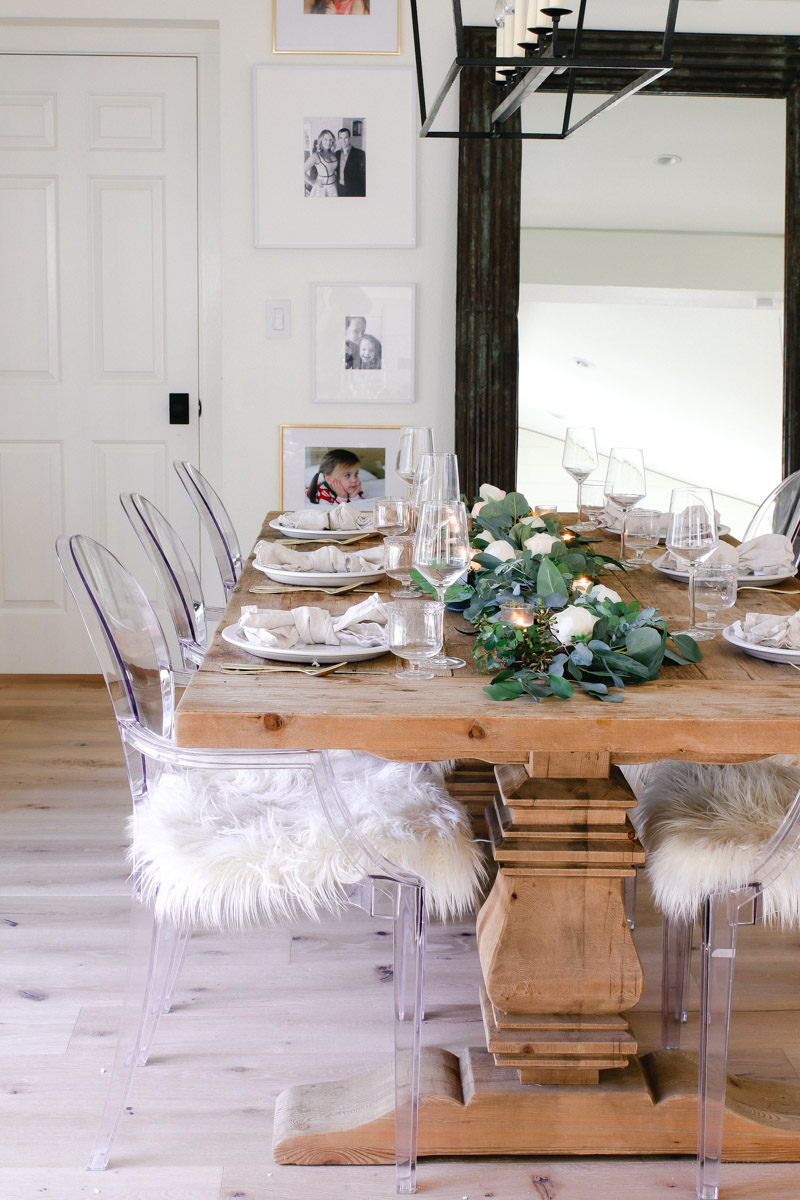 How To Simply Decorate Your Porch For Spring
When I decorate my porch for each season, I usually do a full refresh. I take everything off, wipe down all the windows and door, sweep up all the cobwebs, leaves and other debris and then add back in an edited arrangement of flowers, decor and accessories.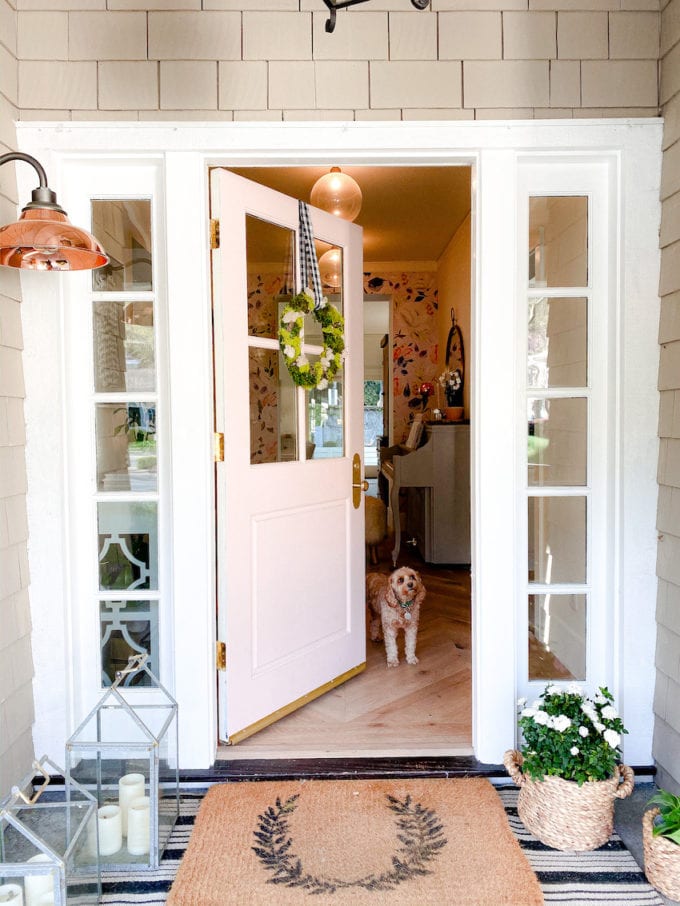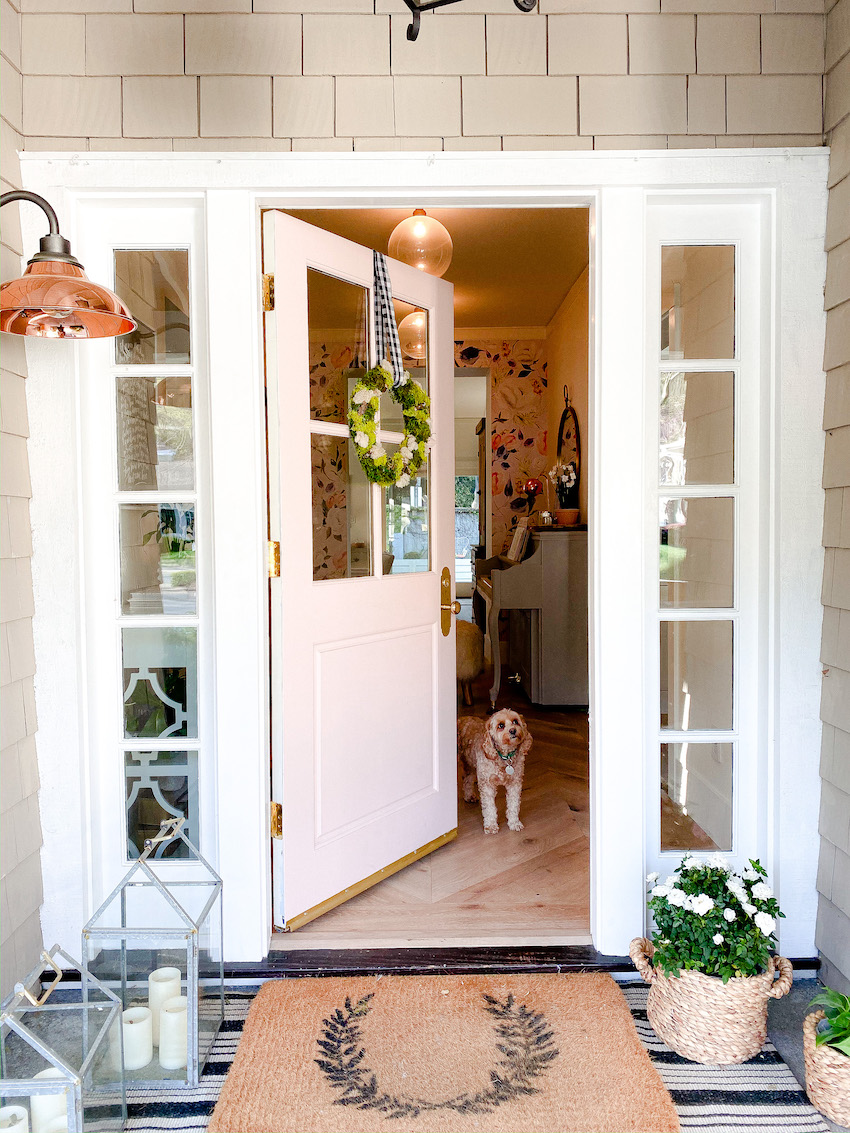 This year is a bit different. I haven't had time to spend too much time thinking about how I want it to look. And I definitely didn't have time to do the thorough cleaning. So, for now, this will do.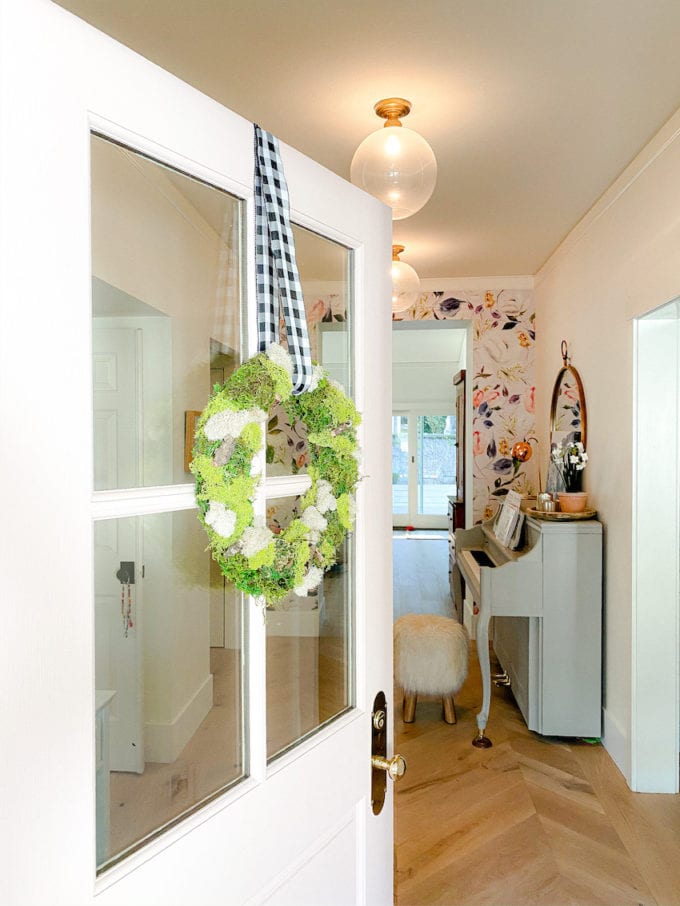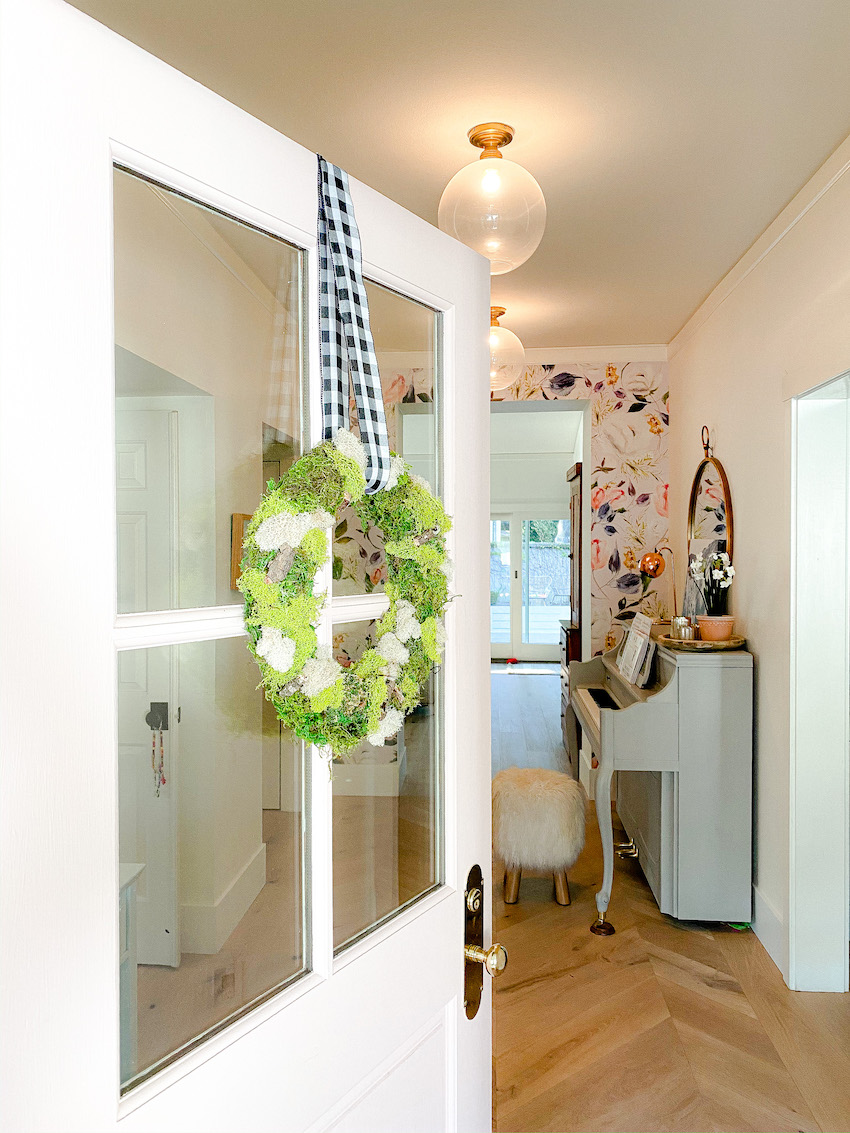 You can see all the details in yesterday's post Spring Entryway and Front Porch Decor.
I love this woven planter and can you believe I found this garden rose at Trader Joe's? This was before the shelter-in-place was ordered for our county.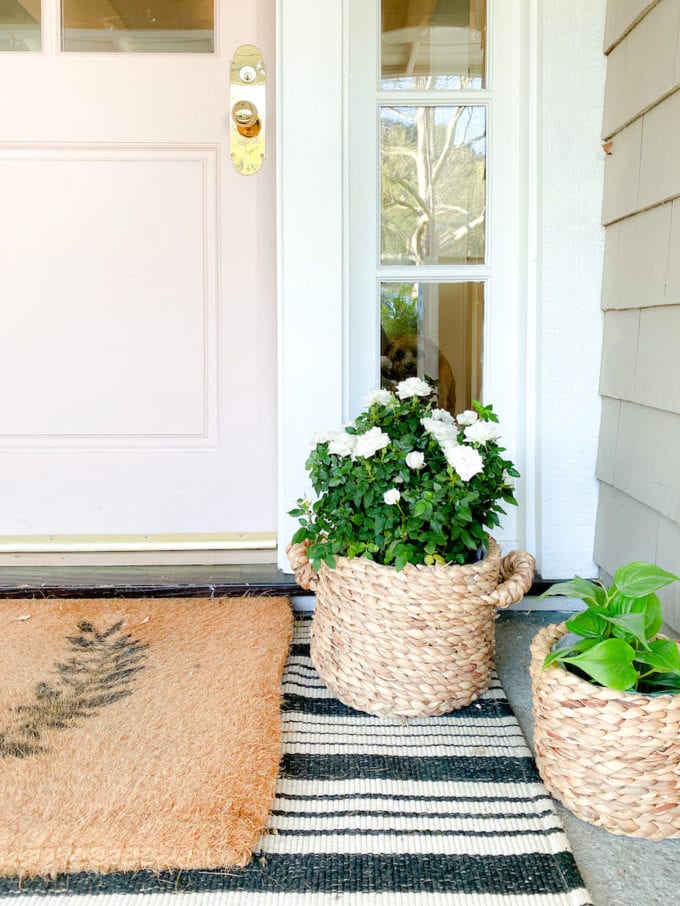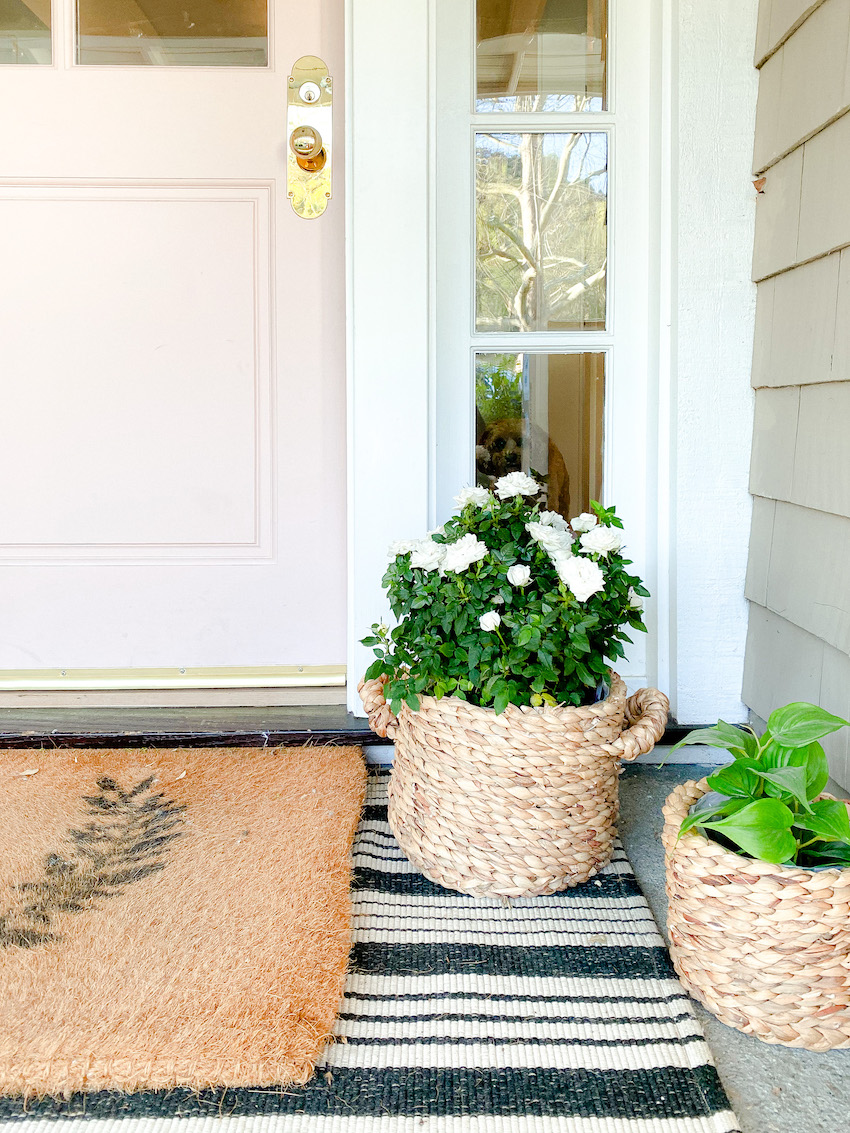 I am hoping that I will have time to spend a bit more time giving this spring front porch my usual care and attention, but if not, it's ok! I think it looks beautiful in all of it's simple glory.

Now, I hope you found some inspiration for decorating your home for spring. My goal is not to make you feel like your home has to be perfect. Because it doesn't! By sharing my easy and simple decorating ideas, my hope is that your home, no matter how it looks, brings you joy and is a sanctuary for your family during this time.
Please visit these other beautiful spring home tours that are being shared this week. If nothing else, let the beautiful pictures take your mind off the worlds' present problems, if even just for a moment. Stay healthy and safe!
Next on the tour is Alicia over at Thrify & Chic. I hope you enjoy her beautiful spring home!
Spring Home Tours
A Stroll Thru Life – Remodelando La Casa – Cuckoo4Design – Far Above Rubies – Southern Hospitality – Duke Manor Farm
House By Hoff – Pink Peppermint Design – ZDesign At Home – Taryn Whiteaker – Inspiration For Moms – Decor To Adore
Cassie Bustamante – 11 Magnolia Lane – Hymns & Verses – Modern Glam – Thrifty & Chic – Grace In My Space
Our Southern Home – My 100 Year Old Home – Sanctuary Home Decor – Seeking Lavender Lane – Southern State Of Mind – StoneGable
Thistlewood Farms – White Arrows Home – The Woodgrain Cottage – Life On Cedar Lane – Follow The Yellow Brick Home – Making Home Base