How to make a beautiful succulent terrarium. This diy project is perfect for your spring table or anywhere in your home.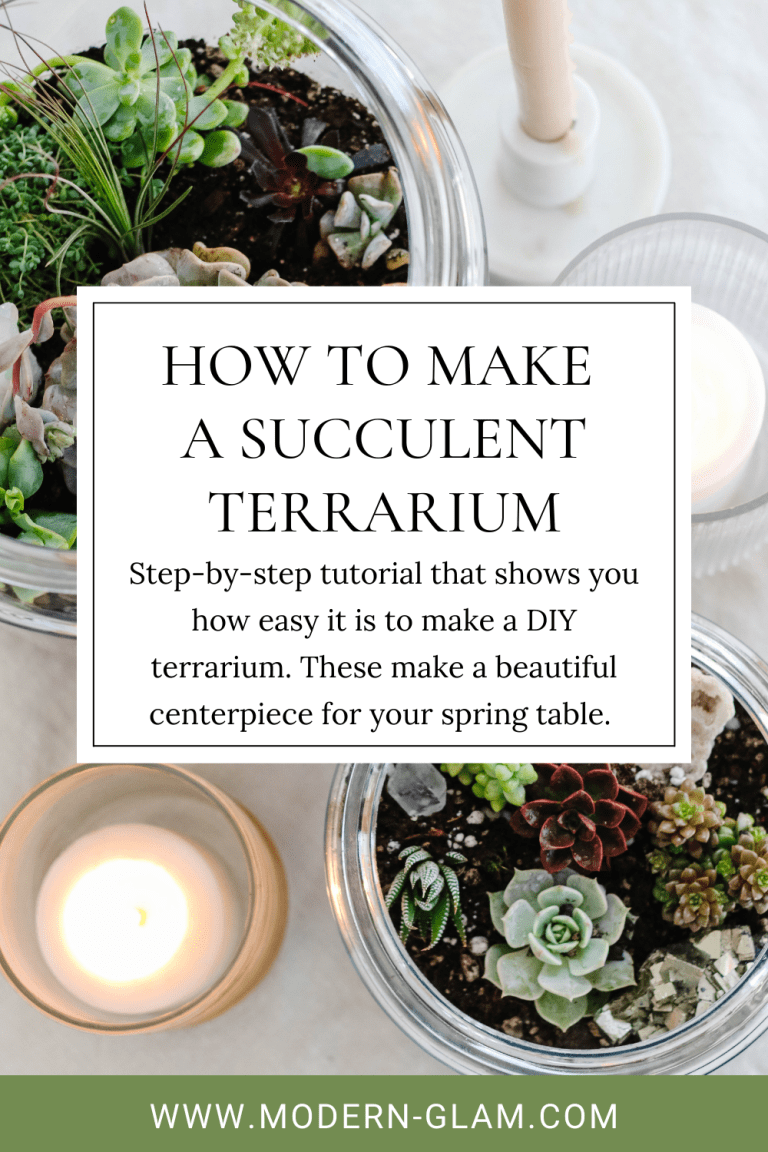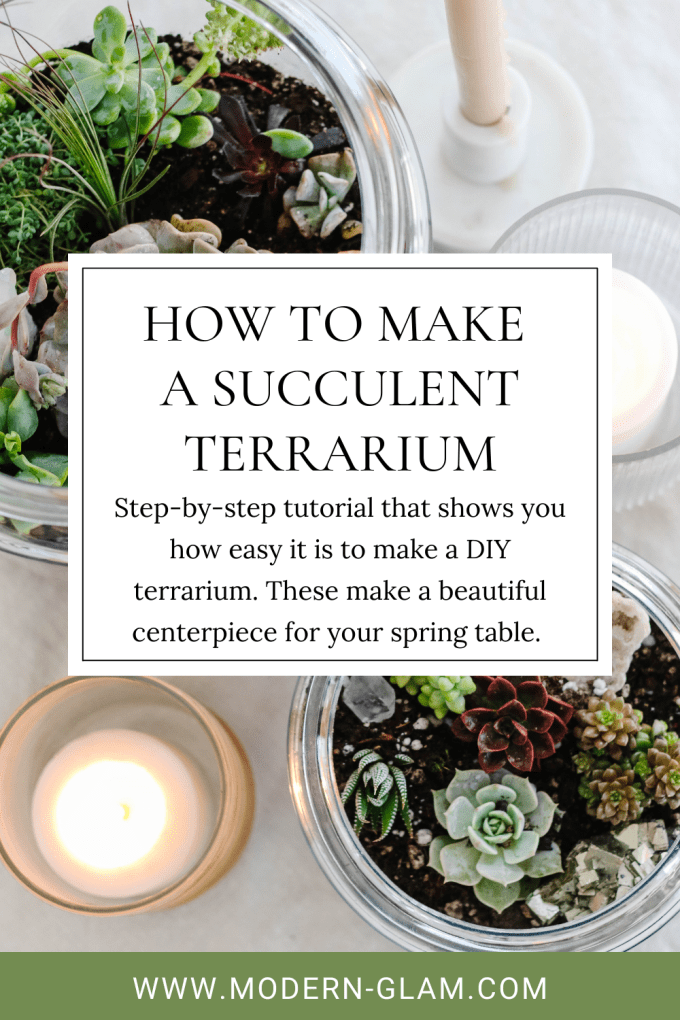 These indoor succulent terrariums made a gorgeous centerpiece for your spring or summer table. Gather a few candles around them and the table is set! I love that the succulents last a long time and require very minimal upkeep and maintenance.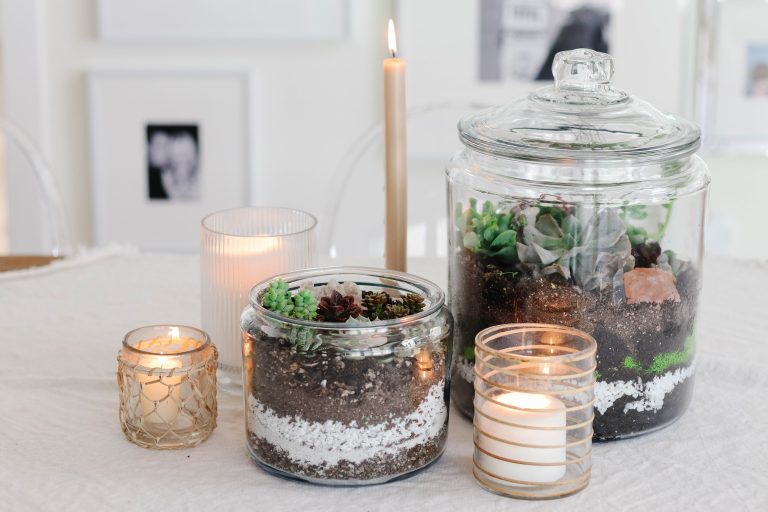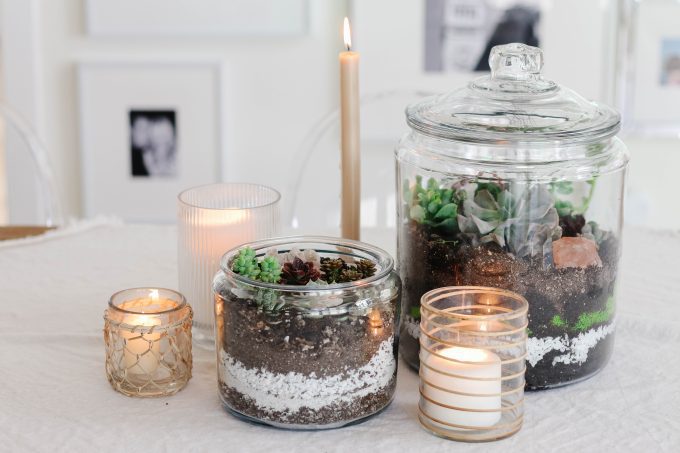 I'll show you how easy it is to make your own succulent terrarium in a jar or other glass container. Get creative, add your own personality and style to each one and you will end up with a beautiful focal point for spring!
How To Make A Succulent Terrarium In A Jar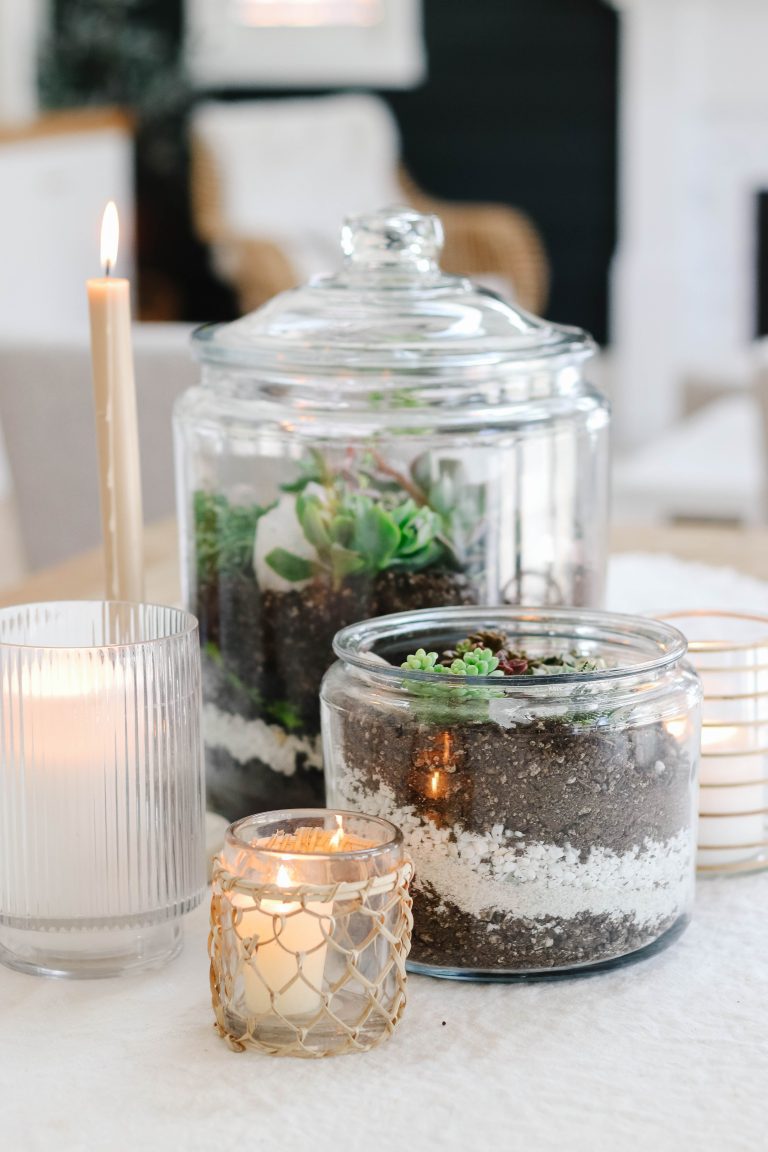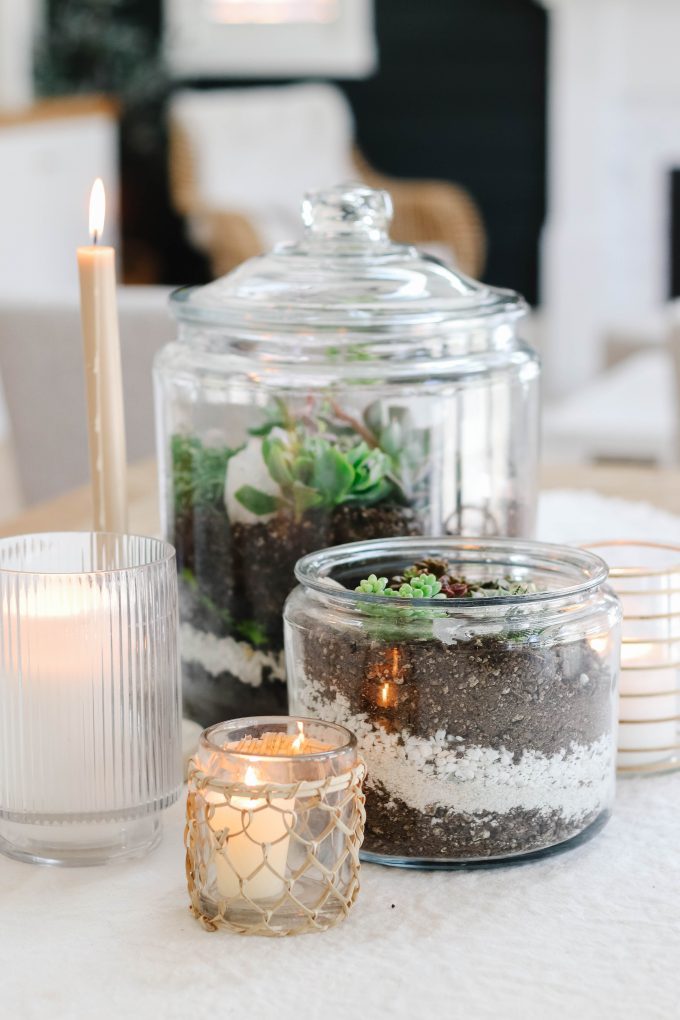 What Exactly Is A Terrarium?
Before we get started making these beautiful arrangements, what exactly is a terrarium? According to Wikipedia, "A terrarium (plural: terraria or terrariums) is usually a sealable glass container containing soil and plants, and can be opened for maintenance to access the plants inside. However, terraria can also be open to the atmosphere rather than being sealed."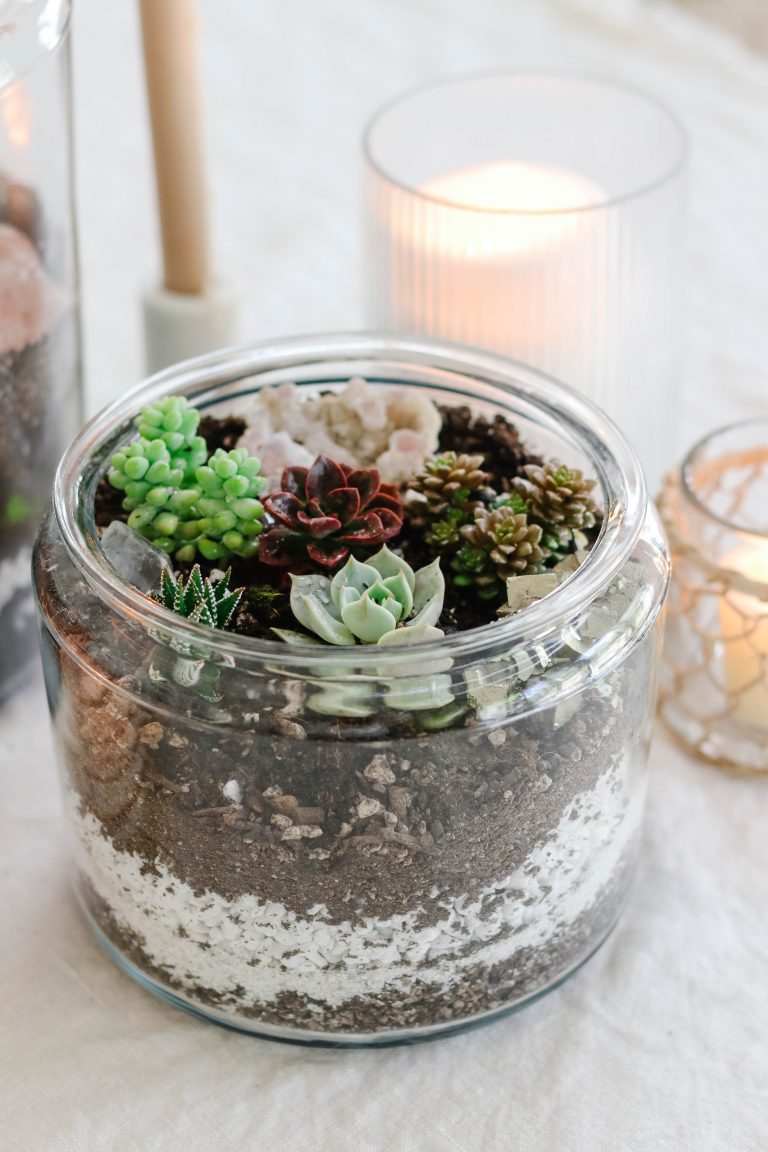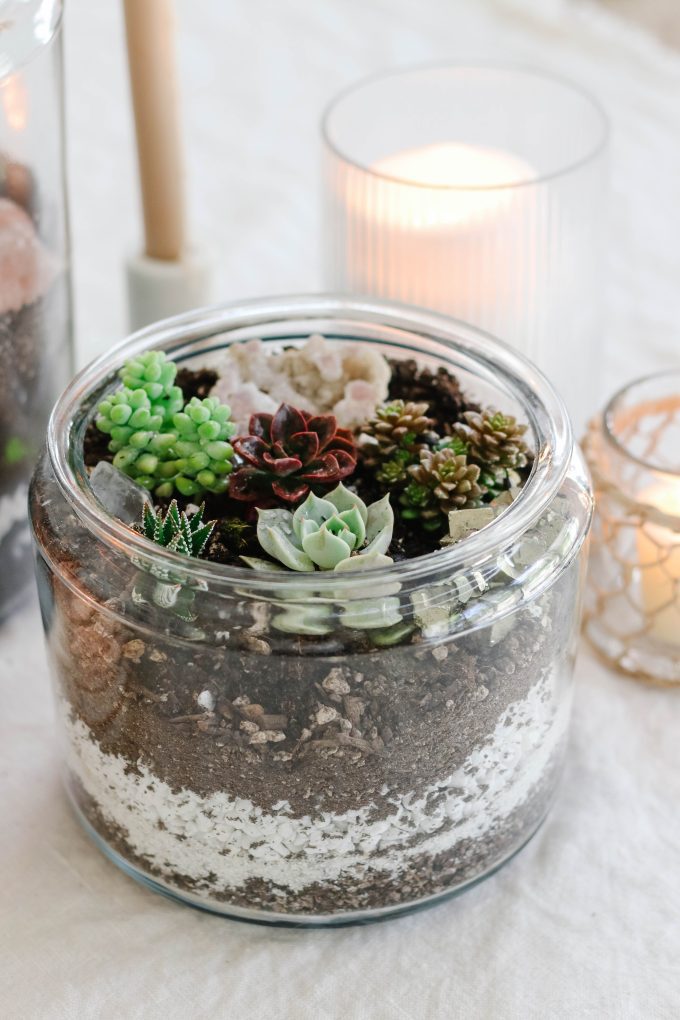 For my succulent terrariums, I used these apothecary jars that I had on hand and were being used to store our pancake mix and oats. I thought they would not only make a beautiful terrarium, but I like that they are inexpensive and the shape is perfect for creating a terrarium.
What You Need To Make A Succulent Terrarium
Succulents
Decorative Objects such as crystals, airplants or moss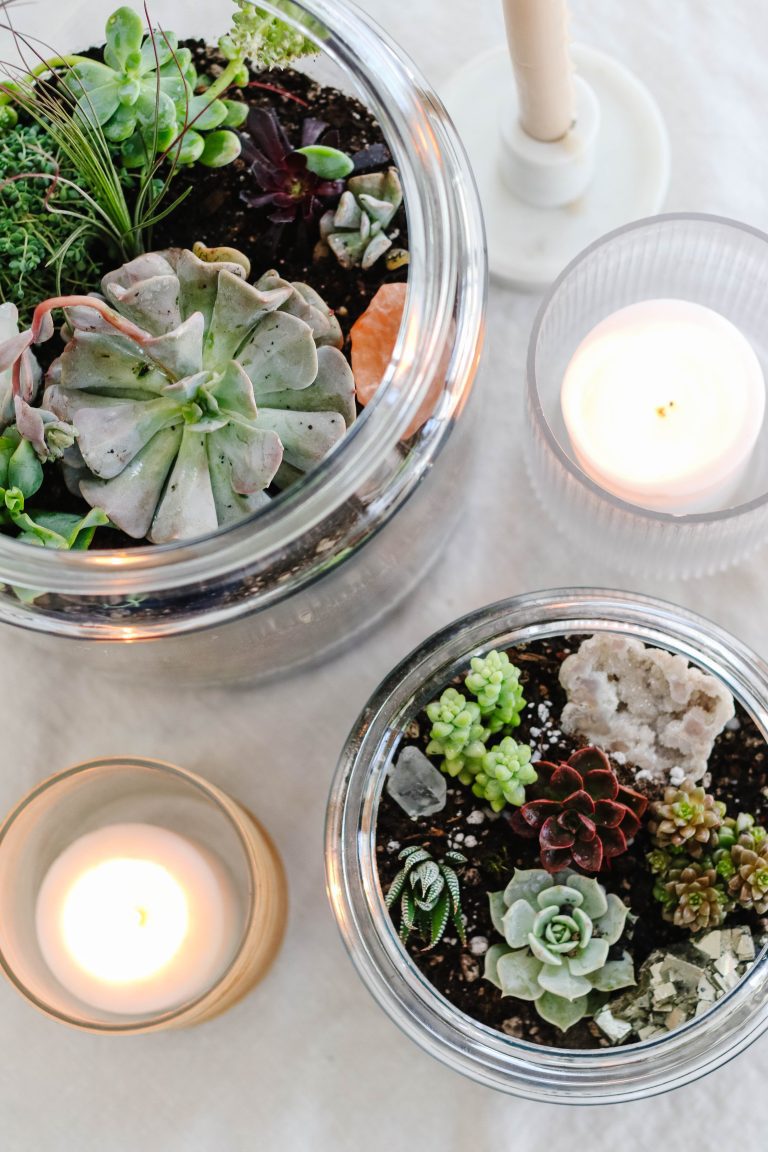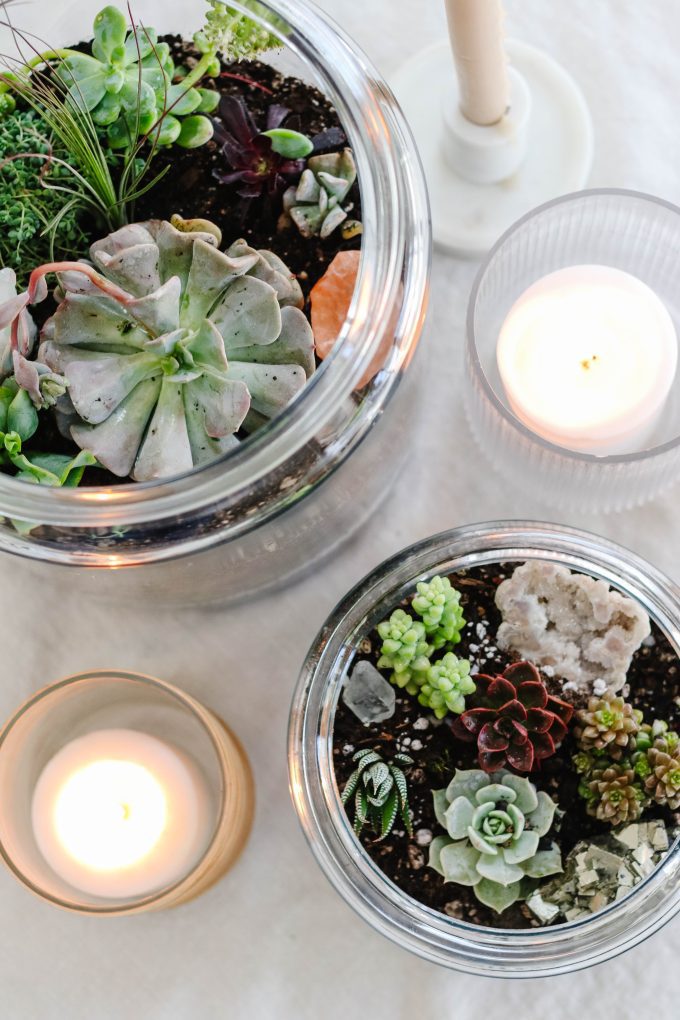 Once you have your glass container picked out, start by filling the bottom with the succulent/cactus planting soil. If you are going to layer your dirt, rocks and moss, then start with a thin layer of soil. Next add in some rocks and moss and then top with more soil. You want to keep the soil in the jar relatively low to the top of the container to allow room for the plants and to place the lid on top.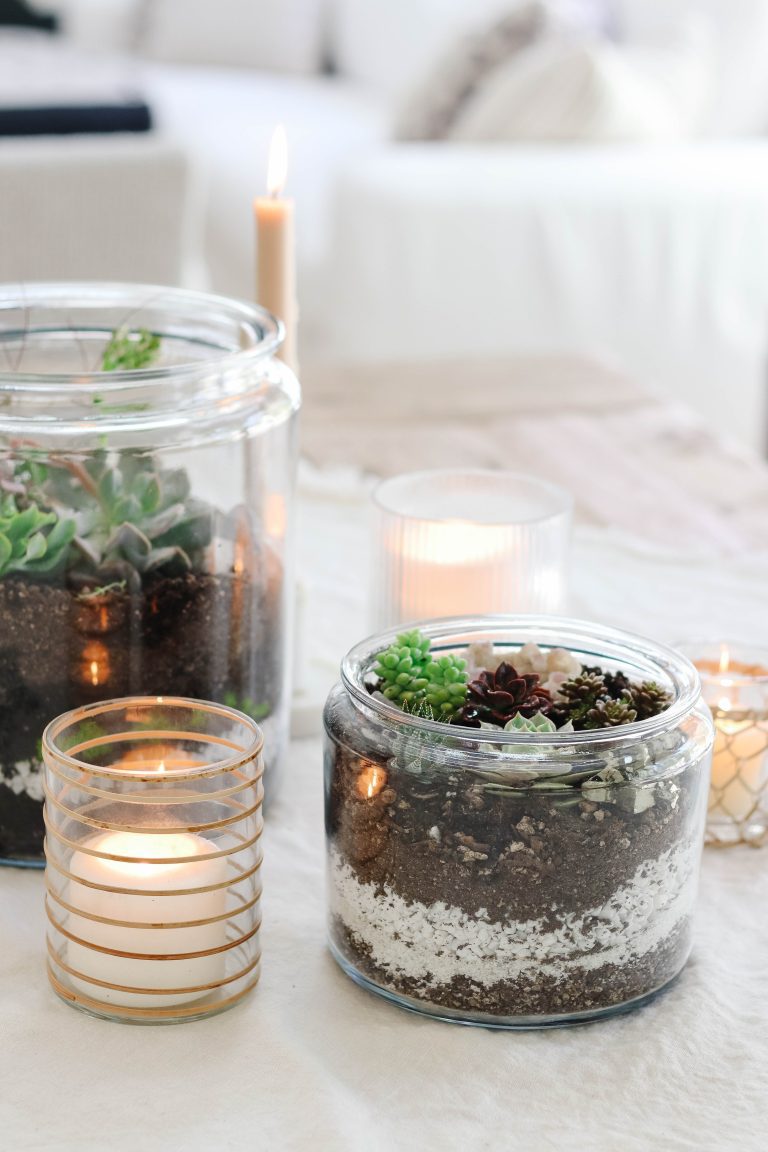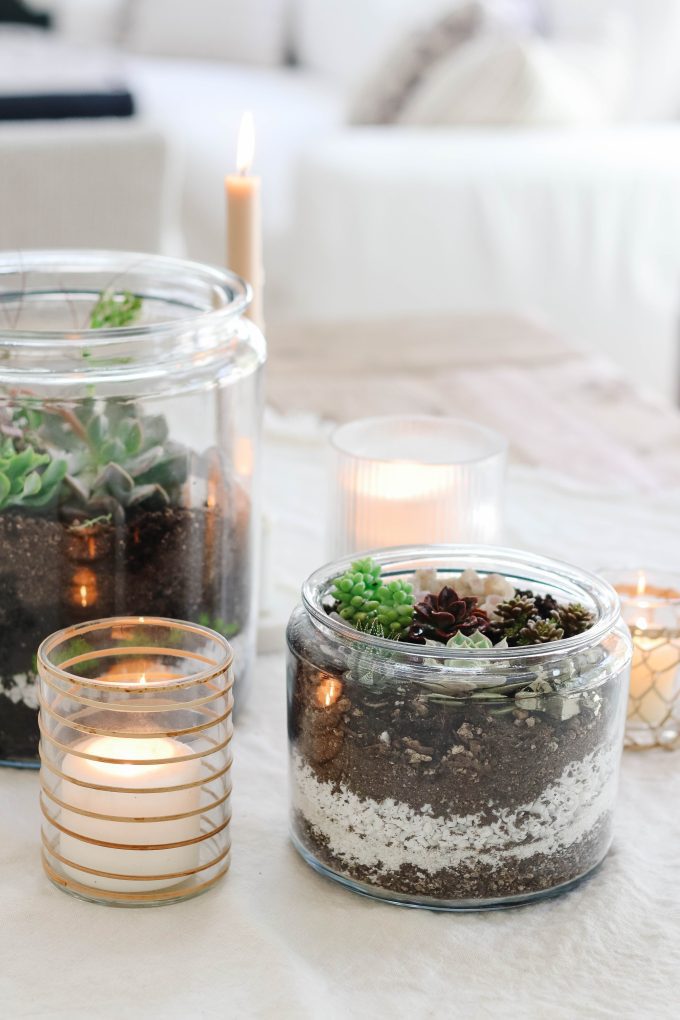 Next it's time to add in your succulents. Using a trowel or your fingers, create a well where you want to place each succulent. Plant the succulents and use more soil to fill in around the edges. Succulents tend to grow and spread so leaving a little room around each plant is a good idea.
Finish by adding in your decorate objects. I placed an air plant in the larger jar and scattered a few of my favorite crystals in among the plants. I love how it turned out!
Terrarium Care Instructions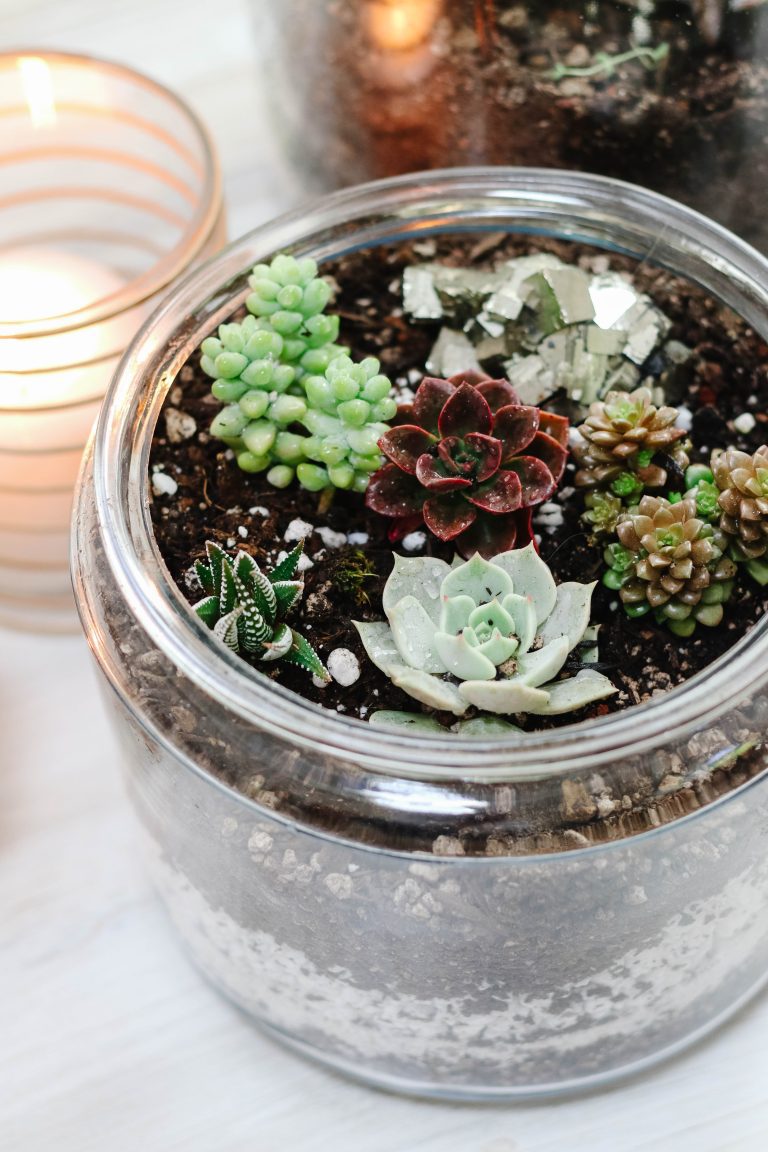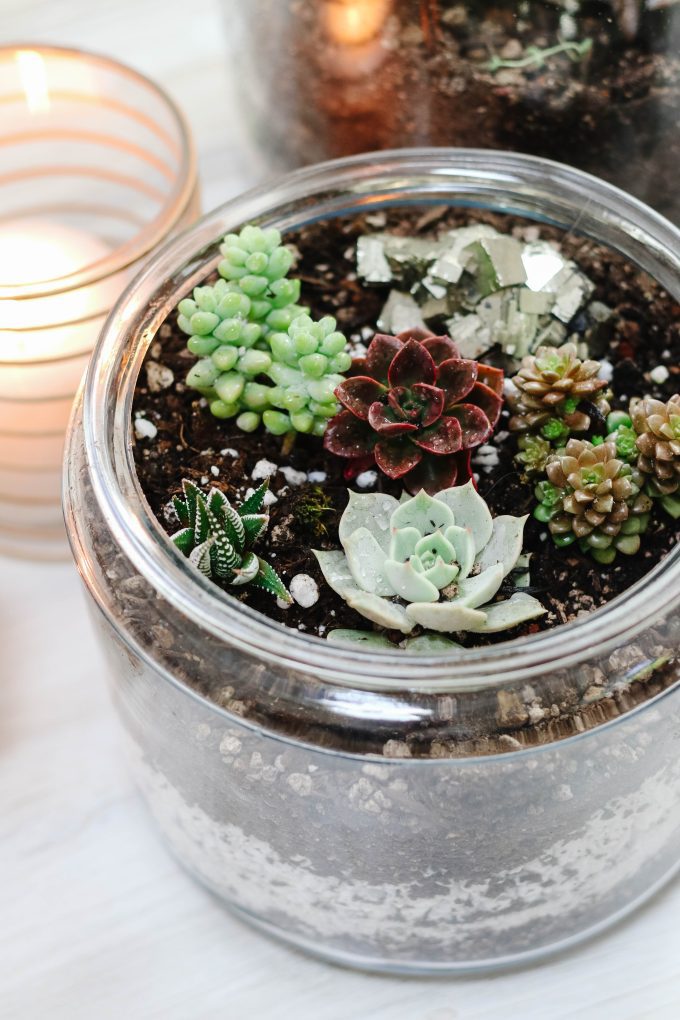 Here are a few tips to keep your succulent terrarium happy and make it last a long time.
How Often Do You Need To Water Your Succulent Terrarium?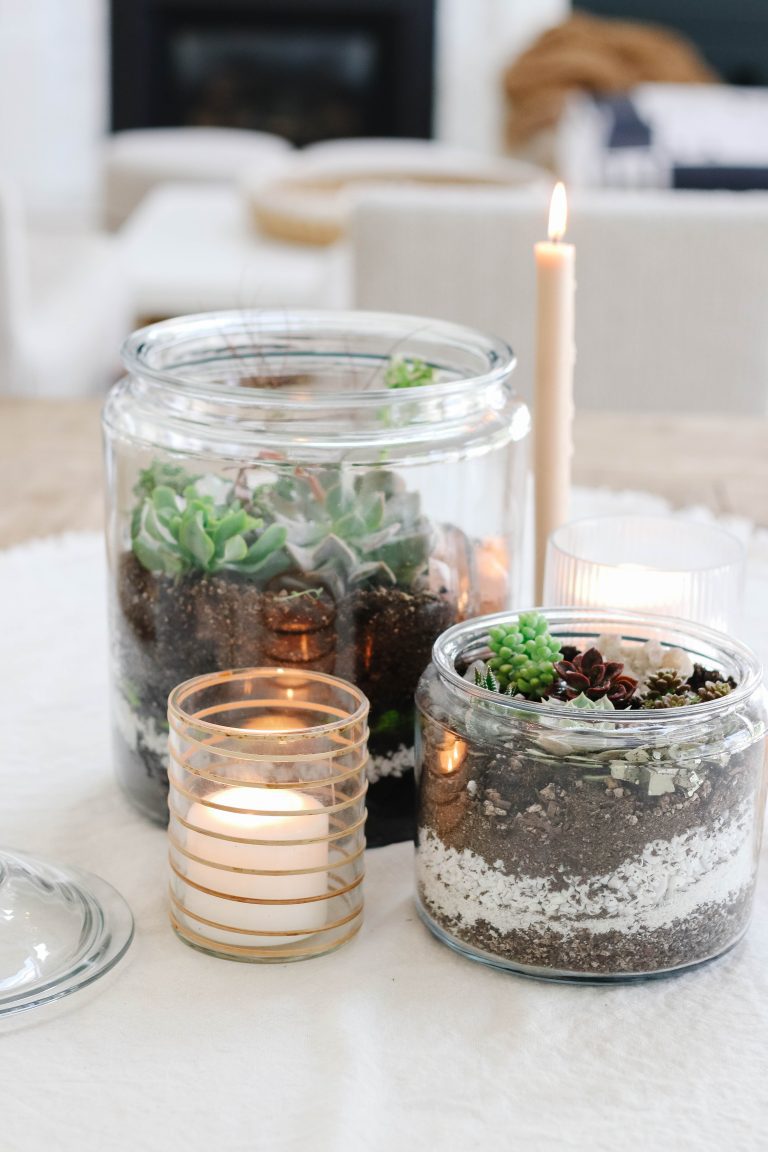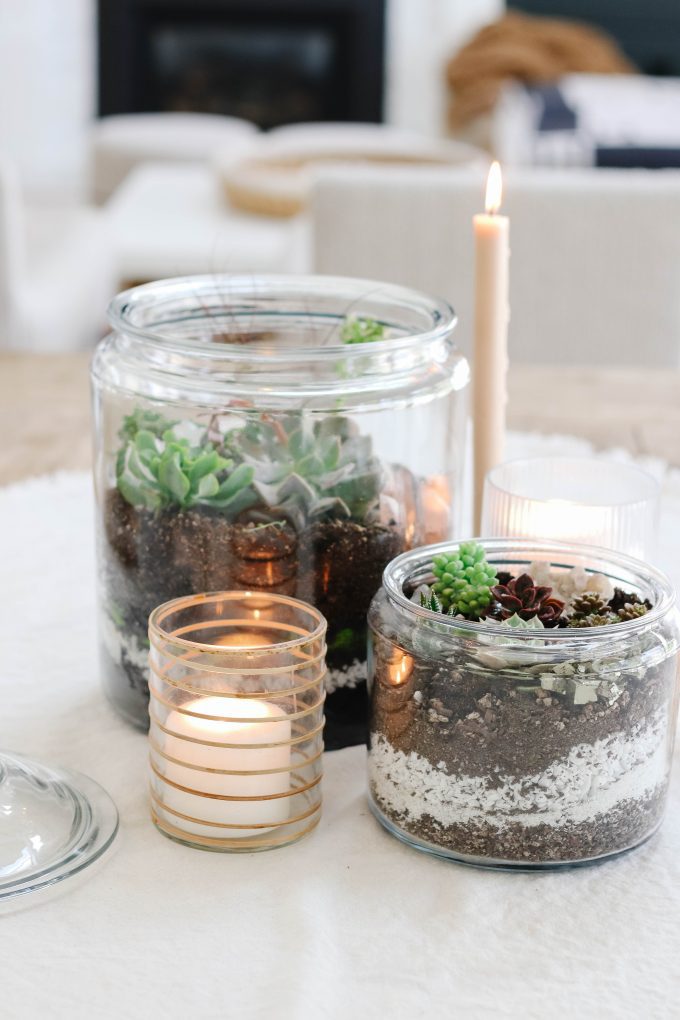 The best way to water the succulents in your terrarium is to use a plant mister. Lightly spritz around each succulent once a week to keep the plants hydrated but not overly saturated.
How To Care For Your Succulents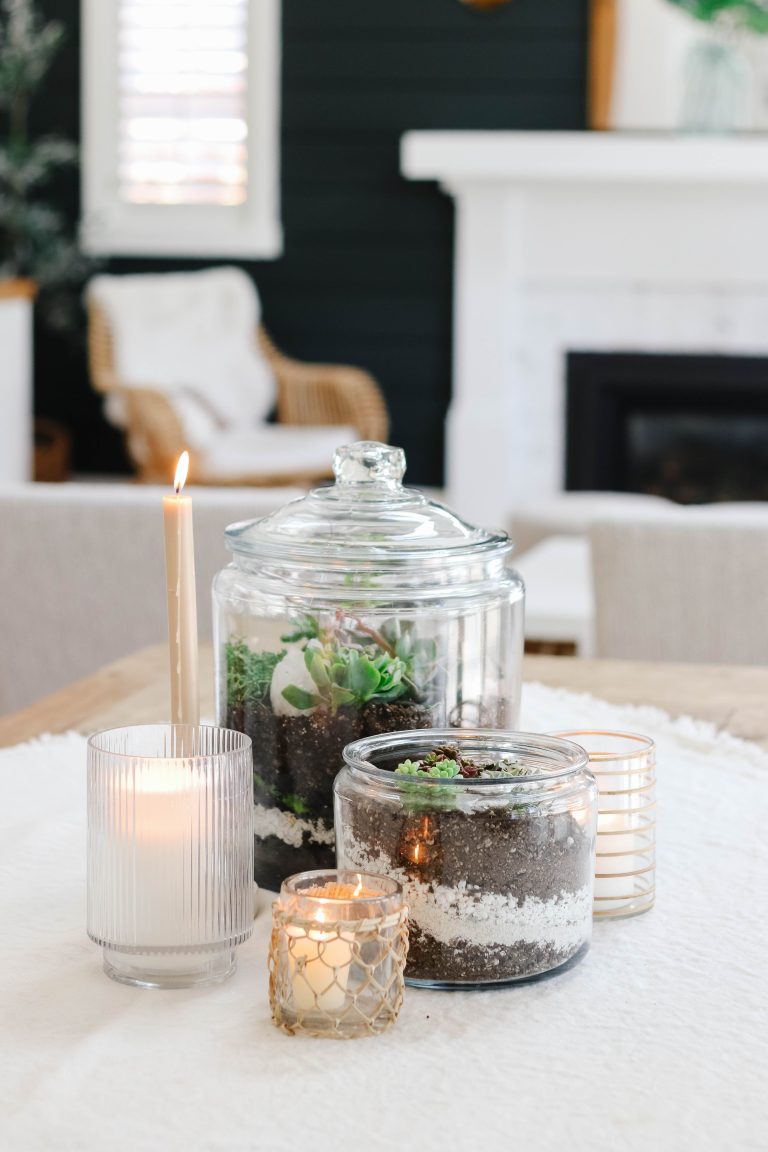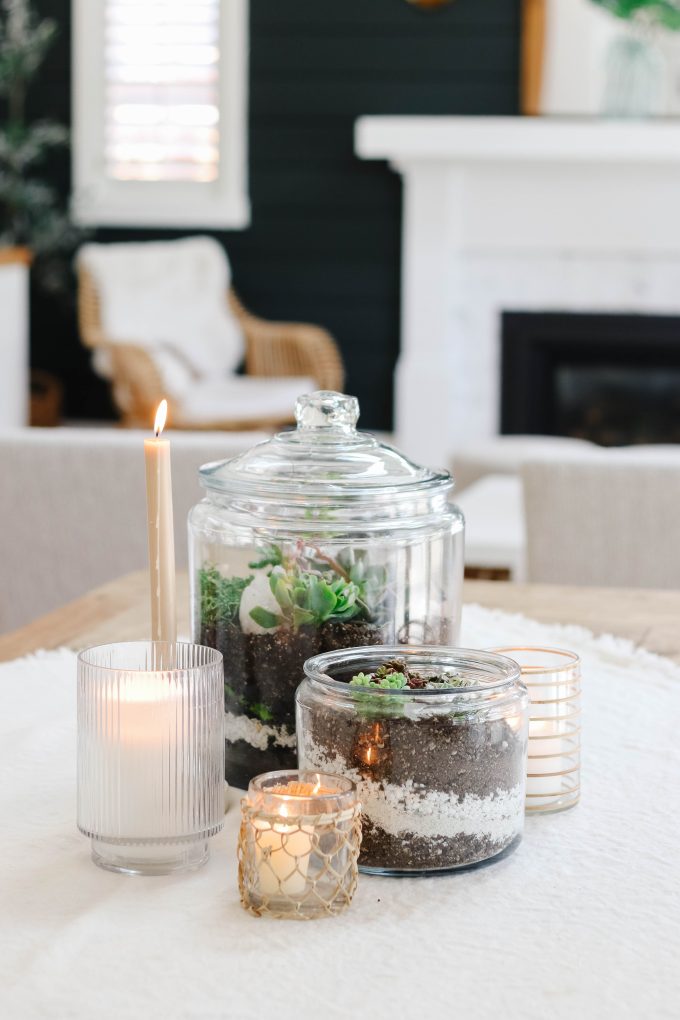 As your succulents grow they can sometimes get a bit leggy and could use some maintenance. You can snip off the tips of you succulents to keep them lower growing or if they produce any long flowers. Be sure to check out this post for more succulent care tips: How To Grow Happy Succulents.
Spring Table Ideas
Now, be sure to check out these amazing Spring Table ideas. So much inspiration is in store for you!

5 Easy Ways to an Almost-Free Spring Centerpiece | Robyn's French Nest
A Simple Spring Table | Finding Lovely
Clamshell Salt Cellars | Most Lovely Things

Lemon Inspired Spring Tablescape | Twelve on Main
Floral Centerpiece DIY | Happy Happy Nester
Easy DIY Spring Wallpaper Runner | My 100 Year Old Home

Easy Spring Centerpiece with Potted Plants | Inspiration for Moms
Pottery Barn Hand Painted Earthenware Vase Knockof | The Happy Housie
How To Make A Beautiful Succulent Terrarium | Modern Glam
Neutral Spring Table Decor | My Sweet Savannah