Kitchen shelf styling ideas for fall plus 21 fall kitchens decked out for the season!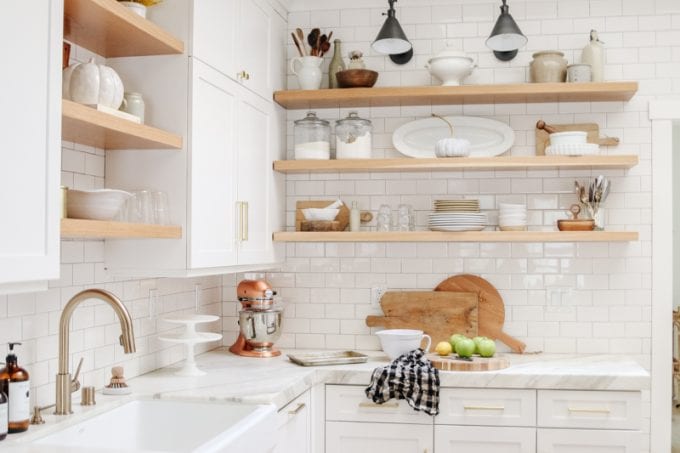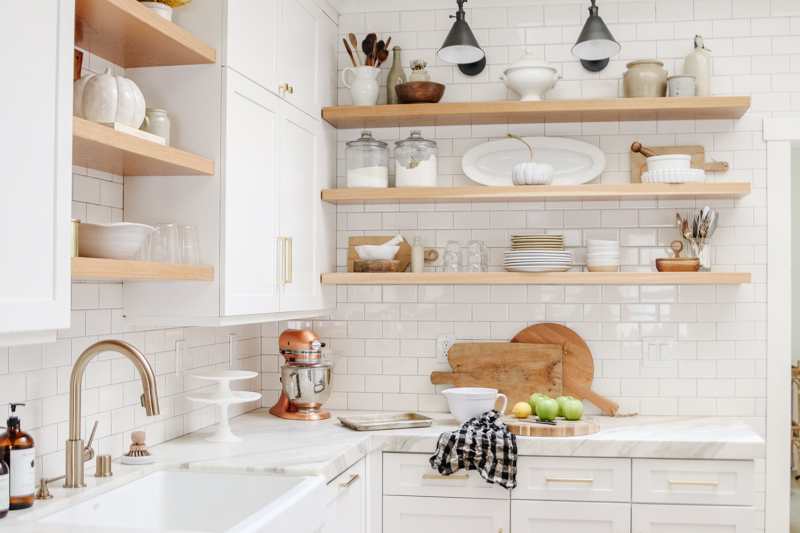 The kitchen is the heart of the home and it's a great place to start decorating for fall. Whether your style is clean and simple, or cozy and layered, make the space you are spending the most time is feel like your own.
Kitchen Shelf Styling Ideas
I have updated our kitchen shelves for fall. This year I went with a neutral approach and layered the shelves with antiques, white dishes and a European twist.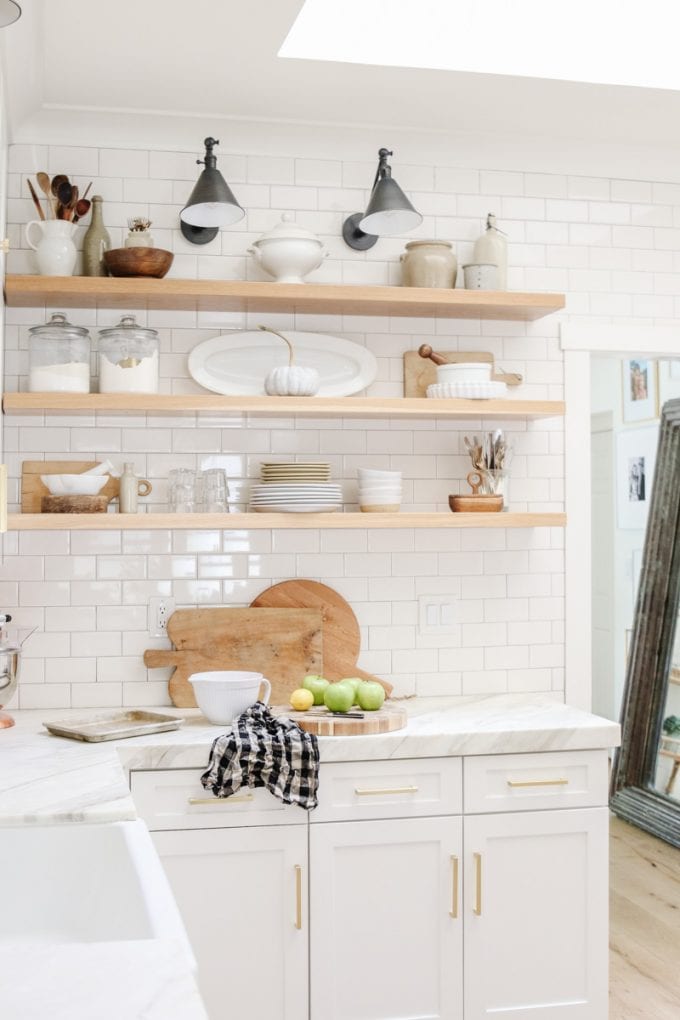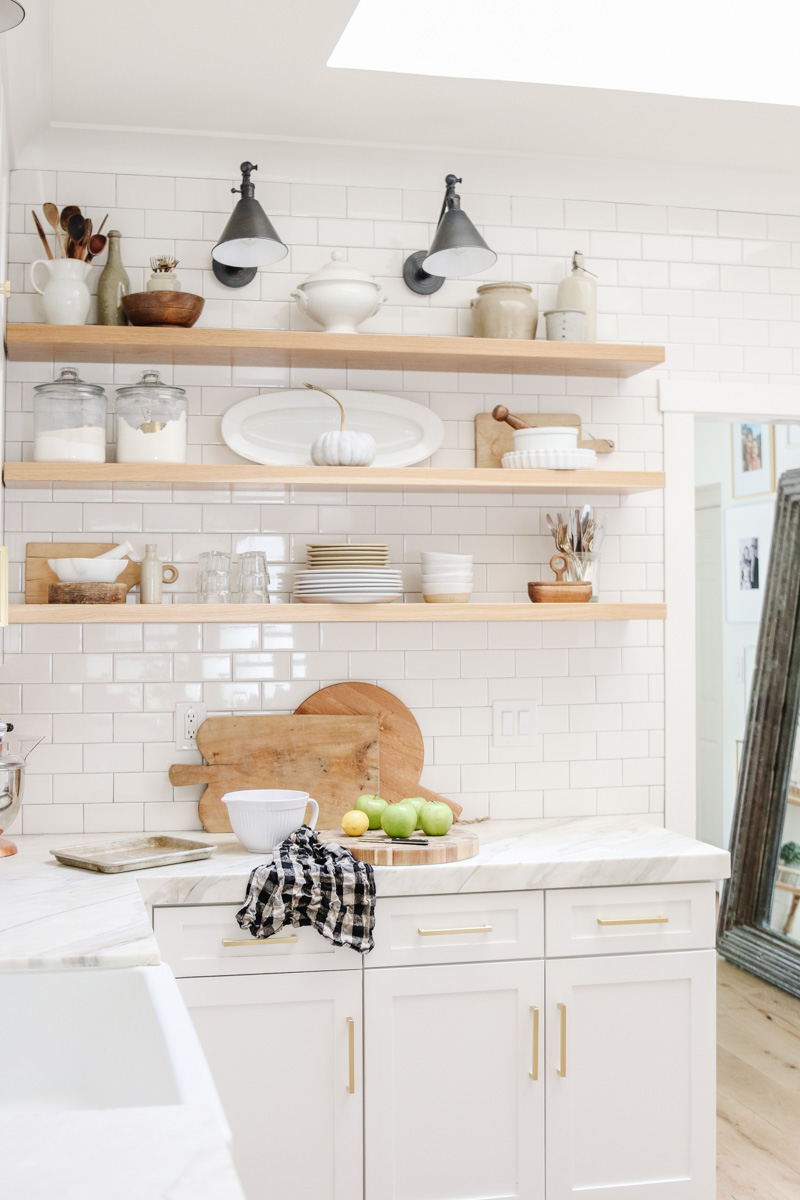 I am excited to share with you all the details and offer a few tips about how you can get the same collected, layered look in your home.
Fall Kitchen Shelves
I'm not going to lie, styling these kitchen shelves took a really long time. I decorated, stepped back and assessed at least a dozen times. I sent pictures to friends asking for advice.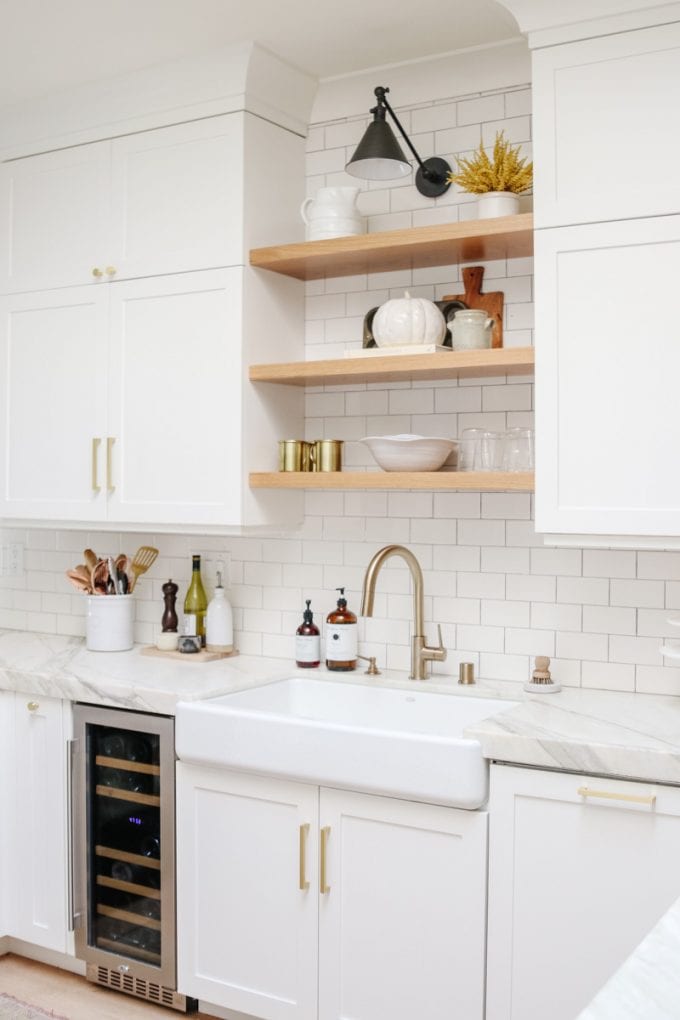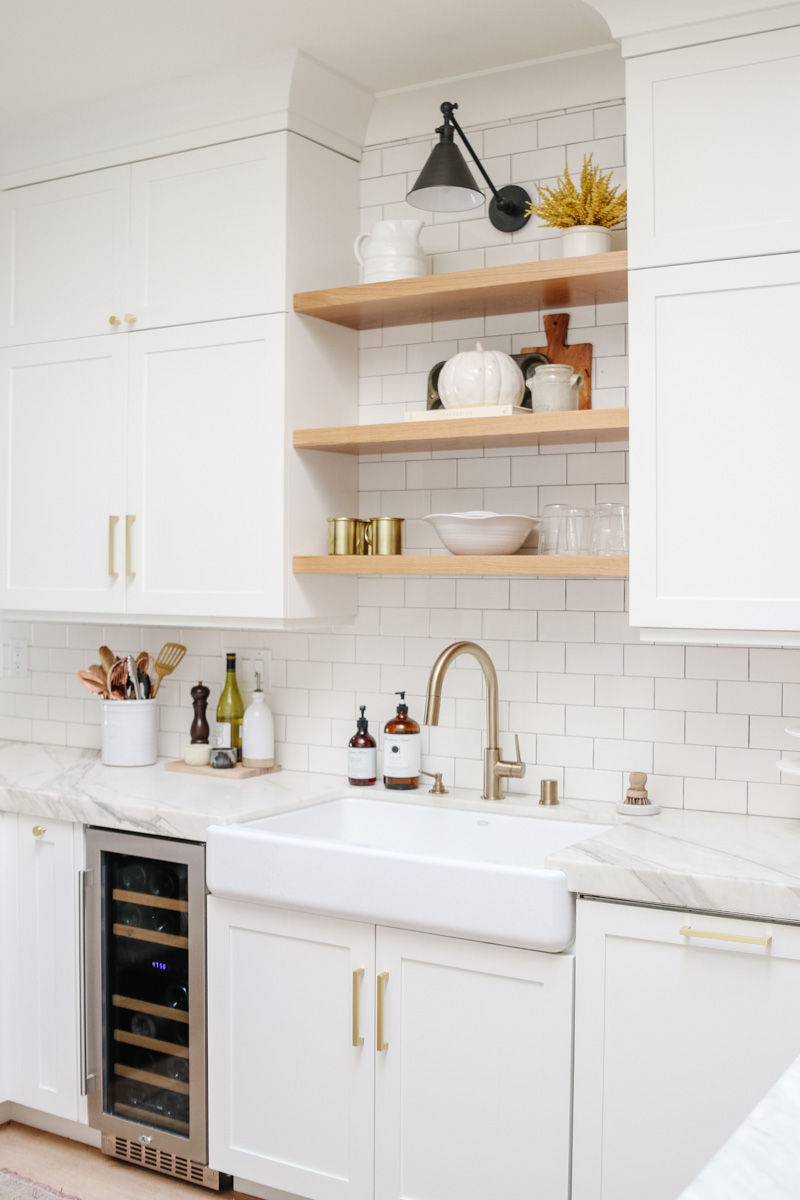 See, I just couldn't get it to look the way I wanted it to! I'm sure you have felt the same way at some point, right?
I scoured pinterest and had tons of inspiration. I wanted to create a simple, neutral look that was layered with vintage and antique treasures without looking cluttered and overdone.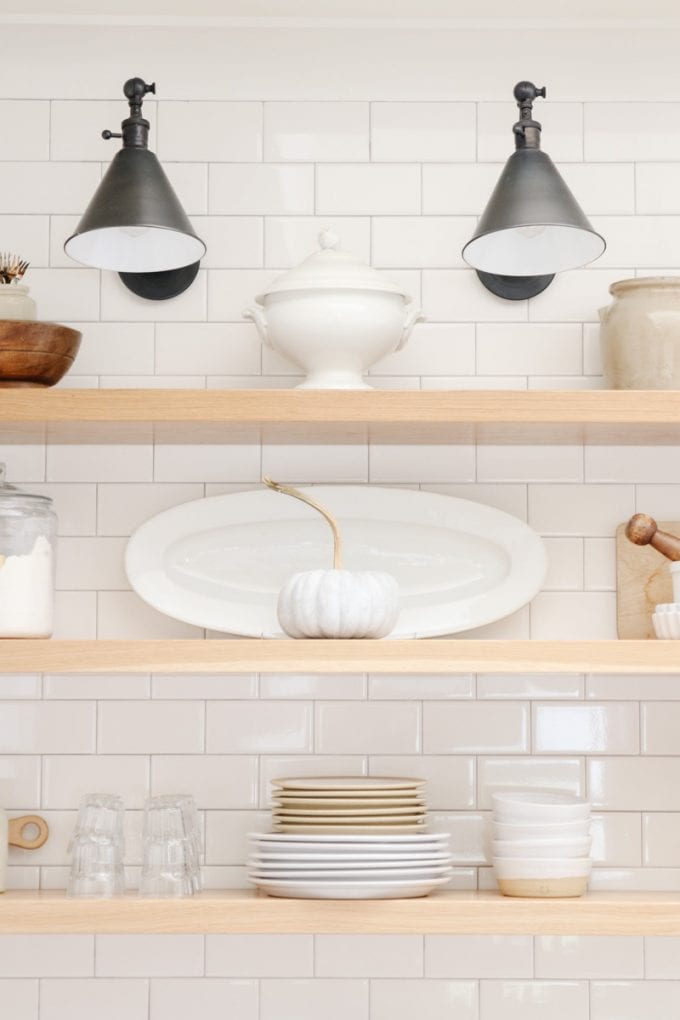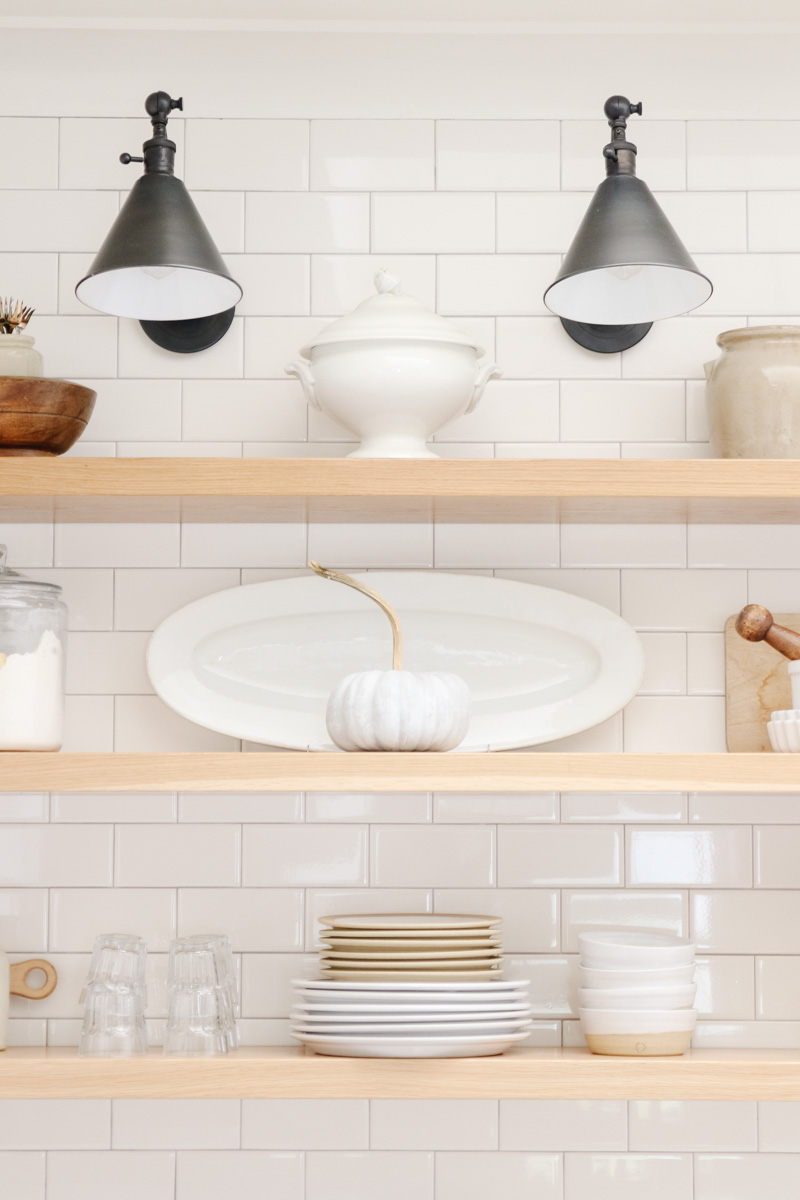 Also, I wanted the shelves to hold items that we use on a daily basis.
See, when you are constantly using the plates, dishes and cups on your shelves, the dust doesn't collect as quickly. This has been my biggest lesson since installing these kitchen shelves.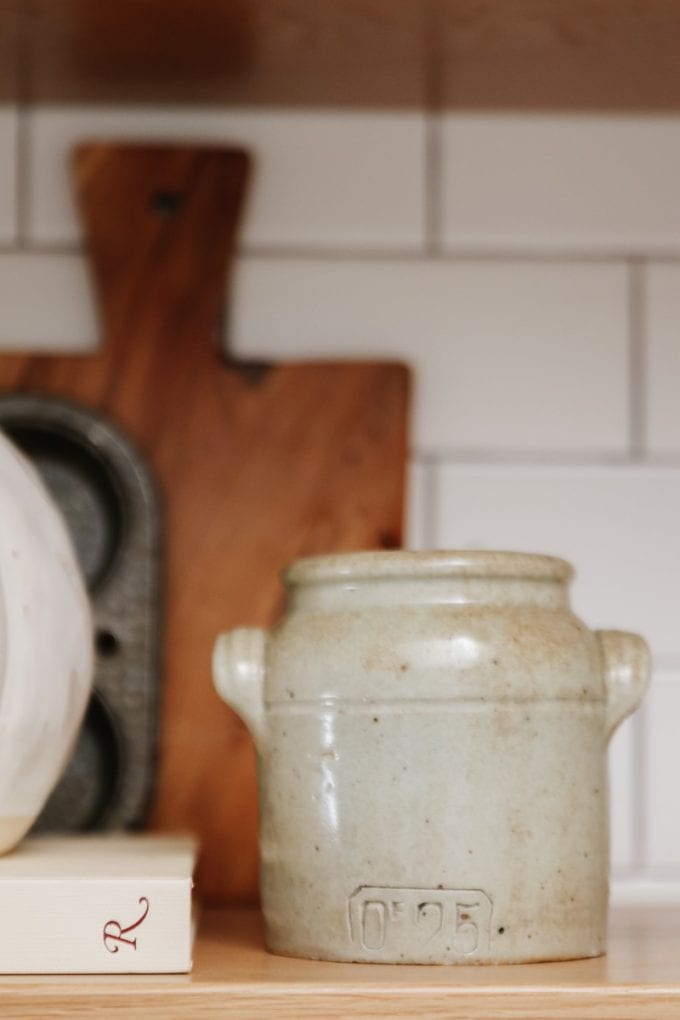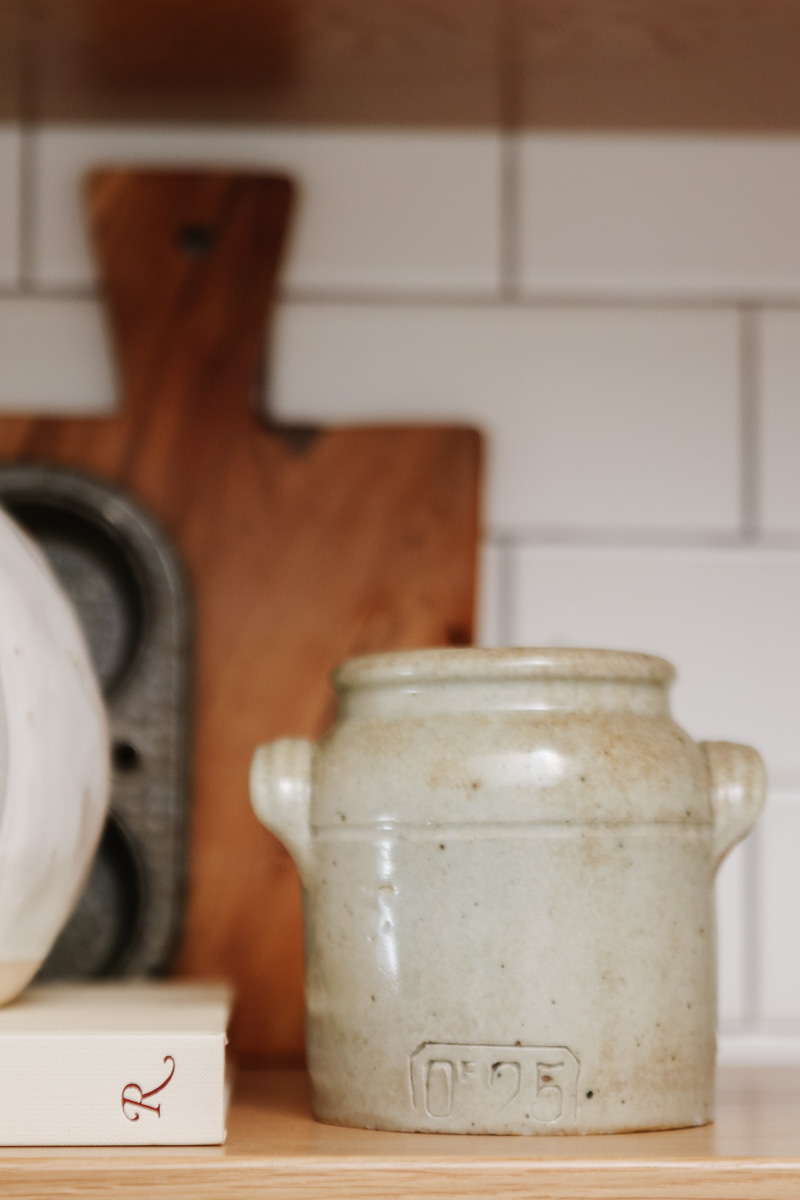 After all the fussing, styling and work that went into styling these kitchen shelves, I wanted to share with you some tips that I learned along the way. Hopefully this will help if you are looking for inspiration or ideas for decorating your kitchen shelves.
Styling Tips For Open Kitchen Shelves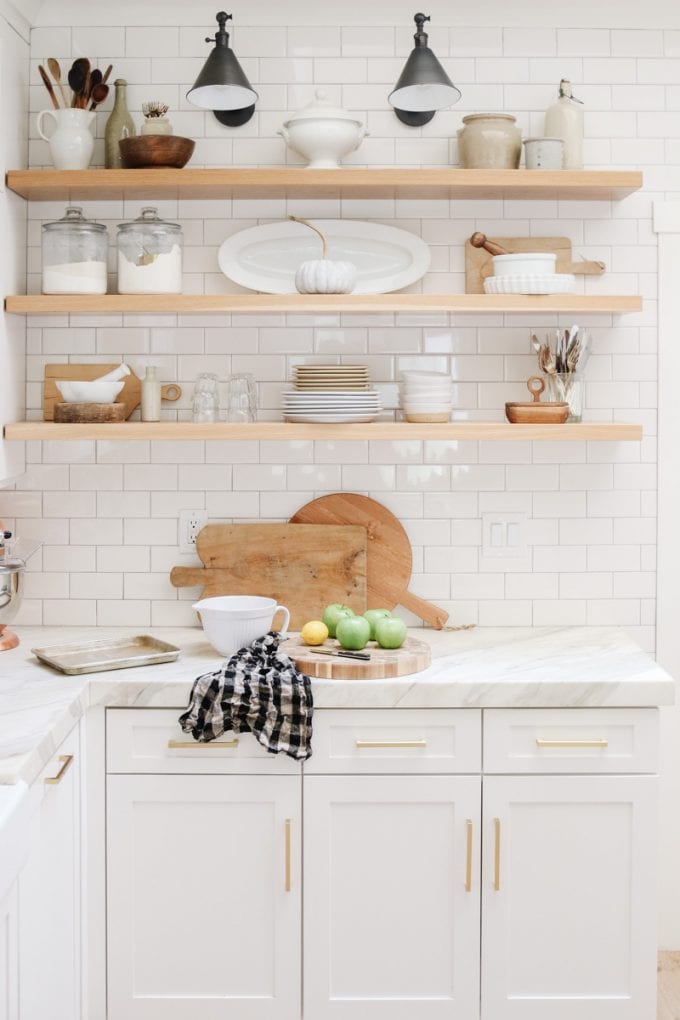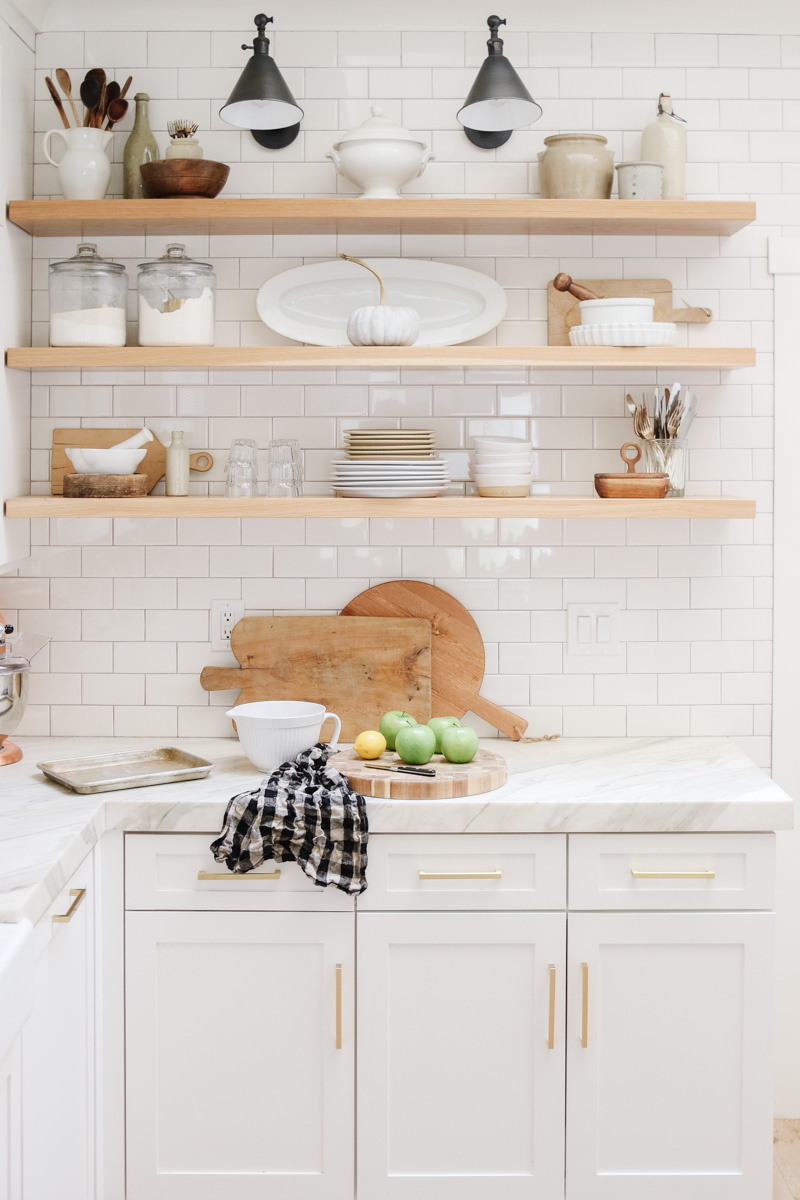 Stick to a neutral color scheme with one or two pop colors.
Group items together and don't be afraid to stack.
Vary the height of items for interest.
Incorporate art or something visually interesting.
When in doubt, less is more.
Place frequently used items on the bottom shelf.
How To Decorate Kitchen Shelves
Sticking to a neutral color scheme when styling your kitchen shelves can be a great place to start. Pull out your white or neutral plates, dishes, bowls and baking items.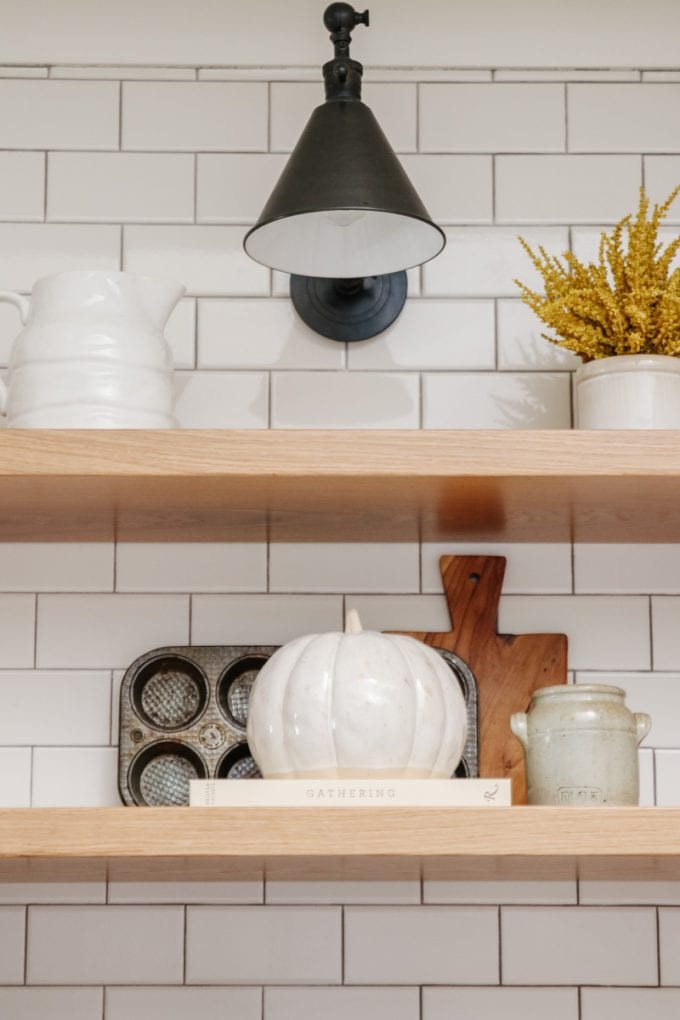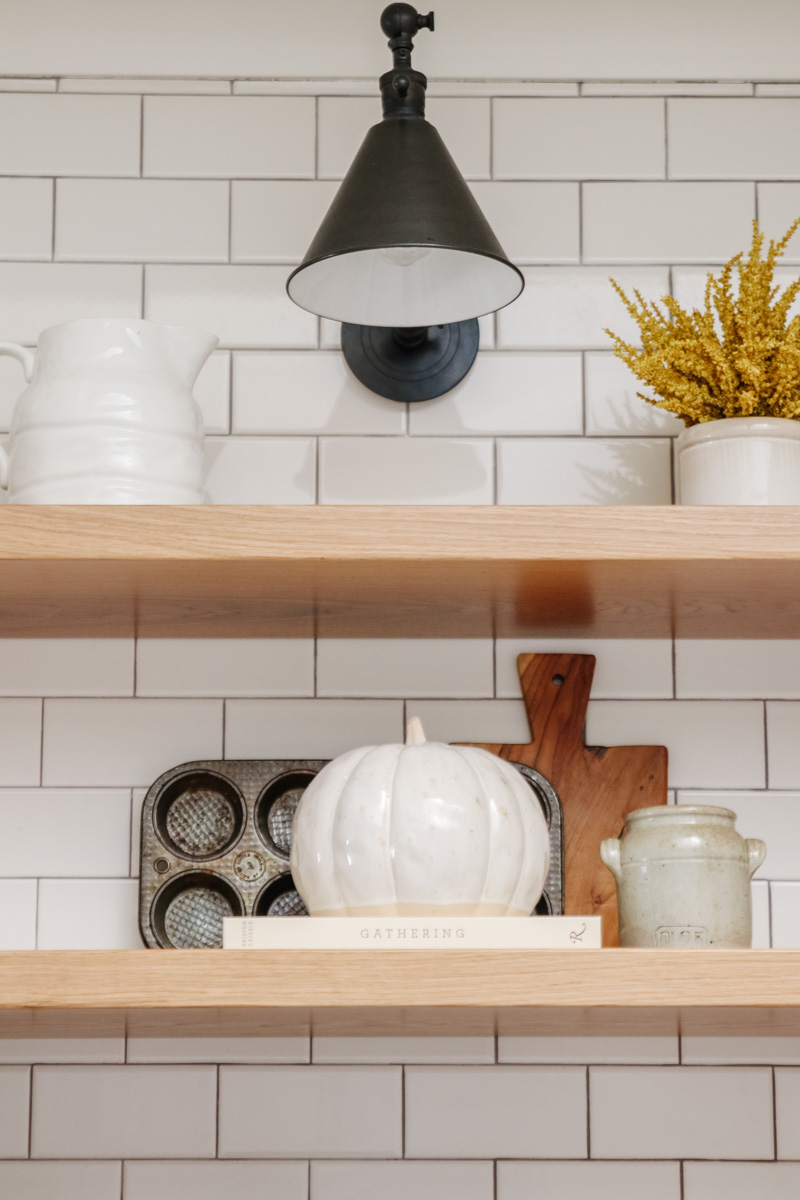 Group items together and don't be afraid to stack your dishes. We stacked our salad plates on top of the dinner plates here. It creates height and frees us space too.
Now, make sure you vary the height of your items too. Nothing is more boring that a line of items that are all the same size and height.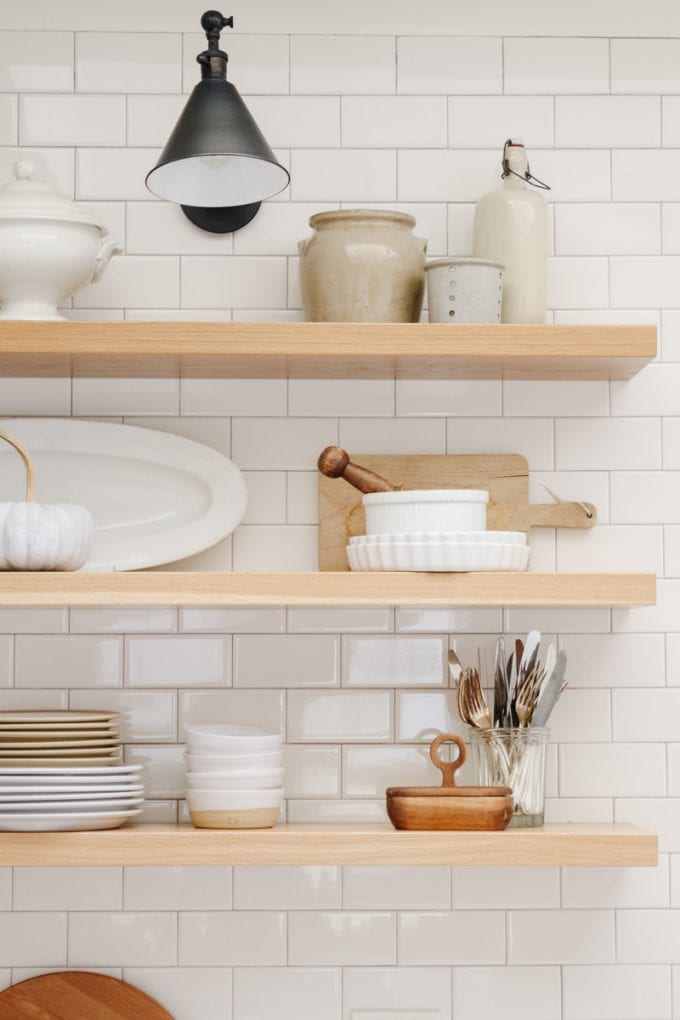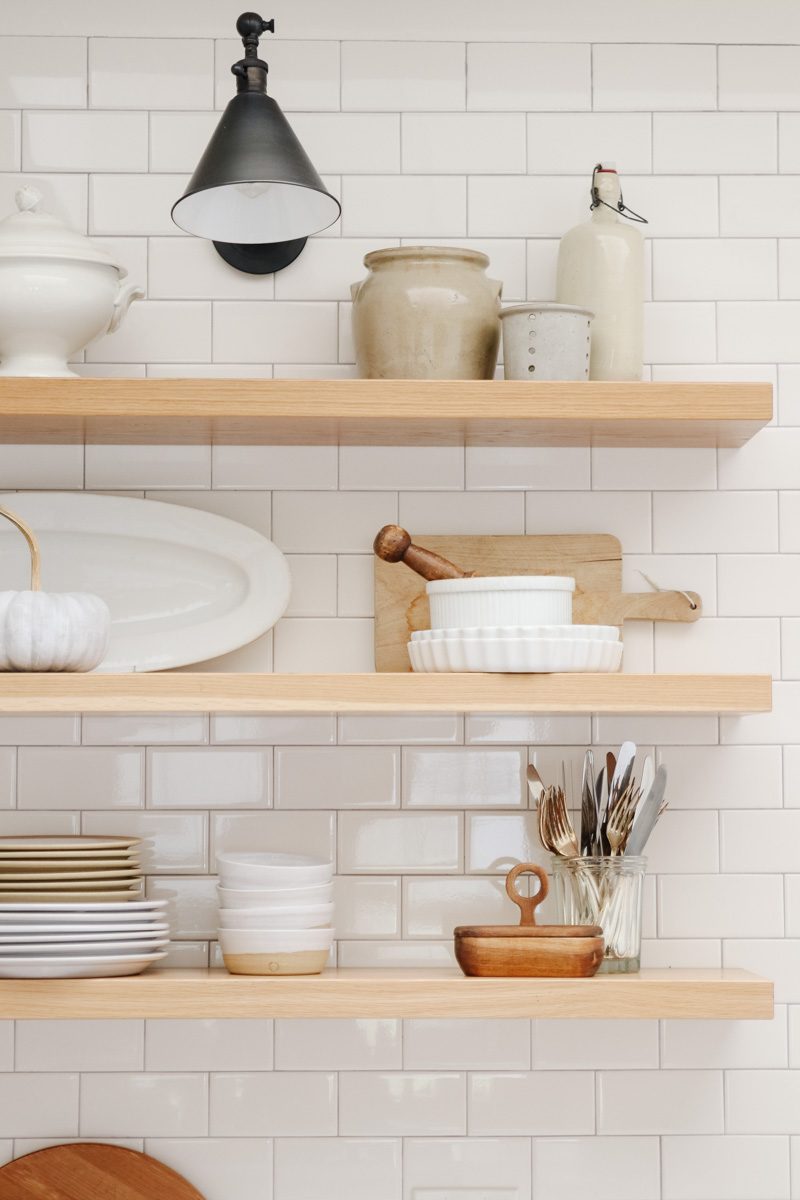 If you have any beautiful artwork, this is a great place for it to have it's moment. Even a typographic print is fun in the kitchen!
And when in doubt, less is more. If you are feeling like your kitchen shelves are starting to feel like they are way too cluttered, take some away. Less is more in this case and can be the cure to an over-styled space.
What To Put On Open Shelves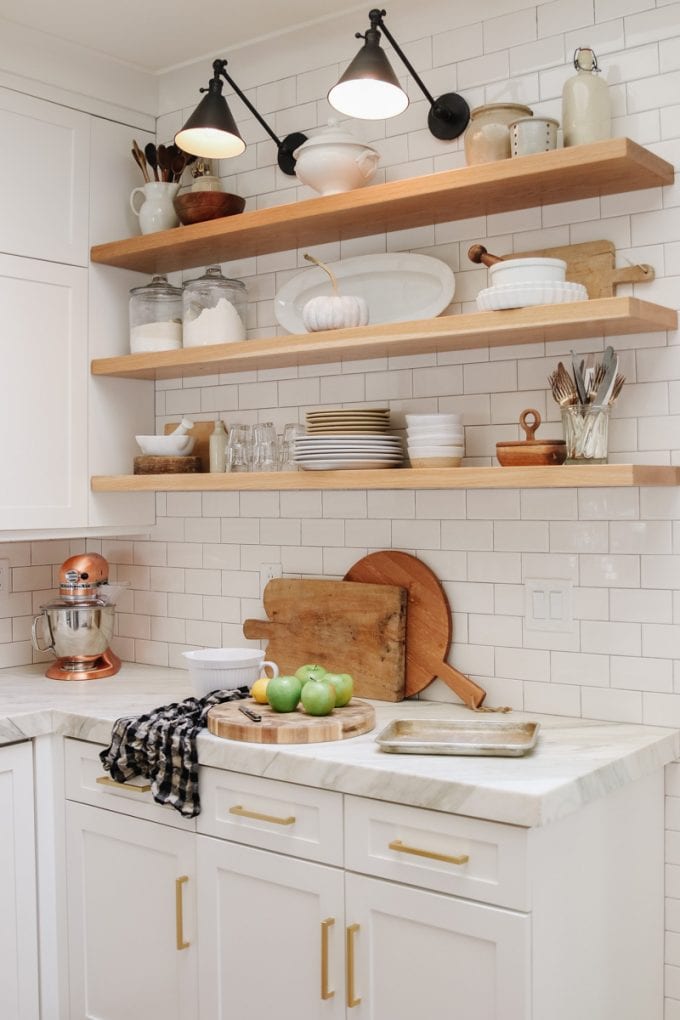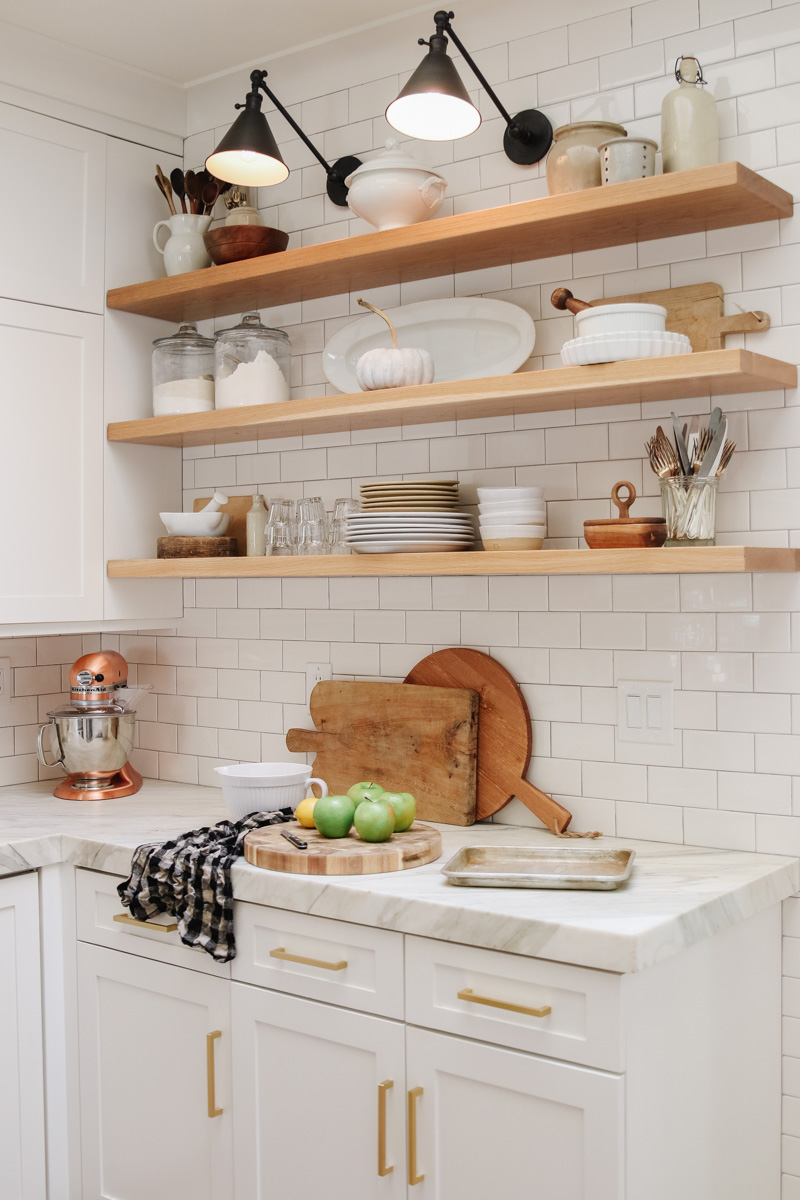 Styling your kitchen shelves can be a bit tricky. Here are some ideas of what you can put on your open shelves to keep the look clean but also make this a functional design attribute as well.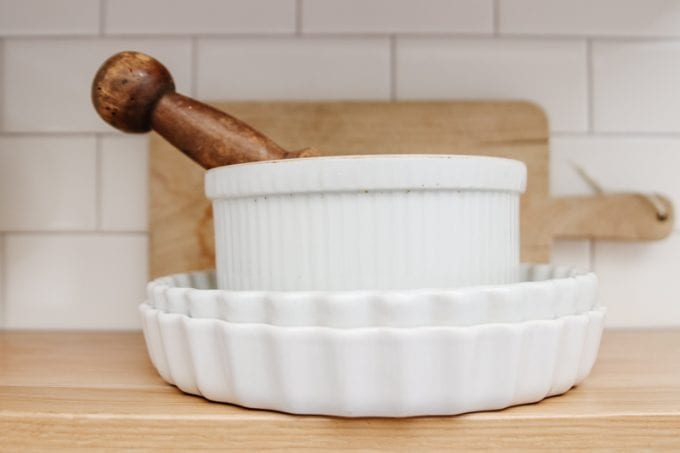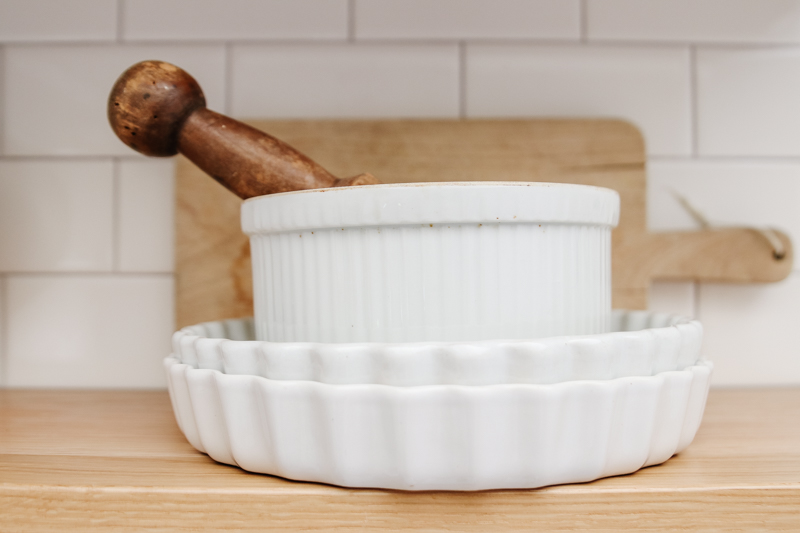 Use white dishes clear glasses. Stack your dishes on the shelves and line up your clear glasses. Make these a part of your everyday dishes that you use. This makes the dust collect less quickly and makes these items close at hand for easy serving and entertaining.
Display pretty serving dishes or mixing bowls. I love having a stack of mixing bowls on our shelves. We use these bowls for serving salads, mixing up pancake batter and everything in between.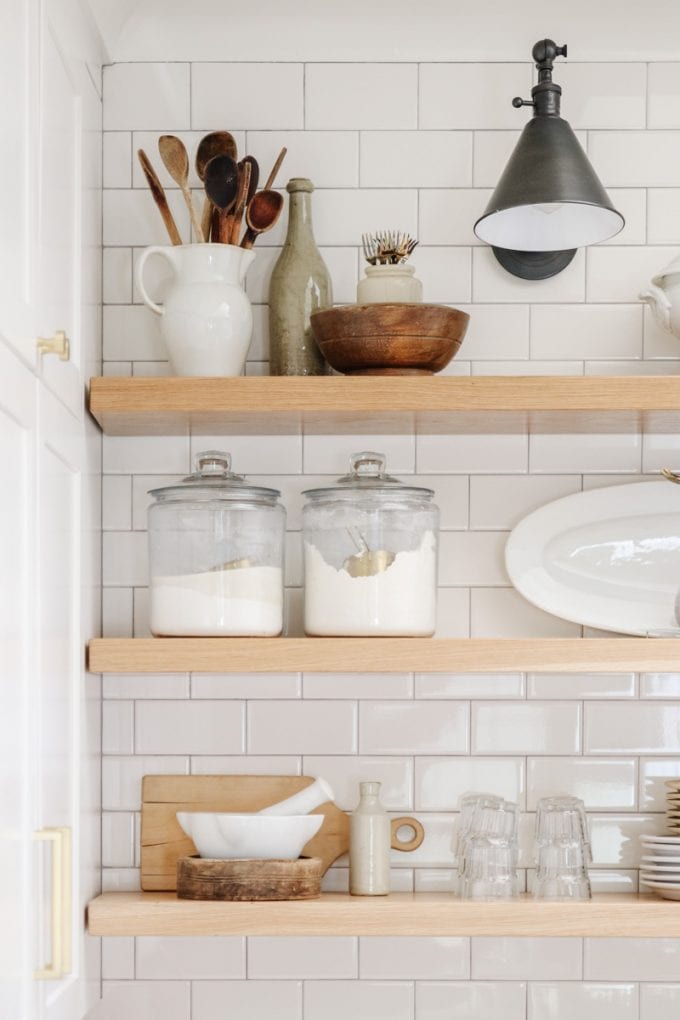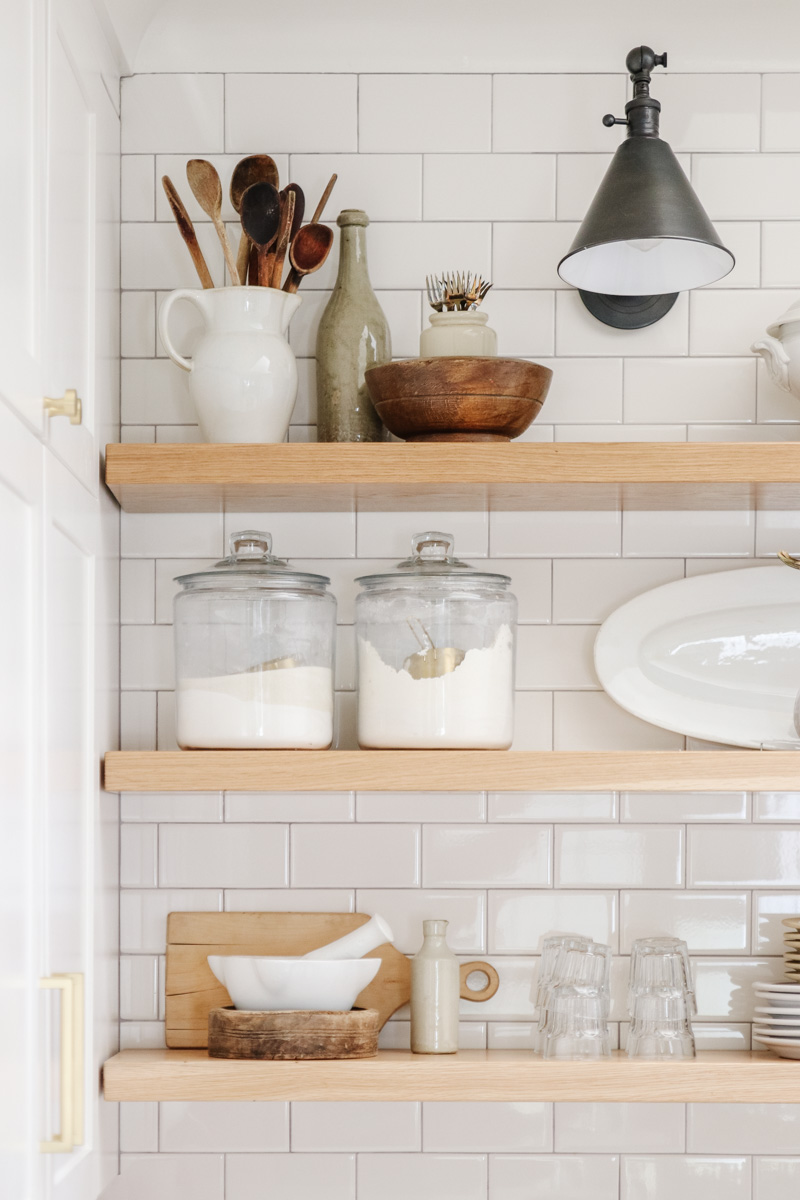 Fill large clear canisters with baking essentials. We have our flour and sugar on our open kitchen shelves. It's a great look, but it also frees up space in our pantry where the less attractive essentials can go.
I think this is a great way to style your kitchen shelves without having to think too hard about it.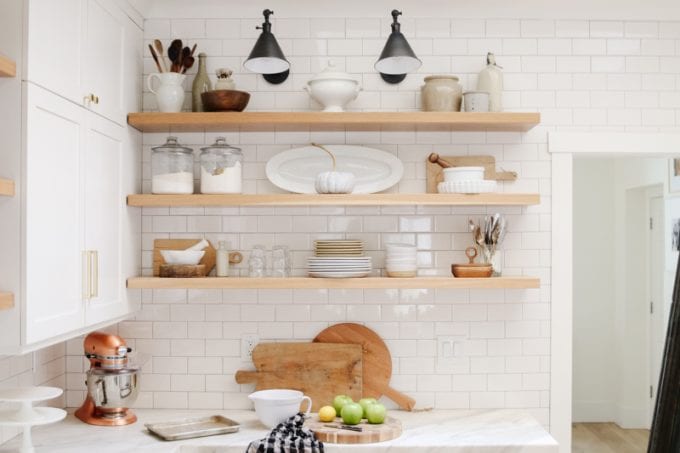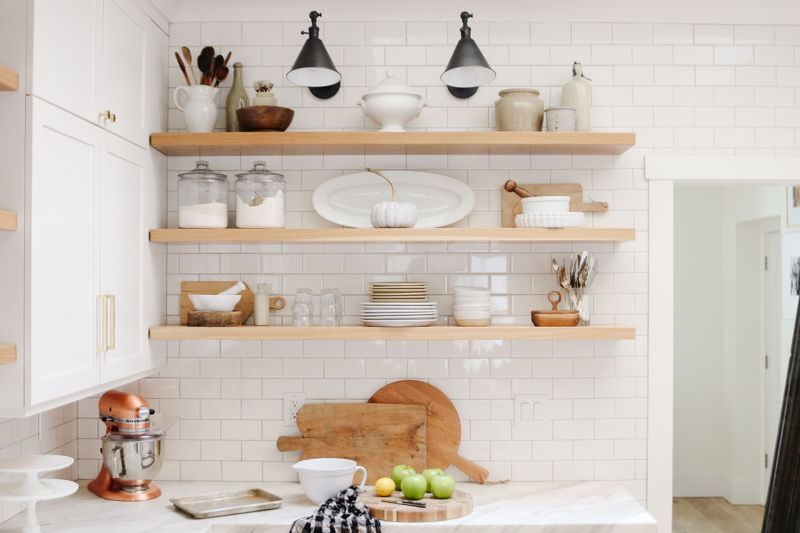 Another idea to put on your open shelves is a large dish propped up sideways. This antique French fish platter is the perfect item to take up space without competing with the other items on the shelves.
Think about your flatware. Placed in a vintage jelly jar, it can serve as a practical yet interesting addition to your kitchen shelves.
I am all about making that first open shelf (the one at eye level) filled with practical items that are used daily. A basket filled with cloth napkins, plates, bowls, dishes, glasses, flatware and even salt and pepper shakers are perfect items for the bottom shelf.
How To Decorate Open Shelving For Fall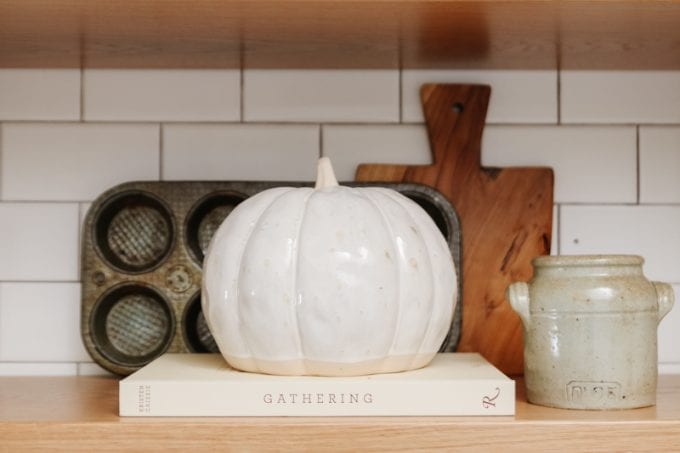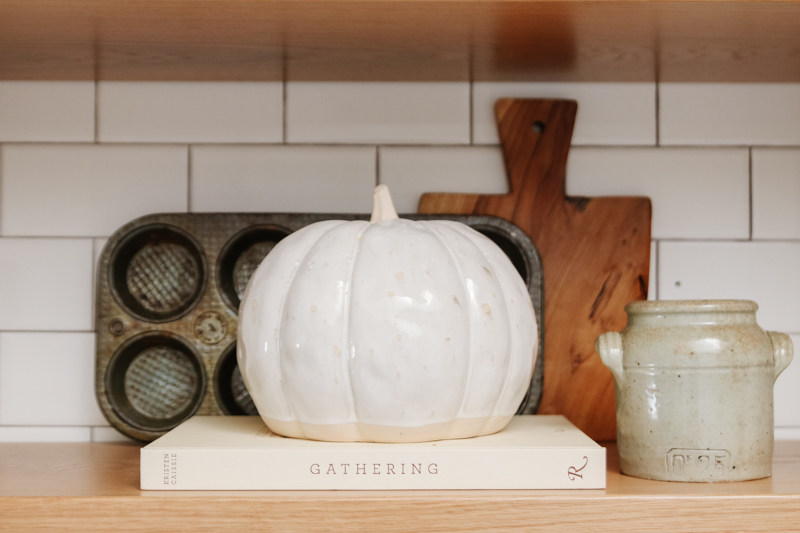 If you get the bones right with your kitchen shelf styling, adding in a few bits for fall is the easy part!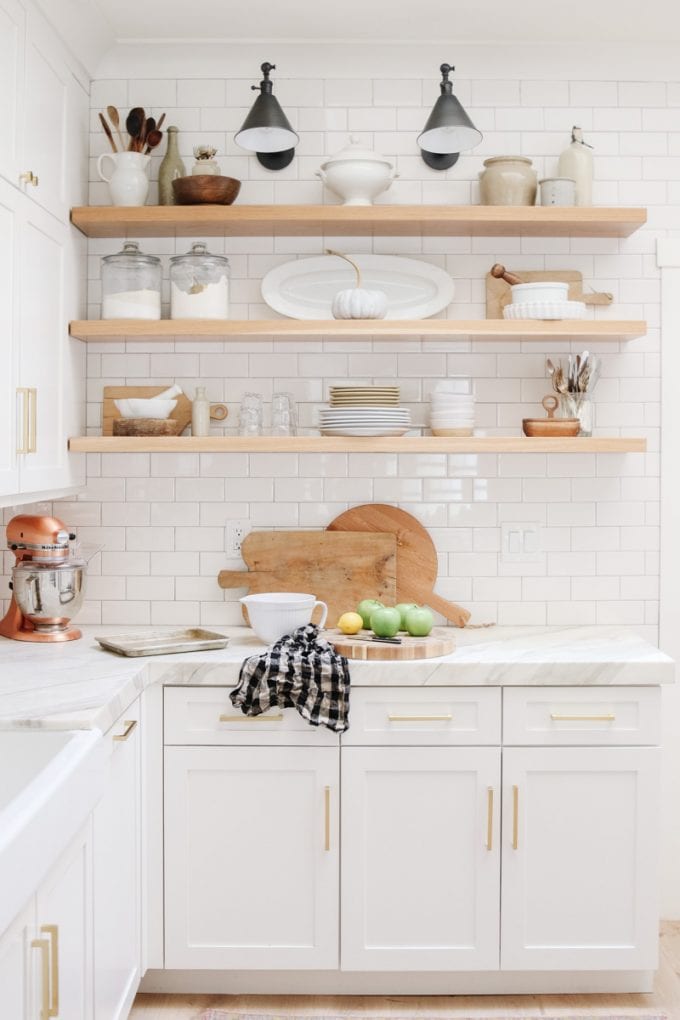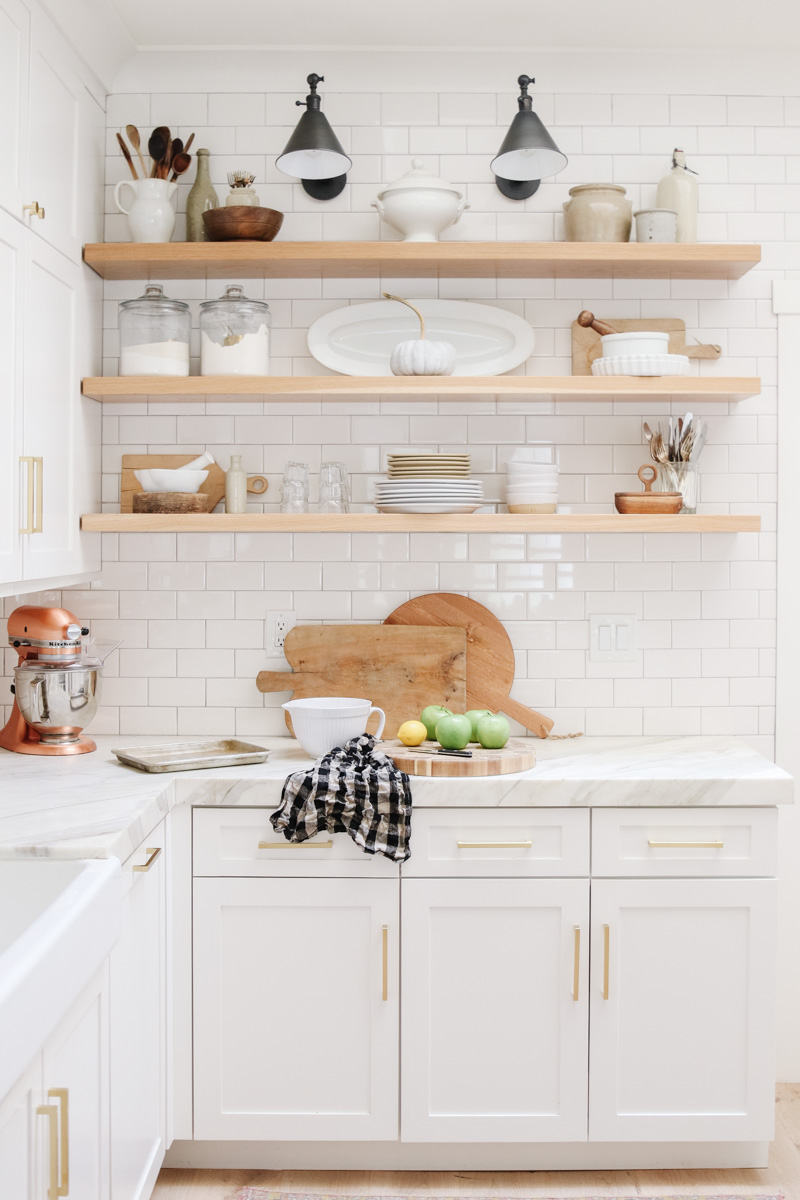 I love to add a few baby boos and unique pumpkins to my kitchen shelves for fall. It has been so hot here in California that I don't have any real pumpkins yet, so I used this Chalk Painted Pumpkin that I made instead. Check out the post to see how it is to make. They look like real cement pumpkins without all the work!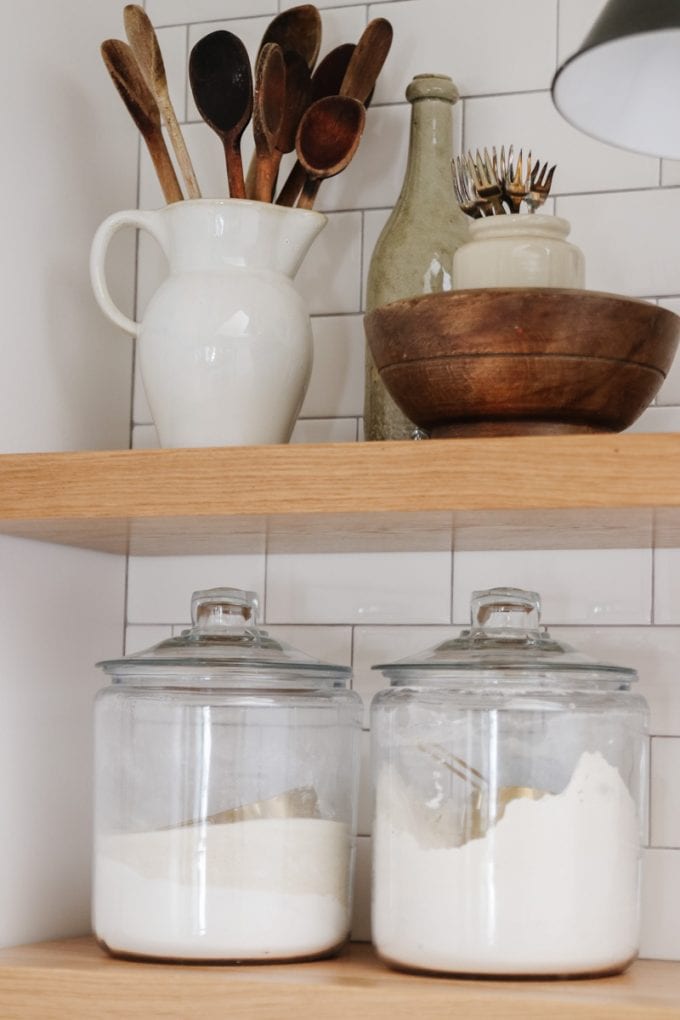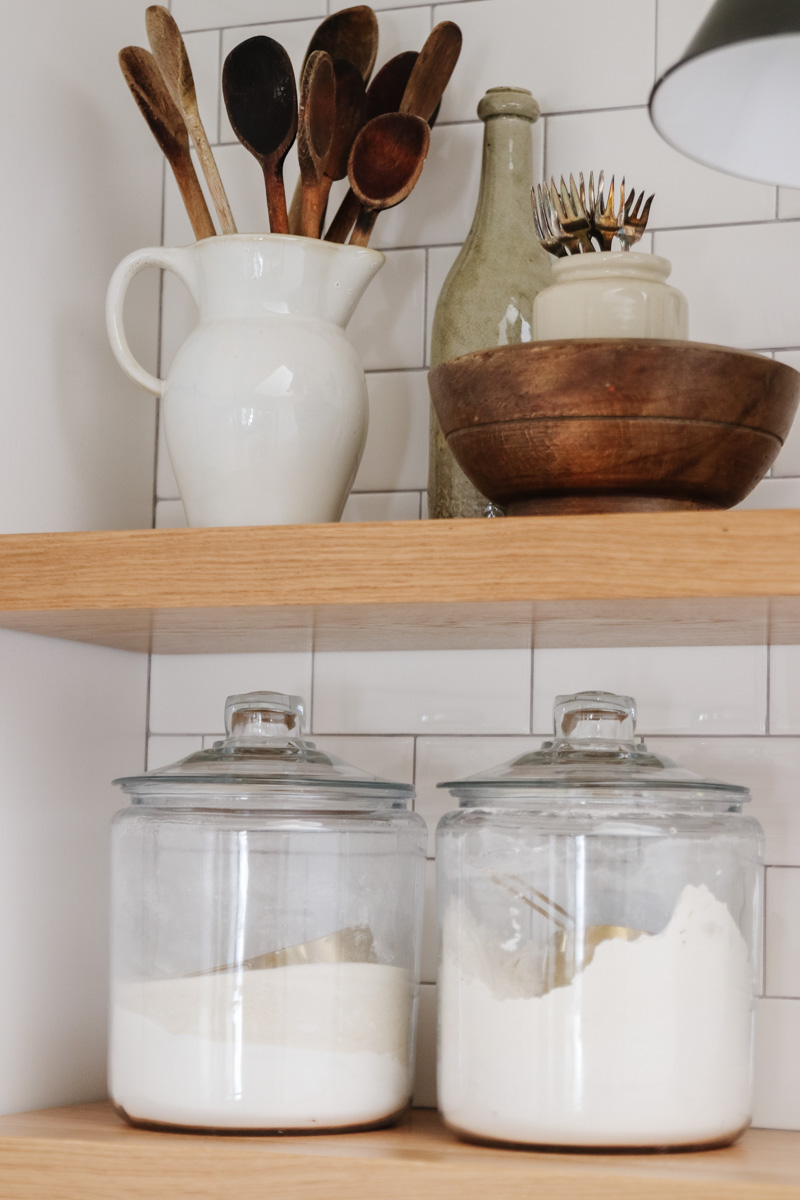 You may also want to add a bit of warmth to your shelves for fall and winter. Think in terms of wood tones and rich textures. A pitcher filled with antique wooden spoons is the perfect addition to warm up this room for fall.
So, I hope these kitchen shelf styling ideas help you tackle those tricky-to-decorate open shelving. And be sure to let me know how it goes!
Looking For Sources?

                
                


                    
                    
                


            
21 Fall Kitchen Tours
Now, check out these beautiful fall kitchens that are decorated for fall! Click the links below the images to tour all these great spaces.

How to Make a Wool Pumpkin – Happy Happy Nester
Fall Kitchen Decor on a Budget – Hallstrom Home
Touches of Fall in The Kitchen – Craftberry Bush
Simple Fall Kitchen – A Blue Nest

How To Style Kitchen Shelves For Fall – Modern Glam
Hints of Fall Home Tour–Part 2 – Finding Lovely
How to Add Fall Decor to a Kitchen – Sanctuary Home Decor
Coffee Station For Fall – My Sweet Savannah

Fall Kitchen Decorations – My 100 Year Old Home
Fall Kitchen Decor Ideas – Jennifer Maune
Entertaining in the Kitchen – Twelve on Main
Natural Decorating In The Kitchen – Jennifer Rizzo

Neutral Fall Decorating Ideas in the Kitchen – Grace In My Space
Fall Kitchen Decor – Lemon Grove Lane
Easy Elegant Fall Kitchen – Styled With Lace
1891 Cottage Fall Colorful Kitchen Tour – Tatertots and Jello

Early Fall Kitchen with Copper & Eggplant – Pine & Prospect Home
Simple Fall Touches in the Kitchen – Dreaming of Homemaking
Decorating the Kitchen for Fall – Seeking Lavender Lane
Cozy Fall Kitchen Ideas – Life Is Better At Home
How to Decorate Your Kitchen for Fall – The Ginger Home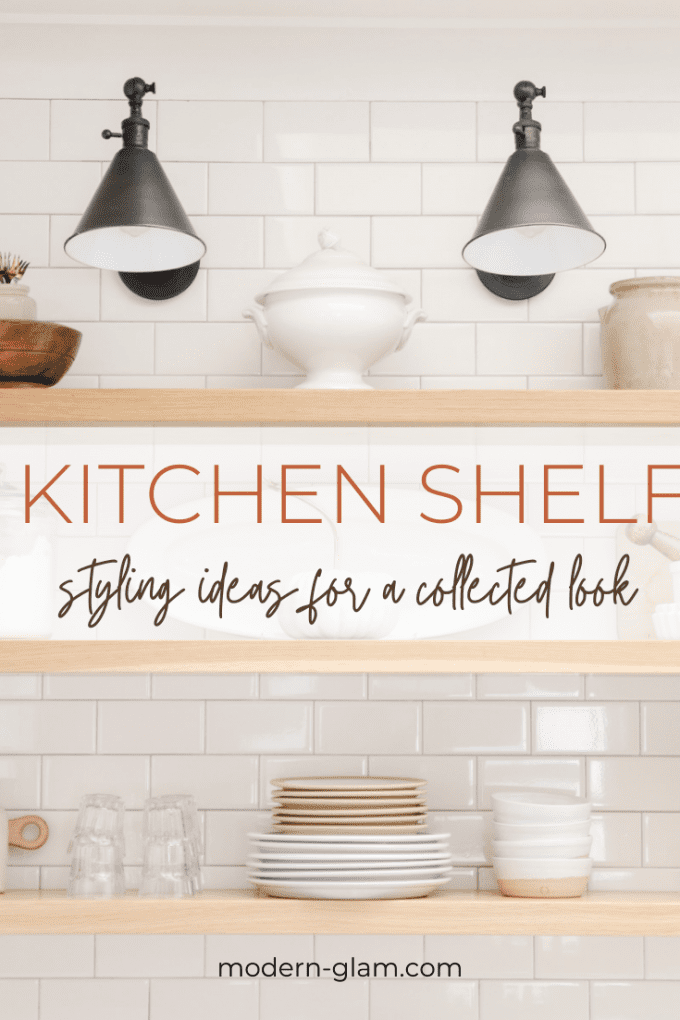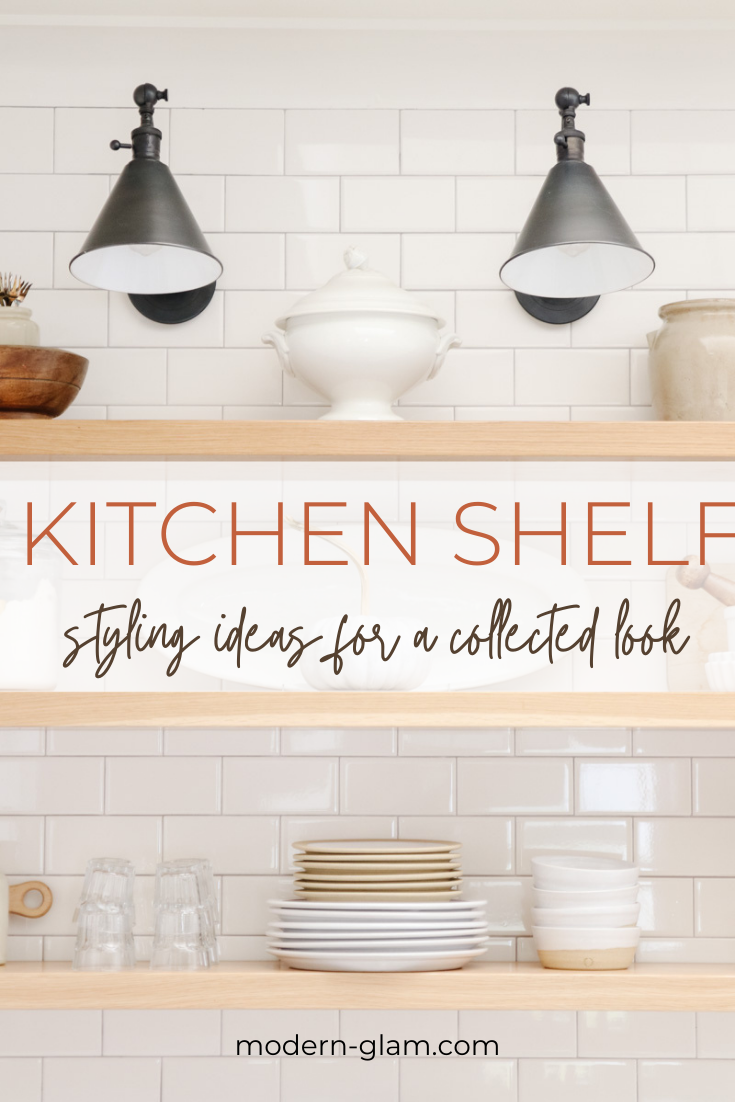 Before You Leave…
Check out these other great kitchen decorating ideas!
5 Ways To Refresh Your Kitchen
Simple Fall Decorating Ideas In The Kitchen
How To Organize Kitchen Drawers