Learn How To Make A Mini Pampas Grass Wreath with this simple tutorial. This wreath is perfect for fall and requires just two small pampas grass stems.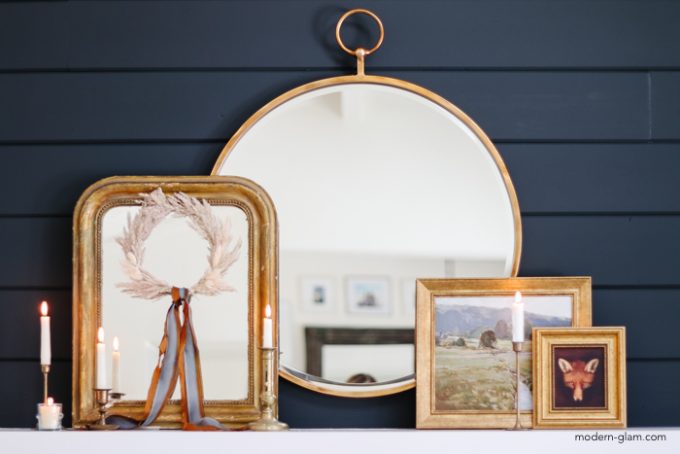 Last week I shared this beautiful Dried Floral Arrangement with you. I had some leftover pampas grass and a few other items from the arrangement. So, I decided to make a mini pampas grass wreath and it was so much easier than I thought!
I love this cute wreath to use indoors on cabinets, doors or mirrors. It's a whimsical and natural wreath that is so pretty for the fall months to come. Come learn how to make a pampas grass wreath with me!
How To Make A Mini Pampas Grass Wreath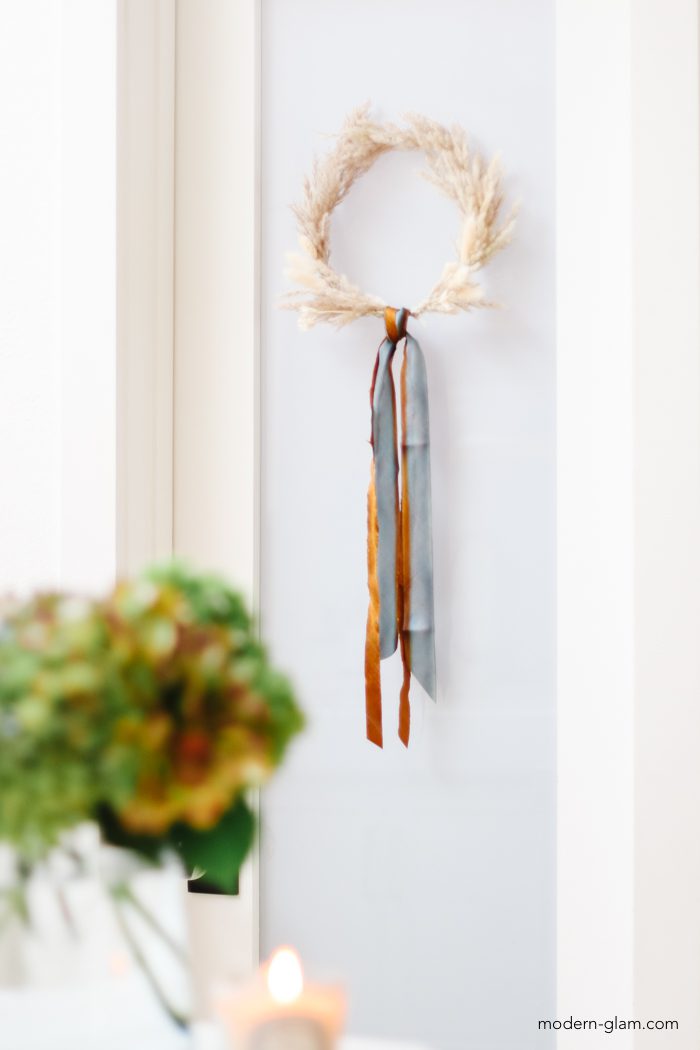 I love pampas grass, especially in the fall. The pretty, feathery reeds look like wheat and are fun to use as an accent to your fall decorating.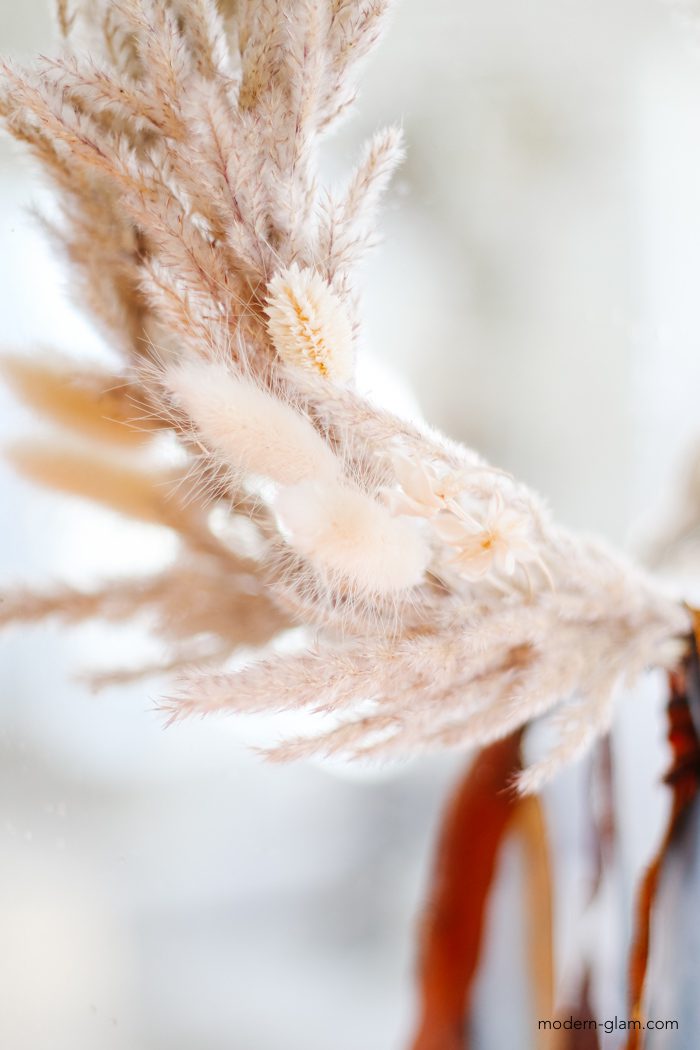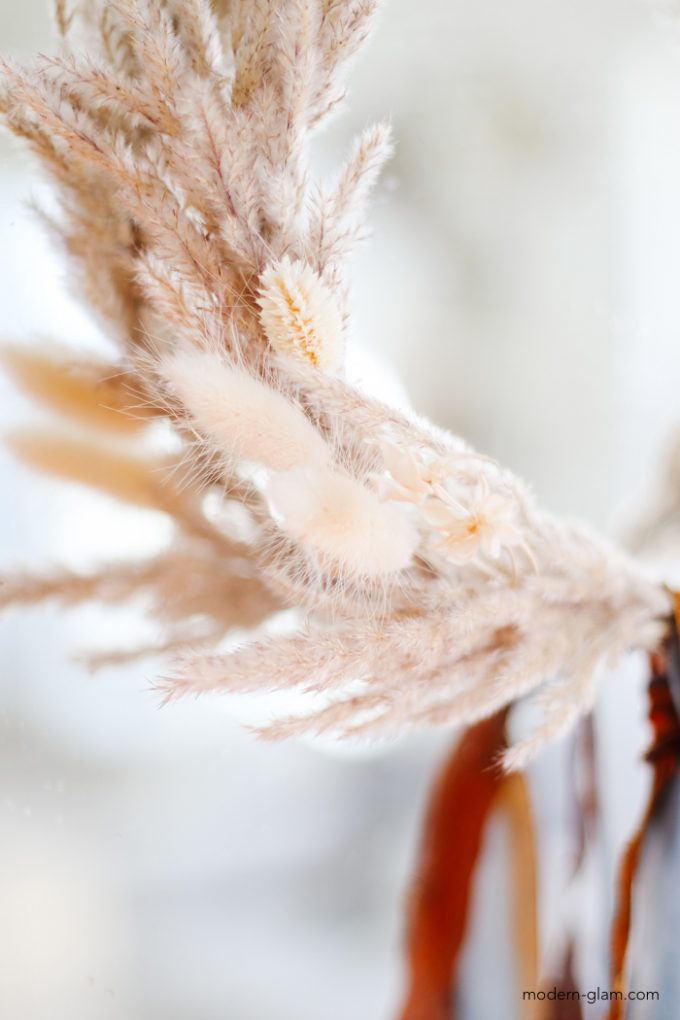 Pampas grass grows naturally here in Northern California and you can often find it growing alongside the road. I created this beautiful Thanksgiving table centerpiece using pampas grass that I foraged and it's still one of my favorite creations to date!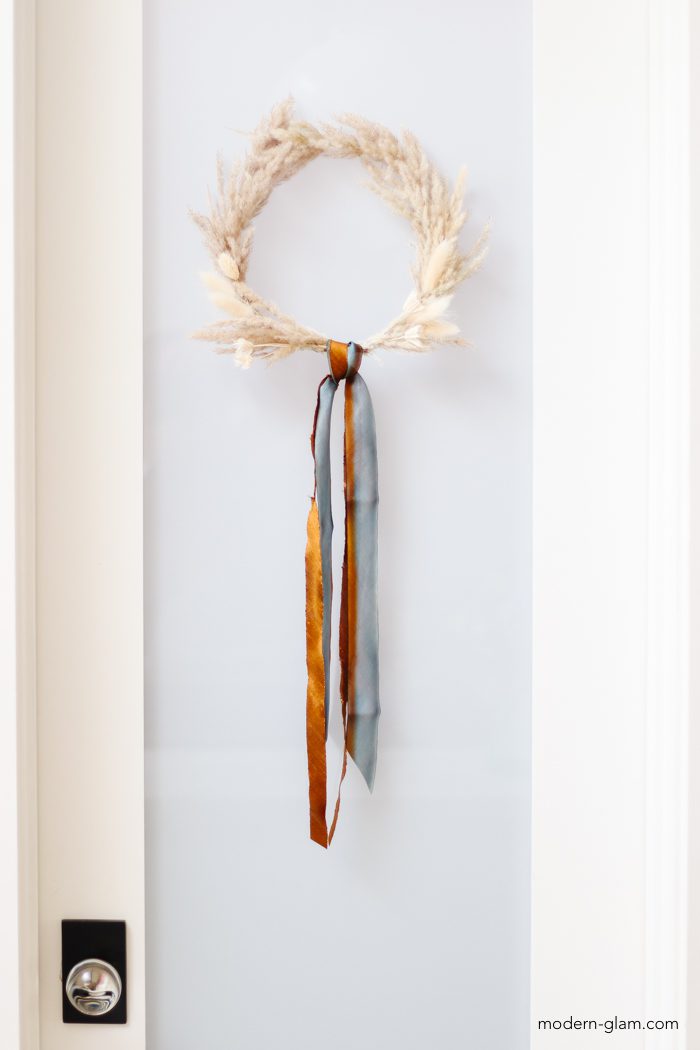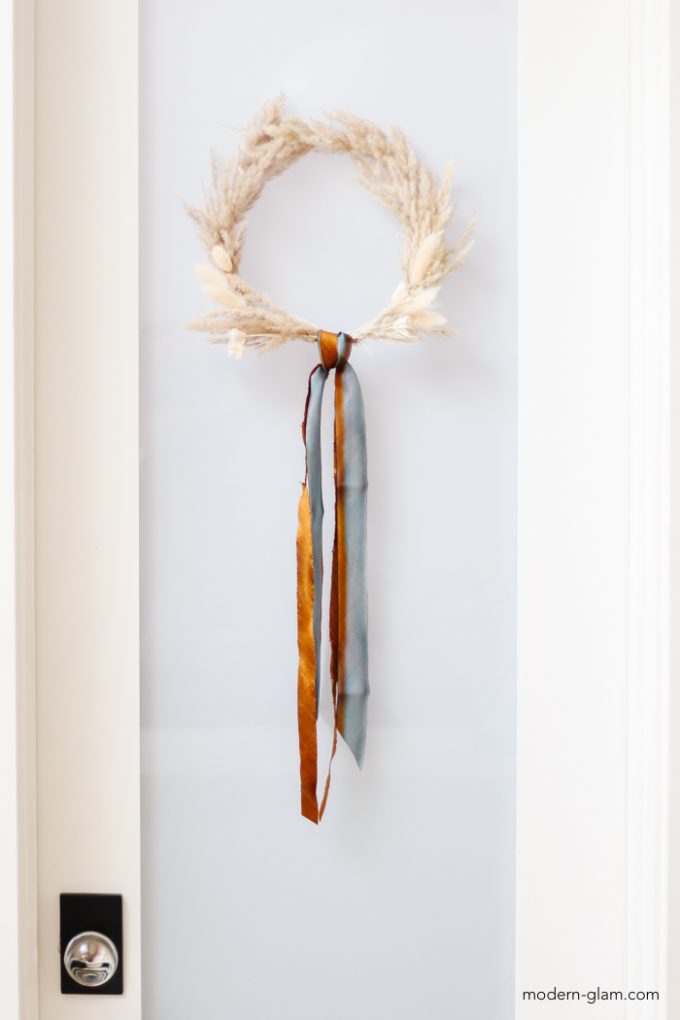 I used smaller pampas grass stems for this mini wreath. The thinner stems are easier to bend and shape to the wreath form. And I used just two stems to create this diy fall wreath! I added in some bunny tails and white nigella to add a bit of texture, but this is totally optional. I had the materials leftover from the Dried Flower Arrangement.
DIY Fall Wreath With Pampas Grass
You can make this diy fall wreath in a little less than 20 minutes. And there aren't a ton of materials required. Just some pampas grass, a wreath form, floral wire and some pretty ribbon. That's it!
Here's everything you need for this DIY Fall Wreath.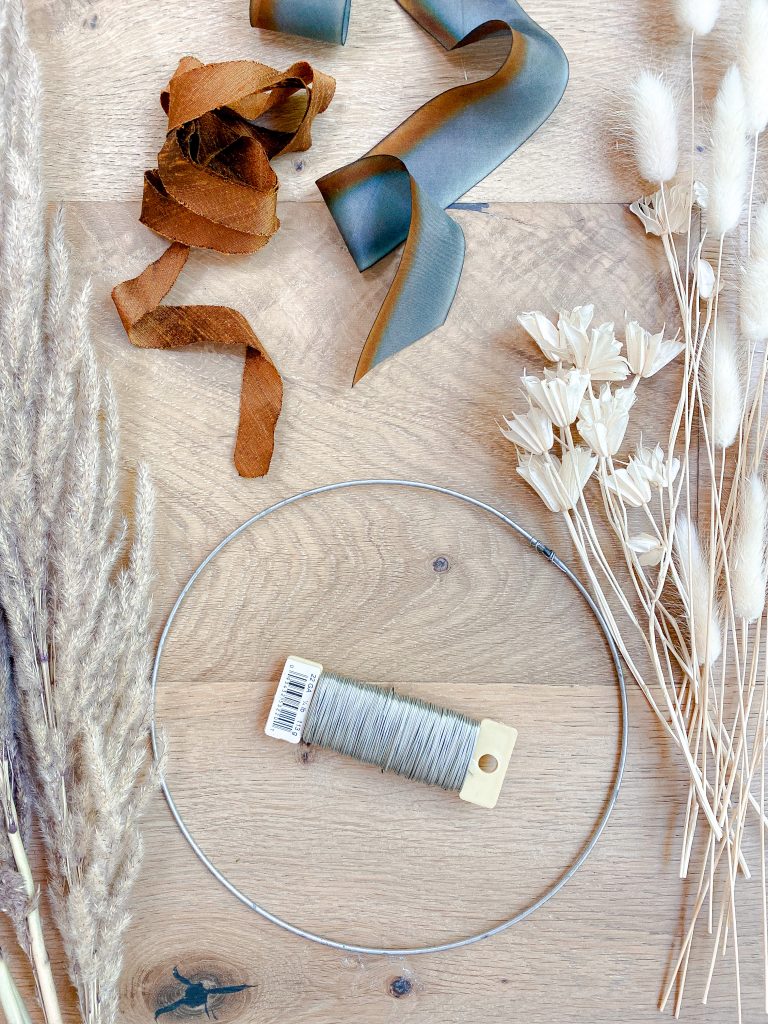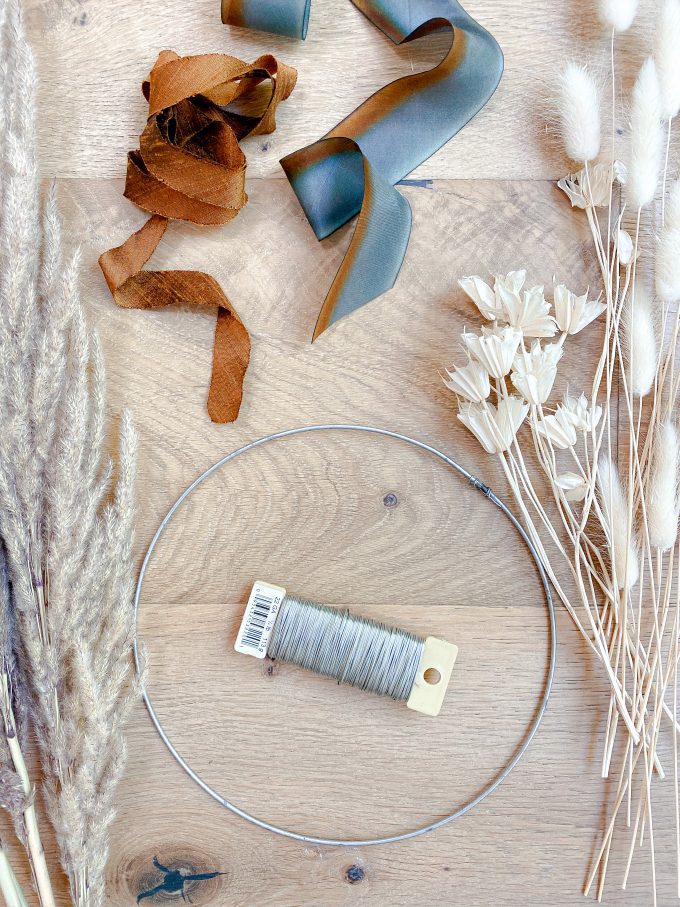 DIY Wreath Materials:
Floral wire
Ribbon
Bunny tails, white nigella or other dried florals (optional)
My favorite place to get ribbon is THIS SHOP. And when making a pretty wreath, I think the ribbon you use totally sets the tone. So, don't skimp on that little detail. I use this ribbon for all of my wreaths and craft projects. I love the selection and gorgeous colors that she has available!
Step 1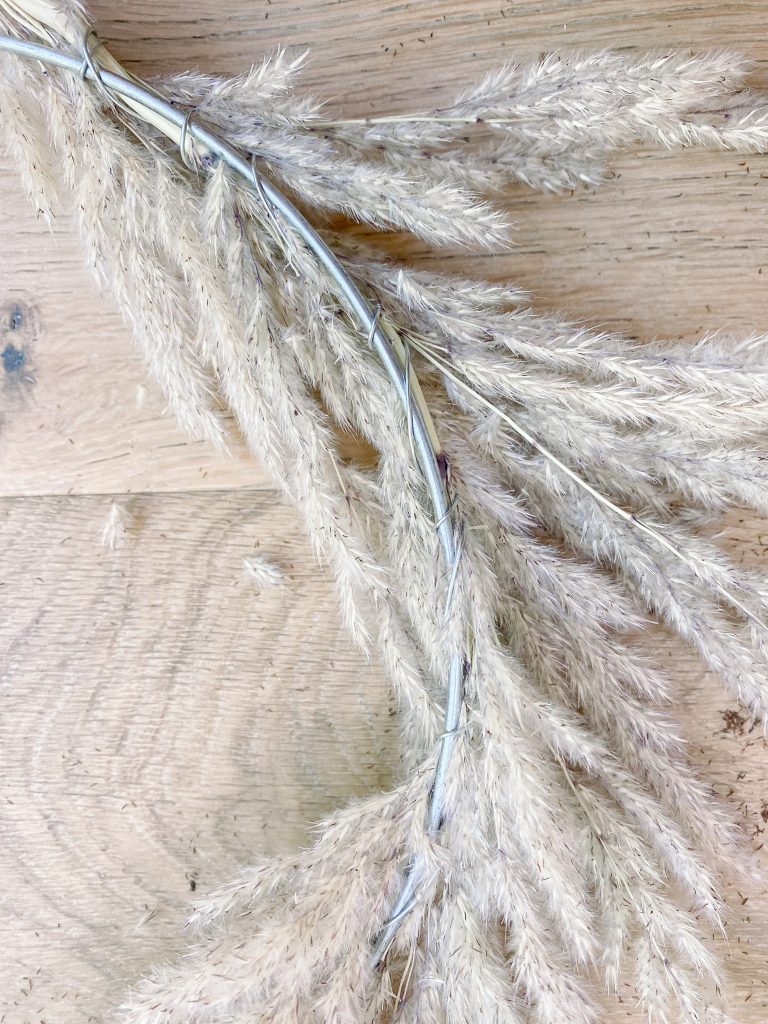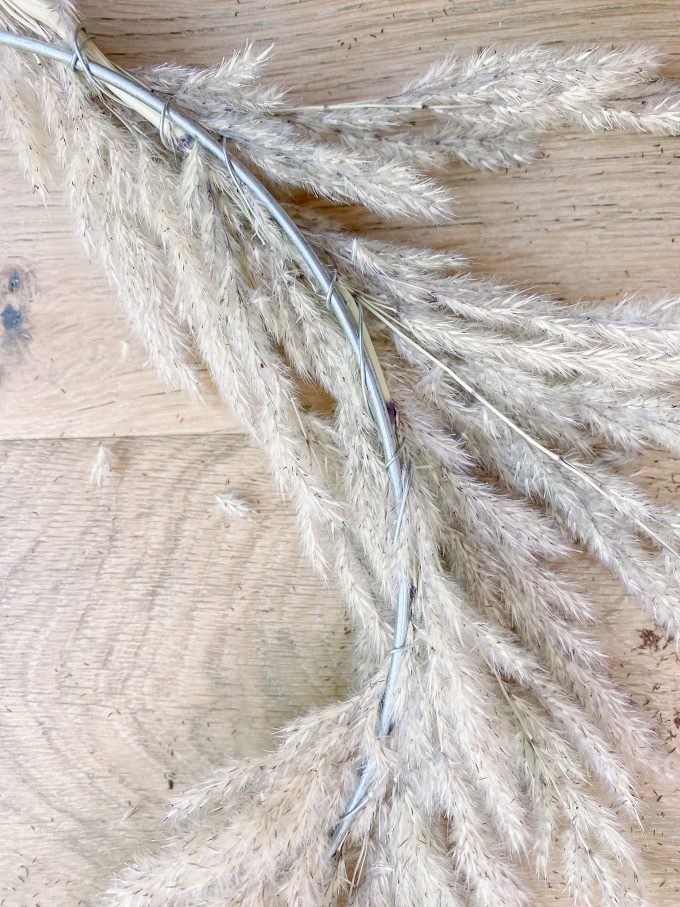 First, cut your stem just below where the feathers start branching out. Start at the bottom of the stem and start securing it to your wreath form using floral wire.
Wrap the wire around the wreath form and the grass going under the feathers to allow the wreath to remain fluffy. The above picture shows the underside of the wreath after wrapping the first pampas grass stem.
Step 2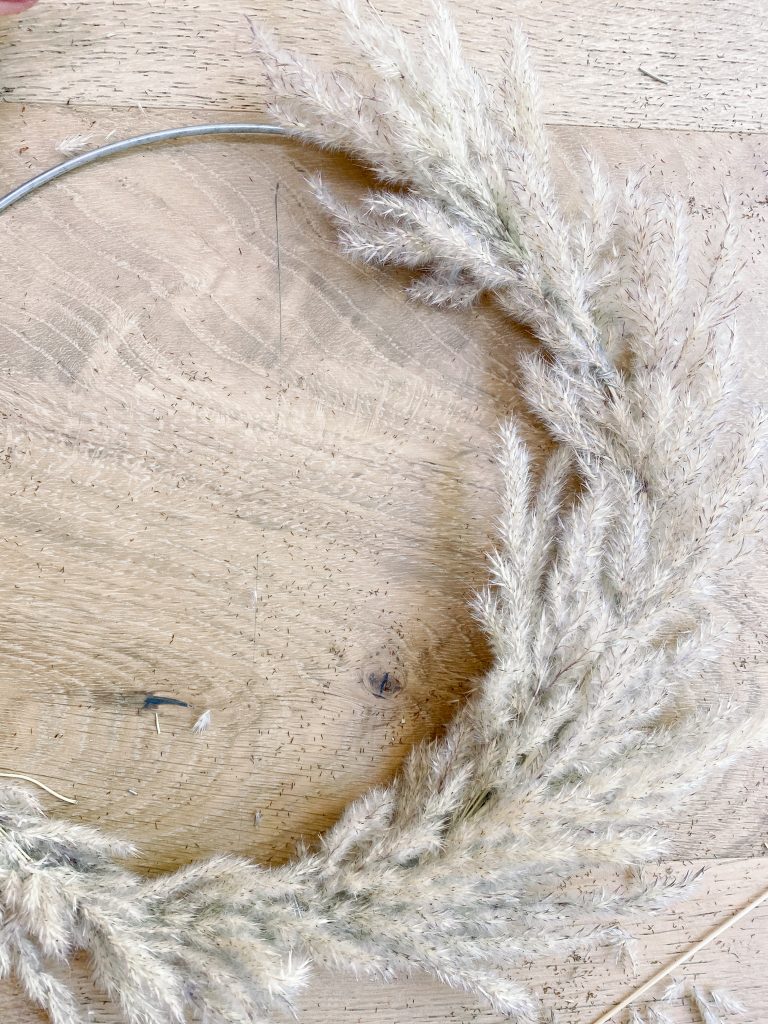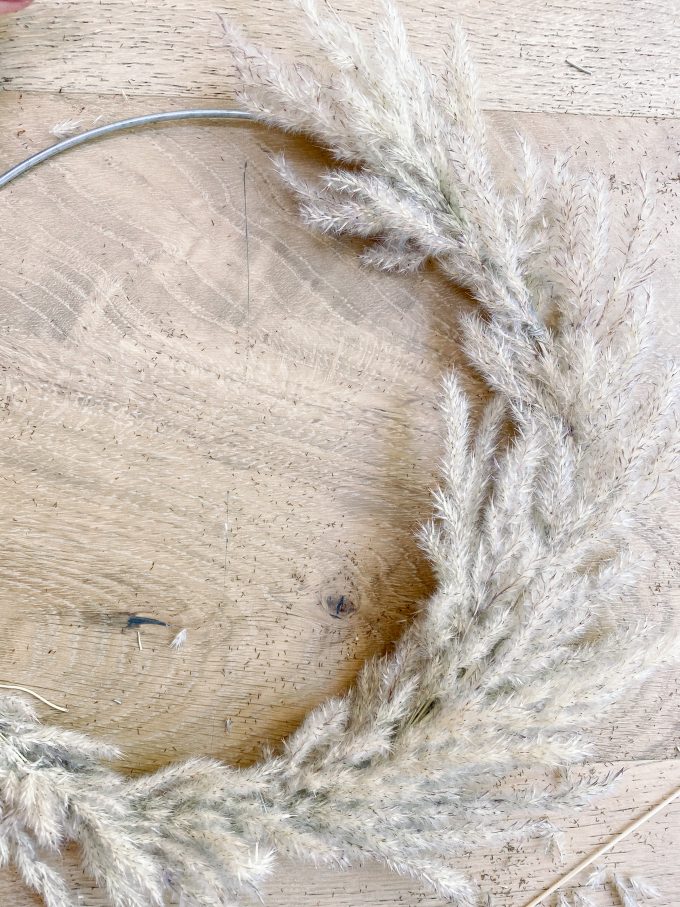 If you are using an 8″ wreath form, one stem should cover about half the wreath.
Next, wrap the second stem around the wreath form on the other side.
Step 3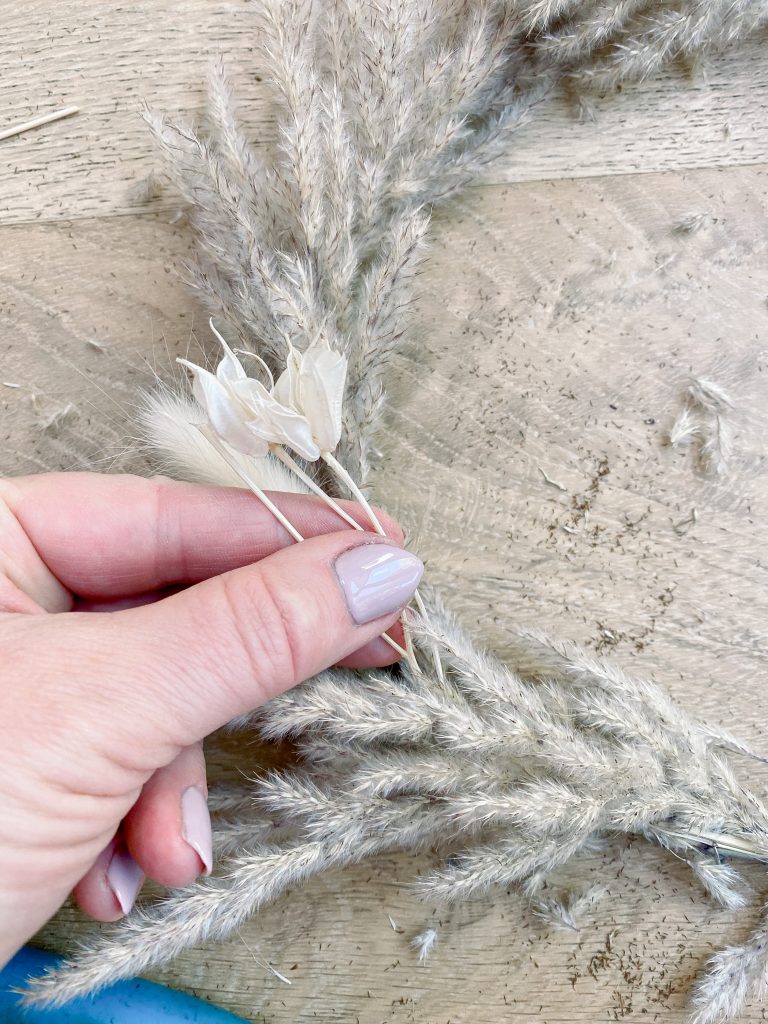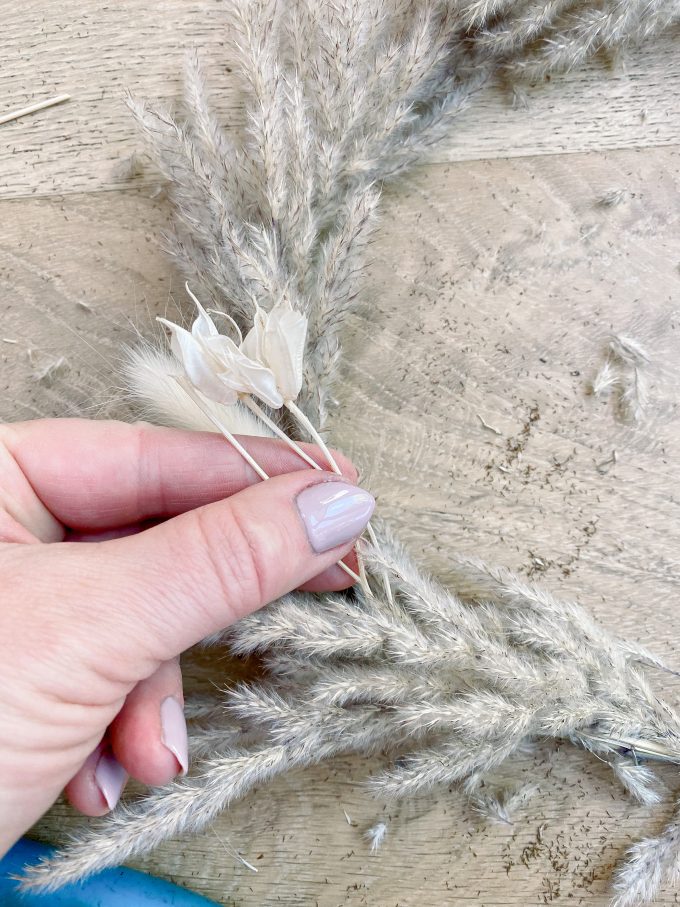 If you are using some dried flowers, you can add them at the end. I simply tucked the ends into the wire that was used to secure the stems to the wreath form.
Step 4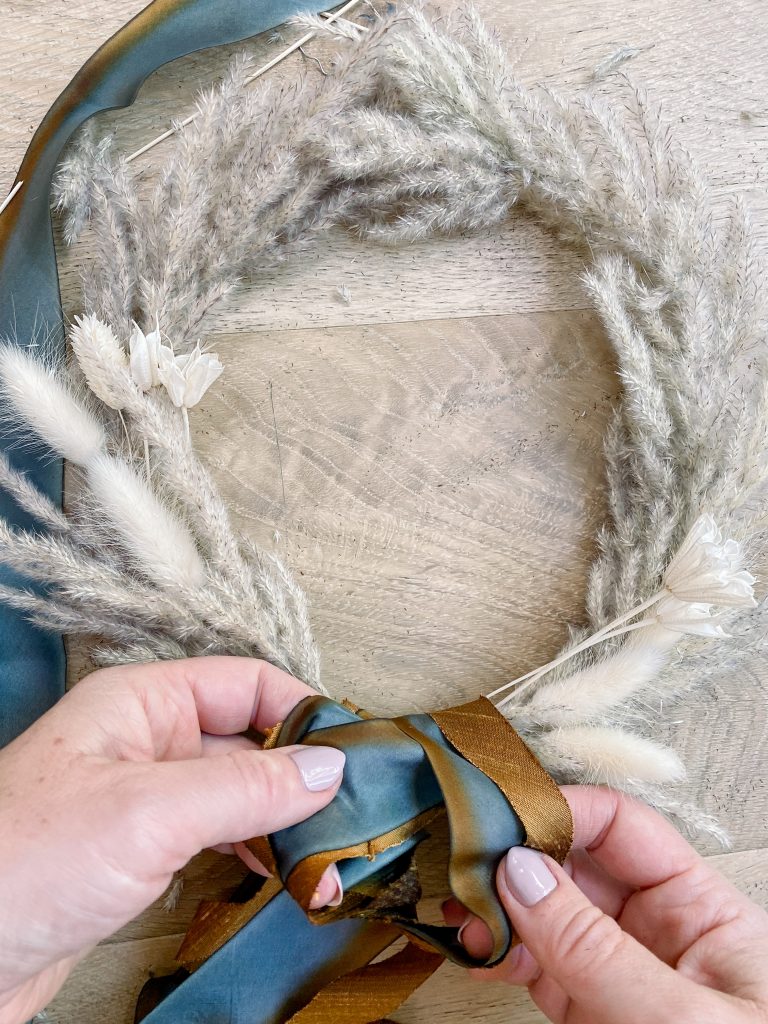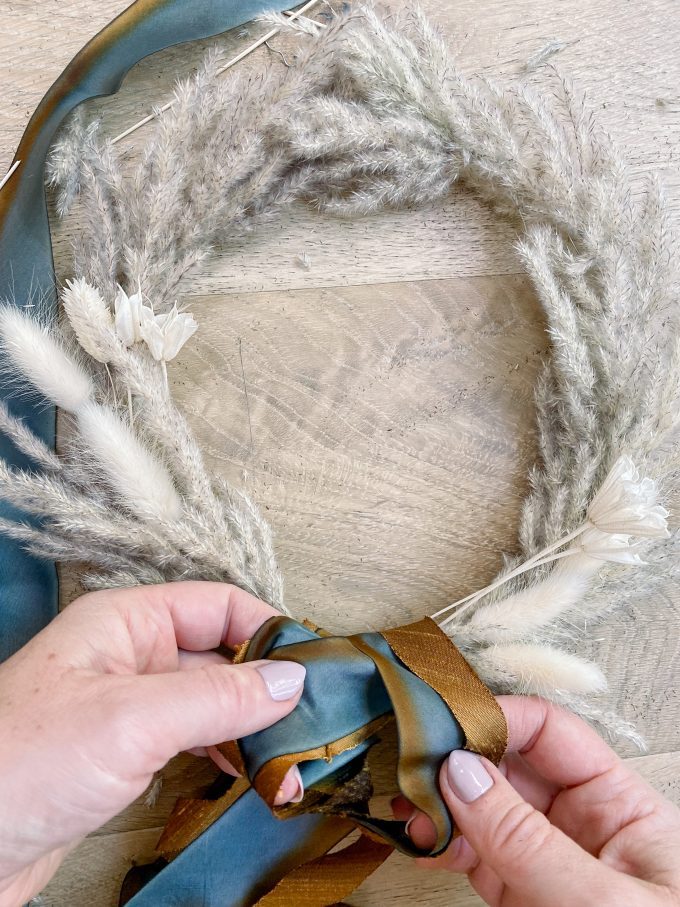 Now that your wreath in complete, it's time to add a ribbon. I like to add the ribbon at the bottom to cover up the spot where the 2 pampas grass stems come together.
I tied a simple, loose knot and let the strands of ribbon hang down.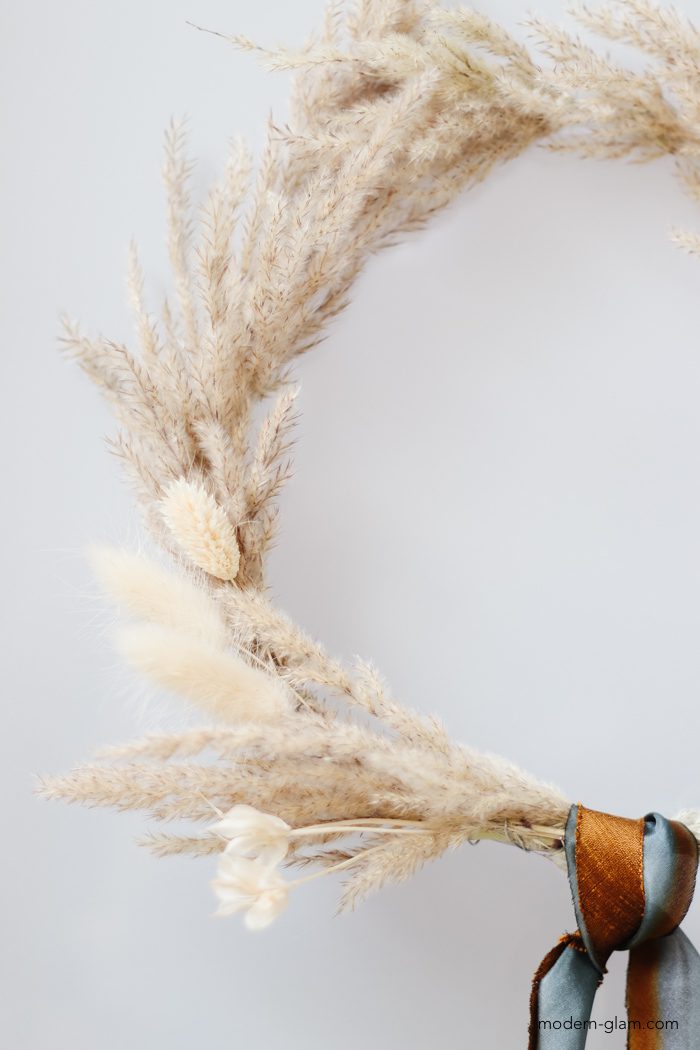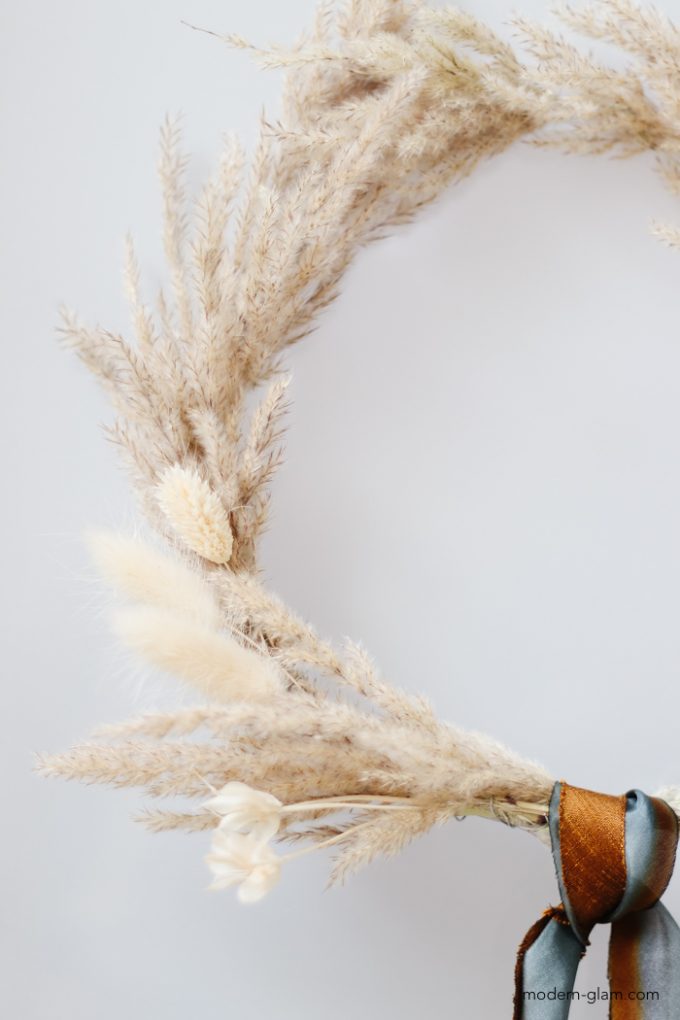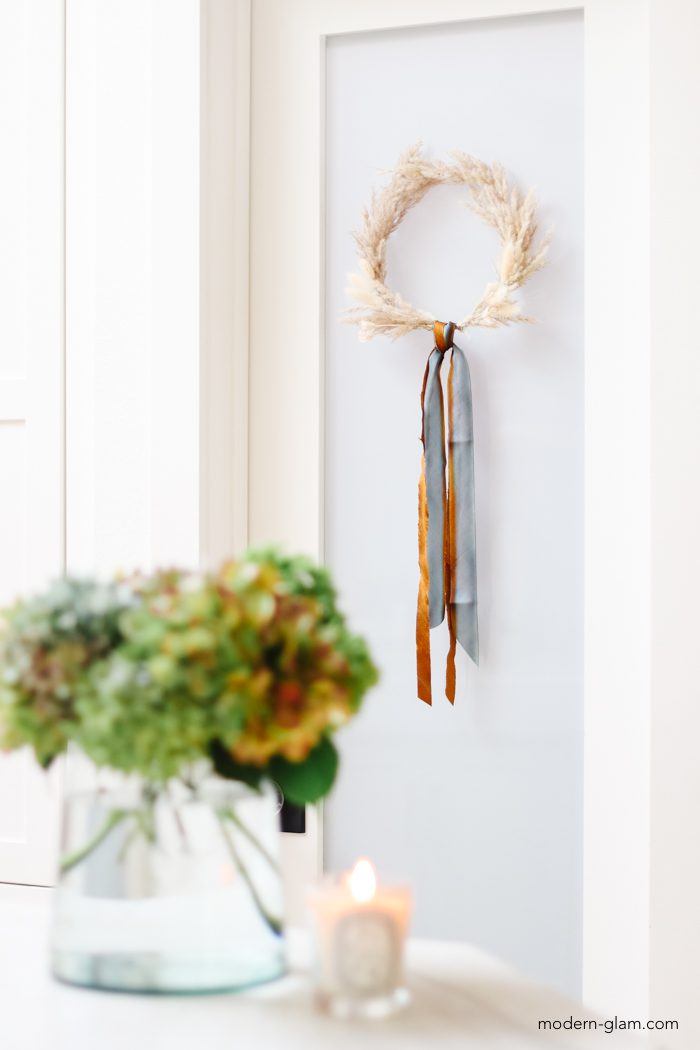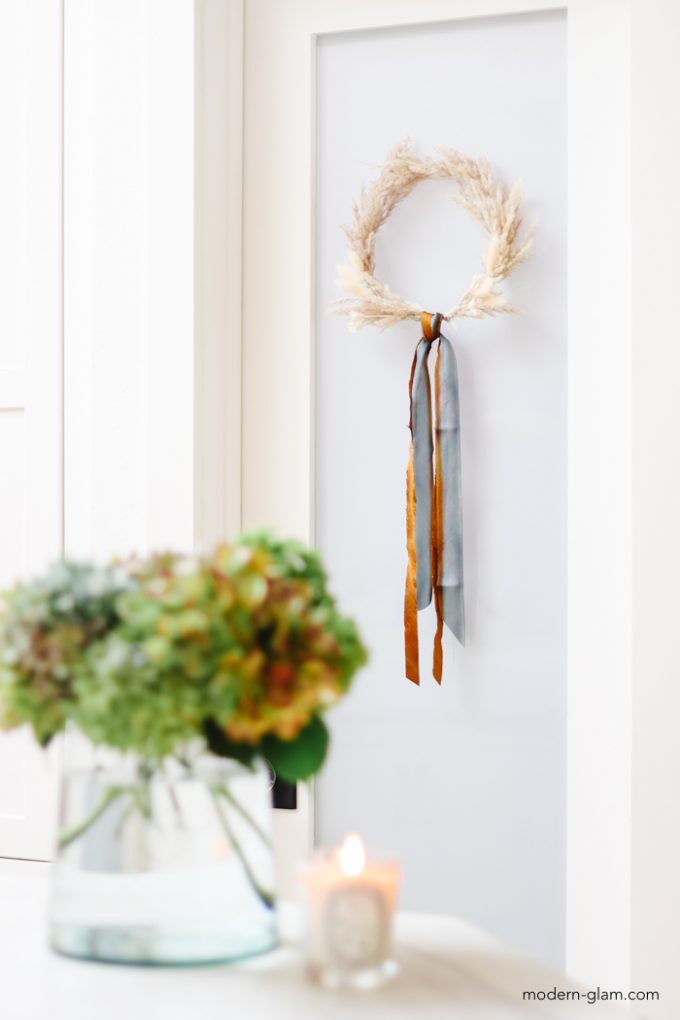 Use this pampas grass wreath to add a little fall flair to your favorite cupboard, pantry door or mirror! I love how it is simple, soft and neutral. It cam transition from early fall to holiday without making a fuss. That's my favorite kind of decor lately.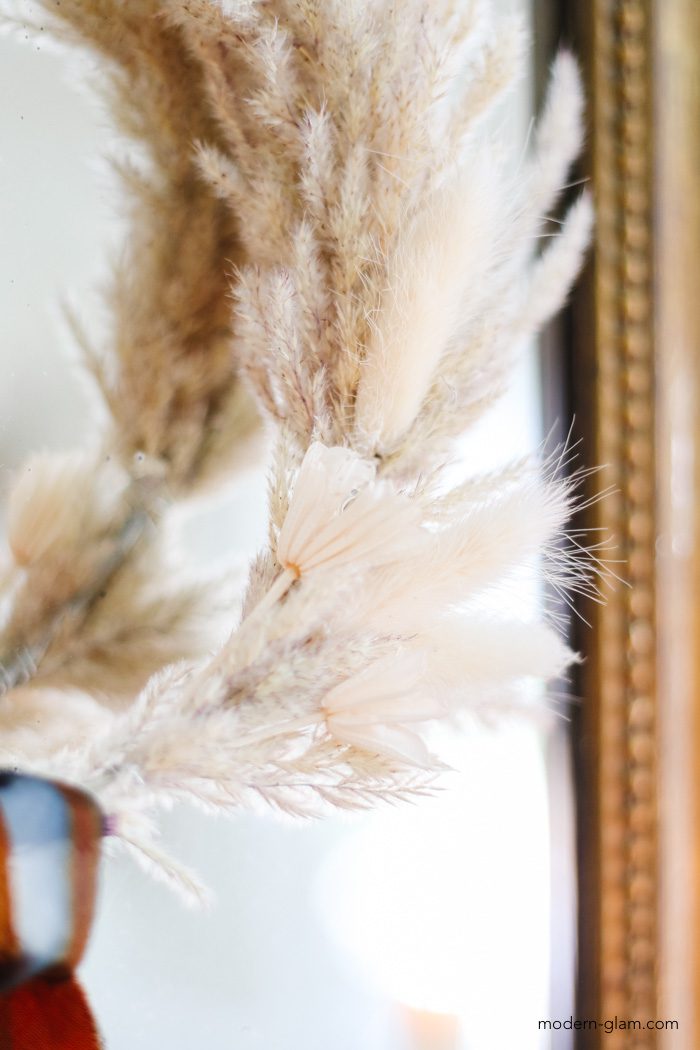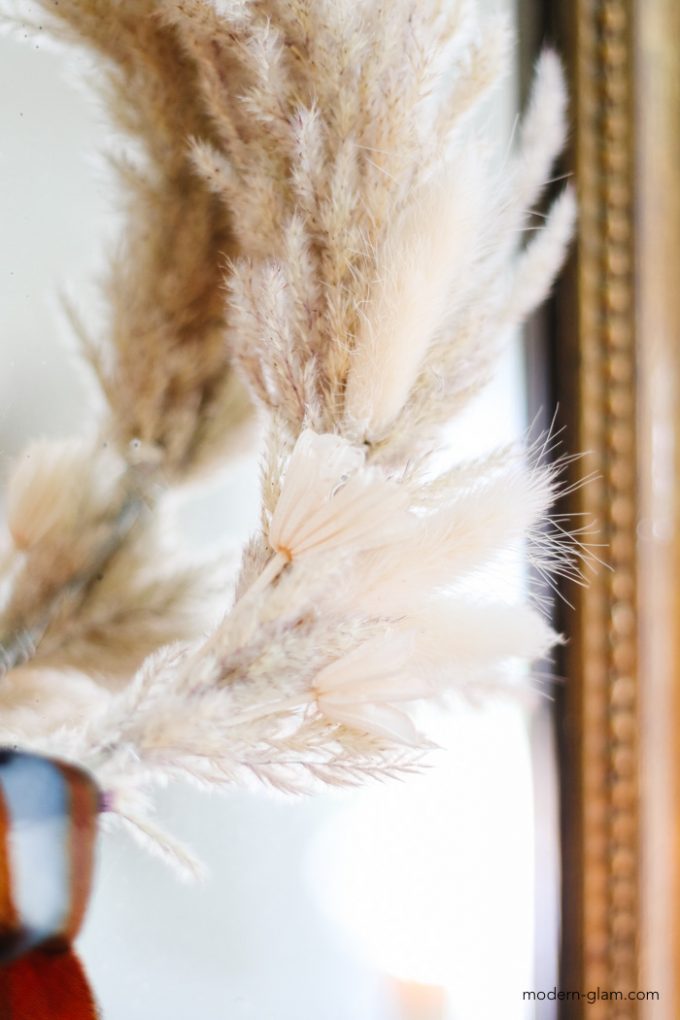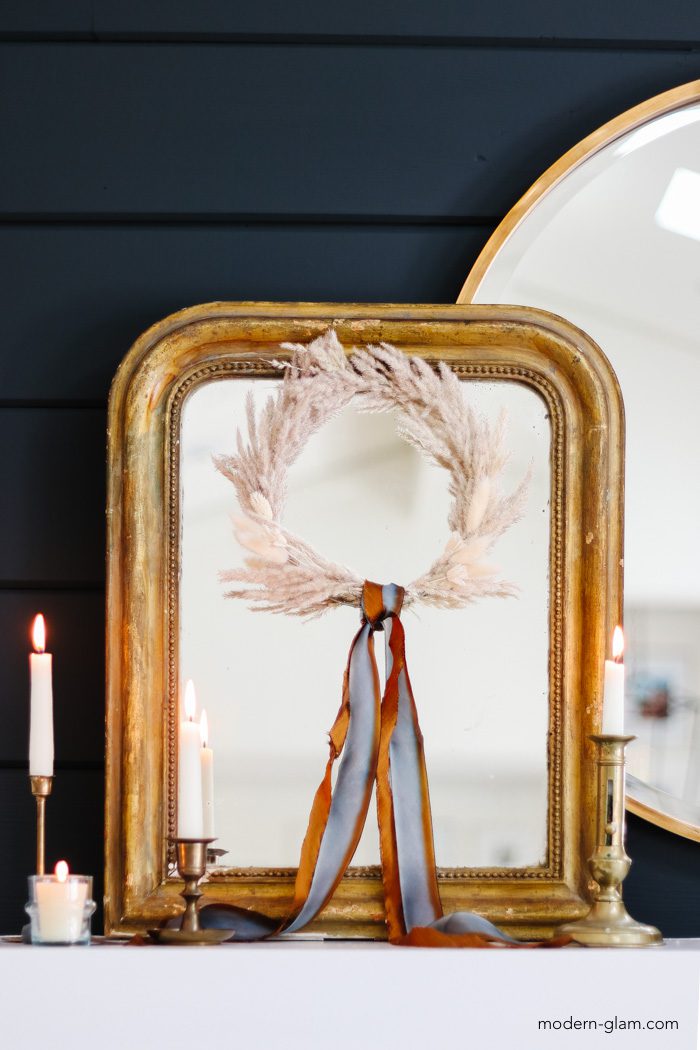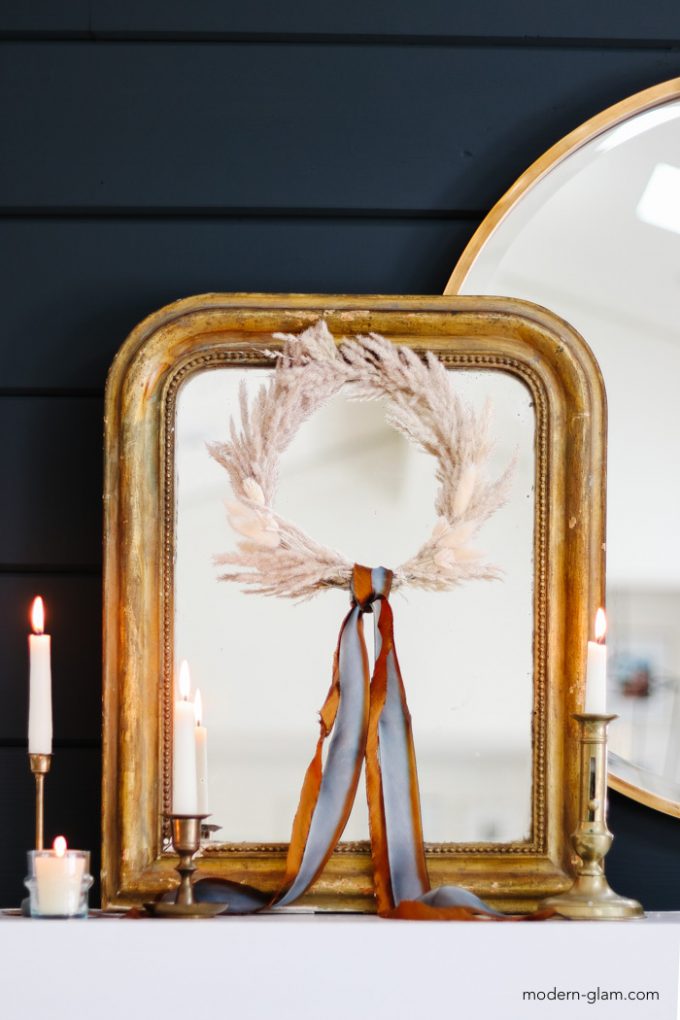 And if you aren't up for the challenge of making your own mini wreath, check out these wreaths that I found for sale that are similar to the one I created!

More Fall Wreath Ideas
Now, if you have made it this far, you must be in the mood for a fall wreath! Good news is my friends are all sharing fall wreath ideas today! Check out their posts below and let me know what you think!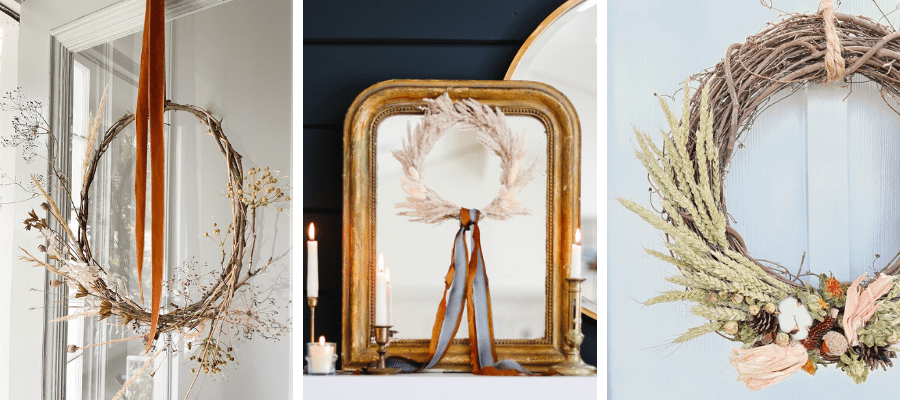 Gathered Fall Wreath // Finding Lovely
Mini Pampas Grass Wreath // Modern Glam
DIY Fall Wreath With Dried Florals // The Happy Housie
Felt Leaf Wreath Tutorial // Happy Happy Nester
Fall Metal and Leaf Wreath // My 100 Year Old Home
Dollar Store Pumpkin Fall Wreath // Tatertots & Jello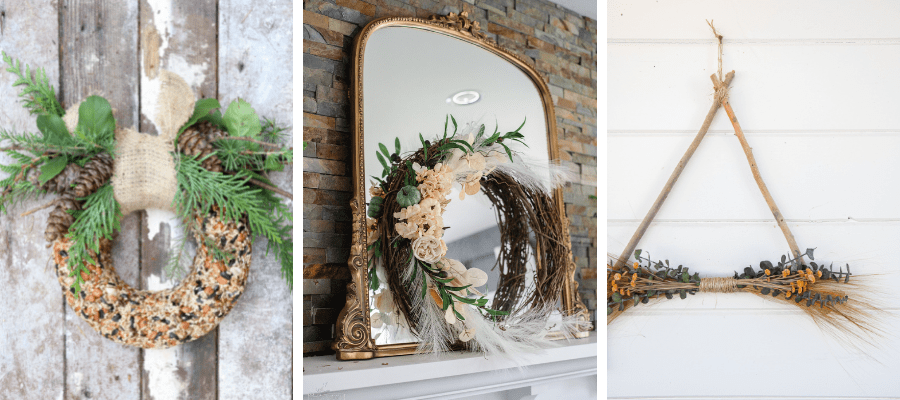 Bird Feeder Wreath // My Sweet Savannah
Romantic DIY Grapevine Wreath // The DIY Mommy
Nature Inspired Twig Wreath for Fall // Twelve On Main
Save This Pin For Future Inspiration!