Welcome to the sale of the year! Early Access has begun for the Nordstrom Anniversary Sale! This is the best time to buy gifts, home decor, shoes for fall and beauty items that you normally may not splurge on! Most people don't think of buying home items when they think of the sale, but the home section has over 6,000 items!!! It is the largest category of the sale. I have done all the legwork for you and have put together the best of the best! Stay tuned for my favorite picks in Bed and Bath, Kitchen, Gifts, Beauty and Accessories. But first I want to share with you Nordstrom Anniversary Sale – Best Under $50! These are the items that will sell out the quickest so hop to it!
And don't forget to check out my Instagram where I am giving away a $500 Nordstrom Gift Card! Don't miss this chance!
Nordstrom Anniversary Sale – Best Under $50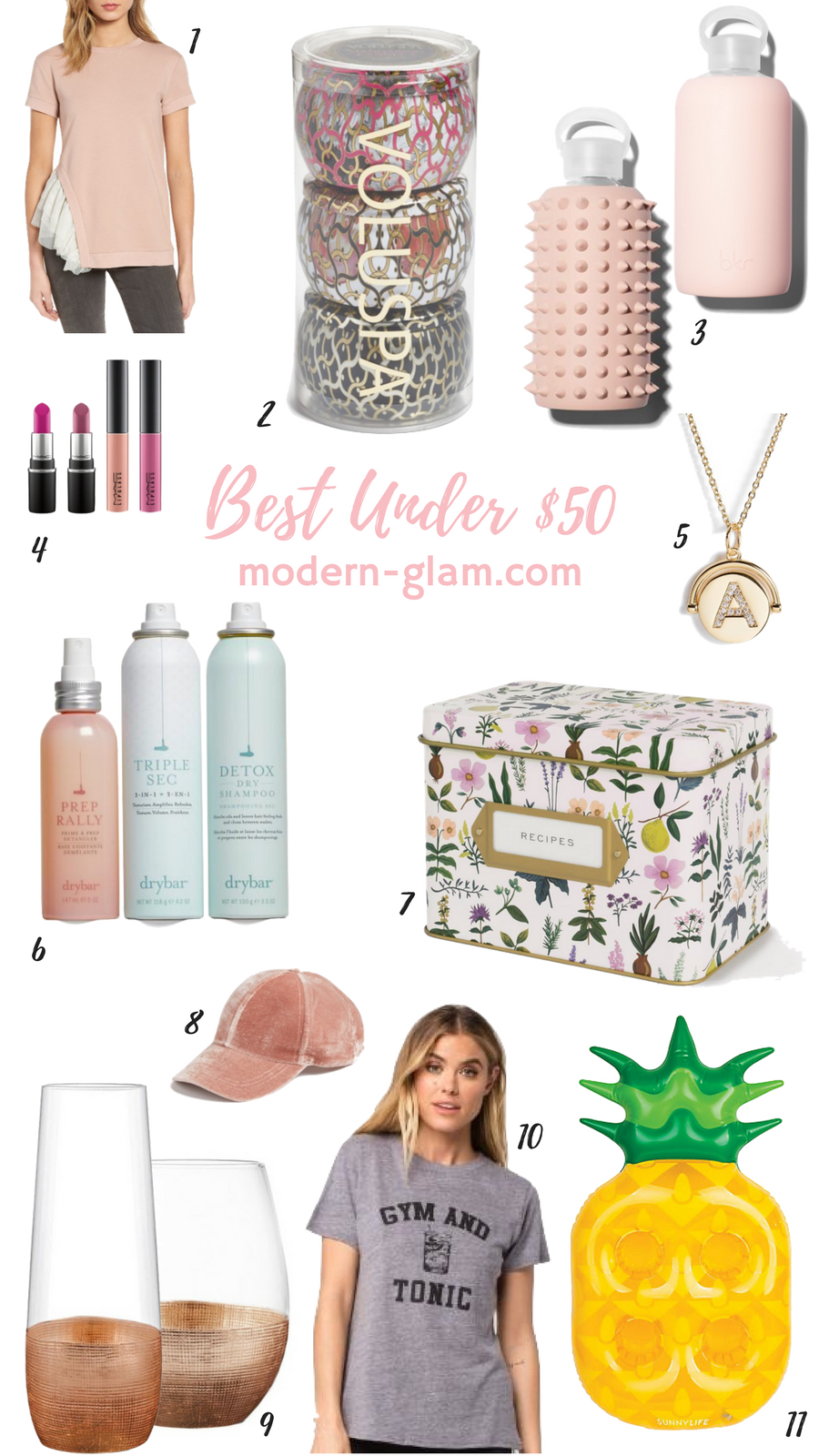 | 1 | 2 | 3 | 4 | 5 | 6 | 7 | 8 | 9 | 10 | 11 |
1
This blush colored sweatshirt is so cute with the peek of ruffle sticking out. A great top for running around after the kids!
2
This trio of Voluspa candles is a perfect item to have on hand for last minute gifts! I like to break up the candles and you can gift each individually!
3
I love the BKR bottles but I love them even more in these blush colors!
4
One of my favorite things to purchase during this annual sale is beauty products. Limited edition sets that offer smaller versions of their best selling products make me so happy! And this MAC mini lip kit doesn't disappoint!
5
How sweet is this little Spinning Initial Necklace? Just the right amount of sparkle!
6
Drybar products are my absolute favorite hair necessities so when I saw this Full Size Faves Set I knew I had to stock up!
7
Rifle Paper Products always have the cutest accessories. This recipe box has been seen all over Pinterest! So when I saw it was part of the sale I was so excited!
8
Velvet is one of the biggest trends for this fall. And blush is still on my radar. So combining these two for the perfect bad hair day baseball hat is a no brainer, right?!
9
These stemless wine and champagne glasses are so pretty with the textural rose gold detail. These would be beautiful for a fall tablescape or as a wedding gift this summer!
10
I am total sucker for a graphic tee. And this punny Gym & Tonic one is a must-have for me!
11
Summer is no where near from over and this Pineapple drink floatie is to cute for words!
shop the post