Fall is here and I don't know about you, but this time of year makes me want to craft! This simple fall farmhouse wreath is such a fun and easy project to usher in fall!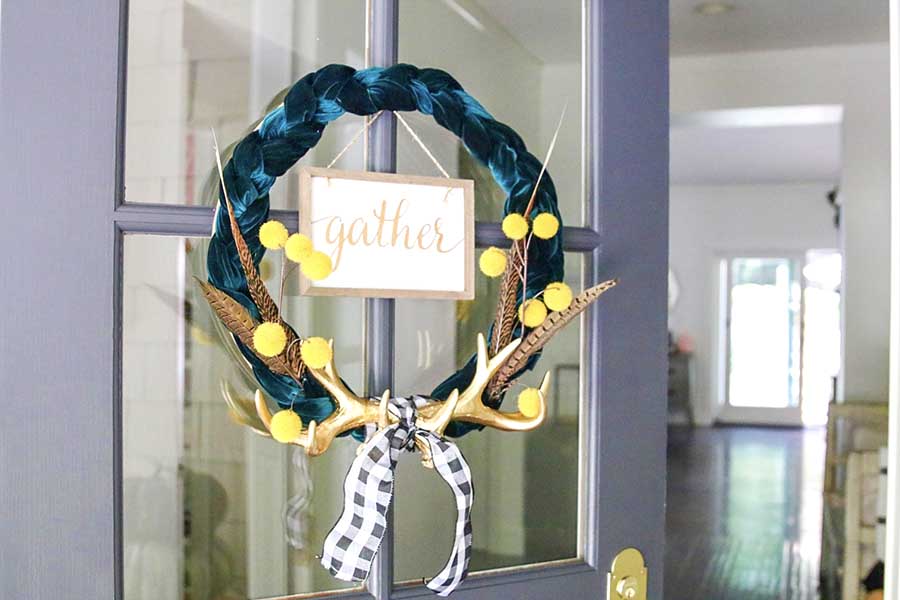 I created this easy DIY last year for my sister, Jen who blogs at Tatertots and Jello. This wreath was such a popular project that I wanted to share it with you here! I got compliments on it all season long as it hung on my front door!
And the best part is that this simple no-sew craft took less than 20 minutes to complete!
Simple Fall Farmhouse Wreath DIY
As fall rolls in, it brings with it richer colors and textures. This simple fall farmhouse wreath incorporates all of those elements!
The rich velvet fabric is a unique material for the base of the wreath. And by braiding three strips of fabric together, it makes this project an easy one!
Supplies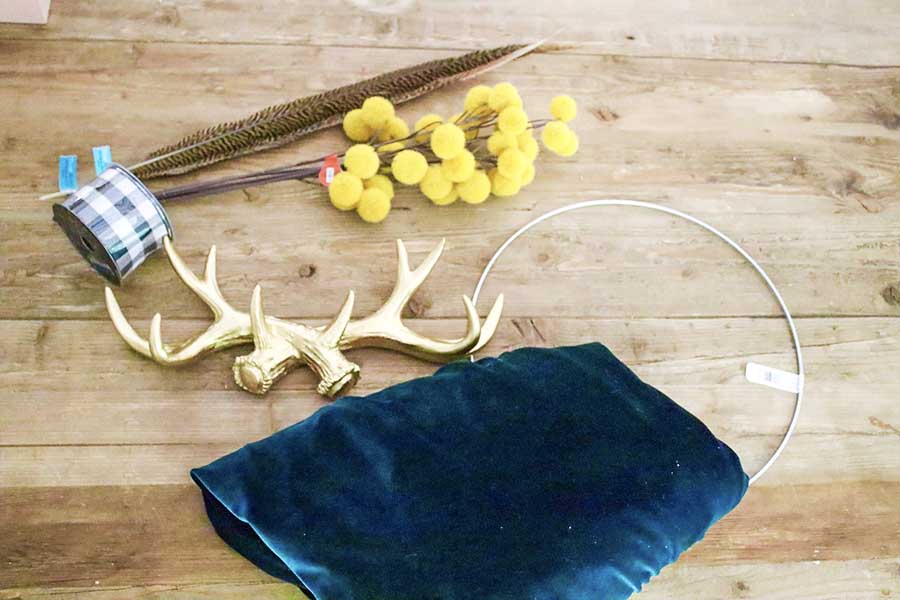 For this simple project you will need:
MDF wreath form (you will need a flat wreath form to adhere the braid to. Don't pay attention to the skinny form in this pic. Trial and error, folks!)
2 yards of velvet fabric
gold antlers or other decoration for the center
decorations that could include fall leaves, dried florals or feathers and artificial flowers/twigs
gold floral wire
hot glue gun and wire snips
your favorite ribbon
Step 1
Cut the velvet fabric into 3 strips that are about 8-10 inches wide. Secure one end together with an elastic and braid the three pieces together.
I made sure that with each overlap of fabric that the right side of the fabric was facing up. You don't want to end up with a braid that has the back side of the fabric showing!
When you are done, secure the end with another elastic. You won't need anything fancy. I just used my daughters hair ties because we will remove these in a moment.
Step 2
Now that your fabric is braided, place it around the wreath form to see how long you will need it. Trim off any unnecessary length and heat up your glue gun!
Start at one end and work your way around gluing down sections of the braid to the form. Make sure you are using enough glue that the fabric will stay put when you hang this up.
When you get to where the two ends meet, cut off any fabric as needed and secure both ends in place with the glue. We will use the ribbon to cover this up so don't worry if it's not the prettiest!.
Step 3
Cut a piece of your ribbon to wrap around where the braid ends meet. Hot glue the ends on the back of the wreath to secure. This part will also be where you place the antlers and is the bottom of the wreath.
Step 4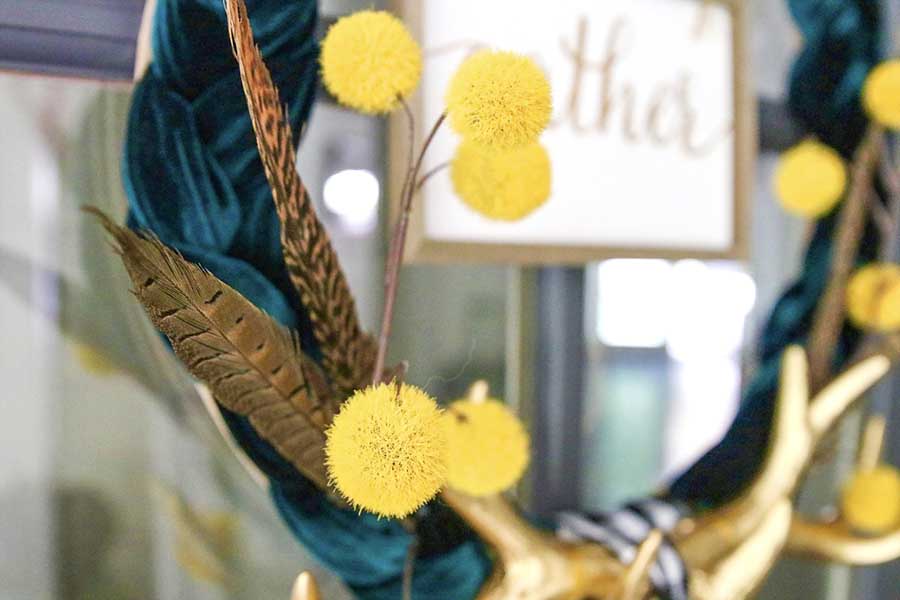 Secure the antlers to the wreath using floral wire. This is where the gold wire comes into play so that it blends with the gold antlers.
Now add in your other elements. Just tuck in the florals, leaves or feathers in between the braid strands. Use a dab of hot glue to secure them in place.
You can add any sign to the wreath by hanging it on the same nail that your hang the wreath from. I found this Gather sign at Target in the dollar section!