Hi! And welcome to my Glam Farmhouse Fall Home Tour! I can't wait to show you how I have decorated my home for fall to create a cozy autumn home.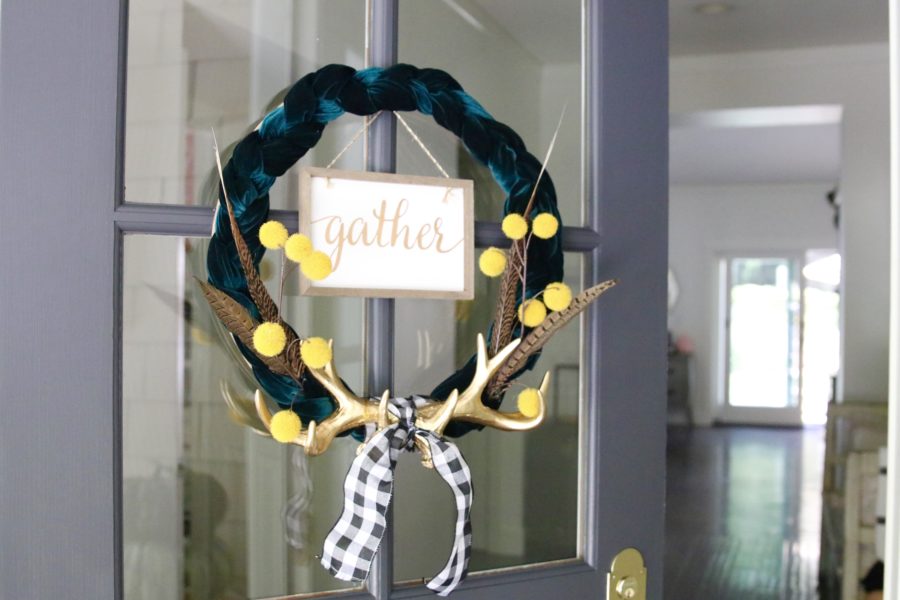 Farmhouse Fall Home Tour
Now, I'm so excited to show you everything that I have done to get my home ready for my favorite season, FALL!
For fall, my style tends to go a little more rustic. I think it all goes with my mood. I like to curl up by the fire and sip red wine in the fall. So, naturally my decor gets more cozy and a little less modern.
I like to bring in lots of rustic elements in the fall and winter months. The blankets get chunkier and the accessories go from gold and glam to soft and natural.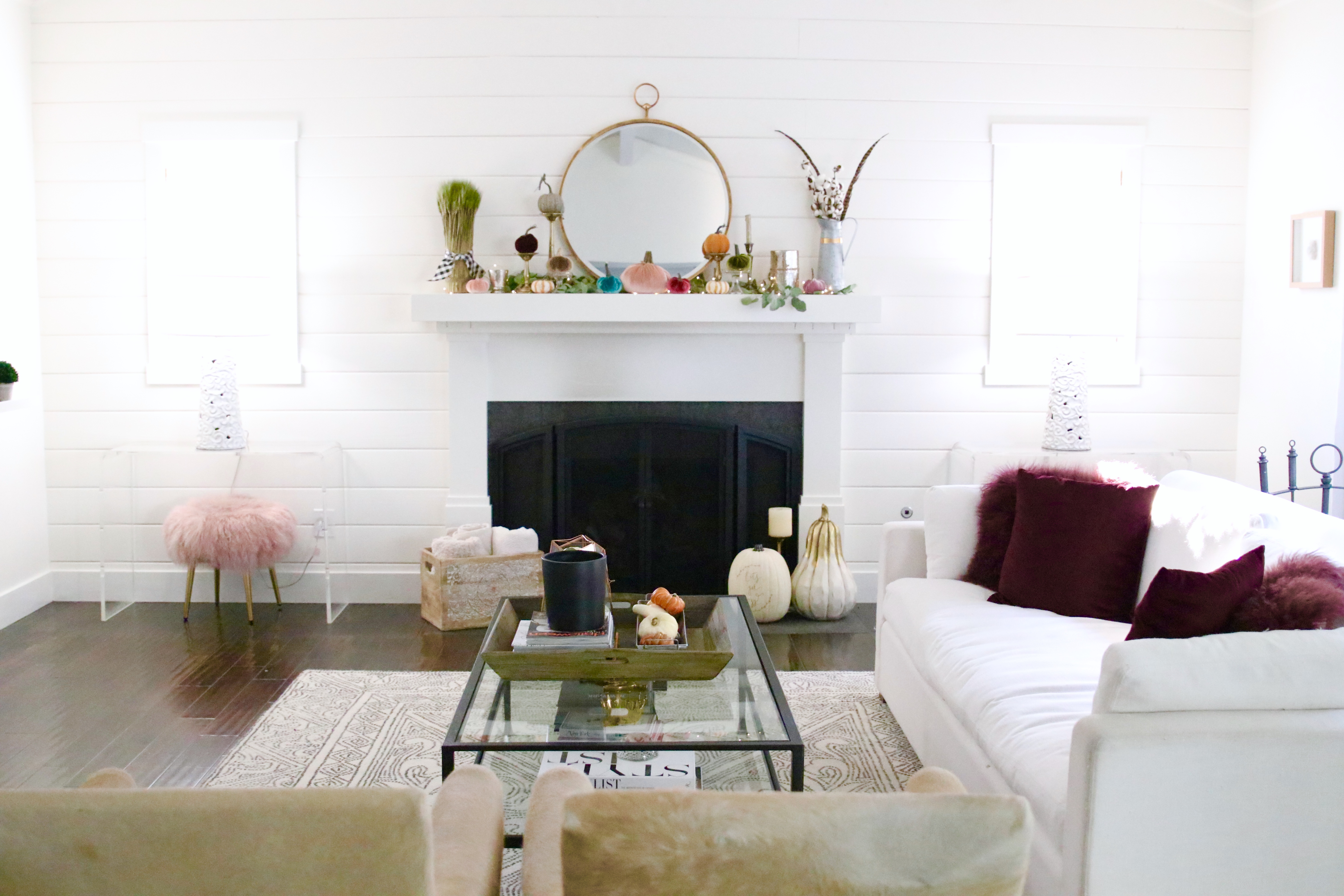 Modern Farmhouse Fall Living Room
In my living room I updated my coffee table with this rustic barnwood tray. I love how large it is and how it holds all my fall inspiration magazines.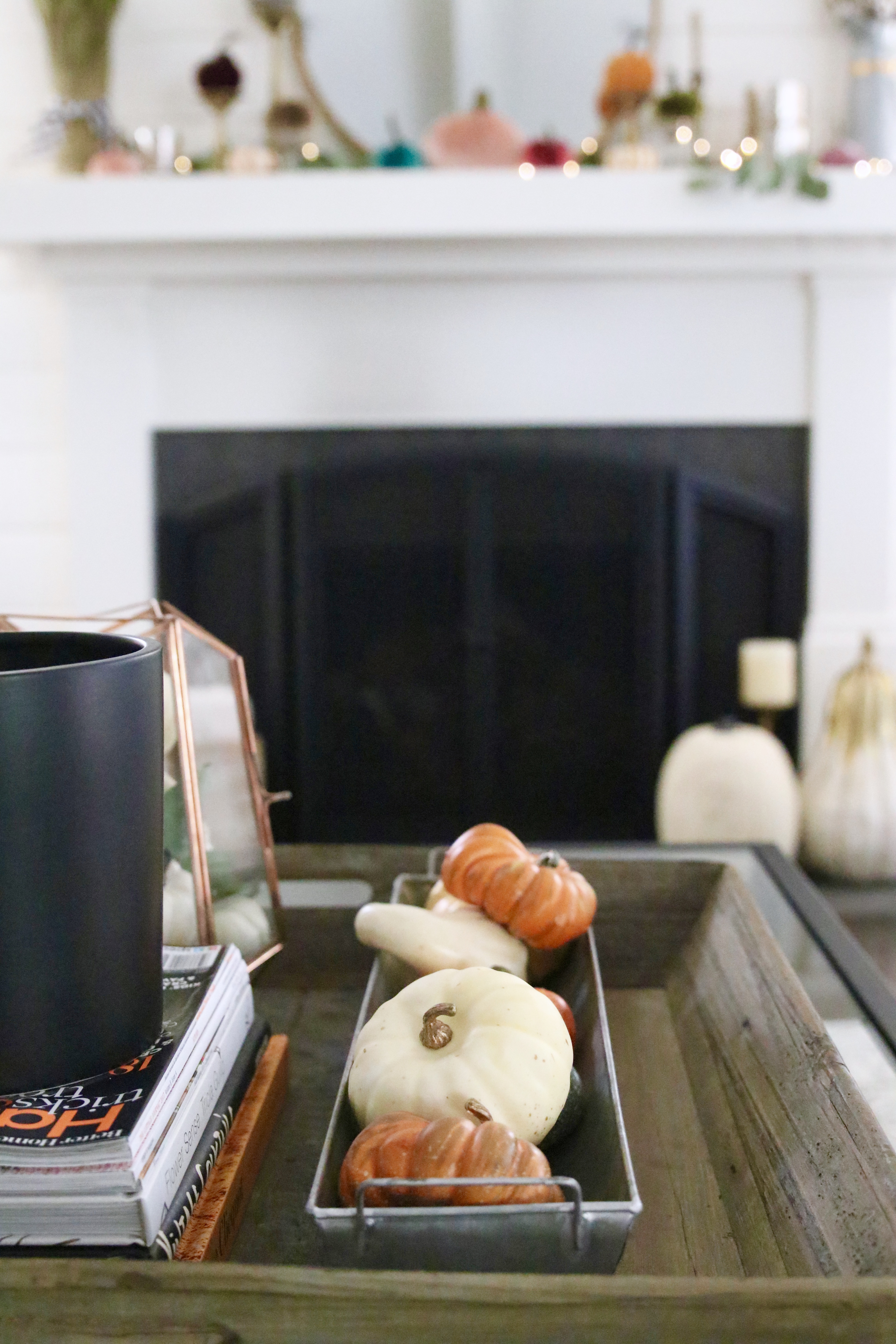 I filled this beautiful copper lantern with some faux pumpkins and eucalyptus leaves. So simple, yet makes such a statement!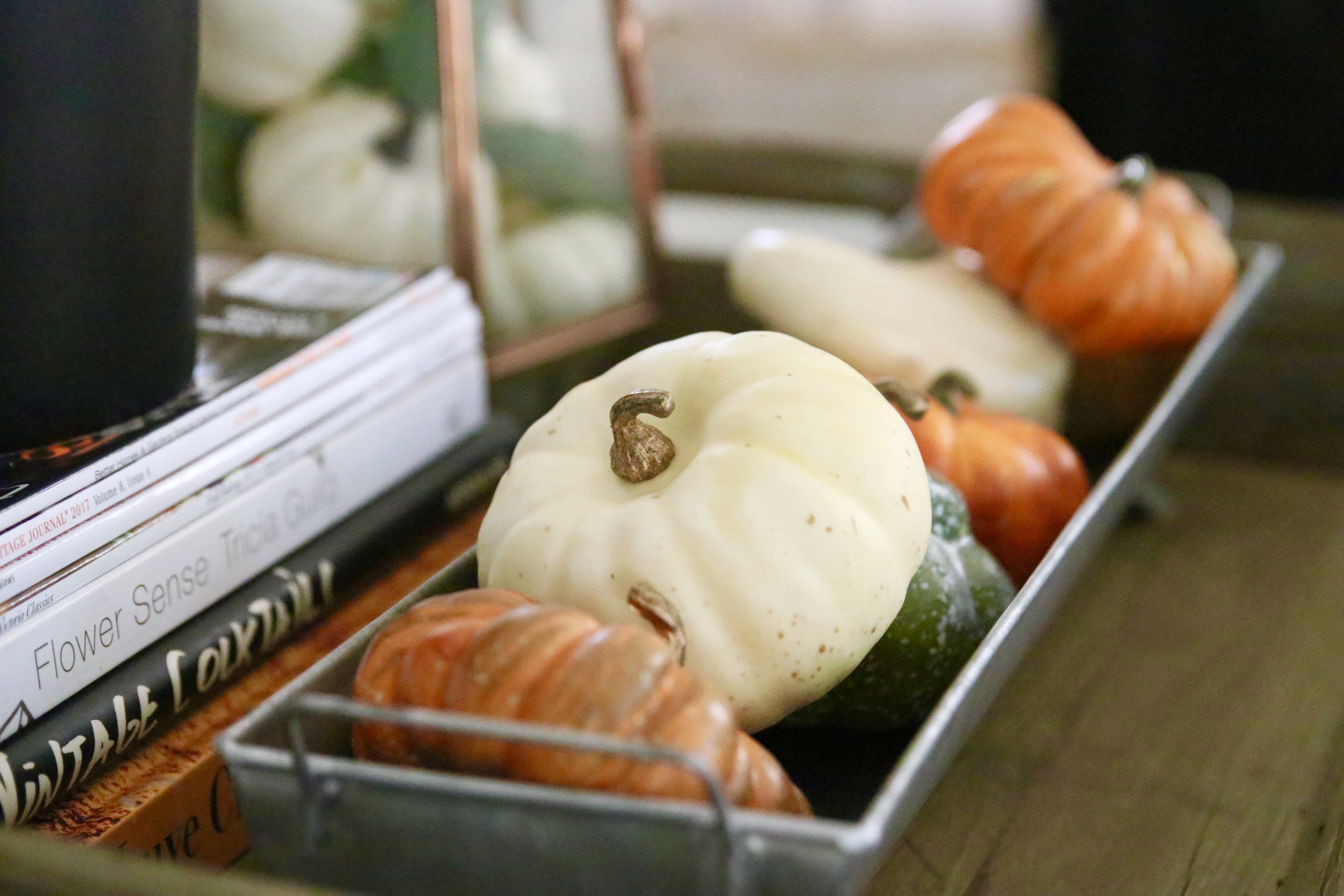 I started a collection of velvet pumpkins a few years ago and it keeps growing every year! Naturally I picked up a few new ones this year for the Fall Home Tour!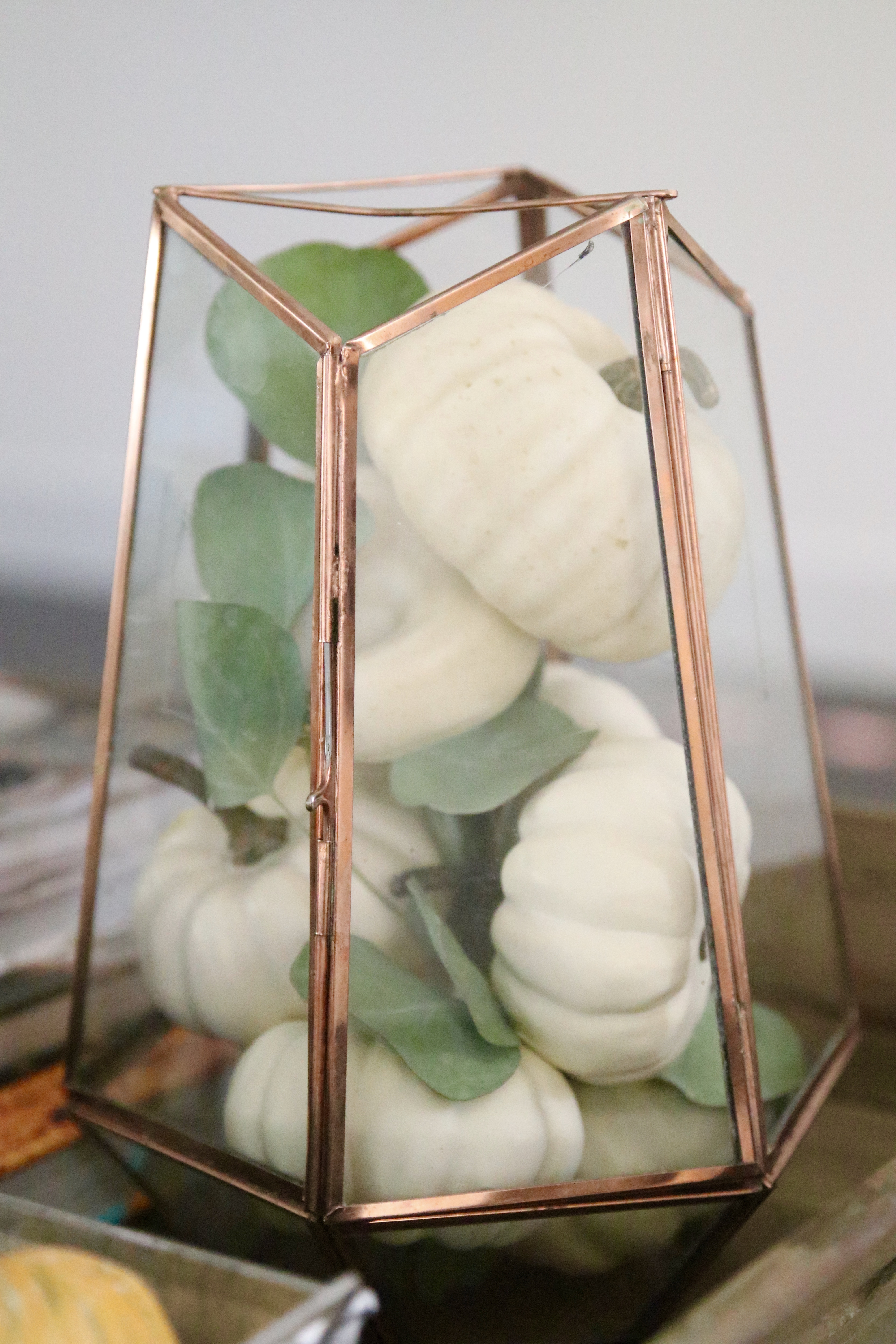 I love how the pumpkins have the real stems on them. The juxtaposition between that natural element and the lush velvet is a match made in heaven! And who can resist a pink pumpkin?!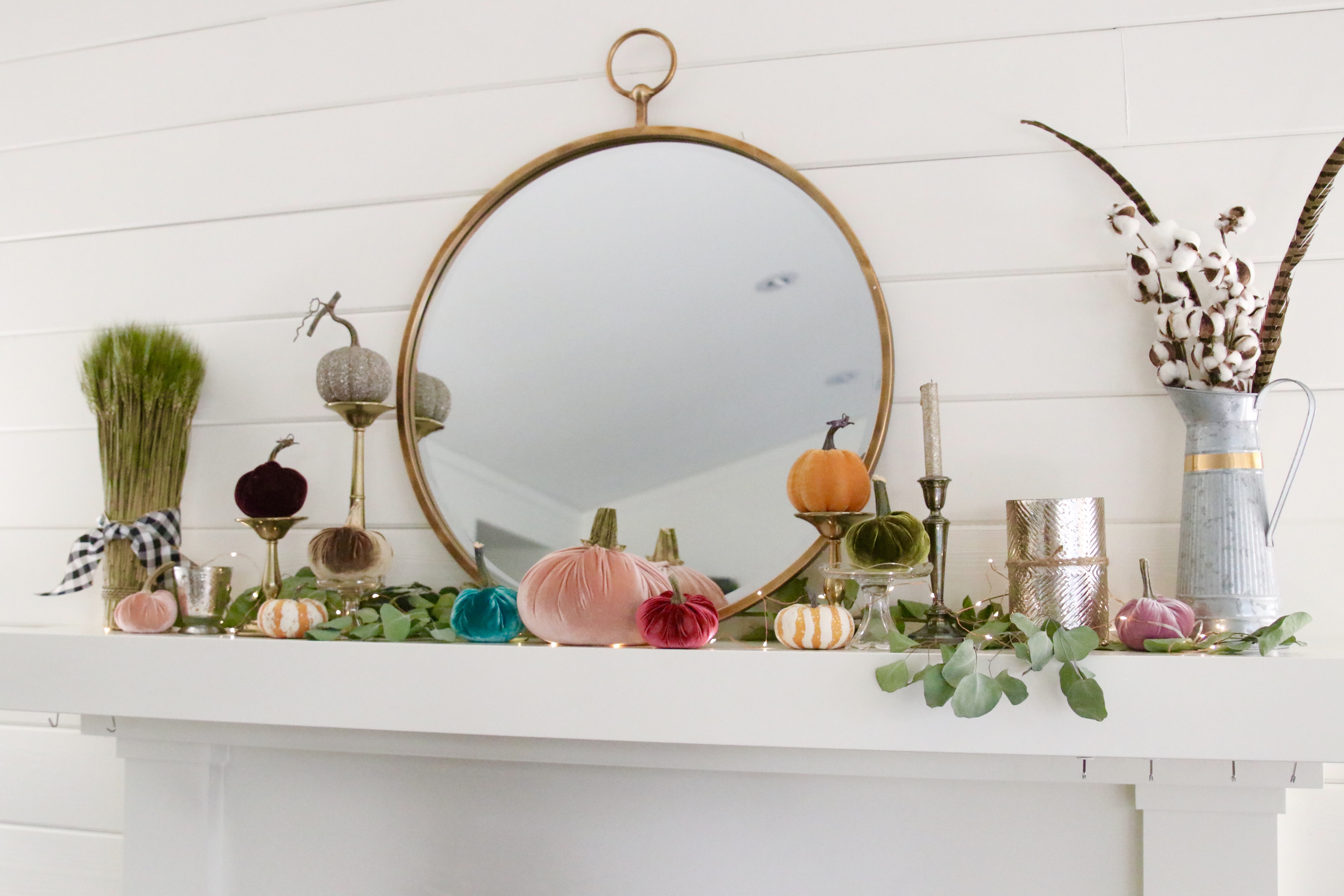 I used different height candlestick holders and mini cake plates to elevate the pumpkins. And I intertwined some Eucalyptus branches between the pumpkins. I can't get enough of the combination of the sage green leaves and the lush velvet pumpkins!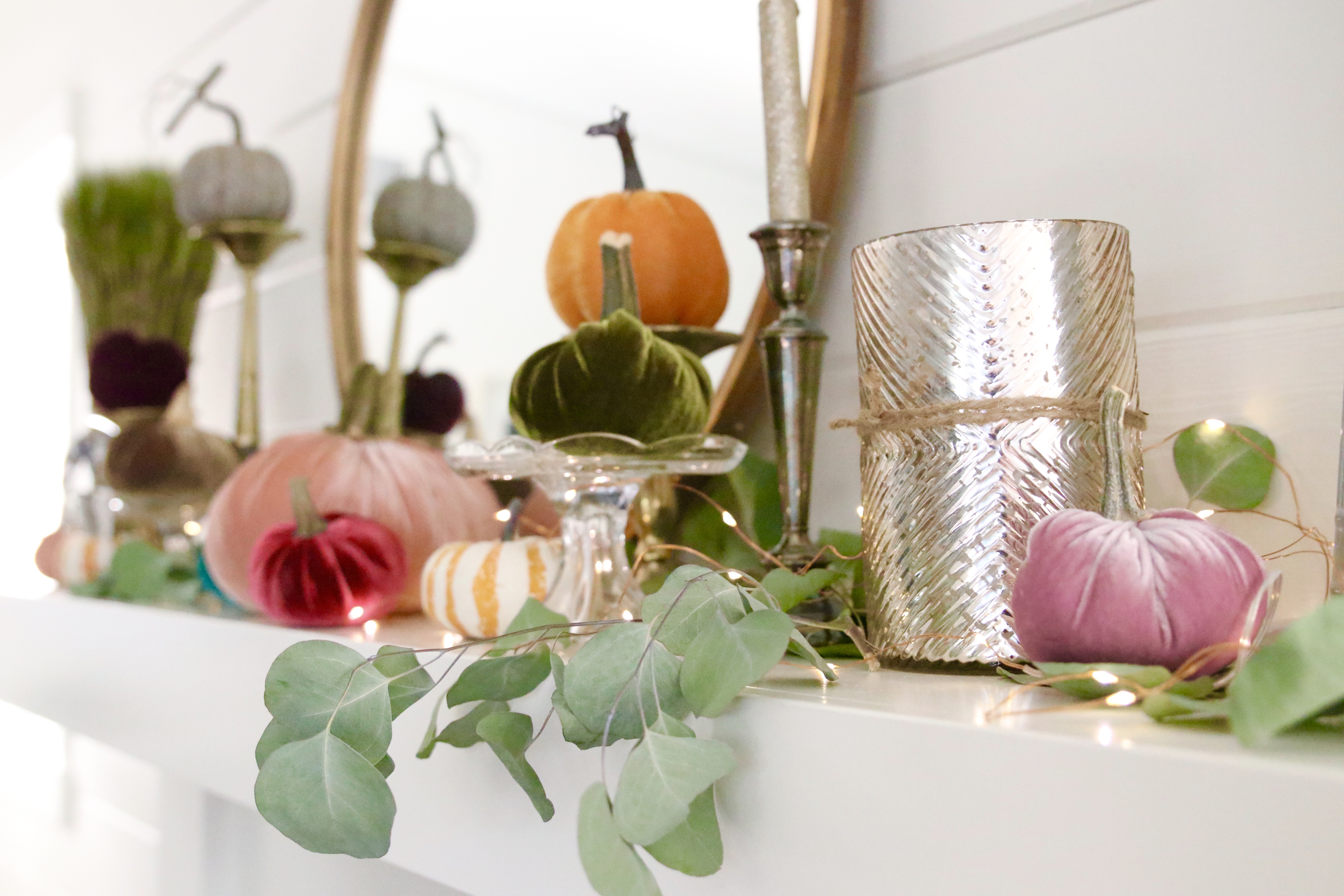 And I added in these tiny fairy lights that make the whole scene so magical!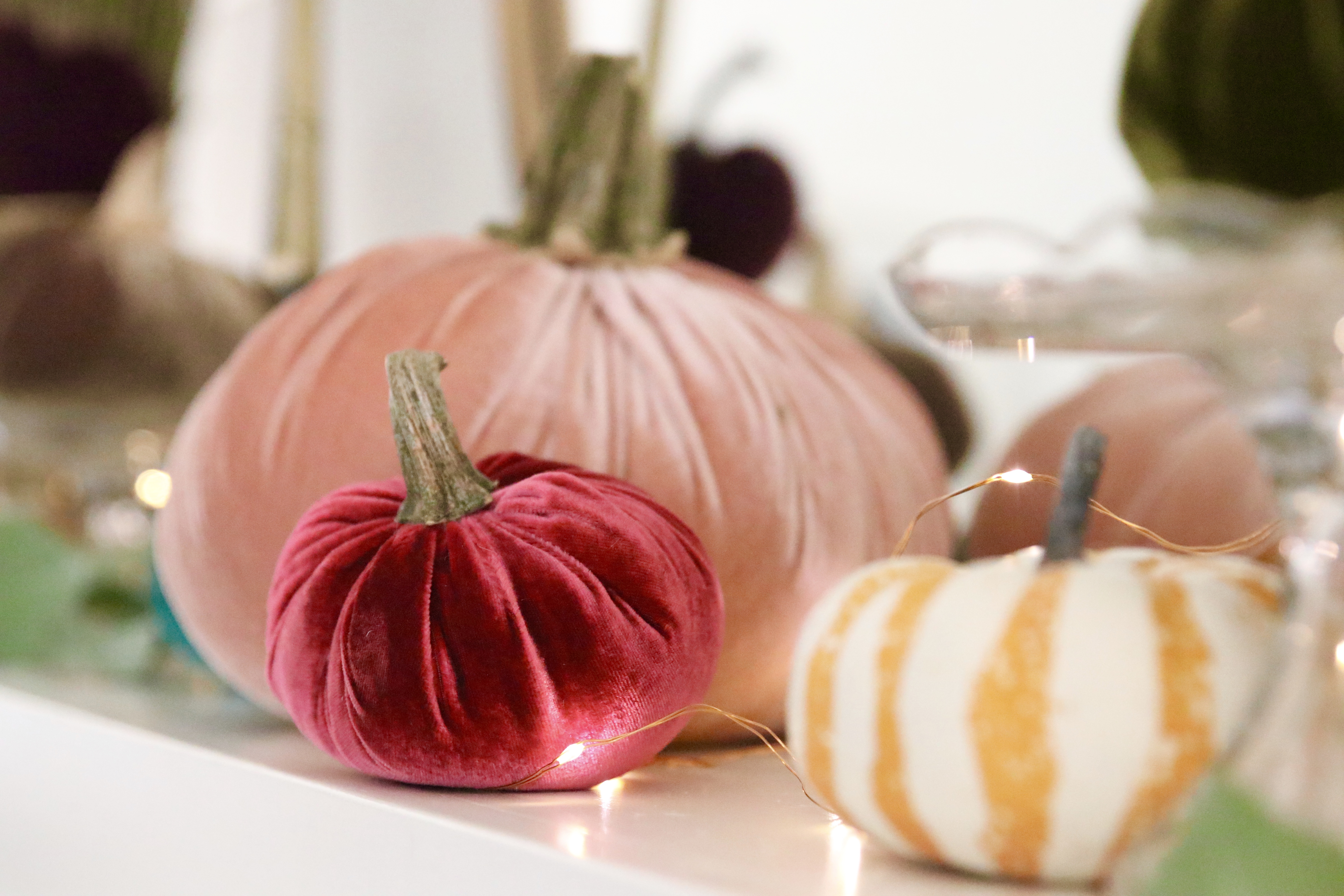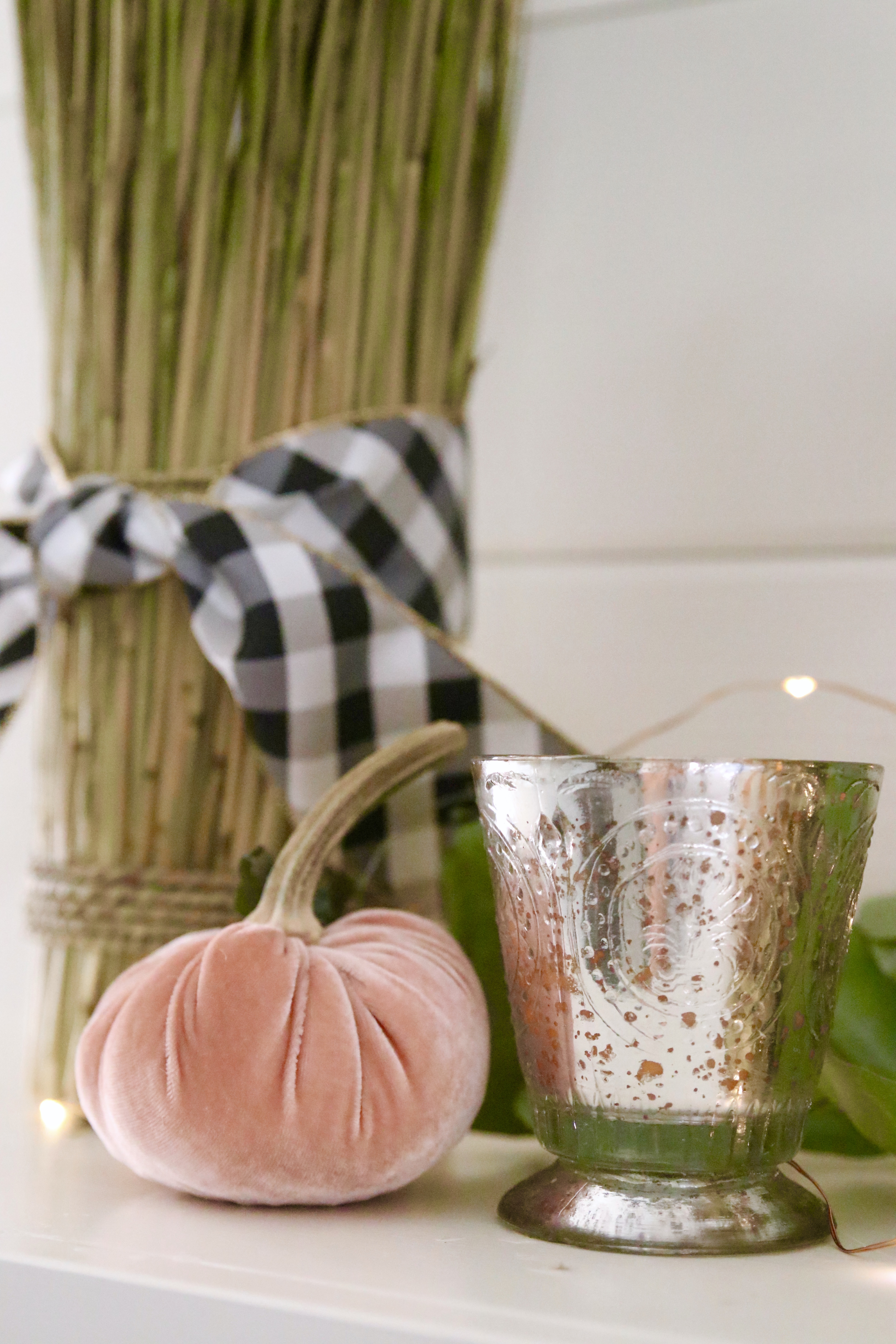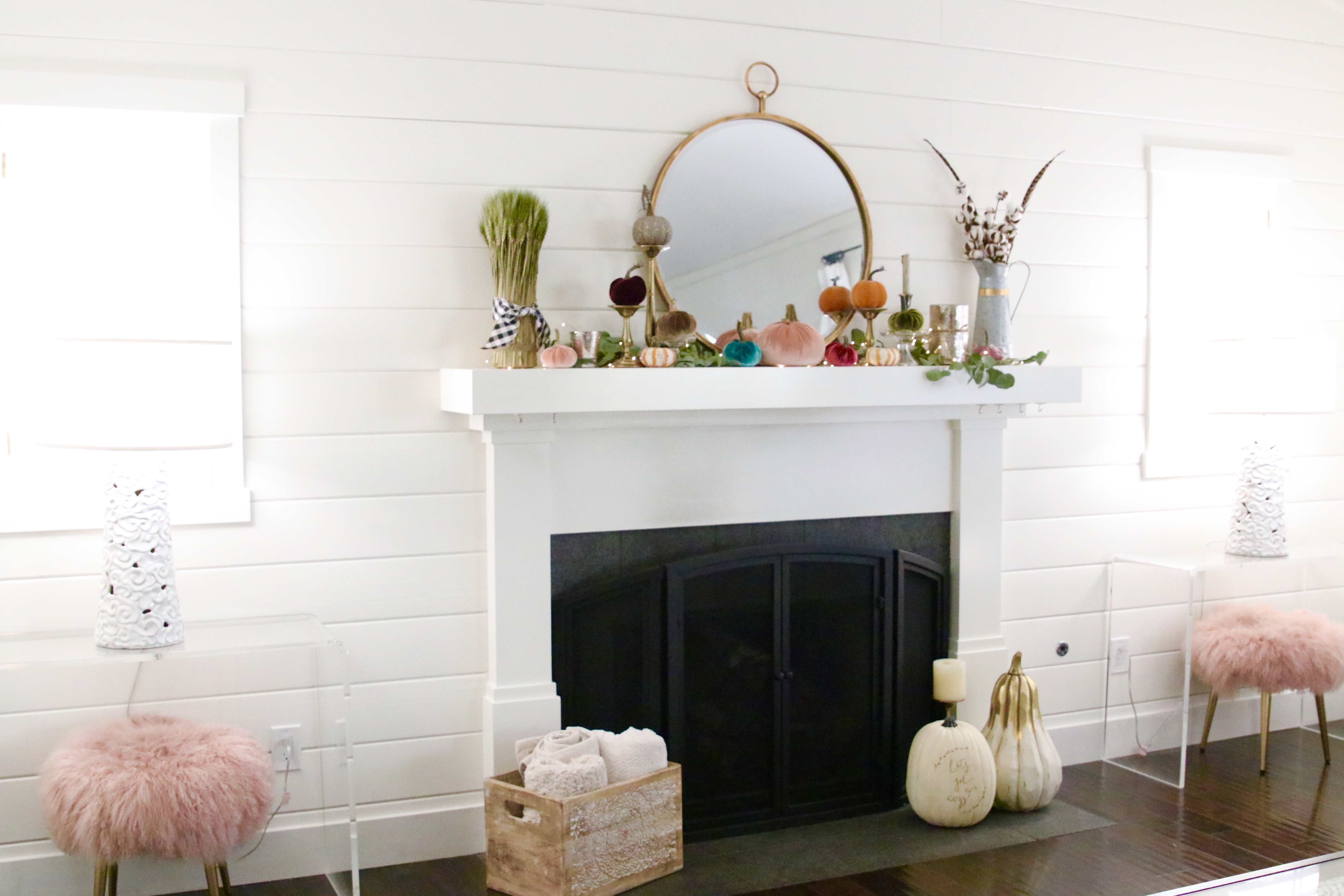 Of course there is a stash of cozy throws at hand for those chilly mornings. I also added in these two pumpkins. One I found at Homegoods and the other is a craft pumpkin that I had on hand and I sketched "Let's Get Cozy" onto. What better saying for fall?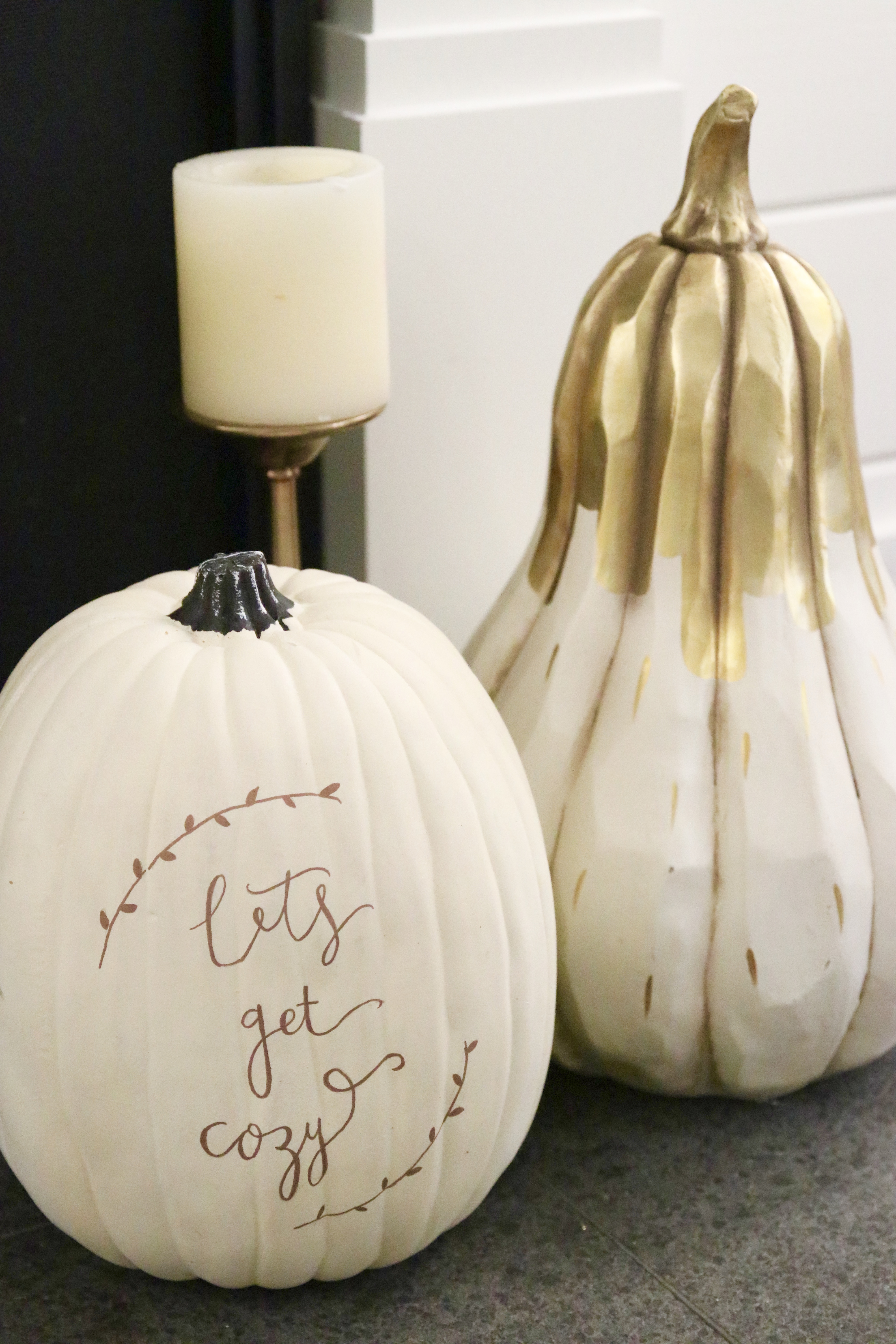 Fall Shelf Styling
I updated my shelves for fall too, of course. I kept the color palette pretty neutral because I didn't want to take away from the beautiful velvet pumpkins on my mantel.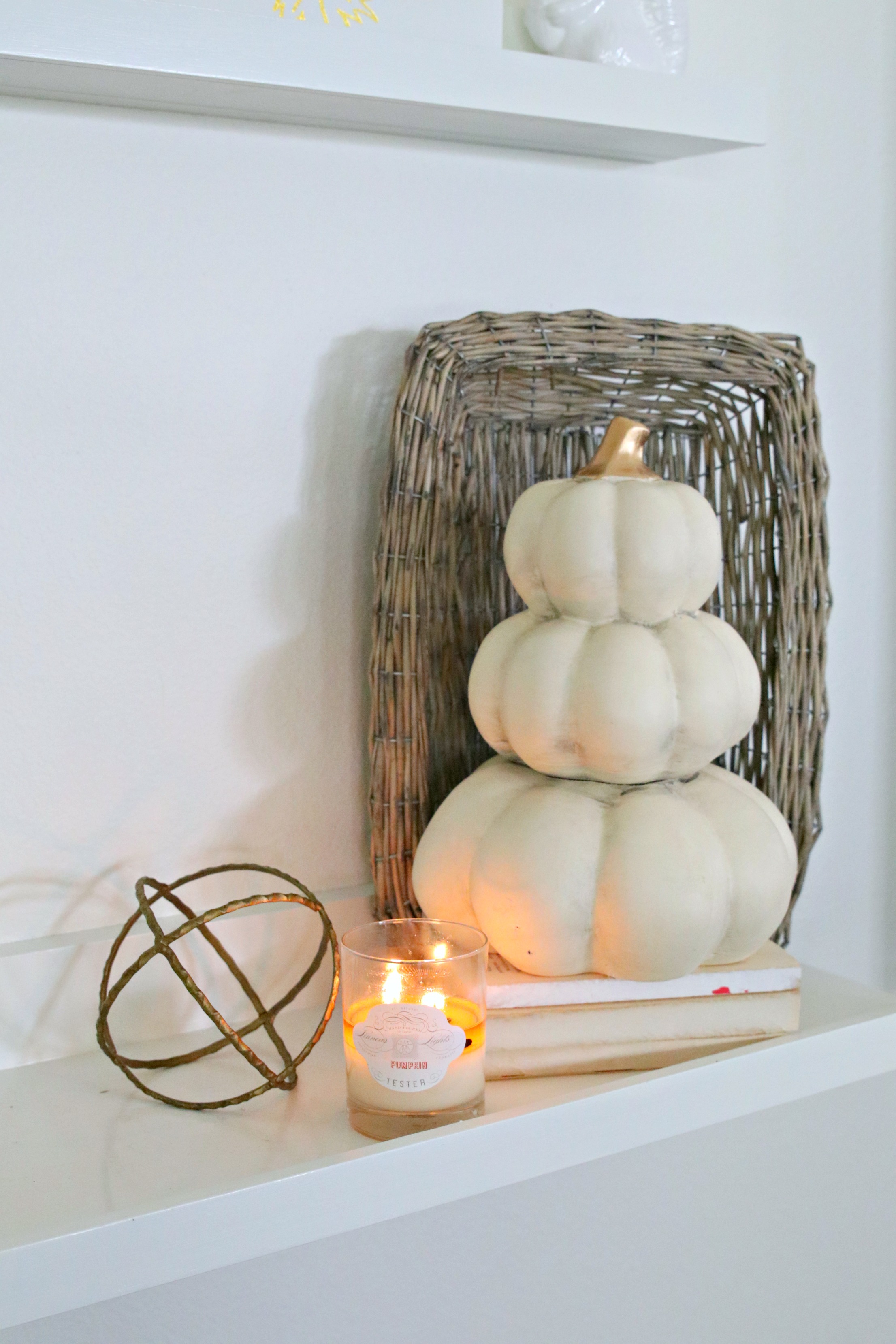 But I made sure to incorporate some of my favorite elements. My African JuJu hat, yummy fall scented candles and more pumpkins!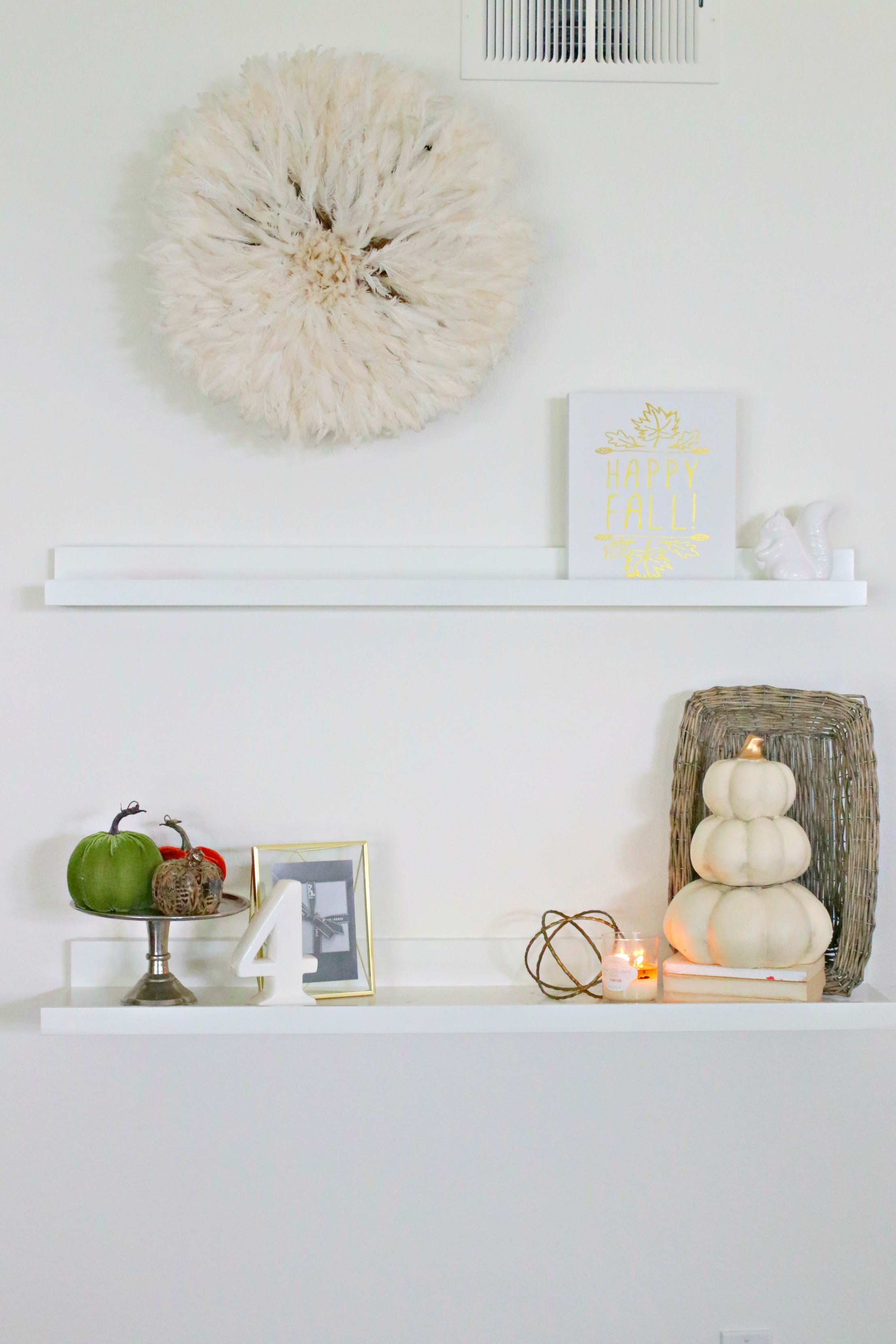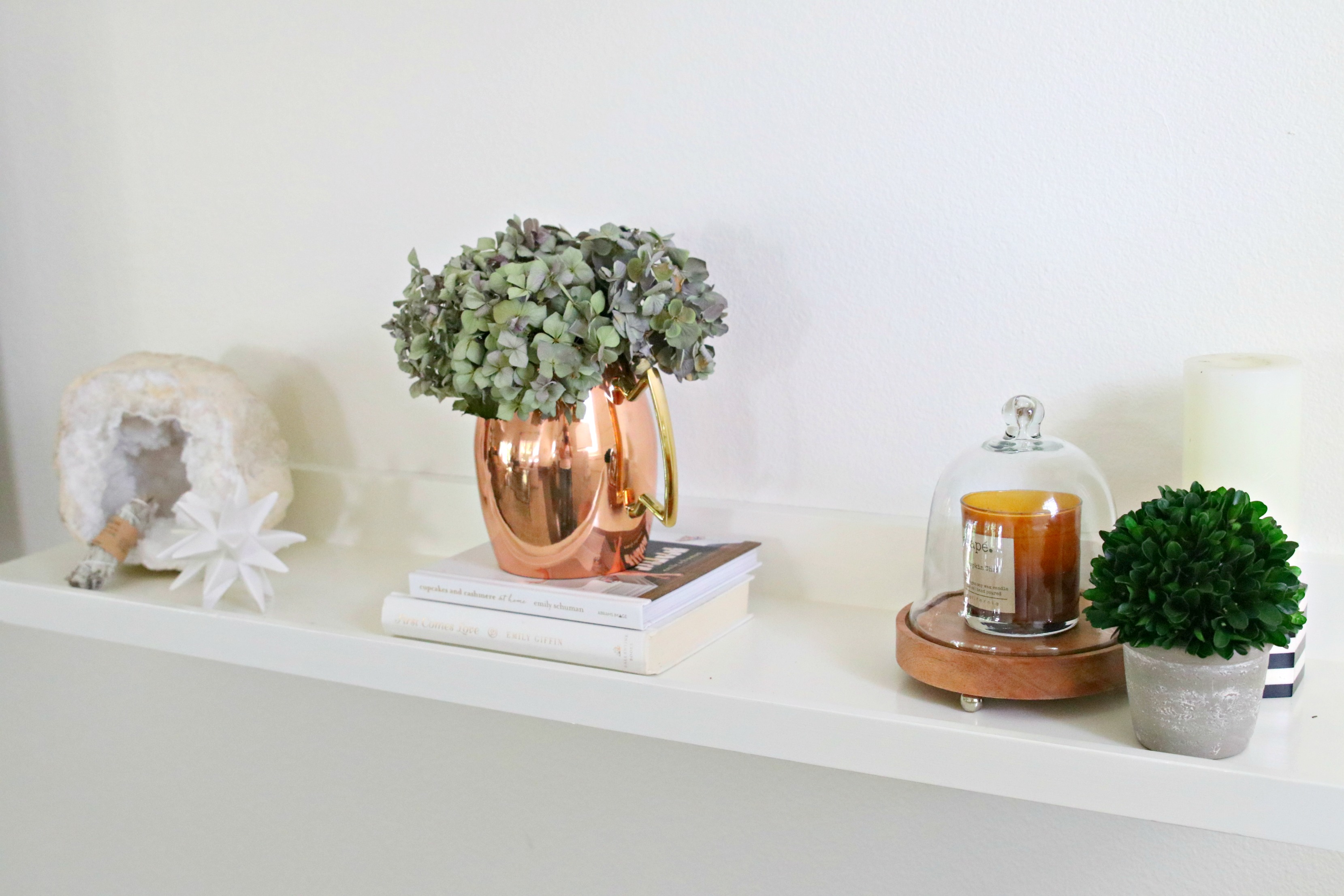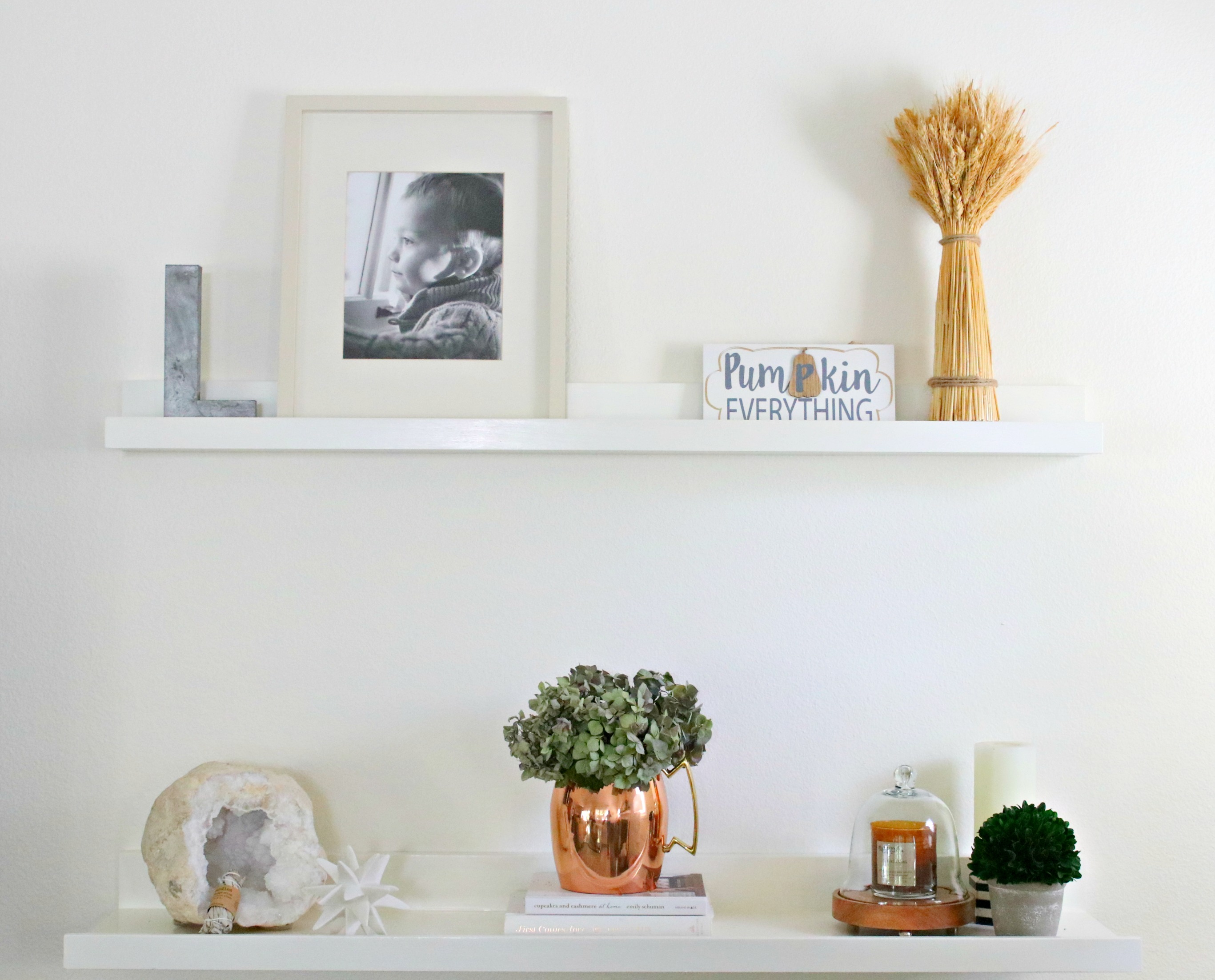 Farmhouse Dining Room
You can see all the details on how I created this tablescape in this post: 5 Tips for Creating a Fall Tablescape.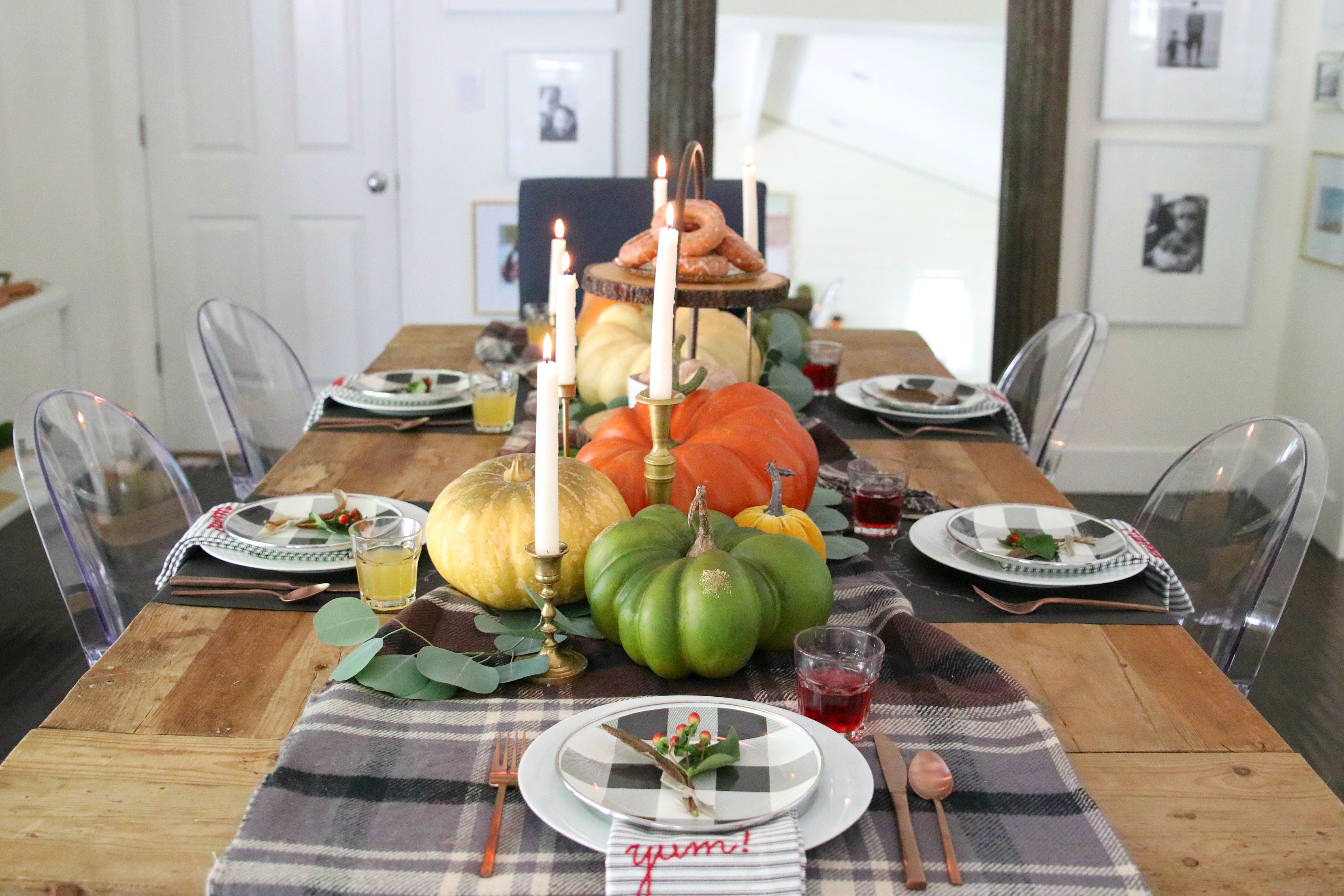 I love doing tablescapes especially during the holidays. I had so much fun doing this casual setup.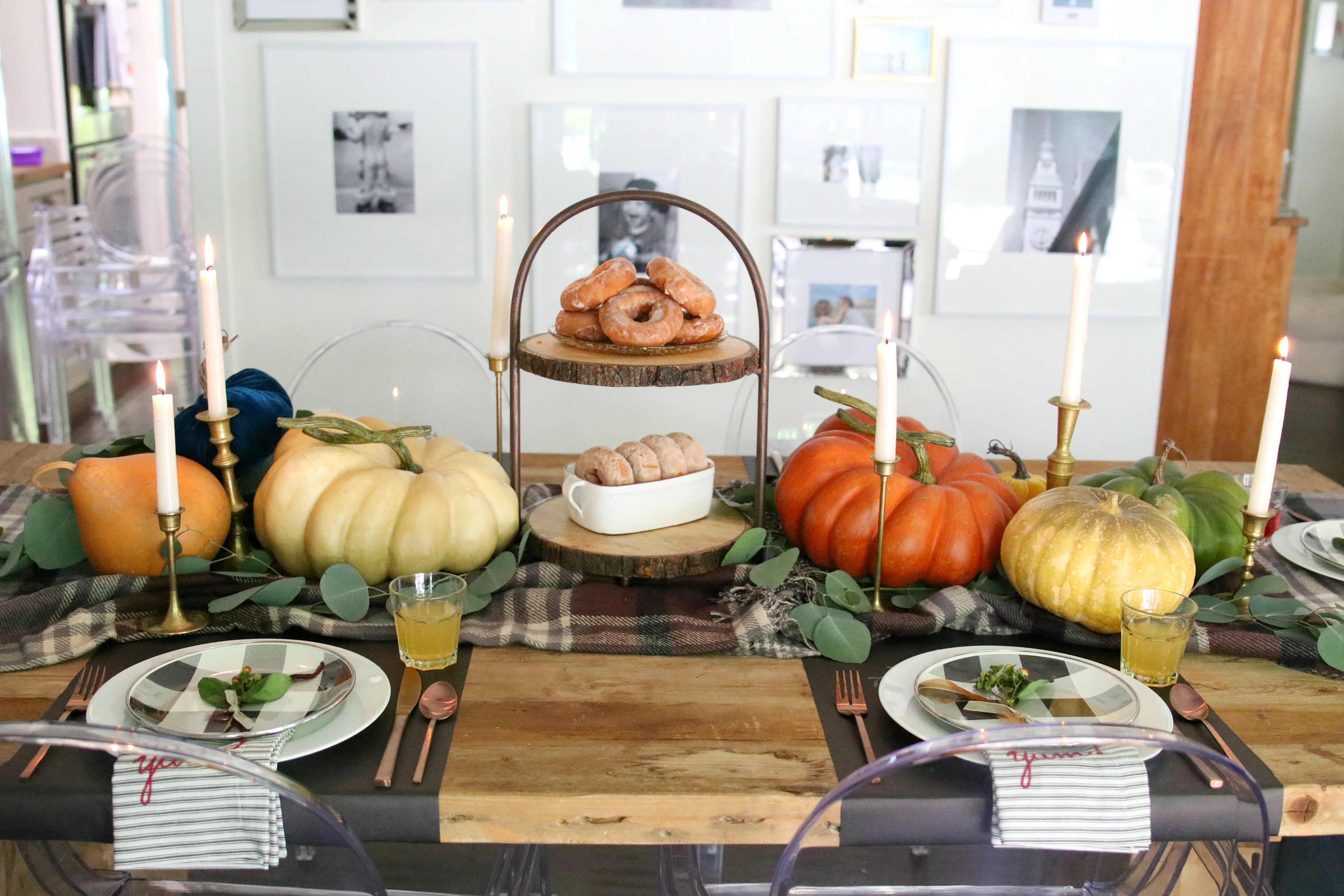 And I think I may incorporate some of these elements for Thanksgiving too!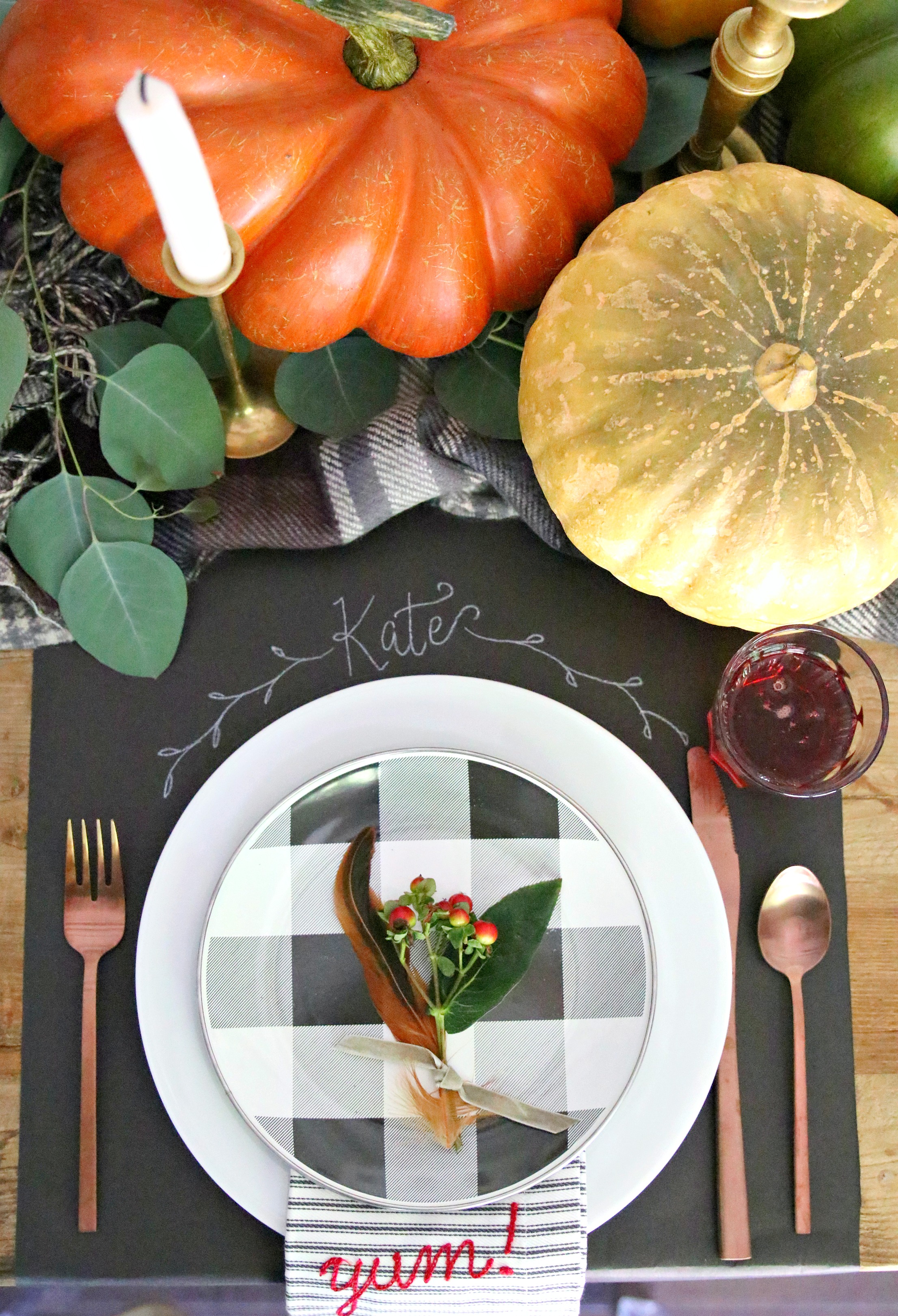 Perfect for having friends over for coffee and doughnuts now that the kids are finally back in school!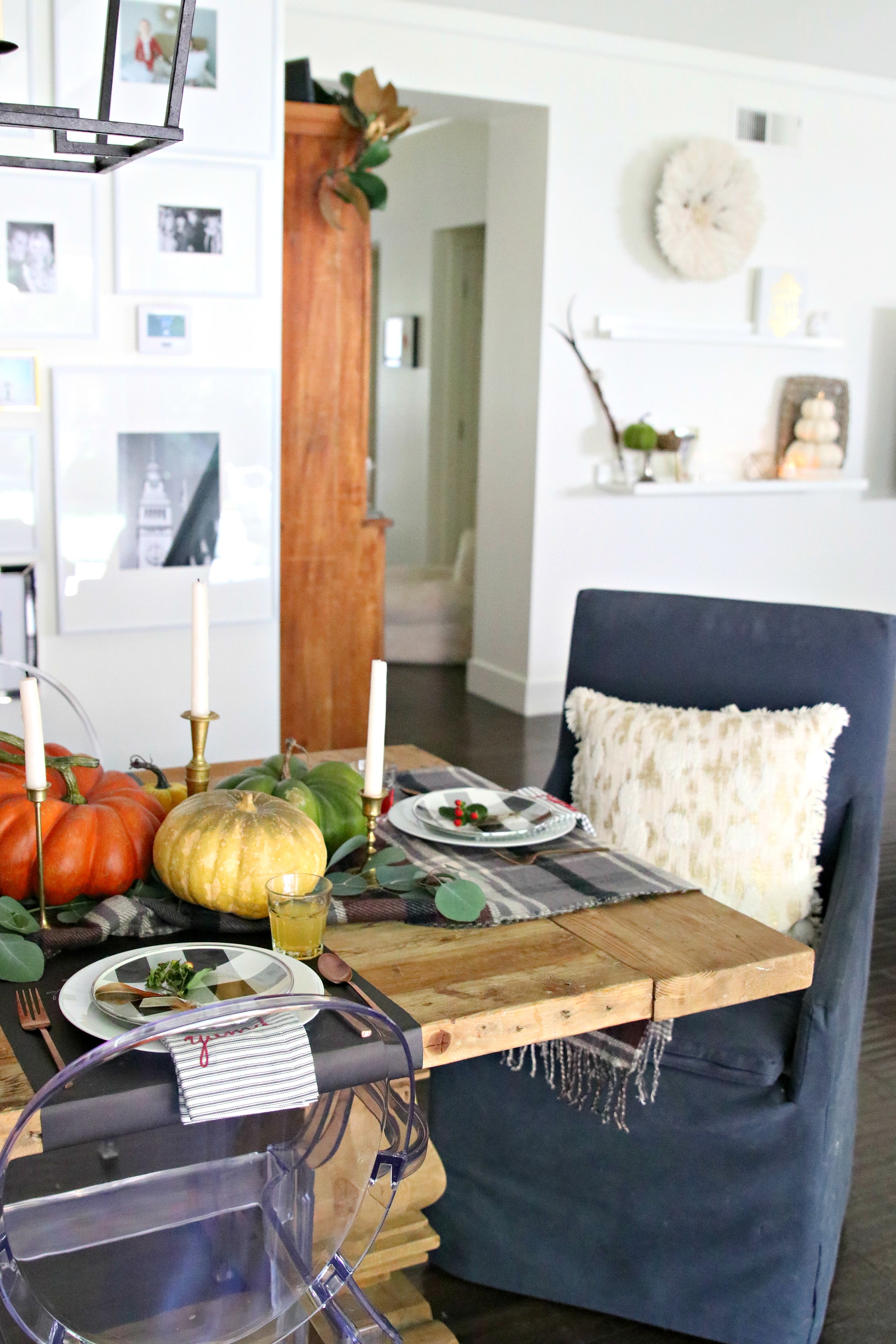 I updated my bar cart for the fall home tour and set it up as a coffee station. Because what's better than a Pumpkin Spiced Latte during fall?!
And be sure to try my Paleo Pumpkin Spice latte!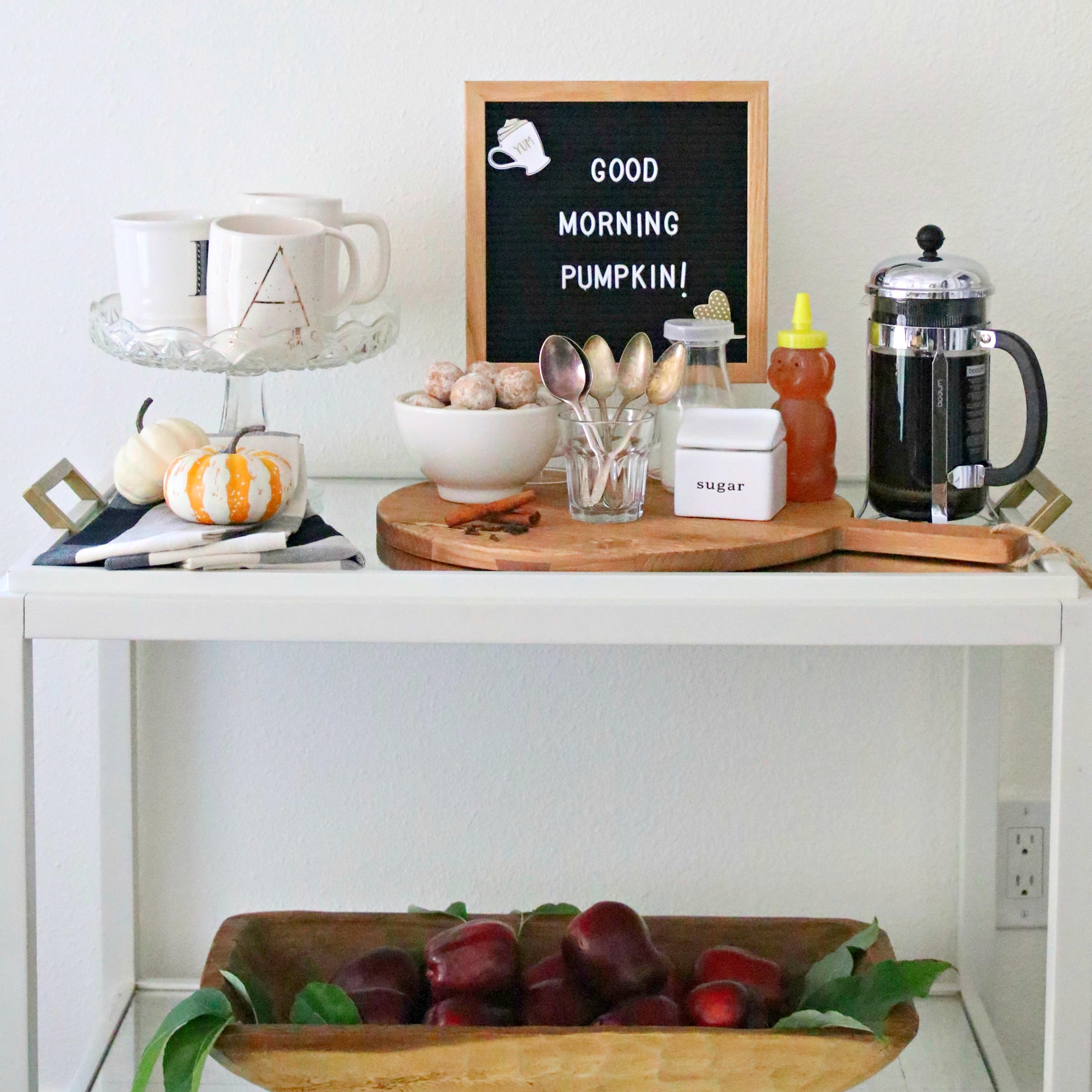 Farmhouse Fall Home Tour: Entryway
A quick update to my bench in our entryway with these cozy knit sweater pillows and my favorite new find: this fall sayings pillow!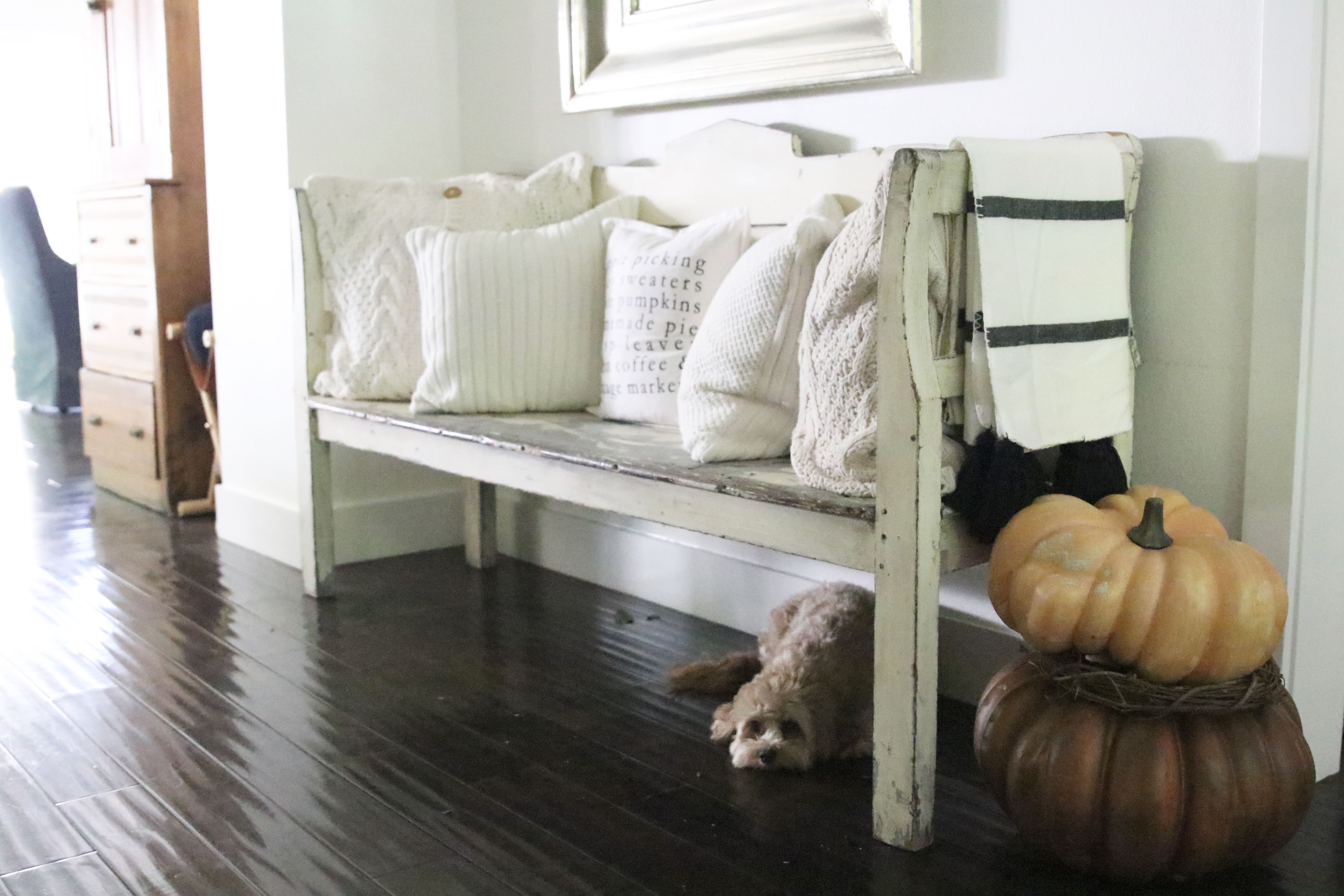 I love the daily reminder to live in the moment and enjoy everything that fall has to offer!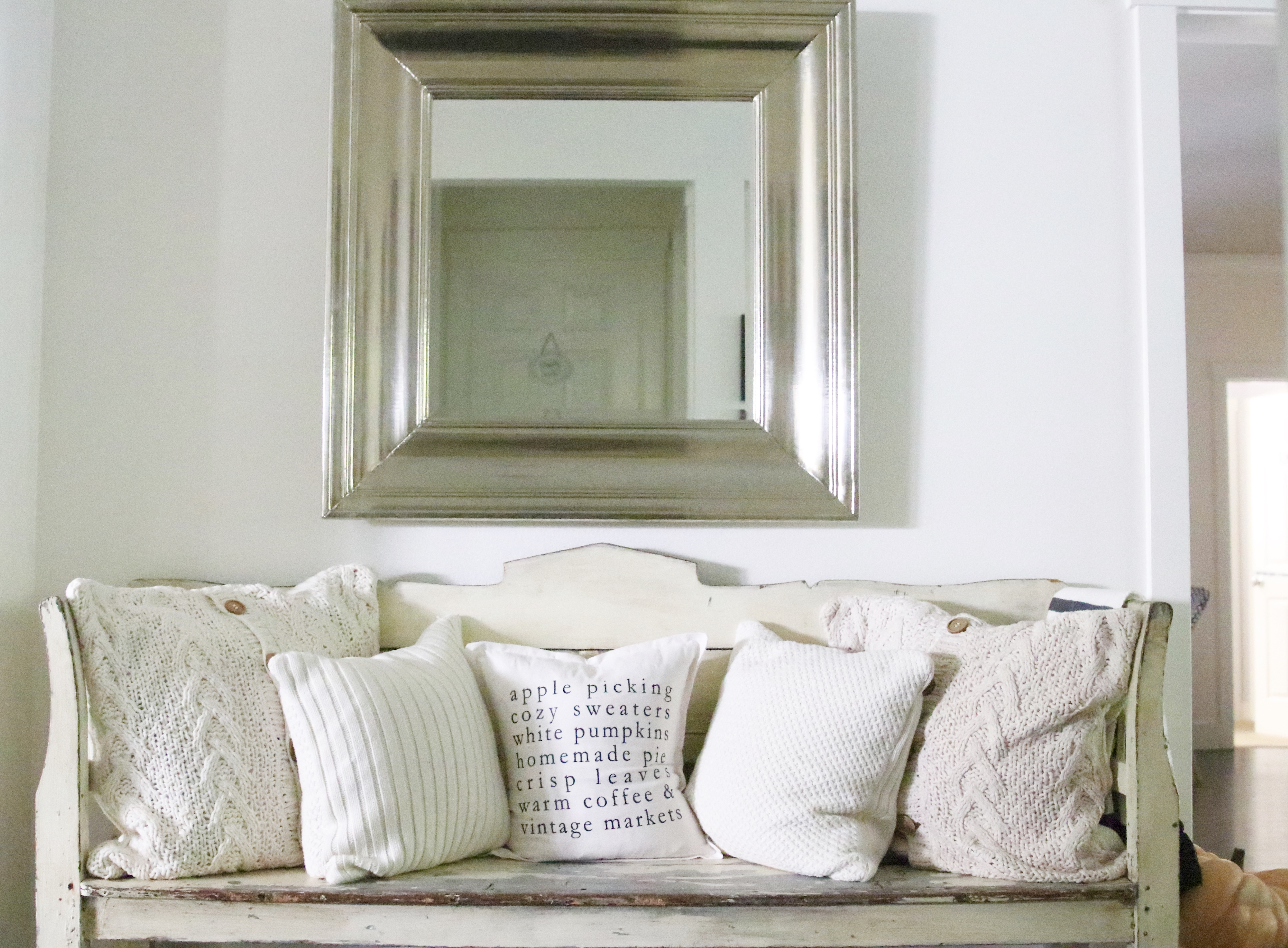 Farmhouse Fall Home Tour: Front Porch
The front porch is one of my favorite places to update for each season. Just this last weekend I gave my front door a fresh coat of paint in this beautiful gray color. It will be perfect for fall and the winter months.
The color is Benjamin Moore's Wrought Iron.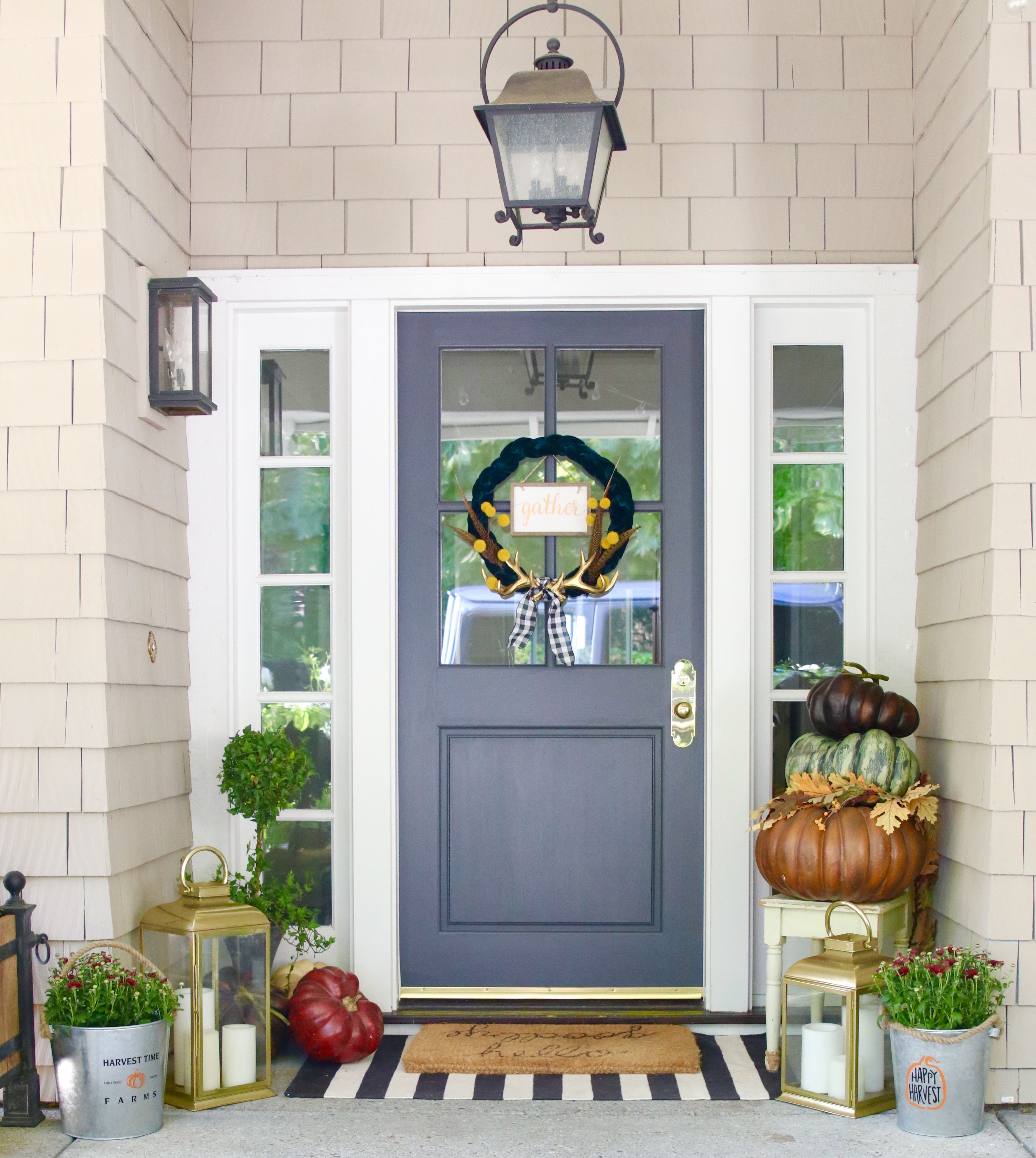 I added lots of pumpkins to the porch and added these fun buckets and filled them with some beautiful wine colored mums.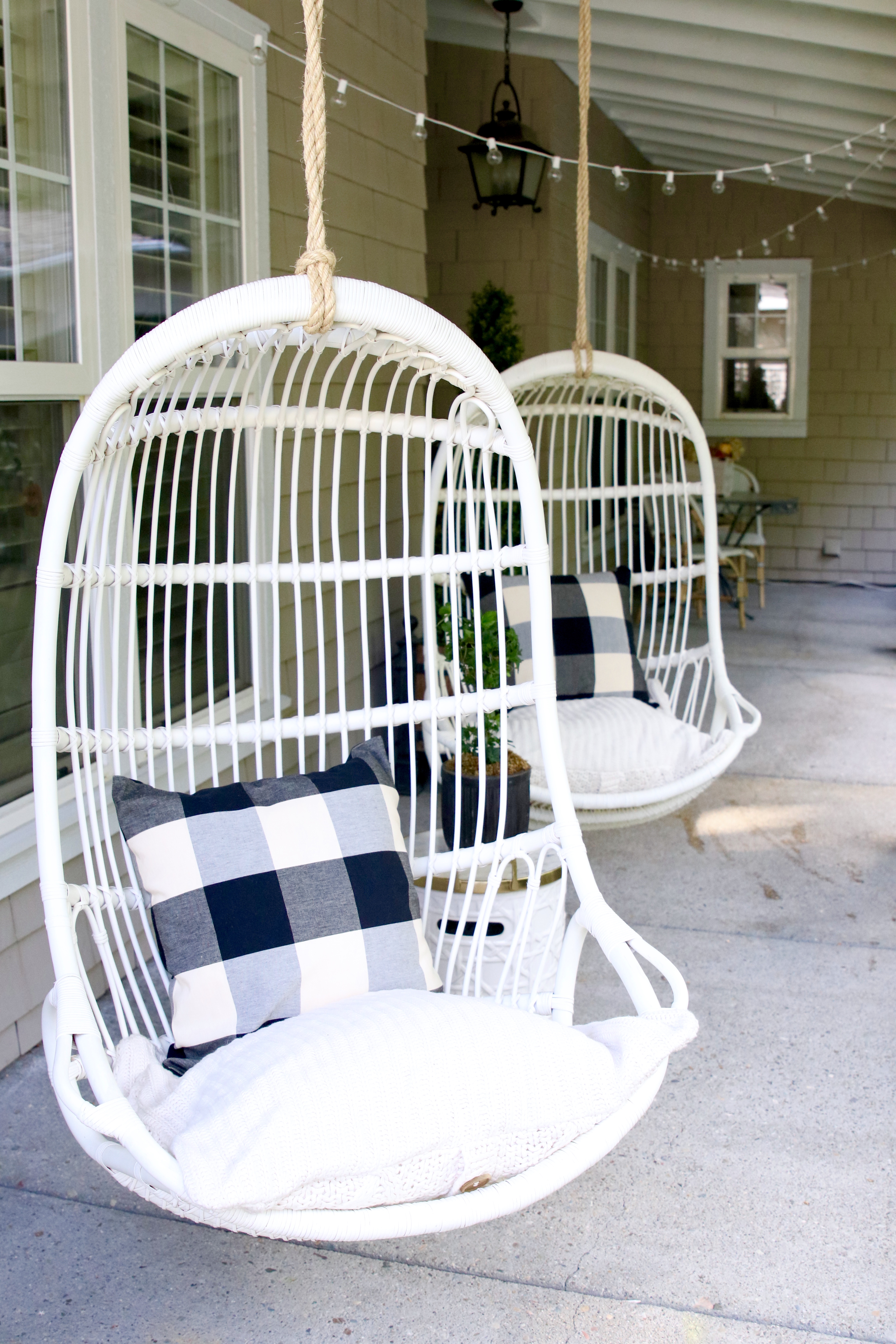 Now this is one of my favorite spots to sit during all seasons. I love my hanging swings! I updated them for fall with a simple buffalo check cushion.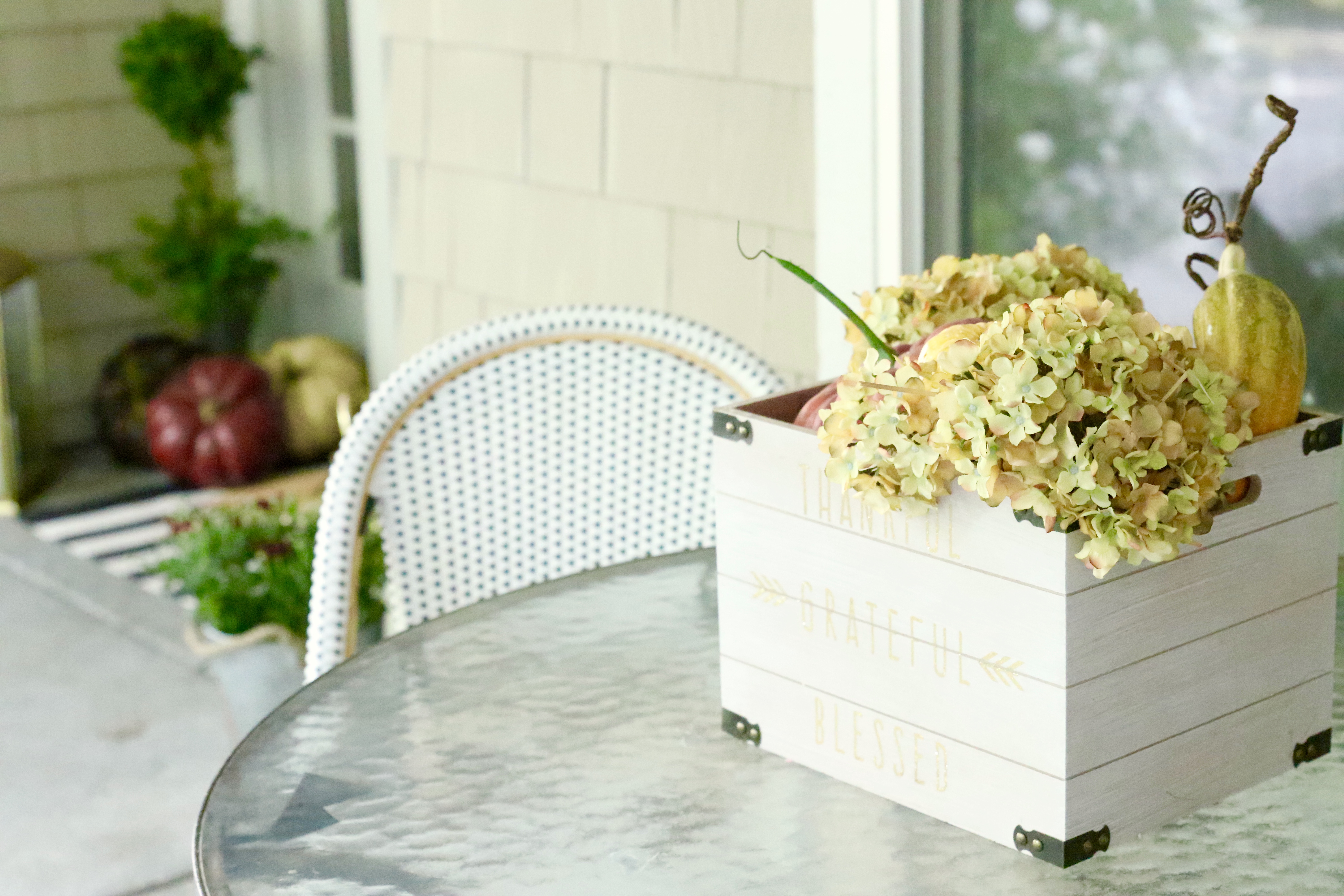 And nothing beats sitting out here on a cool evening sipping a glass of wine curled up in a blanket!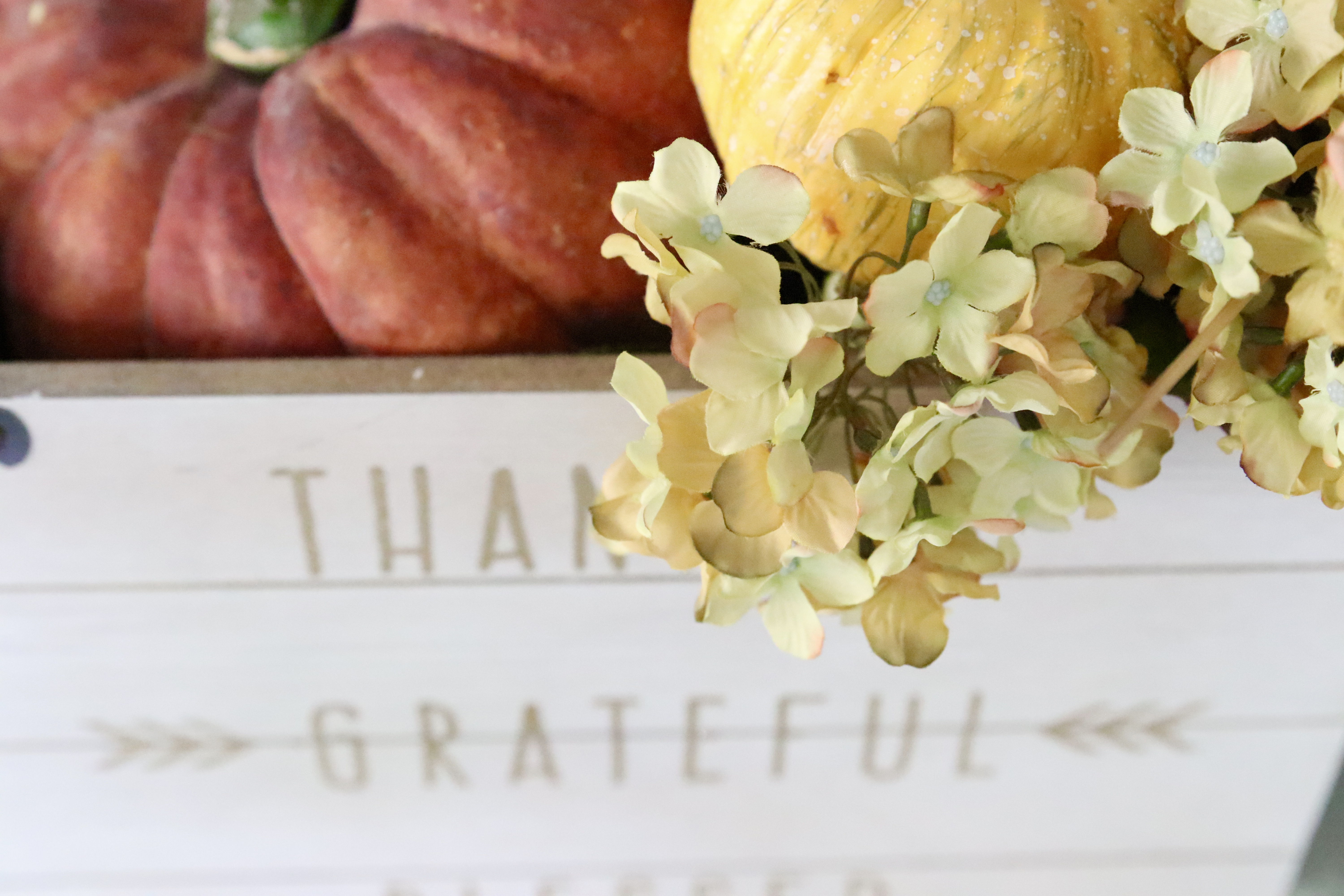 Farmhouse Fall Wreath DIY
One of my favorite additions this year was this DIY fall wreath that I made. It was so simple to make and I love how unique and eclectic it is. You can find the full tutorial on this Fall Wreath by clicking here.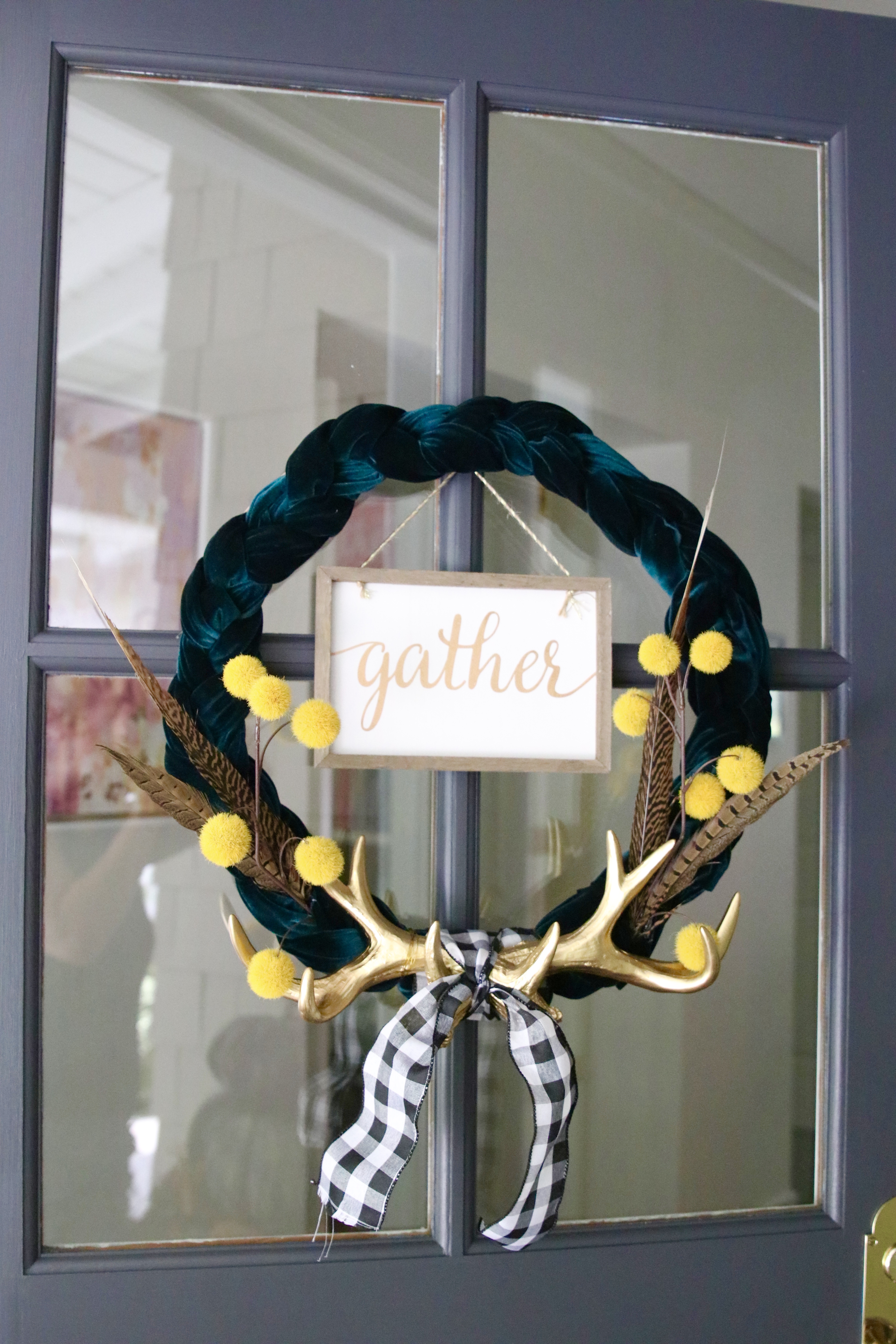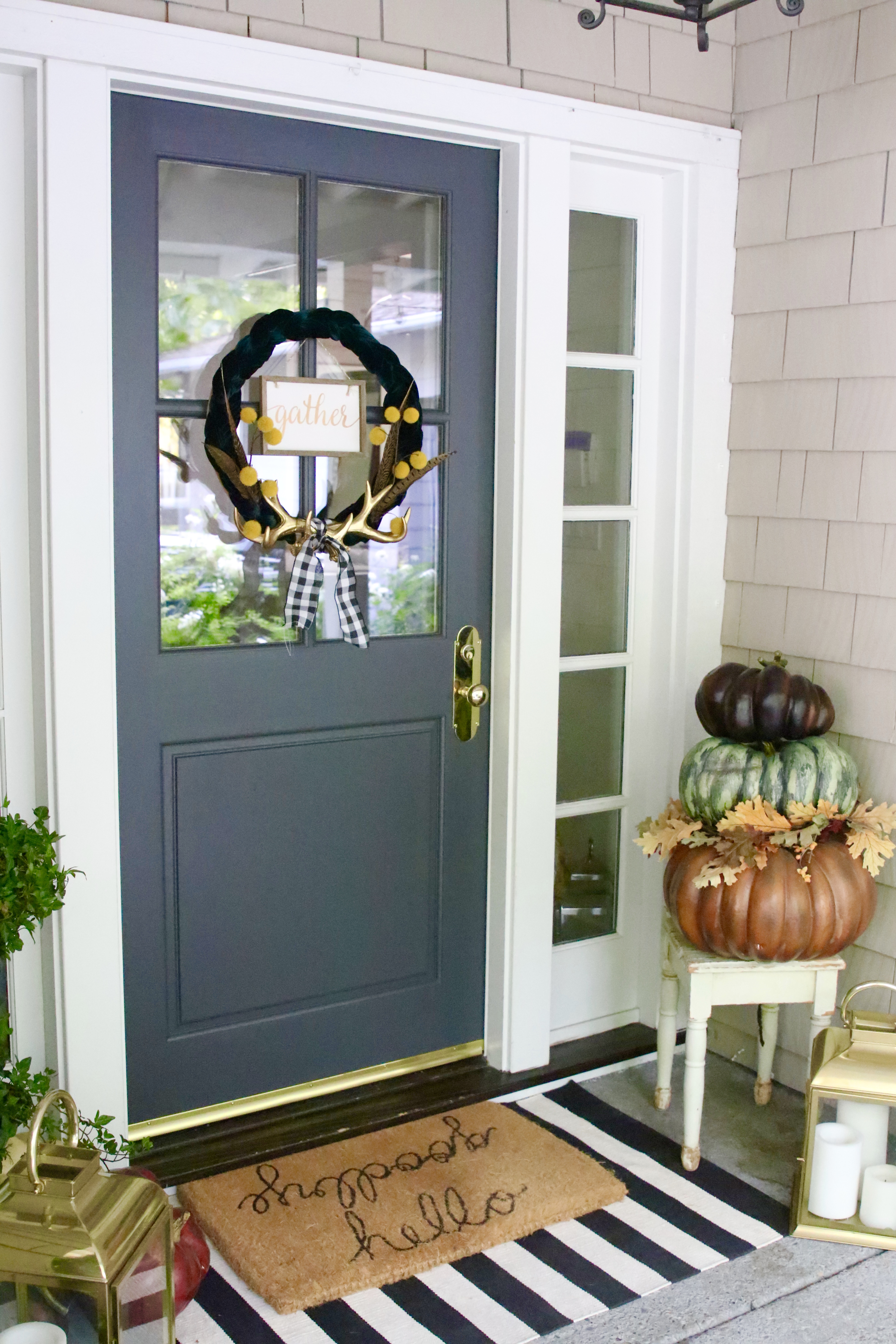 I hope you enjoyed my fall home tour. I'll be sharing details for the tablescape and front porch in future posts.
Be sure to follow along on my social media sites like Instagram and Facebook and see what I'm up to next.