Fall is my favorite season for fashion and beauty. I love revamping my beauty routine for fall and indulging in smoky eyes and dark lip colors. The darker colors that come with fall for clothing provide a perfect canvas for going a bit bolder with your makeup routine. I have been on the hunt for new makeup and beauty items and I want to share with you my favorite fall beauty picks.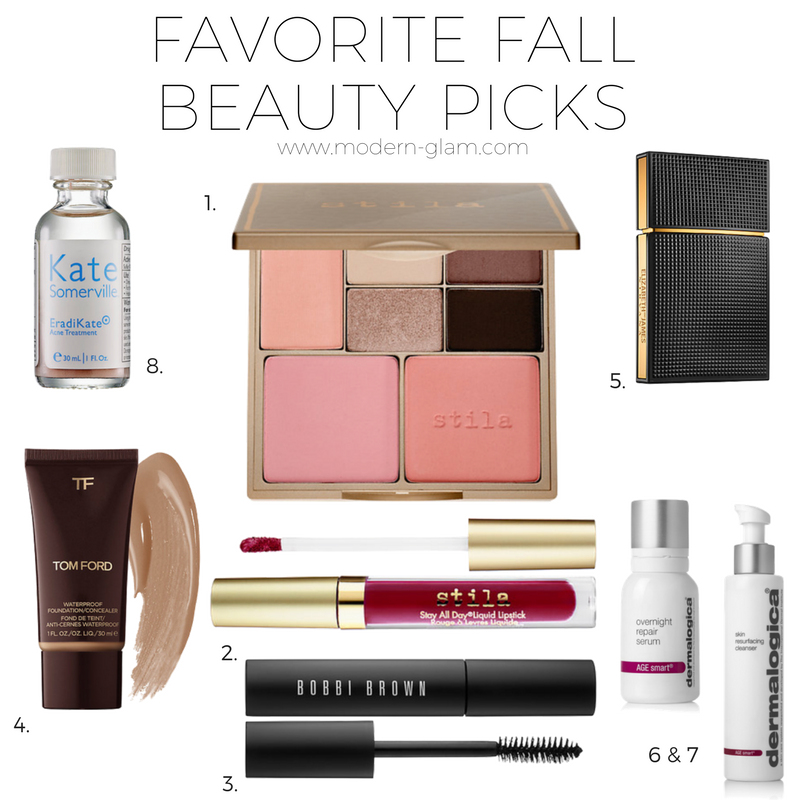 I love finding an all in one makeup palette that is perfect for travel and on-the-go makeup touchups. This Stila palette is perfect for a daytime fall look. I love that you can pick the palette according to your skin tone, making sure that you aren't going too bold.
I love a beautiful bold lip and I especially like it when it stays put after sipping my morning coffee. This lipstick isn't drying and it has a beautiful creamy finish. I love the Bacca color. The perfect dark berry that can go during the day or night!
I am constantly on the hunt for a new favorite mascara. I have used Chanel's Imitable Intense mascara for years. On a whim I tried this Bobbi Brown mascara and I am converted! I love how it instantly adds volume and length to my lashes with just one swipe! Usually I am rushing out the door and don't have time to spend with multiple coats of mascara so this version is perfect for my busy schedule – one and done!
Finding the right foundation is key to having a flawless face. This Tom Ford foundation has the perfectly creamy texture that allows the rest of your makeup to go on smoothly. And it stays put! I hate when your makeup starts sliding off mid day! I also like how you can build up the coverage depending on the occasion. So for daytime I use a very light layer and for evening will go a little heavier. And despite the name, this makeup comes off easily with cleanser, no harsh scrubbing necessary!
I don't know about you, but I like to change my perfume to reflect the seasons. For fall I love this warm and spicy perfume. It has a hint of vanilla and just smells so good as the weather cools down! I also like that these perfumes are available in roller ball vials that are perfect for travel or if you don't want to fully commit to the scent.
As I approach my 40th birthday in just a month and a half (eek!) I am getting serious about my skincare. I have been using this cleanser for just 3 weeks now and I already and seeing some serious results! My skin has gotten smoother and small surface congestion has been completely eliminated! I love the way my skin feels so clean afterwards too. You have to try this out!
After using the Dermalogica cleanser I have been following with this repair serum every other night. Totally hydrating and calming, this is a miracle product! It smells of roses and leaves my skin looking brighter and more radiant the next morning. And especially as the weather cools down and my skin starts to dry out, this will be so wonderful to use for hydrating and replenishing that glow!
Even though I take all these precautions with my skin, inevitably I end up with some hormonal breakouts! I recently picked up this acne spot treatment and I have to say it is so effective! It completely dries out any surface breakouts. I have been dabbing it on sparingly overnight on those trouble spots and by morning they are gone! I have never found something this effective, but I shouldn't be surprised. I love all of her products!
Have you tried any new beauty or makeup products that you are loving? Leave me a comment so I can try them too! It's all about sharing the love, right?