Styling A Bar Cart for fall can be easy and a great way to decorate your home for the season. Plus, check out three cozy cocktails to celebrate autumn!
It's no secret that I love a good bar cart styled up for the season. It's one of my favorite places to change out the decor for each season and holiday.
Bar carts are a great size for adding a small dose of style to your home. And they are both functional and pretty too.
Even if you don't drink alcohol or feel like you require a bar in your home, they make great focal points and can be used as side tables, next to the bed or as a console in your entryway. The options are endless!
So, check out this bar cart styling for fall and get inspired to update your bar for the season!
Tips For Styling A Bar Cart

Styling your bar cart can feel a bit overwhelming, but sometimes less is more with the bar. Don't feel like you need to fill up every square inch of the cart.
And it doesn't have to be filled entirely with bottles of alcohol. Think beyond the bar when styling your bar cart.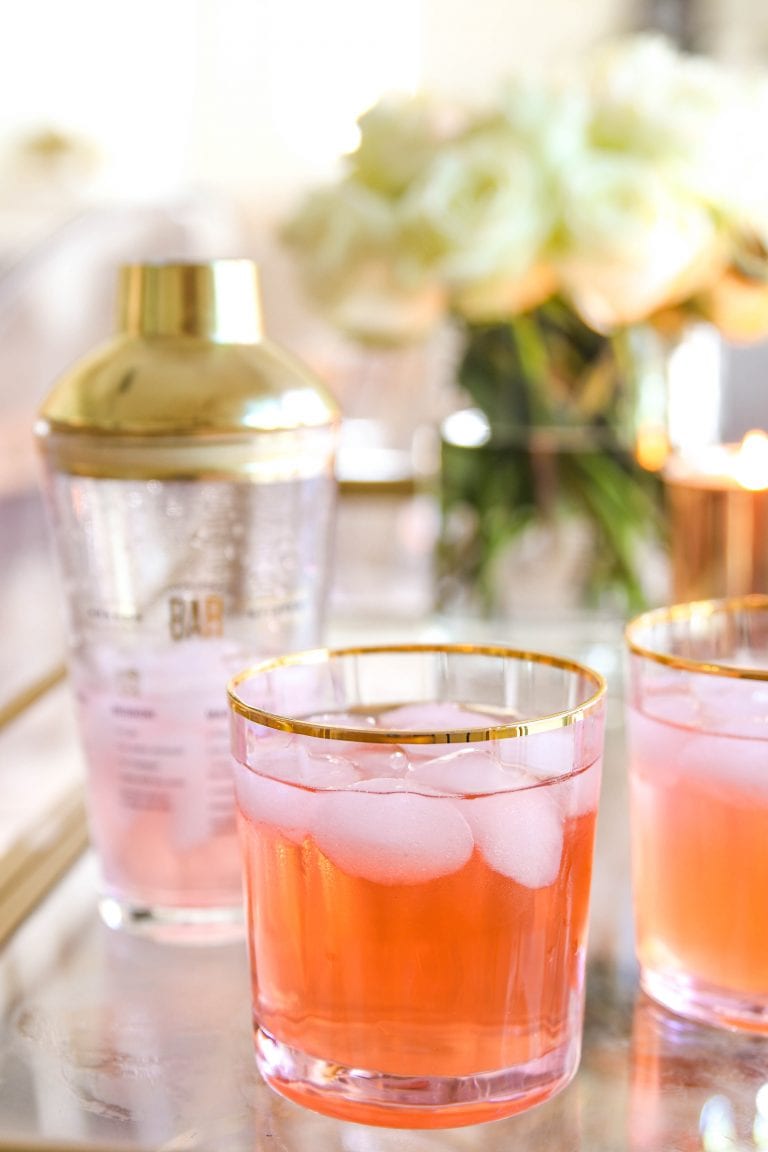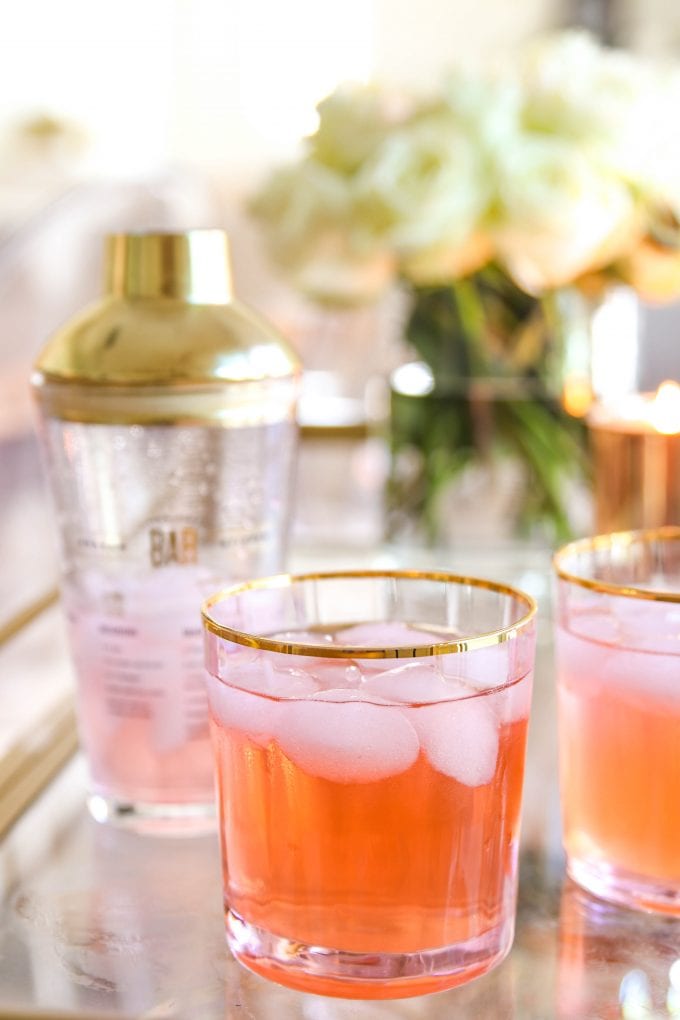 Here are a few tips to get your started styling your bar cart:
Use trays to gather bottles of alcohol together and keep them feeling organized.
Add greenery. Whether it be fresh flowers or fresh greens, this will help your bar cart feel lively and fresh.
Add candles, twinkle lights or both to lighten the look.
Use books to add dimension and interest. Books are great to ground smaller object too.
Don't forget the glassware! Keep your favorite glasses out on display.

Fall Bar Cart Decor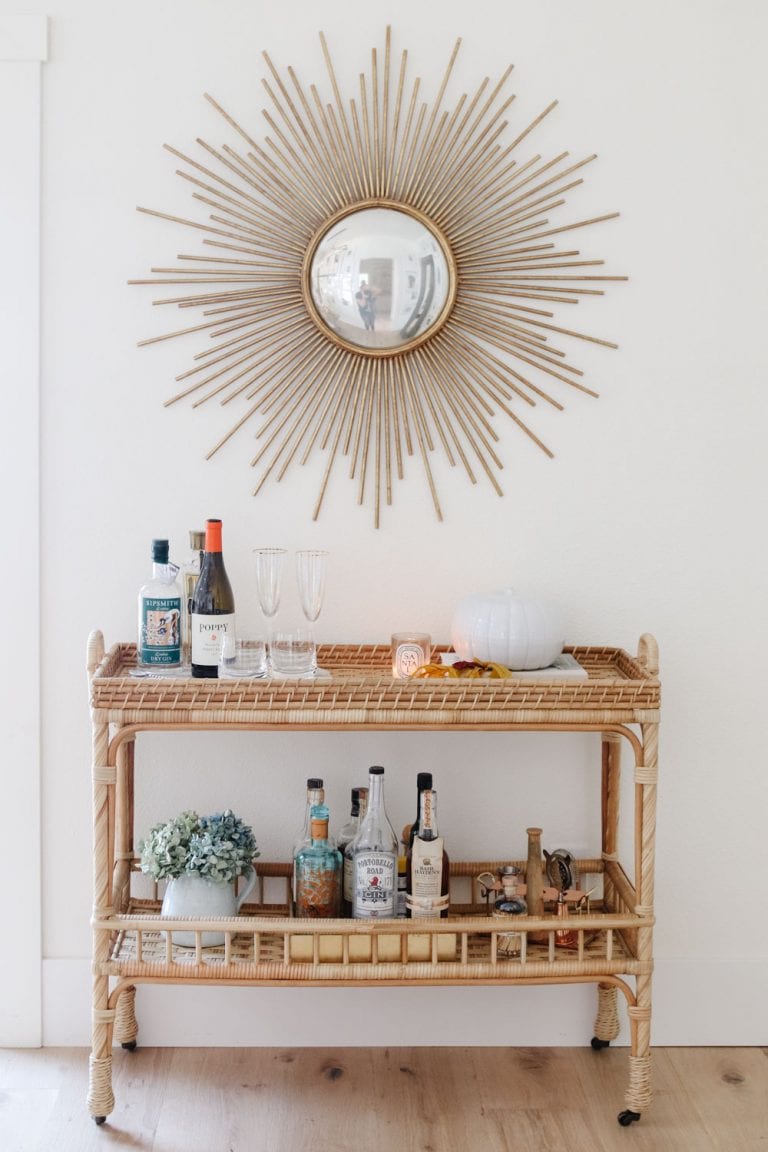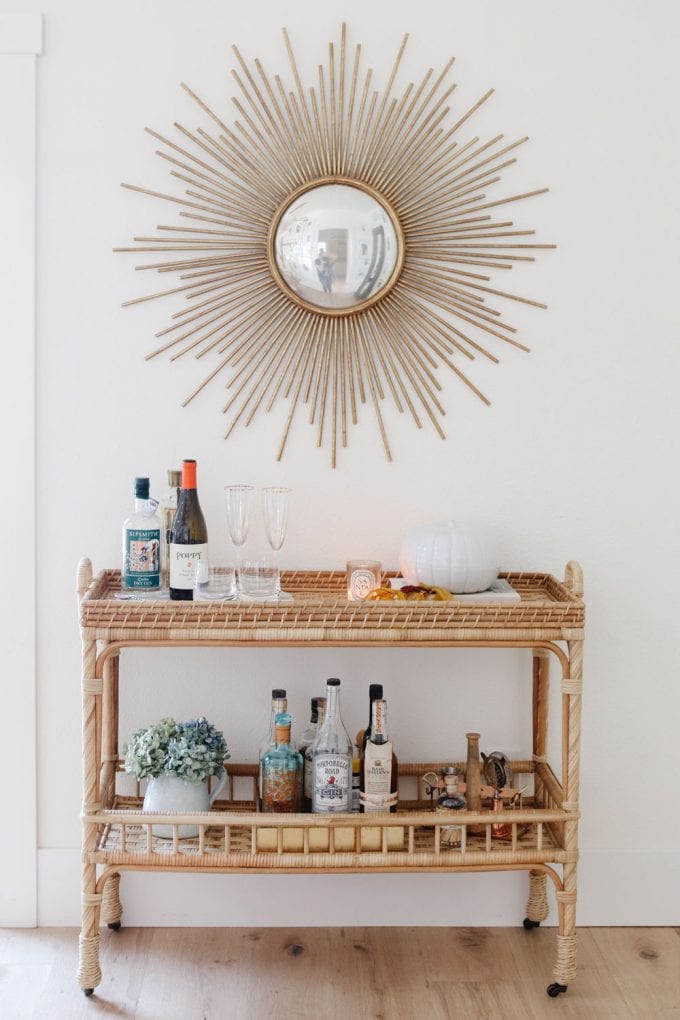 Now that we have covered the basics, let's talk about styling your bar cart for fall!
Of course, pumpkins are a must. You can use one medium sized pumpkin or go with a cluster of those cute little baby boos. Whatever feels right for your space and the look you are going for is what you should do.
I also like to switch up my bar cart in the fall and create a coffee station. Bar carts are great for hot cocoa bars as well! Think outside the box and make the most of your bar cart!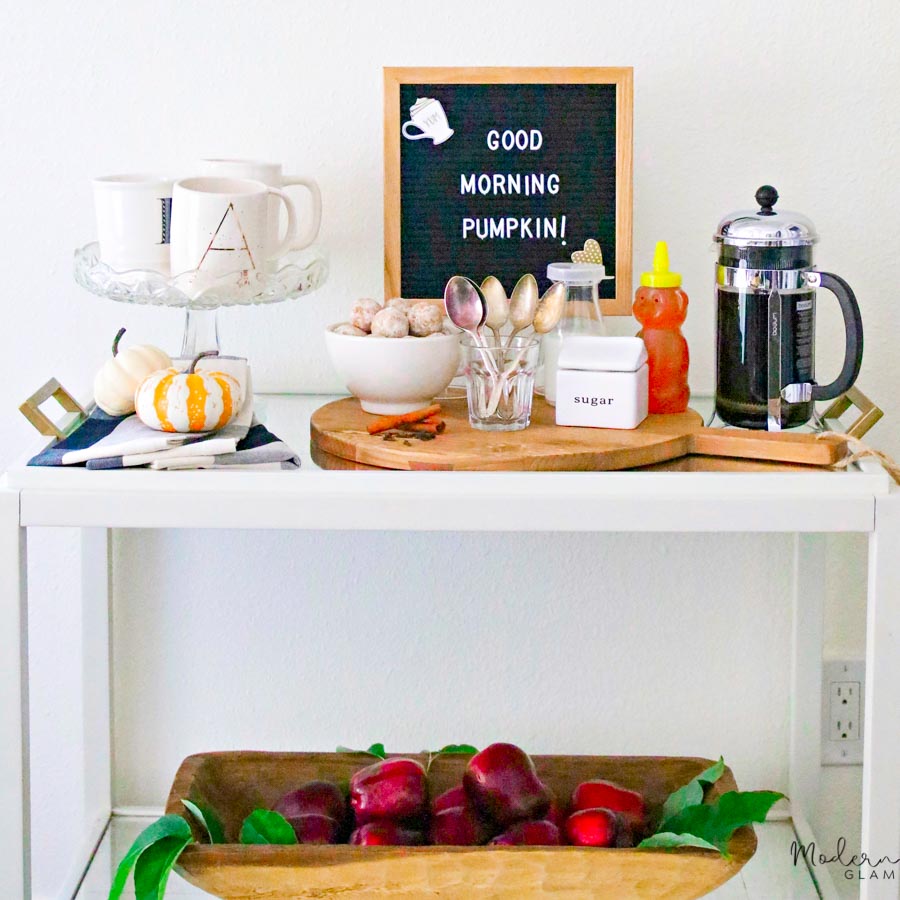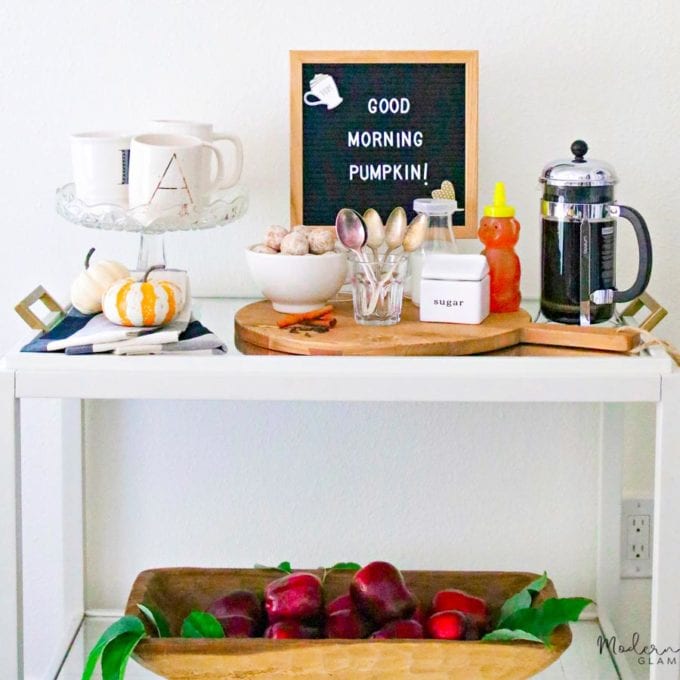 Here, I used the top shelf of my bar cart for all the coffee essentials and filled the bottom with a dough bowl of fresh apples.
This is a great idea for a fall brunch gathering or just to switch up the use of your bar cart.
And nothing is cozier for your fall bar cart than candles or my favorite battery operated twinkle lights. This creates the best ambiance!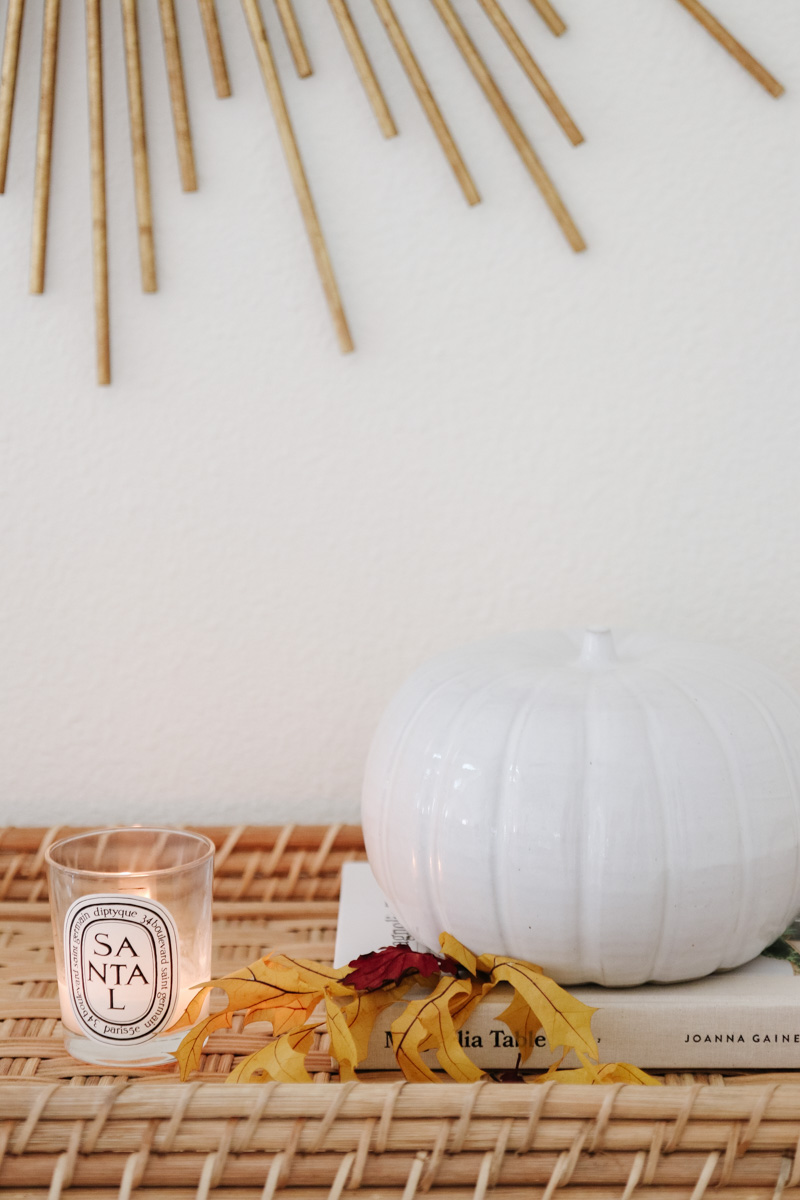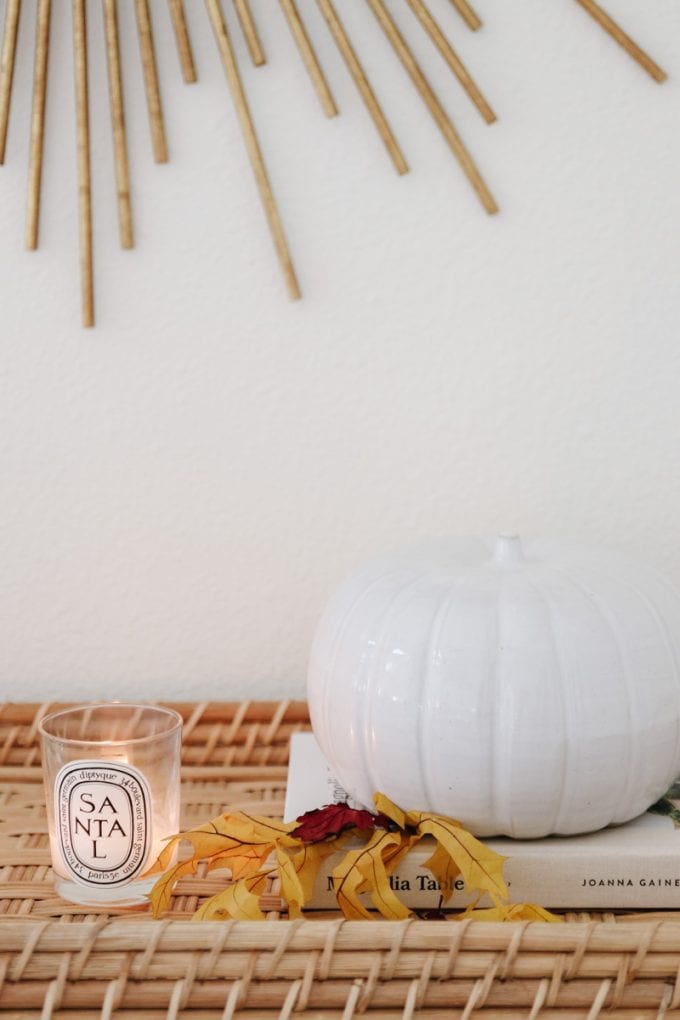 It doesn't take much to style your bar cart for fall. Add a few seasonal elements to make your home feel festive and cozy for autumn.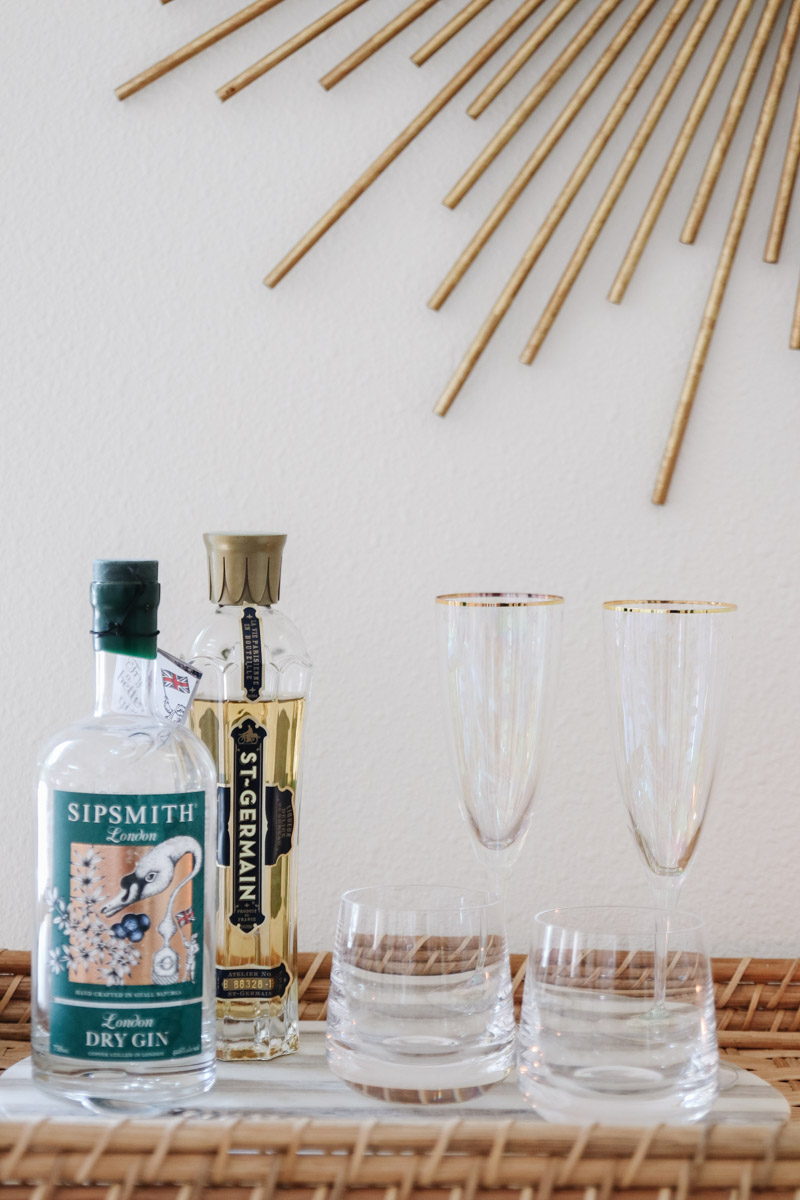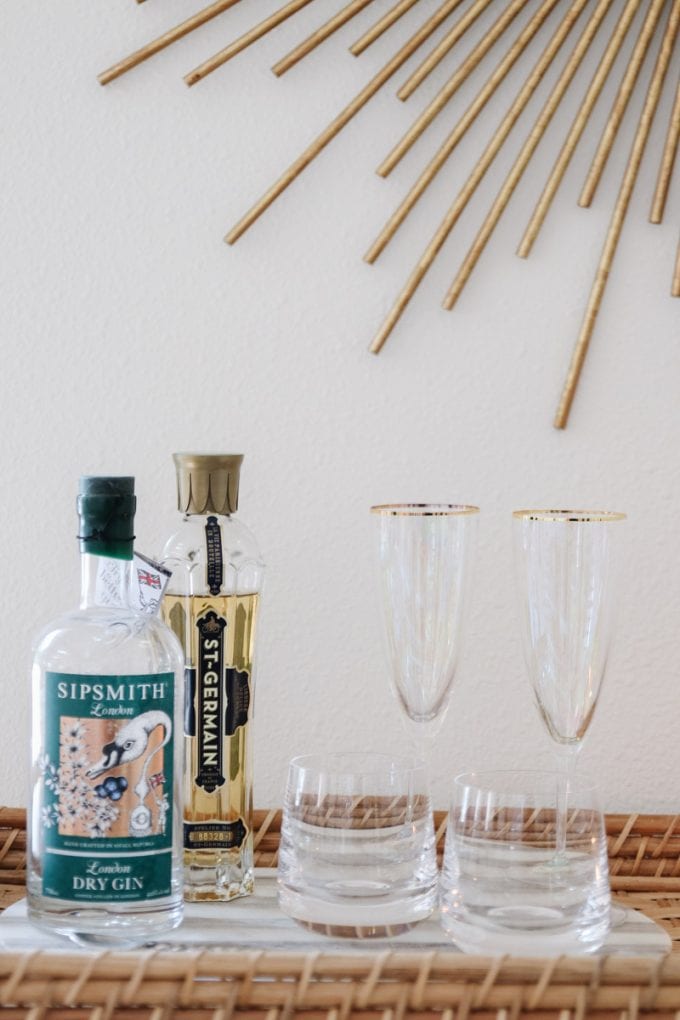 Now, here are three of my favorite fall cocktails that are fun and easy to make!
Three Cozy Autumn Cocktails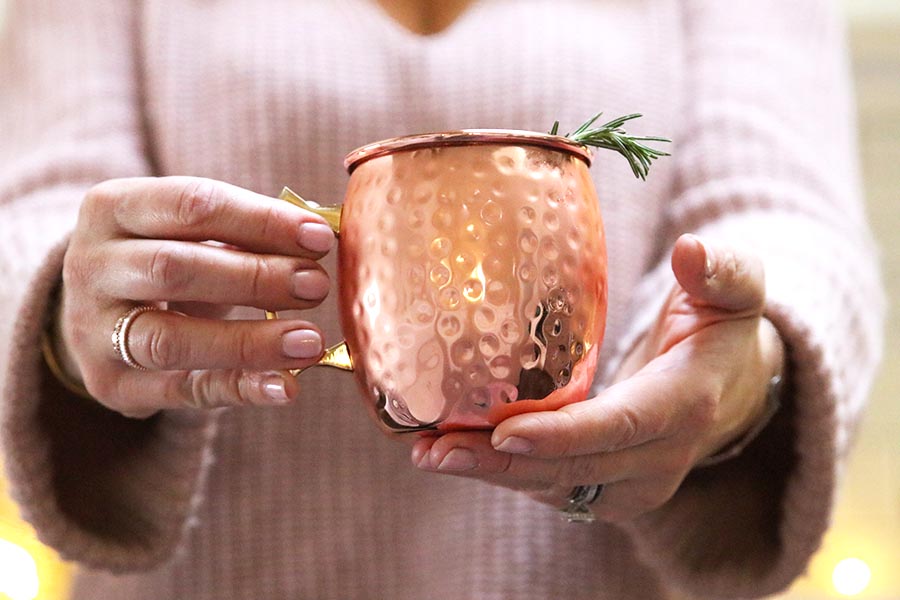 Moscow Mules have to be one of my favorite fall and winter cocktails. The spicy ginger beer served in an ice cold mug is perfect for the season.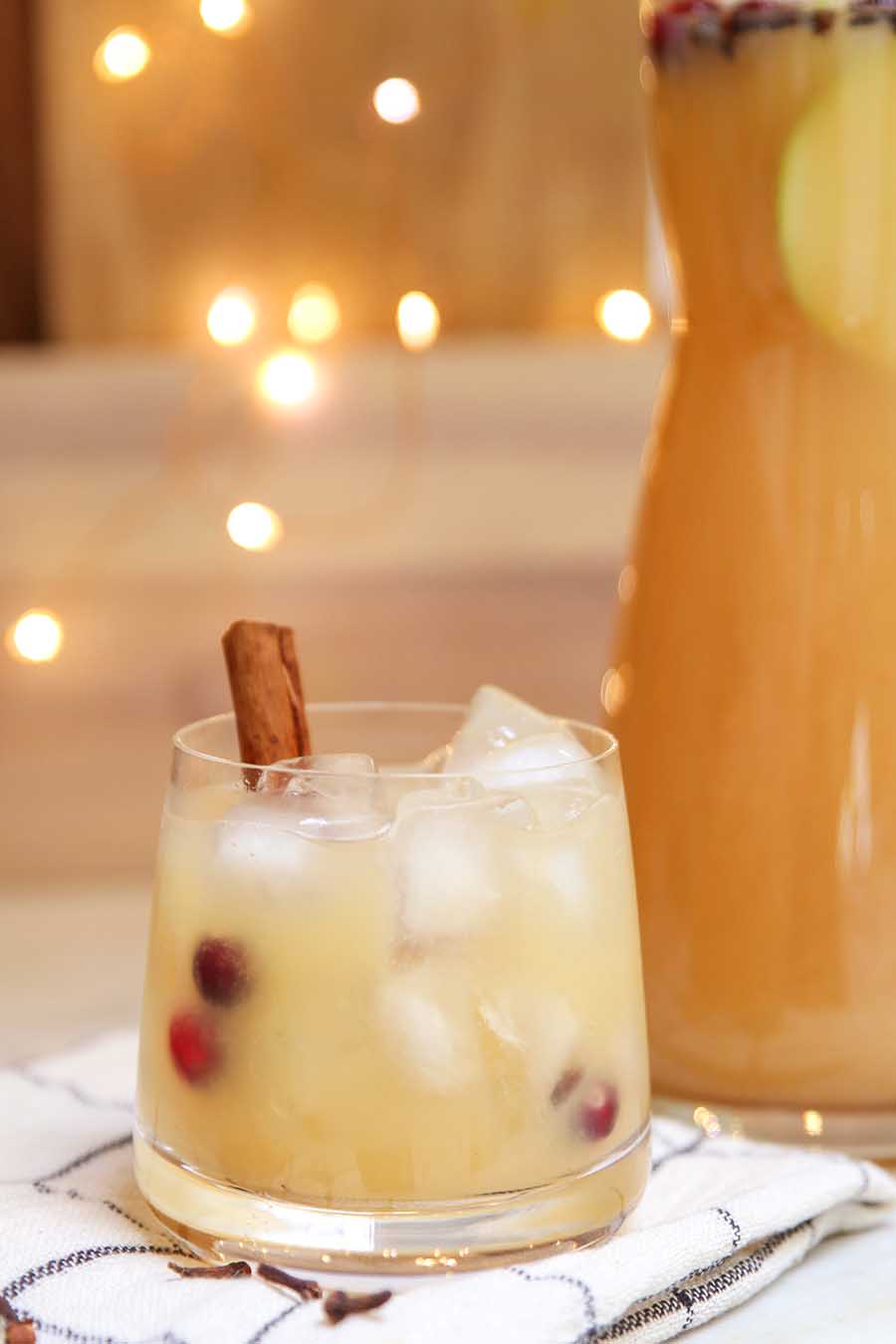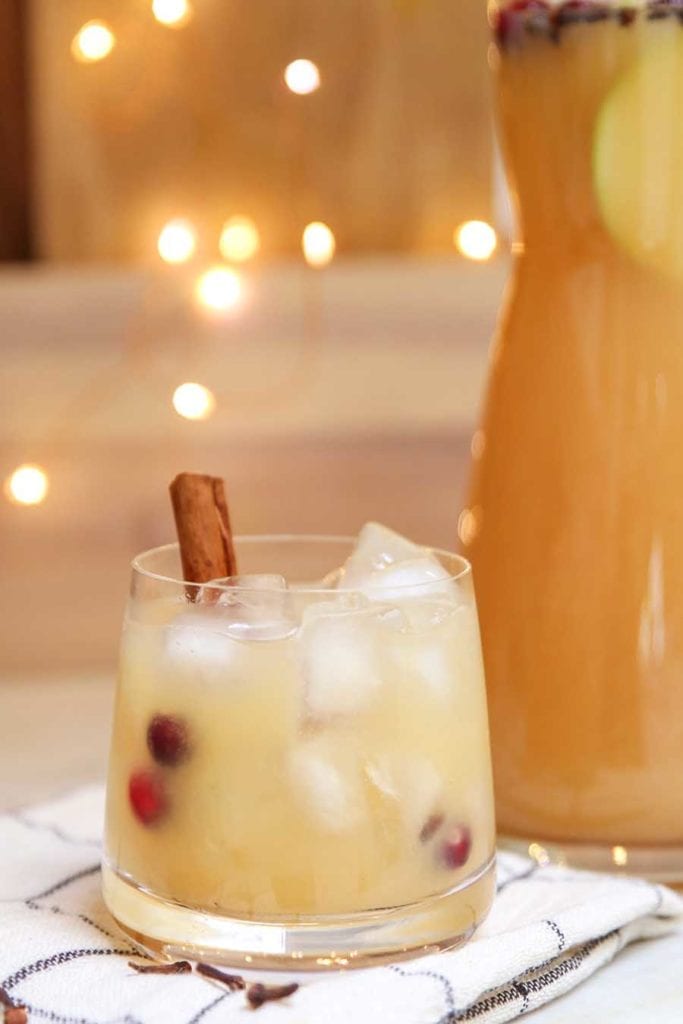 This Spicy Pear Punch is non-alcoholic, but is such a great drink to add a shot of vodka in to create a cozy fall cocktail.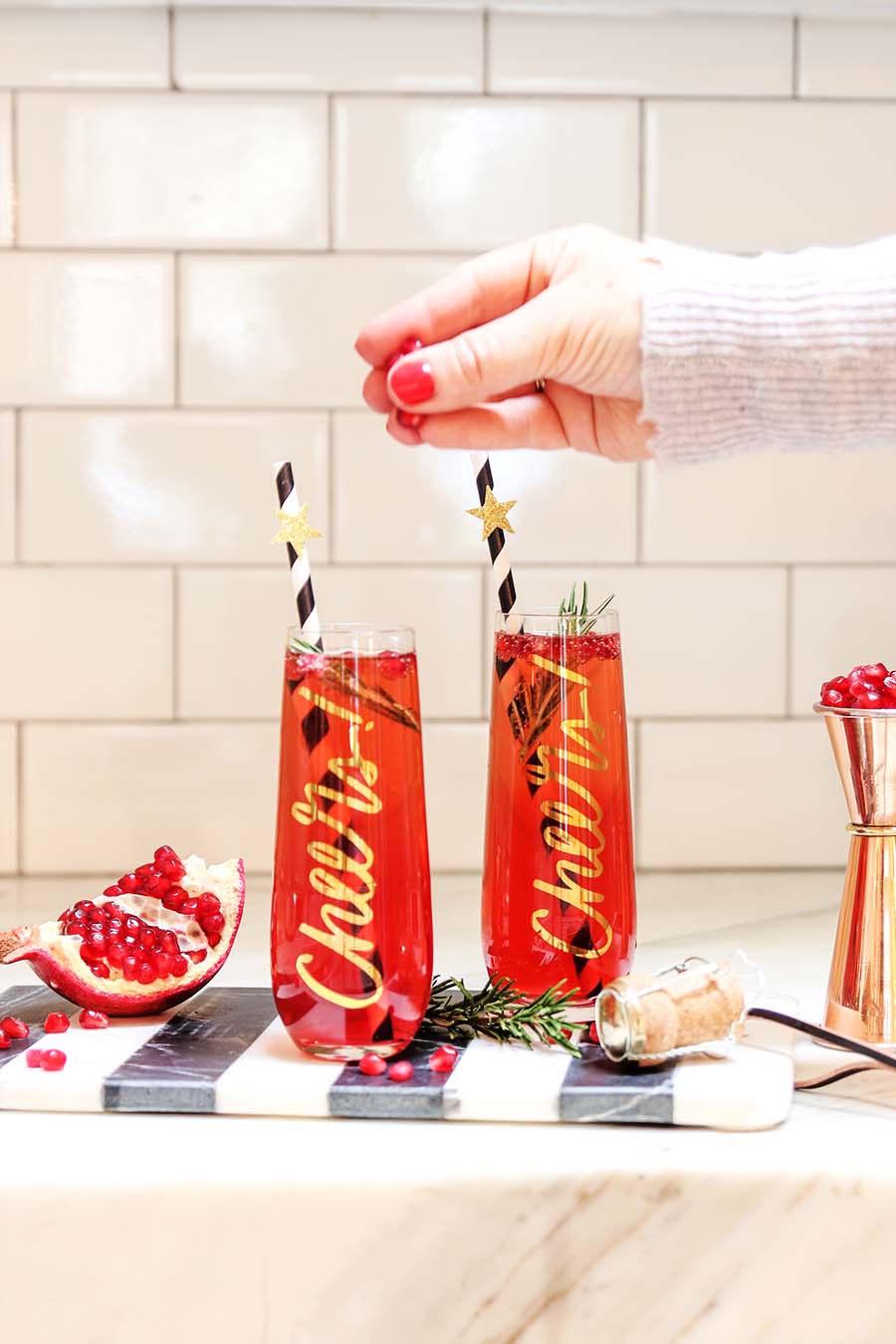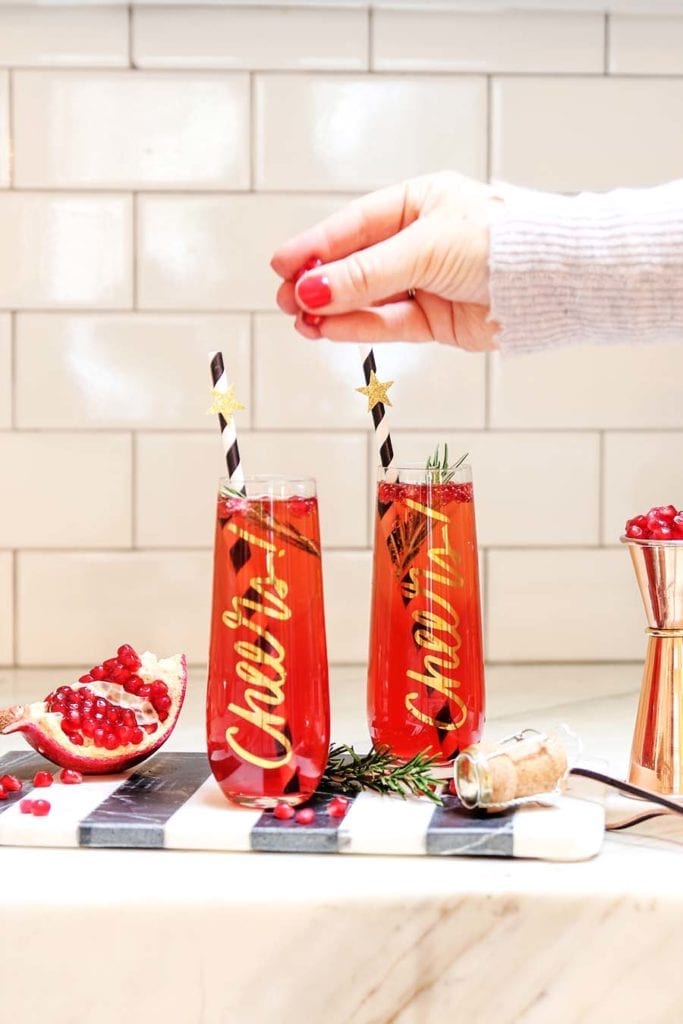 This pomegranate champagne cocktail is a fun way to dress up your classic glass of bubbles.
Cheers!