This sweet Summer Hoop Wreath uses wildflowers to capture the essence of a California summer. A DIY wreath covered in Poppies, Cosmos, Buttercups and more to make you smile.
I love the color of poppies. As the official flower of the state of California, we see a lot of them growing wild around here. Their cheerful color and whimsical petals make them one of my favorite flowers. And I knew I wanted to create a pretty summer hoop wreath with them at the center.
DIY Summer Hoop Wreath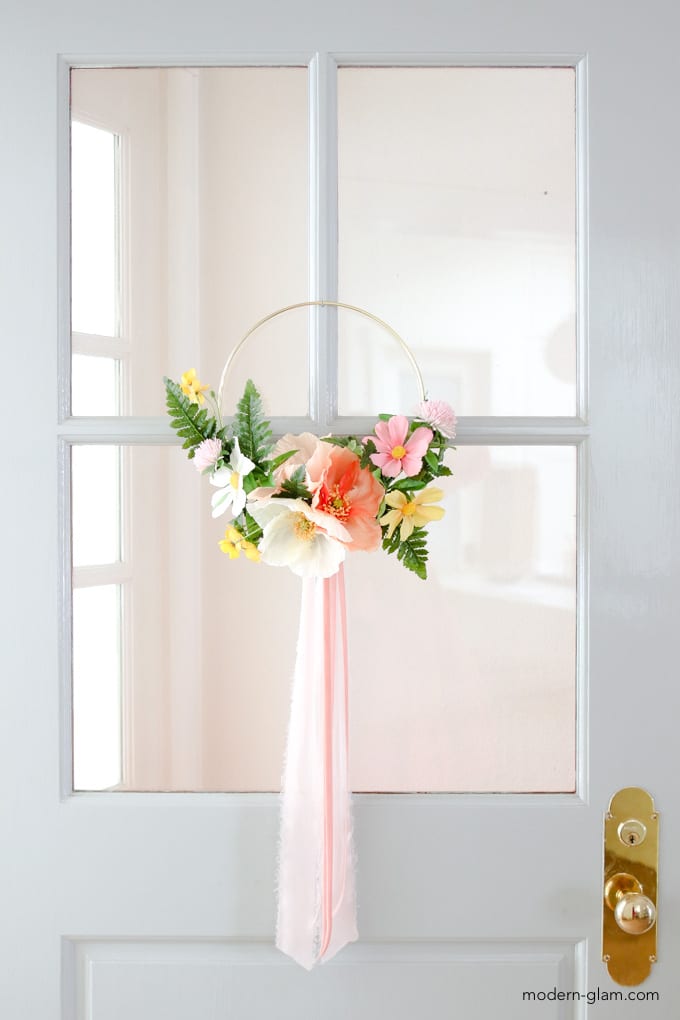 The other day, I was trying to guess how many wreaths I have made over the years. The number is high – probably close to 50 or 60! And this year two of my wreaths are being published in major national publications! Eek! Stay tuned for details on that.
How To Make A Wildflower Wreath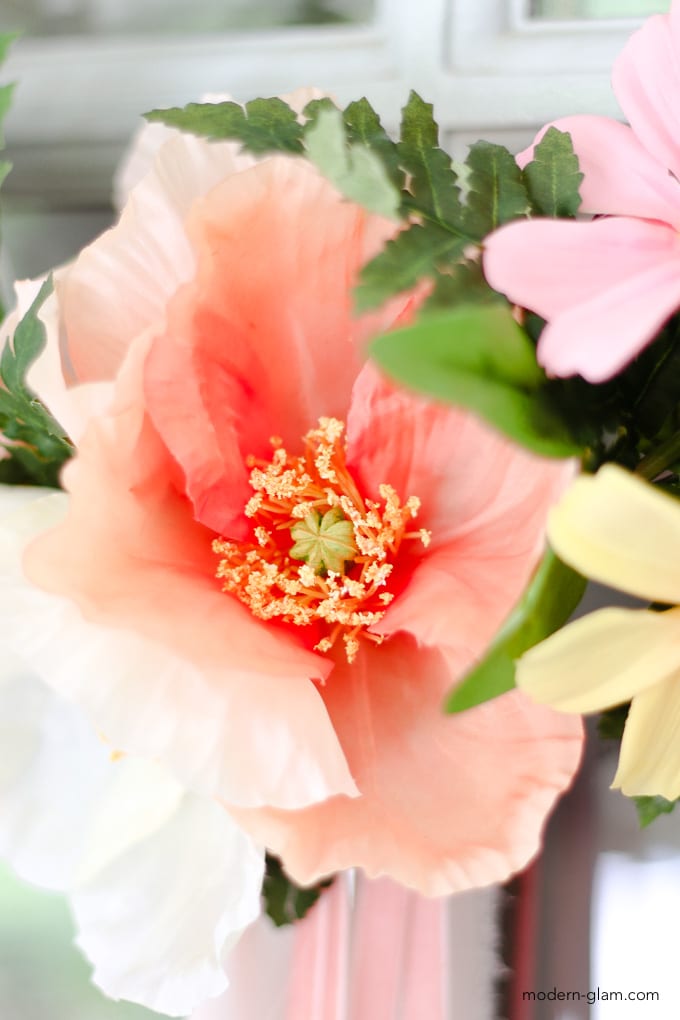 Today, I want to share my latest creation, this sweet summer hoop wreath. I am pretty obsessed! It has all the bright, vivid colors of summer and is whimsical with the wildflowers. I took a time-lapse video sharing how I put it together and I will share a few tips with you as well.
Summer Hoop Wreath Supplies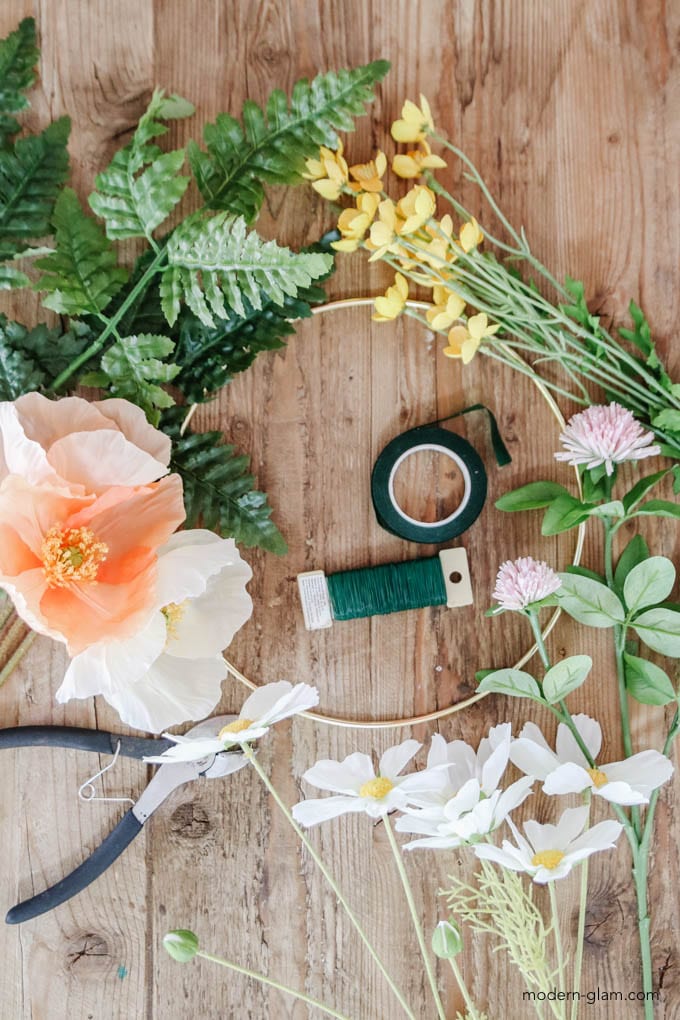 Here is everything you will need to make this DIY summer hoop wreath.
Cosmos
Floral Wire and Tape

How To Assemble Your Wreath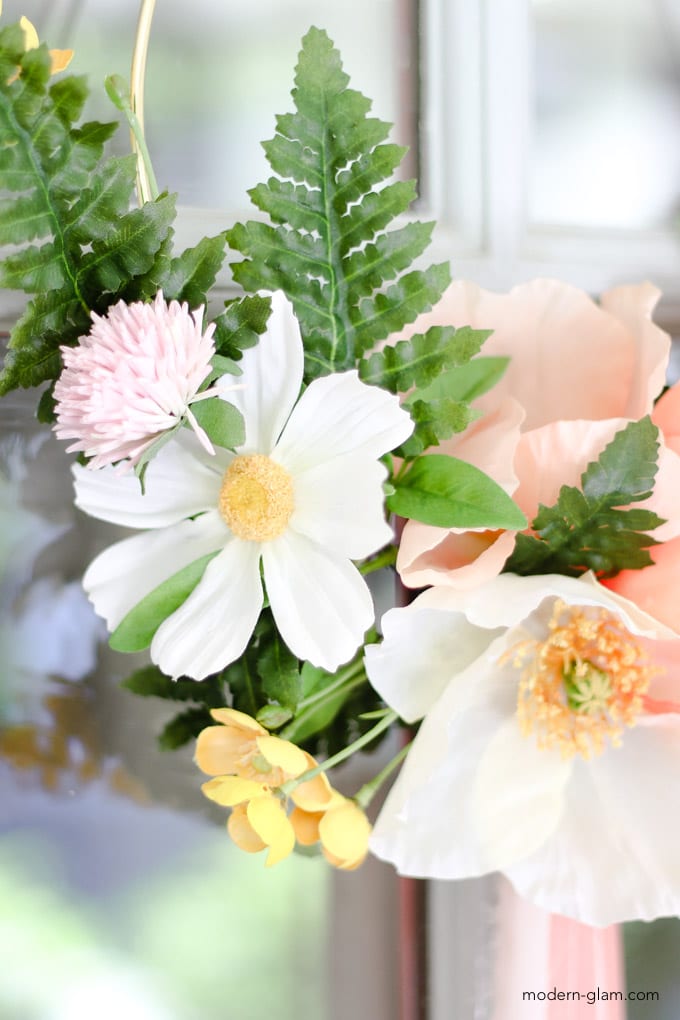 Lay out your hoop wreath and loosely place where you want the flowers to go. I used 3 large poppies in the center and 2 sprigs of fern as the base. Then I added in the other wildflowers.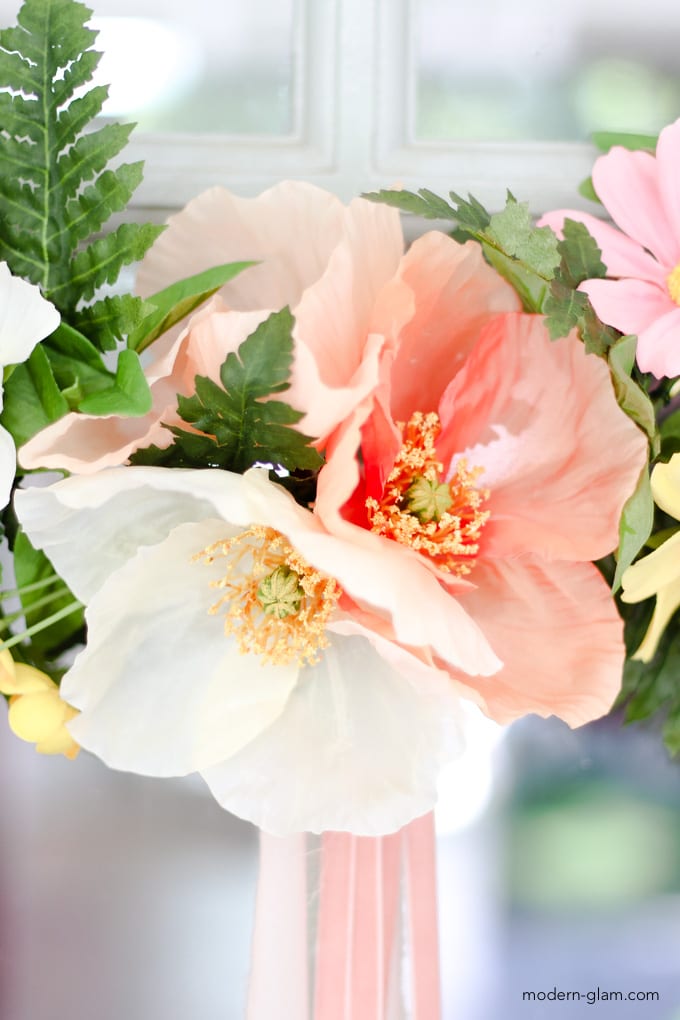 Cut your stems leaving enough length to be able to secure them to the hoop wreath form with floral wire.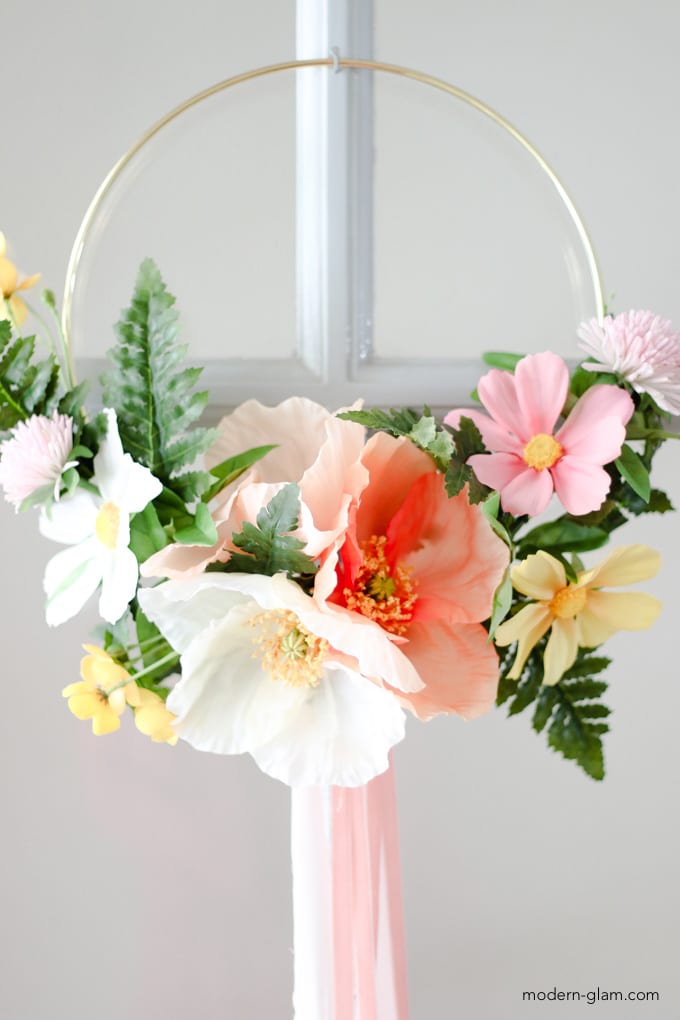 Attach the stems to the hoop wreath, wrapping the floral wire around both the stem and the metal ring. As you add more flowers, you can wrap them with additional wire as well.
Summer Hoop Wreath Video
Check out the time-lapse video I made showing how I assembled my summer hoop wreath. Press play!
To finish off this summer wreath, I tied some organza and velvet ribbon to the bottom and let it hang loosely. It adds a sweet touch to this wreath, but I think it looks just as beautiful without it as well!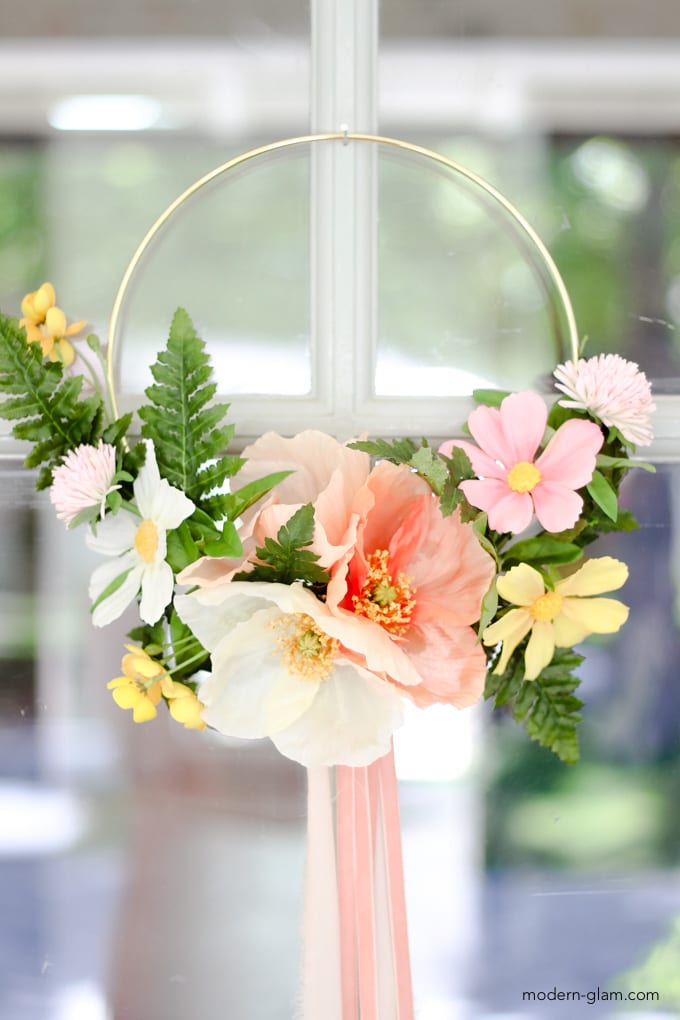 How To Secure Flowers To A Hoop Wreath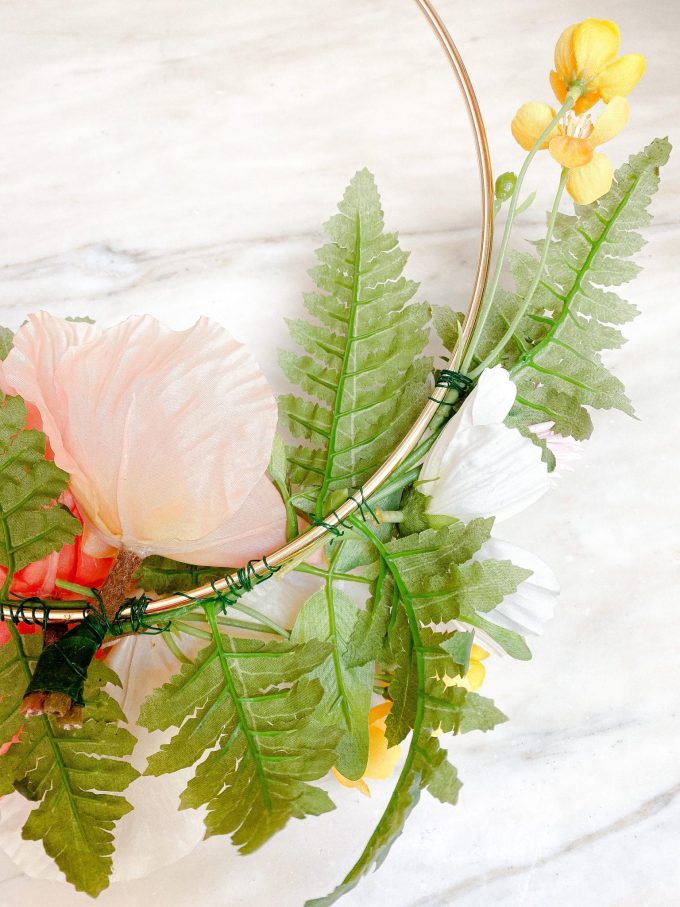 One of the struggles with making a hoop wreath can be getting your flowers to stay in place. Since the ring is round a smooth, when you wrap the flower onto the ring with floral wire, it can just spin around. And when you go to hang up your wreath, everything has a tendency to droop down towards the ground thanks to gravity!
So, here is my tip for securing flowers to a hoop wreath. Once you have finished your wreath and everything is where you would like it to be, it's time to heat up your hot glue gun. Run a bead of hot glue along the back where the wire meets the wreath form. Once the glue dries, it will secure the wire in place and prevent it from moving around!
7 Beautiful Summer Wreaths
My friends are sharing their pretty summer wreath creations today as well! Visit their post to get the full tutorial.

Modern Glam // My 100 Year Old Home // Finding Lovely


Tatertots & Jello // Happy Happy Nester // The Happy Housie // Twelve On Main
More Summer Wreath Ideas
Here are some other fun wreath ideas from the archives. Click the image to visit the post. And leave me comment to let me know what you want my next wreath creation to be!