This Easy Pumpkin Spice Bundt Cake recipe is made with Trader Joe's pumpkin bread mix and a coffee glaze for a delicious Thanksgiving dessert.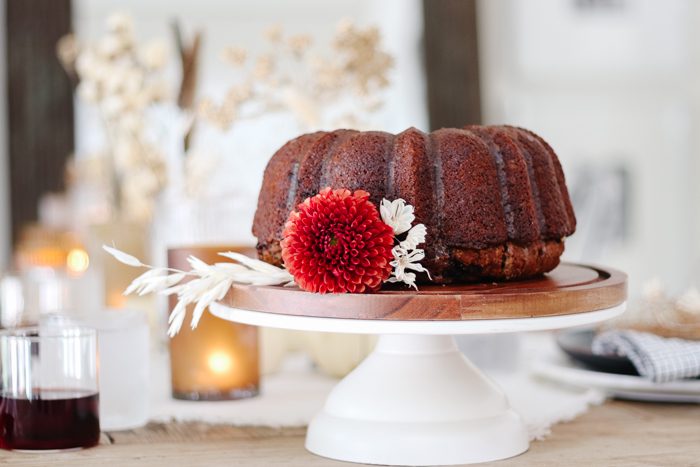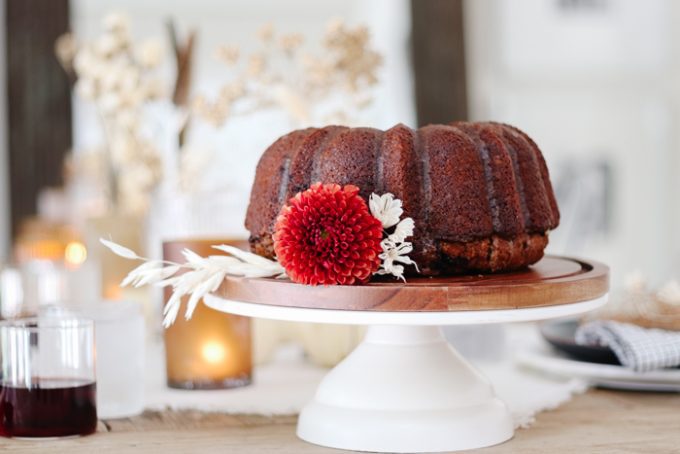 This week is all about sharing entertaining ideas for Thanksgiving. And I am joining my blogging friends who are sharing their creative and unique ideas as well. Be sure to visit their posts (linked below).
Today it is all about our favorite Thanksgiving recipes. And if you missed it, yesterday I shared these DIY Dried Orange Thanksgiving Place Cards from my holiday table.
Tomorrow our full Thanksgiving tables will be shared. I am so excited!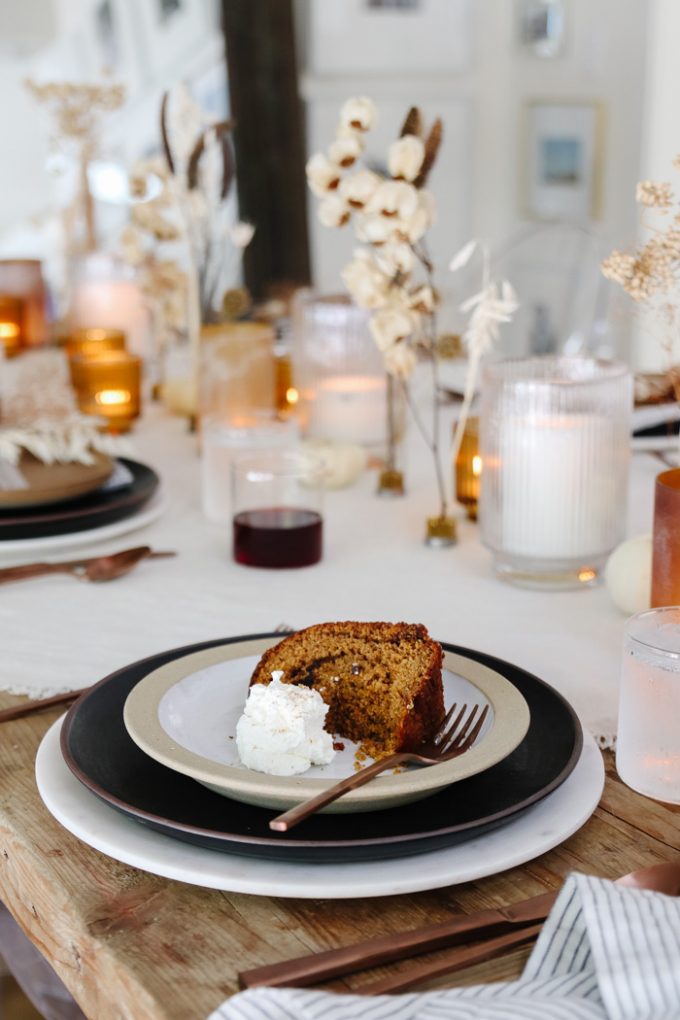 Easy Pumpkin Bundt Cake With Coffee Glaze
Are you a fan of coffee cake and pumpkin bread too? If the answer is yes, this recipe is for you!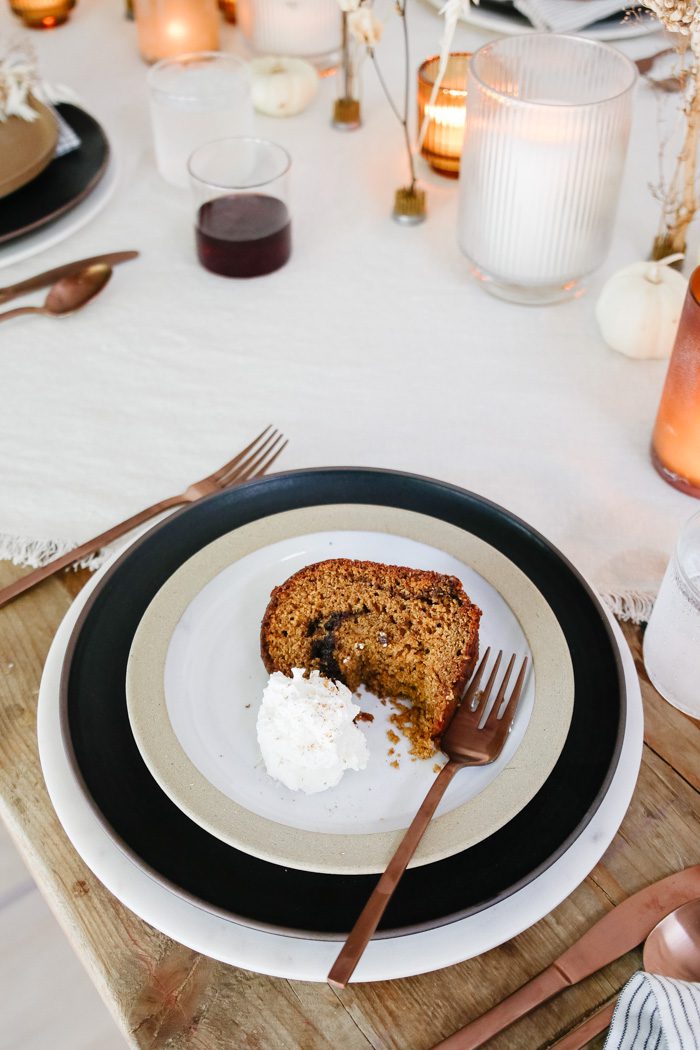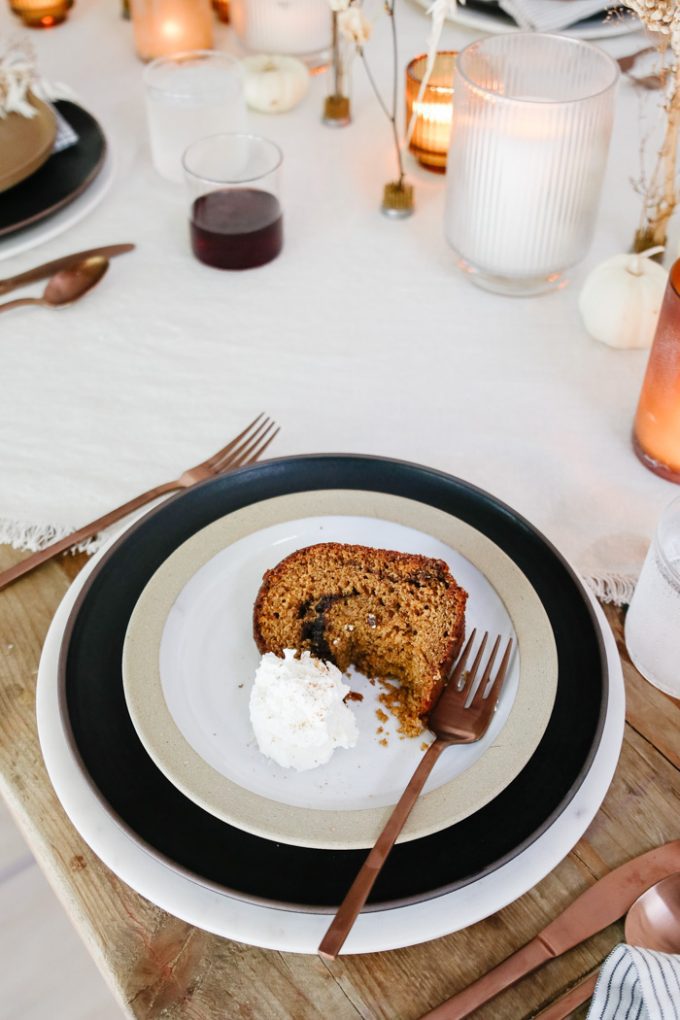 Are you a fan of Trader Joe's pumpkin bread mix? We are a bit obsessed and my kids are constantly asking me to make muffins, bread or really anything with the mix in the fall.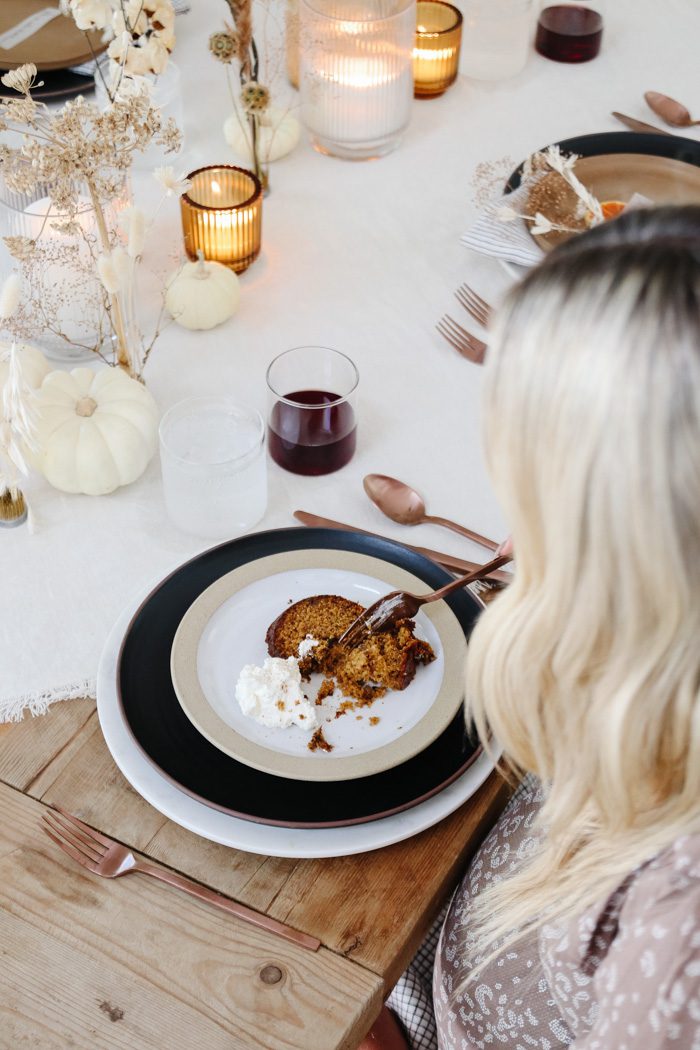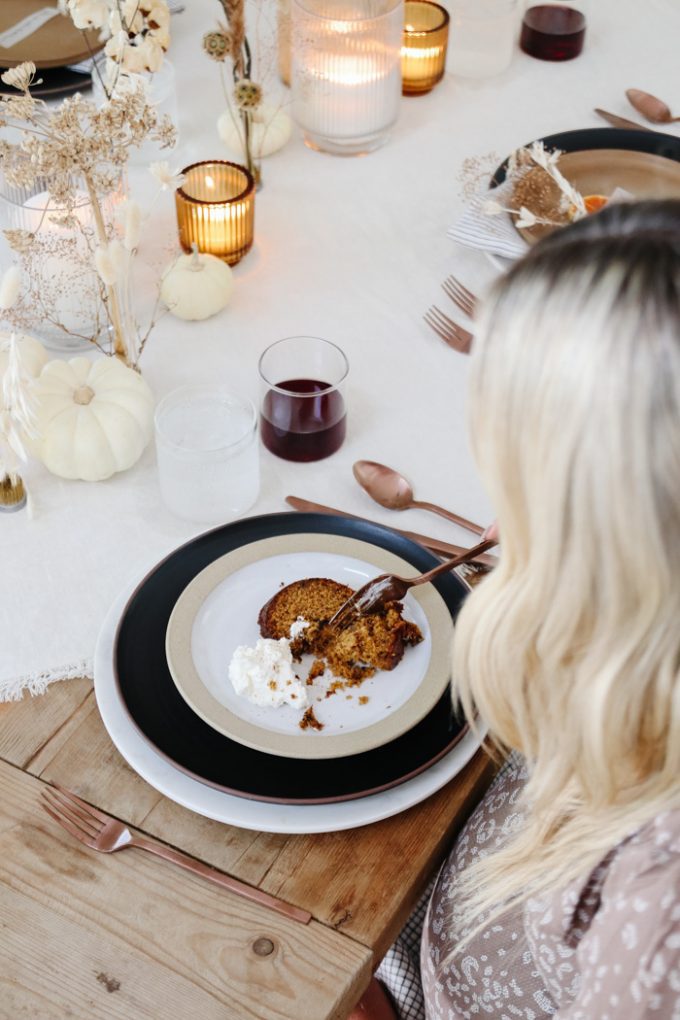 I came up with this recipe using the famed TJ's pumpkin bread mix and let me tell you. It is SO good! The perfect combination of yummy pumpkin bread, mixed with a deliciously spicy, sweet espresso swirl in the middle and then topped with a coffee glaze. Do I have your attention yet? And by using the pumpkin bread mix, you skip all the mixing, measuring and fuss of making a cake from scratch!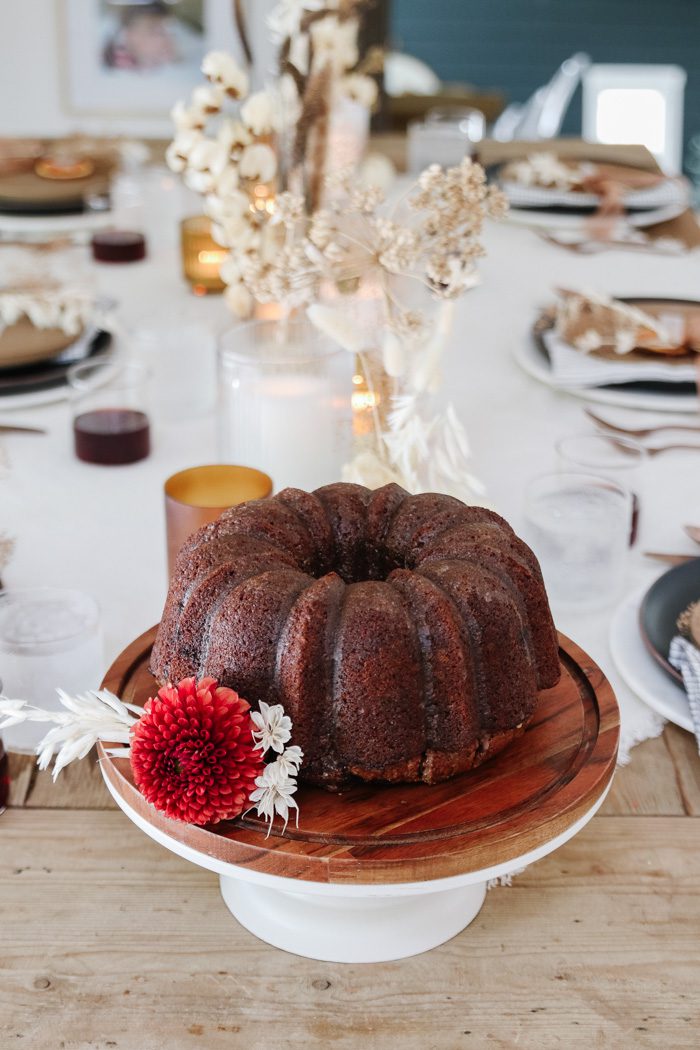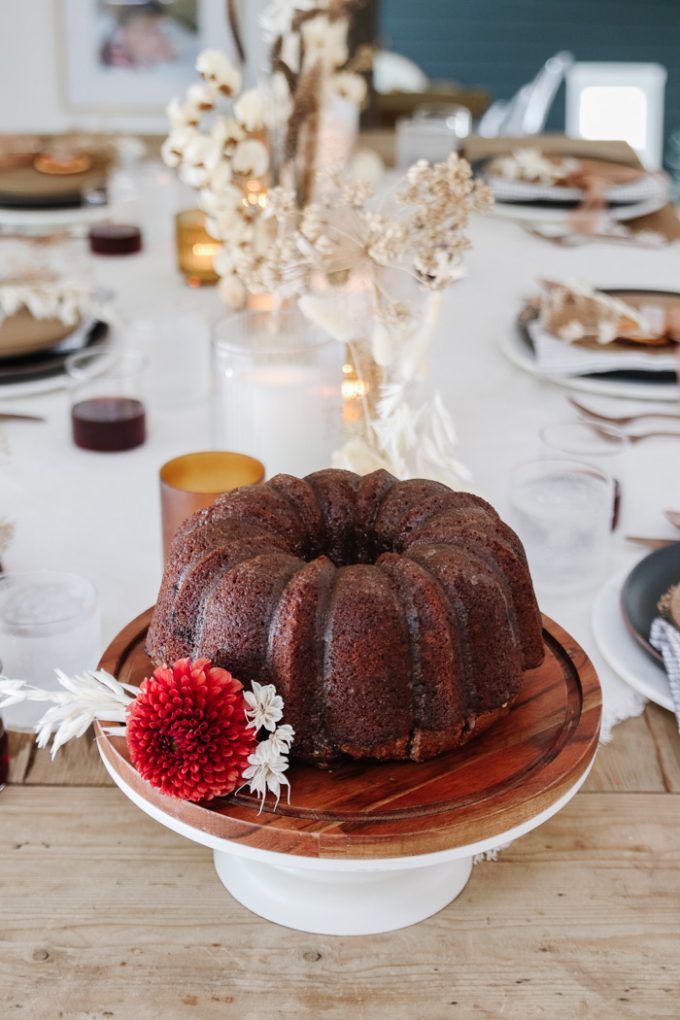 This pumpkin bundt cake has just 4 ingredients and is easy to prep. Give the recipe a try and let me know what you think!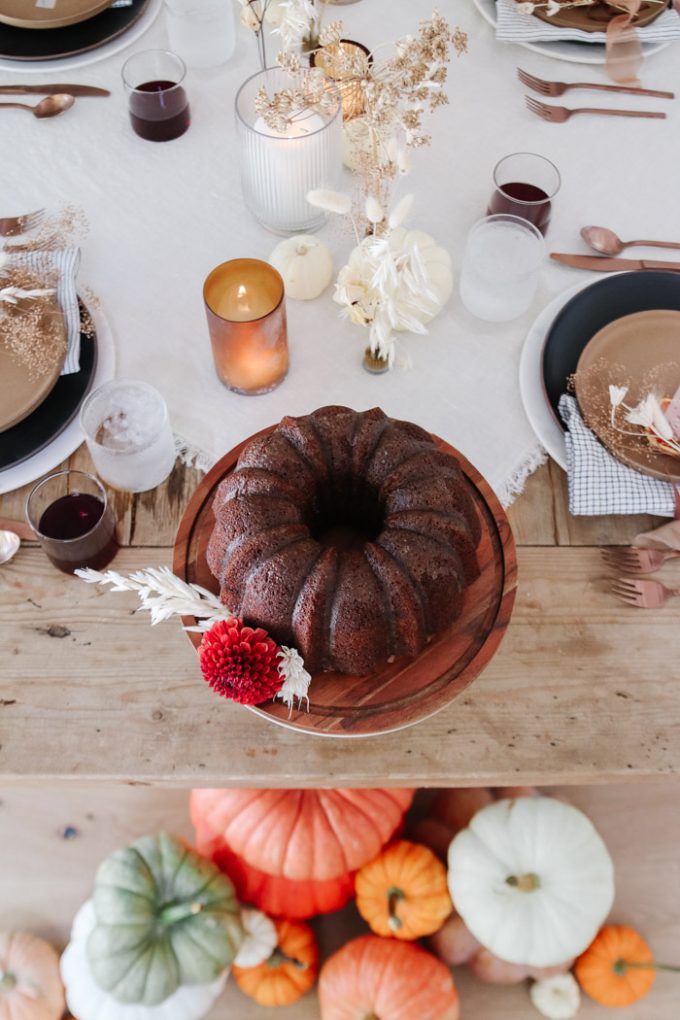 Jump to Recipe
3 Amazing Thanksgiving Recipe Ideas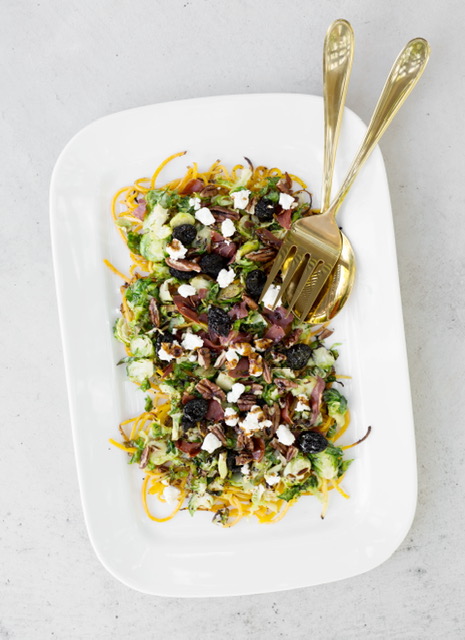 Roasted Brussel Sprout Salad with Maple Balsamic Glaze | To Have + To Host
Lory shares: "One of my most requested recipes for fall and winter is this incredible roasted brussel sprout salad which combines the best seasonal veggies like brussel sprouts and butternut squash with other ingredients for a dish that is satisfying enough for a meal, yet equally qualified for an elegant Thanksgiving side dish."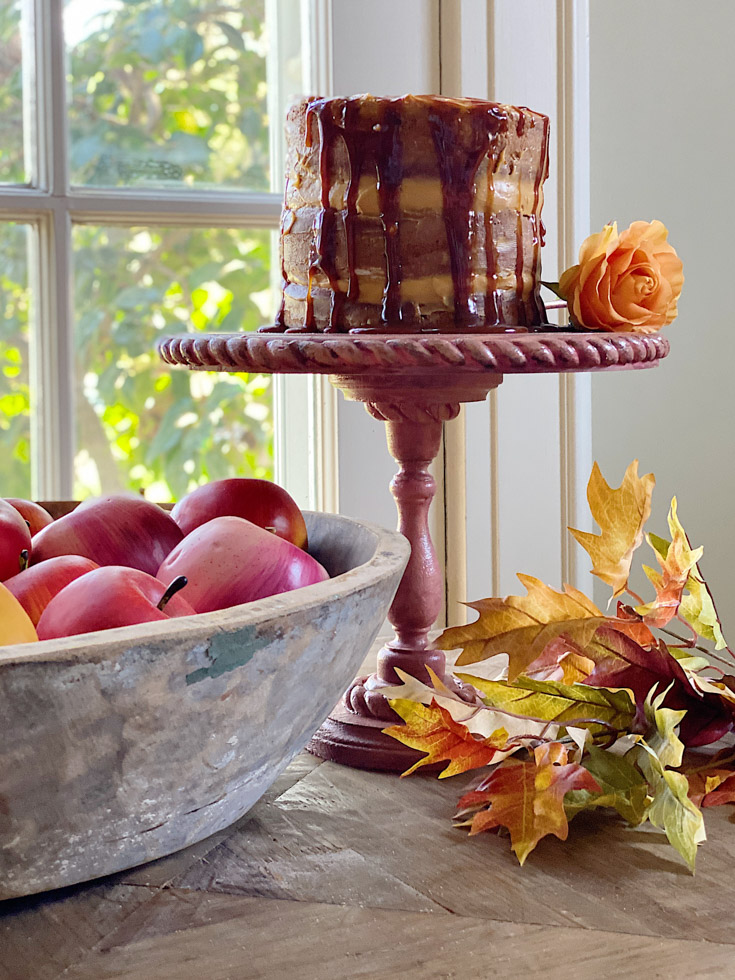 Salted Caramel Apple Thanksgiving Cake | My 100 Year Old Home
Leslie says: "I love creating non-traditional recipes for holidays. This Salted Caramel Apple Thanksgiving Cake is absolutely amazing!"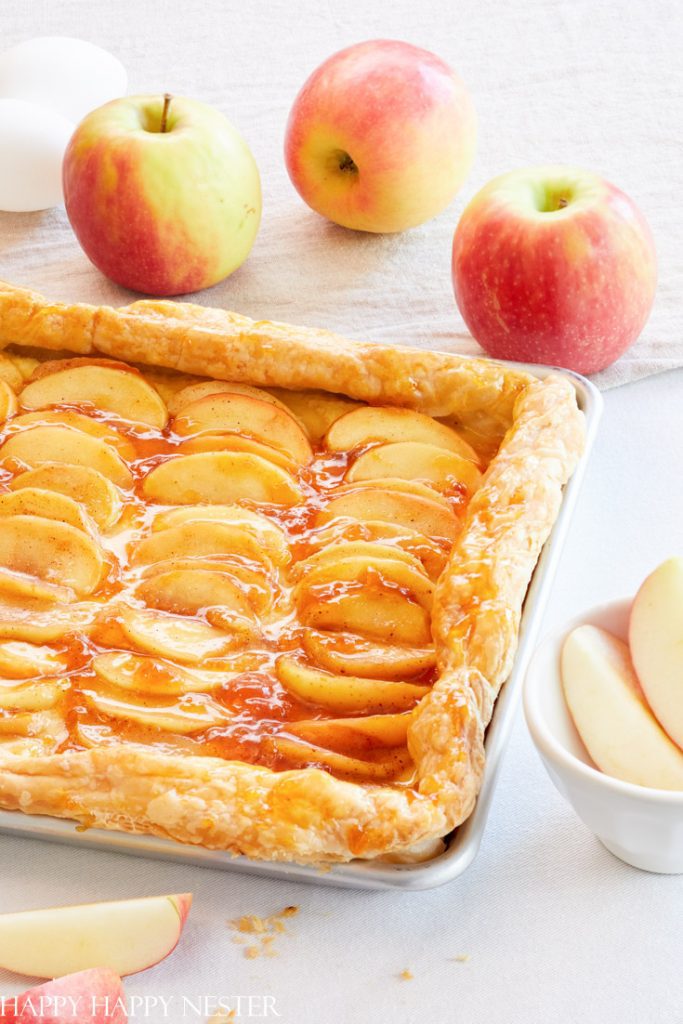 Puff Pastry Fruit Tart with Custard | Happy Happy Nester
From Janine: "While visiting Paris France, we ordered a Puff Pastry Fruit Tart with Custard that was amazing. The custard combined with apples topped with a cinnamon and nutmeg sauce is delicious and is a perfect fall dessert. Here is my version of this French pastry."
Easy Pumpkin Spice Bundt Cake With Coffee Glaze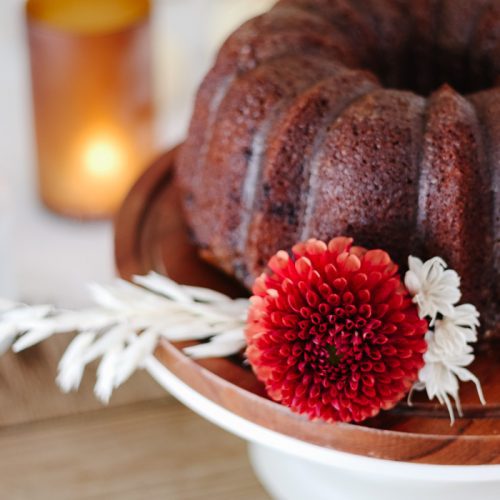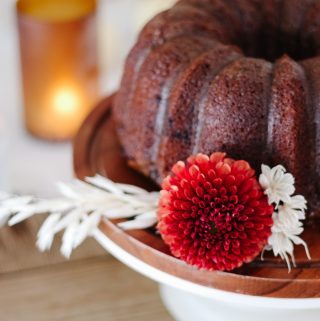 Easy Pumpkin Bundt Cake with Coffee Glaze
Using fan-favorite Trader Joe's Pumpkin Bread Mix, this pumpkin spice cake has an espresso swirl inside and is finished with a coffee glaze for the ultimate fall cake!
Ingredients
2

boxes

Trader Joe's Pumpkin Bread Mix

prepared as directed
Filling
1/2

cup

brown sugar, packed

2

tbsp

espresso powder or instant espresso

1

tsp

pumpkin pie spice

you can also just use cinnamon
Coffee Glaze
1/3

cup

strong brewed coffee

1/3

cup

granulated sugar
Instructions
Filling
Whisk together the brown sugar, espresso powder and spices in a small bowl. Set aside.
To Make The Cake
Prepare the Trader Joe's pumpkin bread mix as directed. I chose to prepare them one box at a time but you can do them together in one bowl as well. Set aside.

Prepare your bundt cake pan. Liberally spray the pan with cooking spray making sure it is completely coated. When the cake has cooled you have to be able to flip it upside down and release from the pan.

Now, pour 1/3 of your prepared cake mix into the bundt pan. Then sprinkle half the espresso filling on top. Fill another 1/3 of the cake mix into pan and repeat with the espresso filling. Finish with the remainder of the cake mix.

Bake at 350F for 50-60 minutes or until a toothpick inserted into the middle comes out clean. Remove from oven and let cool on a wire rack for 15 minutes in the pan. Then turn the cake onto a cooling rack to cool completely.
Make the Glaze
While the cake is baking, mix together the coffee and granulated sugar. If the coffee is hot enough, the sugar will dissolve into the coffee.

Once the cake has cooled, but is still warm, brush the glaze over the cake with a pastry brush. Allow the mixture to soak in before applying more glaze to prevent soggy crumbs.

Once the cake has cooled and is ready to serve, sprinkle with powdered sugar, slice and serve with fresh whipped cream.