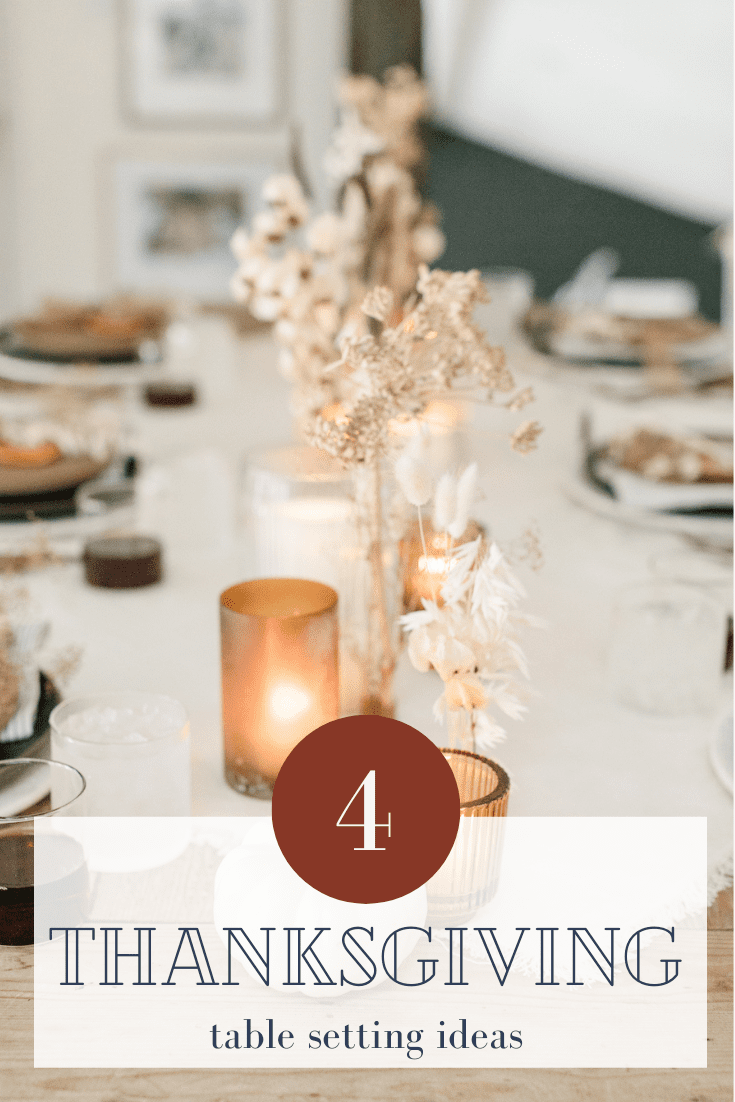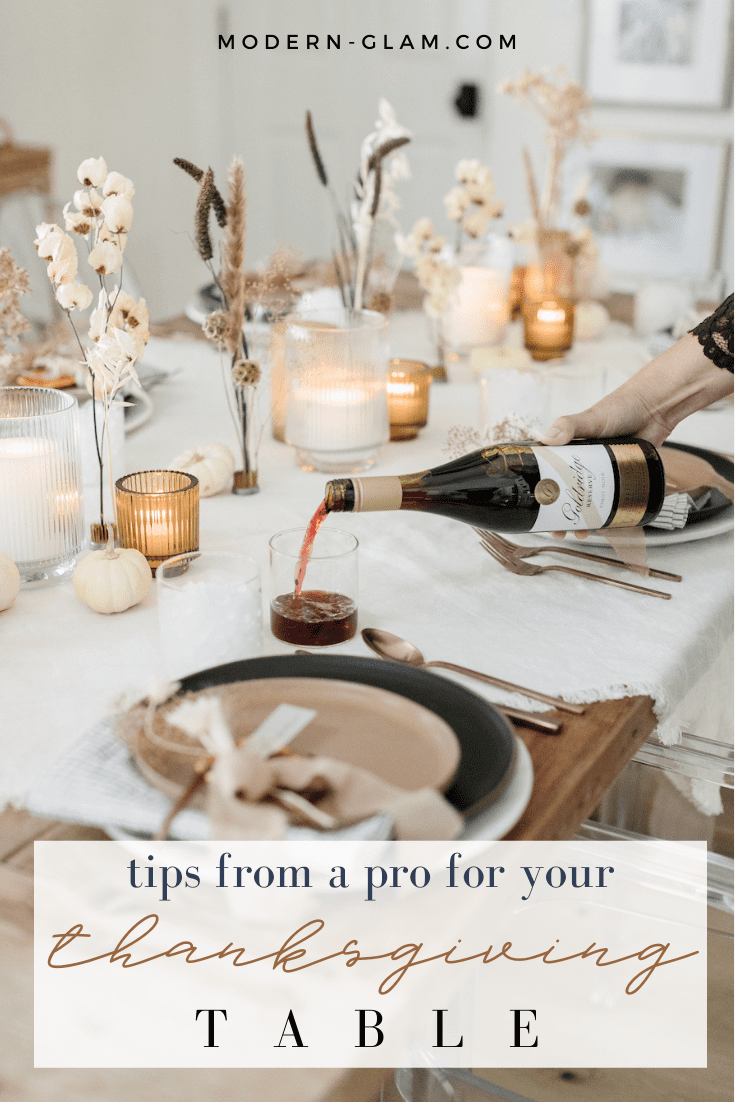 See How To Set A Thanksgiving Table with tips from event planner, Meghan Murray of Parker Grace Events.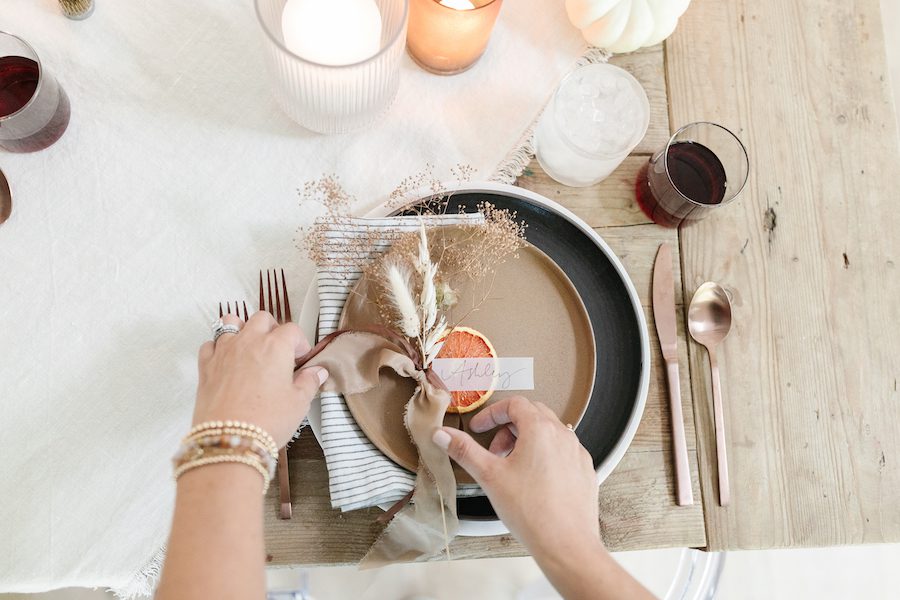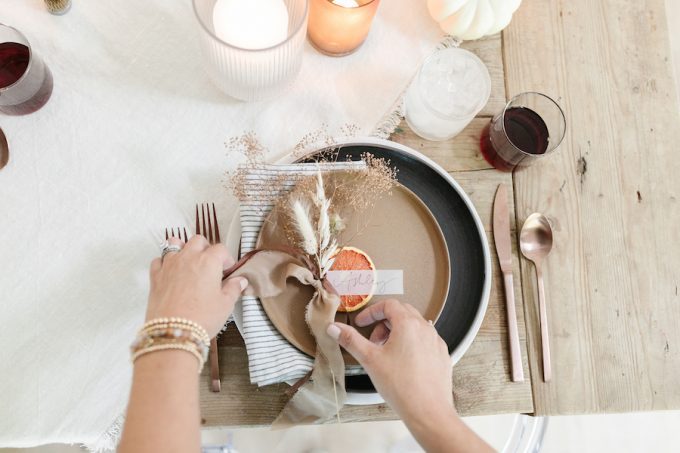 Have you been following along this week and the Thanksgiving series that I have been sharing? Monday I shared how to make these DIY Dried Orange Thanksgiving Place Cards. So simple and such a great personal touch!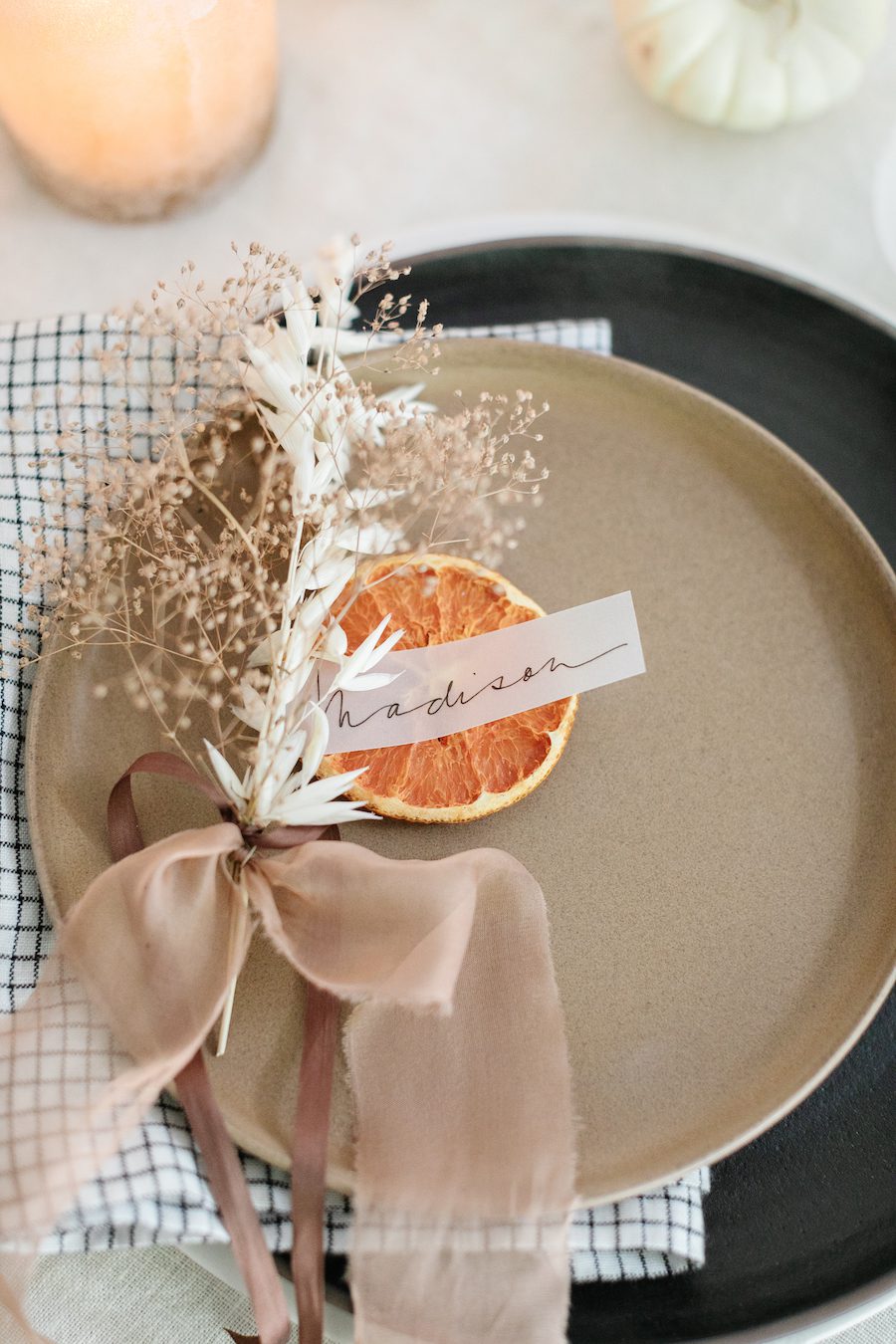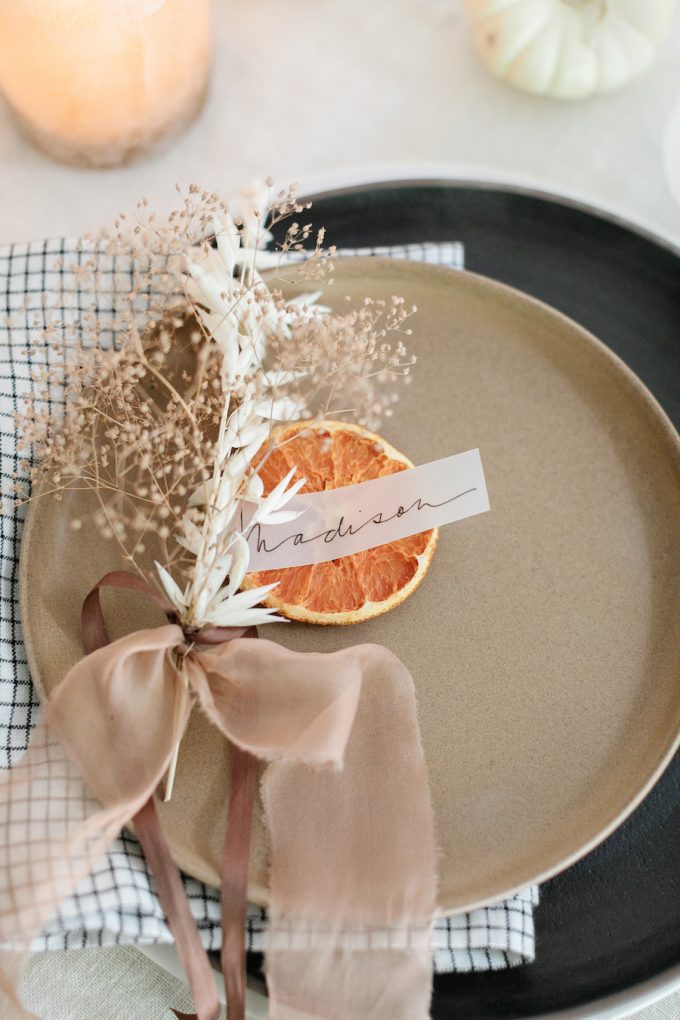 Tuesday I posted this insanely delicious recipe for The Easiest Pumpkin Bundt Cake with Coffee Glaze. Seriously it is so good!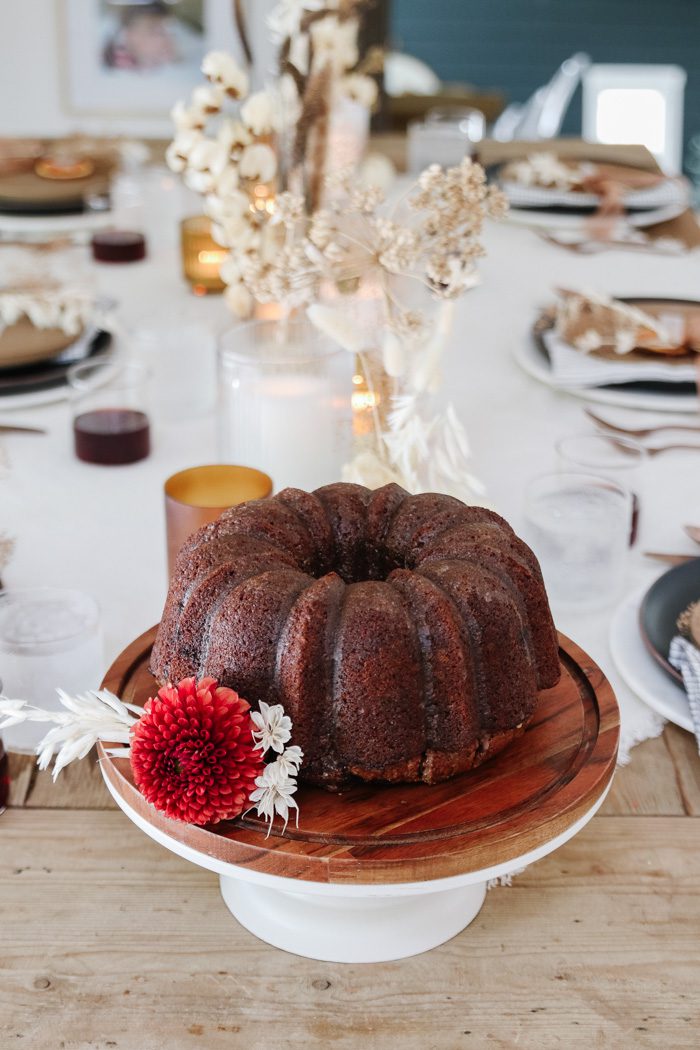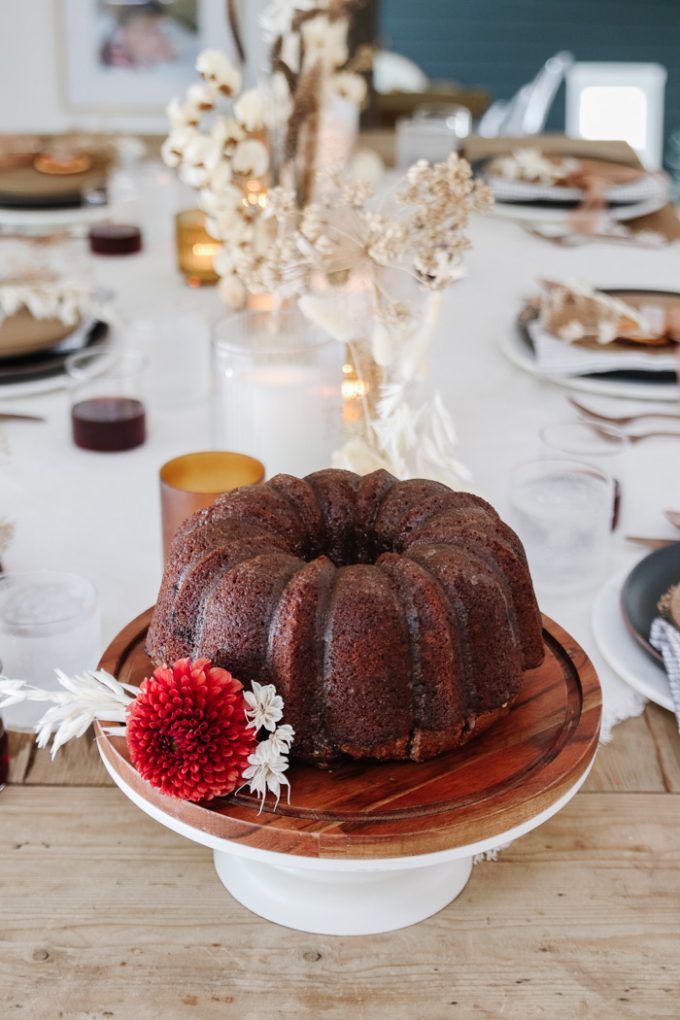 And today, is the big Thanksgiving table reveal! And not only that, but my friend Meghan Murray from Parker Grace Events is sharing her tips for elevating your Thanksgiving table and taking it from from ordinary to extraordinary.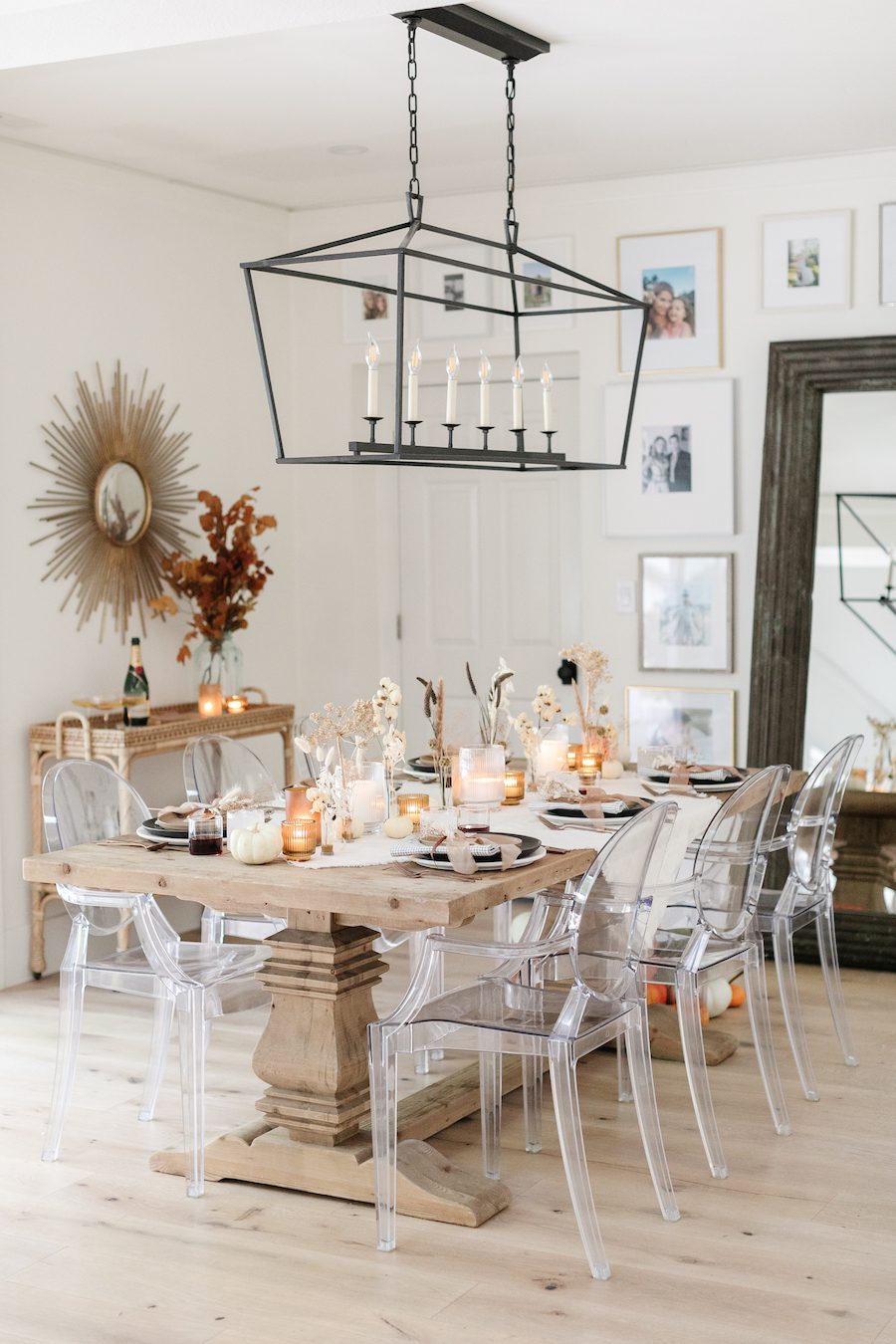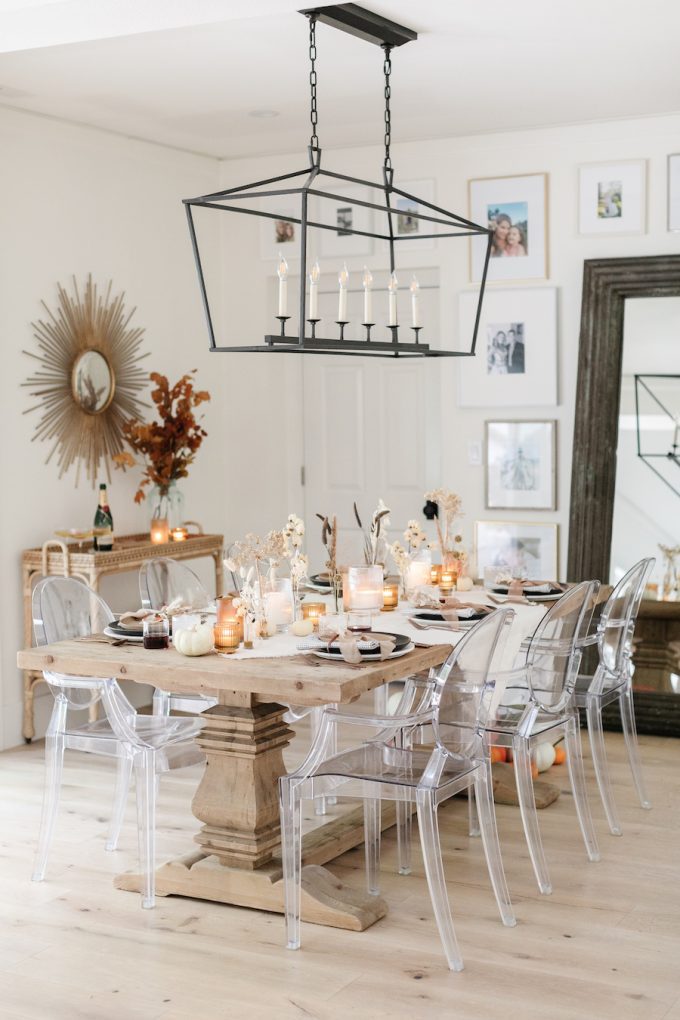 With just a few tweaks, you can make your Thanksgiving table look like it's straight out of a magazine.
How To Set Your Thanksgiving Table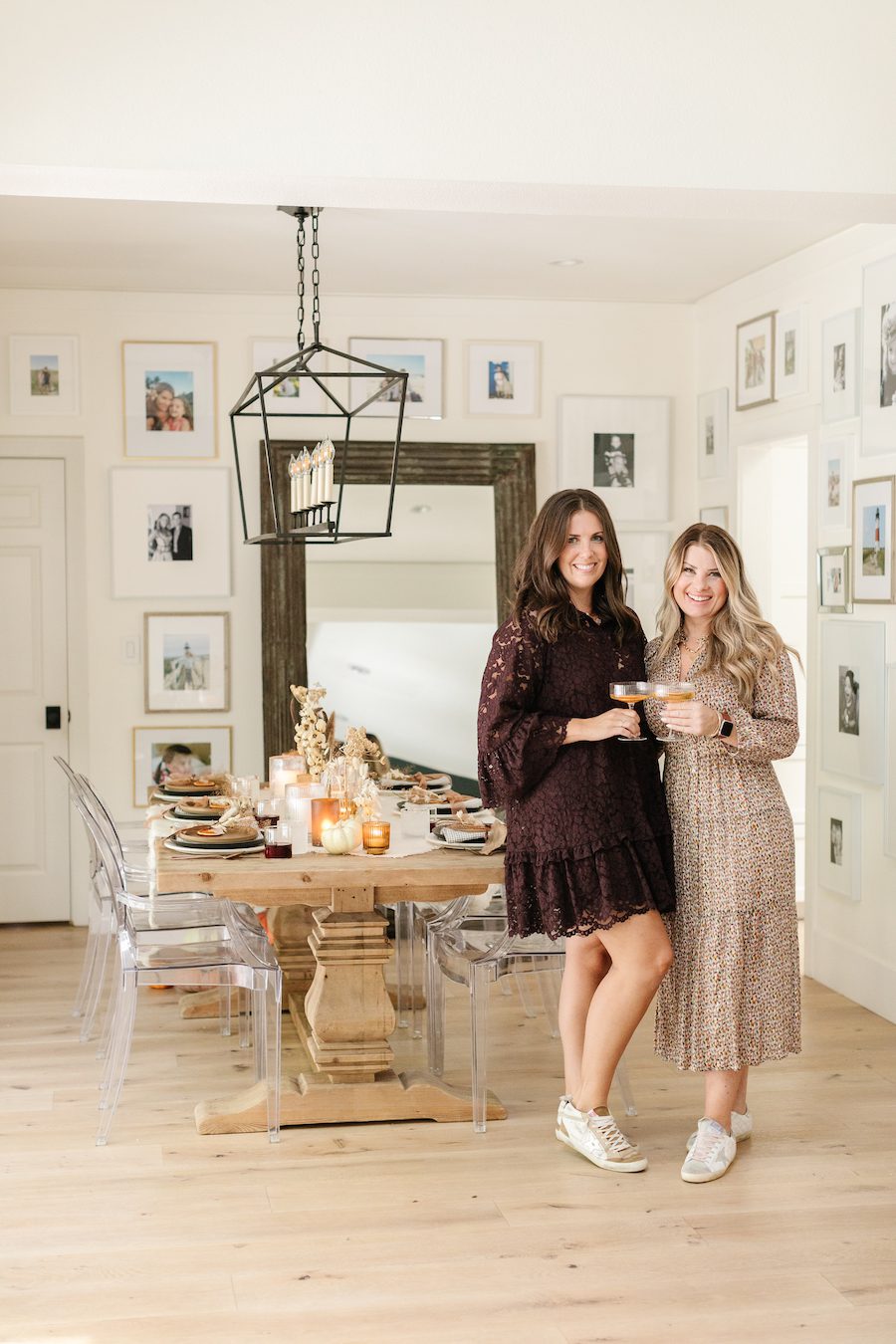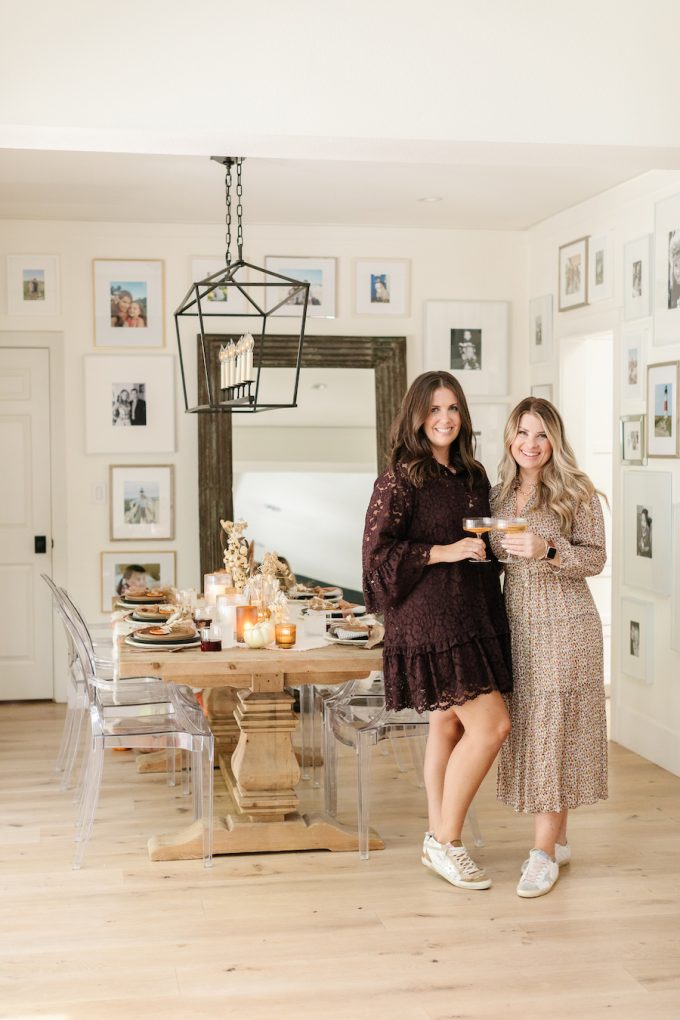 I love meeting creative people. You know, the kind of people that think outside the box and seem to effortlessly come up with ideas that really wow you. Meghan Murray is one of those people. She is the owner of Parker Grace Events and she plans, executes and hosts the most beautiful parties and events. Most of the time when you think of an event planner, you think of a large scale event like a wedding, but Parker Grace does it all. From personalized small, intimate dinner parties to large social events. She believes, "it's all in the details".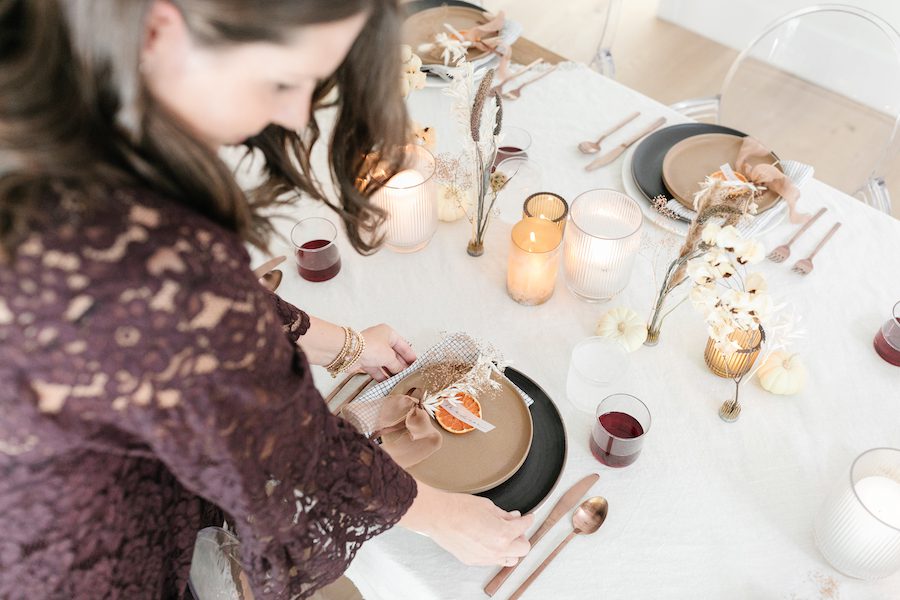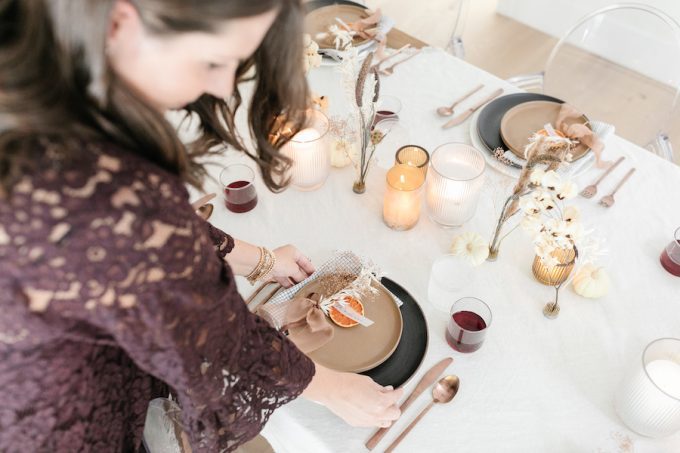 I met Meghan this past year. I'm always drooling over her gorgeous parties and beautiful photo shoots on Instagram. I reached out to her for my Martha.com collaboration and sought her advice to take my Fall Dinner Party Tablescape to the next level. From our conversation, I knew that I definitely wanted to create a Thanksgiving Table and collaborate with her. And I was able to pick her creative brain so I can share some of her tips with you! Because, who doesn't want their Thanksgiving table to look like it came from the pages of a magazine?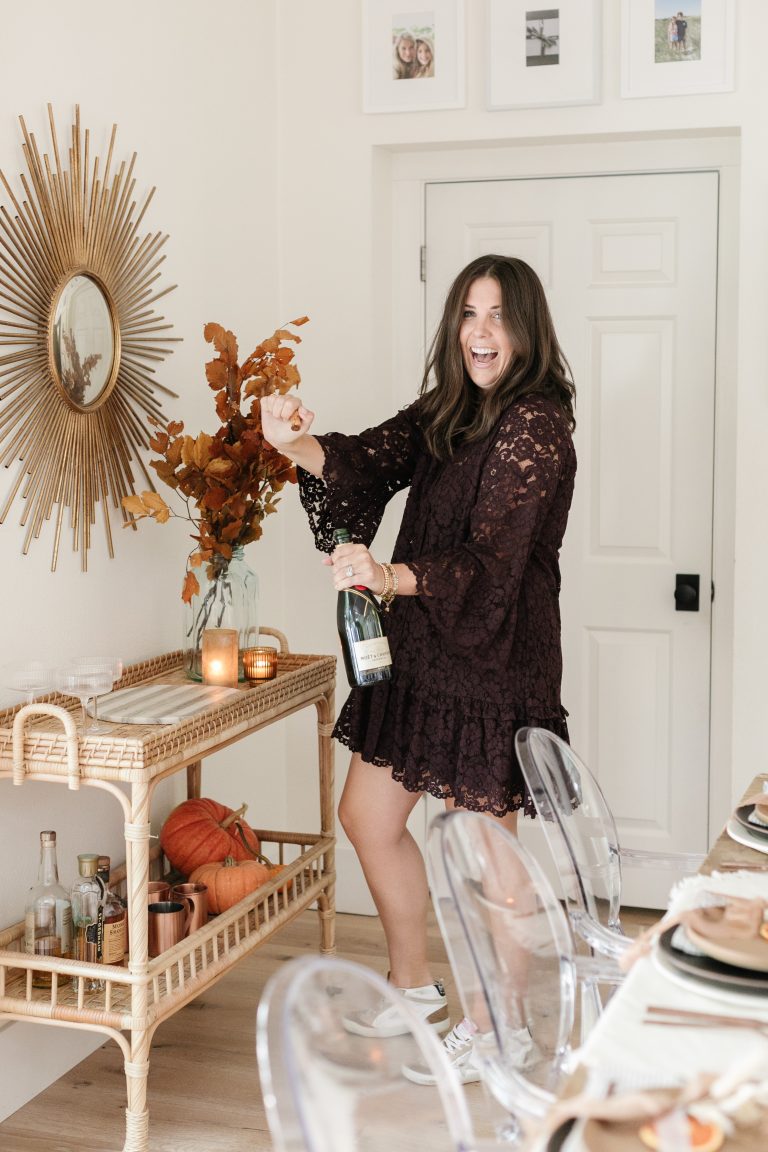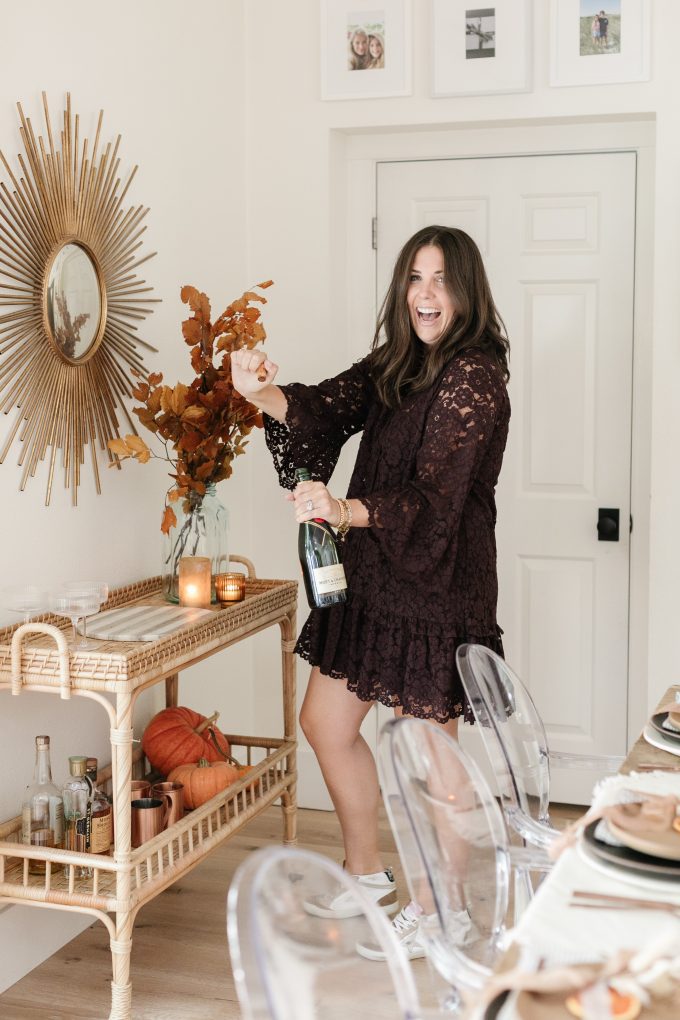 Meghan put this Thanksgiving table together with the idea in mind that anyone can create a similar look. This table doesn't require a florist, caterer or any fancy tableware. We even made the centerpiece using dried flowers and candles. But the end result is anything but boring.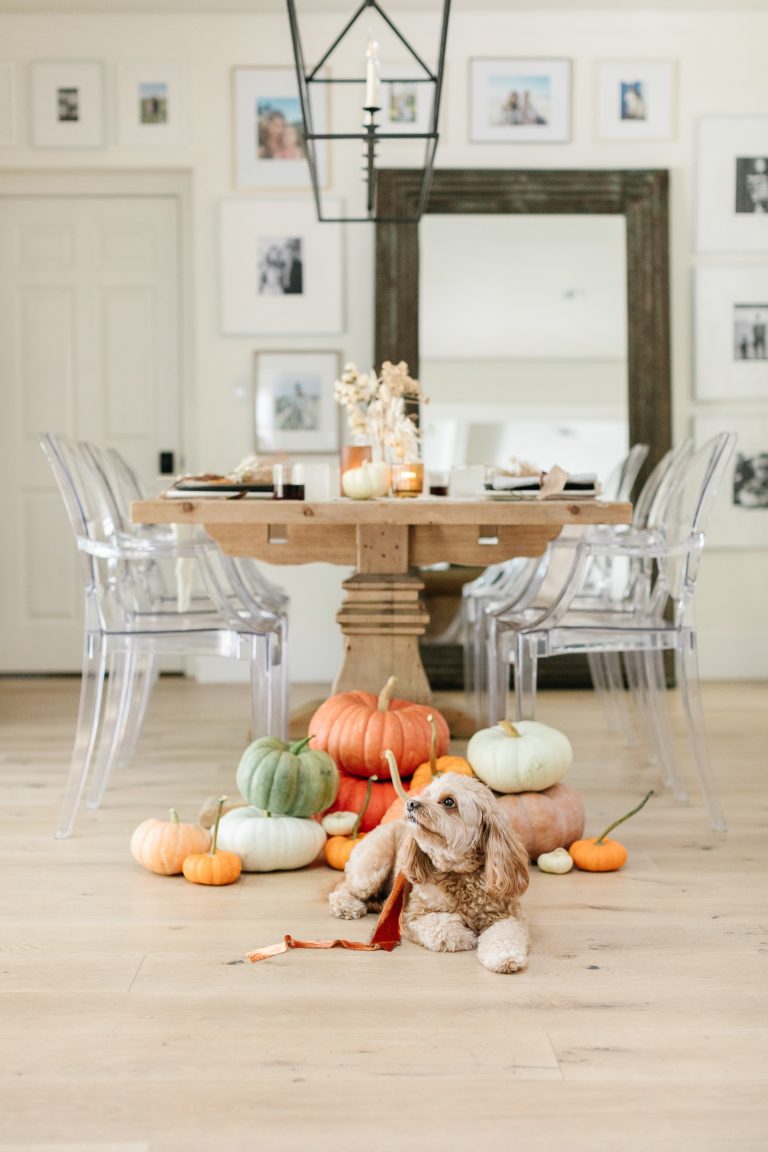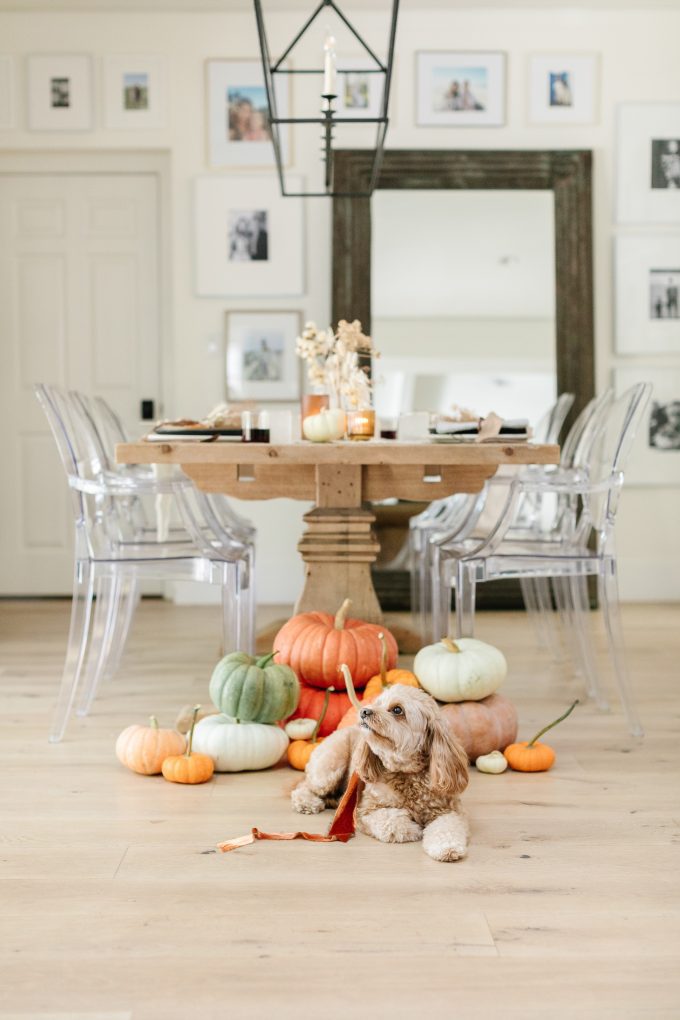 Come read Meghan's tips and see all the gorgeous details from this fun photoshoot!
Photography by Adriana Klas.
How To Elevate Your Thanksgiving Table – Tips from Meghan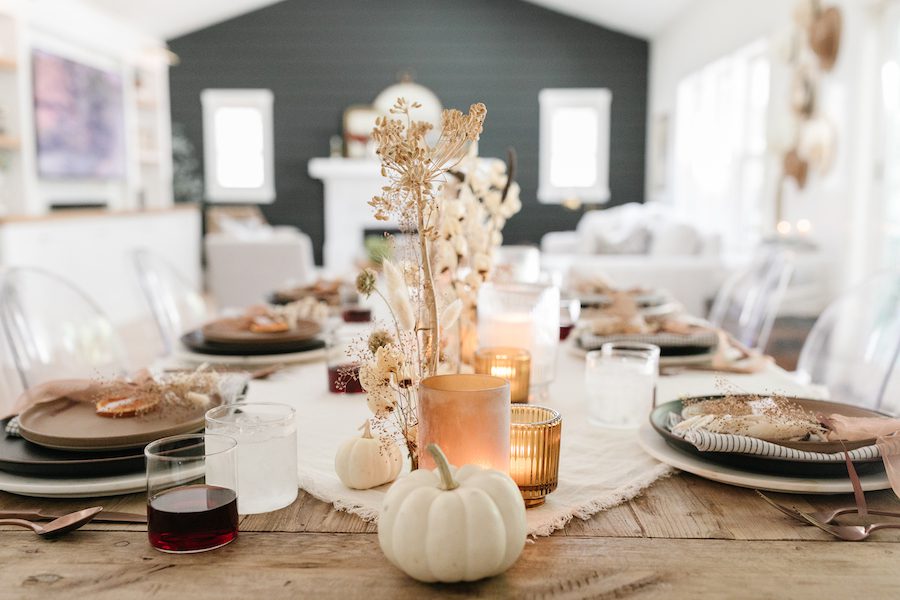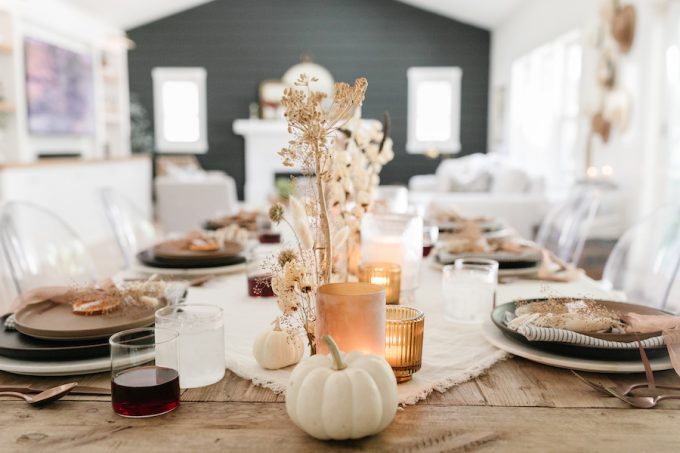 I sat down with Meghan and asked her to share a few tips for making your Thanksgiving table feel special. Get out your pen and paper, because you will want to take notes!
What Are Your Tips For Setting A Pretty Thanksgiving Table?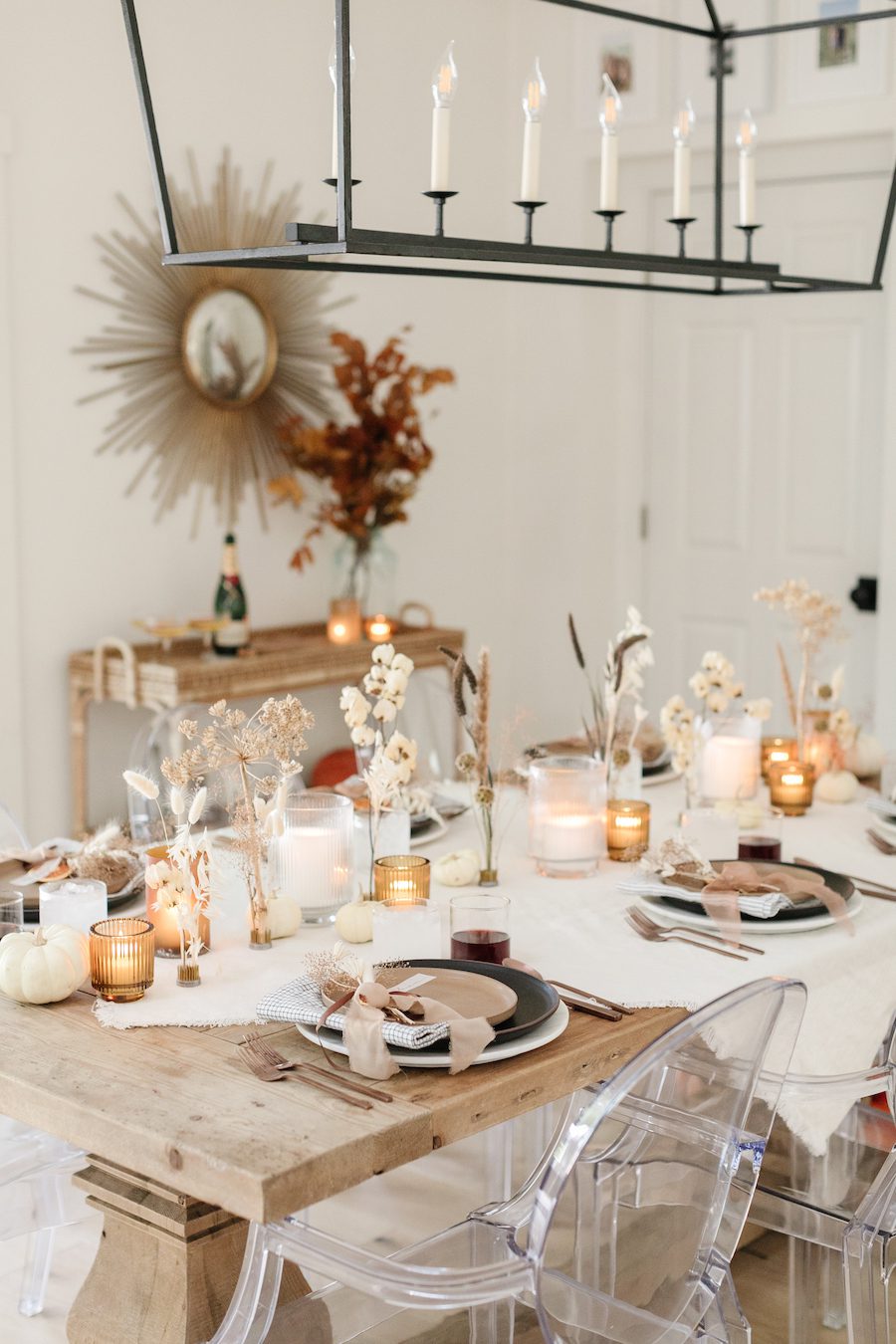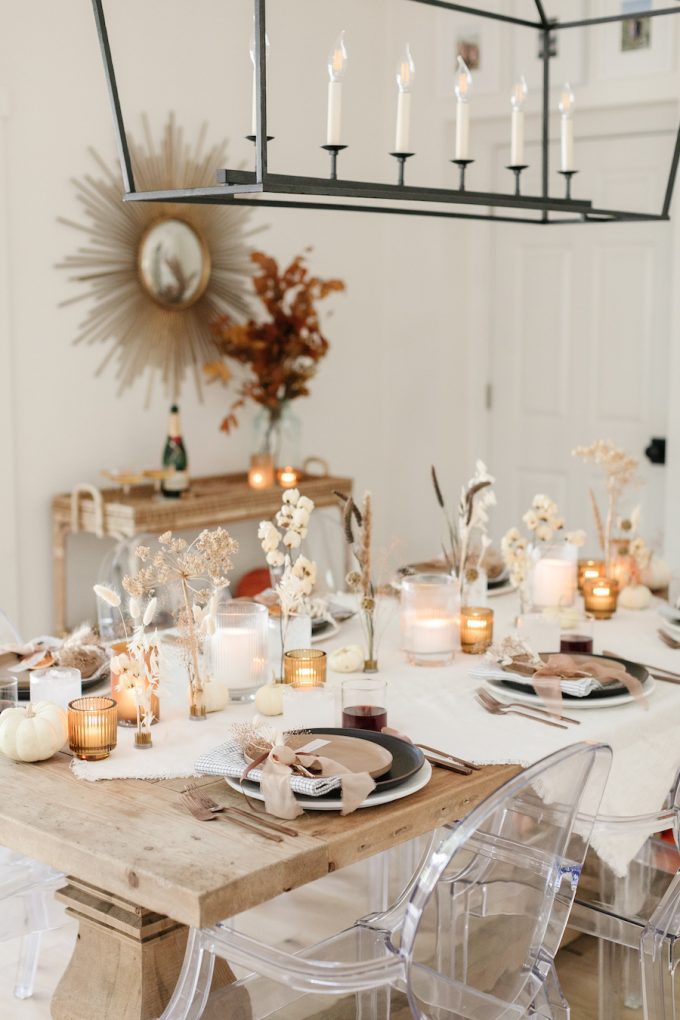 If you're setting a table for Thanksgiving, I think it's safe to assume you are hosting as well. Hosting comes with loads of responsibilities, even if it's a casual potluck. So, my advice professionally and personally, is to seek help when and wherever needed.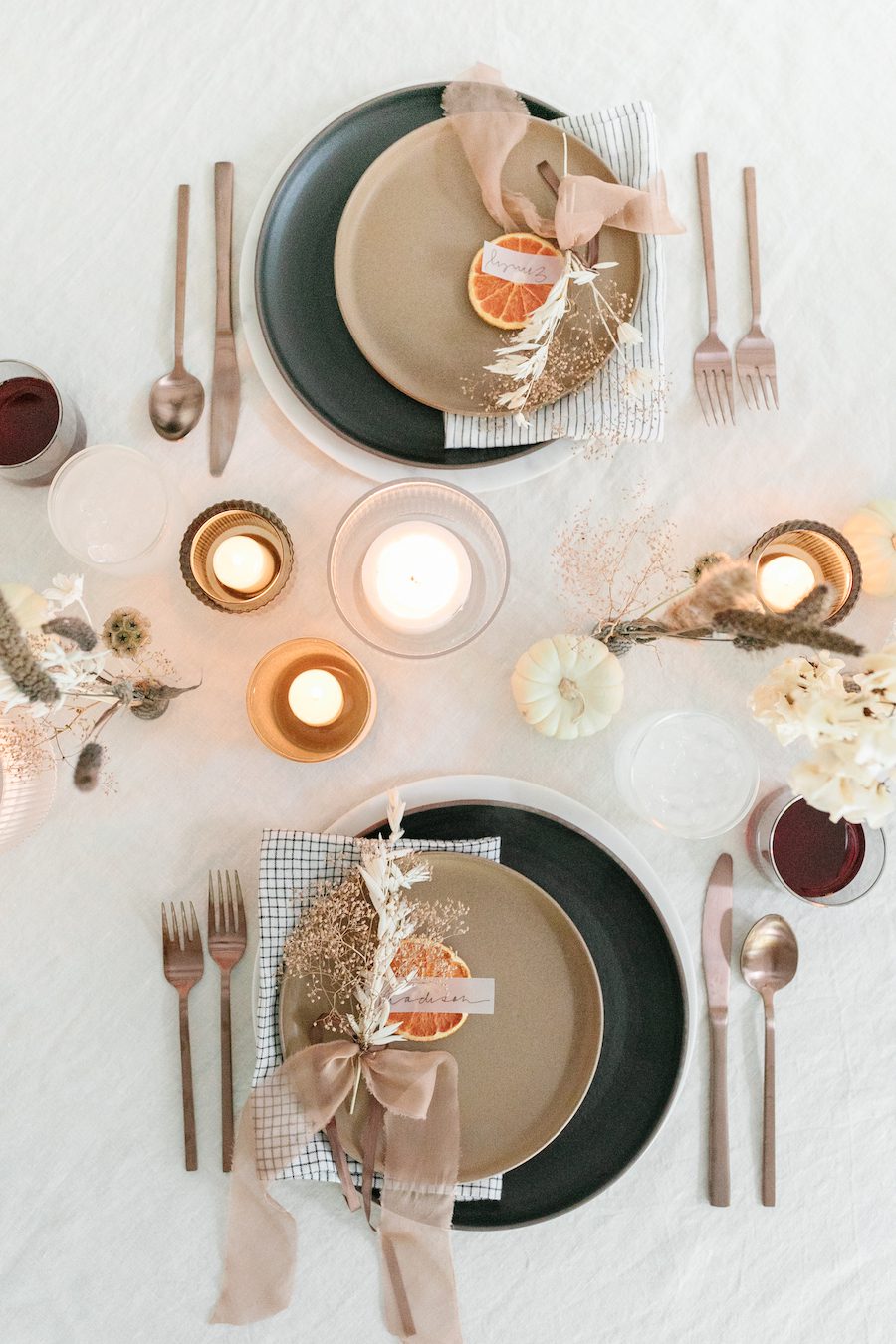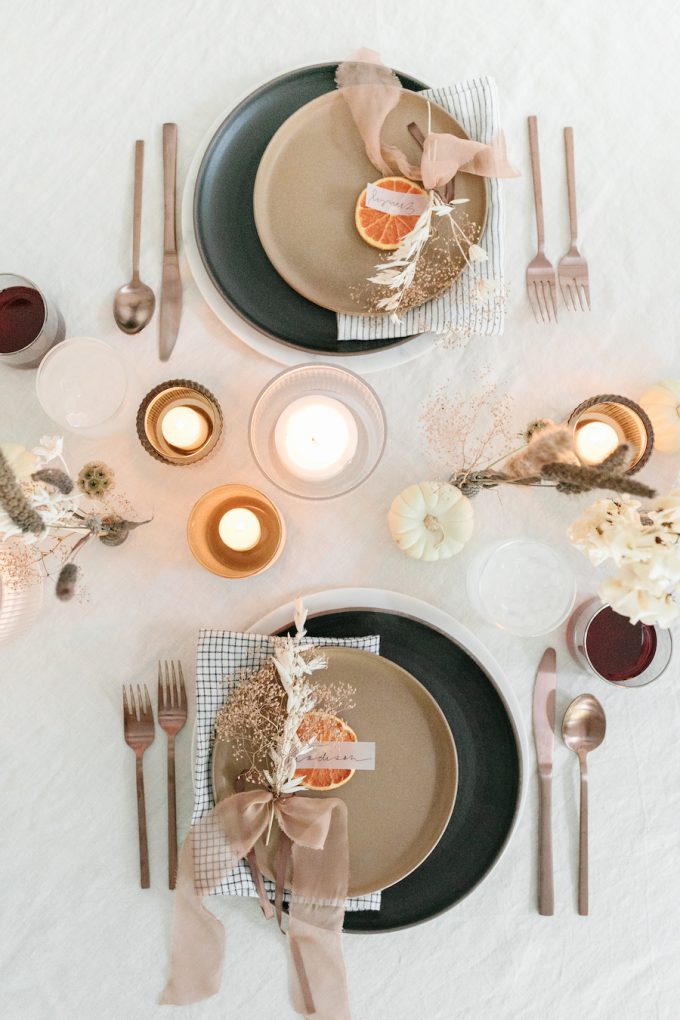 For example, hire a florist to create arrangements versus doing them on your own. Hire a calligrapher to help with place cards. Or, better yet, hire an event planner who can oversee all the vendors, design details, physically setting the table and/ or work with a caterer or local market to have dinner delivered!!
If you are more of a DIYer, keep on reading, there are a number of great tips below!

How Can You Make Your Thanksgiving Table Feel Special?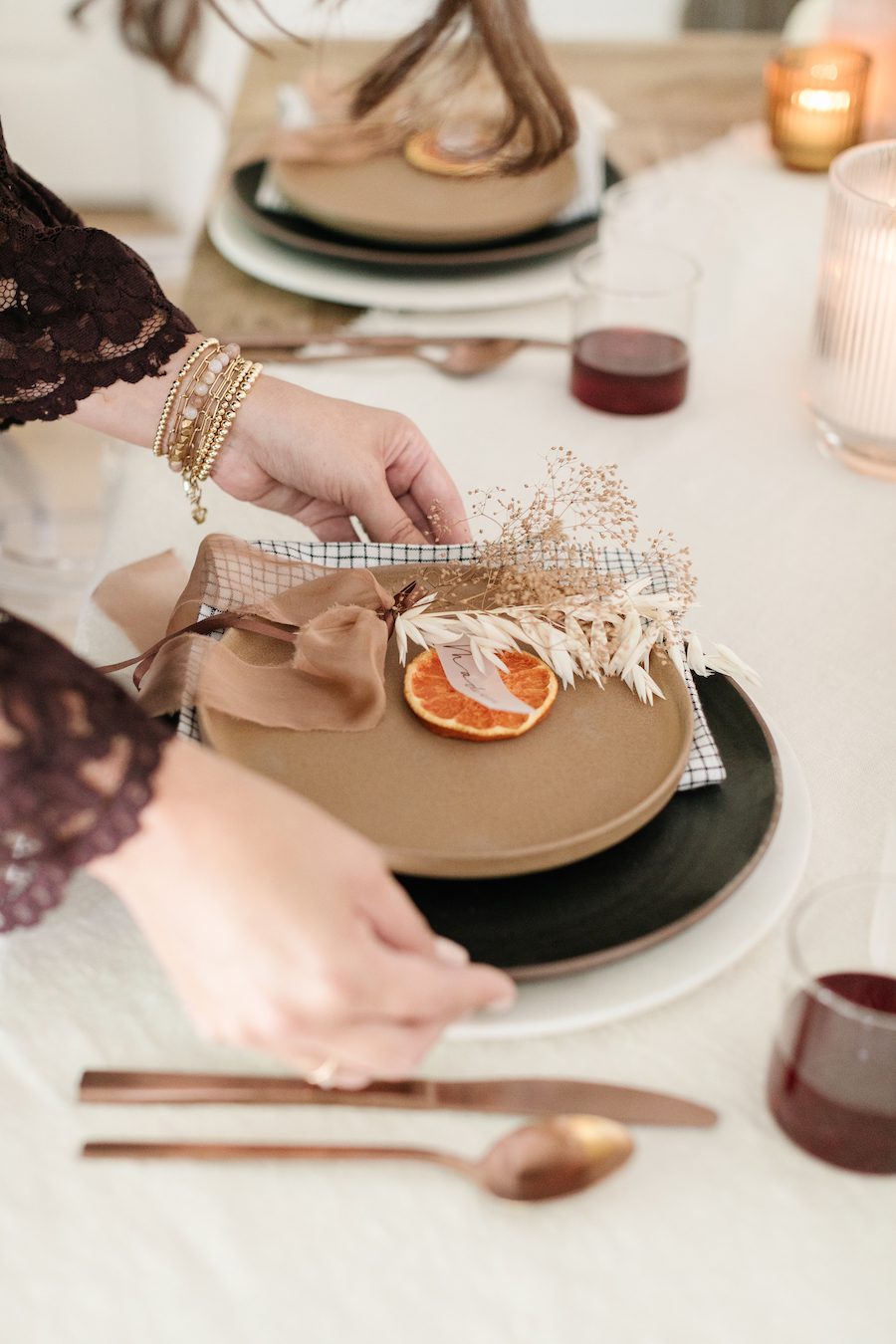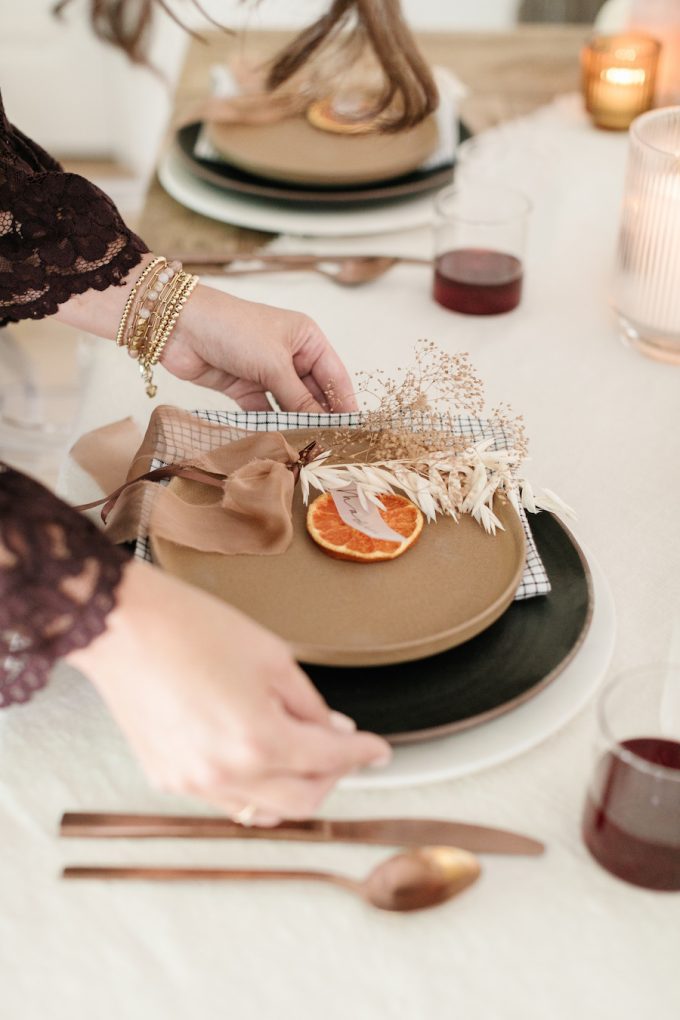 I am obsessed with personalized details, so anything that represents who is sitting down with you is amazing. I love place cards, not because they tell people where to sit, but because they add a layer of dimension and attention to detail that feels special.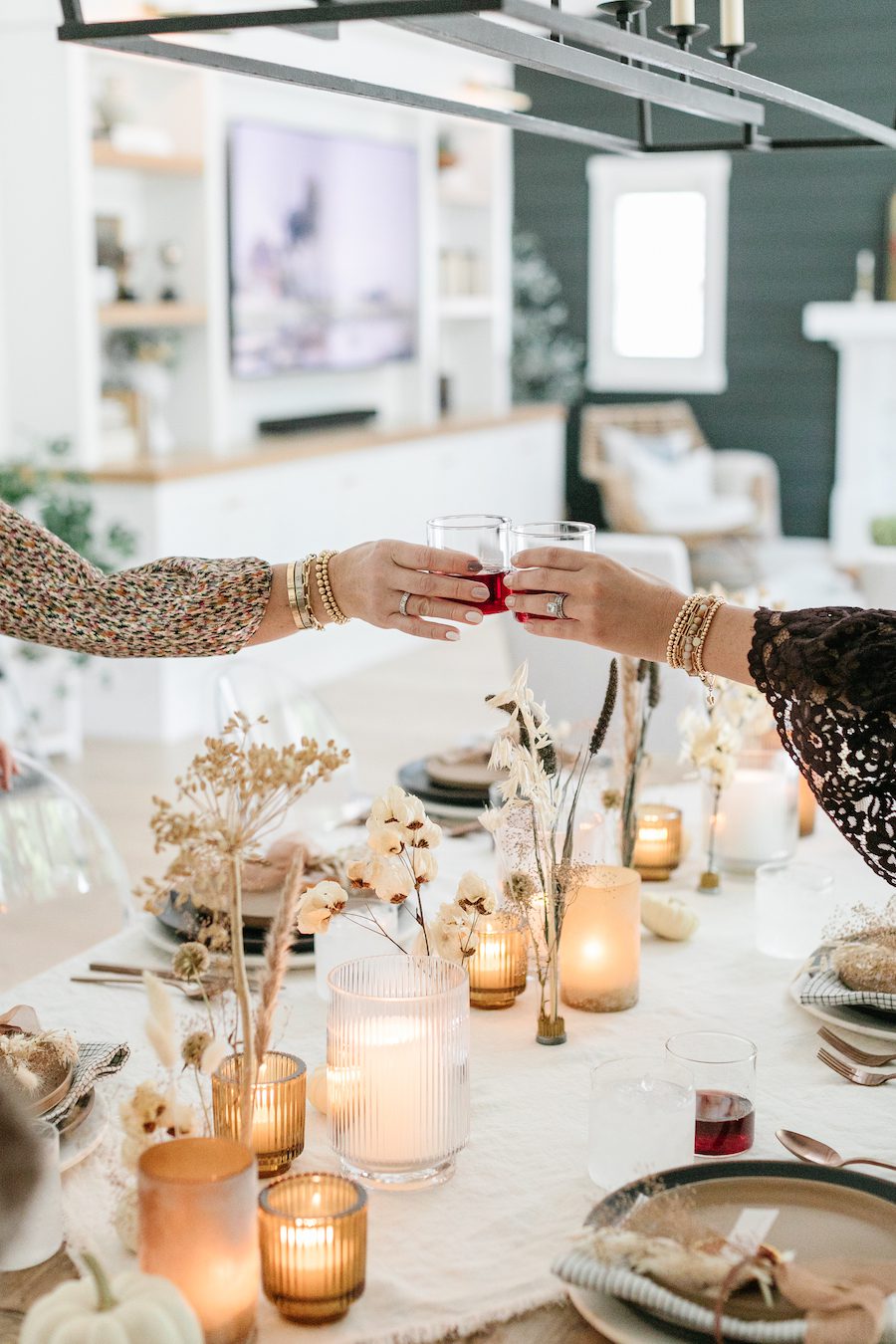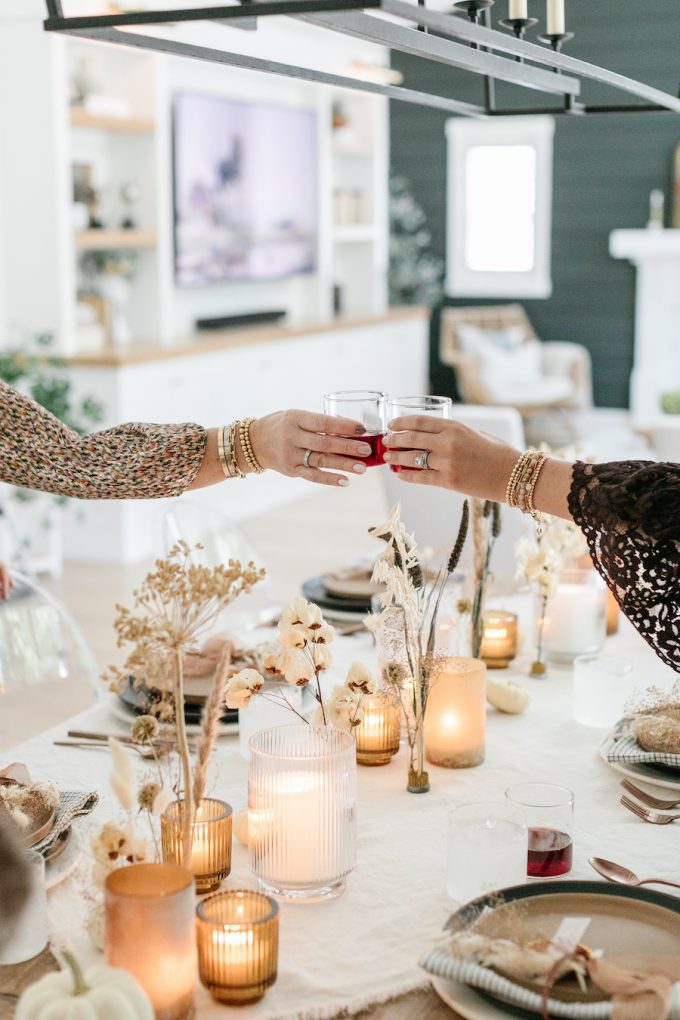 For this Thanksgiving table setting, I started with neutral linens, to compliment Ashley's gorgeous home. And I thought a dried orange slice would be beautiful to add a pop of color to the table. If place cards feel too formal, a special detail for Thanksgiving could be as simple as serving your guests' favorite wine.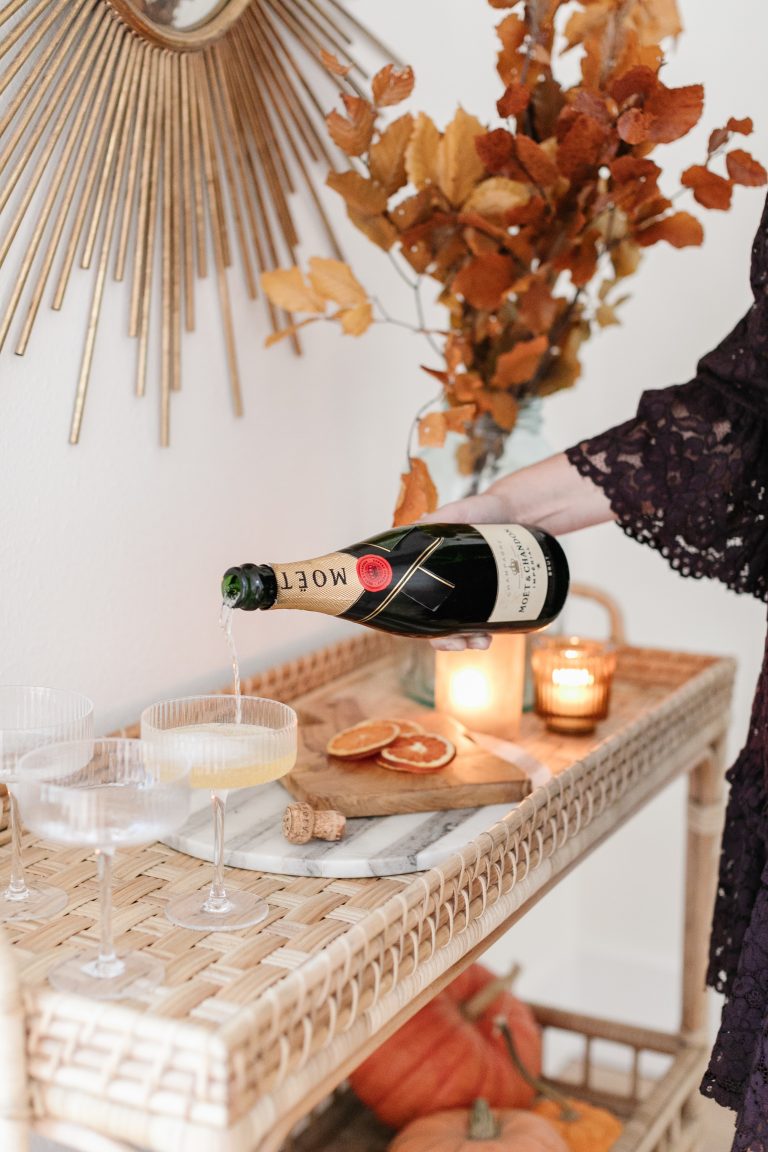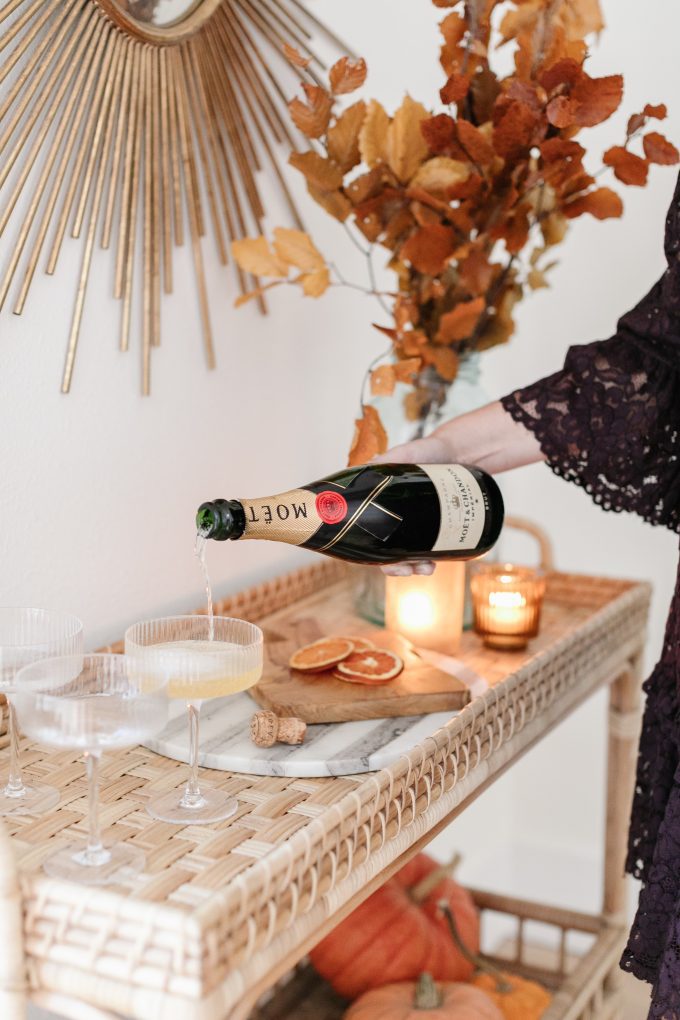 When Decorating A Thanksgiving Table, Where Do You Start?
Start with what you already own. Maybe those white plates that you've had for years would work perfectly (again) with the addition of a charger. From there, build on the foundation for your Thanksgiving table setting.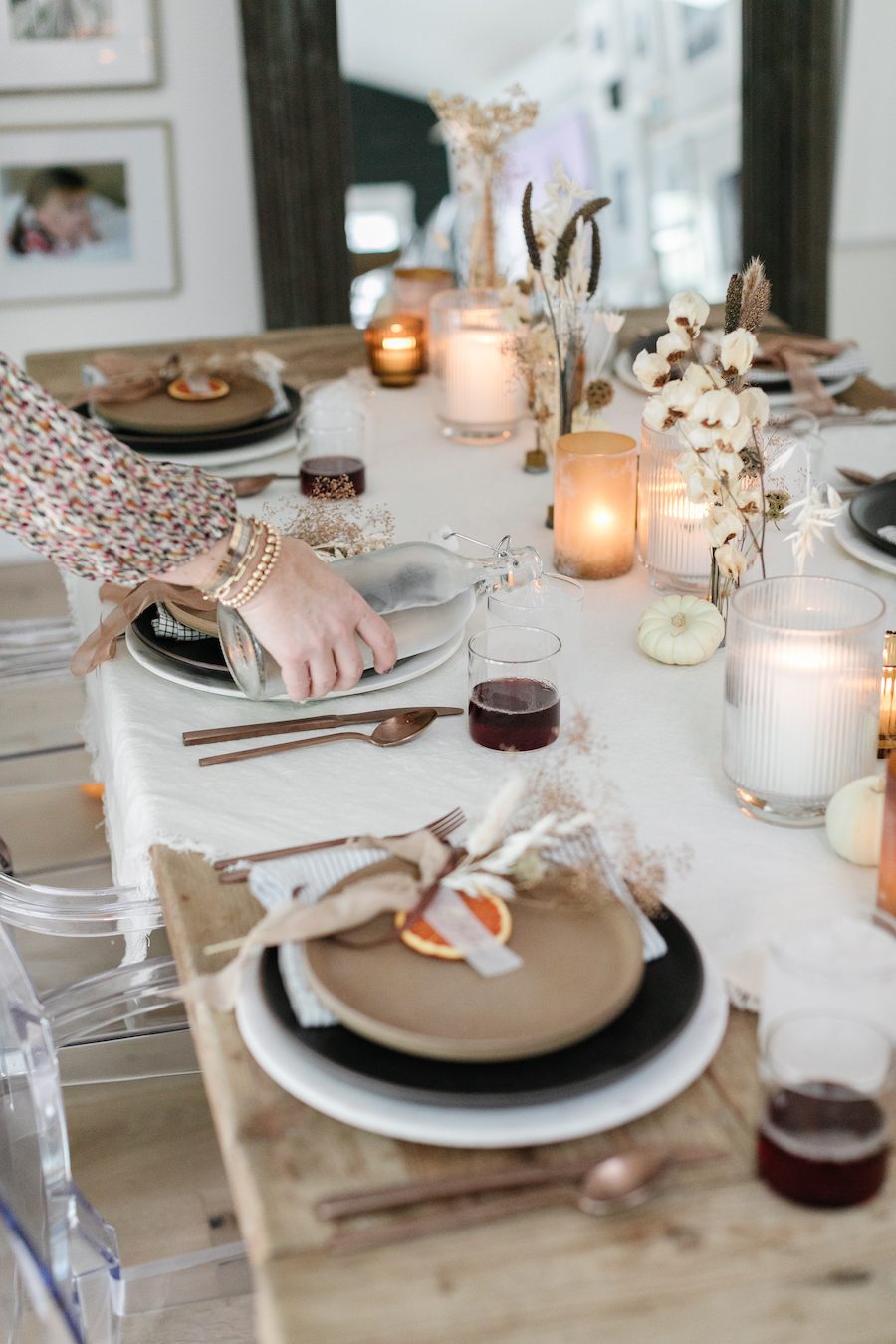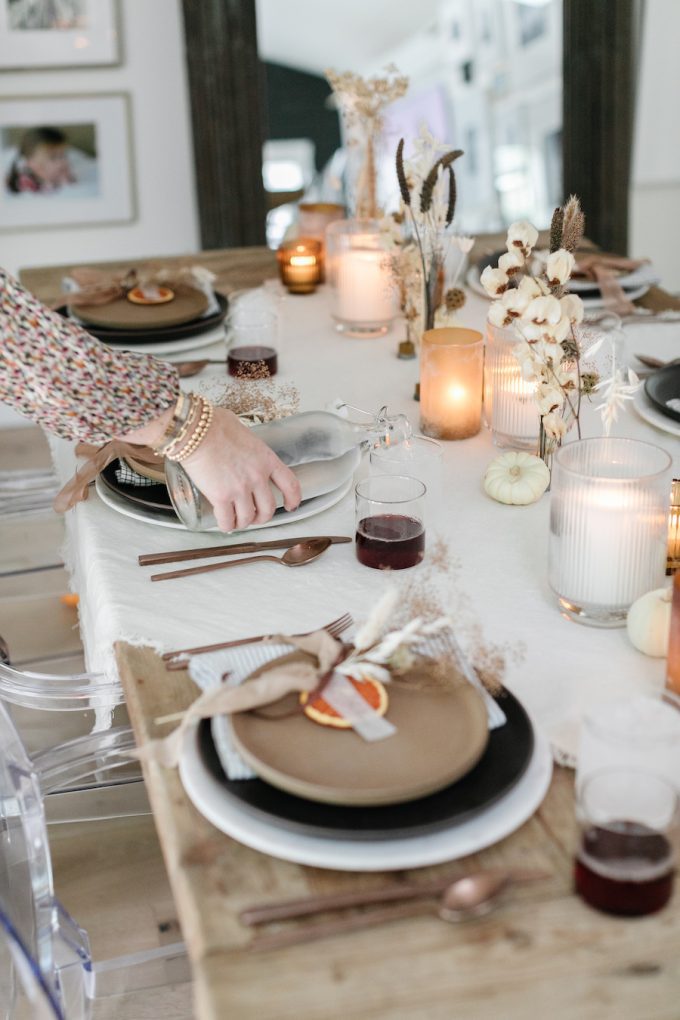 I loved the shape of this square linen centered on Ashley's table. It was the perfect foundation for her collection of beautiful plates, flatware, glassware and napkins! By adding candles, already the mood feel elevated.

What If You Don't Want To Buy Fresh Flowers For Your Table?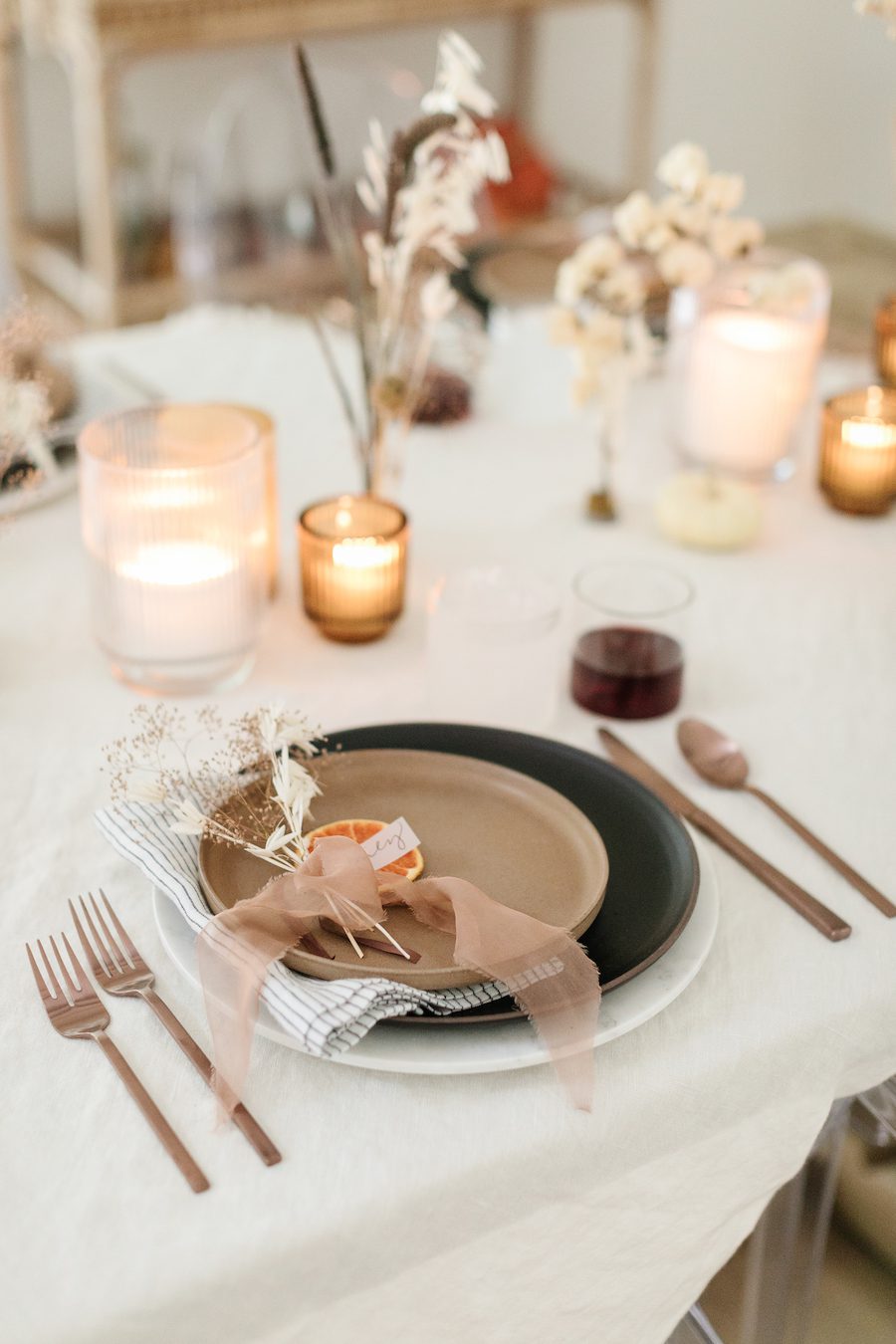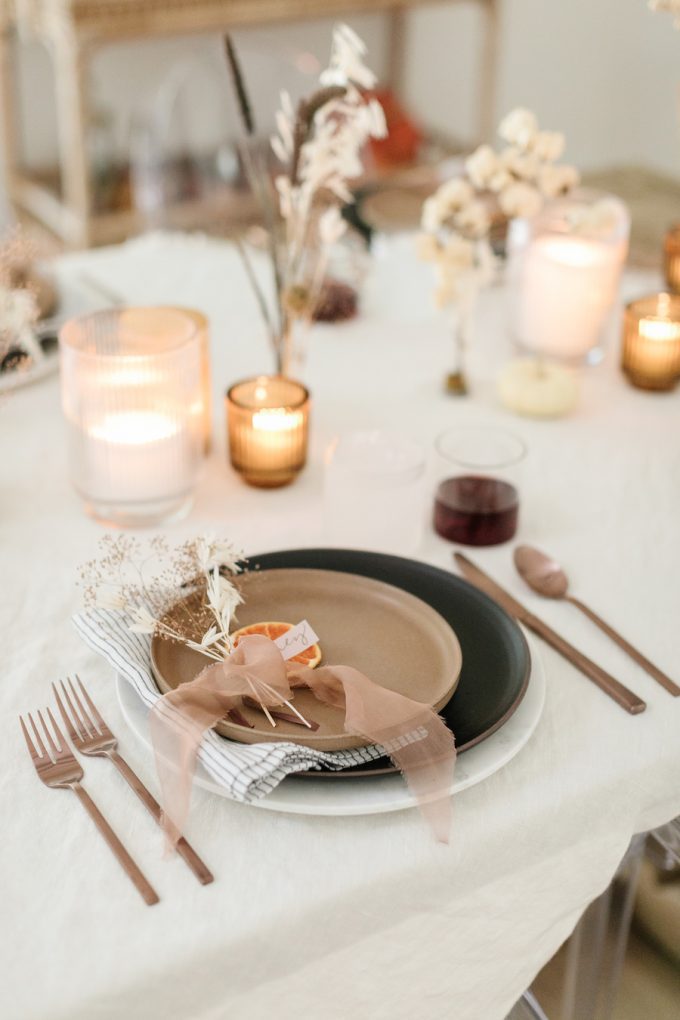 Oftentimes, less can be more which is an odd statement coming from me because I'm such a more is more kind of gal…. BUT, if you're opting out of the fresh floral route, I have a few suggestions.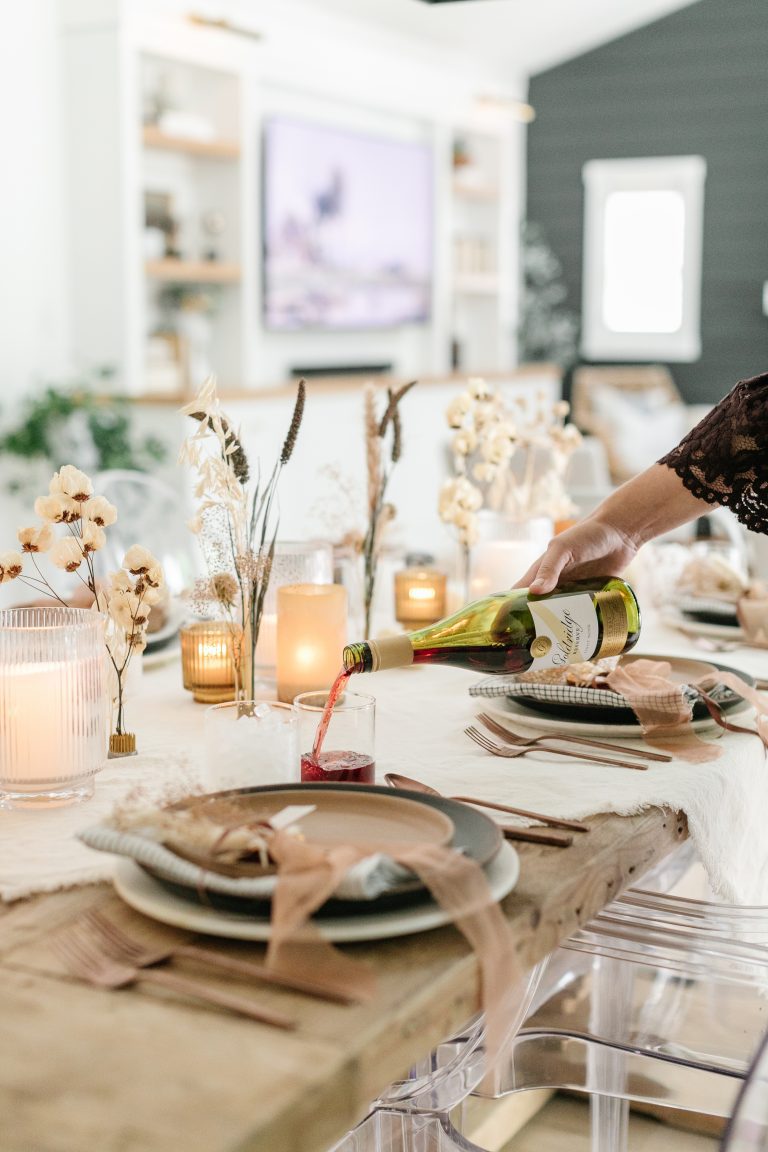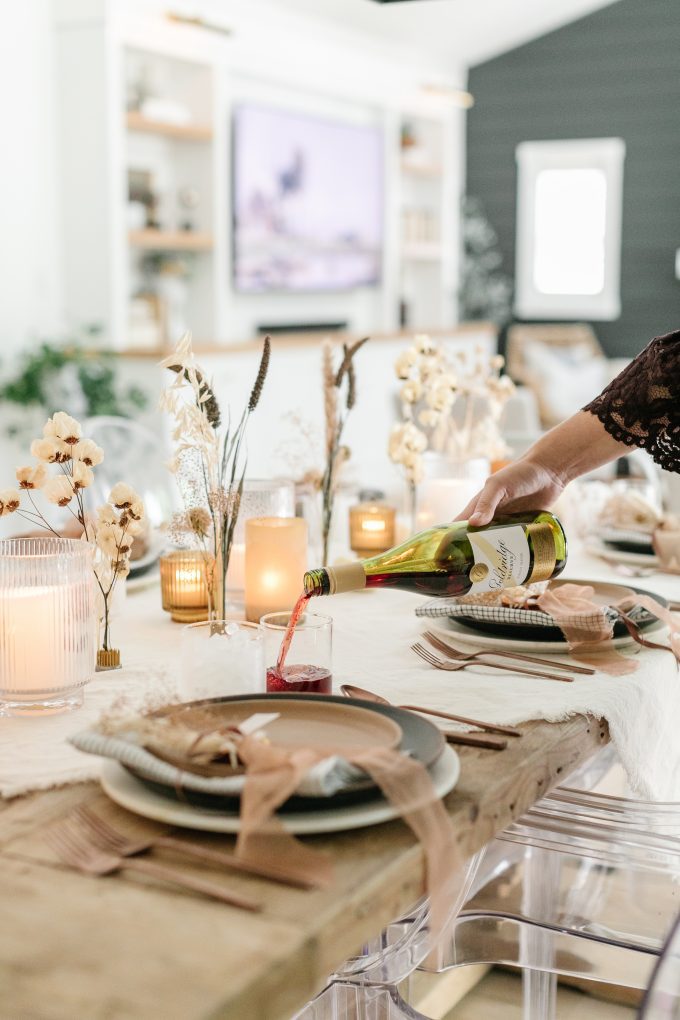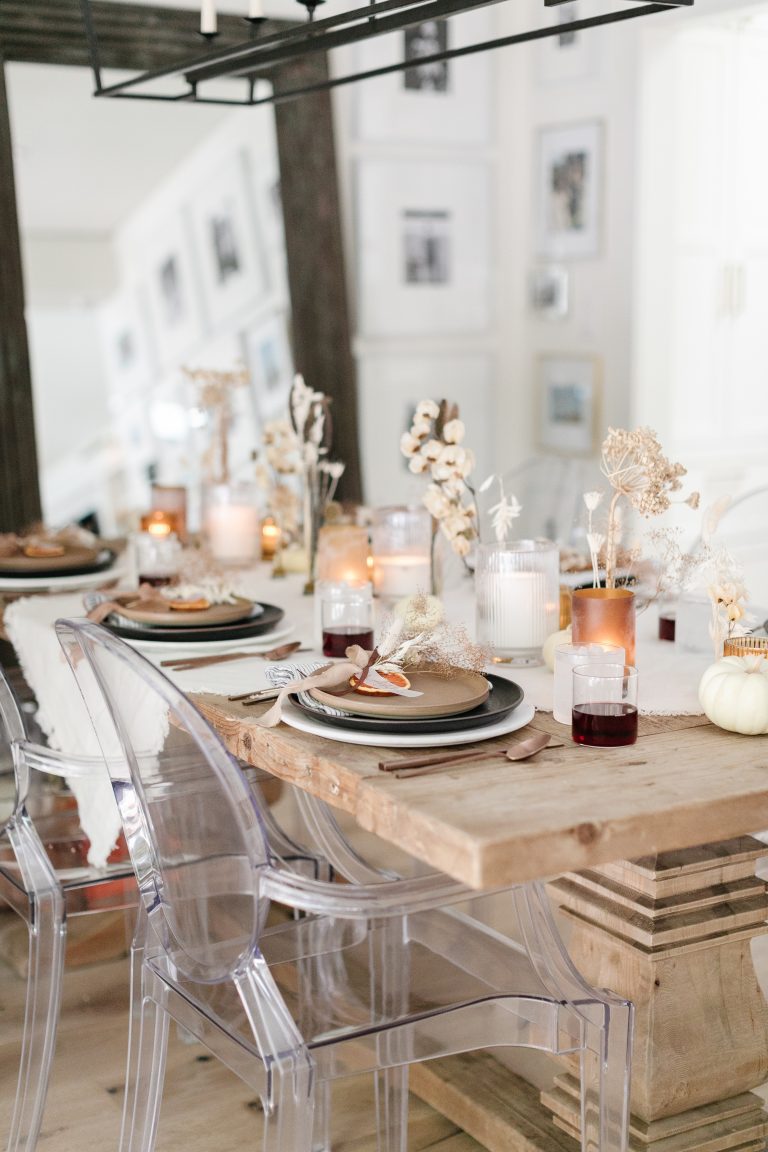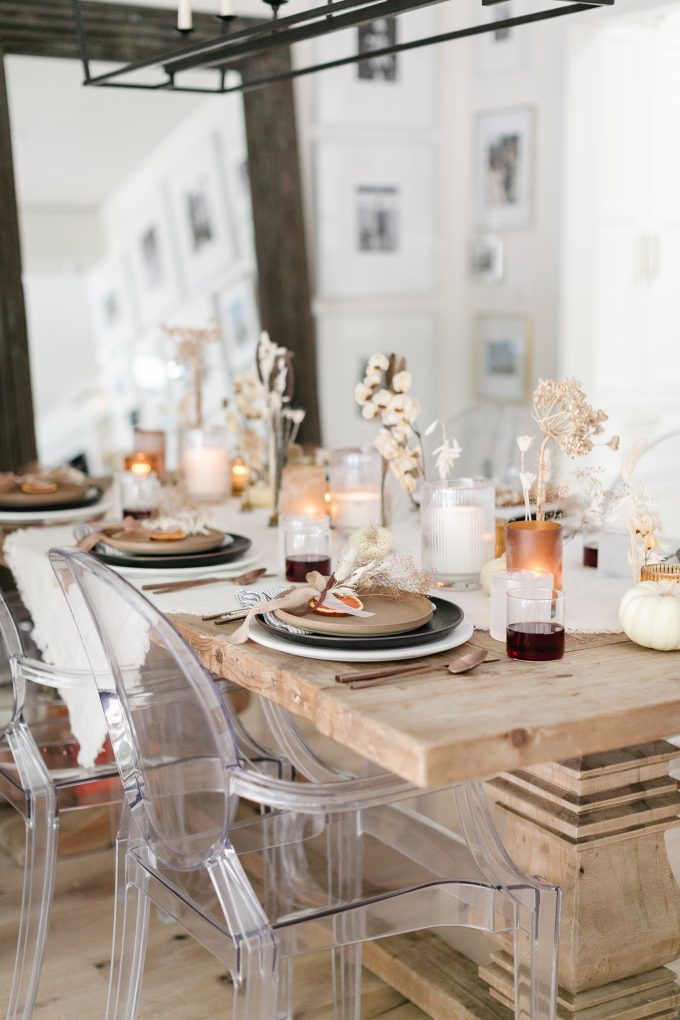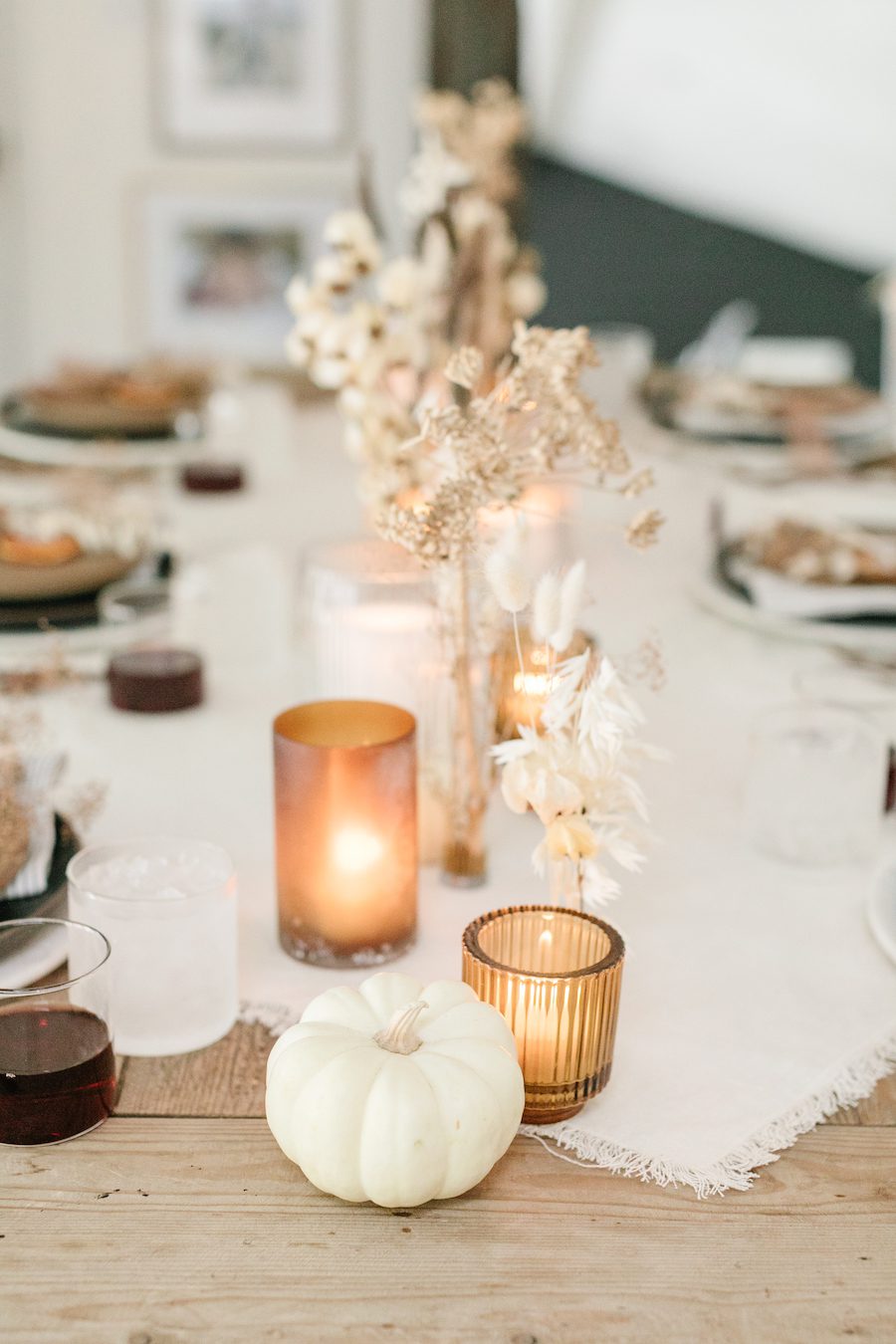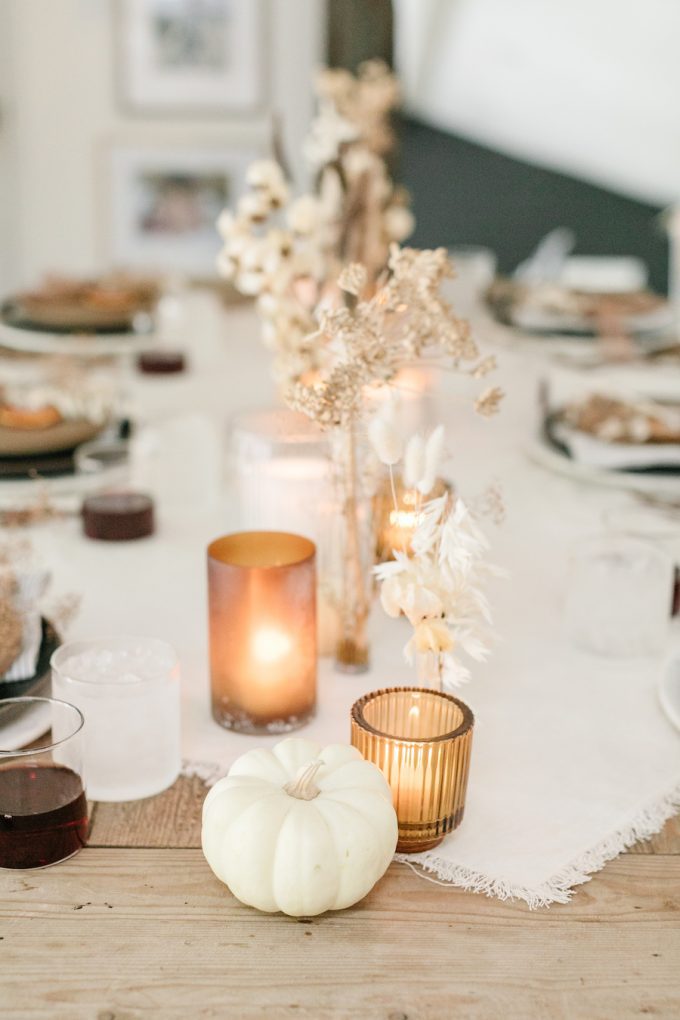 I love how Ashley and I used floral frogs and dried flowers. It was extremely easy and super impactful for this Thanksgiving table setting. I also love incorporating candlelight, to set the mood.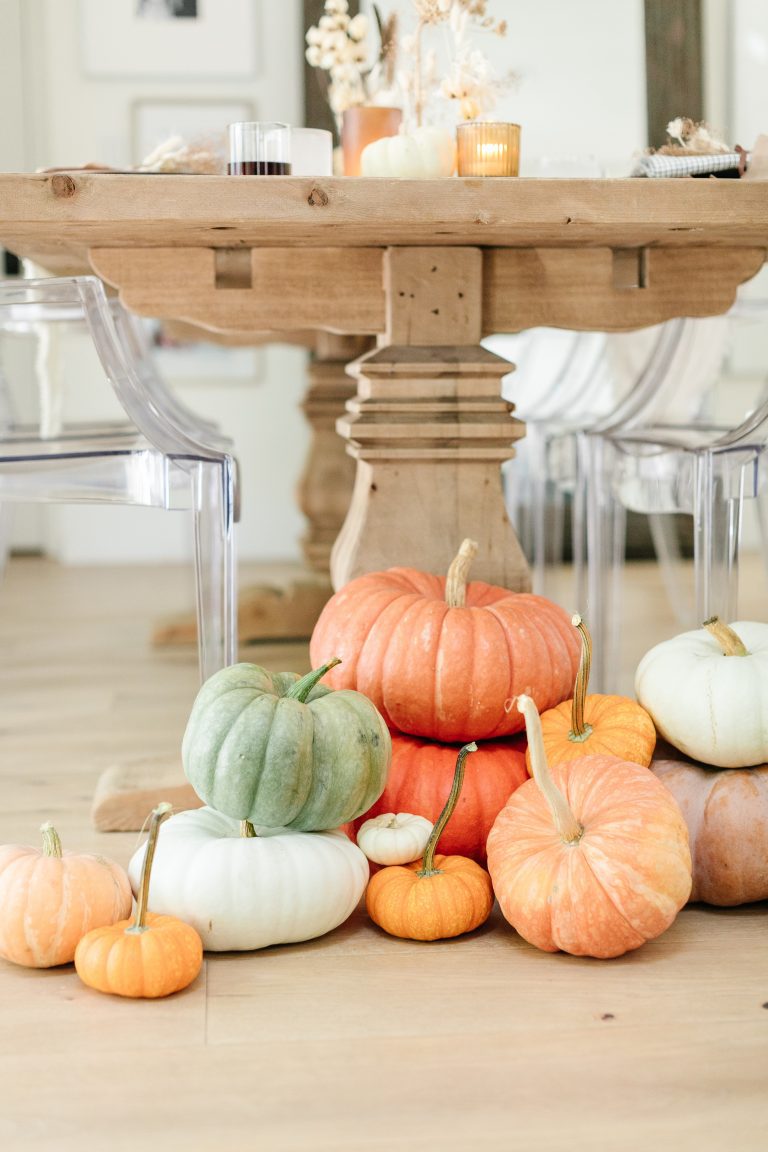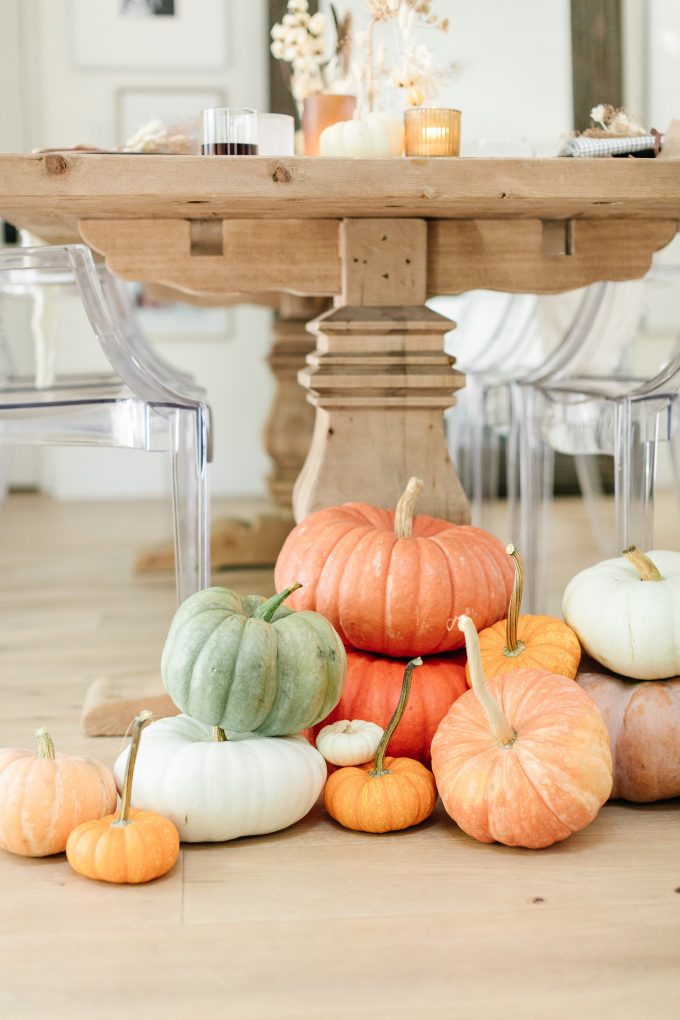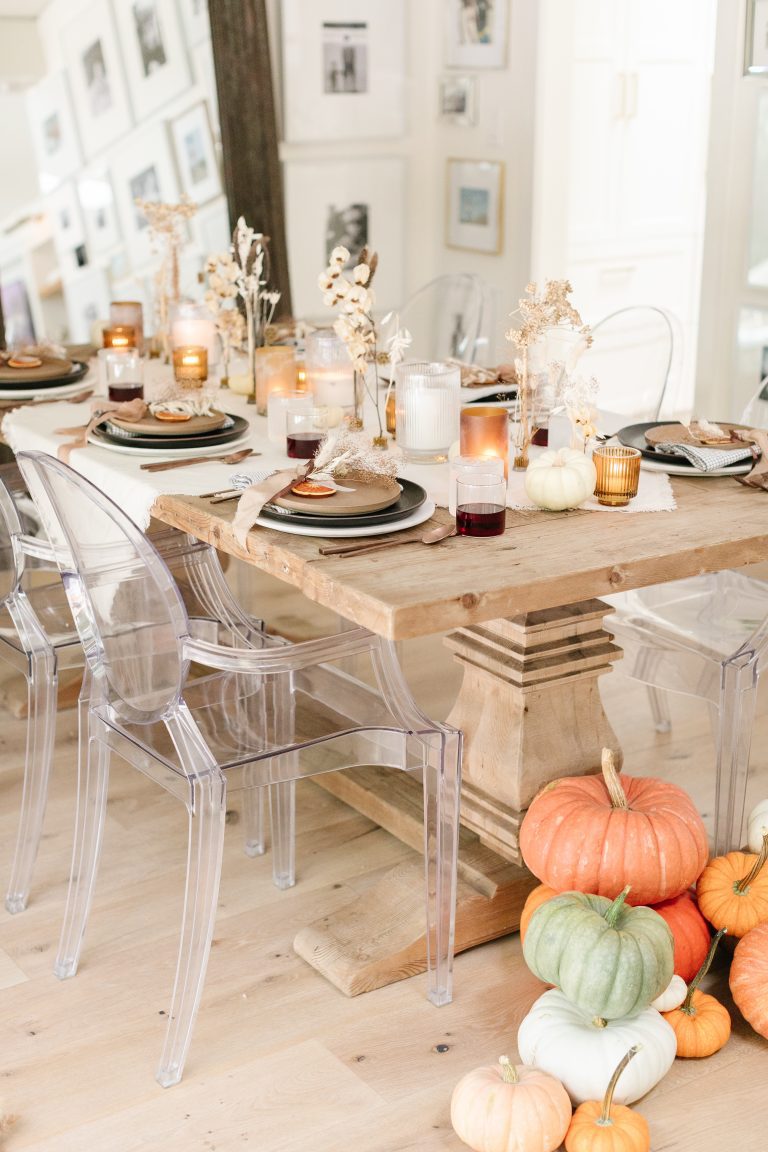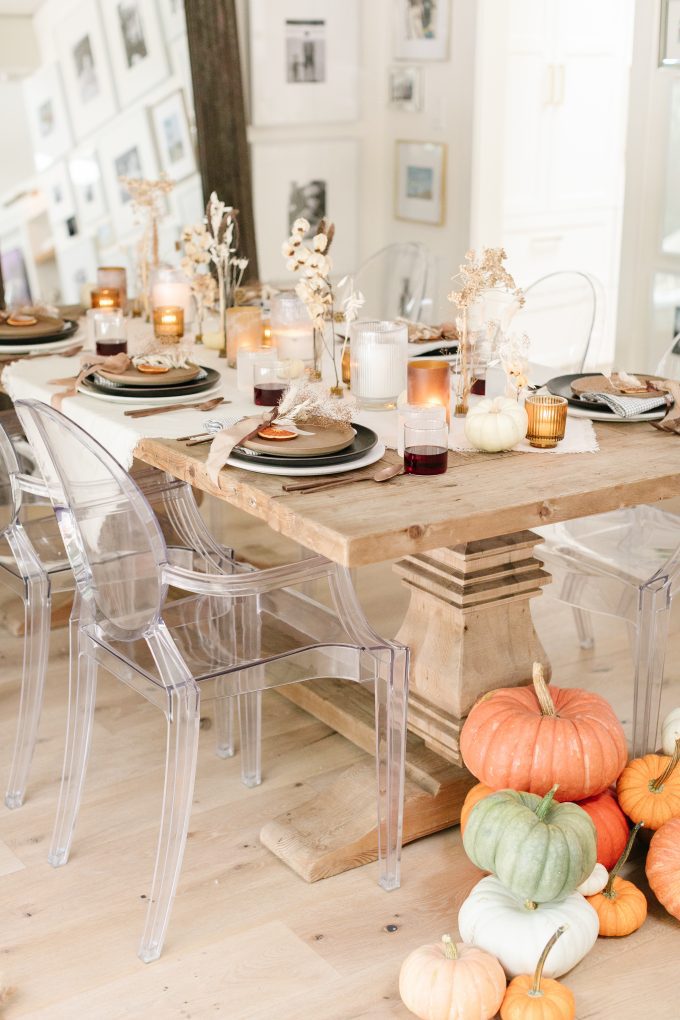 And fresh pumpkins are always a good idea for Thanksgiving. If you want to be a little extra, check out the stack of pumpkins I placed at the foot of Ashley's table. So easy and truly stunning.
Creative Thanksgiving Table Setting Ideas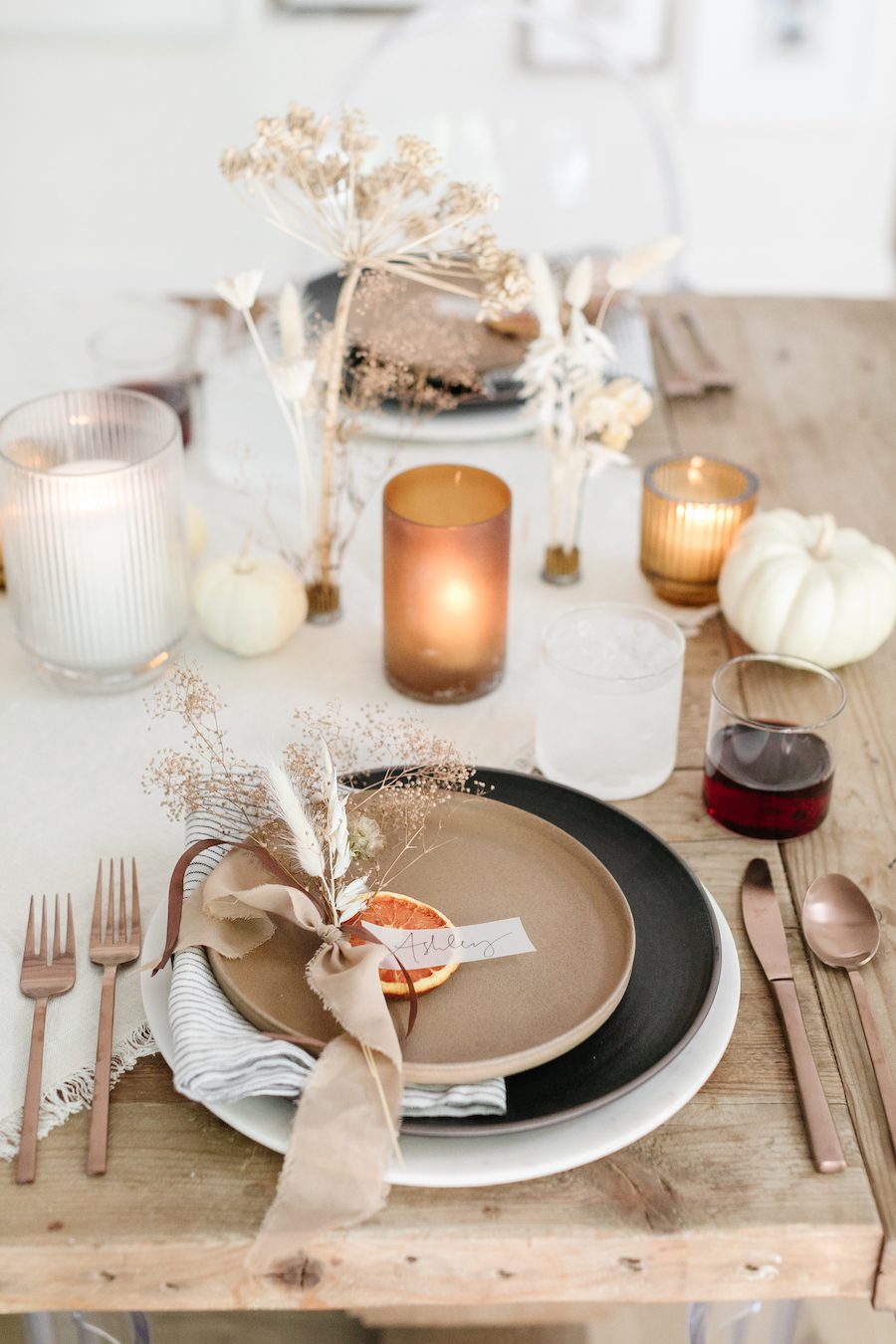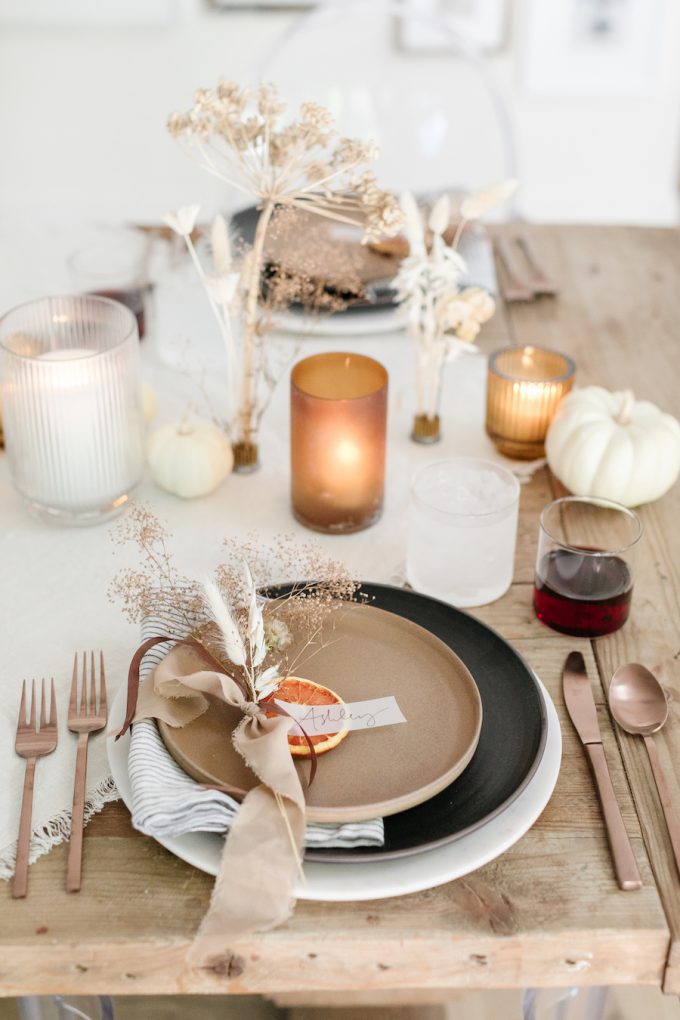 Have some fun with your napkins. Get new linens, tie the napkins you have in a knot or fold it in a different way. I love adding textures to a table with velvet or silk ribbon tied around the napkin with some dried flowers or herbs tucked in.

Purchase pieces you know you will use year after year, that will allow you to change up your holiday decor details. Your home is more than the decor you fill it with. Keep it simple, and neutral and then add little touches of trendy, whimsy, modern, etc.

Meghan's Personal Tips For Setting A Thanksgiving Table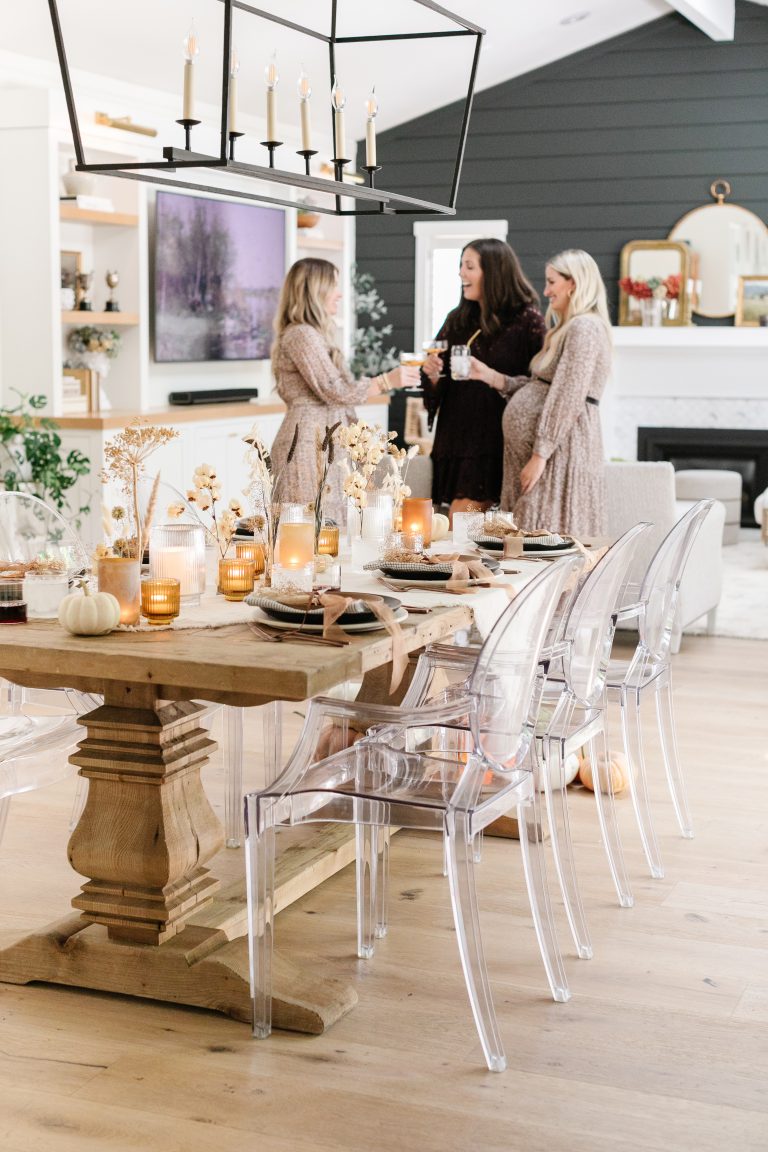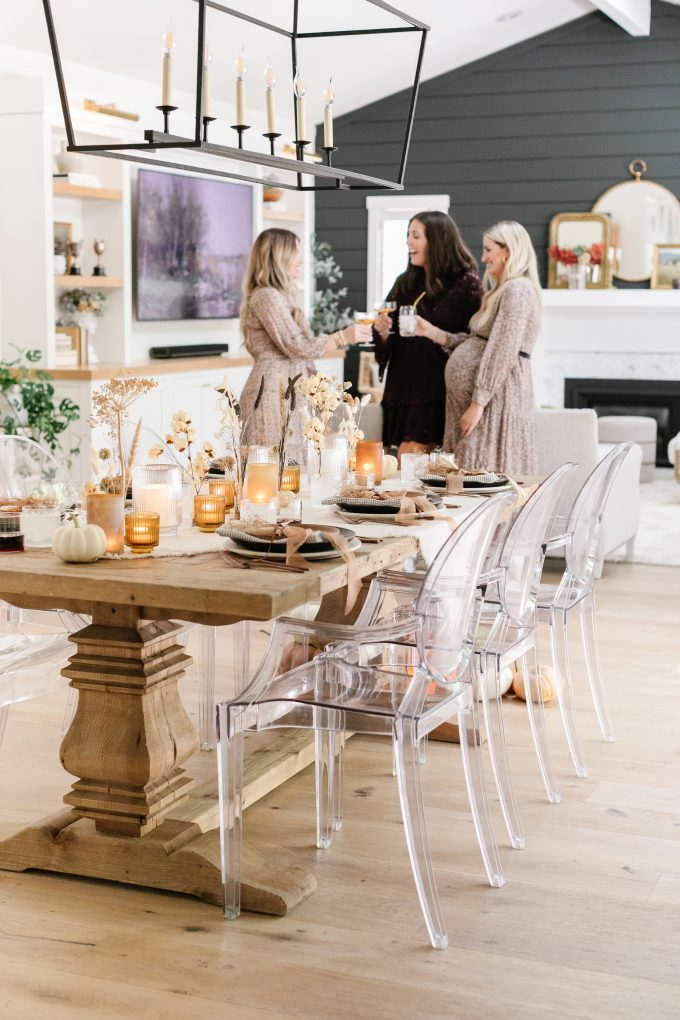 Being an event planner and designer, I enjoy setting a beautiful table, but again for some, it can be overwhelming or simply put, not a priority. I look at my kitchen table as a place where my family gathers. Where we laugh, tell stories, slow down and connect.
Making the table beautiful brings me joy. My family tends to sit at the table long after dinner is over. I think because I have created an environment that is warm, welcoming and a place that everyone enjoys.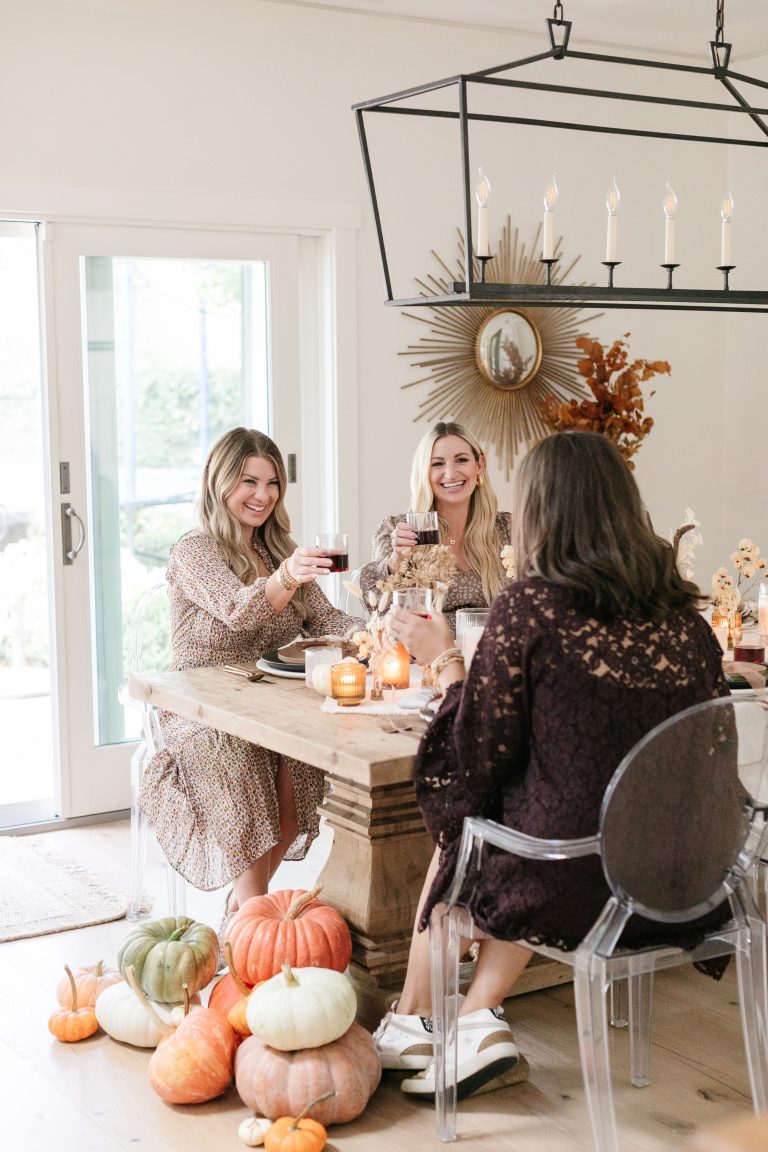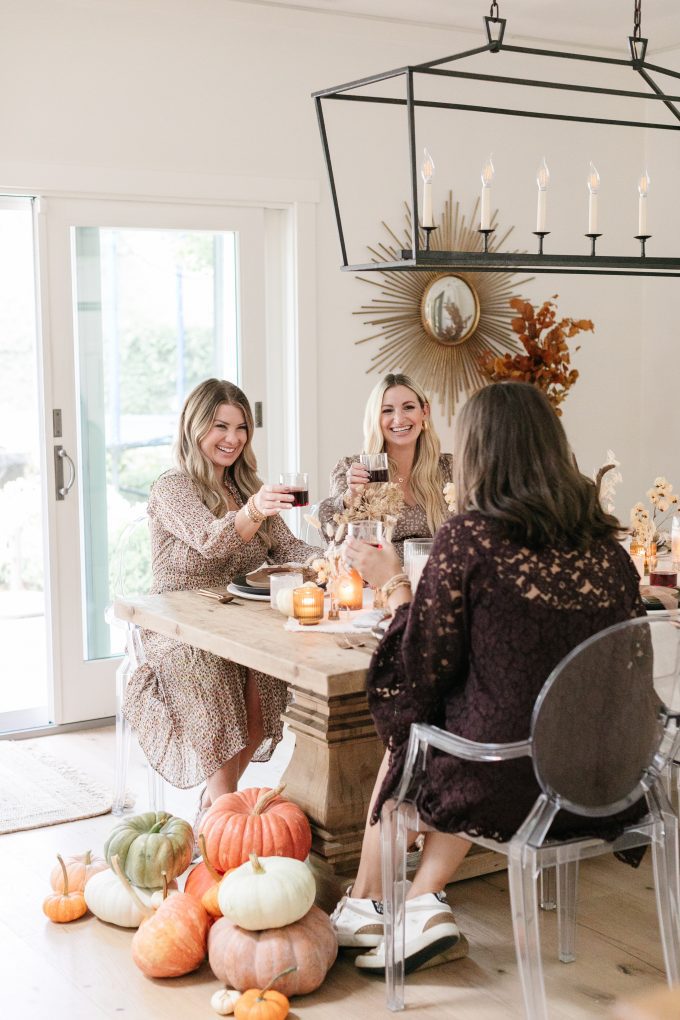 One tip that I follow year after year is setting my table the day before. This allows more time to enjoy the day by helping my husband in the kitchen and playing with my children. Plan your week out in advance for grocery shopping, table setting and cooking!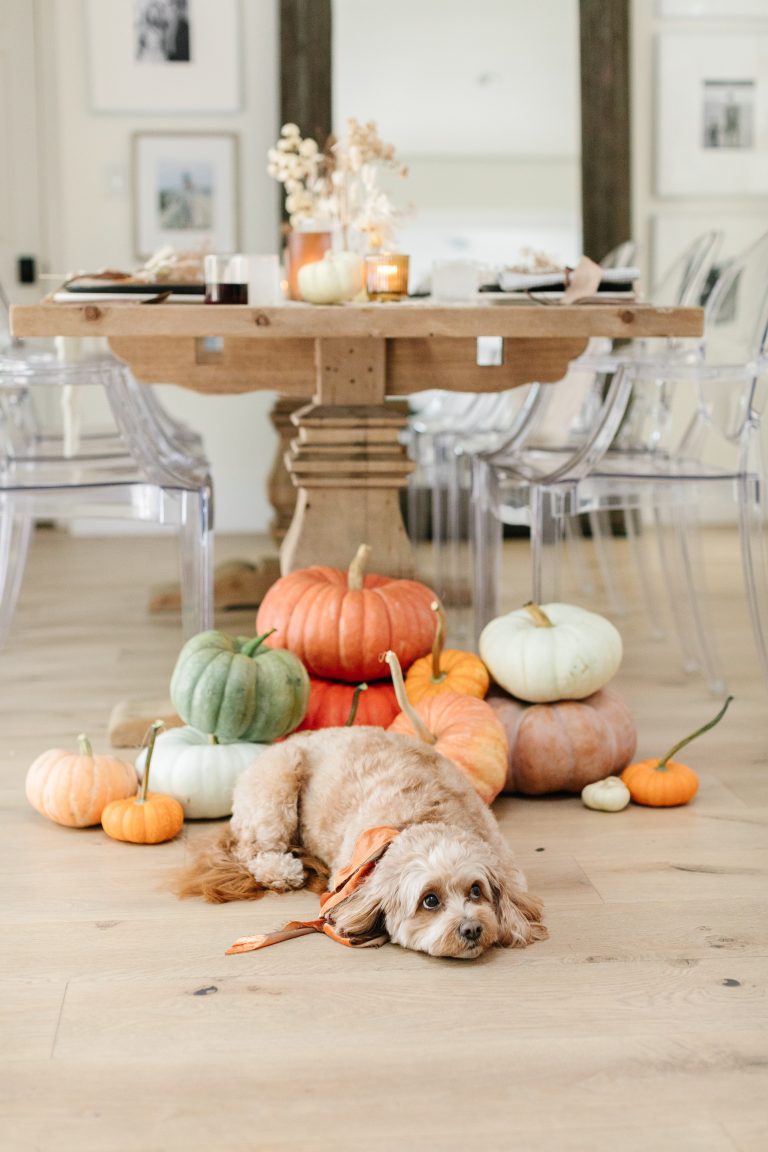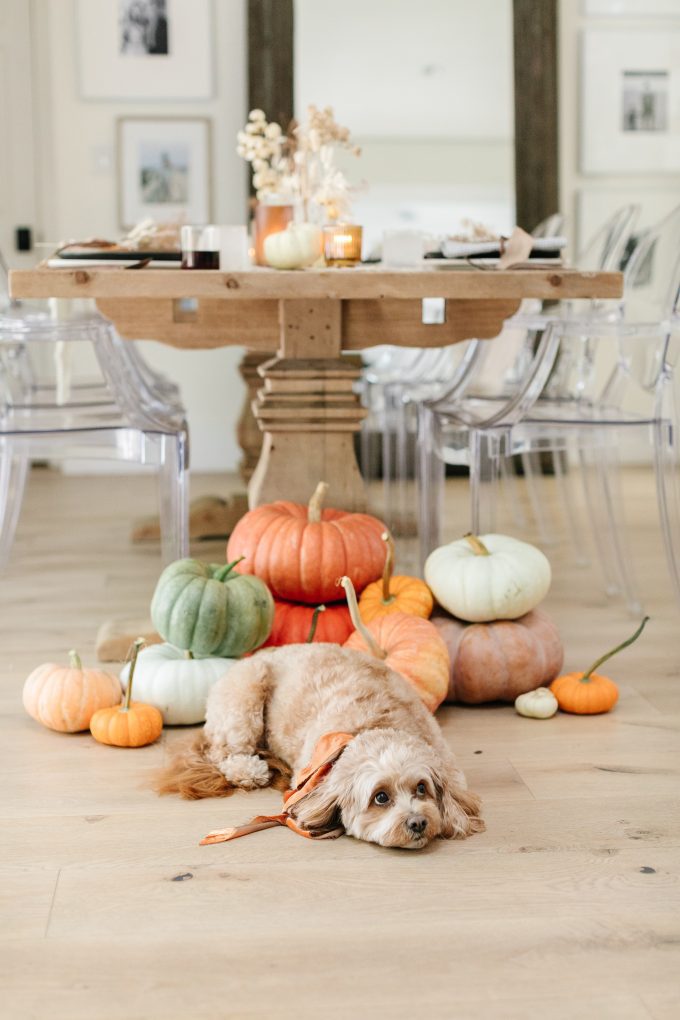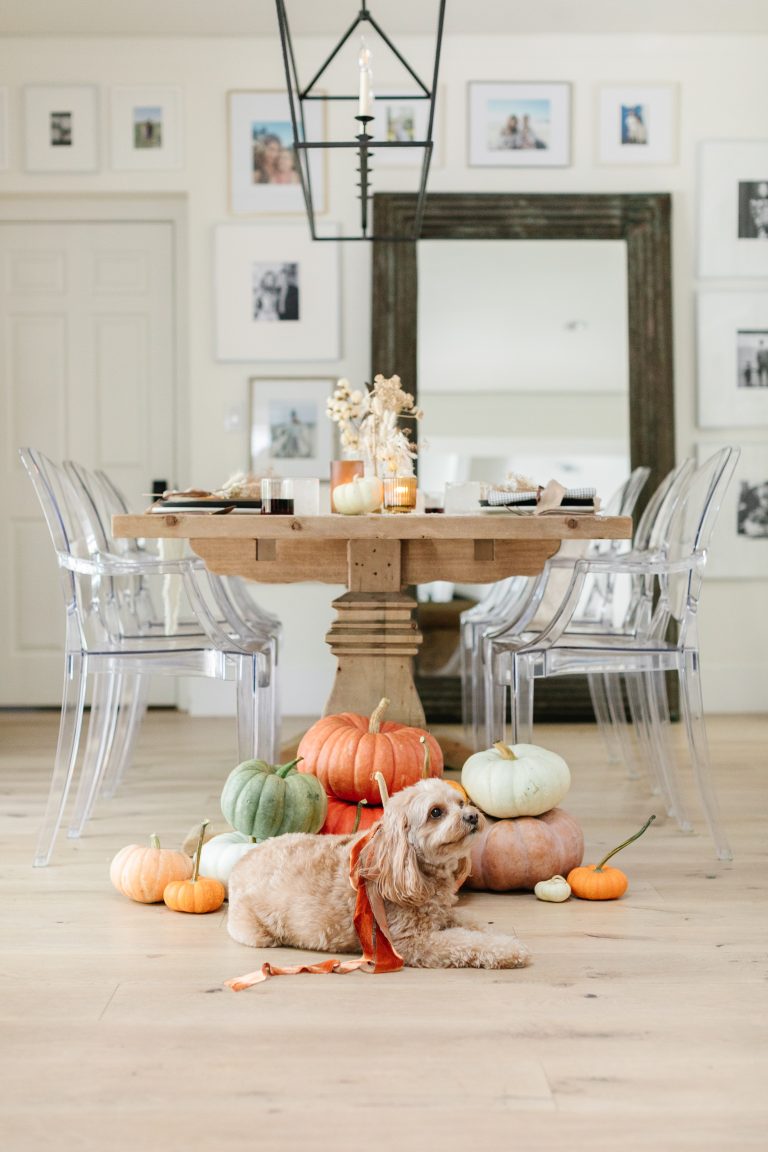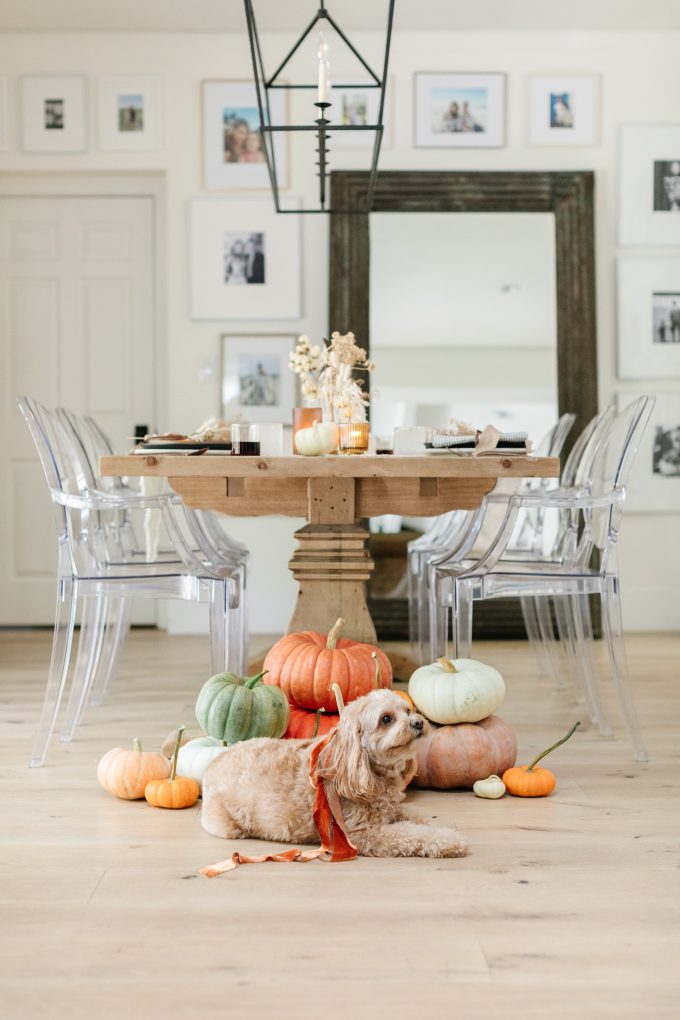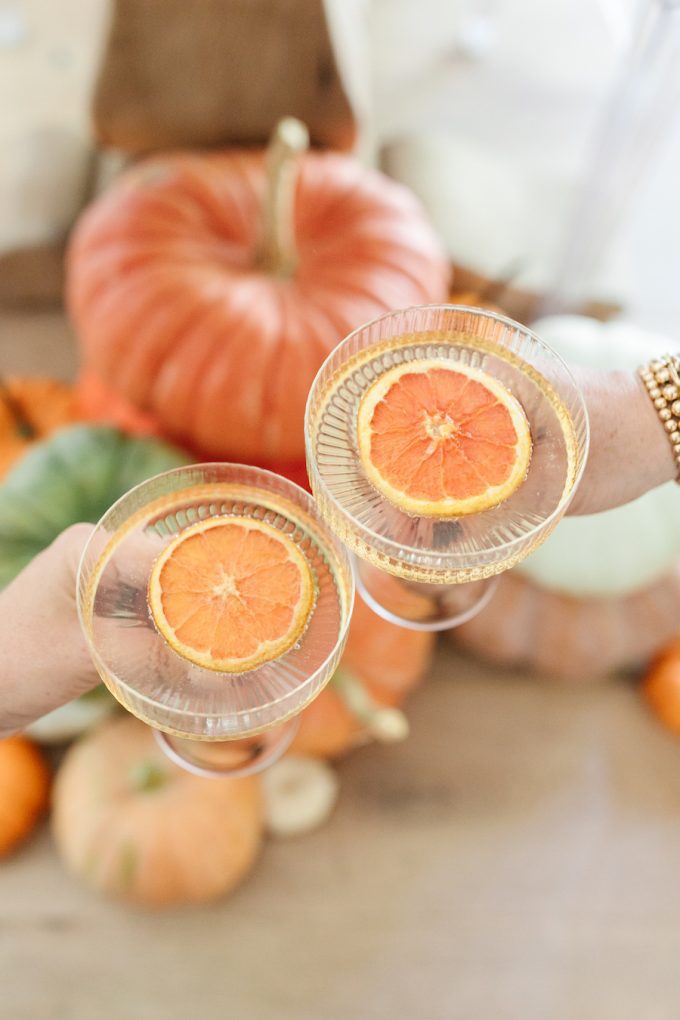 The truth of the matter is, you can set a table with your finest china, or set out paper plates. You can cook a gourmet meal or order takeout. The most important thing is to invite your loved ones over. Spend quality time together. Be a thoughtful host based on what brings YOU the most joy, this holiday season.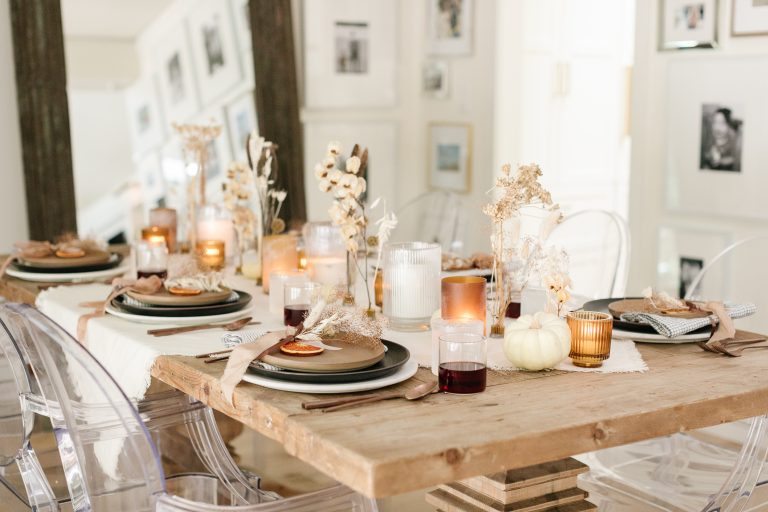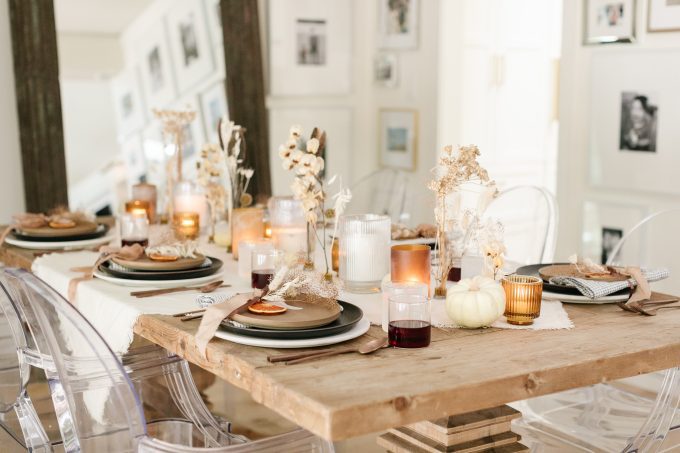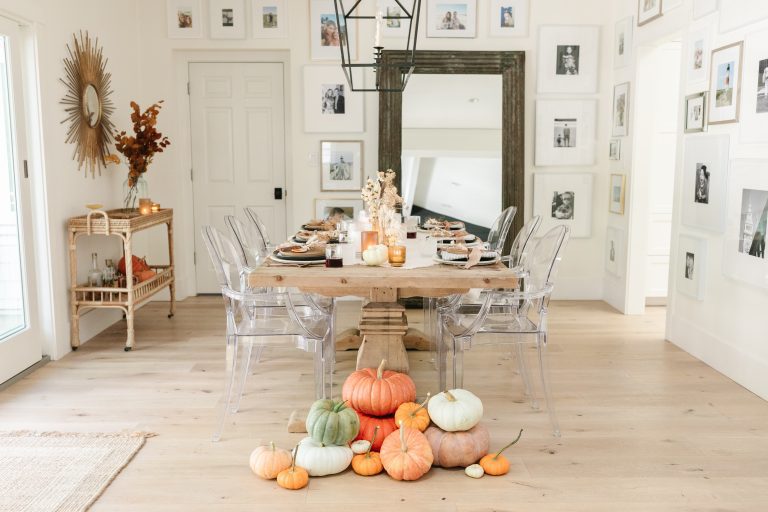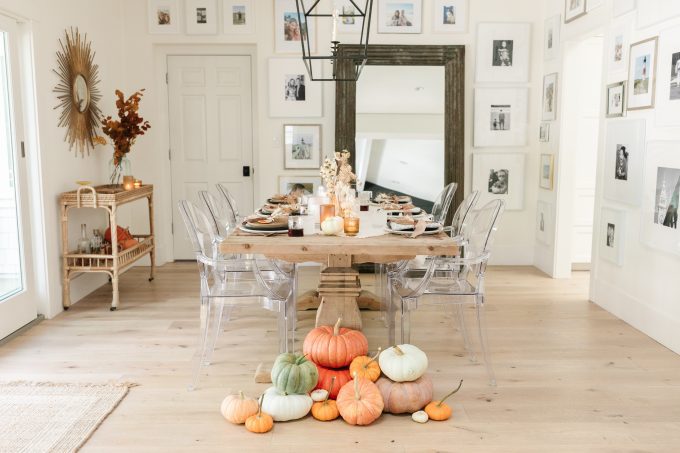 I had so much fun planning, photographing and spending the day with Meghan and learning all her tricks and tips. Be sure to follow her on Instagram for more inspiration and ideas.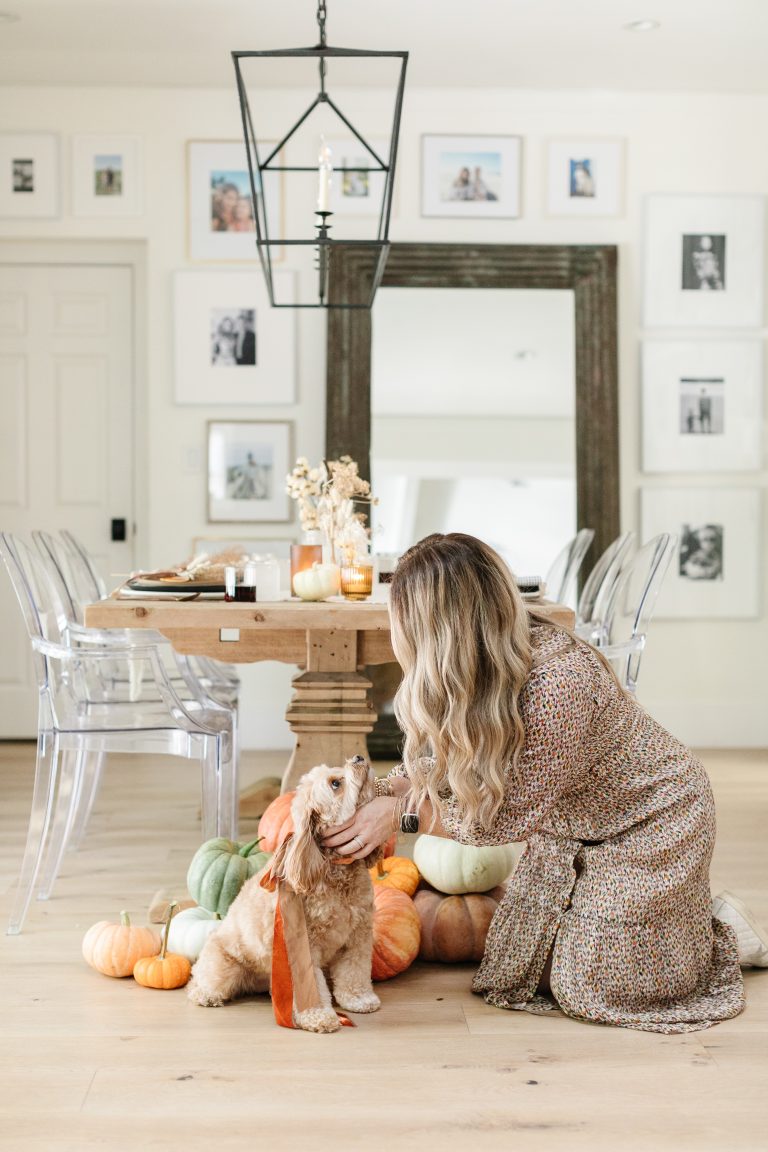 I hope this helps you plan for the upcoming holidays!
Shop Items Seen In This Post

3 Beautiful Thanksgiving Table Ideas
And now my friends are sharing their gorgeous Thanksgiving Table ideas today. Check out their posts to see more!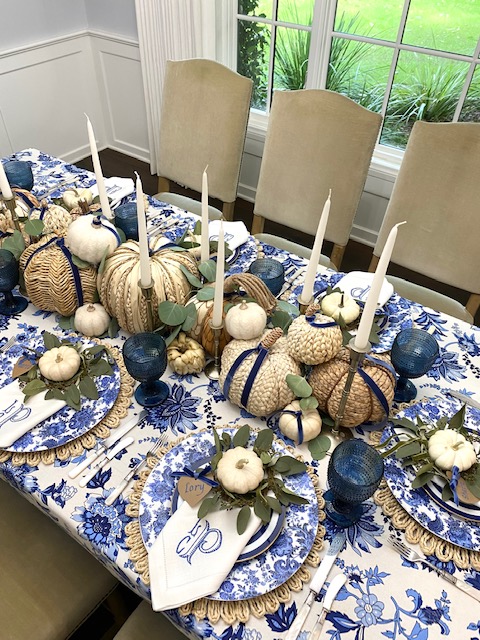 My Unique Thanksgiving Table: Blue, White & Straw | To Have + To Host
"Here's how I created this blue and white Thanksgiving table using natural elements like straw pumpkins, dried artichokes and fresh eucalyptus sprigs for a unique take on this holiday table setting."
Decorate a Dining Room Table for Thanksgiving | Happy Happy Nester
"Here are some simple tips and tricks to guide you on how to decorate a dining room table for thanksgiving for this upcoming season!"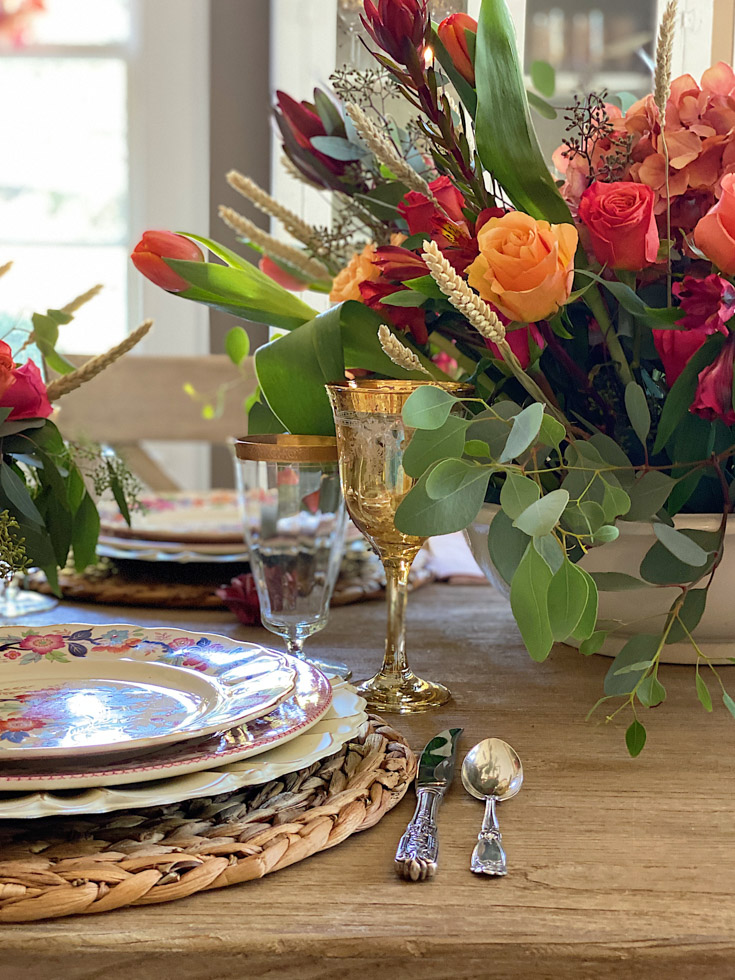 Thanksgiving Colors and Table Decor Ideas | My 100 Year Old Home
"I set this table and I think it is one of my favorite Thanksgiving table decor ideas. The Thanksgiving colors on my table are just wonderful!"