This Valentine's Day Kids Breakfast Party is so fun and festive! Valentine's Day is one of my favorite holidays to celebrate with my kids. They love all the pink and red and of course, the candy! I decided to throw a little party for them and treat them to a yummy and festive breakfast.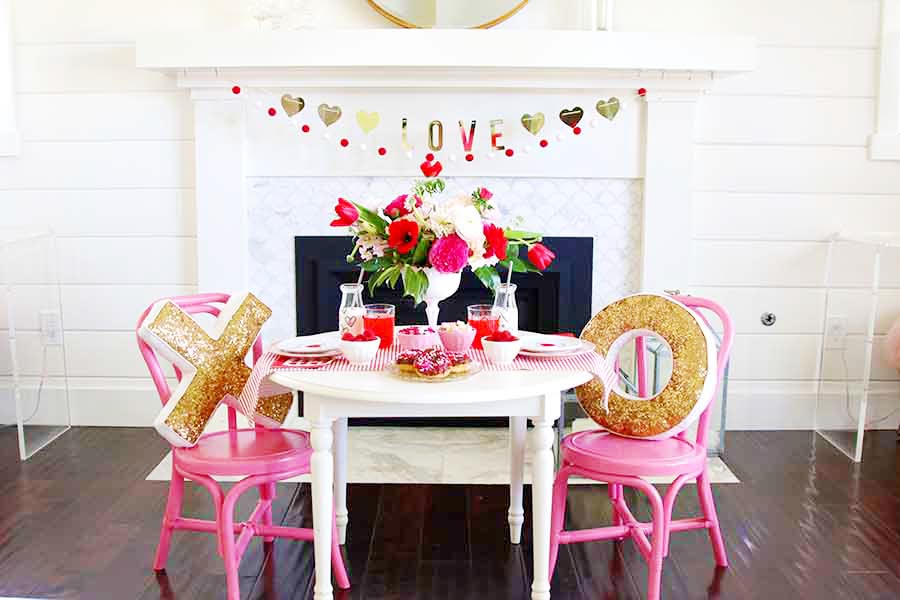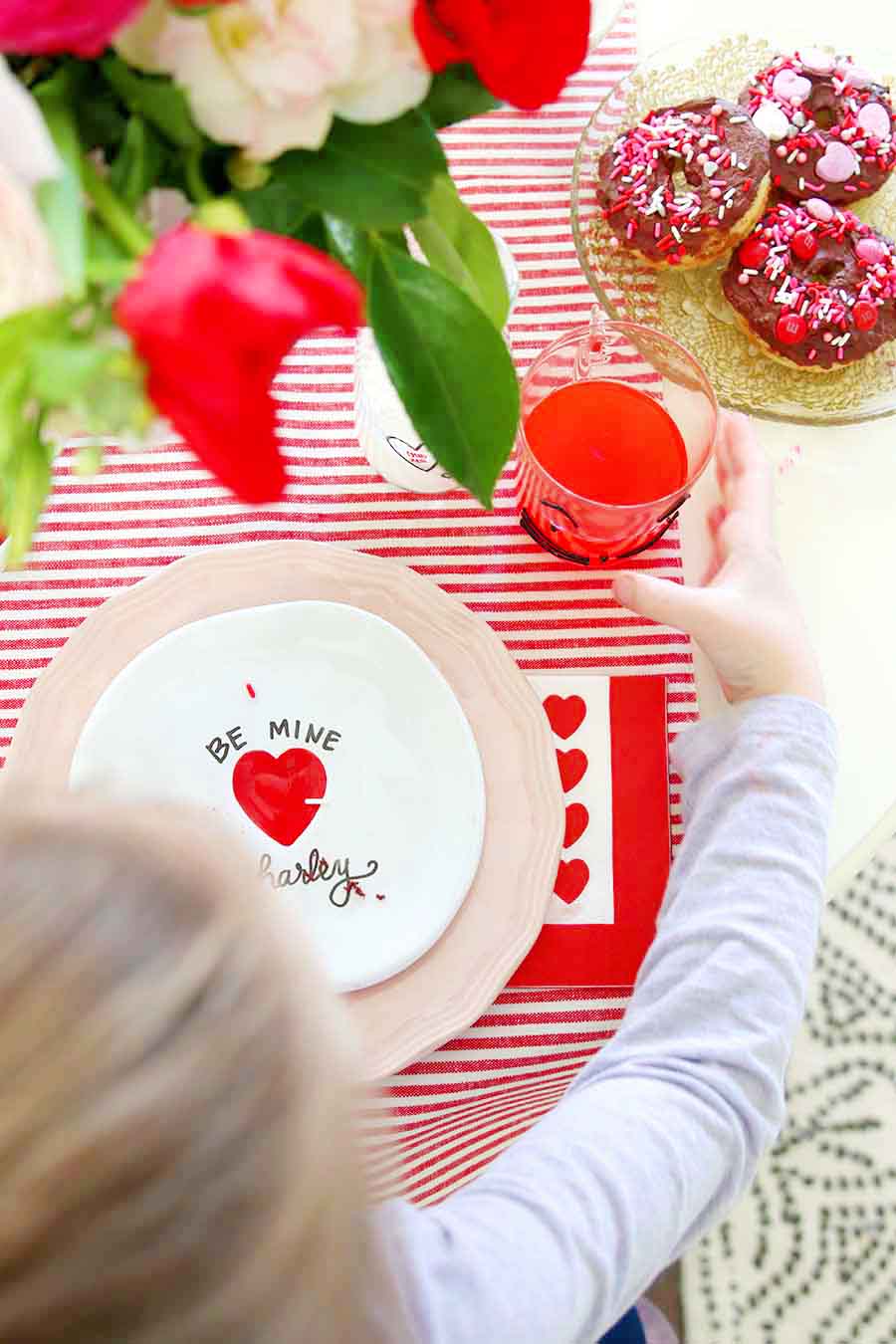 Valentine's Day Kids Breakfast Party
My favorite part of creating a beautiful tablescape is the flowers. For this fun Valentine's Day Kids Breakfast Party, I made a trip to the San Francisco Flower Mart and saw the most gorgeous ranunculus! I knew they would be perfect for this sweet little party! These beauties were imported from Italy. Can you believe it?! I think fresh florals are always a must for any special occasion.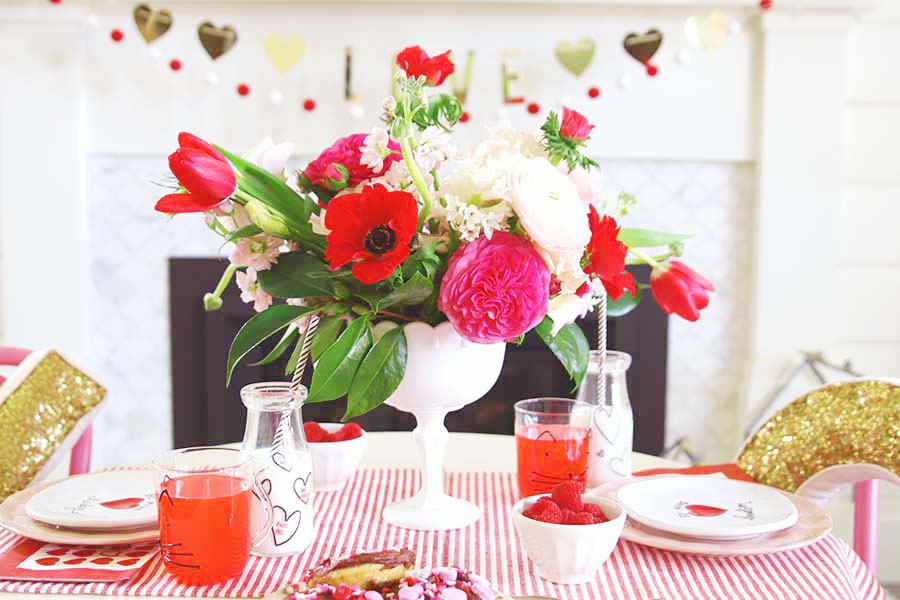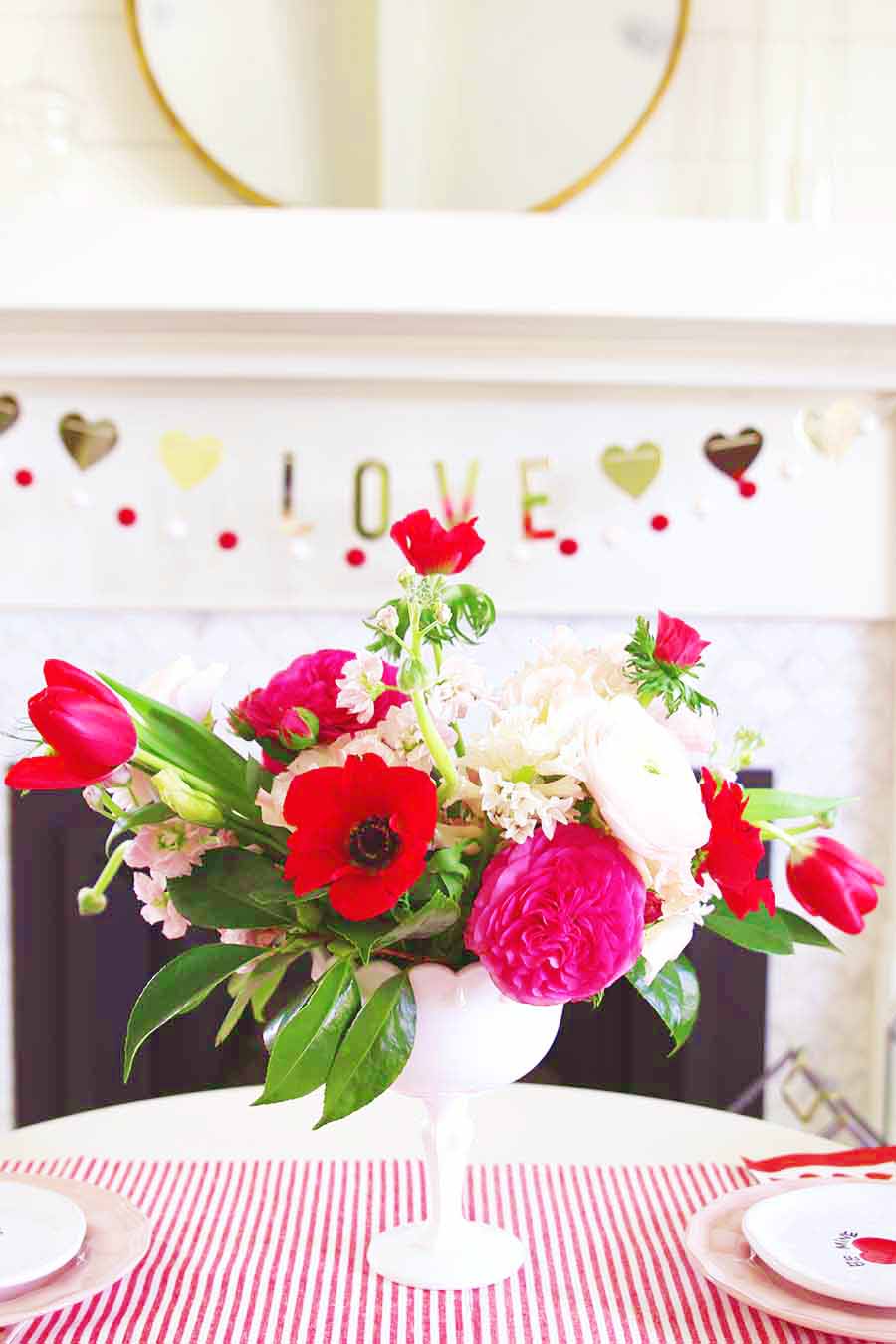 This arrangement is fun and sweet at the same time. A mix of ranunculus, camellias, tulips and some poppies give an ode to springtime to come!
Valentine's Day Table setting
I knew when I started planning this party that I wanted to do something to make it feel extra special. One of my favorite tools for 2018 are these Wine Glass Writers. If you haven't heard of them, they are a special pen used to write on glass and ceramic. What makes them unique is that they wipe off with just a wet sponge!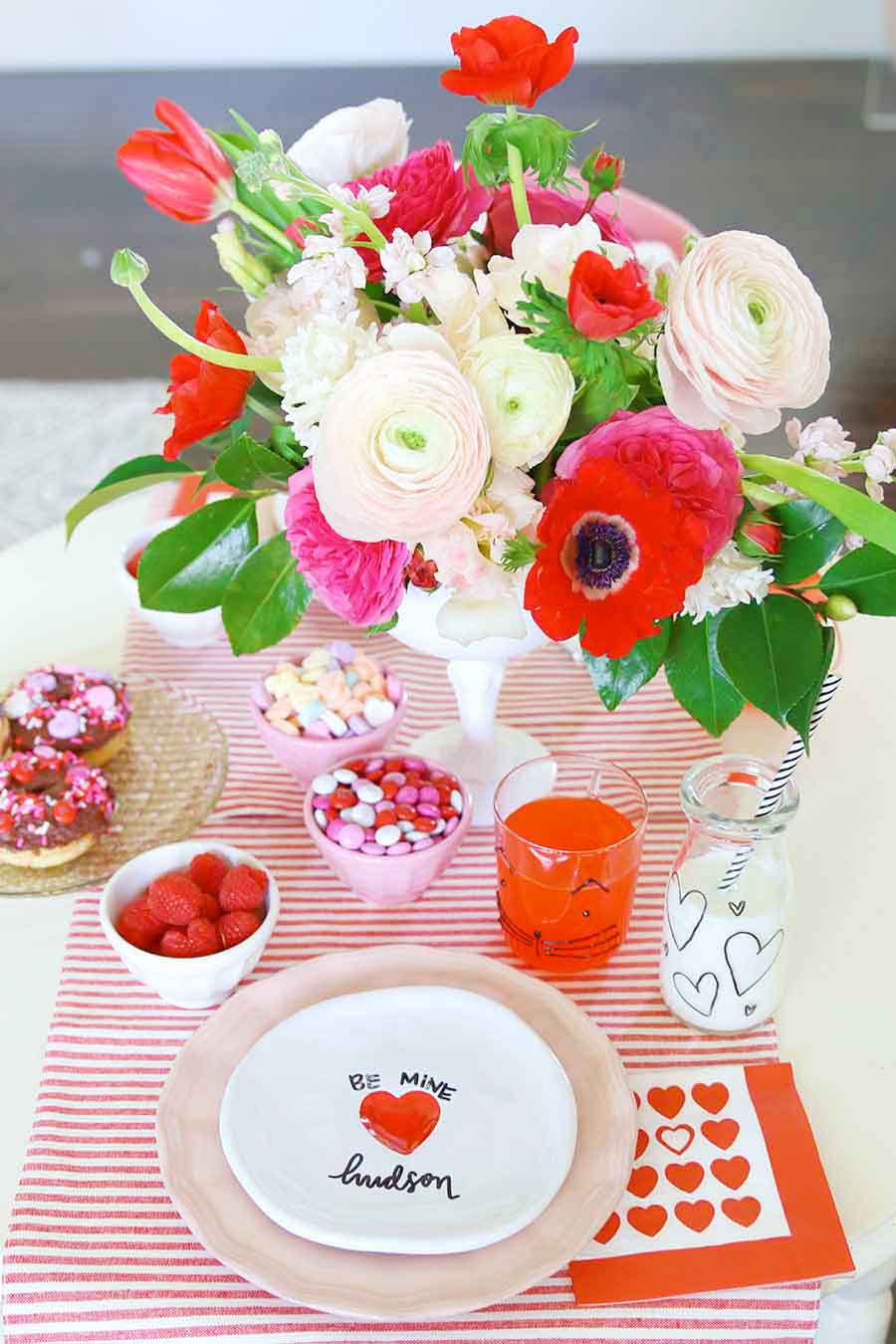 And they aren't just for writing on your wine glass (although that is handy too!). I have used them on everything from writing messages on my front door window to personalizing my kids cups at the dinner table. They come in a ton of colors too!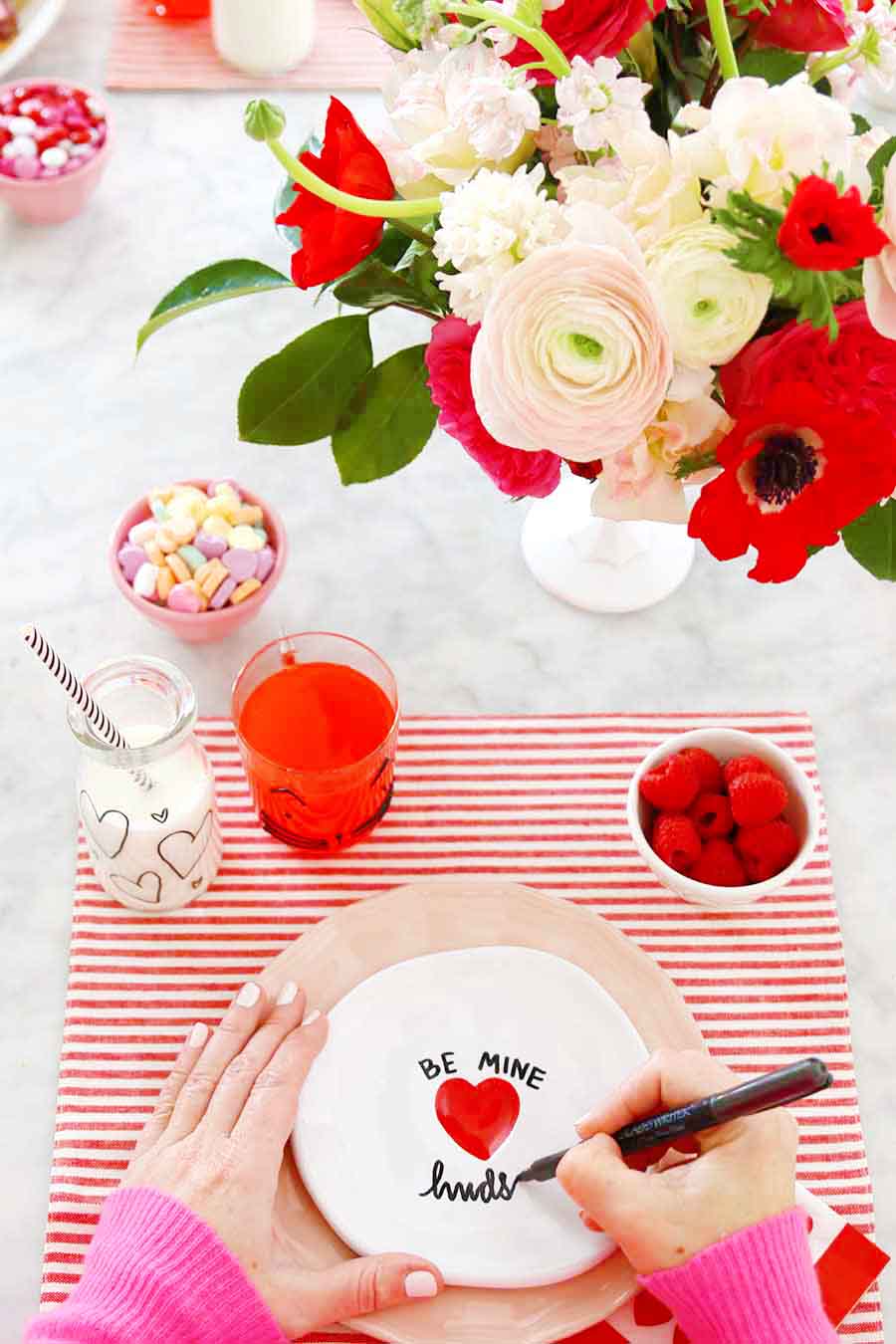 So, when I found these adorable plates at Williams-Sonoma I knew they would be perfect for writing a sweet message onto using my Wine Glass Writer pens.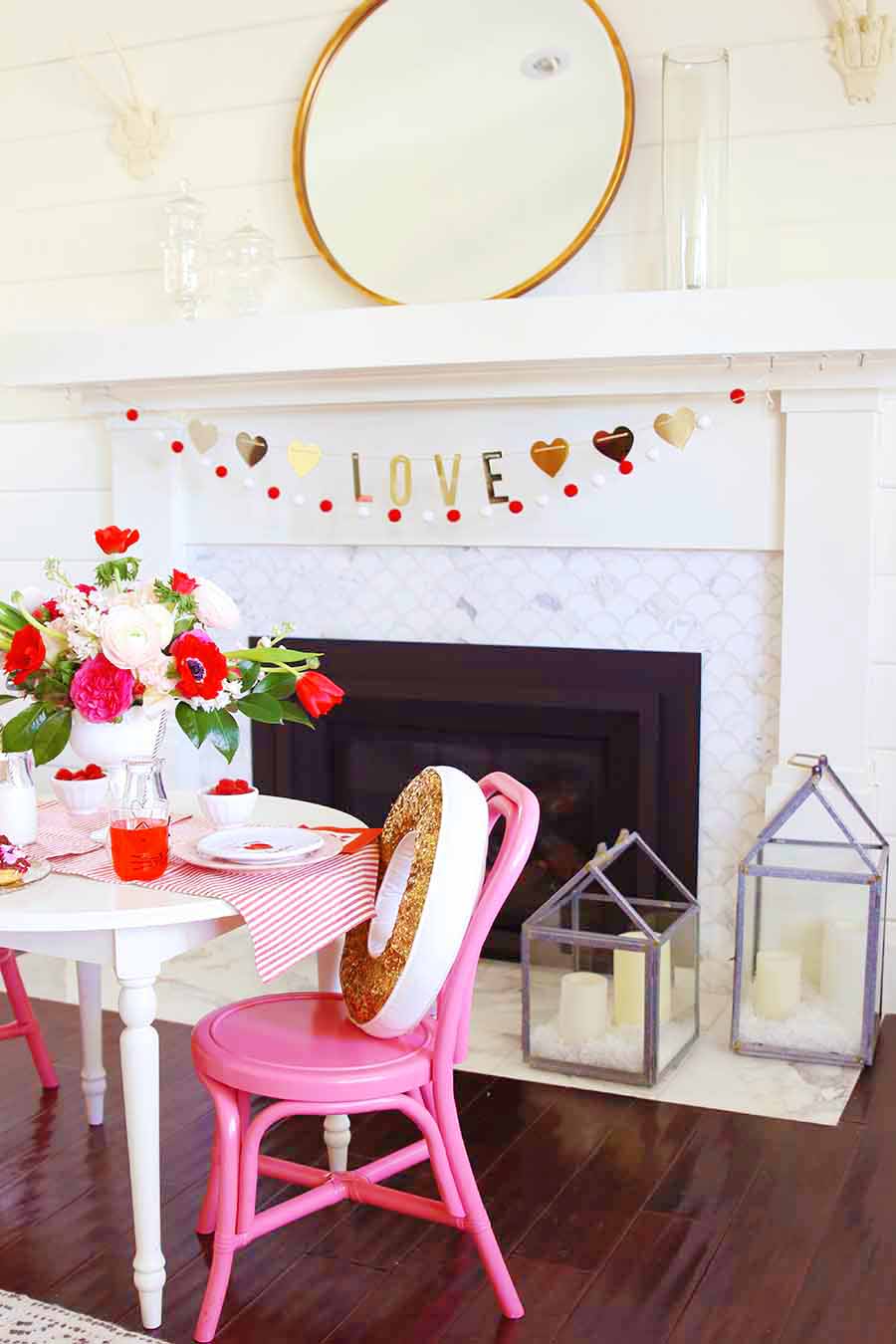 In addition to writing on the plates, I used the pens to draw on these glass milk jars. It was so easy to do! I used the charcoal metallic and red metallic Wine Glass Writer pens for this easy project.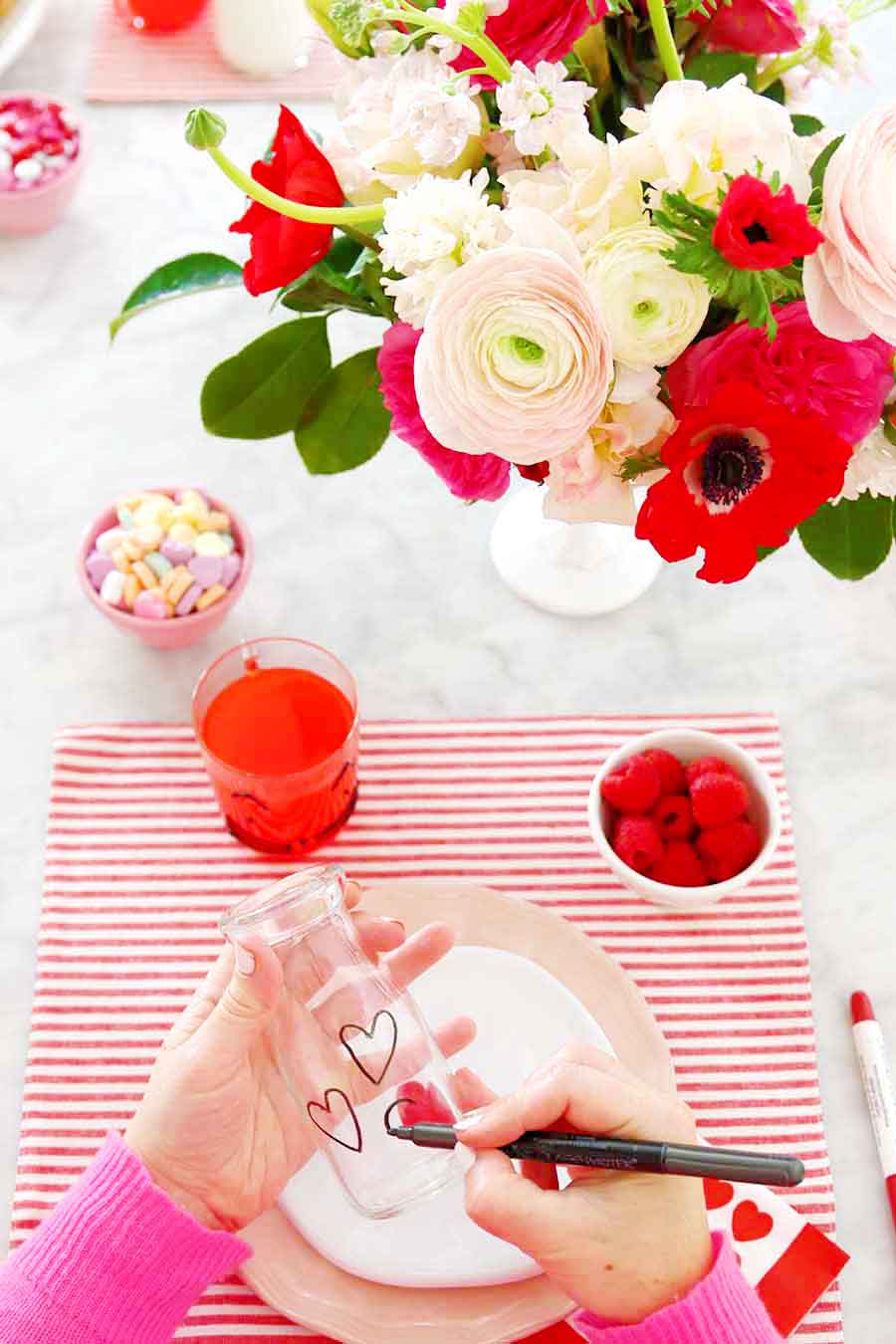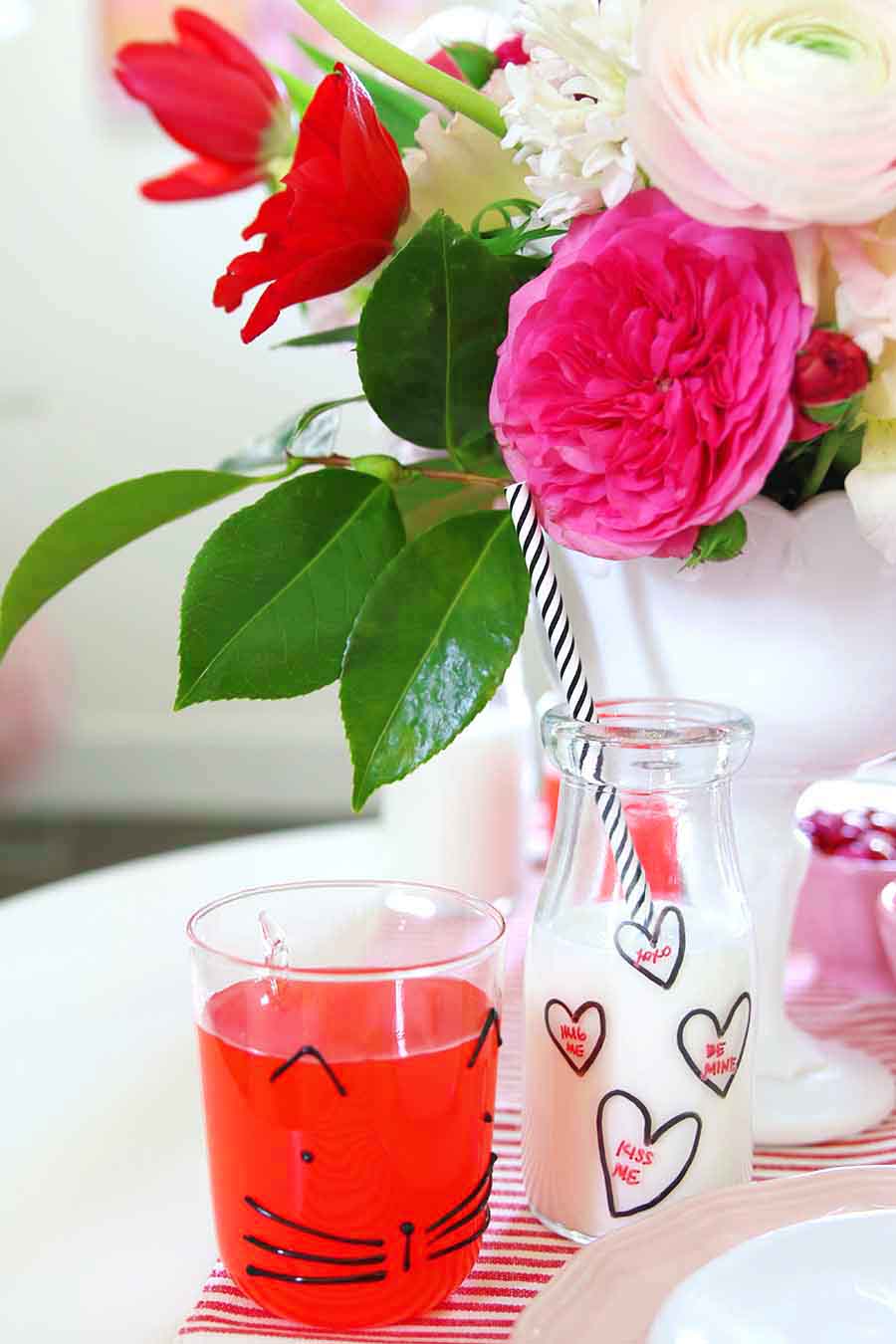 What I love most about this, is that you can use any glasses or plates that you have on hand to make something ordinary super fun and festive! My kids definitely loved their personalized table settings.
Easy Baked Donuts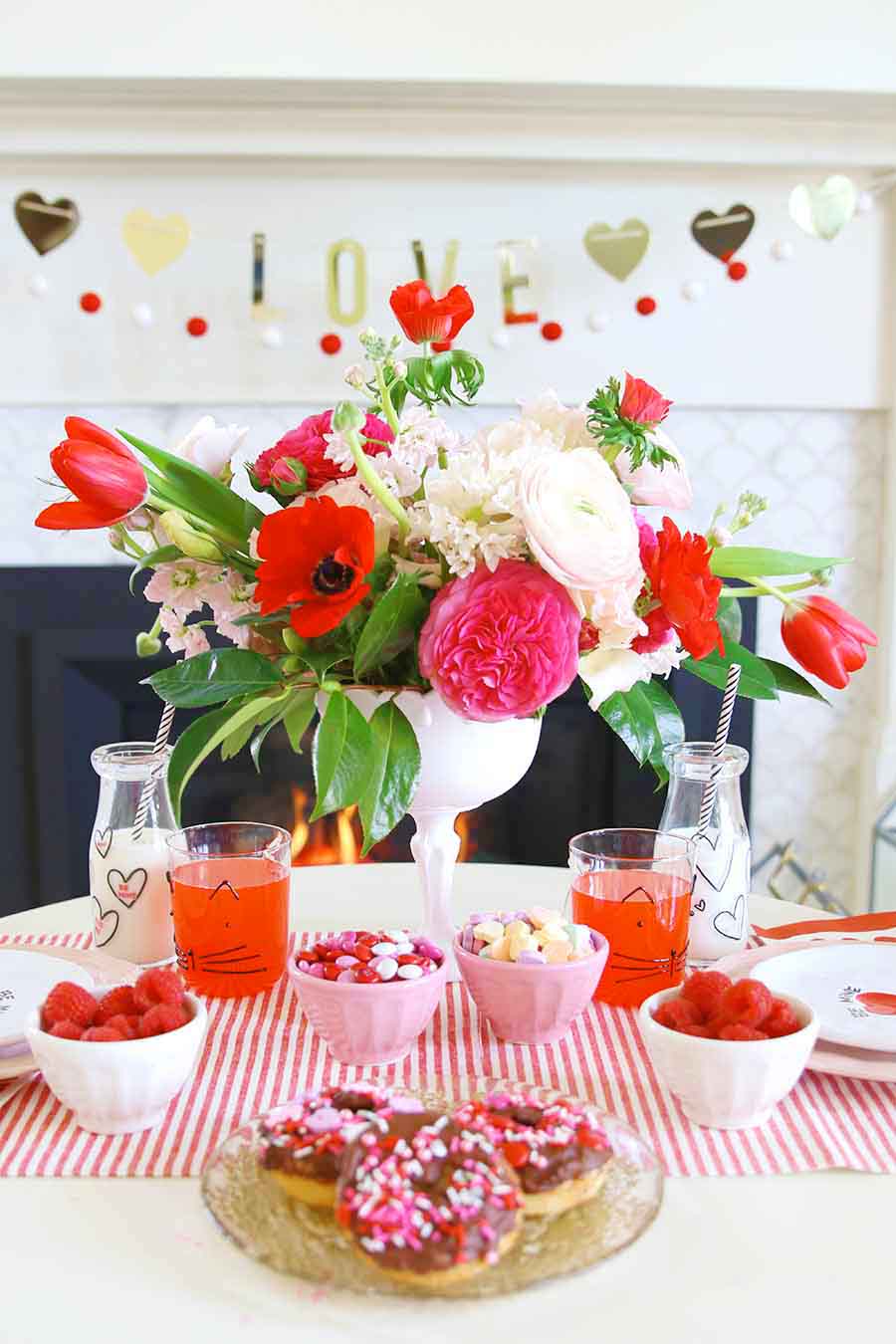 I wanted to create a fun and easy brunch for my kids and I decided to make my Easy Baked Donuts. My kids absolutely love decorating these donuts and they are so fast and easy to make. They make the perfect weekend treat!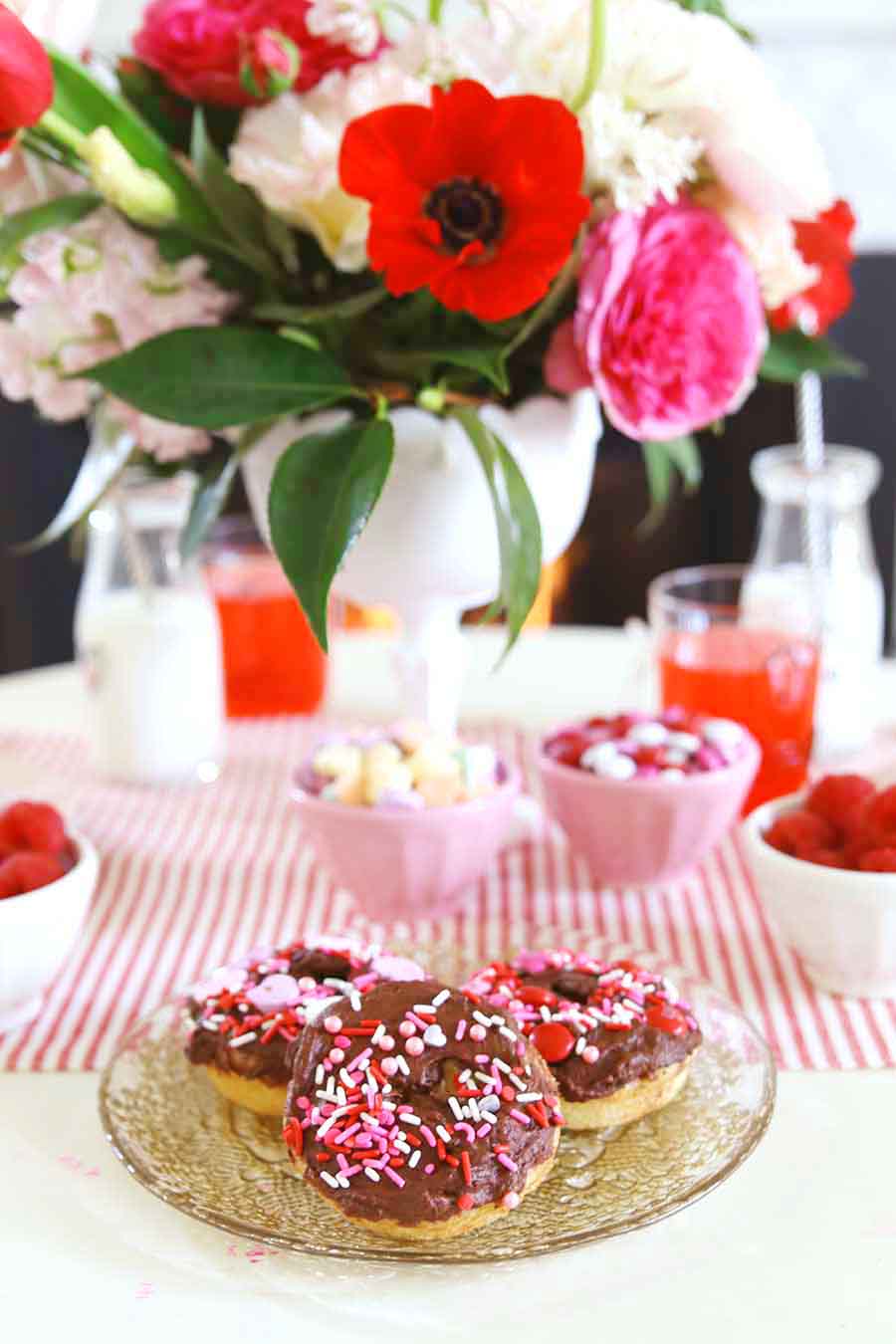 And here is a great list of other fun kids Valentines Day party food ideas via Coupons.com!
Berry Pancake Muffins.
Cherry Chip Pancakes with Cheesecake Sauce.
Nutella Strawberry Heart Shaped Pop Tarts.
Heart-Shaped Fruit Kabobs.
Heart Shaped Bacon.
Red Velvet Crepes.
Cranberry Orange Scones.
Hot Cocoa with Heart Shaped Marshmallows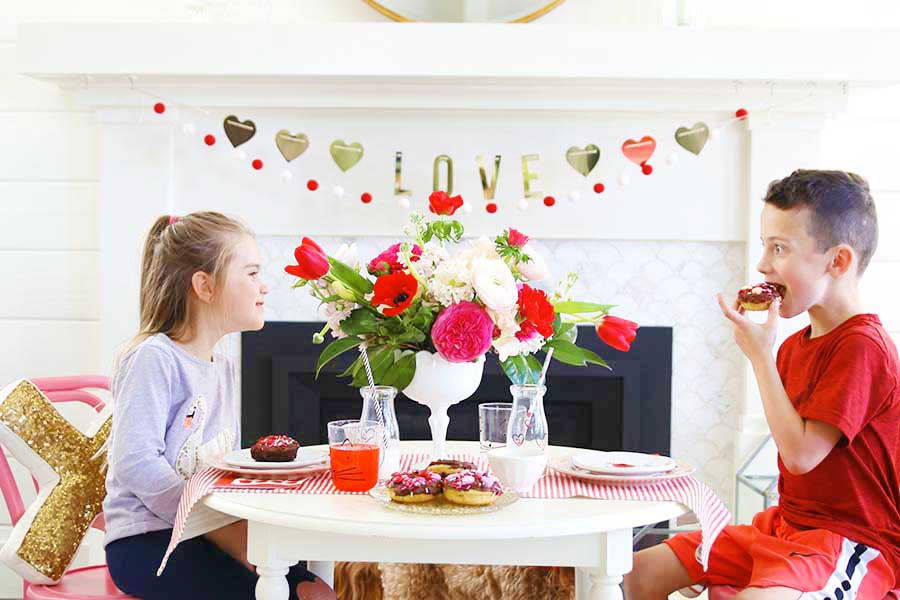 My kids had so much fun with this fun Valentine's Day Kids Party and Brunch! And as always, it's so fun to see the holidays through their eyes!
Shop the Post


This post is sponsored by Wine Glass Writer, but all opinions as always are my own.