Learn how to clean out your closet in 5 easy steps! Cleaning and organizing your closet doesn't have to be hard.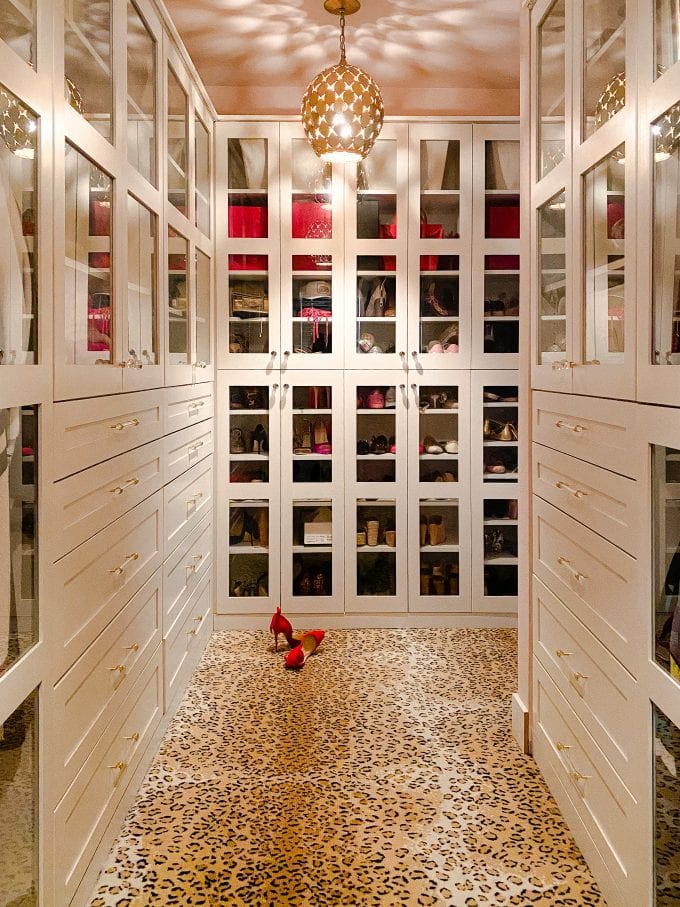 After 18 years in the fashion industry I have perfected the art of cleaning out your closet. Creating a wardrobe that reflects your style and that is also easy to navigate is such a great feeling! I have some great insider tips that I am excited to share with you.
I have done so many wardrobe consultations and helped customers turn their closet into a space that is filled with easy to grab outfits and clothes that they love to wear.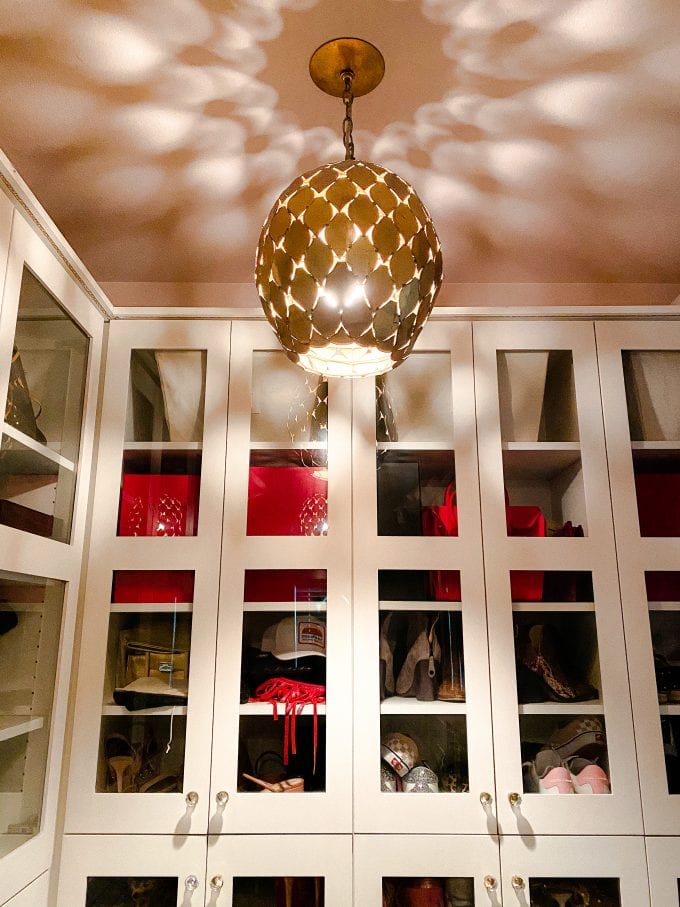 And today I am sharing with you my tried and true steps for cleaning out your closet!
All of the images are taken from my personal closet. You can take a tour of the whole space by visiting this post: Fashionista Closet Reveal.
How To Clean Out Your Closet Fast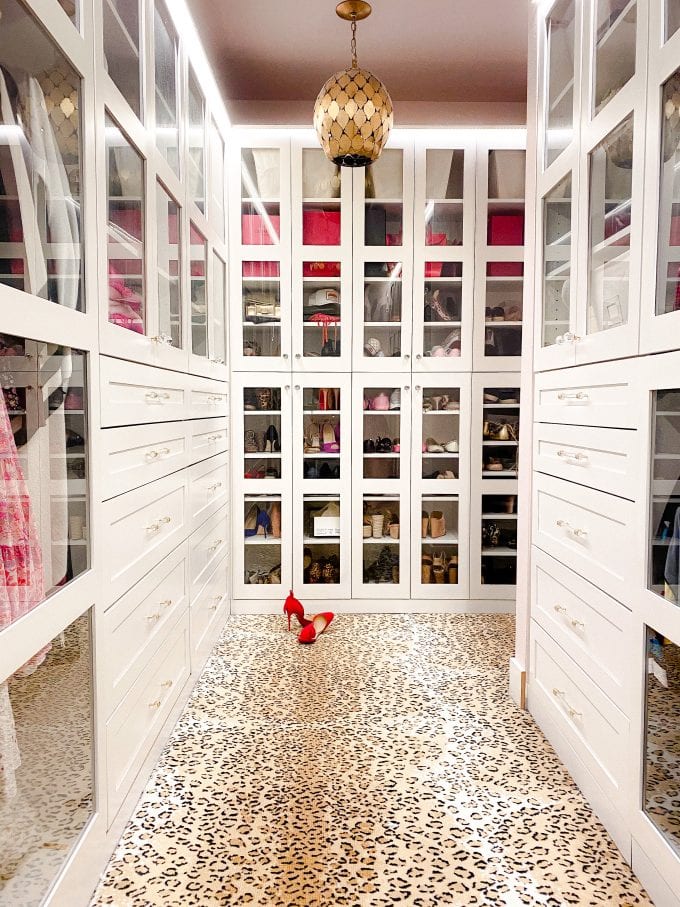 Cleaning out your closet doesn't have to be a chore that you dread. Using these 5 easy steps, you can have an organized closet filled with clothes you actually wear in just a few hours.
Take out all of your items and start with an empty slate
Separate your clothing into piles.
Go through each pile and determine whether you will keep, donate or sell…
Organize what you kept.
Make a list of items you may need to purchase to create a curated wardrobe.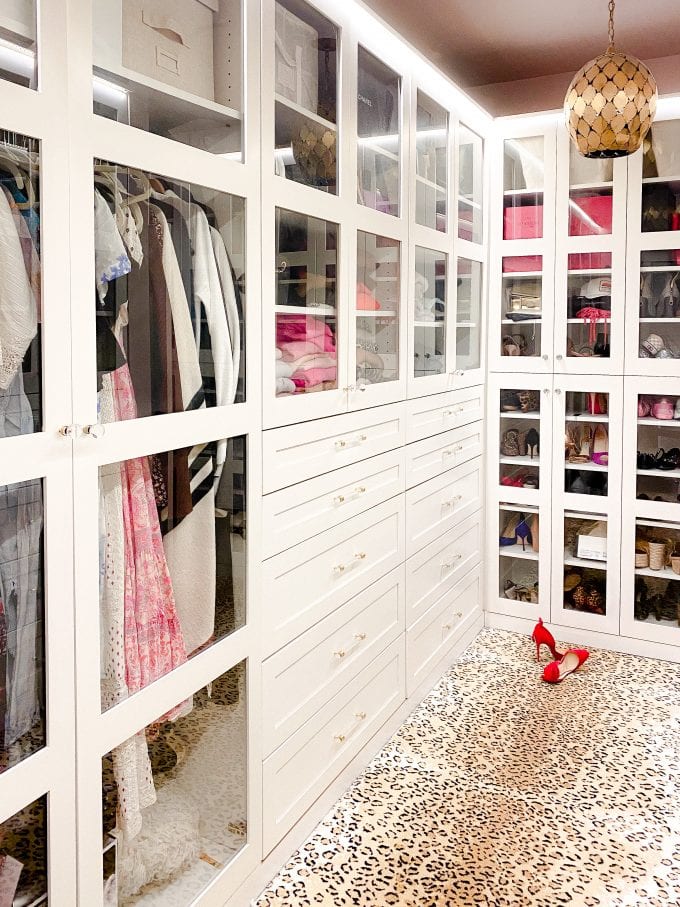 The first step to cleaning out your closet is to go through your clothes and look at each item. Decide whether it should be kept, thrifted or donated. Check out my handy infographic for an easy cheat sheet of determining the end result of each item.
If you have to think too long or hard about an item, donate it!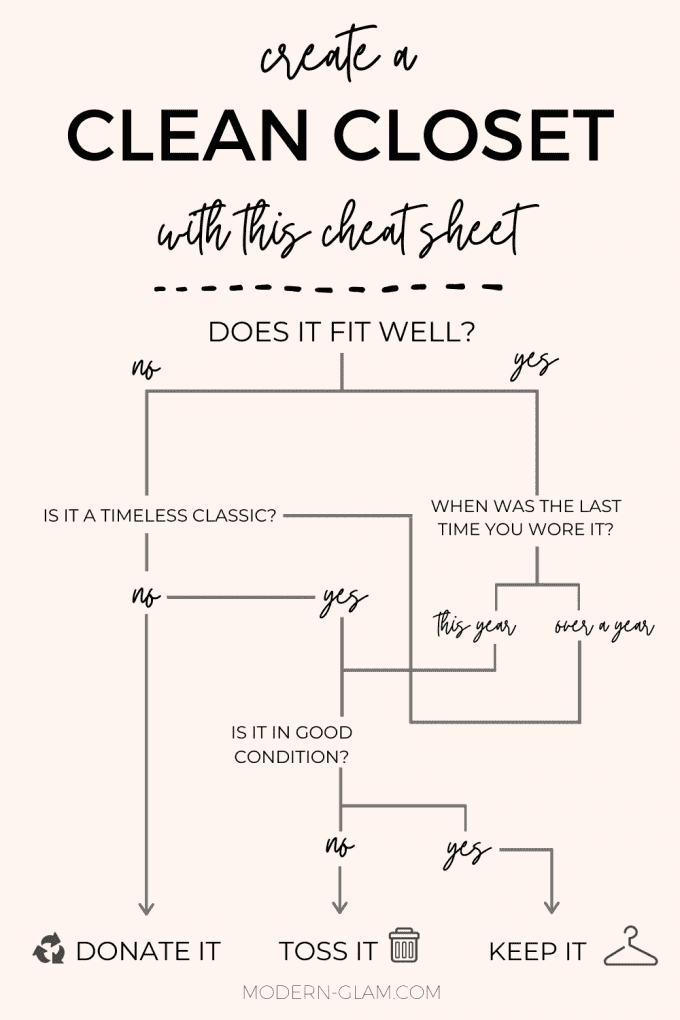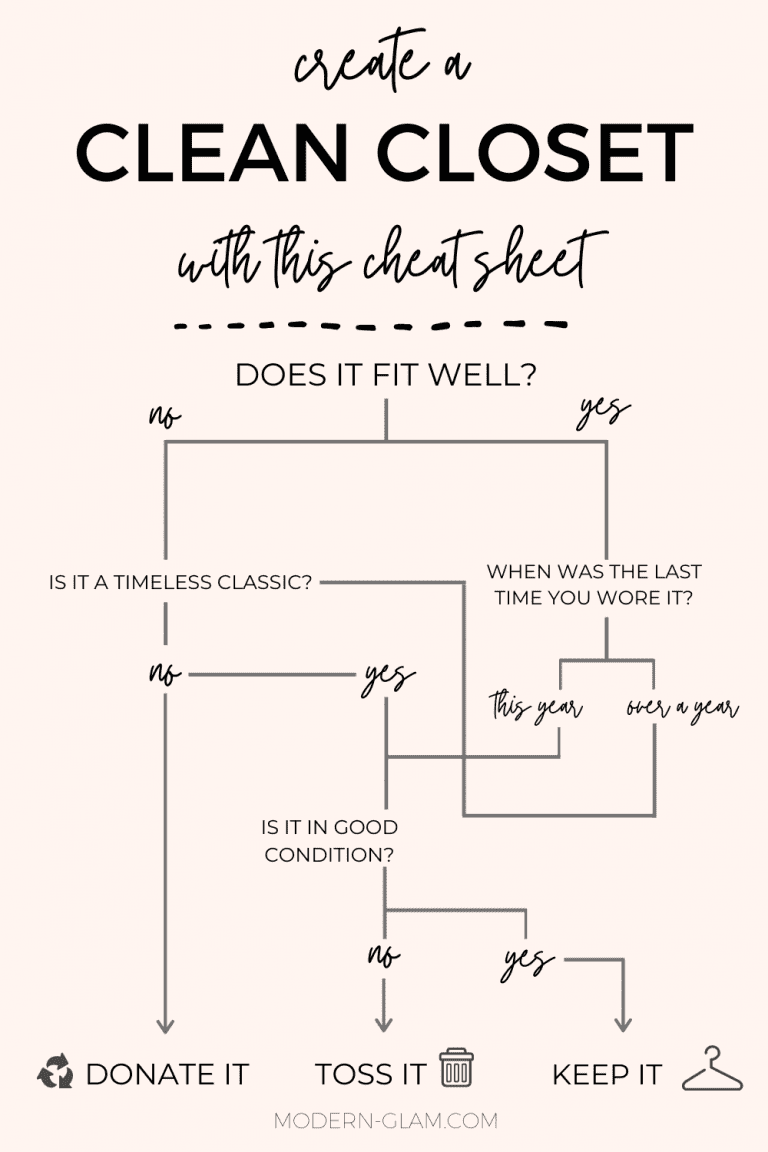 Here is the criteria I use to keep clothing:
Is it a timeless staple that is still in good condition?
Does it fit well and do you wear it often?
And here are my rules for deciding whether to donate or sell clothing:
Have you worn it in the last 12 months? If the answer is no, BYE BYE!
Does it no longer (or did it ever) fit? If the answer is yes, BYE BYE!
Does it have sentimental value? If the answer is yes, store it away and make room for clothing you actually wear.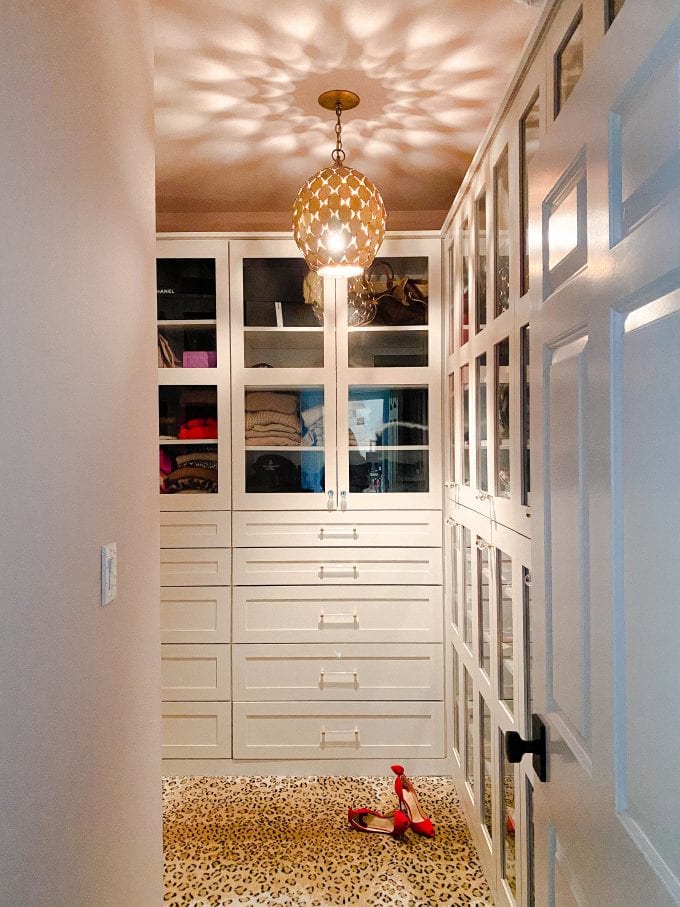 When placing items in the donate pile, make a note if it is something that you would like, or need to replace. For example, if you are donating an old white t-shirt, you may need to replace it.
Staples are important for creating a wardrobe filled with clothing you actually wear. The worst thing is when you are getting dressed and realize you no longer have that white cami that goes perfectly under your favorite sheer summer blouse. Create a shopping list as you are cleaning out your closet.
Creating A Curated Wardrobe
When investing in new clothing consider the quality of the item. There is so much disposable clothing on the market these days. Stores like Zara, Old Navy and Forever 21 have pieces that simply do not last and they are usually made of synthetic fabric.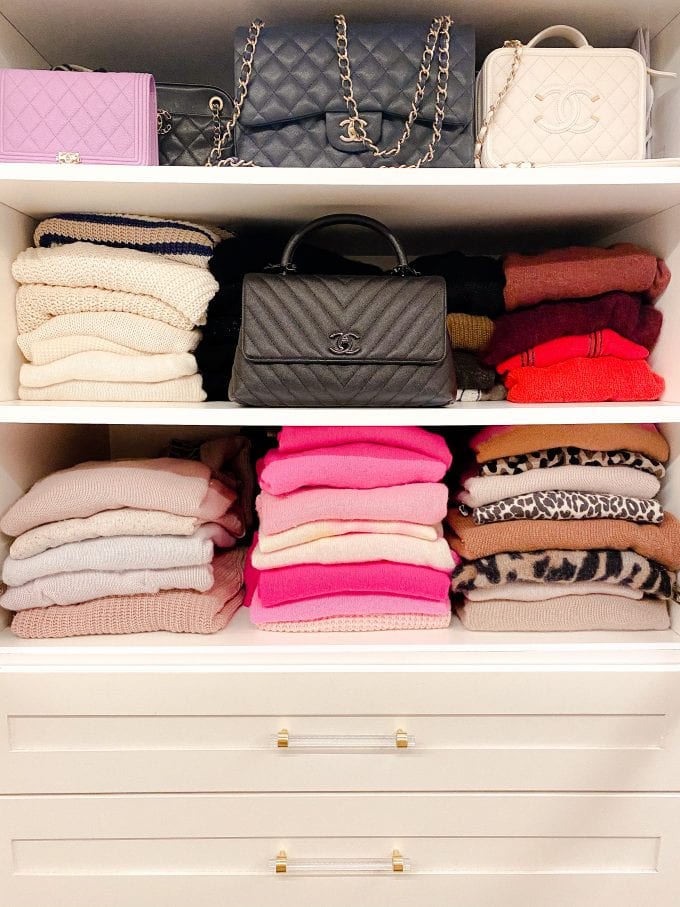 I like to spend more money on clothing that will last longer and has a more timeless design and style. Of course, I do fall victim to the occasional Zara trend. But, the poor fit and itchy fabrics usually have me placing these items in the donate pile sooner than later.
When cleaning out your closet, pare down your wardrobe to some quality basics with a few trendy pieces that add a pop to your wardrobe. Denim is one of my favorite ways to change the look of an outfit. Denim trends change faster than other fashion pieces.
How Often Should You Clean Out Your Closet?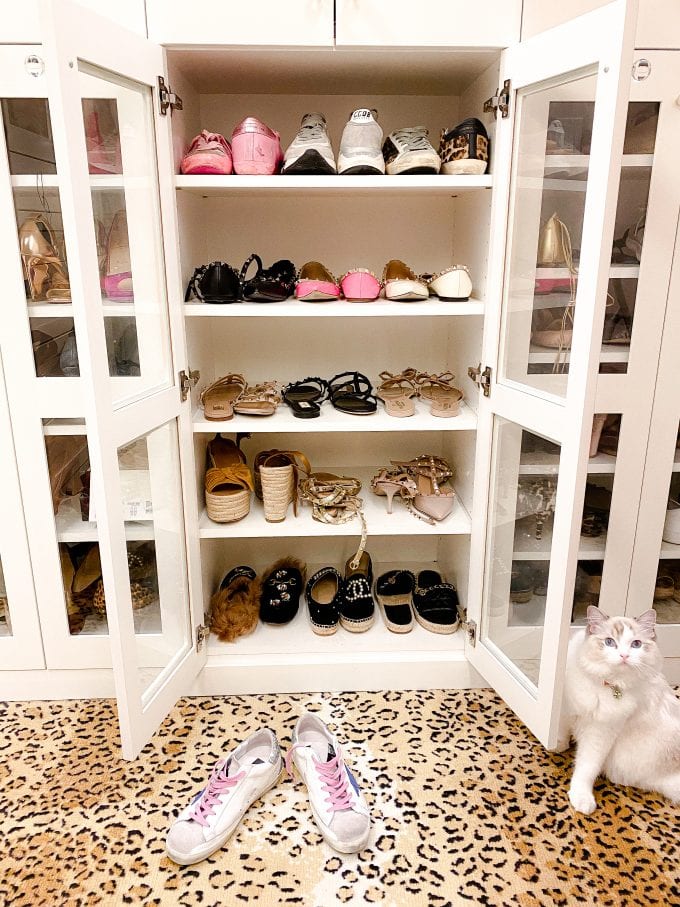 I suggest doing a mini cleanout every 2-3 months and a major overhaul once a year. Usually when the seasons change, I will go through my clothes and remove items that are worn out, no longer appeal to me, or don't fit.
Since we tend to buy new clothes at the start of each season, this is also a great reminder to go through your clothes and take an assessment.
How To Organize Your Closet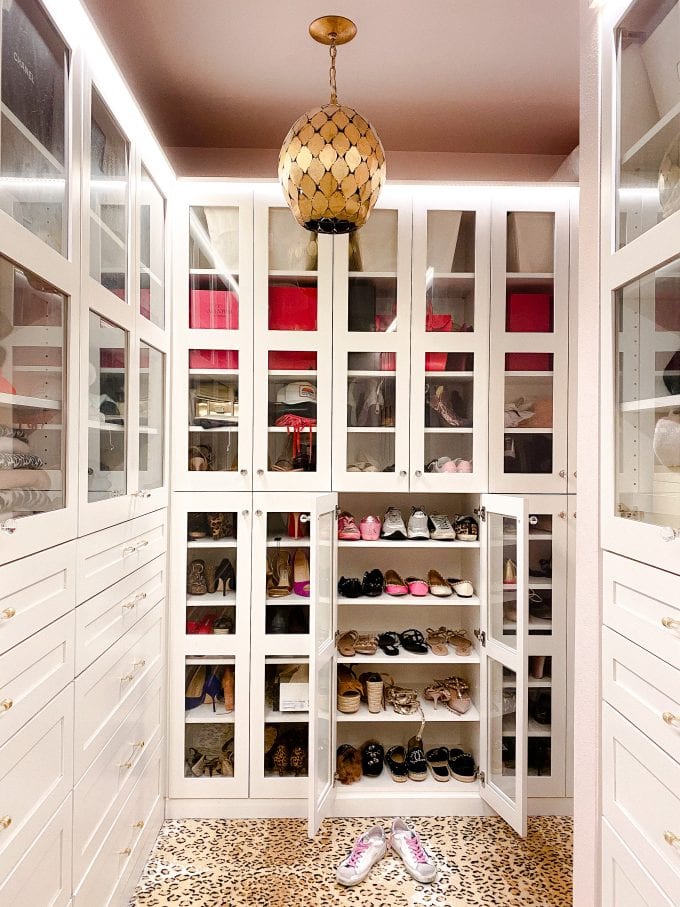 Ok, now that we have created a clean closet, let's talk about organization. Here are a few tips that I use in my own closet and how I keep things relatively organized and tidy.
Store your clothes by category.
Hang anything delicate, fancy, or sturdy.
Use coordinating hangers.
Stack thick items like denim and sweaters.
Keep Clothes Organized By Type
I sort my clothes by silky tops, sweaters, denim, dresses, tees, tanks and workout clothes. I even go a bit further by stacking my t-shirts by type.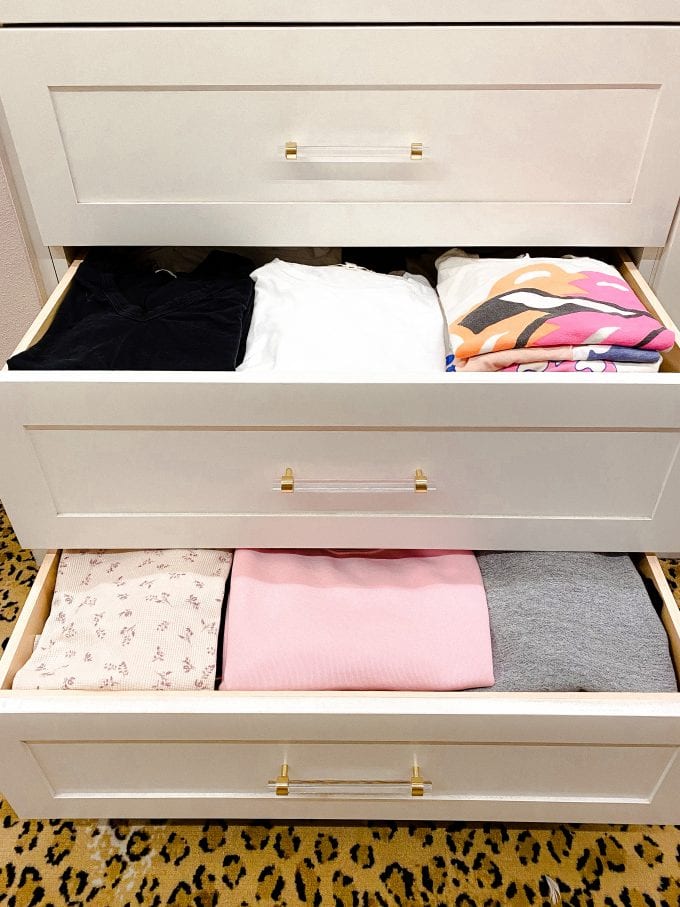 For example, graphic tees, white tees, dark tees, and cropped tees all have their own pile. And long sleeved t-shirts have their own separate drawer organized in a similar fashion. This way, I know exactly where to find what I'm looking for and don't make a mess of the piles when getting dressed in the morning.
Hang Your Delicates & Fold Your Tees
Hang all your delicate items, don't fold them. This prevents wrinkling and keeps them looking nice.
And folding t-shirts in piles sorted by type like I talked about above saves hard-to-find hanging space.
Only Use Coordinating Hangers For A Clean Closet
I love to use the felt wrapped space-saving hangers. Not only do they save a lot of room in your closet, but it always looks better when all the hangers are the same. After all, it's important to keep that clean closet feel.
Fold and Stack Denim & Sweaters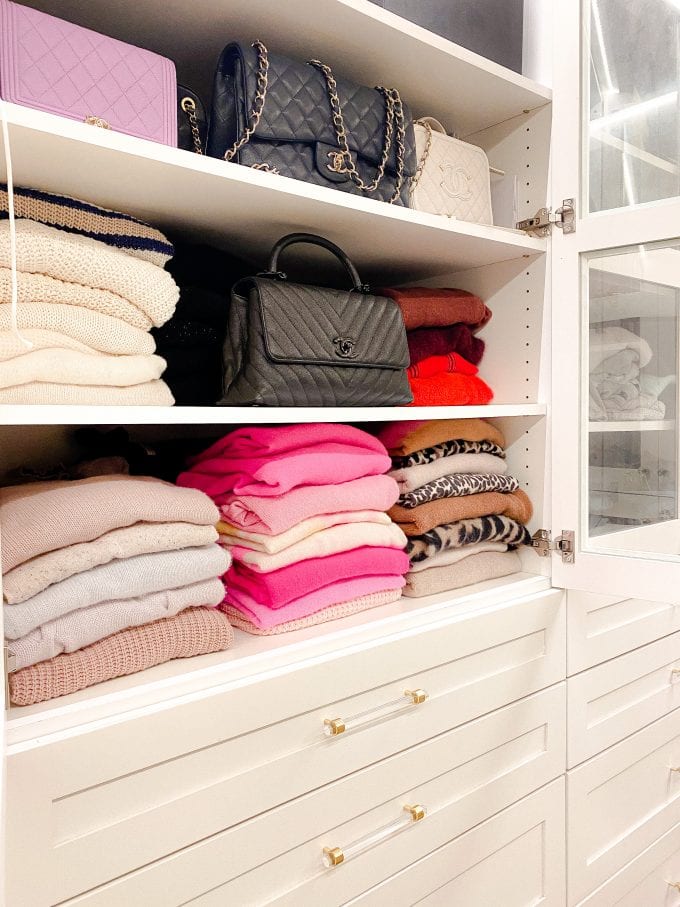 Denim and sweaters are always folded and stacked in drawers or cupboards. Finding what you are looking for is much easier this way and makes for a more organized closet.
Now, let me know YOUR favorite tips for cleaning out your closet. And how often do you clean and organize it? I'd love to know!
9 Closet and Cupboard Organizing Ideas For Your Home
Here are 9 amazing closet and cupboard organizing ideas for your home. Get every space organized and tidy with these tips!

Organizing Through Our Home // Finding Lovely
Clean Out Your Closet in 5 Easy Steps! // Modern Glam
How to Organize Your Bedroom Closet // Dreaming Of Homemaking

Spice Rack Organizing Ideas // Happy Happy Nester
Baking Cupboard Organization // Zevy Joy
Tips to Organizing the Pantry // My 100 Year Old Home

A Pretty & Functional Small Linen Closet Makeover // The Ginger Home
How To Organize A Small Reach In Closet // The Happy Housie
Bathroom Organization // My Sweet Savannah
The Ultimate Guide To Home Organization
Check out these past projects on home organization that I have shared. Click the link below each image to view the post for more details.