Happy Friday! Fall is right around the corner and the kids are back to school next week! This past week I have really been getting ready for fall. I've been shopping around and planning out my fall home decor. I can't wait to show you what I have in store for my home this season! Because Fall is my favorite season of all! Here is what I have been drooling over this past week.
Fall Favorites: My Current Obsessions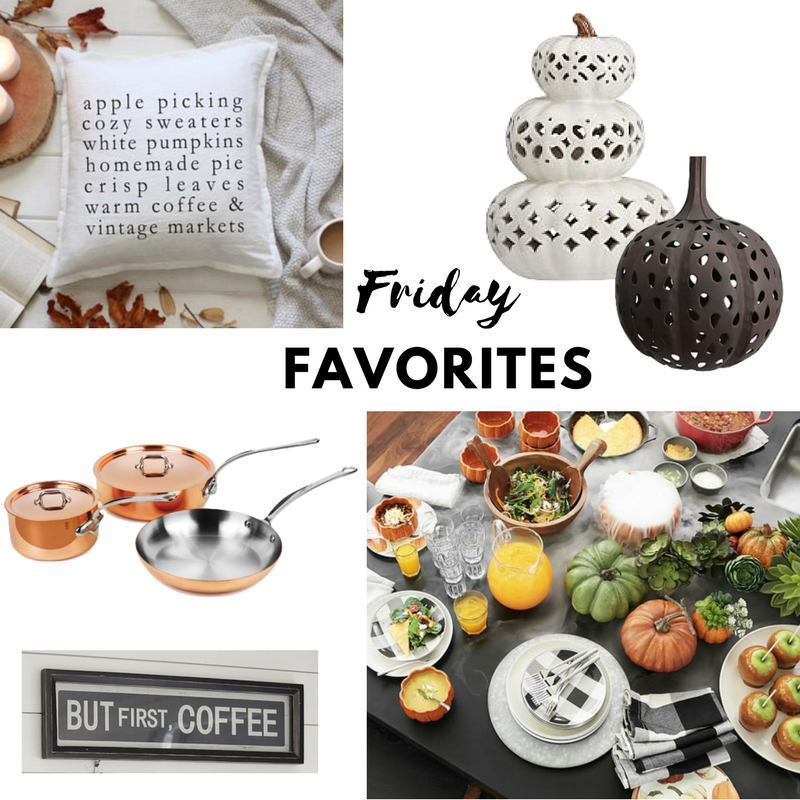 There is just something about a copper pot that screams fall, harvest and pumpkin spice! I only have a few pots and I think I need to add a few copper pieces to my assortment. It just gives you an excuse to leave the pot on the stove, right?
This setup gets me! I am loving the rustic vibe. I can totally see this as a fall picnic spread complete with hot apple cider and doughnuts! The buffalo check plates and napkins are totally on my radar right now. You can see my fall trend board here.
This speaks my love language! I am currently doing a 5 week cleanse and I am off coffee completely. So maybe it's just my coffee hangover talking, but I love this sign! Such a cute addition to your kitchen assortment.
I love this cute pillow that I found on Etsy. It is a simple sentiment without screaming FALL at the top of your lungs! You may see it in my fall home tour soon, lol.
Every year at Halloween I try to create a magical lantern out of pumpkin, but always fail. These ceramic and metal versions are the perfect solution. I am going to put one of my flameless candles inside on my front porch. What do you think?
So are you ready for fall? What are some fun things you have been eyeing for the upcoming season?
Shop The Post