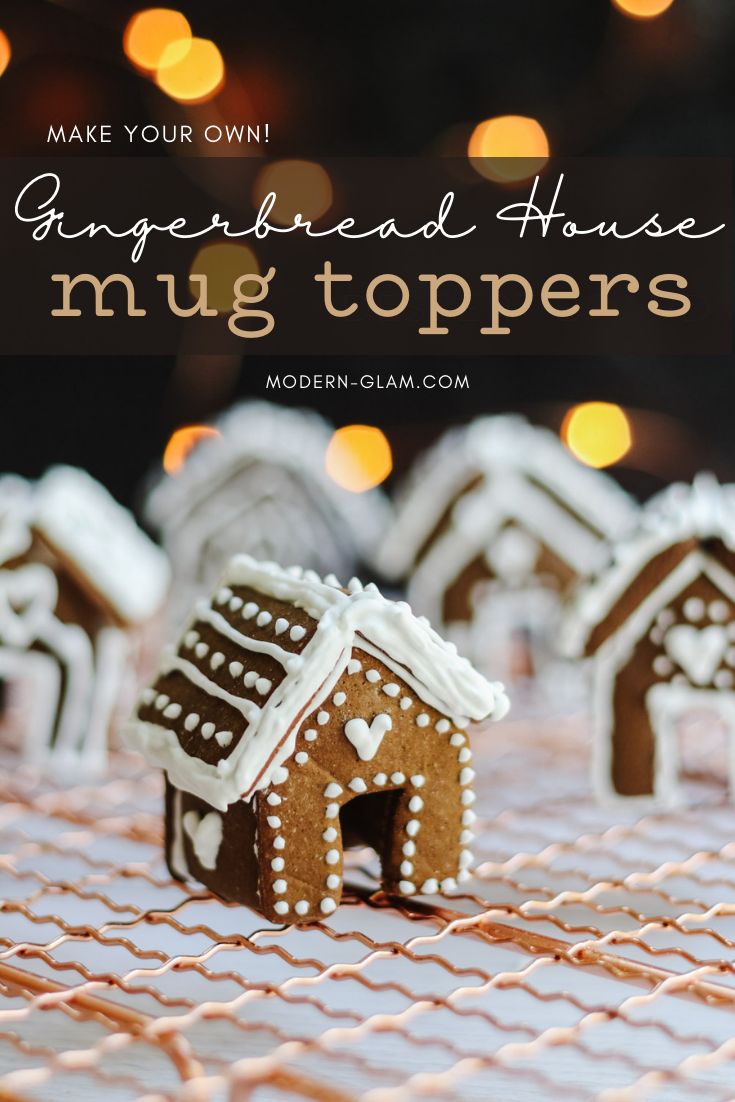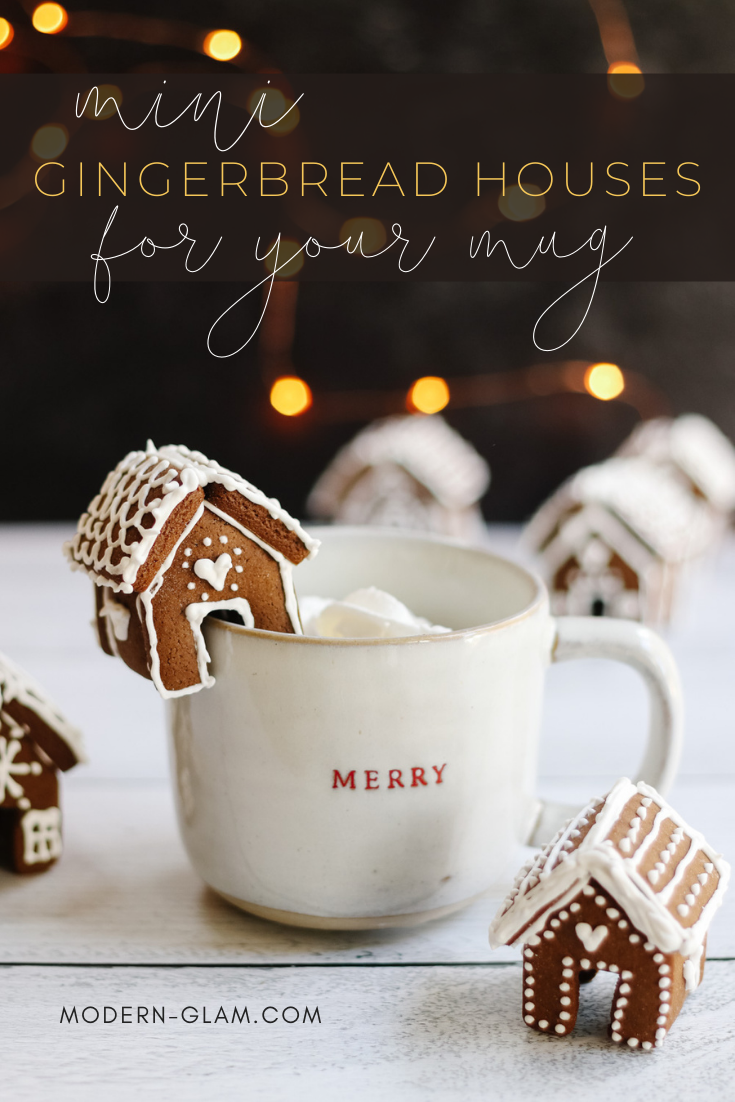 Make these cute mini Gingerbread House Mug Toppers for the holidays! Dress up your hot cocoa with these adorable treats. They make a great homemade gift too!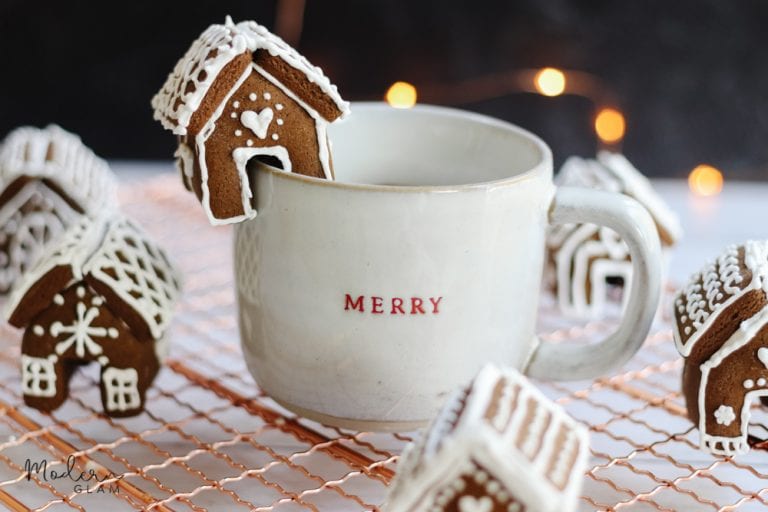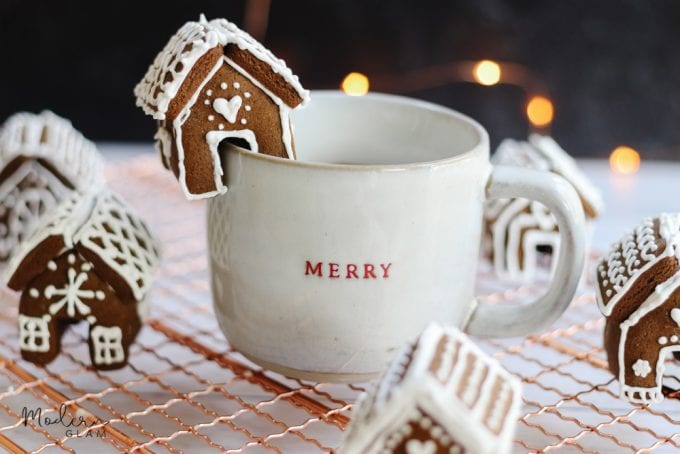 The Cutest Mini Gingerbread Houses For Your Mug
The holidays are here and it's time to get creative! These mini gingerbread house mug toppers are so fun to make. And wouldn't they make the cutest gift with a fun holiday mug and package of hot chocolate?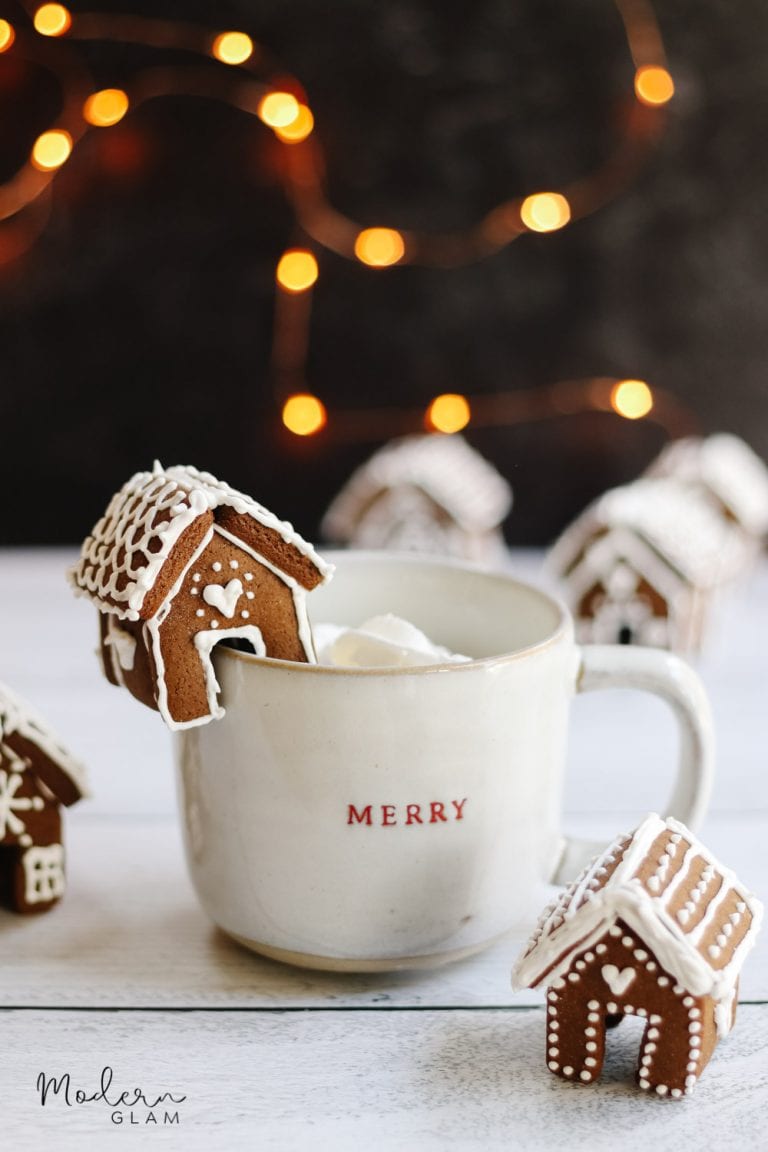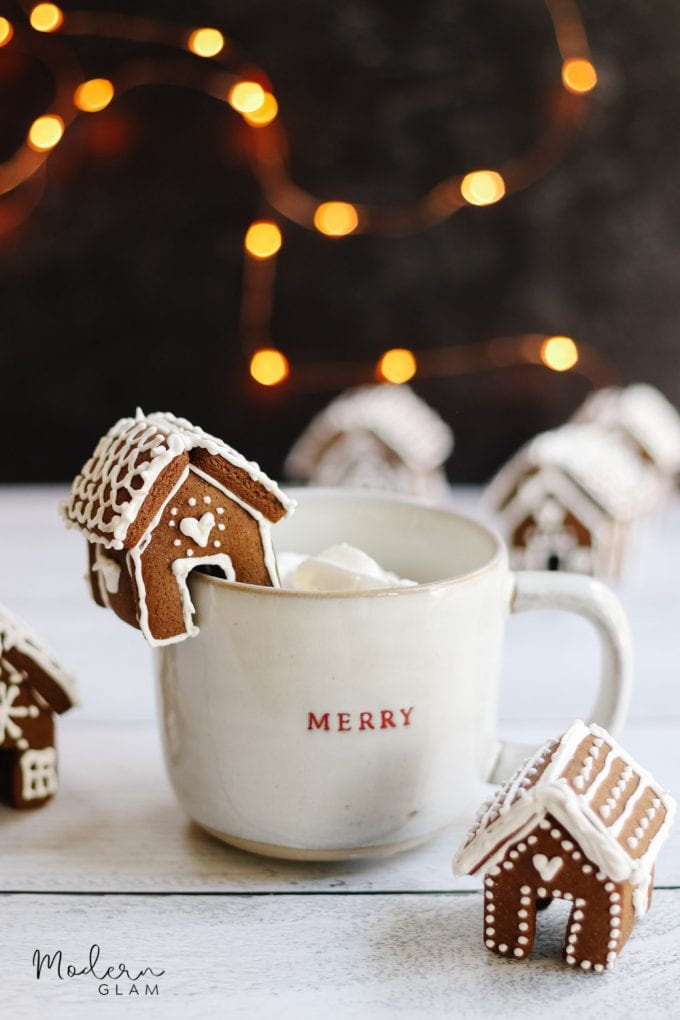 I had so much fun making these cute little gingerbread mug toppers. And you know what's great about making things mini sized? They are easier to decorate!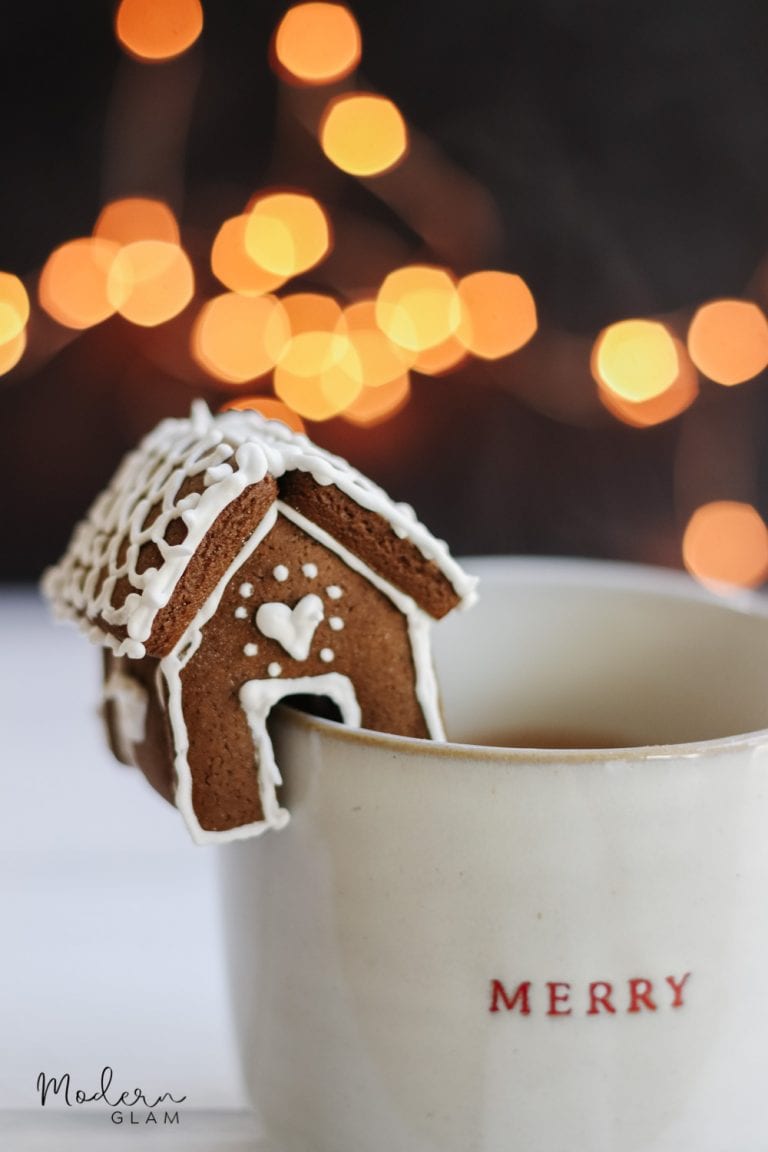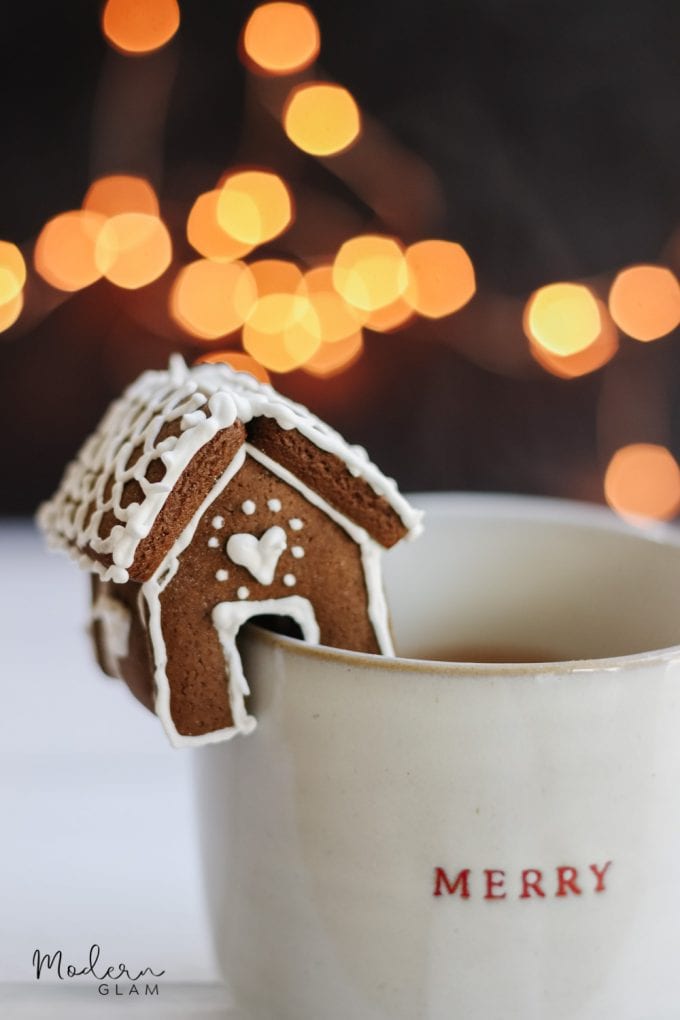 All it takes is some royal icing to turn these gingerbread houses into snow covered chalets. I'll share some of my decorating inspiration sources below.
How To Make Mini Gingerbread Houses
I made these cute mini gingerbread house mug toppers using one of my favorite baking blogger's recipes.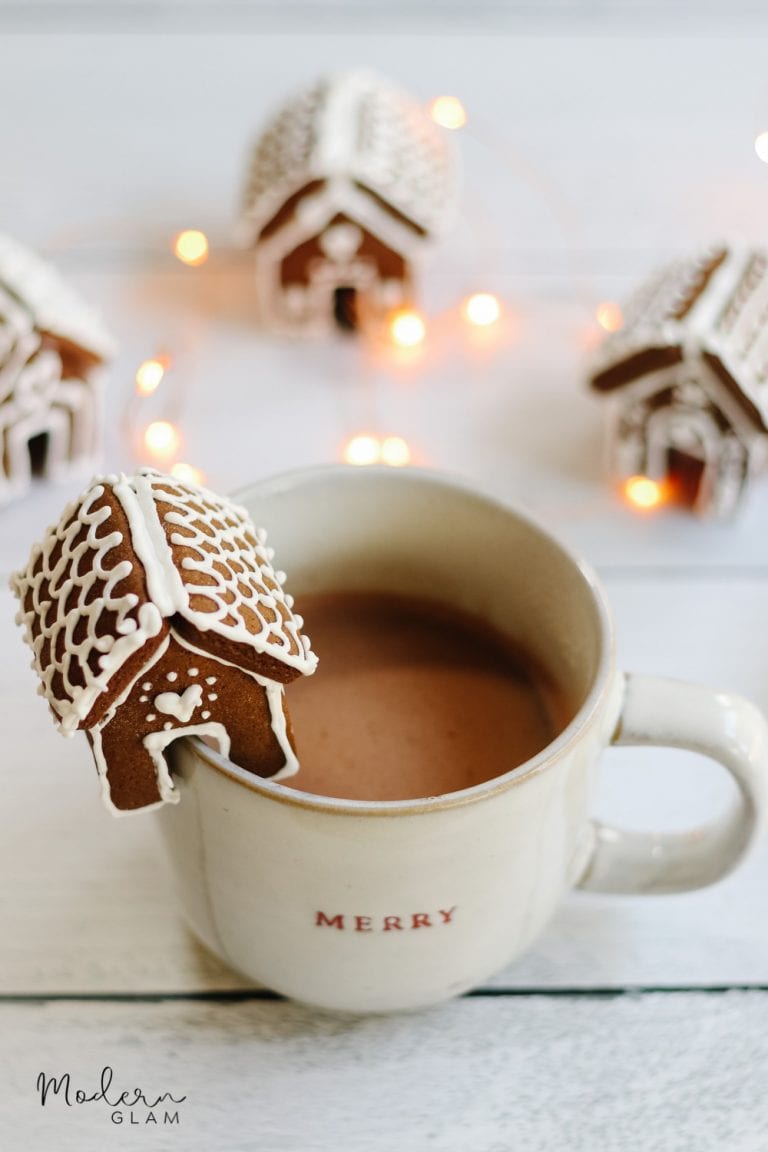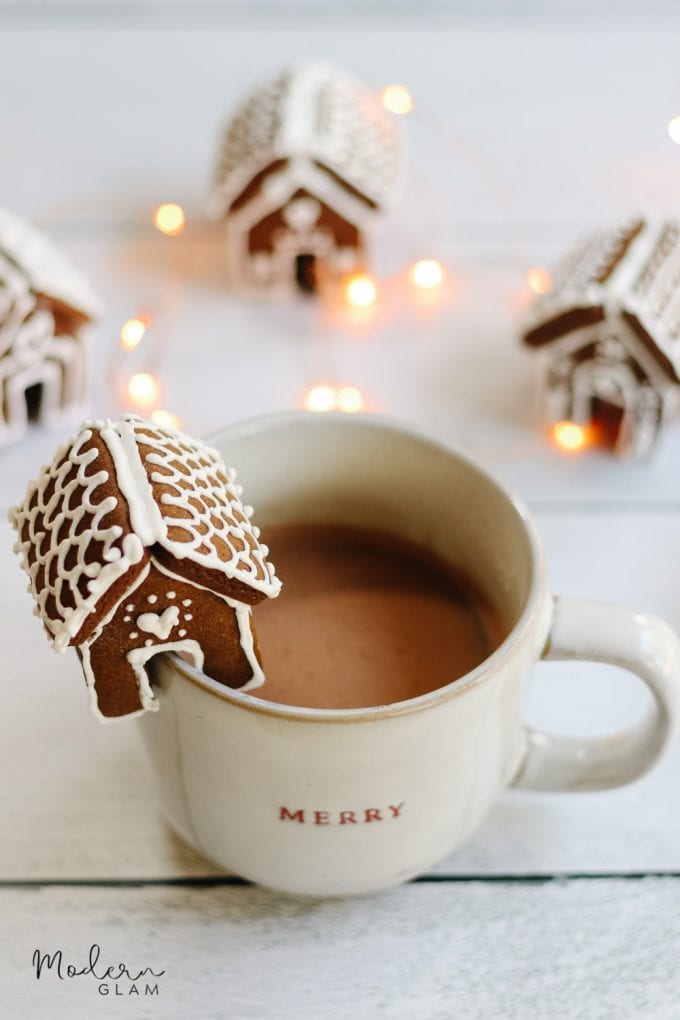 Sally's Baking Addiction is my go-to for anything sweet and yummy. She has an amazing recipe for Gingerbread Houses that I used to make these mini mug toppers. I adapted the original recipe to make these mini houses!
Since Sally's original recipe was for large gingerbread houses, I made a few adjustments. The first change was to roll the dough 1/8″ thick. Since these gingerbread houses are smaller than the ones she used for her full size version, the dough needs to be a bit thinner than if it were being used for larger houses.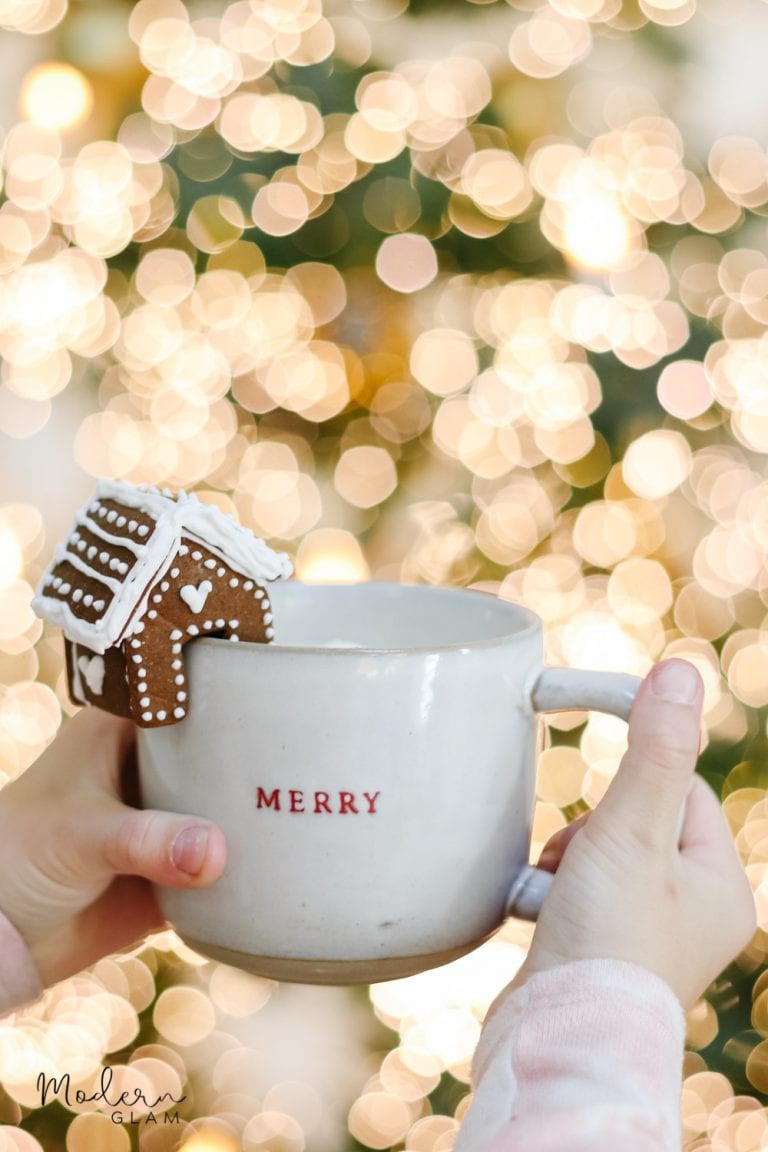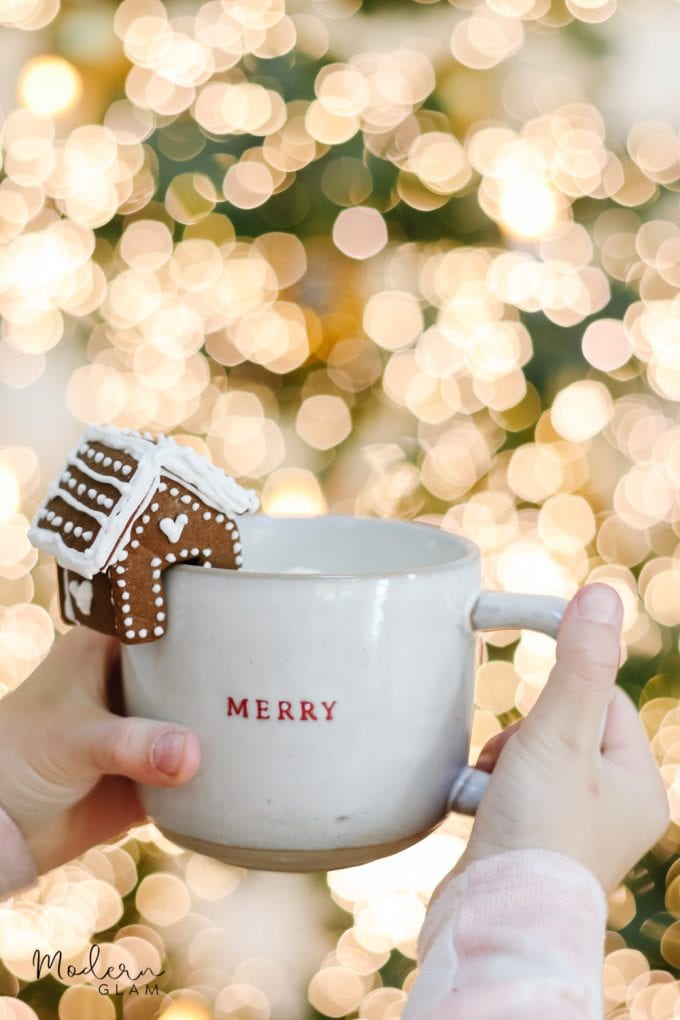 The other adjustment I made was to the baking time. Since our gingerbread cookie cutouts are much smaller, they will require less baking time. 12 minutes is all that is needed in a 350 degree oven. They turned out perfectly done.
And make sure you read all of Sally's tips for rolling the dough and cutting out the houses. She has some great ideas!
Tips for Making Holiday Mug Huggers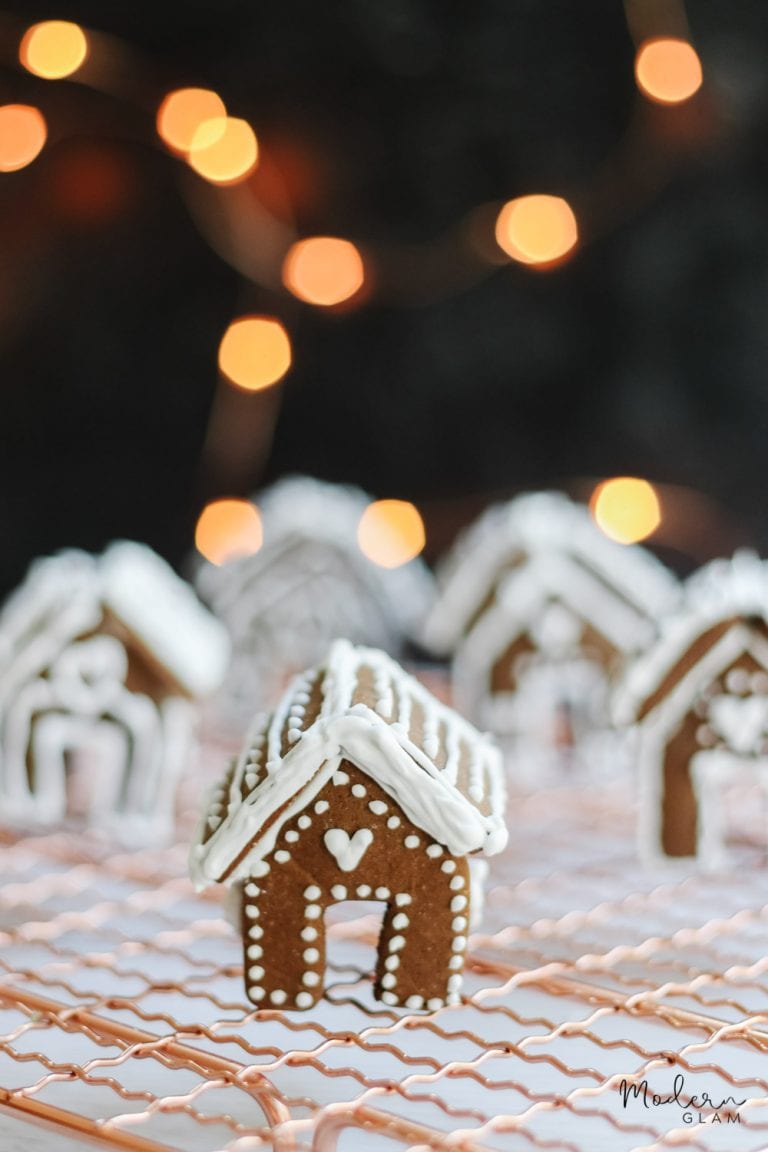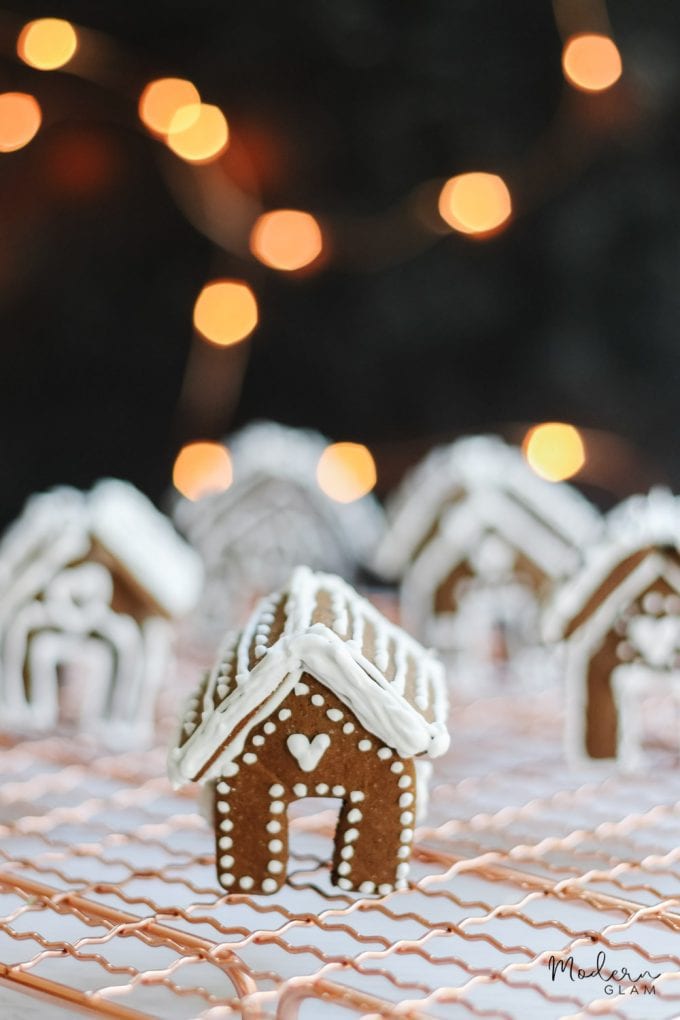 Once you have the dough made, you can either use a template for mini gingerbread houses or these mini gingerbread house cookie cutters to make the mug toppers. I used the cookie cutters and they worked perfectly and the cookies were easy to assemble once baked.
Allow yourself enough time for the cookies to cool before assembling. And also enough time for the houses to set up before you can start decorating them.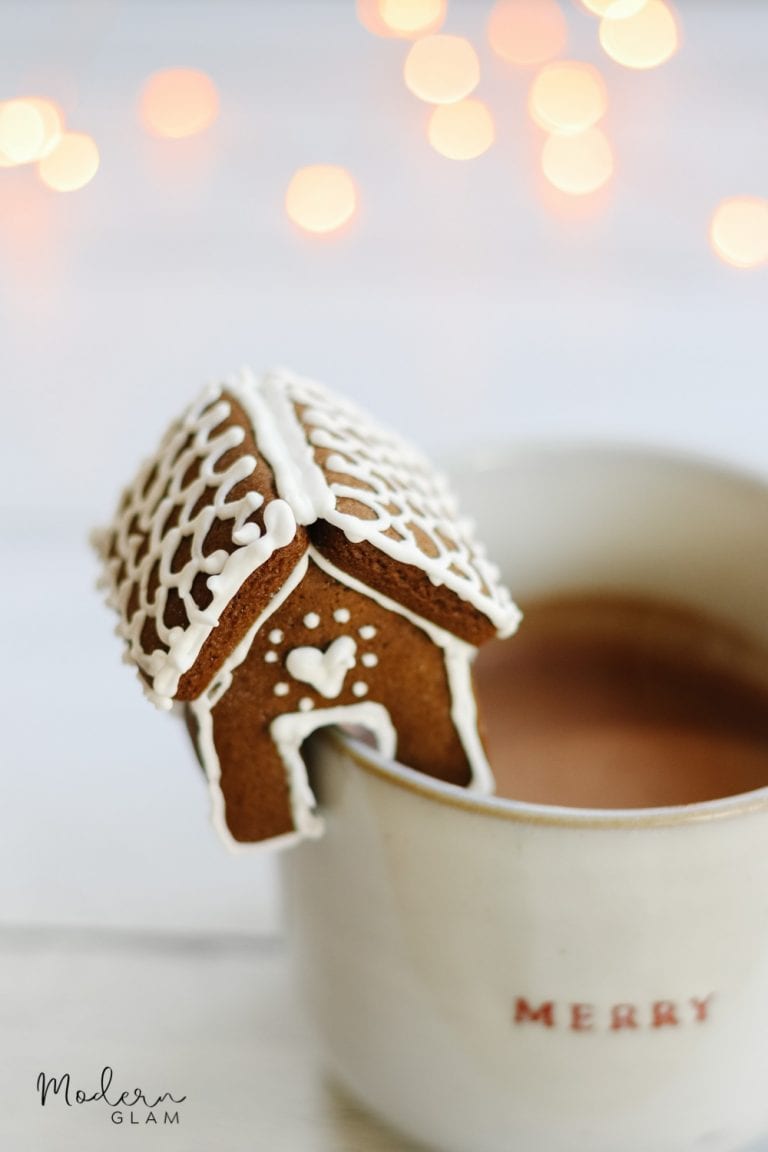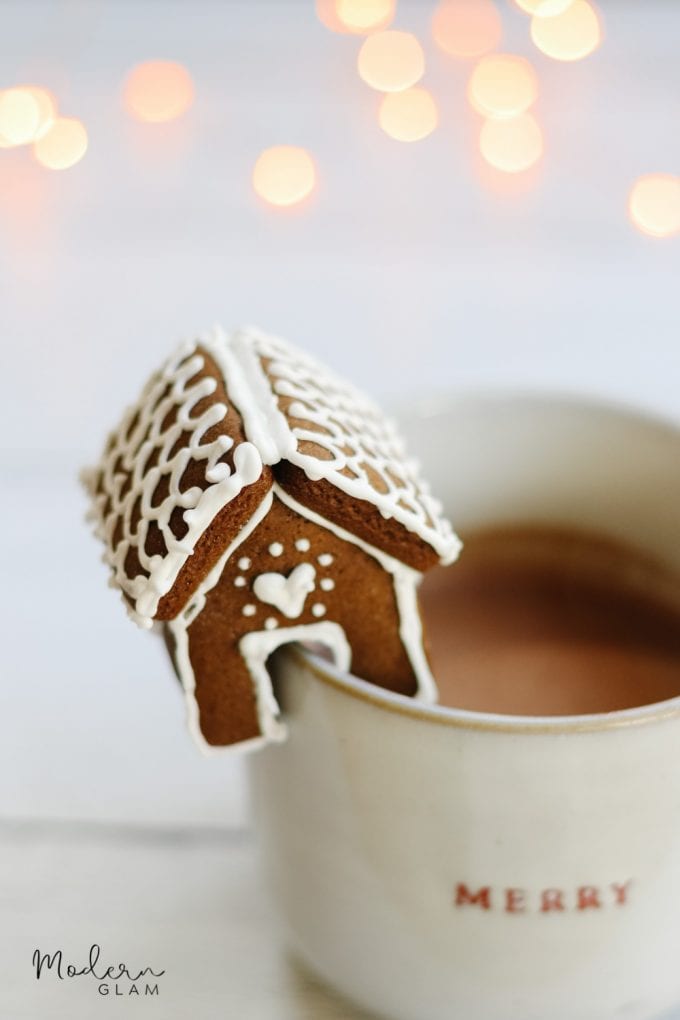 To glue the pieces together I used Martha Stewart's recipe for royal icing using egg whites. This creates the smoothest icing I have ever made.
Assemble the house sides and front first. Allow them to set for 10-15 minutes and then add the roofs. Otherwise, the houses may collapse. The icing sets pretty quickly and it is easy to work with.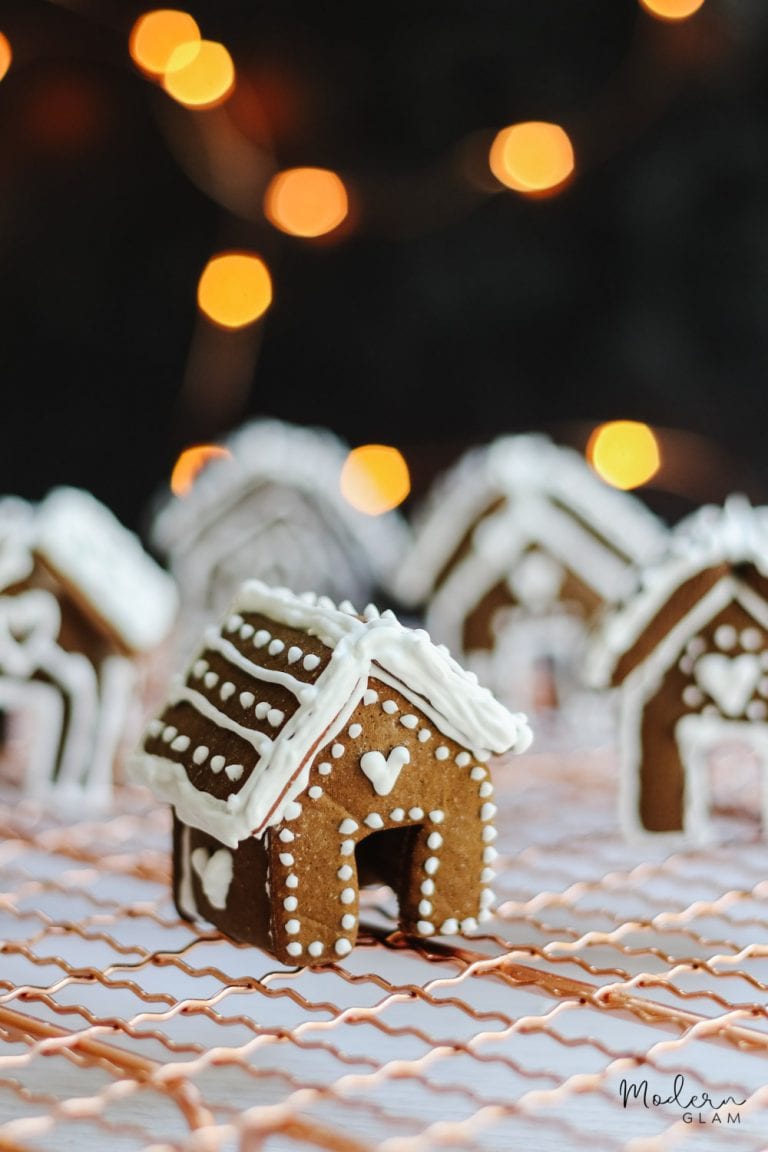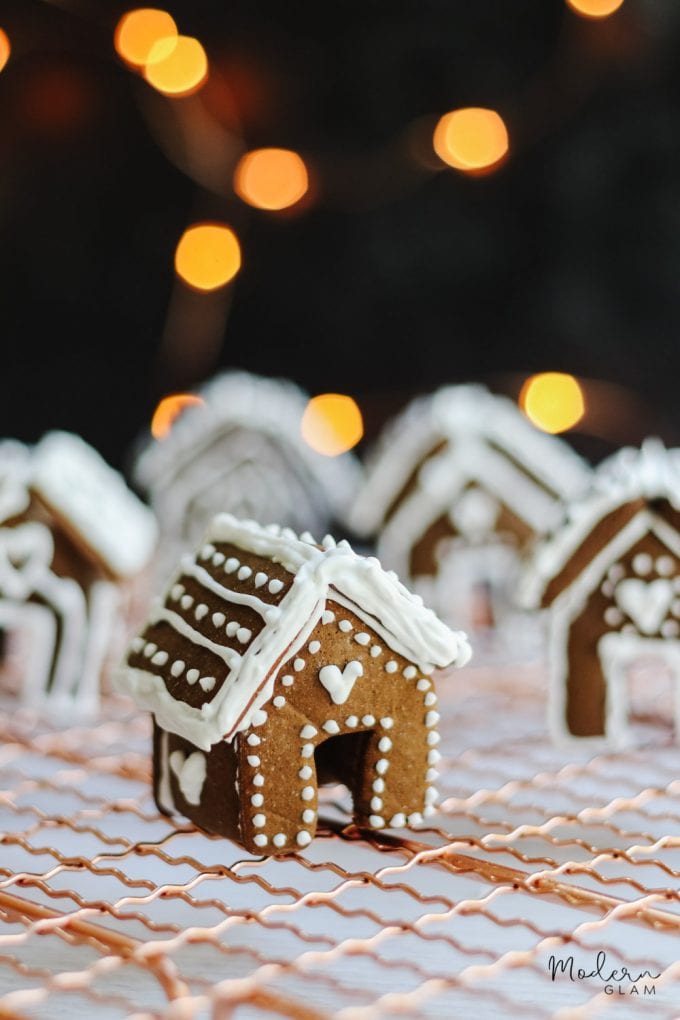 To assemble and decorate the houses, I used Wilton's tip #2. It was the perfect size for the small details required for these mini houses.
And if you are looking for decorating inspiration, I used this google search and toggled to images to find so many ideas!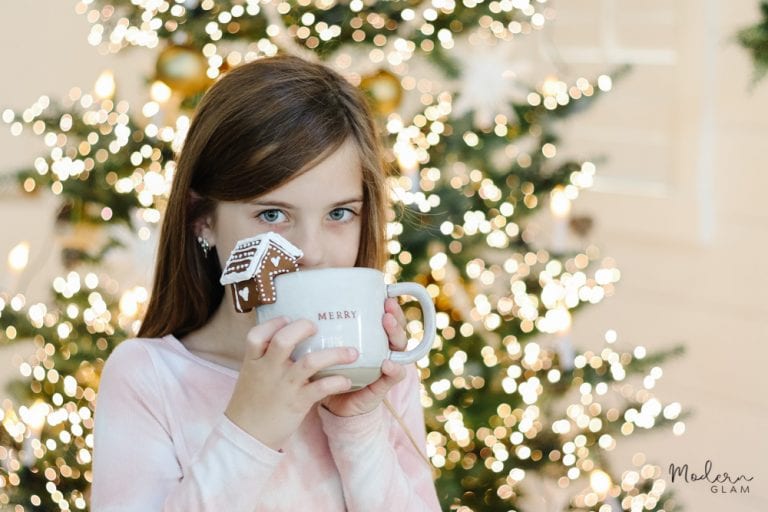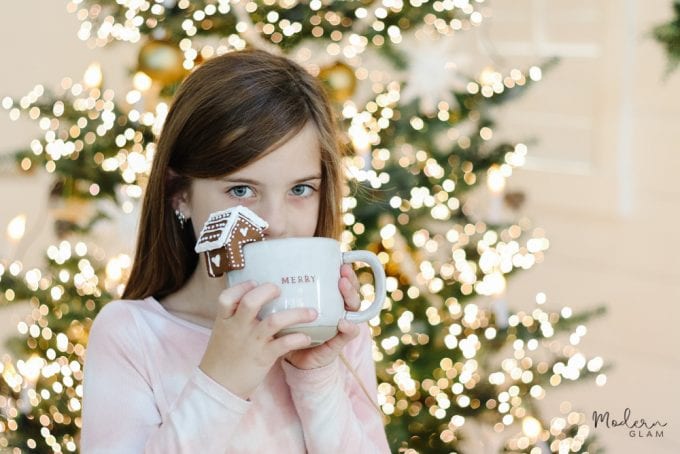 Mini Gingerbread Houses for Mugs
Once you have your gingerbread houses baked and decorated, let them set up for at least a few hours before using them. You want the icing to harden and hold these cuties in place. Then, you can store them in an airtight container for up to a week or you could also freeze them.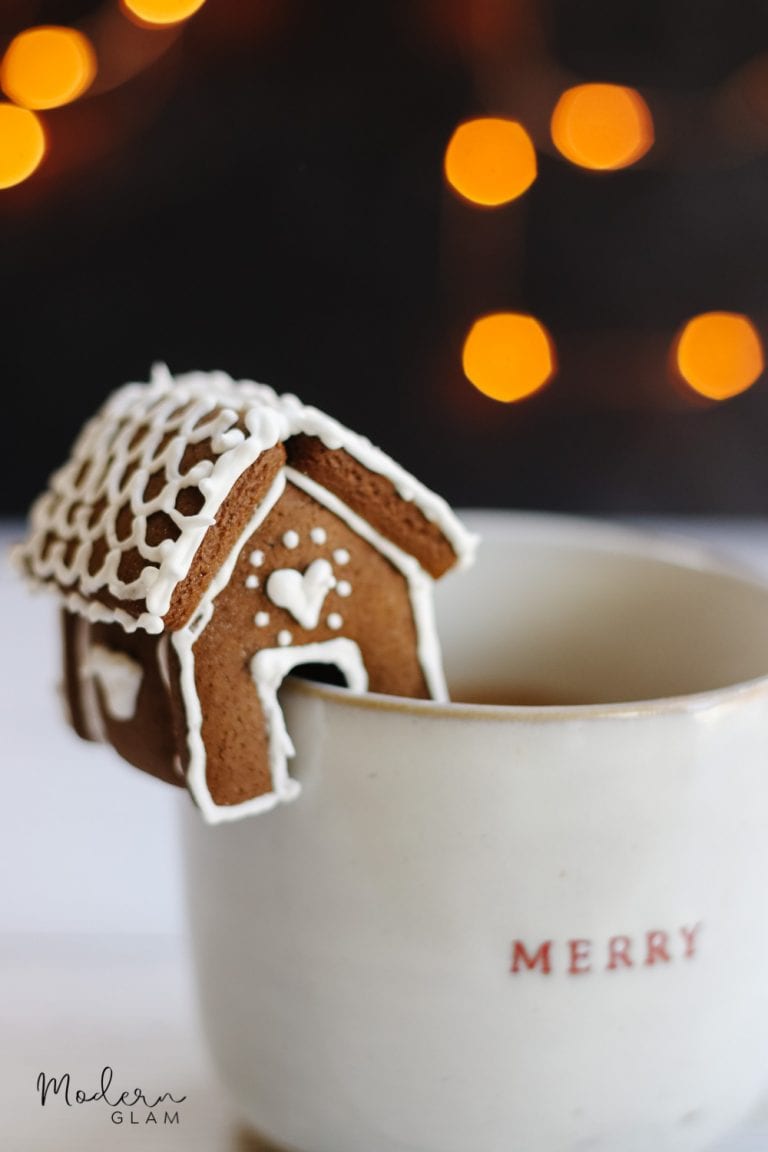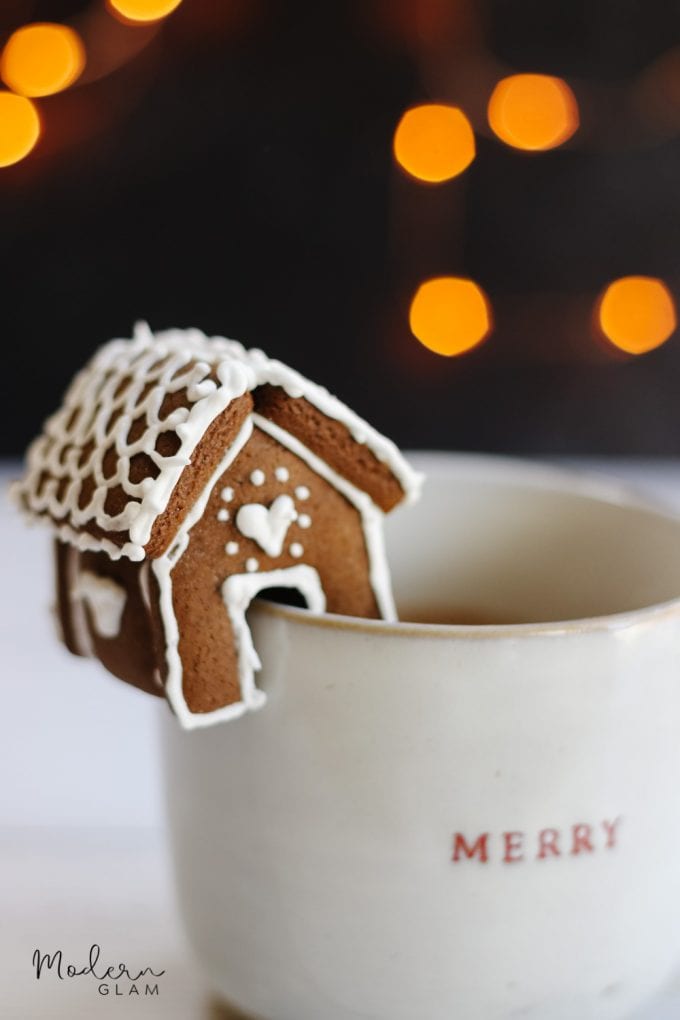 These would make the cutest gift. Try packaging them in a cellophane bag with ribbon along with a fun holiday themed mug! Check out the links below for some gift ideas.
I also included links to gingerbread house mug topper cookie cutters and some pre-made versions as well. And have you seen these Gingerbread Man Mug Hangers? So cute! I found a cookie cutter that can make these too! You can use my recipe below to whip them up. How fun would it be to make both?!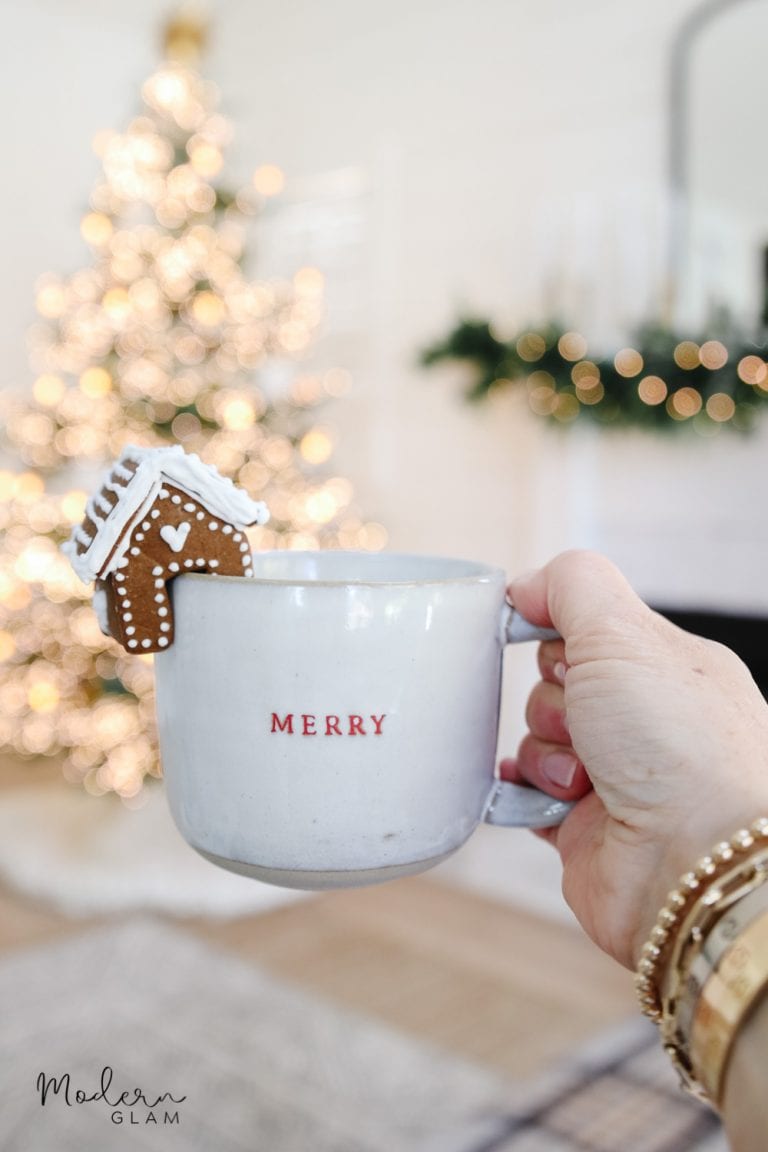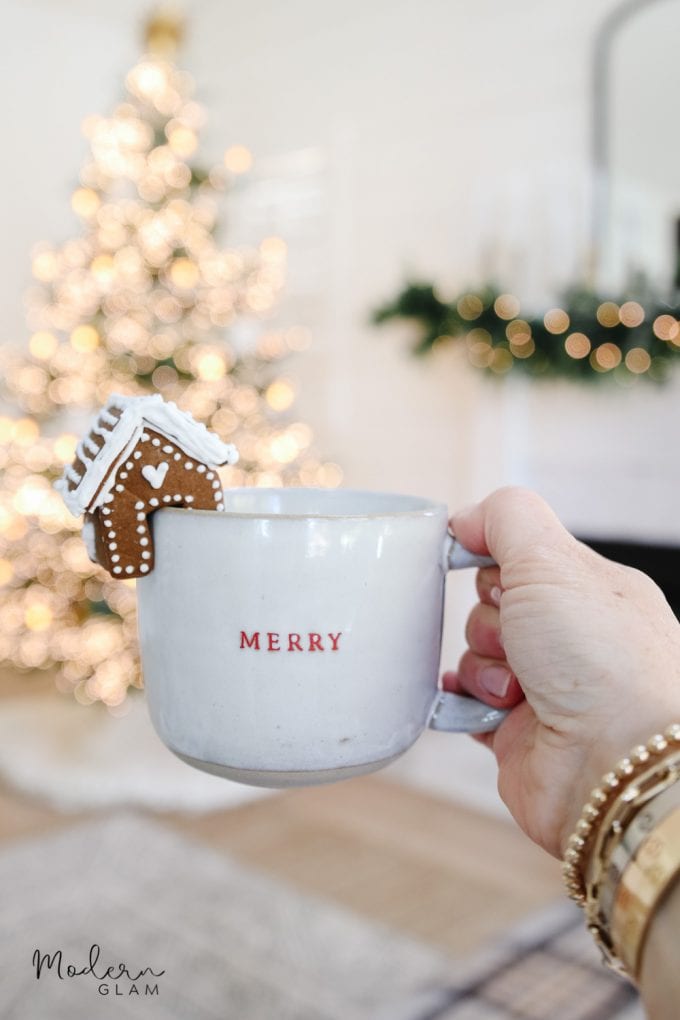 Gingerbread House Supplies & Links

Mini Gingerbread House Mug Toppers
Cute, mini gingerbread houses perfect for hanging on your mug of hot chocolate or cozy cocktail!
Instructions
Prepare the Gingerbread House dough according to the instructions. Note: you have to chill the dough for at least 2 hours.

Roll out the dough to 1/8" thickness between two sheets of parchment paper. Remove the top piece of paper and dust dough with flour. Place parchment back on, flip over and dust the other side with flour. Using the mini gingerbread house cookie cutters, cut out enough shapes to create the mini houses. You will need two of each shape for 1 house.

Bake at 350 degrees for 12 minutes. Remove from the oven and transfer to a cooling rack. Allow cookies to cool for at least 1 hour before assembling.

While the cookies cool, prepare the royal icing. Once prepared, place in icing bag fitted with a #2 tip.

Assemble houses starting with the front and sides. Allow the pieces to dry before attaching the roof.

Once the houses are assembled, let them dry for at least an hour before attempting to decorate.

Decorate the houses with the royal icing and have fun!

Store houses in an airtight container for up to a week or freeze until ready to use.
More Christmas Cookie Recipes
Now, check out my friend's Holiday cookie ideas! I just love this time of year when the baking starts. And I try to find a few new favorite recipes each year. I hope you get inspired!

Gingerbread House Mug Toppers // Modern Glam
Christmas Linzer Cookies (Gluten Free ) // Satori Design For Living
Mini Gingerbread House Mug Hugger Cookies // The Ginger Home
Linzer Cookie Recipe // Jennifer Maune

Norwegian Krumkake Cookies // Finding Lovely
Christmas Cookie Wreath // My 100 Year Old Home
Gluten/Dairy Free Snickerdoodle Cookie Recipe // Zevy Joy

Pumpkin Snickerdoodle Cookie Recipe // Happy Happy Nester
Swirly Chocolate Meringue with Cream // Lemon Grove Lane
Light and Fluffy Sand Dollar Cinnamon Cookies // Twelve on Main

Christmas Star Brownies // Maison De Cinq
Molasses Gingersnaps // My Sweet Savannah
Candy Cane Frosted Swirl Cookies // Tatertots & Jello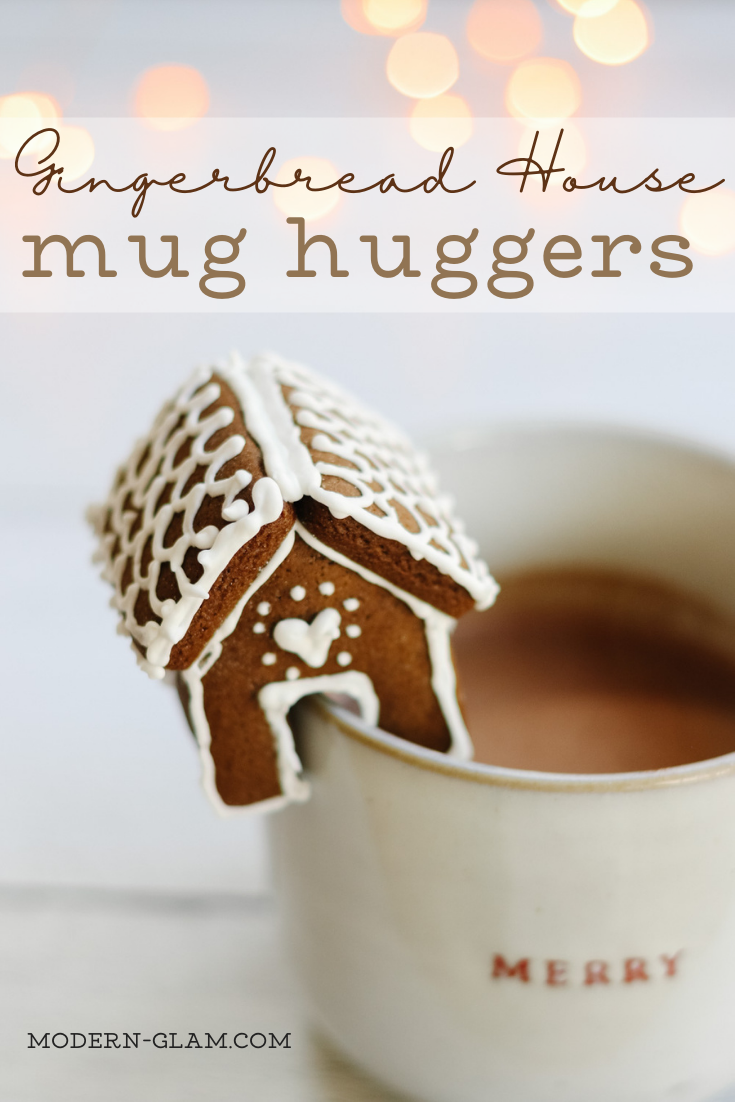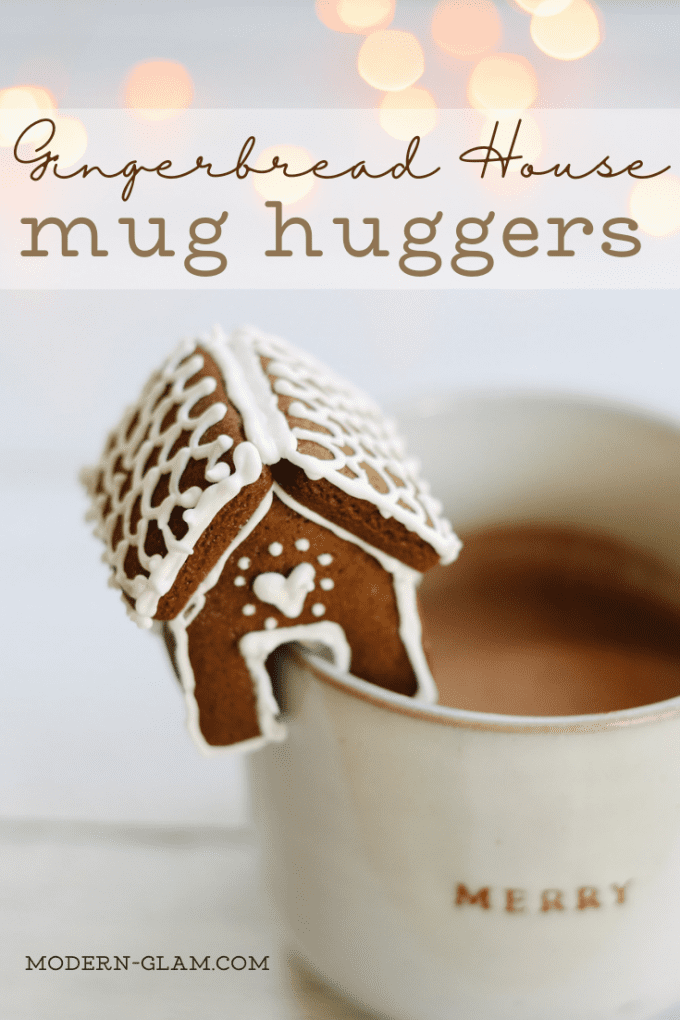 Ok, if you liked this post, be sure to check out my Gingerbread Decorating Party tips and ideas! I have my daughter's friends over each year for a fun and cute party that they absolutely love! I share all my tips for organizing a seamless party for kids or adults.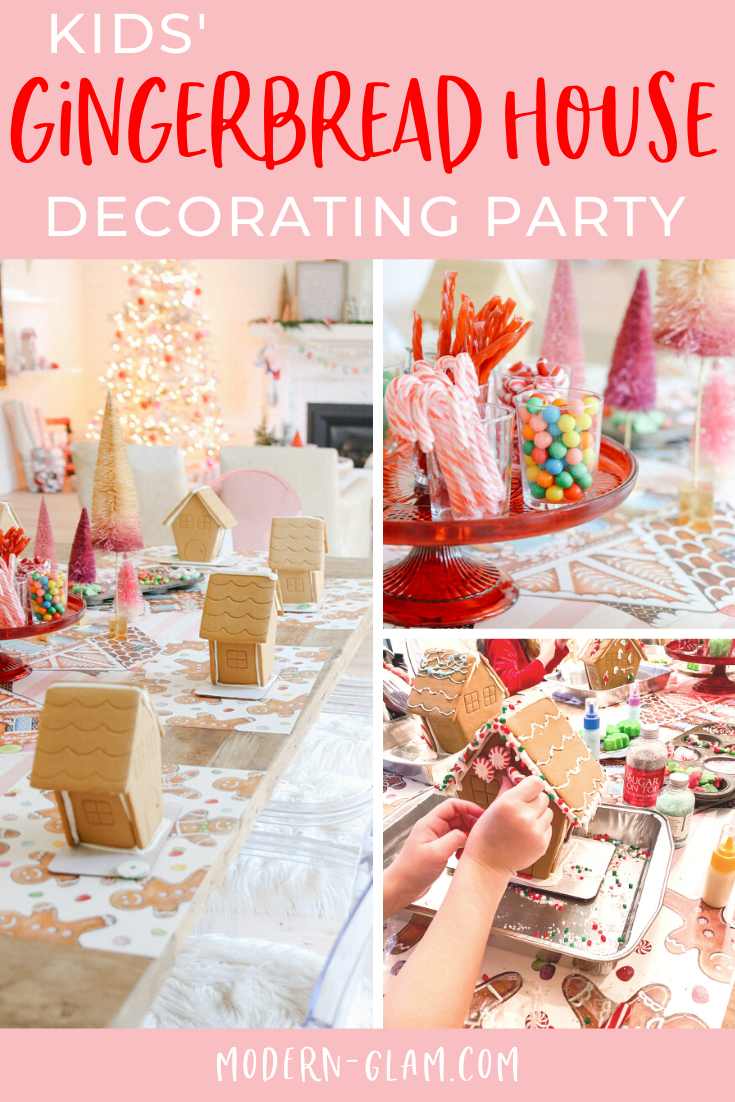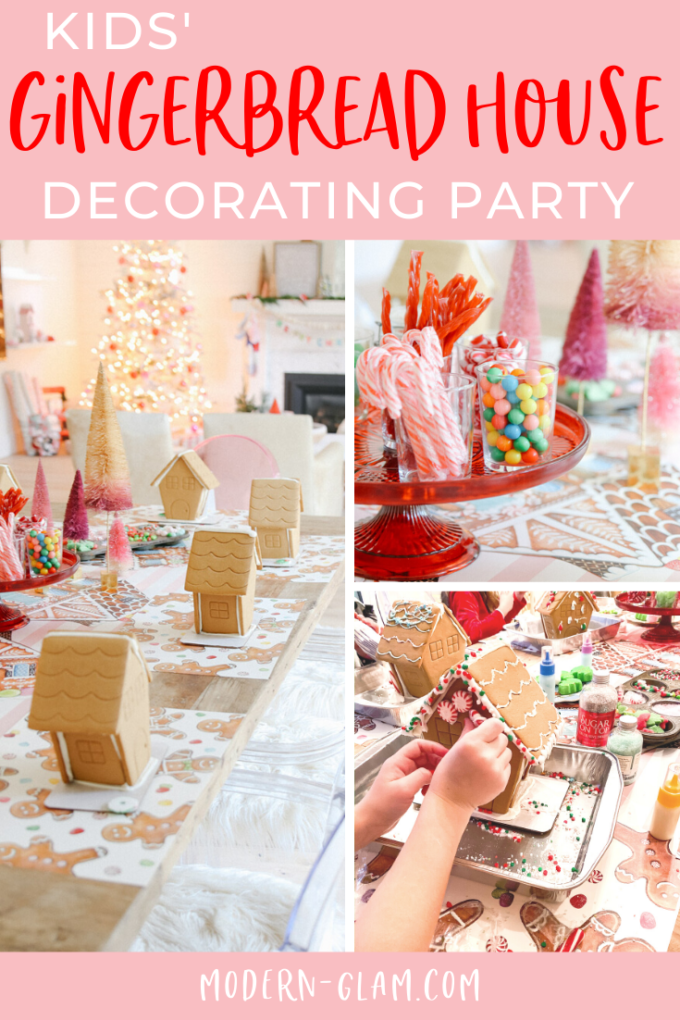 And check out these reader favorite Christmas cookies from the archives!