Summer is around the corner! My kids have 10 days left of school. Eek! I don't know about you, but once the weather changes, my beauty and summer makeup routine changes. Hot weather and being outdoors more requires a slight revamp in what I use on my face and how I care for my skin.
I am a self proclaimed makeup junkie. I am by no means a beauty blogger, but I do have a serious stash of makeup and I take my skincare seriously. After turning 40 last year I do my best to keep my skin looking young but while still keeping my routine pretty fast and simple!
Summer Makeup Favorites
For summer I like to keep my makeup routine quick and easy. I also like products that stay put in the heat. There's nothing worse than seeing yourself in the mirror half way through your day to notice that your makeup has seemingly disappeared!
Here is what I am currently loving and that I have on rotation right now in my summer makeup stash!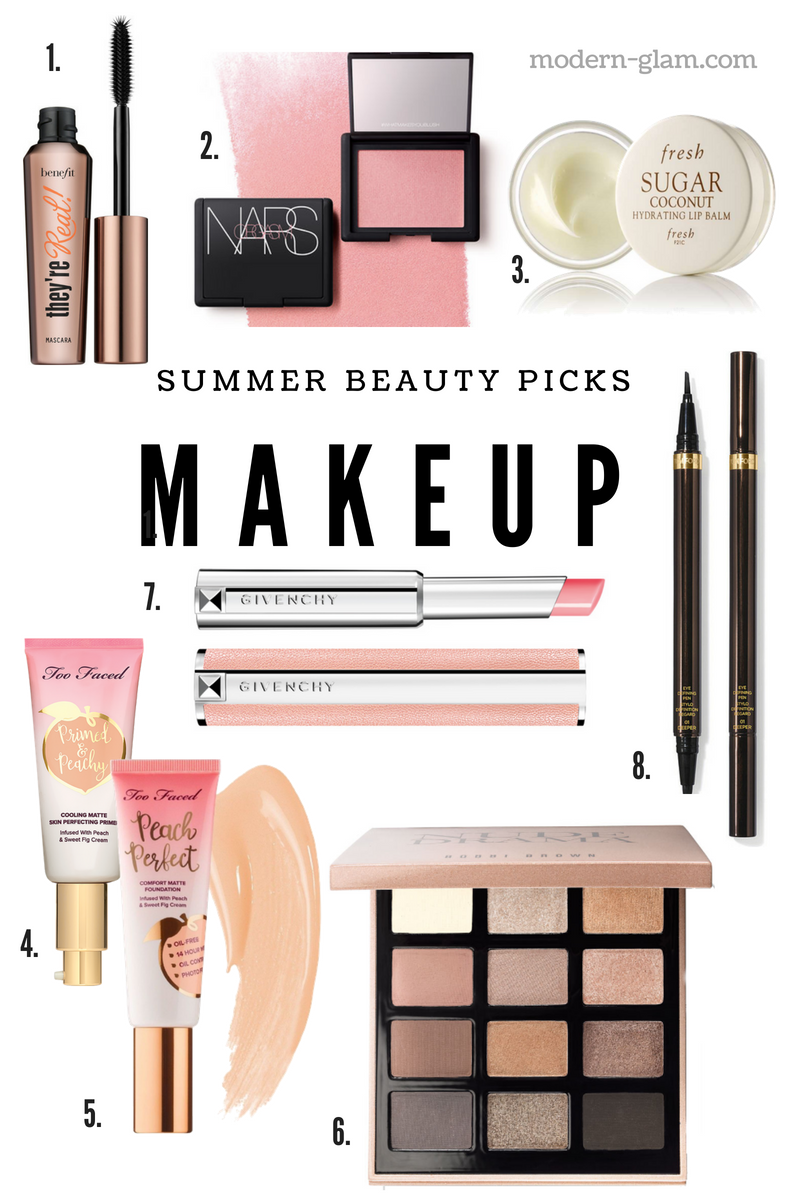 I have tried every single mascara out there. And I admittedly go through stages of what my favorites are. I am a huge fan of Chanel's Immitable Intense mascara and have used that one for years. But recently I ordered this Benefit They're Real mascara and I love it!
I accidentally ordered it in the brown shade and I was going to immediately send it back because my thoughts were that black always opens up your eyes better. But I have to say I'm hooked on this brown mascara! It gives your lashes a natural yet full look. So if you haven't ever tried brown mascara, do it! It has been a game changer for me.
This blush has been my go to summer blush for over ten years! It is the perfect natural glow blush with a hint of golden shimmer. A quick sweep on your cheekbones is all you need for all day color.
I love the smell of this coconut lip balm! The perfect summer scent and it keeps your lips hydrated and soft. This is an essential in my pool bag for this summer.
Here is where your makeup will stand the test of a hot summer day. This Primed and Peachy Primer is the perfect layer under your foundation to give you all day stay. I am also obsessed with the smell! It smells like summer peaches!
When it comes to foundations I am a little picky. I don't like a product that leaves you looking like a totally different person, but I also want something that isn't going to slide off your face. Do you know what I mean? This foundation gives you all day stay and looks completely natural! It's been my favorite for over 6 months now!
The name says it all. I love the collection of nude shadows in the palette. From matte neutrals to shimmery highlighters, this has it all. There is even a dark, moody brown that is perfect for smudging ontop of your eyeliner!
I have never been a huge wearer of lipstick. I seem to always forget to put color on my lips. So this lip balm that intensifies your natural color is perfect for me. A quick swipe a few times a day gives you all day color that is simply a few shades darker than your own lip color. The perfect natural look for summer!
This eyeliner is the ultimate tool for creating the perfectly lined eye. And it makes it a cinch for creating a dramatic cat eye! I think a classic liquid black eyeliner elevates your look and is perfect for everyday. To soften the look on more casual days, I use the darkest brown eyeshadow and smudge the line with a short brush.

Summer Skincare Favorites
I like to keep my summer beauty routine pretty quick and simple. With the longer days, it seems like I'm ready to crash into bed as soon as the kids go down. So, a simple routine is essential during the summer months.
Here is what I currently have on rotation for during the day and night!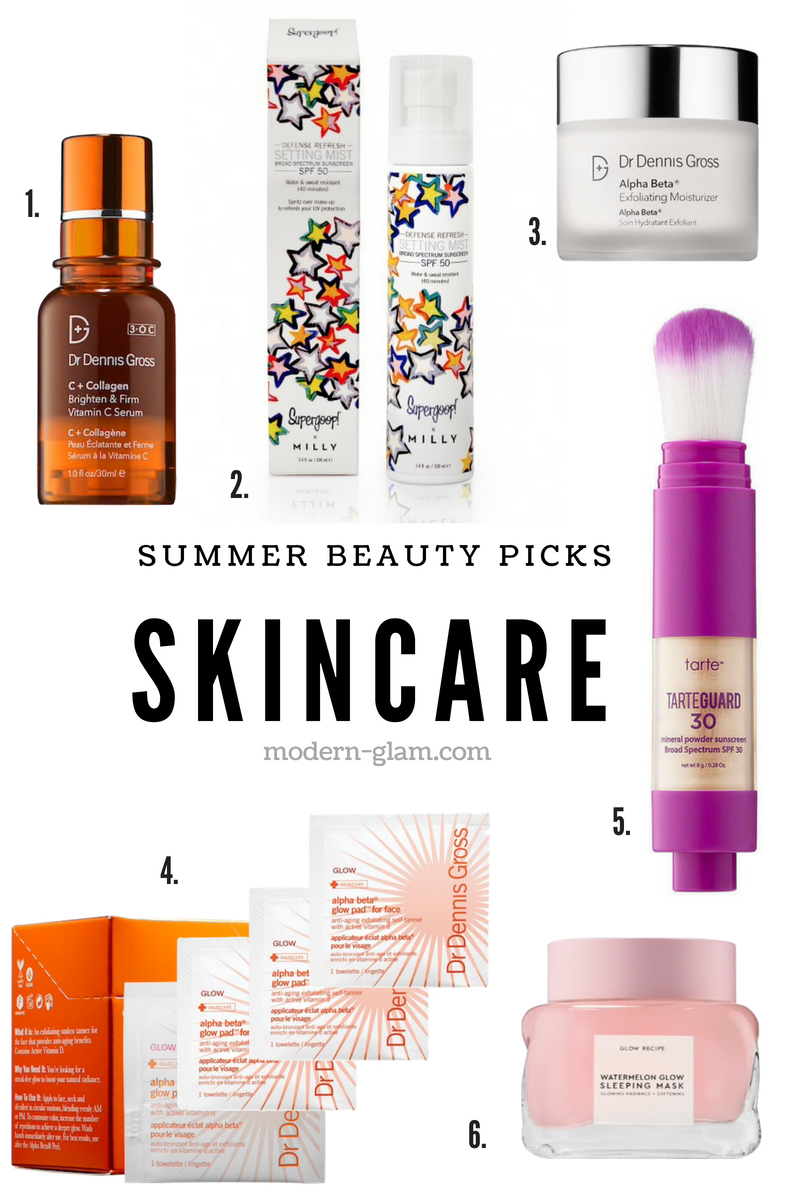 This Dr. Dennis Gross C+ Collagen Brighten & Firm Vitamin C Serum makes my skin clear and firm. I layer this under my moisturizer at night.
This setting mist is perfect to spray at the end of your makeup routine. It has SPF and protects your skin from the harsh summer sun!
This Alpha Beta Exfoliating Moisturizer gives my skin a natural glow and keeps it exfoliated and clear of imperfections. I use it nightly over the Vitamin C Serum.
This is my absolute favorite summer beauty item! These pads give your skin that natural sun kissed look without the damaging rays of the sun! I use one of these a week at night in lieu of my other routine and I wake up with a natural glow!
This stick filled with powder sunscreen is perfect for keeping in your purse for on the go application. I love having this handy to touch up my sunscreen application and to make sure my skin is protected from the damaging rays of the sun.
I love this mask that you can apply at bedtime and wake up with glowing, hydrated skin. During the summer months my skin can get dried out from air conditioning and the dry, hot weather. This treatment is a perfect combat to those ailments. And it smells amazing too!