This year we decorated our Christmas porch in a Scandinavian style with hanging paper snowflake and star lanterns. I came up with a genius way of powering them without having extensions cords running everywhere. Come see!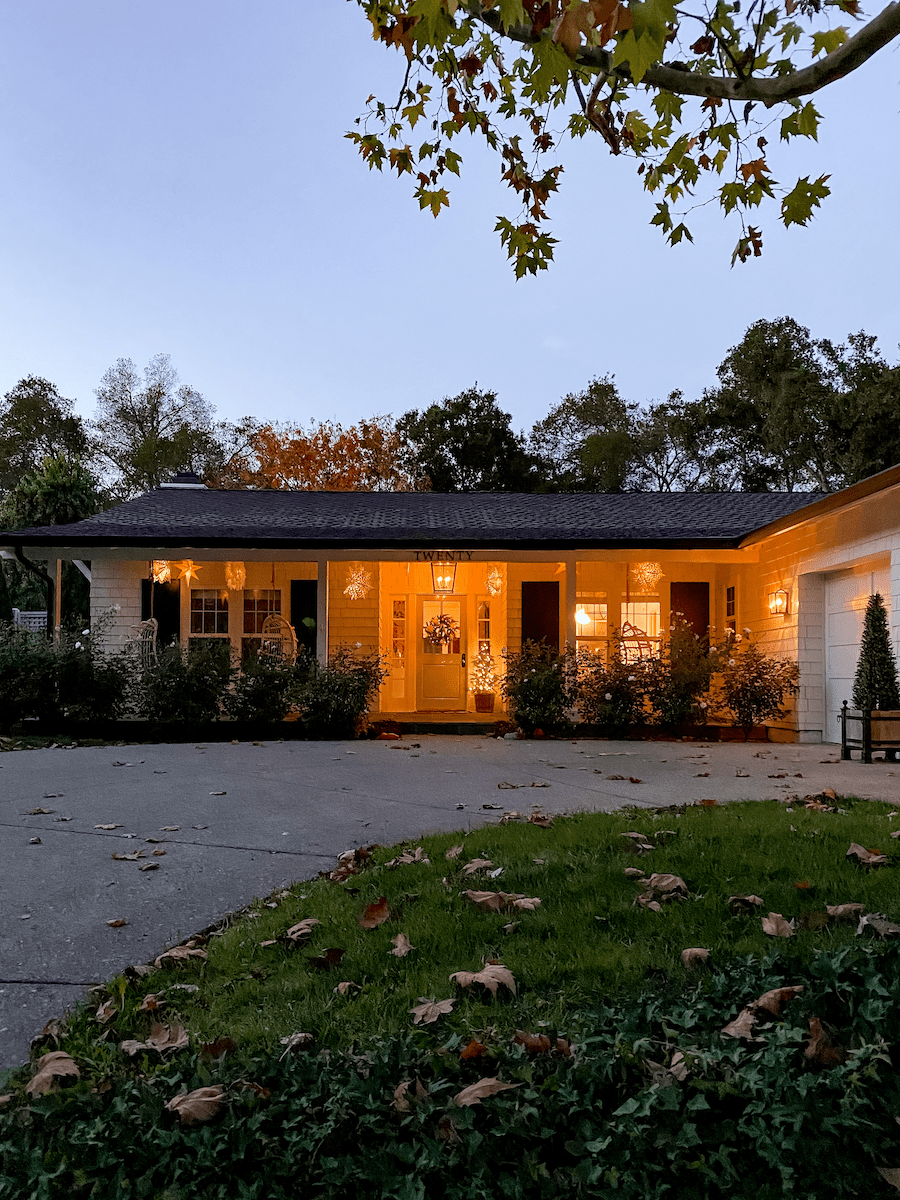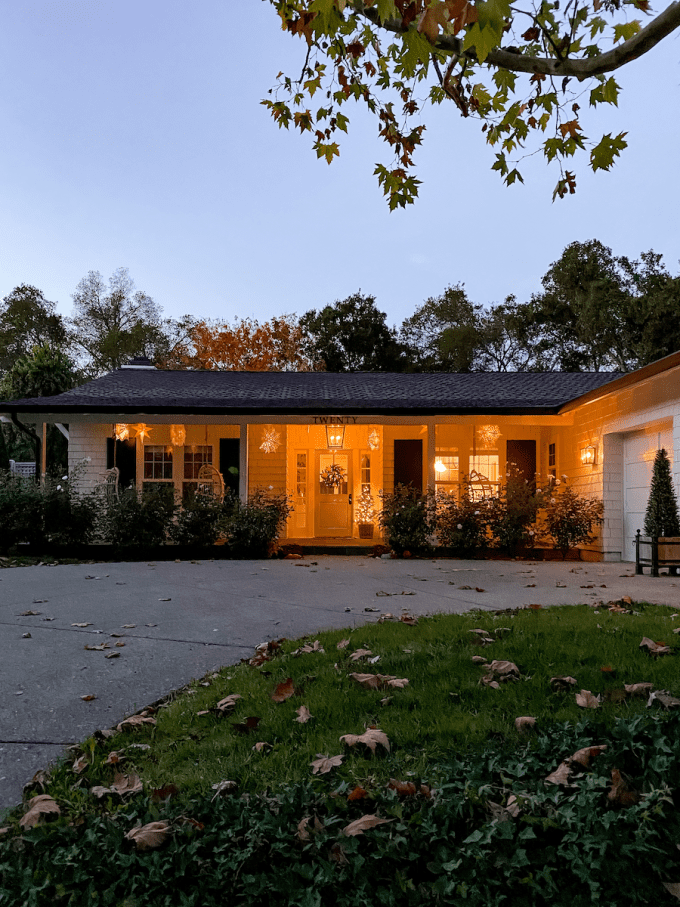 This past week as I was taking down our floating candles and witches hat lanterns from my Halloween porch, I started thinking about the upcoming holidays. I loved the look from Halloween and wasn't quite ready to let go of that beautiful glow!
The wheels started turning and I got a crazy idea to hang paper snowflake and star lanterns from the rafters on our porch. But…I didn't want to have to run extension cords to power them all. And I wanted to use the same nails that I used to hang the candles and hats.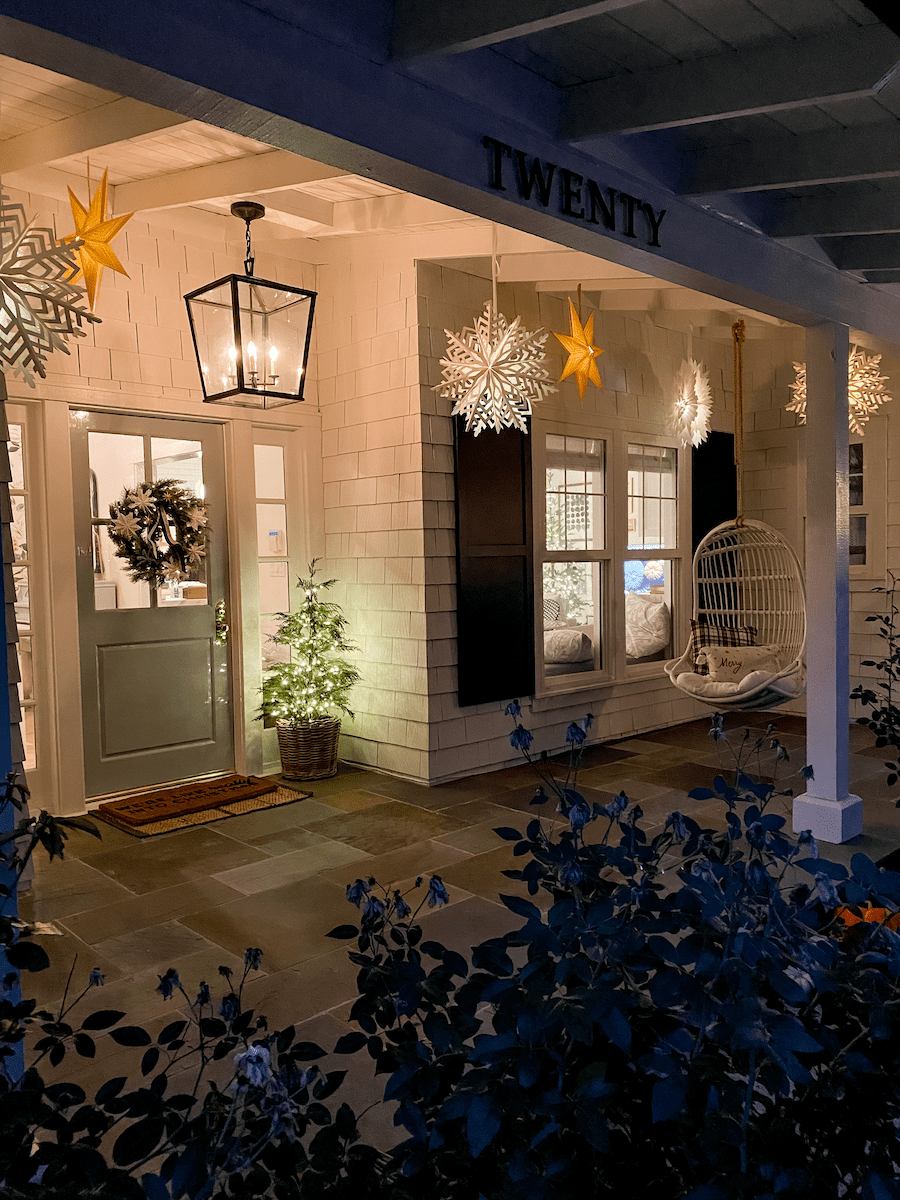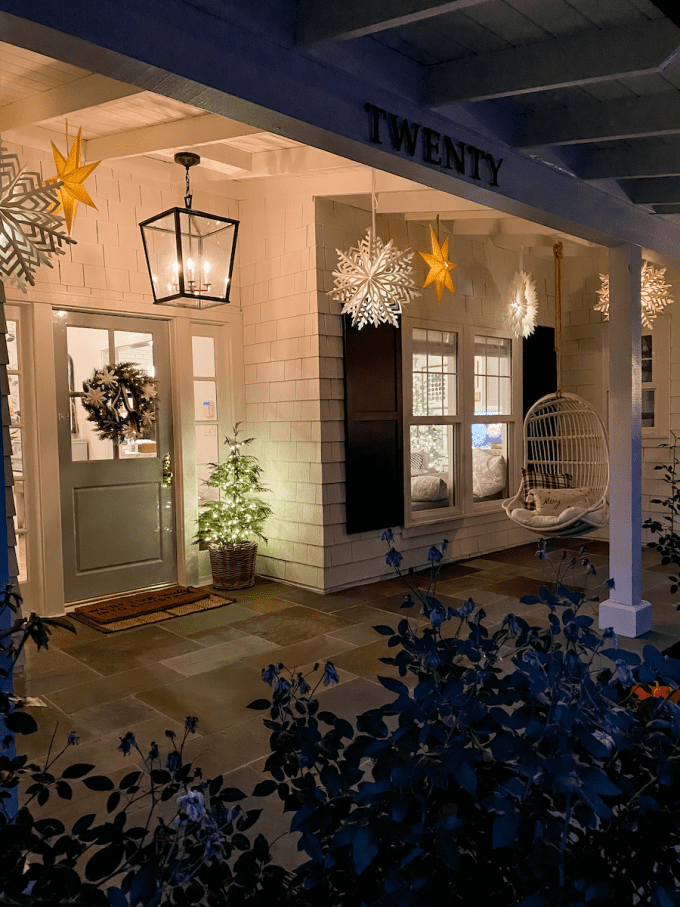 Seriously, I am so excited to share how I created this Scandinavian Christmas porch without the use of cords and all the lanterns are controlled by one remote!
Scandinavian Christmas Porch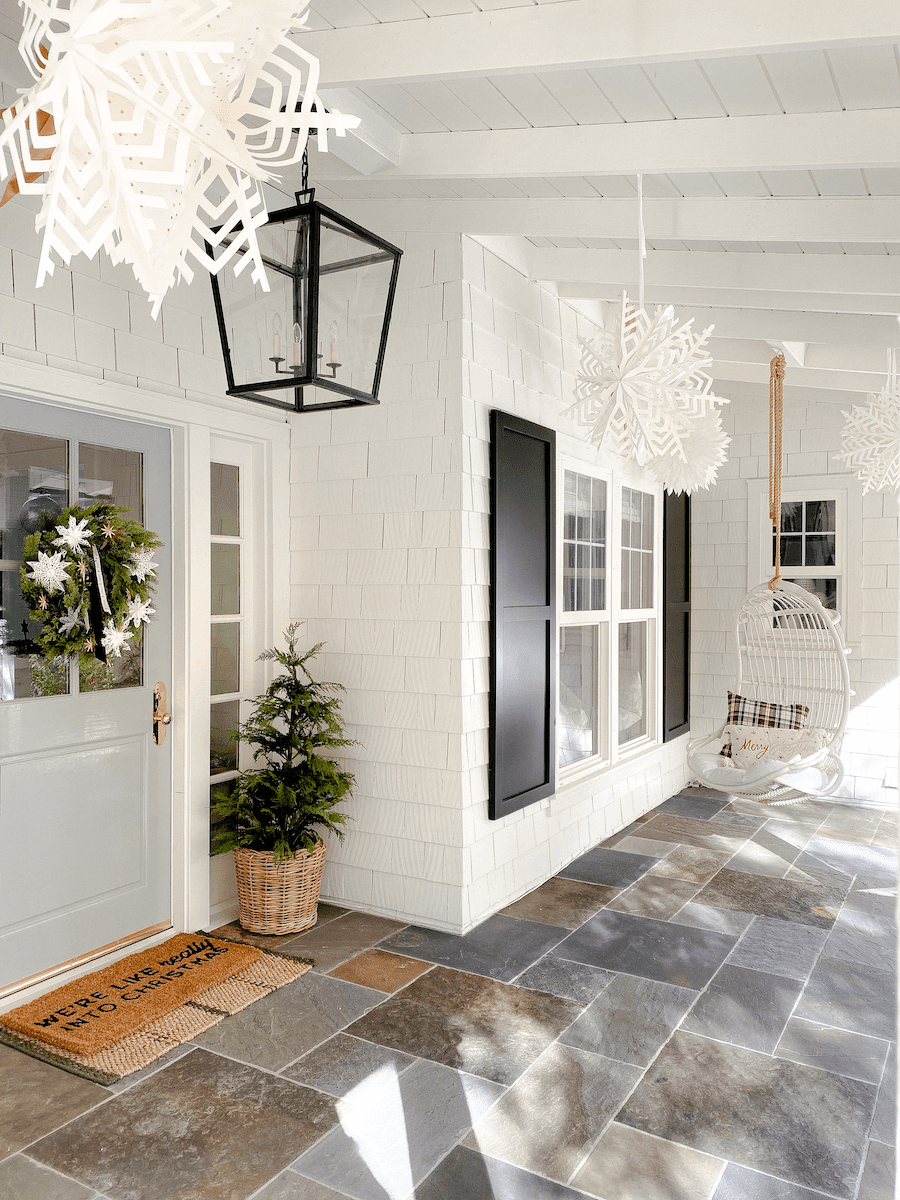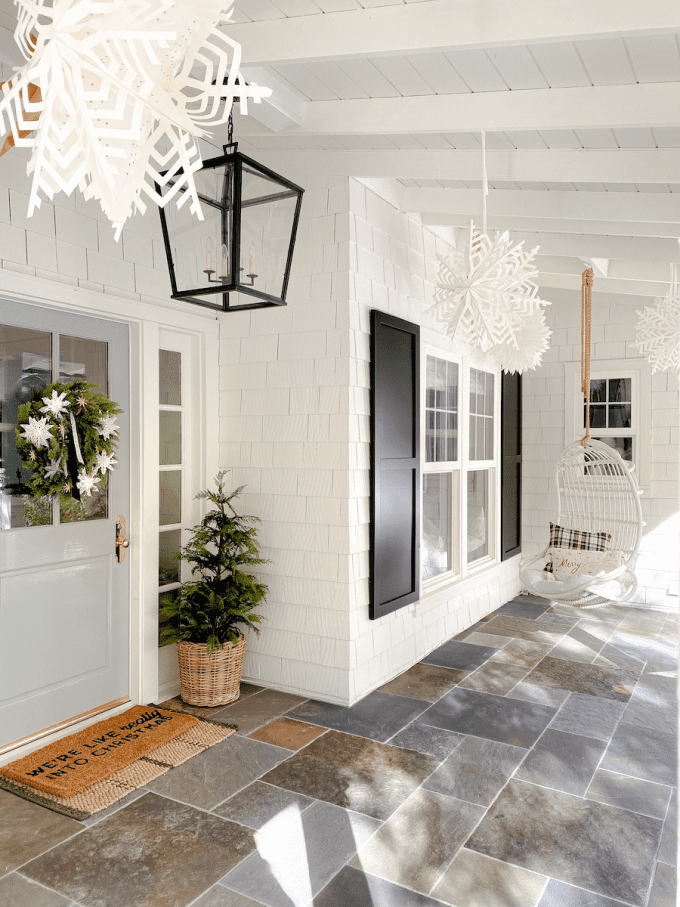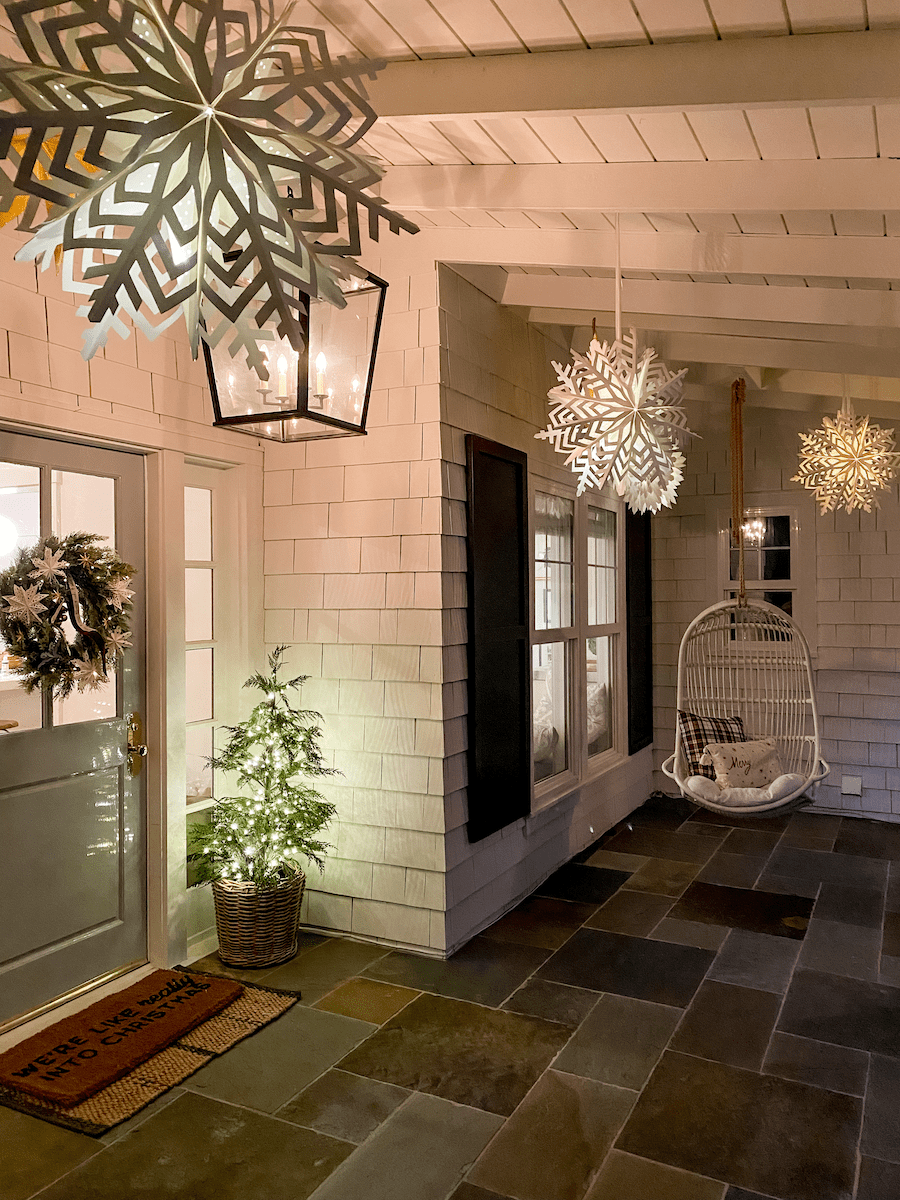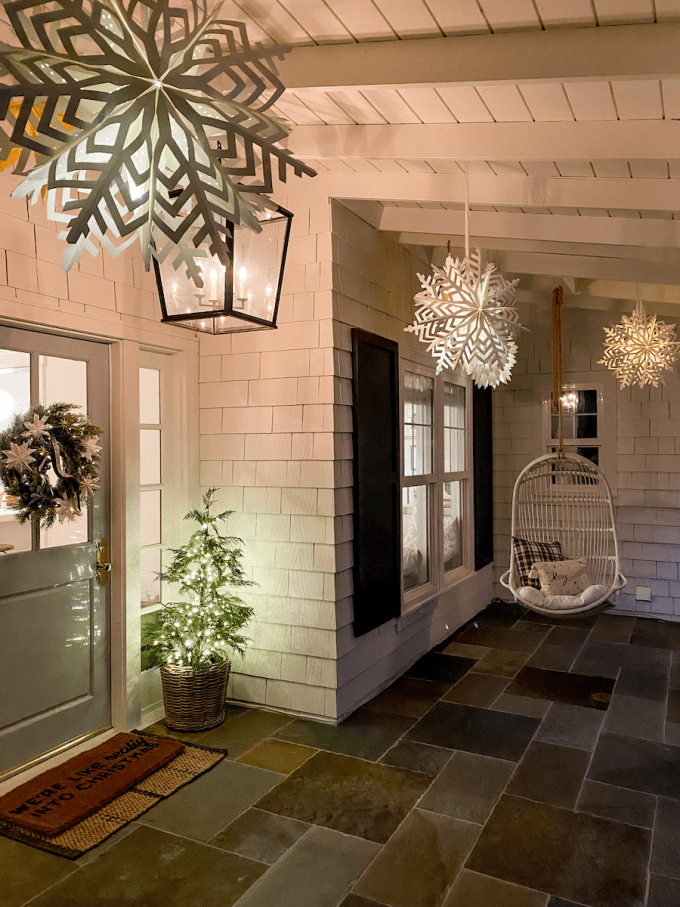 For a few years now, I have wanted to hang stars from our porch for the holidays and create a Scandinavian Christmas scene. I have had these Monrovian Star pendants in my amazon cart for at least 2 years. The problem is, they have to be plugged in. We have one outlet on our porch and it's so inconvenient to power any decorations at all. First world problems, but I am always stuck trying to find another solution for any kind of lighting on our porch.
I found these beautiful Snowflake and Star paper lanterns at World Market. They are meant to be hung with a plug-in light kit, but I found a better and more versatile way of getting that festive holiday glow! And I found these LED puck lights on Amazon. They are battery operated and can be controlled by the enclosed remote. Not only that, but they have a timer option and a dimmer as well!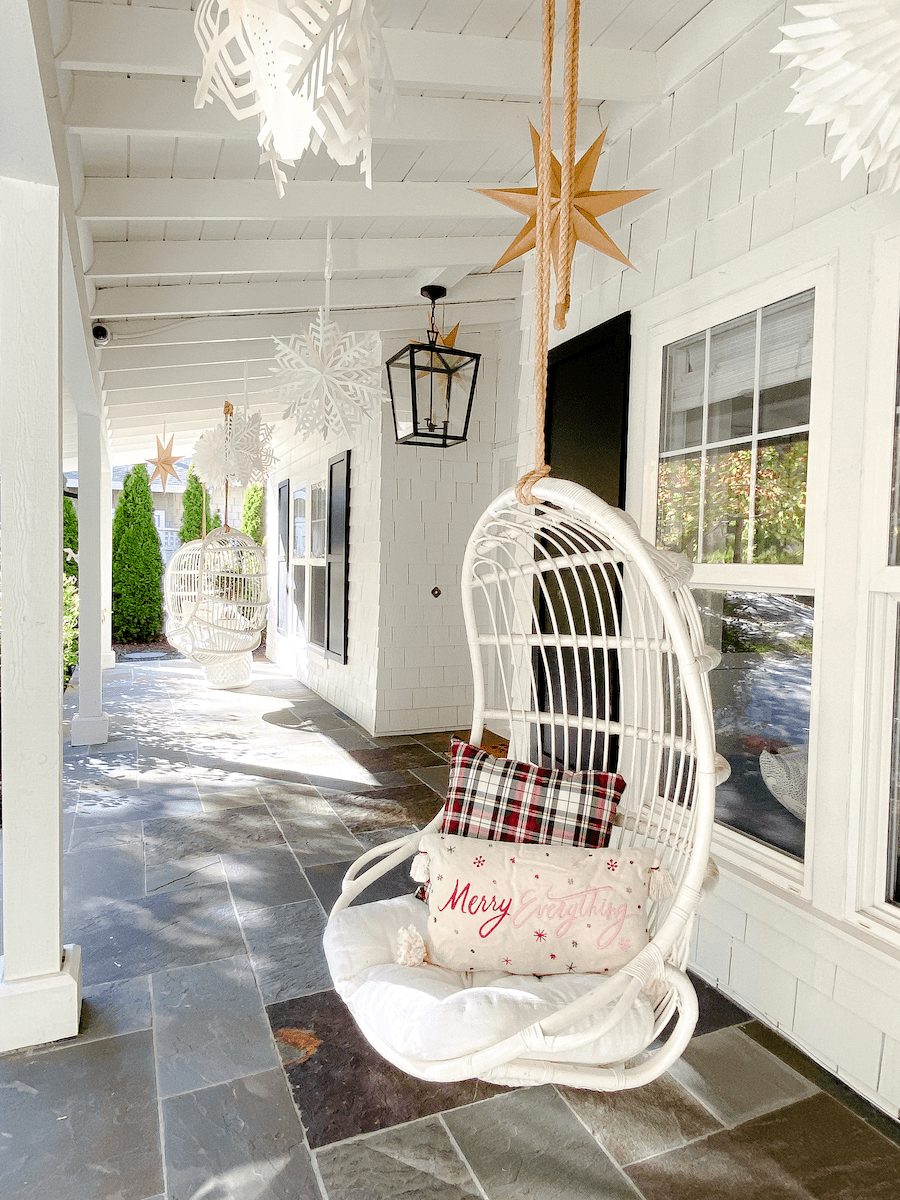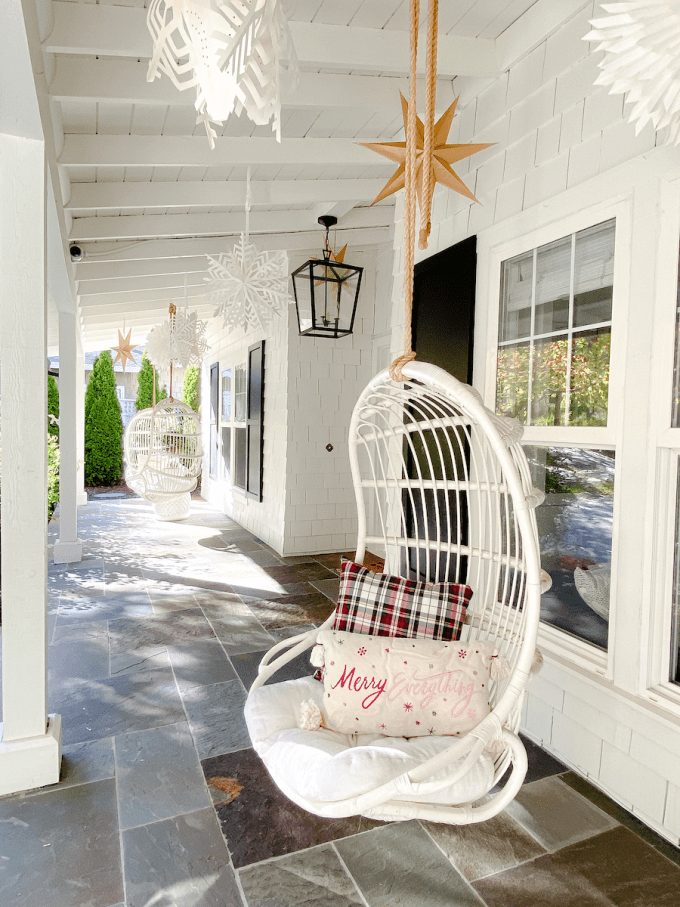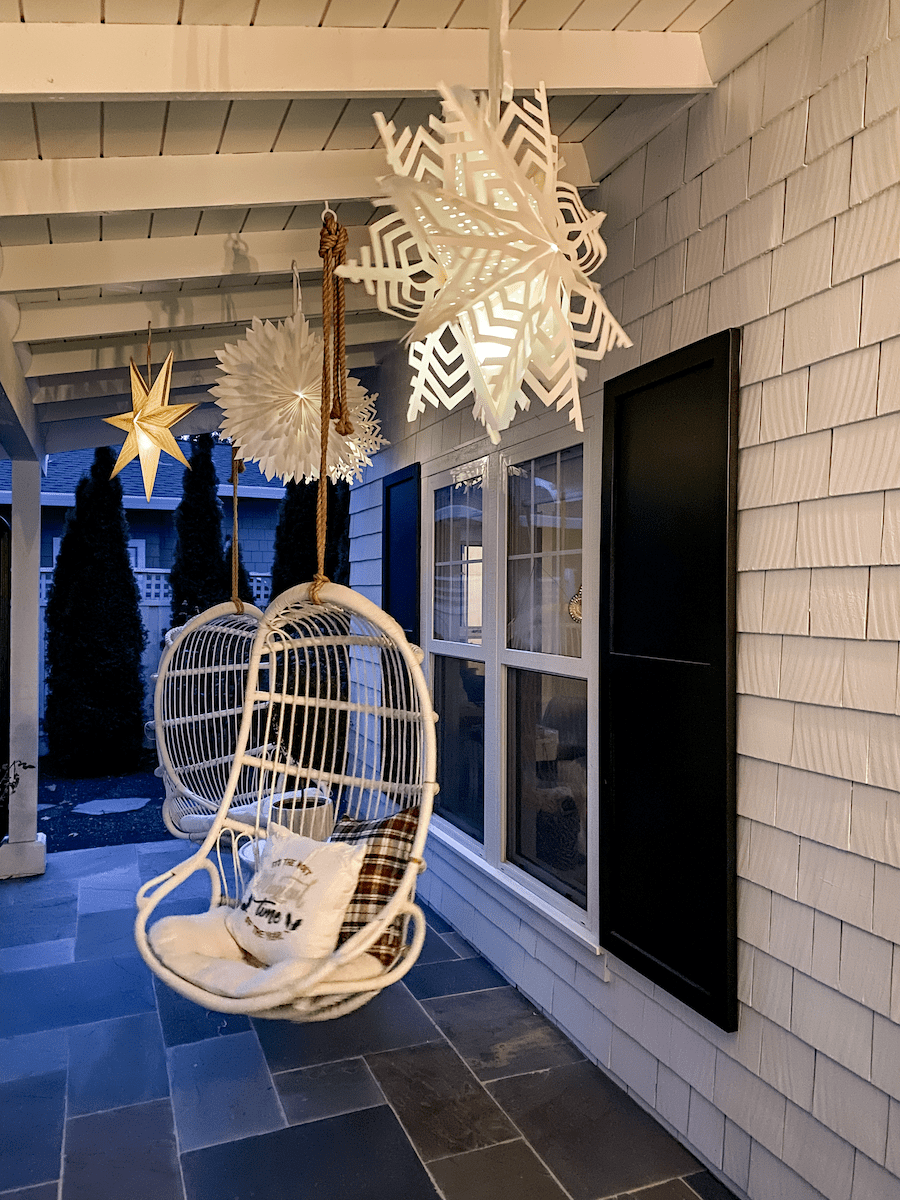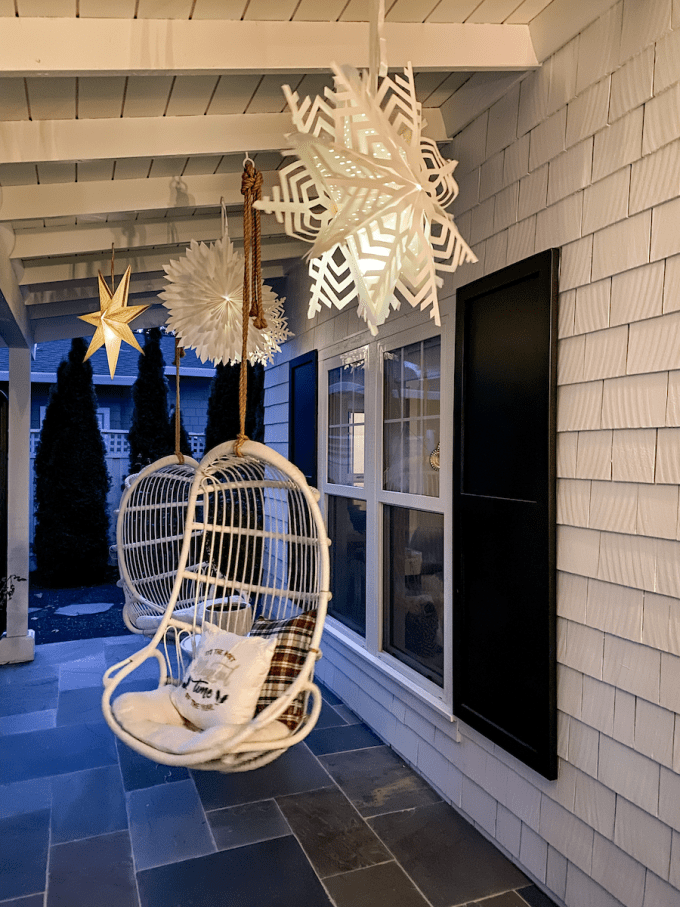 Now, I was a bit skeptical until they came and I started hanging my lanterns on my porch and tested them out. The puck lights give off the perfect amount of glow and the one remote control operates all of the lights! This is so easy to put up and create a magical Scandinavian porch with Christmas market vibes.
Plus, these puck lights can be controlled by one remote or tapping on the lens of the surface. They also have an optional timer that will automatically turn the lights off in 10, 30, 60 or 120 minutes.

How To Light Up Paper Lanterns Without Cords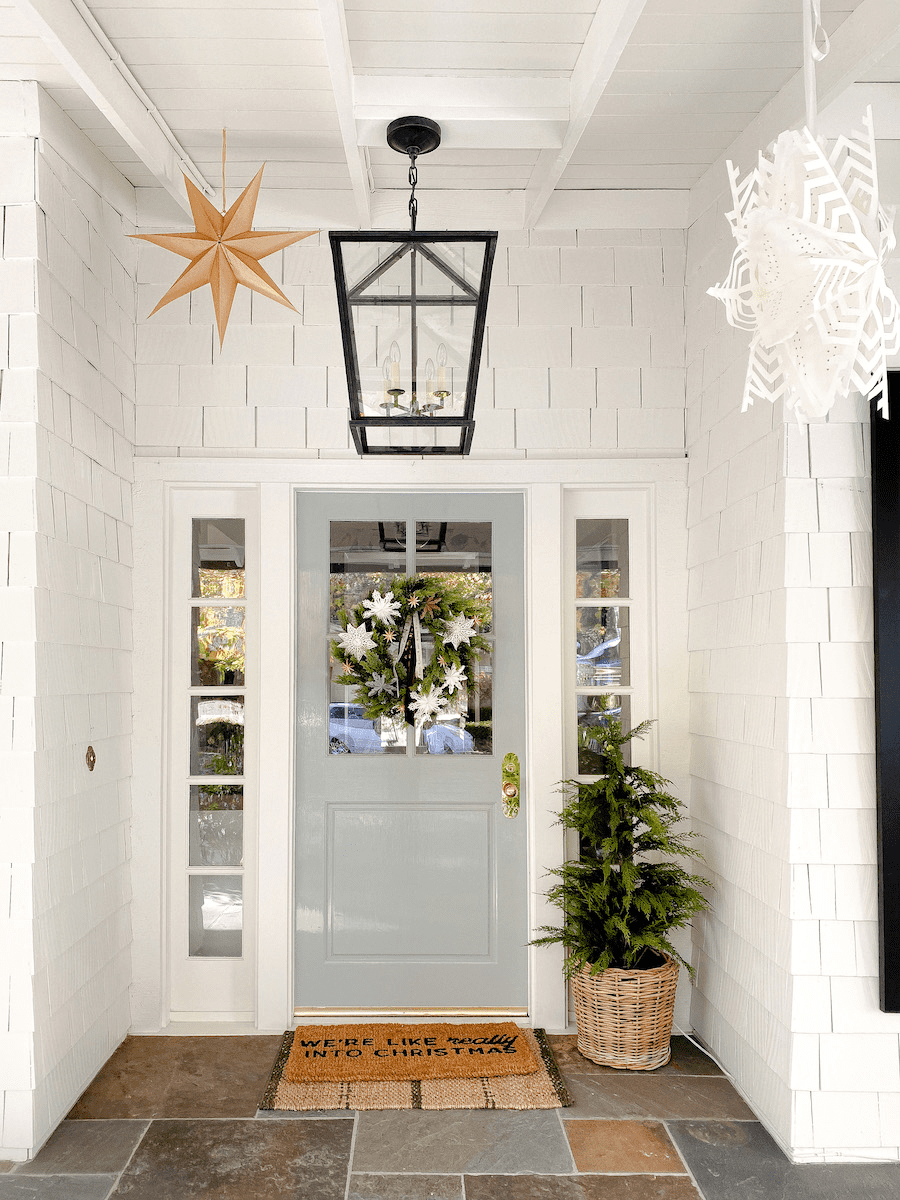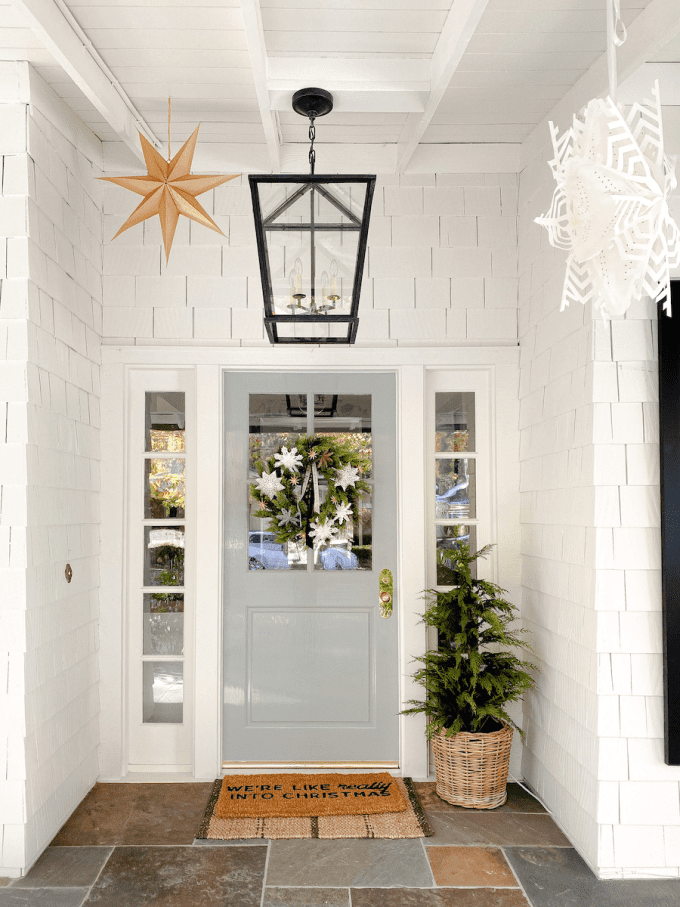 All you have to do is assemble the paper lanterns as directed. Use the enclosed light "cage" and drop the puck light into it. I found placing it in sideways gives off the most light. Place the light cage with the puck light inside the lantern (make sure you turn the light on first). And then hang the lantern using a small nail (or a command strip could work too).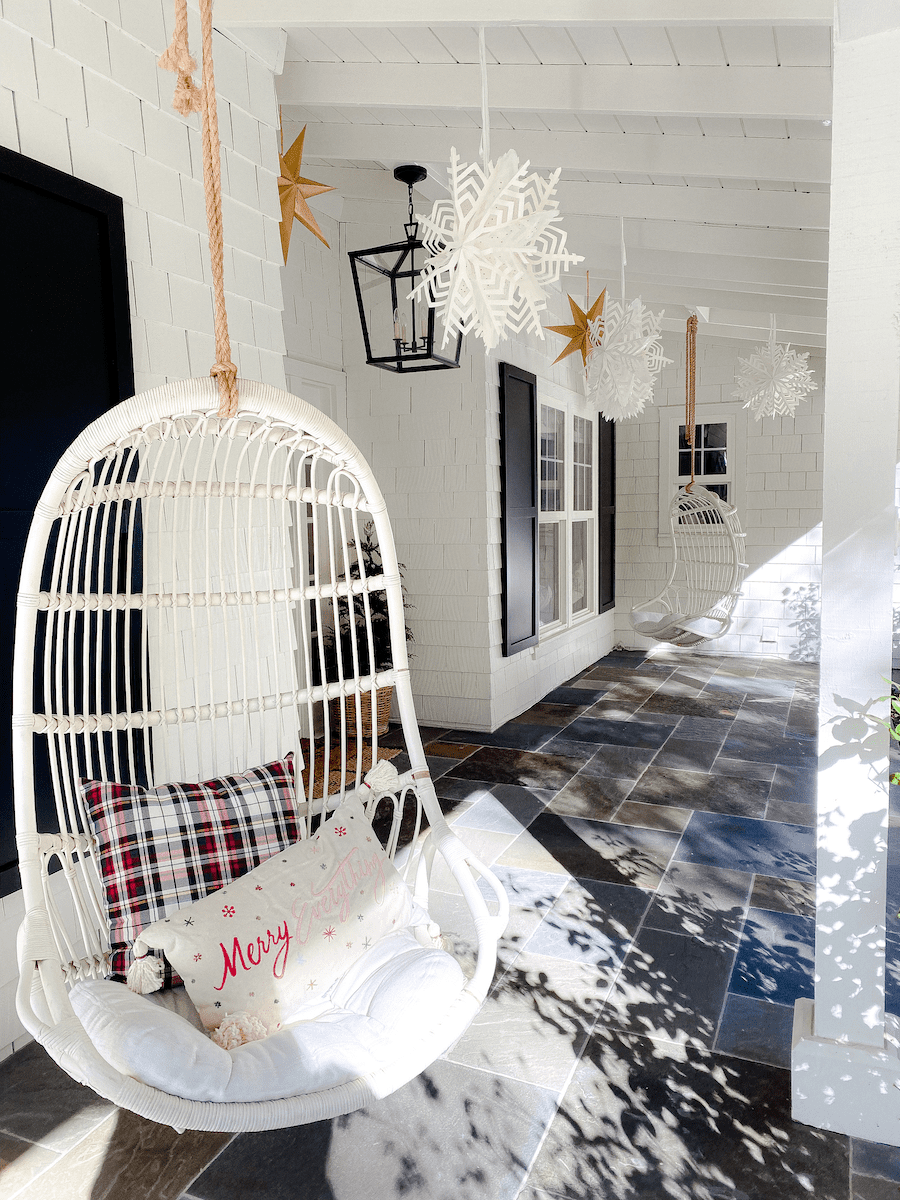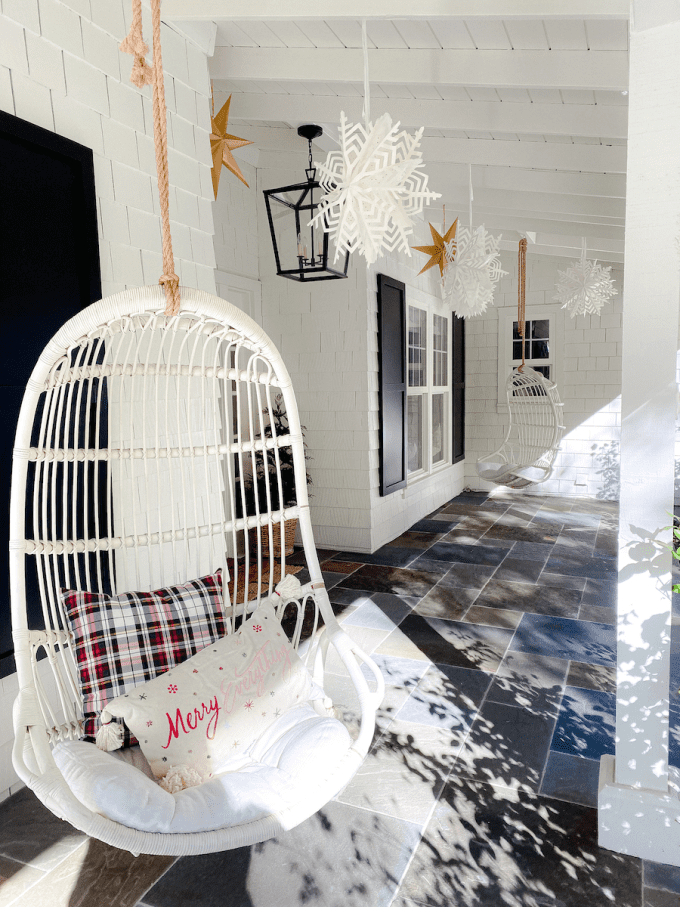 I posted this video on TikTok the day I put the lights up and I got A TON of questions. Here are the most popular questions, answered.
Scandinavian Christmas Porch Top Questions Answered
Where did you get the Snowflakes?
Here is the link to the snowflake paper lanterns: 3D Paper Snowflake Lanterns
I also found some similar versions on Amazon, because I am sure the World Market ones are bound to sell out soon. Check the image links above.
How can we find those lights on Amazon?
Linked here (and above): Wireless LED Puck Lights
My husband is a fire fighter isn't this a fire hazard?
The paper lanterns are designed for lights. And the puck lights are LED, so they don't get hot. I also used the enclosed light cage to prevent the lights from sitting directly on the paper lanterns. By utilizing the timer option on the remote, you can make sure they lights only stay on for shorter periods of time if you are at all concerned.
Did you use the same light for the stars.
I did. Although the stars are made of a thicker paper, so they don't glow as much.
Does water bother if it blows in? Will they last in cold and rain?
I would suggest hanging these in a protected area that doesn't get direct rain or snow. You could also totally do this inside. I think it would look amazing in a dining room!
And here's the winner question. I swear, TikTok brings out some of the craziest comments.
Who's going out there every night, with 10 different remotes, to turn all of those on?!?
One remote for 10 lights seems pretty easy to me, but maybe I'm crazy?!
Let me know if you have any questions or if you give this a try!

Pin This And Save For Later