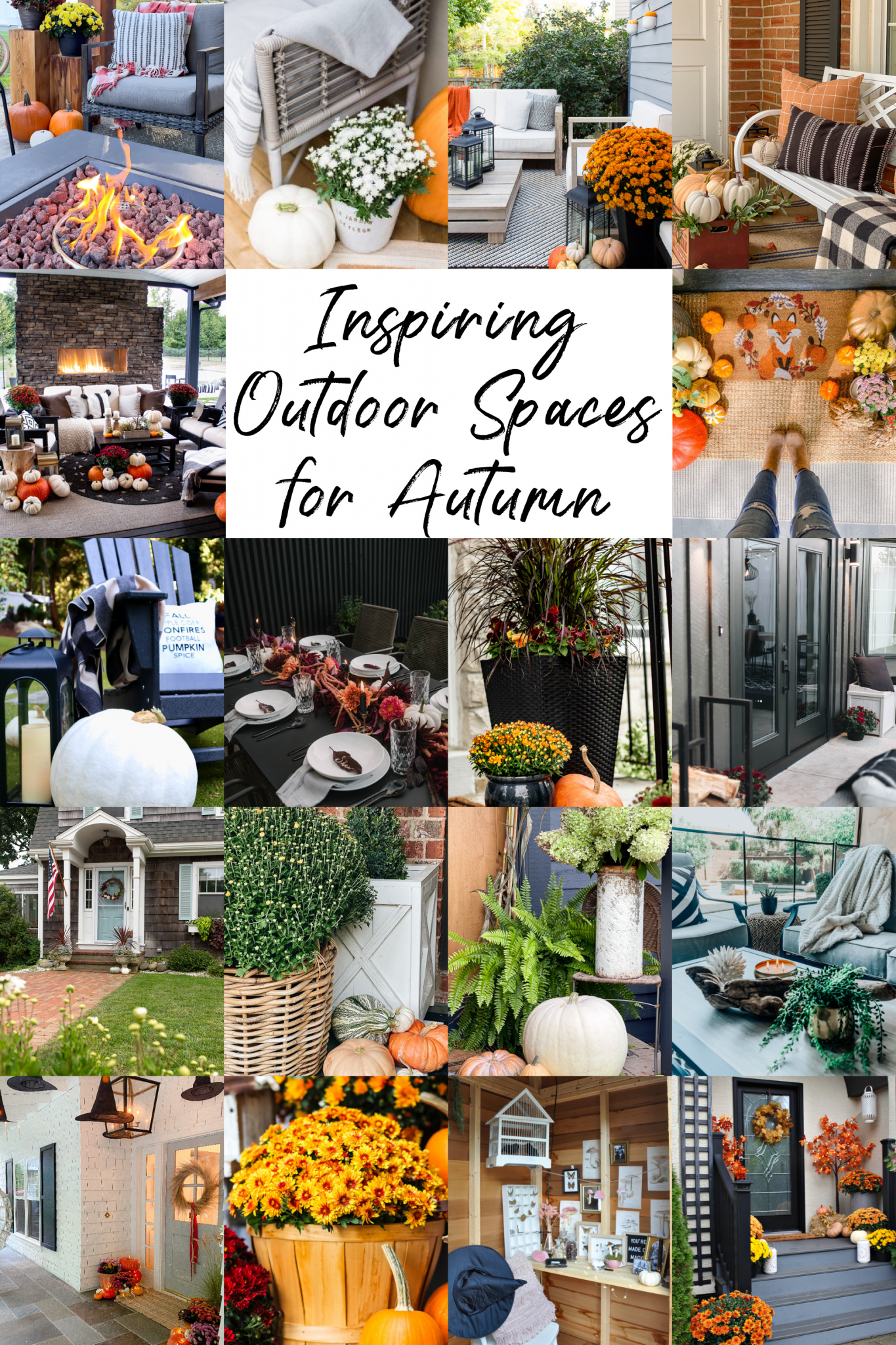 Halloween porch decor with hanging witches hats and floating candles! Create a haunted Halloween front porch with these DIY ideas.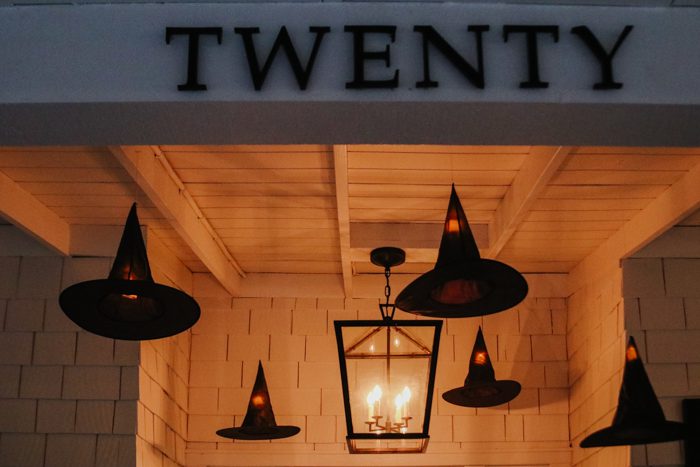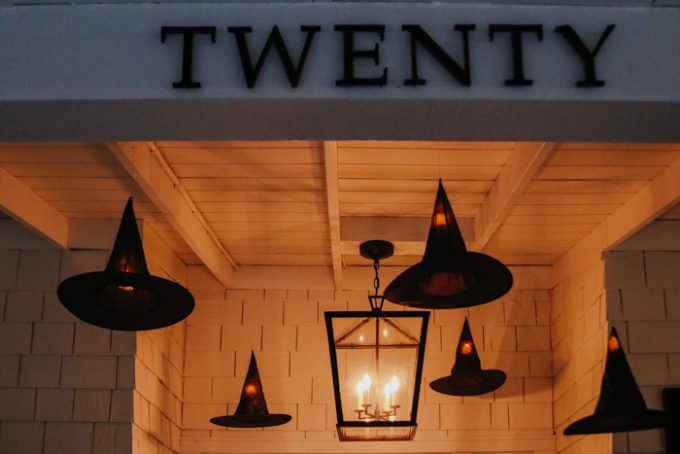 Last week I shared my Natural and Minimalist Fall Porch and over the weekend we added some fun Halloween porch decor ideas. I am excited to share with you how we created these fun DIY decor ideas!
Halloween Porch Decor Ideas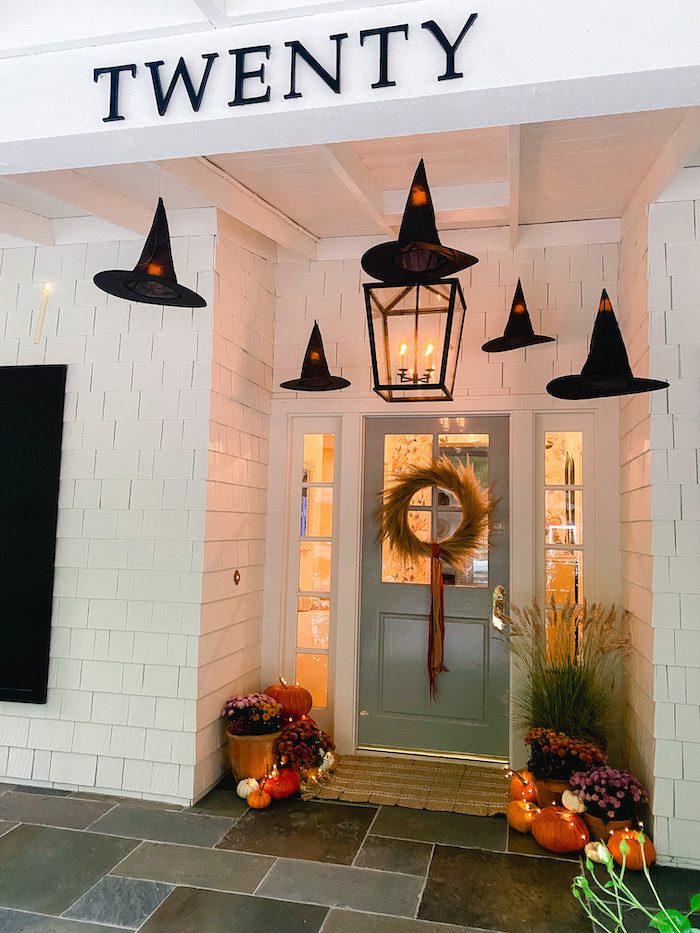 Do you decorate for Halloween? I love to add a few haunted Halloween vibes to my home for the month of October. What I love about decorating for fall is how you can start with mums and pumpkins in September, add in some Halloween decor in October and take it away in November for Thanksgiving!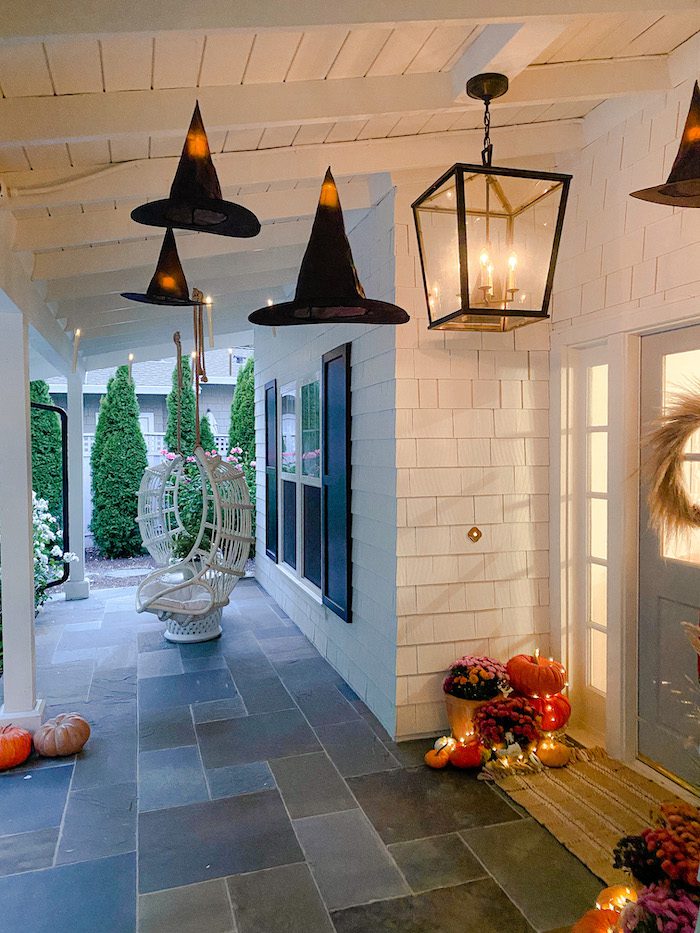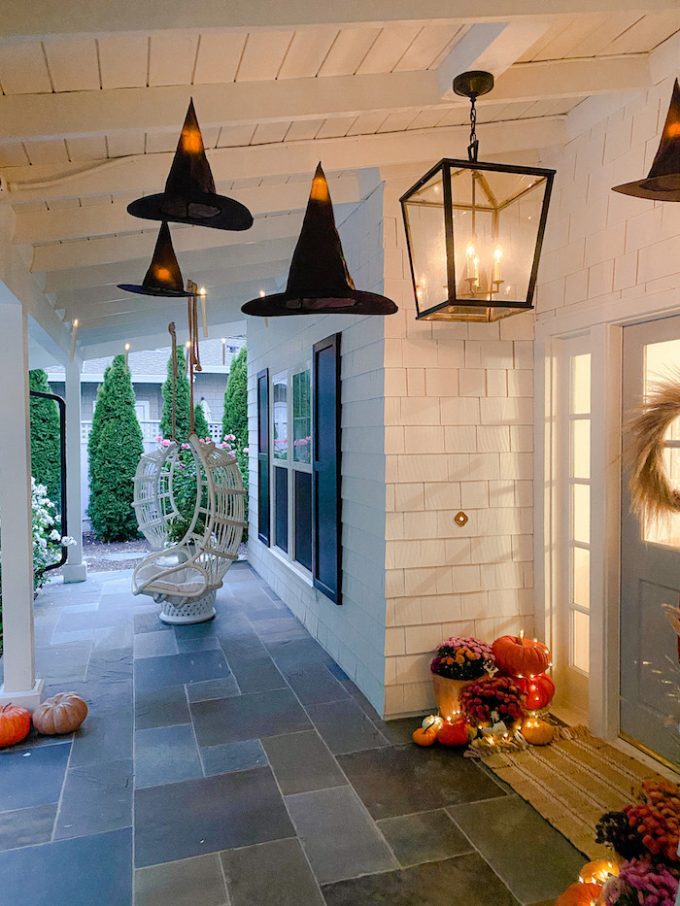 Last year I created this Halloween Porch with flying bats that was pretty popular. This year I decided to do something a little different and a whole lot more fun! And the best part is that you can make it all yourself using a few supplies that I bought from Amazon.
DIY Halloween Decor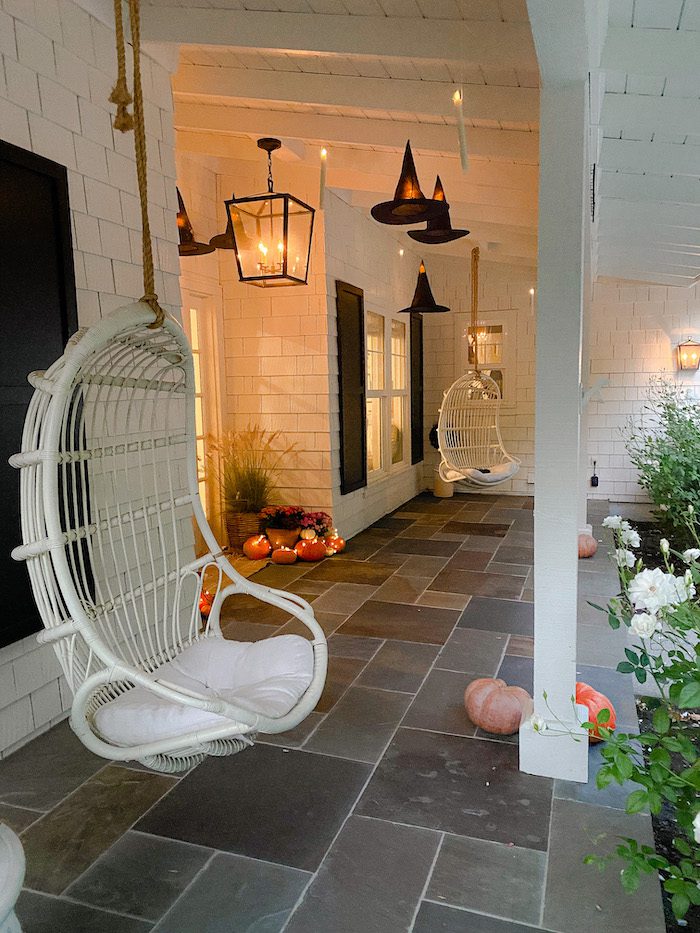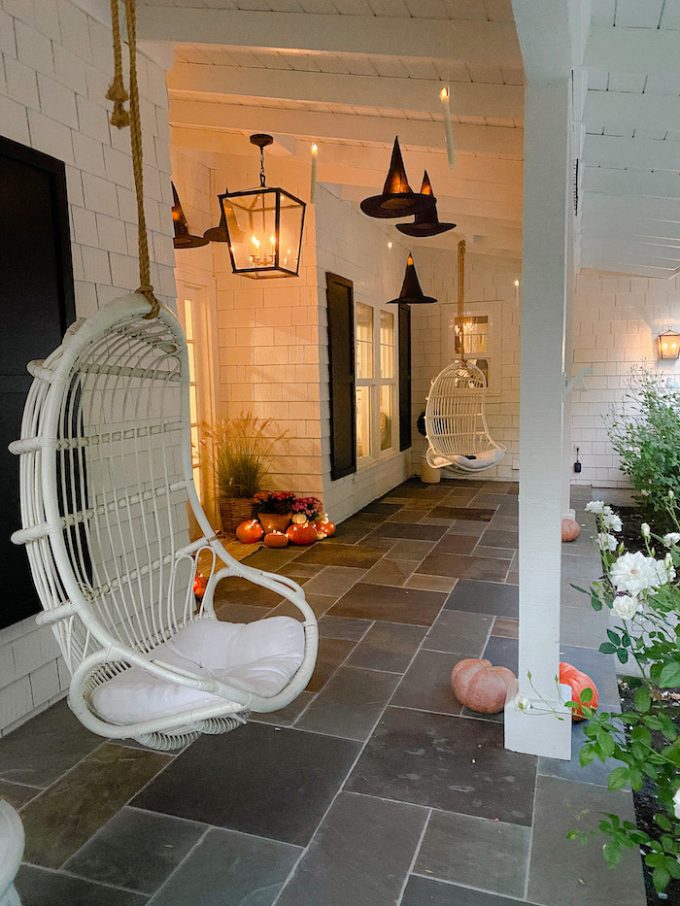 Creating this fun and haunted Halloween porch took us a little less than an hour to create the DIY Halloween porch decor and hang it all. Check out how we created this haunted halloween porch below!
How To Hang Witches Hats as Lanterns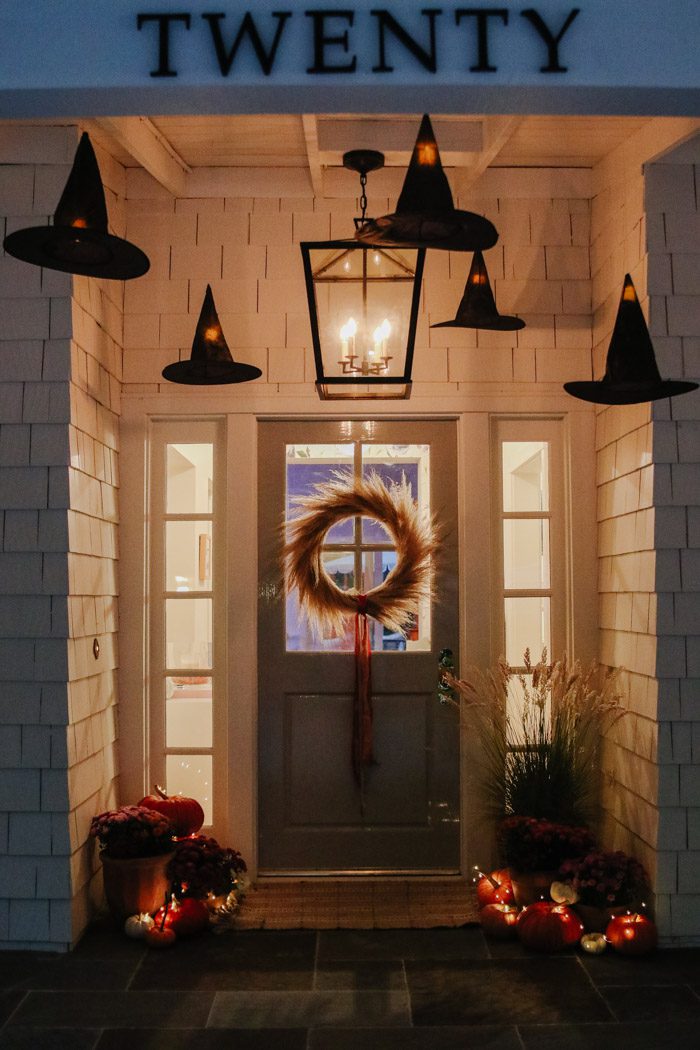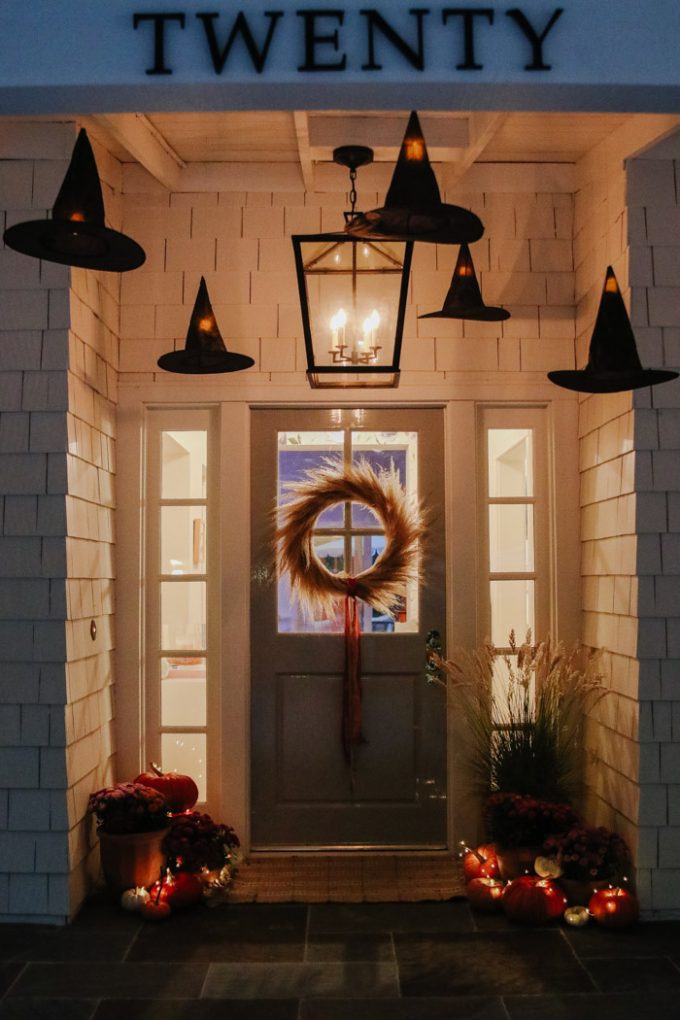 I found this pack of witches hats from Amazon and they work perfect for this DIY halloween porch decor. They are made of polyester/nylon and I think they should hold up well to winds and other fall-like weather. They come in a pack of 8 hats, but I only used 5 for my porch.
Here is what you need to make these hanging witches hats lanterns:
Thread your needle with the fishing line and pull the needle and thread through the end of your witches hat from underneath so the string sticks out the top of the hat. Tie a double knot on both sides of the top of the hat so the string does not pull through.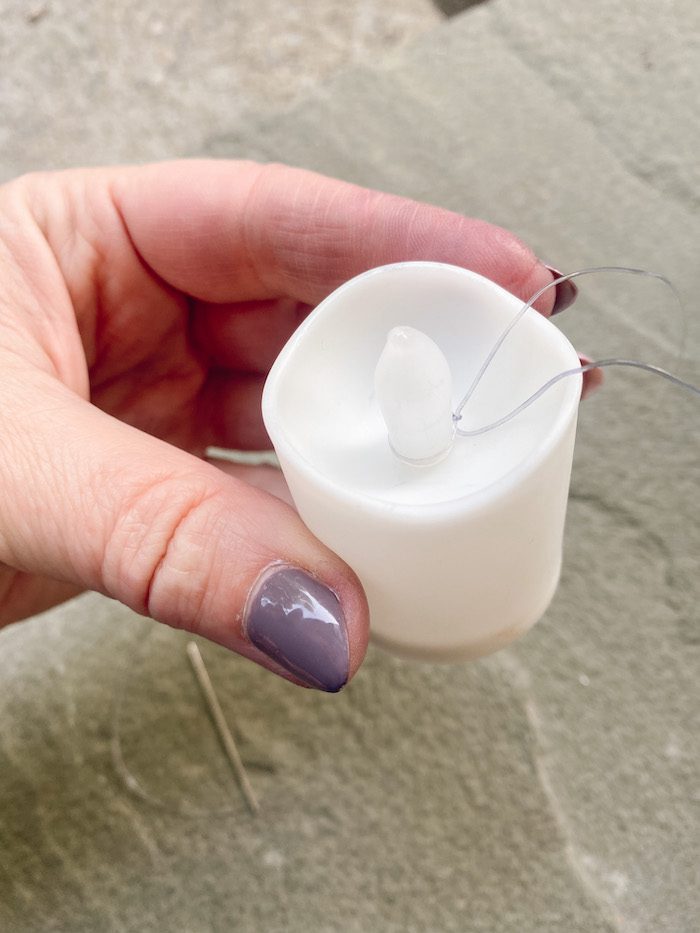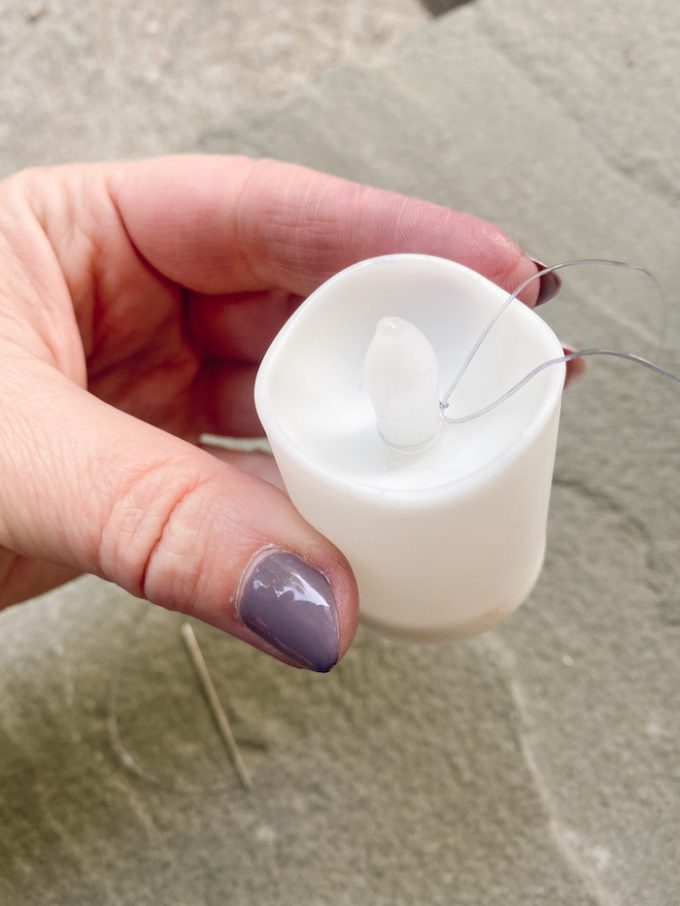 Tie the votive candle onto the end of the line so that it sits inside the bottom of the witches hat. Leave enough length on the other end so you can hang it from the ceiling at various heights. Hang the string from the ceiling using a small nail, thumbtack or command hook could work too.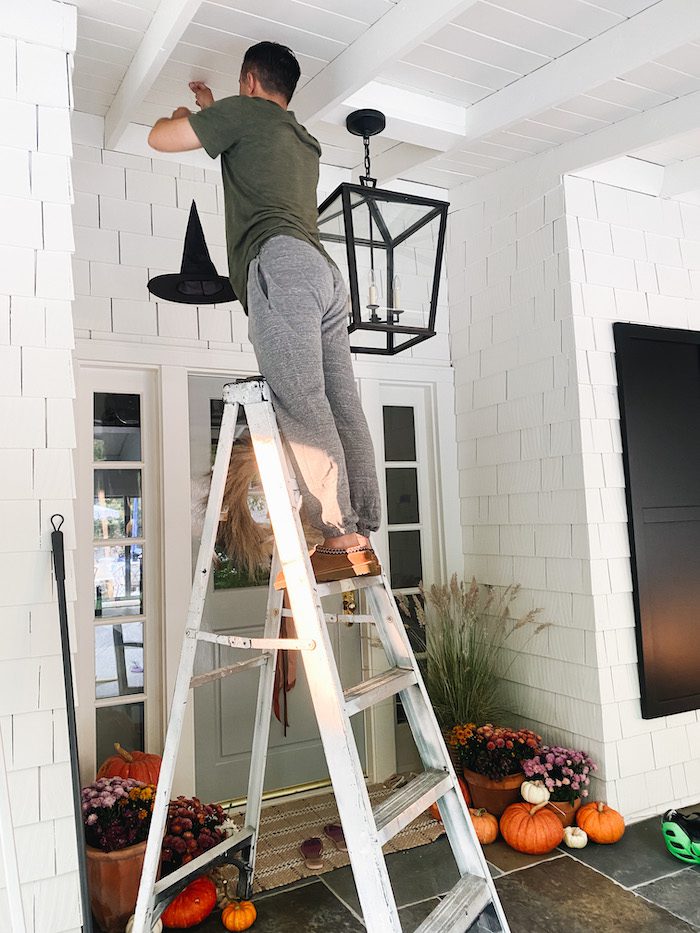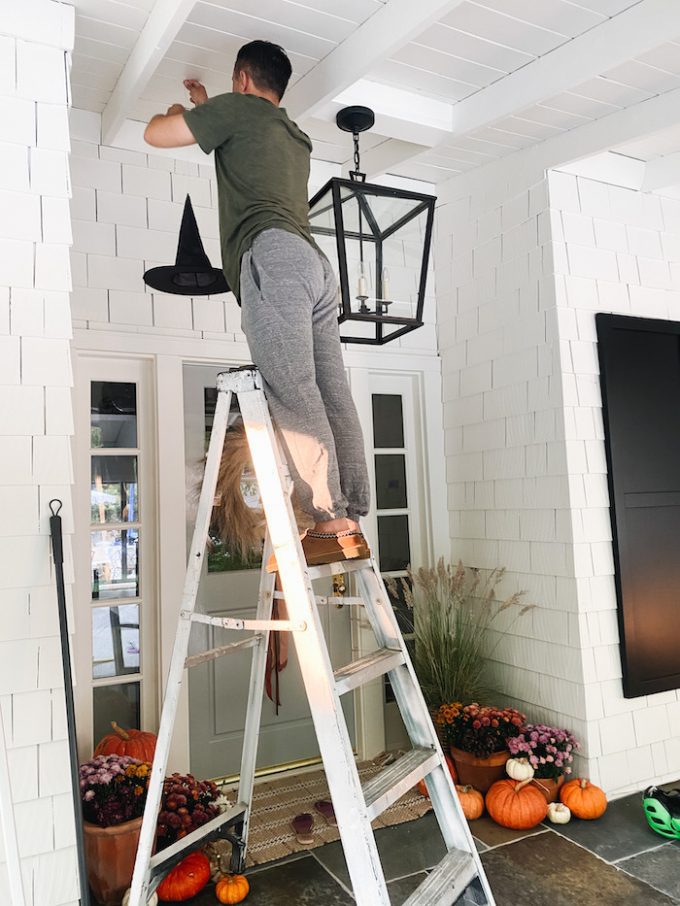 Easy, simple Halloween porch decor that takes just a few minutes to make!
I searched high and low for remote controlled votive candles and I found them! Linked HERE. I can't wait to swap out mine so I can simply turn them on with just a tap of a button – yay!
How To Make Floating Candles For Halloween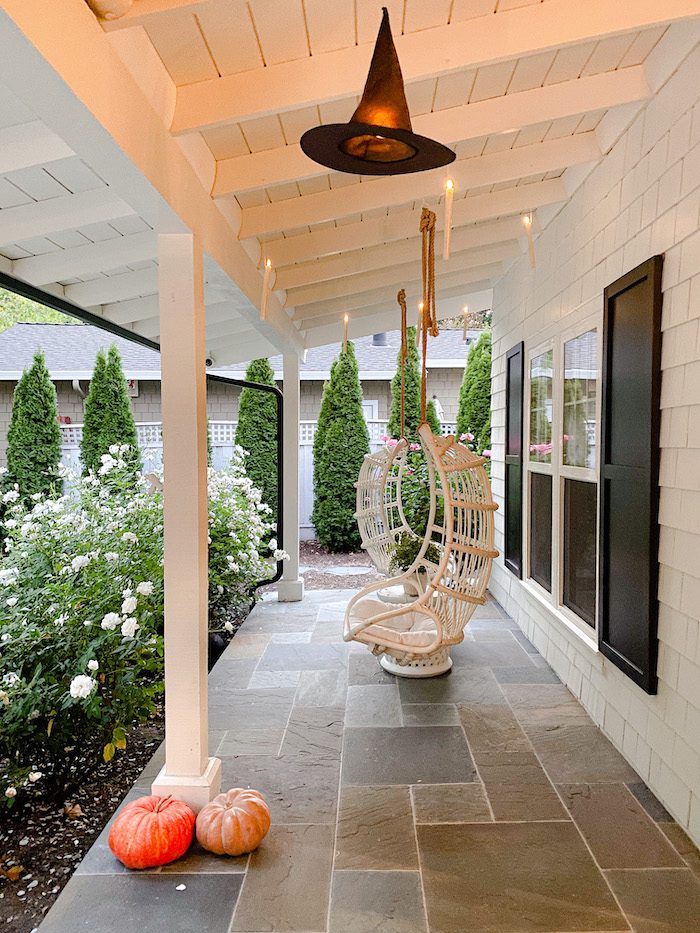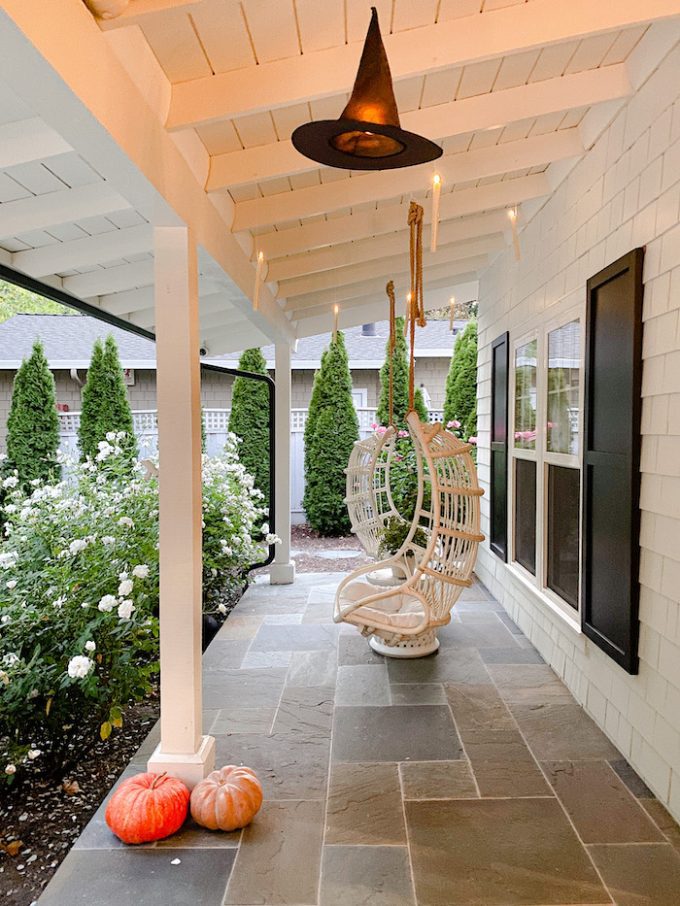 Next up for my haunted Halloween porch decor are these fun and mysterious "floating" candles. These took a bit more effort but I absolutely love these battery-operated taper candles and have used them for a few years now. So, I wanted to make them work for my Halloween porch too. I really like the color of the "flame" and how easy they are to turn on and off.
To make the candles look like they are floating, you hang them from the ceiling using fishing line just like with the witches hats. However, these candles didn't have a way to attach the string without having inner part (that houses the light and batteries) fall out.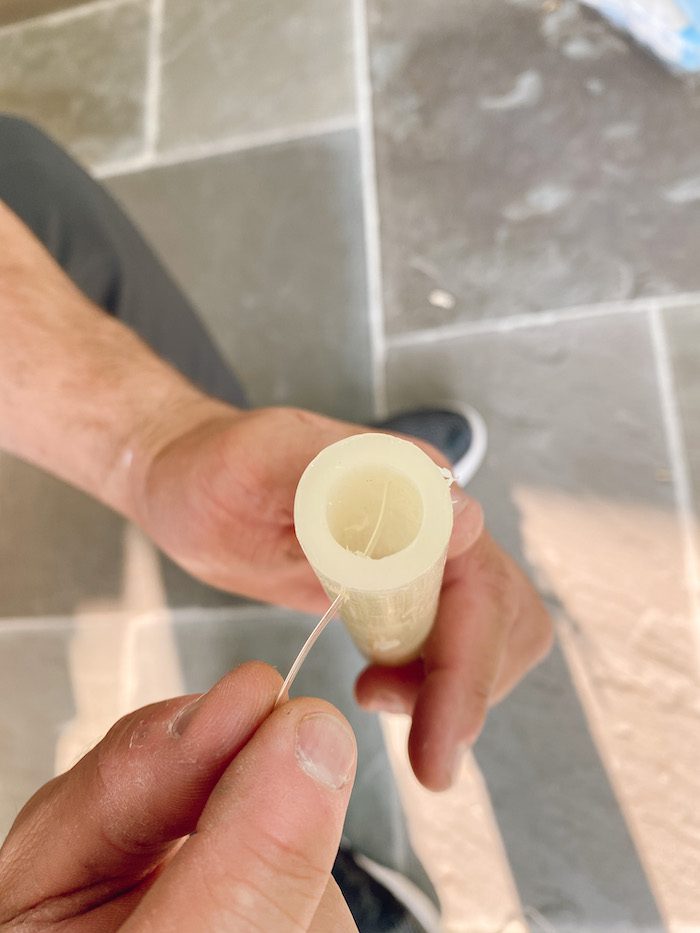 So, my husband used a small drill bit and created two small holes in either side of the top of the candle so we could thread the line through there and suspend the candles in mid-air.
I also found these flameless taper candles that would not require any drilling. You can simply tie the string around the tip of the candle and suspend from your ceiling. But, I haven't tried them.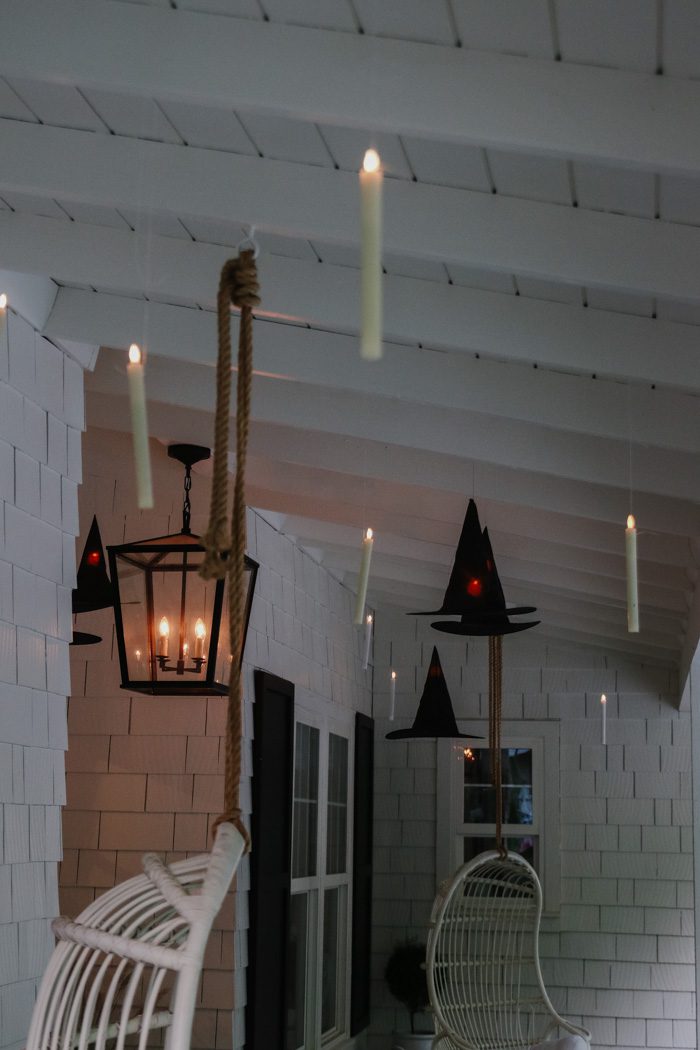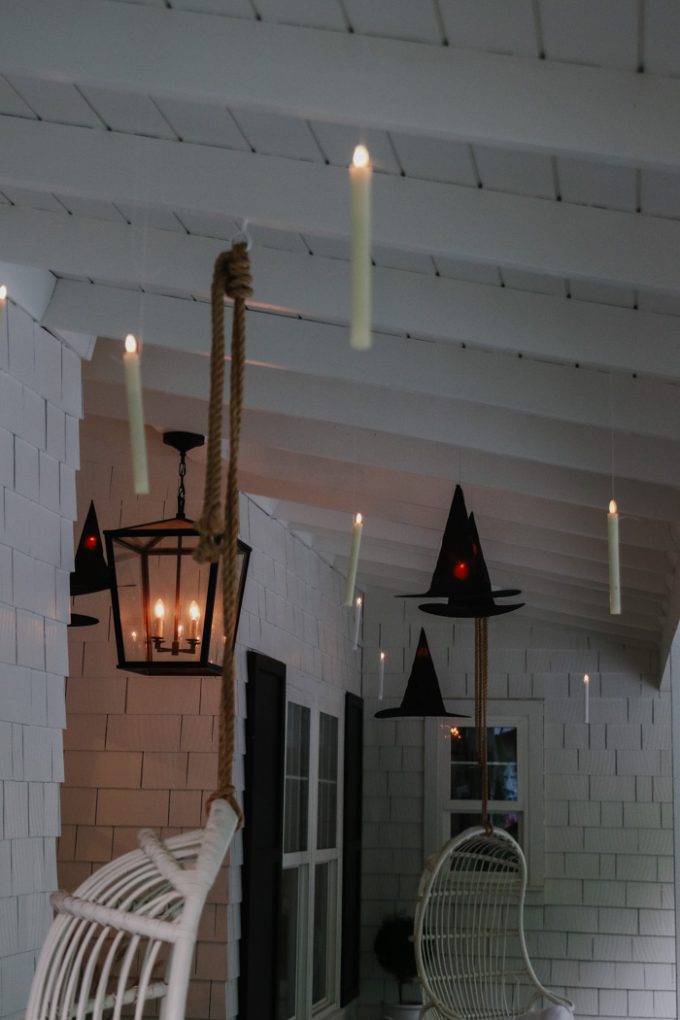 Hang the candles at different heights and vary the placement so they look like they are floating at random. So fun and so spooky!
I love how this Halloween porch decor looks at dusk right before it gets dark!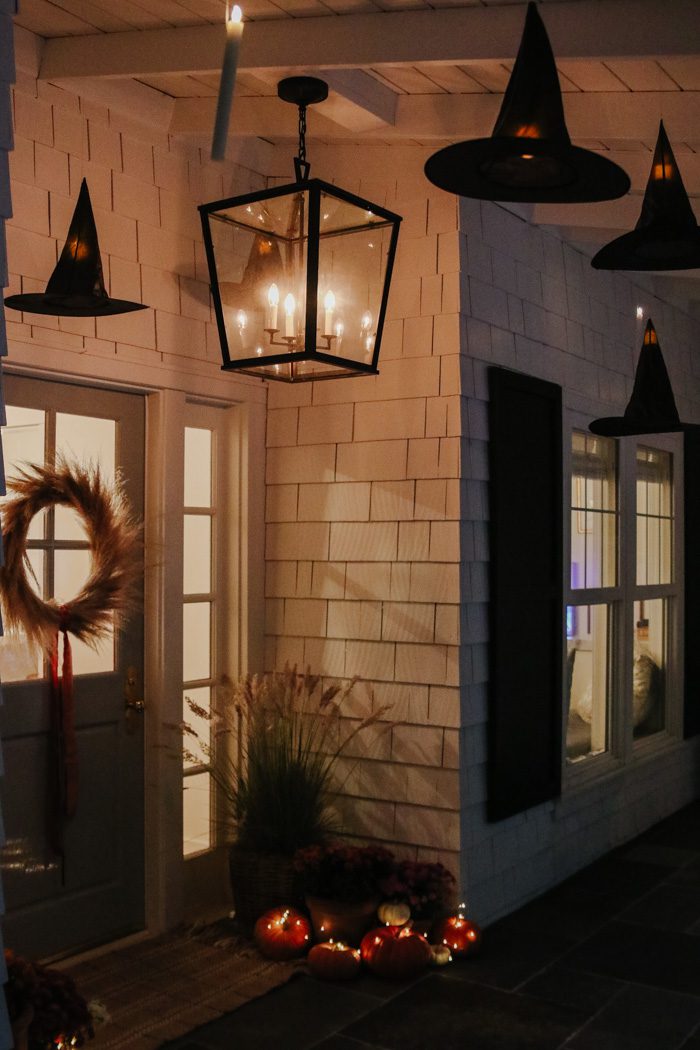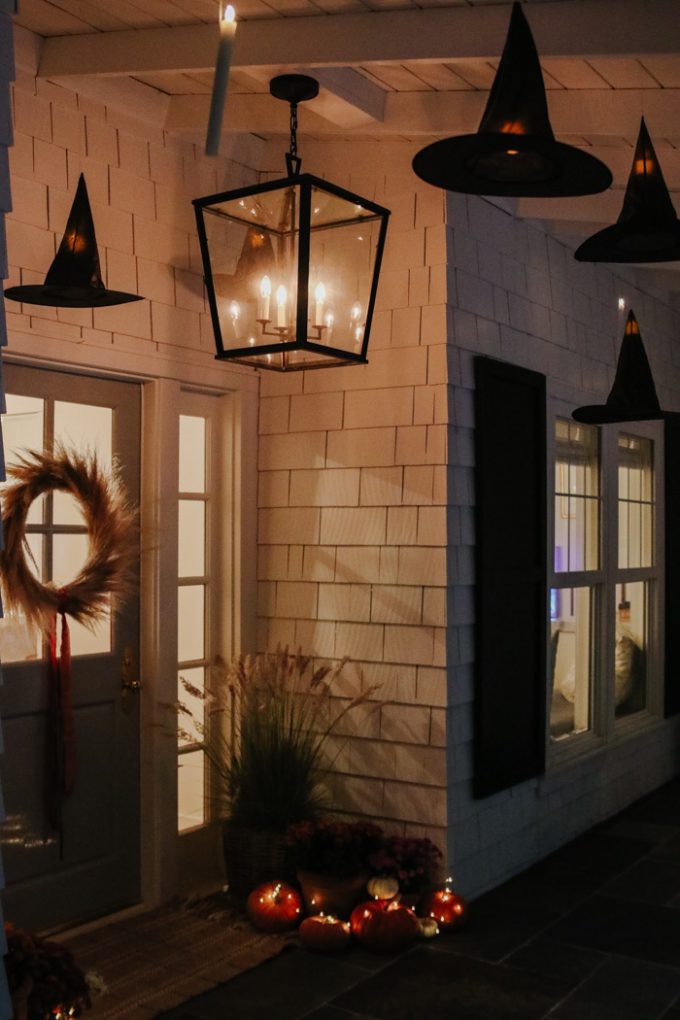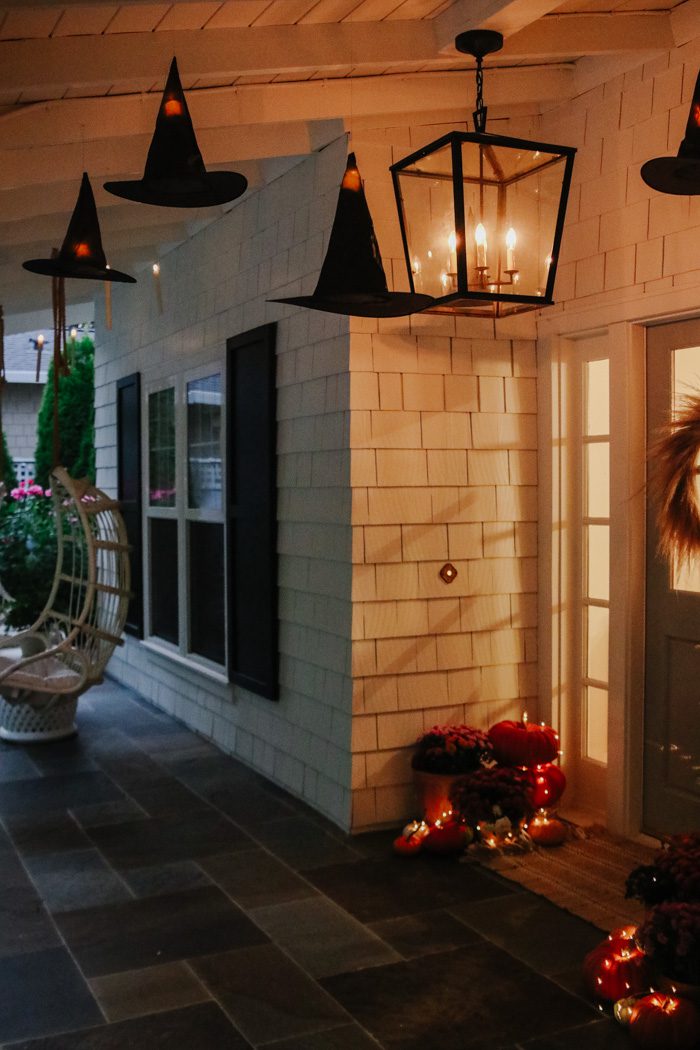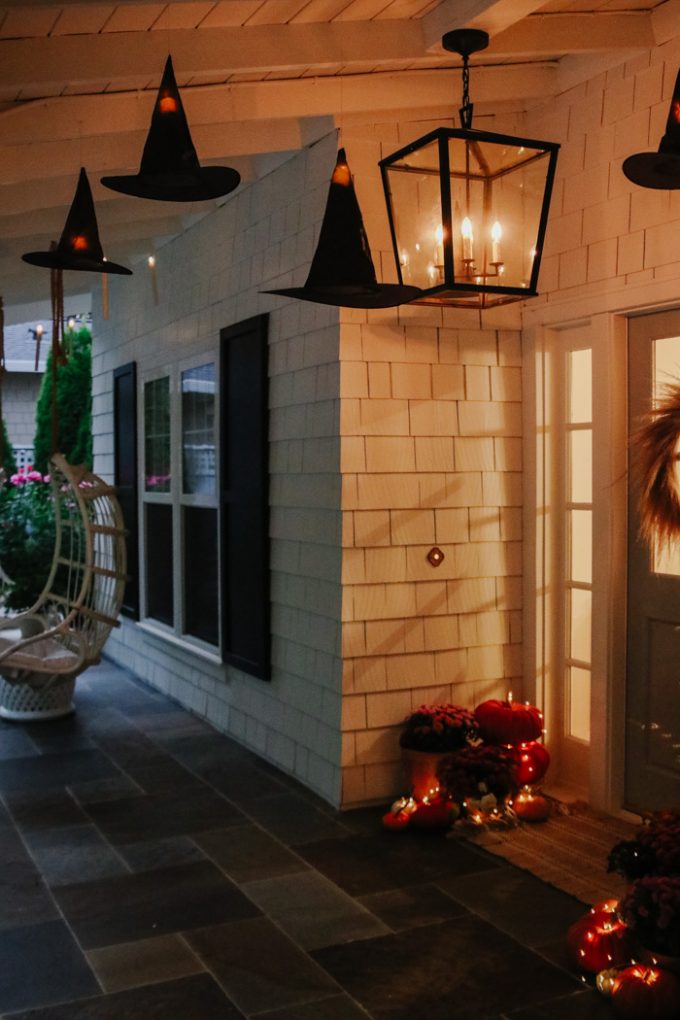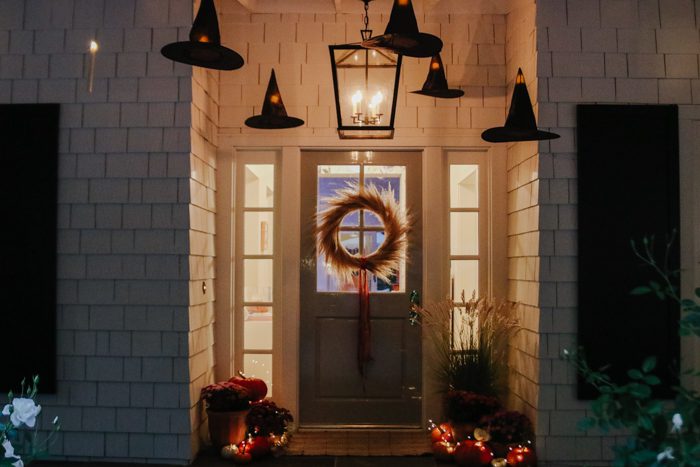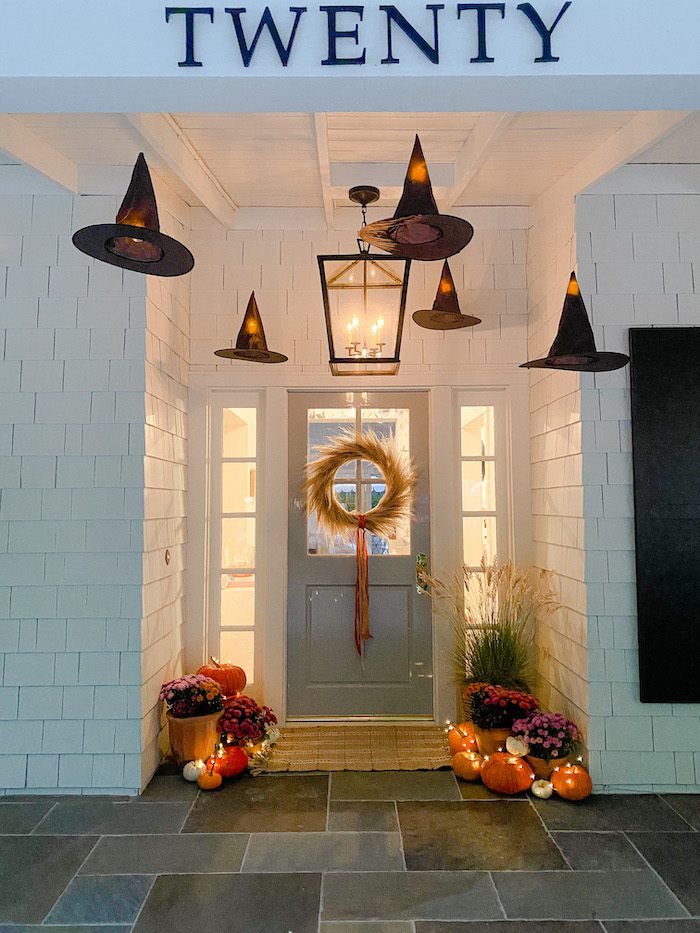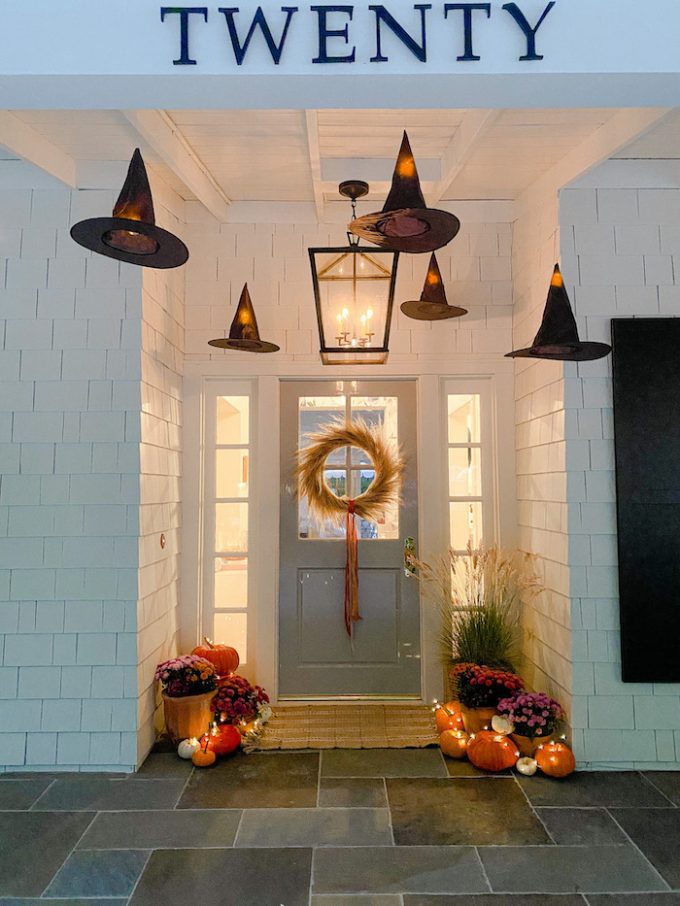 Shop Everything Seen In This Post

More Fall Outdoor Decor Ideas
Today I'm joining some of my talented blogging friends for the Fall Seasonal Simplicity Series: Outdoor Spaces hop. Be sure to check out all of the beautiful inspiration by visiting their posts. All the links are just below the images.