Make this easy Halloween Candy Board shaped like a skeleton using white candies and chocolates.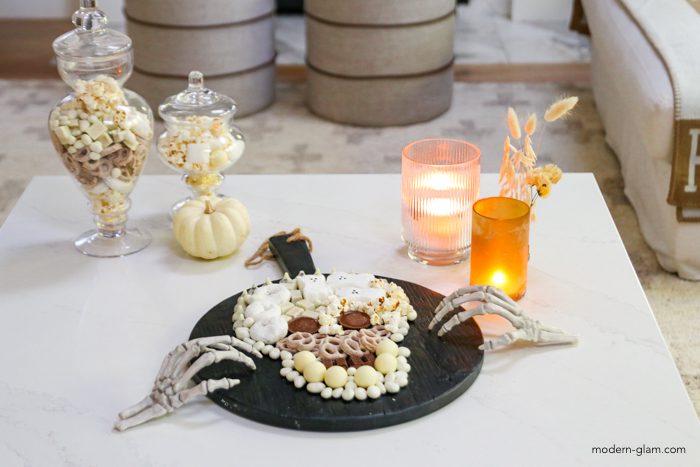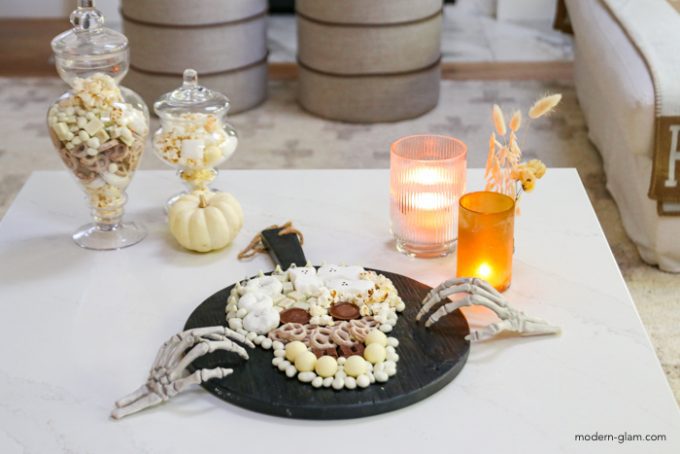 Last year I created this fun Halloween Snack Board using treats from Trader Joe's. My kids loved this idea and have been begging me to do another. So this year I created this fun and easy Halloween Candy Board that is shaped like a skull. And I'm joining 6 of my friends in sharing more Halloween Snack Board ideas!
Halloween Skull Candy Board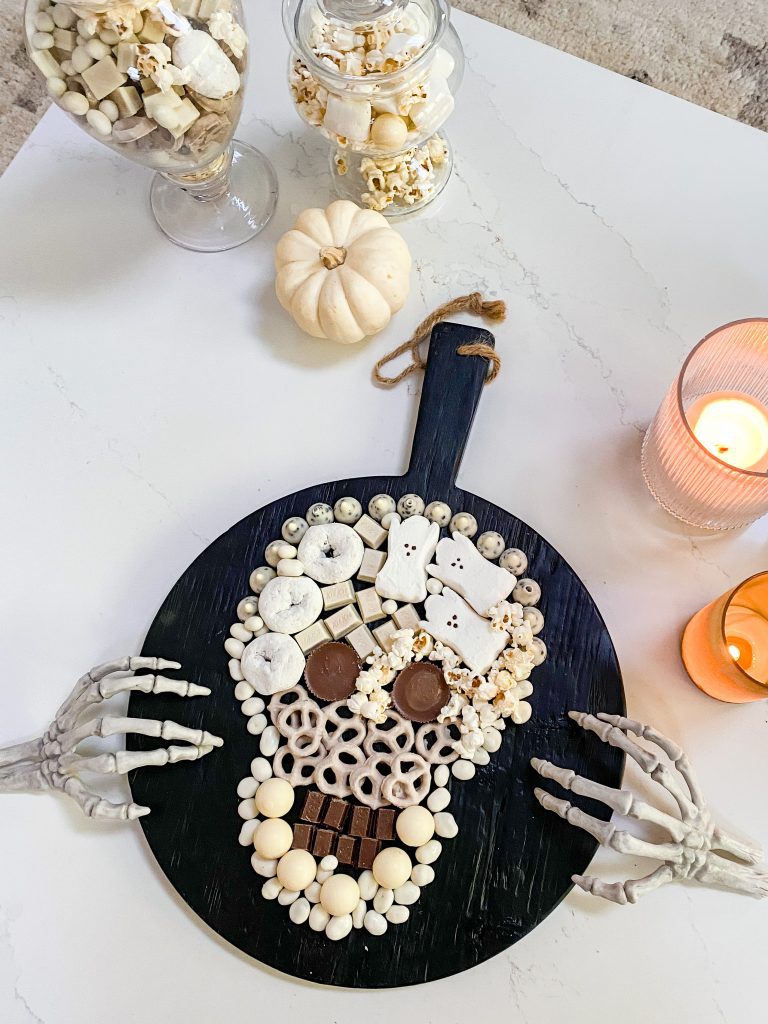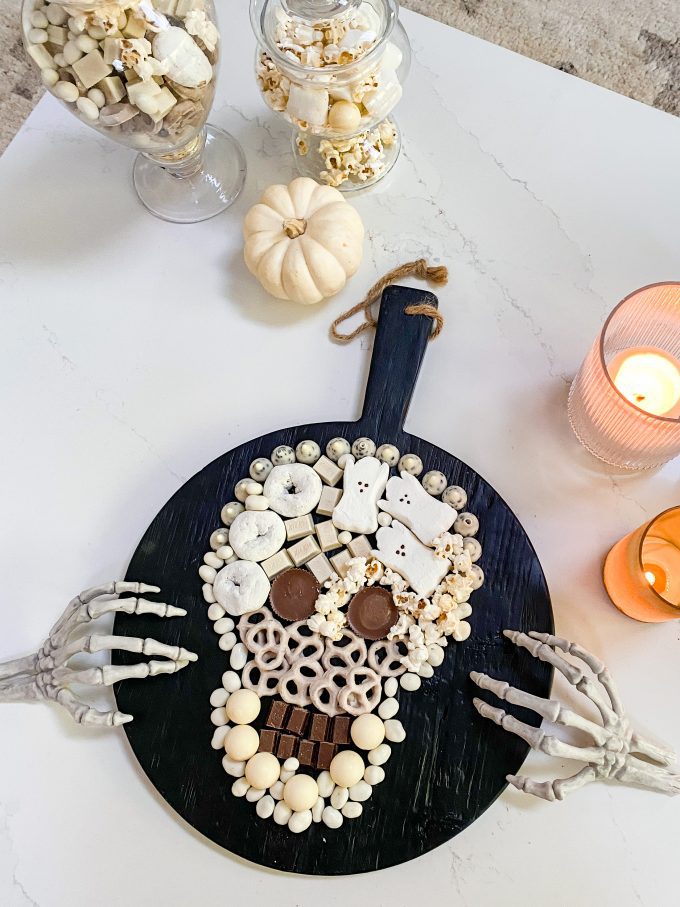 Making this candy board is so easy. I have seen this idea using a skull-shaped board filled with white candy but I couldn't find a shaped board. So, I decided why not use a black board and shape the skull using the candy!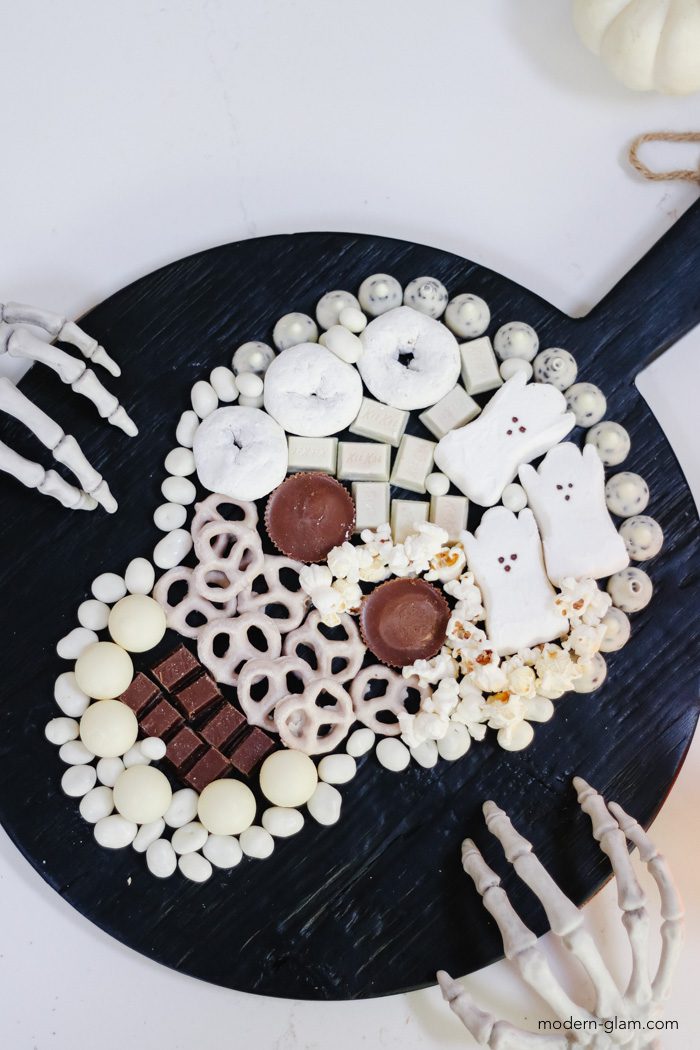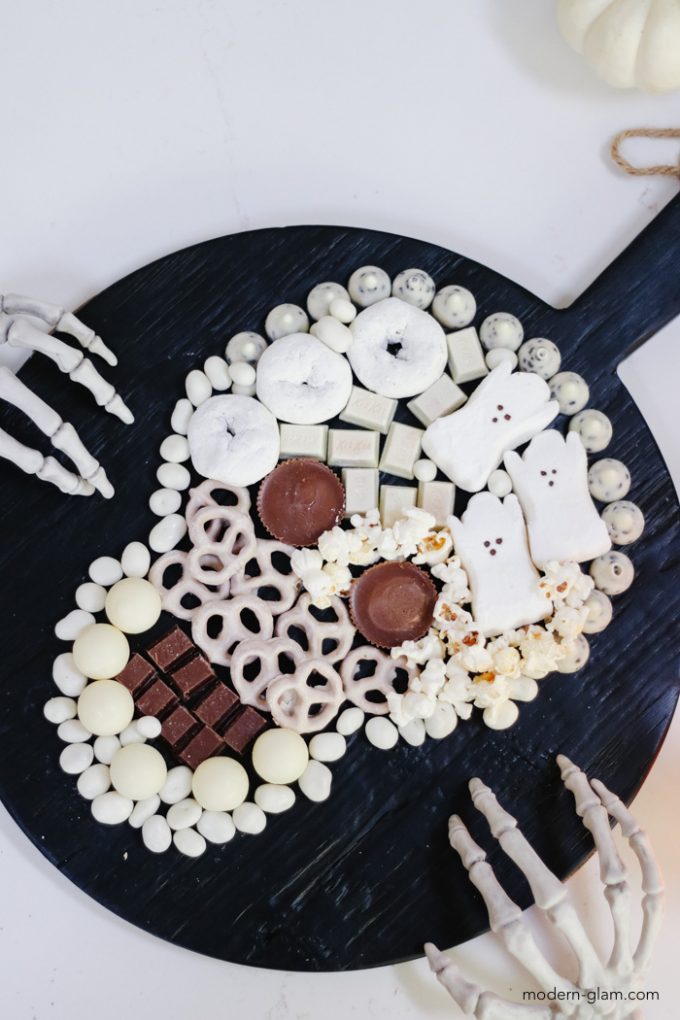 Use candies and chocolates that are round and somewhat small to create the outline first and then fill in with your candy.
Here's how I created this Halloween candy board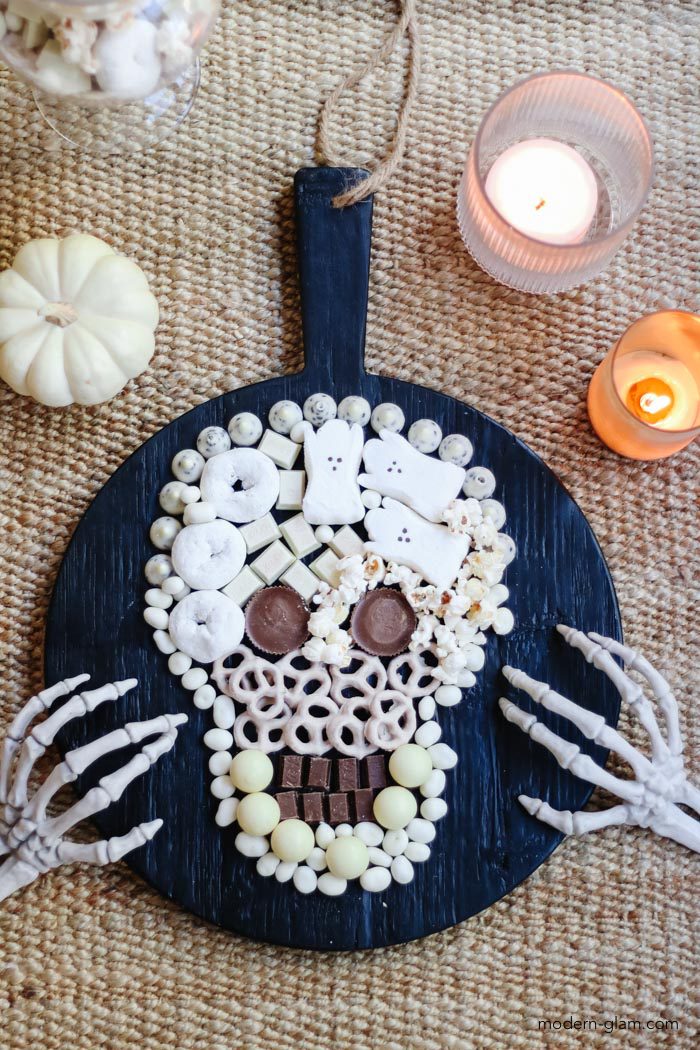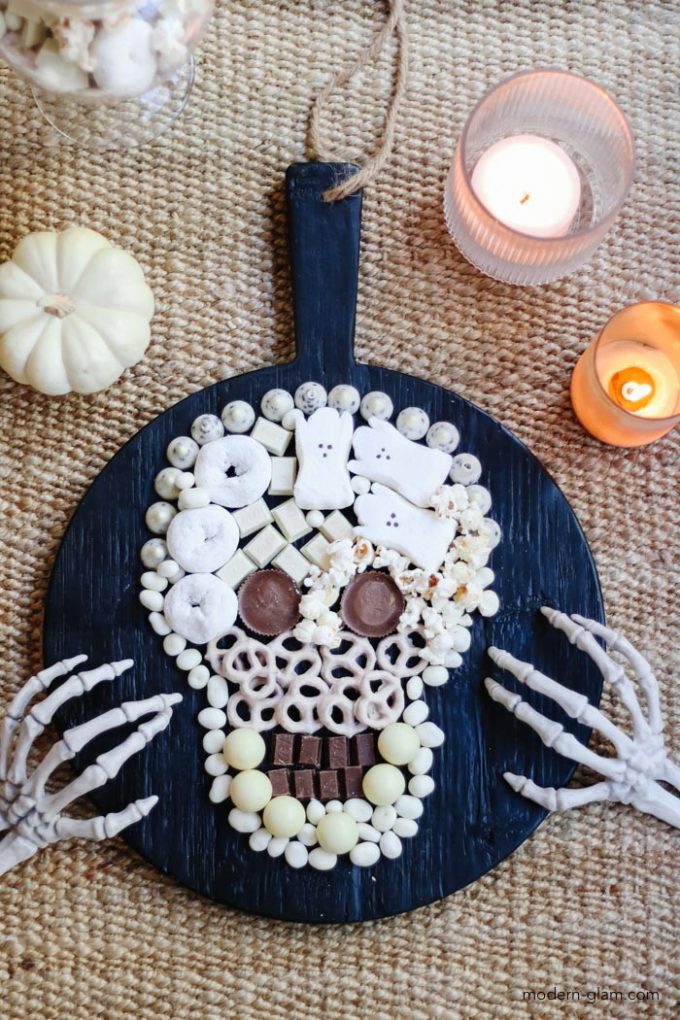 Using a 12-18″ black (or wood) colored board, create the skull outline using hershey's kisses and yogurt covered raisins.
Next, place 2 Reeses Peanut Butter Cups in the middle for the eyes. Cut Kit Kat's into 1/2″ pieces and place them in two lines for the mouth.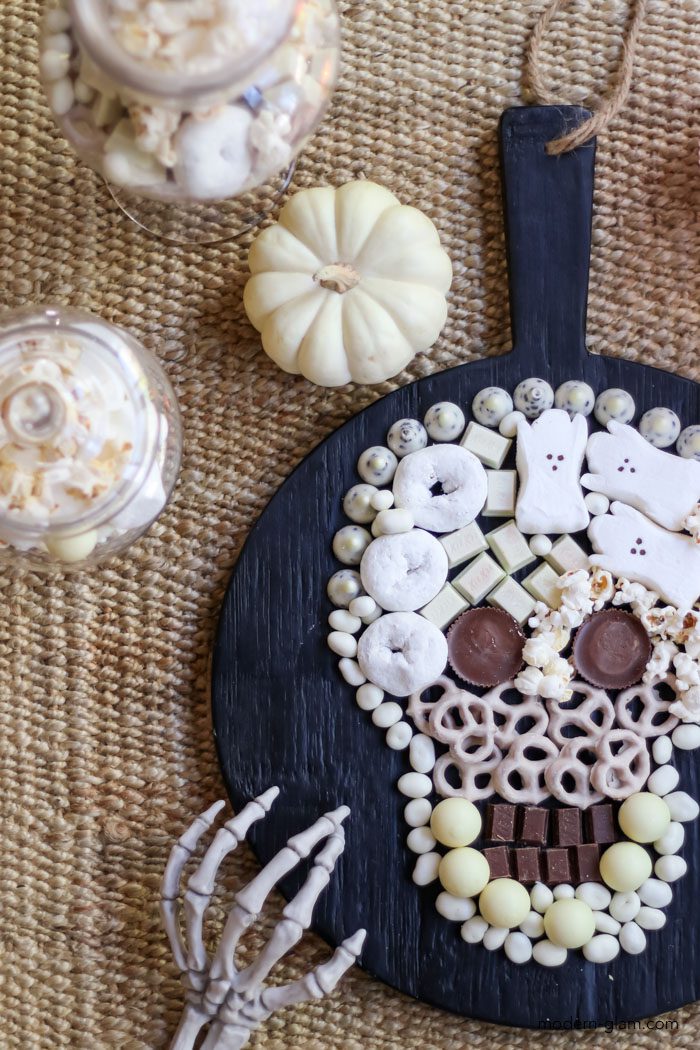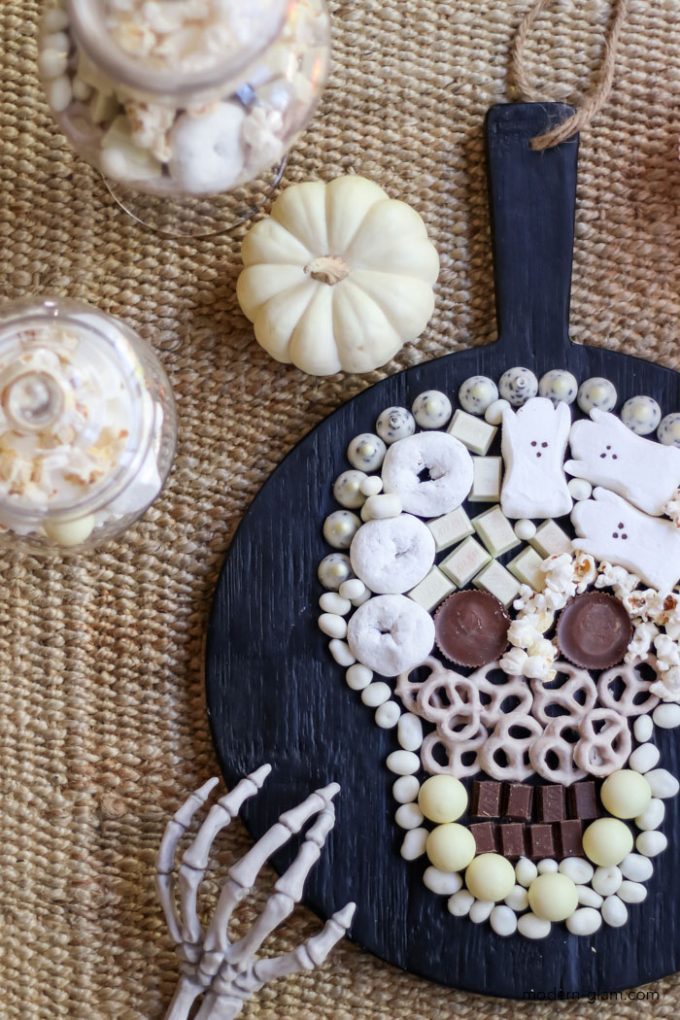 Now, fill in with your white candies, snacks and chocolates. I like to place them in groups and somewhat keep the same type together. See below for a list of what I used for my Halloween candy board, but you can use any white or light colored food.
Use smaller items such as popcorn, nuts or milk chocolate chips to fill in any spaces or gaps. Serve and watch your kids go crazy!
Halloween Charcuterie Board Ingredients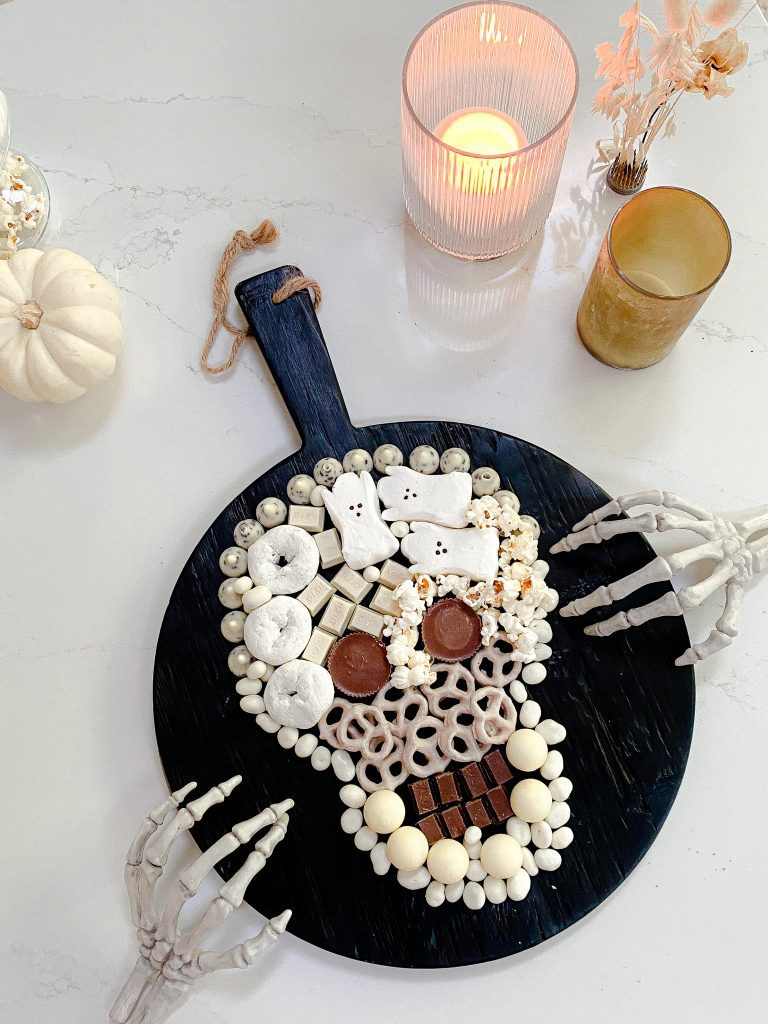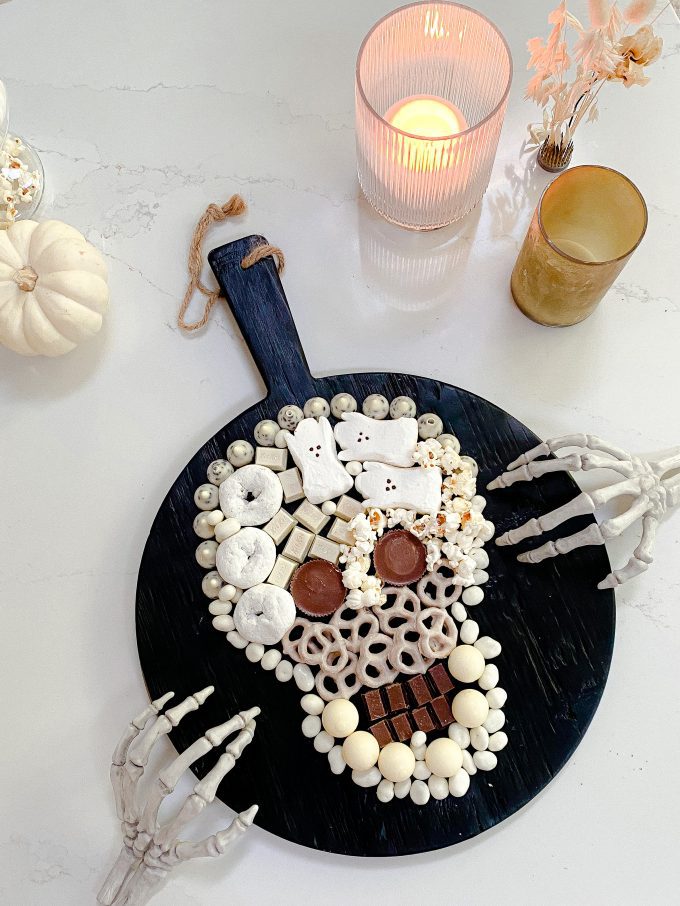 Here is what I used for my Halloween charcuterie board:
Cookies and Cream Hershey's Kisses
Yogurt covered raisins
Powdered donuts
White Chocolate Kit Kat's
Milk Chocolate Kit Kat's
Ghost Peeps
Popcorn
Lindor white chocolate truffles
White Chocolate covered pretzels
Reese's peanut butter cups
And here are a few more ideas if you are looking for more white ingredients for your halloween candy board:
Peanuts
Marshmallows
Dried fruit
Coconut chips
Ghost shaped potato chips
White gummies
Life Savers
Snack Board Ideas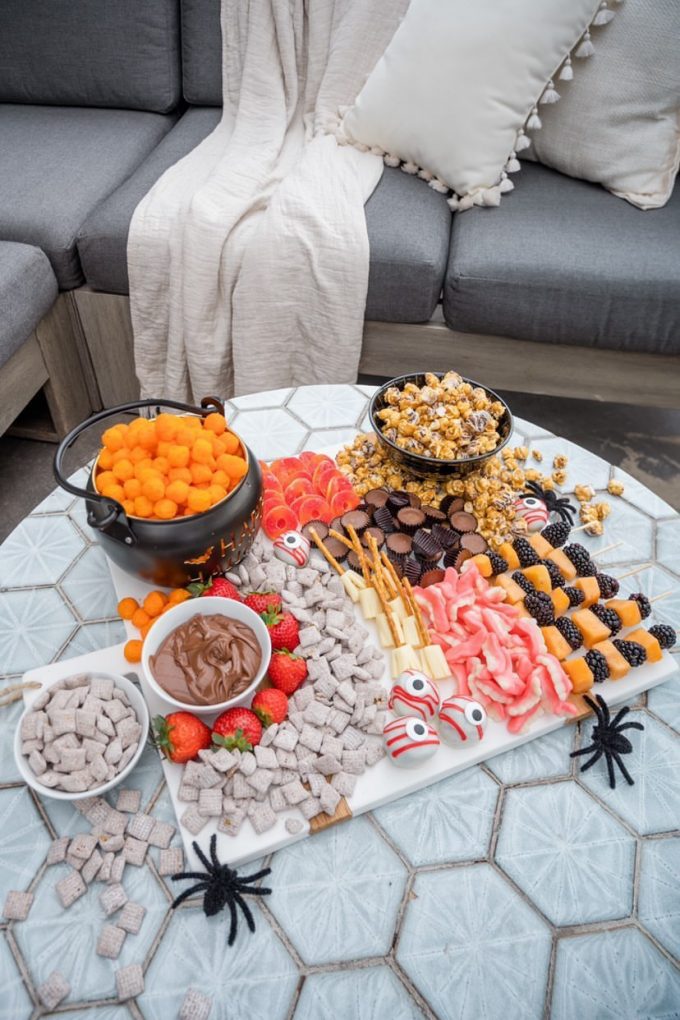 This fun Halloween Snack Board from Alyse Warren is filled with fun treats and Halloween colors.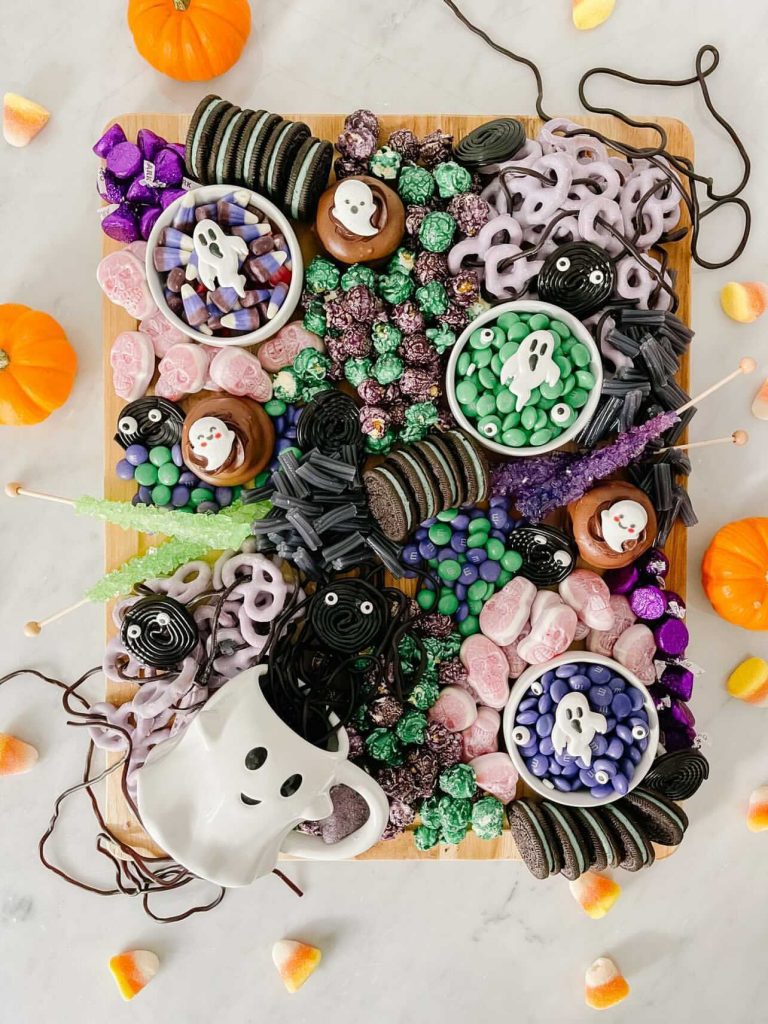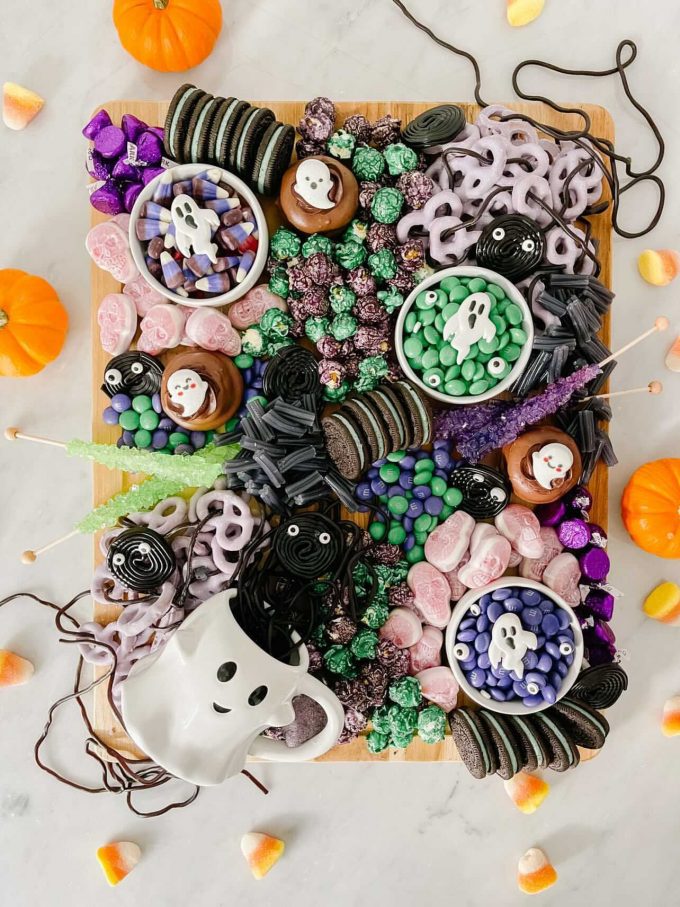 How fun is this Halloween Dessert Board from A Tufted Life? Filled with all the fun Halloween themed candy, all kids (and adults) will love this fun board!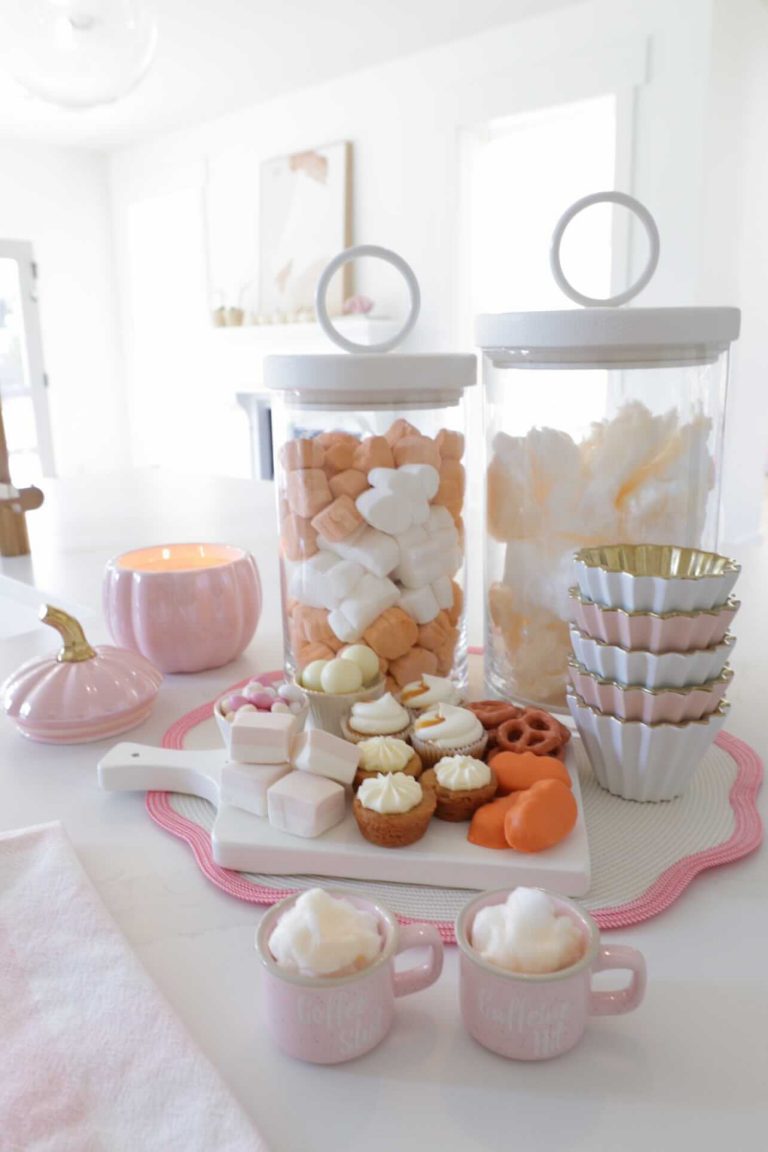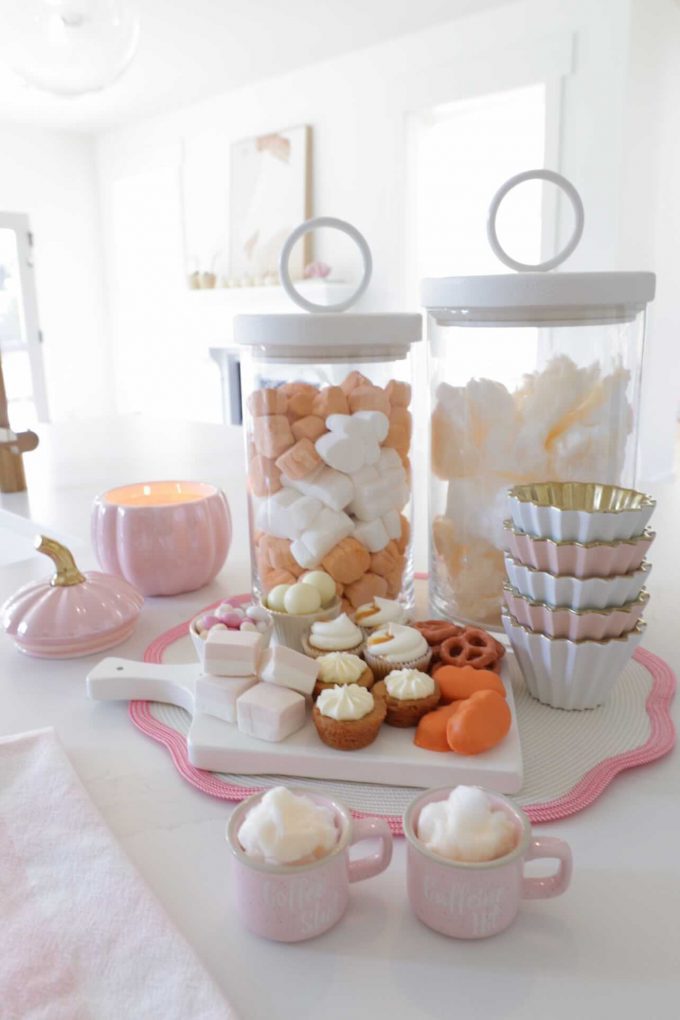 And if you love pink, this pretty Halloween Board from Sugar Color House is perfect! I love all the pumpkin and Halloween treats for this idea.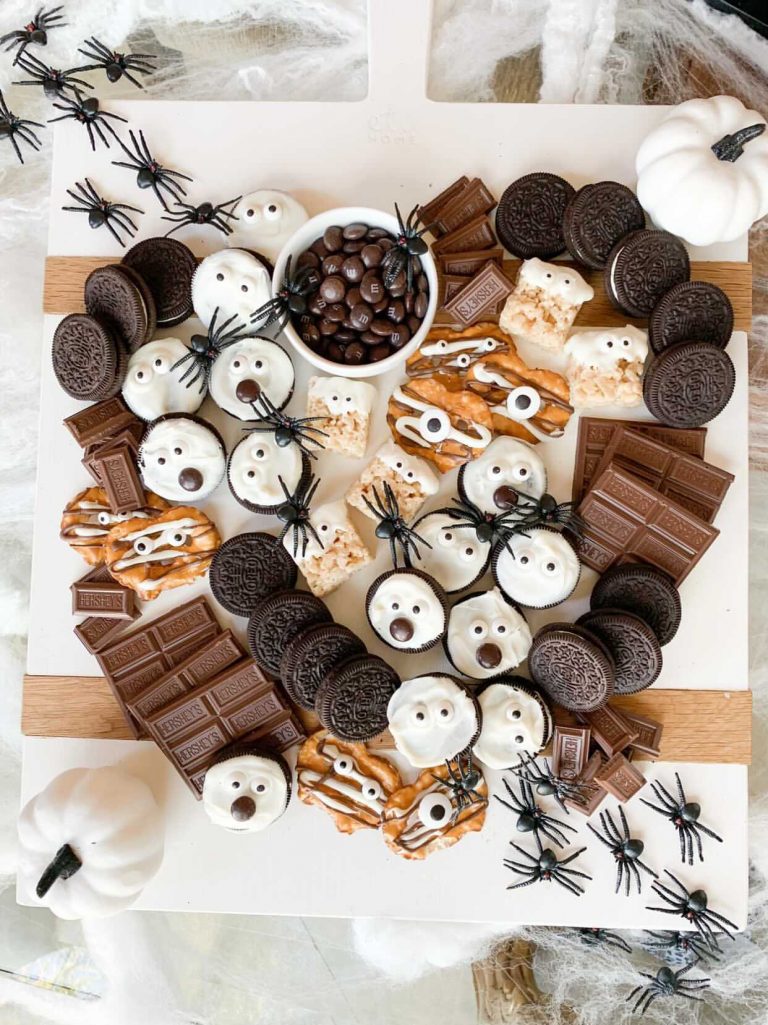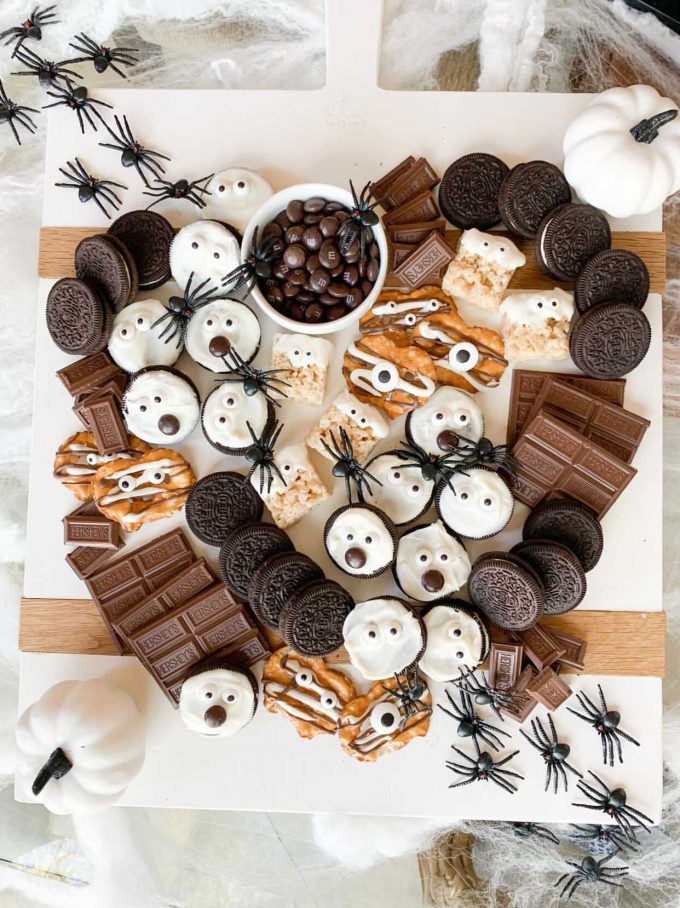 Fashionable Hostess made this adorable board. I love how she created fun spooky treats using everyday food.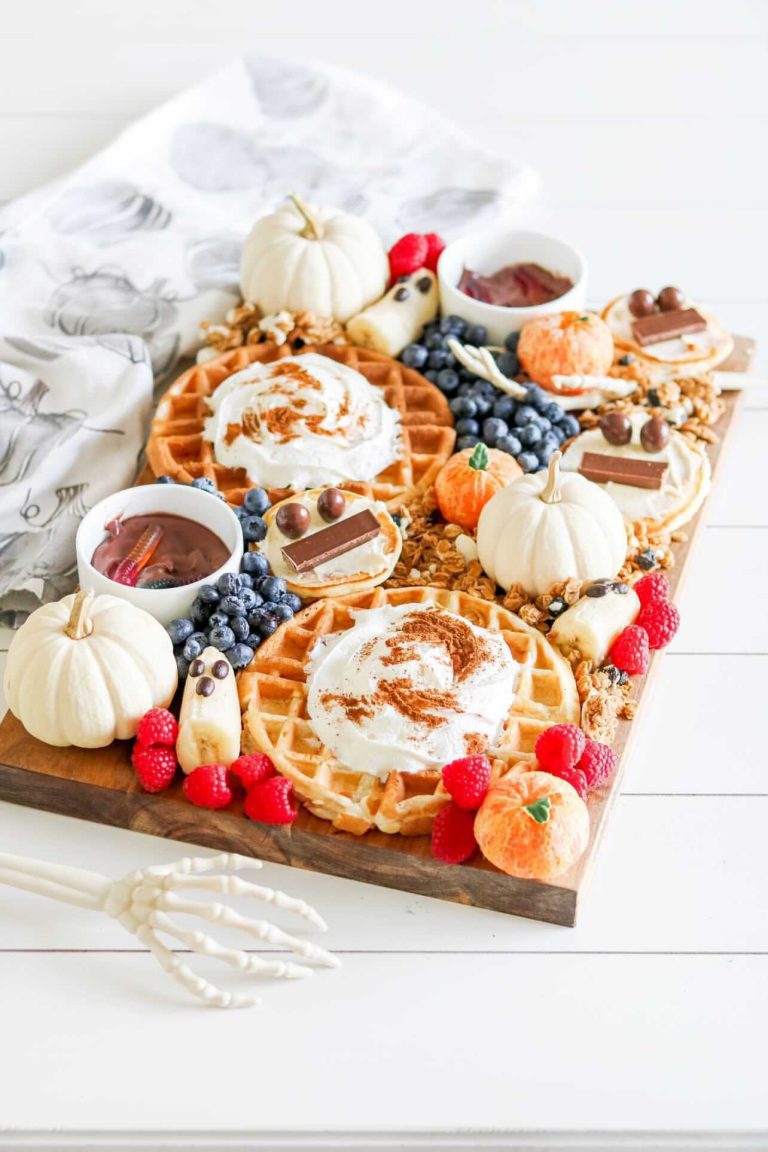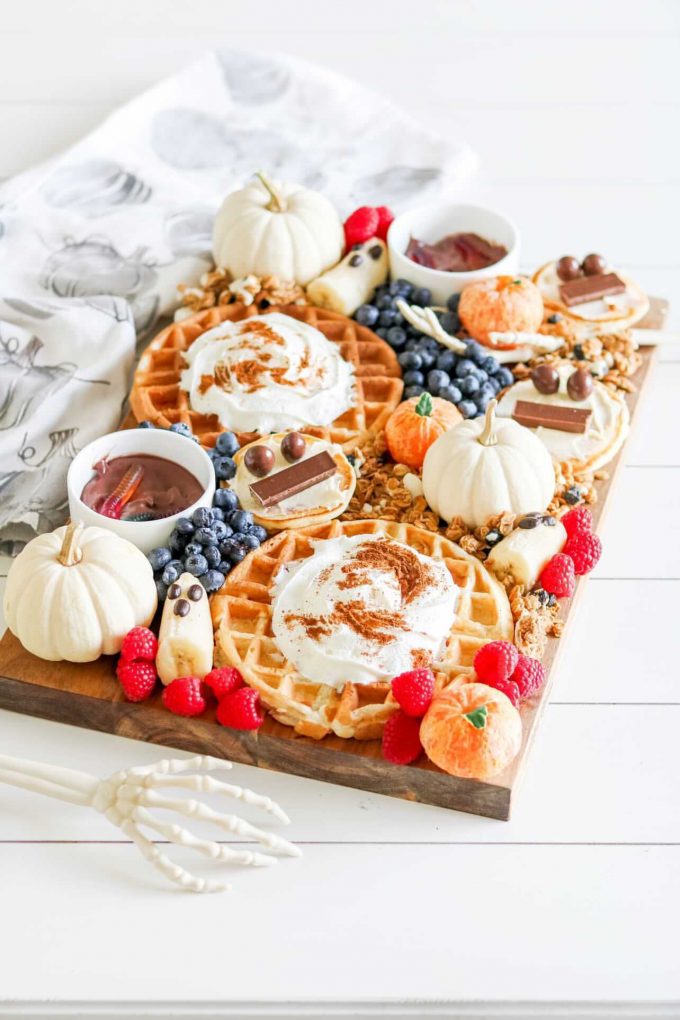 And if you like to celebrate Halloween starting in the morning, this Halloween Brunch Board from Chandeliers and Champagne is so fun! And perfect for this year since Halloween falls on a Sunday.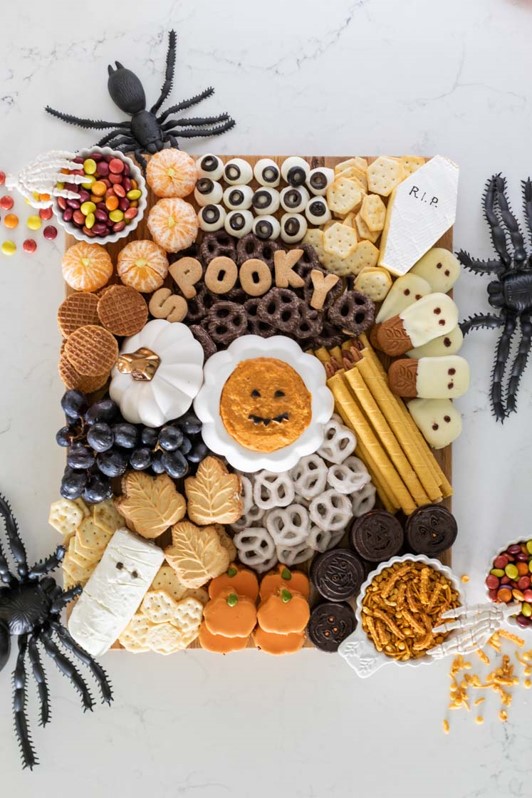 Another cute, fun and not-too-spooky board is this one from Jennifer Maune. Filled with cute treats to celebrate Halloween.