Host a Hocus Pocus Movie Night and make this fun themed snack board! An easy to make and festive treat for Halloween (or any time of year)!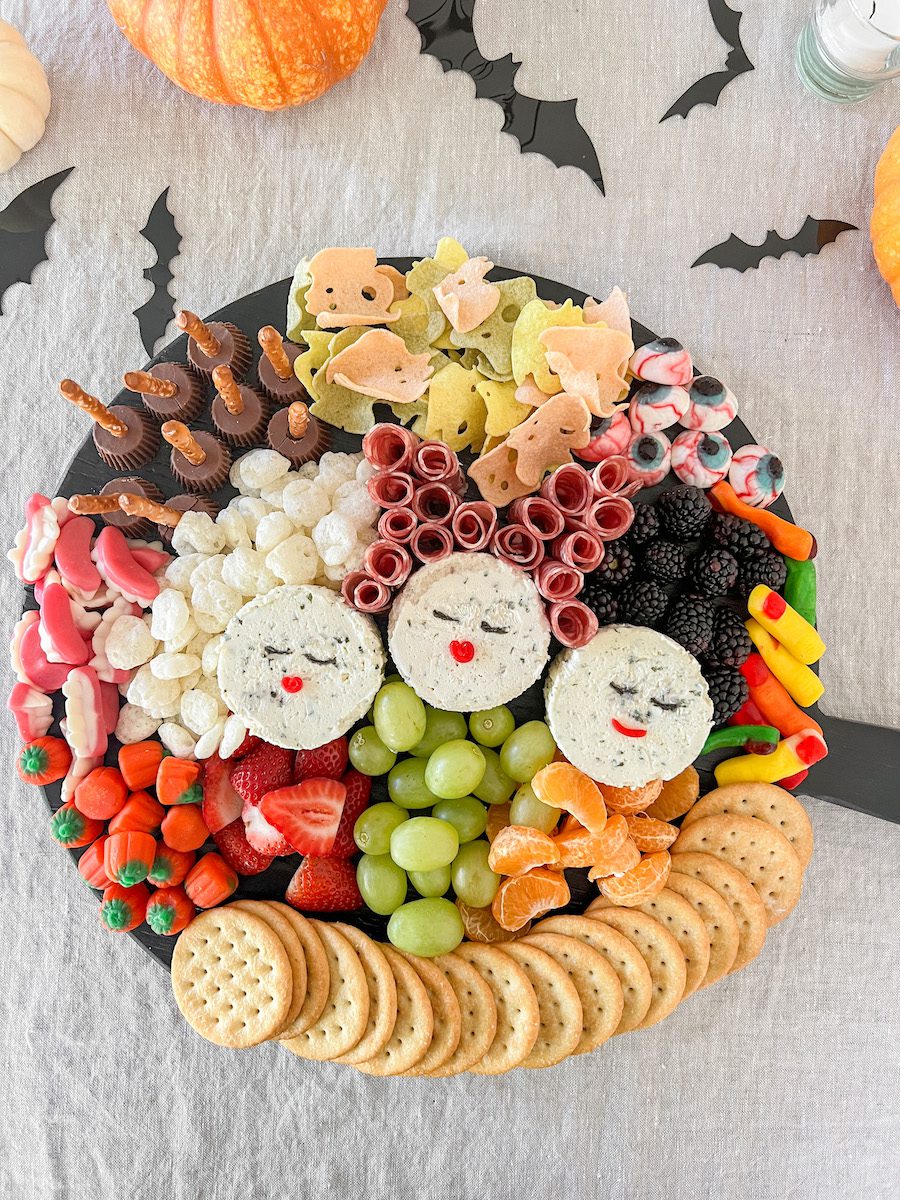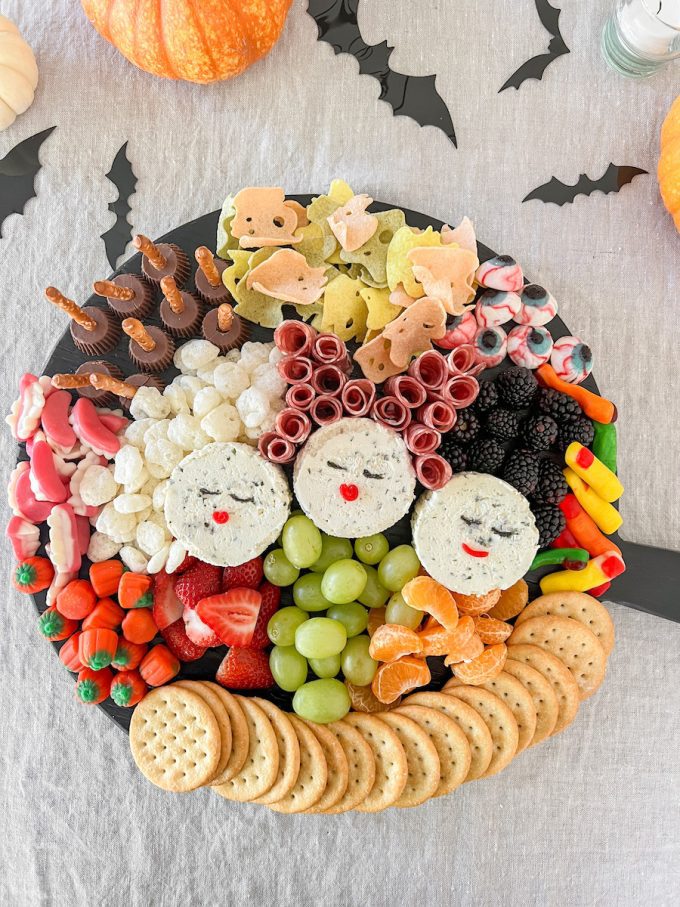 Hocus Pocus Movie Night: Snack Board and Drink Ideas
A few weeks ago, I hosted a Hocus Pocus movie night for my daughter and her friends to watch the premier of the sequel. We made this fun, themed snack board and it was a hit with the girls! There's nothing better than watching a movie with friends and munching on a few festive treats, right?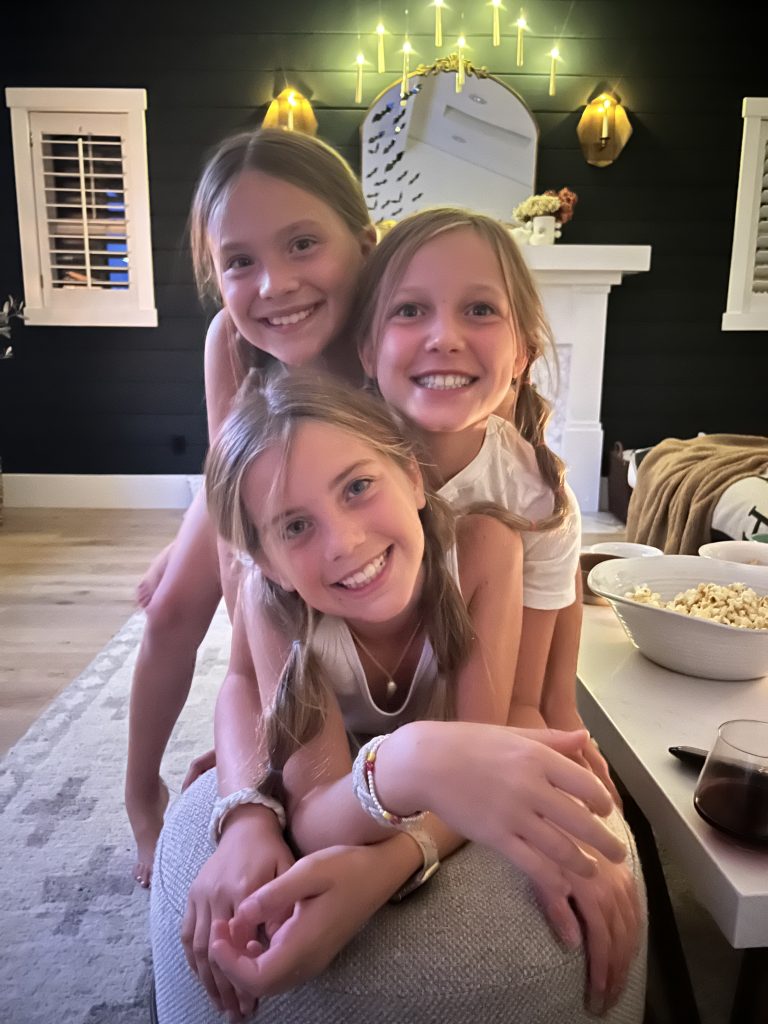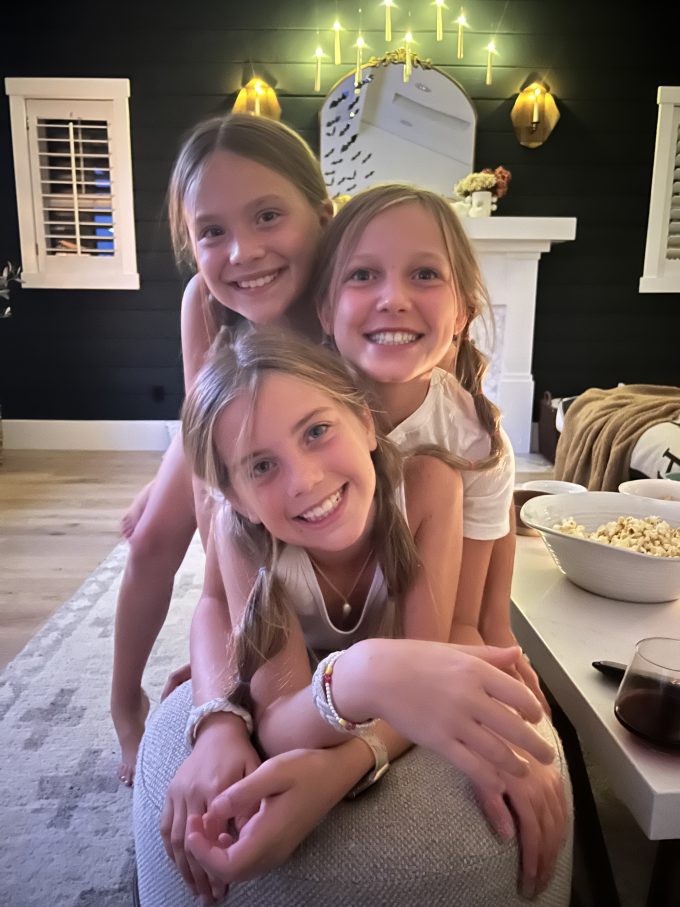 I'll show you how I put this together and give you a few options for what to include on your board as well. Find all the details below.
Here are a few other Halloween Charcuterie and Snack Ideas
More Halloween Treat Ideas
And be sure to check out the other fun Halloween food ideas being shared today by my friends.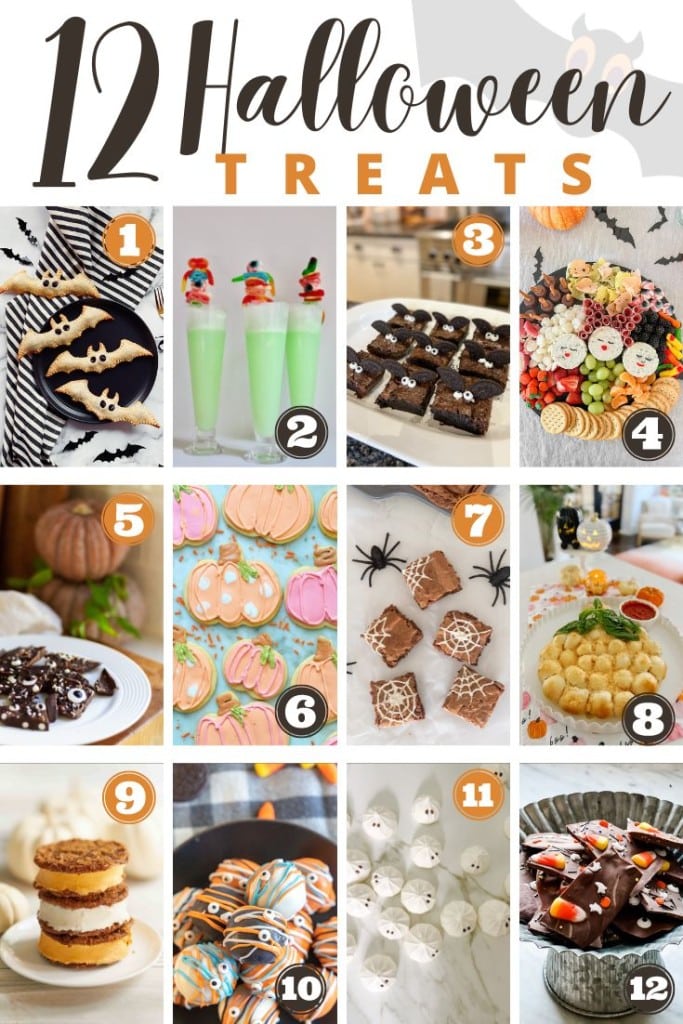 Blogger's Best Halloween Treats
Hocus Pocus Movie Night Snack Board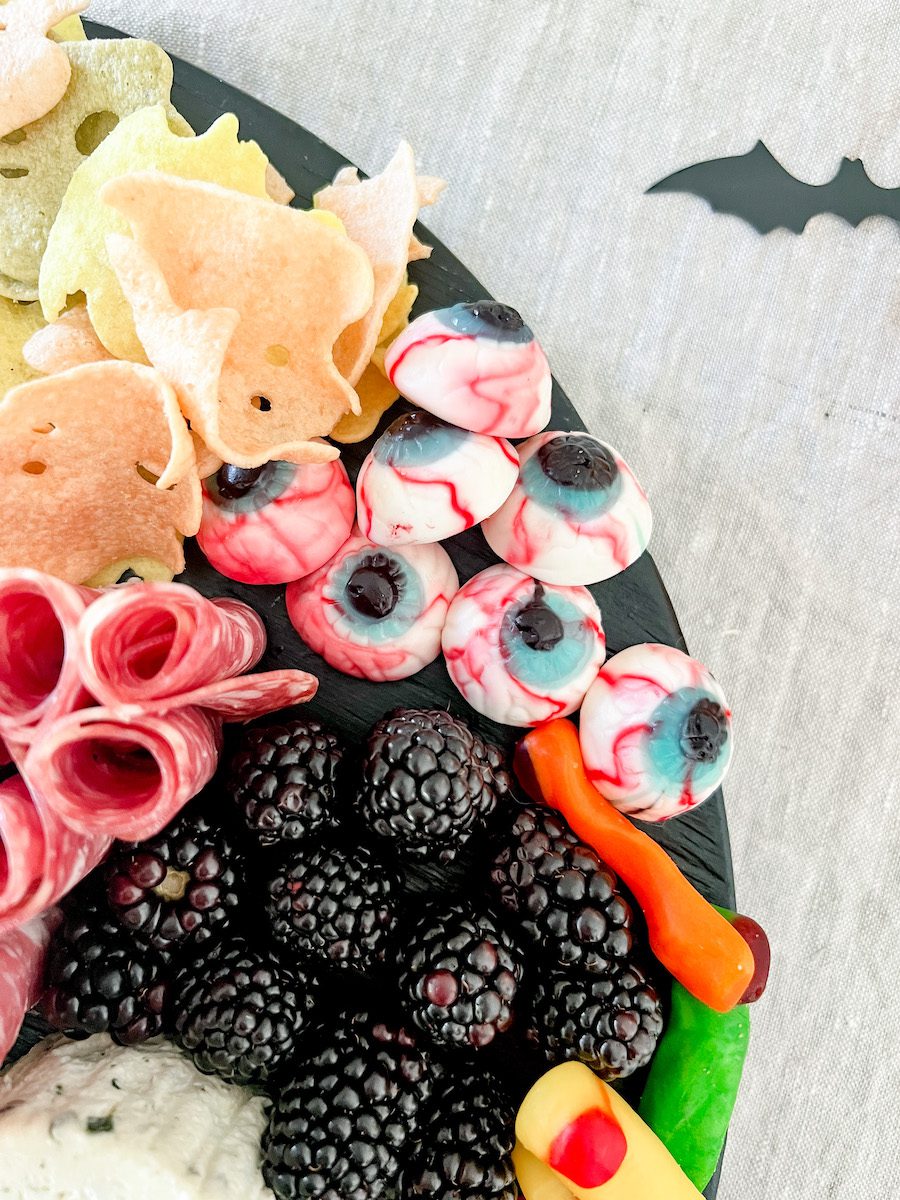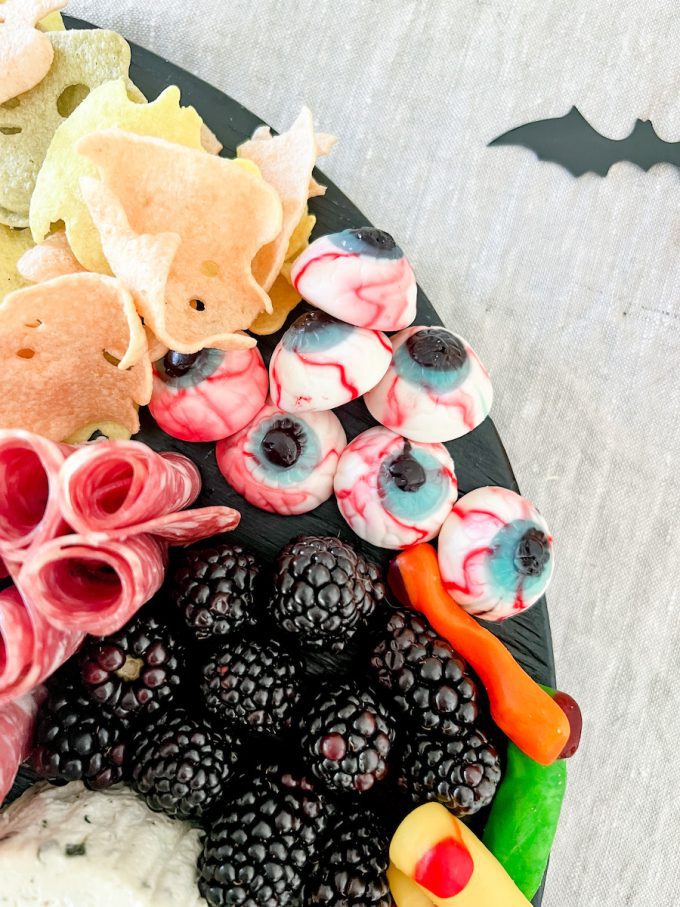 This Hocus Pocus Movie Night board is so fun to make. The most important part of making this board is creating the Sanderson Sisters at the center. Cheese wheels are perfect for the faces. I used Boursin cheese per request from my daughter, but Brie would also work really well!
Then you can fill in the rest of your board with your favorite fall treats. Here are a few ideas and details for what I used for the faces.
Winifred Sanderson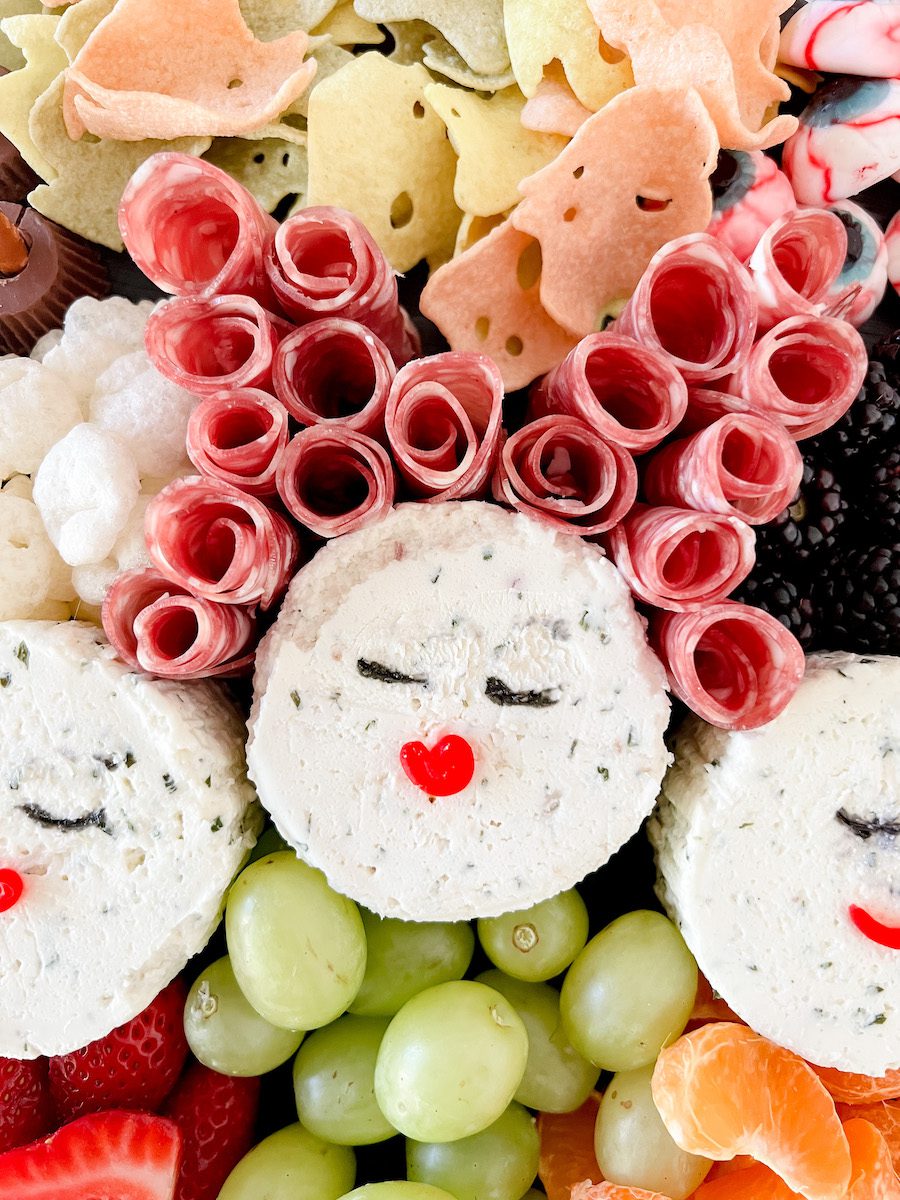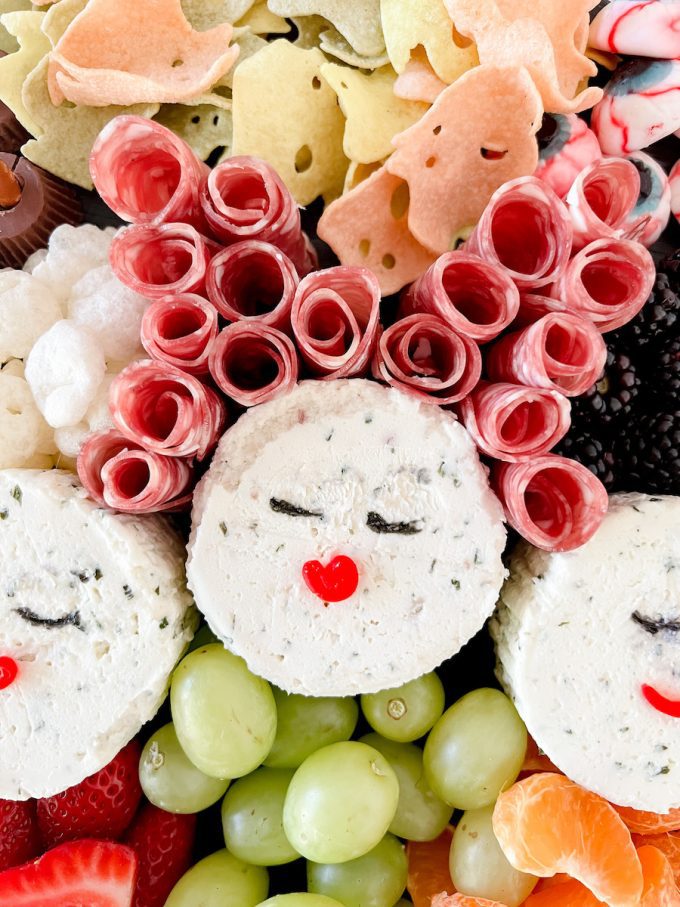 Winifred features salami spirals for her hair. Simply take salami, fold in half and roll up. Place on your board above the cheese in the shape of her hair. For her face, I used a red licorice strand (from a twizzlers pull and peel) and black cake gel icing to draw the eyes.
Winifred wears a green dress, so below her face, I used green grapes to mimic her outfit. Other ideas include cucumbers, kiwis, broccoli.
Sarah Sanderson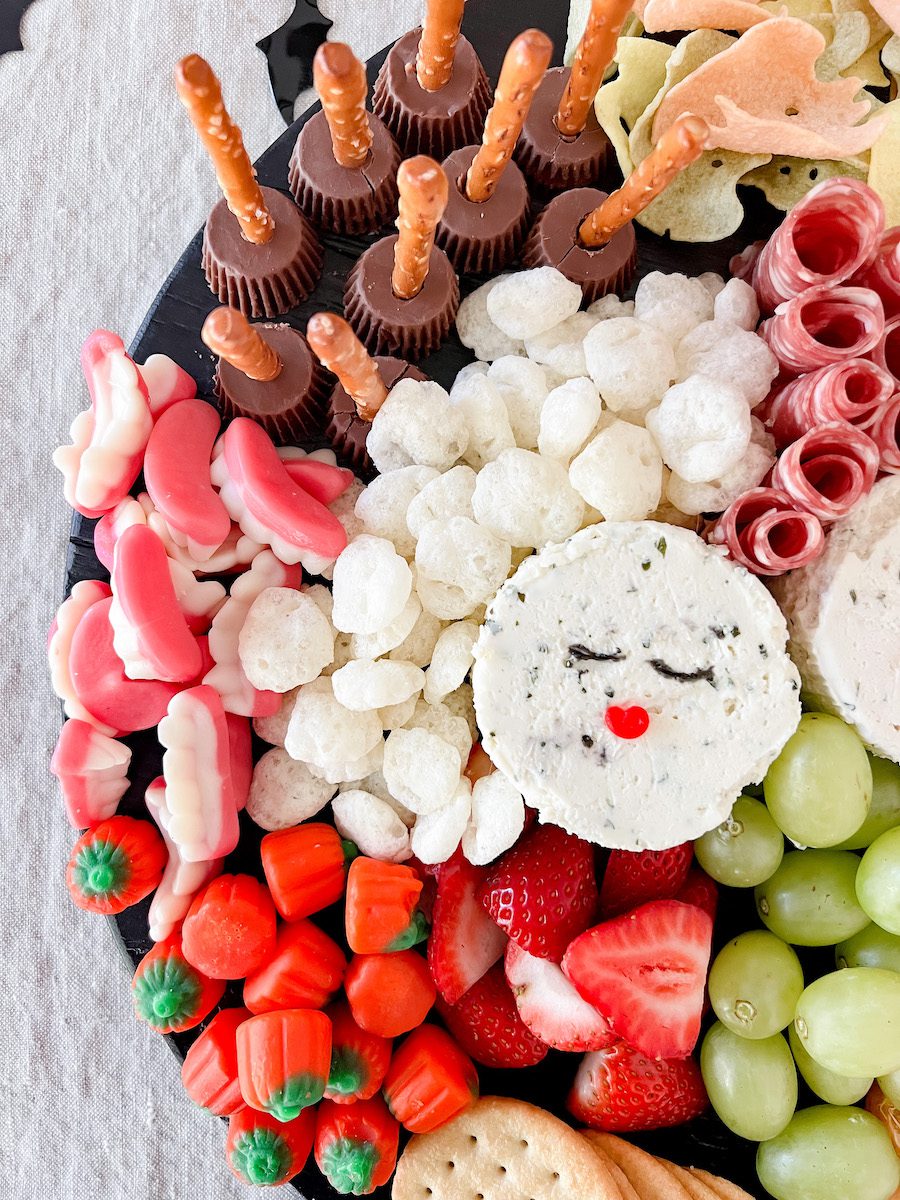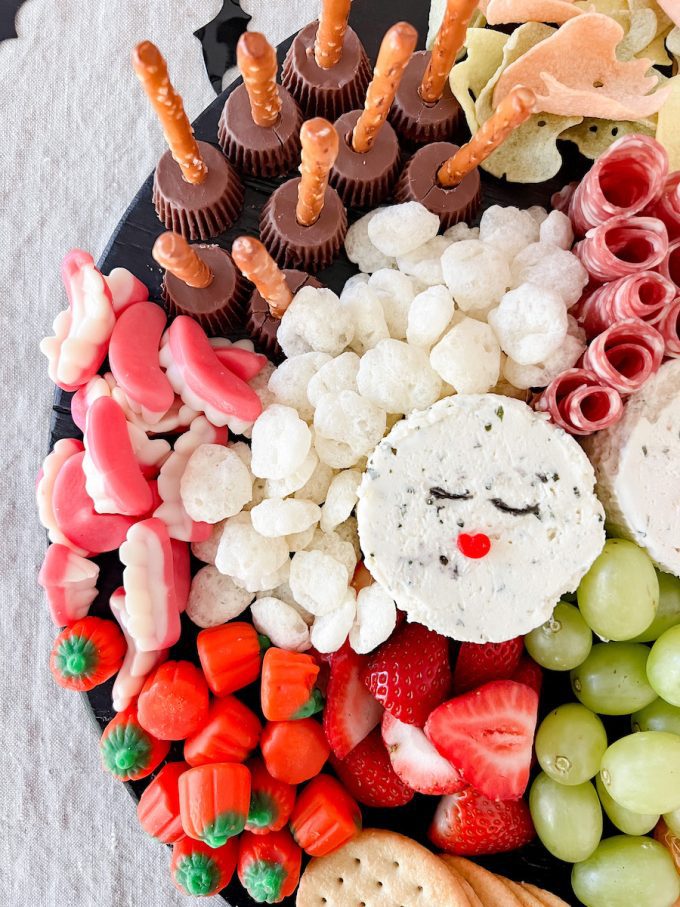 Sarah Sanderson has blonde wavy hair. So, I used puffed corn snacks above the cheese to create a cascade of hair. For her face, I used the same gel icing, red licorice and added a beauty mark with the icing below her lip as well.
Other ideas for her hair include popcorn, cheese cubes or any other light yellow colored food.
For Sarah's red dress, I used sliced strawberries. You could also use red grapes or pomegranate seeds.
Mary Sanderson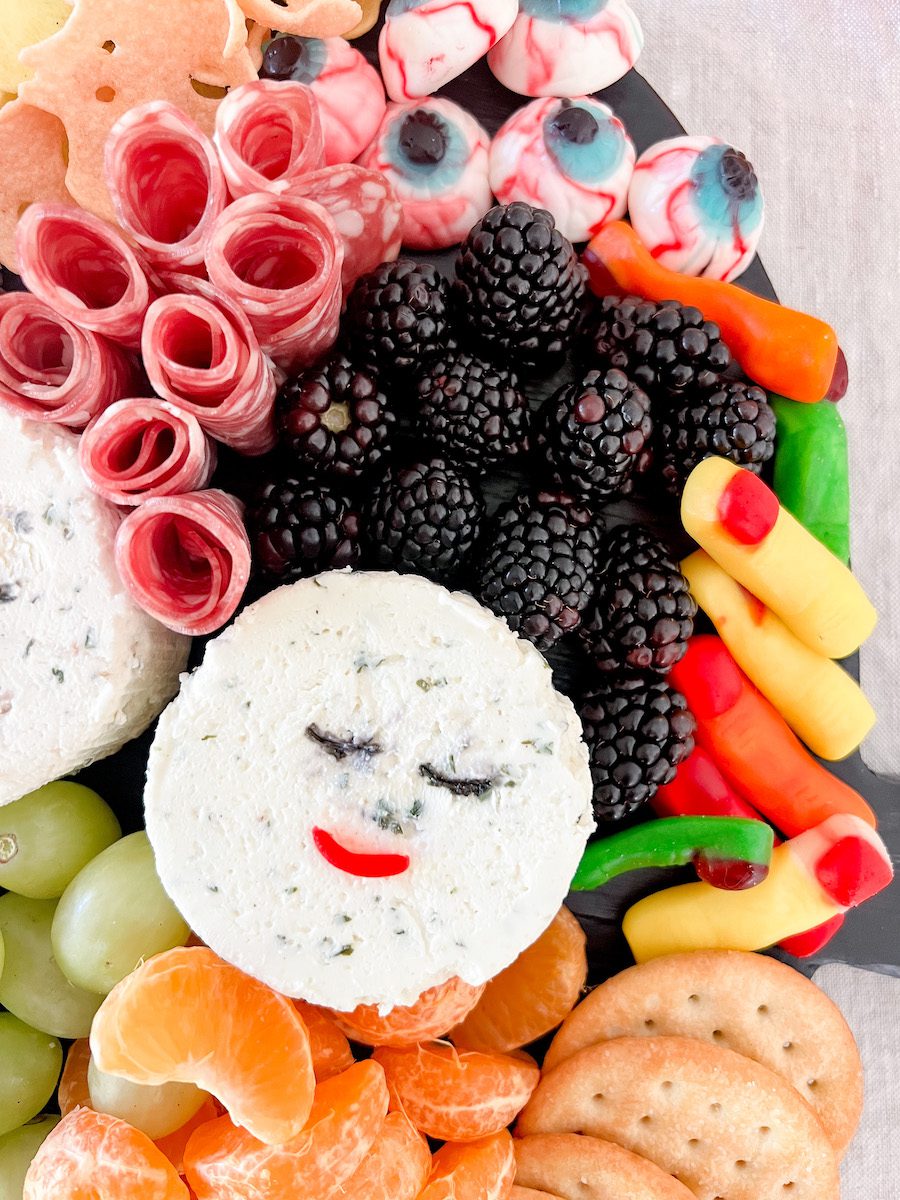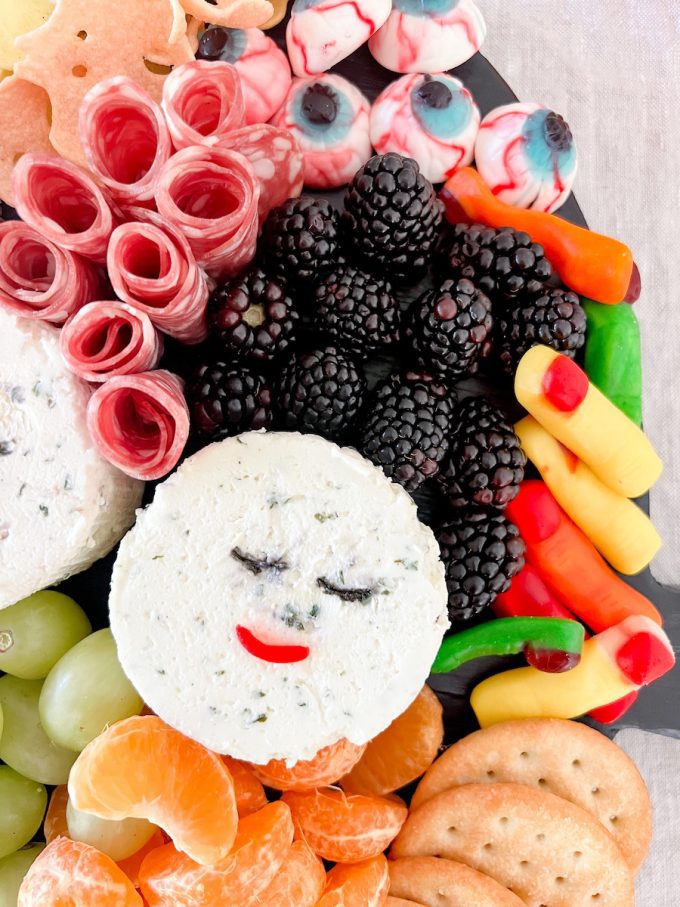 If you recall from the Hocus Pocus movie, Mary has dark brown hair that is styled in a quirky bouffant on top of her head. So, I felt blackberries would be perfect to recreate that look.
Mary features an orange and red dress, so orange segments are fitting for her outfit. You could also use orange cheese cubes.
Halloween Food Ideas To Fill Your Snack Board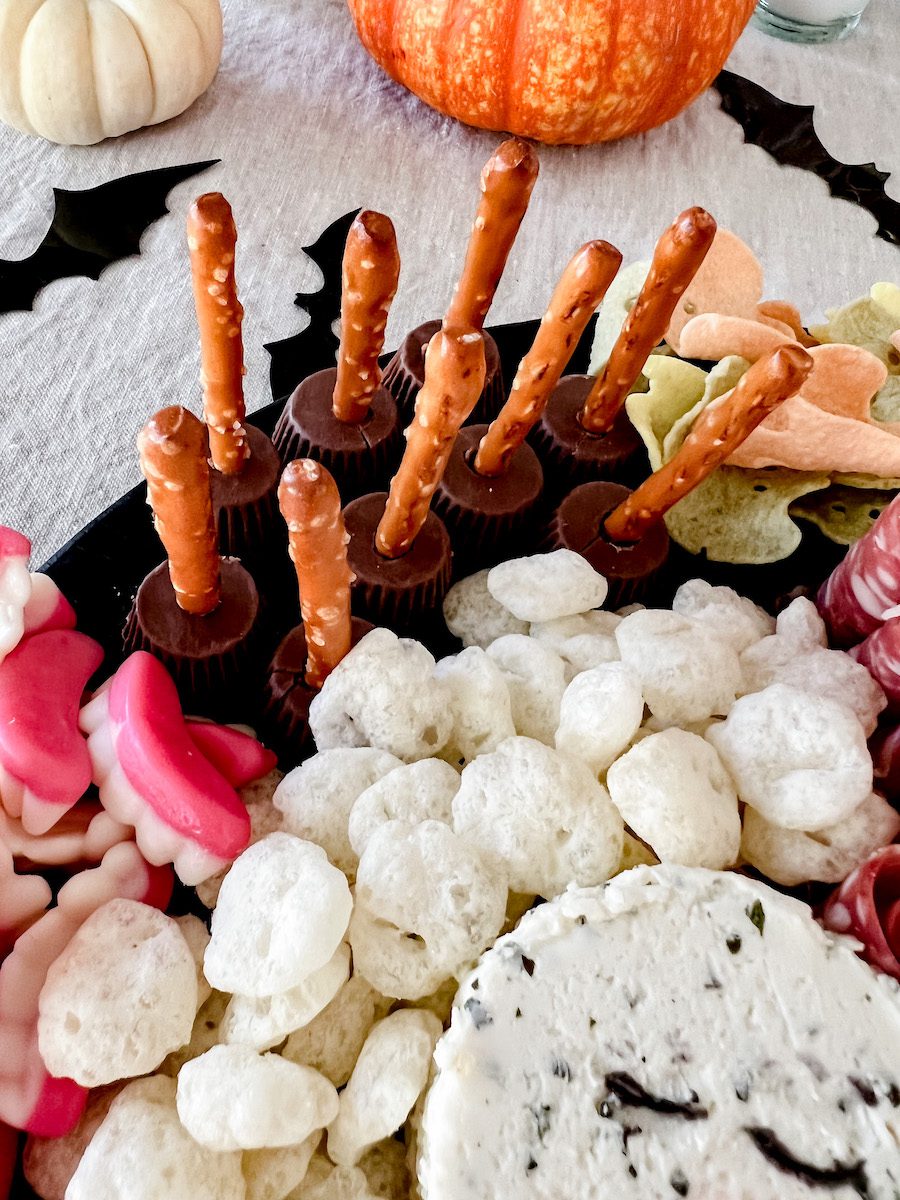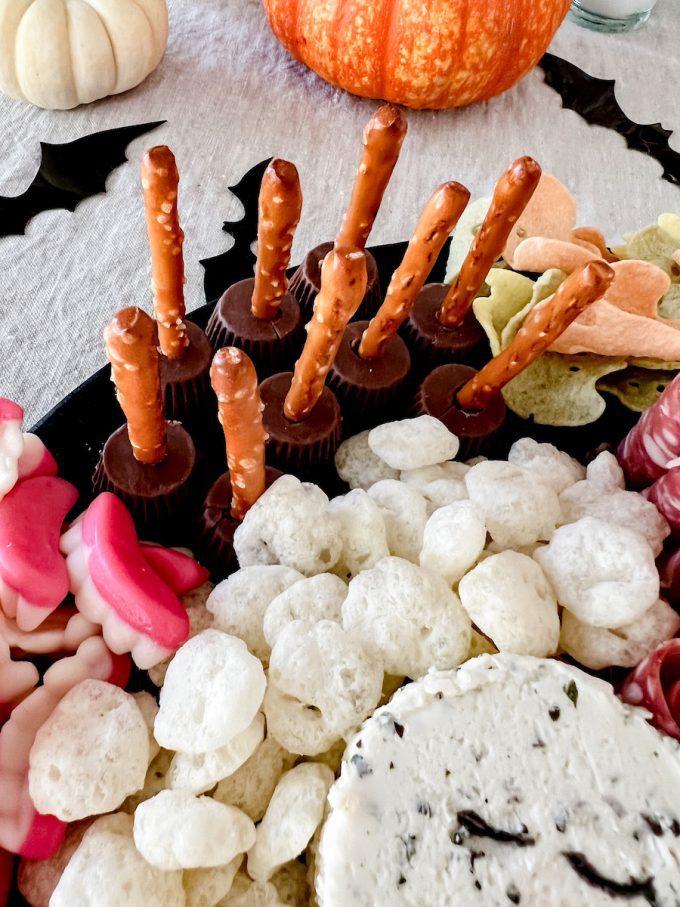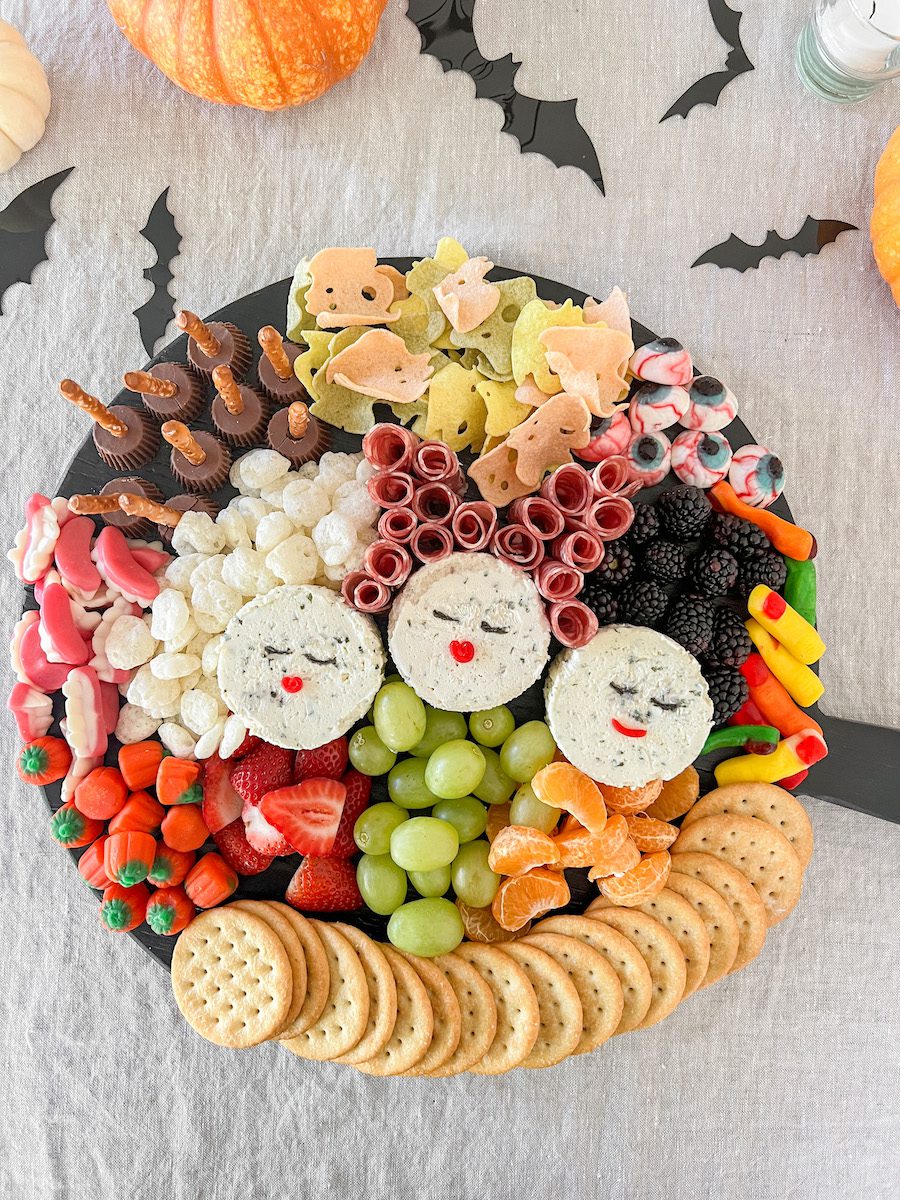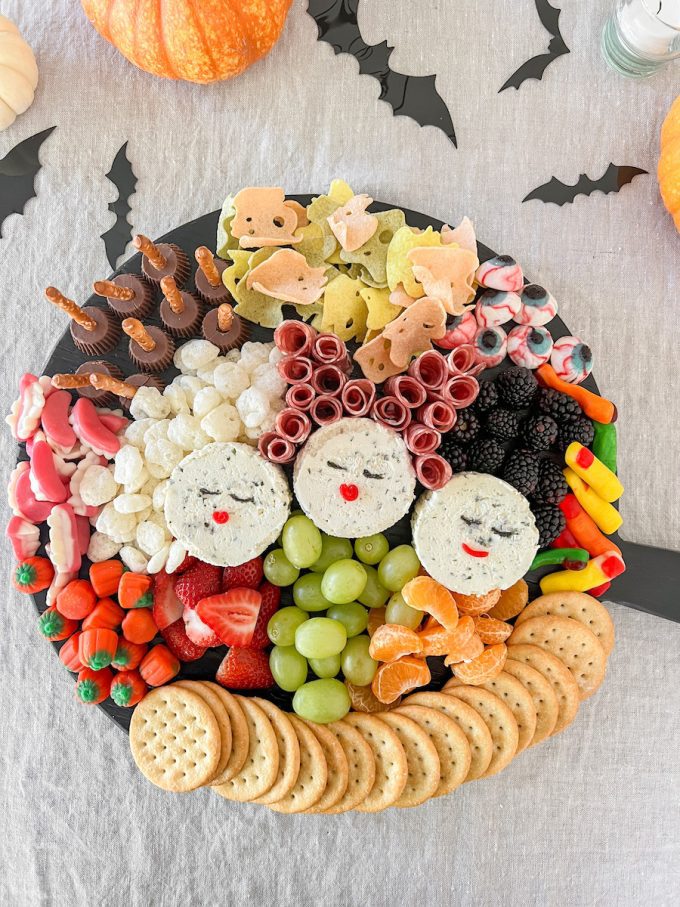 Once you have your Sanderson Sisters done, it's time to fill in the rest of the board. Here are some ideas of what you could use, but most importantly, fill it with your family (or friends') favorite treats. Whatever foods your party will want to munch on for your Hocus Pocus Movie Night.
Crackers
Cheese
Salami
Ghost Chips
Halloween Gummies (teeth, eyeballs, witches fingers all found at Target)
Candy Corn
Nuts
Veggies (cucumbers, carrots, jicama, sugar snap peas)
Olives
Cookies
Witches Brooms (see details below)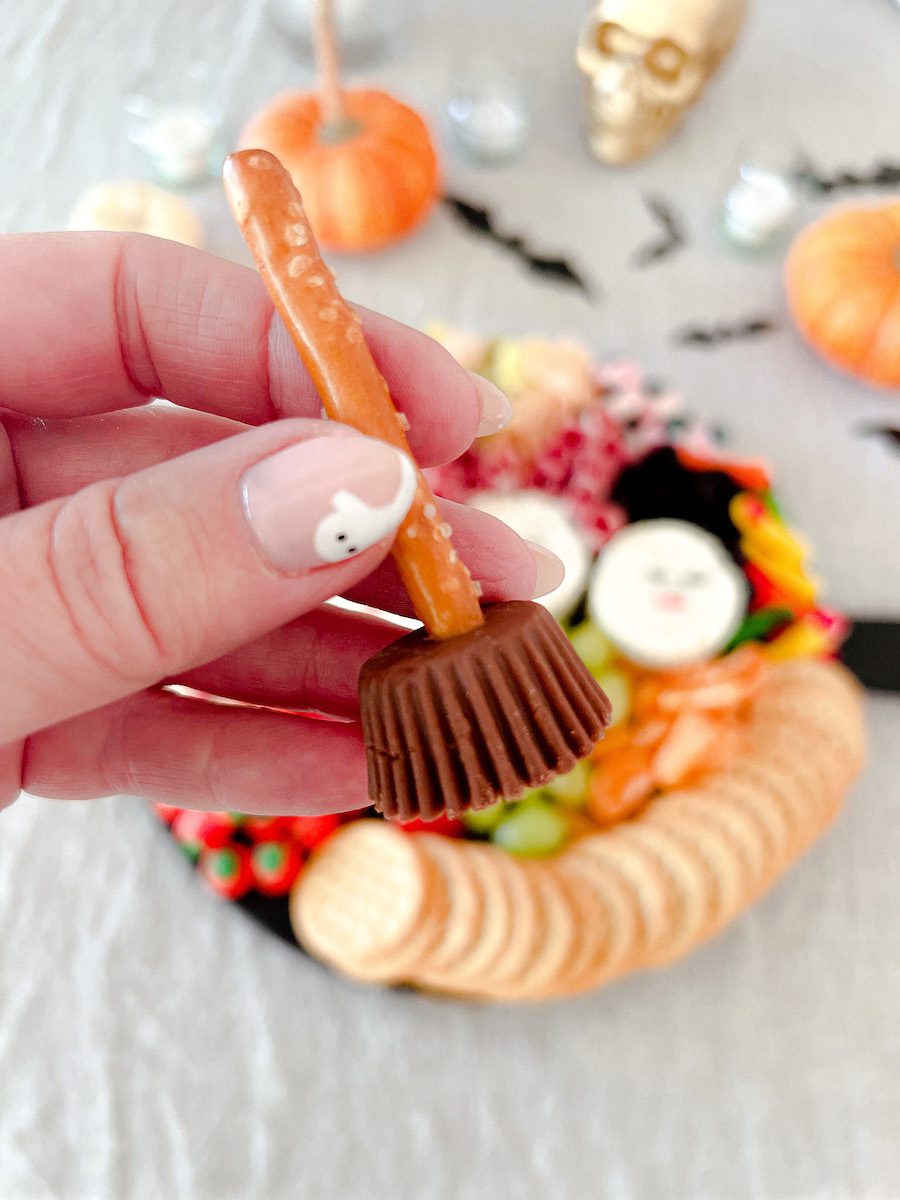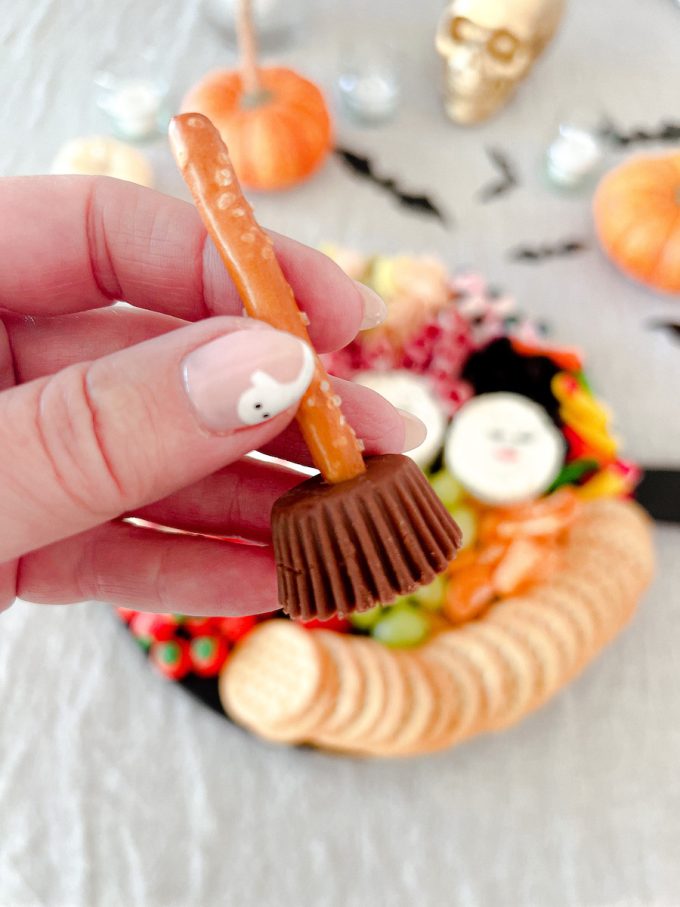 These "witches brooms" are fun to add to your Hocus Pocus movie night snack board. And they are a cinch to make. Take an unwrapped mini Reese's PB cup, turn it upside down and stick a pretzel stick into the bottom. Voila! Instant brooms that are a fun snack.
Halloween Cocktail Idea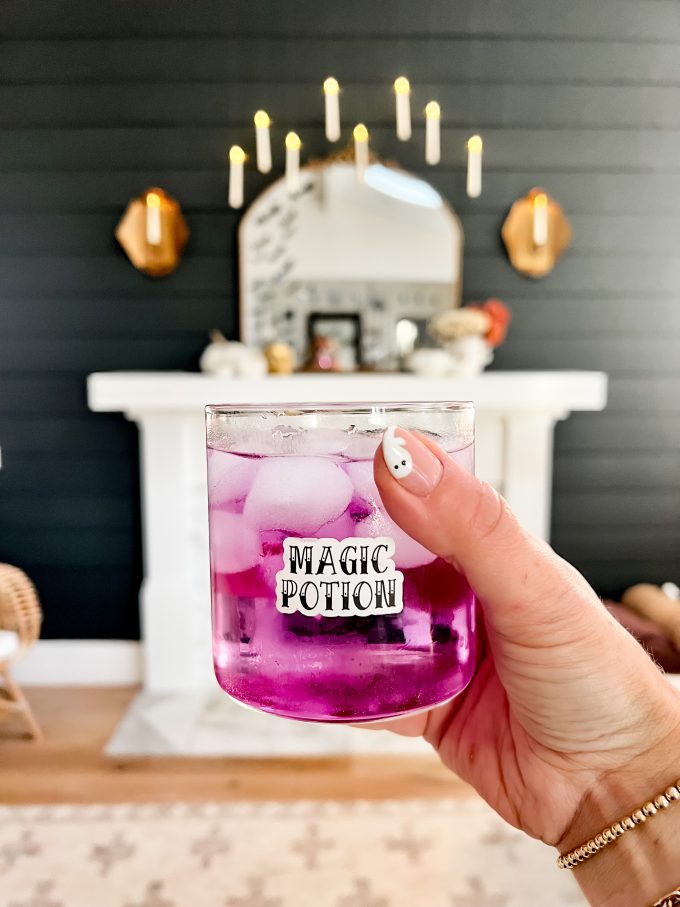 This fun Halloween cocktail is actually so simple to make! Here is the recipe. I think it's perfect for a Hocus Pocus Movie Night or any other Halloween party.
Halloween Gin & Tonic
2 ounces Empress 1908 gin
4-5 ounces FeverTree Tonic Water
Ice
Add ice to your glass, pour in the Empress gin and top with tonic water. The tonic will turn the blue gin purple for the perfect Halloween cocktail. Garnish with fun or festive Halloween drink stirrer or straw. Easy peasy!
Pin This And Save For Later