As summer approaches, I love to update our patio for the months ahead full of outdoor entertaining. See these easy patio makeover ideas that will help you make the most out of your outdoor space for summer!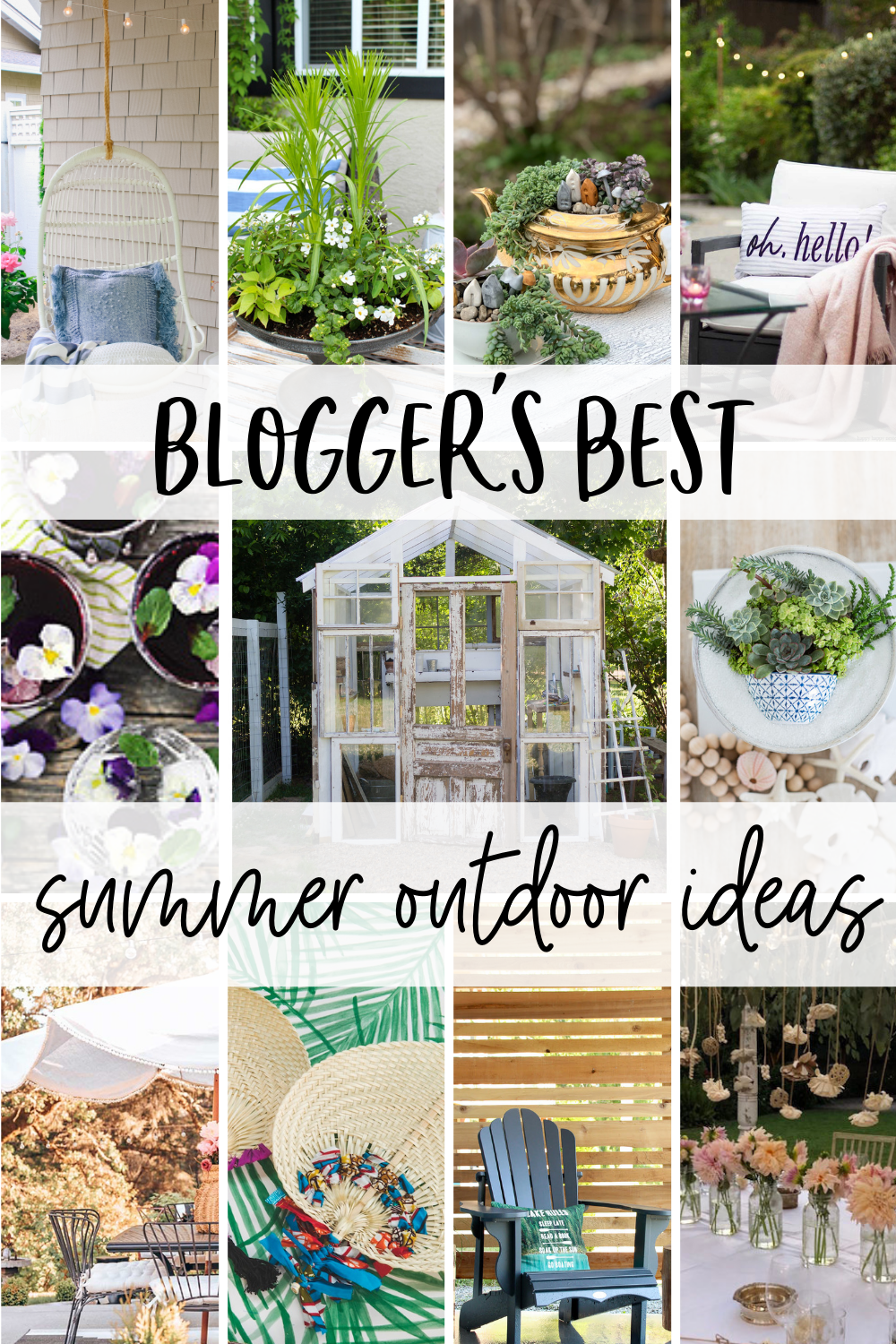 And don't miss all of the outdoor ideas that are linked up at the bottom! I have joined a talented group of bloggers who are all sharing their outdoor ideas for summer.
Patio Makeover Ideas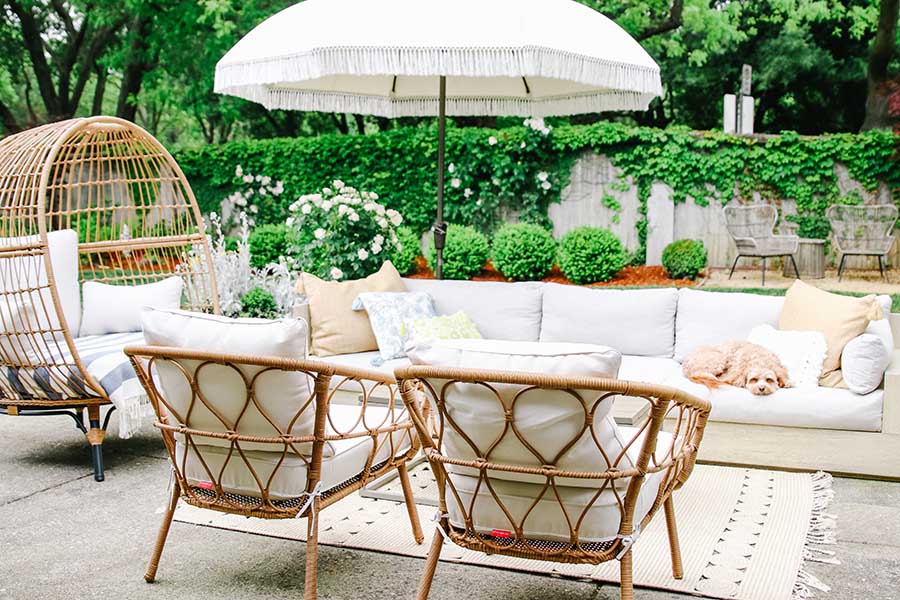 We are in the midst of updating our back patio for the summer months ahead. Here in California we have about 6 months of outdoor living to enjoy. And since it barely ever rains here in the summer months, we can keep our furniture out with minimal upkeep!
We still have a few updates to make but I wanted to show you how it's coming so far. I am waiting on more outdoor pillows and I have a few pots that need to be planted, but it's coming along! I will show you some easy and fun patio makeover ideas that will transform your outdoor living space into a fun sanctuary for the summer season.
Create an outdoor living space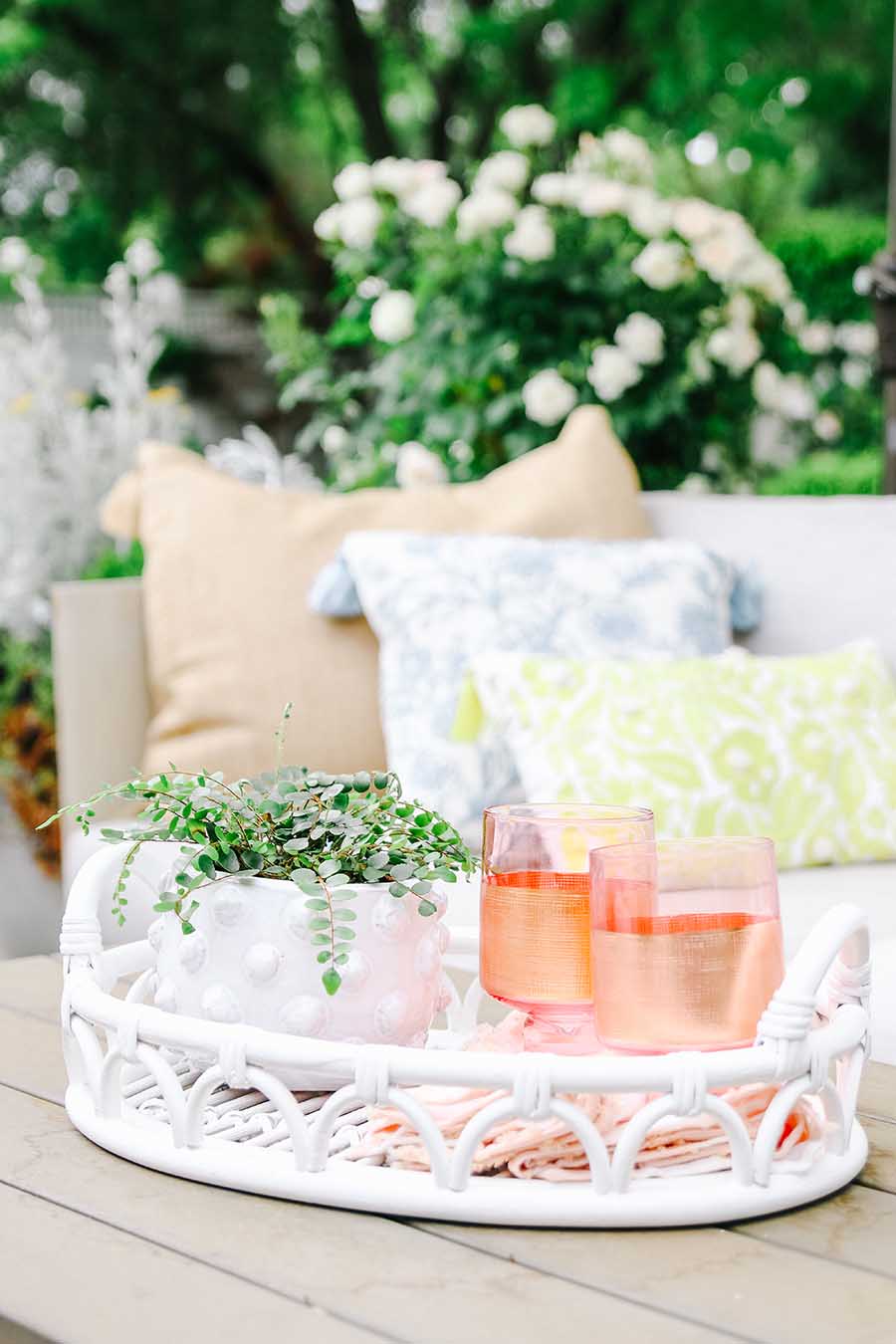 When the weather is warmer, we love to gather outside. Our patio is a great place to create an extension of our living room. I have created an inviting space by placing furniture together in groupings that encourage cozying up, getting comfortable and staying awhile.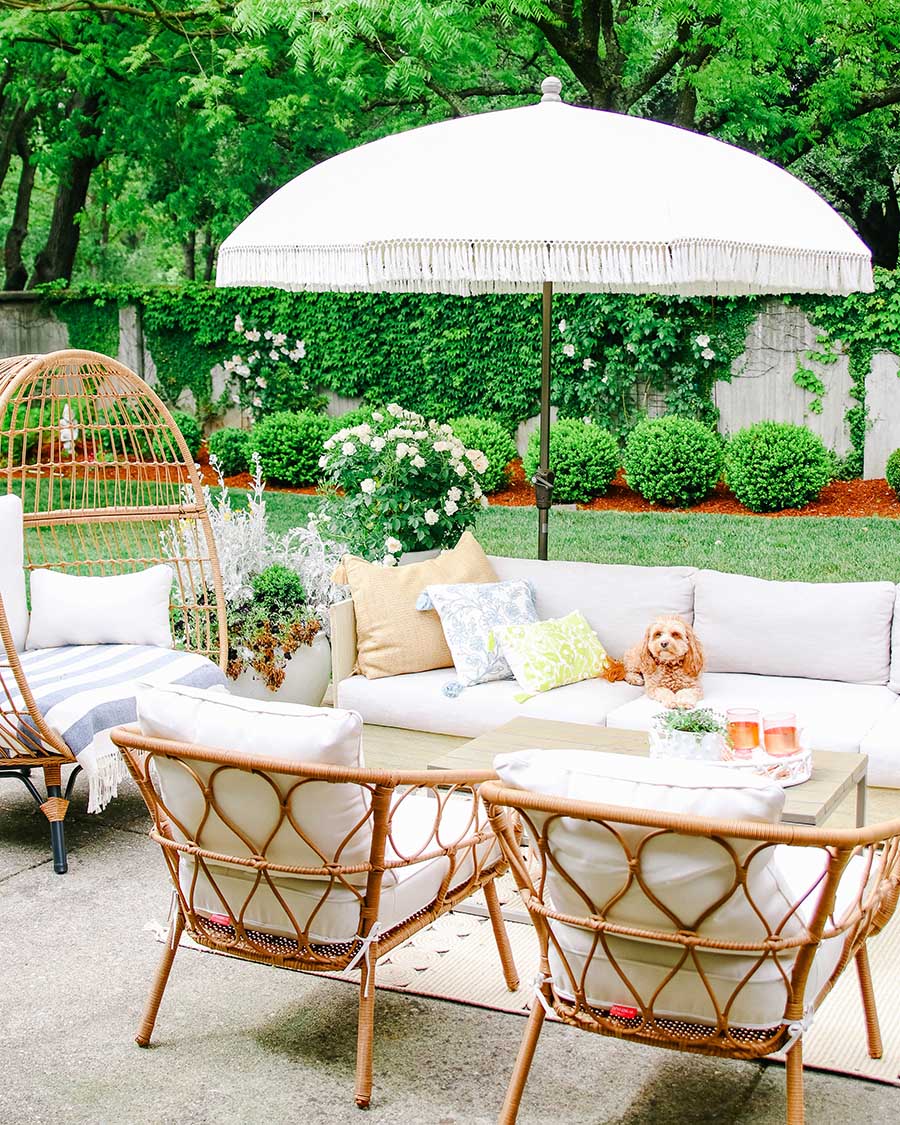 I found some great new outdoor furniture this year at Target! Totally on-trend and stylish without breaking the bank! I added these two rattan-looking chairs as well as the "egg chair" to our outdoor space this year. I just love how they add so much character to our backyard!
Patio Makeover Sources
I may receive a small commission when you click my links to make a purchase. However, this does not impact what I choose to highlight on my blog. This also helps my blog run free to you!

Add an outdoor rug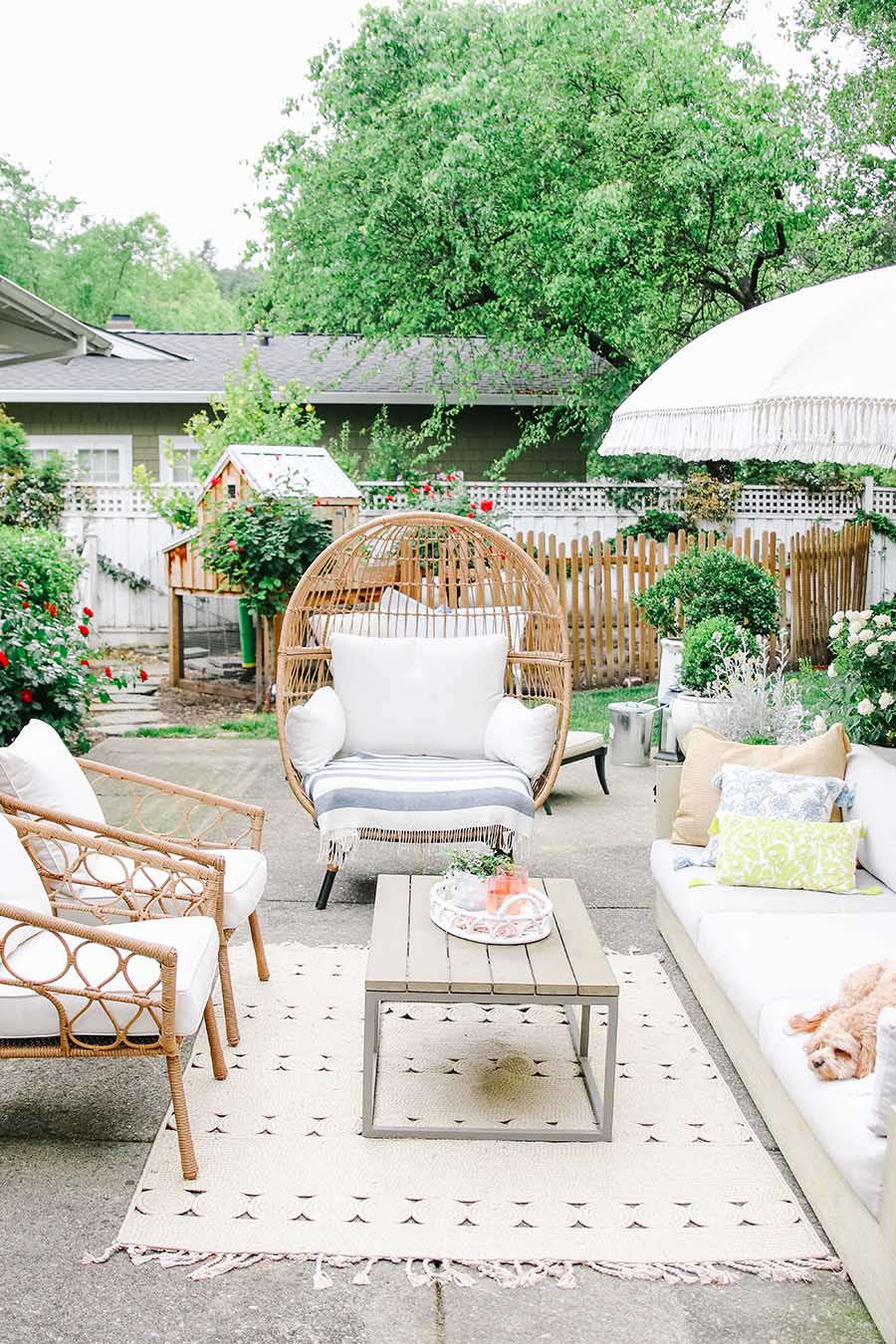 An easy way to update your patio for summer is to add an outdoor rug. Outdoor rugs are more durable than indoor versions and can be hosed off to clean them! You also don't need to worry about it raining on them.
This space is grounded with an outdoor rug. Rugs have come a long way in the past few years! This version is so fun with it's woven detailing that is neutral, but still interesting too! Adding a rug to your outdoor patio makes the space feel more inviting and is softer on the feet too.
Patio Makeover idea: Add fun printed pillows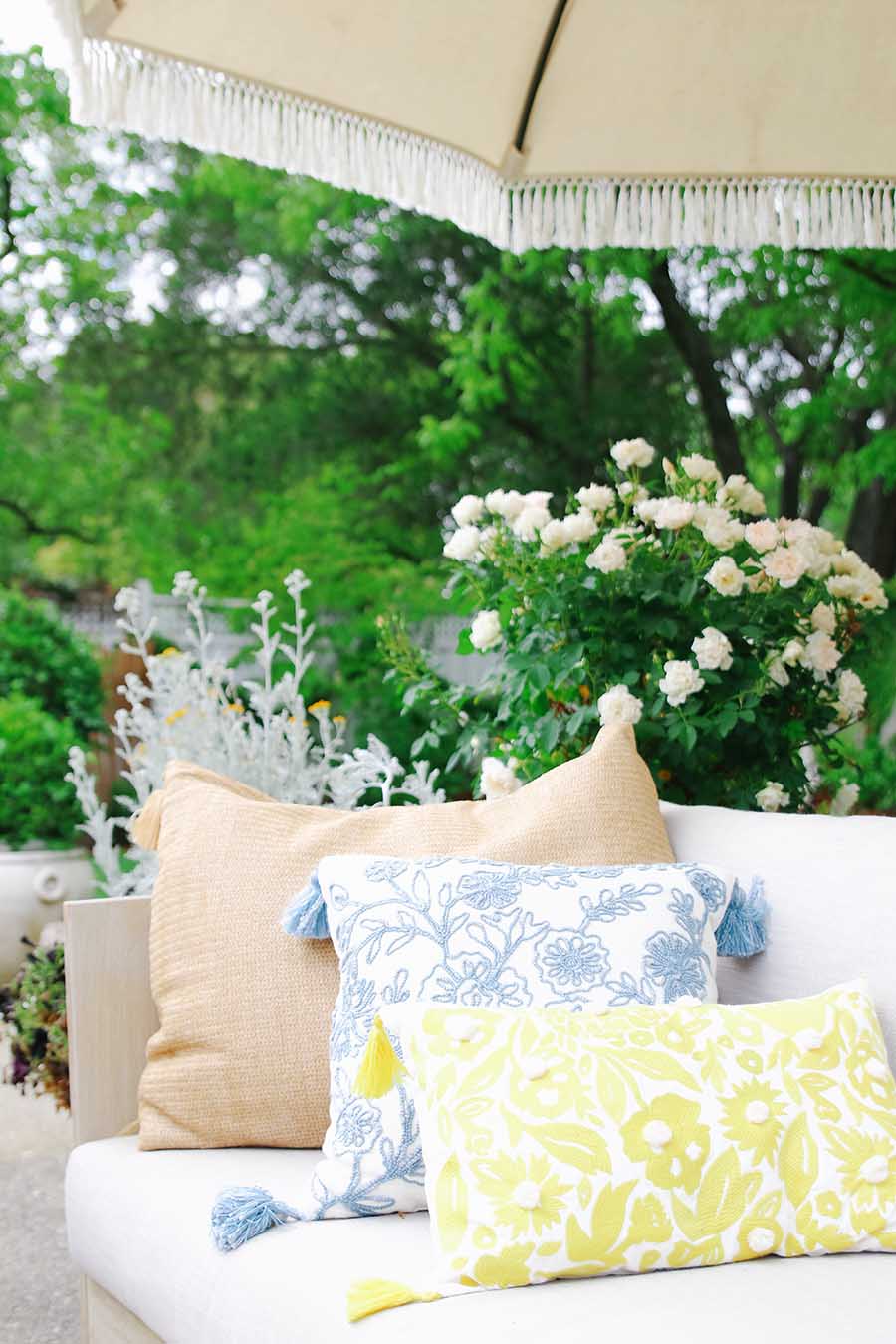 I love to update our outdoor pillows to give the patio a whole new look. This is an easy and inexpensive idea, especially when you are just replacing the pillow covers. There are plenty of options out there for finding inexpensive outdoor pillows.
And sometimes, to update the look for a party or get together, I will bring out some indoor pillows and use them for just the day. Just make sure you don't leave them in the sun for too long or they will fade.
Update your patio for summer with lights
We love these cafe lights and have them strung up year round on our patio. They add instant ambiance! Lighting plays such a huge part into how a space feels. And I love to add lights. It's a great way to light up your yard at night without using harsh porch lights. We have our lights on a timer with a sensor. The timer goes on automatically at dusk and off after 3 hours.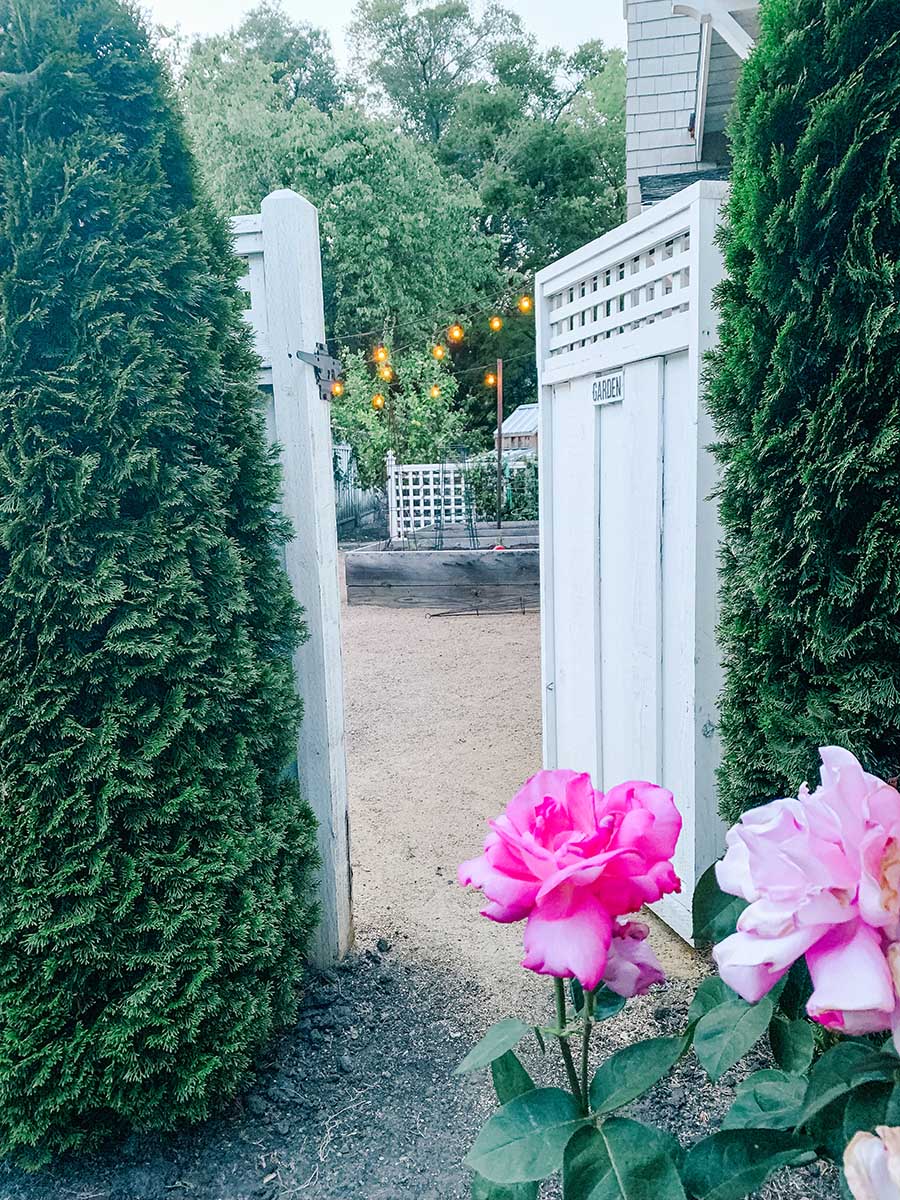 We also have more heavy duty lights strung on our side yard by our garden beds. This is the pathway that guests use when coming into the backyard from the front. I have been working hard on updating this side yard and I can't wait to show this space once it's transformed in another few weeks!
Patio Makeover Idea with plants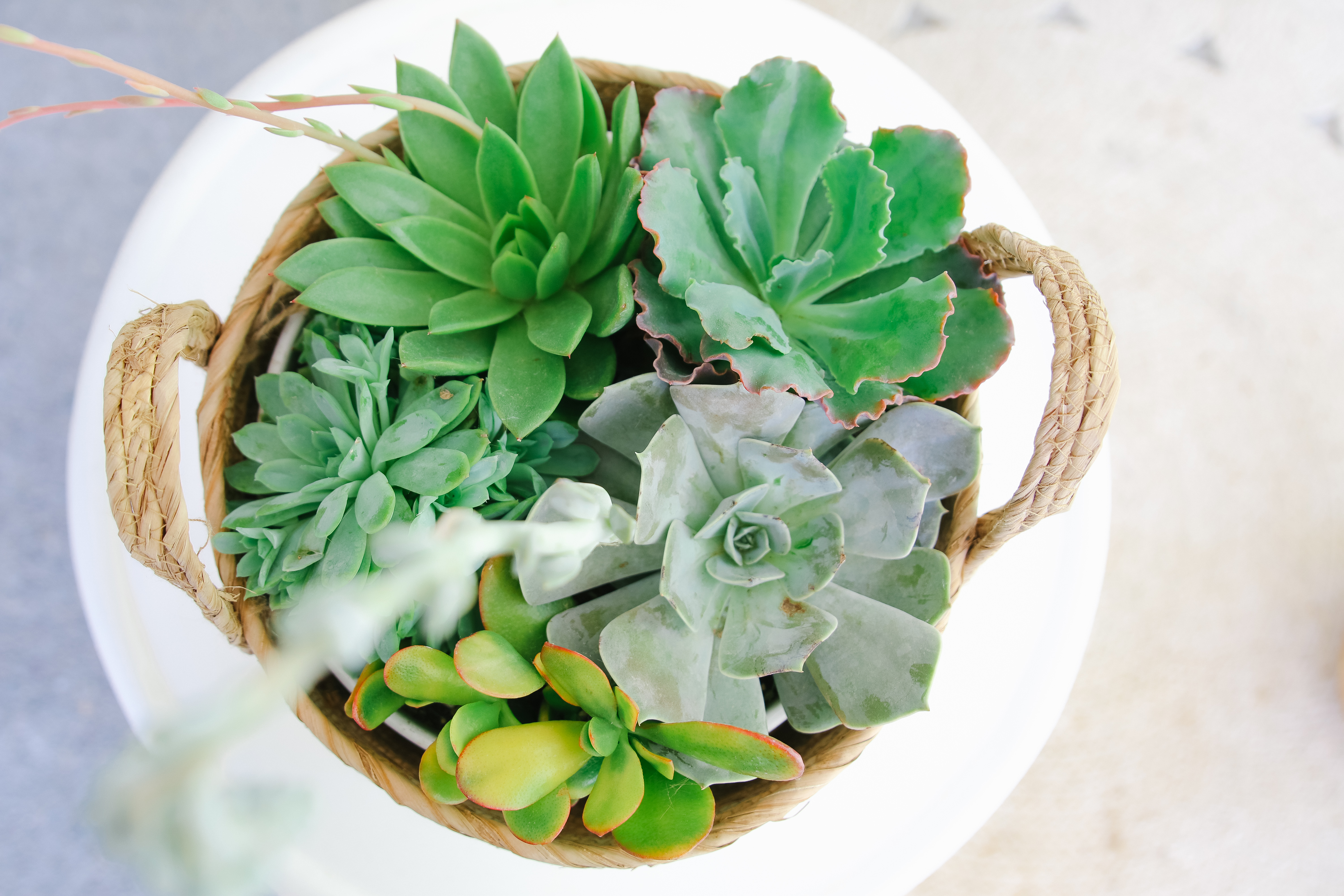 In my opinion, plants are the easiest way to makeover your patio for summer. You can add to your color scheme by choosing different varieties of flowers. Or keep things neutral by sticking to a variety of pretty greens! These potted succulents are so easy to keep alive too! Check out my post on How To Grow Happy Succulents for some great tips!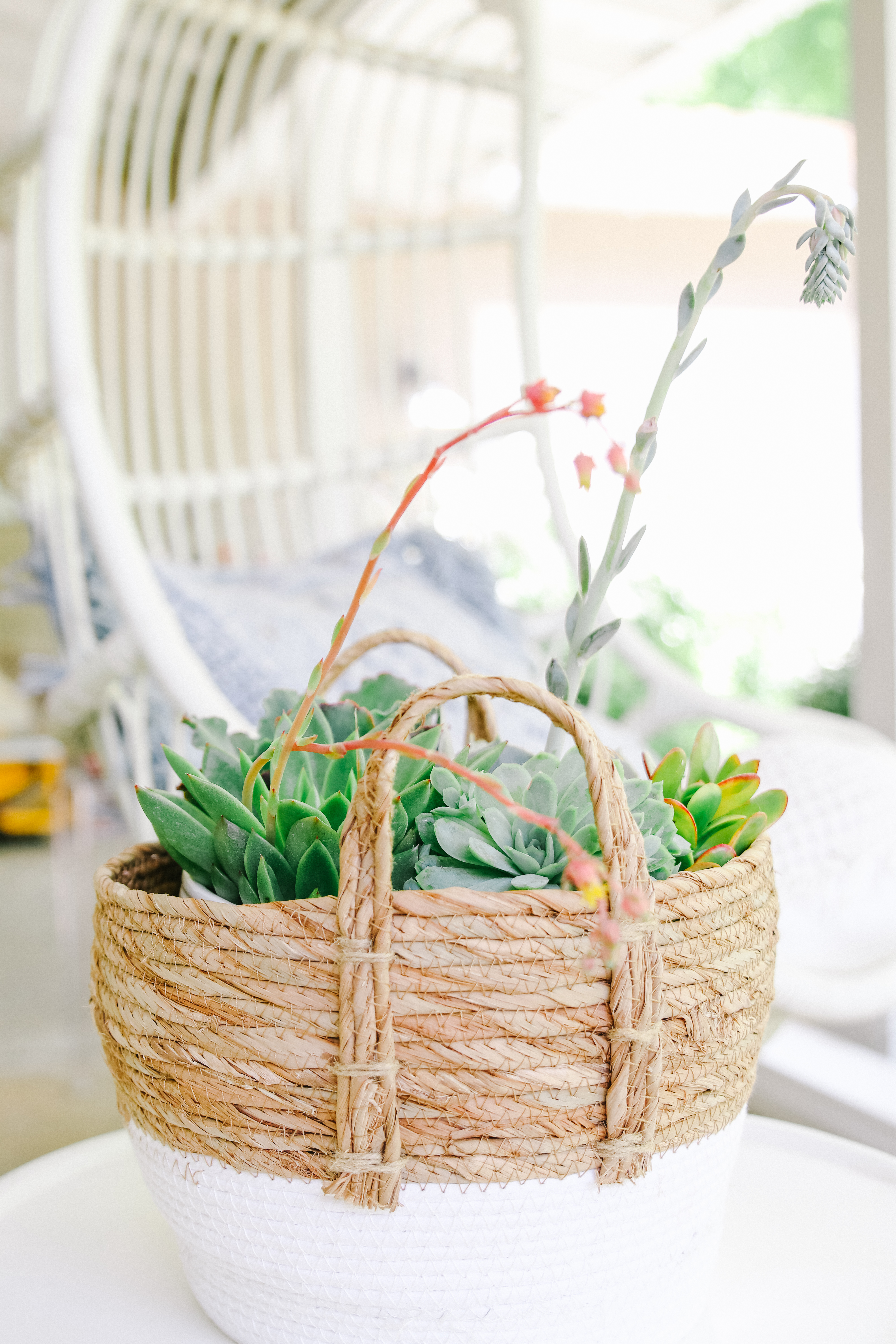 You can also use different containers to place your plants in. Think outside the box! This basket from Homegoods adds some texture and character to my front porch. I simply placed the pot inside the basket, so that I can easily remove it for watering.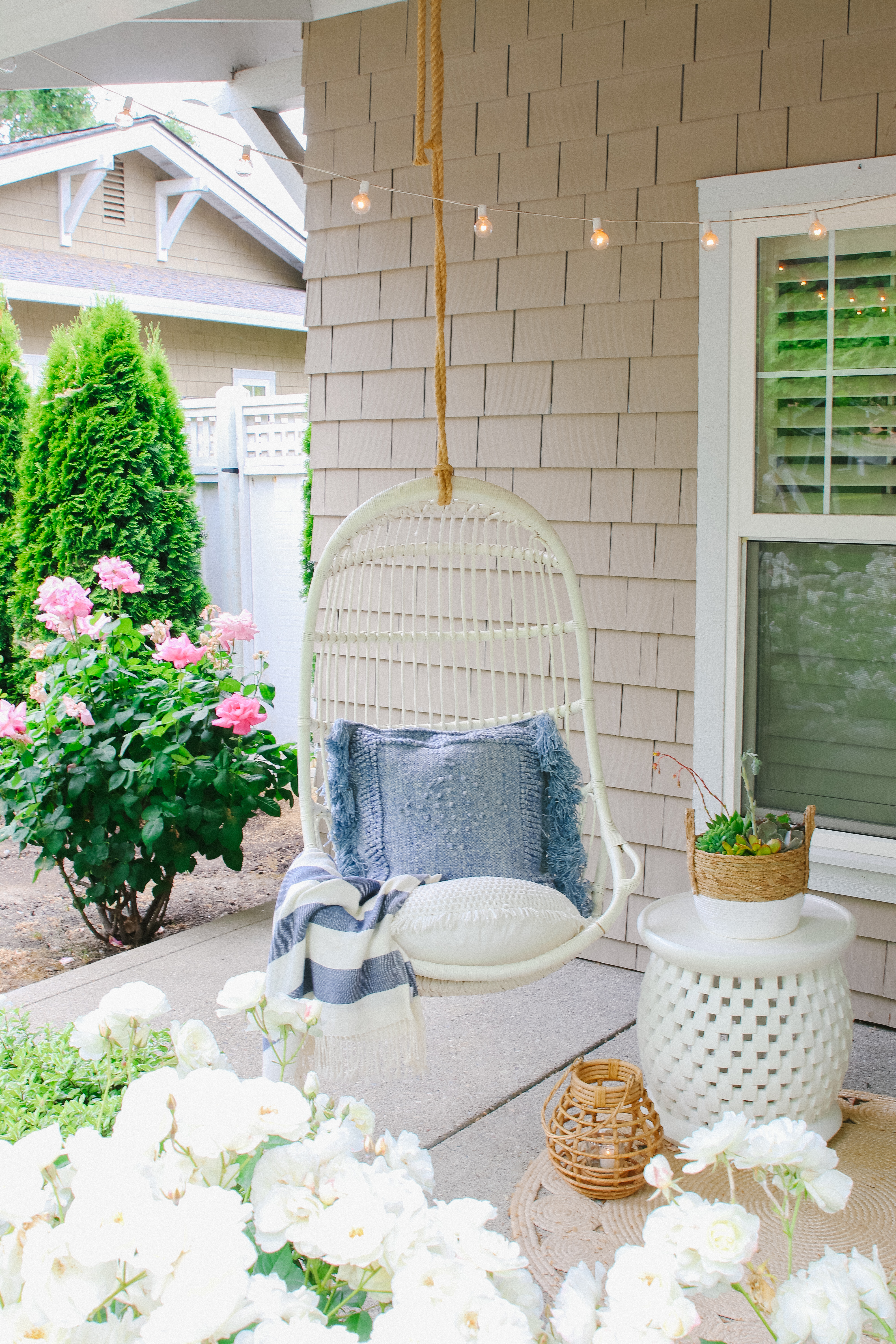 How to make a small backyard seem bigger
Since we live in California, where yards are smaller, I have come up with some great ways to make our backyard seem bigger. Landscaping plays a big part in how large our yard can feel. Our particular backyard is long and somewhat narrow with a large wall separating our space from the adjacent street.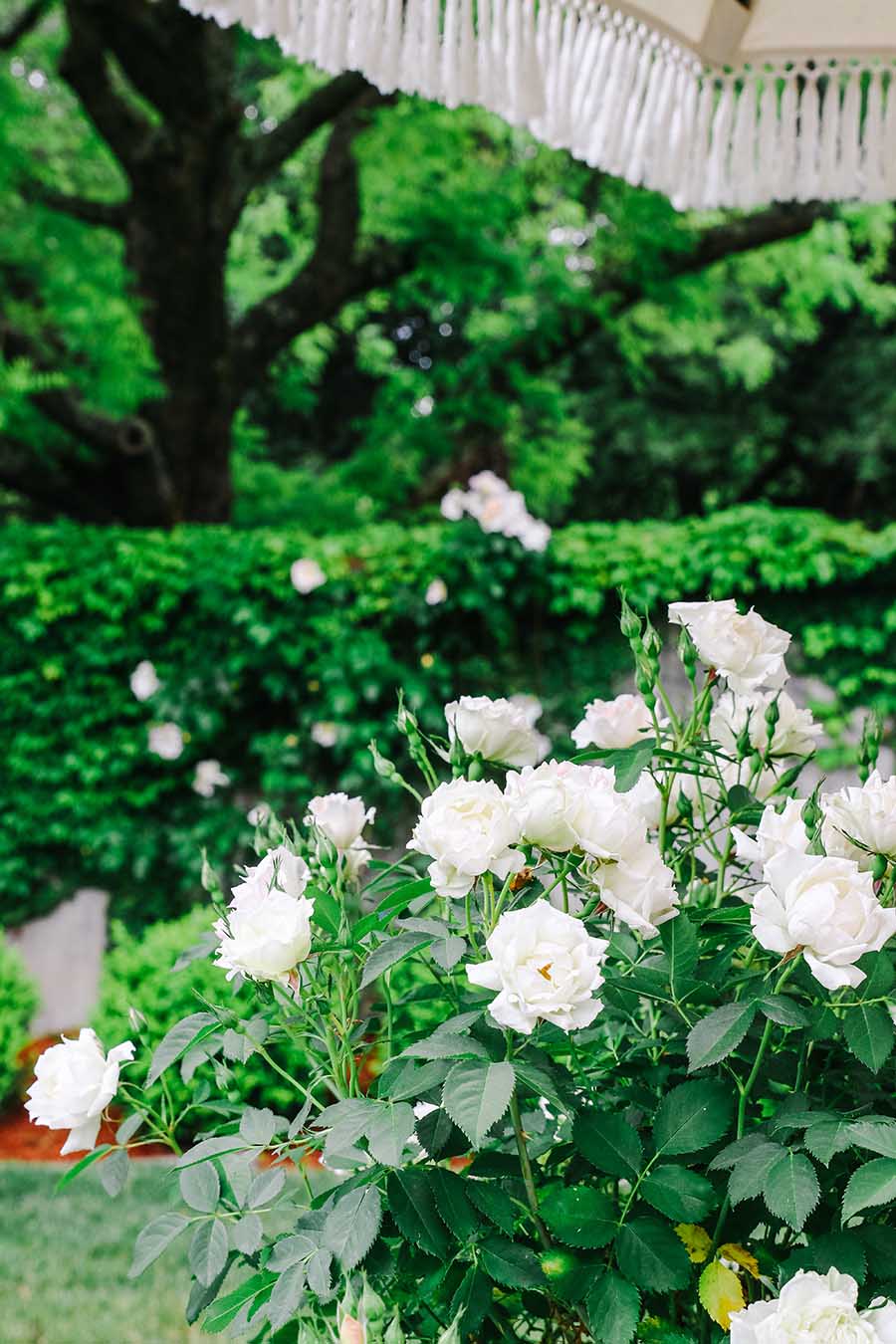 We have planted climbing vines and ivy in the ground below the wall. The ivy grows up on the wall, somewhat concealing the cement. This tricks the eye and our yard feels a little larger! See how the greenery that we added to the landscaping blends in with the landscaping beyond our yard?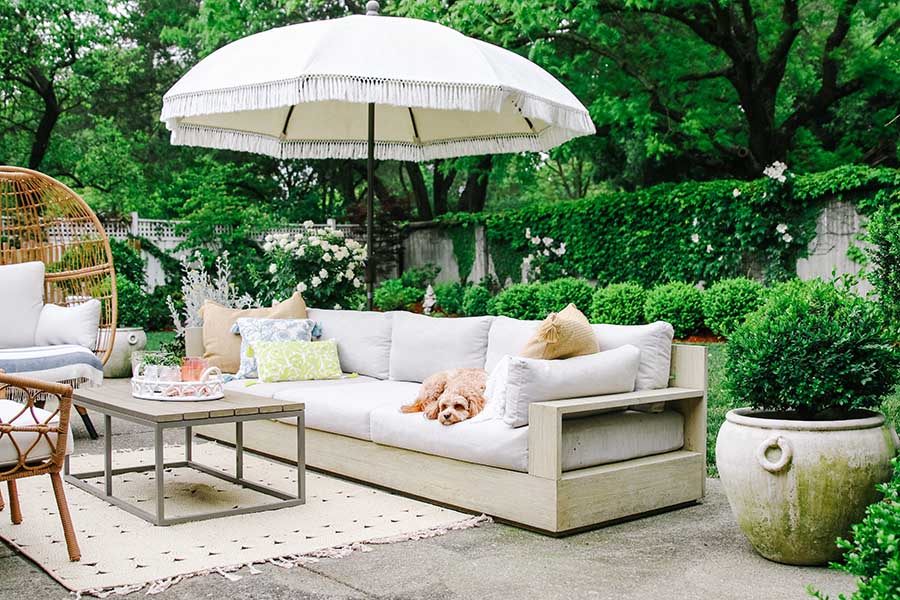 We have a combination of climbing fig and Boston Ivy on the fence. The Boston Ivy is green in the spring and summer, a beautiful bright orange in the fall and then it is bare in the winter. The creeping fig is evergreen and stays green and lush year long. I just love how the Boston Ivy weaves in between the fig with it's splashes of color, especially in the fall! We are still working on filling in all the cement wall with the climbing fig.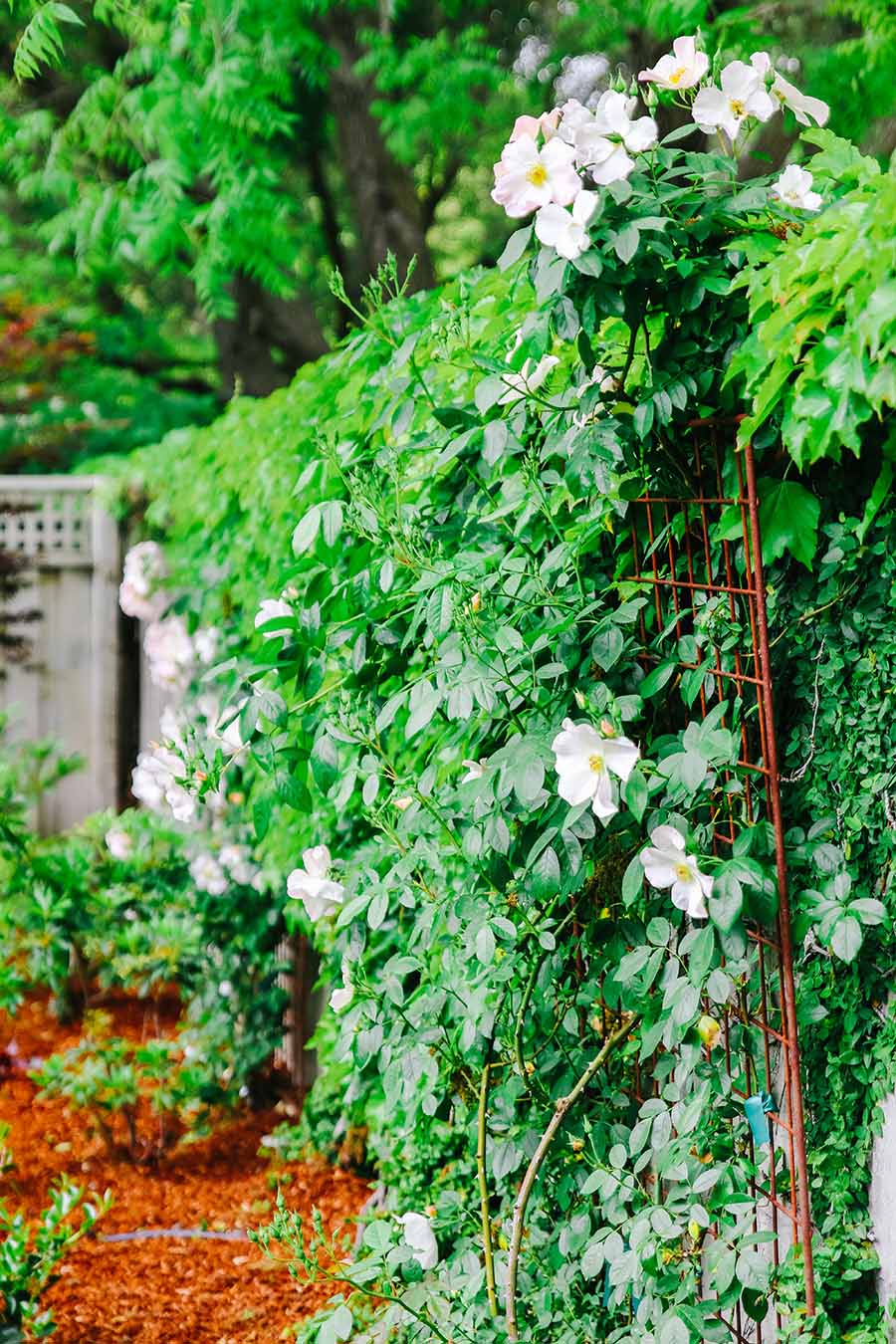 We also have a climbing rose that grows on this wall as well. In front of the back wall, we have planted boxwood shrubs, hydrangeas and azaleas. The landscaping really helps our yard seem bigger with it's multitude of colors and lush greenery.
More Outdoor Ideas for Summer
Visit These Outdoor Blog Posts!

How to Create an Outdoor Living Space by Happy Happy Nester | Patio Makeover Ideas by Modern Glam | How to Set the Perfect Outdoor Table by My 100 Year Old Home | DIY Umbrella Cover with Pom Poms by Hallstrom Home | Succulent Pot by Craftberry Bush

A Greenhouse Update by Amber Tysl | Summer Planter Centerpiece by Clean and Scentsible | Teacup Fairy Village Gardens by Life is a Party | DIY Outdoor Projects to Transform Your Yard by The Happy Housie | DIY African Wax Print Fans by Casa Watkins Living

Outdoor Entertaining with Sparkling Pomegranate Cocktails and Edible Flower Ice Cubes by A Pretty Life